Part 2: Chapter Zero, Part One: Big-Ass Tutorial For A Big-Ass Game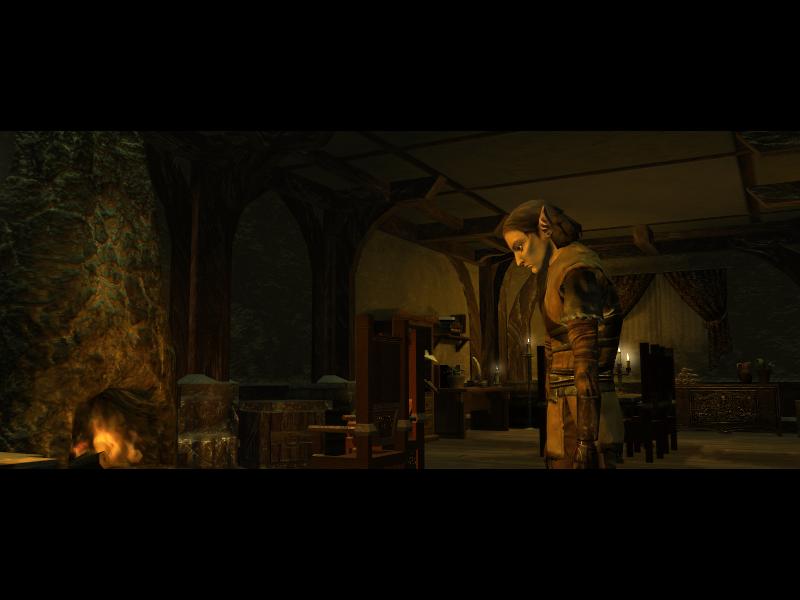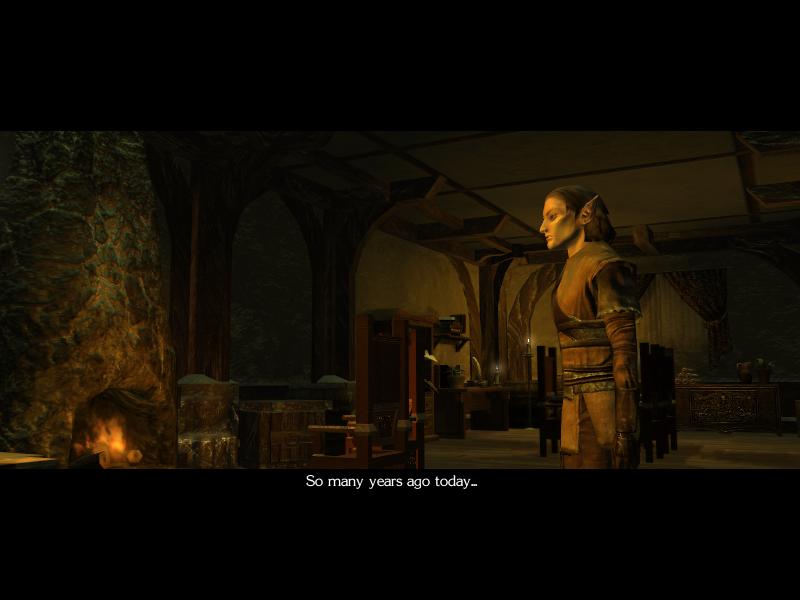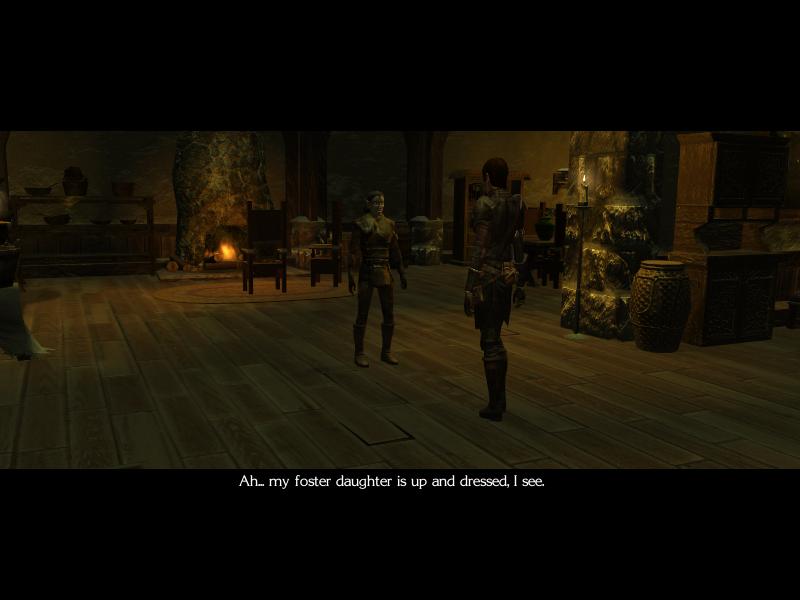 Welcome to West Harbor! This is our foster father, Daeghun, the village huntsman. He's about as warm and fun-loving as he
sounds.

: Today is the High Harvest Fair, and the West Harbor village council
requires
me to man the archery competition.

: The human need to celebrate remembrance days baffles me. But at least something productive may come of it.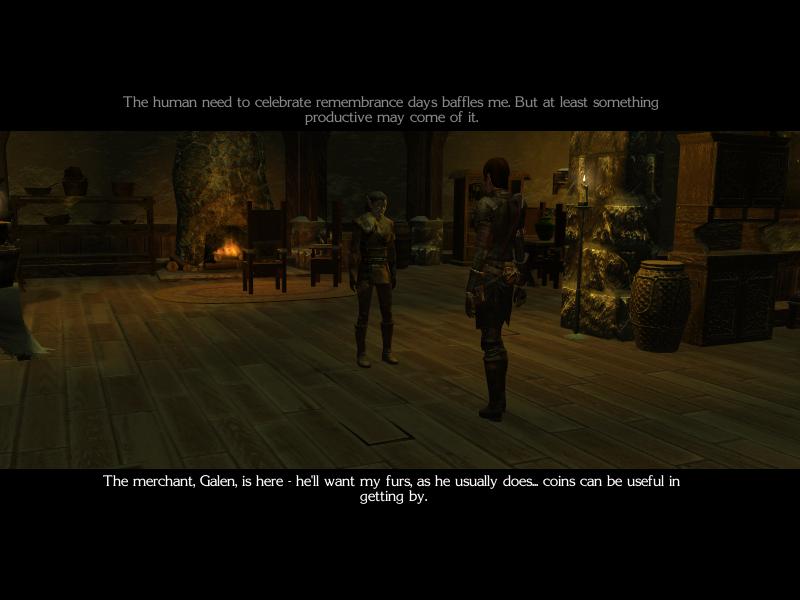 : This past season has been a hard one - for both tilled fields and wildlands.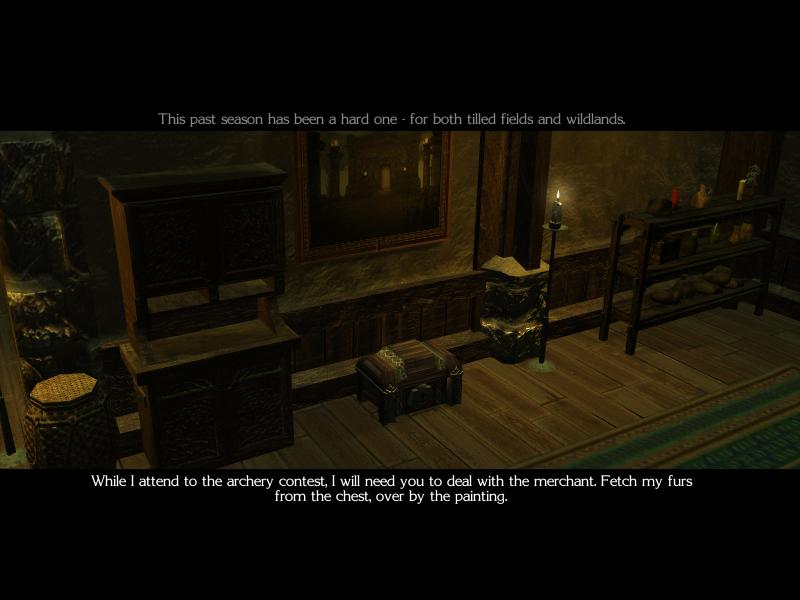 The West Harbor Harvest Fair is the tutorial section for NWN2. Today we're going to learn how to open a box!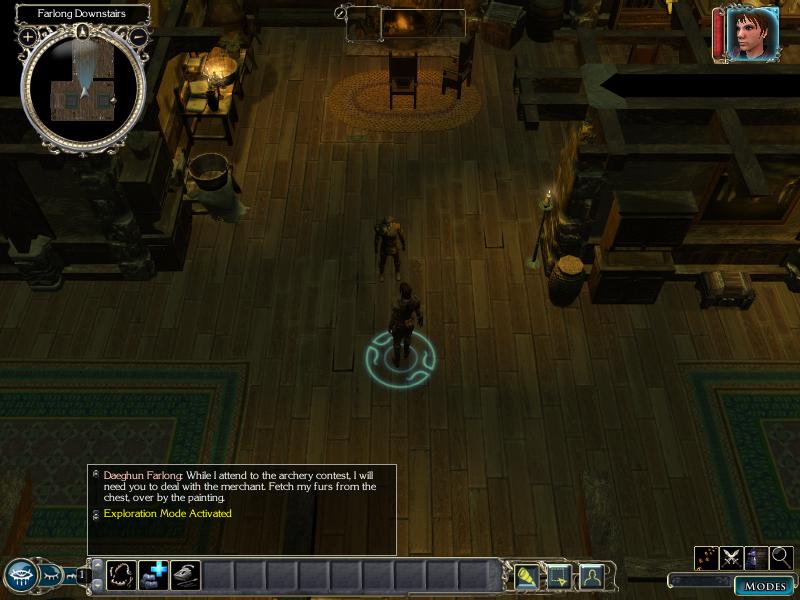 NWN2 has three different camera setups, depending on whether you want to play the game like a World of Warcraft clone (over the shoulder) or more like a traditional RPG (top-down camera). You control your character with either the keys or the mouse, telling them to cast spells, attack enemies, talk to people, open doors and loot treasure chests.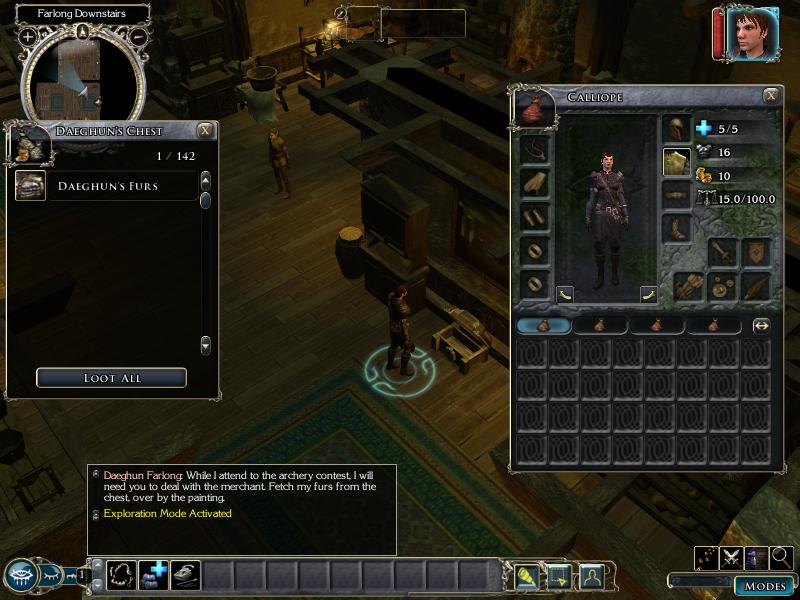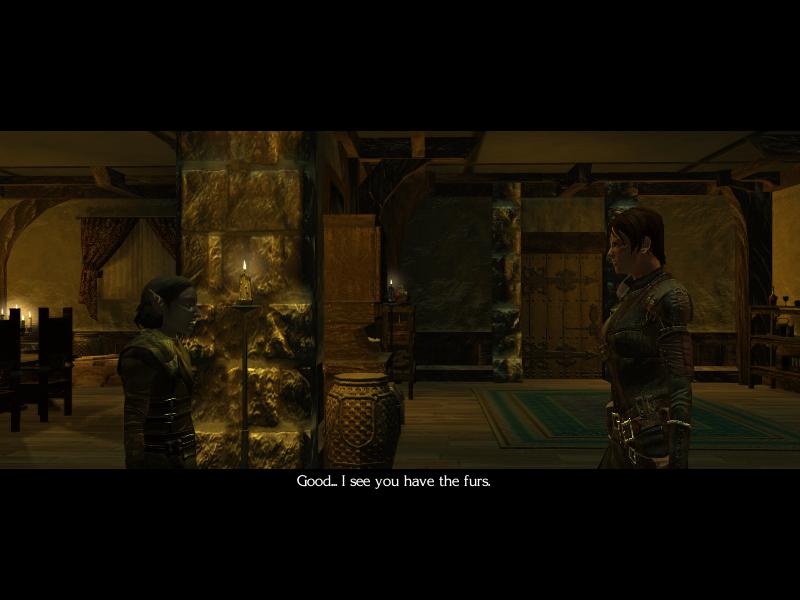 : Galen has probably set up his tent on the village green. He'll be enjoying the Fair, with the rest of the townsfolk.

: Last season I asked him to bring a Duskwood bow to trade. Sell him the furs, and use the coins he gives you to purchase the bow.
I wasn't kidding when I said this was a tutorial. Here Daeghun explains such basic concepts as
ownership
and
trading
.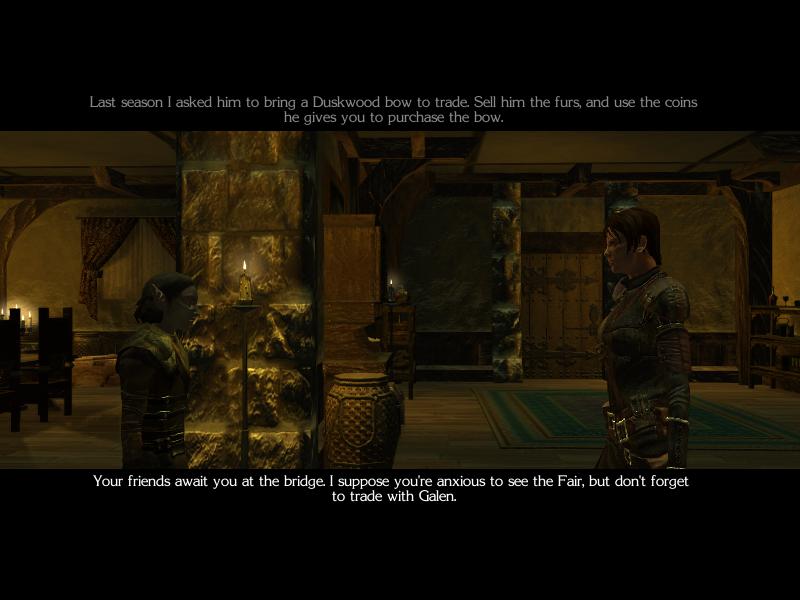 All right! Better note this down in my journal before I forget!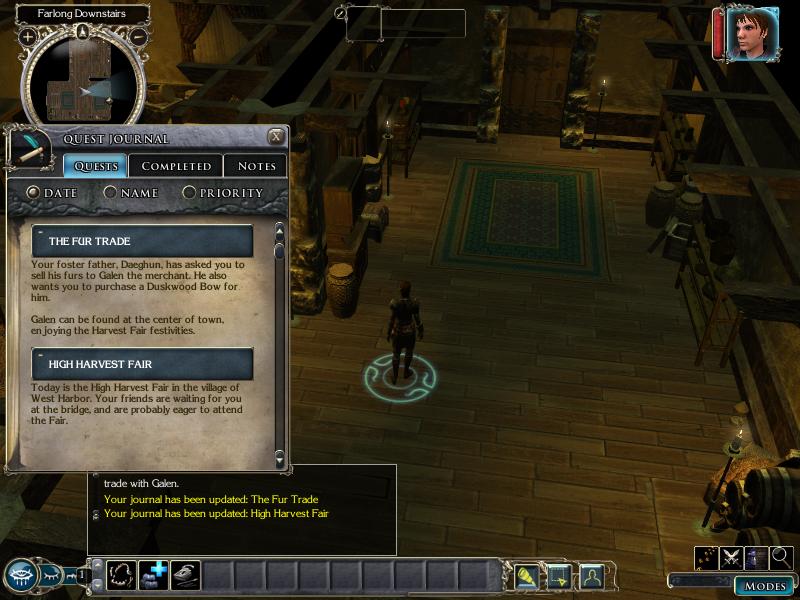 Let's go see the gang.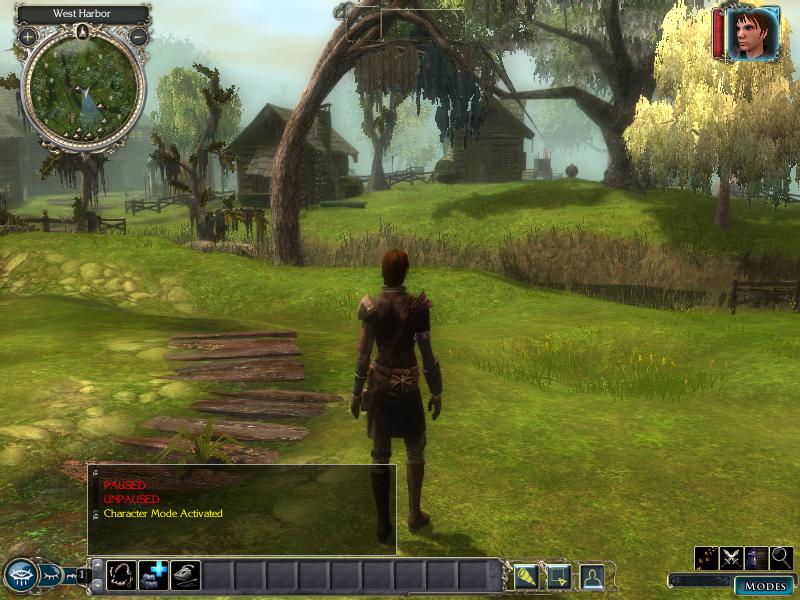 This is West Harbor, a picturesque bucolic village idyll located in the middle of a swamp.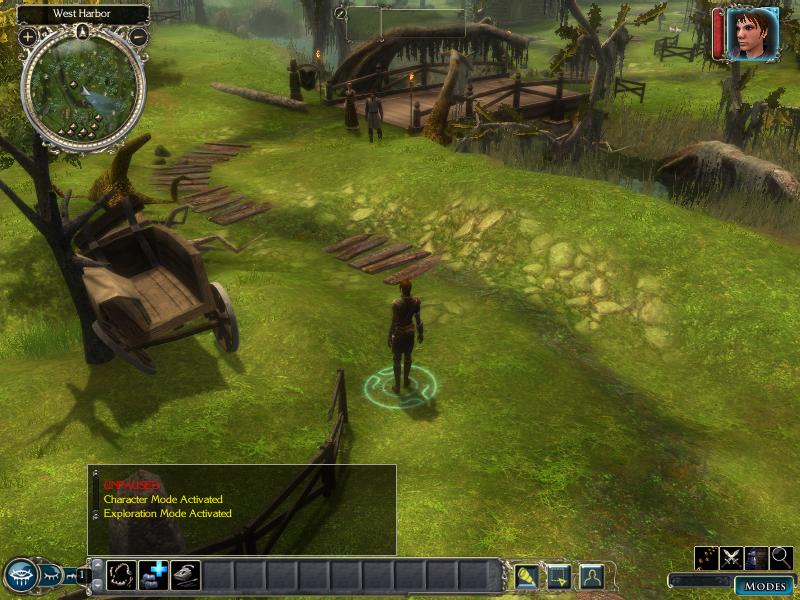 And there are our friends, Amie

and Bevil

.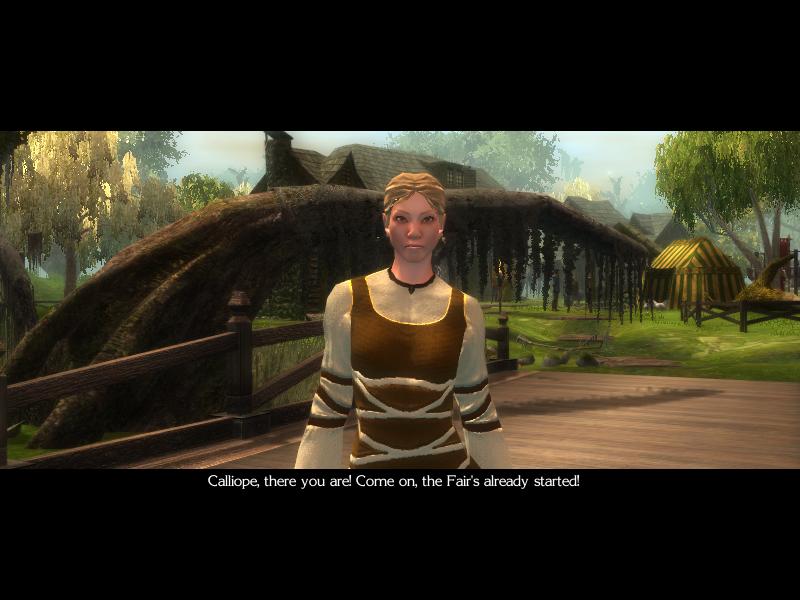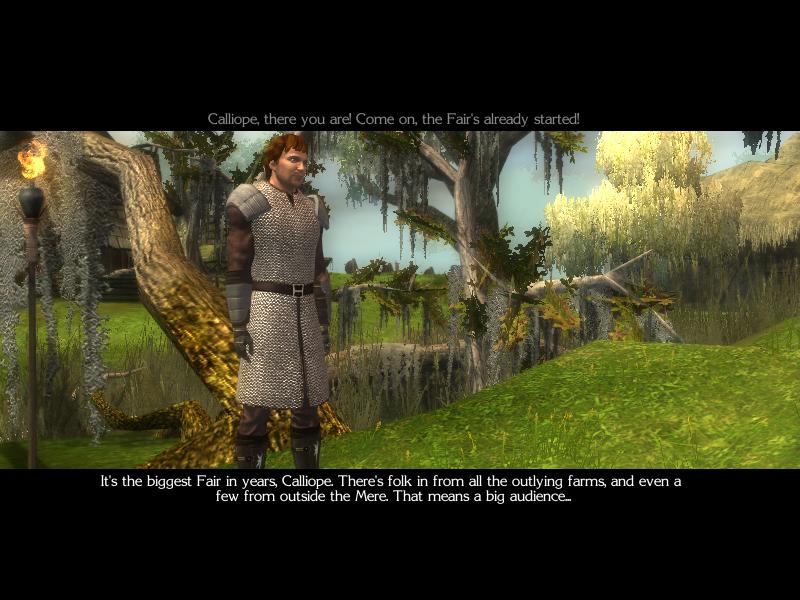 : A big audience, all cheering for us! This year's our last chance to compete for the Harvest Cup... our last chance to win!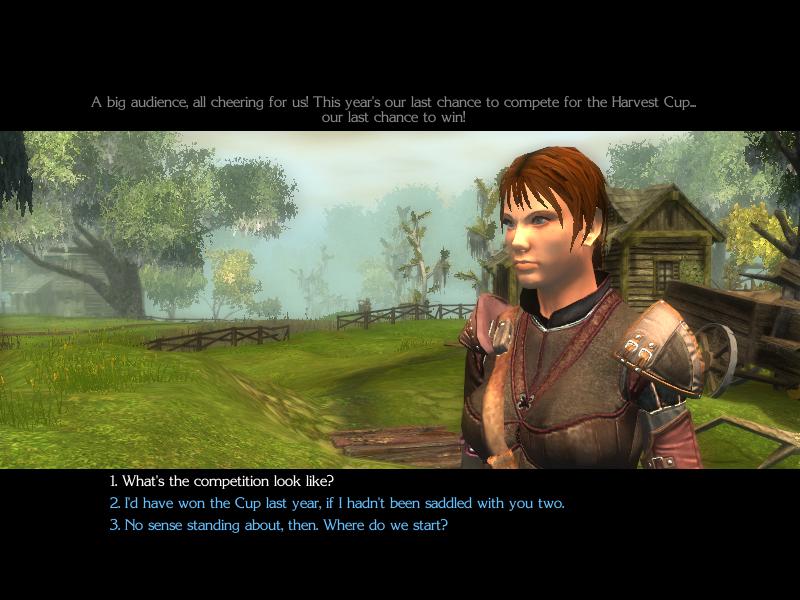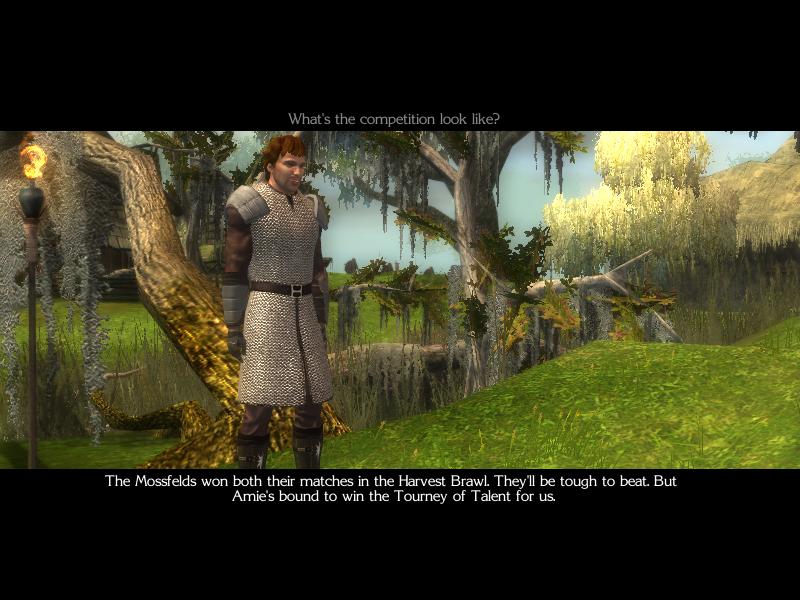 : I convinced Tarmas to teach me a few new spells. And I dug up a couple more from his spellbooks when he wasn't looking.

: Anyway, I heard Wyl Mossfeld is doing the same act this year, so that should help my chances.

: Oh gods. Not the pixie impressions again...

: We have the whole day ahead of us. What's our first stop?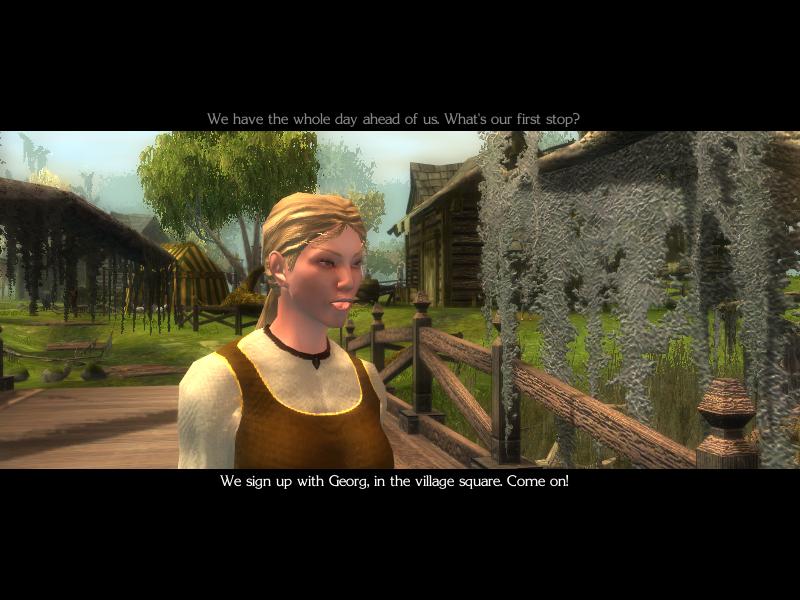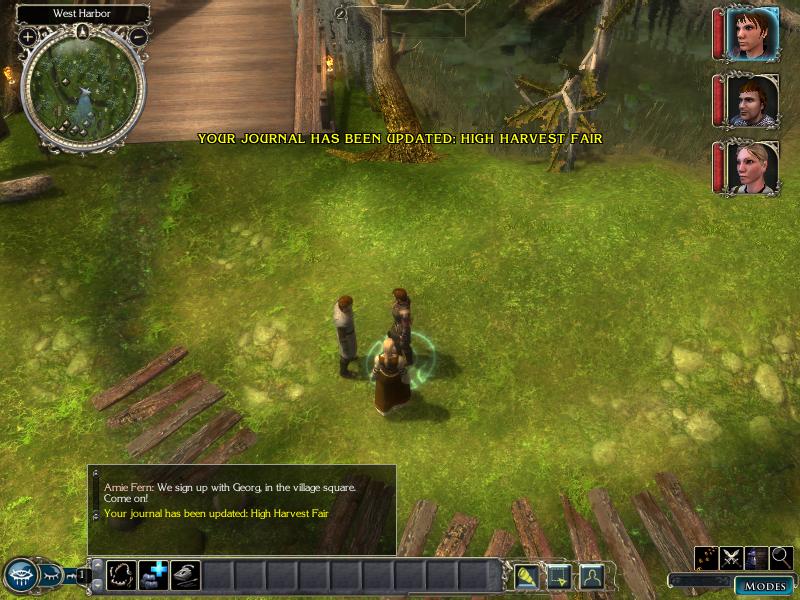 Amie and Bevil join our party. Amie is a Level One Wizard, which means she can light a single candle or tidy a small room by magic once a day. Bevil is a Fighter in the Militia and is a bit more useful, capable of taking a light slap before falling unconscious.
Don't worry. They won't be with us much longer.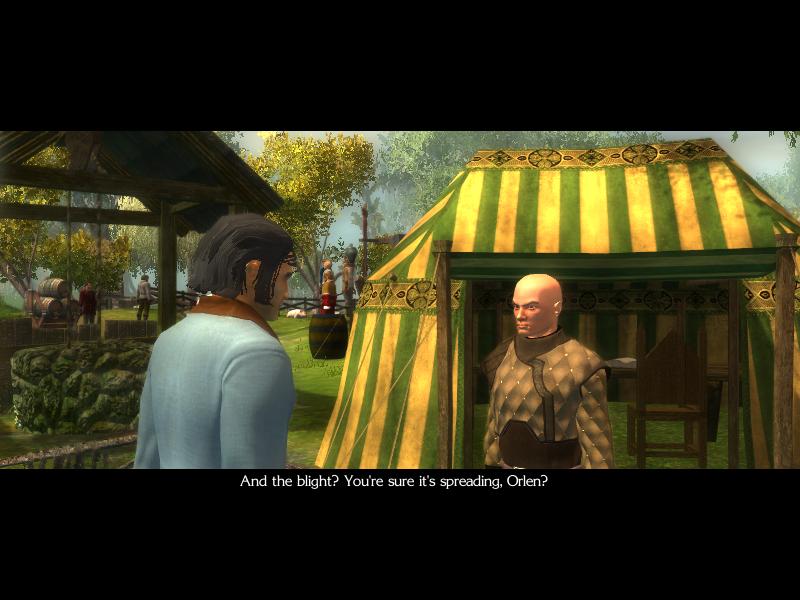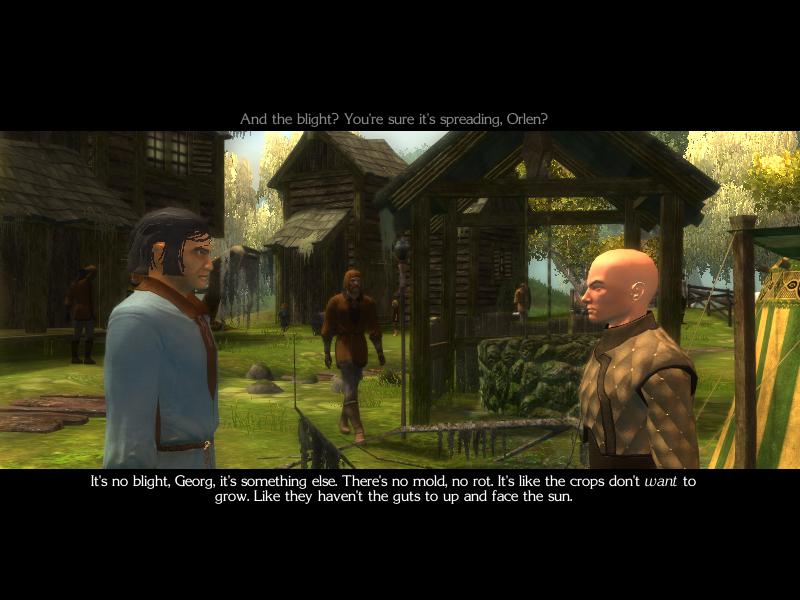 Georg (bald dude) is the chief of the militia and village headman. Orlen (messy-haired fellow with incongruous American drawl) is a local farmer.

: What do the druids say?

: Well, that's just the rub, Georg. There's no druids to be found, not head nor heel.

: Used to be they'd warn me of troubles, long before I noticed the signs myself. But this time... rotten silence.

: You think we ought to say something? Everyone's gathered for the Fair, even from the outlying farms...

: No. They ought to be free from cares, at least for a day. We'll go 'round tomorrow, talk to the households one by one.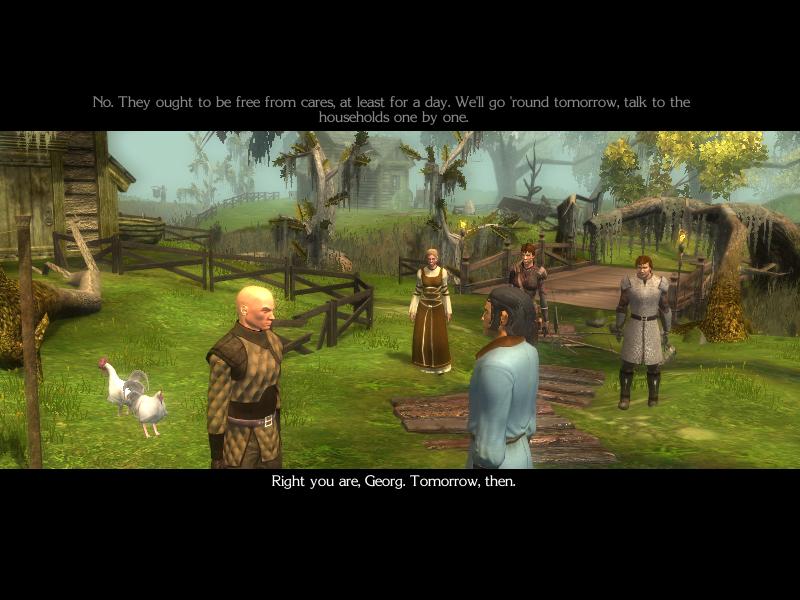 A little foreshadowing for you there. It turns out NWN2 is a farming simulator and the rest of the game is spent helping Orlen grow corn in a swamp.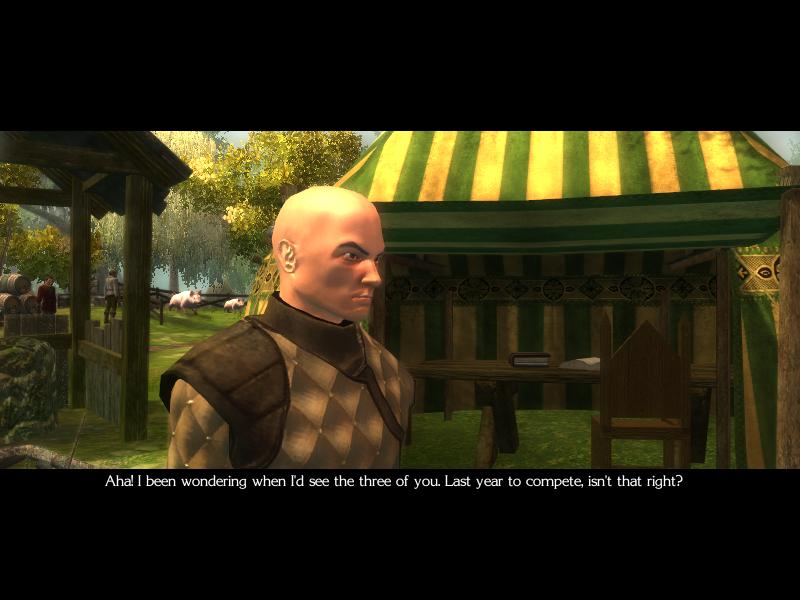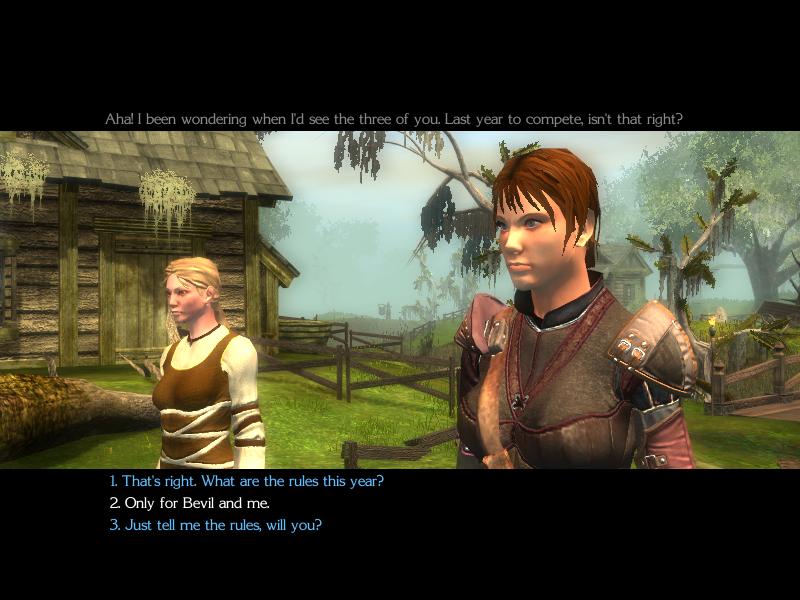 : Better make it count, then. Another victory speech from that muttonhead of a Mossfeld, and I think there'll be a riot.

: Rules are the same as ever. Win three of the four events, and you win the Harvest Cup.

: Win all four, and the village council grants you a special prize. And nobody's done
that
since ol' Cormick.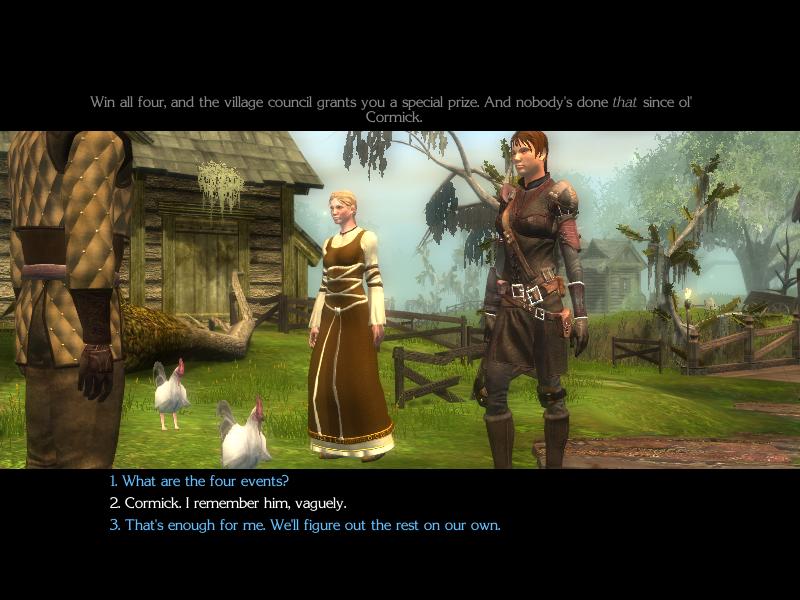 : That boy was a legend. Oh, I'm sure there's a hundred Cormicks in a city like Neverwinter, but for this town, he was as big as folks get.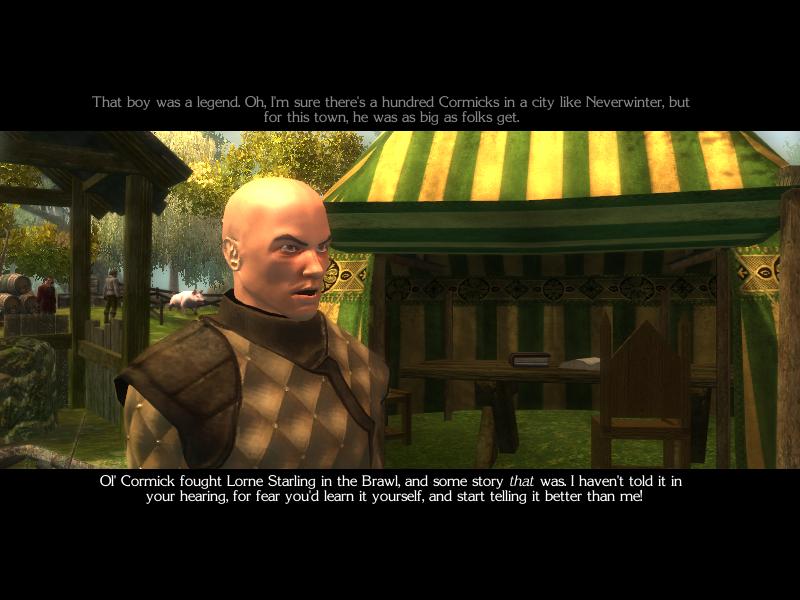 This is a nice little reference to the background feat I chose for my character. Like Arcanum and the cut histories from Vampire: Bloodlines, you can choose a background for your character that gives a few minor skill bonuses and penalties. I chose Tale Teller for this character (bonuses to dialogue skills), so occasionally in West Harbor people will say that I'm a bit of a blabbermouth or whatever.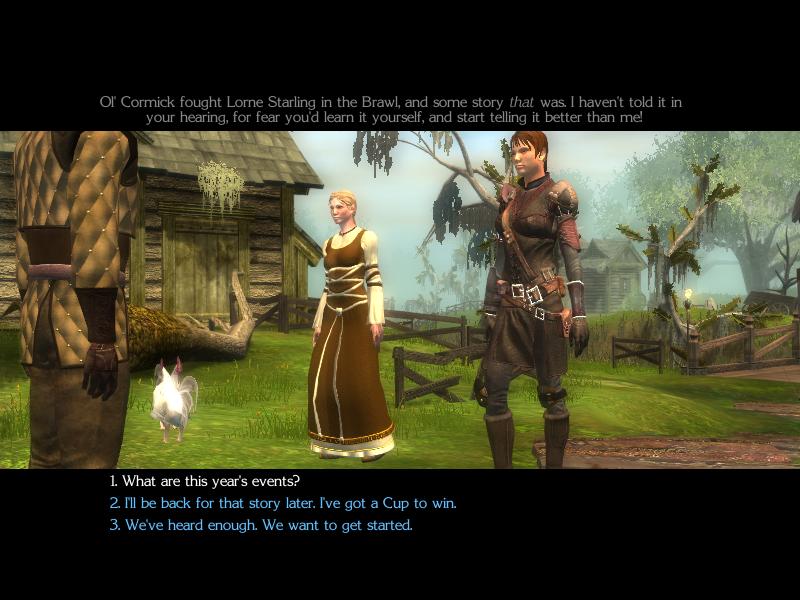 : Well, there's the Harvest Brawl. Old favorite, that one. And the Tourney of Talent, but you've got Amie on your team, so you're certain to win.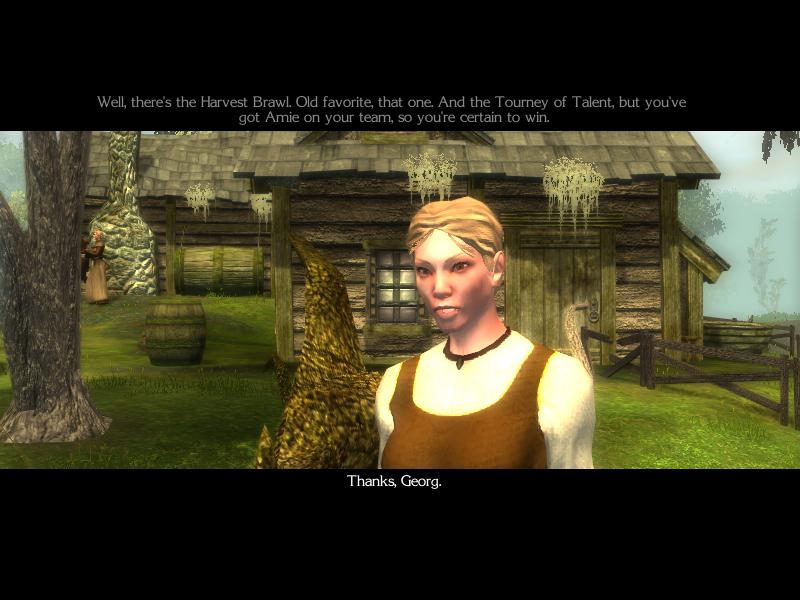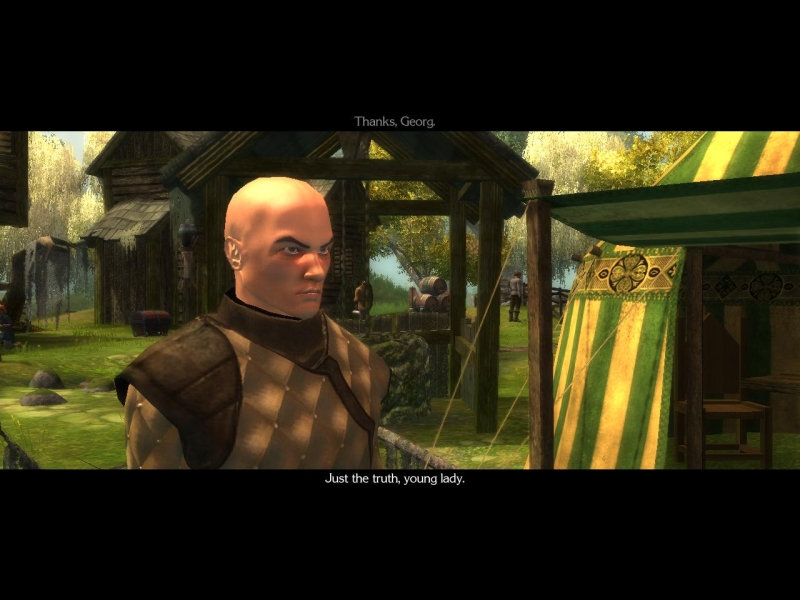 You lech, Georg.

: Your foster father's running the Archery Competition, as always. And I managed to convince Tarmas to supervise the Knaves' Challenge.

: I'd guess the Knaves' Challenge will be your toughest event... though the Mossfeld boys might say otherwise.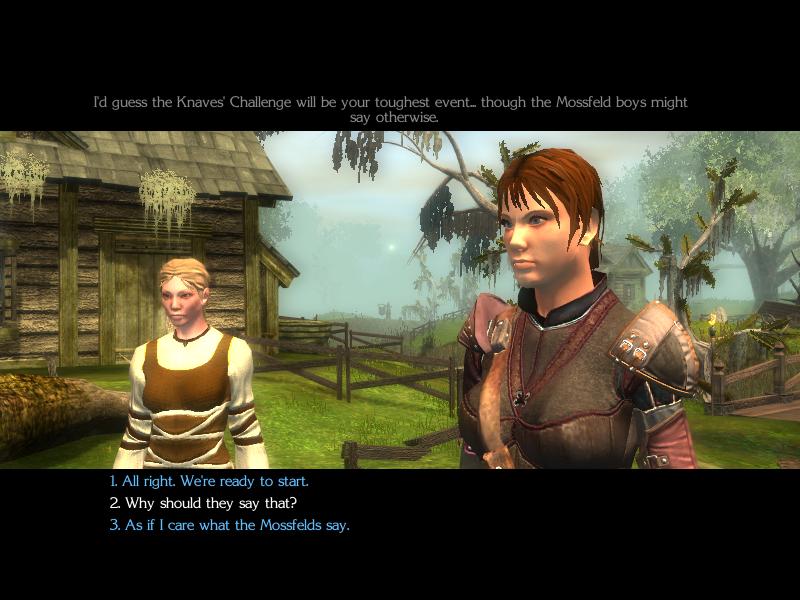 The Mossfelds are our rivals in the village. We have a sort of hate-hate relationship.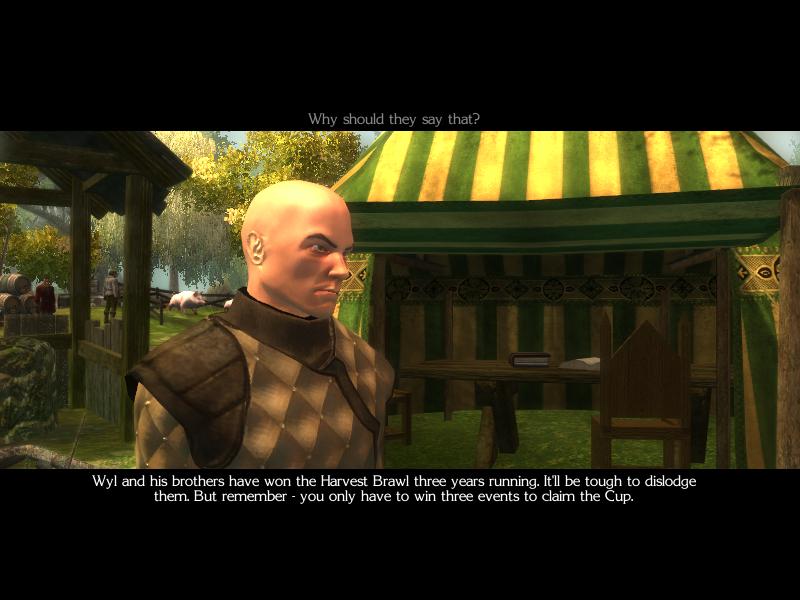 Again, Obsidian is doing a good job of intimating background details and prior history without out-and-out having someone say "WELL, AS YOU ALREADY KNOW," and stating the bleeding obvious.

: I'll win four. Wyl Mossfeld is in for a serious disappointment.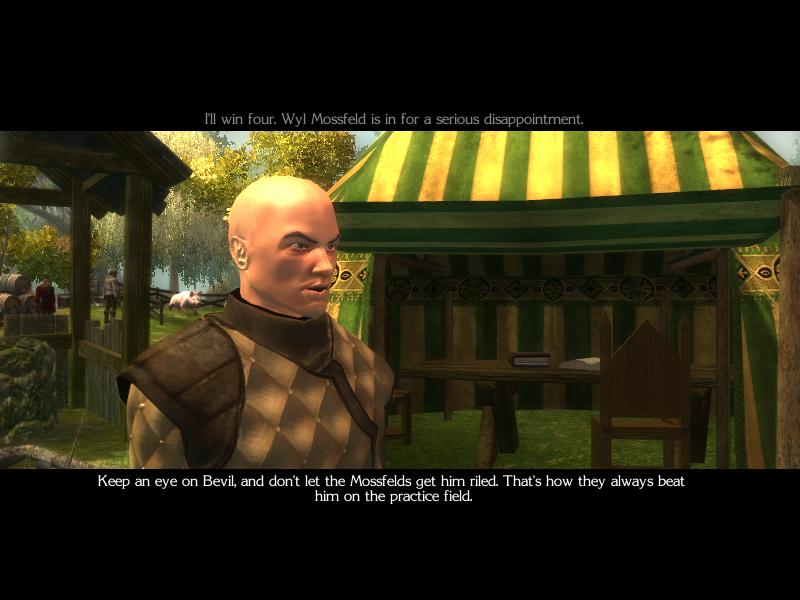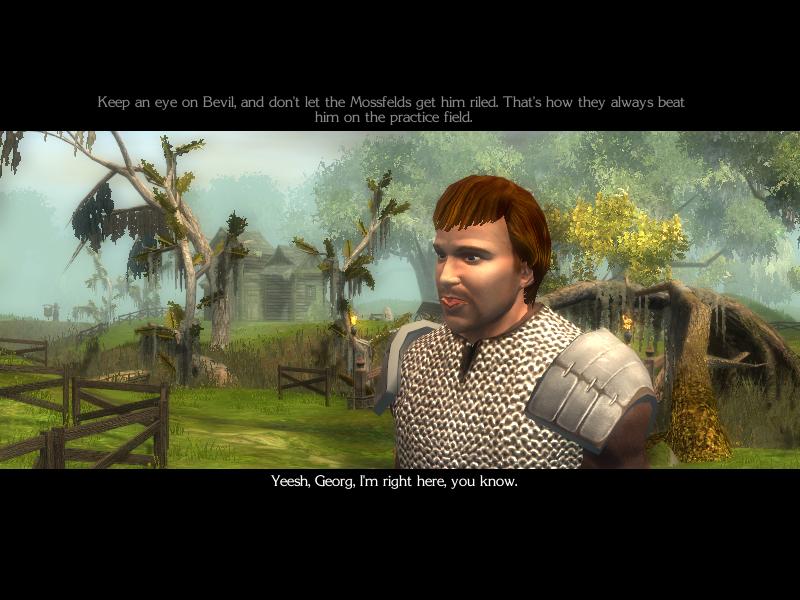 Come on, Bevil, you spend your time playing with girls. If you want respect, act like a man and treat all women with thinly-veiled contempt!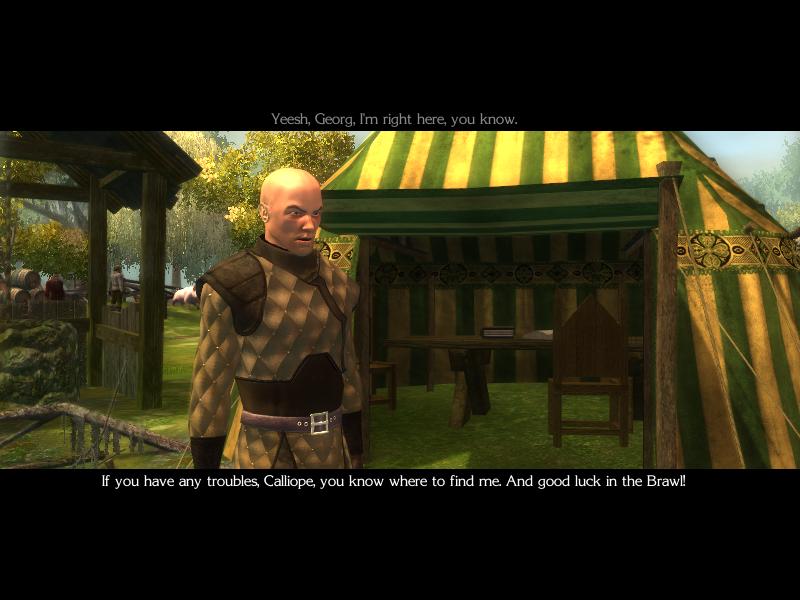 We'd better get our chores out of the way first.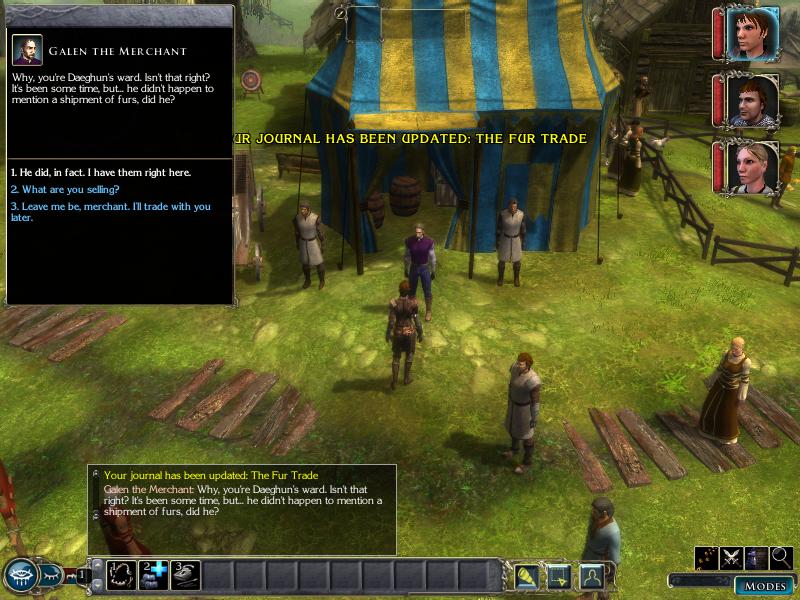 This is Galen, the merchant our foster father asked us to see.

: Ah, good! Daeghun's a reliable sort... alway has the highest quality furs. You can't imagine the demand in Neverwinter. Eh... relatively speaking.

: I haven't forgotten his Duskwood Bow, either. I always come through - you tell Daeghun that.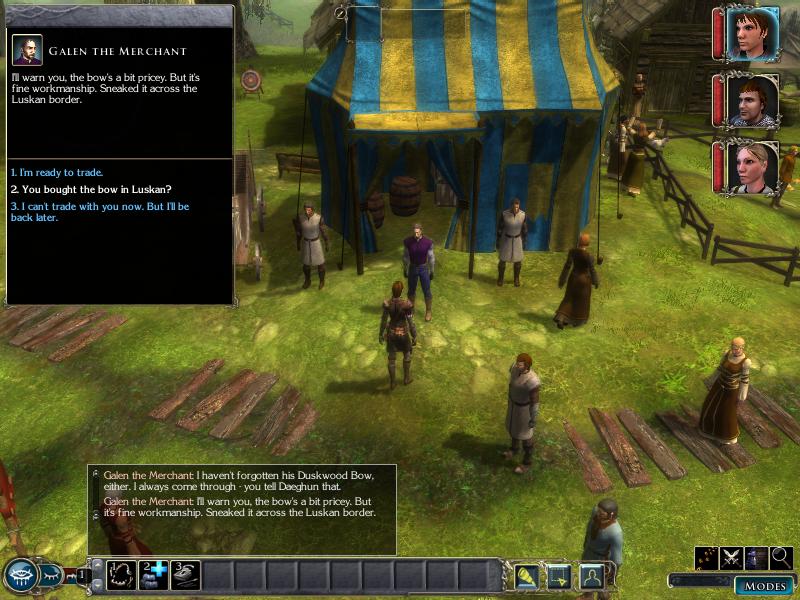 Luskan and Neverwinter are the two political poles of the far-northern Sword Coast. They've been engaged in a bit of a Cold War since the events of NWN1 (DON'T ASK) and don't really get on. Neverwinter are, of course, the good guys; Luskan is more like the USSR, except with more undead wizards and less sharing.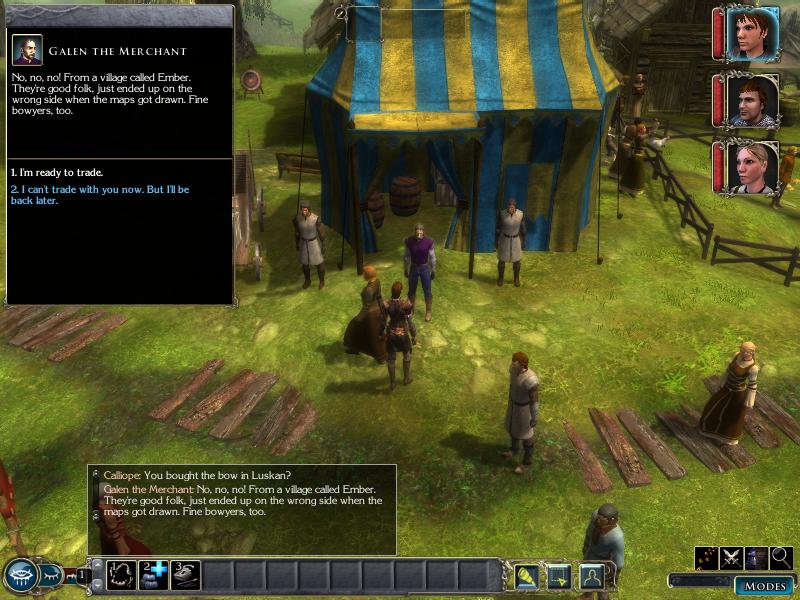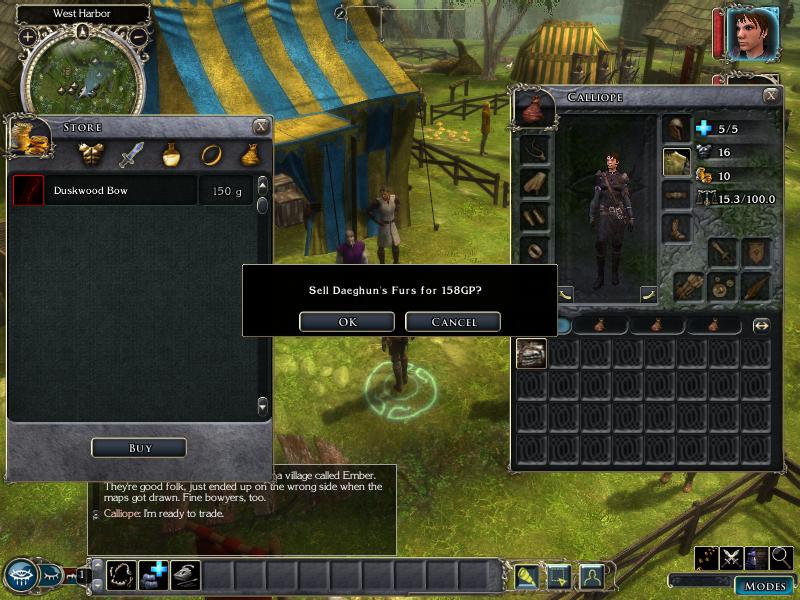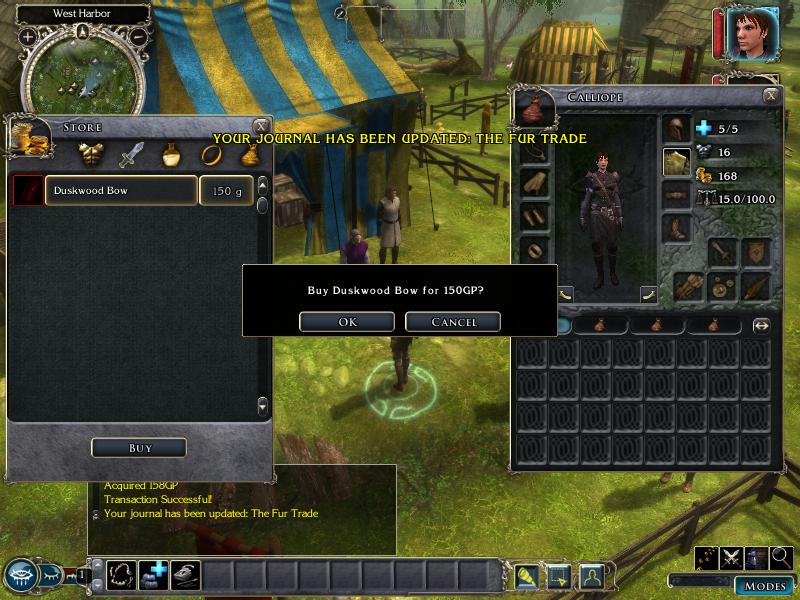 I trade the furs for the bow and make a profit of 8 gold pieces. That's about a 5% margin. Jeez.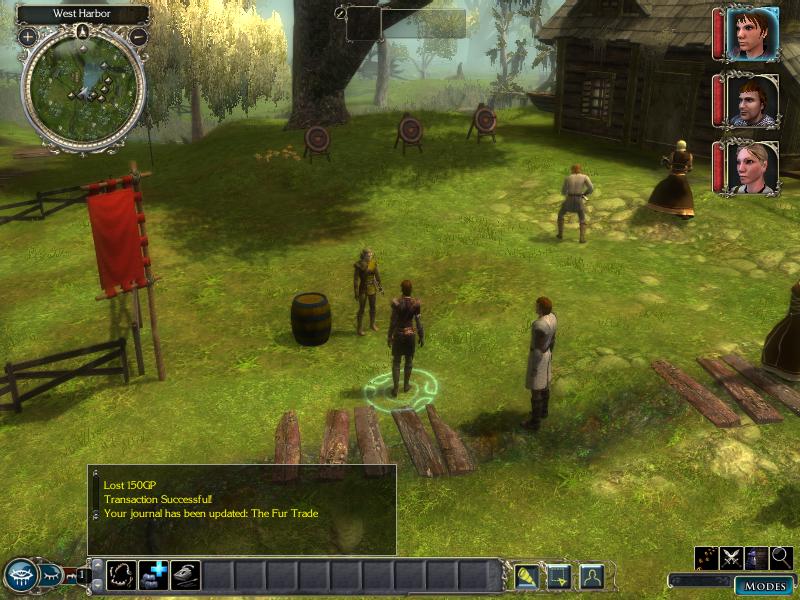 Better tell Daeghun the good news.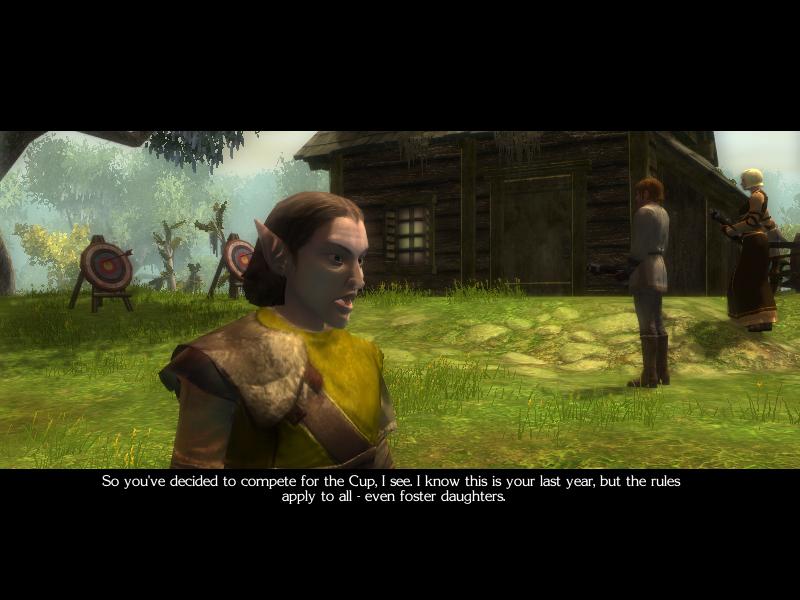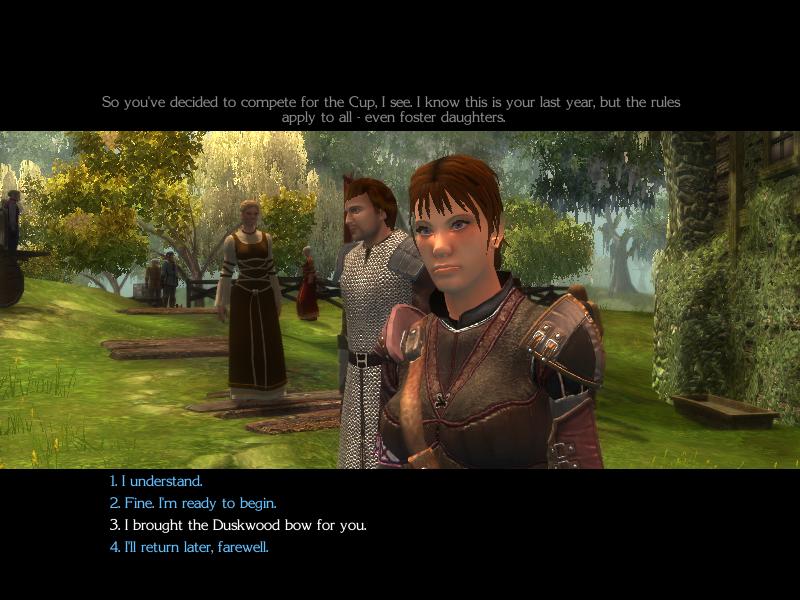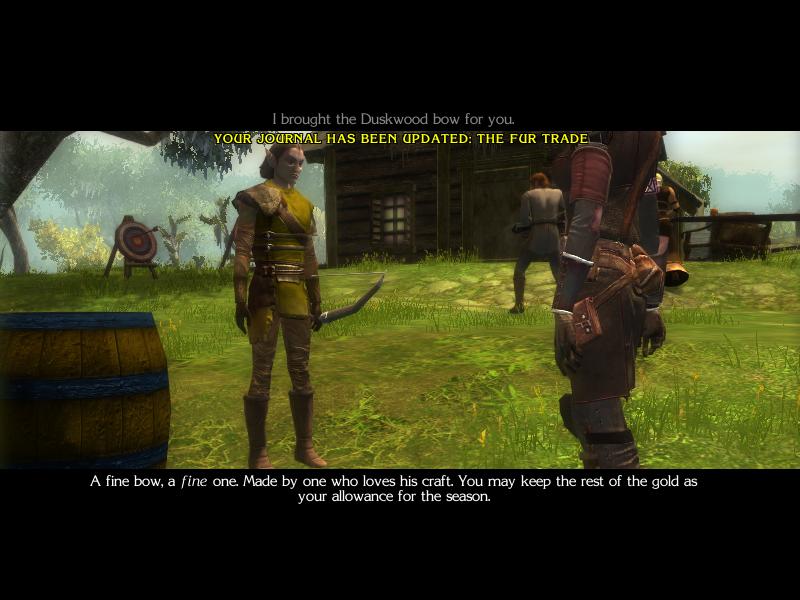 Uh, yeah... thanks, Dad.

: But you came for the archery competition as well, did you not?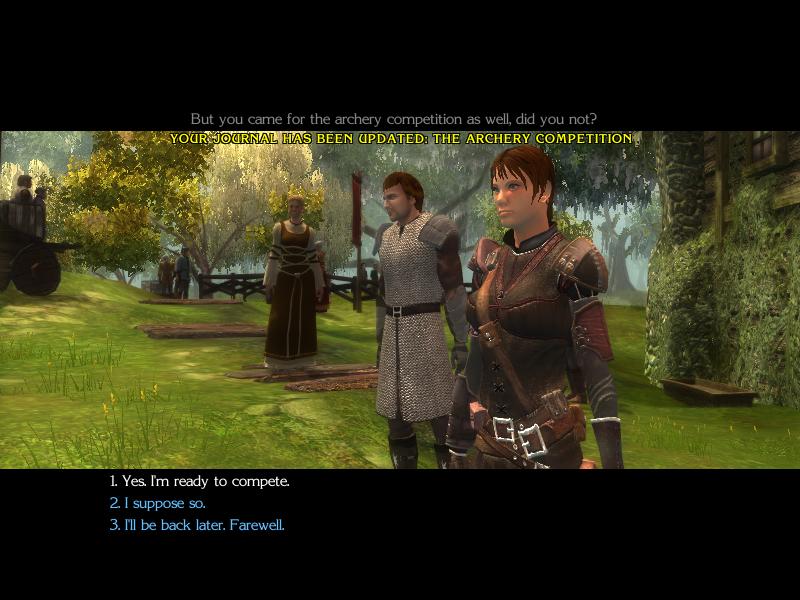 : Fetch a crossbow from the barrel, and take a few shots at the practice target. You must hit the target once, before you can compete.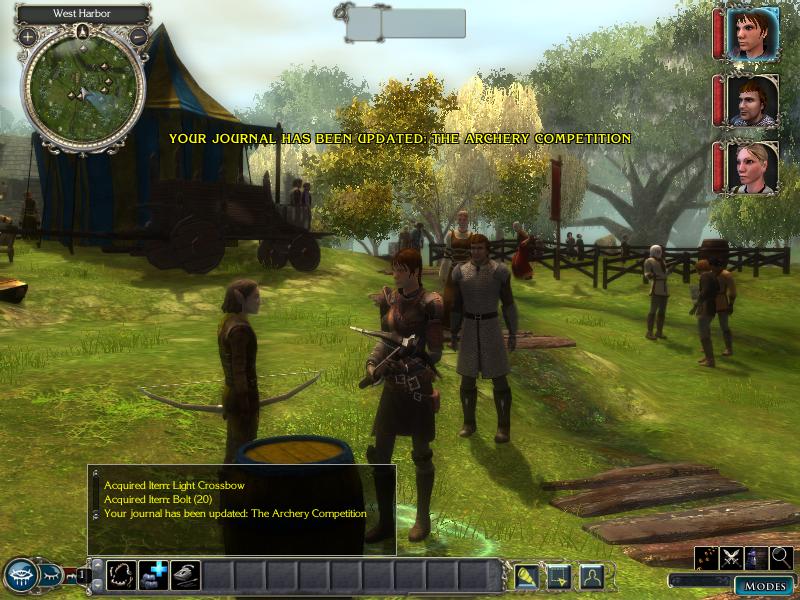 This is the first of the four Harvest Cup challenges. Complete the challenges, and we complete the tutorial (and gain a basic grounding in the key mechanics of NWN2).
Before we can start, we have to prove we know how to operate and maintain a crossbow in a safe and legal manner.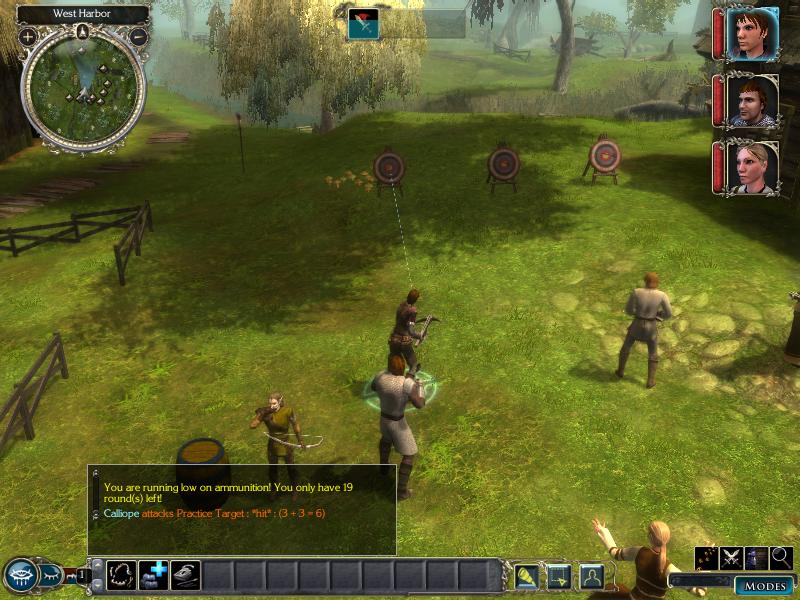 We just barely manage to avoid shooting ourselves in the foot with our crossbow.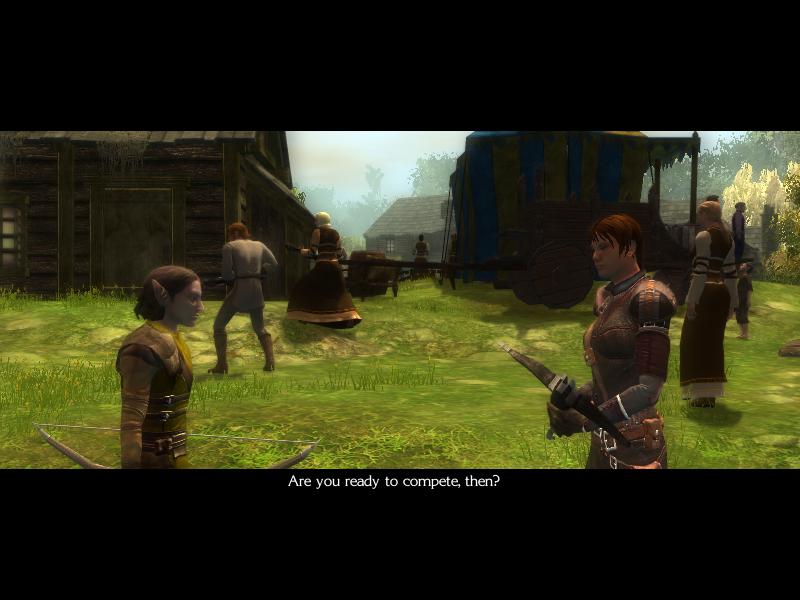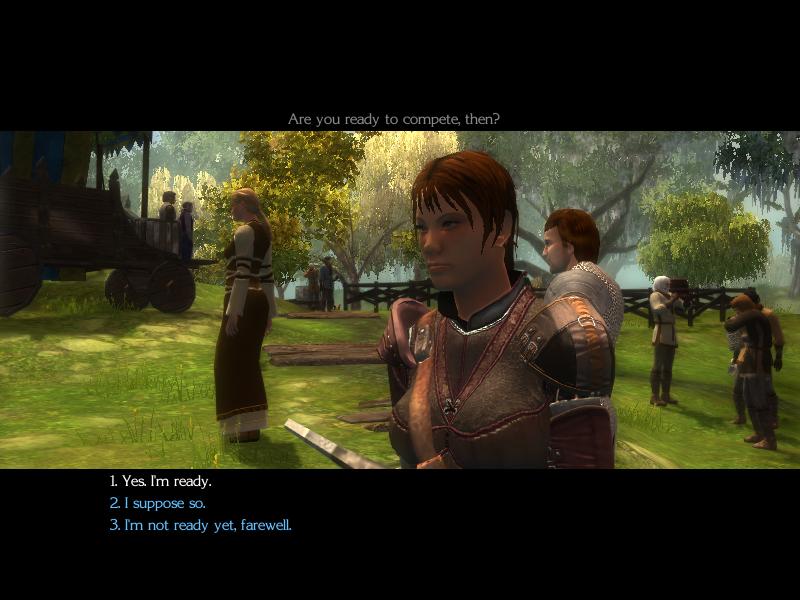 : The rules are the same as last year - ten shots and ten targets.

: Your targets will be old bottles, set atop the crates yonder.

: Five is the best score so far. If you remember the lessons that have been taught to you, you should be able to best that.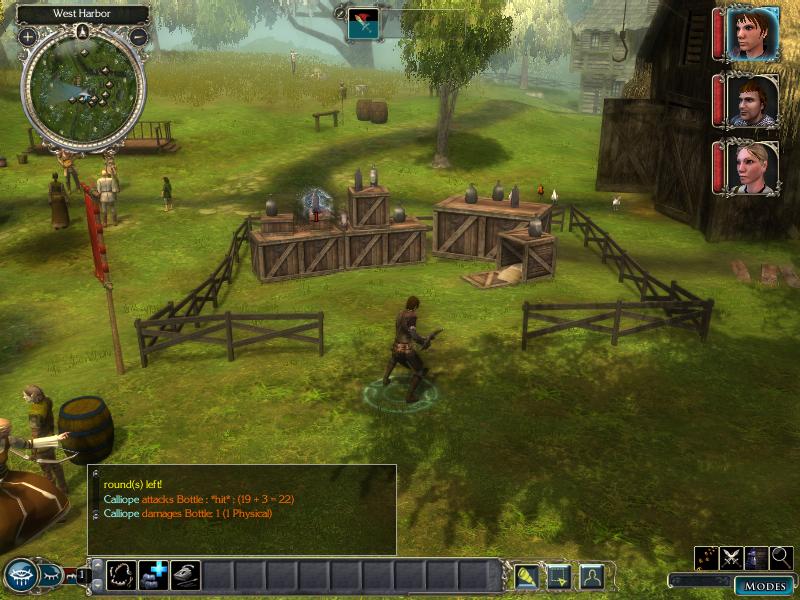 Ten bolts, ten bottles. Easy.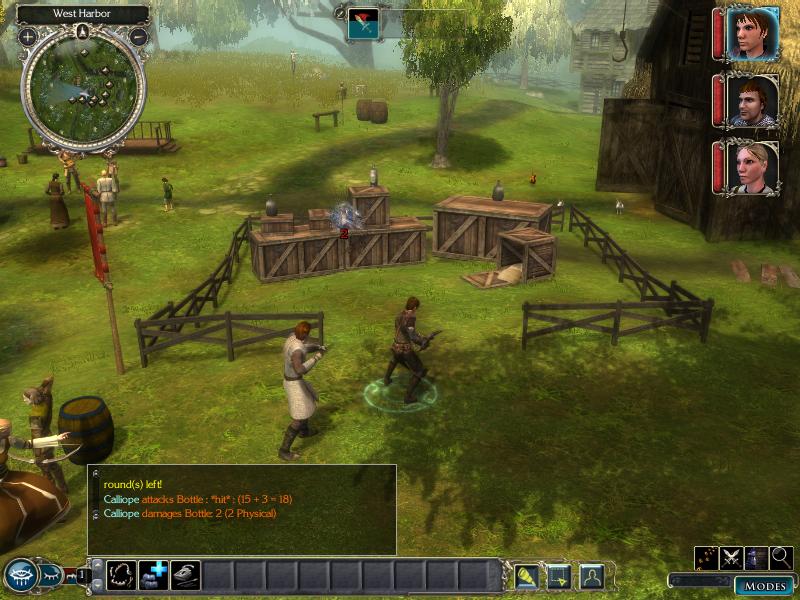 Amie and Bevil practice their Tai Chi in the background.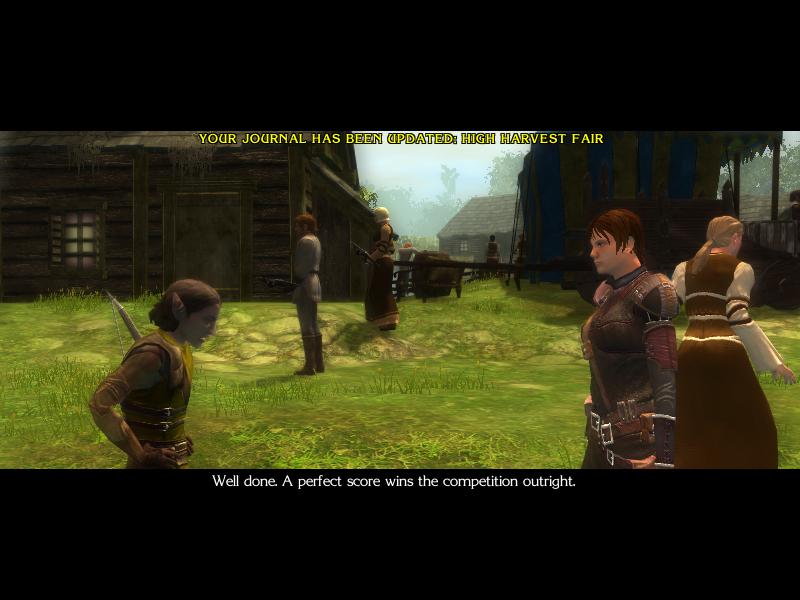 : I have rarely seen such a fine performance so early in the day. You have a marksman's instinct... that much is plain.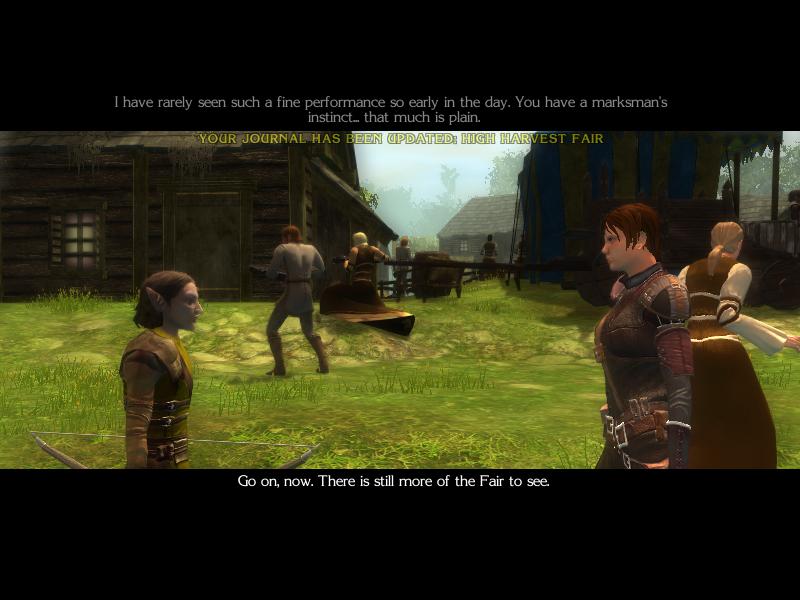 Okay, so maybe Daeghun's not that bad after all. I think Bevil's mum is running another of the competitions... let's go and see her!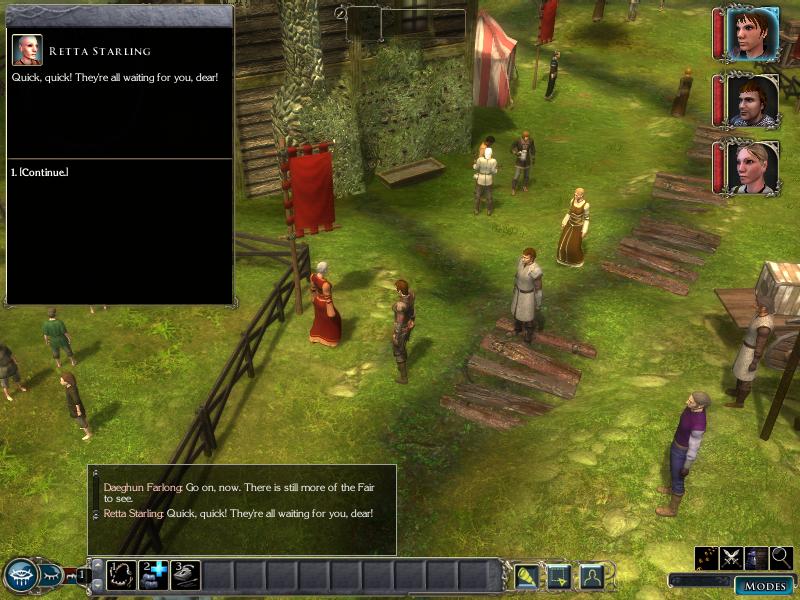 : Waiting for me?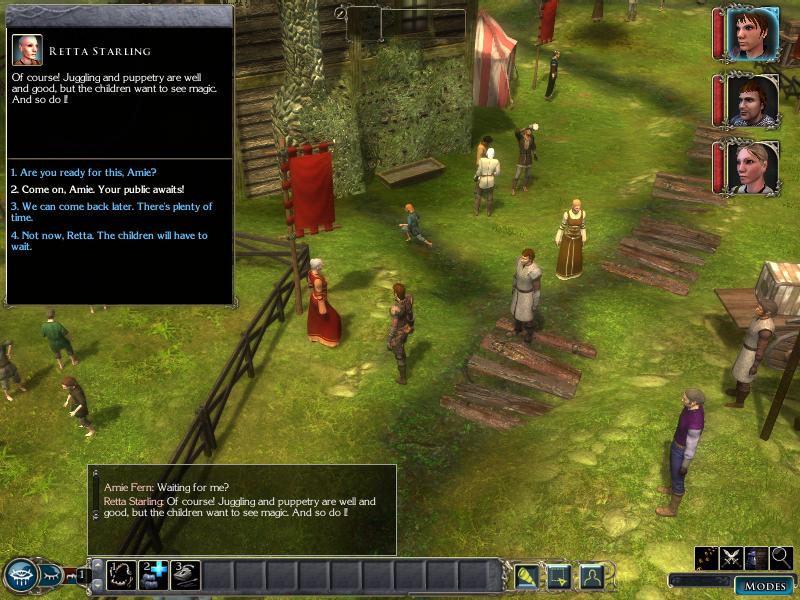 This is the spellcasting tutorial. Spells are a critical part of Dungeons & Dragons; although spellcasting classes like the Wizard and Bard are weak at first, at later levels they turn into powerhouses that are far stronger than more consistent classes like the Fighter and Rogue.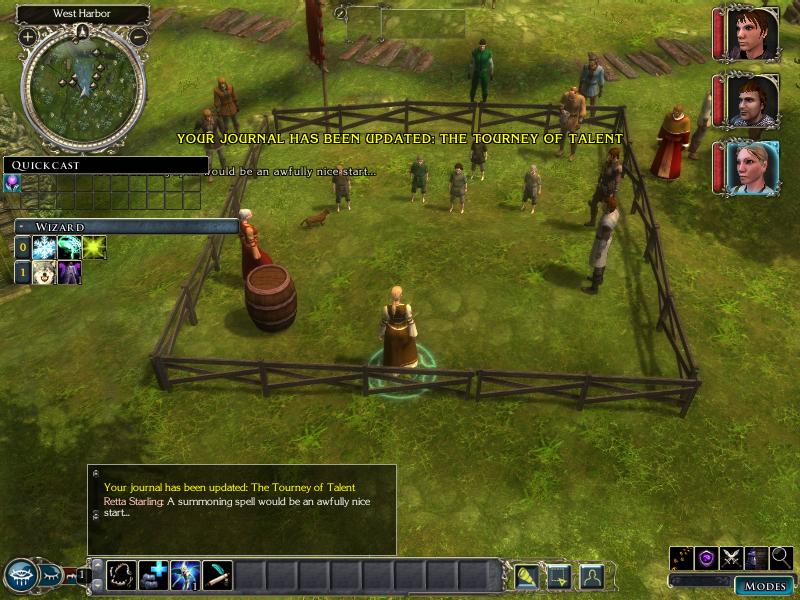 Ladies and gentlemen, you will observe I have nothing up my sleeves...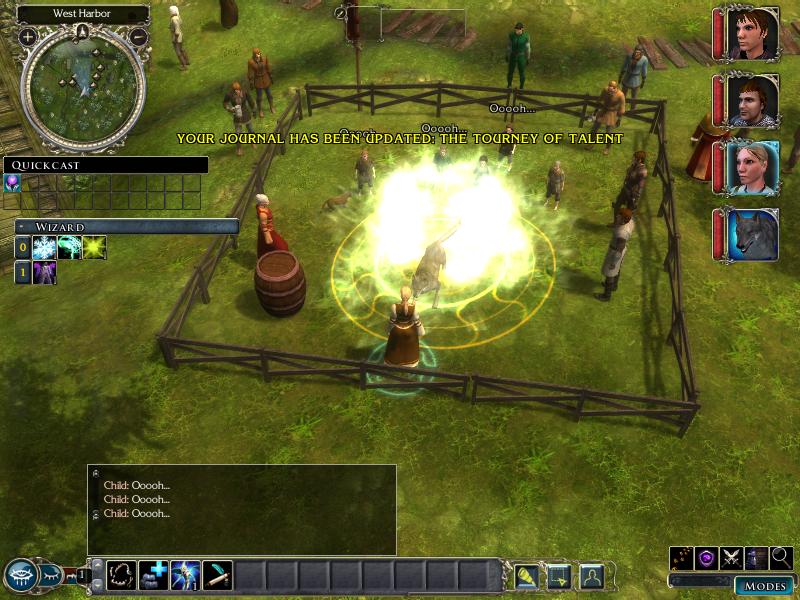 The tutorial covers three basic kinds of spells: summoning creatures...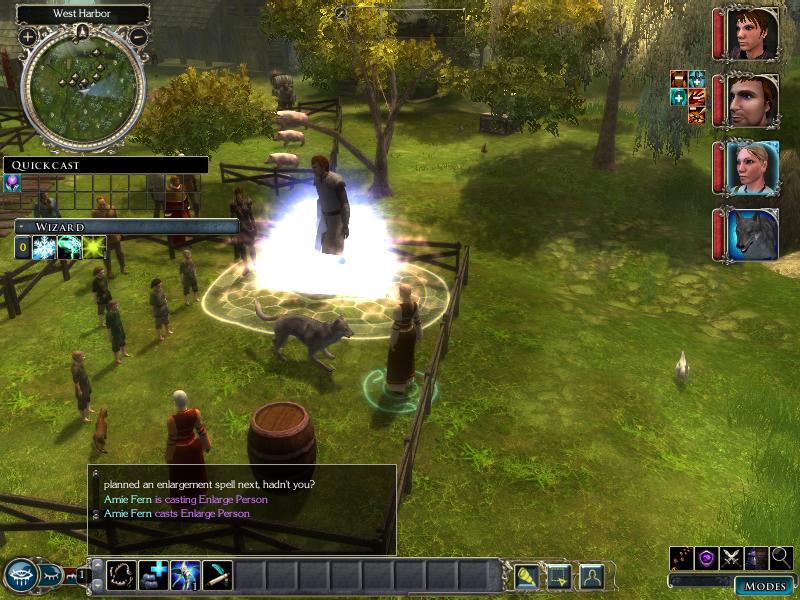 ...buffing (giving allies special bonuses)...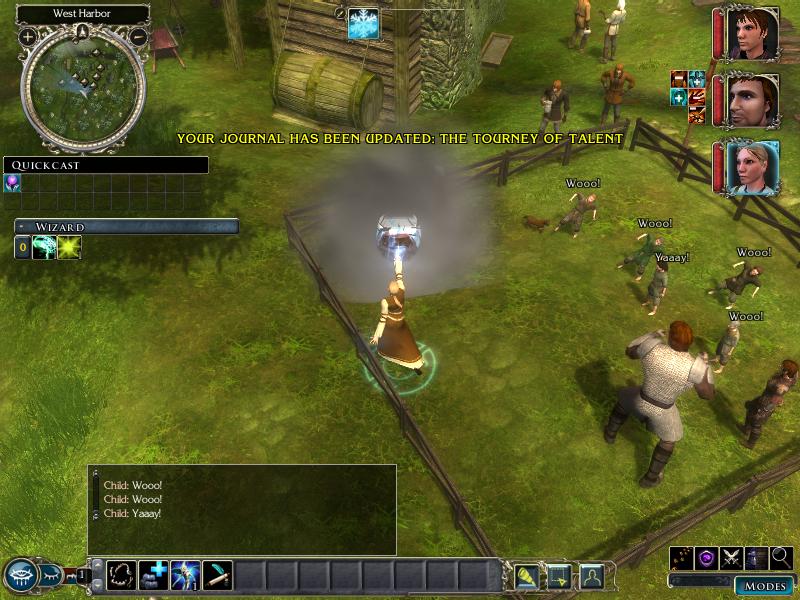 ..and direct damage. This isn't a comprehensive selection, and there are other kinds of magic than wizardry, but I'll explain those when we come to them.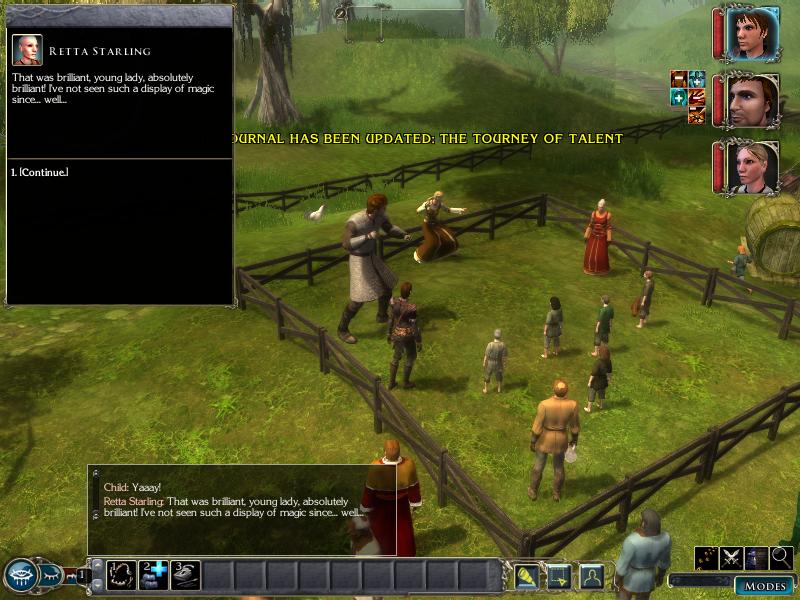 : Mother? Are you all right?

: It's been a... long time. Nevermind all that. You three are most certainly the winners of the contest. That was quite a thrill for all of us.

: Oh, and I nearly forgot! Tarmas gave me these scrolls... said I should give them to his apprentice and her friends, if they won the talent show.
Hrm. What was all that about?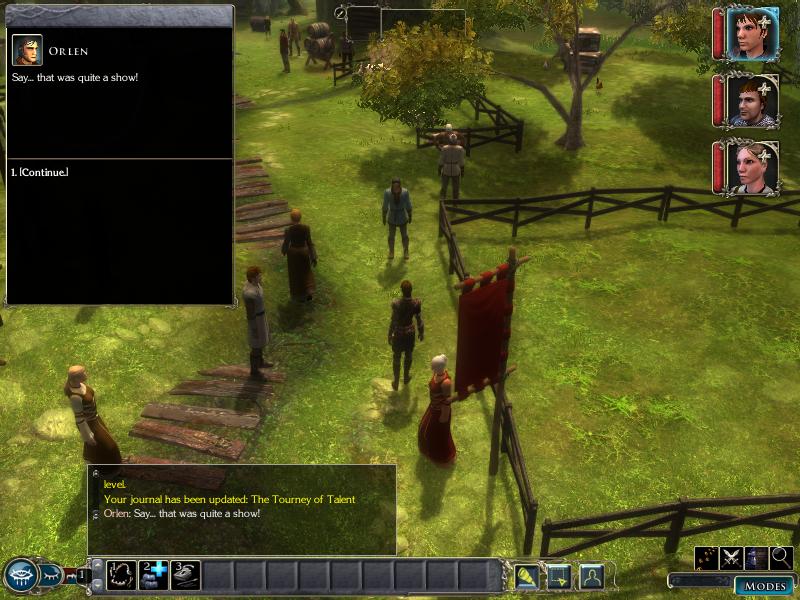 Oh hey, it's Orlen. What's up, dude?

: You're good with that magic, young Amie. More than passing skillful, if you ask me, though I know you didn't.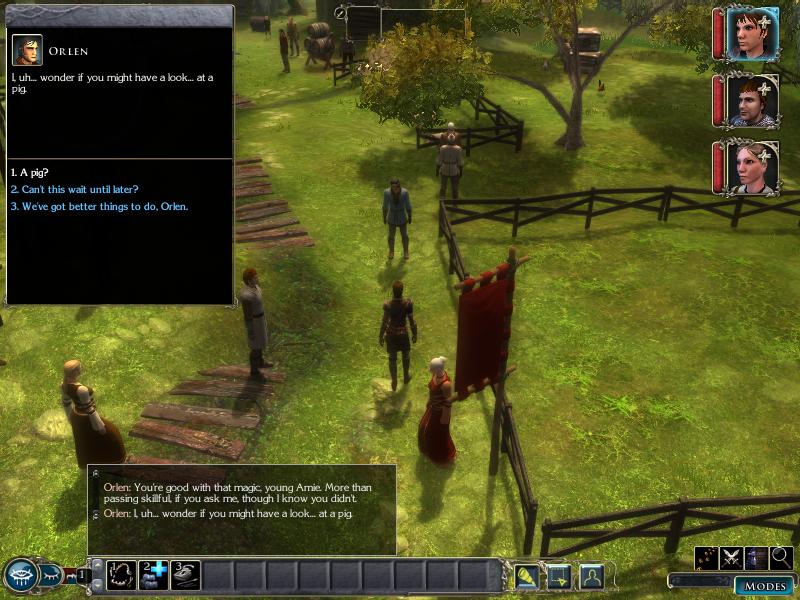 Are you kidding me?

: Aye, that great hulking brute of Lewy Jons'. His prize pig, he calls it, but I call it a trick. A cheat. I've never seen that hog before, and I've an eye for hogs, as folk will tell you.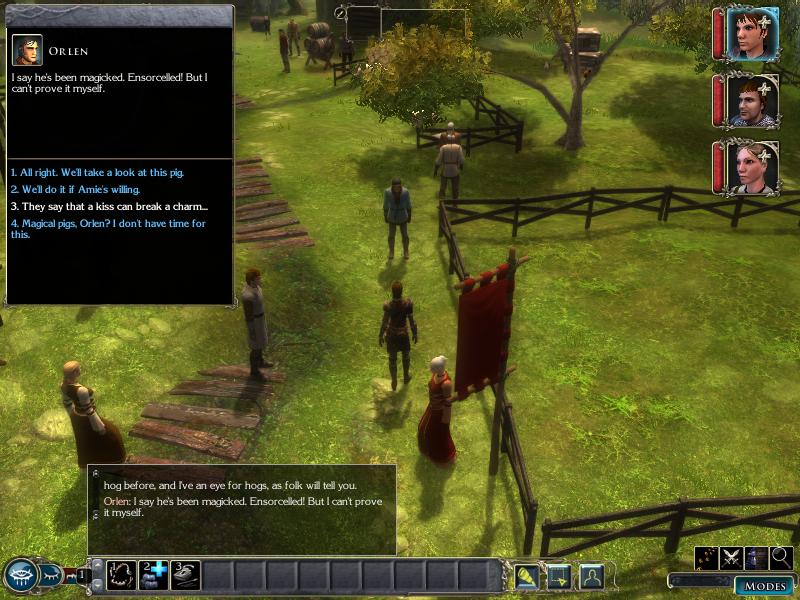 : I know I sound like a fool, don't think I don't know it! Old dumb Orlen, on about his hogs. But I take pride in a fair contest, and I thought you three might help me out.

: Look, if you change your minds, I'll be over wih the hogs. I won't fret you anymore, I know you've got affairs of your own.
Oh, come on, I was only joking! Fine, we'll take a look at your stupid pig for you.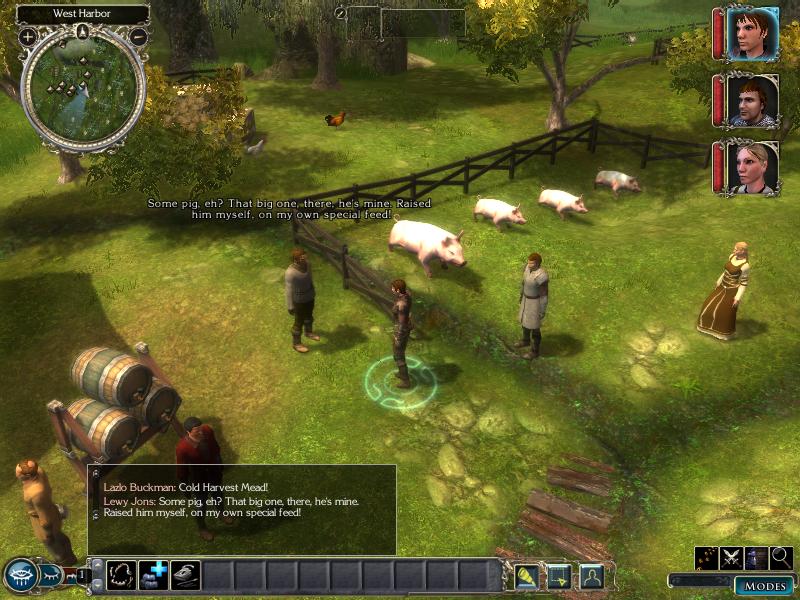 That's... that's a big pig.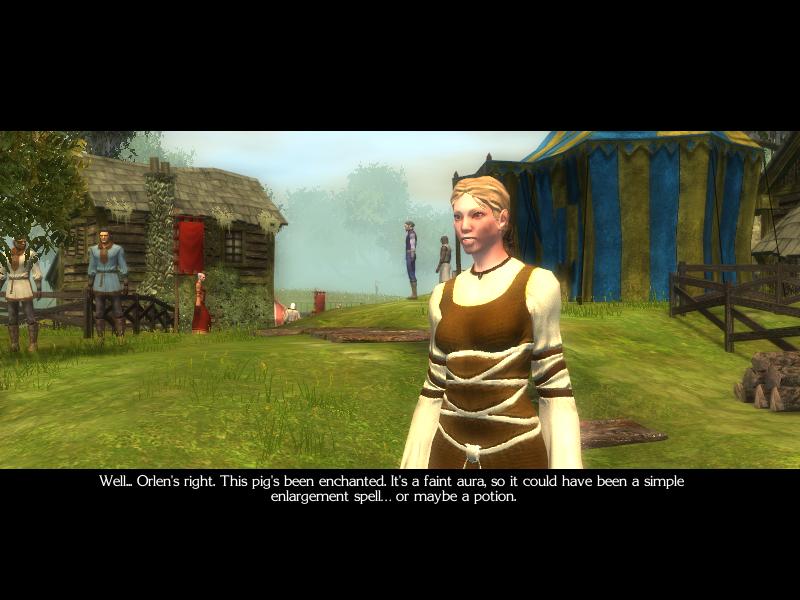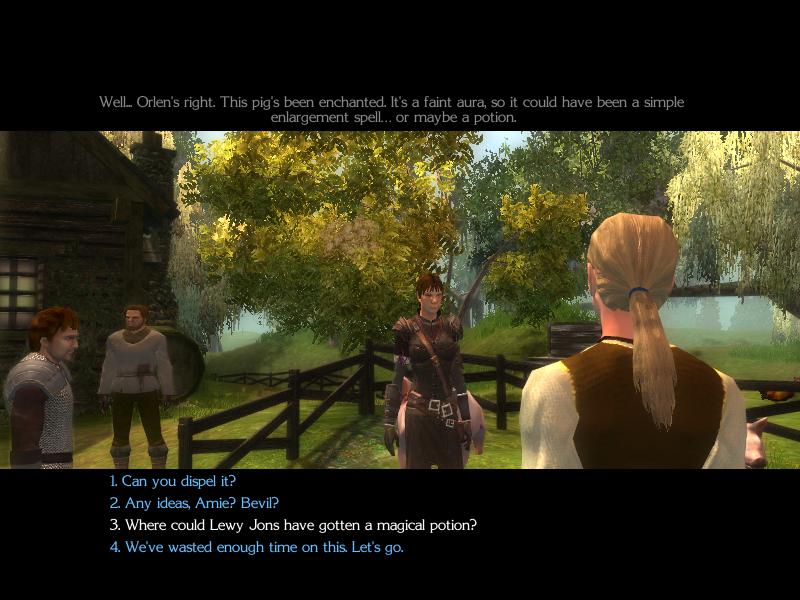 : Galen's been known to bring special orders from the city. And he keeps them quiet, too, he's good about that.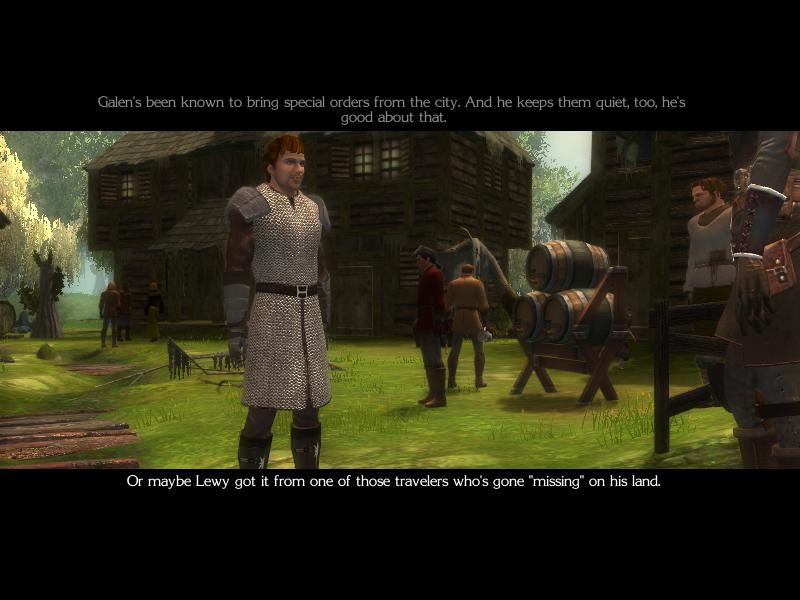 : Remember that bard, last season? Lewy offered to guide him into the swamp, and he never came back out again.
Wait, what? This guy's a murderer? Shouldn't we call the police? Or the... 'Swamp Watch' or whatever they call it?

: Do either of you have any ideas?
Don't be silly, a pig contest is far more important than mere people!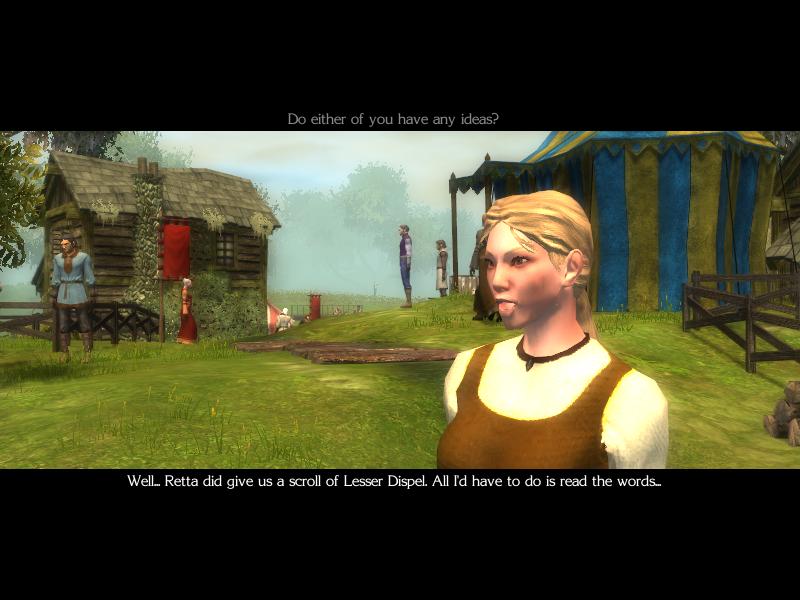 : Wait a minute. Shouldn't we say something to Lewy?

: He's a foul old wretch, but we ought to give him a chance to withdraw his pig from the contest, before he's shamed in front of everyone.

: Good point. We'll talk to Lewy first.
Fine. We'll give diplomacy a chance.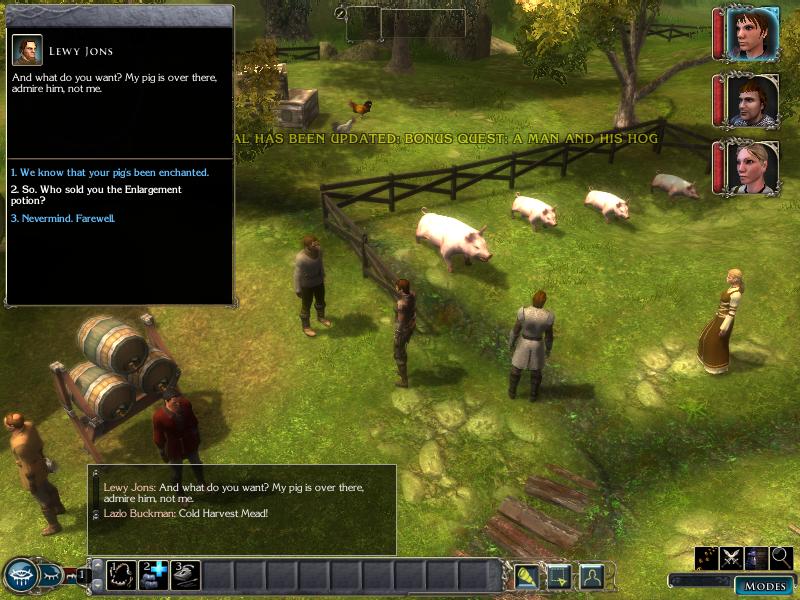 Unfortunately, a direct confrontation proves fruitless.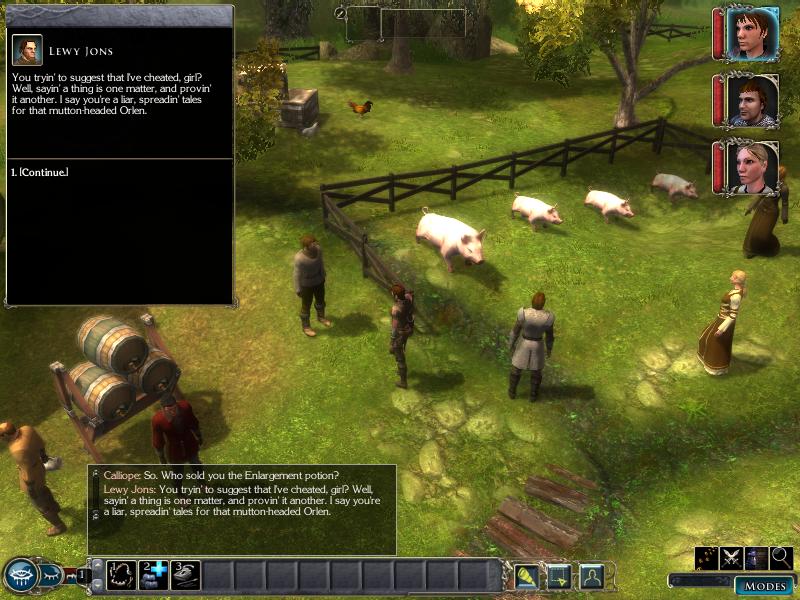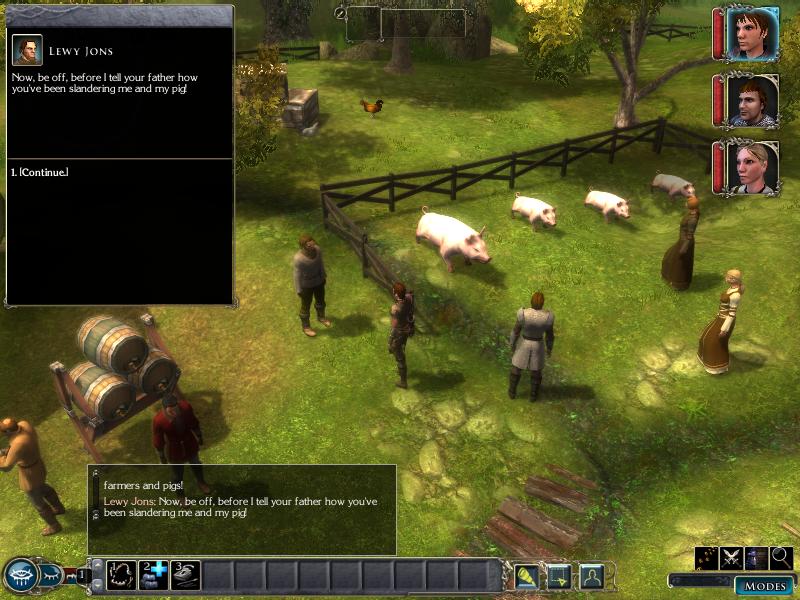 Well! We'll see about that!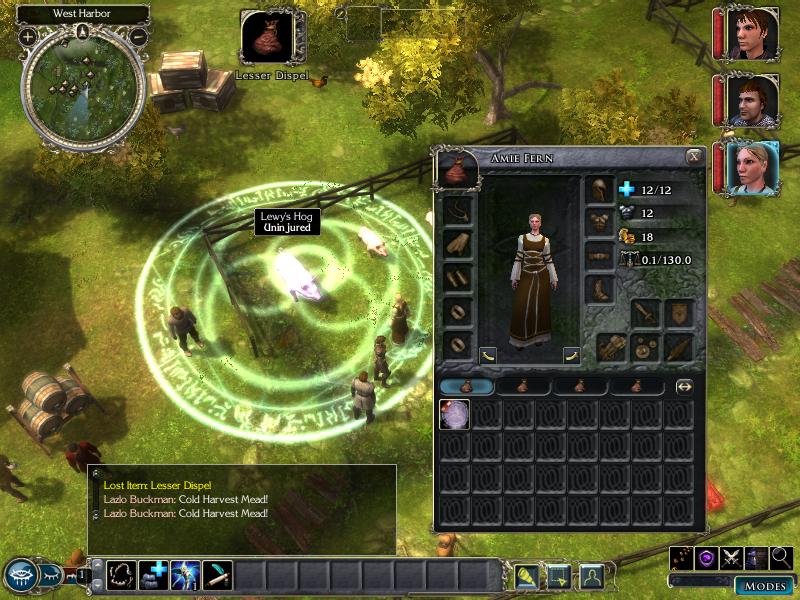 Scrolls are one-shot items that allow spell-casting characters one use of a spell. They're especially valuable to Wizards, since copying scrolls is how Wizards learn new spells. Here Amie is about to cast Lesser Dispel, which removes buffs - the glowy thing is the affected area.
You all know how this works anyway, why am I explaining it?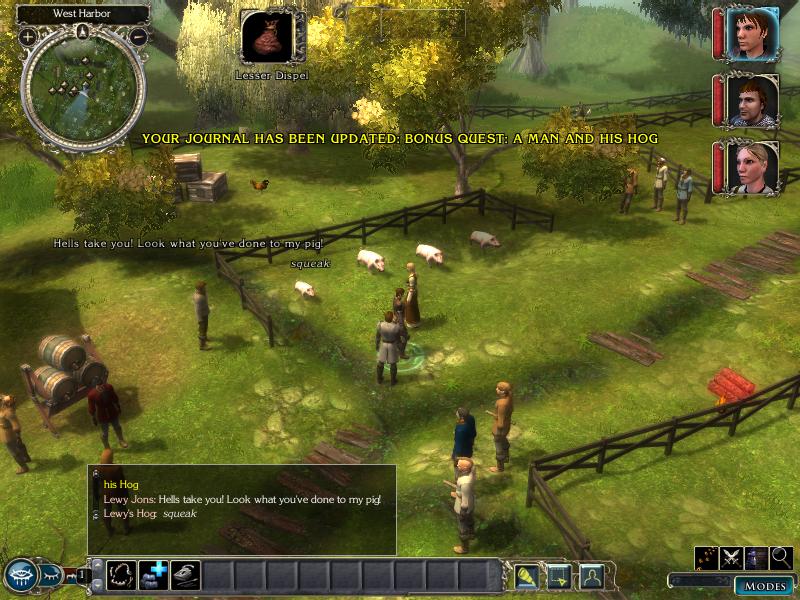 Ahaha, fuck
you,
Lewy Jons.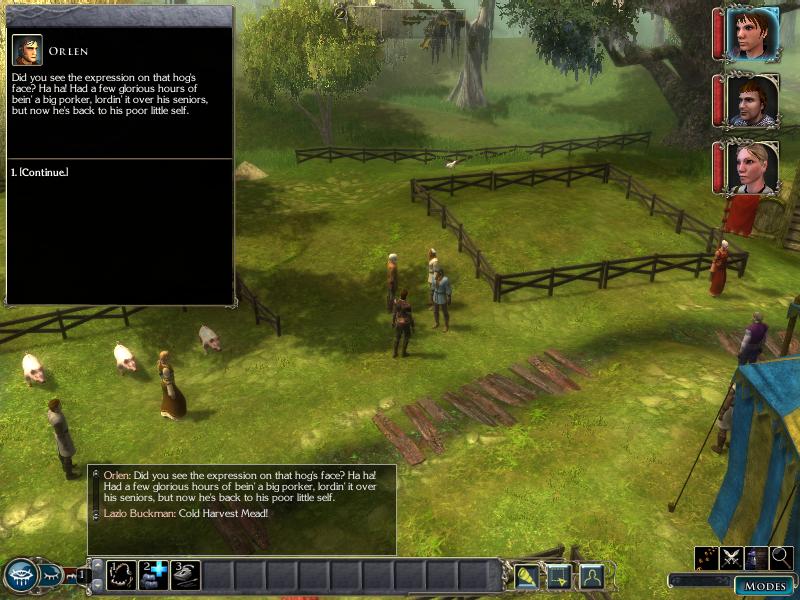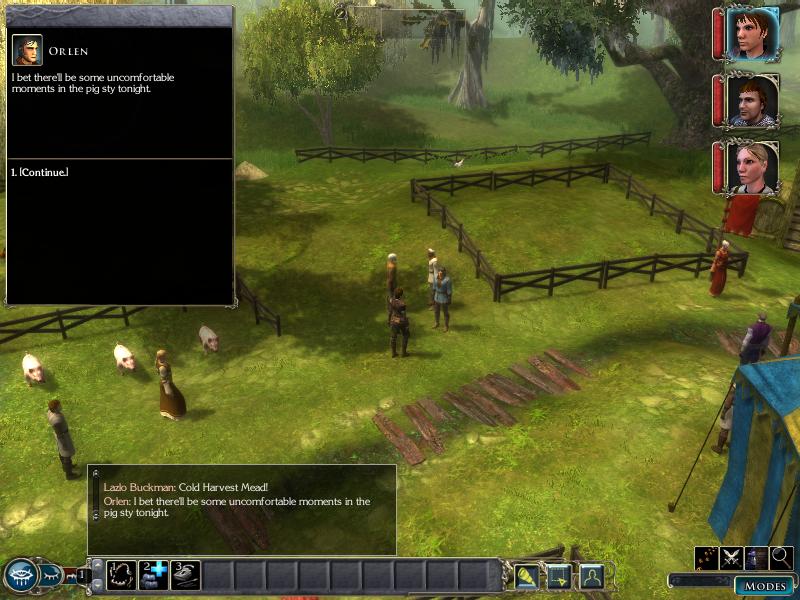 Urgh.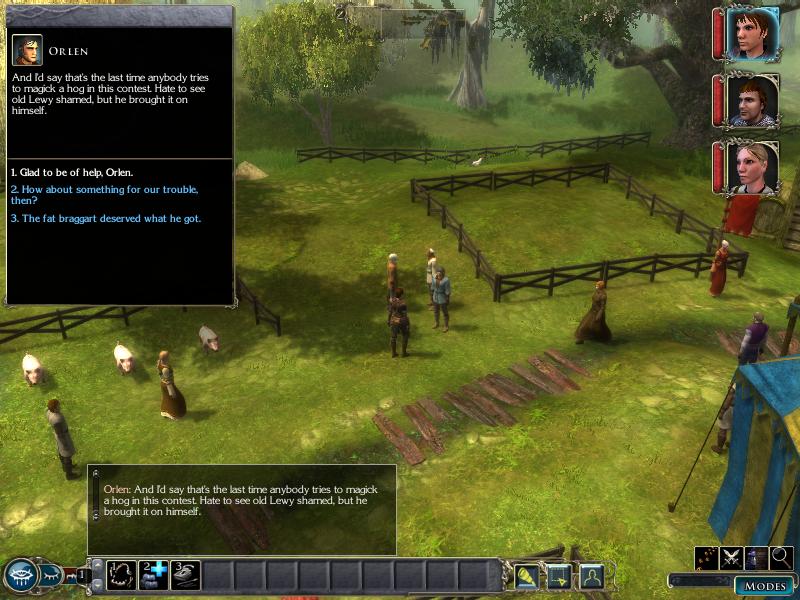 : Thanks are well and good, but I've got this for you, too. It's pork jerky. Tough, dry meat, but it tastes like the heavens and keeps longer than bad memories.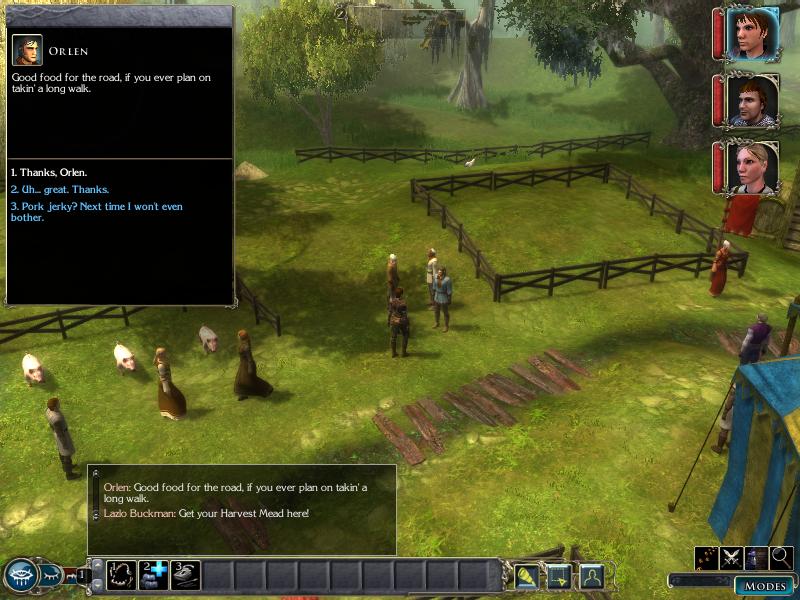 It doesn't seem like much now, but this is good practice for the game ahead. Completing pointless errands will make us richer and more powerful than actually following the main plot ever could.
Also, there are about a million sidequests in NWN2, and we're going to do them
all...
...next update.