Part 35: Ninja Gaiden Black: Chapter 15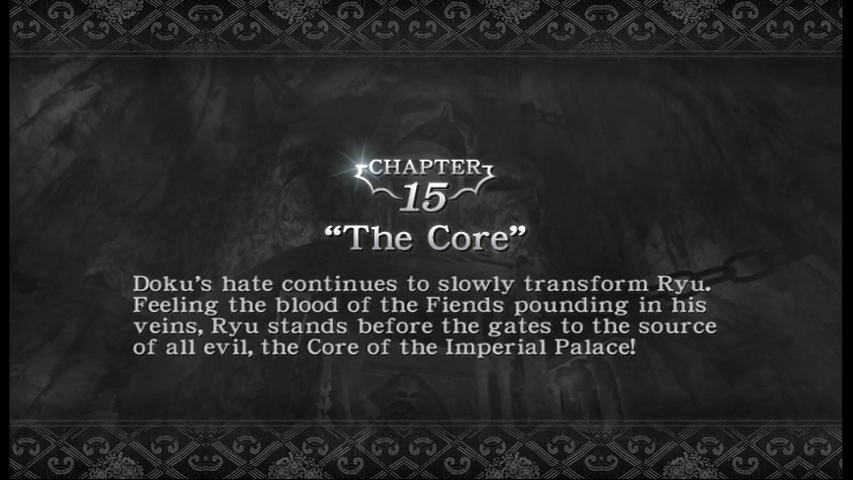 We've made it to the chapter where the player can choose to wrap up any last thing they need to before entering the point of no return. Though with how thorough I've been, there's nothing in the way of loose ends to even consider.

Bosses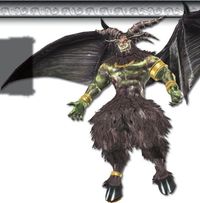 Marbus
Marbus is the third Greater Fiend spoken about by Rachel at the start of Chapter 8 (the one who guards the Emperor). Marbus' appearance is not too far from that of a typical goat demon design, and has a voice I'm not too fond of. He's a pretty decent fight, assuming you can get him to actually attack rather than make use of his primary gimmick.
Marbus is almost always flying around the arena, and will typically summon an imp fiend into battle. These summons can stack eventually if you do not deal with each one quickly. Plus, they feel more like an annoyance as opposed to the fights on higher difficulties that have the bosses accompanied by mooks, due to Marbus always being airborne and this being counted as an attack in his arsenal.

When Marbus decides not to summon more fiends, he'll instead fire a series of fire balls at the ground that create large pillars upon impact. The projectiles themselves aren't the real concern, it's what he chooses to follow it up with.

One of Marbus' projectile follow ups, and the one you want to shoot for, is where he prepares to torpedo is body into Ryu from a high altitude. This is indicated by him yelling in anticipation, and it's important to dodge right before he hits. You see, causing him to miss leaves him on the ground breatheless and open for some damage. Otherwise, if he hits he'll get back up in the air immediately. Also don't stand in front of him on the ground for long, as he'll wind up for a command throw.

Sometimes Marbus won't torpedo himself but rather dash across the arena similar to Alma, or plummet straight down on top of Ryu, accompanied by a distinctive roar. This one allows for some opportunities for damage, but the window is considerably shorter than if he were to do his diving move and dodging it.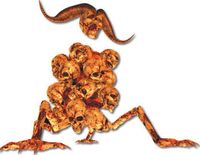 Vigoor Emperor
The ruler of all the Fiends, at least in this guy's domain. This fight actually has two forms and, well, neither of them are especially great though the second is certainly more tolerable. The first utilizes a gimmick involving controlling a floating platform to move along all three axis' but it's quite clunk to deal with to say the least. The second form ends up being a chance to use every projectile you've been saving to pelt him from a distance due to the nature of the arena being mostly lava.
First Form

The Emperor's most prominent and annoying attack is a series of lasers that spin around his perimeter. They will rotate two in one direction and two in the opposite, both on different elevations. Sometimes they will rotate in a straight horizontal line or will move up and down. Staying up close makes it harder to dodge as you would imagine.

Up close, the Emperor only has a couple melee attacks, either swinging down on Ryu and crushing the platform he's on, or backhanding him so that he flies off.

Second Form

Mostly just walks around in the lava and jumps to other points of the arena. He can land on one of the safe platforms and won't really walk around on it, though his legs can still deal damage if you're under them.

The Emperor's only major attack is to send a horde of flying skulls at Ryu and finishes by sending the main head of the Emperor to chomp on Ryu. All of this is easily avoided by spamming the hell out of ninpo like Art of the Ice Storm or Inazuma, because each skull destroyed contributes to the overall damage done to the boss.


Archives
quote:
Dai's Diary

February 1st
As a member of the Black Spider Clan, I will fulfill my
mission and gain the respect of our clan leader. I have
promised so to Gen, and I will not break that promise.

February 21st
I have been badly wounded, but I have obtained the key
to the Core. I do not have much longer; I must get this
to Gen...

February 29th
With the last bit of strength in me, I have made it
this far. However, I cannot find a way to pass through
this door...