Part 29
Stage 13, Continued
We tell Rauny that we're already out to beat some Imperial ass, and she gets all happy and joins us. Never hurts to have another hottie on the team.
Soon we get back to the fighting and get such great battle spoils as this: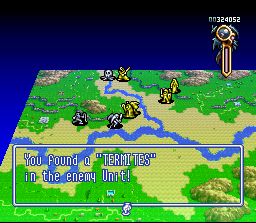 We also liberate towns and temples and get such great advice as this: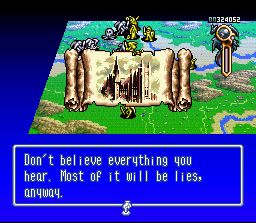 There really wasn't much to the "strategy" for this stage, aside from "advance forward." Here's where our units stood at the end.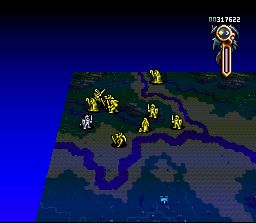 To make up for the lack of interesting things in this update, here are a few random battle shots.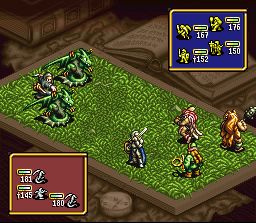 Victor's unit fights some baddies.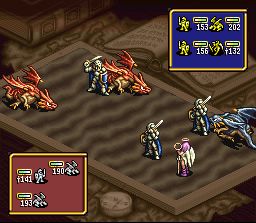 Milky's unit fights some dudes.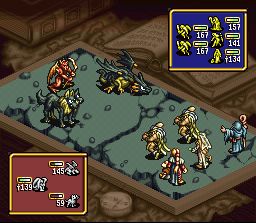 Mort's unit… hey wait, is that ANOTHER PRINCESS?

The Empire has sent the bandit Ares to hunt down Rauny and bring her back to the Highlands. Not wanting to be captured, Rauny deems it a good idea to go face Ares herself.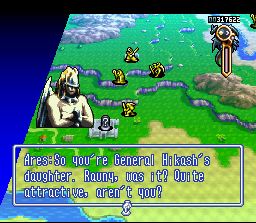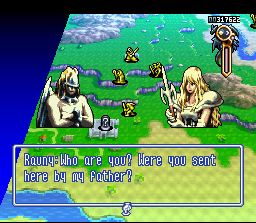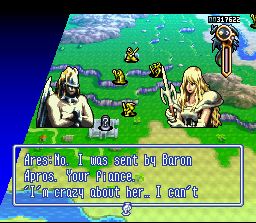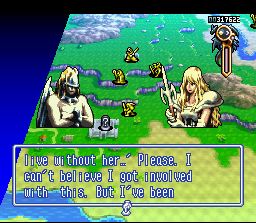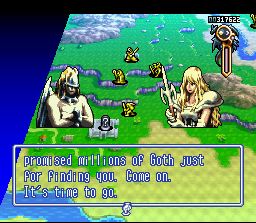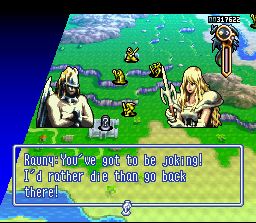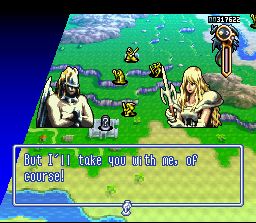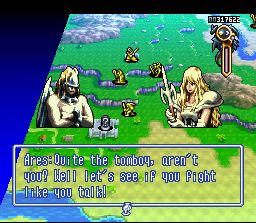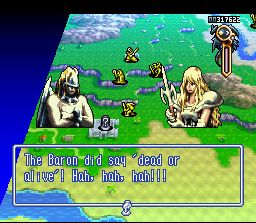 This would make quite the entertaining e/n thread.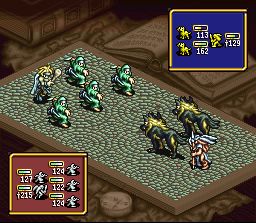 Rauny is guarded by a pair of doggies.
So we kill him, watch the fireworks, yadda yadda yadda, and the villagers realize what idiots they were.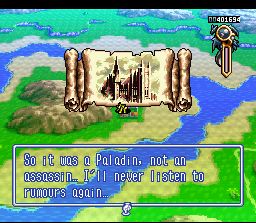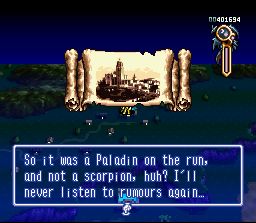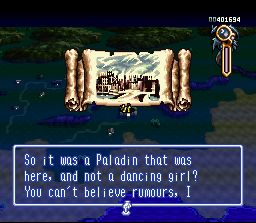 Coming up, updated Army List and New Equipment. Also I suppose we have to do more rearranging for Rauny and her mutts, along with Violette's promotion.
We have 5 stages ahead of us now: Floating Islands Muspelm and Organa, City of Malano, The Tundra, and Antalia.
Edit:

UPDATED ARMY LIST

*NOTE* We've 3 new characters, Rauny and her 2 Cerberi, Moneta and Olita. We also found another Crown and Violette has become our second Princess, congratulations!
CURRENT UNITS
1. Laharl, lvl 13 -- Lord
Kingston, lvl 12 -- Knight -> Paladin
Repree, lvl 12 -- Shaman -> Monk
Grynpus, lvl 12 -- Gryphon
2. Milky, lvl 14 (Gorbash9k) -- Cherubim -> Seraphim
Zelig, lvl 13 (Lunarian)-- Knight -> Paladin/Vampire
Rush, lvl 13 (Rixen) -- Knight -> Paladin
Prosbyna, lvl 13 (Pamplmoose)-- Silver Dragon -> Gold -> Plat
3. Victor, lvl 14 (TheUnforgiven) -- Knight -> Paladin
Sara, lvl 14 (murklins)-- Shaman -> Monk
Canopus, lvl 14 -- Eagleman
Telpassa, lvl 13 -- Titan
4. Lans, lvl 14 (octobernight) -- Knight -> Paladin
Ayla, lvl 13 (mythadile) -- Valkyrie -> Muse
Parker, lvl 13 (Centurion) -- Knight -> Paladin
Swadda, lvl 13 (TheFonz) -- Gryphon -> Cockatrice
5. Needham, lvl 16 (Majik Ninja) -- Lich
Ohsa, lvl 14 (GetWellGamers) -- Phantom
Zett, lvl 15 -- Phantom
Gerald, lvl 15 -- Wraith
Mazelon, lvl 14 -- Wraith
6. Warren, lvl 16 (Javelin)-- Mage (-> Sorcerer -> Lich)
Rivera, lvl 14 (Tite-Dent) -- Demon -> Devil
Cook, lvl 14 -- Demon -> Devil
Moira, lvl 14 (Vorxnyx) -- Cockatrice
7. Jenny, lvl 14 (T-C47) -- Princess
Sophia, lvl 13 (Tortolia)-- Valkyrie -> Muse
Norn, lvl 14 -- Shaman -> Monk
Silvia, lvl 13 -- Cherubim -> Seraphim
Brigitte, lvl 13 -- Cherubim -> Seraphim
8. Geist, lvl 15 (WildMango) -- Mage
Brute, lvl 15 (Zen Guerilla) -- Werewolf
Kazan, lvl 15 (kento-bento)-- Werewolf
Buzz, lvl 15 -- Demon -> Devil
Notom, lvl 15 -- Demon -> Devil
9. Ashe, lvl 14 (Mathmaven) -- Knight -> Paladin
Aisha, lvl 13 (Riidi WW) -- Shaman -> Monk
Bikke, lvl 13 (moobear) -- Samurai -> Master
Minas, lvl 14 (Stevus) -- Silver Dragon -> Gold -> Plat
10. Straw, lvl 15 (ClothHat) -- Ninja Master
Antonio, lvl 15 (Spikey) -- Ninja Master
Yuenta, lvl 14 (Xae) -- Black Dragon -> Tiamat
Folk, lvl 14 -- Werewolf
11. Margo, lvl 14 (bahamut) -- Cherubim -> Seraphim
Camilla, lvl 13 -- Cherubim -> Seraphim
Mulkibel, lvl 13 -- (MartianAgitator) Titan
Madel, lvl 12 -- Valkyrie -> Muse
12. Bogy, lvl 14 (Cowcaster) -- Samurai -> Master
Lenox, lvl 14 (E. Revenant) -- Shaman -> Monk
Merry, lvl 14 -- Valkyrie -> Muse
Melanbus, lvl 13 -- Gryphon
13. Lemon, lvl 14 (Tithin Melias) -- Shaman -> Monk
Niove, lvl 14 (Mr. Goodbar) -- Kraken
Kastali, lvl 14 (enigma74) -- Kraken
14. Mort, lvl 15 (PokerJack) -- Doll Mage
Violette, lvl 15 (Turpitude) -- Princess
Saradin, lvl 15 -- Mage
Zappa, lvl 13 -- Eagleman
Brandell, lvl 13 -- Eagleman
15. Leopold, lvl 14 (PopeCrunch)-- Doll Mage -> Master
Gilbert, lvl 15 (Cruel World) -- Dragoner -> Master
Sting, lvl 15 (Mordecai) -- Beast Master (-> Dragoner -> Master)
Ryukaon, lvl 14 (Cyberventurer) -- Red Dragon -> RD II -> Salamand
16. Rauny, lvl 15 -- Muse
Olita, lvl 14 -- Cerberus
Moneta, lvl 14 -- Cerberus
CURRENTLY ON THE BENCH
Rhea, lvl 14 -- Rockgolem
Omega, lvl 14 -- Rockgolem
Olfa, lvl 13 -- Nixie
Kiddy, lvl 13 -- Nixie
Rebecca, lvl 13 -- Nixie
Miletos, lvl 13 -- Octopus -> Kraken
Ramda, lvl 13 -- Angel -> Cherubim -> Seraphim
Rosa, lvl 12 -- Valkyrie -> Muse
Sauzant, lvl 15 -- Ravenman
Whitman, lvl 15 -- Ravenman
NEW EQUIPMENT
Broken Sword -- Str +4, Black attack
Dragon's Claw -- Str +5, White attack
Battle Dagger -- Str +3, Phys attack
Houlou's Robe -- Phys +7, Fire +11
Thunder Helm -- Phys +5, Lit +8