Part 41: Back to Reality
UPDATE 41: Back to Reality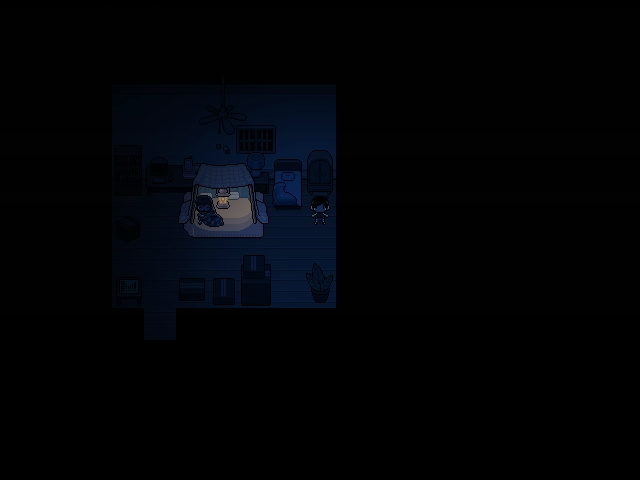 Looks like someone had a bad dream. I'd also like to go ahead and slot my time experiencing Black Space to it being a bad dream.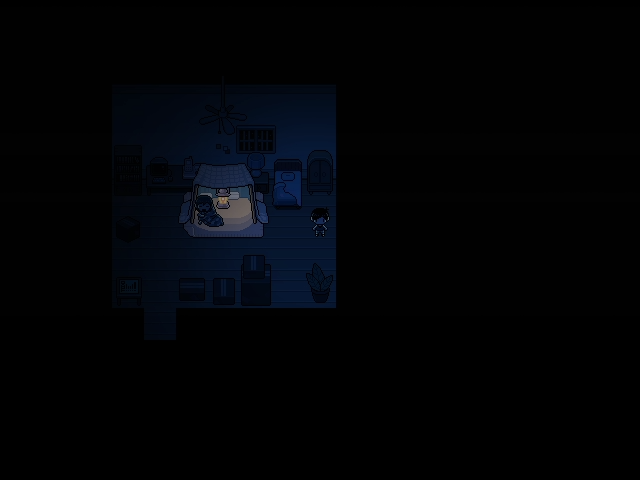 Hey... where's Hero?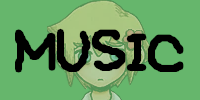 Do You Remember?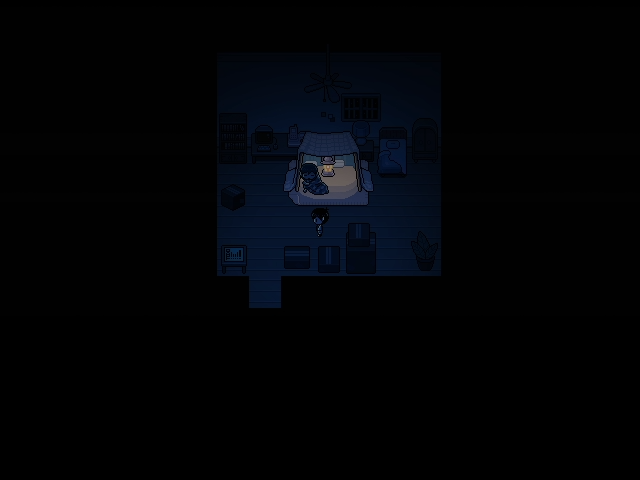 Oh... he must be in the piano room. Maybe he remembered how to play Mari's song.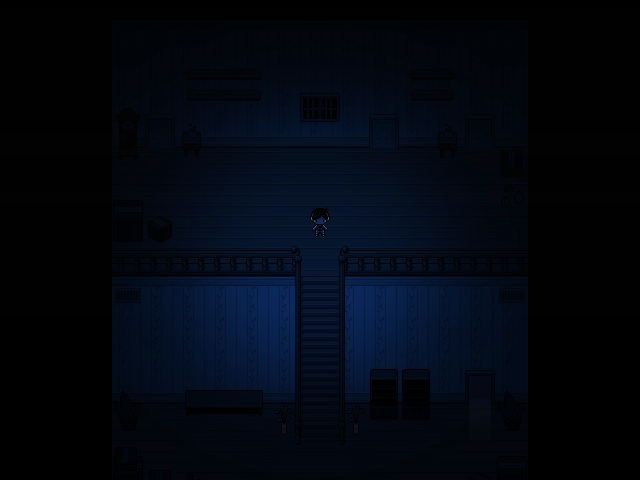 There's no one in the bathroom or bedroom, so he's gotta be in that room... right?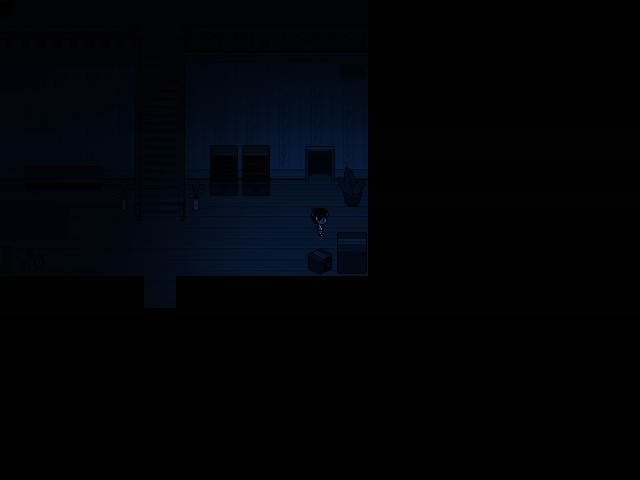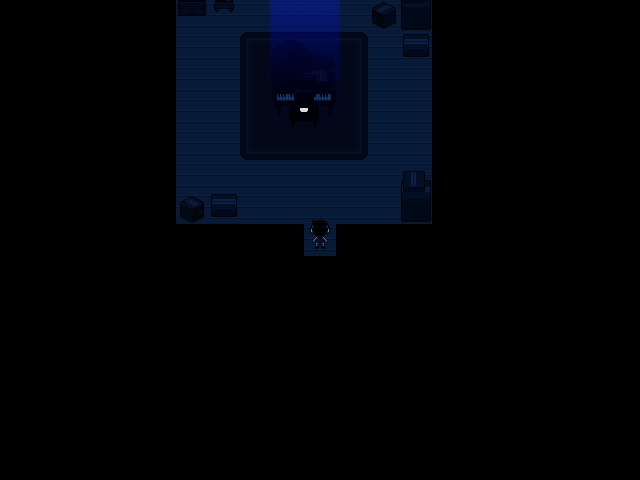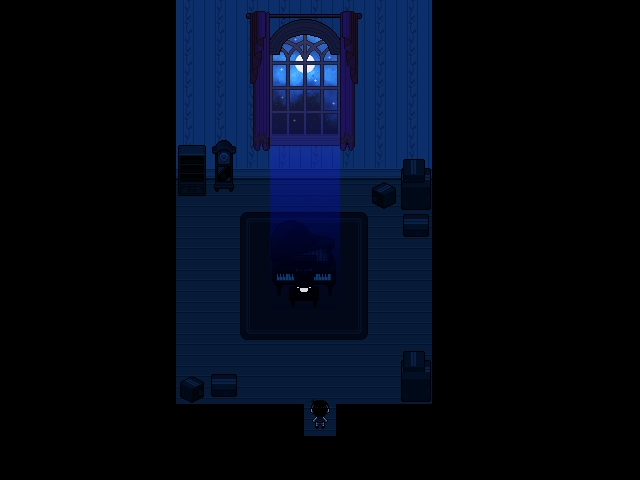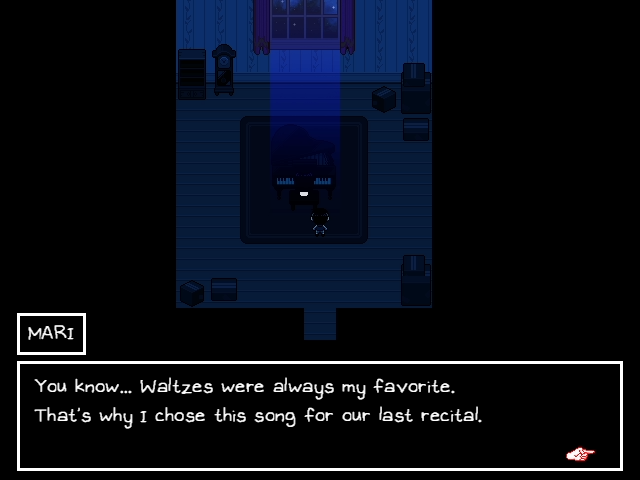 But you always hated it, didn't you? How I'd lock myself away on the piano...

All that practicing... Playing the same song over and over.

When you first picked up your new violin, you were so eager to play with me.

But keeping up with something isn't so easy.

Maybe I pushed you too hard. I'm sorry... I just wanted it to be perfect.

We never did get to play at that last recital.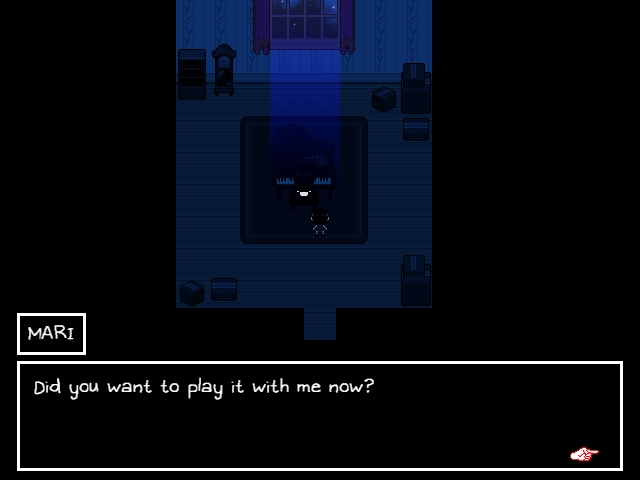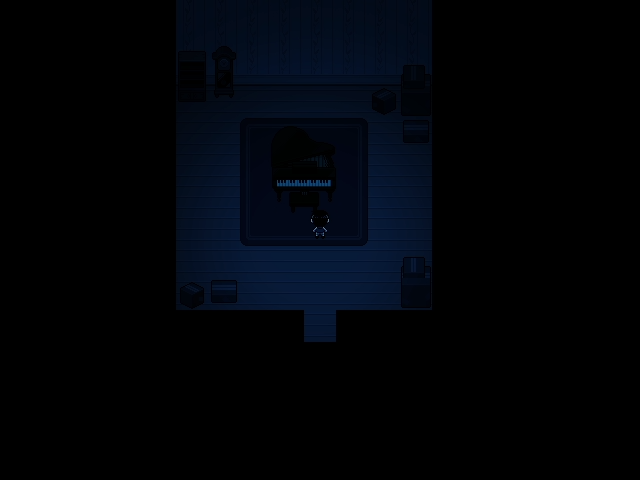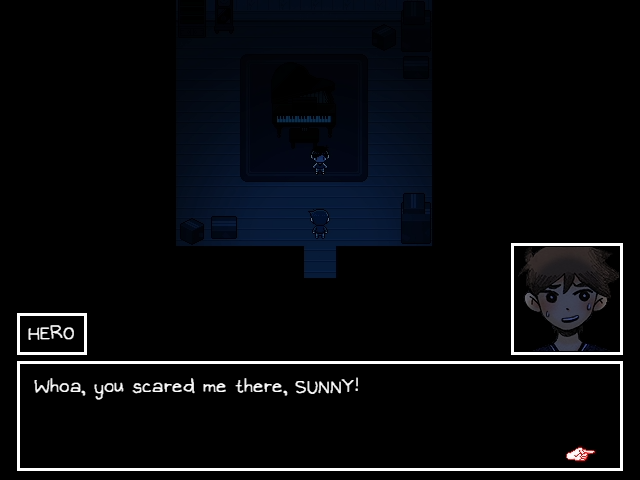 Sorry for busting in like that. I could've sworn I heard some music.

...

You must miss Mari a lot.

It's been hard for me, too. I still think about her every day.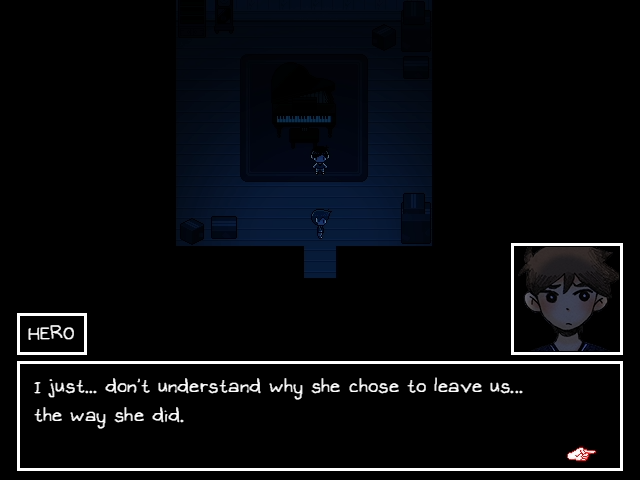 But I knew her as a person who would always want all of us to be happy, even if it was without her.

...

You should really get some rest. Go upstairs. I'll come join you in a bit.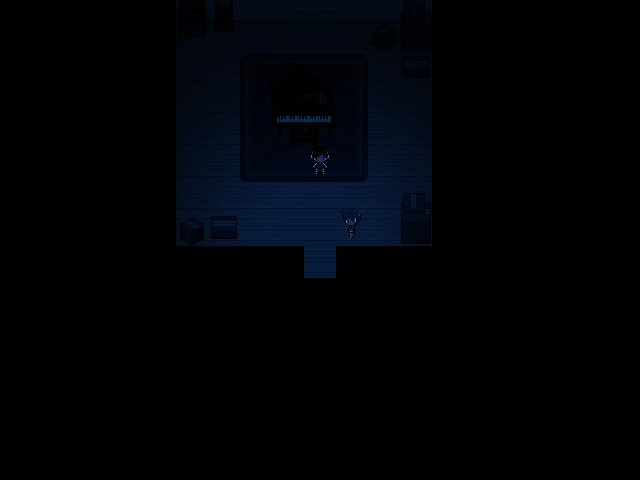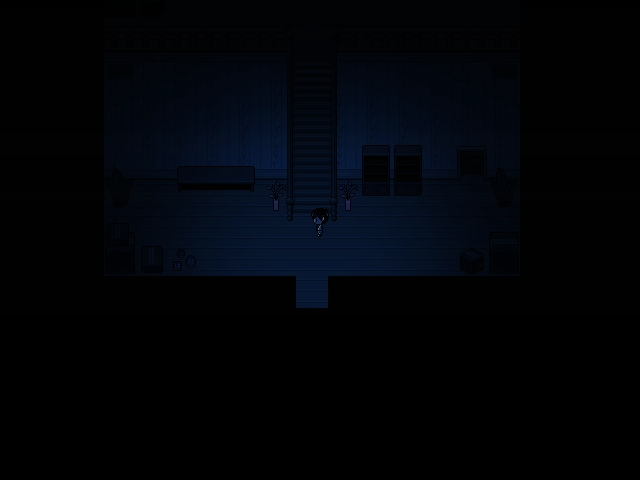 We're... not gonna do that just yet... if we head back inside the piano room...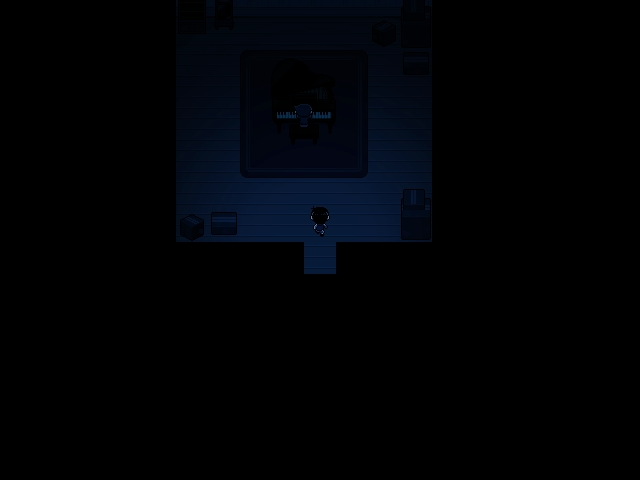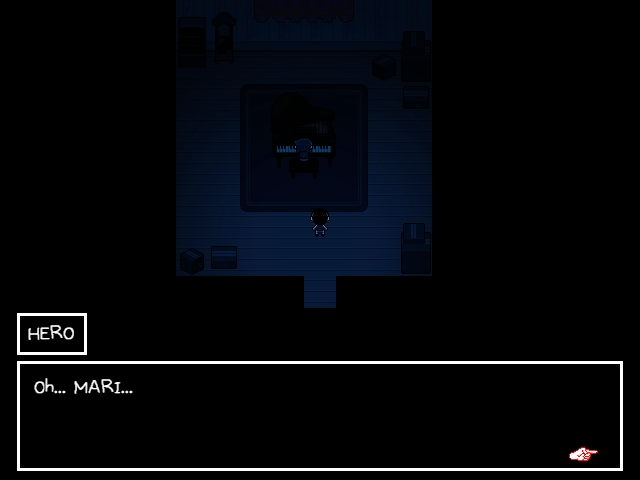 We can find Hero... mourning a bit.

Let's leave him be... because the talk between Sunny and Hero has emboldened Sunny a bit. He's now willing to explore a place he hasn't seen in a very long time...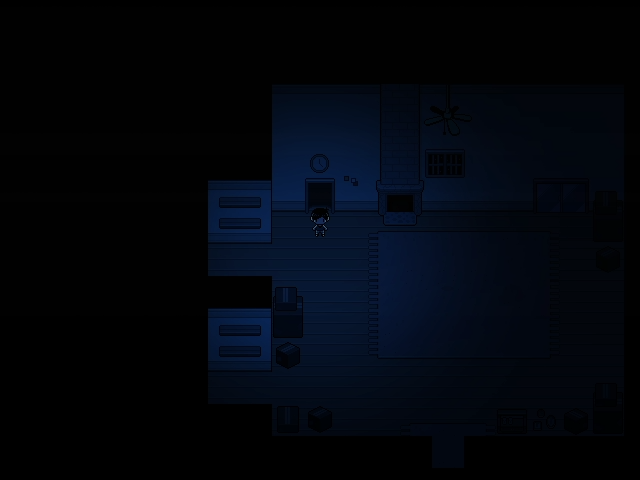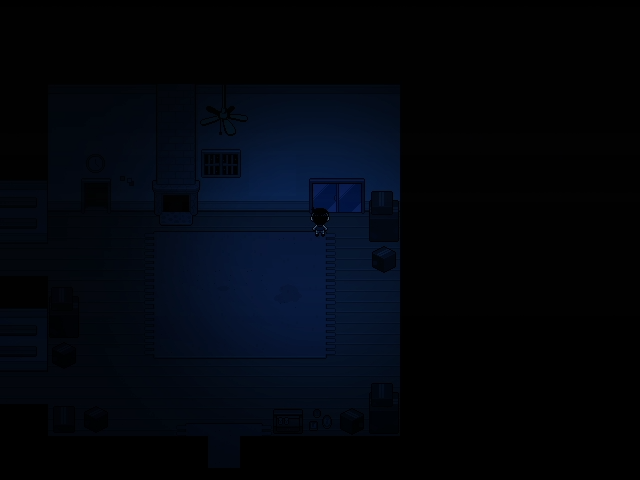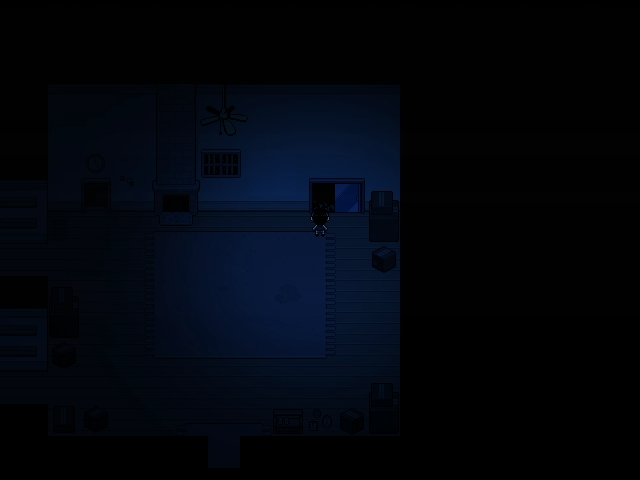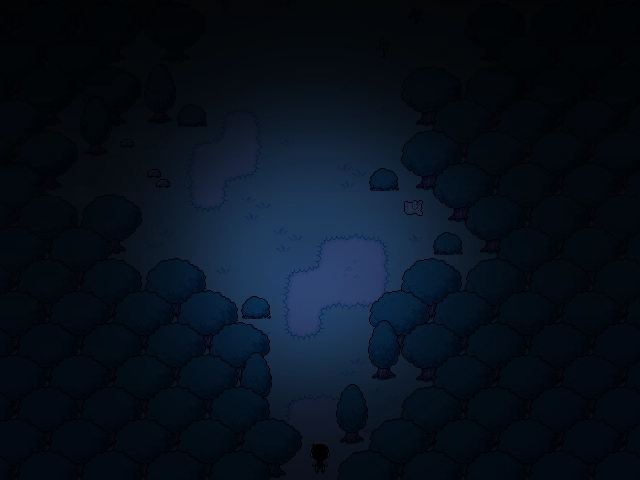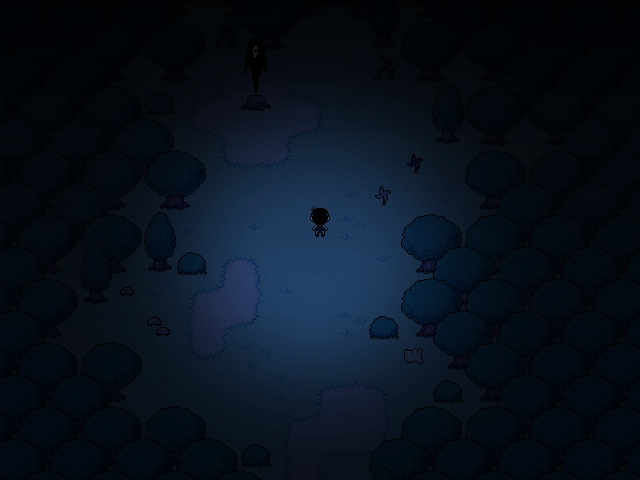 A stump of a tree... with Something on top of it...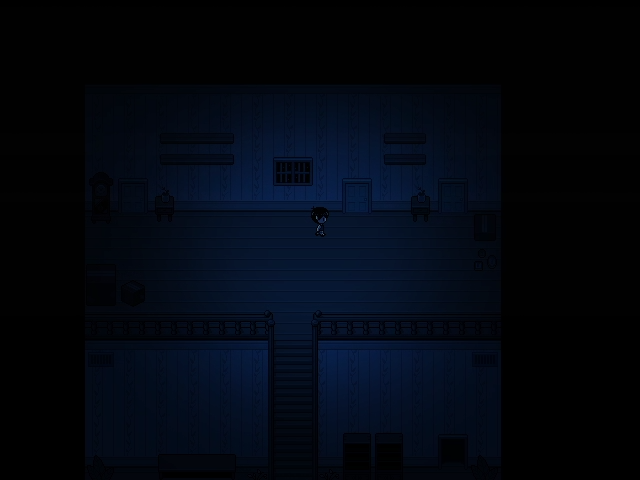 Before we head to bed... we should check our bathroom right for uh... ok we actually shouldn't check it and should go to bed instead but let's pretend there was a good reason to go to the bathroom and check in the mirror...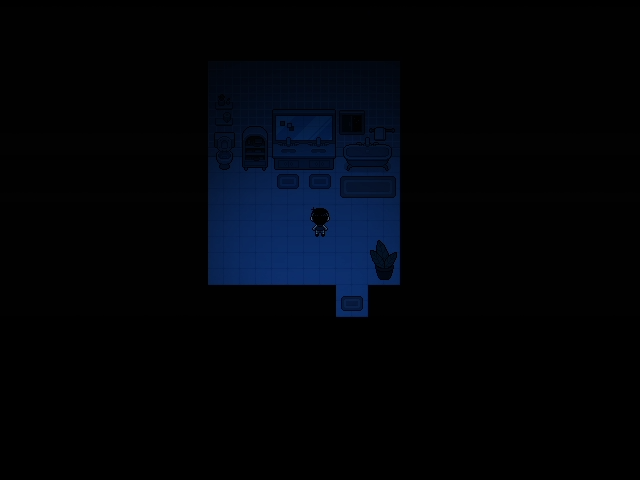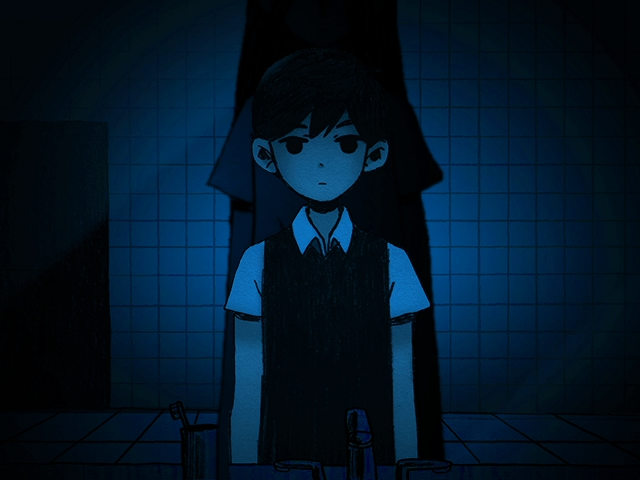 Geez Mari, wait your turn for the bathroom!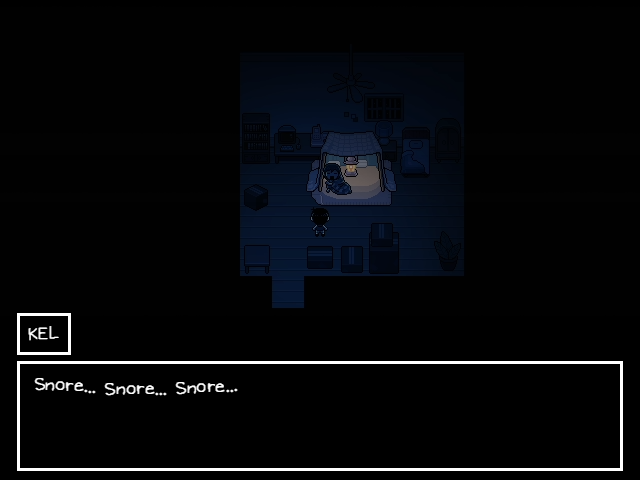 Kel, meanwhile, is sleeping like a rock during this whole ordeal. God to be able to do that again...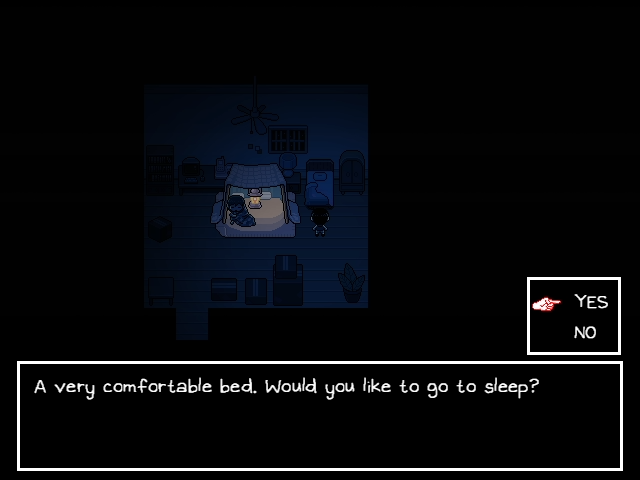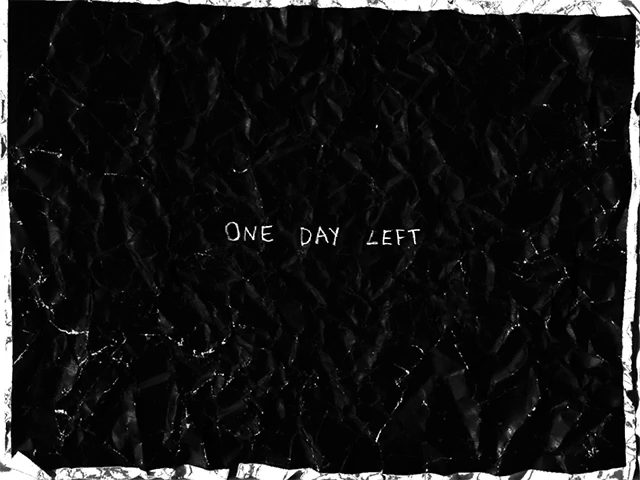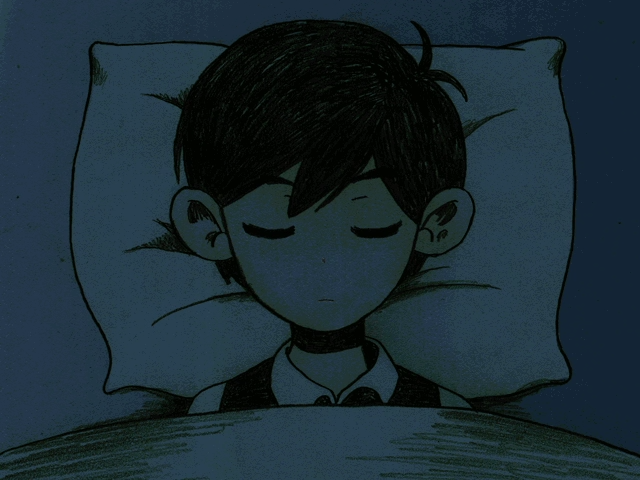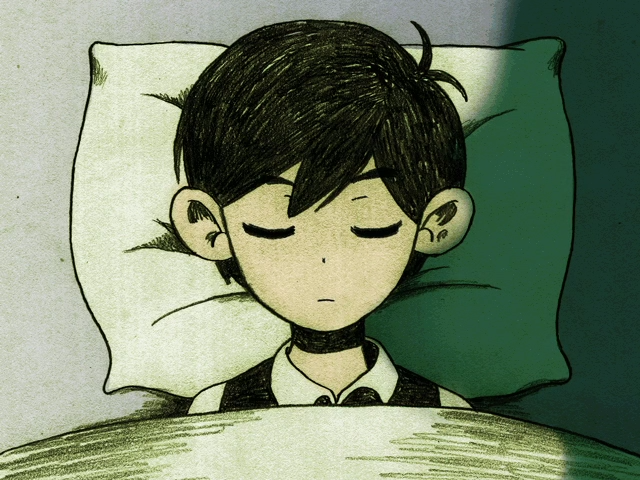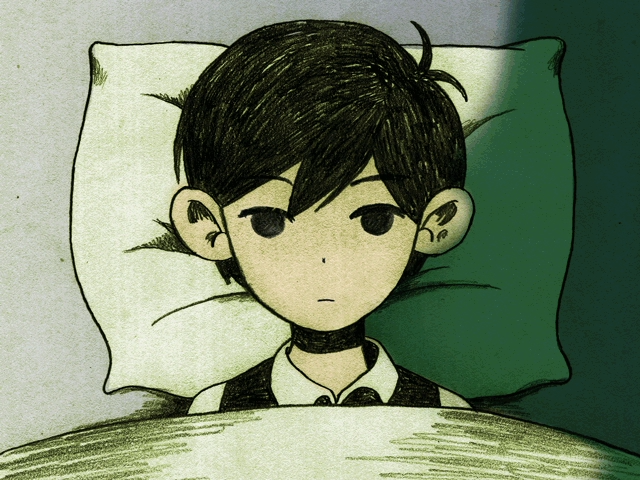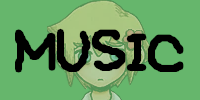 Hanging with the Boys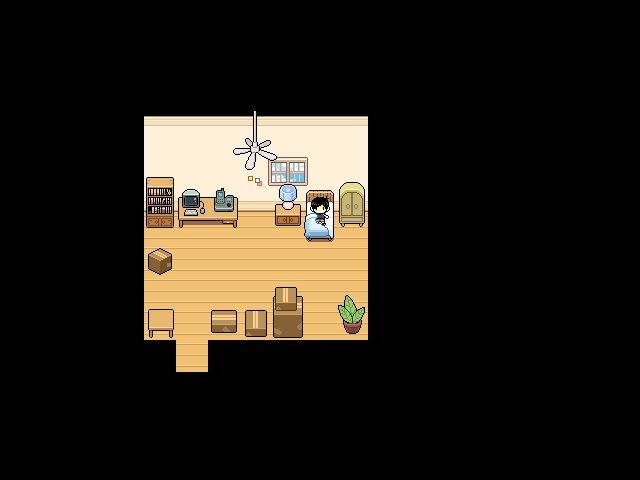 Well that night could have gone worse. We didn't have a fight with a spider monster, or monster at the bottom of the stairs. Too bad about venturing into Black Space though.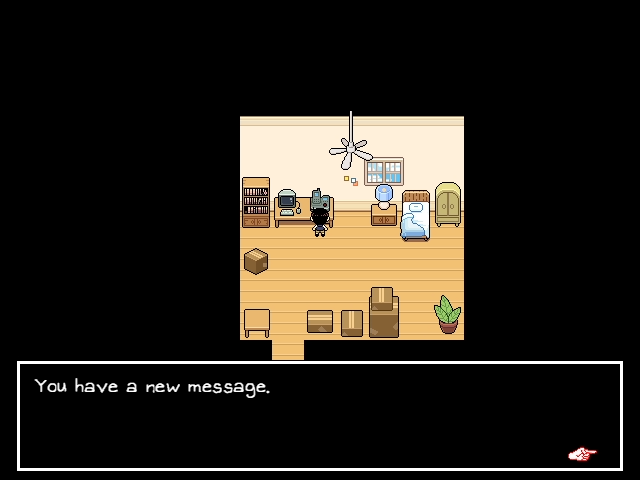 Hey Sunny, it's Mommy. Tomorrow is the big day! The movers will be here first thing tomorrow morning. I gave them the keys so don't freak out if you see them. Remember to finish organizing your things today. I'll be picking you up in my car out front. Just come outside when you're ready. Okay, that's it for now! Mommy loves you!
We still haven't seen our Mom but she at least sounds like she cares about Sunny... Even though he is 16 (and this is the 90s) she should still probably be more concerned considering he never leaves the house...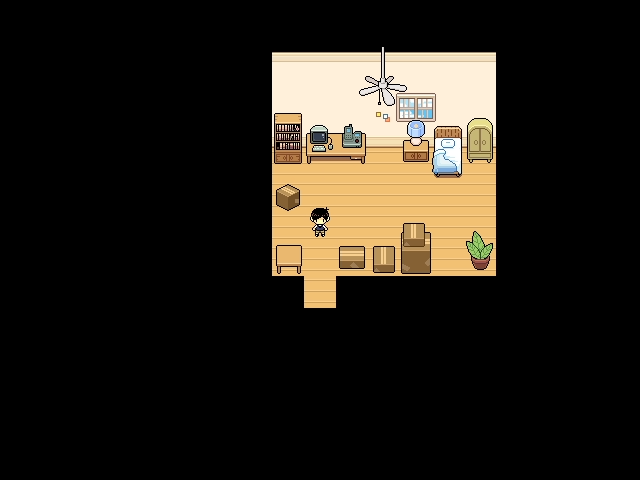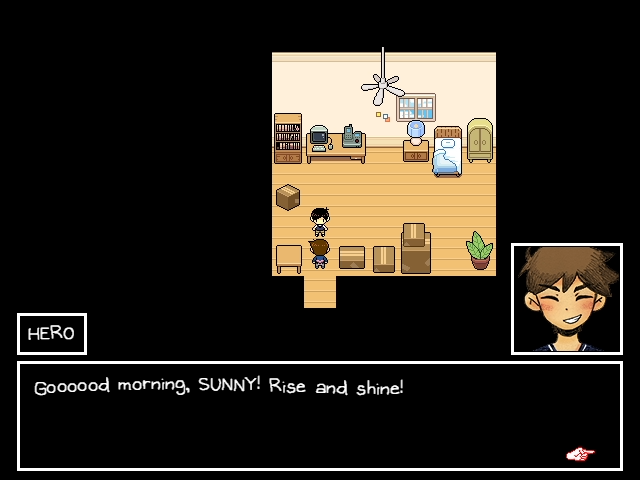 I noticed the To-Do list with the chores your mom gave you, so I finished them all! Hope you don't mind!

Also, I made you breakfast. Come down and get it while it's still warm... Kel's already on his second plate!
Man, where did you get food at? Our fridge was empty when we last checked it.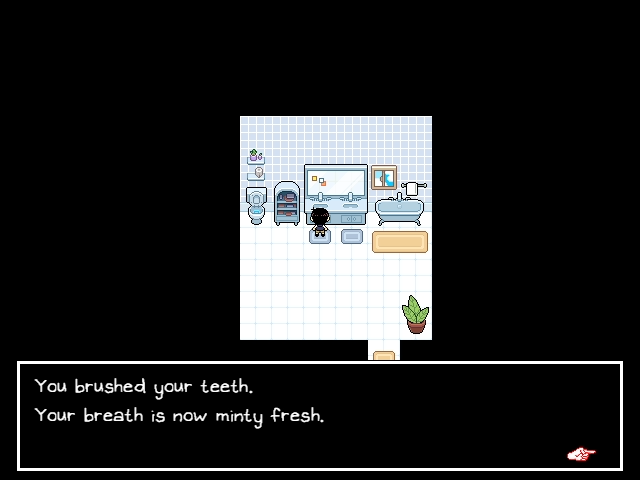 I always wait till after I eat breakfast to brush my teeth, though that was a problem that ailed me as a kid because I would say that... and then not do it... the cavities...
Jeez Kel! Save some for us! Do you know how much we've eaten in the past two days?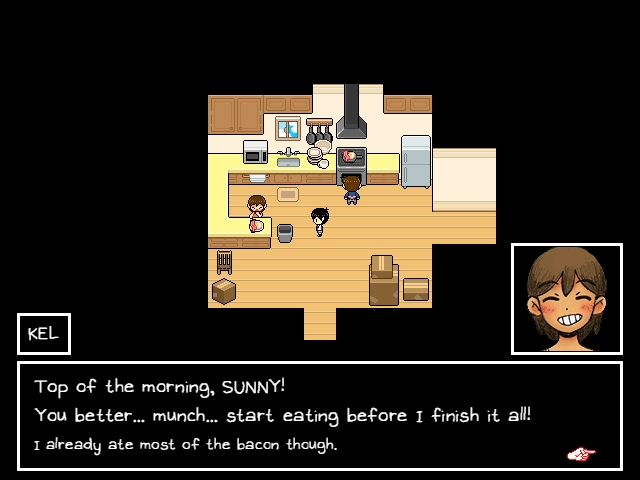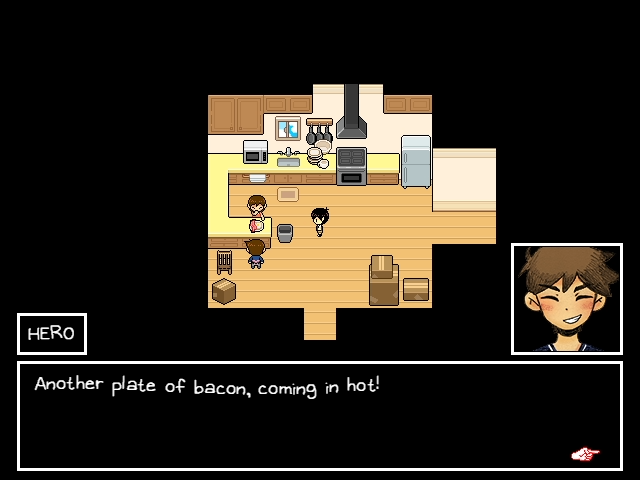 Oh, boy! All for me? Thanks a bunch, bro! Heh heh!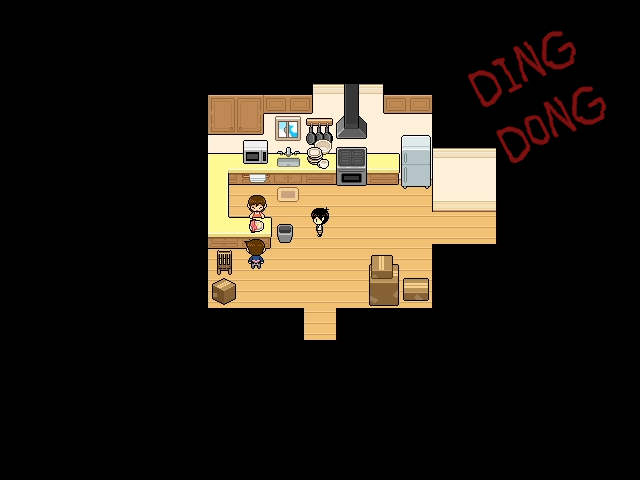 Munch, munch, munch... Who could that be? I'll go get the door.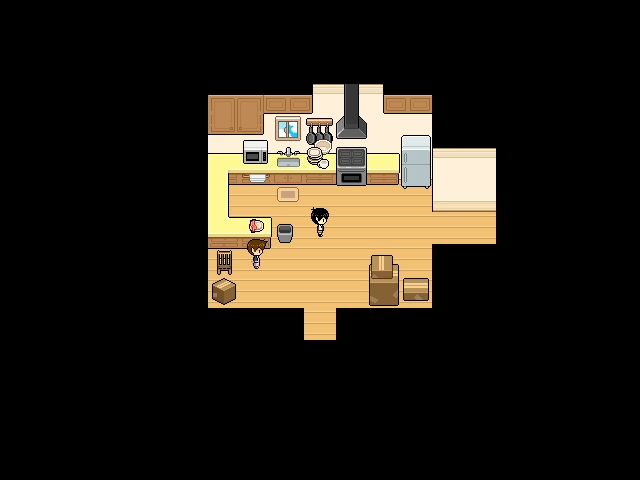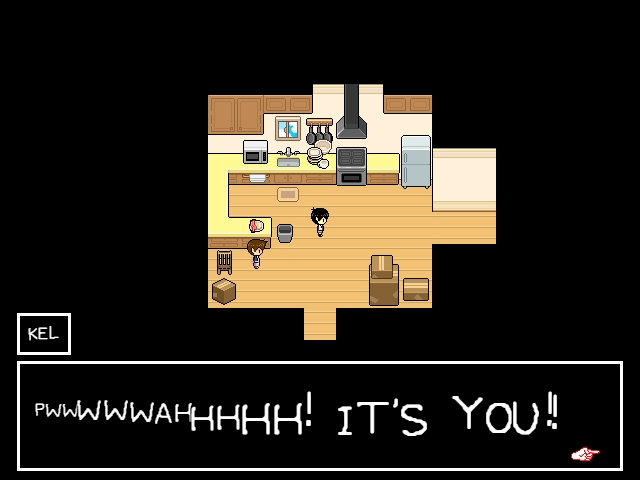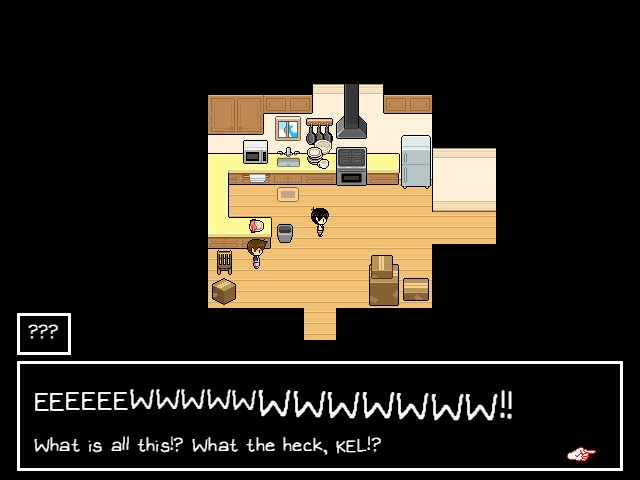 Welp! Guess we should go see what mess Kel got himself into by... opening a door.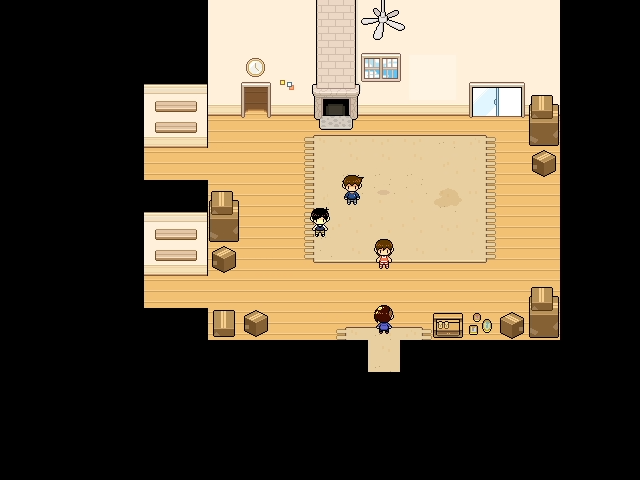 Huh? What's going on over there?

Dangit Kel... Now I have eggs all over me...

Well... I'm sorry, but... You're the last person I'd expect to see here.

What are you doing here anyway?

Grumble, grumble... I was just about to get to that!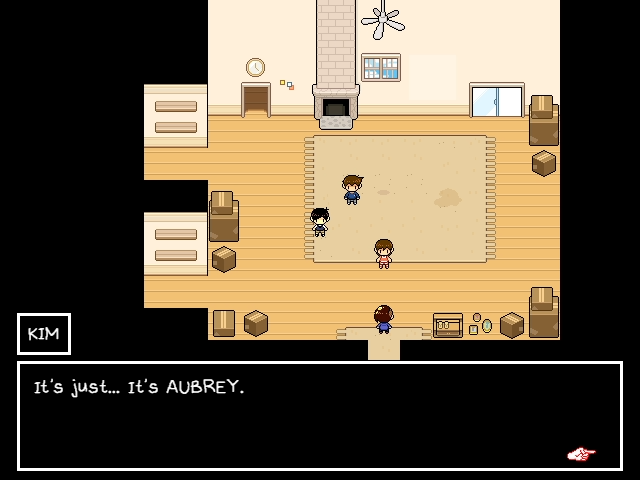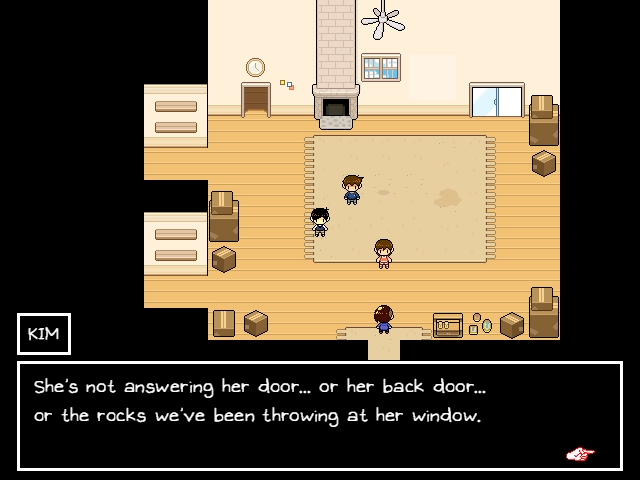 She was really upset yesterday. I KNOW THIS IS YOUR FAULT SOMEHOW! Tell me what you did to her!

We didn't do anything! She's the one with the problem!

Hold on, Kel... If Aubrey's that upset, we should at least try to do something to help.

This is Aubrey we're talking about. We've all known each other since we were kids!

You weren't there when she pushed Basil into the lake. I told you... she's different now! We shouldn't bother with people like her!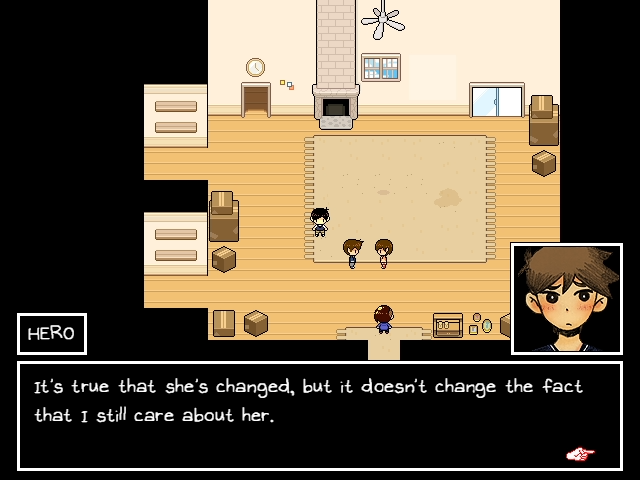 And even if she doesn't show it, I'm sure Aubrey still cares about me, too. That's just the kind of person she is.

I don't know about that...

Today is our last chance to do this before Sunny leaves. There's no way I can just let it end like this! We should at least try to talk to her!

Well... Me and Sunny can tag along... but you're gonna have to be the one doing the talking.

She listens to you the most...

Thanks Kel...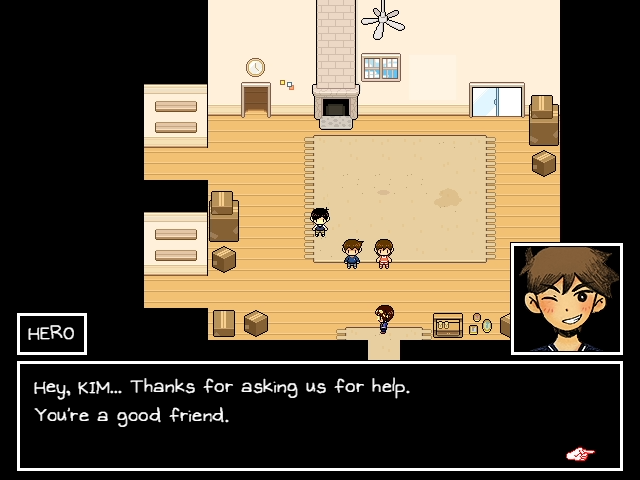 H-Huh? Err... S-Sure, whatever...
Grumble, grumble...

Why don't you head out first? We'll meet you there.

O-Okay, then. See ya...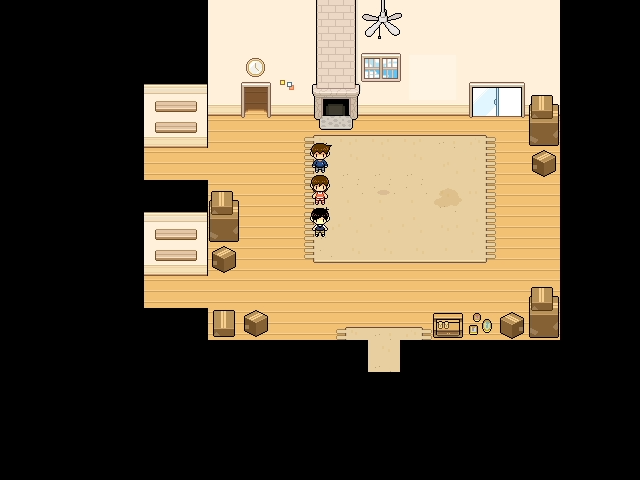 And we've got the boys back under control. There's nothing we can do or see until we go see Aubrey, so let's head straight there.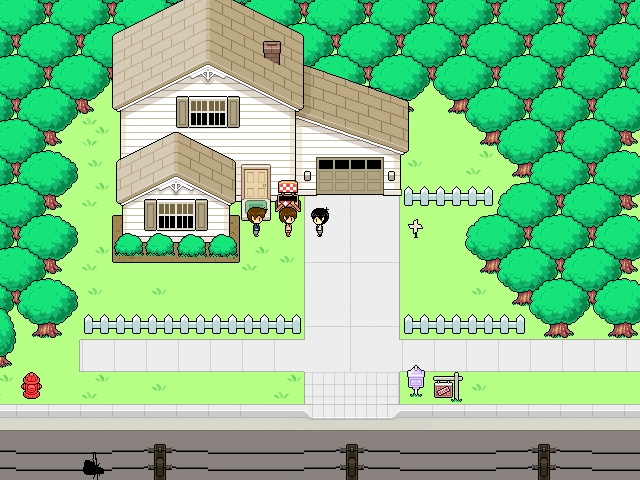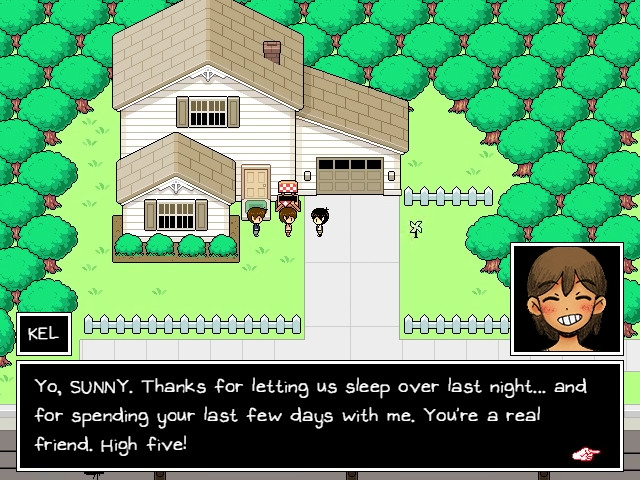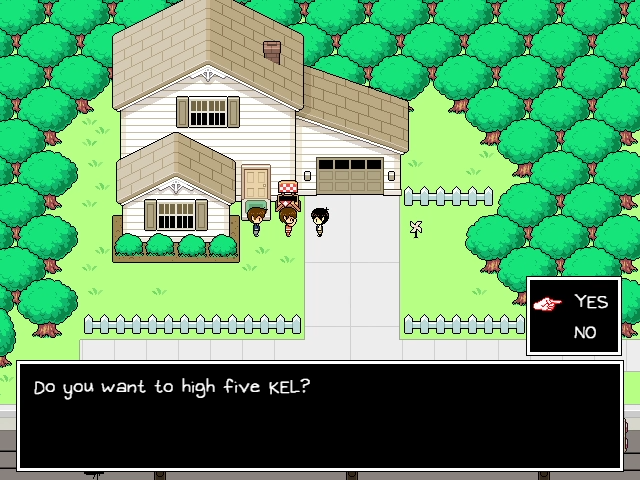 Is this even a question?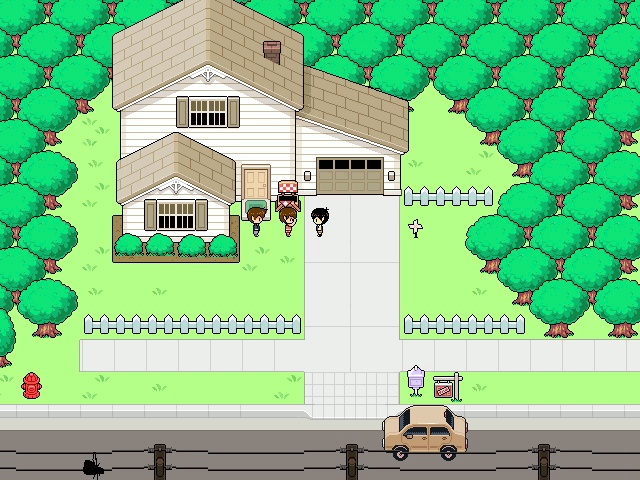 If you were to say no, purely for the achievement of course, then this is the easiest high five opportunity to reload from. Just saying...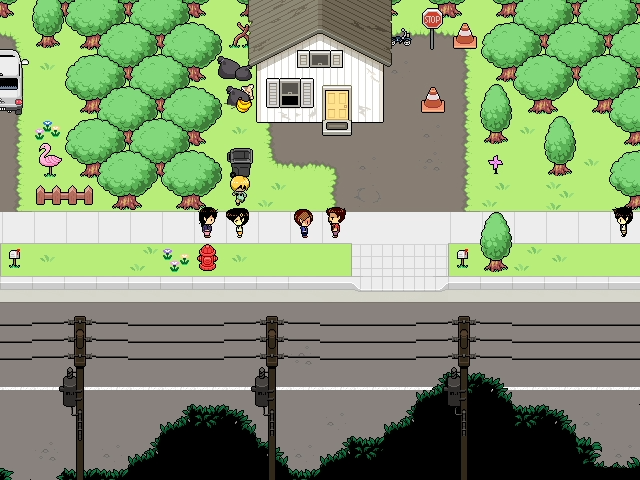 Wow, her whole gang is here to try and talk to her. How sweet...

Don't look so down, Kim. Everyone has bad days. You know Aubrey always bounces back.

Grumble grumble... sigh...
Aubrey isn't feeling well? How could this be!? This must be the work of something more sinister... Perhaps an evil mastermind! We must track him down at once!

Aubrey was supposed to watch the new dance I made up today... Do you think she's avoiding me on purpose!?
As much as I'd love to make a joke... I am actually a bit worried about Aubrey. She really didn't seem like she was okay yesterday... especially after Kel... well, did Kel things.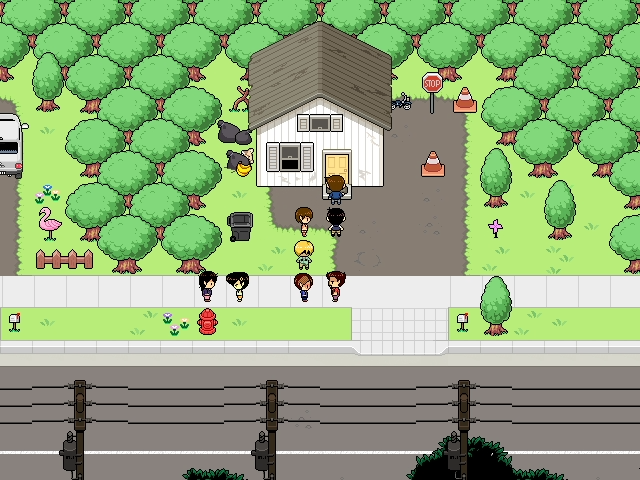 Hello? Is anyone there?

Come to think of it... have we ever been inside Aubrey's house before?

I don't think so. She always came over to play with us. I don't remember hanging out at her house at all.

Hello? Aubrey? Is anyone home?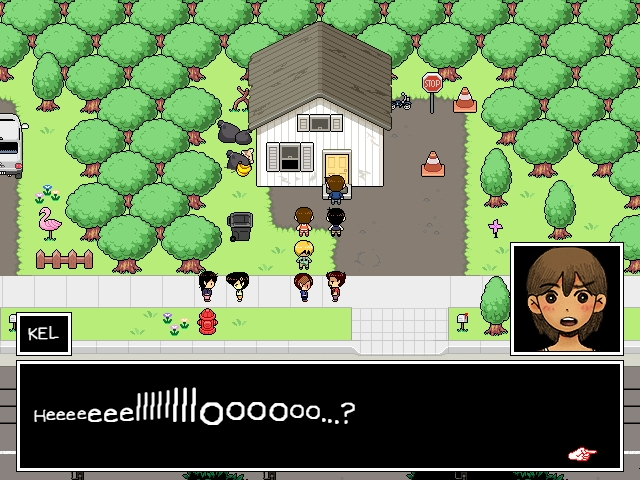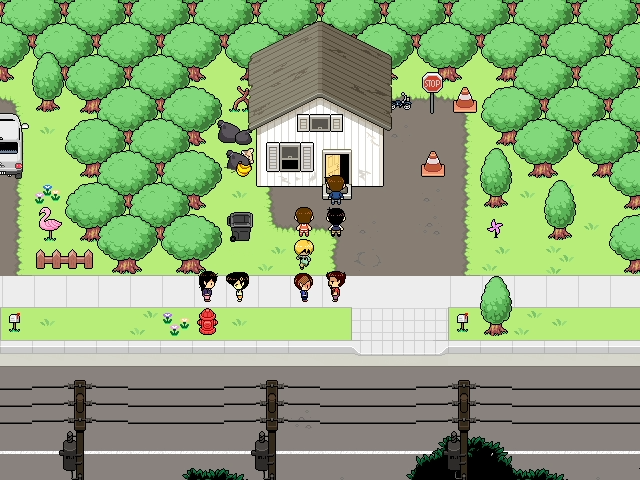 Oh! It looks like the door was open. Let's go inside.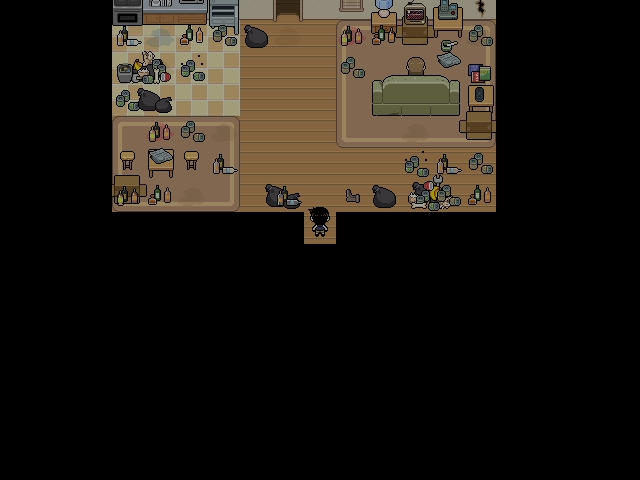 Oh... Oh no... Aubrey honey... what has been happening in your life?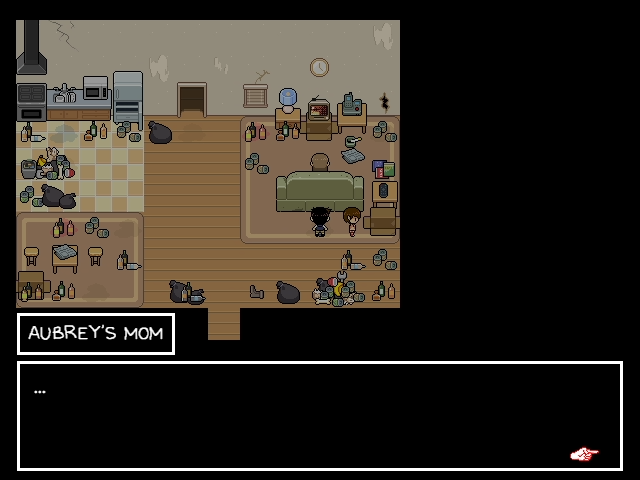 So uh... those Lisa: The Painful inspirations are really coming through right now, huh?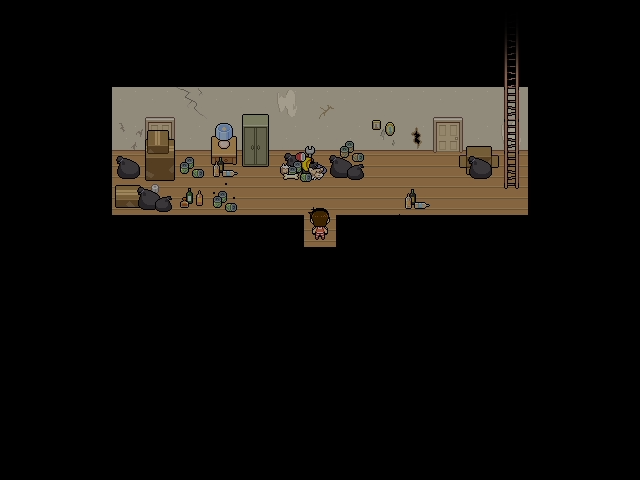 We can't reach the back room, and the only other door on this floor is the bathroom so... let's head up the ladder and hope... everything is okay...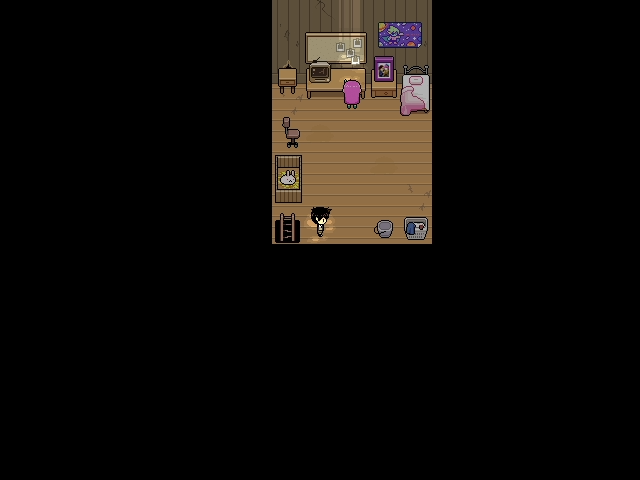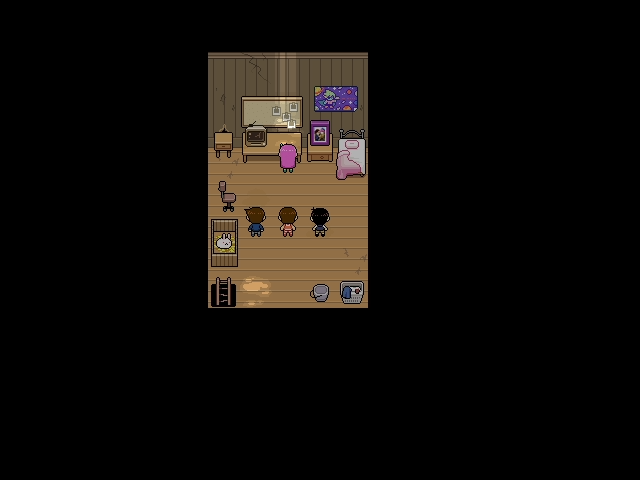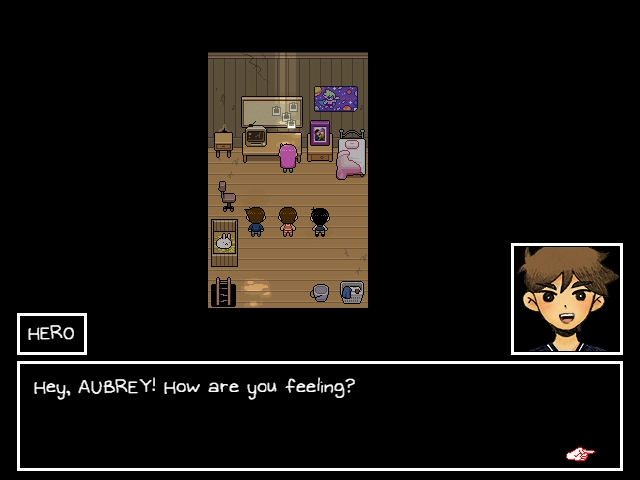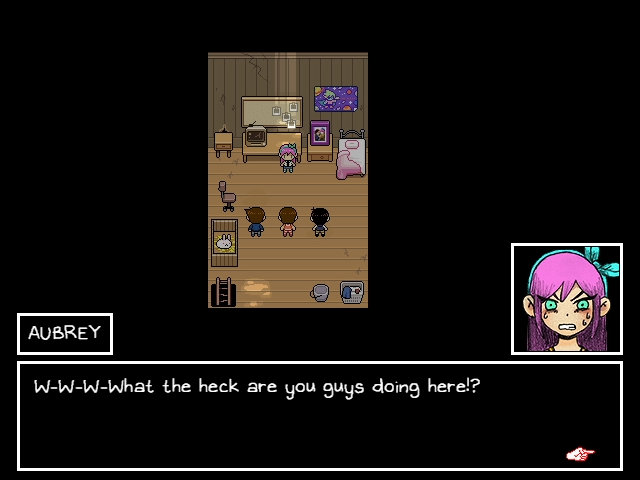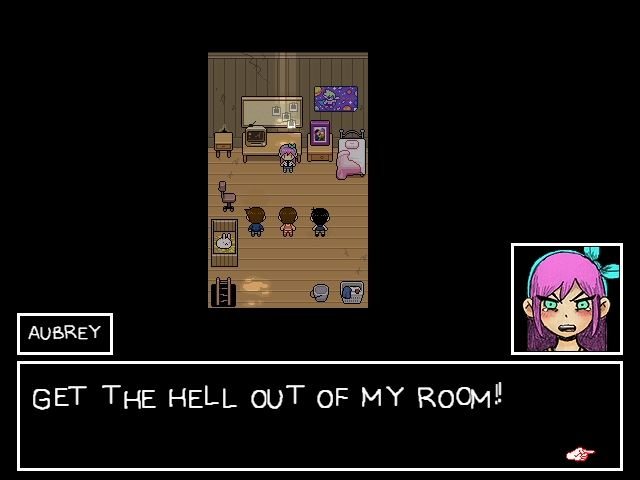 We're sorry for intruding... it'll only take a bit.

We just wanted to make sure you were okay.

...

I'm fine!

I've been hearing some things... but I just want to hear it from you. Can you tell me what happened yesterday?

... Nothing happened.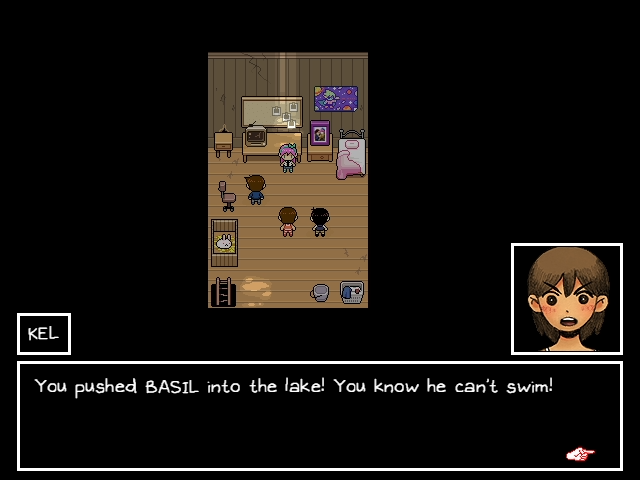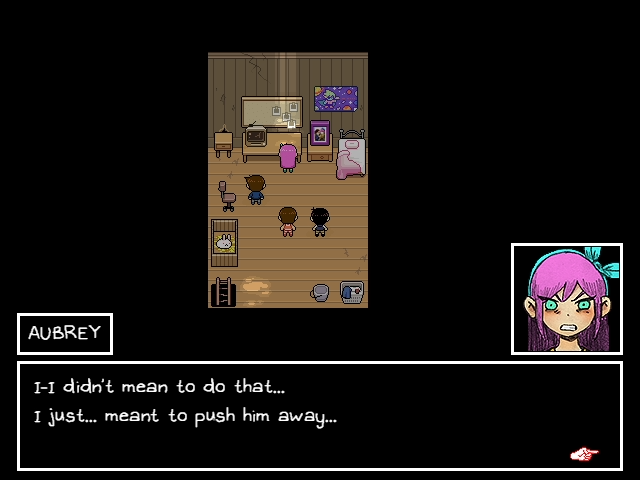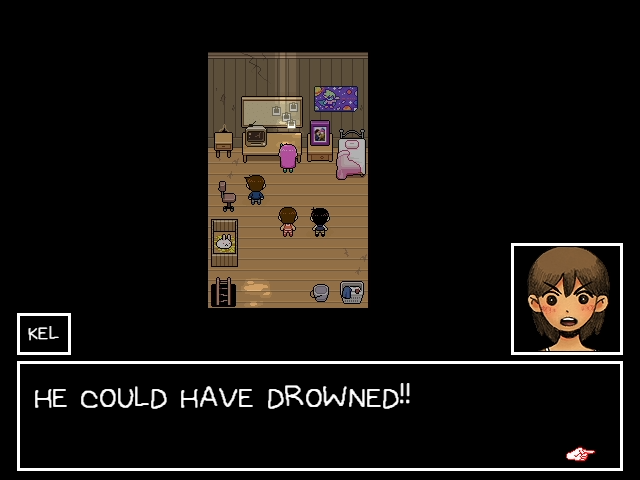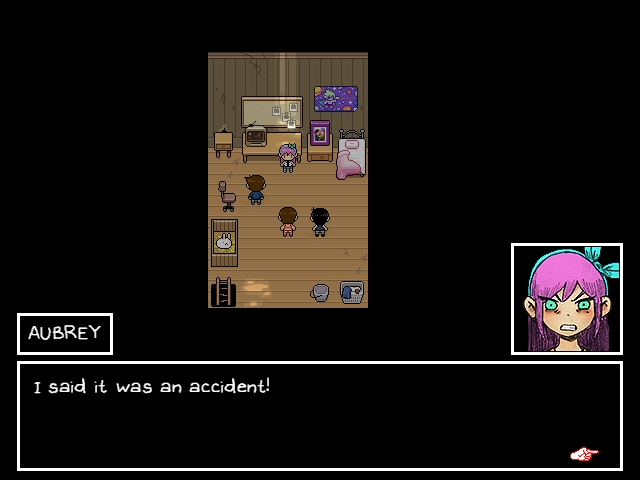 Look... I'm sorry, okay!? You're the one that keeps showing up and acting like you're better than everyone!

Well... You're the one going around bullying Basil and stealing his stuff!

Stop talking like you know anything about that! I keep telling you that it's none of your business.

But... it is my business.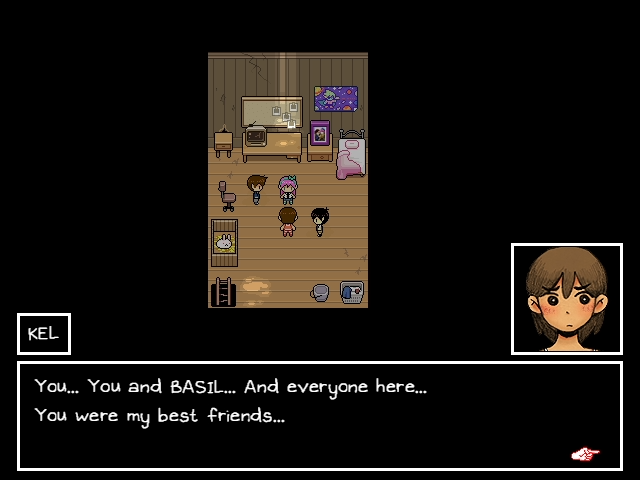 ...

Alright, alright... I see the problem here... This is just your typical Kel and Aubrey fight.

Just make up, you two... You've done it so many times before!

...

...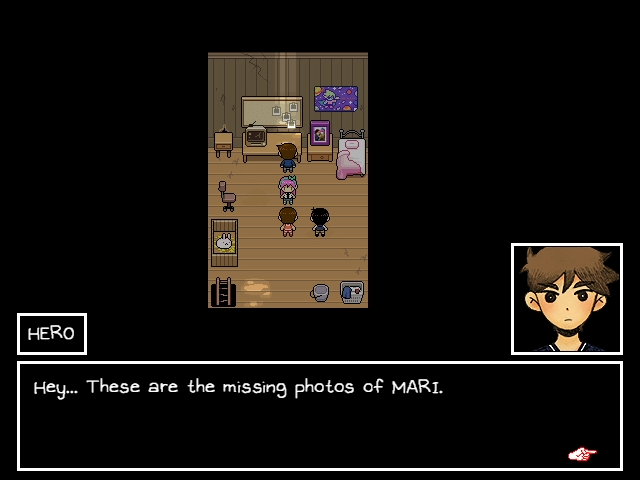 They're... They're all I have left of her.

But you know it's still not right of you to take them from Basil. These photos belonged to him.

Well... It's no use now. Even if we have these photos... I already threw the rest away. They must be long gone by now...

That's not true, Aubrey. Sunny has them right here!

What? H-He does? But how?

I could've sworn I threw them away in the trash. Unless... you and Sunny...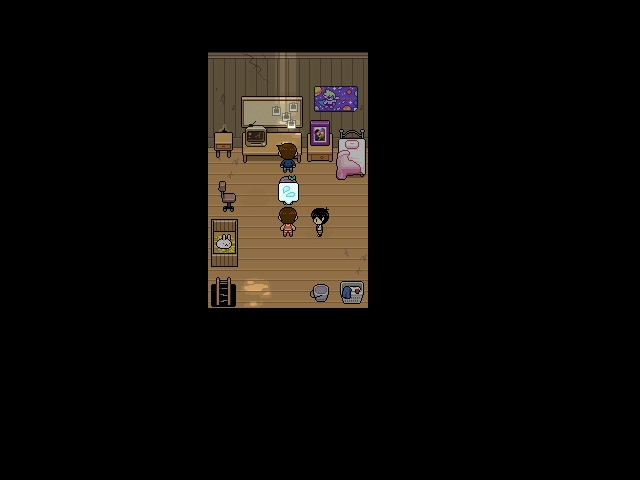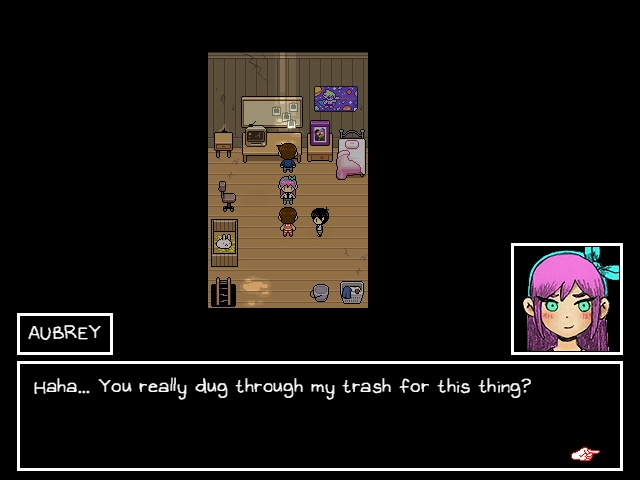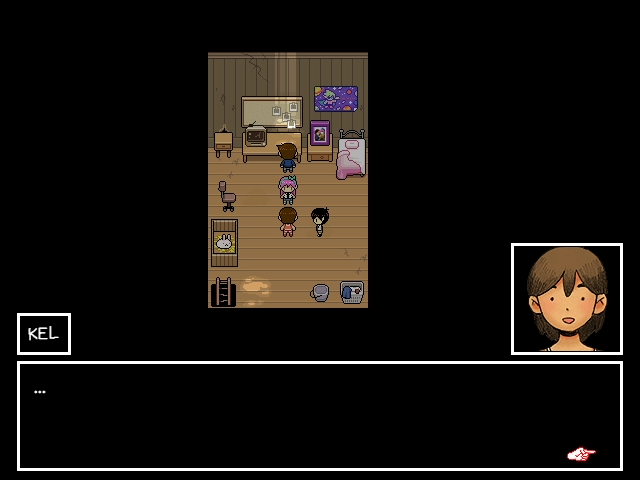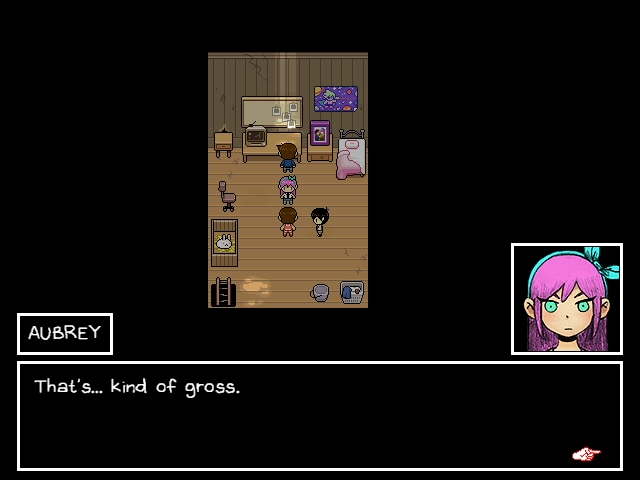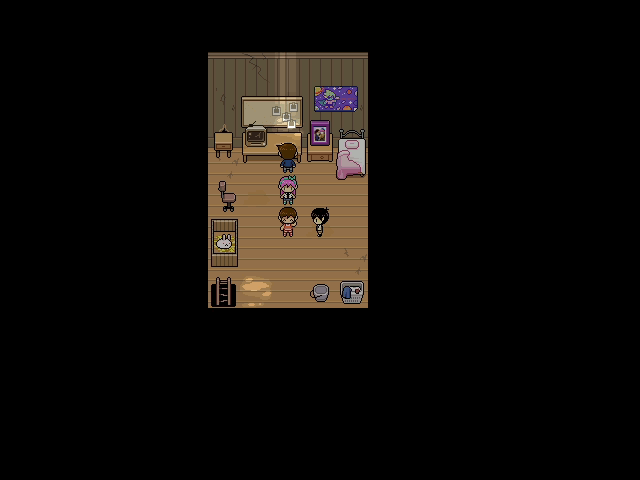 Heh...

Aubrey... Let's put Mari's photos back in the Photo Album. All these photos... they belong together in one place.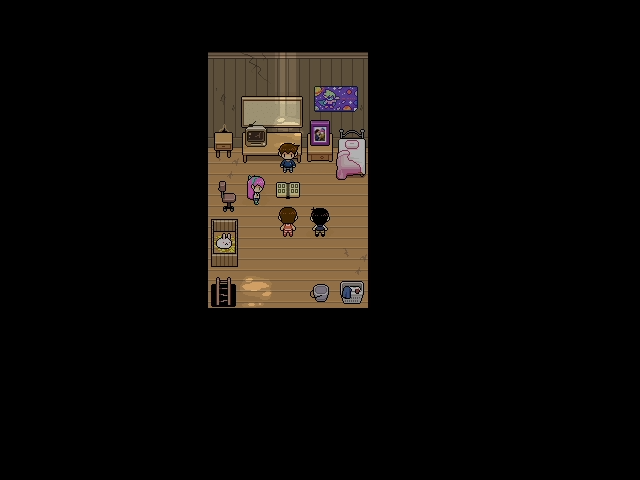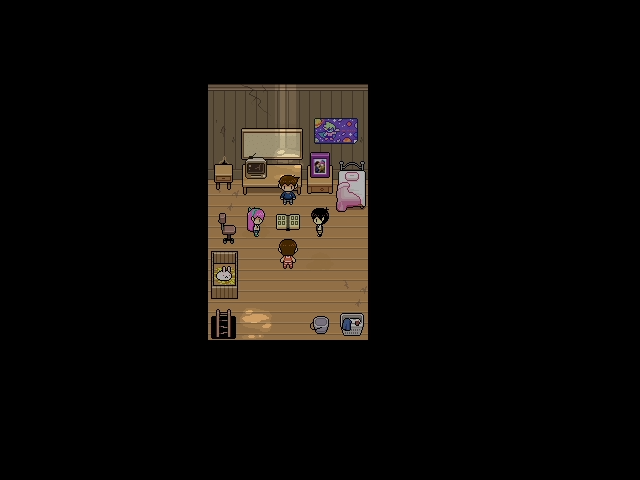 ...

...

Come on, guys. We should do this together.

You may have seen some of these already... but I would encourage you to go through them again... all together now...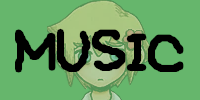 BY YOUR SIDE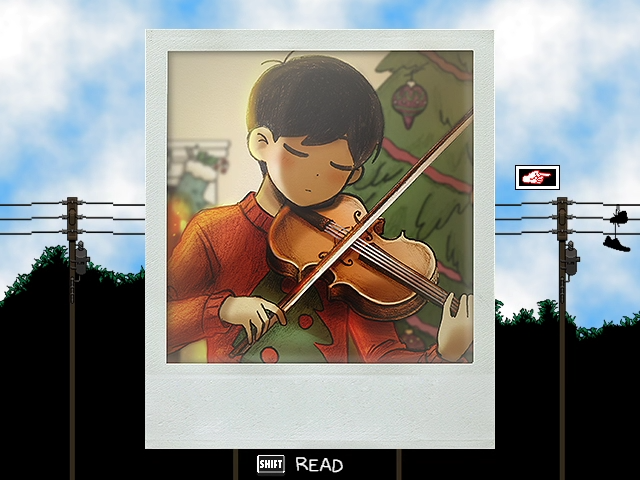 quote:
12/25 - Christmas

My first photo! It's my best friend, Sunny, trying out his new violin. He's starting to take lessons again so he can play at recitals with his sister, Mari. So exciting!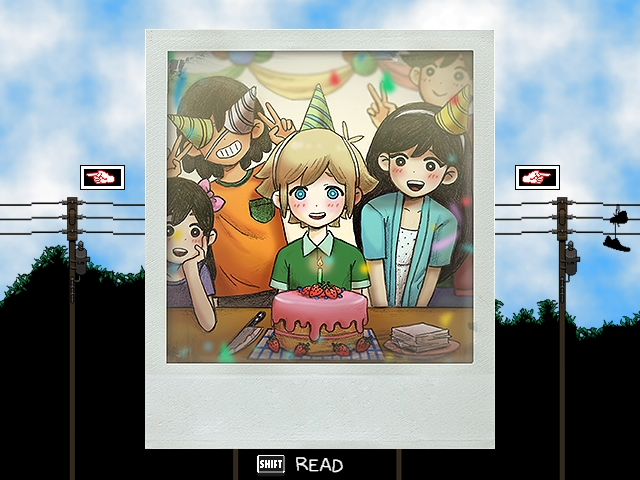 quote:
2/18 - My Birthday

It's my 12th birthday today! I thought my friends forgot, but they all surprised me with a strawberry cake. I feel so lucky... This year is looking to be a good year!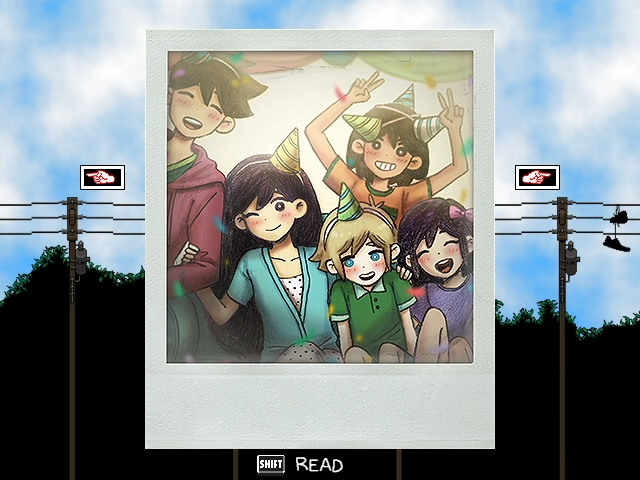 quote:
2/18 - My Birthday

Another group photo. This was a little after I opened all my presents! Mari bought me this photo album, and everyone else bought me film for my camera. I'll try my best to use it all.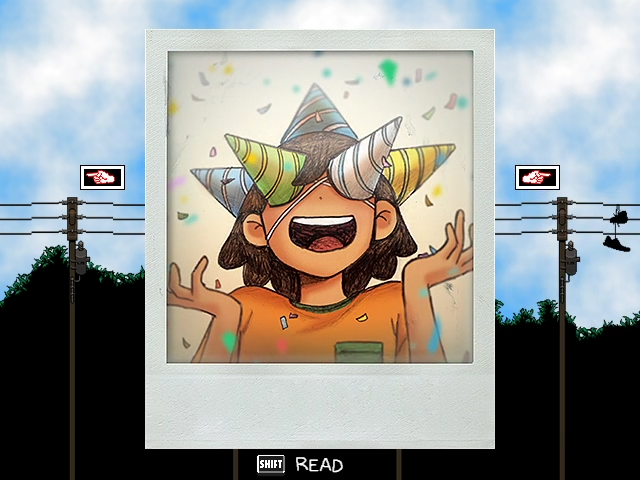 quote:
2/18 - My Birthday

Just Kel being Kel... So... Many... party hats...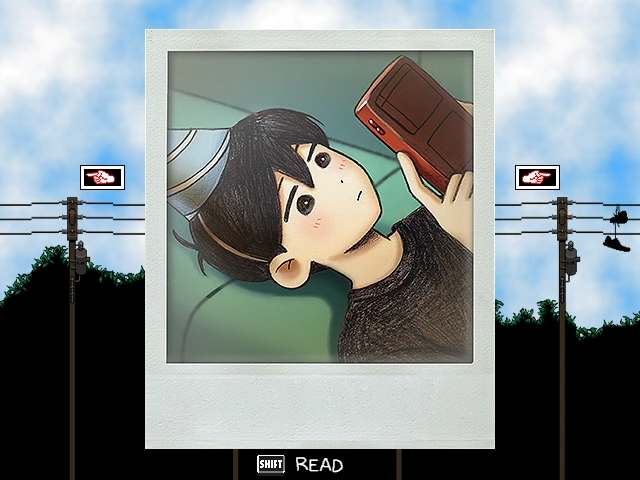 quote:
2/18 - My Birthday

Sunny playing a video game on the couch. Sunny is a little shy, but he's a really good listener. I always end up venting to him when I get upset or stressed. Sometimes I feel like I'm bothering him, but he never seems to mind.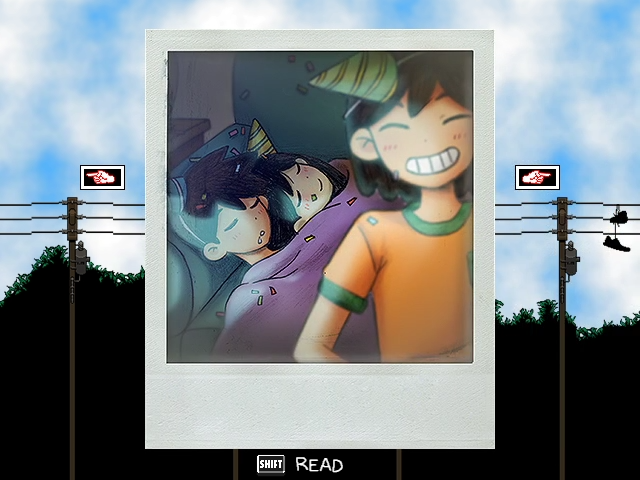 quote:
2/18 - My Birthday

Mari and Hero fell asleep on the couch. They look so cozy together... Hehe... I hope they don't mind the photo. Mari's dad might be kind of mad if he saw it...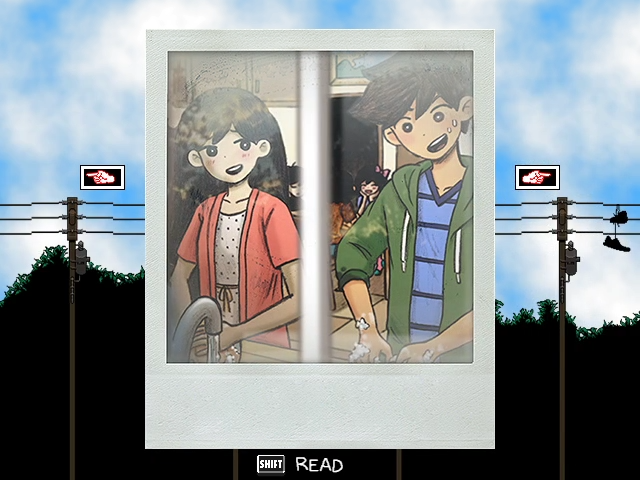 quote:
3/9

Hero and Mari washing dishes from breakfast. We're staying over with Mari and Sunny this weekend. It's getting warmer lately so we're about to go to the park. Kel says there's a secret lake area behind some bushes, so we're all going to check it out!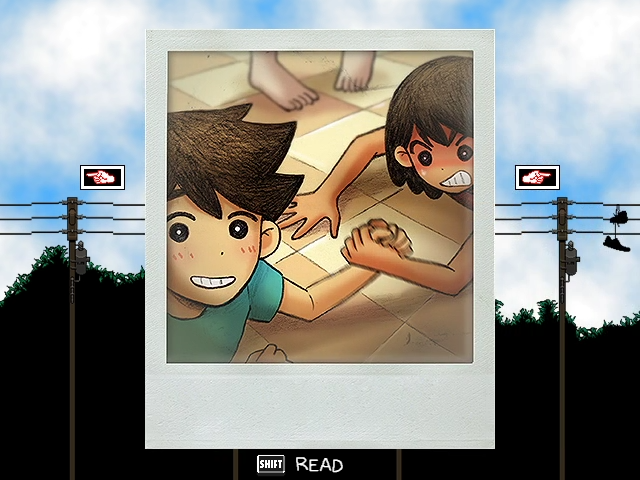 quote:
3/9

We're back from the park, but Kel is still full of energy. He challenged Hero to an arm-wrestling match, but we all know who's going to win... Please go easy on him, Hero...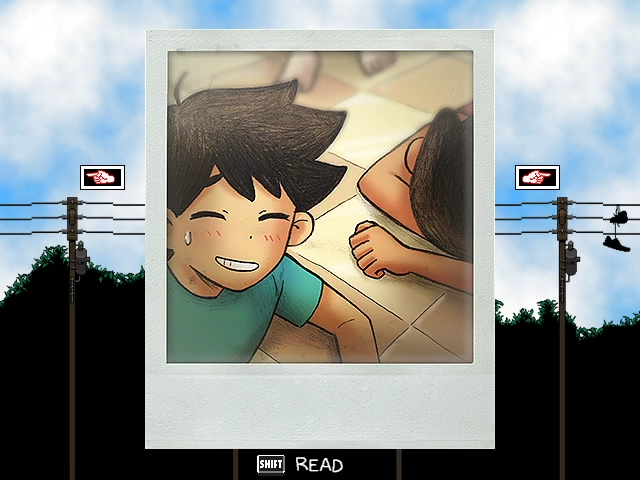 quote:
3/9

Oof... Sorry, Kel... better luck next time.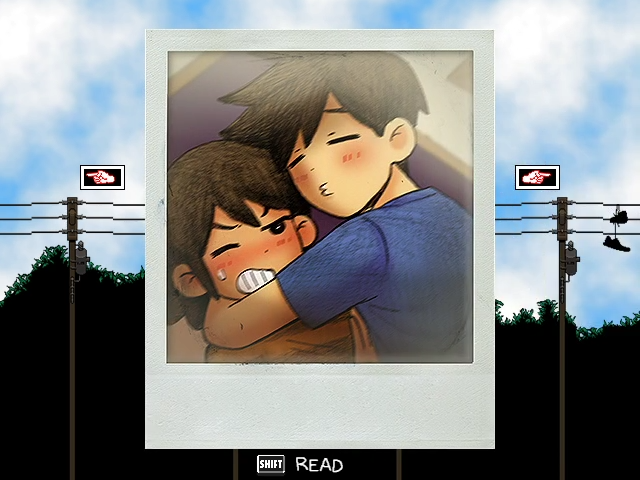 quote:
3/10

Kel was still feeling a little sour about losing to Hero in arm-wrestling last night, so Hero decided to lean in for a smooch! Kel looks so annoyed. Ah, brotherly love...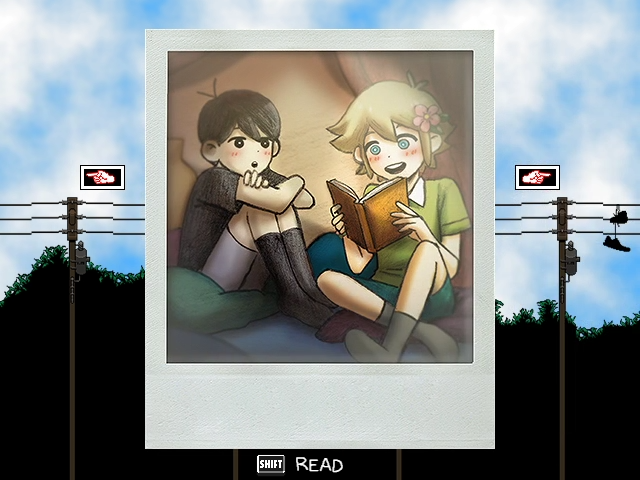 quote:
3/10

Me showing Sunny a book I've been reading. Mari stole my camera and took this when I wasn't paying attention. I should really keep better track of my things.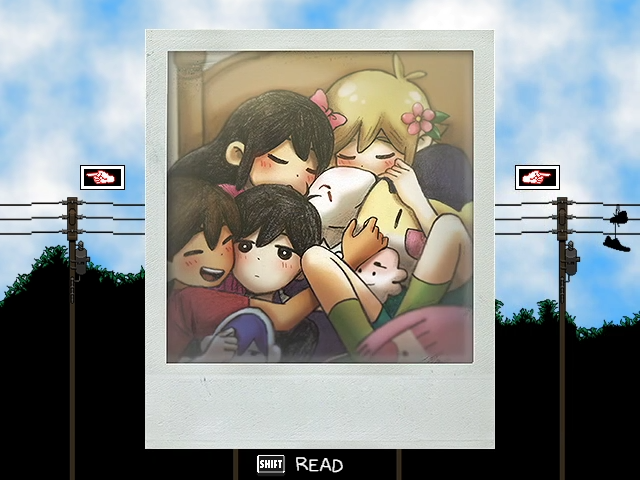 quote:
3/10

It's all of us cuddling with Sunny's stuffed animals. He has so many, and they're all so soft! I wish I could just lay here forever.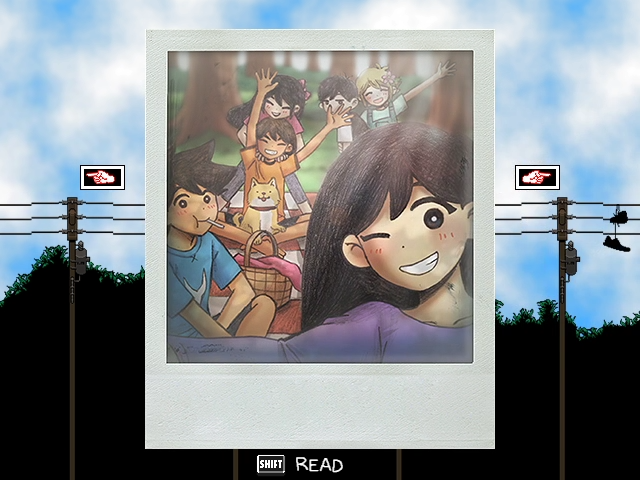 quote:
3/31

It's already the last day of March! We're having a picnic with Mari at our secret lake spot. Mari wanted to take a picture of everyone! Say cheese!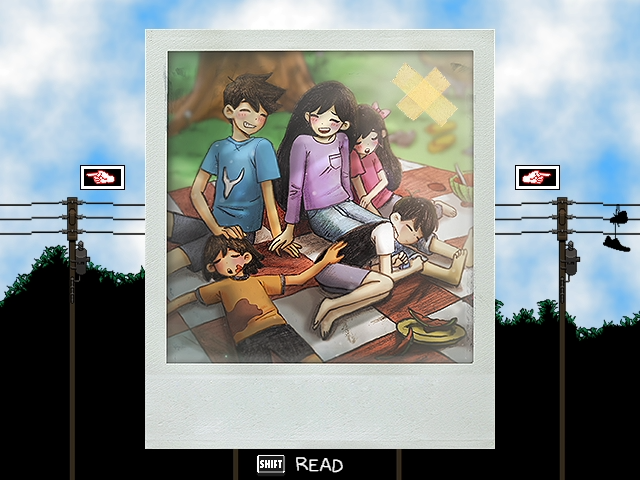 quote:
3/31

After eating all the food, everyone fell asleep, except me, Hero, and Mari. Something unfortunate happened when I was taking the photo. Ahem... Thanks a lot, Hector. I'll have to cover it up with tape later.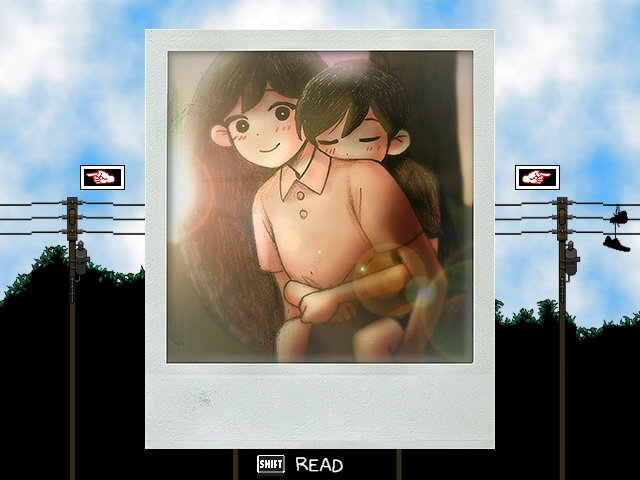 quote:
4/9

I caught Mari carrying Sunny on the way home from school today. He must have fallen asleep on the bus. I thought it was so cute, so I got my camera out as quick as I could to snap this once-in-a-lifetime photo! Sigh... Sometimes I wish I had a sibling.
quote:
4/21

Mari is teaching everyone how to make flower crowns! Here's Sunny and Kel holding Mari's example. It looks perfect, doesn't it? If only Mari thought so, too.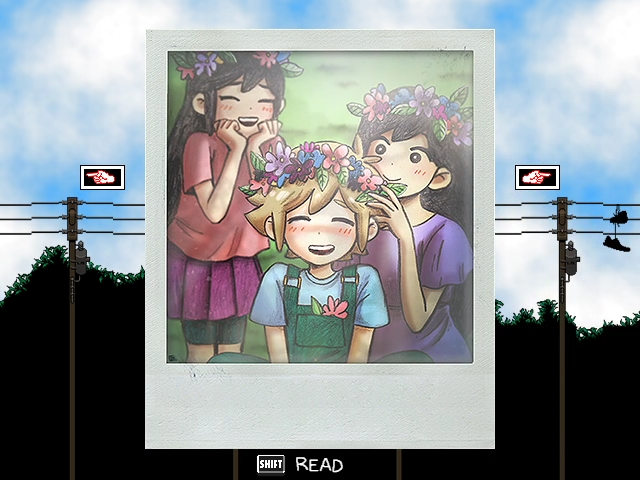 quote:
4/21

Sunny and Kel gave up on making flower crowns and ran off, but Aubrey and I got the hang of it really fast! Everyone thinks a flower crown really suits me. Maybe just a flower is okay.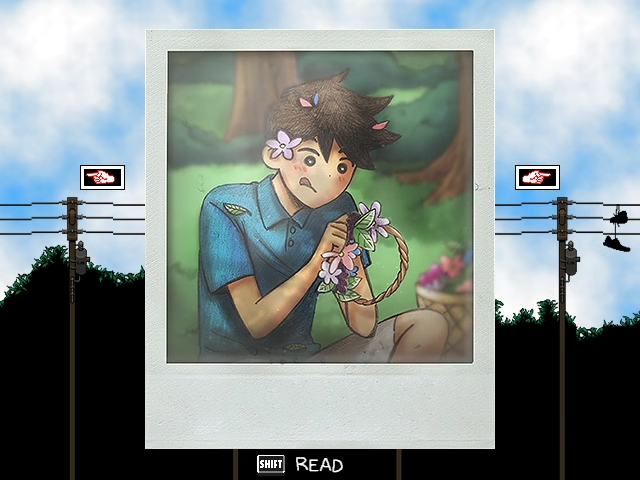 quote:
4/21

Hero's still making his flower crown. It's taking him a little while, but he's getting there. You have to admire his persistence!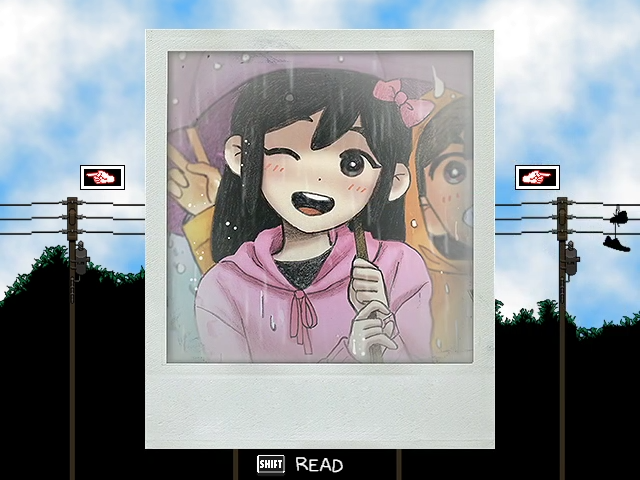 quote:
4/29

It's raining super hard today! The rain always seems to come out of nowhere during springtime. Aubrey asked me to take a picture of her with her new raincoat. It's her favorite color, pink!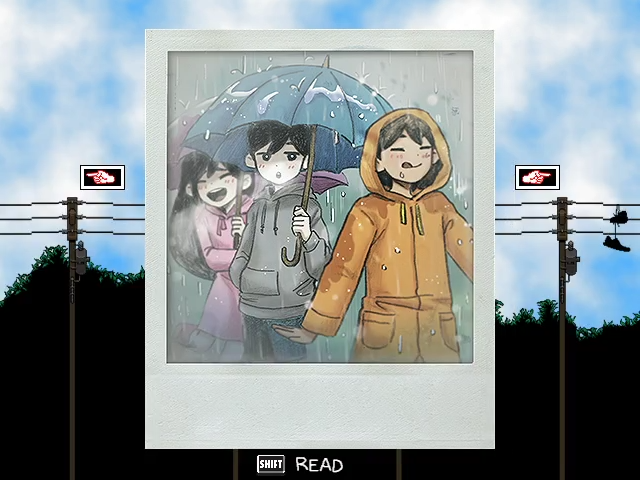 quote:
4/29

Aubrey won't let Kel under the umbrella, but Kel seems to be taking it just fine. He says he likes how the rain tastes.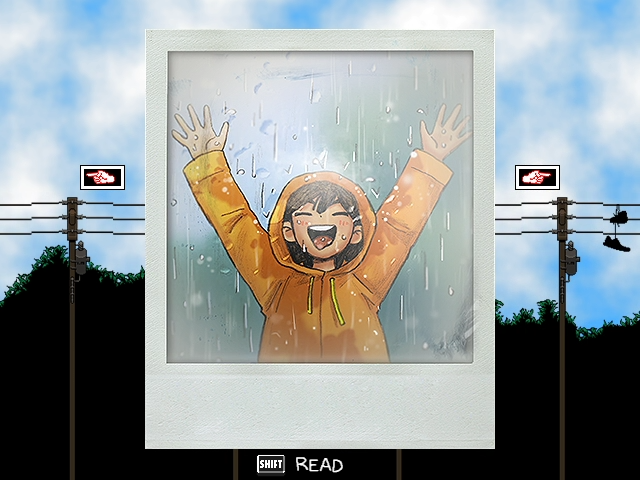 quote:
4/29

Just Kel being Kel again... We went to Hobbeez, but the shop owner told Kel to leave his jacket outside since Kel was getting all his comics wet. Sorry, Shopkeep.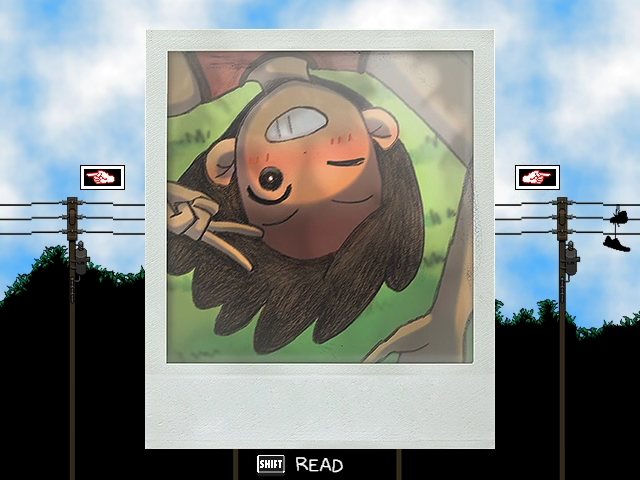 quote:
5/25

It's been pretty busy with school lately, but we finally made time to get together and go to the park today. Here's Kel hanging his legs off a tree. He's such a good climber! I wish I was as fearless as him.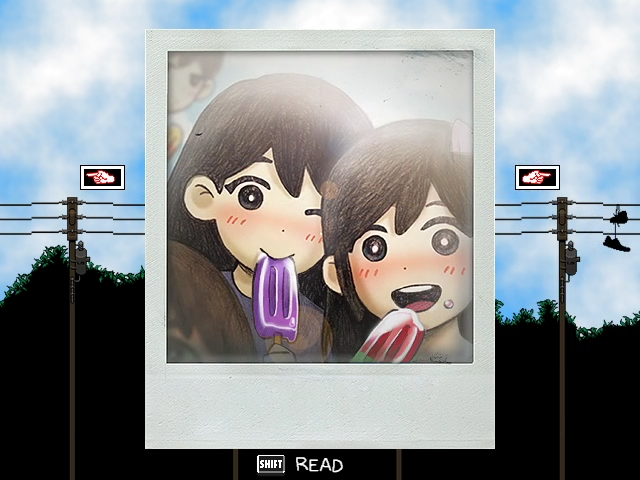 quote:
5/25

Mari bought everyone Popsicles, one of every flavor! Sunny got lemon, Hero got root beer, Kel got orange, Aubrey got watermelon, and Mari got grape! Mine was banana... it tasted okay.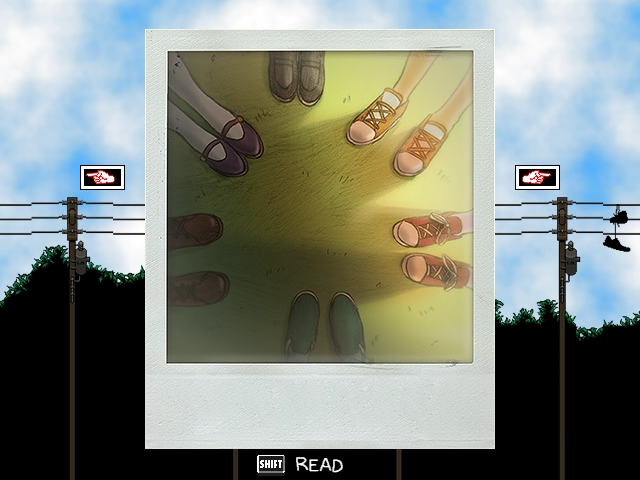 quote:
5/25

All of our shoes in a circle! Can you guess whose shoes are whose?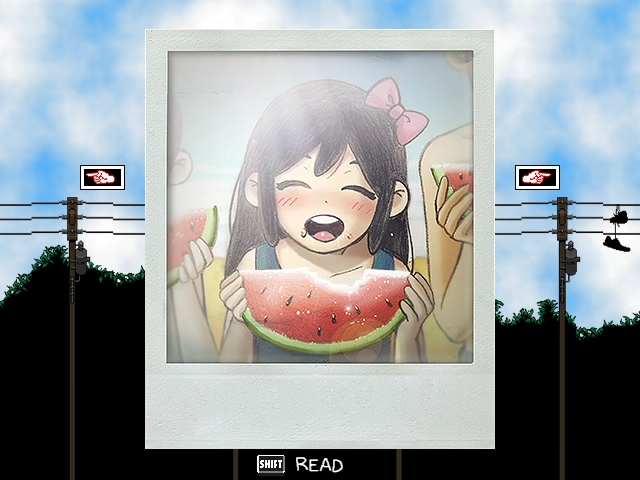 quote:
6/22

It's the first day of summer vacation, so we all wanted to celebrate by going to the beach! Watermelon is Aubrey's favorite.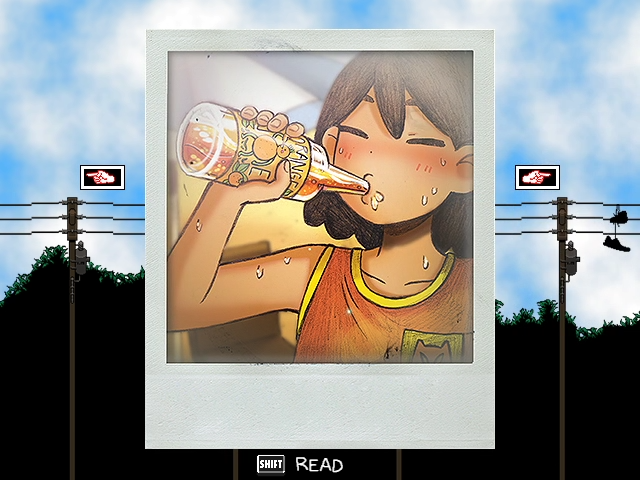 quote:
6/22

Kel cooling off with some refreshing Orange Joe! I shouldn't get too close or he might get my camera wet. Kel is known to spill his drinks.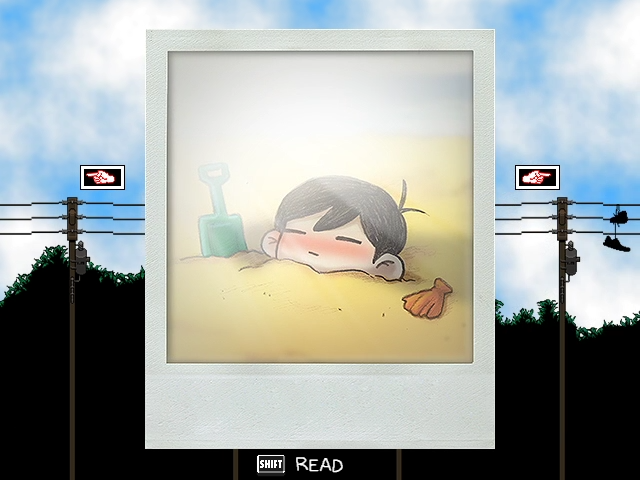 quote:
6/22

We buried Sunny in the sand! It took forever, but he looks like he's enjoying himself. I wonder if he's going to need help getting out. I guess I'll keep him company until then.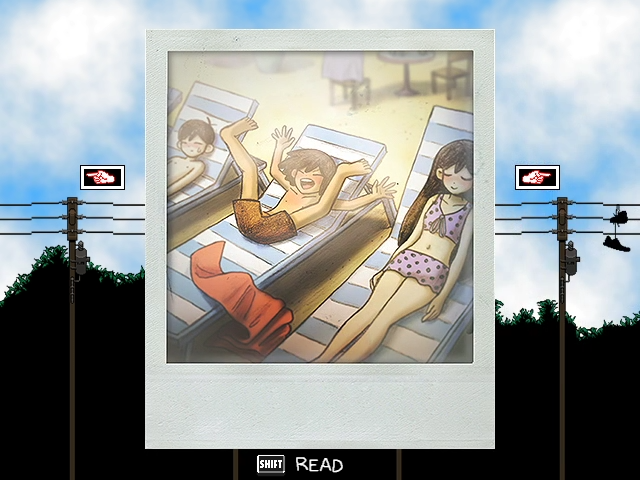 quote:
6/22

Mari says she wants to get a summer tan! I'm scared to fall asleep in the sun, since I get sunburned really easily. Hmm... I'm not sure what Kel is doing here, but he's probably having a good time.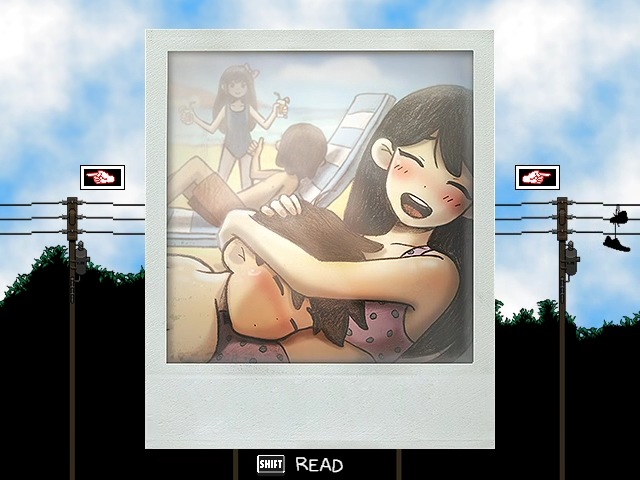 quote:
6/22

Hero sleeping on Mari. He's all tired out from swimming. Well... It seems like Mari won't be able to get her summer tan after all.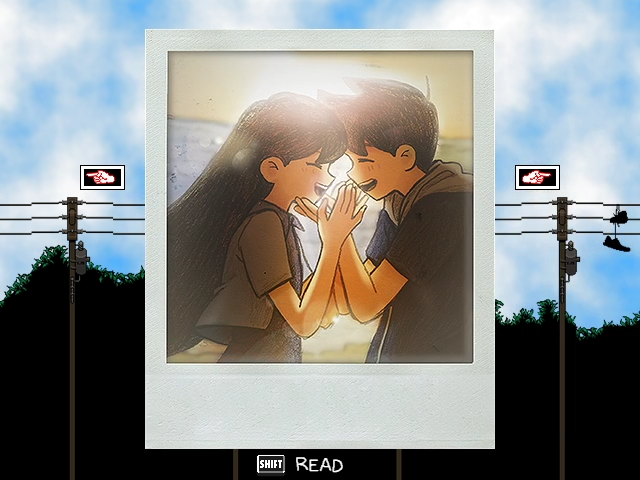 quote:
6/22

We're about to head home, but I managed to catch one last photo with Mari and Hero! They look so happy. A match made in heaven!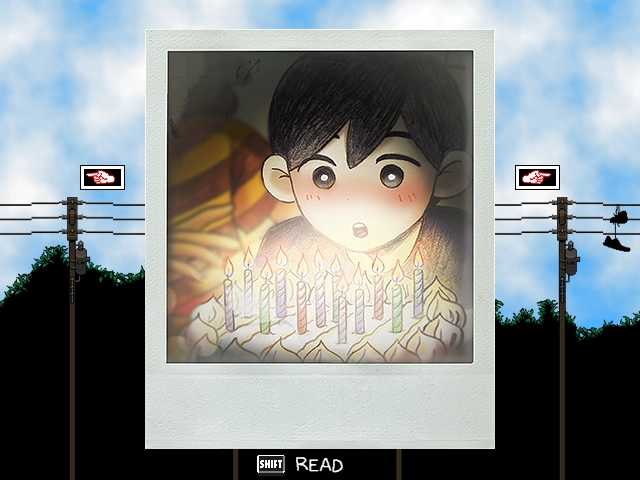 quote:
7/20 - Sunny's Birthday

Yay! Sunny is turning 12 today! Even though me, Sunny, Aubrey, and Kel are in the same school year, Sunny is younger than all of us. He's the baby of the group, so we have to take care of him!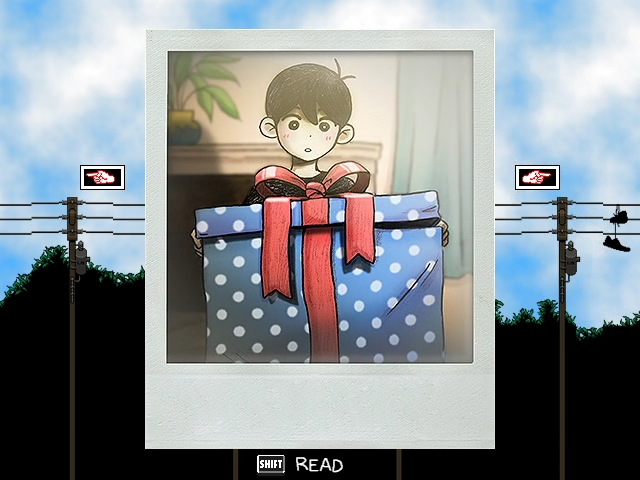 quote:
7/20 - Sunny's Birthday

Sunny holding a super huge present, from Mari and Hero! Hmm... I wonder what it is.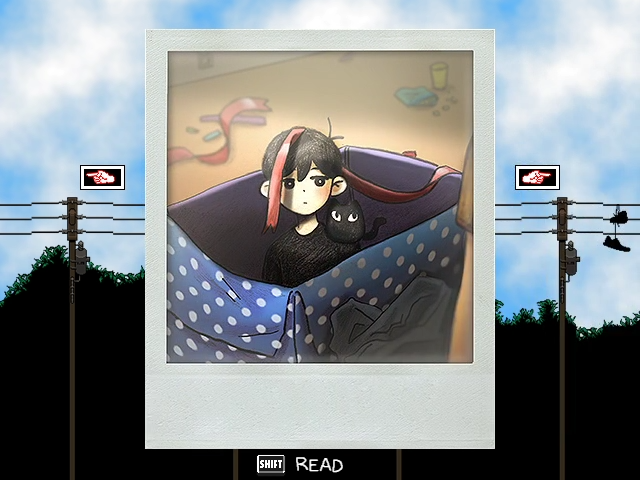 quote:
7/20 - Sunny's Birthday

You can't really tell from the photo, but Mari and Hero got Sunny a giant building block set. Sunny seems much more interested in the box though. He acts just like Mari's new kitten, Mewo!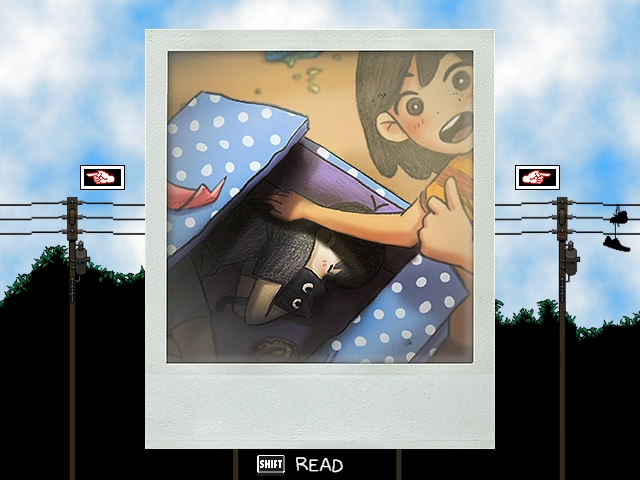 quote:
7/20 - Sunny's Birthday

Sunny won't leave the box, so Kel put a food bowl inside. I guess this box will be Sunny and Mewo's new home.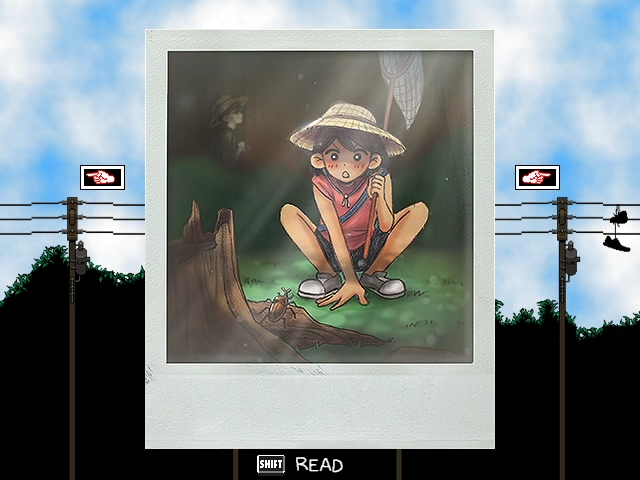 quote:
8/4

We're going beetle-catching today! Here's Kel, ready to pounce on his next victim! Oh, and Sunny is there too. He looks kind of sleepy.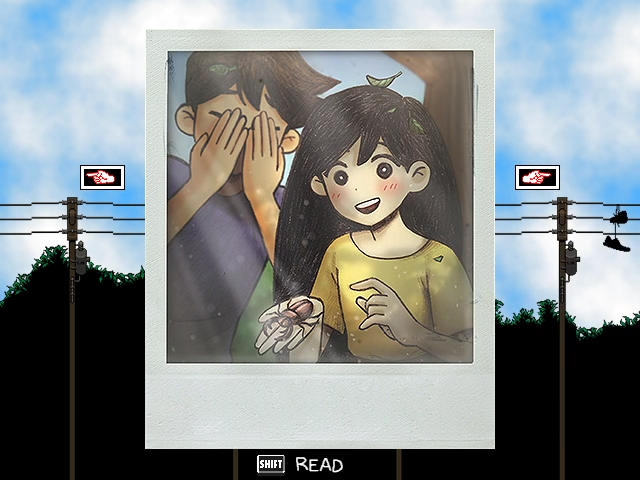 quote:
8/4

Mari says this beetle is a giant stag. It suddenly fell from a tree and surprised everyone! Hero is too grossed out to look.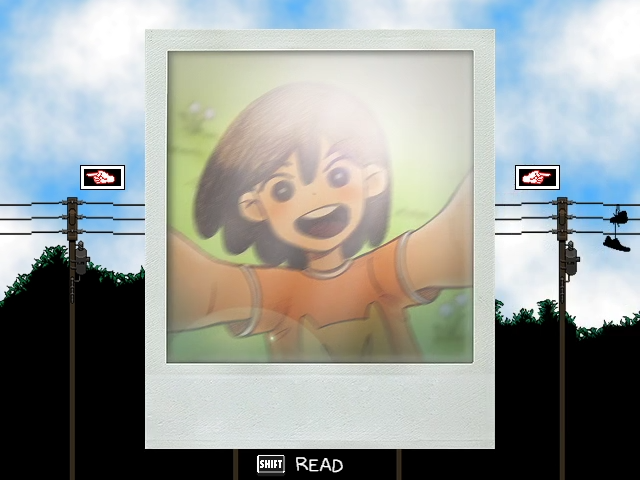 quote:
8/14

I went to the bathroom, and came back to this photo... Kel says he took a picture of himself on accident, but I don't believe him...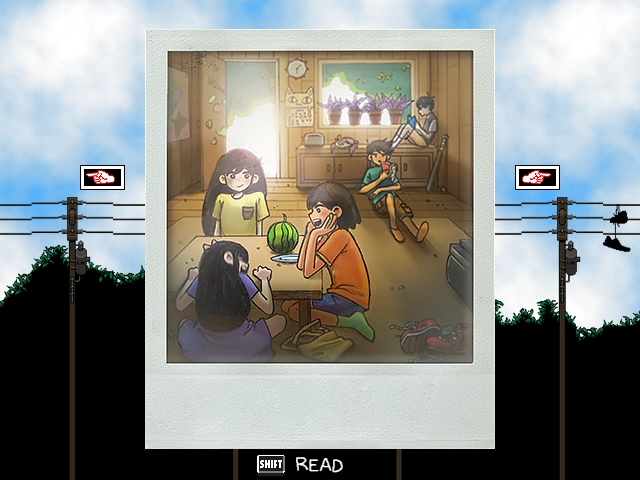 quote:
8/16

All of us hanging out in our brand new treehouse! Looks like Sunny is finally reading the book I showed him! I want to spend every day in here, but it's a shame that summer vacation is almost over. I hope we get to use this treehouse more next summer!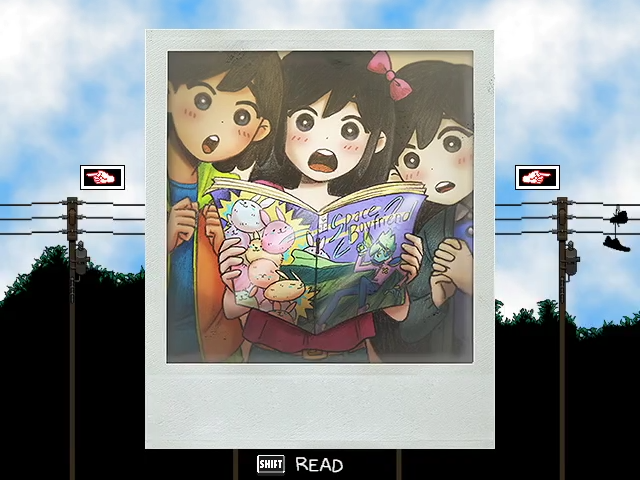 quote:
8/18

We went to Hobbeez to read the latest edition of Capt. Spaceboy! Everyone's so into it right now! I'm sure it's all anyone is going to be talking about once school starts.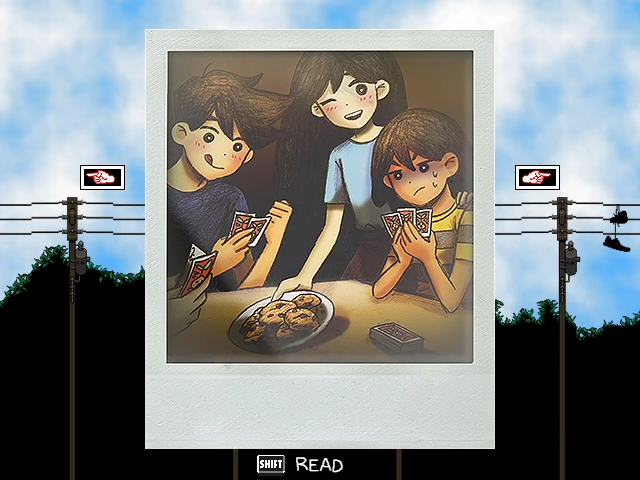 quote:
9/6

I'm playing cards with Kel, Hero, and Aubrey. They're so easy to read. They can't hide anything on their faces! Mari baked everyone cookies from scratch. They were chocolate chip and super delicious, like always!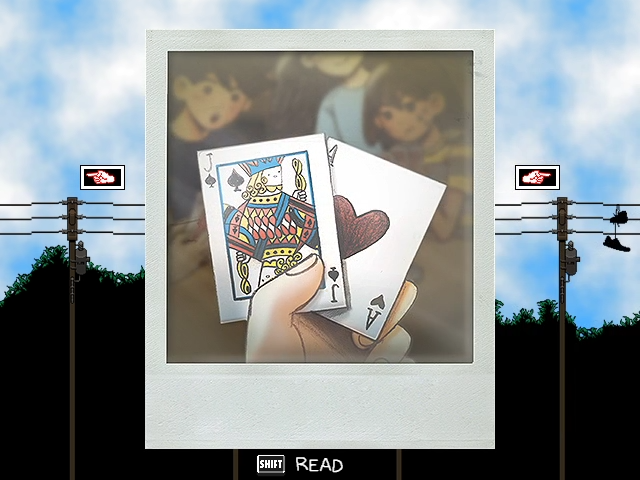 quote:
9/6

Looks like I have the winning hand, hehe... But nobody knows that yet...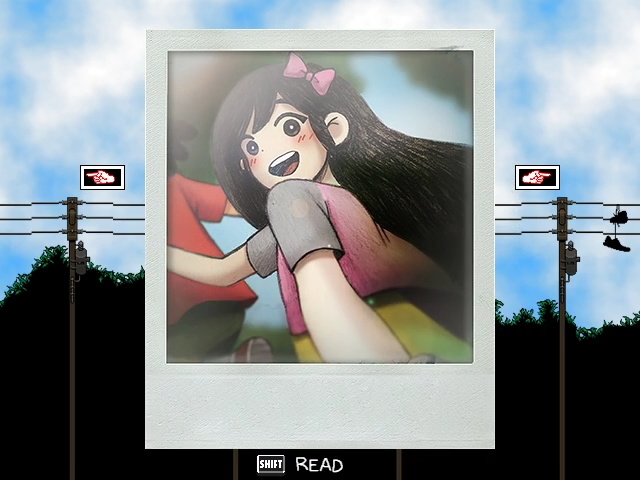 quote:
9/9

It's the first day of school today! Me, Sunny, Kel, and Aubrey are up bright and early. Aubrey is so photogenic!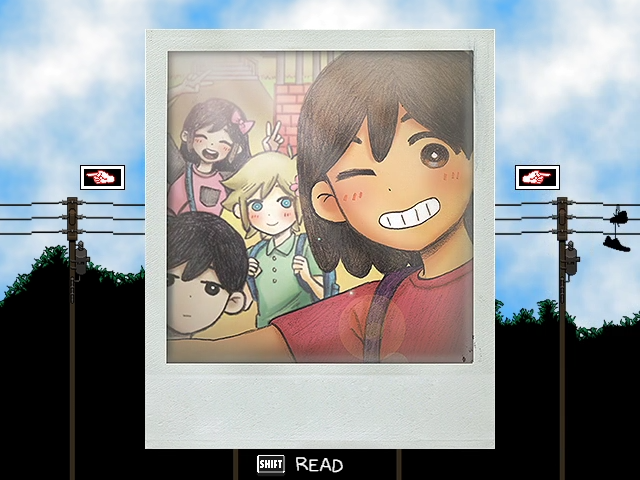 quote:
9/9

Sigh... Goodbye, summer! Until next year...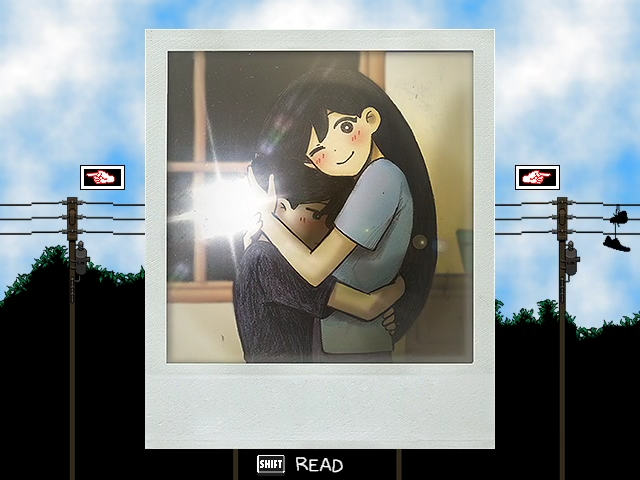 quote:
9/9

Sunny giving Mari a big hug! Mari doesn't come home until late now because she's taking extra classes to prepare for college. Me and Sunny have been hanging out a lot, but I'm sure he still misses her a lot.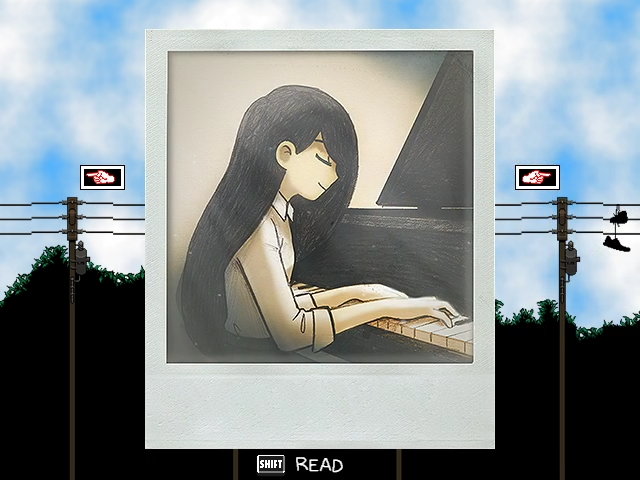 quote:
9/22

Mari practicing her part for a big recital next month. We're all going to go watch! It's going to be Mari and Sunny's first performance together, but I know they'll do just fine! We will all be showing our support from the audience!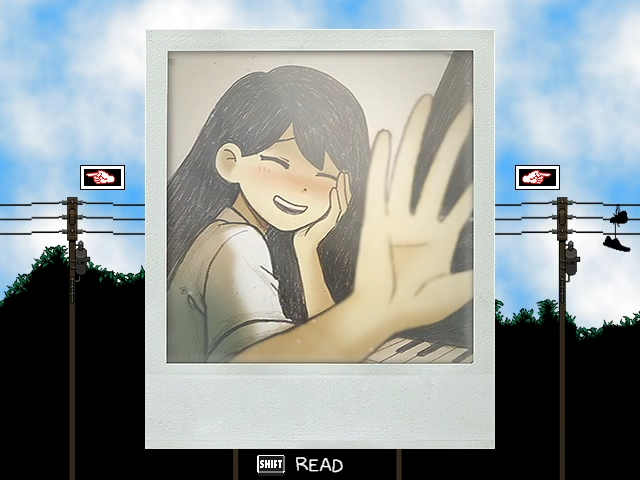 quote:
9/22

Mari getting a little camera shy, because she's made a small mistake. Don't worry, Mari! Just keep going! No one will even notice!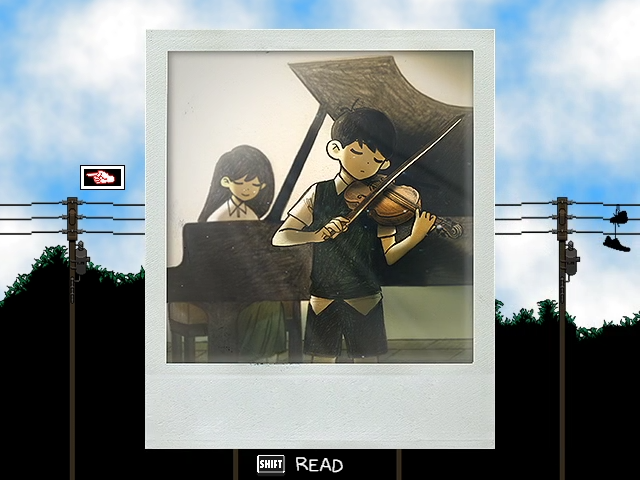 quote:
9/22

After some begging, Sunny came to join Mari for recital practice... hehe... They're still working out some stuff, but they already sound so amazing! I know they're going to be great. Go, Mari! Go, Sunny! You can do it!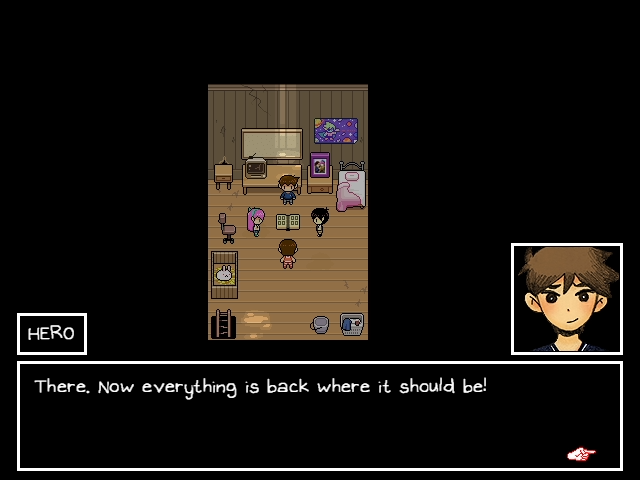 It looks like one photo is still missing... but at least the rest of them are back together!

Now... Doesn't that feel better?

Sigh... We really did have a lot of fun together, huh?

Yeah... I guess we really did.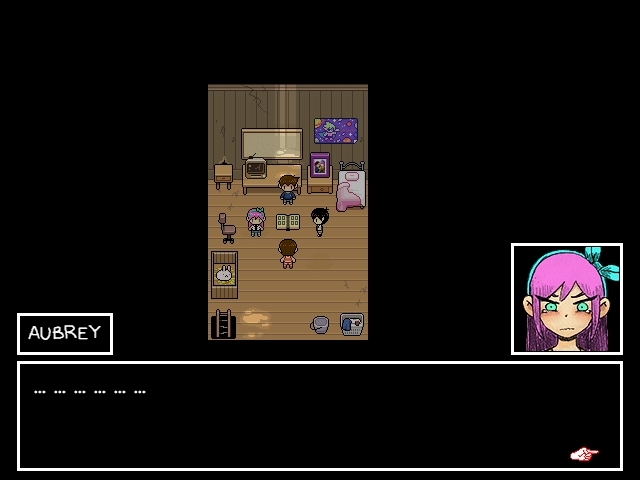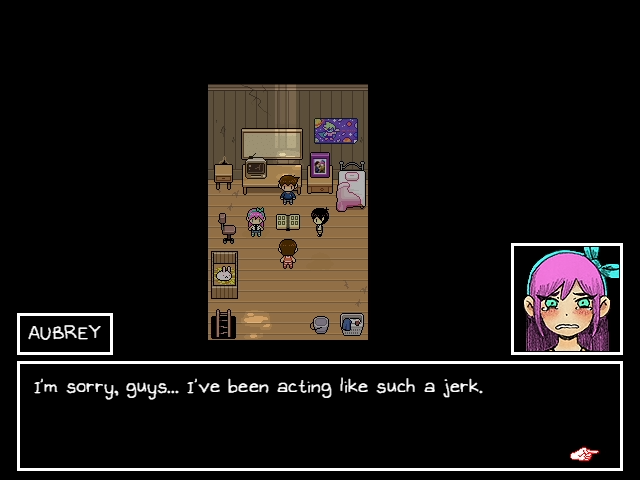 I'm sorry too, Aubrey... I really haven't been treating you so great either.

Alright! Apologies accepted! Now we can all be friends again!
Who wants a hug!?

Come on, Hero! Now now! You're so embarrassing.

I- I'm good... Thanks.

All we need to do now is check up on Basil. I hope he's feeling better today.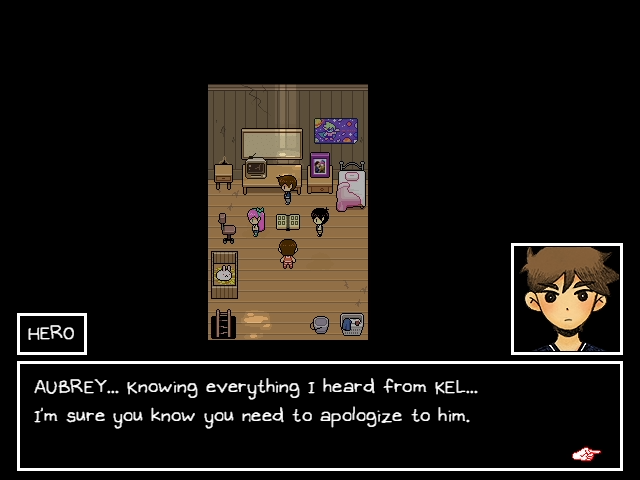 Yeah... I know...

Thanks, Aubrey. It's good to have you back. Now let's get you out of this house!

Hmph... Okay...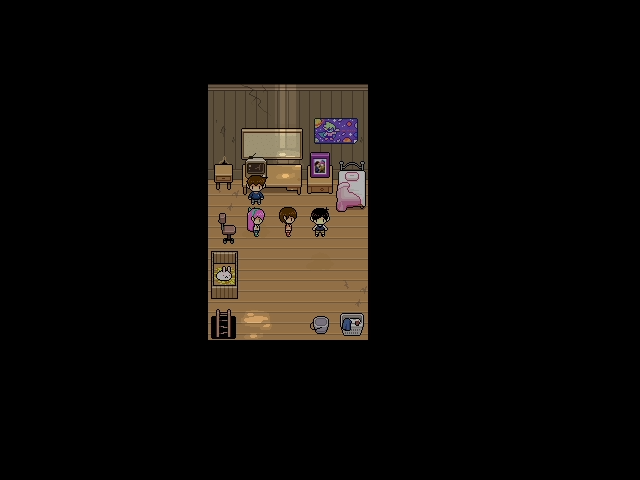 THE GANG IS ALL BACK TOGETHER!!!!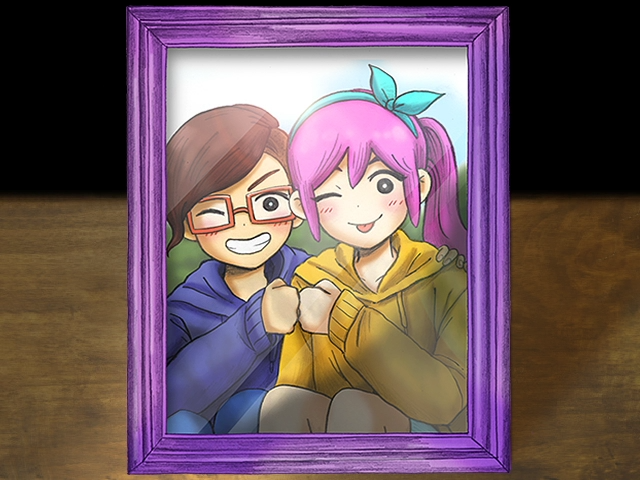 Aubrey's got this photo on her nightstand... Aww... they really are good friends.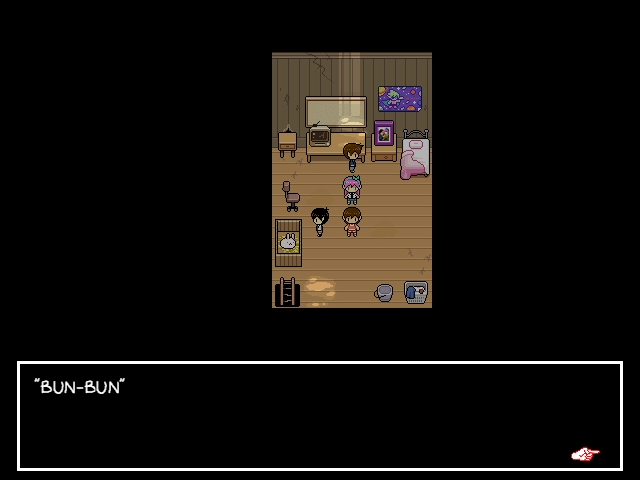 She's also got an adorable little rabbit with her. Aubrey's still had that pure heart... even if it's been pretty clouded lately...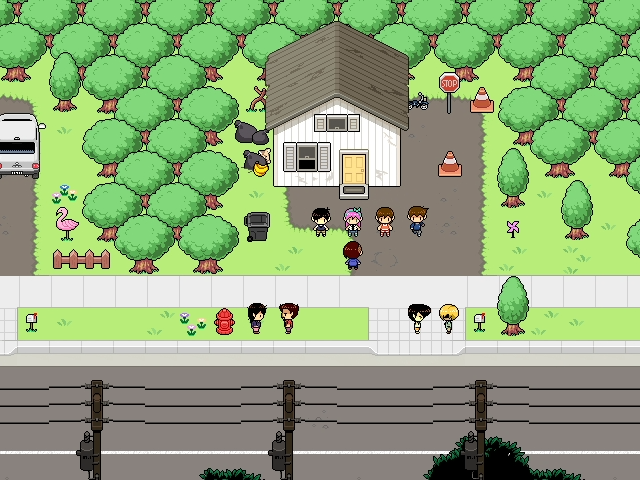 Yo, Aubrey! Are you okay?

Hey, Kim... I'm good... Thanks for bringing everyone here.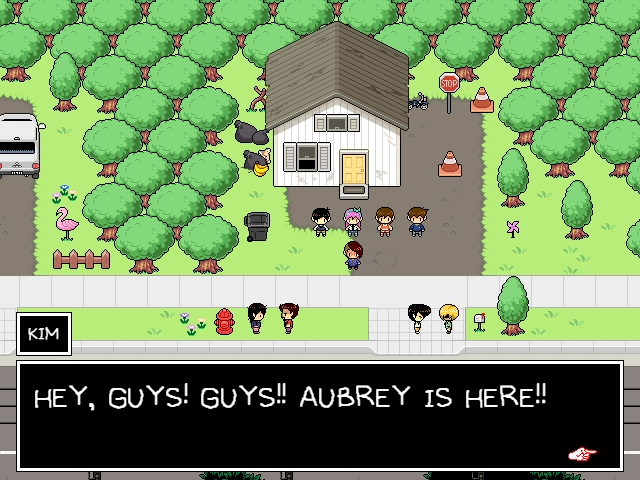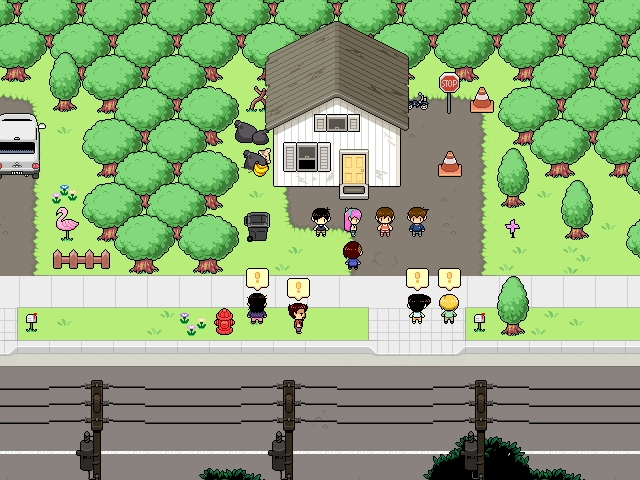 Yo, Aubrey. Are you feelin' any better? We even saved a taffy for you.
What happened in there!? Your face is all red... Do you need me to teach someone a lesson!?

Don't worry about me, guys... Sorry for ignoring you all earlier.

Eh, it's no biggie! We're just glad you're alright. Right Charlie?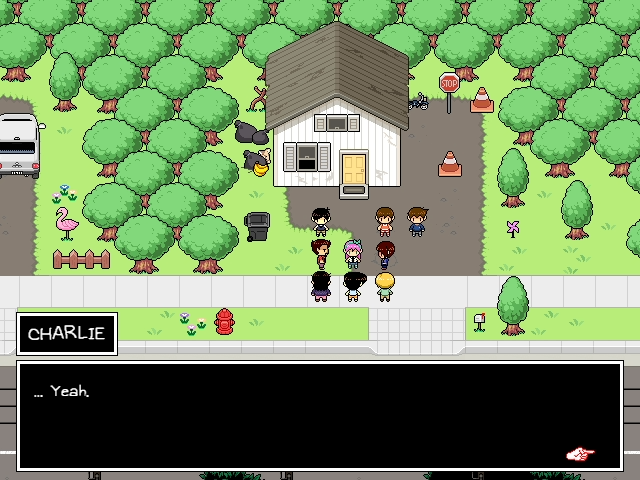 Aubrey, Aubrey! Let's go hang out at the park! I wanna show you some cool new moves I came up with! I was up practicing all night.

Haha... That sounds fun, but... Maybe later. I have some things to take care of first. We'll all hang out tomorrow, I promise.

Aww... Okay... We'll see you later then.

Aubrey... Don't keep us waiting too long!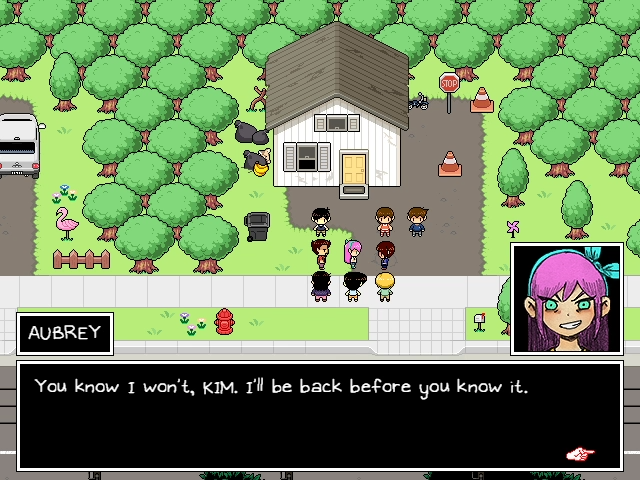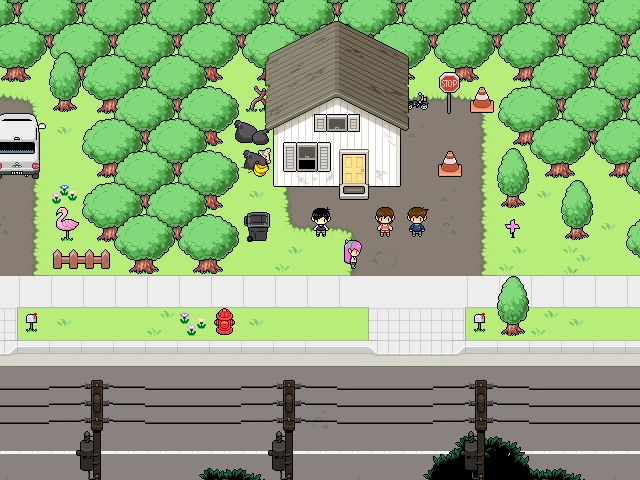 Now let's go get Basil and truly have the gang back together.