Part 113: Basalts
Better Know A Shadow: Basalts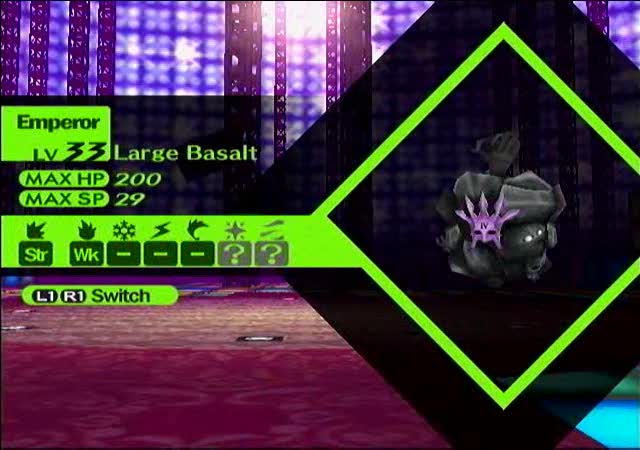 Name:
Basalt
Arcanum:
Variable
Design:
Black rocks with a mask on them matching up with whatever Arcanum a specific Basalt is.
First Appearance:
Steamy Bathouse
Spoils:
Stone
Notes:
Basalts are another new Shadow chassis. They are one of the few types of Shadows that can come in more than one Arcanum, not that the Arcanum of P4 Shadows matters that much in the absence of Arcanum Slaying weapons. They have almost universally massive defenses against physical attacks and some are even resistant to almighty attacks just as an added fuck you to the player. To add injury to insult, they tend to hit like, well, fucking rocks to the head. They almost universally specialize in physical attacks, usually just Attacks.
Orange Fluffy Sheep really sums this up best:
Orange Fluffy Sheep posted:
Basalts:

FUCKING THINGS AND THEIR FUCKING DEFENSE AND FUCKING ATTACK REQUIRING HALF OF YOUR SP JUST TO RECOVER FROM FIGHTING ONE GROUP ALWAYS SHOWING UP IN FUCKING FIVES AND ALWAYS HITTING FOR OVER HALF OF YUKIKO'S HP AND ARGH

Offense: ARGH WHY DO THEY HIT SO HARD
Defense: ARGH WHY DO THEY ALL RESIST PHYSICAL ATTACKS AND HAVE SUCH RANDOM WEAKNESSES AND WHY DOES ONE TYPE RESIST ALMIGHTY ARGH
Threat Assessment: ARGH

Now we just need a picture.