Part 61: 9/18/11-9/19/11
9/18/11
Just sort of chilled out today. Rise and I went down to Okina, not much happened. Later on, Dojima was doing some work. I decided to see what he was up to.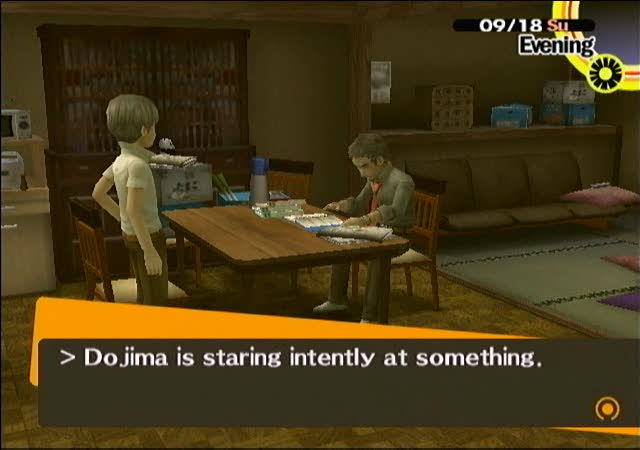 > It looks like data about cars…

Sorry, but my hands are full here.

Want some coffee?

…That's my job. Don't worry about it.
> Dojima is smiling wryly.

Oh yeah, I was thinking about this when talking with Nanako just now, but…
I feel like she's changed a bit lately.
I don't know how to put it… She's stronger.
…I feel like I'm being left behind…
Ever since you came, this house has become, well… home-y.
A house isn't just a big box. It's a place for a family to live together.
Laughing, crying, fighting… Spending most of your lived together…
A warm place.
I forgot what that was like…
I wanted to get that back more than anything… And yet, I feel like I've been dodging it the whole time.
Do you understand why?
I sort of wanted to say that he was running away from it but couldn't quite get it out.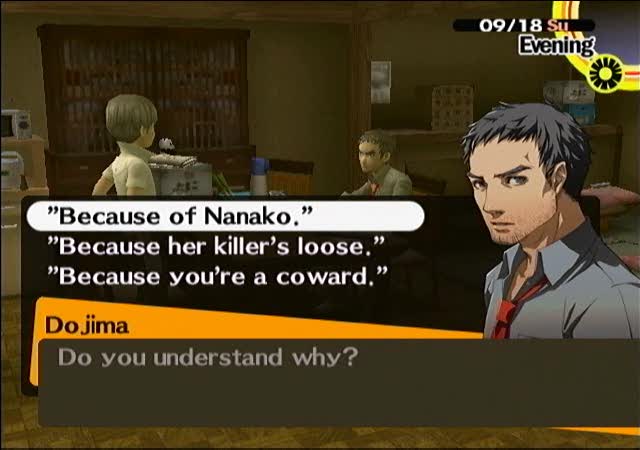 …That's right.
But I never thought of her feelings…
> Dojima is smiling wryly…

We've been in the same place, but we weren't connected. You brought the two of us together.
The rest… is my problem. Where do I draw the line with this…?
> You felt Dojima's quiet determination…
It's good that Dojima's finally thinking about how much this is hurting Nanako.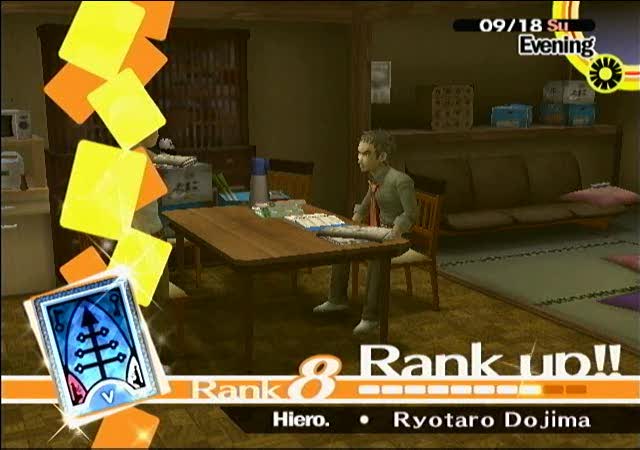 Ahhh, screw this! I'm drinking tonight!
Souji, you're drinking with me. Alcohol-free, of course.
You pass out before me, and you're under arrest, got it!? Alright!
> You drank with Dojima until he passed out and went to your room…
9/19/11
It was Respect for the Aged Day, which made me think about Hisano.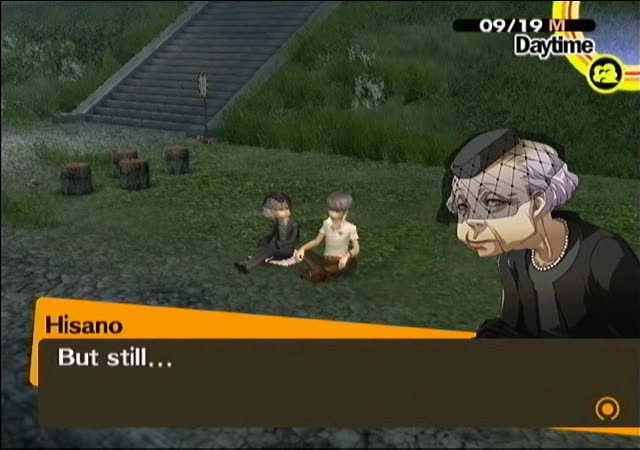 The more I look at you, the more you remind me of him.
His nose was just a little lower than yours, and his eyes a bit smaller, and his hair was shorter…
Haha, he was a handsome man.

Who are you talking about?

Haha… My husband.
He was a kind man. Quite an attractive one, too…
> Hisano smiles nostalgically…

My husband passed away recently…
Do I look like Death to you?
I still have no idea what she's talking about.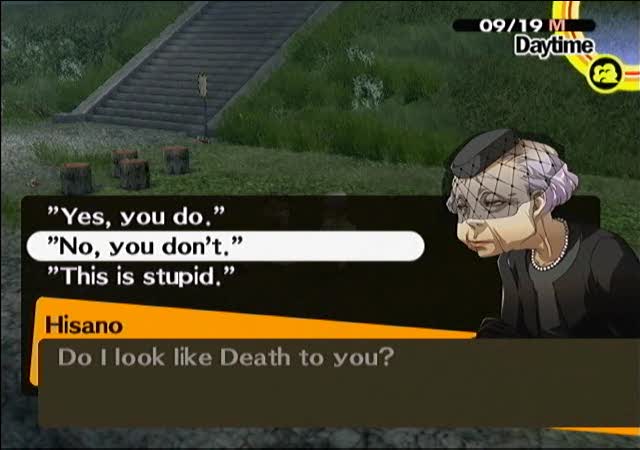 I see…
…You mustn't become Death.
> Hisano smiles sadly…
> You feel you brushed against a heavy weight that Hisano is bearing…
But she's so very sad about something.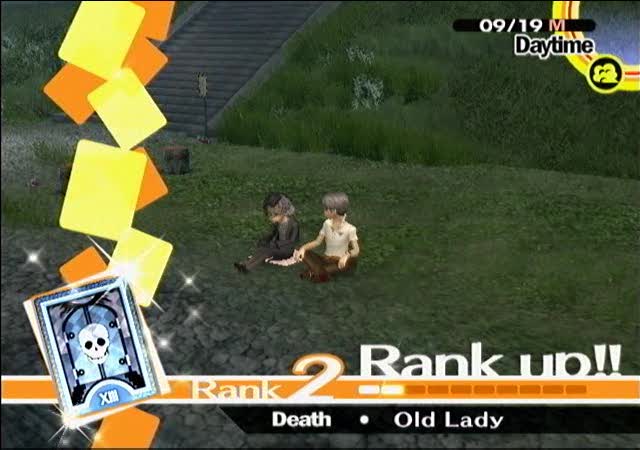 When I'm with you, I feel like he has forgiven me…
That can't possibly be true, though…
After all, I'm the one who…
……
…I'll see you later, Souji-chan.
> You left Hisano and went home.
When I got home, Nanako was looking around for something.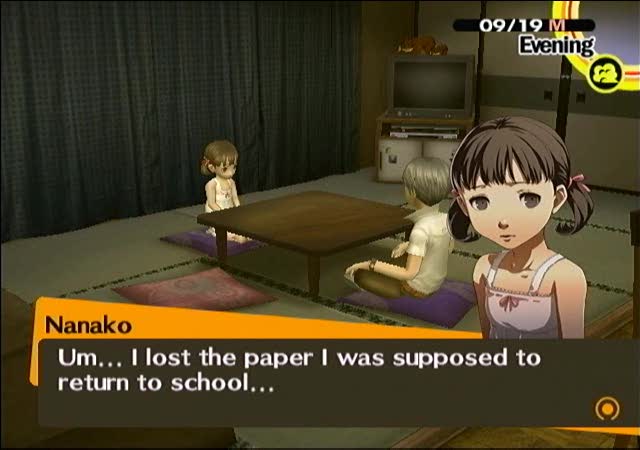 What should I do…? The teacher will yell at me.

I'll help you look for it.

Thank you, big bro.
> Nanako seems ready to cry with distress…
> You decide to search the house.
I looked through Dojima's papers, and found more than I bargained for.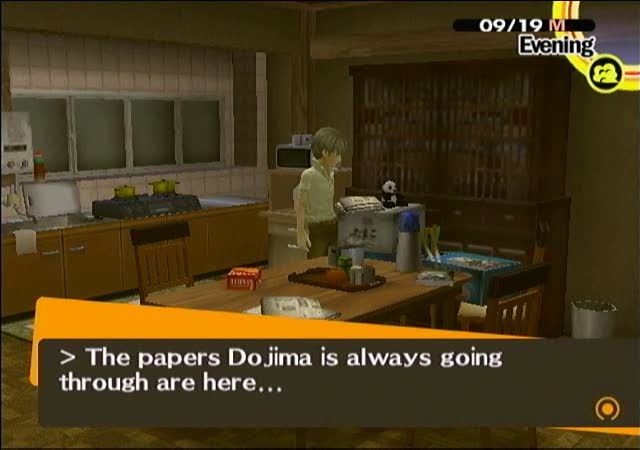 > ……?
> A paper titled "Parent Survey Regarding Scheduling of Parent-Teacher Interviews" was hidden among them…
> The word "Anytime" has been written in the "Day Requested" box…
> Is this the paper Nanako was looking for…?
> …?
> There's something else hidden in the papers.
> It seems to be a photo…
> You decide to show it to Nanako.
She was pretty surprised by what I found.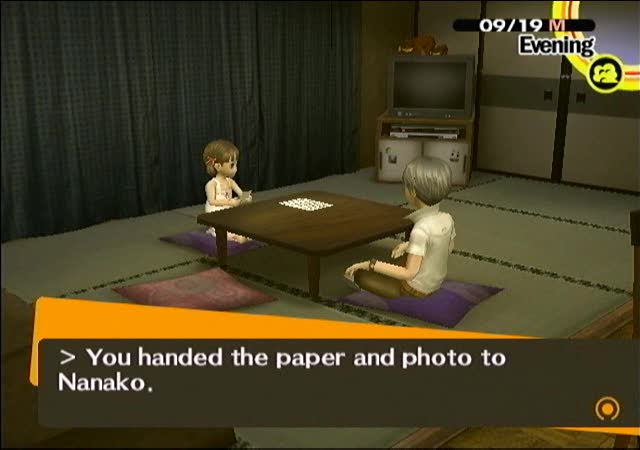 > Nanako looks at the paper on the table…

It says "Anytime" on it.
So… he can come anytime?
I see… *giggle *
And this is… a photo?
Oh, this is…
Mom…
This little baby in the middle… That's me…
Dad's smiling…
……
Why did Dad stop smiling…?
It's hard to explain to a kid what's wrong with Dojima, I tried my best.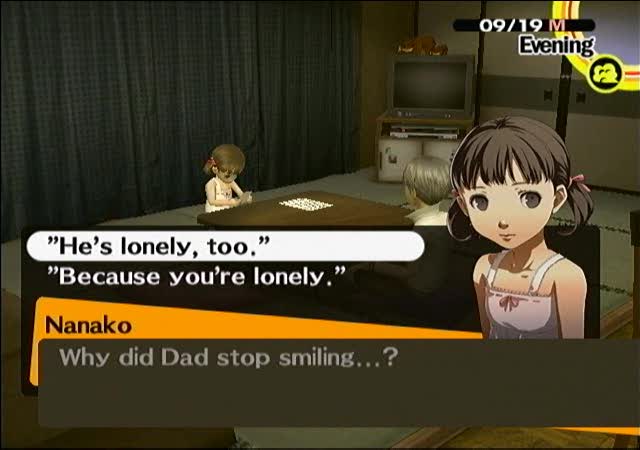 Dad's… lonely…?
I see.. So that's it…
> Nanako has realized something.

After Mom died, I was loney, but…
I'm not the only one who's sad that Mom's not here any more…
Dad… He was lonely, too… I'm sorry, Dad.
> Nanako looks more mature, somehow…
> You feel that your relationship with Nanako has grown deeper…
I think she got it.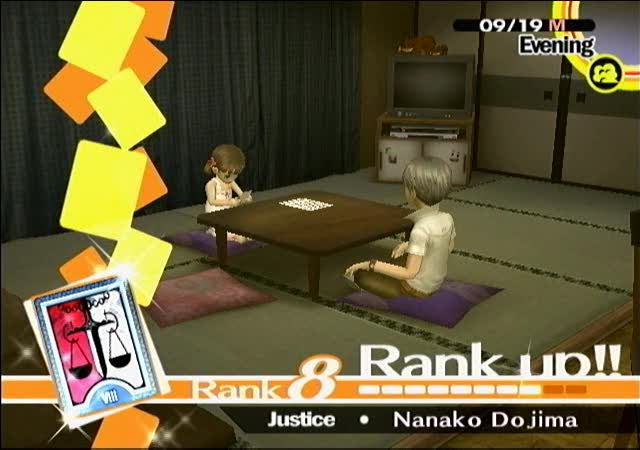 Thank you, big bro.
…Will Dad ever smile like this again?
> Nanako stares at the photo…
> It's getting late, so you put Nanako to bed and went to your own room.
I just need to try and get Dojima and Nanako to talk about this.