Part 63: 9/23/11-9/24/11
9/23/11
We had today off for the equinox. I decided to try and implement Operation: Cute Kitten today.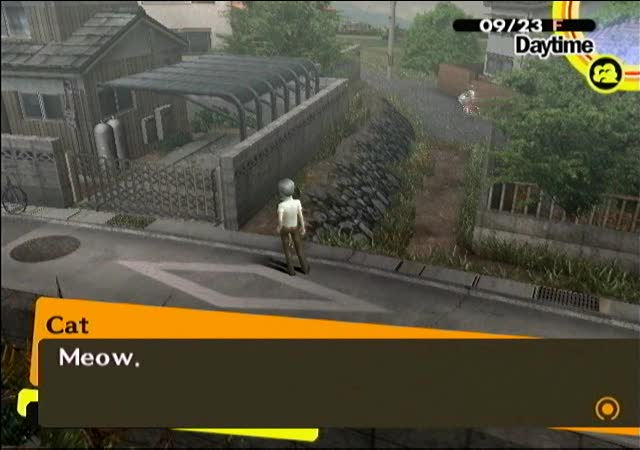 > There's a cat…
> ……
> Will you pet it…?
> Come to think of it, there is that man who was afraid of cats.
> He was so desperate, he made a wish to be cured of his fears… Should you bring him here?
> You decided to bring the man who is terrified of cats here.
Limited success.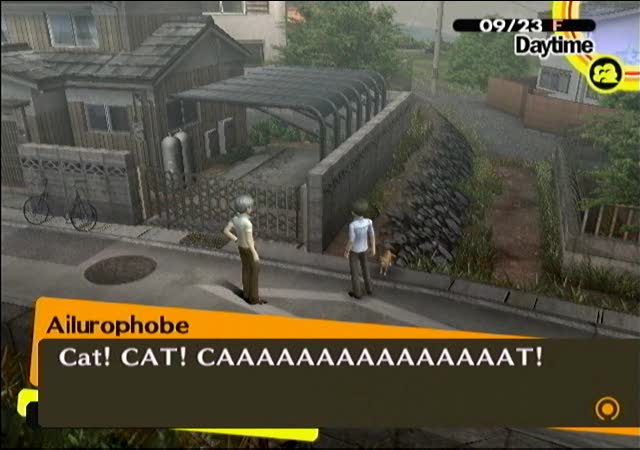 Ailurophobe:
It's watching me! It's waiting for me to turn around! It's coming for me! It's gonna jump on me! I'm gonna DIEEEEEE!
B-But, I-I'm a man… I-I-I'm prepared for death…
A-Alright… Alllriiight… Let me t-t-t-touch you…
Aaaaaaaaahh! It's eating meeeeeee!
> The man was licked by the cat and ran away screaming…
I went back to check on him and he wasn't by the river anymore. I did run into Hisano though.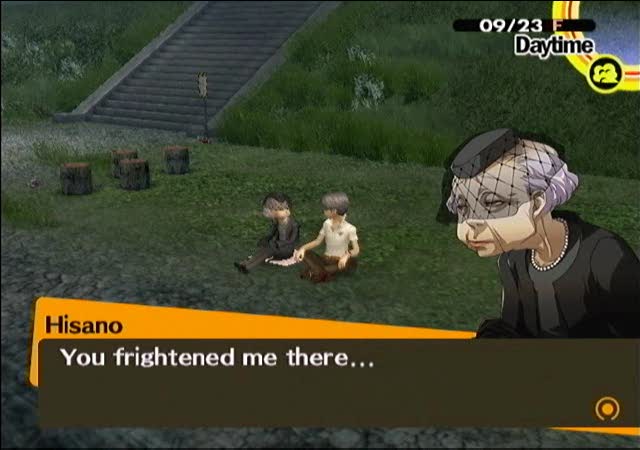 I thought you were my husband…
Watching the river here with you, like this, brings back memories…

Of what?

Of when I was still young, before I became this wrinkled old lady.
> Hisano smiles…

I met my husband here in this town.
I was born and raised here, and he was part of a travelling company of actors. They'd come to town once a year…
When I was small, my family took me to see the play… That's when I met my husband, who was a child actor.
He had clear, pale skin, and he spoke completely differently from the other children… He was my first love.
Every year, he would come… And every year, I would watch…
I gathered all the courage I had and talked to him. By some miracle, he fell in love with me, too…
We would just talk behind the stage. One date every year.
Haha… I thought he was just flirting with me, but I thought that was okay…
But do you know what he did? He quit the company and said he would live here, and marry me!
He did fieldwork, though he didn't know how… He would come home and show me his blisters. He was so proud…
…I was happy back then.
I wish my life was that simple.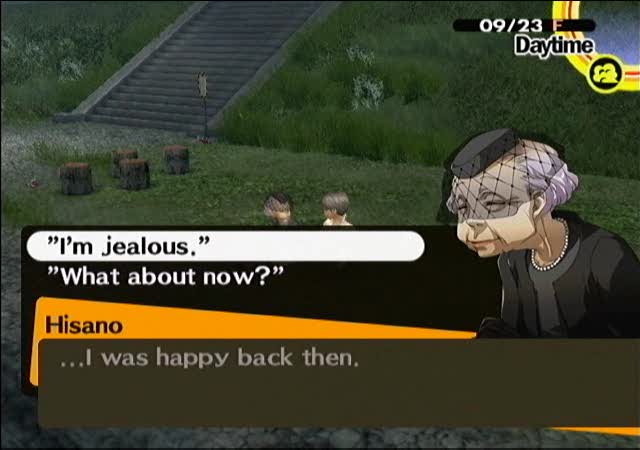 I'm sure the day will come where you'll be so happy you could just cry out of happiness.
No, there are many people who are in the midst of happiness… They just don't realize it.
If you don't know what you should hold dear, then your life is just a journey without a destination.
> Hisano smiles…

Right now… all I want to do is be by his side.
…But I know I never will.
He went to Heaven… and I will surely go to Hell.

That's not true!

…You're so kind.
> Hisano smiles sadly…
> You feel that you understand Hisano a little bit…
Why would she be going to Hell?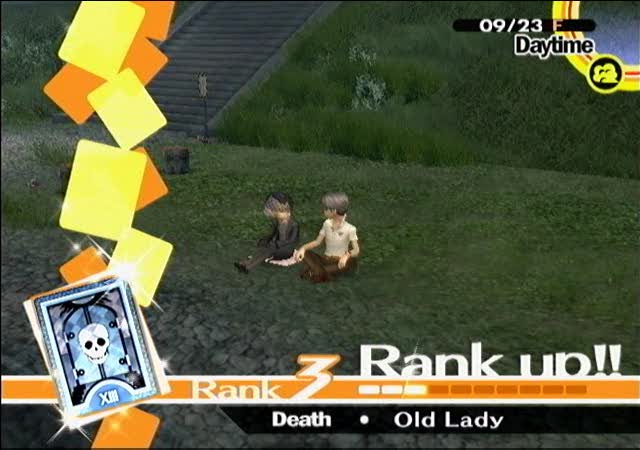 I must be going now. It gets cold here, down by the river.
…I'll see you later, Souji-chan.
> You left Hisano and went home.
I just don't get it.
9/24/11
Man we have some bitter teachers at our school.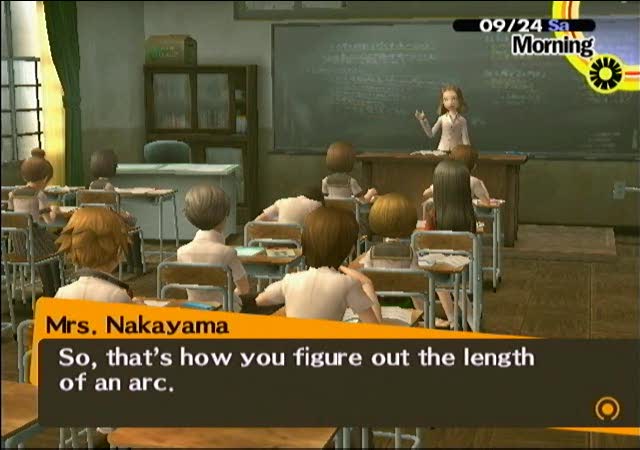 Mrs. Nakayama:
Circles are interesting, I think. Here in Japan, even our fireworks are spherical.
I watched fireworks on TV from a plane's view, once. Their shape was the same as if I'd seen them from the ground.
Well, if you consider the properties of a sphere, it's pretty obvious that it'd be the same shape from any direction.
Yep… they look the same from any perspective… just like my husband. Nothing good there from any angle.
Why am I working so hard, anyway? He should at least make enough money for both of us…
Er, anyway, let's move on to the workbook. …Oh look, practice problems…
Rise and I went down to Okina again.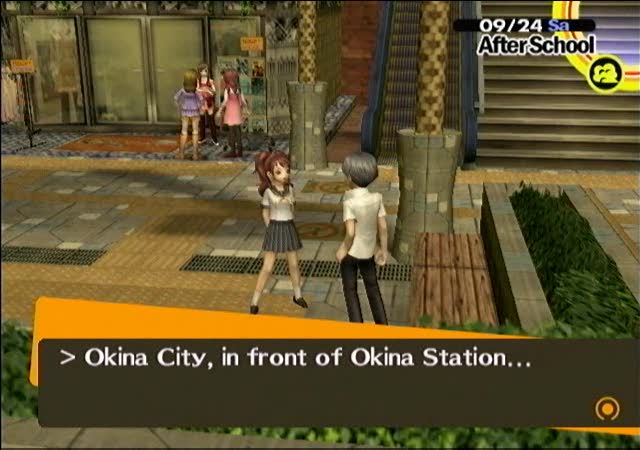 > Rise invited you to go shopping with her.

Today, we're buying for you!
I'll put together the best outfit for you, so be prepared.
I've already checked out most of the stores. First is… over there…
That ad…
I see… So Kanami is the new poster girl…
……
Oh, uhh…
That store's sign has a girl who was at the agency with me.
Kanami Mashita… She was my junior…
…She was cute, so I figured she would sell.
I figured she'd be happy about that but I'm not sure.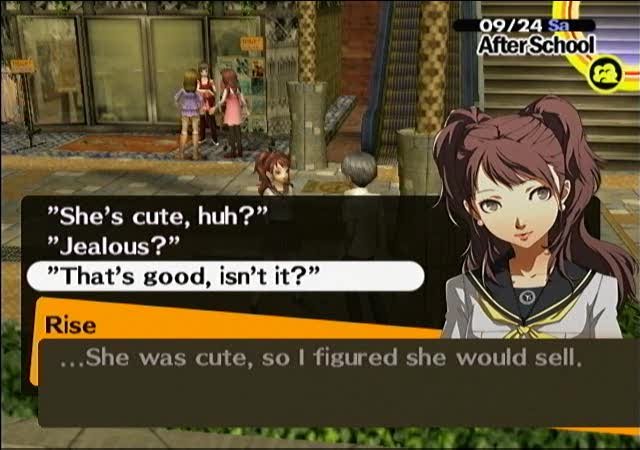 …Huh? Oh, yeah.
If some other girl takes off, I'm sure the agency will leave me alone.
> Rise is smiling…
> You over hear a conversation between some teenagers…
Bored Teenager:
Man, Kanamin is sooo cute.
It's crazy that she's still in middle school.
I like how she's not so fake, like Risette.
Idle Teenager:
Yeah, Kanamin's like… plain, and honest.
Somewhere between a little sister and the girl next door. Like, the kind of girl you want to protect.
I'd be really pissed but the sort of people who are dumb enough to believe someone is the way they are on TV aren't worth it. Rise didn't take it as well though.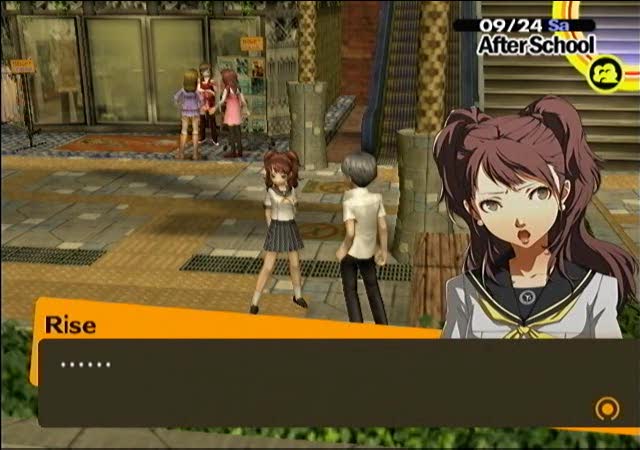 Yeah, yeah, I'm "fake."
That's the role I played…
It was all an act… Everything…
…Hey! All that stuff about Kanami is an act, too!
……
Let's go home, Senpai.
I don't want to be here.
We walked down by the river when we got back to Inaba.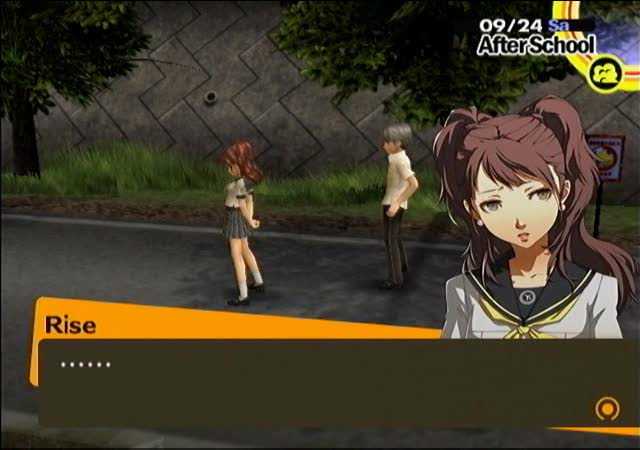 Senpai, are you… happy right now? Do you like being with me… like this, the way we are now?
You like having such a cute underclassman, right? I'm an ex-idol, after all.

That part doesn't matter.

Y-Yeah, of course not… What am I saying?
You see me as Rise, huh…?
The real me…
> Rise seems anxious for some reason…

…I'm sorry. I was just irritated…
I dragged you all the way to Okina, then just came back without doing anything…
I'm really sorry…
Nanako had just gotten out of school and was walking back as we stood there.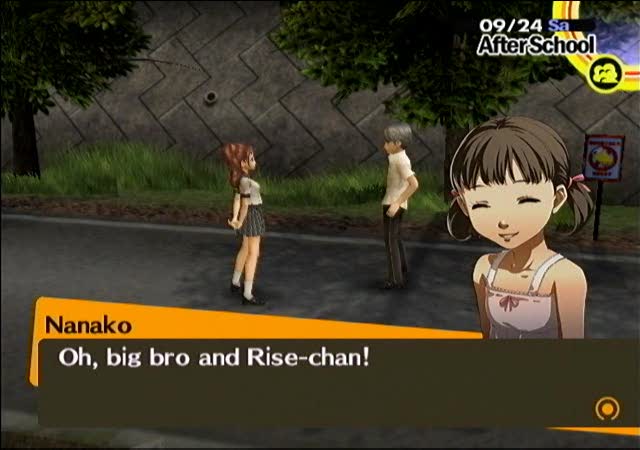 Oh, Nanako-chan… Y-You're going home?

Yep!

Oh, I know…
H-Hey, Nanako-chan, umm…
Well…
Do you know who Kanami Mashita is…?

Ummm… Kanami… Mashita…
……?
Oh, you mean Kanamin?
Yeah, I know her. Some of my friends like her.
I tell them, "Rise-chan's way better!"

Y-You do, huh? Hahaha, thanks…
B-But I'm totally different from how I am on TV… You must be disappointed…

Nope.
I like you.

Huh? Oh… thanks.
But that means… you like the "me" over here, huh…

The… "me"…?
Nanako didn't even get what Rise was talking about.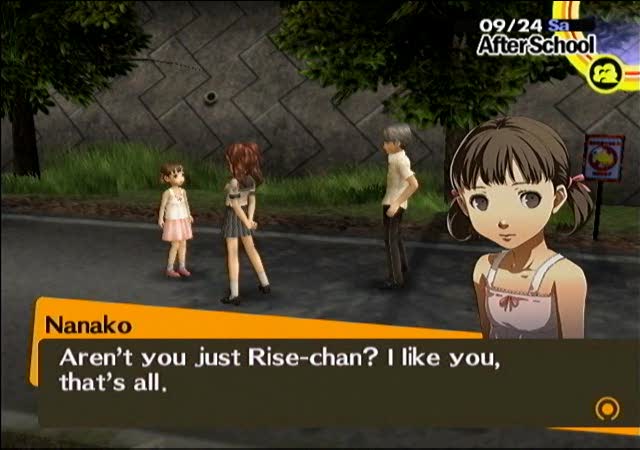 Oh, er… ummmm…
…Thanks, Nanako-chan. I like you too.

Yay!
Oh, the show's about to start! I'm going home now! Bye!

"You're just Rise-chan," huh…?
Wh-What was I thinking, asking all that to Nanako-chan…?
*sigh * Risette…
I quit so I wouldn't have to think about stuff like this…
……
…I have no regrets about showbiz. I wouldn't want to go back.
Why would I sacrifice my real self!?
I just want to become a Rise who's needed by the ones who see the real me. Like you, Senpai.
That's the "me" I want to be. It's the truth.
> You can sense Rise's passionate will…
> You feel that you understand Rise even more…
Still, I don't know that she's really made up her mind.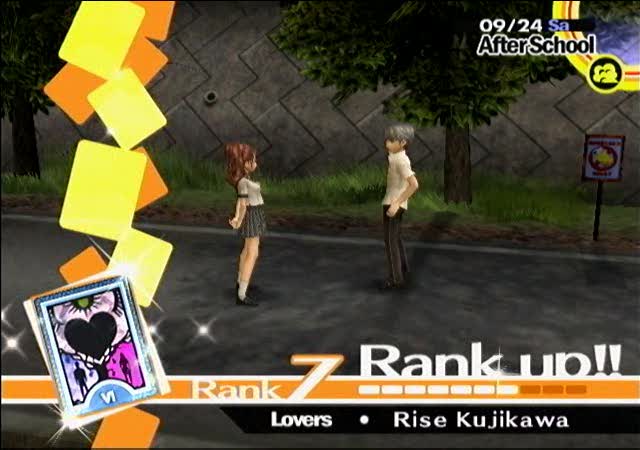 I… got a little upset today when I heard those kids talk about Kanami.
…I'm sure I'll forget it by tomorrow.
> Rise looks helpless…
She's still got all of us, though.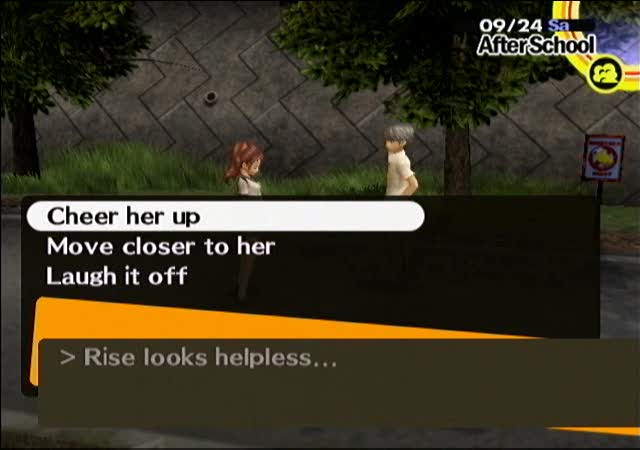 Senpai... Thank you.
I'm okay. I feel better now.
> Rise seems relieved…

I'm sorry for being so selfish today.
……
When I was working, I met lots of people, but at the cost of free time to meet people outside of work.
I had no free time at all…
So when I was alone, I was truly alone. Whatever I was thinking about… I had to keep them to myself.
So…
Right now… I don't want to be alone…
Stay with me… just a little longer…
> You spent time with Rise until it got dark and went home.
Nanako was waiting for me when I got home, Dojima was coming home earlier than he expected and she wanted to surprise him.
VIDEO- "Justice"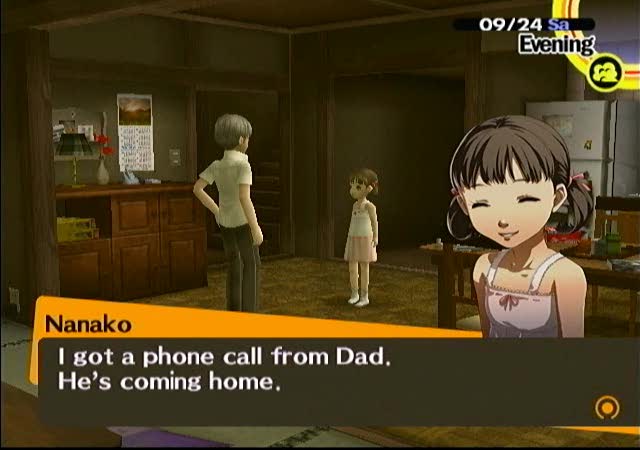 Click Here For Video!

Let's make dinner together, big bro!
There's a lot to do today!
> Nanako is more cheerful than usual.

I bought a bunch of dishes, pickled radish, and veggies at Junes!
Big bro, can you make a salad?

Sure thing.

Right, then. You can be the salad-maker!
And I'll be the, uh… The eggs sunny-side-up-maker!
> Nanako looks really happy.

We have to start eating our vegetables from now on.
A well-balanced diet is important.
> Nanako confidently repeats this as if she'd heard it from somewhere else.

…My teacher said that families help each other.
After Mom died, Dad and me have both been lonely, but…
But I have Dad!
And I need to do my best so Dad doesn't feel lonely either!
You're my family, too, so… Let's work hard together!
I never could have dreamed things would have been like this when I moved here.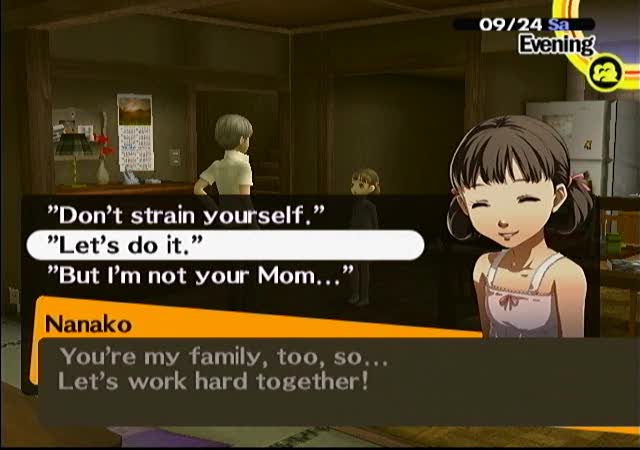 Yeah!
> Nanako looks really happy.

Oh, yeah…
I'm giving this to you!
> You obtained Family Picture.
> It has Nanako and her parents in it…

Dad made extra copies.
You're family too, so you should have a family picture.
Let's get a picture of you and me and Dad all together one day!
*giggle *
I love you, big bro!
> You feel a warm sense of love from Nanako…
> You can feel a tight bond between yourself and Nanako…
So this is what it's like to have a little sister…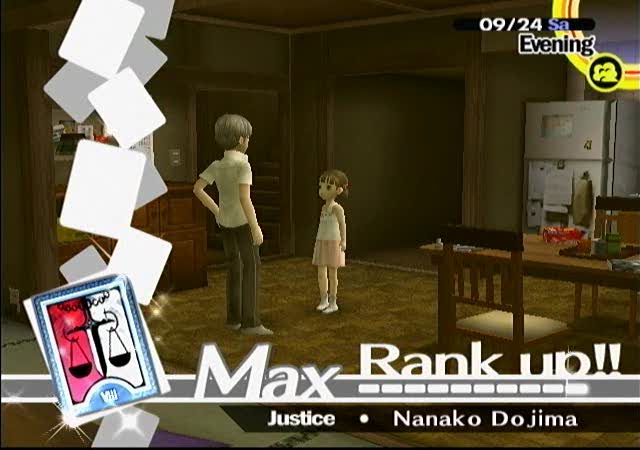 Sraosha is an angel of some variety. I'm pretty sure there's a lot of disagreement on what angel does what.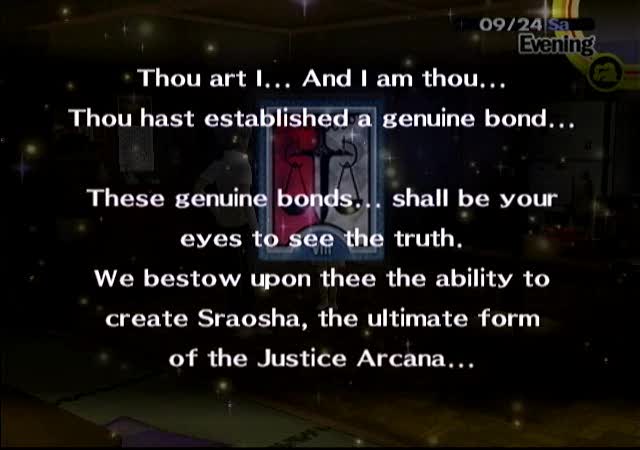 We need to hurry, or Dad'll be home before we're done!
> You prepared dinner with Nanako.

I'm home.

Dad! Welcome home!

Y-Yeah.

I made dinner with big bro today! We made salad and, ummm, a bunch of other stuff!

I see… Good work, Nanako.

Go wash your hands! Hurry, sit down!

She's really cheerful.
I'm sure it's thanks to you.

Daddy, big bro, hurry, hurry!

I got it, I got it. Let's eat, then.
> The three of you sat around the table and enjoyed each other's company…
This is the kind of thing I'm fighting to protect. Hopefully Naoto's feeling better soon, with her help I think we can find the killer and bring this to an end.