Part 73: 10/21/11
10/21/11
At lunch we all got together on the roof to talk about the letter.
VIDEO- "The Letter"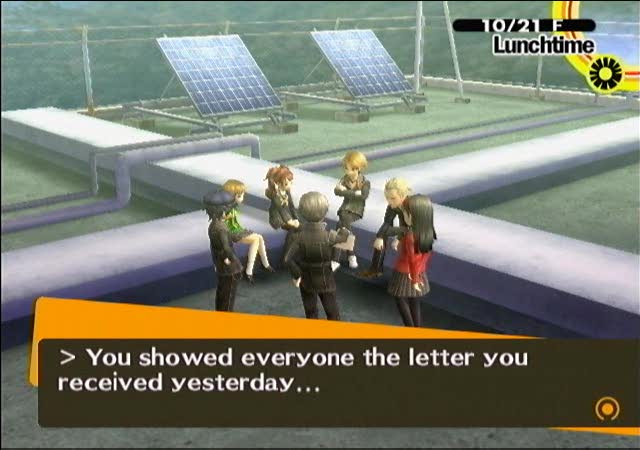 Click Here For Video!

"dont rescue anymore"…
Is this a warning?

No punctuation or capitalization… What a cliché.

Ain't this just a prank? The kinda stuff that only happens in the movies?

Did you show this to your uncle?

I don't plan to.

Senpai… Dojima-san is trustworthy, but it may be best to keep this to ourselves.
He will ask why you received such a letter, and if he were to put you under surveillance, our hands would be tied.
If this letter is real, what's most important isn't what it says…
It's the fact that it was delivered to the Dojima residence, addressed directly to you.
This means the culprit knows in great detail who has been interfering with his crimes…
And of all of us, he chose to deliver his message to the Dojima residence, home of a police detective.
I'd have this letter checked at a crime lab if I could… But even then, I doubt they'd find anything.
Naoto summarized her point pretty well at that point.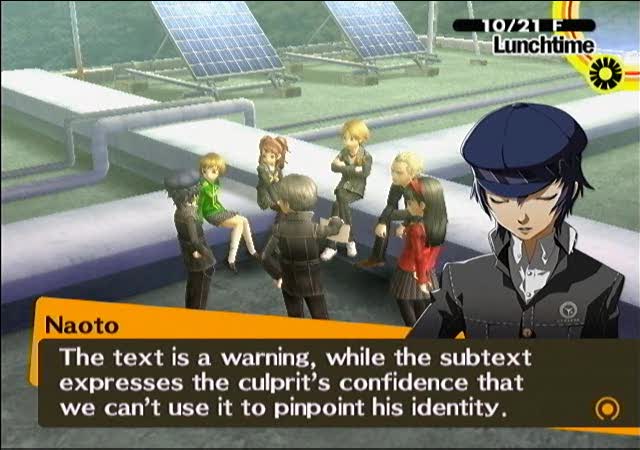 So it's useless to tell the police… In fact, that would make things worse.

Cross your fingers it's just a prank…

I think the chances of that are slim… This message is too specific, too perfect to be a prank.
But how could the killer know so much about us?
Could he be watching us from somewhere…?

Teddie's been saying for a while that when we're over there, he senses someone watching us…
Wait… Every time we went to the other side to rescue someone, did we end up on the Midnight Channel ourselves…?

I-I dunno… It seems like no one else knows what we're doing.
I haven't heard any rumors about us at school. Even the people who I know check that channel haven't said anything…
The only gossip I heard was about the people who disappeared.

I see… Come to think of it, how the Midnight Channel works is still a mystery…

Let's put aside for now the matter of what that world truly is. There's too little data to go on.
For now, we need to keep in mind that the culprit knows who we are…
As long as we're all aware of that, it will be enough for now.

Yeah… Guess there's no use thinking about stuff we can't understand.
Freaking out over speculation is just what the killer wants us to do… Right?
This whole thing could work in our favor, actually.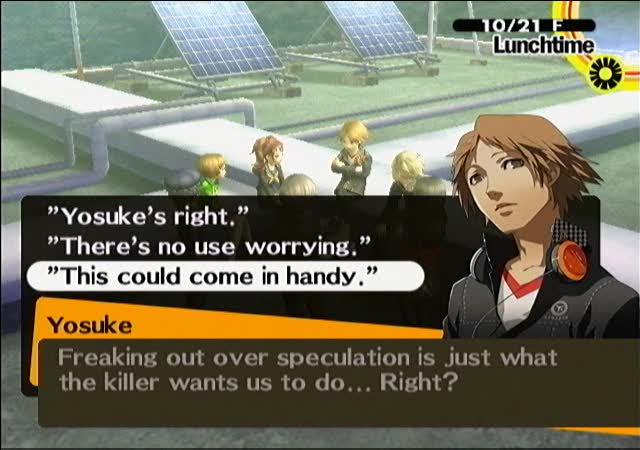 …Yeah.
> You told the others, "We'll have to wait until the situation changes."

All right.
Mind if I change the subject, then?
The Culture Festival's just around the corner. What's our class doing again?

Oh yeah, it hasn't been decided yet, huh?

I heard we'll be voting on it soon… But aren't they still gathering ideas?

Whoa… I think Yosuke just got hit with a bolt of inspiration…
Whatever it is, it'll be out there. I'd bet my lunch on it.

Hey Senpai, have you decided who you'll be going around the campus with during the festival?
My schedule's still wide open, you lucky guy!

Urgh… She just had to say something…
Anyway, after school I was messing around in the shopping district and met a weird guy in a black suit.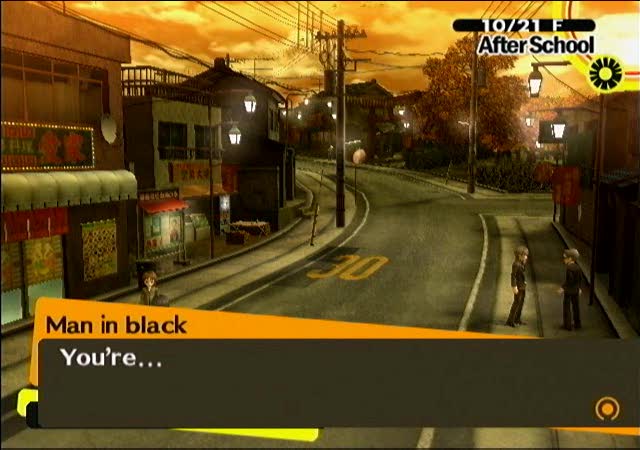 Man In Black:
……
> The man in black is looking at you, as if appraising you…
Man In Black:
Do you know about luminol reactions? What part of the body do you use to test DNA?
What's the best way to obtain someone's email address? What ten things can you learn from footprints?
> The man is bombarding you with questions for some reason…
> With your unmatched Knowledge, you answered every challenge smoothly and easily!
Man In Black:
I see, I see… You are quite an interesting young man.
Do you know Naoto-sama… Oh, er…
You know a detective by the name of Naoto Shirogane, correct…?
I figured there was no point trying to bullshit this guy.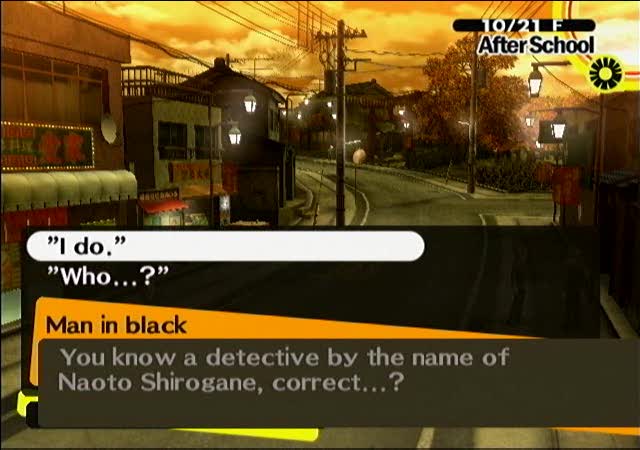 Man In Black:
Yes, I know you know him.
Deliver this to him. He will understand.
> The man in black gave you a card…
Man In Black:
Good day, then…
> The man walked briskly away…
> This smells like a case… You should hand it over to Naoto.
I think Naoto had to go home early, though. There was no sign of her around. Instead I went with Rise to get some skewers.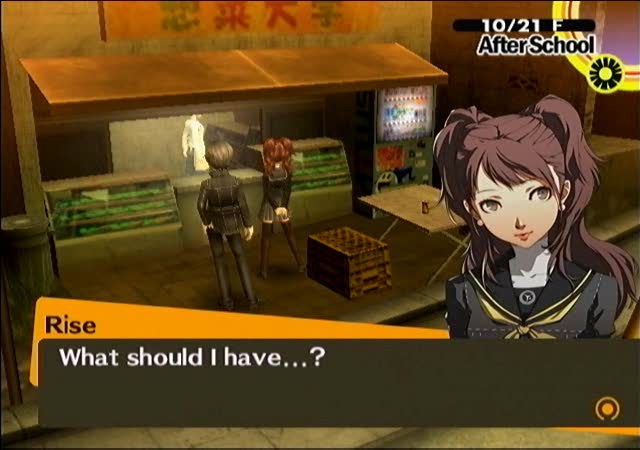 Heck, maybe our shop should do something like this.
How about a "ganmo kebab"? Or a "tofu croquette"?
Middle-Aged Man:
Well, if it isn't Rise-chan.

Ummm, you're the deputy mayor… right? Good afternoon…
Deputy Mayor:
I heard the news! You know, about the upcoming film!
…Hm? You haven't heard yet?
You know Kanamin, right? Kanami Mashita!
They're going to be filming nearby, right? I hope they stop by Inaba, too.
Oh, I know! Why don't you ask?

Kanamin…
…I don't have anything to do with them anymore.
Deputy Mayor:
But wait… How many are coming? We only have small bed-and-breakfasts around here…
Got it! They can stay at the Amagi Inn!
Alright, I need to go tell that manager guy I was just talking to!

……
Just then Inoue came by. He's a real prick for a nice guy.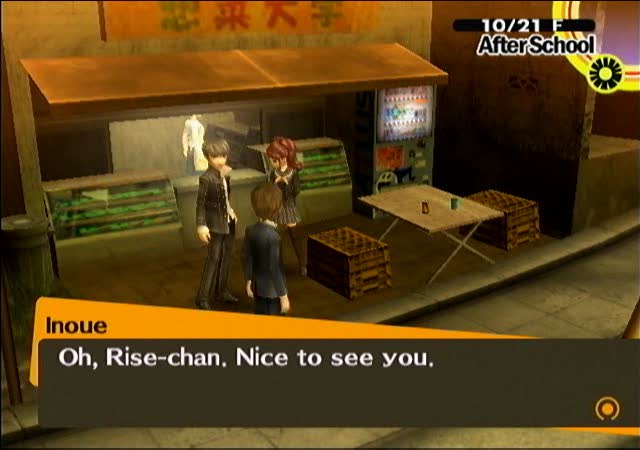 Inoue-san… What do you want today…?
Inoue:
I'm down here scouting film locations, so I thought I'd come see you.
I wanted to hear your answer one more time, face to face.
…Are you sure you're not coming back?

……
I…
I'm not going back…
……
Inoue:
I see…
Okay… I understand. Well, now I can focus on my new job.
I signed up as Kanami Mashita's manager.
Remember how we were talking about doing that movie? They picked Kanami as your replacement.
…We're going to sell Kanami.
I have every confidence she'll be just as popular… no, even MORE popular than Risette.

I-I see…
I can't imagine why he never said this shit before.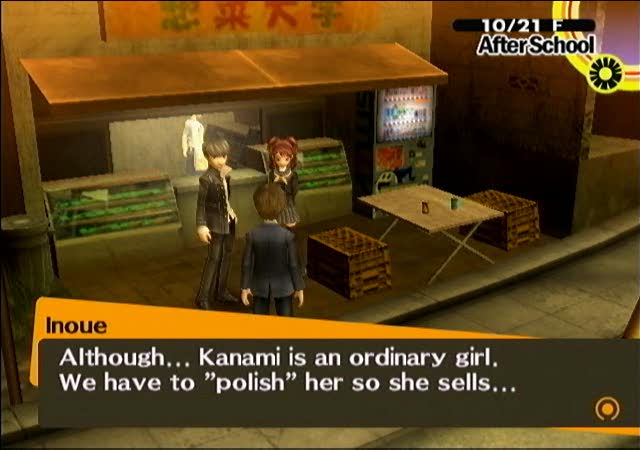 Inoue:
……
But you had that spark…
You learned fast, adapted well to new situations, had that smile that could be as strong or weak as you needed…
And those acting skills of yours! You were like an old pro.
You could have reached heights most girls could never dream of…
…That's what I think, anyway.
So… I just had to hear it from your own mouth.
Well, then… goodbye.
Stay healthy, okay?

……
What the heck… That's not fair… After he made me answer…
He never told me any of that when we were still working together…
Acting skills…? Of course I have 'em.
What the heck…? Telling me all that stuff now… It's too late…!
……
> It seems Rise is crying…
Bastard had no idea what he did to her.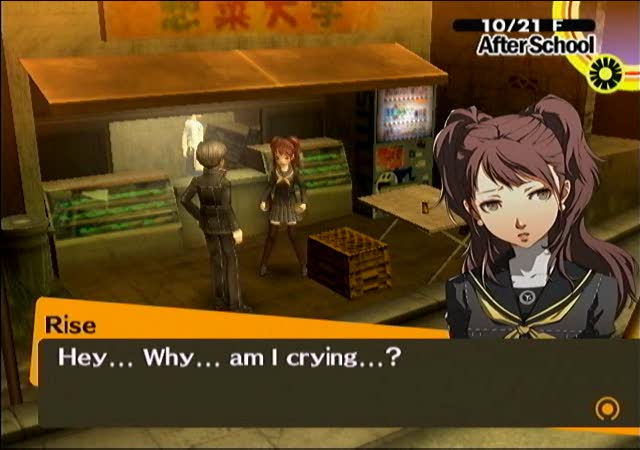 There's no reason to cry… There's nothing… to be sad about…
Nothing…
Senpai… I… I don't know why I'm crying…

Cry all you want.

Haha… I can't… My eyes will be all swollen tomorrow…
I… I lost… everything…
I don't know how… but… I lost everything…
I'm scared… I'm sad… What's going on…?
Senpai…
Please, stay here…
Stay by… my side…
Senpai…!
I don't know that Rise had ever really thought through what she was giving up before.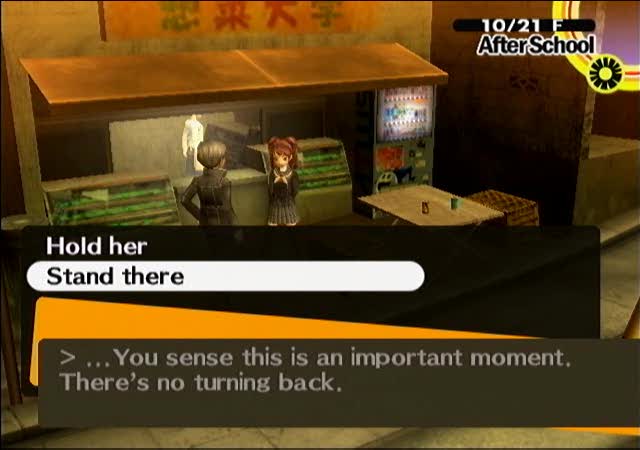 Senpai…
I have you… I have the others…
I didn't lose everything…
There are people who need me, right…?
> Rise is smiling through her tears…
> You feel your relationship with Rise has grown deeper…
But Rise… I don't think she really gives up that easily.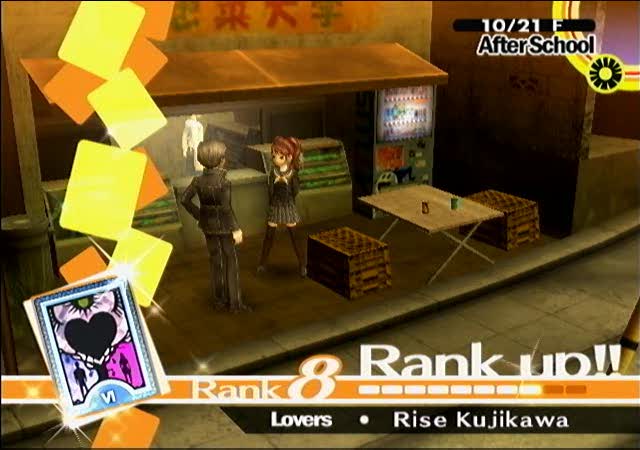 I'm going home now.
My head's all messed up…
I need time to think it all over. About how I feel now…
I don't want to lose anything more…
Goodbye, Senpai…
> You watched Rise walk off and went home.
I know she'll figure out what it is she really wants. And I'll be damned if I let this freak scare me with some stupid letter. That he's resorting to crap like that just means he's afraid, afraid we're closing in. I get the feeling we're closer than ever to bringing him down.
Next Time On Persona 4:
Yosuke's Greatest Failure?