Part 117: 9/23: WARNING: SYSTEM DAMAGED
Part 110: 9/23: WARNING: SYSTEM DAMAGED
hellow evryonne, i'm am Artist. welcome to lets' play.
Music:
Sweatshop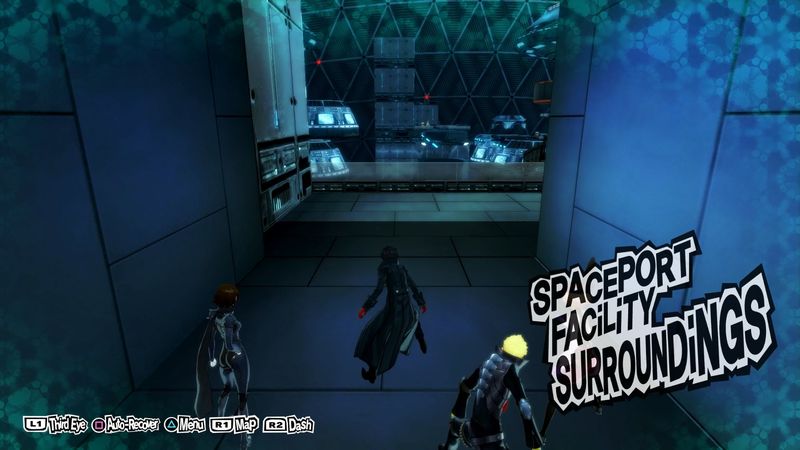 right noww we in big space. big. space space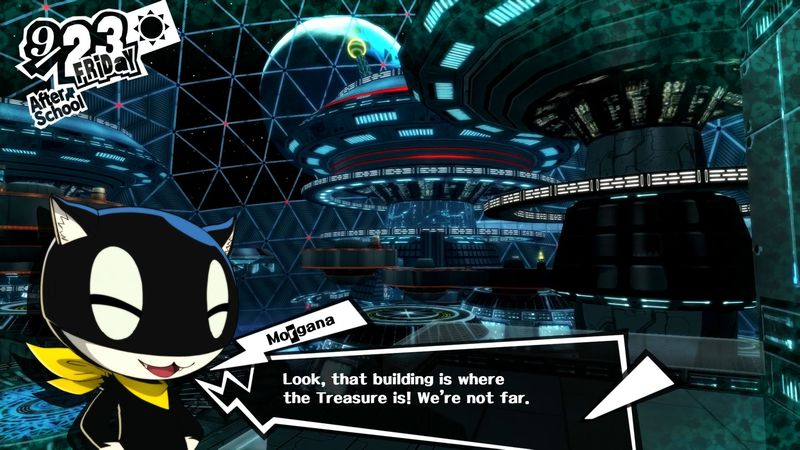 If it's seriously that close, can't we just go from outside? No point goin' through there.

Hm… That might be worth a try.
i fix portraits. good now.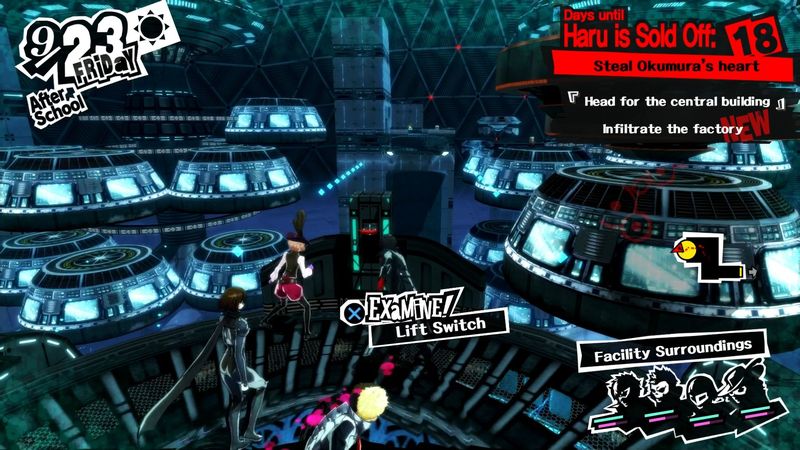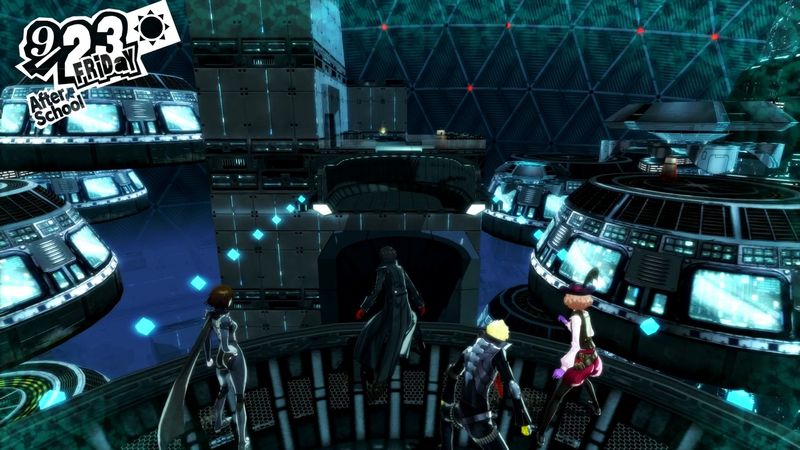 ride circle across whoosh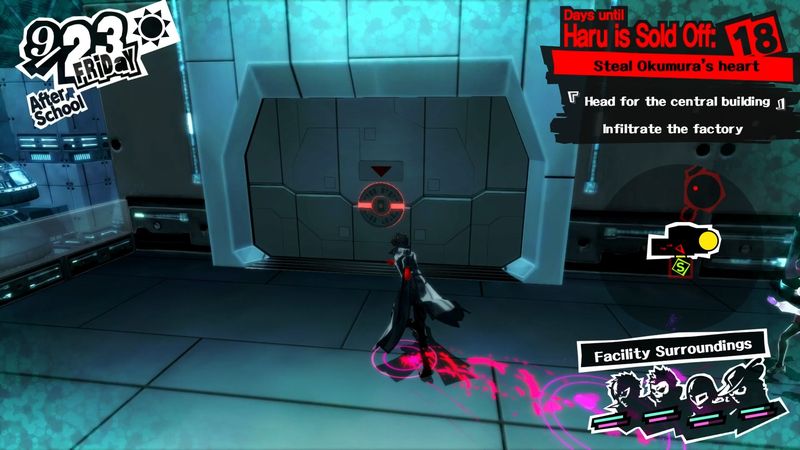 safe room, so no repeat bad card game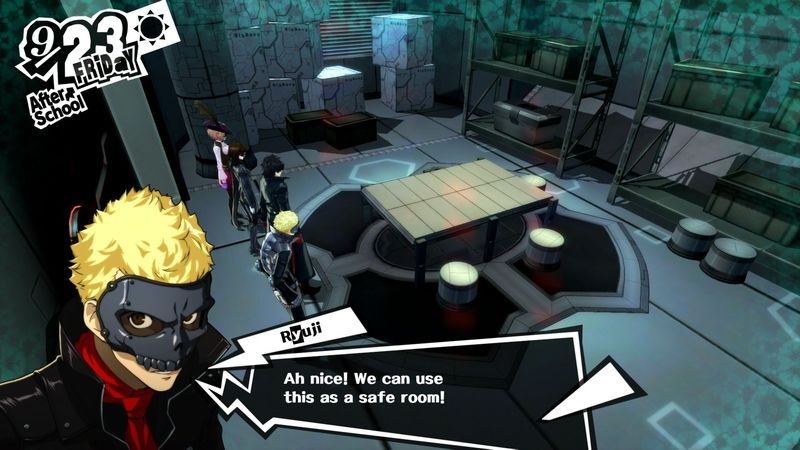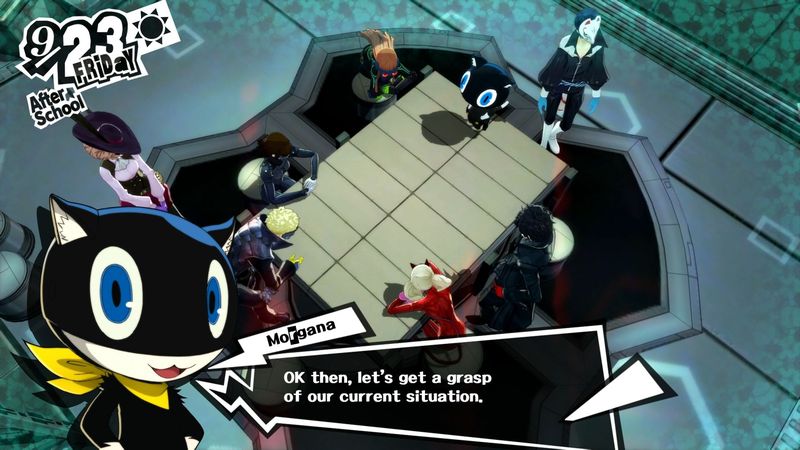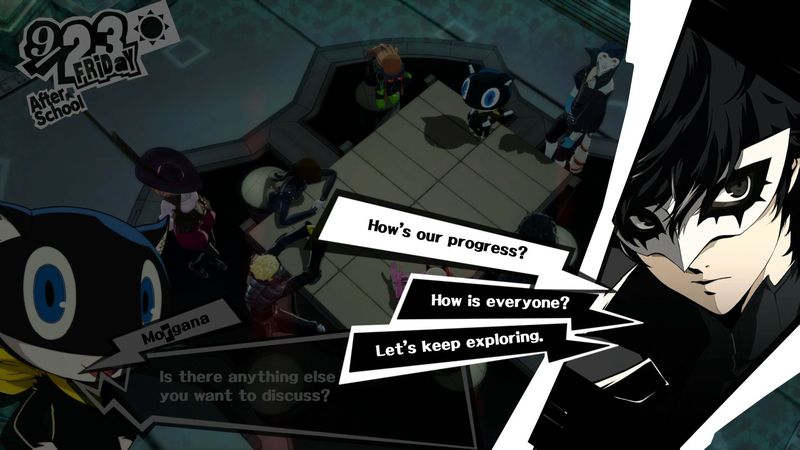 We have completed approximately one third of this Palace. Things seem to be going relatively well.
one three too low, we be here foreeeeeever!!!!

I hope we can keep up this pace all the way to our goal!

Just make sure you don't let your guard down. We need to stay focused in the next area as well.

Though to be fair, there are still two thirds remaining. Let's try to pace ourselves from here on.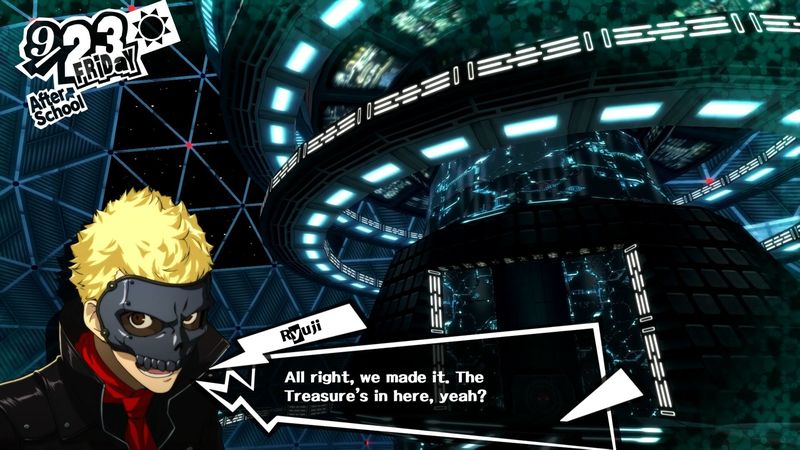 Just past this building. We're definitely getting closer.

I find it somewhat odd that we have still yet to see anything about the mental shutdowns…

Well, this Palace is on the site of the corporate HQ, remember? If he never told any employees about it, we may not find any hints toward his involvement…

Worst comes to worst, we're just gonna have to get that info outta the Shadow himself.

Anyway, let us hurry inside… I believe the factory comes next.
we make it to ufo biulding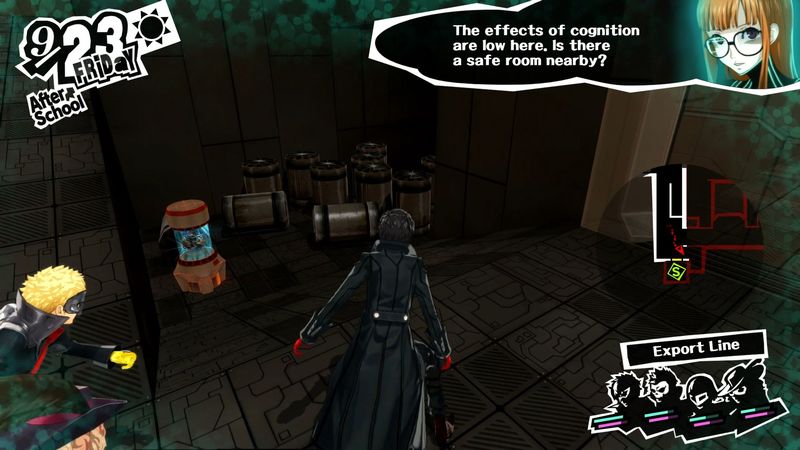 nother safe room time to res
What the fuck?
Hey shithead, the hell is this?!

oh i let my little brother mess with your lp thing. he's four.
Your little...? *sigh*
goddammit why

listen, just let him keep doing it, i'm supposed to be babysitting and he finally shut up
Are you kidding? I'm not doing you a favor! Screw off.

aww, be cool, man
Bye.

fine. but you'll regret this.
All right, now that we're done with another small child's interference, let's explore the factory.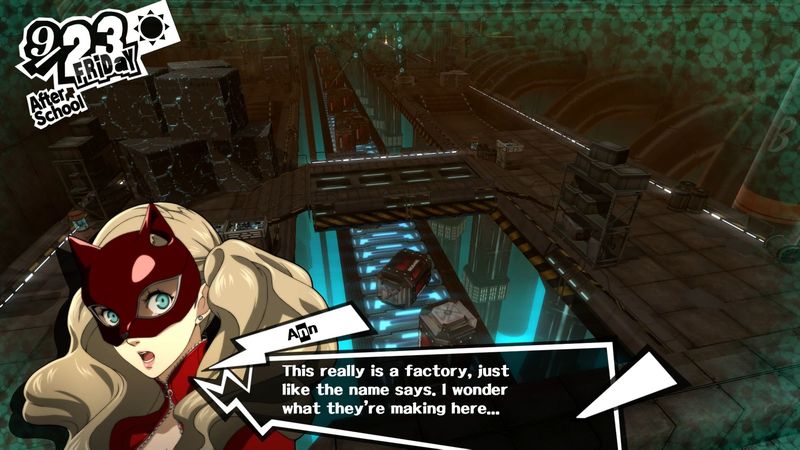 Do you think it's related to that "Escape to Utopia" thing?
I'm not fixing the portraits. Fuck it.

Hold on a sec. Ain't the guys in here movin' kinda weird…?
Music:
Regret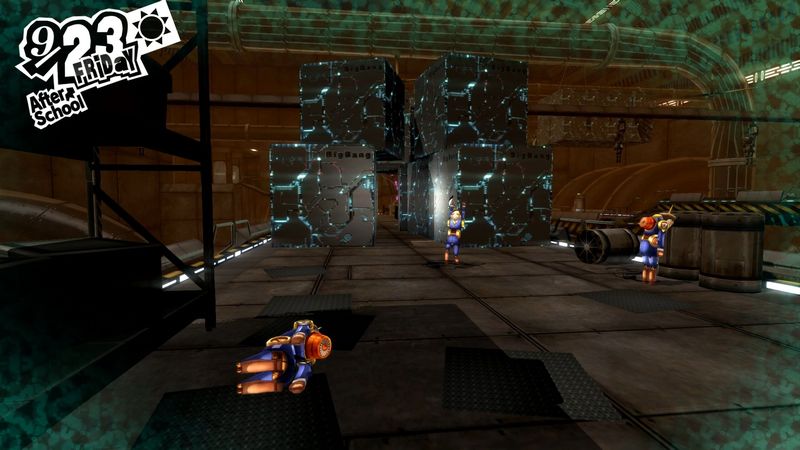 Robots collapse.

IT NEVER ENDS! IT NEVER ENDS!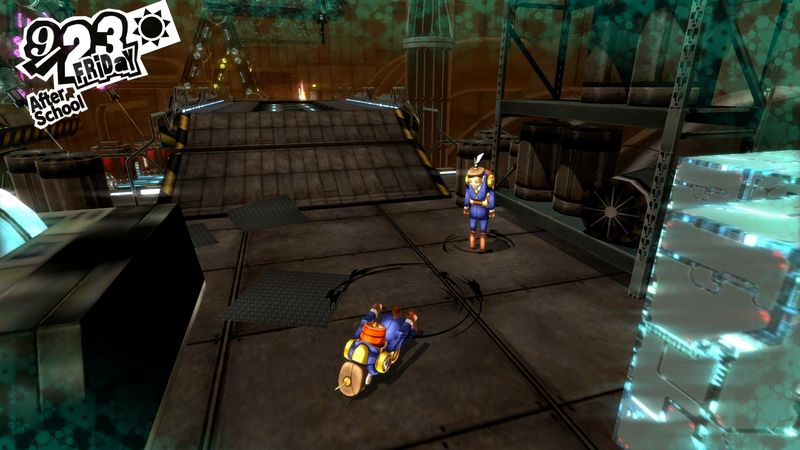 *something completely inaudible over the sound of machinery*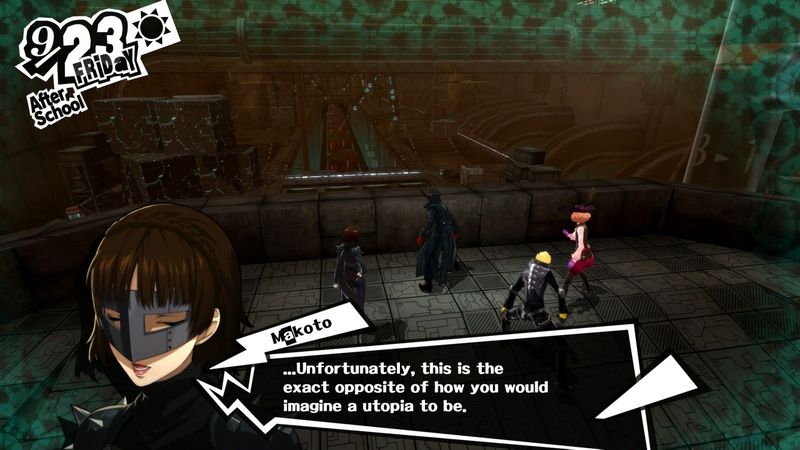 These conveyor belts and the positioning of the workers… This is almost identical to the company's bun factory… I can't believe this…
Wait, they make their buns at the corporate headquarters? And even if they don't, why would Haru have ever been in the bun factory? What?

At the very least, this is how Okumura views his workers. My apologies for saying so, Noir, but this is truly atrocious.

Well, it'll all be under control if we can trigger that change of heart in him, yeah? Let's go!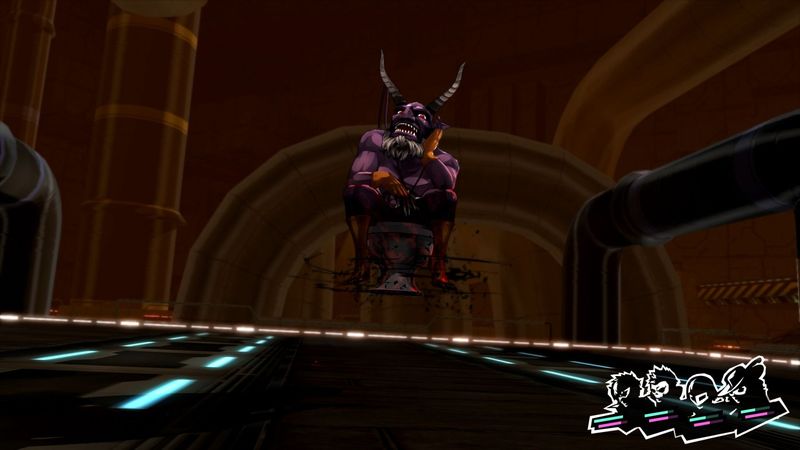 Oh shit boys, it's our old pal Belphegor! Or as he's known here...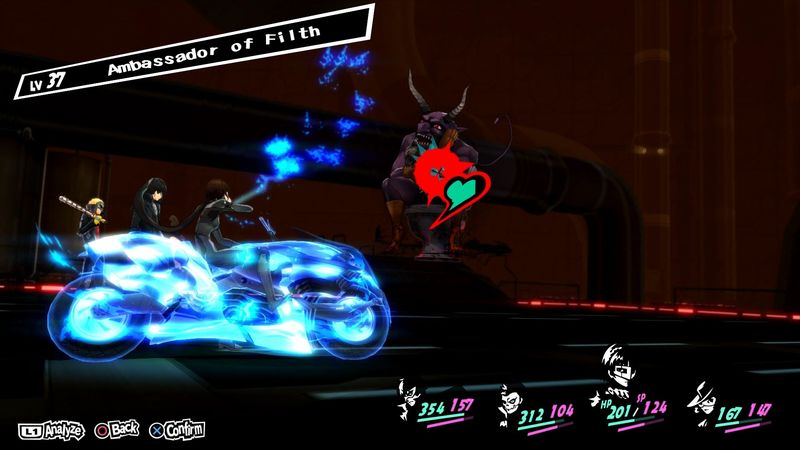 AMBASSADOR OF FILTH!
(Ambassador of Filth is the name of my Puddle of Mudd cover band)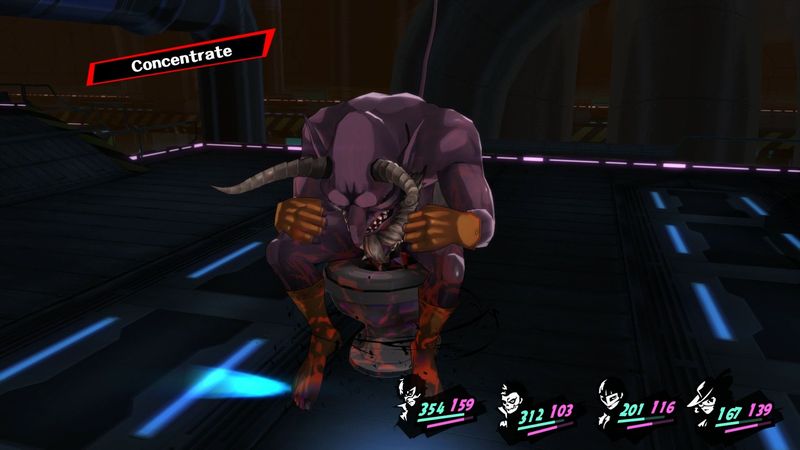 Don't strain too hard, buddy. You'll get hemorrhoids.
(Concentrate is the magic version of Charge, in case you forgot, increasing the next magic attack by 2.5x)
Belphegor here uses Mabufula and Bufudyne (Heavy Ice), and is weak to Fire.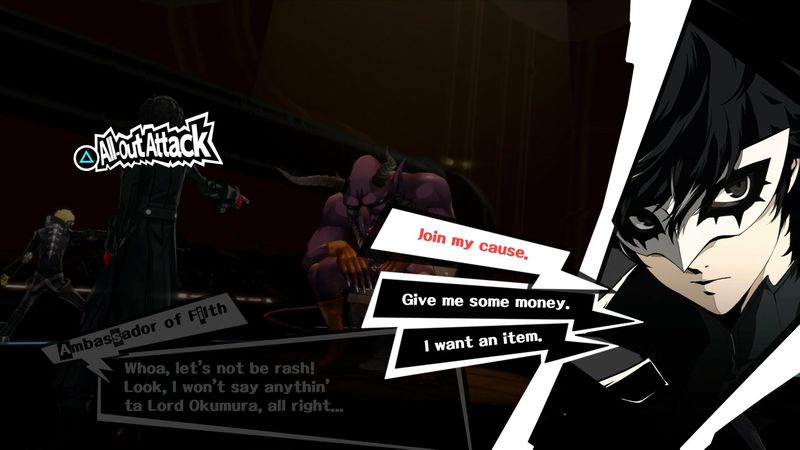 We also get to skip the negotiation process because Yoshida's Rank 8 skill, Mind Control, procced. I really wanted to get his max rank skill before this dungeon, but didn't want to max anyone at all out before I knew who we'd be dating (and couldn't do that until we got Haru).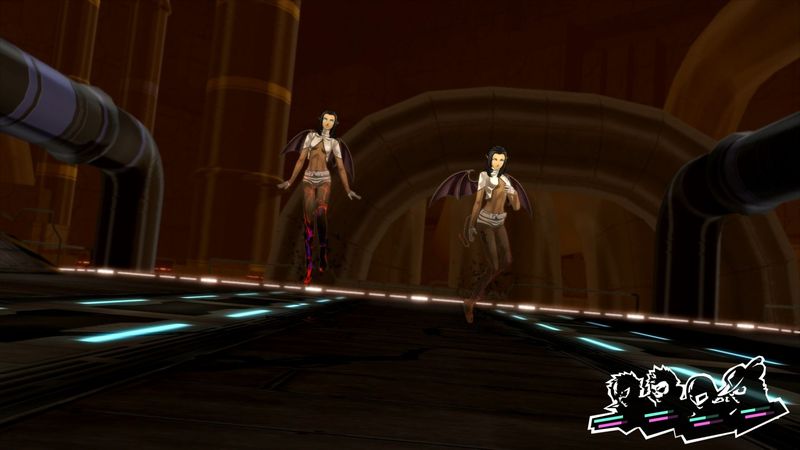 And then there's some boring Lilim. They can use Masukunda to drop your hit rate, Bufula, or Spirit Drain to
steal 30 SP(!!!).
They're weak to Wind, Gun, and Bless.
Music:
Sweatshop
Man, this song is a banger but after two hours I'm fucking sick of it already. Wish I could listen to something else.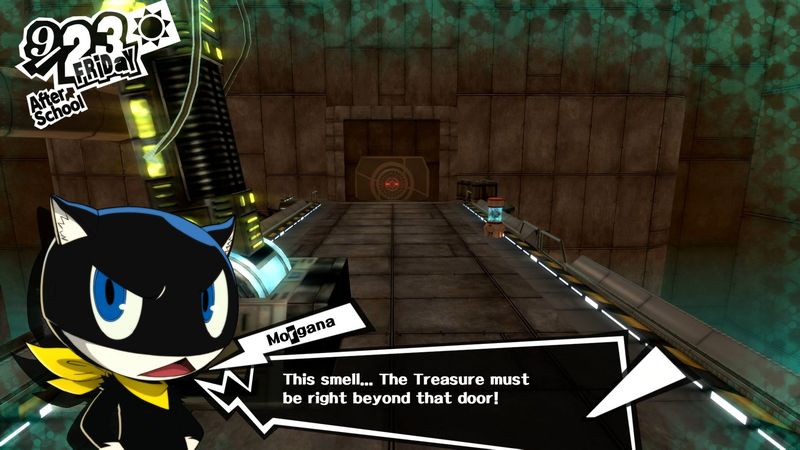 Is this gonna be another one of them authenti-whatever things?

No, there's no authentication here. Kinda anticlimactic, huh?

I'm not complaining. Let's go!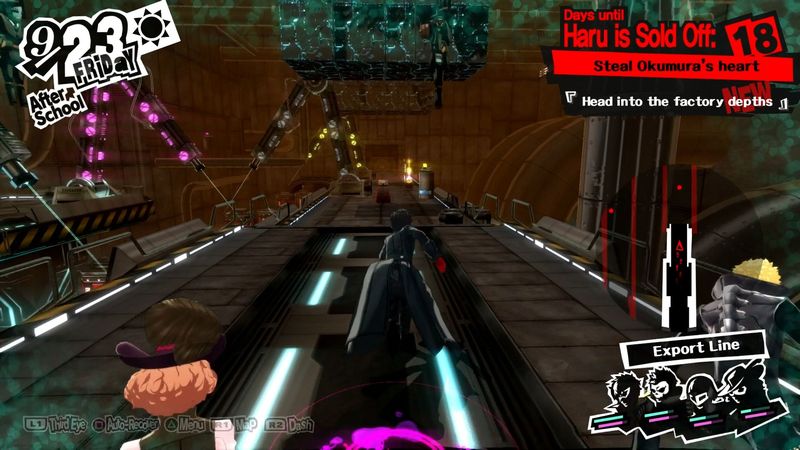 Welp, on we go!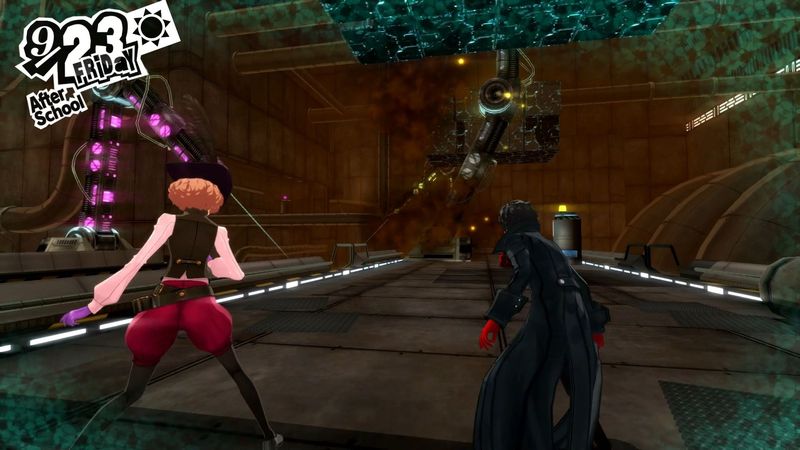 Suddenly, one of the arms explodes and shoots upwards!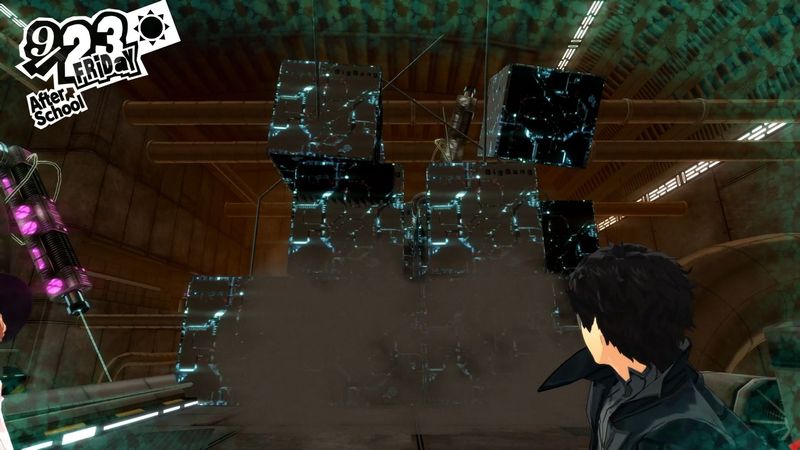 And crates fall!

Whoa!? We almost got crushed!

That freakin' hunk of metal broke way too goddamn easy!

There is no point in complaining at this point. We will be forced to search for another route.

But is there one…?

Hm, do you think we might be able to use the brittle nature of these arms to our advantage…?
Whatever might you mean, Makoto?
Music:
Renegade
Uh, what?

you said you wanted new music. well, asshole, here's some new music. hope you enjoy it, because it's gonna loop for three days. turn off your computer or lower the volume and the timer resets. go nuts
Joke's on you, because I actually do enjoy this song.

all right, have fun then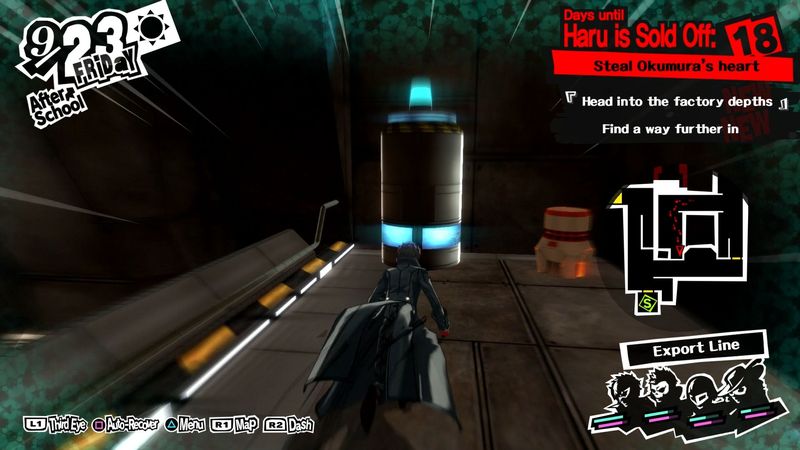 Okaaaaay then. Now I get to listen to the dulcet tones of Styx for a while. Copacetic. Anyway, running over to this box-thing will give us our path forward.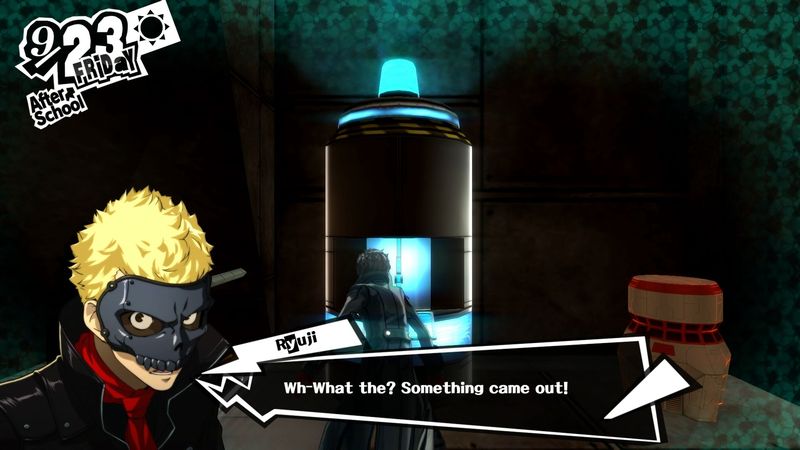 Huh… This is the control panel for that robotic arm. It seems we can use this to set it to either 3x, 5x, or 10x normal speed…

I bet It'd break if it was stuck on 10x speed for a long time.

CHANGING ARM SPEED!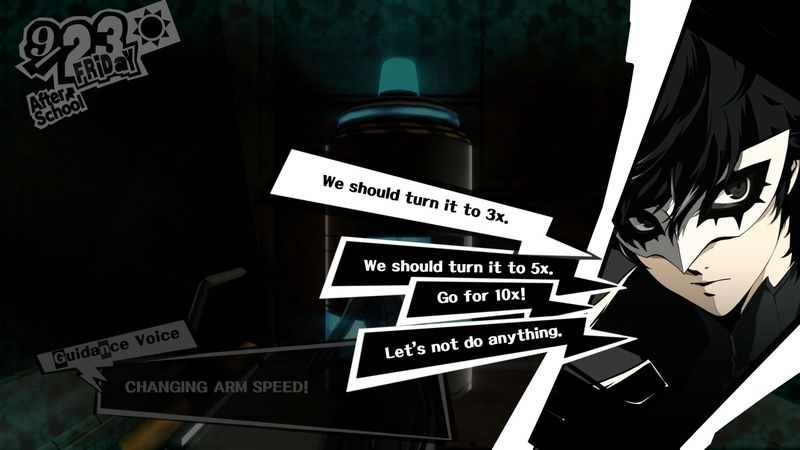 Just for shits and giggles, let's set it to 3x first.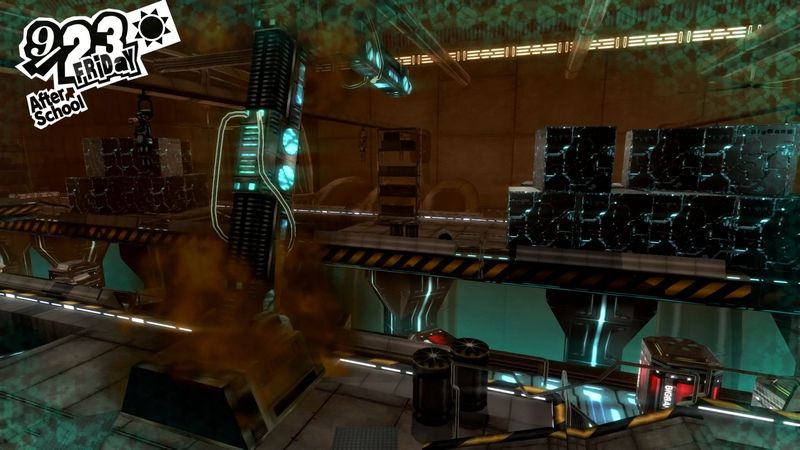 The arm speeds up a bit… and immediately breaks. Well, that's depressing.
Oh mama I'm in fear for my life from the long arm of the law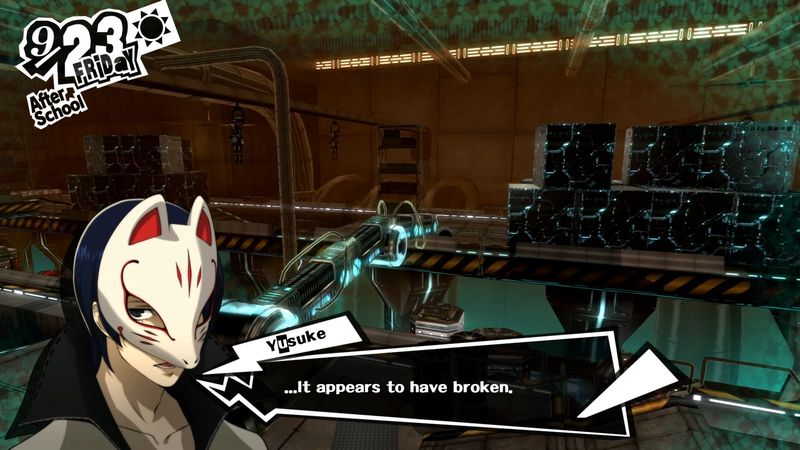 How freakin' fragile is that thing!? 3X speed was enough to break it!?

That just proves how truly overworked these machines are…

It seems any increase in workload would have led to its collapse…

Wait, but don't you think we might be able to walk on the broken arm? We should check it out, Joker!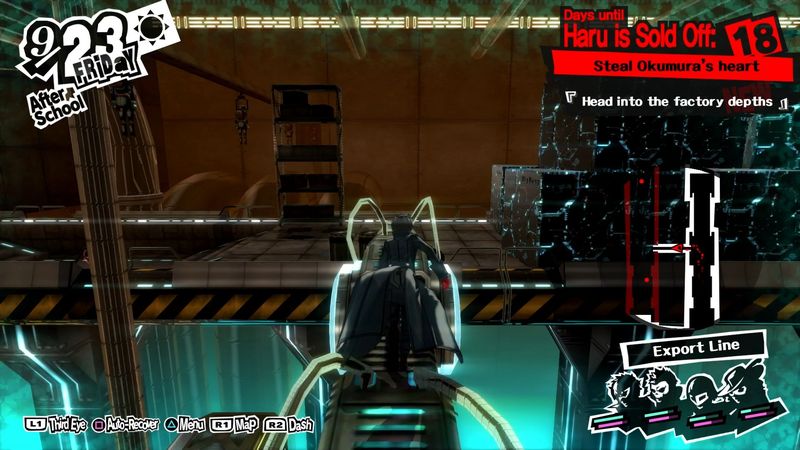 And now we run across the arm's wrecked mechanical corpse. Wonderful!
Lawman has put an end to my runnin and I'm so far from my home.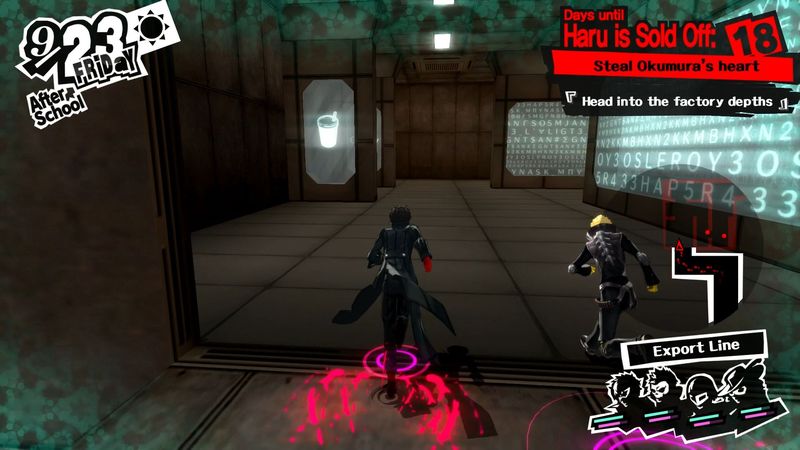 Further ahead we come across a sort of office above the factory floor.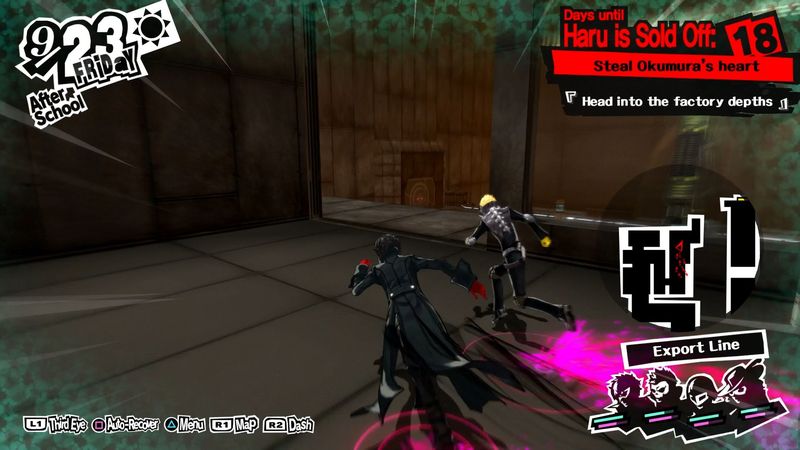 Oh hey, we can see the door out from here! But there doesn't seem to be a way to reach it…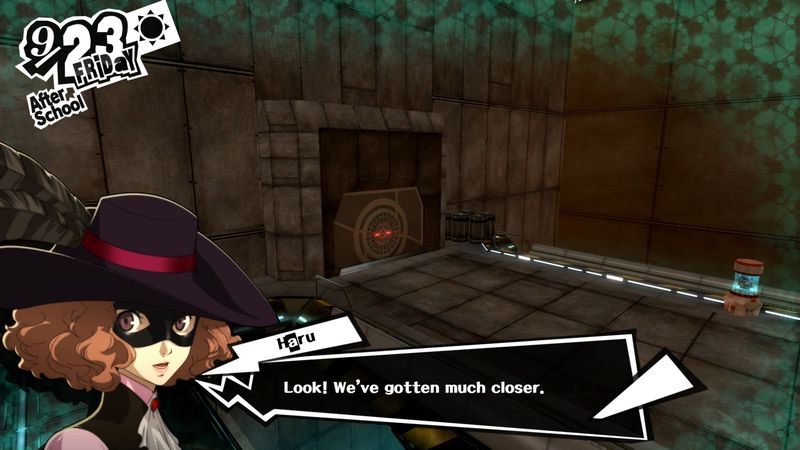 Yes, after quite the detour…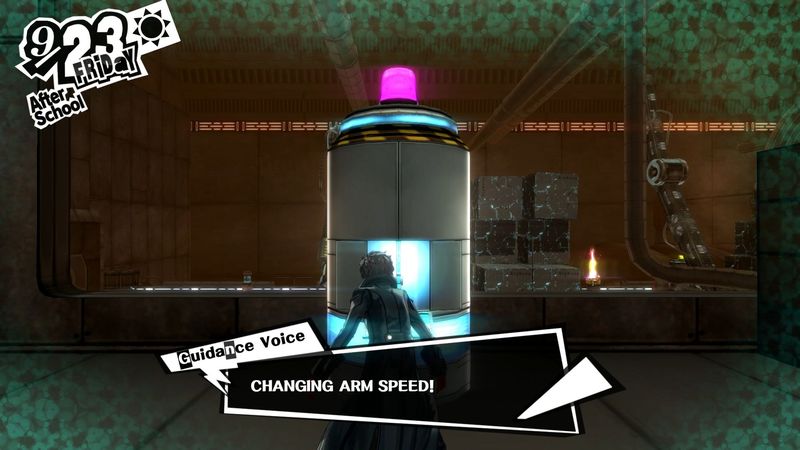 >Increase the arm speed
THE JIG IS UP THE NEWS IS OUT THEY FINALLY FOUND ME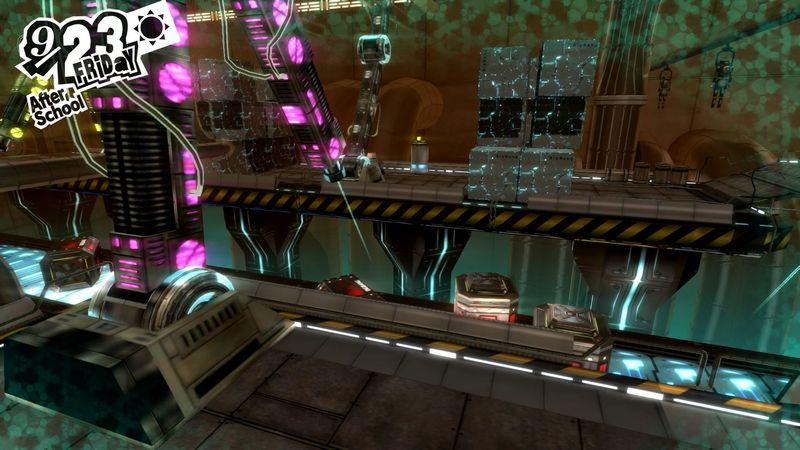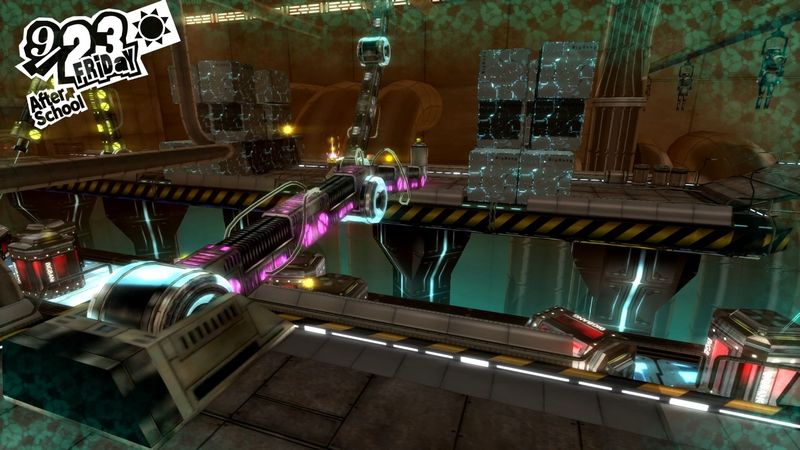 This makes me feel kinda bad.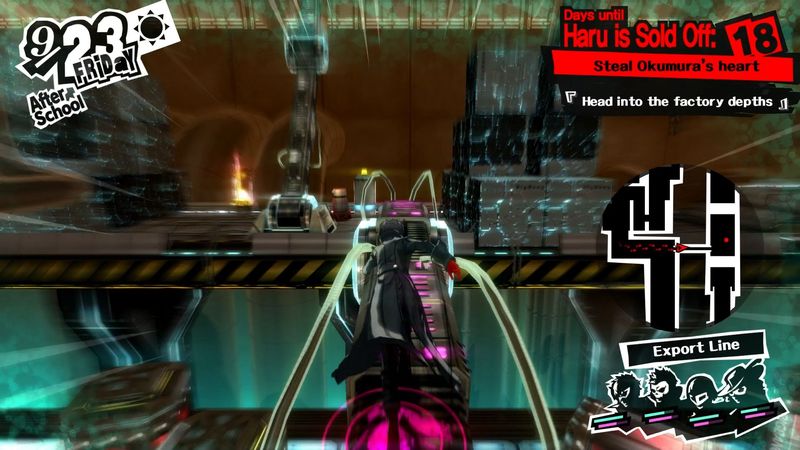 This part really doesn't help.
THE RENEGADE WHO HAD IT MADE RETRIEVED FOR A BOUNTY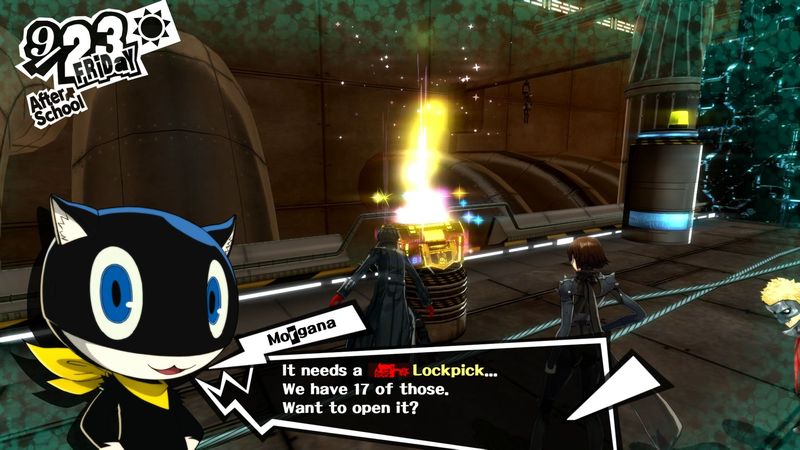 We have so many goddamn Lockpicks.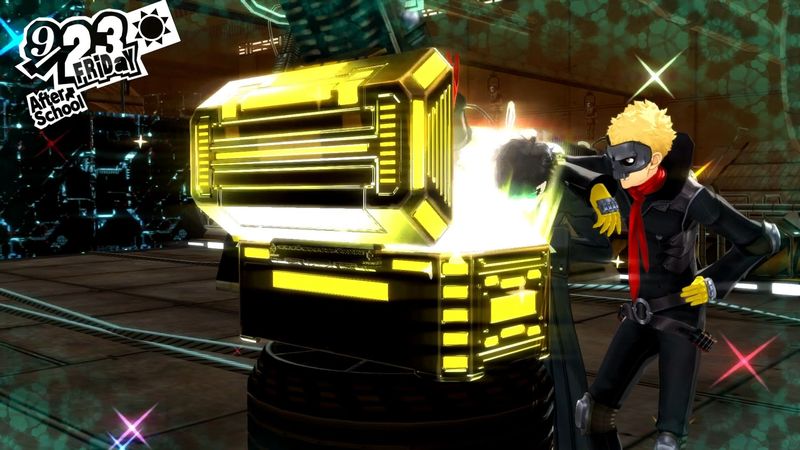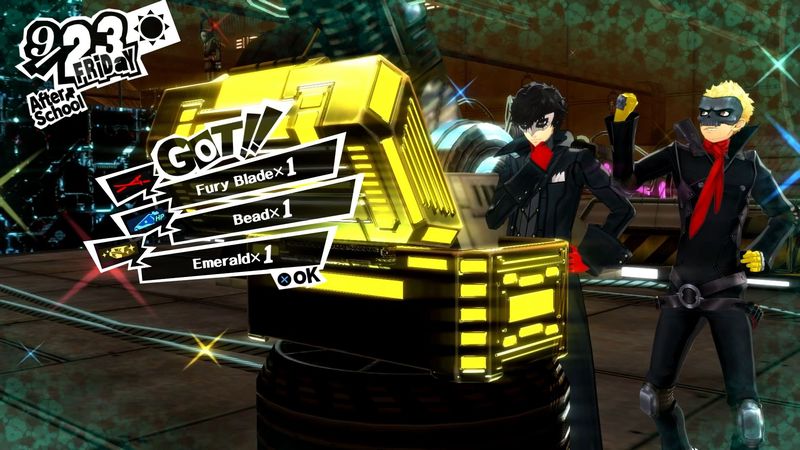 All right. The Bead is a full heal for one party member and the Fury Blade is a weapon for Yusuke that inflicts Rage.
NEVER MORE TO GO ASTRAY THIS'LL BE THE END TODAY I'M A WANTED MAN
*ahem* Sorry. I think that's do-OH MAMA I'VE BEEN YEARS ON THE LAM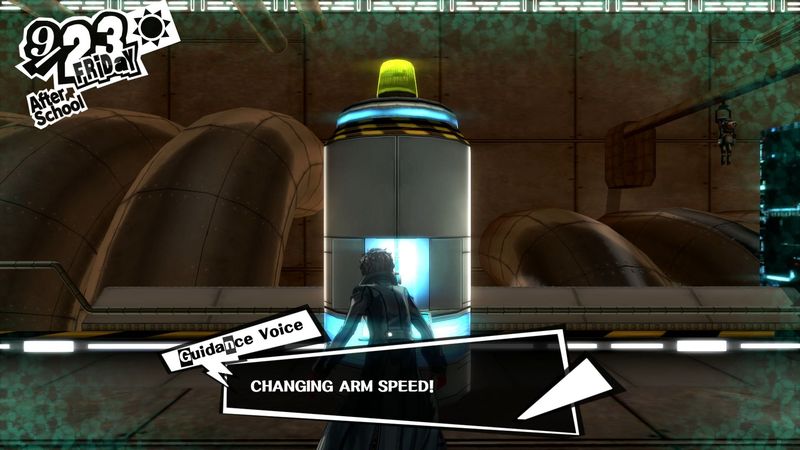 >Increase the arm speed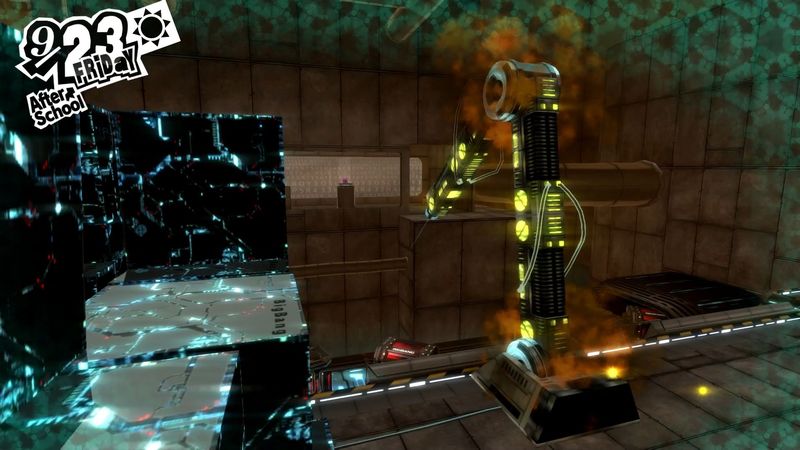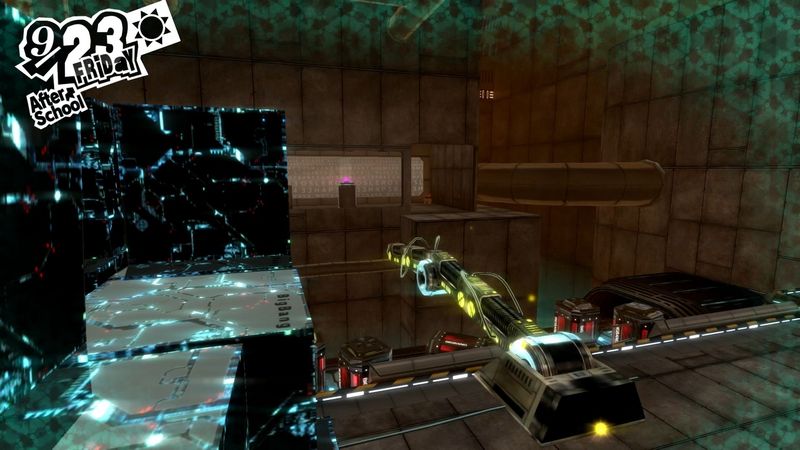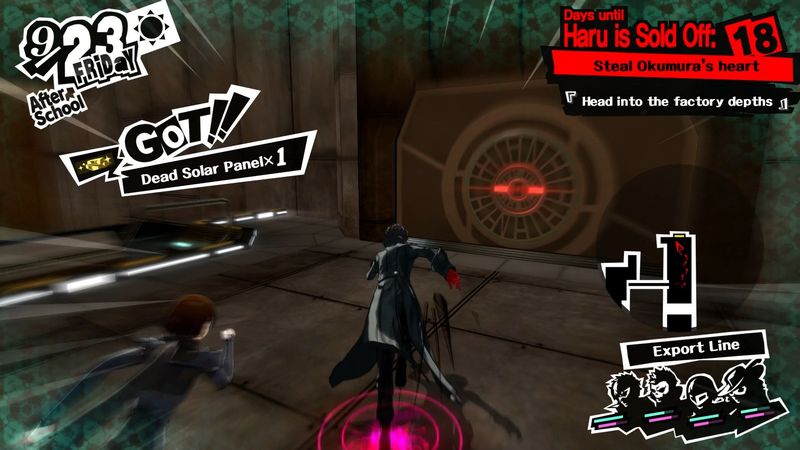 Music:
Renegade
Now we can run back up to the "office" and jump down onto the arm and cross.
Oh god, the song's just gonna keep playing isn't it?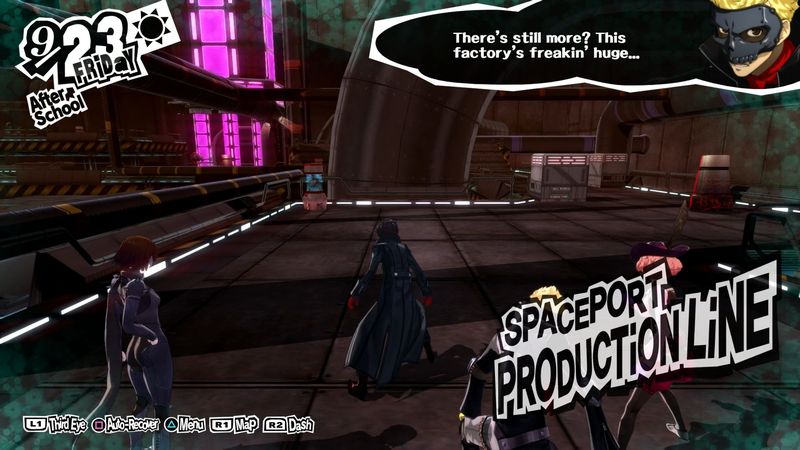 Come to think of it, what do they make in this factory?

According to Noir, it seems to be the one that manufactures their hamburger buns.

That's true of the building in reality… but what do they make in here…?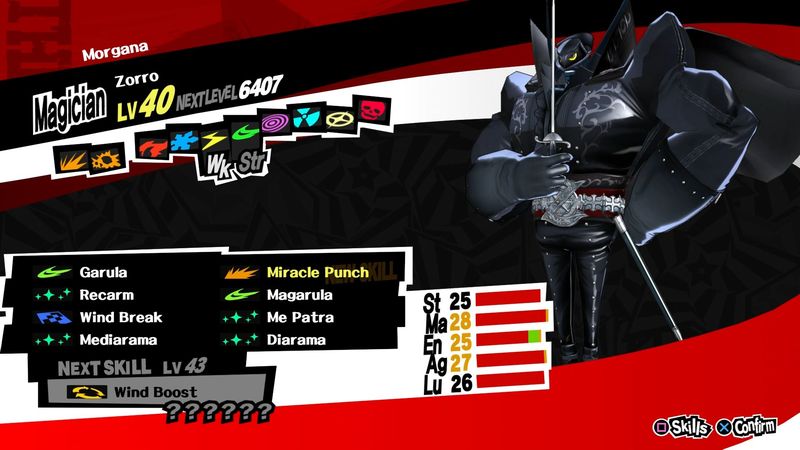 In a fight just after entering this new room, Morgana learns Miracle Punch, which is just like Lucky Punch but better because it has the same high Critical rate and deals Medium damage instead of Miniscule. We slot it in to replace Lucky Punch.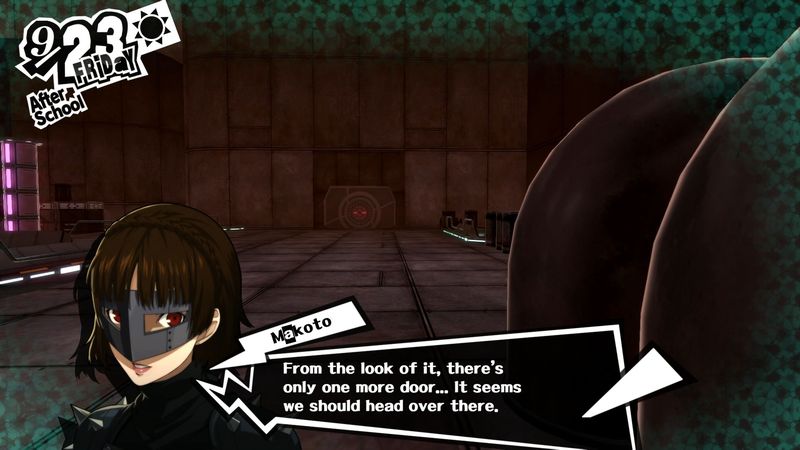 Oh, we're almost done? That's good. Maybe I can try to sleep or something.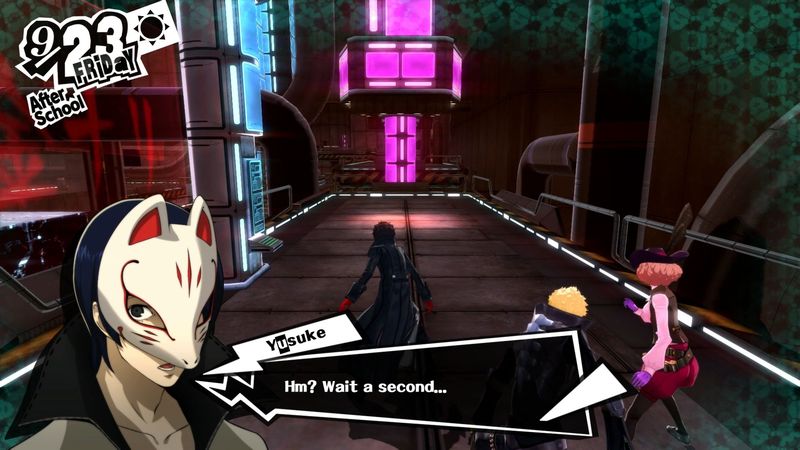 We will not be able to reach it without passing over what appears to be a hydraulic press…

Right… I guess we'll just have to stop it. Let's try and find a way to do that first.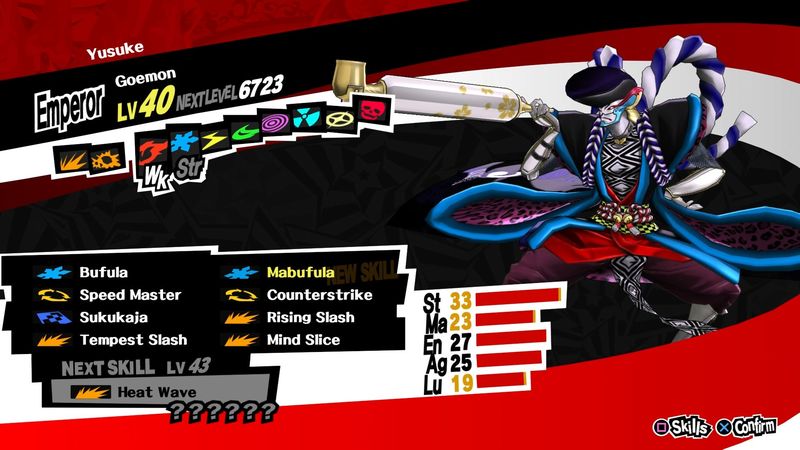 Yusuke learns Mabufula to replace Mabufu. Another direct upgrade.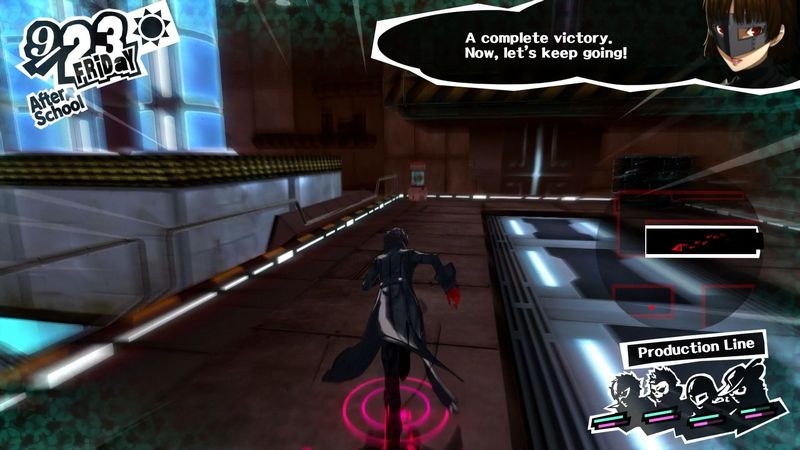 Music:
Renegade
First things first, we clear out the enemies. There's a reason for this, but hell if I can remember because I'm pretty sure this is how they torture prisoners in illegal government blacksites. Probably with worse music, but still.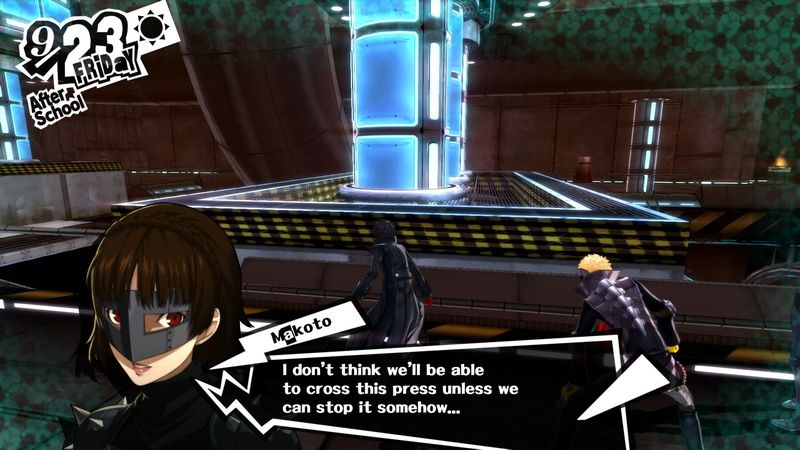 Let's head over to the controls, then.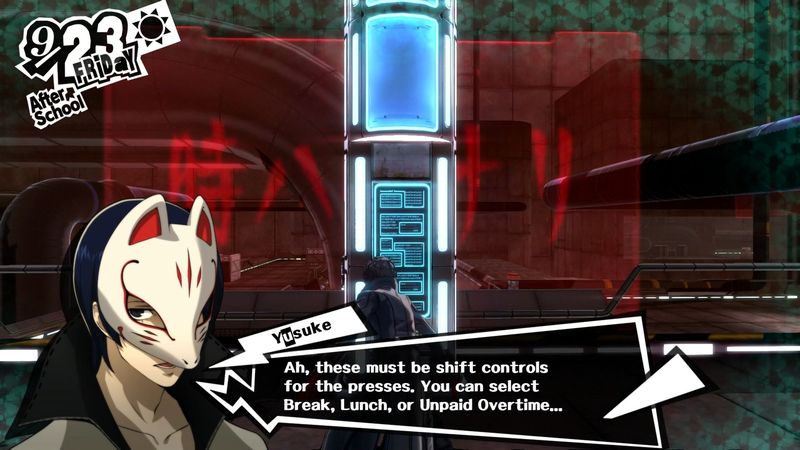 Wait… Break is an option!?

We may be able to get past that problematic press if we can find the corresponding control panel. Let's do this, Joker.

NOW CHANGING PRESS SHIFTS!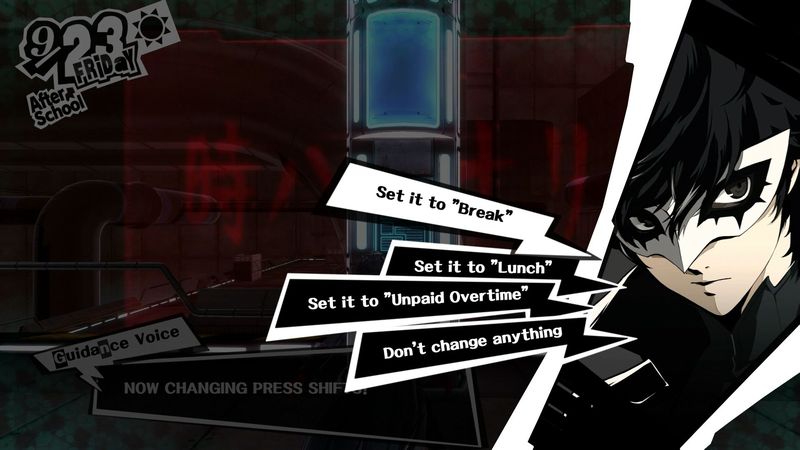 All right, let's choose "Break."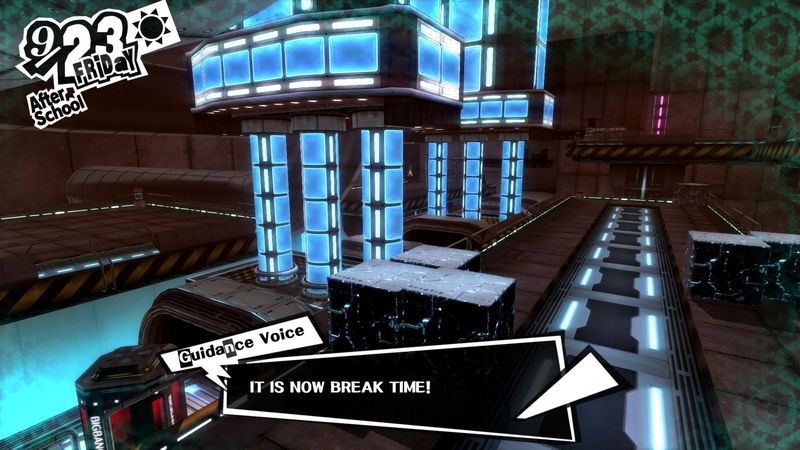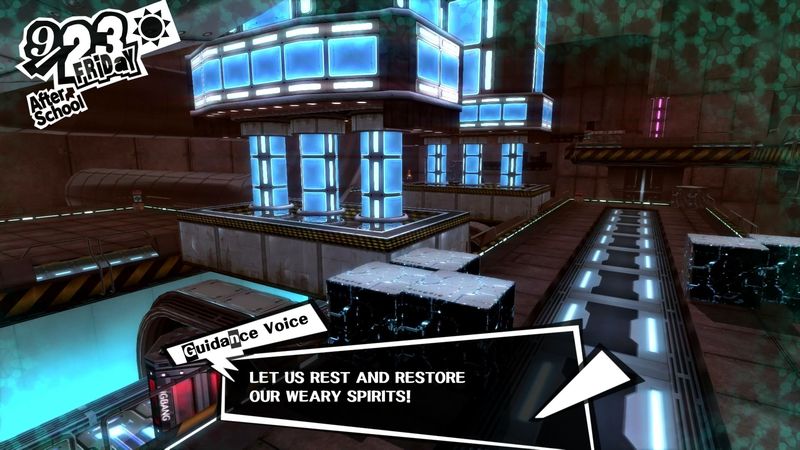 The presses stop.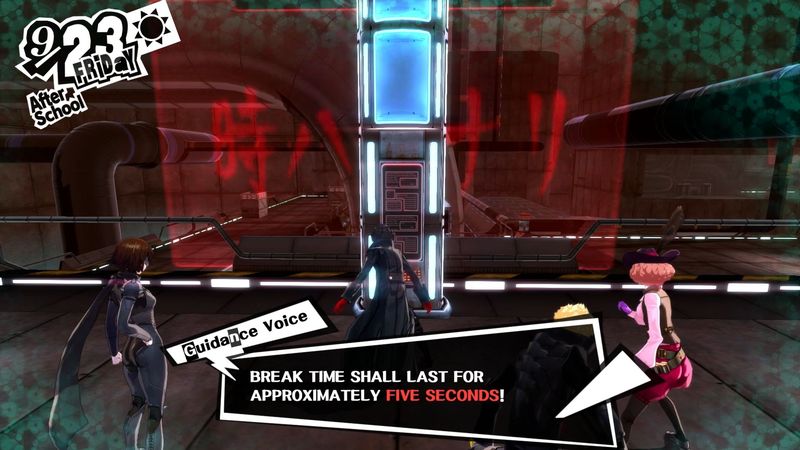 Wait, what!? That's only enough time to listen to 2% of Styx's
masterpiece
Renegade!
Music:
Run, Run, Run!
This is the music that's playing during the scene in-game. But in my heart, it's still Renegade. It will always be Renegade.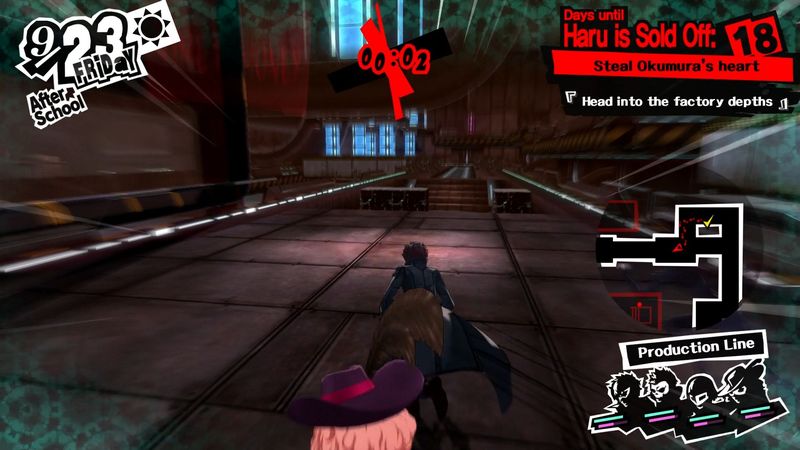 RUN RUN RUN RUN RUN
Music:
Renegade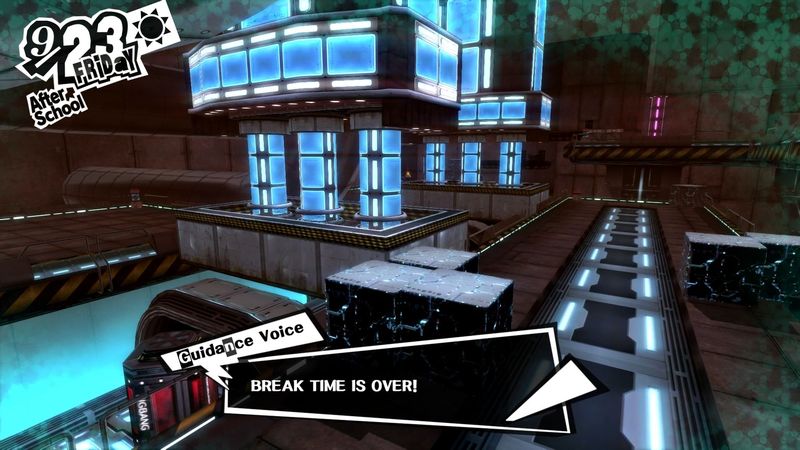 LET US WORK EVEN HARDER TO ACCOUNT FOR OUR TIME WASTED SLACKING OFF!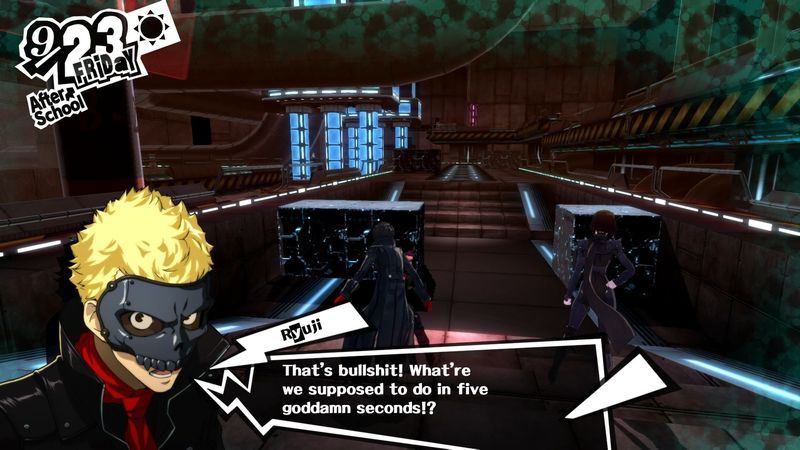 Take a deep breath…?

Five seconds is a useless amount of time for us. We can likely ignore that option entirely.
Then let's head back to the controls.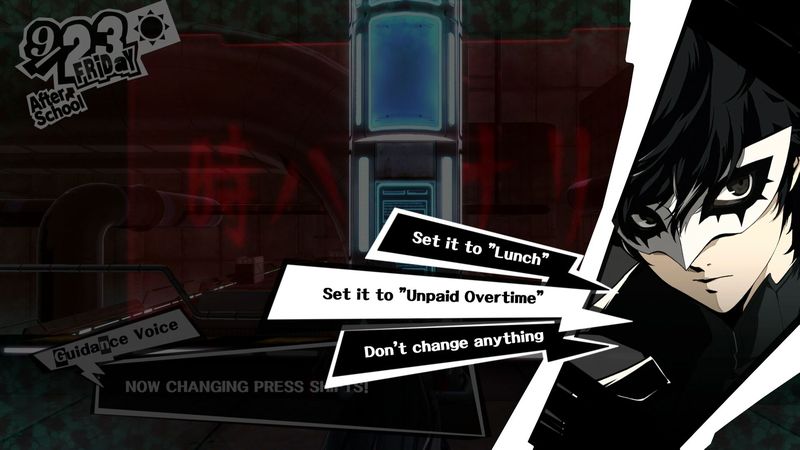 Hm, maybe they'll break like the arms if we overload them. That'll be morbid!

WE ARE CURRENTLY IN A STATE OF CONSTANT UNPAID OVERTIME! FOR THE GOOD OF THE COMPANY! GLORY TO OUR WONDERFUL PRESIDENT OKUMURA AND HIM ALONE!

Whoa, whoa, whoa. Hold up! What the hell did it mean, "constant"!?

Working unpaid overtime is just how these workers live, so setting it to that changes nothing…

What a nightmare…

…...

There is no benefit to us if nothing changes. We can likely ignore that option entirely.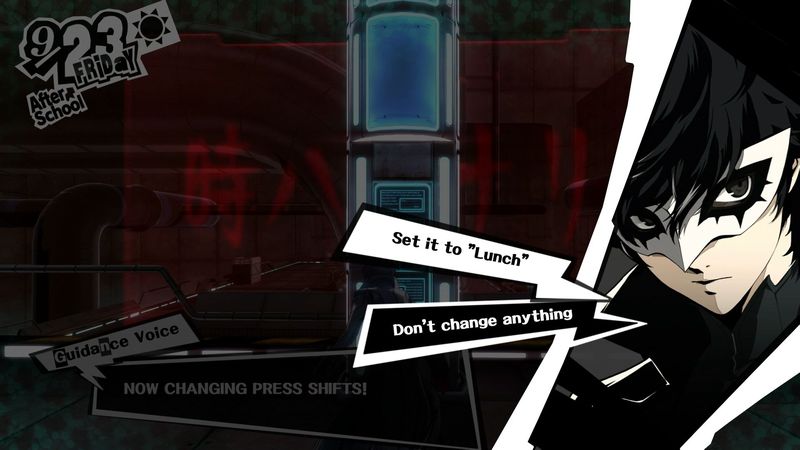 Looks like "Lunch" is the only option left.

IT IS NOW LUNCHTIME! LET US CONSUME OUR SLOP AND GLEEFULLY REENERGIZE!
The presses stop. Also, the phrase "consume our slop" is honestly pretty great, the localization can be good sometimes.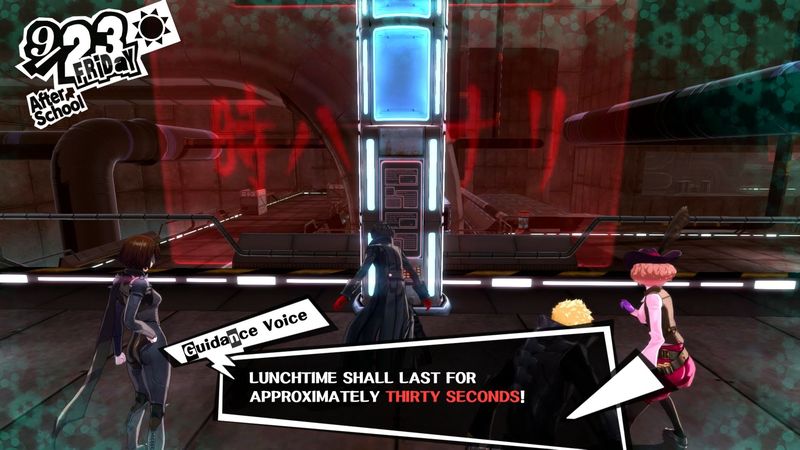 That's more like it.
Music:
Run, Run, Run!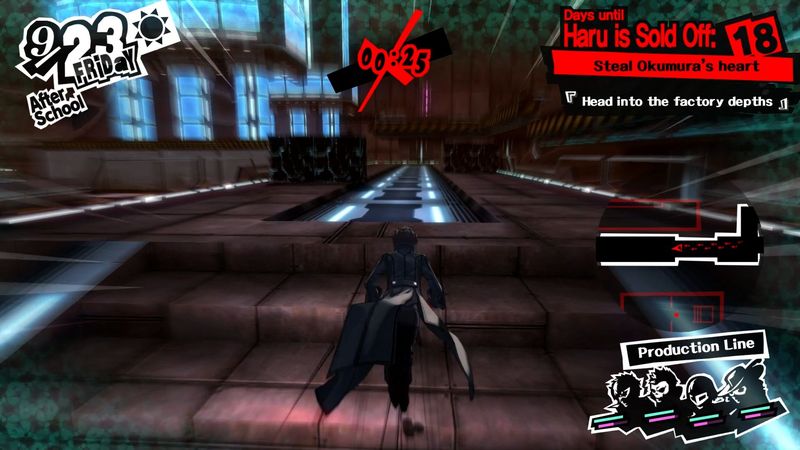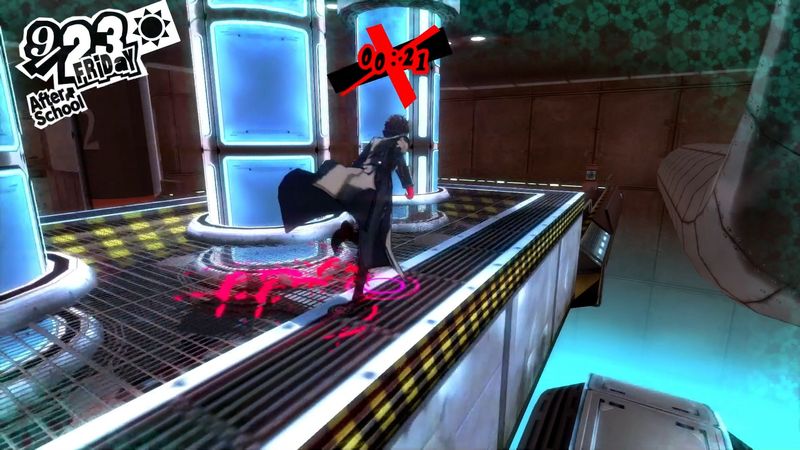 There's an unlocked chest if we run to the far press instead of the near one, but I won't show that for brevity's sake. It just contains a piece of armor we can wash.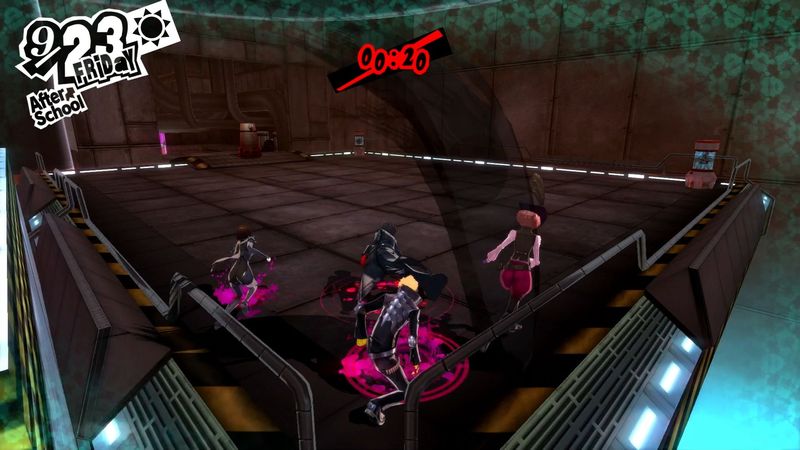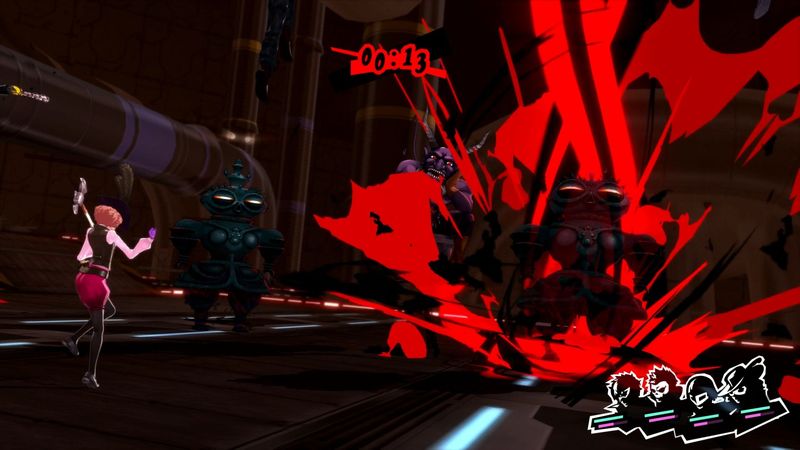 Oh, right. The reason we got rid of all those enemies is that the timer persists through battle.
Music:
Renegade
I might legitimately be dying, you guys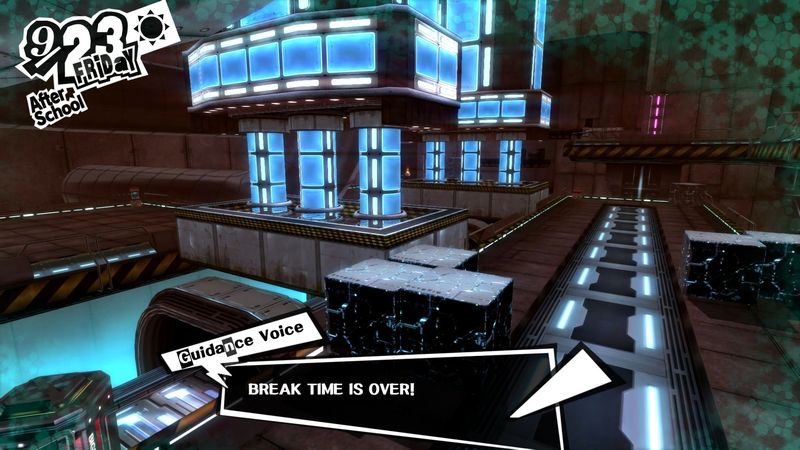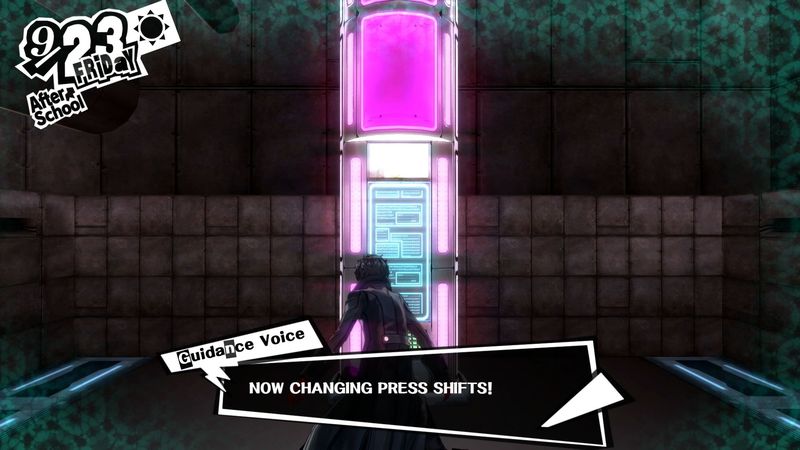 Here's another control panel, which turns off both the purple and blue presses so we can cross the first press we saw earlier and reach the door.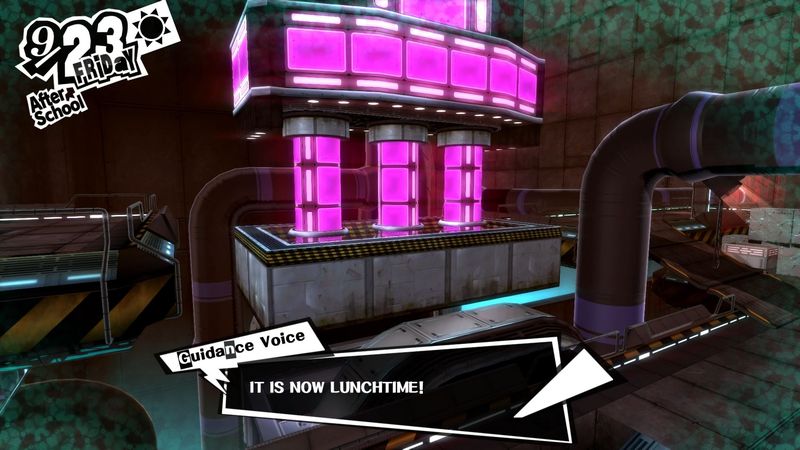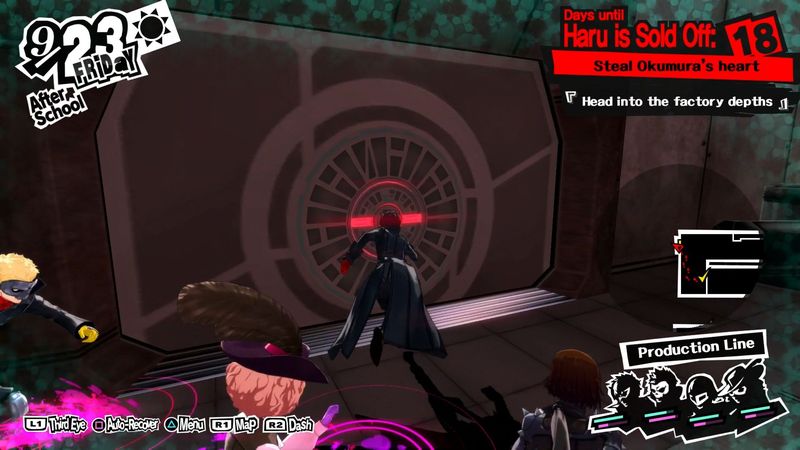 THE EXIT! YES! NOTHING STOPS THE BAD PERSONA 5 LET'S PLAY, MOTHERFUCKER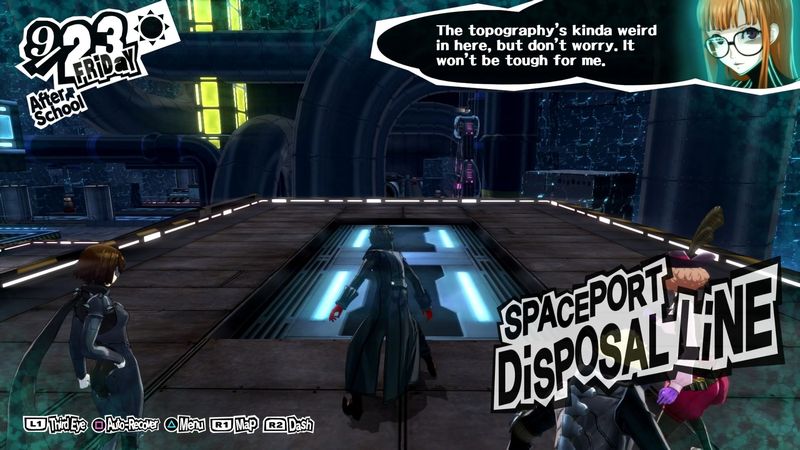 Look. The employees that can no longer work are being put on that conveyor belt…

I seriously wonder what they're making here…

Hey, it's going in the same direction we are. We might learn more as we continue.

Oooh, you think this is that thing where little robots merge to make one giant one!?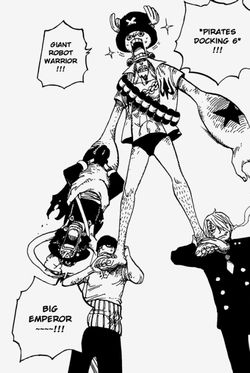 I suppose I can't begrudge you for dreaming.

...Queen's giving me the cold shoulder.
What!? Makoto, you lied to me! There's morrrrrrrrahahahahahahaahahahahahahahahahahahahahahahaahahahahahaahahahahaahahahahahaahahahahahahahahahahaahahahahahahahahahahahahahahahahahahahahohgodwhy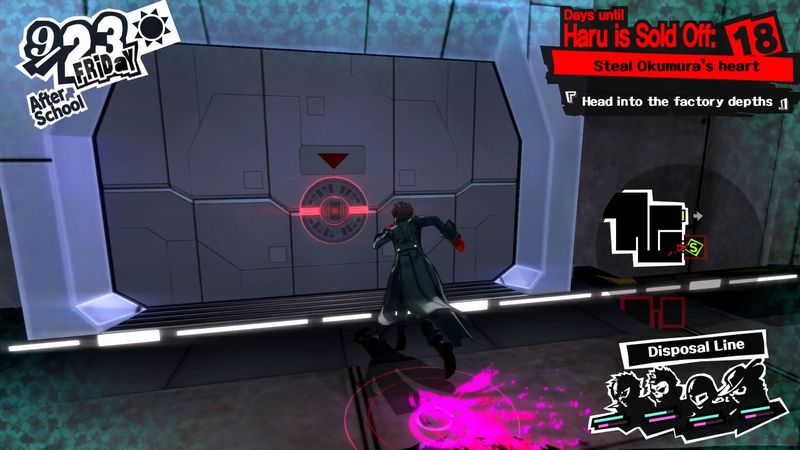 A safe room. Perfect.
...I think I need a break from working on this for a little while. I'll finish this in a few days.

ohhelloguyshow'sitbeeni'mdoingfine
*deep breath* Renegade has not stopped playing yet. The timer will expire in an hour or so. I will probably finish this update around that time. However, in the meantime I have been unable to sleep, and inexplicably unable keep any food down. My typing is slowed because my hands are shaking so furiously it's difficult to hit the correct keys.
Also I've had to write two papers in the last few days. That's not a bit or a joke or anything, it's just finals week. All in all, pretty hellish nightmare experience I've been going through. But my mind is intact, and this dick can't take that.
the renegade who had it made the renegade who had it made the renegade who had it maaaaaaaaaaaaaaaaaaaaaade
Also, I may drift in and out of consciousness while writing this because I haven't slept in three days. Okay!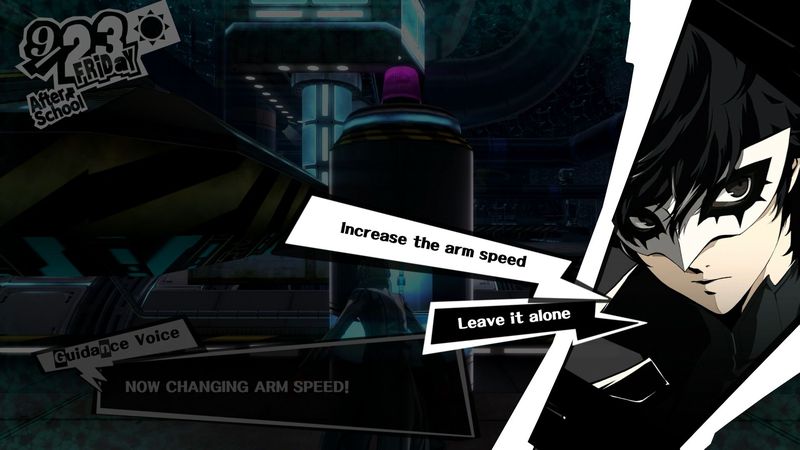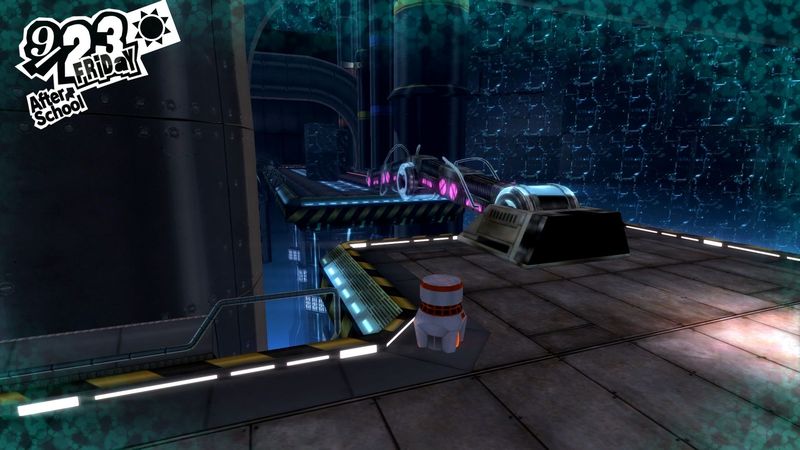 drop arm. crossssssssssssssssssss.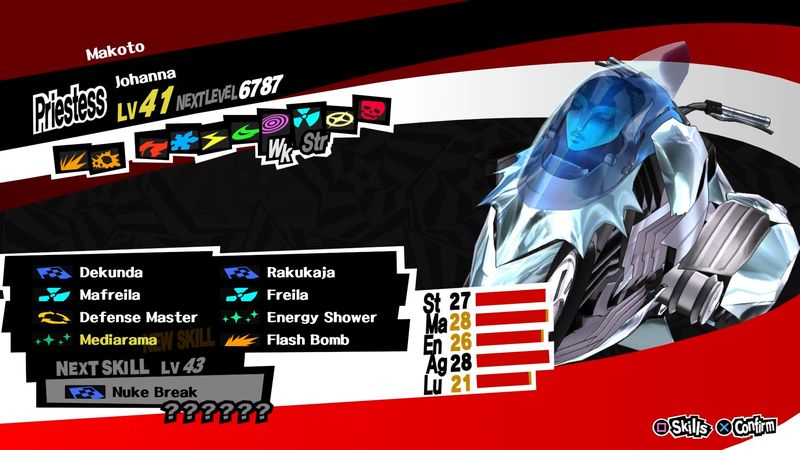 mediarama replace diarama makoto. multi-target more good than single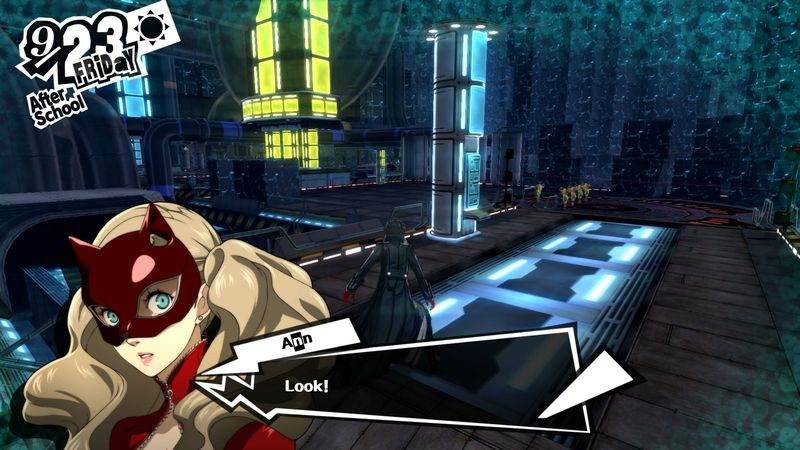 An interesting thing about Renegade is that the beginning is really slow, so you can trick yourself into getting about forty-five seconds of sleep before the guitar sta--*snore*
Music:
Renegade
I'M UP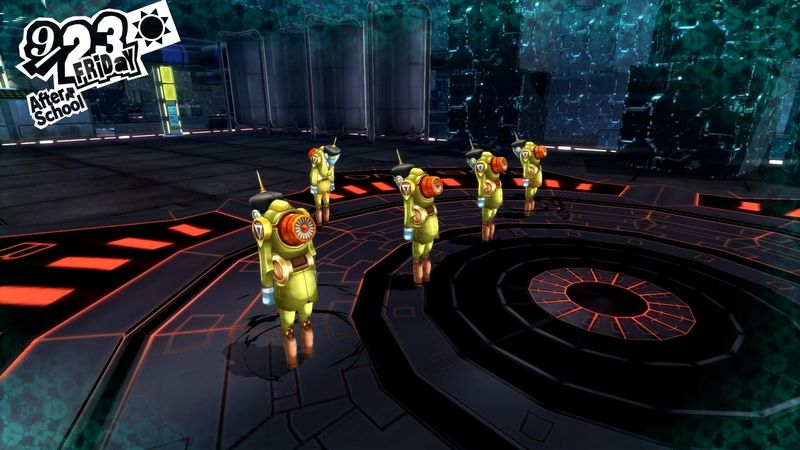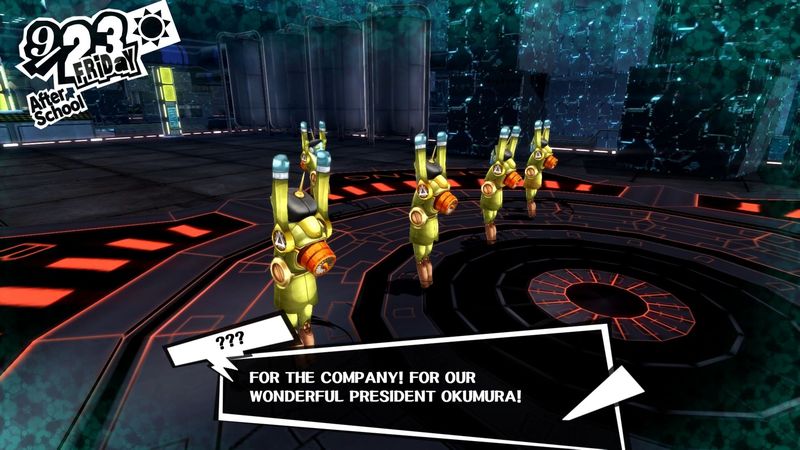 I DO THIS WITH JOY! I DO THIS WITH JOY!

They're still respectin' him even though they prolly see coworkers collapse from gettin' overworked…

It's mind control… They've been purposefully driven into a state of overadaptation.

Over… what?

When a person is continually faced with oppression, they come to welcome its presence. Such psychological trickery is being used here. I… experienced it first-hand for many years.

Fox…

So these robots exist because Father is aware that he's exploiting his employees…

Yes. We should be careful though. I doubt we'll be able to communicate with these ones. We'll probably go straight into battle when we approach them. I suggest you prepare beforehand!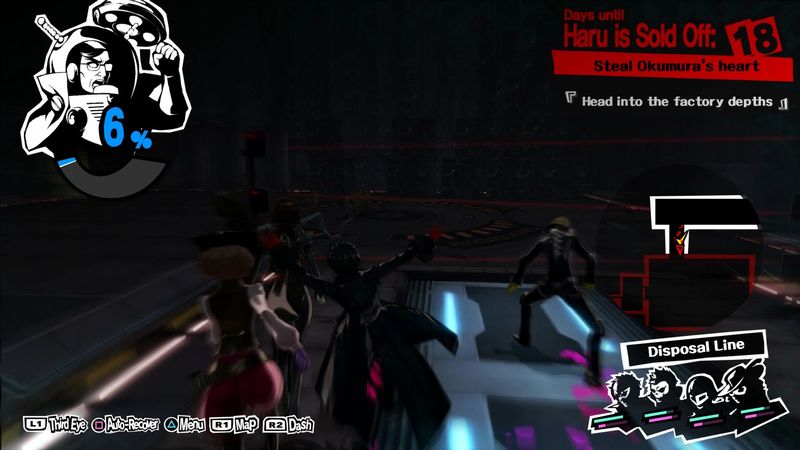 Looks like we can't just run up and fight 'em, cuz nothin's ever simple round here. goddamn lasers. given how high Maaku can seemingly jump, he could probs just leap over that shit.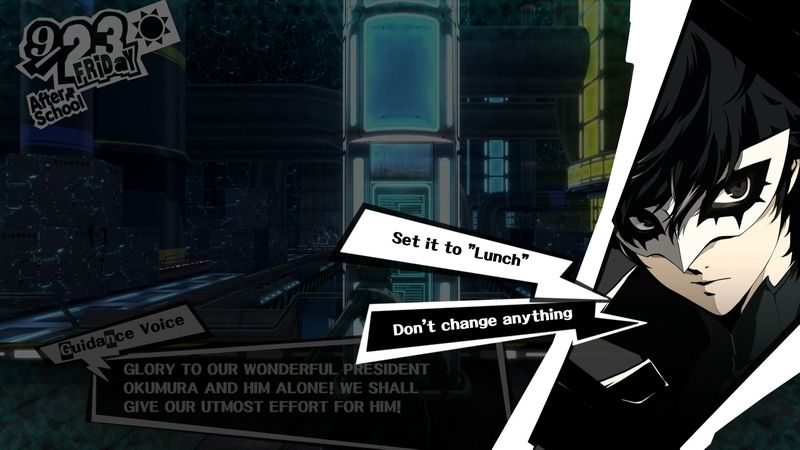 Gotta hit the prrrrrrresss.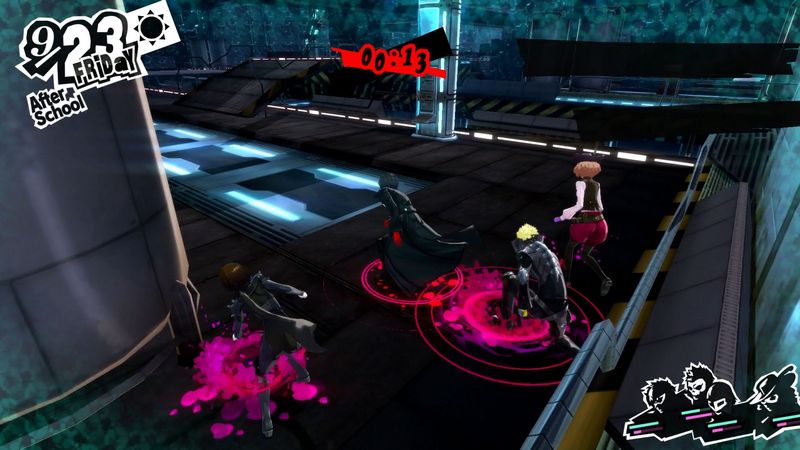 Run fast.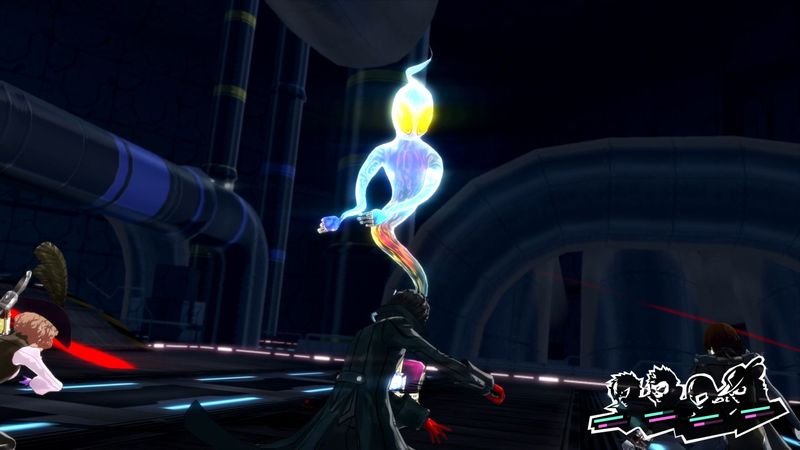 Oh hey, a Treasure Demon. This one is honestly worse than the others because it doesn't resist elements, meaning it's gonna take half its health in damage from one hit. So, we break out a different tactic.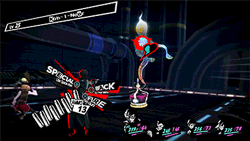 Shinya's special move we got from Rank 1 of his Confidant lets us instantly knock this guy down in exchange for all the bullets in Maaku's clip.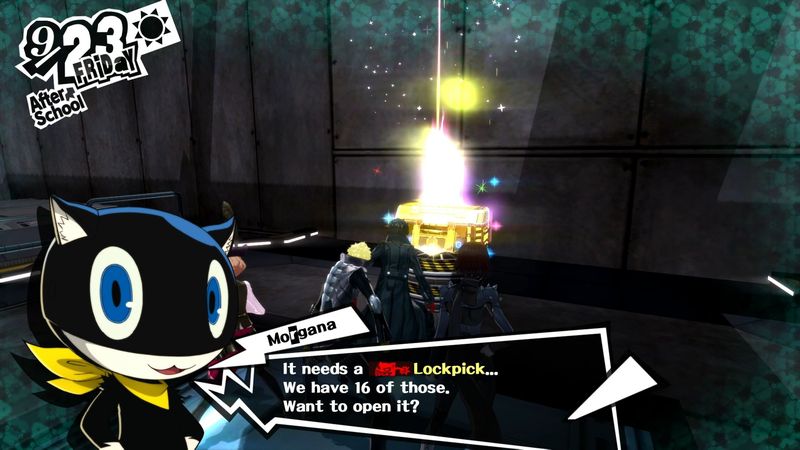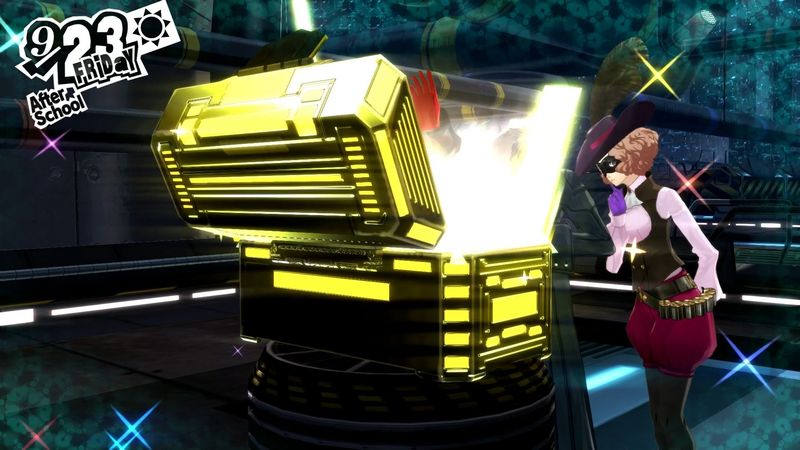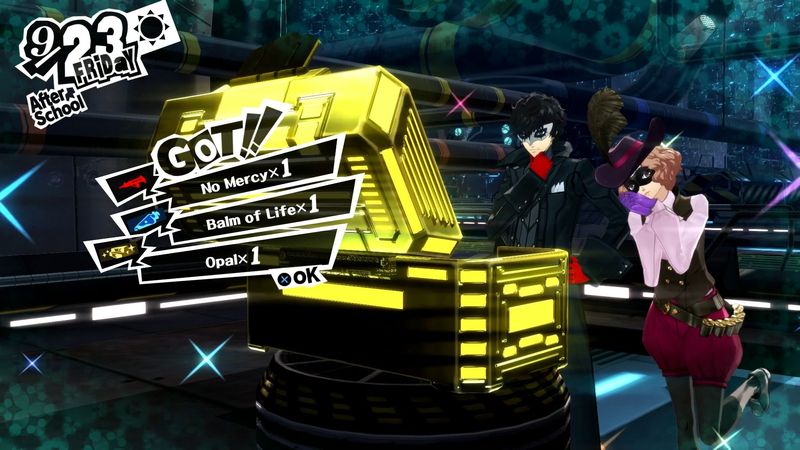 balm of life full revive, no mercy good ann smg. opal for sell. very sleep.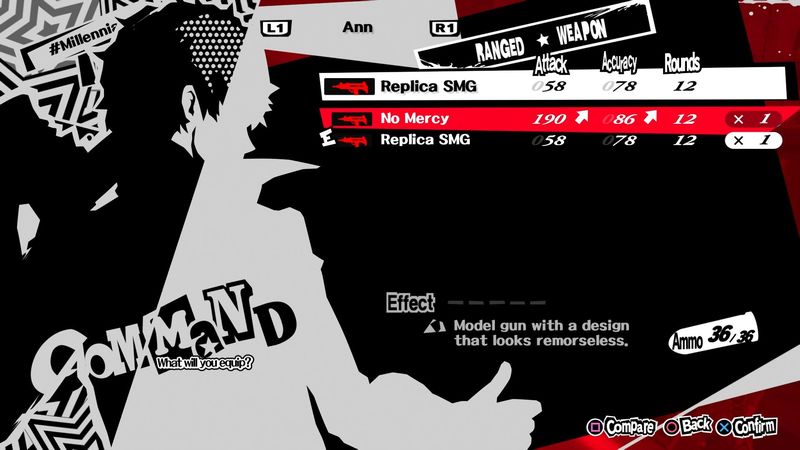 many less bad than current gun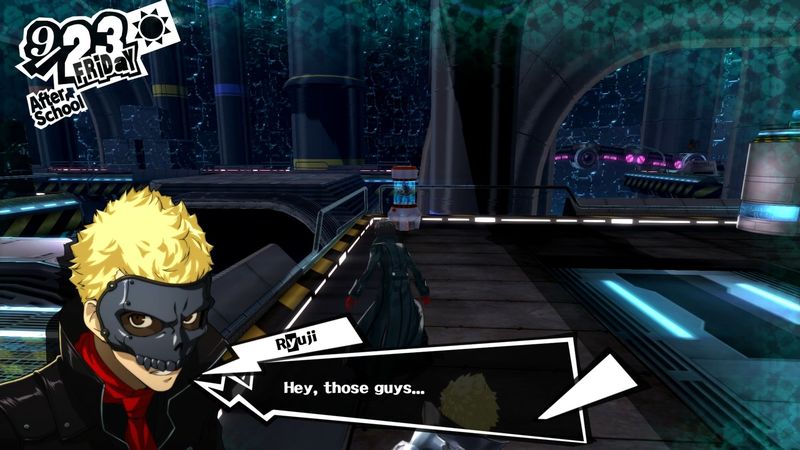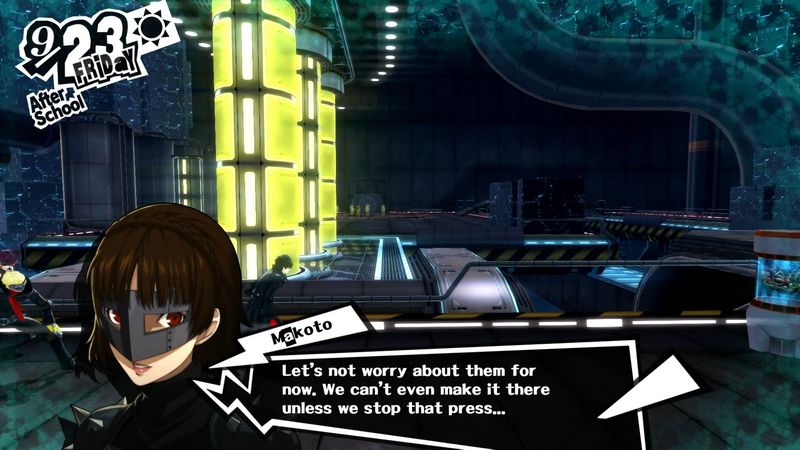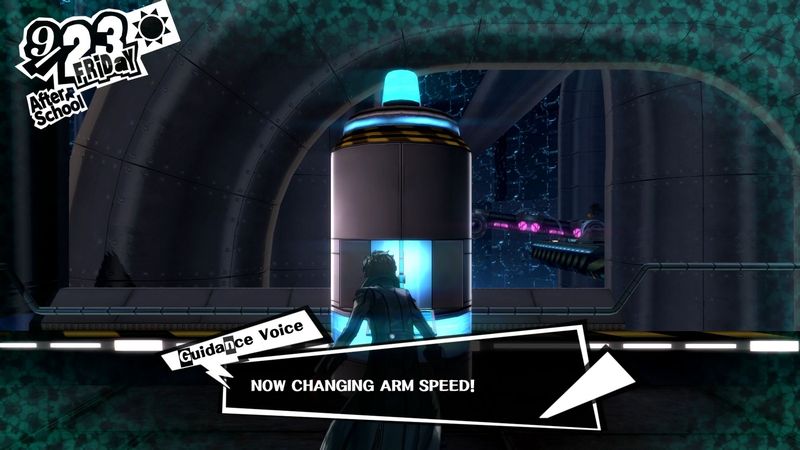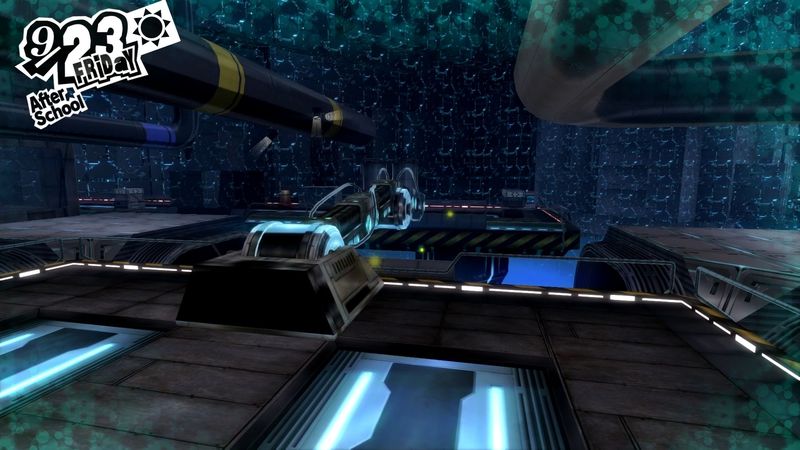 drop other arm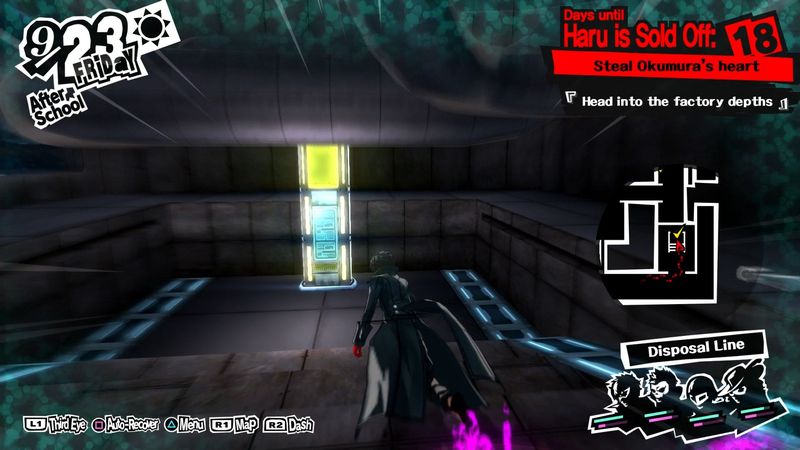 then, we hit yellow (green?????) press control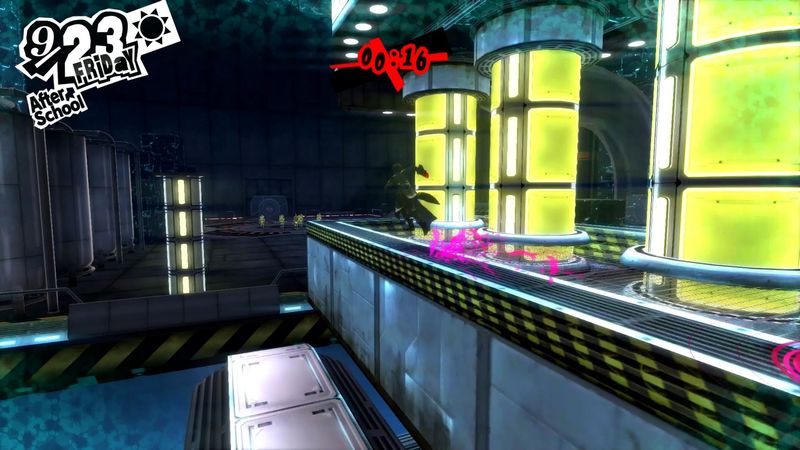 stop press, cross to enemies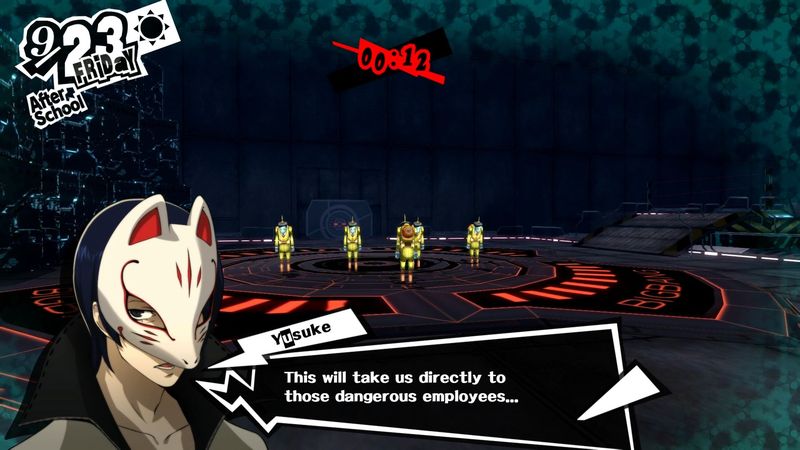 But we have to do this. I smell the Treasure somewhere past where they are. Brace yourselves…!
I have accepted that Renegade will never stop. Please kill me.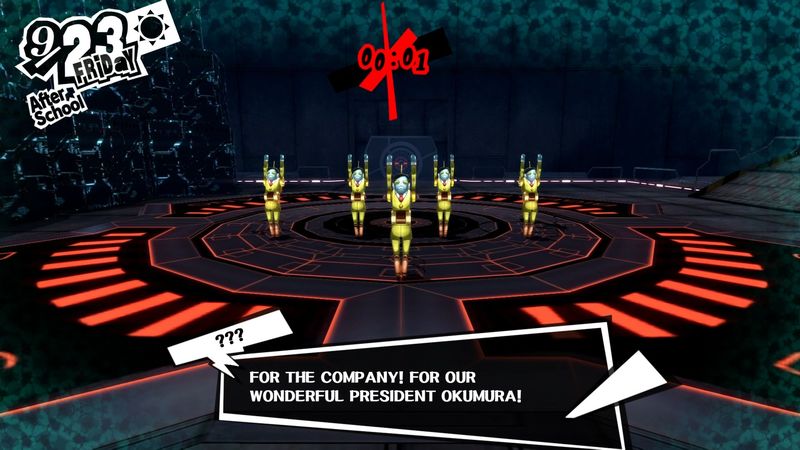 ANY WHO APPROACHES THIS PLACE WILL BE CRUSHED! WE SHALL CARRY OUT OUR PRESIDENT'S WILL WITH GLEE!
Corporobo MDL-CH
Music:
Keeper of Lust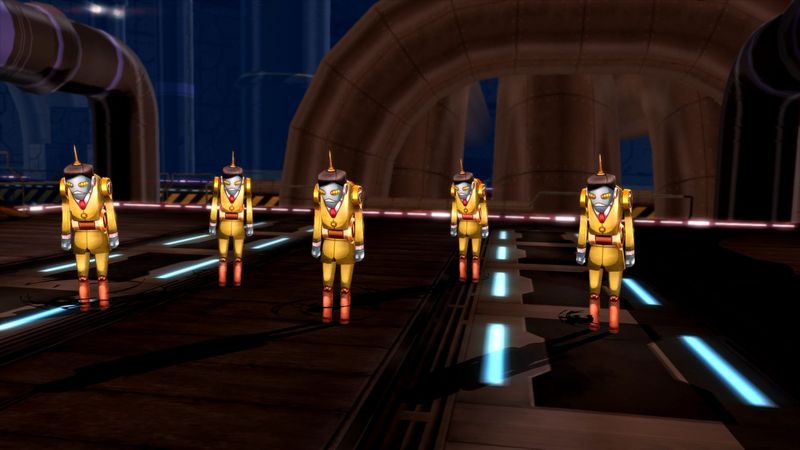 This is a simple fight. I took more damage from my own Physical attacks then I did from the enemies, because they only use Matarunda/Masukunda and regular attacks. They're also weak to Psy, so go nuts.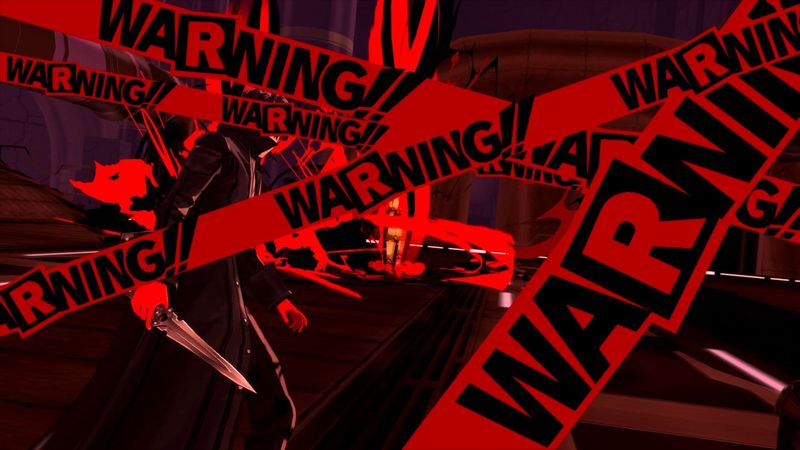 Their gimmick, though, is that there's three waves of them. Still, nothing to fear.
Music:
Regret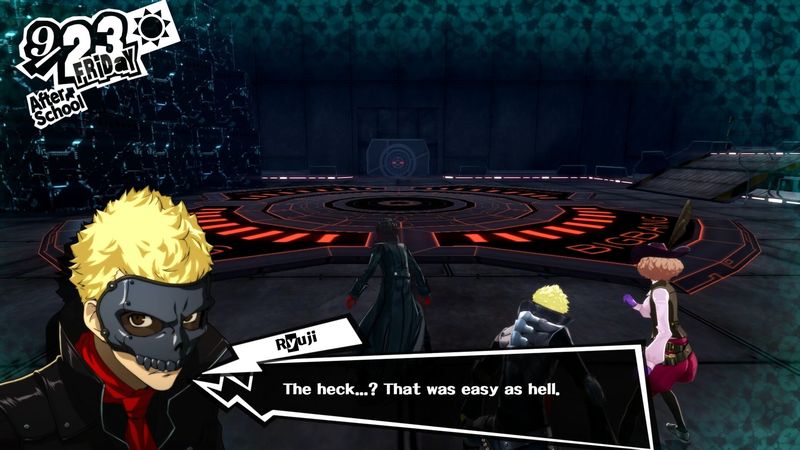 Well I mean, they're overworked, brainwashed, AND forced to go up against an impossible enemy. I hope nobody ever treats me like that after I turn back into a human.

…...

C-Come on, let's keep going! Don't look so down, Noir!
Sure, let's head to the exit.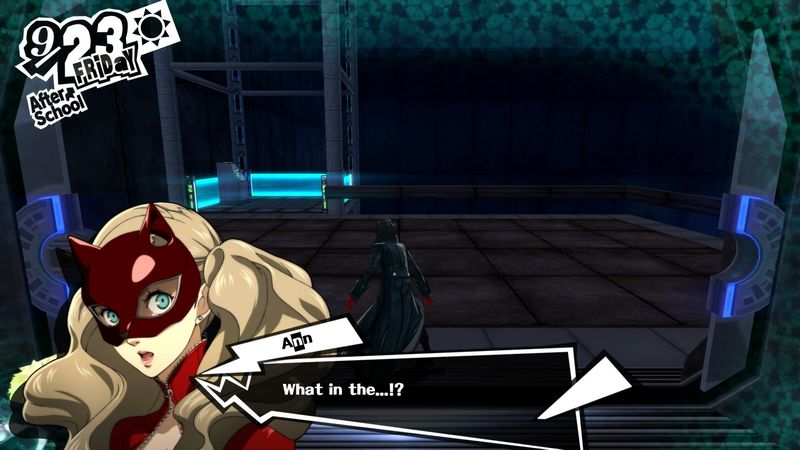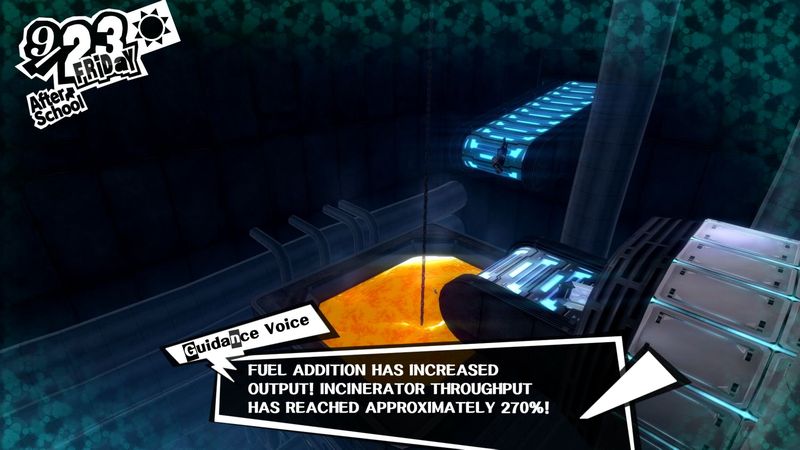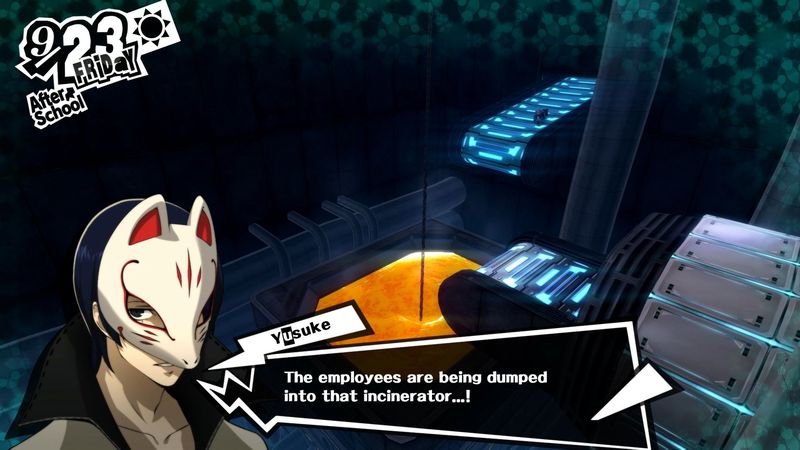 No… They're turning all of the worn-down robots into fuel… That means the power source running this factory…

It's… peoples' lives…

Noir… Are you OK?

I'm not...

Huh…?

I'm not going to forgive my father for this! I can't believe this is how he sees his workers! Let us go, everyone! We will change his heart, no matter what!

Right! We're with you all the way, Noir!
Okay, we reached the end of the factory, so that seems like a good place to stop for now. We'll hopefully finish the Palace next time if I'm not in a psych ward by the--
*beep* *beep* *beep*
What's that beeping? Why did Renegade stop? Is… is it over?
Music:
It's Not Unusual
Holy shit. I'm… I'm crying. Is this what joy feels like? Is this what it feels like to feel true, genuine joy through abject depression for the first time in years? I'm just… at peace. For the first time in a long time, I feel hope--
Music:
Renegade
Music:
Renegade
Music:
Renegade
Music:
Renegade
Music:
Renegade
AAAAAAAAAAAAAAAAAAAAAH