Part 131: 10/12-10/13: It's A Setup

Part 123: 10/12-10/13: It's A Setup
Music:
Beneath the Mask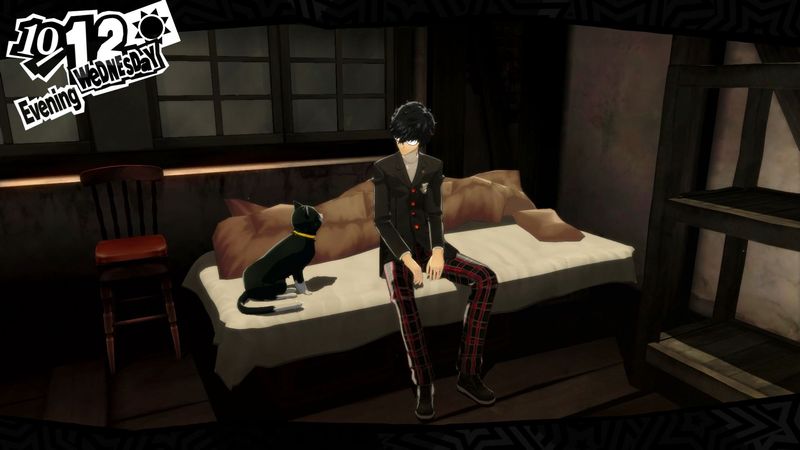 Maaku, do you just spend all your unoccupied time sitting on your bed staring at Morgana until someone texts you? That's kinda weird, man.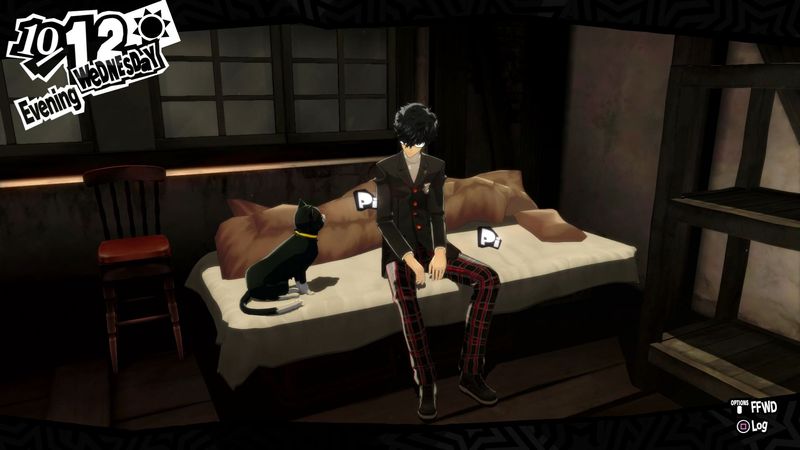 Speak of the devil.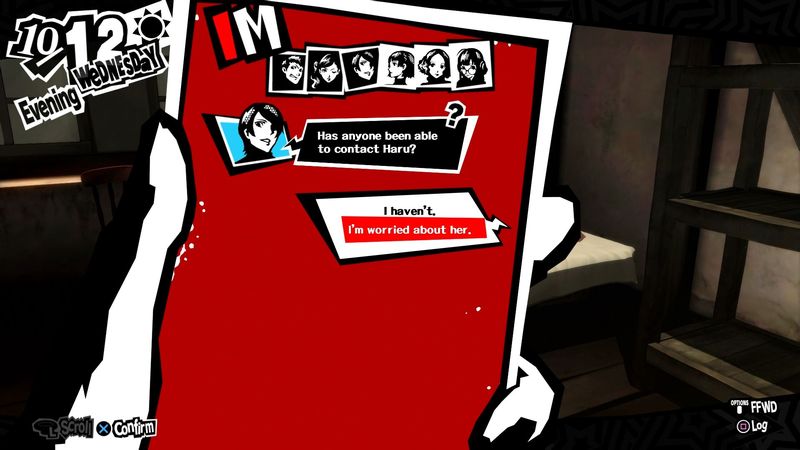 No luck here.

Me neither.

She won't pick up.
I mean, if you were her, would
you
trust us right now? We might have killed her dad, and unbeknownst to all of us she now thinks we murdered the principal too.

It doesn't look like she's seen any of our chats either.

I'm worried about her…
I just said that, Ann.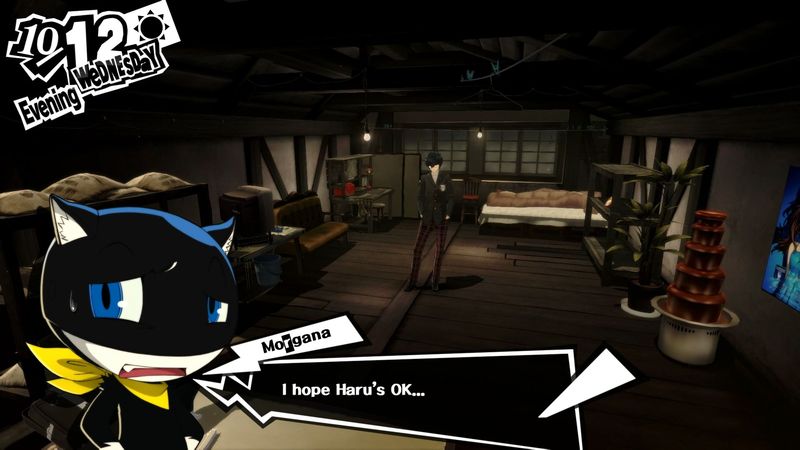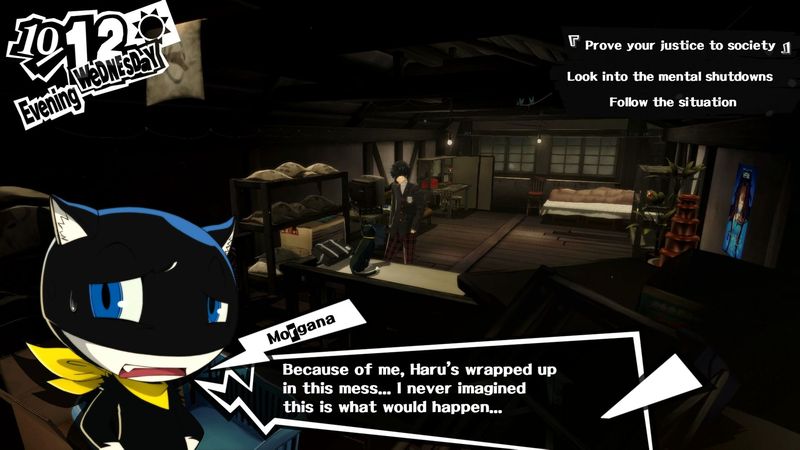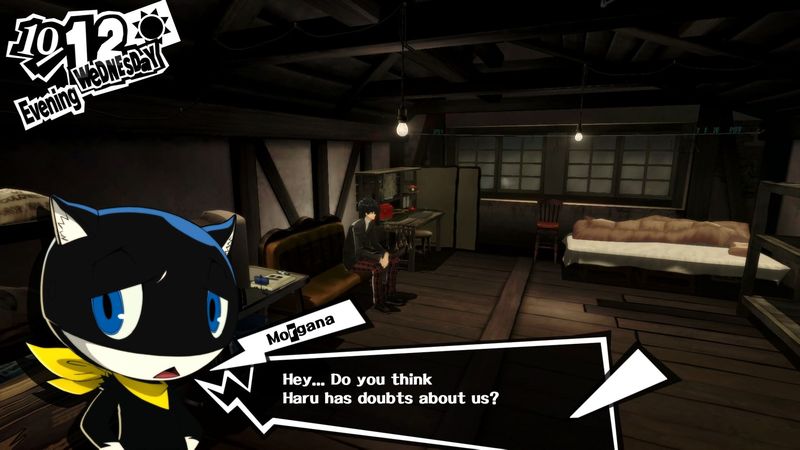 She wouldn't, right? ...Right?
I'm surprised the cops aren't already here, cat.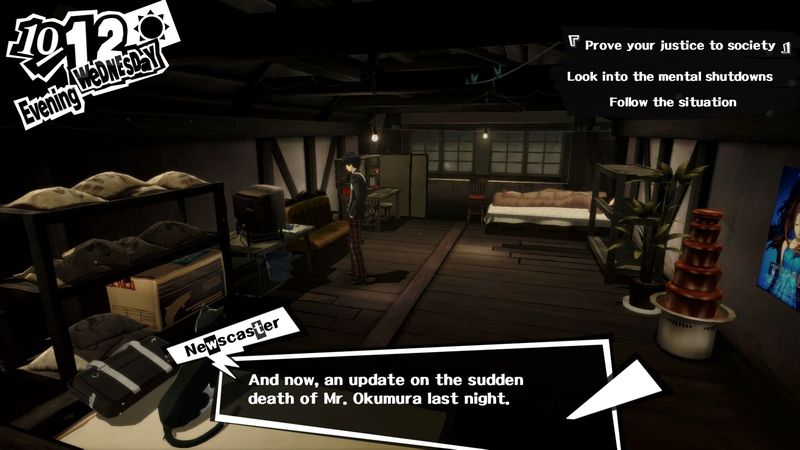 Today, the police investigated President Okumura's home and other places he visited. They're looking into whether this was a crime or an accident, but what caused his death is still unknown.

Sounds like the police even went to your school… What are they going to do?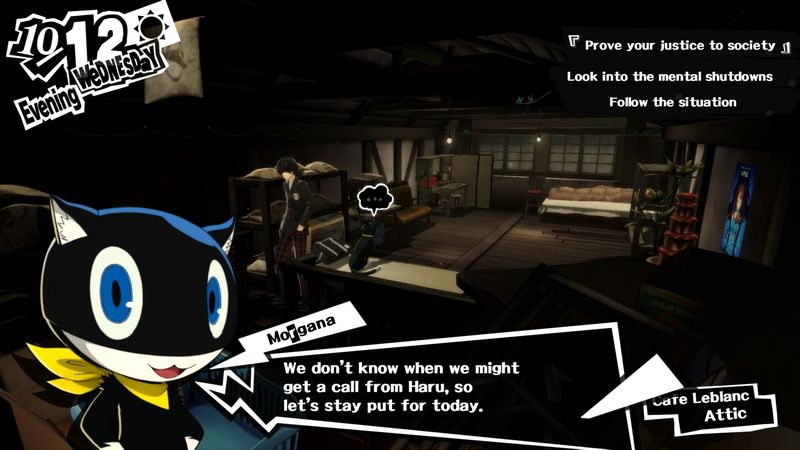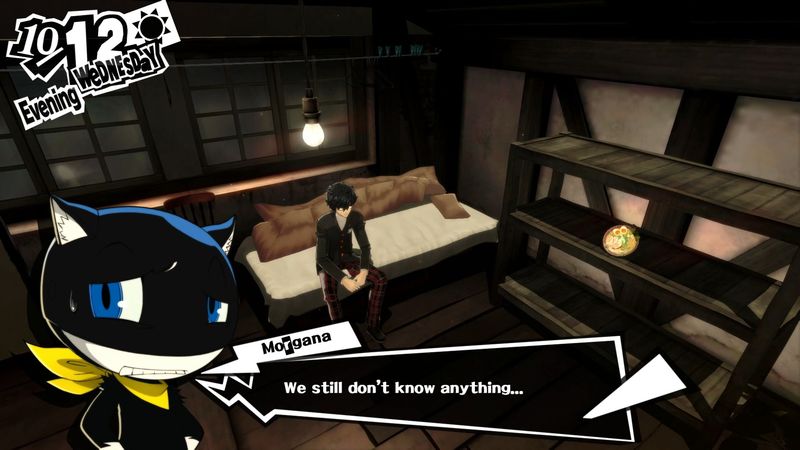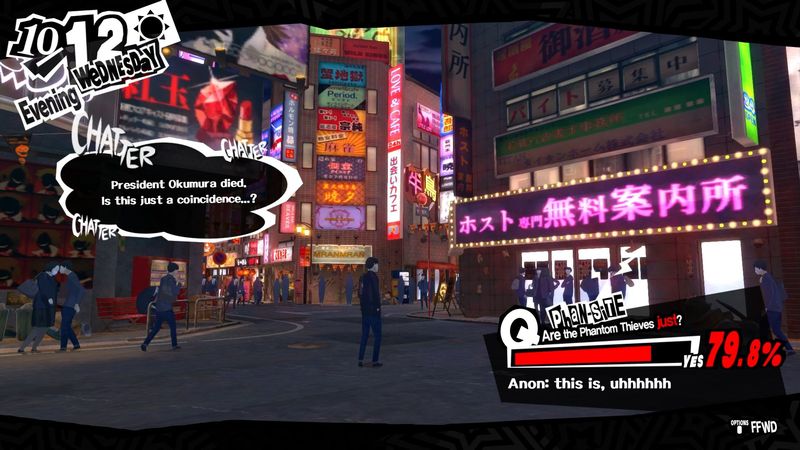 Is there an illness that could cause that…?

Nah, no way…

So it was murder? That's terrifying…

This might be the biggest event of the century!
Anon: That was all an act, right?
Anon: Is he really dead…?
Anon: what is the press thinking
Anon: Well that was disturbing…
Anon: Now, who's next? : )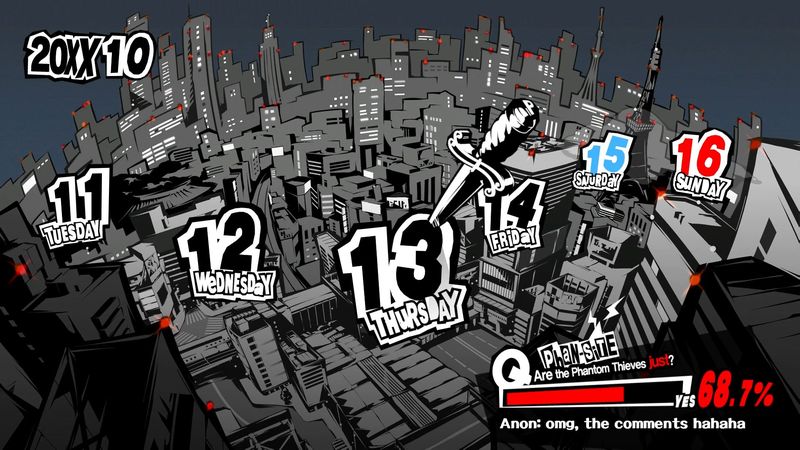 We're dropping precipitously at this rate...
Anon: eh, good riddance
Anon: I can't believe anyone now!
Anon: Evil has perished.
Anon: So, whodunnit?
Music:
Suspicion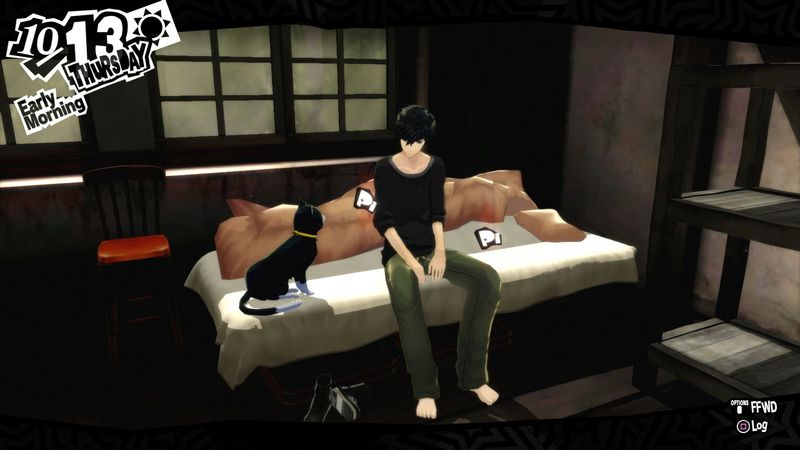 Maaku, you need to get dressed, buddy! You have school today!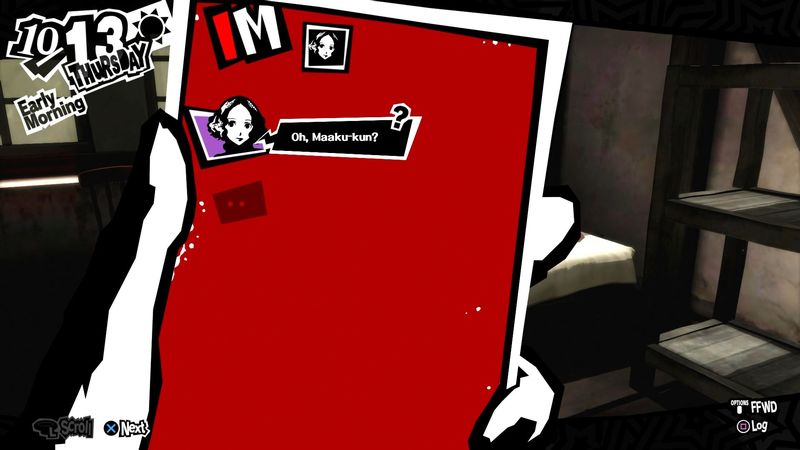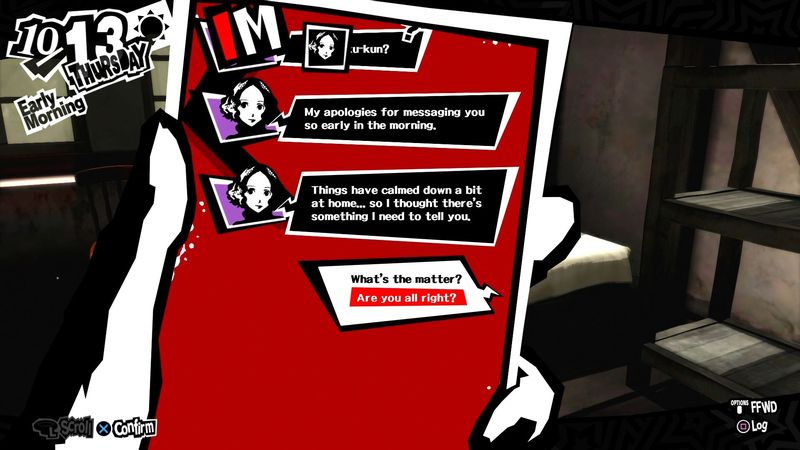 Yes… Thank you. Um, there's actually something that's caught my attention. I think I need to discuss it with everyone though. We should meet at the hideout after school.

It looks like Haru is managing… somehow. All right, let's meet up with everyone after school.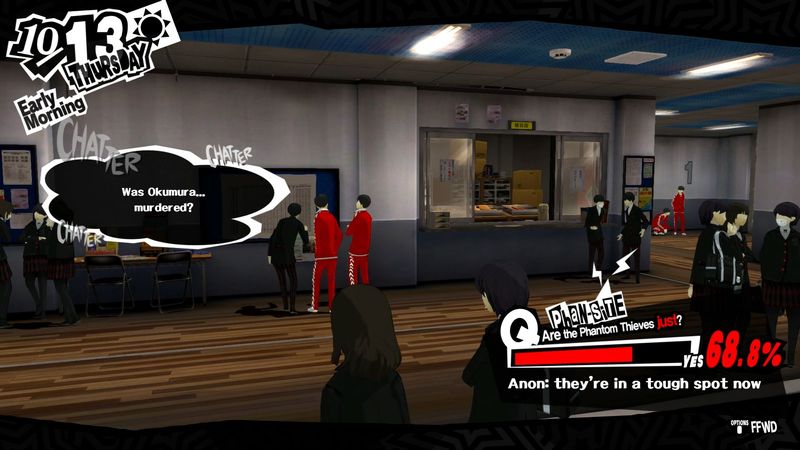 But that was a live broadcast, wasn't it?

If it wasn't an illness… then it has to be murder!

Didn't he kinda deserve to die anyway?

Still, I feel bad for him, going out like that…
Anon: killing ppl's a no-no
Anon: ohhhhh shiiiii!!!
Anon: KARMA, BITCH!! lolol
Anon: dont fukkin murder ppl
Anon: Aww, what a waste
Music:
Desire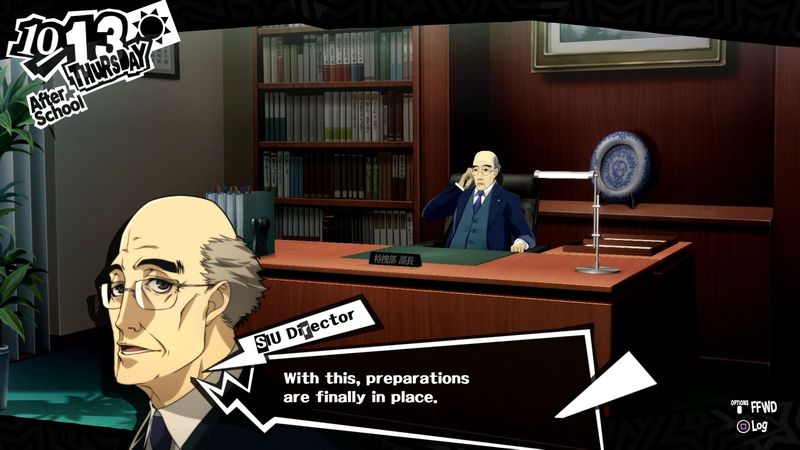 The public has praised them as "allies of justice," before they strike them back to the ground… Now then, she'll be next…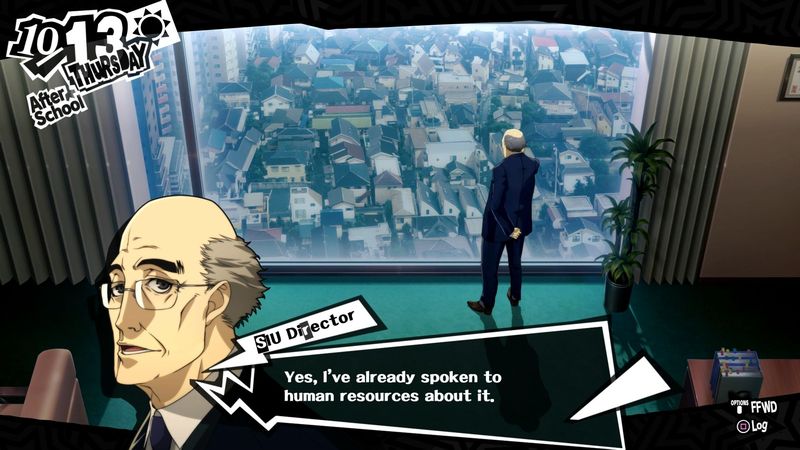 It will be a heavy responsibility, but I'm certain it'd be an honor for her. The culprits behind the mental shutdown cases she's been pursuing all this time… ...Haha, indeed. They'll become the criminals we've set them up to be… just as you instructed.
Music:
Suspicion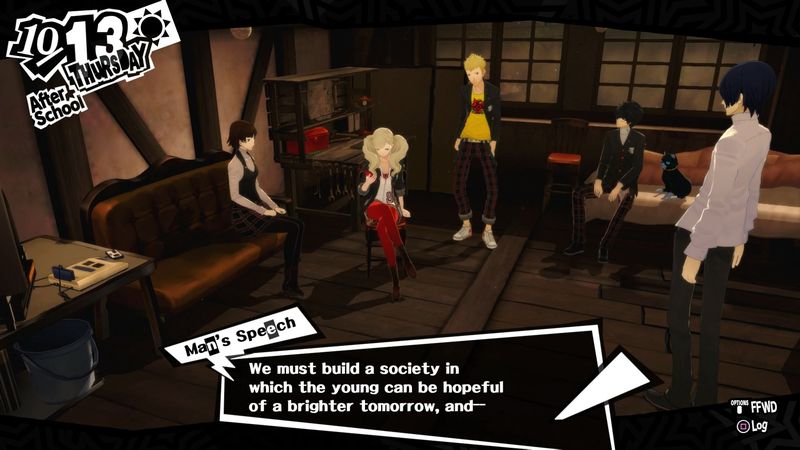 There's a muffled-yet-loud voice coming from outside, seemingly that of a man giving a speech.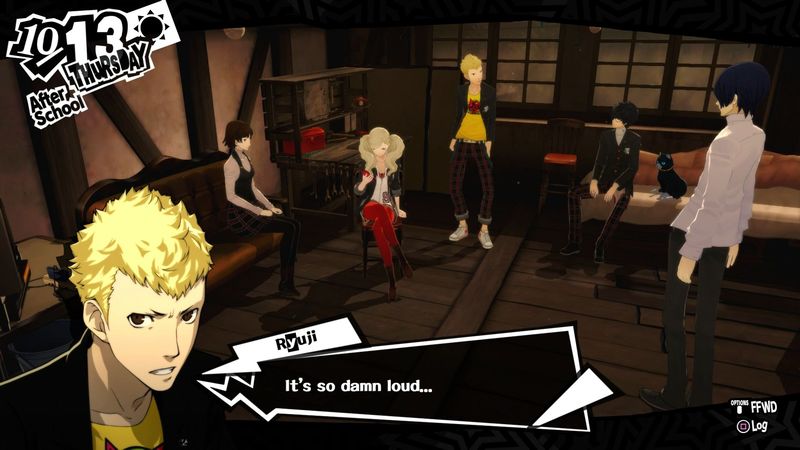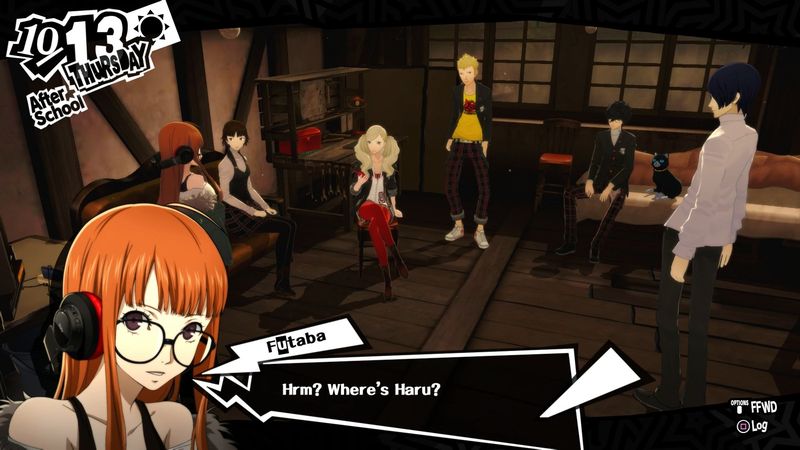 Summoning the cops to beat our asses down, I assume!

She's the one that called us, so she'll show up eventually.

Well, even though things have calmed down, she must be occupied with what happened to her father…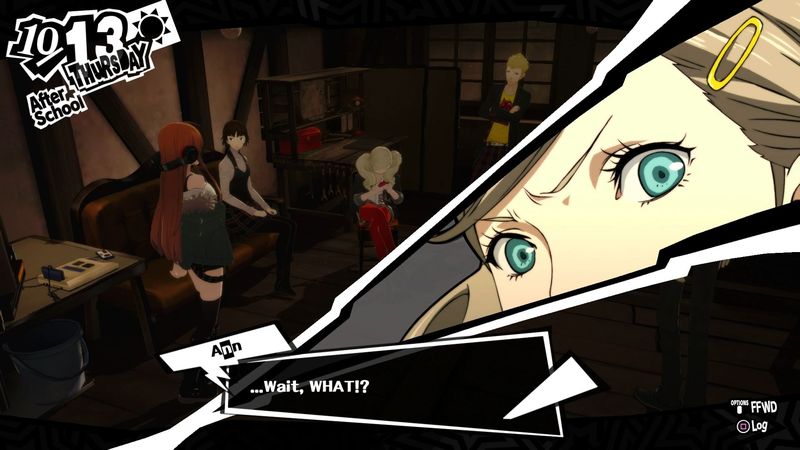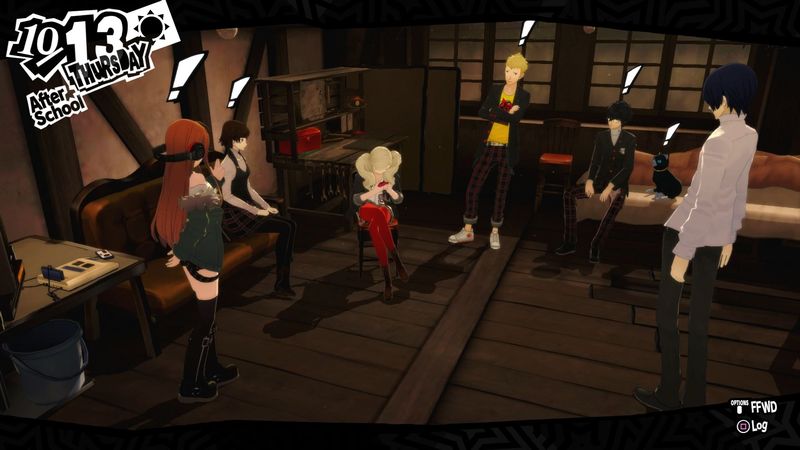 Yusuke with no reaction.
Wh-What's up?
Music:
Tension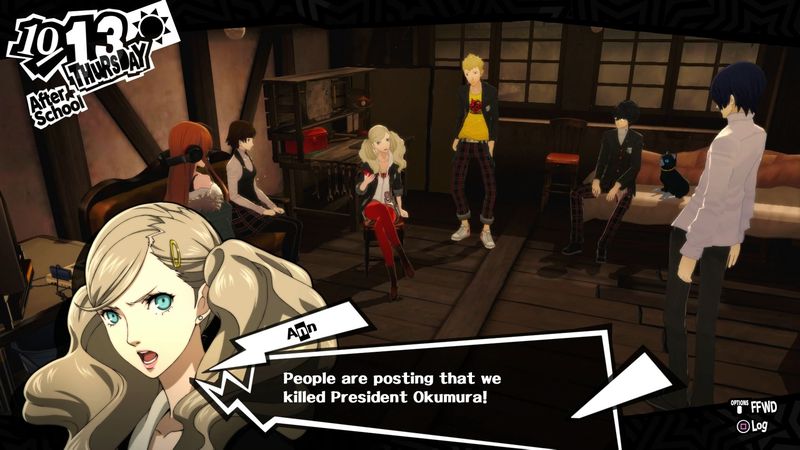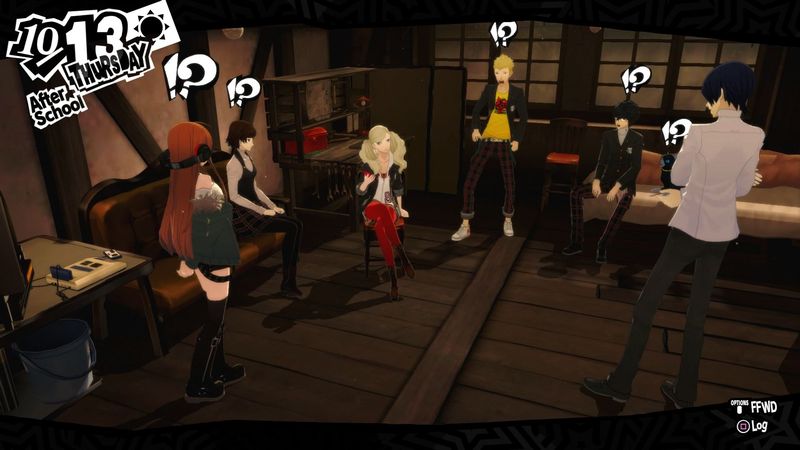 Okay, Yusuke's completely stonefaced for two in a row? That's funny and weird. Maybe they just forgot to set his reactions properly?
Still, this was inevitable due to the circumstances, we shouldn't be all that shocked.
Also:

Something about his completely deadpan "shocked" face is hilarious.

So it's begun already…

What!?

Think about it. The CEO collapsed the way he did, during an apology conference that our group caused.

Still…! They were raving about us so much… and now they just treat us like murderers…?
What a lightning-fast change of attitude!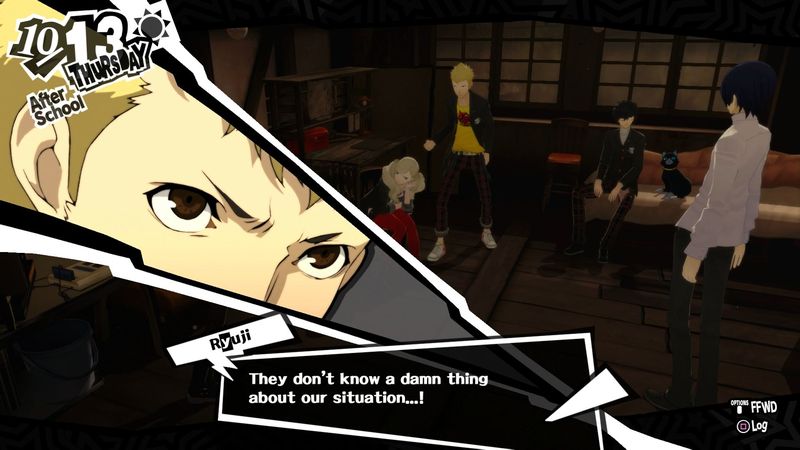 Calm down. Not everyone is necessarily saying that…

But there's no way to vindicate ourselves. ……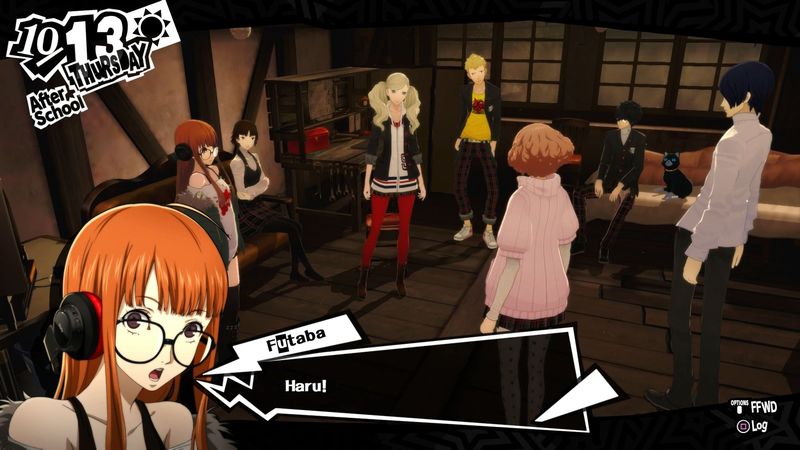 I'm sorry I'm late. I'm the one who asked you all to make time for me too…

...My condolences. It must be rough.

I'm OK now.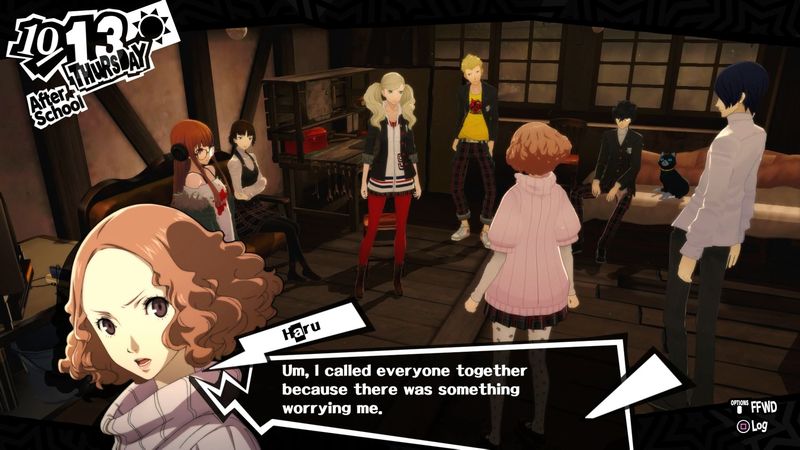 Did you all target the principal?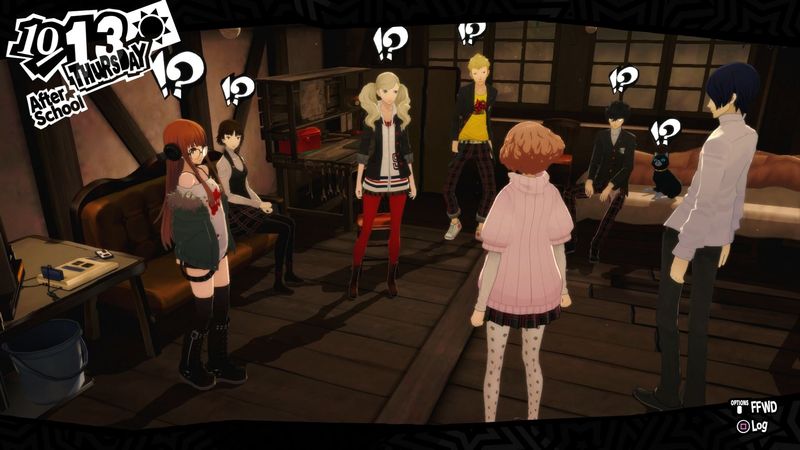 Yusuke, man, react to
something
here, you're freaking me out!

Huh? The principal? ...You mean ours?

Yes.

What makes you say that?

Yesterday, a public prosecutor came to my home. Um… it was a woman named… Niijima-san.

That's--

I overheard her saying that a calling card was found in the principal's office. Considering that this was right after what happened… It's got to be Shujin's.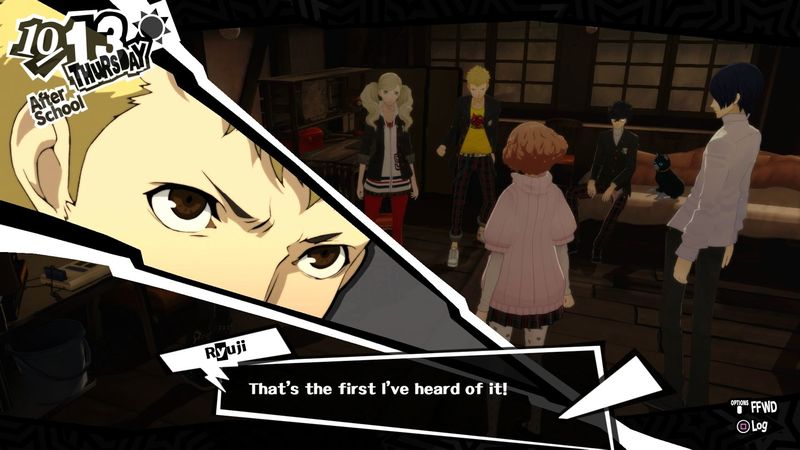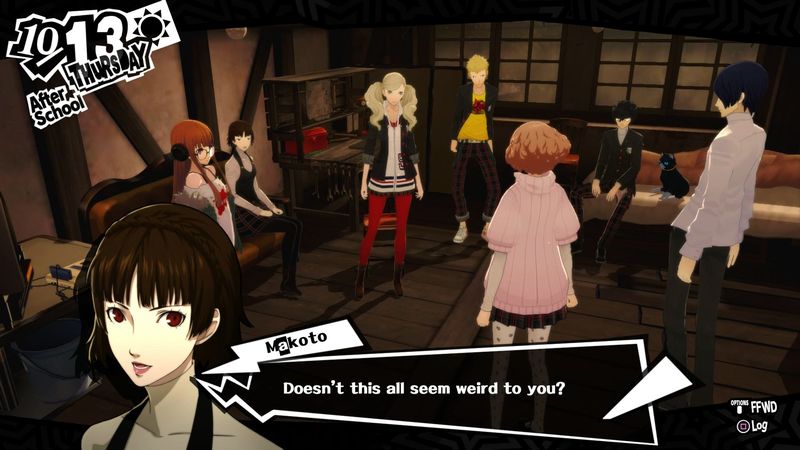 Huh?

It may just be my imagination… But I feel as if… things are escalating far too quickly after President Okumura's incident.

...Whaddya mean?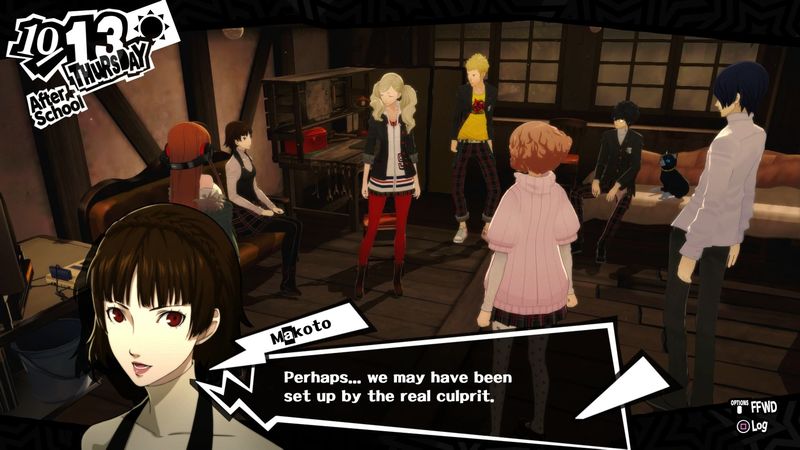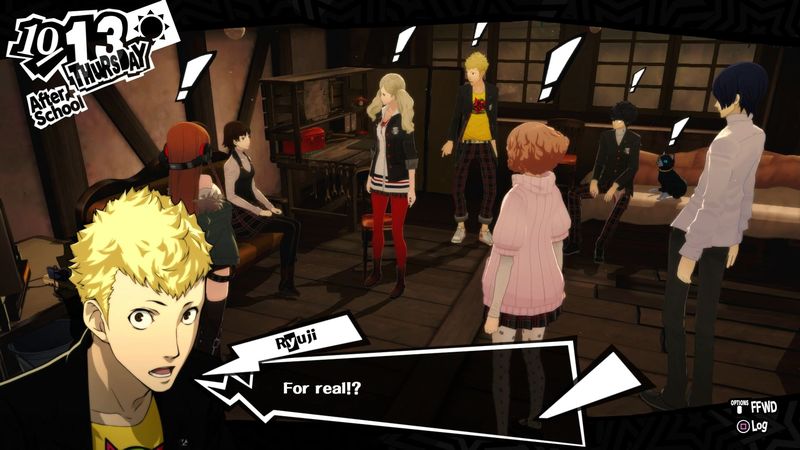 It's Yusuke! Yusuke did it! I don't know what he did, but it's the only explanation for why he's so goddamn chill about all this!
That could be…

Then we need to catch them as soon as possible.

Hold a moment. Can we assume we've been set up though? We don't even know their objective.
I'm going to assume it was "ruin our reputation and prevent Okumura from spilling the beans," dude. You know, the two direct consequences of his death thus far?

What else are we supposed to do then!?

Let's all calm down for a moment. From what Haru said, even the police are suspecting that the Phantom Thieves are murderers… It wouldn't be wise to carelessly make a move at the moment. We need to act as normal students for now. In addition, we have midterms next week.

Exams? At a time like this…? Rgh… I envy you, Futaba… ...Futaba?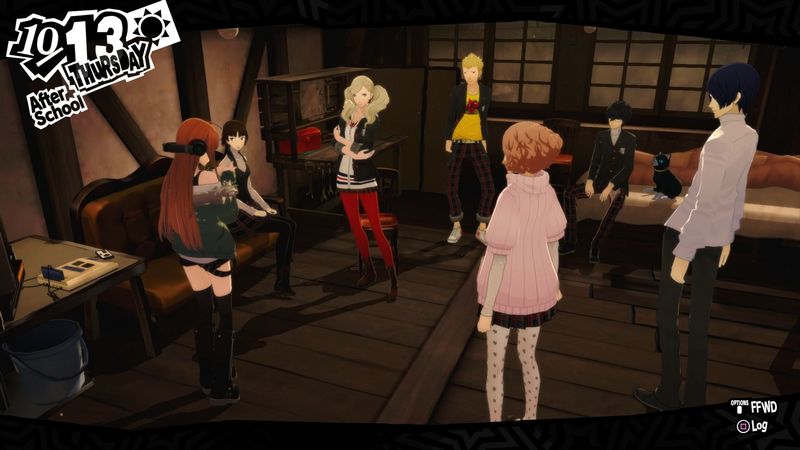 Everyone turns to look at Futaba.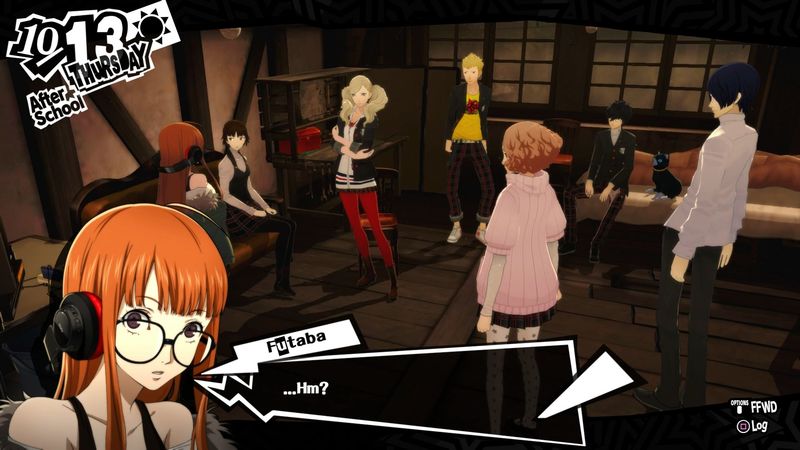 Got something on my mind. Gonna go home and look into it.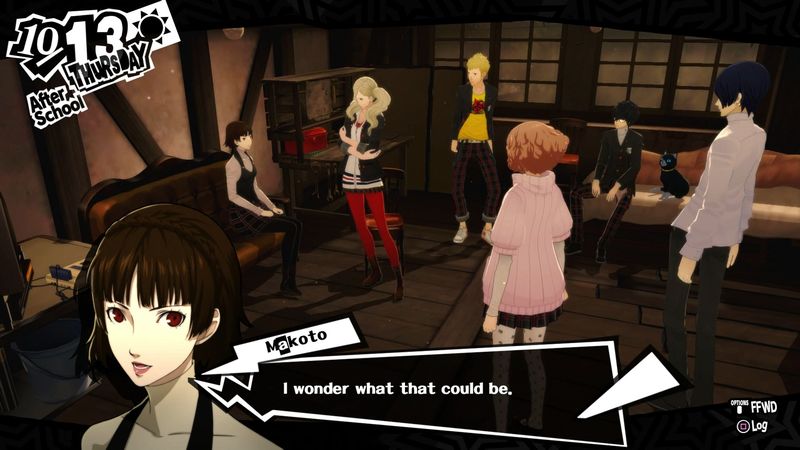 At any rate, we need to behave and not draw attention to ourselves. Understood?




*nods*
For some reason, probably just because she's not facing the camera, Haru doesn't nod. Morgana doesn't either, but he's a cat.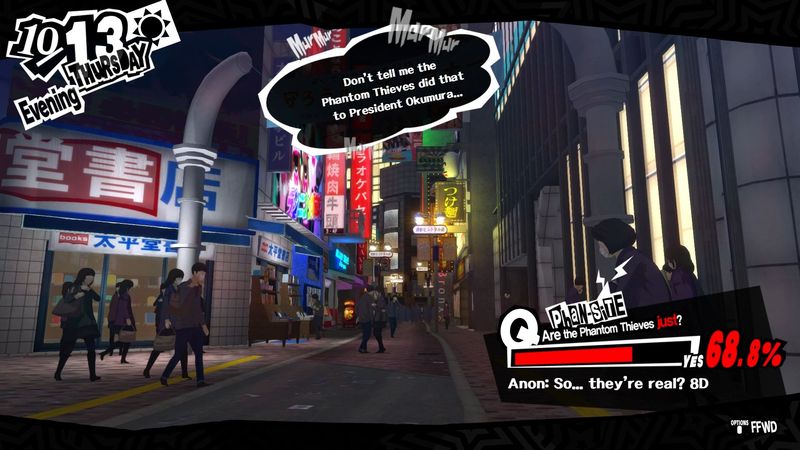 They're heroes! They would never do that!

I'd be disappointed if they just turned out to be criminals…

It has to be some kind of trick! They would never do that!

...I can't think of any other explanation. That has to be it!
Anon: actually, im ok w/this lol
Anon: they're in a tough spot now
Anon: This is a murder case?
Anon: we need dox on these guys
Anon: but Madarame's alive, huh
Music:
Beneath the Mask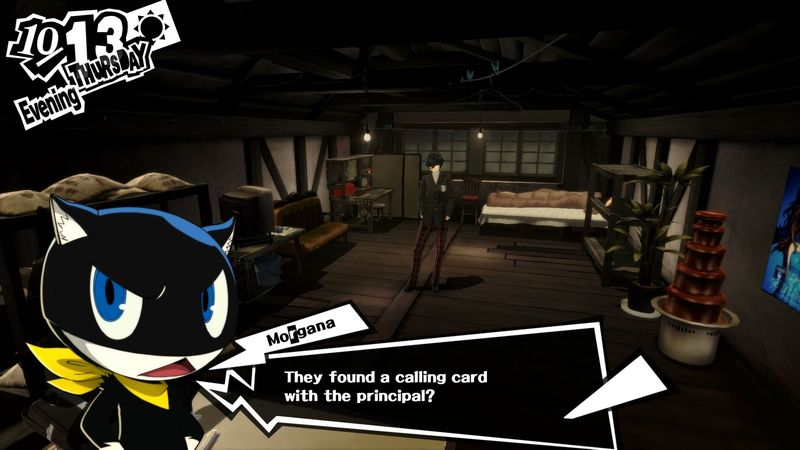 But that's impossible!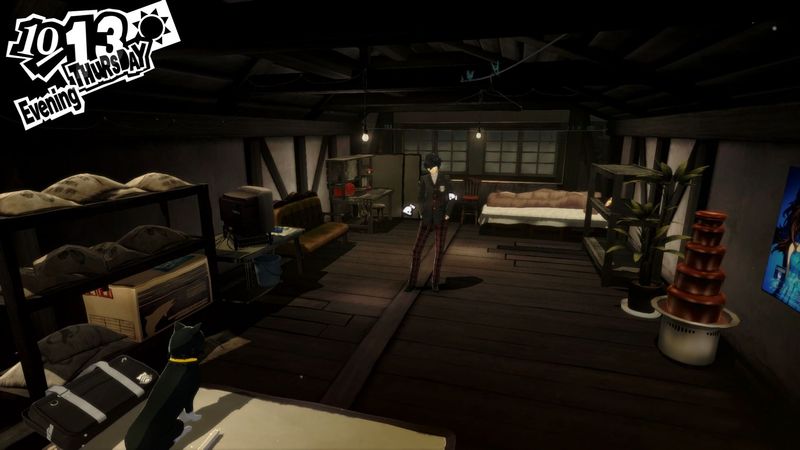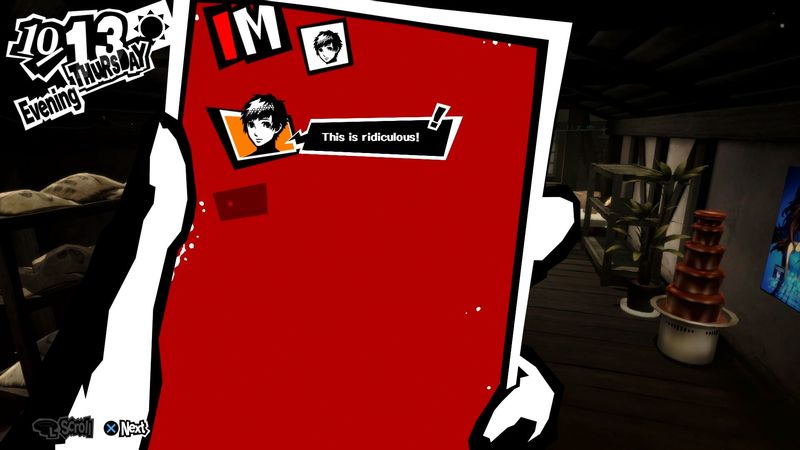 Why are people doubting the Phantom Thieves over what happened to President Okumura?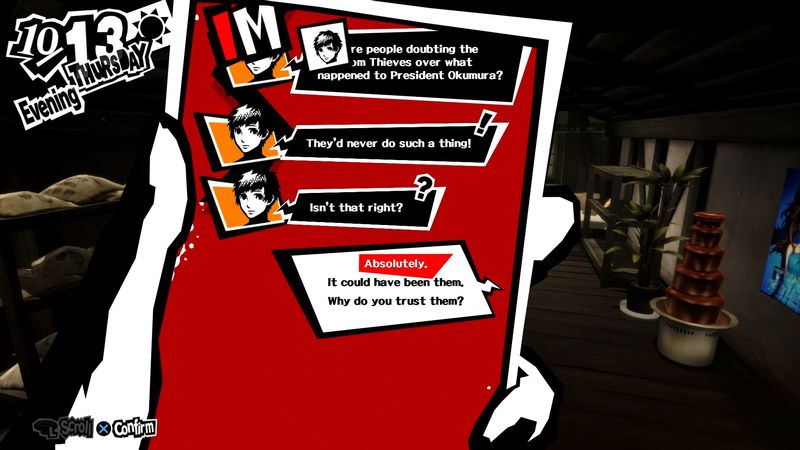 Yeah, I trust them! Anyway, it seems like everyone's forgotten all that they've done up to this point. That won't stop me though. I'll continue cheering them on. Make sure you tell them that! Well, see you later!

Mishima is a bit narrow-sighted, but he's a good person deep down. We can't betray him…

You have to be kidding me! How could they accuse us of that!?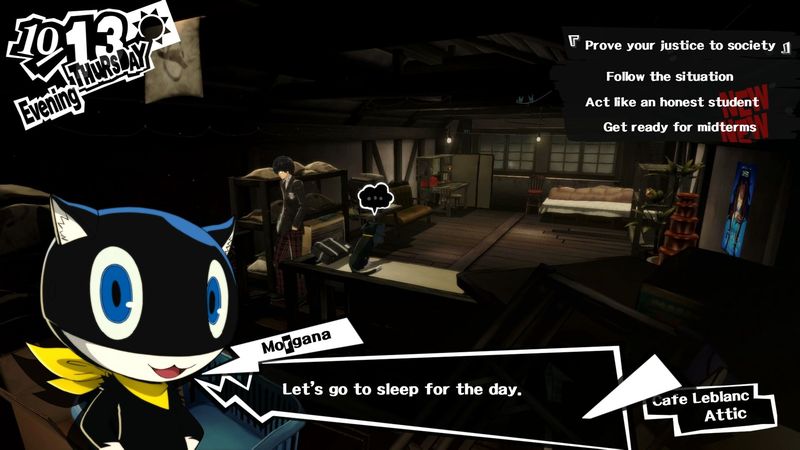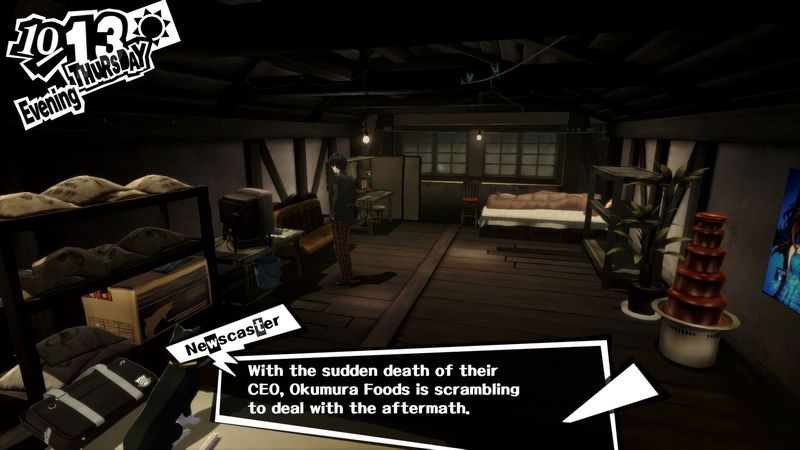 Stock prices are low—it's almost certain Okumura Foods is pressured to restructure their management. The public is watching to see how they handle the issues Mr. Okumura addressed in his press conference.

What's going to happen to Haru's company? I'm worried about that, too.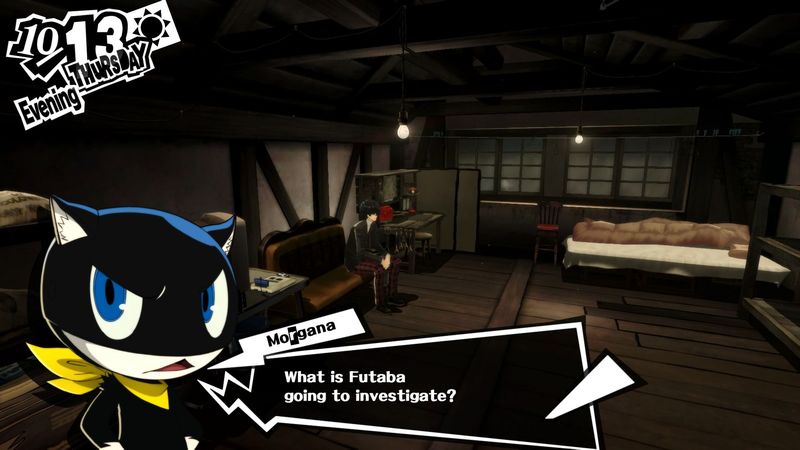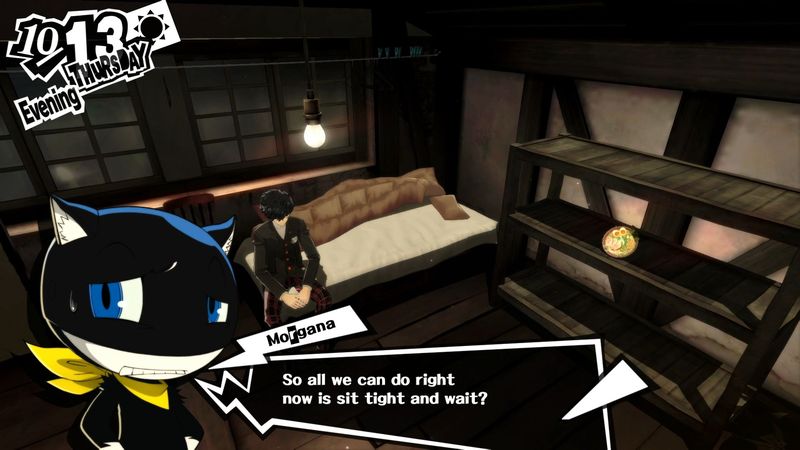 Seems like it!