Part 19: The Star Wars/Christmas Special
ALCATRAZ -- DEC 24 2507CHRISTMAS EVE ON ALCATRAZ
Somehow it is Christmas eve on Alcatraz despite the planet not even being in the sol system. But let's just say it has the exact same orbit around its sun as the Earth does.
HAVE I GOT A STOCKING STUFFER FOR YOU BOYS BROS

NOBODY IS SAYING ANYTHING SO I WILL ASSUME YOU WANT ME TO TALK MORE

ITS A QUEST I HAVE A QUEST BROS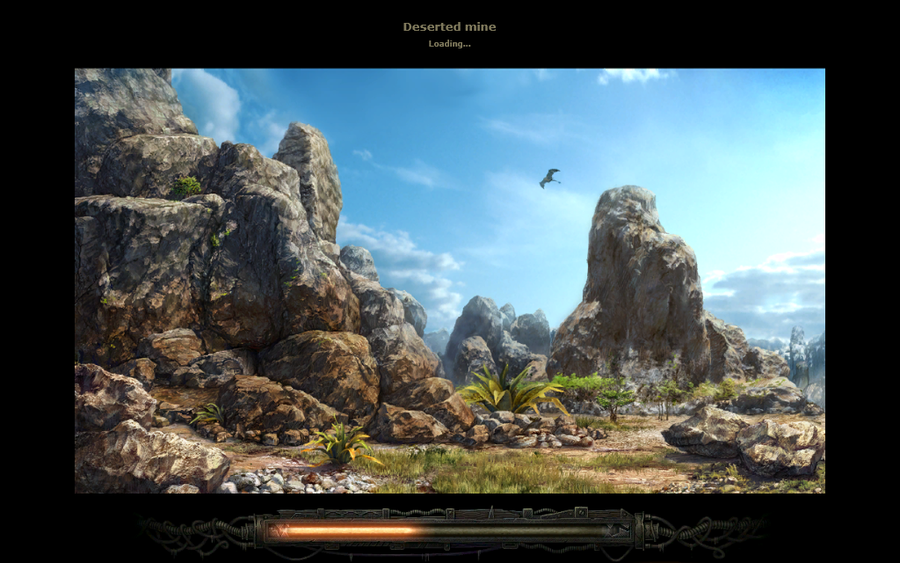 AT THE
DESERTED MINE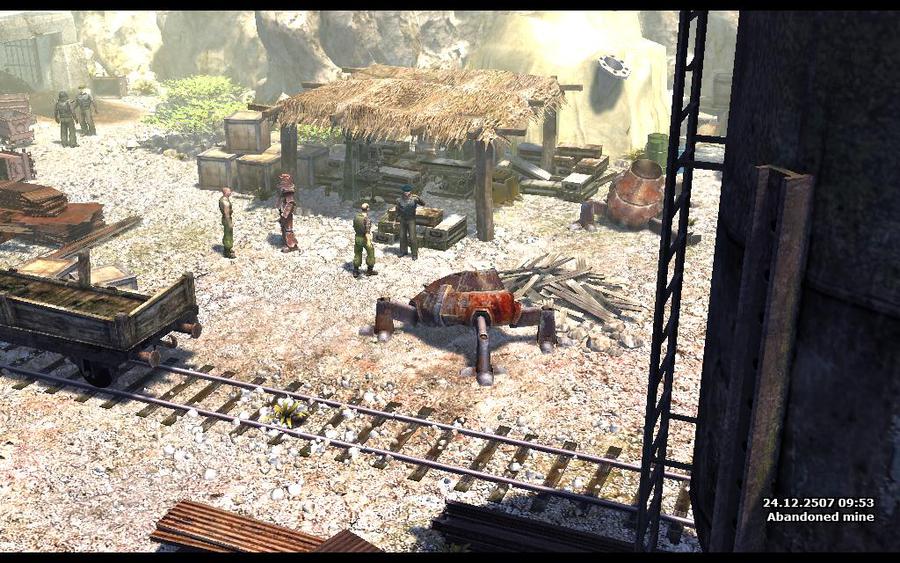 The
Deserted
Abandoned Mine.
Not Pictured: It being abandoned or deserted.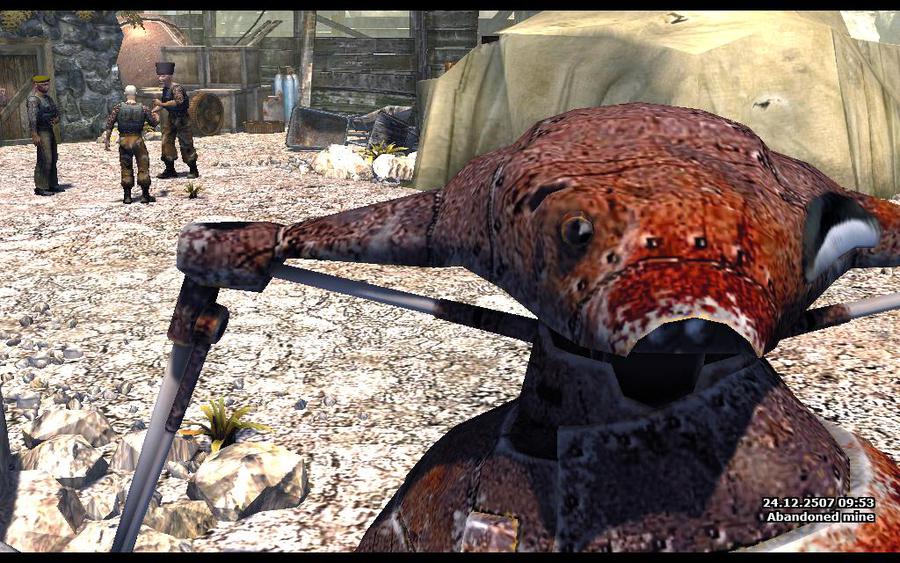 That looks... interesting.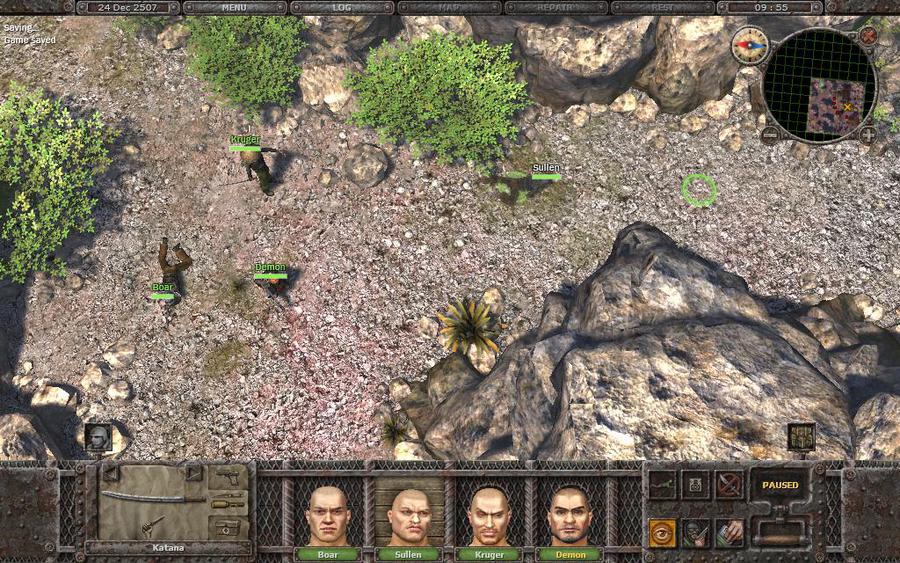 Okay. Okay. I've got a clever plan here.

Boar and Demon, you take positions at the mouth of the canyon and shoot at anyone who comes by.

Kruger, you toss grenades into the choke point before they even get to the others.

I will infiltrate the mine and get behind them to push them into our ambush.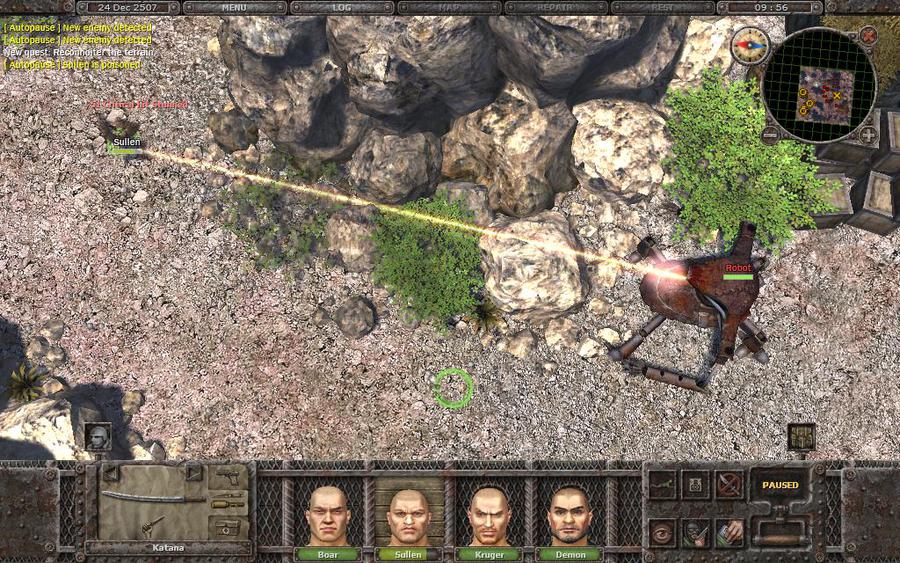 Pssst! Sullen! You got burnt alive by a robot's laser beam! And it poisoned you somehow!
THAT IS THE SECRET OF THE MINES BRO

There's only one way into the mine area, and that's behind the robots. But to get there Vampire Squad must brave a canyon filled with patrols.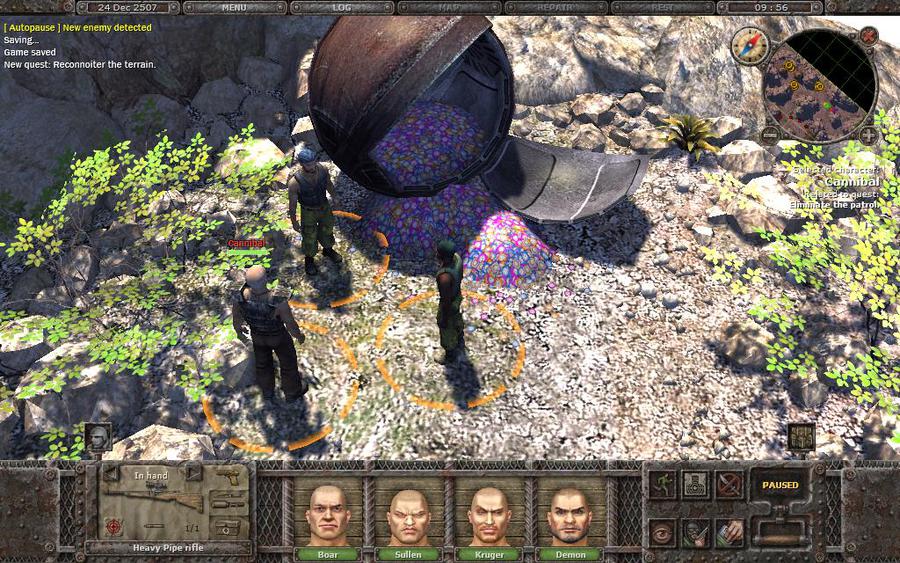 Cannibal A:
Hey, I found a giant metal ball full of condoms.
Cannibal B:
That's great. This will be fantastic for when we have sex with each other's butts.
Cannibal A:
Yes. With these, our urethras won't become infected from the fecal matter inside of our butts.
Cannibal C:
It won't feel as good, but it will keep bacteria out of our urethras.
Cannibal B:
It's fortunate that we found this metal ball full of condoms.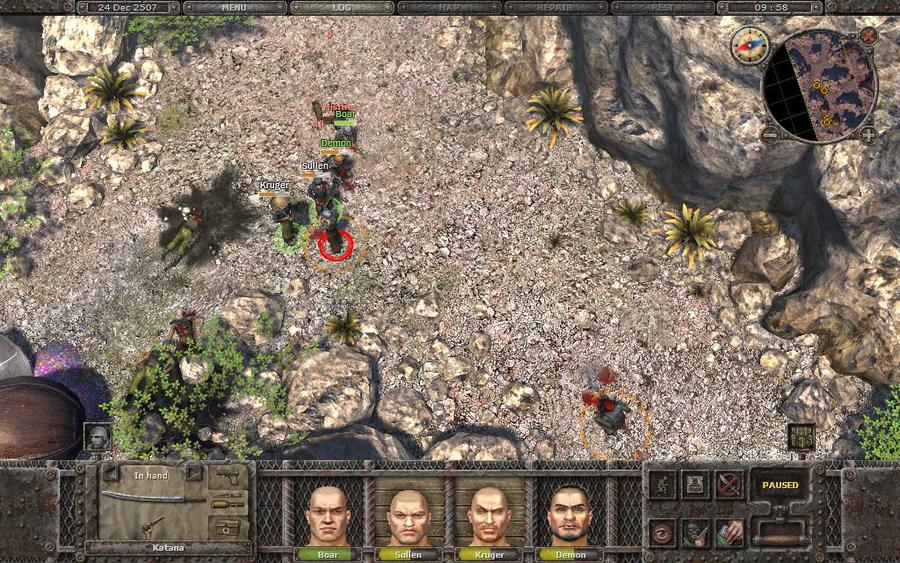 Cannibal C:
Oh, hell. Here come those weird bald men.
Cannibal A:
They mean to kill us. Kill them first, otherwise we will not be around to have sex with our butts.

Aha Sullen, and you said nobody on the planet would want 300,000 condoms!
Nobody does, now that we have killed all of them.



With the patrols dead, Popeye comes out of his teepee.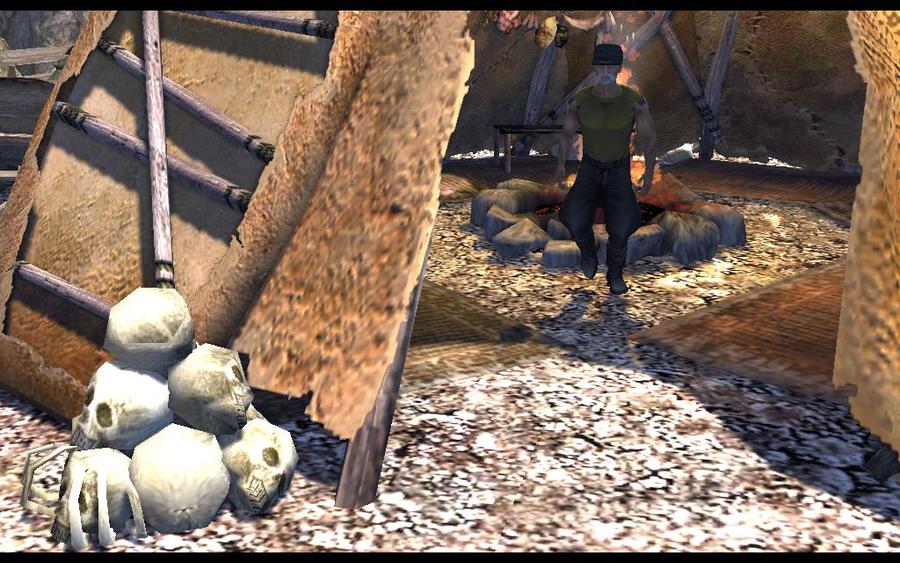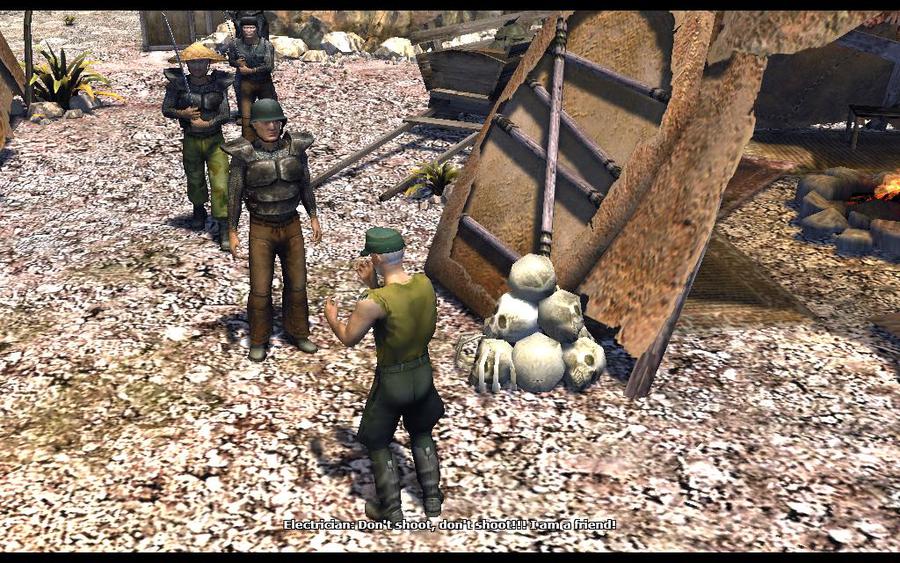 Don't say that, Demon tends to shoot his friends more than his enemies in the heat of battle.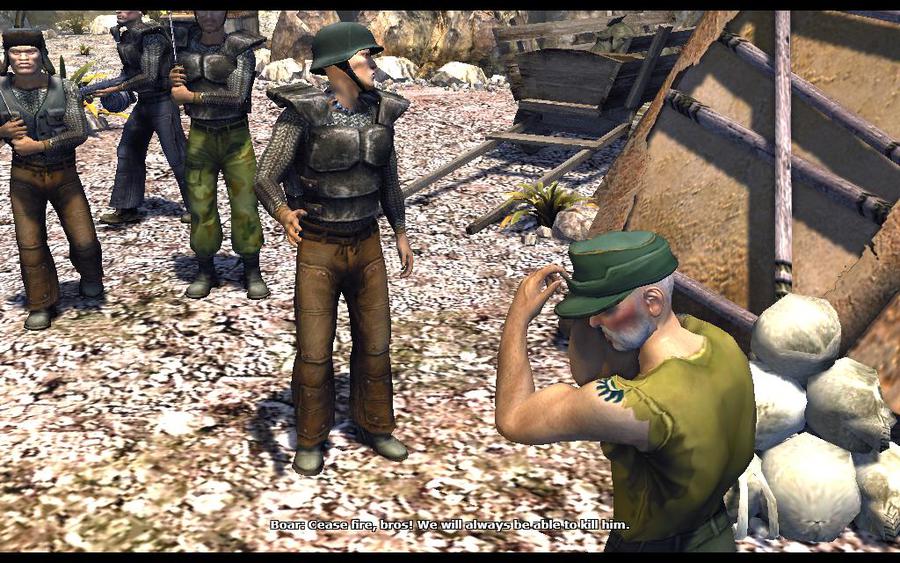 Boar puts things into perspective in a way the rest of the squad understands. A natural leader.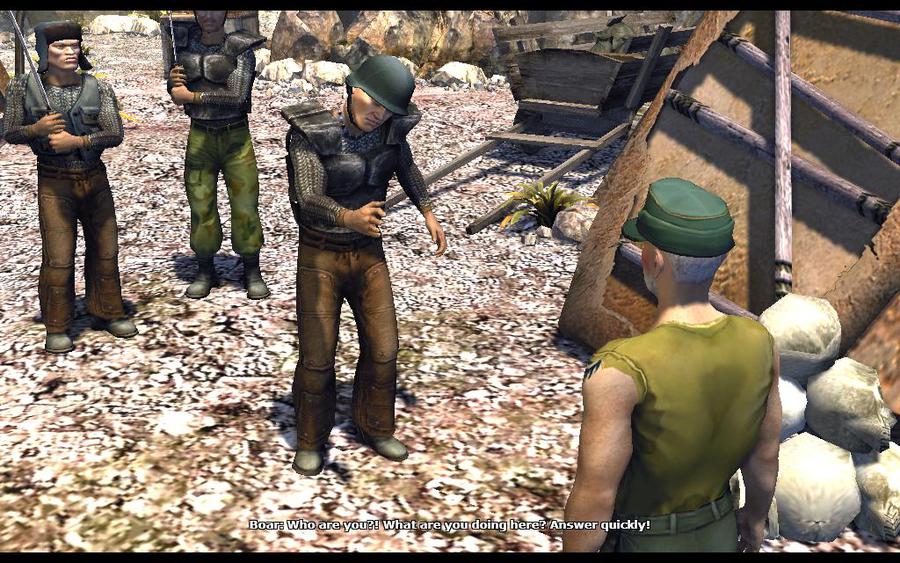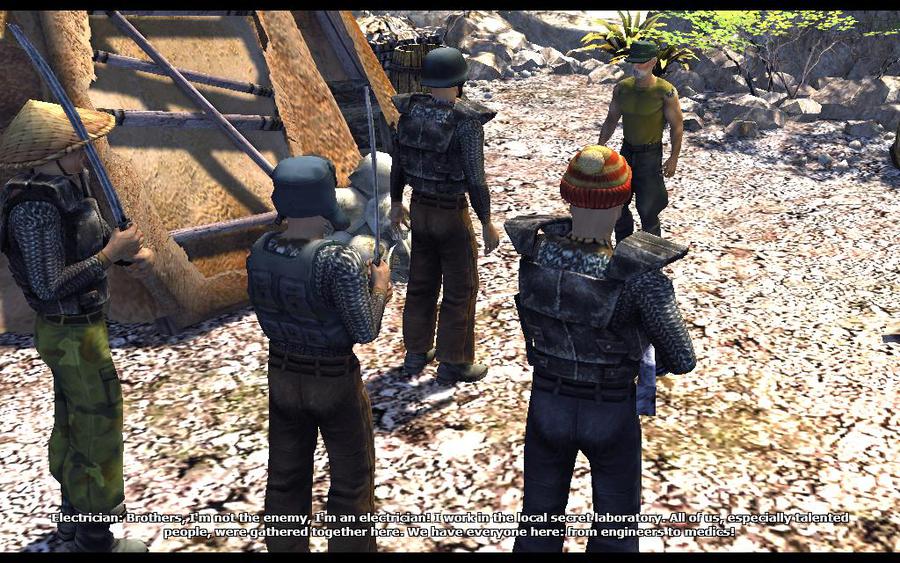 You know, the local secret laboratory. It's near Bamboozles Gentleman's Club.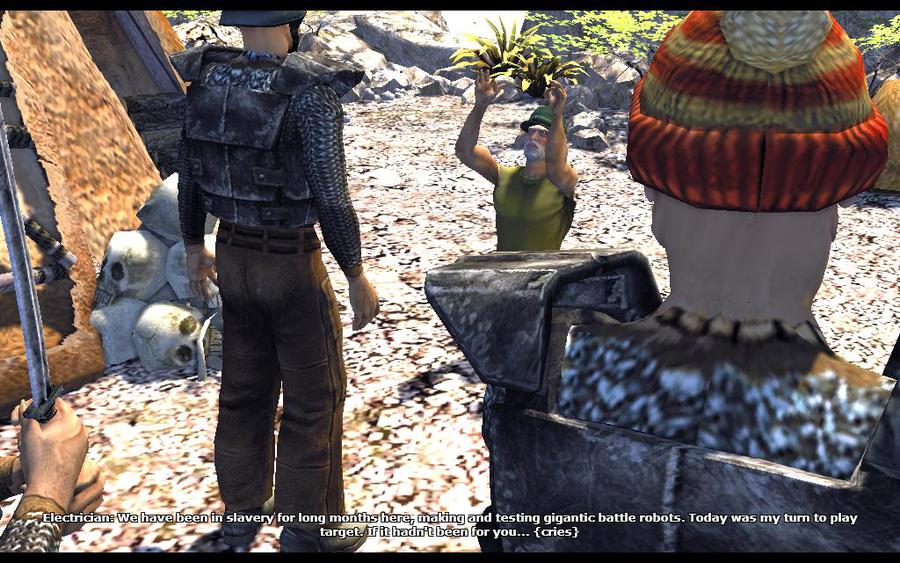 This isn't an abandoned mine at all! It's a secret laboratory making battle robots for Cannibals.
You know, the group of people Vampire Squad is currently working for.
These robots must be destroyed! (They really must. You can't leave the map until they are)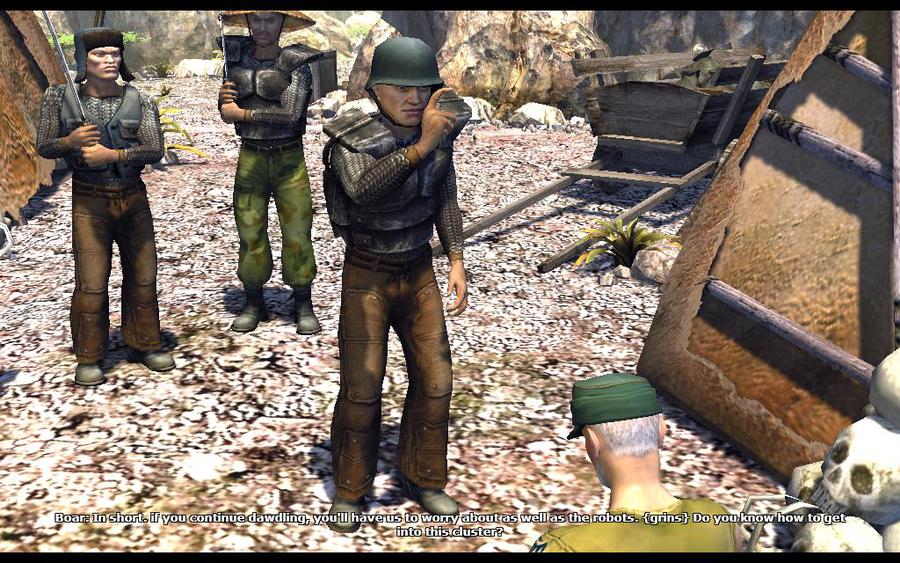 Dude have you ever looked at your hands? I mean
really
looked at them?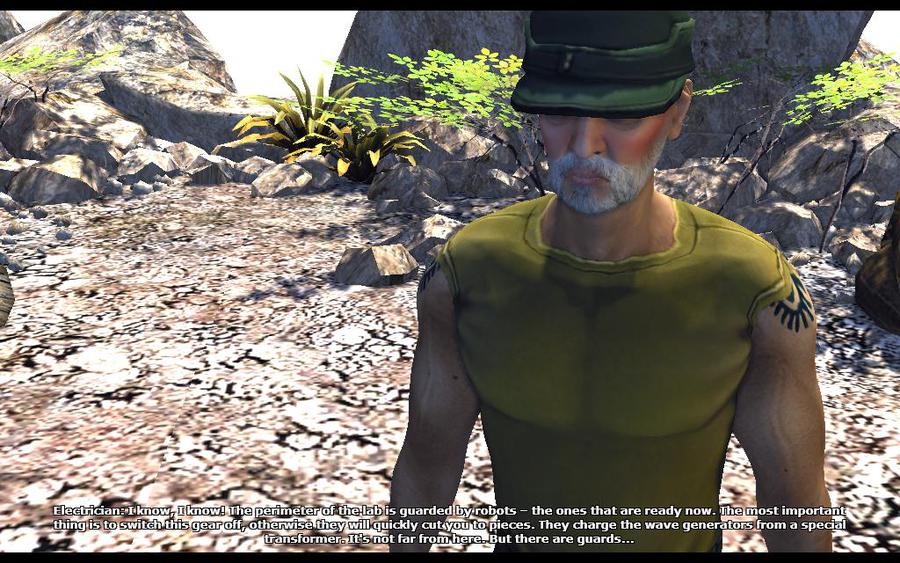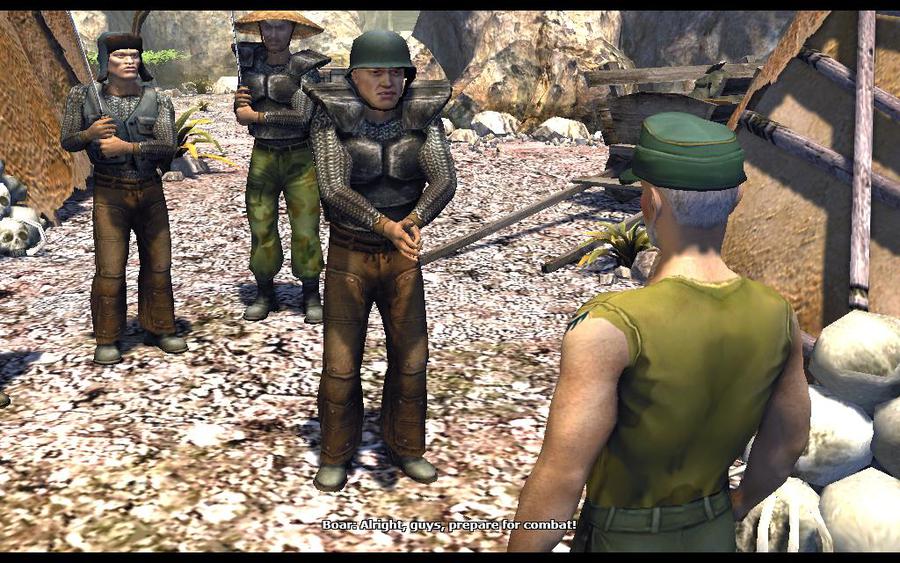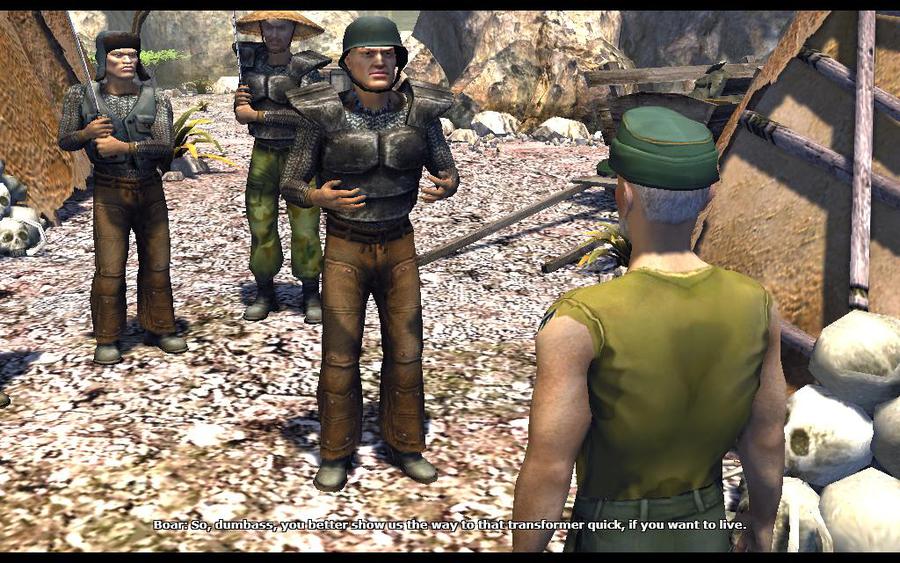 Boar is acting pretty abusive today. Must be a seasonal depression.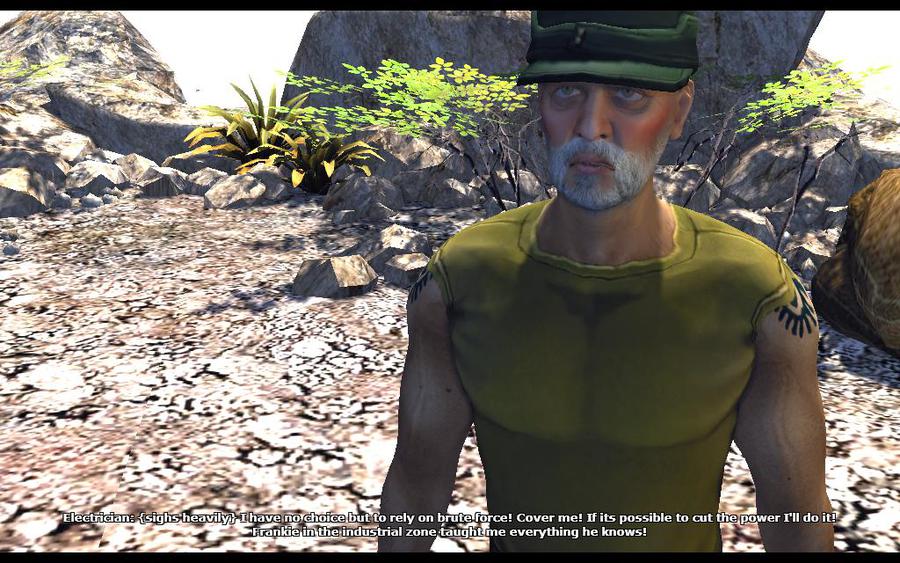 I don't remember who Frankie is and I'm not going to check.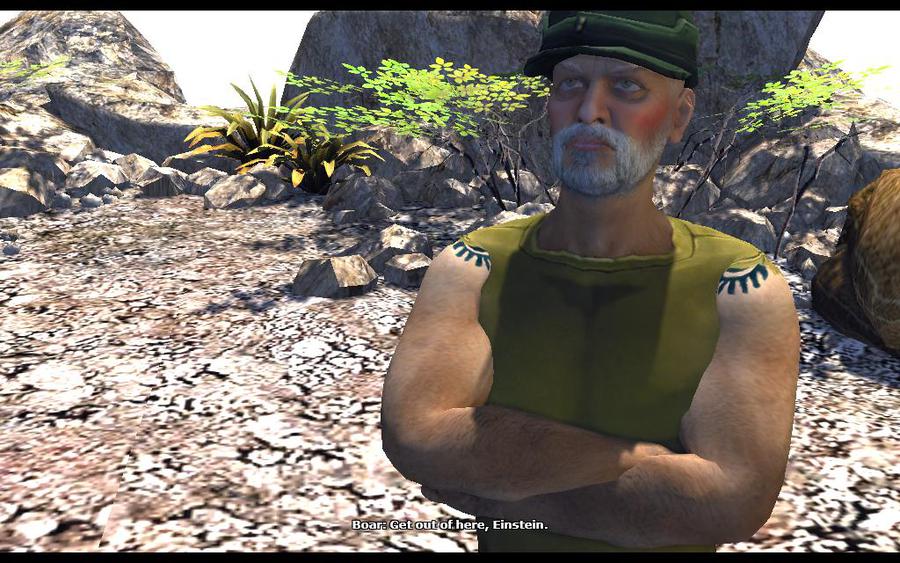 Harumph!
Actually, they probably should get out of there because the Cannibals are sending out an attack squad to take care of them.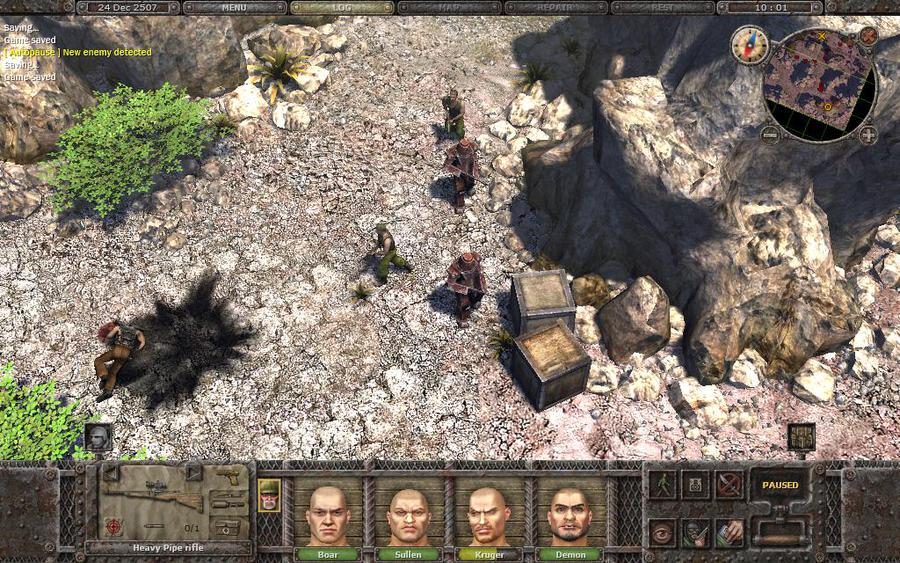 The Engineer turtles in the teepee while Vampire Squad takes care of business.
The robot suited men make for frightening opponants, but their lack of mobility means Demon can take them down easily with his underbarrel grenade launcher.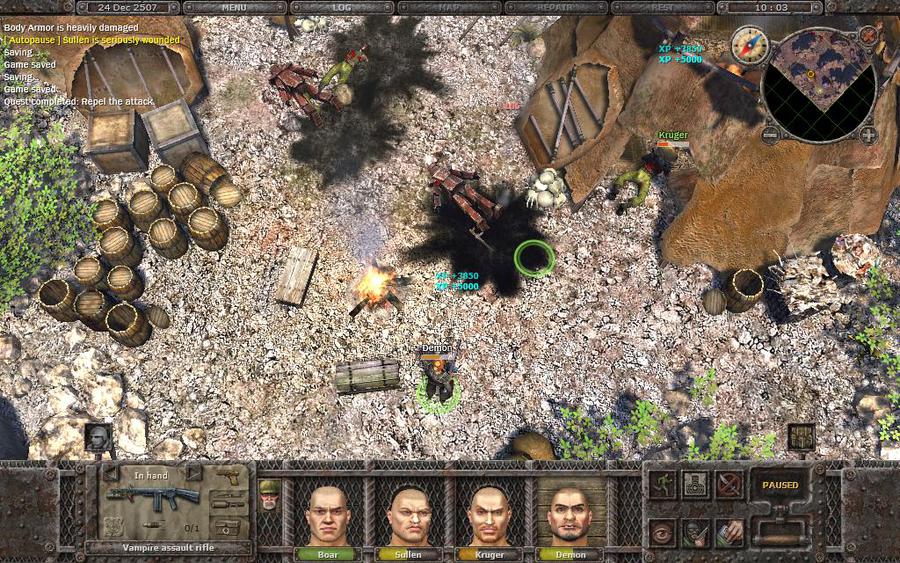 THERE ARE ONLY TWO OUTCOMES FOR MENINGITIS DEATH AND MENTAL INCAPACITATION

MY BROTHER DIED BUT I SURVIVED THE DISEASE

(the above is actually one of Demon's combat taunts)
The men who aren't in robot suits are probably the harder part of this fight.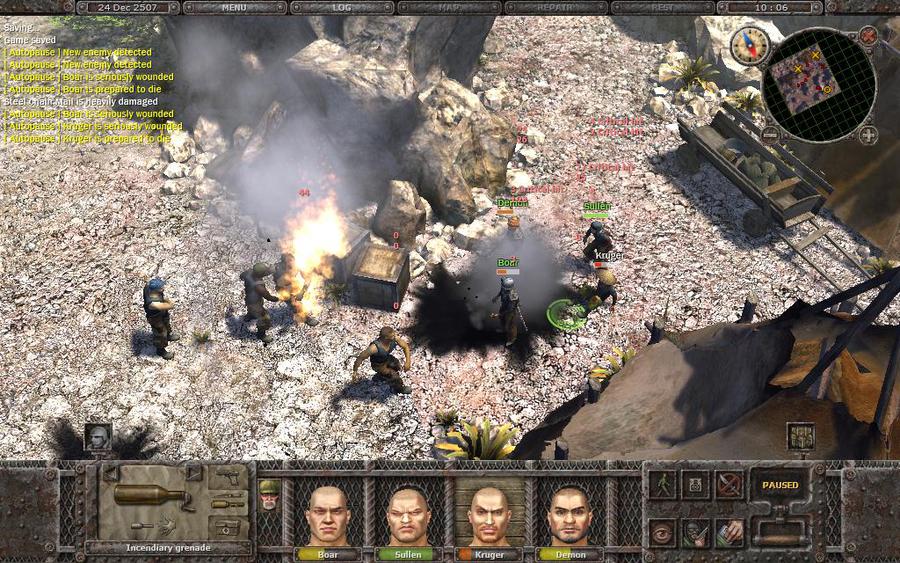 You see they throw an infinite amount of grenades. Grenades tend to knock a character down and cripple their limbs.
Crippled limbs cannot be healed until the
entire area
is swept clean of enemies.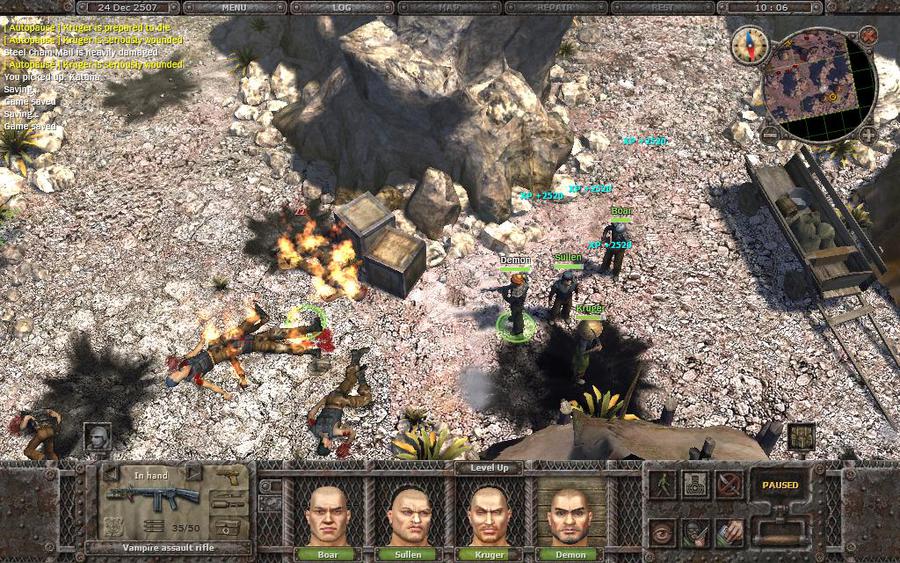 This one part made me reload at least 20 times.
The coast being clear, the Engineer makes a run for the robot control panel.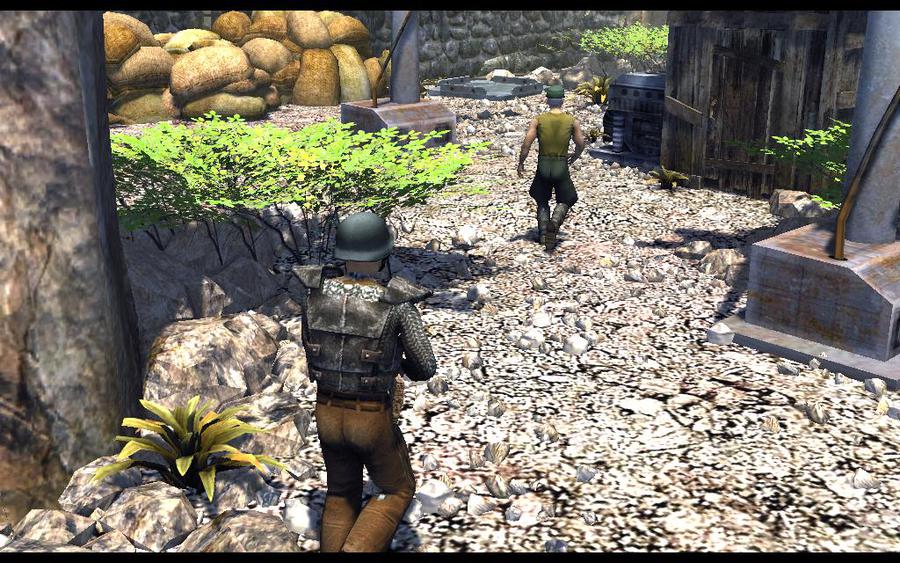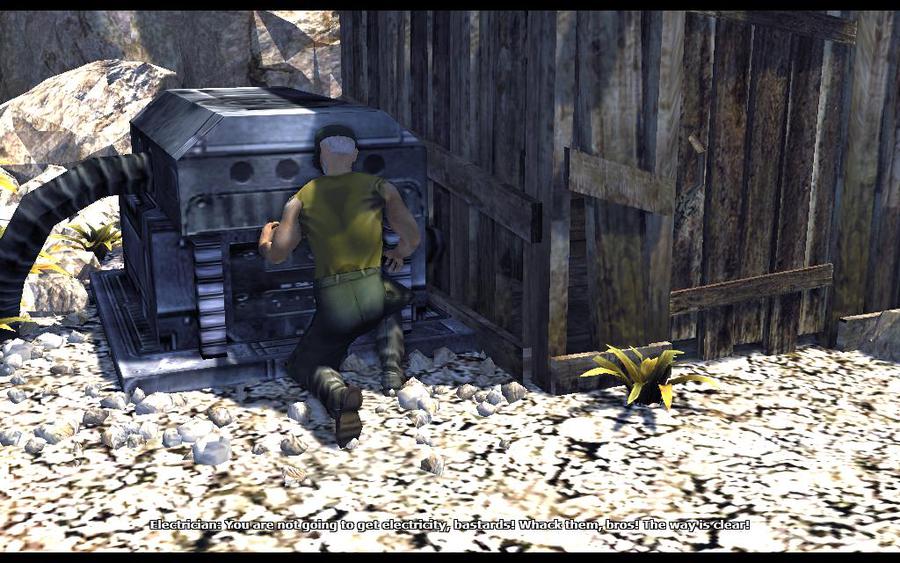 The Engineer sets about shutting down the robot sentries.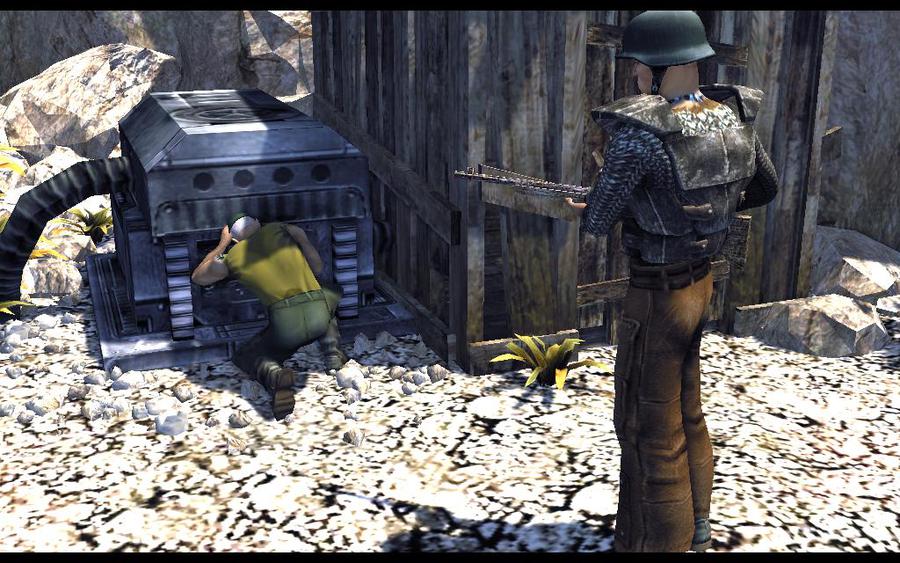 It's a strange method of engineering as he actually tries to climb inside of it.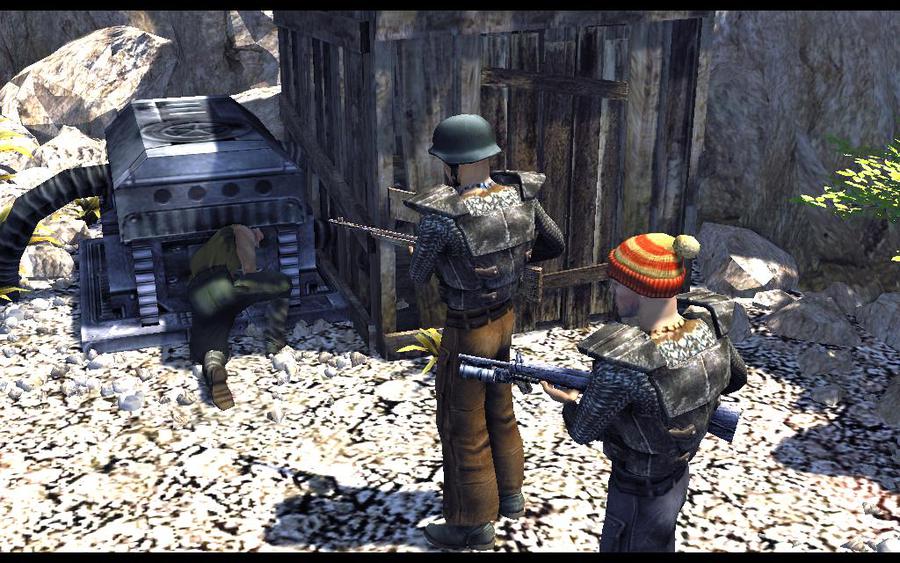 Fortunately, his
homo intrat machina
does the trick and the robots shut down.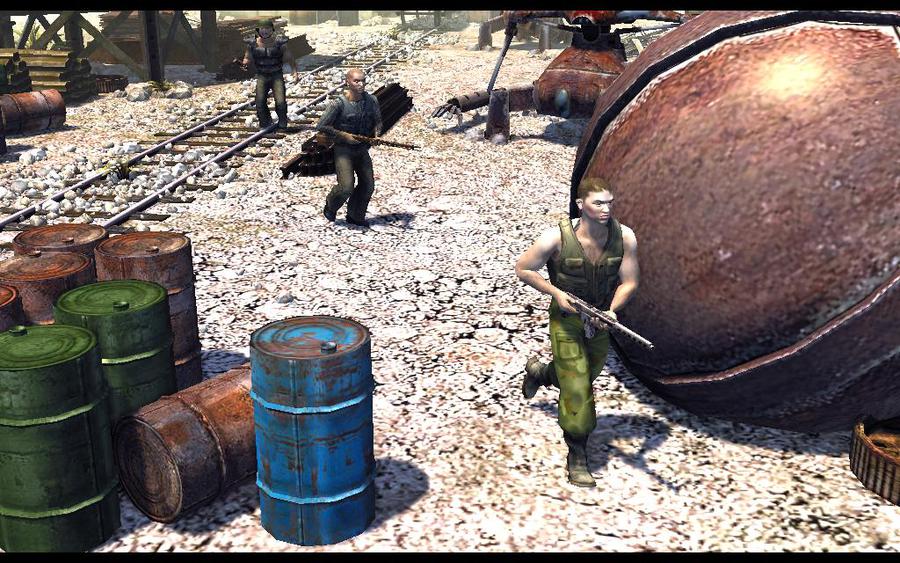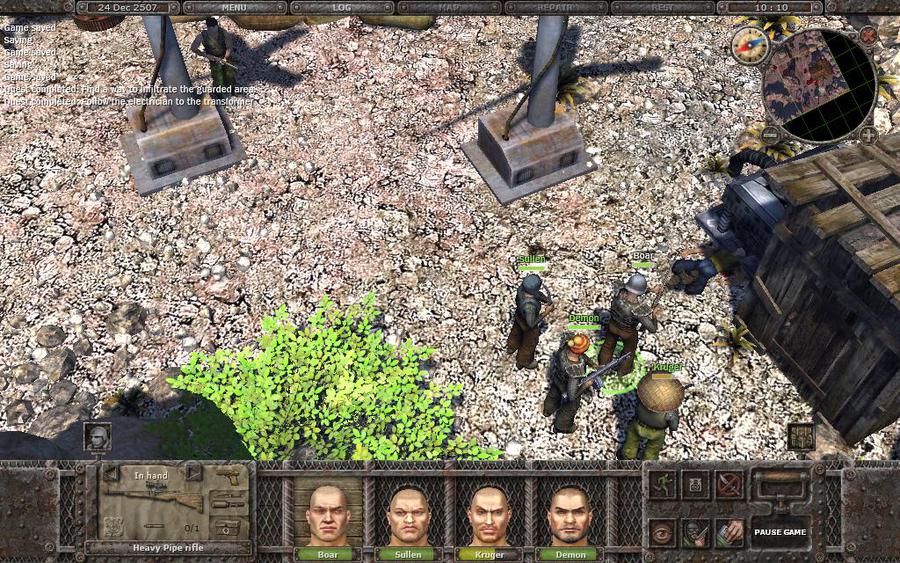 And so does he.
So now Vampire Squad gets to fight what I estimate to be about 30 heavily armed and armored men. Some abandoned mine, Demon.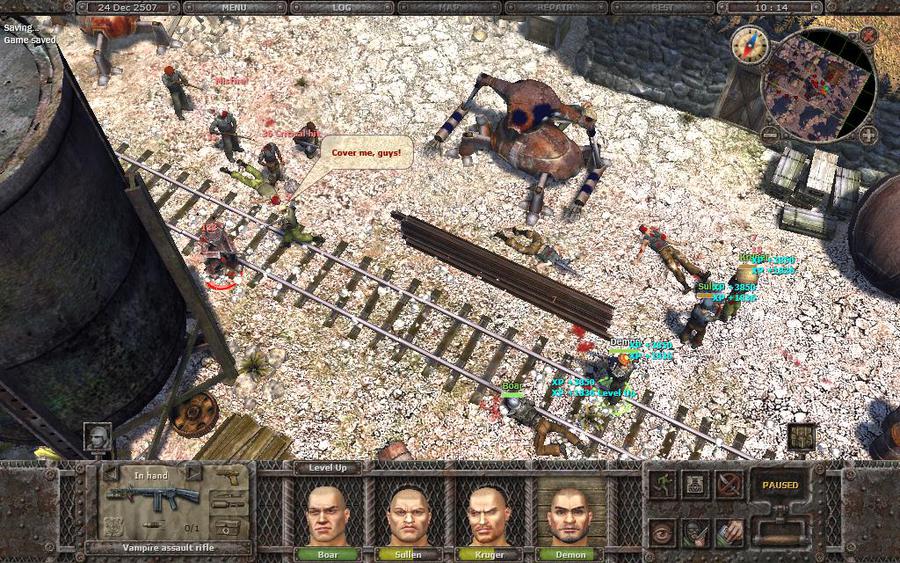 It's a really sucky fight, inching forward so as not to trigger all of the Cannibals at once.
Keep in mind everyone is still all crippled from that grenade battle earlier so they fall down constantly and are unable to use their best weapons and armor.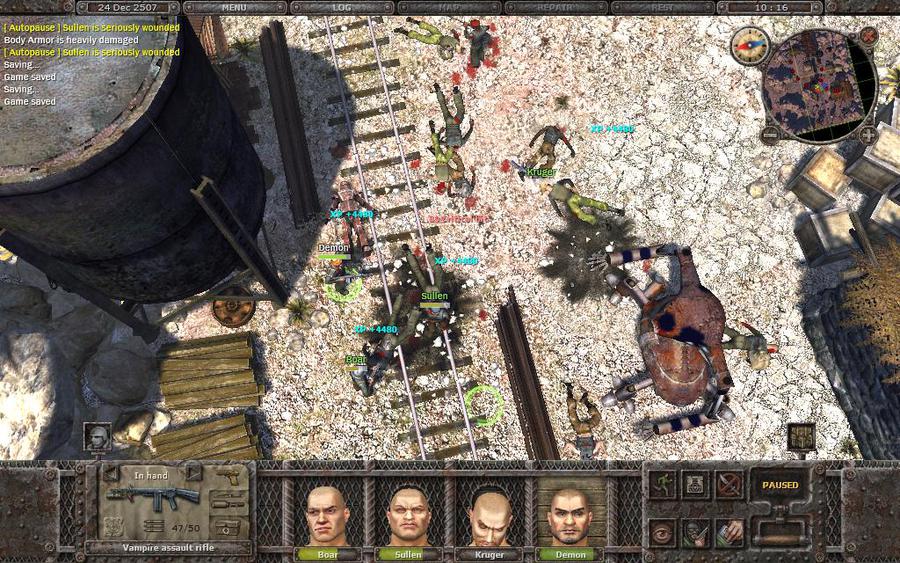 Kruger straight up dies but it isn't a big deal since he spent all his grenades earlier.
On the plus side, Sullen gets some new headgear.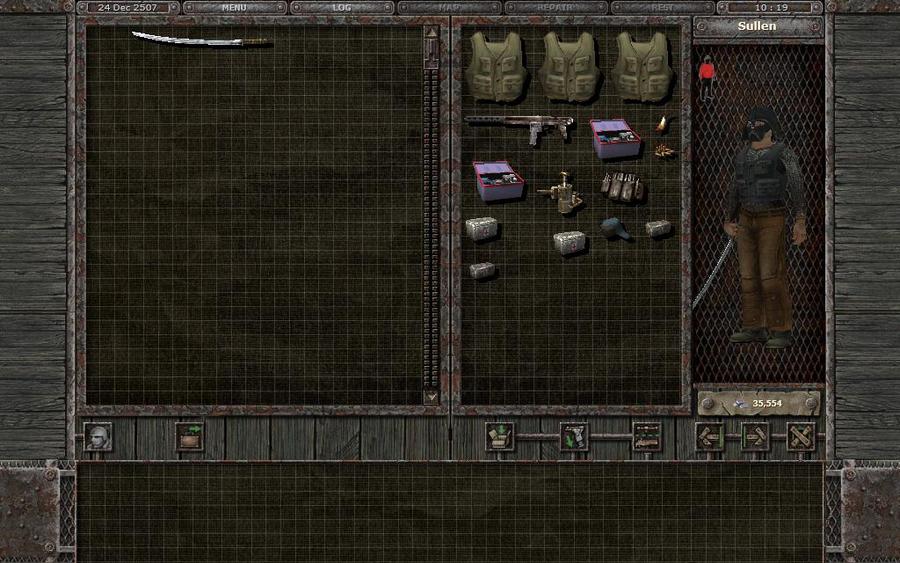 And with the cannibals dead, the only thing left to do is take down the deactivated robot sentries.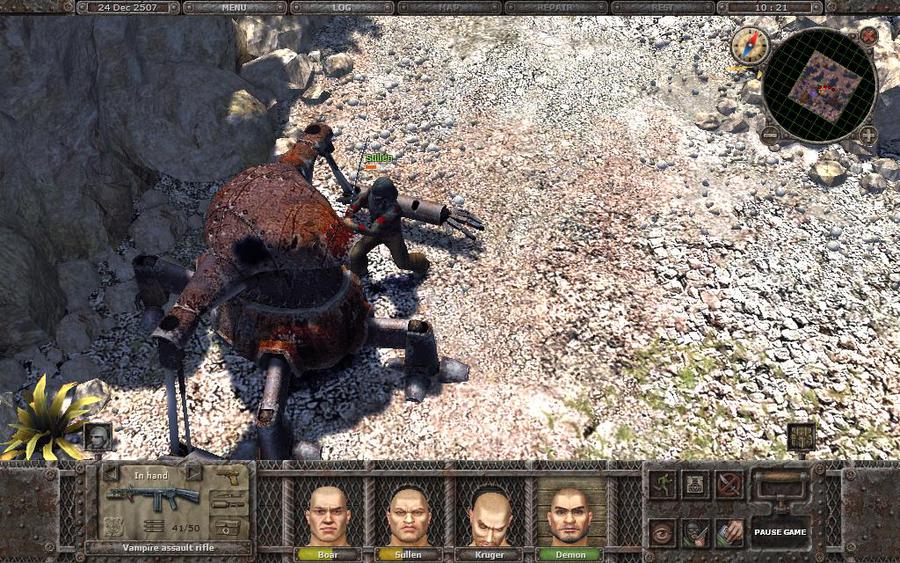 This will work, I swear! They did experiments in Area 51 showing that katanas can slice through titanium.

Demon gets some new goodies as well.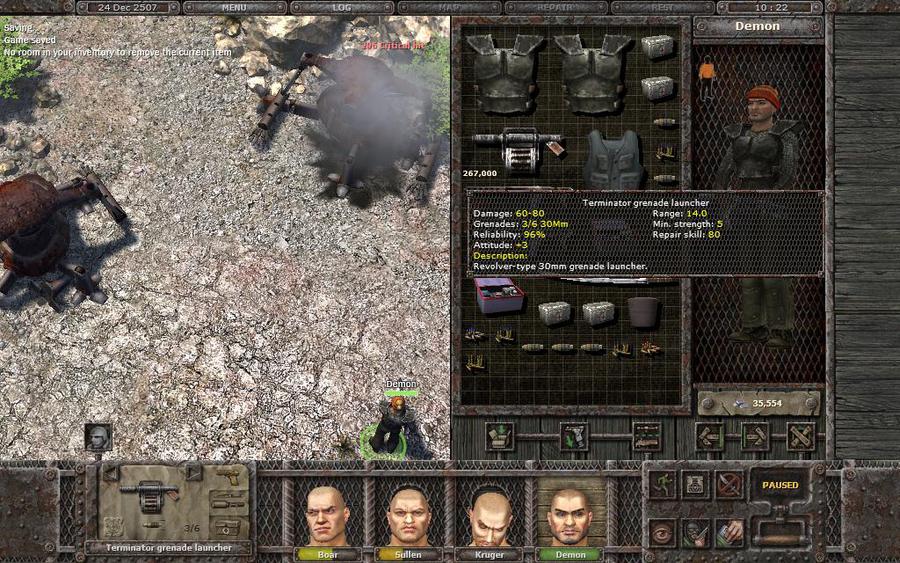 Here's a grenade launcher. It uses the same ammunition as the underbarrel, but has a revolving multi-barreled chamber.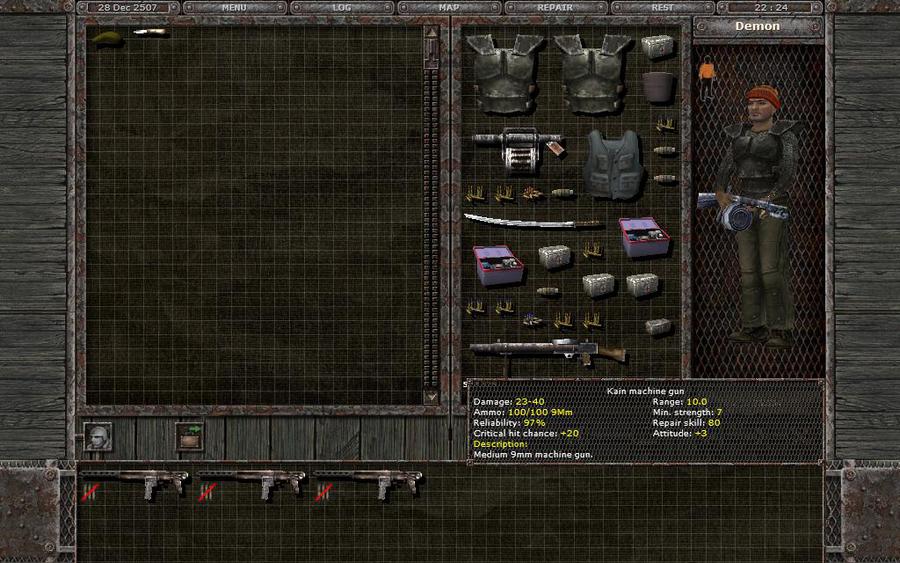 And here's an LMG. Okay maybe it's a HMG.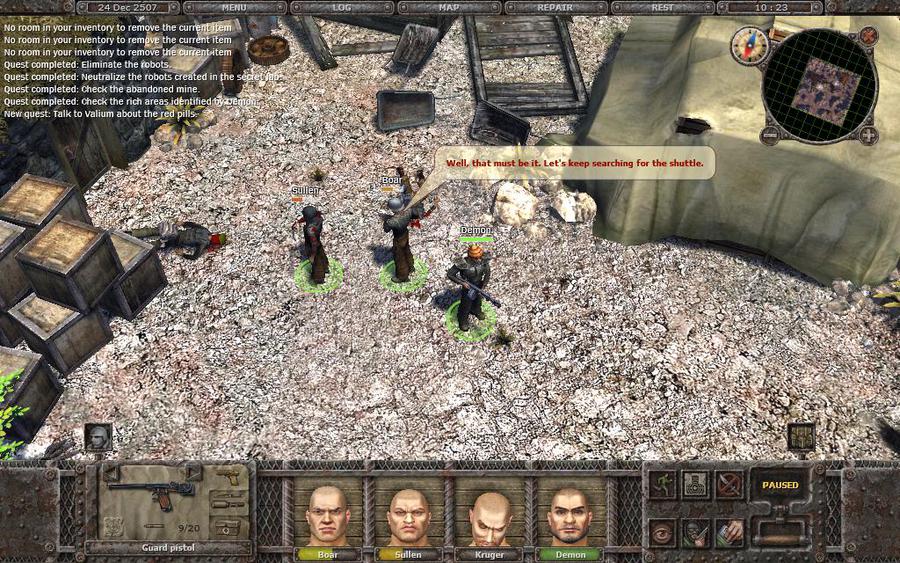 Really, Boar? You think you ought to do that thing you're supposed to be doing?
THE THREE VAMPIRE SQUAD MEN TRAVEL THE DESERT AT NIGHT, SEARCHING FOR STONEGUARD AND USING THE NORTHERN CITY AS A GUIDE
FINALLY THEY ARRIVE AT THEIR DESTINATION
ALCATRAZ -- DEC 25 2507

It's...morning.
Yeah, Christmas day.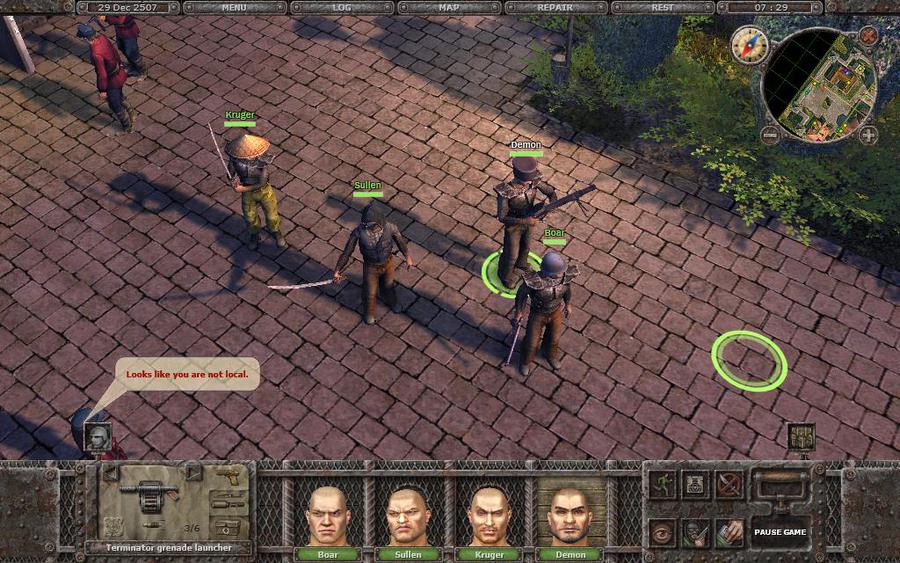 Kruger?? You're alive!

Yeah. I guess I was resurrected.

BROS ITS A MIRACLE KRUGER IS OUR KING OF KINGS PRAISE HIS NAME


You missed it, Kruger. Before we got here I bought a new shotgun.
And I got this mask!

BRO I GOT A GRENADE LAUNCHER AND A MACHINE GUN AND THIS CRAZY ERYKAH BADU HAT

I forgive you, my son.


From now on, let's get gifts every year on December 25th to celebrate how Kruger was doused with a molotov and then came back to life!
Amen.

GOD BLESS THE WORLD BROS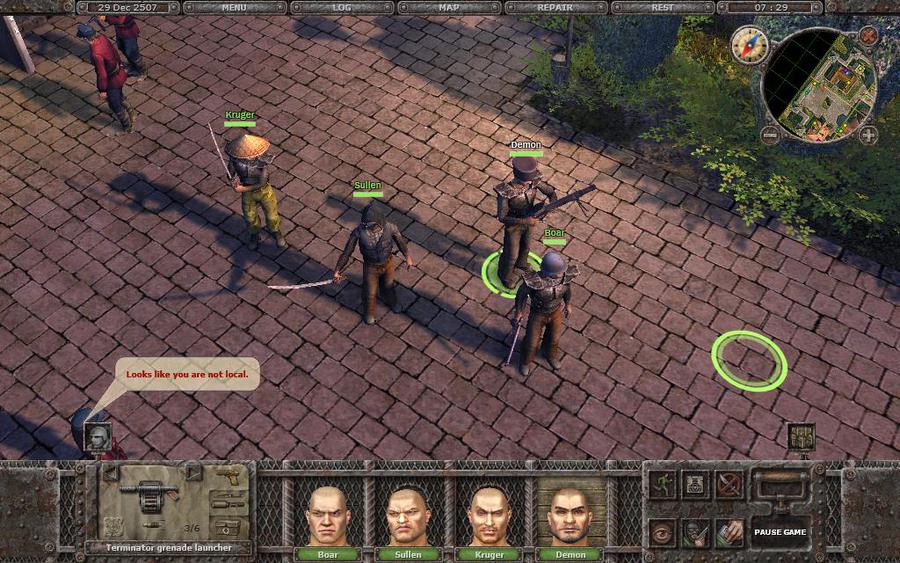 MERRY CHRISTMAS, ALCATRAZ