Part 29: Xenus II: Day Five & Day Six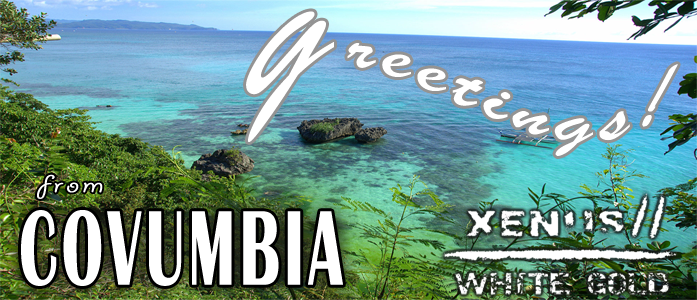 XENUS DAY 5
Collected 3/5 of the relics. The first involved me going to an island where guerrillas were and the commandant recognized Saul as someone who saved his life years agoand hands over the relic. I assume this would have gone slightly differently if the guerrillas were set to shoot on sight.

Second one was held by paramilitaries, who are perma-baddies. They were holed up on a weird abandoned prison island, it was actually a cool little encounter since they had snipers posted and the AI loves to set ambushes.

Third was held by a tribe of Indians. Turns out they're actually a faction kind of? Unlike the ones from before they weren't aggro so I went to the chief and he said he wouldn't give it to me without a sacred necklace proving that I'm the Chosen One. He did say that I could help out by going to find his son, who went out hunting in a cavern with said necklace in his possession and hasn't returned.

This is like the episode of Newhart when the Derryls finally speak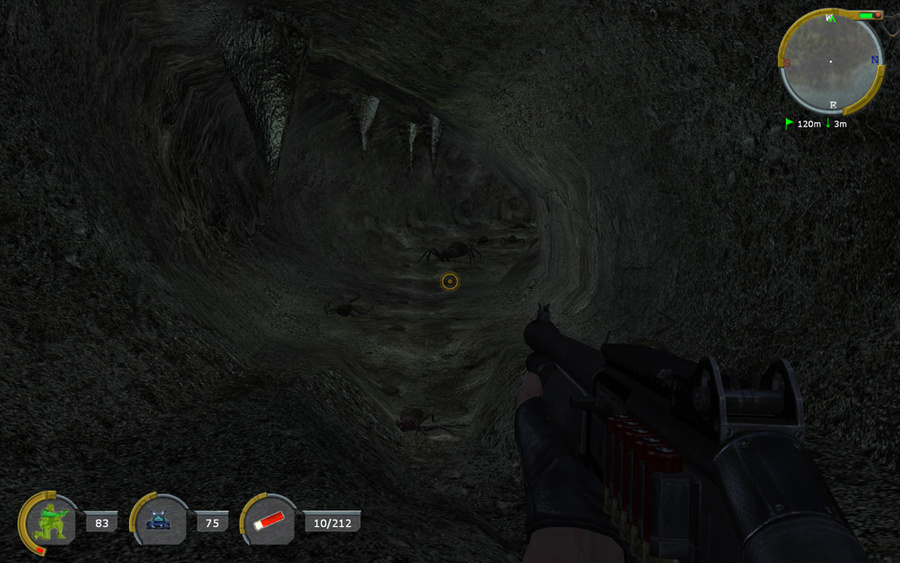 I was excited to finally meet these spiders but that quickly turned to dread. For one thing, they're really unsettling. Their design and animations and sheer number-- they are creepy kind of like... giant spiders... They also like to sneak up on you from behind and hide in crevices. It kind of feels the exact same way venturing into a hive of deadly giant spiders on a jungle island in the middle of nowhere probably would if I ever did it.

"Sheer numbers" there's like fuckin a billion of them in this cave too. I went through over a hundred buckshot shells.

The chief in the village said the spiders are the creation of an evil shaman. Sure fine whatever.

Whenever I killed a spider an indicator would pop up stating that I was losing headway with the spider faction.

I got to the end of the cave and the son was half dead and handed over the necklace before croaking. Who would have guessed that what was going to happen. I got sick of killing spiders and was getting really skeeved out so I just ran up to him not realizing that he had a prepared death speech. The game does not pause in dialogues so while he's talking about failing his tribe giant spiders were spitting poison goo into my eyesockets.

XENUS DAY 6
Got the last 2 relics. One was held by a mafia don and since I killed so many soldiers and bandits I guess they liked me again. Still he wanted me to do a mission for him or pay for the relic so I shot him and took it. You can do that sort of thing for non-"vital" NPCs. I think it comes down to whether or not an NPC gives you information instead of an object that can be looted form their corpse..

Last relic was held by the soldiers on an island villa. Lots of guys, gotta run in and kill all of them just like on the prison island. Of course if the government faction liked me they probably would not have attacked.

All relics in tow, I head back to the sacred relic island where I was first ambushed by the indians and put all the relics into statues and a door opened. When it opened an indian guy yelled AAAAAAAAAAAAAAAAAAAAAAAAAAAAAAAAAAAAA for like a solid 30 seconds. Time to run a gauntlet of Indians and Spiders. I thought this was the Final Battle but it wasn't.

Since my last screenshot of spiders was kind of ehh here's some in broad daylight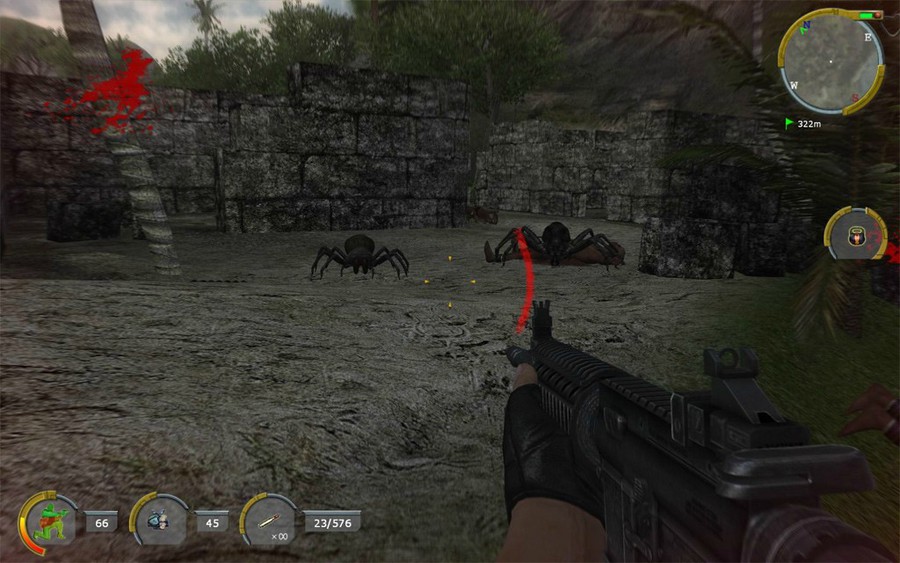 The biggest reason the spiders are creepy is that they move like real spiders (skitter skitter skitter... long eerie pause.... skitter skitter skitter) and they make noises like spidery breathing.

I also heard beastly growling. Got pumped for mutant jaguars but they never appeared.

Like I said the natives are almost naked but take a ton of hits to go down. There are spearmen and blunderbussers. They both hit you like a motherfucker and the gunners like to hide behind corners. You pretty much gotta take it easy and headshot everything. Some of the spearmen have shields.

Eventually you end up inside a temple. At the deepest point I found a prison and in it was a CIA man! He explained (as far as I can tell) that a faction within the Company created the poison cocaine to sow the seeds of crisis and therefore get themselves more funding. I think. He also said this: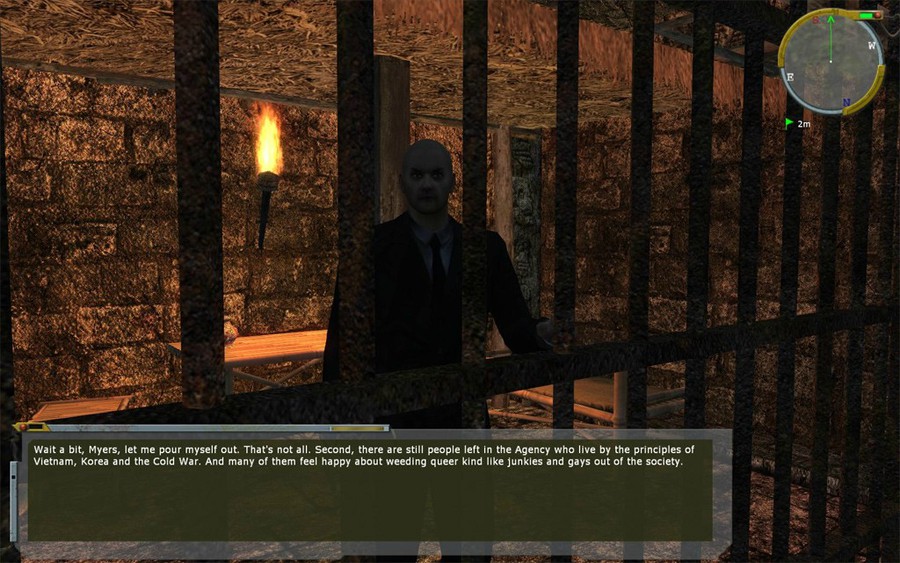 He was captured for human sacrifice by the natives, but it seems the natives have a bigger role in this! He was about to tell me when a helicoptor crashed through the ceiling and dropped teargas everywhere.

So now I'm captured and on a CIA boat. This is a cutscene that actually has english voices and stuff. There aren't many. In it Saul is being interrogated but he uses a pencil to undo his handcuffs(?) then jams it into the interrogator's eye. There is no sound effect for this and the animation is so bad it just kind of slides in like he has a special pencil slot in his eyeball. Outside of the cutscene there's no pencil and he's wearing sunglasses.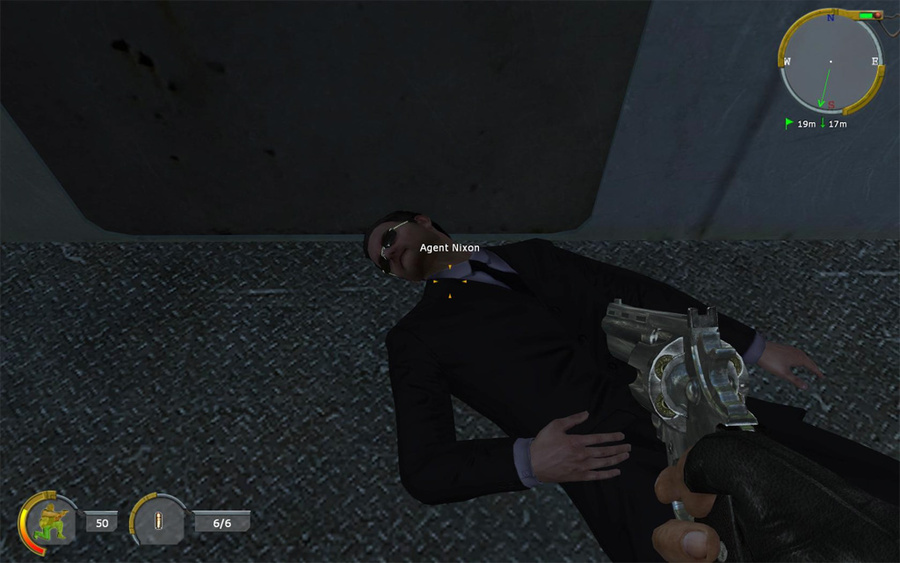 SOCIAL COMMENTARY (from 40 years ago)
Now I have to escape from the ship without my weapons or gear!

Actually your weapons and gear are in a box in the next room over. Good thing, too, because the soldiers here are fuckin eagleeyes with M16s hella armor and AP ammo that eats through you. I went through so much morphine on this boat and ate SO many freakin mangoes and shrimps. There are also a billion of the soldiers and they like to hide around corners or rush you. Time to inch along getting headshots. This is the one part of the game where grenades are useful since space is so cramped, but using grenades makes crates blow up and the game slows down with the physics.

I thought this had to be the final boss area for sure, but nope. After I escaped my radio guys said it's time to go to the super secret main Indian island and clean them out. That's gotta be it. It's shaped on the map like a giant trench.