Part 12: Day 4, Mt. Steel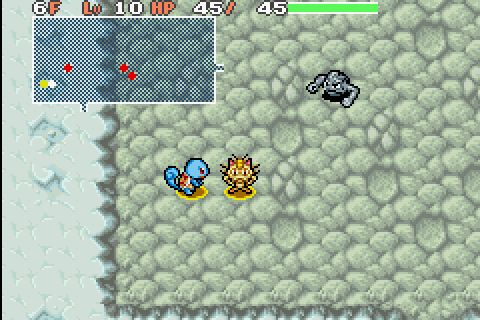 As we got higher on the mountain, we saw snow! I like snow! It was cold, but Sheldon had his scarf and I had my fur, so we were okay.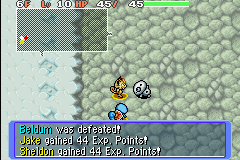 When we were fighting a mean Aron, Sheldon said 'Watch this!' So I watched, and he hit the Aron so hard its skin sparked! It was kind of scary. He said it was the punch he learned from the box. I wonder if there are any boxes for better hugs?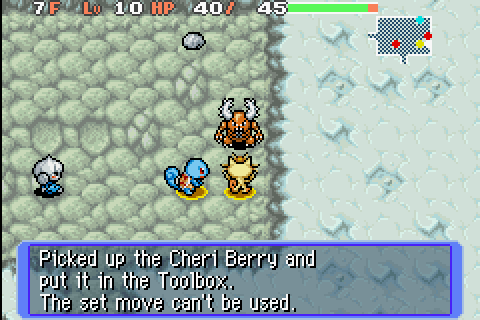 By the time we got to the seventh floor, I was so tired I could hardly move!

Sheldon said not to worry, though. He said he'd take care of the fighting and I could just rest. That was nice of him.

When you can't run back to a pokécenter whenever you run low on PP, they become a lot more critical. Players tempted to go for whatever moves do the most damage will find themselves running out of steam in just a few floors. Weaker moves with more PP will give us a lot more mileage, as we can always make them more powerful by leveling up a few more times. That said, there are some moves that are worth the low PP count. At any rate, the Gulpin in town will let you experiment with your move set relatively painlessly.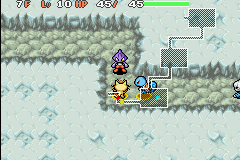 Note that Bubble will go around the corner, as it were; ranged attacks will do that, while melee attacks won't unless they say otherwise.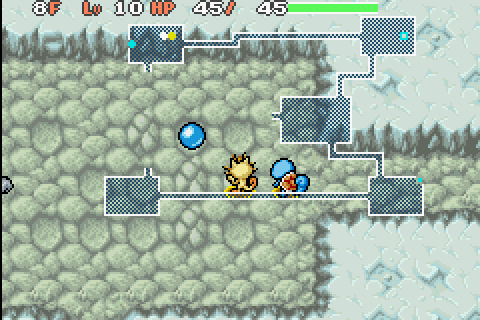 We found another shiny ball! Sheldon said this one is a 'Switcher Orb' and if I throw it at a Pokémon it will make us switch places. I'm not sure what that's good for, but Sheldon said if I don't want it I can sell it in town, so I took it.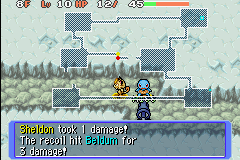 Ouch, Jake's taken a bit of a beating. That's not why I'm showing you this, though. Notice we got no experience for the Beldum. If a Pokémon faints due to indirect damage like recoil or poison, we don't get any experience. Also, if we don't hit it with anything but our basic attack (which is what Jake's down to at this point, unless he wants to Growl a lot), we only get half experience. On the up side, a kill after we've hit with a linked move gives a 50% bonus to experience.
I was really tired by the time we got to the top of the mountain, and I didn't think I could fight any more. Sheldon said we were almost there but that we could turn back if I didn't think I could do it. I didn't want to disappoint that baby Diglett, so I said we should keep going.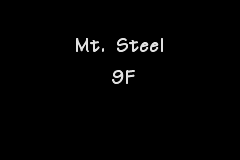 Look, Jake! Diglett's over there!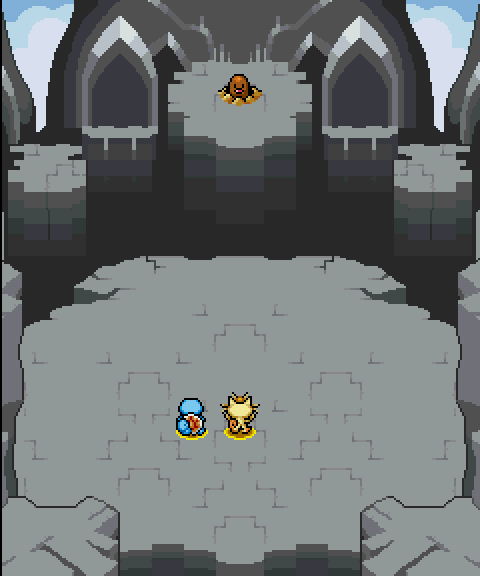 Hey! Are you all right? We're here to rescue you!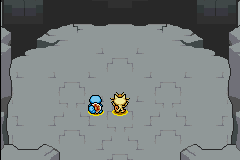 ...I... I'm scared.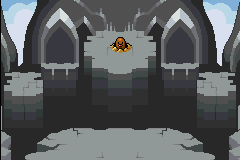 You! What do you think you're doing here?!

We came to rescue Diglett! Hey, Skarmory! Quit doing this, and release Diglett!

How dare you! It's their fault! I haven't slept in days because the earthquakes frighten me so! Every night we had them! Those earthquakes are caused by this brat's ilk running wild underground!

Whoa, that's not true. Sure there've been quakes galore lately... but it would take more than Diglett's family running wild under the ground to set off quakes.

You be quiet! We'll fight if you keep that up!

It's useless. Skarmory is too steamed to talk reasonably. We're going to have to fight!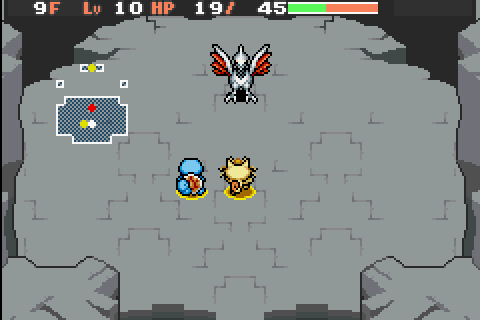 That's right, it's the first boss fight! And lucky us, we're out of PP for everything but Growl, facing a type disadvantage (Skarmory is part Steel, which would protect it from our moves even if we could use them), and low on health besides! From what I've read, this served as a speedbump for more than one player back in the day.

I was really scared of the big mean Pokémon... but Sheldon just smiled at me and said 'you stay back, I'll handle this'. I couldn't let him fight alone...

...and then I remembered the rocks.
BOSS #1: SKARMORY! Click here to watch the fight!

The main thing to note about this fight is that Gravelerocks do 20 points of damage to the target no matter what. Their usefulness will decline as our opponents go up in level, but right now they're an effective ranged attack.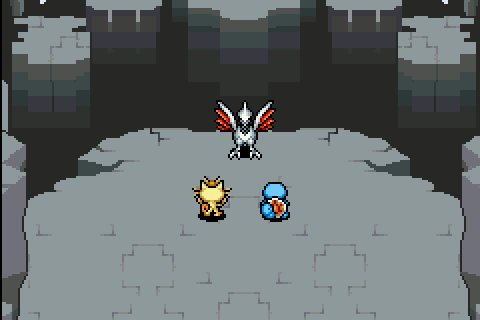 Grr... I can't keep up! I'll flee for now!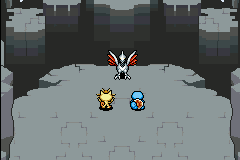 Hey! We sent Skarmory packing!

You're safe now. Come on down!

I can't... I'm too scared to move...

Okay, no sweat. We'll go to you. Just wait.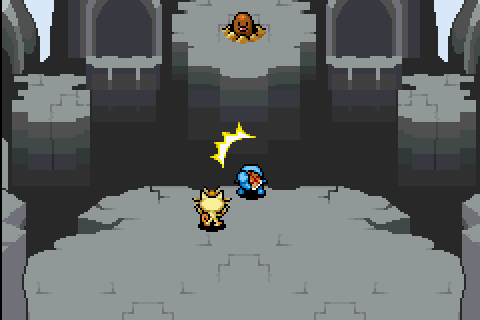 ...Whoa.

Wow. This is some cliff... I can't see the bottom.

Jake, what'll we do? We can't get across this.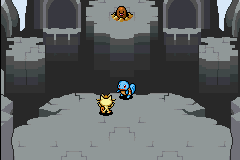 Hey! It's those Magnemite from that rescue!

WE GOT WORD OF THIS. WE CAN RESCUE DIGLETT FROM THE SKY. BZBZBZZ!

HOLD ONTO US TIGHT. BZBZBZZZ!

DON'T BE SCARED. WE WON'T MAKE THE MISTAKE OF ZAPPING YOU. BZBZBZZT!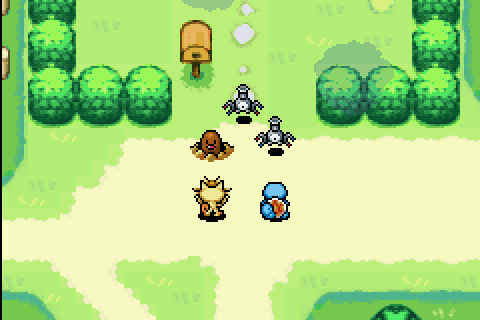 Ohhh... I was very scared. Maybe because I was somewhere up so high... My feet feel like they're still walking on air...

(Feet...?)

(HE HAS THEM? FEET?)

Oh, well, you're safe now. Good thing, huh?

Yes. Thank you very much.

Oh! You've been rescued! Great! Great!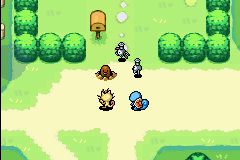 Hah? What was that? Who said that?

...Whoops! You can't see us? That's terribly rude of us!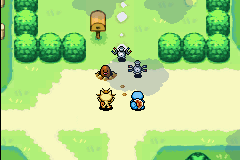 Hello. Dugtrio here.

Oh! Papa!

Diglett! You had us worried! You're not hurt?

Nope! It was scary, but I'm all right. It's all thanks to Jake's team.

Thank you for everything. You're heroes.

If you want to thank anyone, thank our Magnemite friends. We couldn't have done this rescue on our own, right?

Oh, how rude of us! Thank you so much!

NO, NO. IT WAS THE ONLY THING TO DO. AND... HOW BOTH OUR EVOLVED FORMS ARE JOINED TRIOS... I FELT A CERTAIN KINSHIP. AFTER ALL, Pokémon MUST HELP EACH OTHER.

I'm impressed. Sincerely, thank you. We must be going, Jake.

Sheldon.

Thank you. Farewell!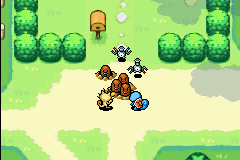 Much as a Pecha Berry cures poison, a Pecha Scarf prevents the wearer from being poisoned in the first place. It's not a bad accessory, but the Defense Scarf will probably serve Sheldon better. As for Ginseng, it permanently boosts the power of our Set Move, whatever it is. Ginseng is kind of rare, so this is a nice bonus.

WE'LL BE ON OUR WAY TOO...

Wait a sec! Hold on!

WHAT IS IT?

Listen, um... how would you like to join us?

JOIN YOUR TEAM?

Yes. We couldn't have done the last job if you weren't around, Magnemite. I thought we would need more help for doing rescues in the future. Hey, Jake. You think so too, right?

Yes! More members needed!

So, come on! How about it!

RESCUE TEAM... THAT SOUNDS FUN! BZZ BZZ BZZ!

...BUT... IF YOU NEED US TO RUSH OVER TO RESCUES... WE NEED SOMEWHERE TO LIVE CLOSE BY. IS THERE ANYWHERE WE CAN LIVE IN THIS AREA?

...Ummm... well...

OH... THERE ISN'T... TOO BAD. SORRY, BUT WE CAN'T JOIN YOU. SEE YOU! BZZ BZZ BZZ!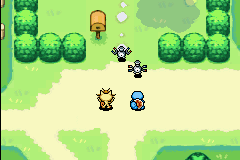 That's too bad.

I guess we need somewhere Pokémon can live if we want them to join the rescue team...

I know! Let's go out to Pokémon Square tomorrow. There's this interesting shop called the Wigglytuff Club. It wasn't open the other day when we went to the square. It might be open tomorrow, though. The shop is next to Felicity Bank. Usually, Wigglytuff is there. We might be able to get some useful information there. All right, so that's what we'll do tomorrow. We'll go down to Pokémon Square.

Dear diary, today was the hardest day ever, but we did good, so that's okay. I hope Sheldon's idea is good too. I want us to have lots and lots of Pokémon in our rescue team, so many it takes all day for me to hug them all! But I'm so tired it's hard to write, so I'm going to sleep now. Good night, diary.
Next time on Pokémon Mystery Dungeon: it wouldn't be a Pokémon game if you couldn't collect Pokémon, would it?