Part 14: Day 5 - Hugs Team Base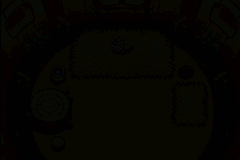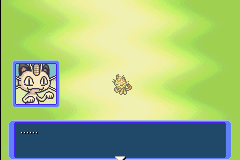 ...Again... It's that dream again.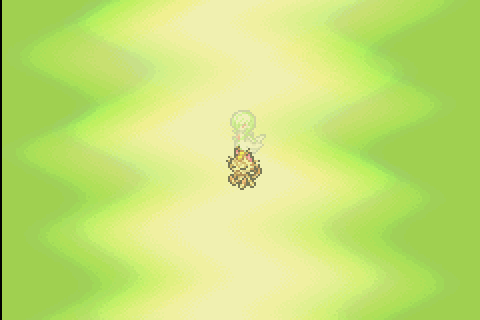 That Pokémon... who could it be...? Huh? I'm hearing better this time... What? Human? My role?
W-wait. Please, tell me more. ...I can't... drifting off...
The next morning...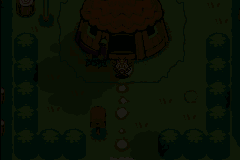 Morning, Jake!

Ahaha! What's with that dazed and confused look? You look half asleep!

...I've been having these really weird dreams...

Hah? What sort of weird dreams?

I'm floating in this green stuff, and I see a Pokémon, but I can't see it very well. It's trying to tell me something about my role, I think, but... I can't hear it.

Hmmm, uh-huh...

I think maybe it has something to do with how I became a Pokémon, but...

Jake, you said you're really a human, right? So I was thinking... Do you want to go back to being a human?

(...It's true... I haven't thought about it much, but... Do I want to become a human again?) ...I'm not sure...

Huh? What's wrong? You can't decide?

Well, I guess so! It's a lot more fun hanging around with me!

Anyway, I promised we'd go to Pokémon Square today. Remember? We're supposed to go ask about how we can add members to our team. Let's roll, already.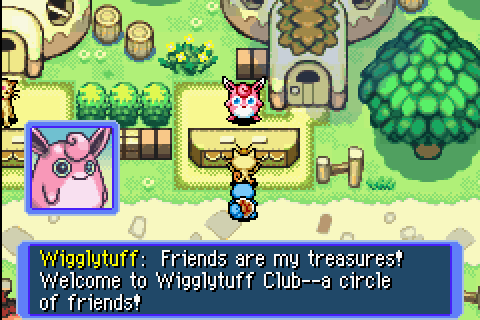 ...Oh? Is this your first visit here? ...Oh, I get it! You started a rescue team too, didn't you? You've come to the right place! I sell Friend Areas to add members to your rescue team. Since you're here for the very first time, I'll give you two Friend Areas for free! Let's do it! Wigglytuff~♪ Wigglytuff~♪ Let's be friends... Taaaaaaah!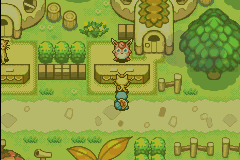 You can go to the
Wild Plains
now. You can also go to the
Mist-Rise Forest
. Now you can recruit Pokémon that live in these two Friend Areas.

Friend areas and recruiting Pokémon are a little complicated, so I'll cover them in more detail in my next update.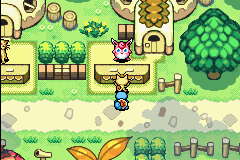 CAN YOU ALSO GIVE MY FRIENDS ACCESS TO THE
POWER PLANT
FRIEND AREA? I ALSO WANT TO JOIN THEIR RESCUE TEAM.

Okay! Gotcha! I'm giving it away today! Wigglytuff~♪ Wigglytuff~♪ Let's be friends... Taaaaaaah!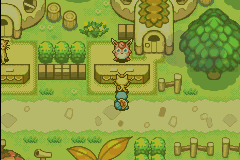 You can go to the
Power Plant
now.

YES! NOW I CAN JOIN THEIR TEAM! YAY! BZBZBZZT!

SORRY. I KNOW MY FRIEND TURNED DOWN YOUR OFFER TO JOIN YOUR TEAM YESTERDAY... BUT AFTER MULLING IT OVER ALL LAST NIGHT MY FRIEND DEVELOPED AN OVERWHELMING DESIRE TO BECOME YOUR TEAM MEMBER. I APOLOGIZE, BUT COULD YOU ALLOW MY FRIEND TO JOIN YOUR RESCUE TEAM?

Oh, wow! Don't forget, we were the ones that asked your friend to join us.

So, yes, that'd be awesome! Glad to have your friend on board!

ALL RIGHT! GOOD ON YOU! BZBZBZZ! DO YOUR BEST, AND TRY NOT TO HINDER YOUR RESCUE TEAMMATES! BZBZBZZT!

YEAH! I'LL DO MY BEST! YAY, BZBZBZZ!
Magnemite became a team member! Give a nickname to Magnemite?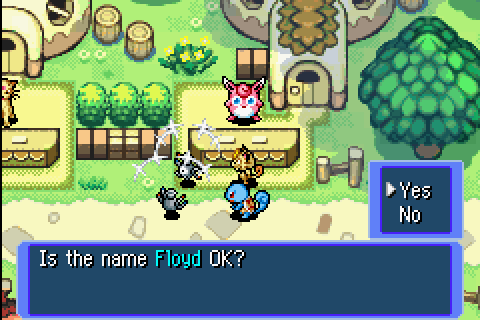 I'LL BE RESTING UP IN THE
POWER PLANT
FRIEND AREA. IF YOU WANT ME ALONG FOR A RESCUE, COME GET ME AT THE
POWER PLANT
. OK! BZBZBZZ!

Hooray! Our team got bigger!

Wait, Jake, don't--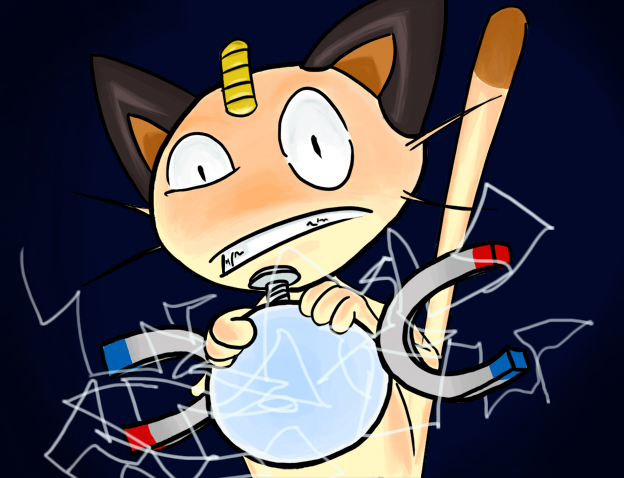 Floyd (Magnemite, #081) is hugged! Pokémon hugged: 5.
(Thanks, Desty (art) and Quicksilver6 (name)!)

...ow.

SORRY.

You really should ask first, Jake.

That's all the giveaways today! If you want more Friend Areas, you'll have to buy them now.

In addition to selling Friend Areas, Wigglytuff offers another useful service: 'Check'. If you've encountered a Pokémon in the field, Wigglytuff can tell you which Friend Area you need to recruit that Pokémon. Not all Friend Areas are available right away, though.

At this point, I was going to reorganize our supplies after that last plot mission, but heading left from Wigglytuff...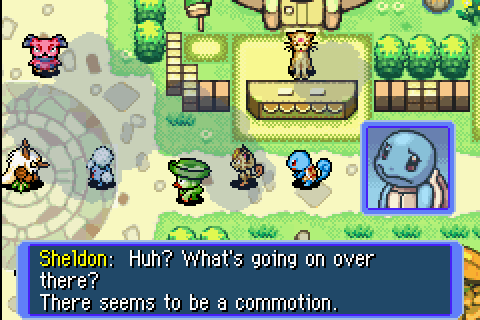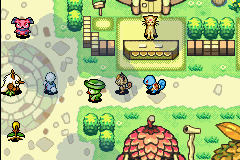 Please help my friend! Please, I need help!

Forget it. We're not about to work for that.

But my friend needs a gust of wind! Please!

Hey, what's up?

Huh? That scene there? Jumpluff's begging for a rescue mission, but not finding any luck. See that guy? There, the one in the middle with the pointy nose. He's a Pokémon named Shiftry. He's got his own rescue team. But his team's greedy. They don't work unless they get paid royally. Jumpluff's been begging for help, but... I feel sorry for that poor Pokémon.

Wait!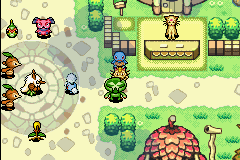 Oh! Wh-what do you want?

Oh! It's Alakazam!

That's Alakazam?!

Hey. Rather coldhearted, aren't you? To save Jumpluff's friend, a strong wind is needed. Your leafy fans can whip up powerful winds. It's an easy matter for you. Help that Pokémon out.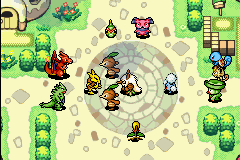 Grr... Tch! Okay, we'll do it.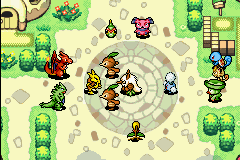 Wow... That Shiftry agreed without any argument...

Hey, who are those guys?

What? You don't know?! It's Alakazam's team! They're the most famous rescue team around these parts.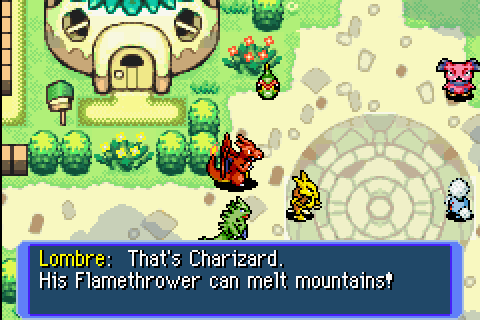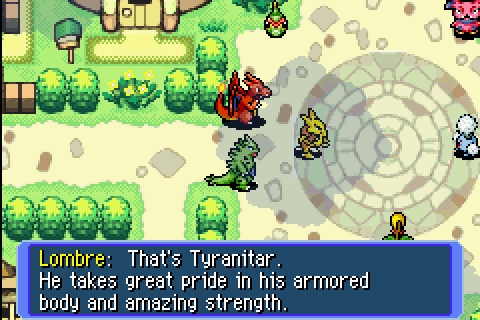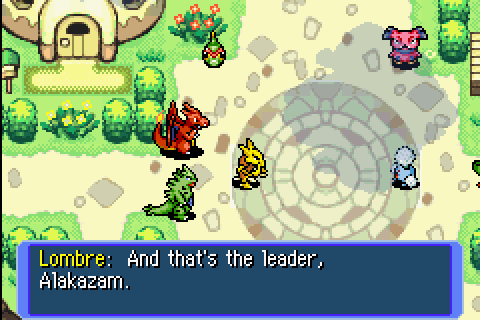 Alakazam doesn't like physical attacks. He fights with his psychic powers. He's endowed with an amazing brain and an IQ of 5,000. Apparently, he's memorized everything that's happened in the world. Alakazam does all the commanding in the team. He's clearly in charge.

Th-thank you.

No need for thanks. It is only natural that you get help. If anyone turns you down again, come see me. Take care.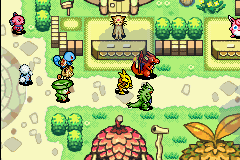 Wah! What's wrong?

What's up?

...It's fine. Nothing. Let's go.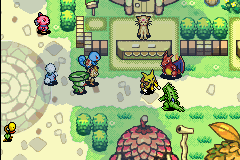 Whew! That was scary! Sheesh!

...C-cool...

Whew, Jake... That's what we've got to become. Let's get more members and make our rescue team first-class!

Not if I can help it! Kekeh!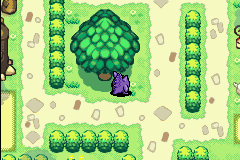 Team Hugs's new member:

Next time on Pokémon Mystery Dungeon: A new business opens its doors!