Part 37: Following a Madman to a Mountain Summit
Short update!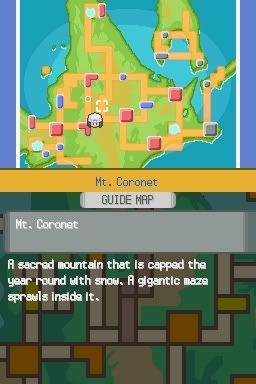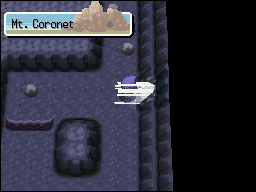 Alright, to the peak!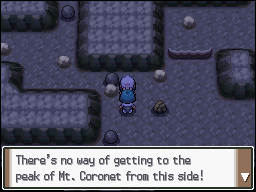 . . .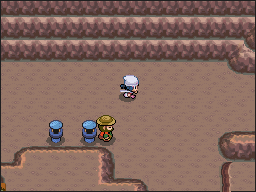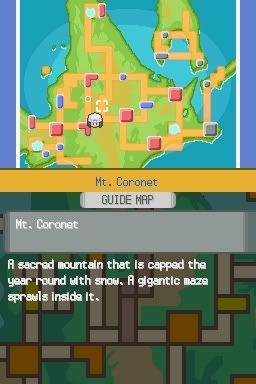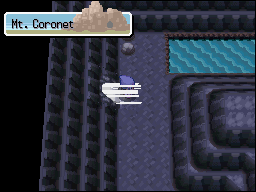 Alright, to the peak!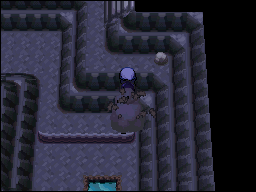 Music:
Mt. Coronet Summit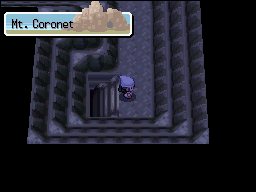 Same old same old magnet cave.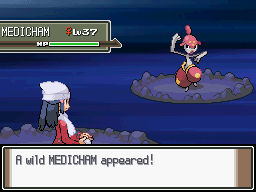 Yoga dancer!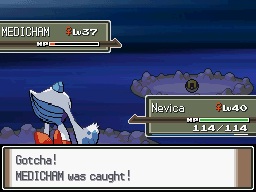 Medicham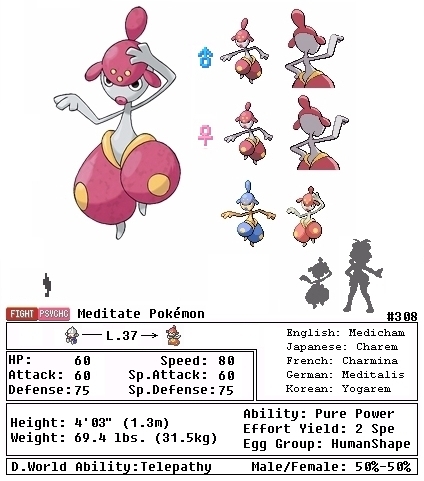 Through crushingly harsh yoga training, it gained the power to foretell its foe's actions. Medicham battles with elegant, dance-like movement. It is said that through meditation, Medicham heightens energy inside its body and sharpens its sixth sense. This Pokémon hides its presence by merging itself with fields and mountains. Medicham is known to meditate for a whole month without eating.
Choro Notes: Medicham is one of my favorite fighting-types, they're really fun to draw since they do such strange poses.
Zorak Notes: MILDLY RACIST
HulkaMatt Notes: Medicham are HARDCORE MOTHER FUCKERS who do parkour and bend shit with their mind. One of those fighting pokemon I never see much but when I do IT ALWAYS SPELLS TROUBLE. HE IS TROUBLE. A TROUBLE KING!!!!!!!!!!!!!!! I personally blame Yoga.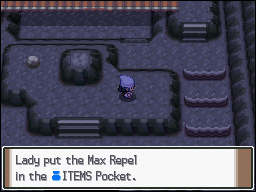 Choro Notes: There's something special about this Max Repel. If you use it now, and continue along at the right pace. (Not sidetracking) It basically leads you to a hidden item. . .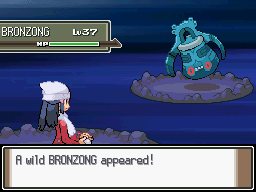 Heh heh.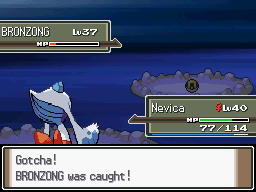 Bronzong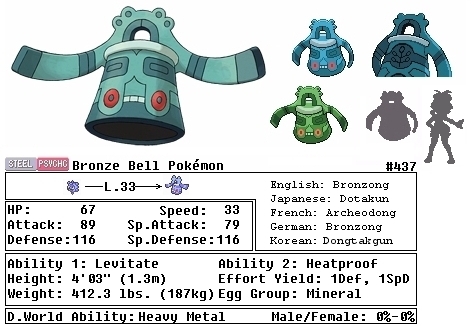 Bronzong brought rains by opening portals to another world. It was revered as a bringer of plentiful harvests. One caused a news sensation when it was dug up at a construction site after a 2000-year sleep.
Choro Notes: The best thing about Bronzong is its french name is Archeodong, roughly "Ancient dong." They've got a sort of stigma of being obnoxious to fight, but a good surf will knock em down a good chunk. I like to think they sound like the Armos from Ocarina of Time.
Zorak Notes: no, FUCK YOU
HulkaMatt Notes: I have only faced a raised Bronzong once. ONCE. This was around the time Diamond & Pearl just came out. He wiped out my entire god damned team. That's right. I lost to a fucking bell. A BELL. Don't underestimate the power of bells. Maybe that's why whenever stuff is going crazy in wrestling the guy with the ring bell rings it 1000 times—he hopes to obtain the power of bronzong. This is my theory :o

Choro Notes:
Has this ever actually been appropriate?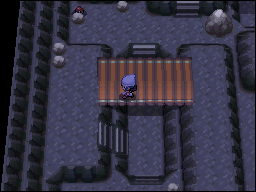 Choro Notes:
This is really kind of it for Coronet.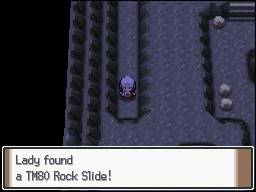 Oh well hot skippy I guess I can more-railgun.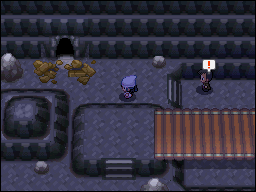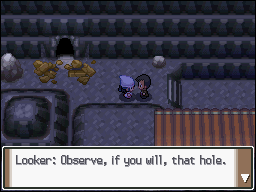 Yup, sure is a gaping orifice in the side of this cavern.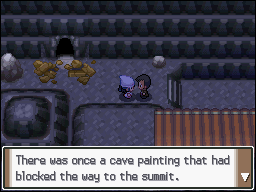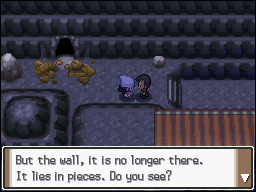 Really? Who would destroy a—Cyrus you anthropological murderer.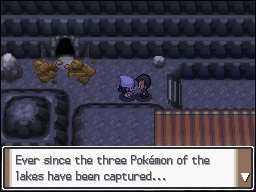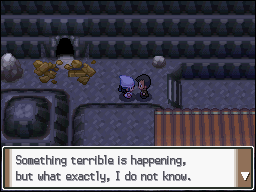 SORRY.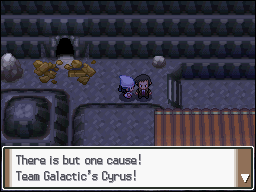 Yeah, I said that.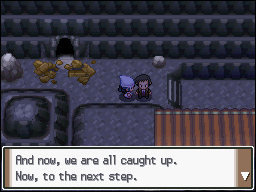 Looker, can we
not
do this today? I've kind of got a lot of stuff on my plate right now and you're not really helping things!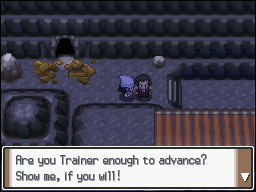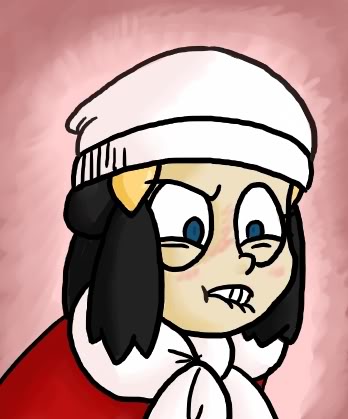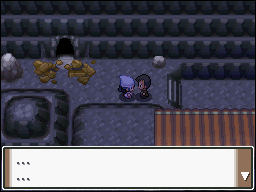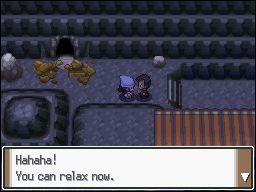 NO MAYBE YOU CAN RELAX NOW.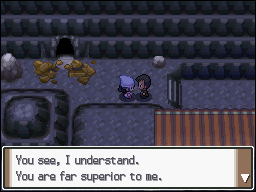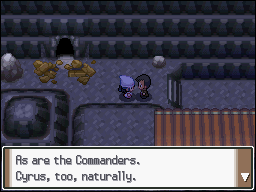 You really are bottom of the hierarchy in Sinnoh aside from having full police power. That doesn't really seem to get you much though, now does it!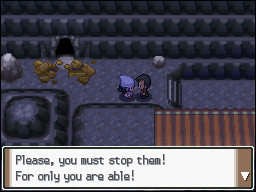 I KNOW. PLEASE STOP HOLDING ME UP.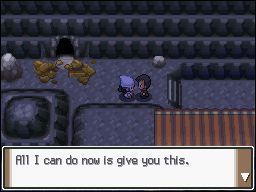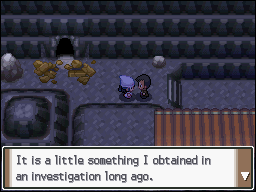 There is no way it is going to be as cool or useful as anything that I'm imagining.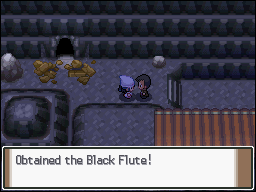 Oh hey! Surprise! I was right.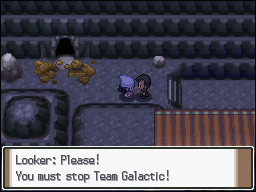 GO HOME.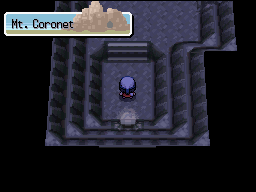 Is it me? Do
I
attract them?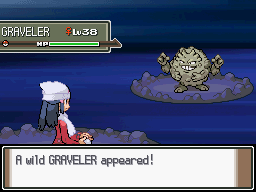 Choro Notes: By the way, this is what the mountain is full of. Golbat are actually fairly rare and Zubat are nonexistent. Chingling, Graveler and the occasional Medicham, Golbat and Bronzong are all you really encounter here.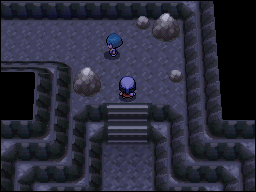 Oh boy more of what I wanted.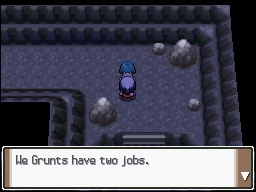 Suck and blow. HEY! I'll be here all night.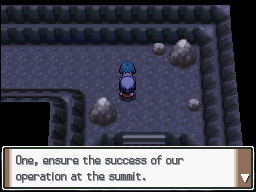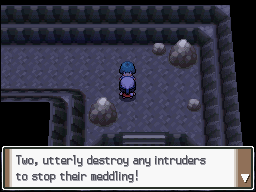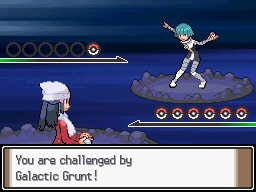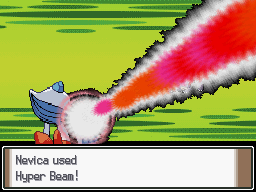 Get out of my way.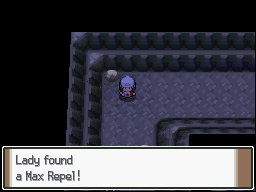 Choro Notes:
This is where the max repel from earlier runs out at. Yes, this is actually a thing. If you use this one here guess what's there when it runs out. That's right:
THEY PUT A CHAIN OF MAX REPELS UP THE MOUNTAIN.
God bless you Game Freak.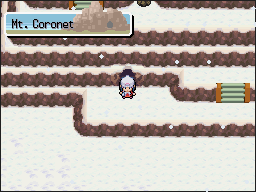 No altitude sickness signs or anything? Nothing I should know about reaching the summit? Not even a TRAINER TIPS? Fine whatever.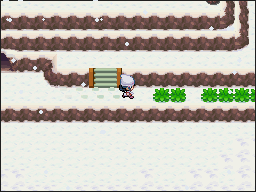 Guess I'll just jog up this sheer rock wall while breathing heavily.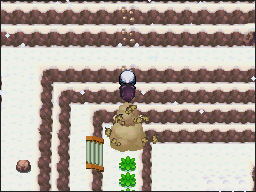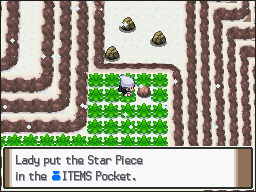 Awful lot of meteorites up here!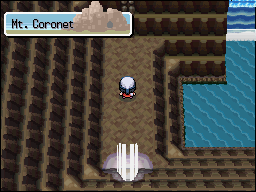 Back in a cave.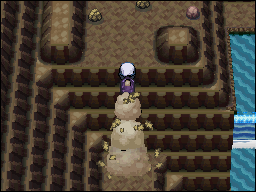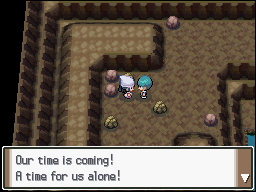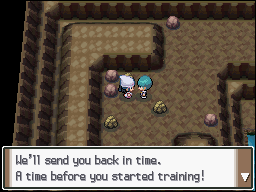 It's only been a couple of months, I mean ideally there'd also be two of me ruining your plans. Wouldn't there?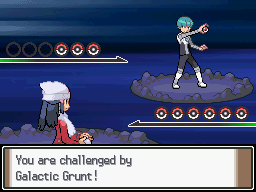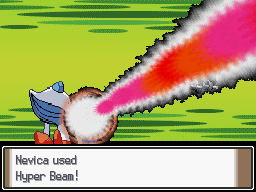 Aww, see then that happened.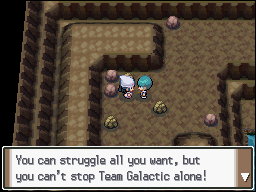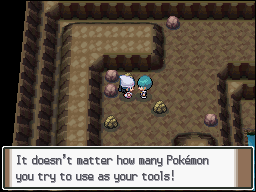 You might be the dumbest grunt so far.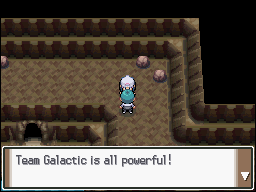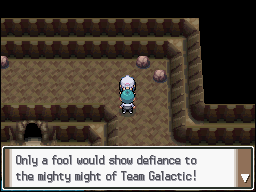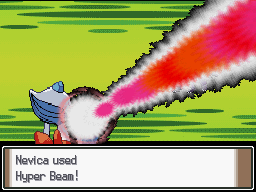 :I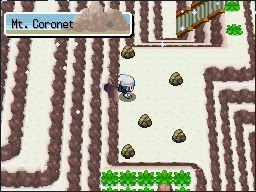 Aaaand we're back outside. Great.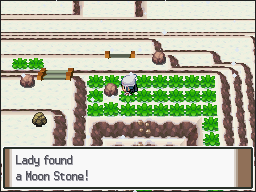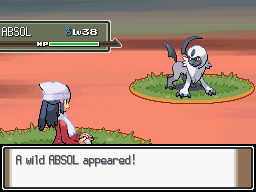 Oh man. Isn't it supposed to mean something when these show up? Good luck or something?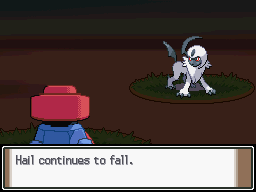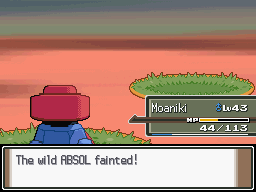 Oh.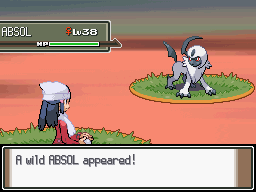 Oh another one! I must be really lucky!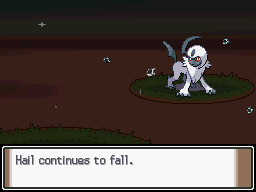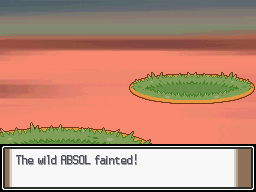 . . . . oh.
Choro Notes:
These things are just sort of eating every ball I throw at them. They're retardedly obnoxious to capture.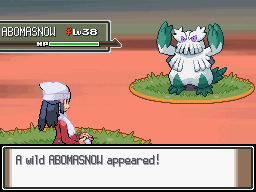 WOOD APE.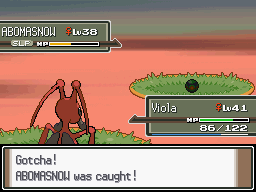 Abomasnow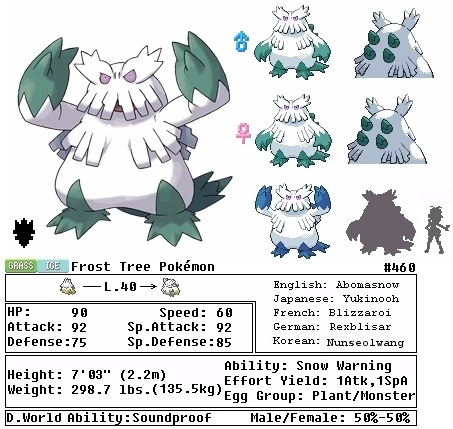 Abomasnow whips up blizzards in snow-capped mountains. These blizzards blanket large areas in snow. They appear when snow flowers bloom. When the petals fall, they return to places unknown again. It is the abominable snowman.
Choro Notes: Abomasnow is an anagram of "Obama Owns." Kinda makes you think, huh.
Zorak Notes: wanna cut off its scalp and make a relic of it. Merry Christmas y'all.
HulkaMatt Notes: Abomasnow, carry right the fuck on my tree monster friend. Carry right the fuck on. Everyone was all "you can't be a tree and a monster" but you wanted to be a tree and a monster and that's exactly what you are and I salute you Abomasnow, My tree monster friend.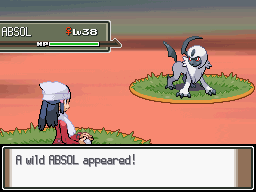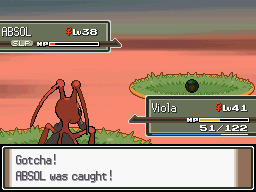 FINALLY.
Absol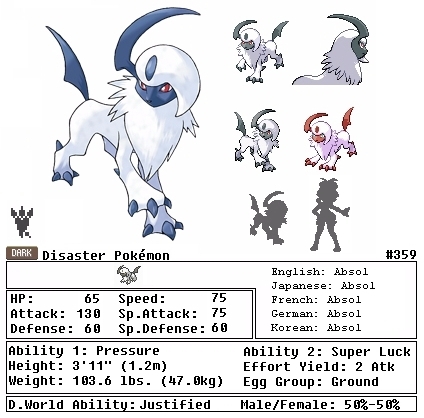 Absol has the ability to foretell the coming of natural disasters. It sharply senses even subtle changes in the sky and the land to predict natural catastrophes. It lives in a harsh, rugged mountain environment. This Pokémon very rarely ventures down from the mountains. In the rare times Absol appears before people, it is followed by a disaster such as an earthquake or a tidal wave. As a result, it came to be mistakenly known as the disaster Pokémon. It is a long-lived Pokémon that has a life-span of over 100 years. In the Sinnoh region, it was rumored to sense danger with its horn and as a result, fled deep into the mountains to avoid being hunted.
Choro Notes: Absol: an example of the "We attached a bunch of knives to an animal" school of design. They're kind of glass cannons but can do some brutal shit if your opponent lets you set up like some kind of moron.
Zorak Notes: Few pokemon attract as many creepy fans as Absol. Way to go Absol, WAY TO GO.

Boy, I saw a lot of those Absol. . .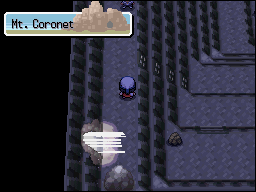 Andddd back in a cave.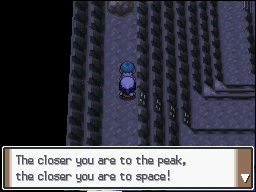 I really want to tear apart your logic but I don't even know.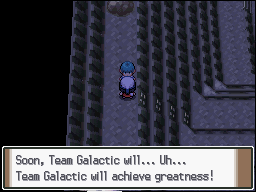 Sweet what, why are you all so bad at this.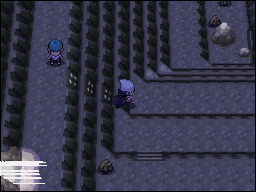 God, you're all silly.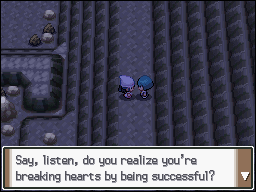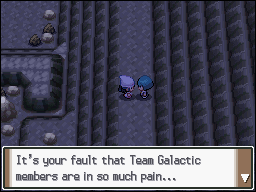 Choro Notes: And then this happened after I KOd a Bronzor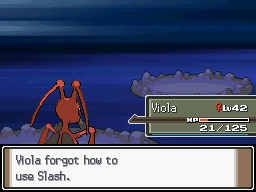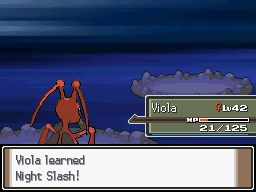 Hey yeah this could be good, I can't see a real flaw with it.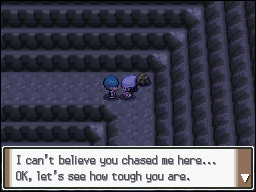 POKEMON BATTLE.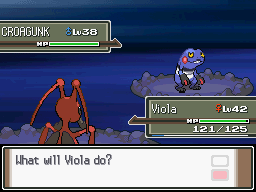 . . .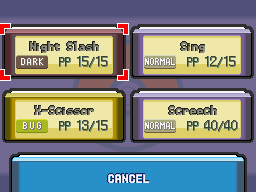 . . . oh.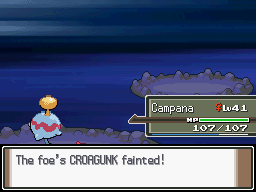 Ho Hum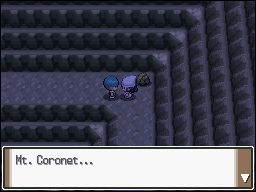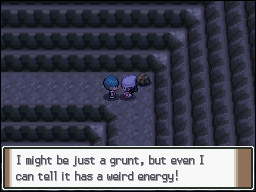 Magnetism. It's called magnetism.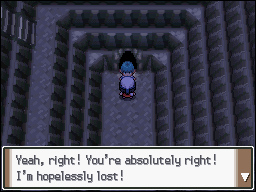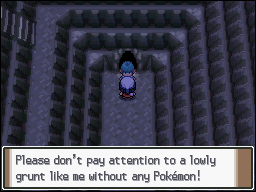 What? OH. WHAT? IT'S A DEAD END?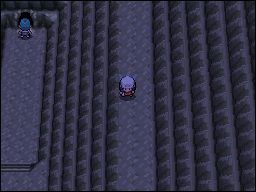 WHY ARE YOU LOSERS EVEN IN HERE? I'D HAVE BEEN LOST OTHERWISE.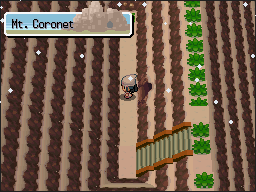 WASTE OF MY TIME.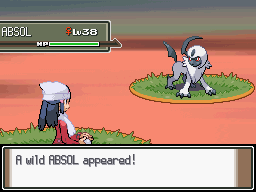 GO AWAY.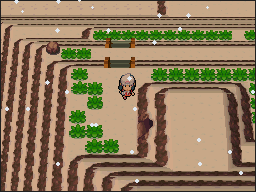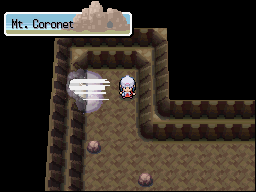 Hate this place.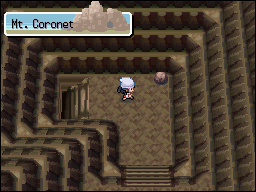 Hate this stupid rock.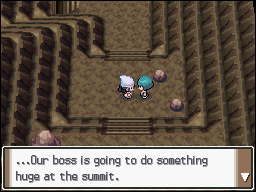 Hate this moron.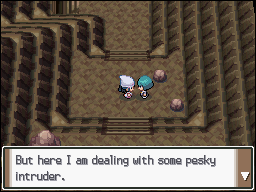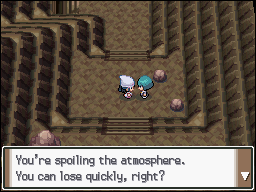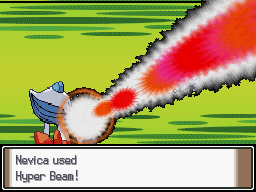 NO.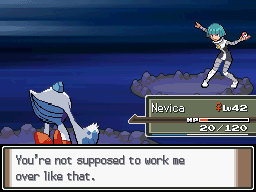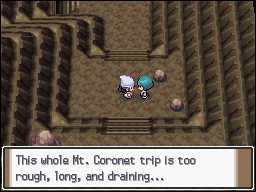 Choro Notes:
SCREENCAP OF THE UPDATE.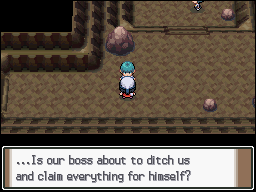 Here he is, the smartest grunt in the world.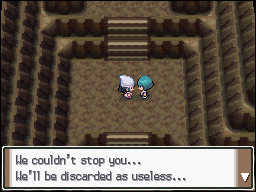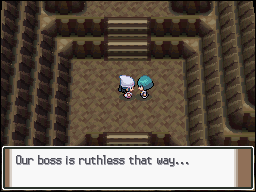 You guys don't even get paid, do you?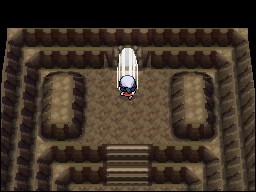 FINALLY.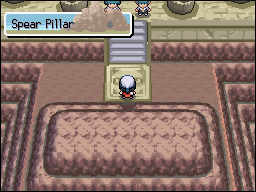 Music:
Spear Pillar
I fucking hate cave dungeons.
Next update in a lil' bit. S'a big one!