Part 47: Home Away from the Place my Mother Lives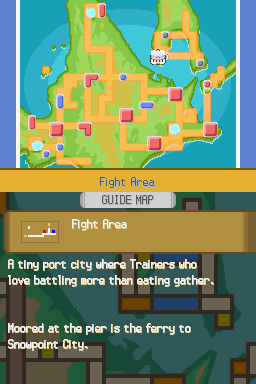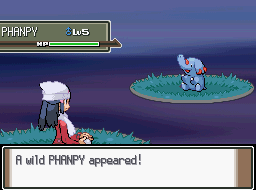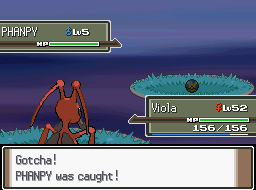 You're today's swarm, Phanpy!
Phanpy
Phanpy's big ears serve as broad fans. When it becomes hot, it flaps the ears busily to cool down. Even the young are very strong. Phanpy uses its long nose to shower itself. When others gather around, they thoroughly douse each other with water. These Pokémon can be seen drying their soaking-wet bodies at the edge of water. For its nest, Phanpy digs a vertical pit in the ground at the edge of a river. It marks the area around its nest with its trunk to let the others know that the area has been claimed. It swings its long snout around playfully, but because it is so strong, that can be dangerous. It can easily pick up and carry an adult human on its back. As a sign of affection, it bumps with its snout. However, it is so strong, it may send you flying.
Choro Notes: Weird thing: in Crystal, Phanpy could get Water Gun through breeding. But it never gets it in Gen3-5! I still maintain that they are somehow simultaneously cute and ugly.
Zorak Notes: Most people forget about Phanpy; I know I do. Him and Donphan are pretty neat elephants though. Cute lil elephant thing


HulkaMatt Notes: PHANPY IS A BABY ELEPHANT. A BLUE BABY ELEPHANT. What's not to like? They roll at like 800mph or something like that which makes them even cooler. WHEN THEY EVOLVE THEY ROLL EXTREMELY FAST AND GET BODY ARMOR HOLY SHIT.


tyrsHTML named this
--Back to wherever!--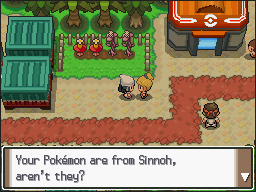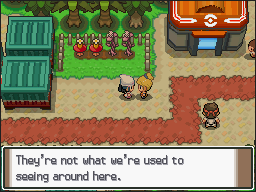 You all aren't THAT far from Sinnoh. C'mon now.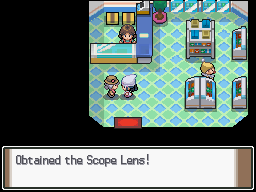 Choro Notes:
The Scope Lens increases the crit. rate of the holder. This could be of particular use on Lyudmila. . .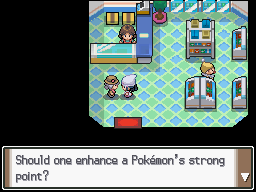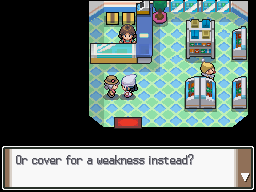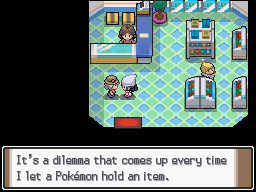 "The best armor is to keep out of range" is my motto.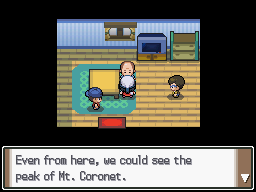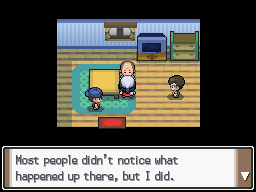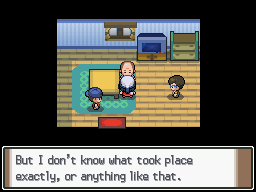 It's FAR too stupid for me to explain. There were faeries and a ghost dragon and a lady with Toxicroak hair.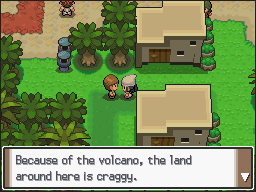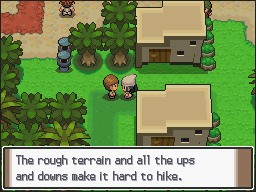 A lot is explained here.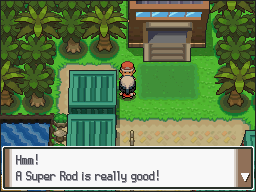 I would argue that it is super!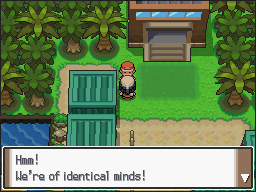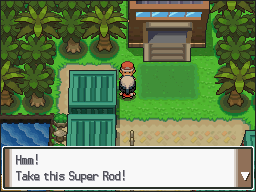 Hmm!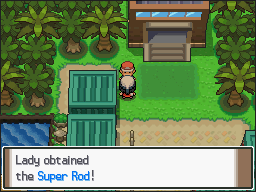 Choro Notes:
The Super Rod is only obtainable post national dex, why? It can reel in monsters not native to Sinnoh. Whenever Lady revisits a past route I'll pull something in!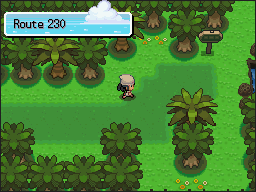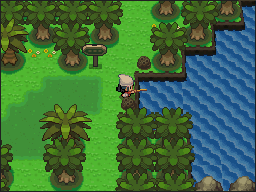 First thing to do really is just test this rod out!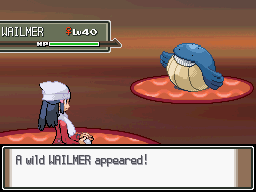 Music:
Hoenn Wild Pokémon - Anime arrangement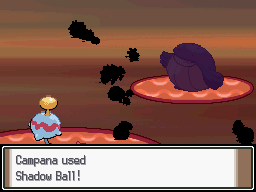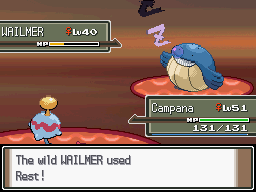 That's not annoying, no.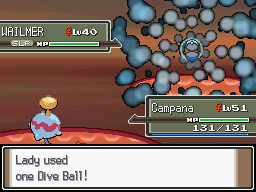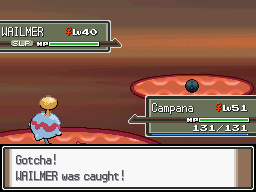 Wailmer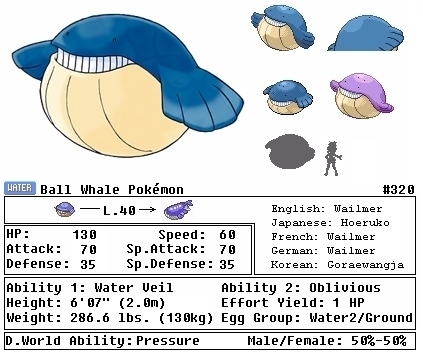 Wailmer's nostrils are located above its eyes. This playful Pokémon loves to startle people by forcefully snorting out seawater it stores inside its body out of its nostrils. Wailmer can store water inside its body to transform itself into a ball for bouncing on the ground. By filling itself up with more water, this Pokémon can elevate the height of its bounces. On sunny days, it lands on beaches to bounce like a ball and play. It spouts water from its nose. While this Pokémon usually lives in the sea, it can survive on land, although not too long. It loses vitality if its body becomes dried out.
Choro Notes: Wailmer are deceptively huge! They've got a ton of HP but that's really about it!
Zorak Notes: He is so goddamn happy to see you always. Never going to hear of an unhappy Wailmer. You could harpoon this guy's mother and he wouldn't lose his grin.... as a small, saline tear rolls down his blubberous skin...
HulkaMatt Notes: WAILMERS ARE FUCKIN...................round.


Zorak named this.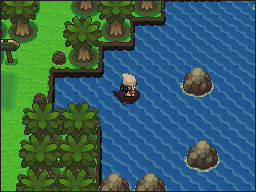 Who knows what horrific monsters live in this totally not-Sinnoh region!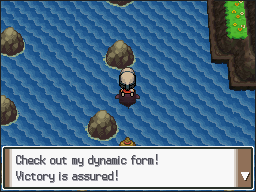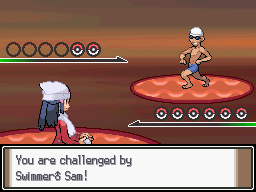 MY EYES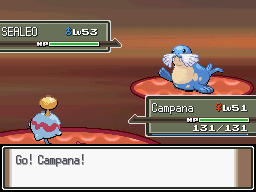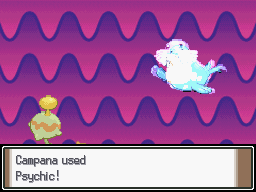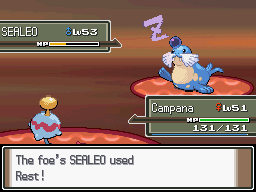 Ok I kind of hate this place now.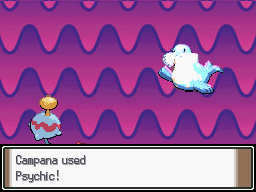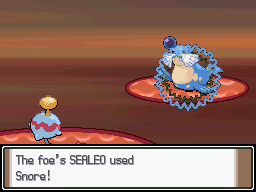 Choro Notes:
Snore is a special attack that only works when the user is asleep. Kind of annoying!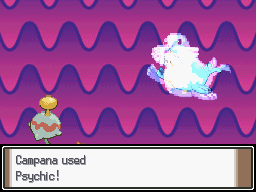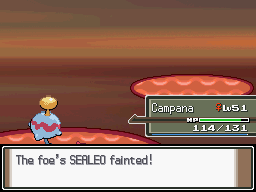 Campana getting to KO things makes me happy!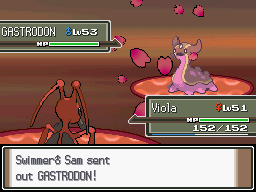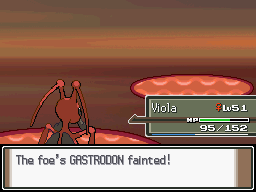 :I Rose petals? Really?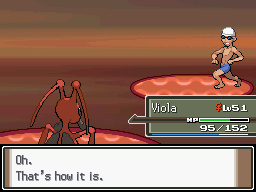 I'm twelve. :I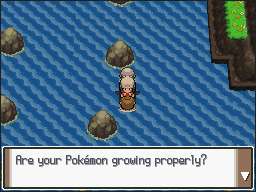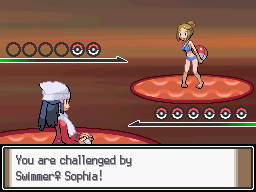 Sister I dunno if I like the cut of your chitchat there.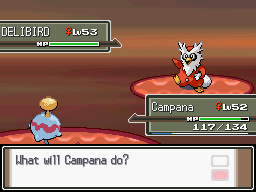 Oh! It's all santa-y!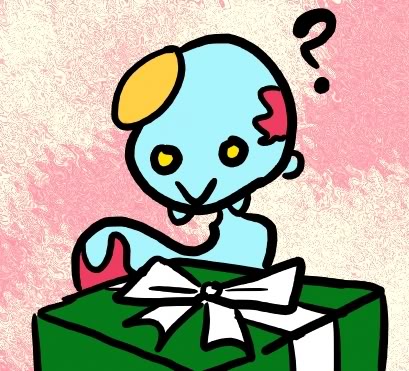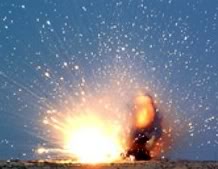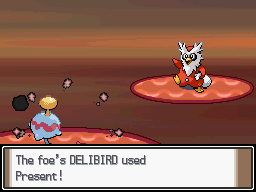 WHAT KIND OF BIRD PACKS EXPLOSIVES IN PRETTY BOXES?!
A Mine-a Bird!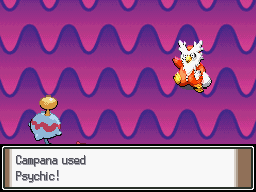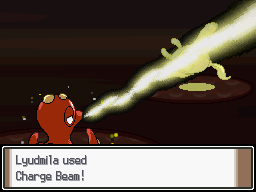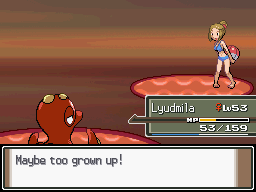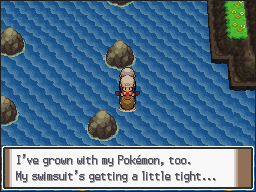 Your ass is fat and your Pokémon are jerks.
. . . actually, I take that back about Mantine. She was a standup gal.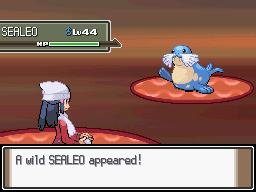 Oh! I can catch one of you!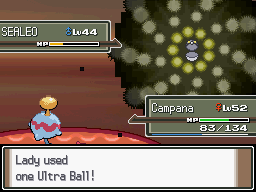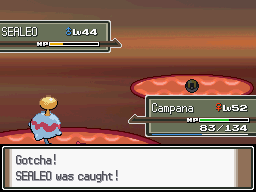 Sealeo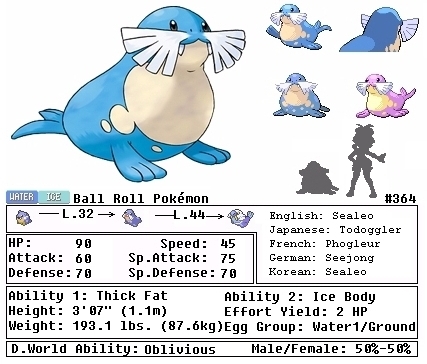 Sealeo live in herds on ice floes. Using its powerful flippers, it shatters ice. It dives into the sea to hunt prey at least five times a day. Sealeo has the habit of always juggling on the tip of its nose anything it sees for the first time. While the Pokémon is rolling something, it checks the object's aroma and texture to determine whether it likes the object or not. This Pokémon occasionally entertains itself by balancing and rolling a Spheal on its nose.
HulkaMatt Notes: Sealeo or anybody in its evolution family is fucking fantastic. I'd say everybody should find this out for themselves but it's my signature pokémon.

Sealeo has an awesome mustache. Extremely dapper. better not be an influx of spheal users now
Choro Notes: Like Seel but better in my opinion!
Zorak Notes: Rumors tell of a mysterious island where one's classy mustache has made him mayor...


Good Listener named this
"Who's a good kitty, Mr. Whiskers?"
"ARRU ARRU ARRU"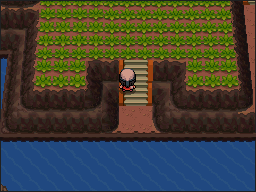 Island full of grass, huh. I wonder what bizarre, possibly pygmy monsters live here.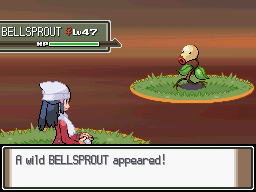 Hahahahaha dancing flower!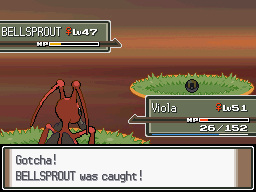 Bellsprout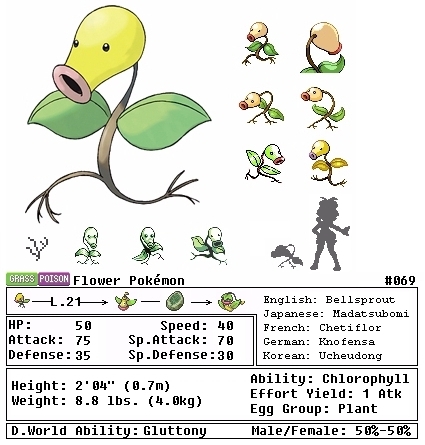 A carnivorous Pokémon that traps and eats bugs. Bellsprout appears to use its root feet to replenish moisture. It plants its feet deep underground to replenish water. It can't escape its enemy while it's rooted. If it notices anything that moves, it immediately flings its vine at the object. It prefers hot and humid environments. It is quick at capturing prey with its vines. A Bellsprout's thin and flexible body lets it bend and sway to avoid any attack, however strong it may be. It is blindingly fast when catching its prey. From its mouth, it leaks a fluid that melts even iron.
Choro Notes: I like to draw Bellsprout.
Zorak Notes: Wanna make its head into a cup.
HulkaMatt Notes: Dem bellsprouts are fuckin' religious. They got like a tower and some killer vine whips and shit, yo. They're p. cool. (not oddish)


Zorak named this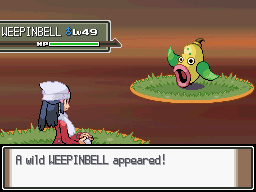 Choro Notes:
The plant pokémon that live on this island actually change once the sun goes down. . .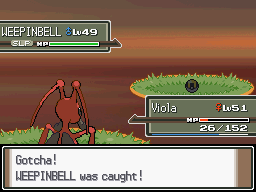 Weepinbell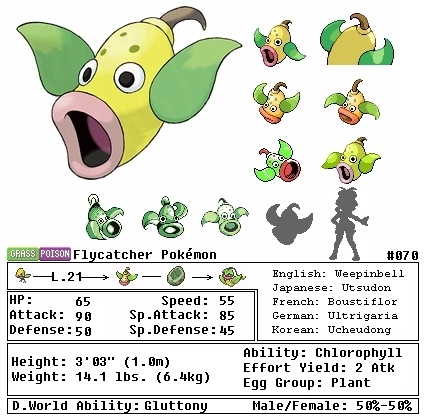 Weepinbell captures unwary prey by dousing them with a toxic powder. It then swallows anything that moves. If its prey is bigger than its mouth, it slices up the victim with sharp leaves, then eats every morsel. Its hapless prey is melted inside by strong acids. Even though it is filled with acid, it does not melt because it also oozes a neutralizing fluid. Weepinbell has a large hook on its rear end. At night, the Pokémon hooks on to a tree branch and goes to sleep. If it moves around in its sleep, it may wake up to find itself on the ground.
Choro Notes: A detail I like about Weepinbell is you can see the spots from Victreebel starting to form on its bell. Their favorite food is heads. They are cephalovores.
Zorak Notes: Perpetually shocked by everything. It's day time, oh shit! Some dude caught me in a Poké Ball, oh shit! I'm a grass-type, OH SHIT!
HulkaMatt Notes: I like Weepinbell :D I raised one in Pokemon Blue right after the data on my Pokemon Red Version was completely destroyed. I think they're super keen and have big mouths. They turn into the scariest shit ever, though.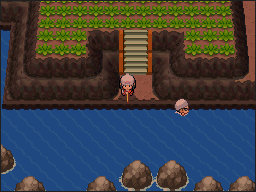 I assume some fishing can be done here, too. You know, pass the time, watch the sunset. It's nice here!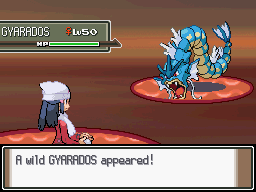 OH GEEZ. IT'S LEVEL 50?!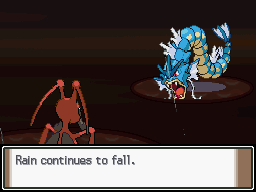 THAT'S NOT OMINOUS AT
ALL
.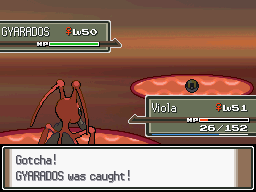 Choro Notes:
Hilariously (and regrettably because I missed the screencaps of it). The only moves this Gyarados used over and over were Dragon Dance and Rain Dance. Maybe Gyarados just wanna dance. v

v
Gyarados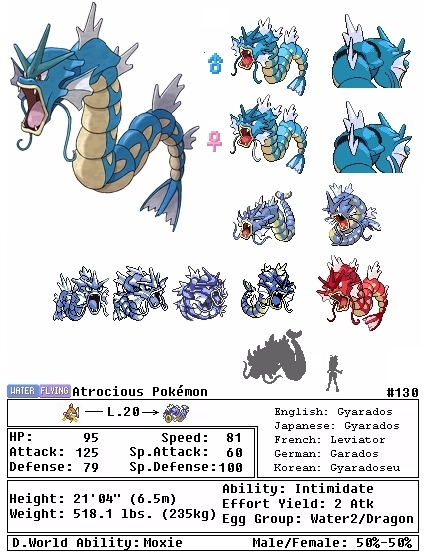 An enraged Gyarados will burn everything down, even in a harsh storm. Once Gyarados goes on a rampage, its ferociously violent blood doesn't calm until it has burned everything down. They say that during past wars, Gyarados would appear and leave blazing ruins in its wake. There are records of this Pokémon's rampages lasting a whole month. When Magikarp evolves into Gyarados, its brain cells undergo a structural transformation. It is said that this transformation is to blame for this Pokémon's wildly violent nature.
Choro Notes: We've talked about how powerful Gyarados is for several updates. He's a goddamned sea serpent among beasts.
Zorak Notes: BLUH BLUH, HUGE FISH.
HulkaMatt Notes: WHY AREN'T THEY DRAGONS?????!!!!!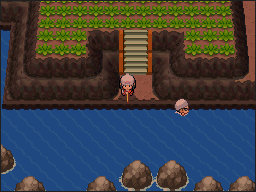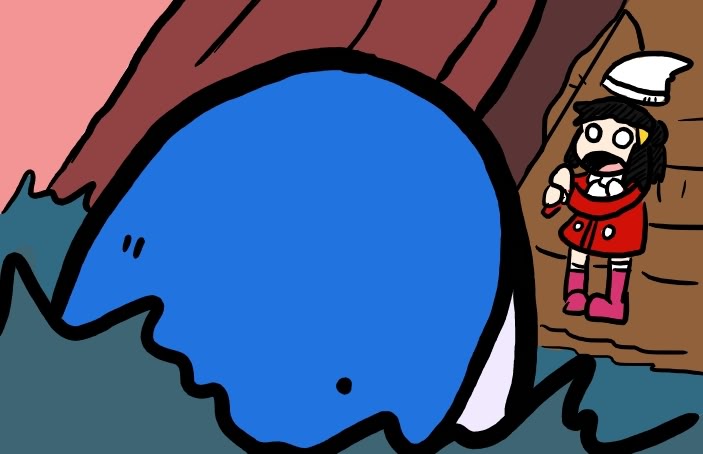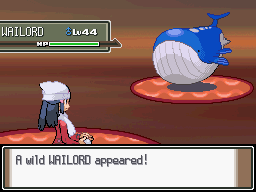 HOW DID A WAILORD GET HERE?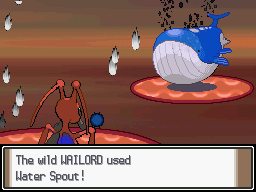 WHAT DOES THAT EVEN MEAN IS IT HAPPY OR IS IT MAD OR IS IT JUST BREATHING AAAHHHHHHHH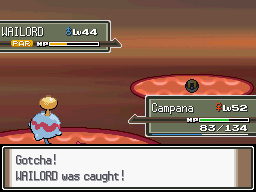 Wailord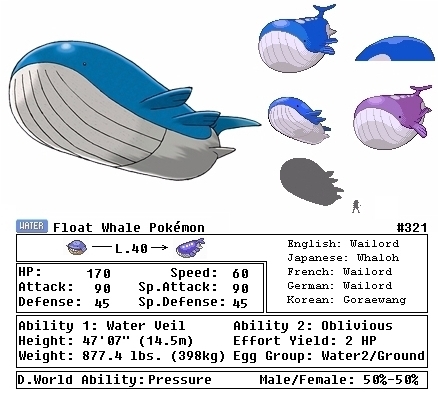 Wailord is the largest of all identified Pokémon up to now. This giant Pokémon swims languorously in the vast open sea, eating massive amounts of food at once with its enormous mouth. When chasing prey, Wailord herds them by leaping out of the water and making a humongous splash. It is breathtaking to see this Pokémon leaping out of the sea with others in its pod. It breathes through nostrils that it raises above the sea. By inhaling to its maximum capacity, a Wailord can dive close to 10,000 feet beneath the waves.
Choro Notes: In my very first run of Ruby I used a Wailord that I only vaguely remember. Good times with that thing. Using two in the gamecube games is amusing because every hallway is large enough to support them side by side.
Zorak Notes: Bawooooooooooooooooooooooooooooooooooooooooooooooooooooooooooo.
Wailords are huge and awesome and amazing, just like the REAL THING.
HulkaMatt Notes: THE LARGEST OF ALL THE POKEMON. Has a fuck ton of HP. Also a key to unlock giant deadly rock formations who make noise that will give you cancer of the ears.

--THAT NIGHT--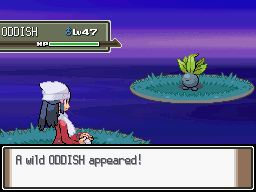 Oddish! They come out at night when the Bellsprout go to sleep!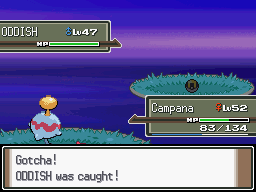 Oddish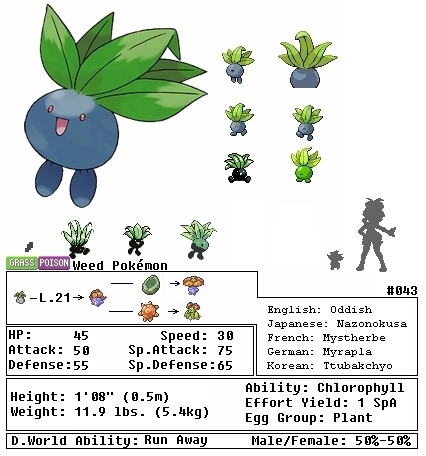 Its scientific name is Oddium wanderus. Oddish grows by absorbing moonlight. During the daytime, Oddish buries itself in soil to absorb nutrients from the ground using its entire body. Oddish searches for fertile, nutrient-rich soil, then plants itself. The more fertile the soil, the glossier its leaves become. During the daytime, while it is planted, this Pokémon's feet are thought to change shape and become similar to the roots of trees. While underground, with only its leaves exposed it manages to avoid detection by its enemies.
Choro Notes: Oddish was my favorite Pokémon when I was a kid, still have a soft spot for it!
Zorak Notes: I bet it's delicious. DELICIOUS, I TELL YOU.
HulkaMatt Notes: SHIT EVERYBODY ALREADY KNEW: ODDISH IS THE BEST POKEMON!!!!!!!!! NUMBER ONE. NUMERO UNO. THE GREATEST. THE ACE OF ANY TEAM. THE BEST THERE IS THE BEST THERE WAS THE BEST THERE EVER WILL BE. SUPER CUTE, SUPER FANTASTIC, SUPER AWESOME. NUMBER FUCKING ONE!!!!!!!!!!


Zorak named this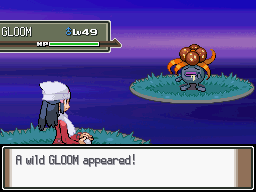 And if Weepinbell come out during the day then. . .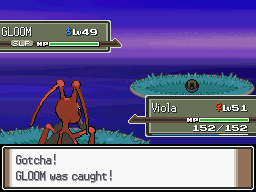 Gloom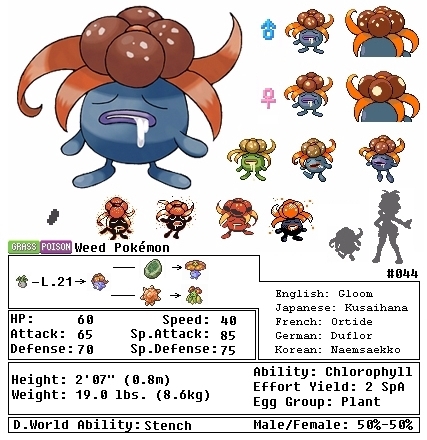 Gloom releases a foul fragrance from the pistil of its flower. When faced with danger, the stench worsens. If this Pokémon is feeling calm and secure, it does not release its usual stinky aroma. From its mouth Gloom drips honey that smells absolutely horrible. Apparently, it loves the horrid stench. It sniffs the noxious fumes and then drips even more of its honey. The honey it drools from its mouth smells so atrocious, it can curl noses more than a mile away. One whiff of the honey can result in memory loss. Some fans are said to enjoy this overwhelming stink, however. It's used to attract prey.
Choro Notes: Congratulations to Gloom, for finally getting an ability related to its horrific stench in Gen5.
Zorak Notes: The land-surface area of the Earth is approximately 148,940,000 square kilometers. Given that a Gloom can faint someone from 2 miles away, one can assume that they have an effective "faint area" of 12.57 square kilometers. So, with roughly twelve million Gloom, you could by smell alone faint the ENTIRE WORLD.
HulkaMatt Notes: SUPER CLASSY. SUPER GREAT. ALL OF YOU SHOULD APPRECIATE. Gloom is a great grass pokémon and do awesome shit like drool nasty smelling honey and poison the ever living shit out of you.


tyrsHTML named this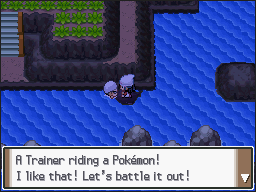 A FIGHT, DANCING AMONG THE WAVES.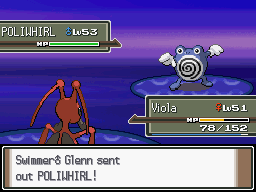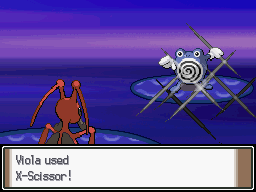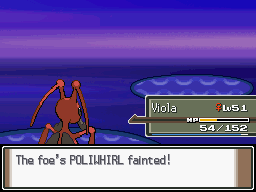 oh.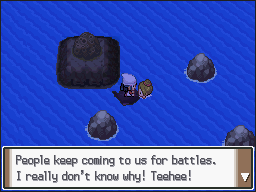 TEEHEE! CAUSE WE'RE GIRLY GIRLS TEEHEE!!! I hate you.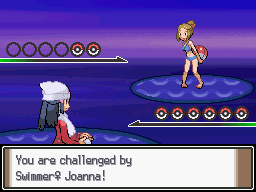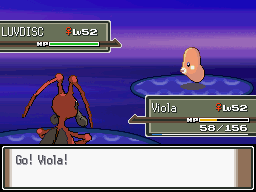 Is that like. . . half of a Pokémon or. . . ?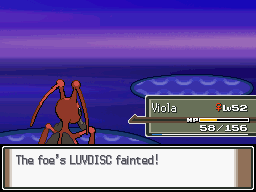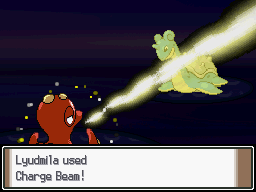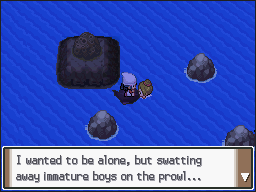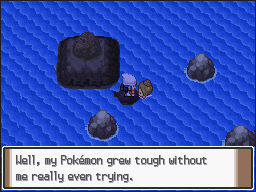 Boys AND girls approach me just for walking in their line of sight, don't give me that.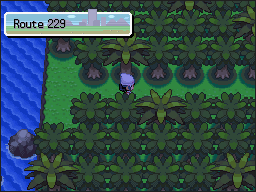 Oh. . . I guess the routes go down in number here.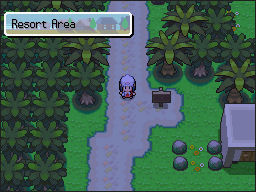 Resort!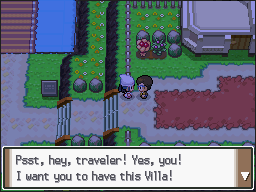 I'm walking away now.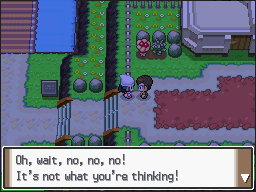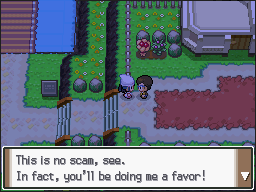 Is something buried beneath it. Is it built some sort of ancient Gabite burial ground or something?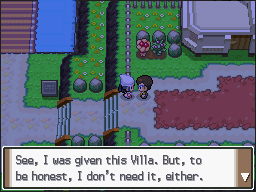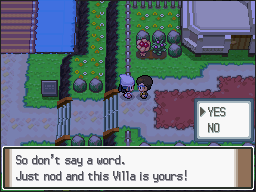 . . . . Yes?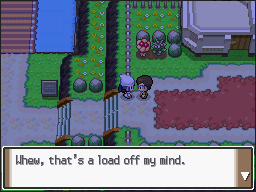 "Guess what you're legally/criminally related to!"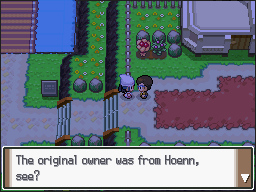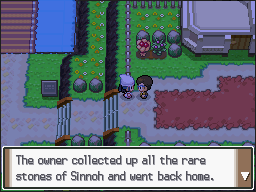 What sort of weirdo would do ANYTHING like that?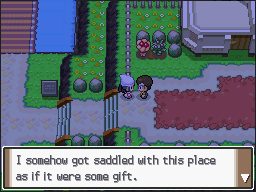 "Came with a Beldum and a letter. Really freakin' weird."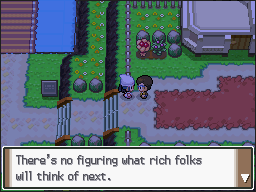 "Maybe some sort of like. . . machine. One that lets you talk to spoinks."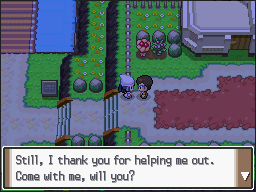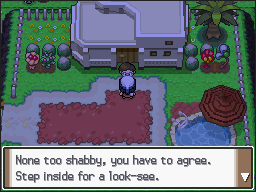 Ok. Just a heads up. There is a gigantic ankylosaur primed and ready to destroy you if you even THINK about trying something. (There is also a psychic wind chime, so we'll know.)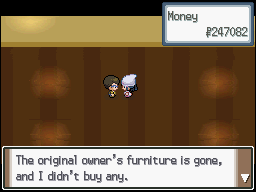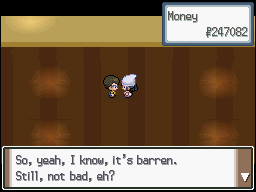 It smells like cedar. I approve of this.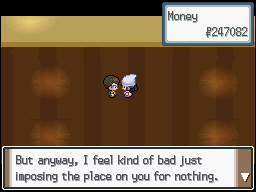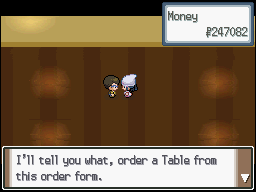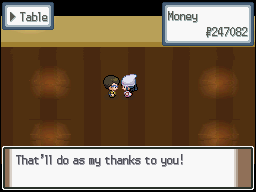 Ah, the old "Sweeten Lady up with a table" ploy, eh?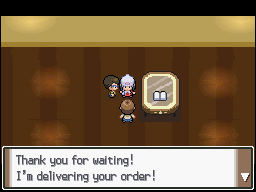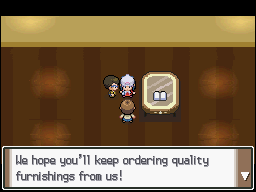 Only the HIGHEST, you understand. So help you if there's a scratch or a scuff on anything.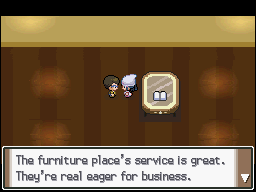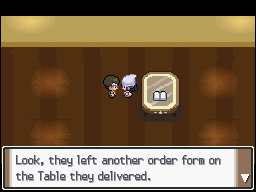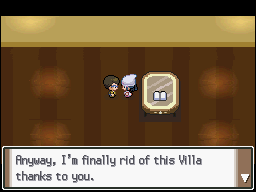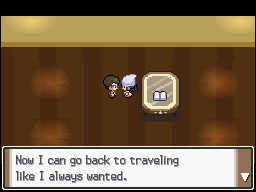 This could be a lot worse. This could have been like, a drafty old warehouse or something.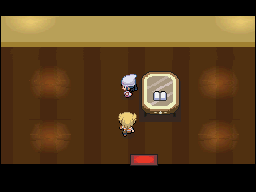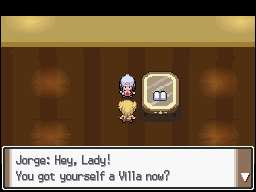 Yes, Jorge. I do. I'll thank you for not knocking, by the way. As it is a custom of our people not to for some horrible, HORRIBLE reason.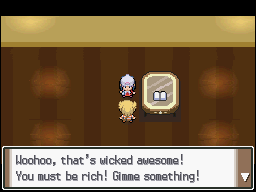 It is. I am. No.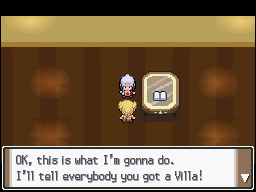 What?! No! NO. JORGE STOP THEY'LL ALL COME IN WITHOUT KNOCKING.
Ughghghghghghgh I'll deal with this in the morning.
I guess I just sleep on the floor?