Part 29
Well, my computer stuff came in today. Sadly, I ordered some stuff wrong (An Intel motherboard... and an AMD processor

not sure how I missed that) sooo...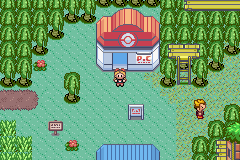 Well that was a good nap I guess

what was with that wierd dream anyway?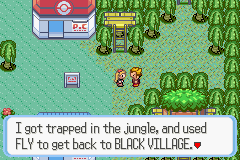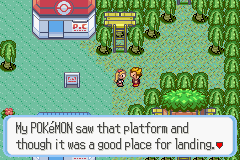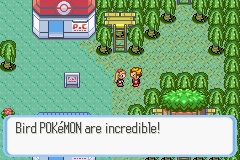 Er... okay? I'm not sure how "BIRD LANDS ON PLATFORM" translates into "BIRDS ARE AMAZING I LOVE BIRDS!" but alright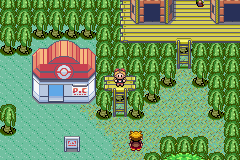 I mean, since I'm standing on this platform now, does this make
me
incredible!?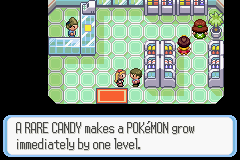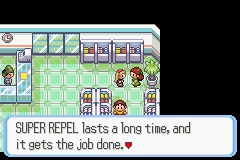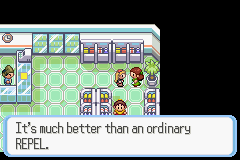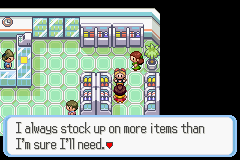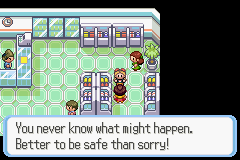 ... you guys are sounding awfully normal.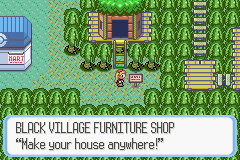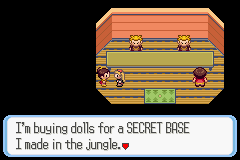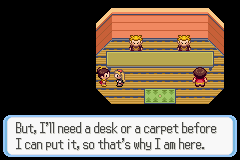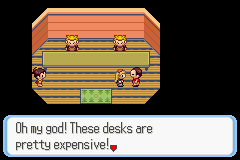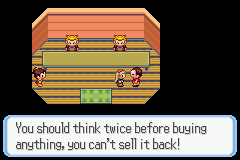 I'm not planning on living in the Jungle so no thanks?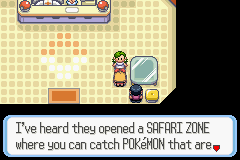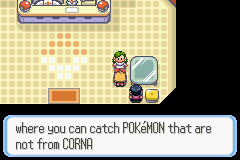 You mean Pokemon that aren't
horrible abberations against nature
?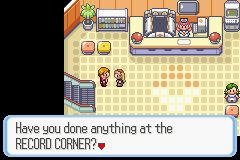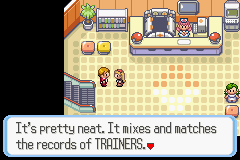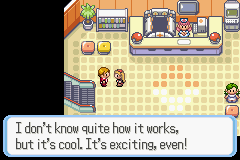 Um... I'm not sure why you'd want to but okay?

Though it sounds pretty normal... maybe there
are
places in Corna that aren't insane. A last bastion against the tide, perhaps.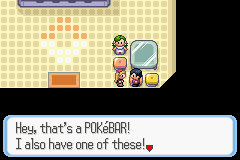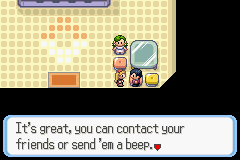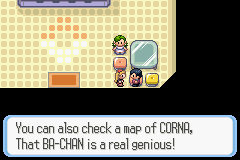 ...
Ba-chan

Spoke a little too soon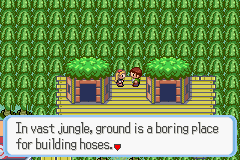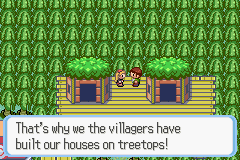 "Houses on the ground!? Psh, that's for
squares
. We live in the Jungle, trees are where it's at

"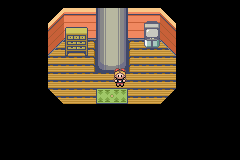 Well, this house is eeriely empty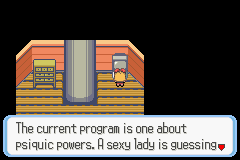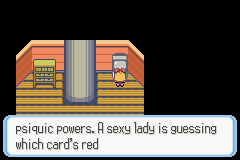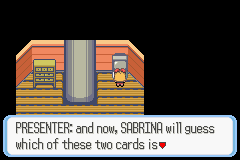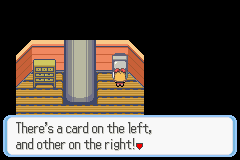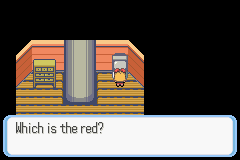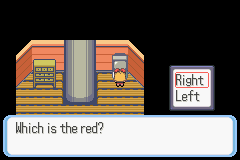 Apparently we're able to guess and see if we're as "psiquic" as the lady on the TV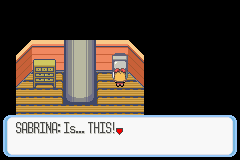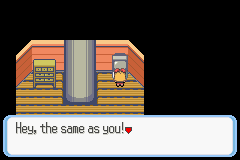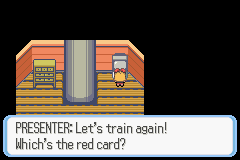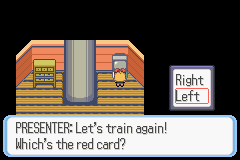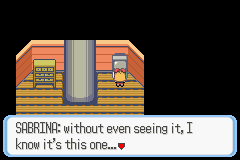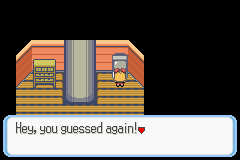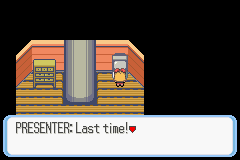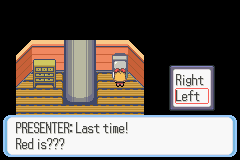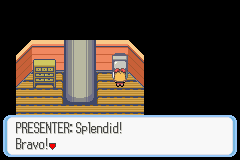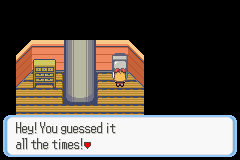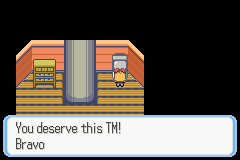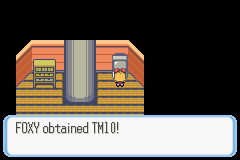 I have no idea where this TM came from. It's
dirty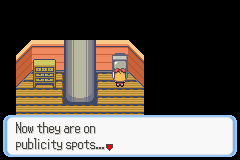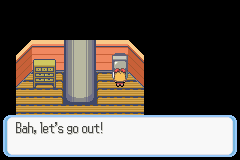 WHO IS TALKING RIGHT NOW!?!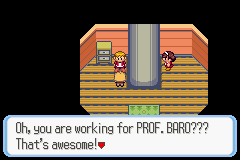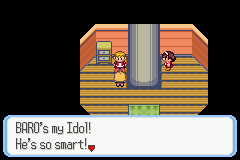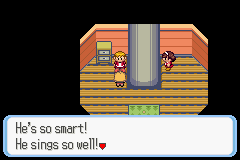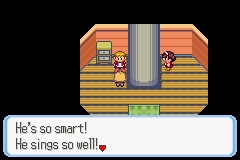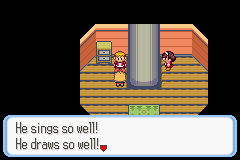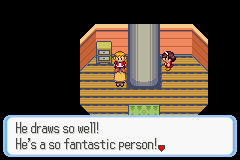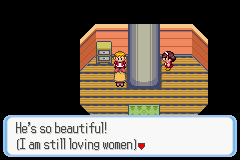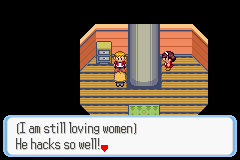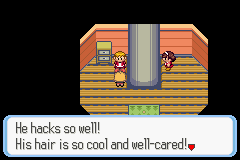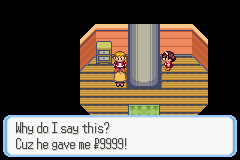 ...

still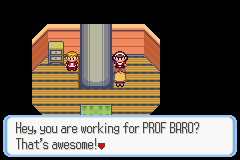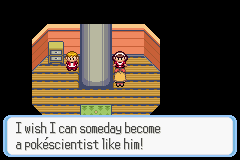 But she has no excuse for it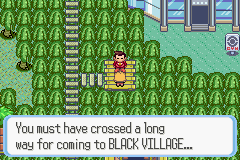 Yes, yes I did. It wasn't very fun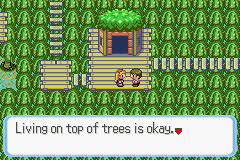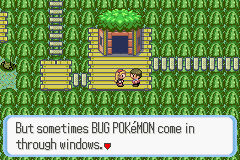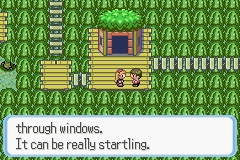 But that happens on the ground too. Why not... close the windows?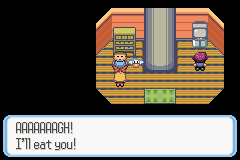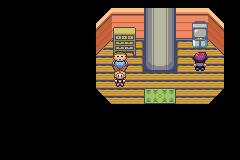 Aaand it ran away frightened. Wow that's mean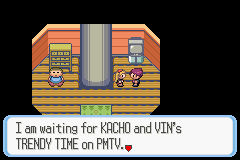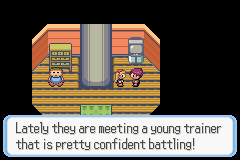 I bet it isn't me because I keep turning them down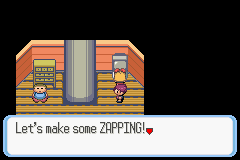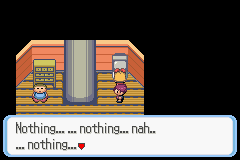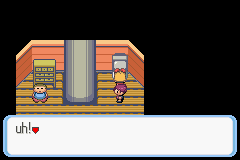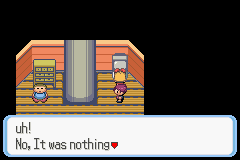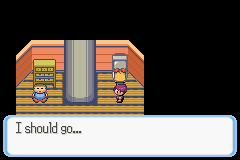 Hm...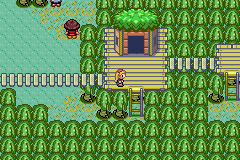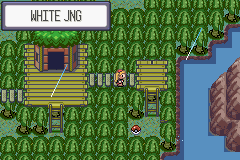 And like magic an item appears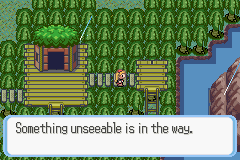 I know what's there. Can't I just kick it until it moves?

Stupid invisible cat.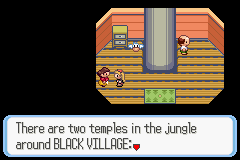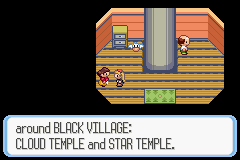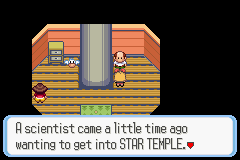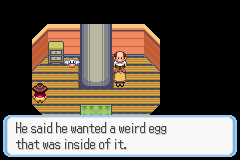 He better not be summoning any Chaos gods

because that'd be... pretty dumb.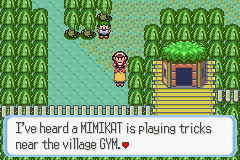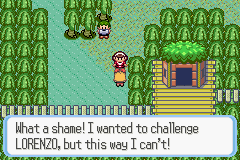 Seriously, why can't we just throw boots at these things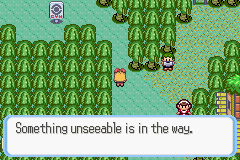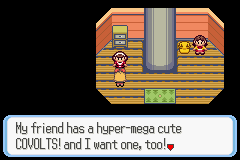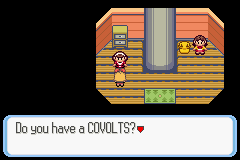 Yep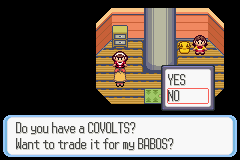 So you want to trade a sexually molesting bear for an electric penis bug. Hm...
I don't think there are enough words that exist that could be used to tell you "FUCK NO"
.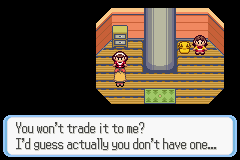 B...but I do!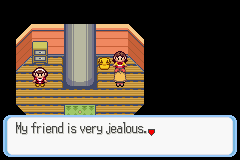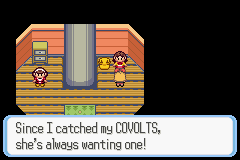 Ah yes, Covolts envy. That happens to lots of girls (

)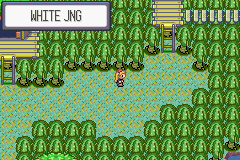 From Black Village to the Black Jungle to the White Jungle! Boy, oh boy, people in Corna sure can name stuff!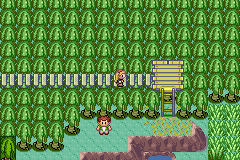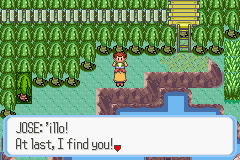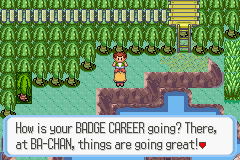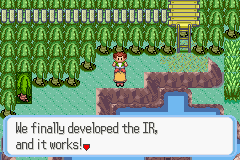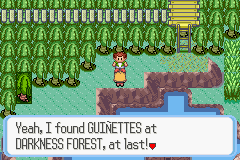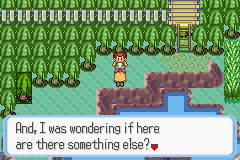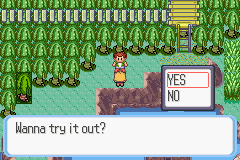 V

V why not?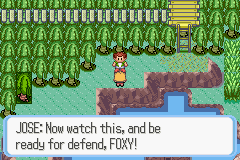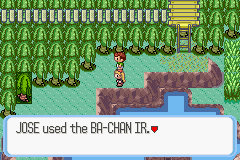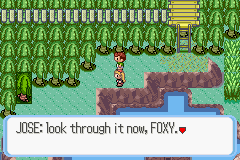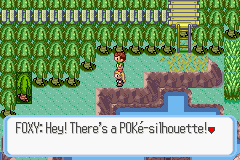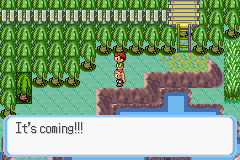 OH GOD ITS THE PREDATOR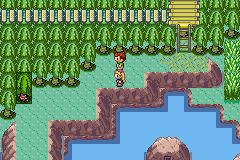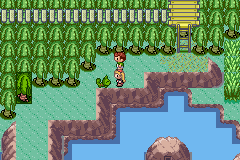 Nevermind it's just the annoying invisible cats. CURSE YOU CATS.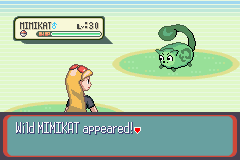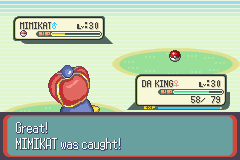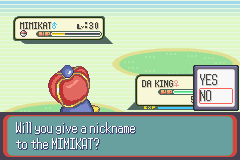 No name for you because I already have one and you guys are on my nerves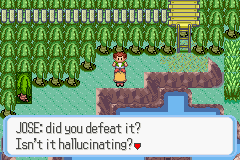 uhhhh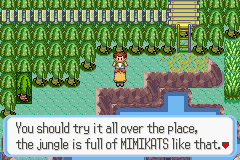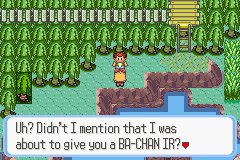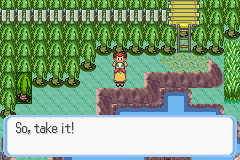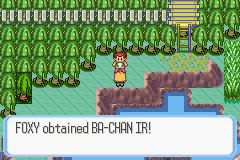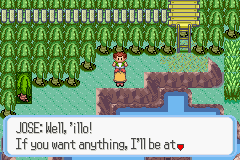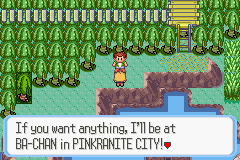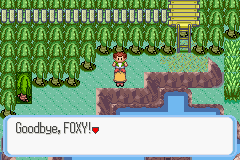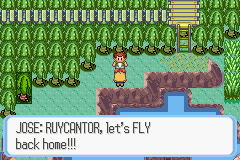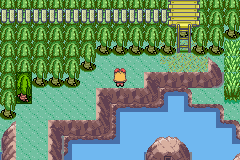 And then he flew away. Well, we now have the IR, I guess. I guess that means we can see invisible stuff now. Instead of, uh, seeing only ghosts or inflating the sun.

Time to clean out some annoying felines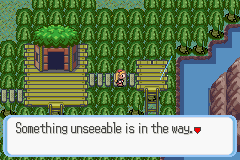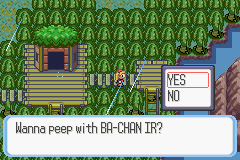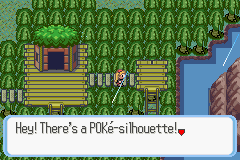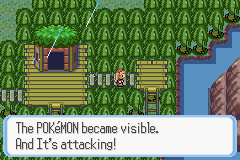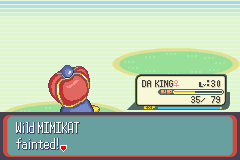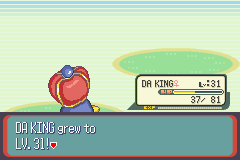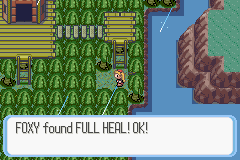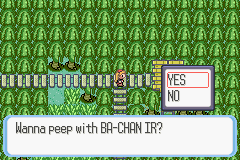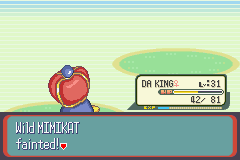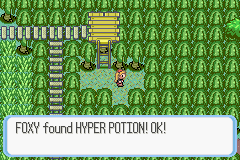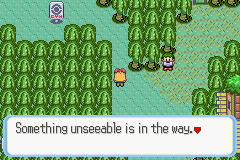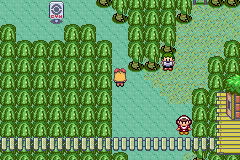 This one just ran away. Hooray!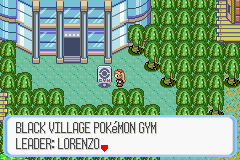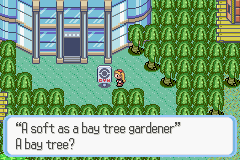 A Doom House!?!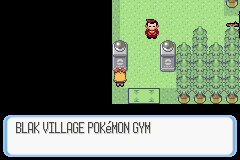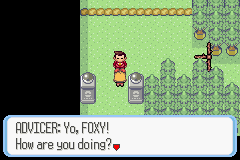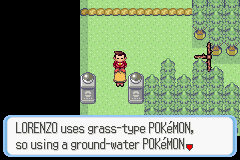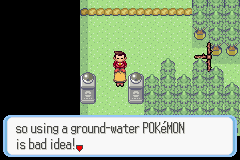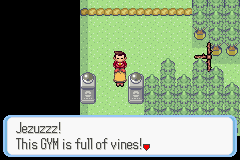 MADRE DE DIOS!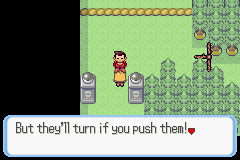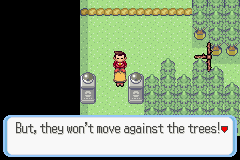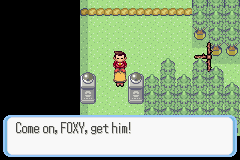 Are these natural vines or something?

Must have taken some crazy botanical skill to grow those...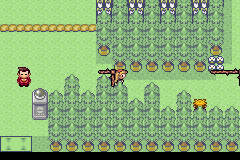 SO DIFFICULT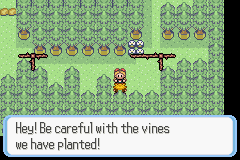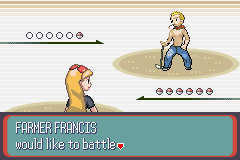 Can't you wear a shirt?

Honestly.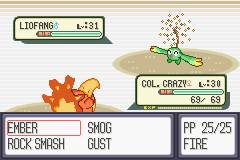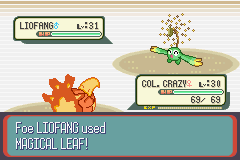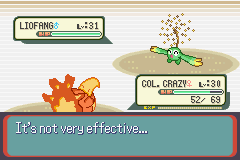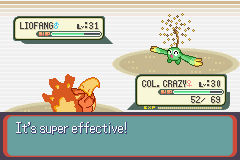 this doesn't make sense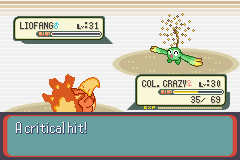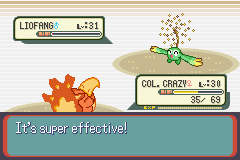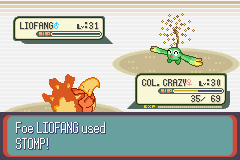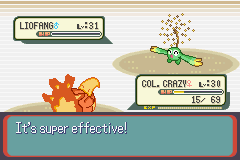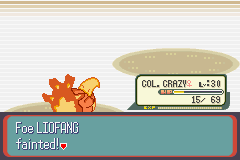 That's more like it

Col. Crazy you beautiful bastard you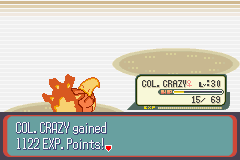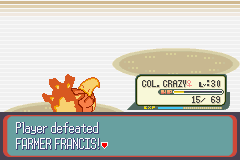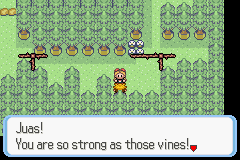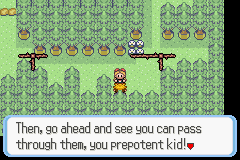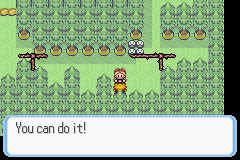 Wait a moment

Yeah that sounds about right. Actually...

... this doesn't sound that right. Notttt one bit.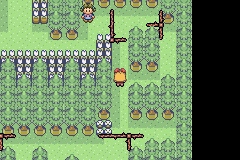 THIS TASK WILL REQUIRE ALL MY FORTITUDE AND CONCENTRATION
-
Fifteen seconds later
-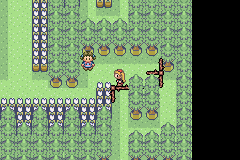 Or not?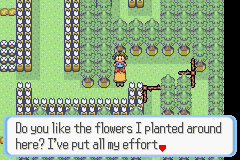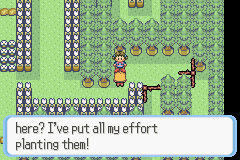 They're awfully... same-y. Why are they all white? Why not go for some variety?

Just saying.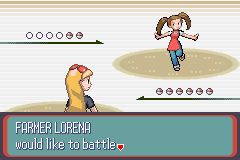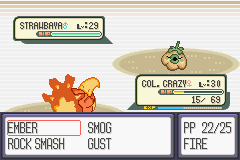 Clearly you should have spent that time working on your Pokemon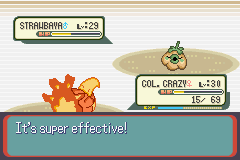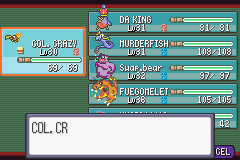 AZY is totally awesome! He also recovered health!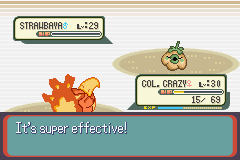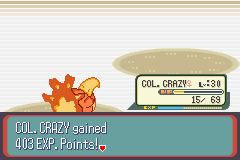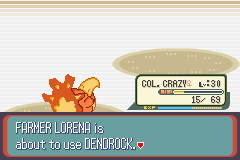 Despite the enemy being grass-rock I'm going to use...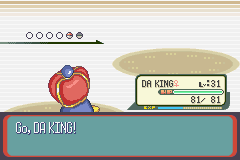 Because that's just how he rolls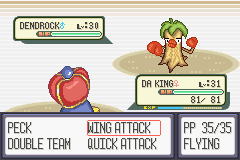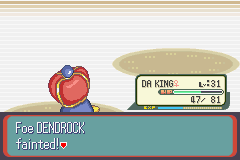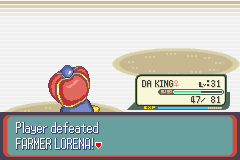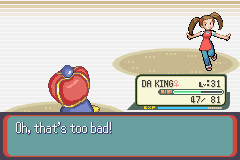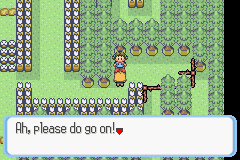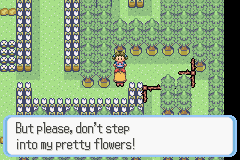 Oh, well this lady was nice

Thank you for being nice Miss Nice Lady!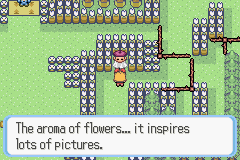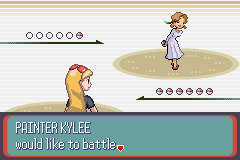 ... wait a minute.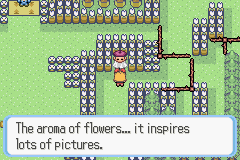 -Squint-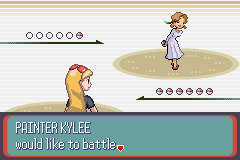 Uh... nice gender switch I guess?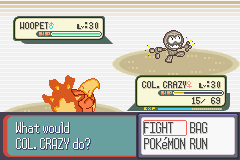 This thing really wierds me out still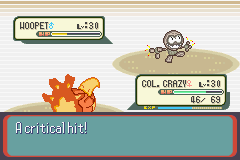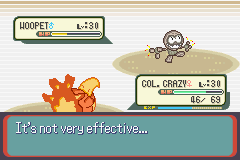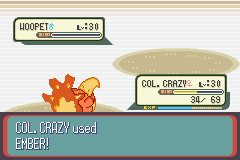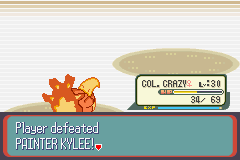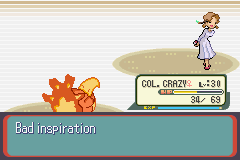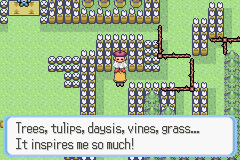 I guess it is fairly pretty, I suppose

This place is nice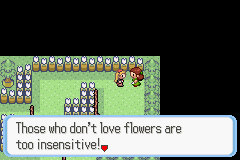 Pretty, innocent flowers so dainty and pure and definitely not harmed by the world!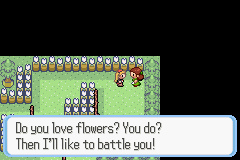 Uhh not following your logic but okay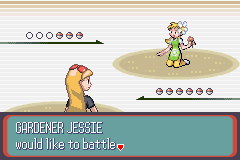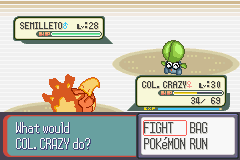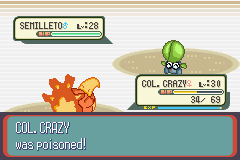 Poison is definitely
uncute
, lady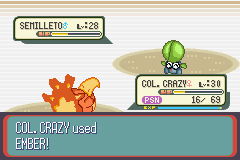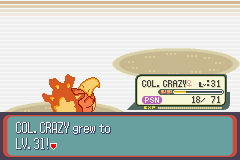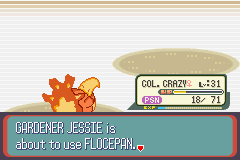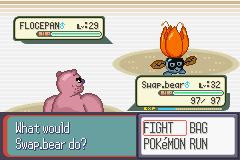 Watch out SWAP.bear, that thing has beaver tails for arms and a large black letter B over its eyes!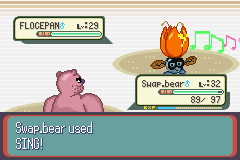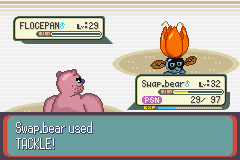 Aaaand that was about that.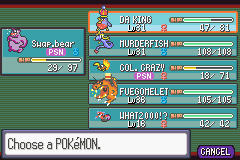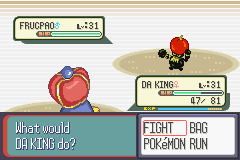 ...

...
It's... adorable yet gonk-y at the same time! I'M SO CONFLICTED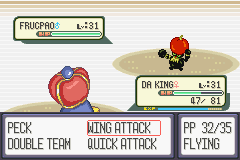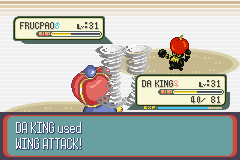 UNLEASH THE WINDS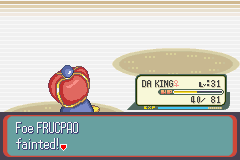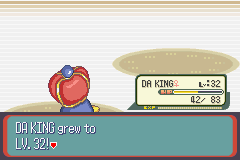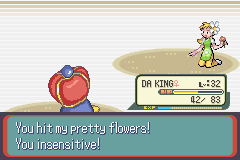 B-but you attacked me!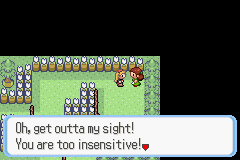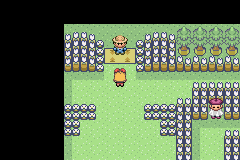 I guess we'll see what this Lorenzo guy's deal is.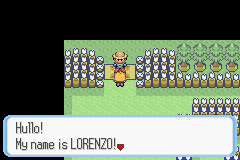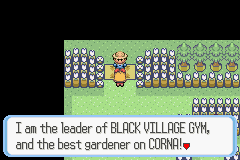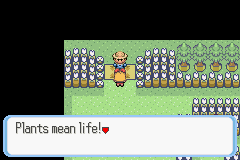 They also mean, amazingly enough, plants.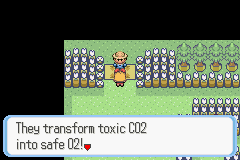 Um, Mr. Lorenzo, you do realize that pure oxygen is poisonous too, right?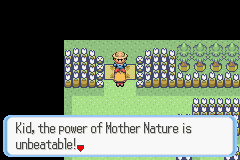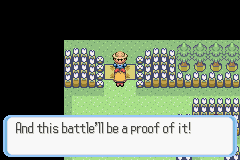 Uh yeah, sure, let's get on with it.
GO

TEAM FOXY!

fuck yeah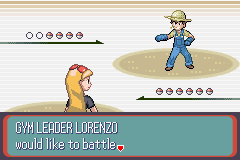 OLD MCDONALD WANTS TO BATTLE, E-I-E-I-O! AND IN THIS GYM HE HAS A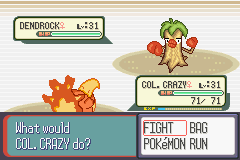 ... Dendrock. E-I-E-I-O!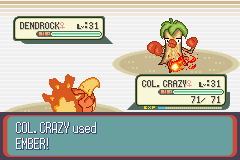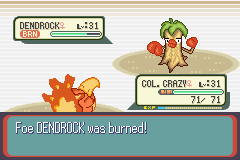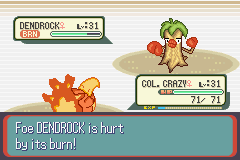 With "oh god I'm on fire arrrgh get it offfff my lips are humungous" here and a "oh god I'm on fire arrrrgh get it off my lips are humungous" there, here a "argh" there are "argh" everywhere a "Oh god it burns" Old McDonald (still) has a Dendrock E-I-E-I-O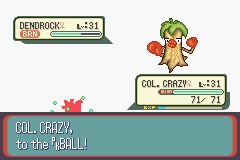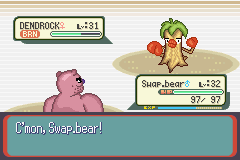 LET'S DO THIS THING! YEAH!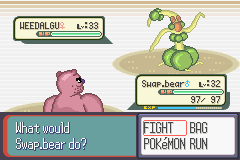 PHALLIC TENTACLE RAPE MONSTER vs NECKBEARD HUMAN MOLESTATION BEAR
Whoever wins, we're still grossed out!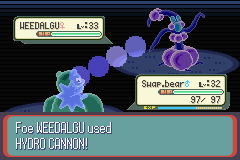 wait what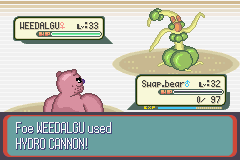 ...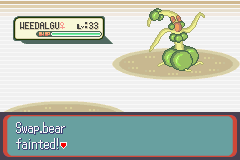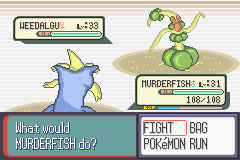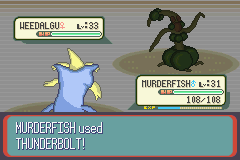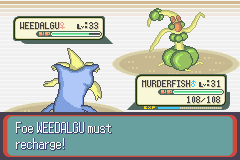 Hopefully this won't take long!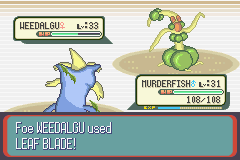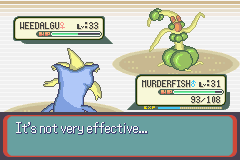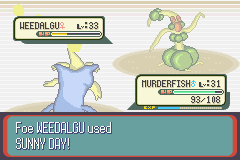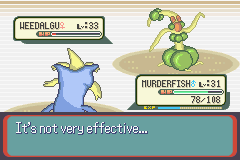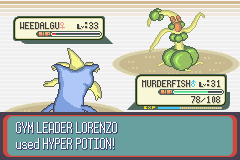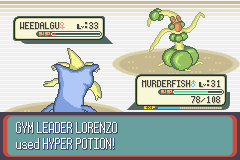 Repeat twice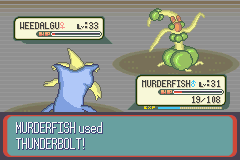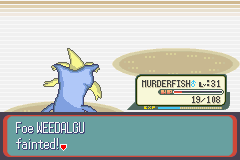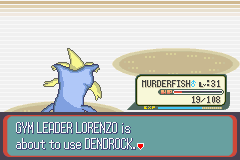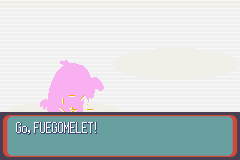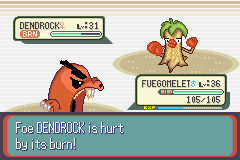 It's T-REX time! Like the T-Rex's in Jurassic Park: Tresspasser, Fuegomelet(toberenamed) isn't very smart and ugly and has bad physics, but unlike them he is... um... a fire type I guess?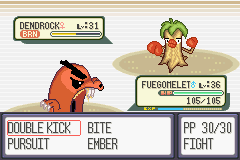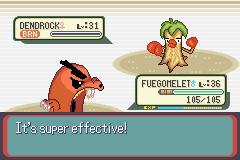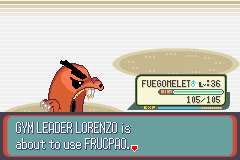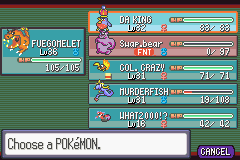 Let's wrap it up with good old DA KING!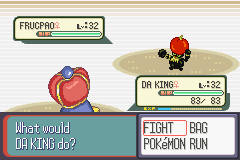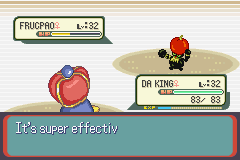 e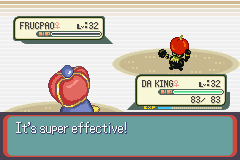 And again since his MACH Punch missed!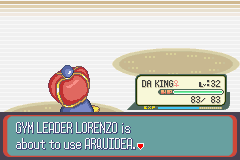 To make a point and prove that Col. Crazy is in fact
not worthless
, I'm using him next.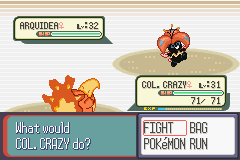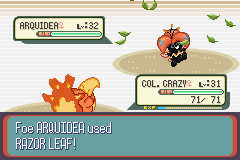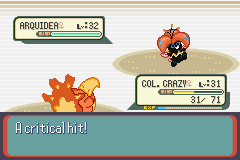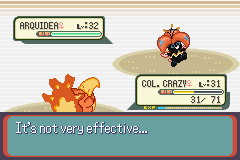 ... that might not have been a great idea, thinking about it.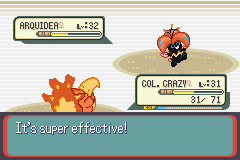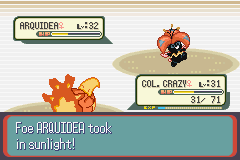 Oh crap, Solar Beam!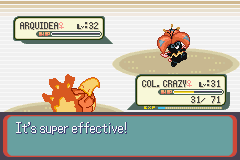 ... too bad Col. Crazy is faster. It's like Col. Crazy is like in some action flic and he managed to disarm the evil plant laser before it could fire and destroy everything.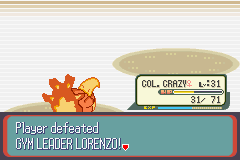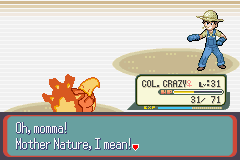 So uh, you were born of the Earth then? What are you, a Greek God or something?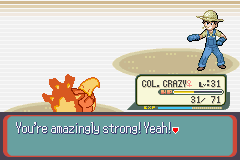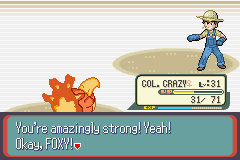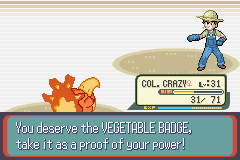 If I ever go show my badges to Roxy and Misty I think they're going to laugh at me. LAMEST BADGE NAMES EVER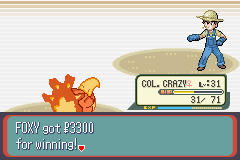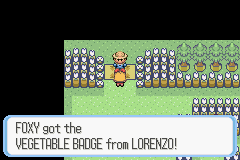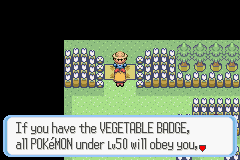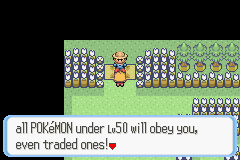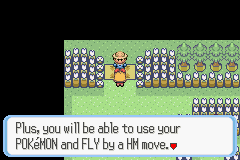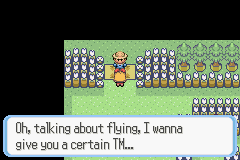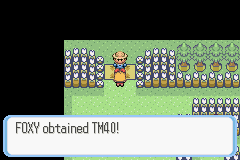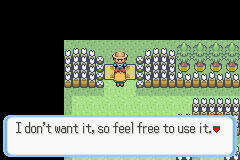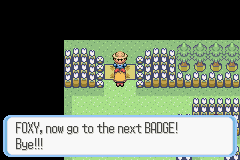 Er, goodbye I guess? Well, at least people in the gym weren't that creepy for once.

Next time: Foxy meets a little girl who is a Psychic Ninja outside a Satanic temple! Yay!
Blaine the Train posted:

Oh man, this hack is amazing. Colonel Crazy is awesome and I say we petition Gamefreak to get him shoved in the next Pokemon game.

Hell, Colonel Crazy has inspired me to do some doodles after two solid months of srtistic lethargy:


Also felt like drawing some of these other monstrosities. Even a party hat can't break Angstowl out of his emotional fervor.