Part 11: Heaven or Hell! Let's Rock!
10. Heaven or Hell! Let's Rock!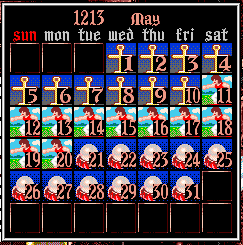 It's May and Lizzie's off on two months of intense training...


Lizzie, for the last time, I don't know where God's pressure points are!




Hi Fay!

You've been diligent in your magical studies, so here I am to re~ward you!


Overkill is not a word in your dictionary, is it?

No.



June passes in the blink of an eye...


And now I shall reward you with the fruits of your diligence.


Excellent. I'm sure that we won't be needing that last two points... what could possibly harm Lizzie now?

What indeed, sir. What indeed.
---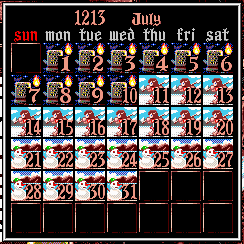 The graveyard? Why do I have to work at the graveyard?!

To teach her respect for life and to honour the dead, right, sir?


Actually, I was thinking more about graverobbing opportunities, but that's a good line for the judge.


This stone marks the grave of a knight who was slain long ago in combat... but he still seems to cling to this world.

Haaaa...?

On nights just like this one, he rises out of his tomb...

Eeeek!!

What's wrong with you? You've already fought plenty of skeletons and demons.

I'm just playing up the part, dad, geez.

Hahahaha! I'm just pulling your leg. You don't have to be frightened working here.


Well this is easy enough.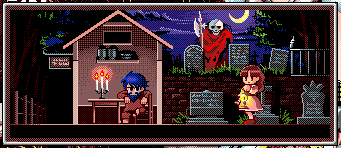 Oh, I really did not expect my tall tales to come back and bite me on the ass like this.

Thou that distubeth my slumber... of what kingdom art thou a knight?

Wha? No! I didn't mean to bother you! And I'm not a knight!!

What is thy name...?

Lizzie... Lizzie Shinkicker...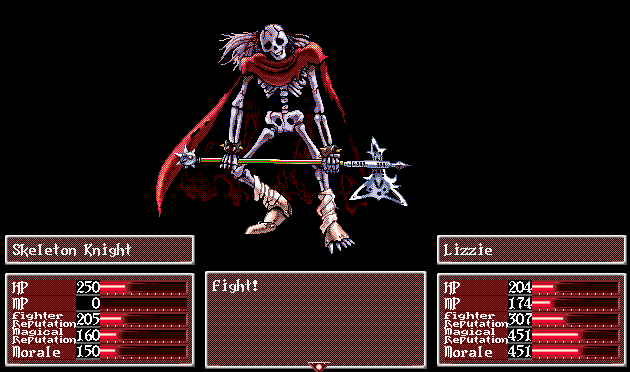 I see... Well! Sir Lizzie Shinkicker, since thou art a knight, thou shalt face me in fair combat!

I told you, I'm not-!!


Dick.


Well at least I got
something
out of it. Now I can head off for that holiday in the mountains!
---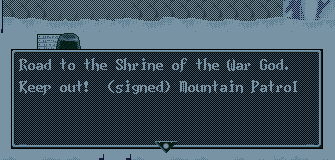 Oh hello!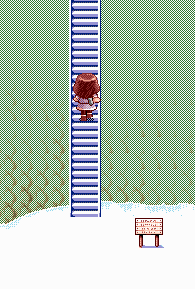 Haha, Mountain Patrol.


Structurally, this does not make a lot of sense...


I... really... should... have packed... oxygen...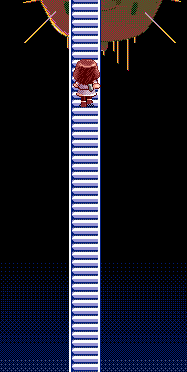 Am I seeing things?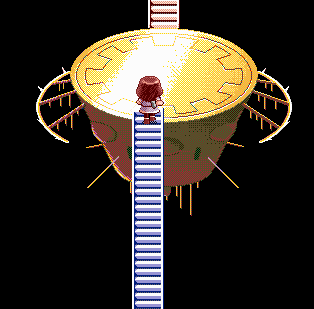 Hello? Anybody home?!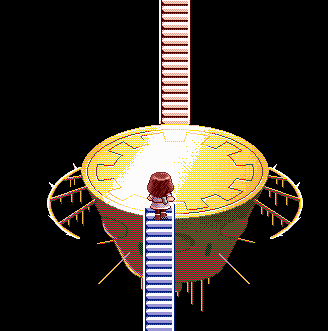 NO NEED TO SHOUT.

Yipe!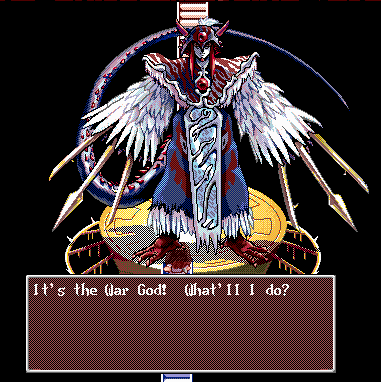 Teehee! You've got chicken legs!

DO NOT!


And if I won't?

THEN I SHALL BREAK YOU.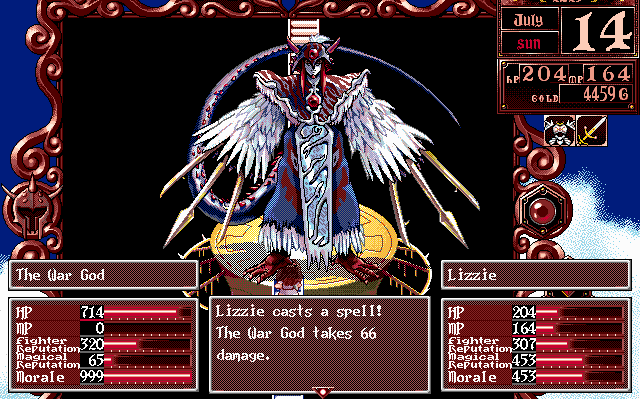 The combat is close and intense, and the fighting, furious, but can even Liz hold out against the God of War?


...p...papa...
---

Nngh!

Sir? Are you alright?

I... I don't know. I think... I think something terrible has just happened. Like a million voices screamed out in terror and were suddenly silenced... or Lizzie is in
terrible danger
.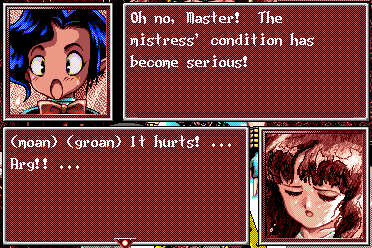 Lizzie! What have you done?!

IT WAS AN ACCIDENT! I SWEAR I DIDN'T KNOW THE GUN WAS LOADED.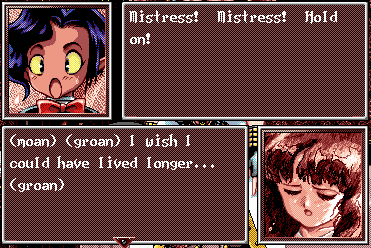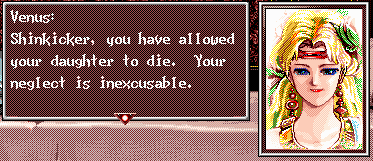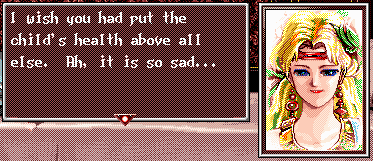 She's... gone.

Liz? Lizzie?
LIIIIIIIIIIIIIIIIZZIIIIIIIIIIIEEEEEEEEEEEE!!!!!!!!!!!
---

Wh... where am I? Am I dead?

Oh, very much so, I'm afraid.

Lucy!

Hahahaaa *snort* Lucy!

Quiet you! Yes, Lizzie, you are dead and are now in Hell.

Dead? Cube... Papa...

Of course, since Hell
is
just a cave in the desert just outside the city, I suppose you could just walk out of here...

I'm dead? Papa must be so upset...

You're not listening at all are you?

I hope he's holding up well...

Well, why don't we have a look?
~~~

Ahuuuuuhuuhuuu! Get it right this time, get it right this time, auuuuuuuuh!

Daddy!


Shhh, he can't see us.

S-sir? What are you doing? What's that on the computer
oh my god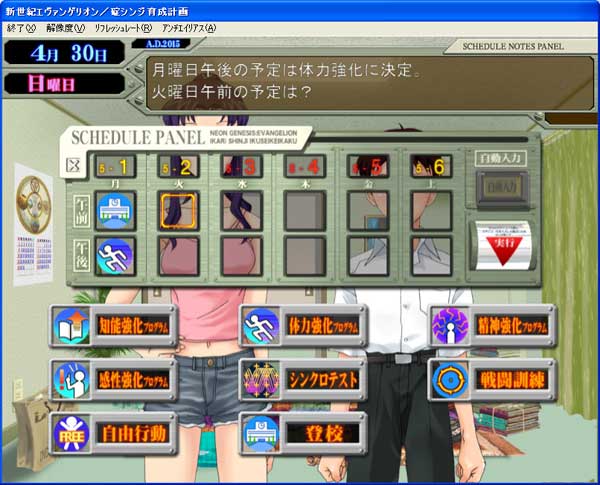 That's it, we're going to raise you properly, Shinji.
no more horrible failures, no more being a bad father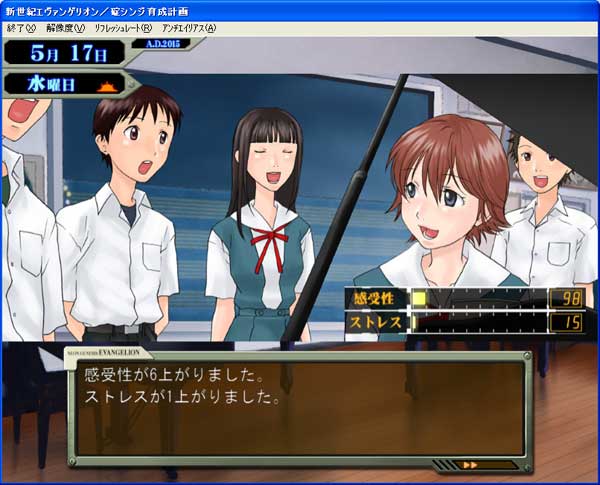 Be a good boy, go to your classes and get your 'stats' up, make your daddy proud.

Sir! Please! Get a hold of yourself!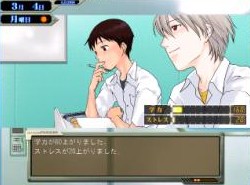 Yes, Shinji, make friends, make lots of friends!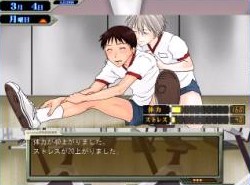 Shinji, maybe you're spending too much time with that boy.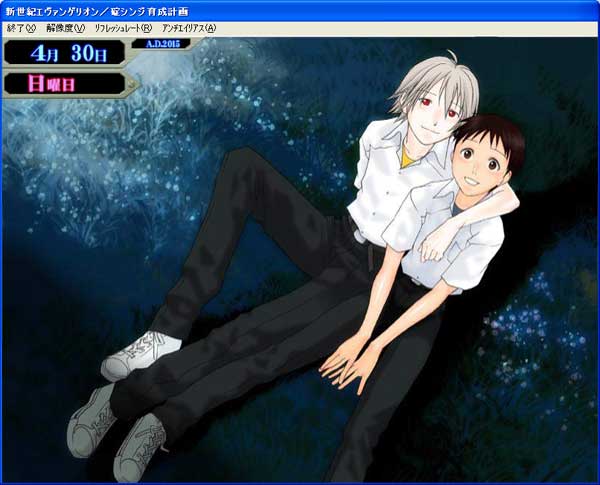 What... NO! This isnt the ending I wanted!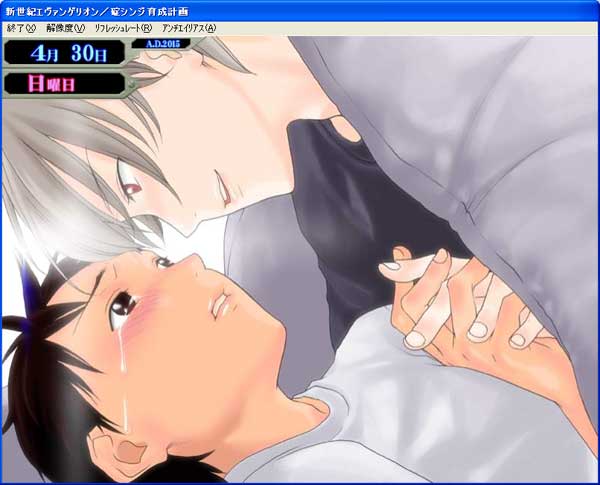 NOOOOOOOOOOOO!
~~~

Wow, that's really screwed up.

I've seen some sick shit in my time, but that...

That's it, I'm going back.

Hey, no one's stopping you.

Oh. Well, see you soon then! But first, a detour!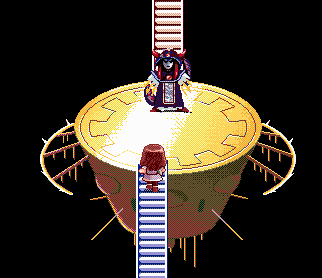 Hey dickbag! Remember me?

THAT'S NOT A VERY LADYLIKE THING TO SAY. WAIT, THIS CANNOT BE... YOU?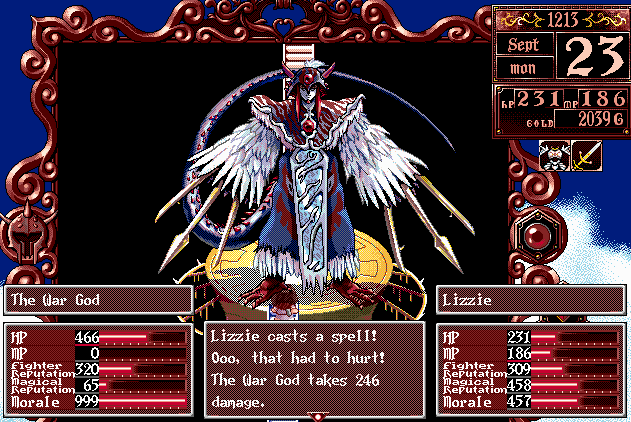 YOU! BUT YOU'RE DEAD! THIS IS IMPOSSIBLE!

I've gone beyond the impossible and kicked reason to the curb! Eat fiery death!

I COULD HAVE SWORN I'VE HEARD THAT SOMEWHERE BEFO
AAAAAARGH!

What the hell is that all that racket outside?

Beats me. You're the one that's supposed to be omniscient.

Pfft, doesn't mean I'm psychic.

...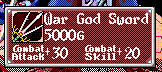 You won't be needing this anymore!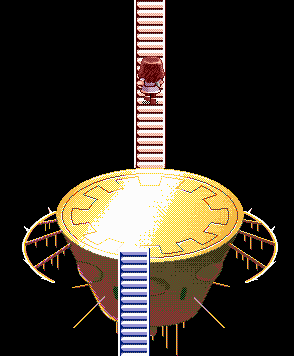 Pierce the heavens with this... stairway! To Heaven!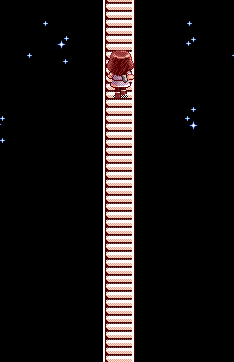 Breathable atmosphere is for suckers!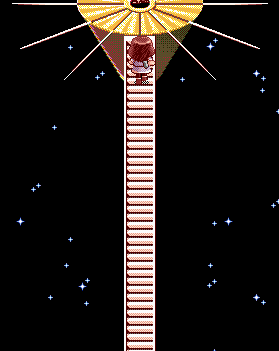 This had better be worth the trip... oh hey, I didn't expect to see you here!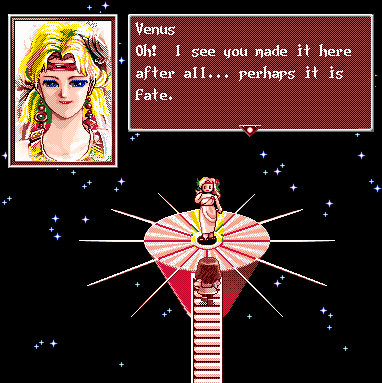 This... this is Heaven isn't it?

Yes. Welcome back, Lizzie.

It's, uh, a little smaller than I imagined.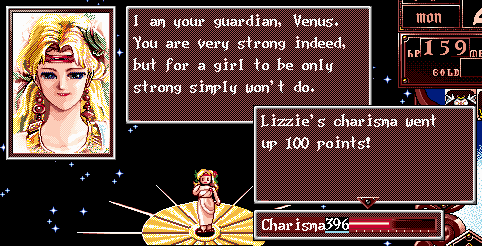 Neat! Though I'd better get back and check on Papa now. He's a complete wreck.

Alright, take care!
---

...and he keeps ending up with Kaoru? Maybe if you sent him for more sports training...

NO! He's there too, and that just ends up with them both in the showers!

Oh my.

Hi everyone! I'm back!

LIZ! But... you, we, ah, we buried you, grave, back-yard, ag.. ag hurhahahhaheehehe*

Oh dear.

I'll get the purple ones out, sir.
---

It's October!
---

...killed a god! A GOD, Papa! Of course I can handle the combat tournament!

Will you please just do this for me? Just... try something nice and safe this time.

I've even got his sword! Look at it! It's got three blades and this toothpick slot!

Come on, Mistress. It'll be fun!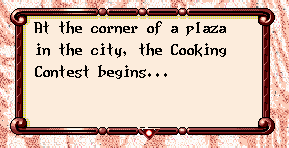 You are free to make any dish you choose, provided it is ready by the time the sun reaches the western rampart. You may use ingredients which have been prepared beforehand. Allez cuisine!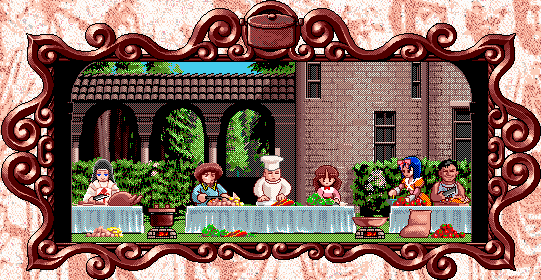 Time's up! Judges, sample the food!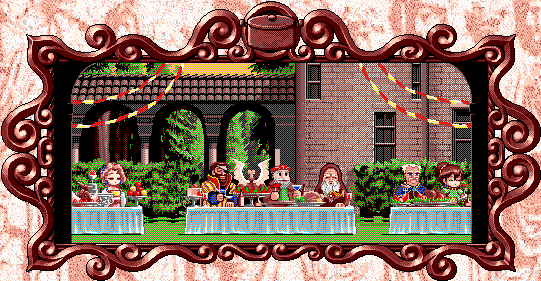 Mmmmm, neatly presented...

Ah, this is irresistible!

It melts in your mouth...

Ah, I'm so full... Well, let's announce the winner!

Ha ha! We shall now announce the winner!

I just said that...

This year, the first place winner is...


Lizzie's wild boar and pheasant in cream sauce with 421 points!

How did you achieve such a marvel, Lizzie?

Oh it's nothing, just hard work and the willingness to storm the gates of Heaven and wrested the secrets of cooking from the hands of dead gods.

*snif* So... proud...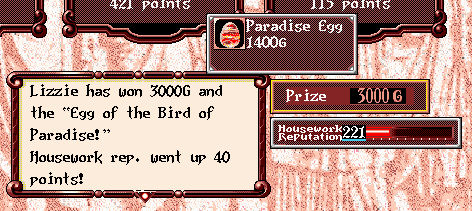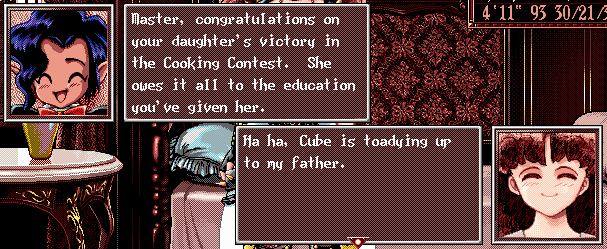 How about that "Egg of the Bird of Paradise" that she won? Should I cook it up immediately?

What! Y-You want me to eat it?

Huh? Ordinarily I would think that an "Egg of the Bird of Paradise" would be something to eat... plus it's not the first time you've eaten something to gain its power...

But it's such a cute egg!

Go on Cube. Lizzie deserves it.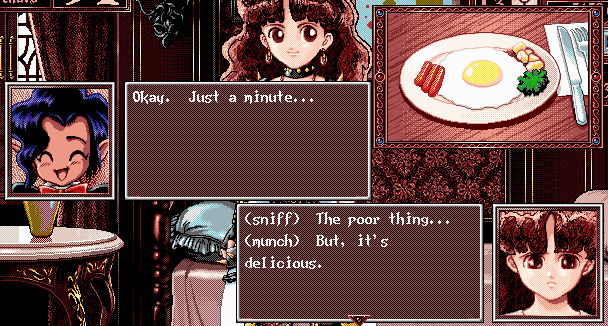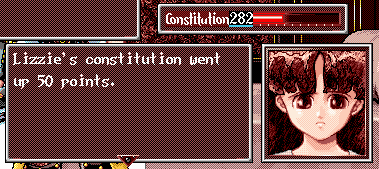 ---
That's another festival done. Next update, Lizzie's 14th Birthday! Whee! Here are her stats at the end of this half-year.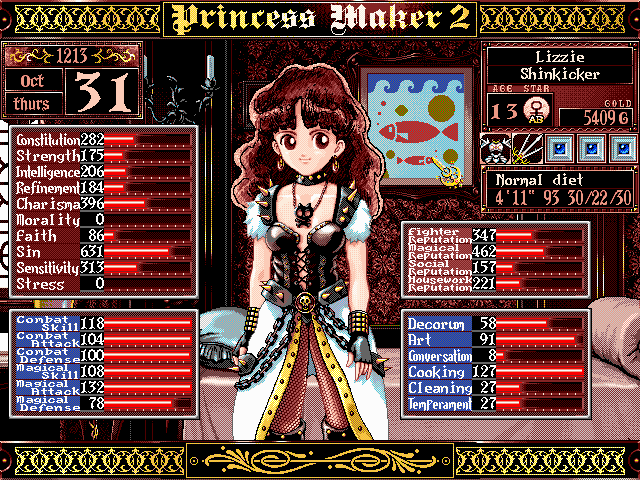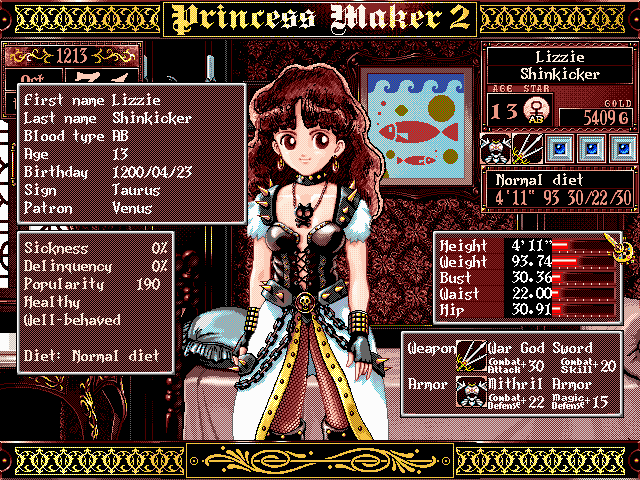 tl;dr: Lizzie went to hell and back, dethroned the God of War, and won the cooking contest!