Introduction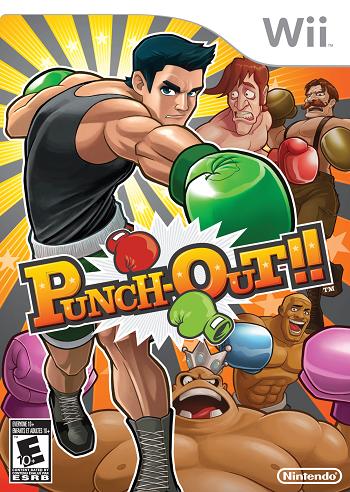 Let's Play Mike Tyson's Punch-Out!!
Let's Play Super Punch-Out!!
Punch-Out!! for the Wii was released early in the summer of 2009. It is more of a reimagining of the original NES Punch-Out!! then a completely new game. This does not mean that it doesn't bring anything new to the table. The controls are tighter, boxers actually have personalities, and there are new modes as well. For more info then I have the patience to put here refer to
this.
What's the format?
The format for the LP will be videos, lots of videos. Video hosts will be Blip and Youtube for now. For each boxer there are 3 challenges that you unlock after beating them. After the Match video a few days later I will post the Challenge video for that boxer where I go though how to complete each challenge. For the first few boxers I won't go into much detail about how to beat them, frankly because it's not very complex. Later boxers that require a bit more strategy will be explained further. Also, I know that most boxers have crazy shit that you can do to them to beat them easily and if I don't show it off in the Match video wait till the Challenge video is posted, I'll probably show it off in there.
Anything extra in this LP?
Unlike my first two Punch-Out!! LPs which didn't have much user input this one will have CHALLENGES! Ya, during a Match video I will try to state a challenge, if I don't forget to. If I do forget it will probably be posted with the video anyway. All the challenges will have to do with the Punch-Out!! series in some way. There will be two types of challenges, right now, video and writing. A video challenge will be something along the lines of beat X guy from X game as fast as possible. A writing challenge will be, well they could be anything really. However, for the written challenges I would prefer if you could spoiler your entry, because I'm weird like that. Anyone wanting to submit an entry for the challenge can do so by the time the Challenge video for that boxer is posted. I will keep track of challenges and the current point totals in the second post of the thread. The prizes at the end will be some SA purchase worth 10$ for first, 5$ for second, and special bonus prize for third.
Anything else?
One final note, this is a really awesome game and most of the awesome things come out of nowhere. So please, and I can't emphasize this enough, if you must MUST talk about things that we haven't gotten to yet in the videos in the thread, please spoiler it. I really want most of this game to be a surprise to those who haven't played it yet.
Video Note
The quality on Youtube is a little worse than it is on Blip. If the quality bothers you, you can switch source on Blip to mp4 and download the source mp4. The quality of the downloaded mp4 is pretty much the same as what I uploaded.
Final Final Note
I do not have the Doc Louis's Punch-Out!! DLC so I will not be doing it. Sorry it pisses me off too. EDIT: I lied.
Videos
Audio Gallerys
Contender Mode Stream