Part 30: Episode XVII: Funky Town
Episode XVII: Funky Town
When last we left our hero, he'd just finished traveling some really, really dull landscape and had come across another house behind the mansion. With that said, let's continue...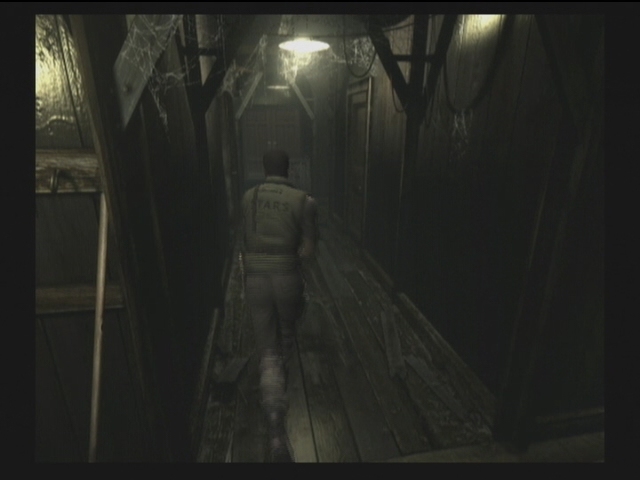 What evils await in this residence? A ghastly number of cobwebs, that's what. Anyone have a broom handy?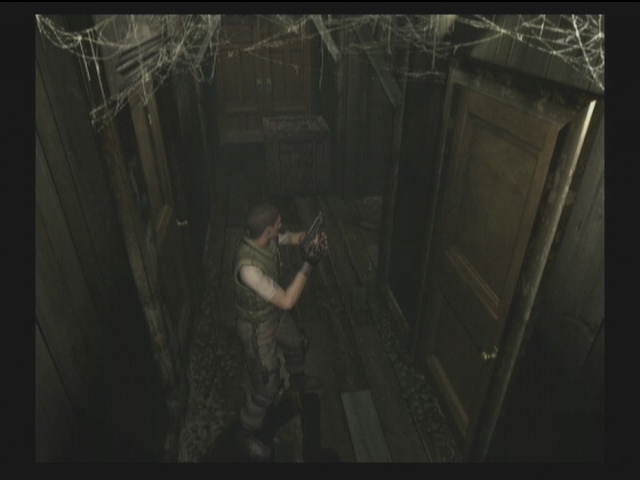 Well, that's a good number of doors, no? Let's see what's behind door #1!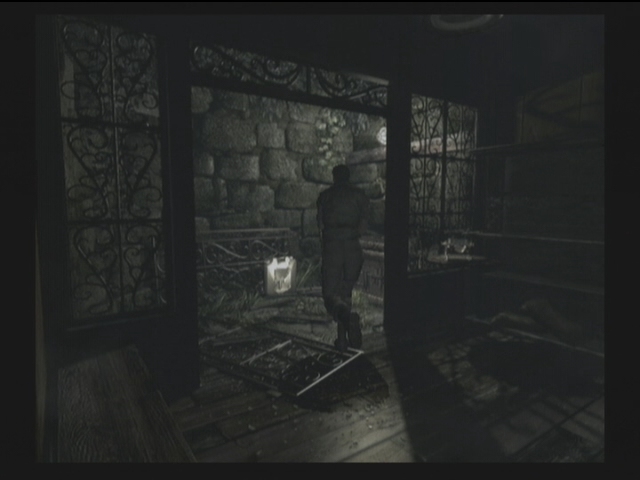 Why, it's a save room. You shouldn't have. You'll notice there's a kerosene canister in here. Yeah, that whole zombie > Crimson Head mechanic? It's pretty much done at this point. There are about four zombies present in this entire area and all are in rooms you'll never need to return to. The mansion's zombies are...well, you'll see. Anyhow, this is boring. Let's try door #2!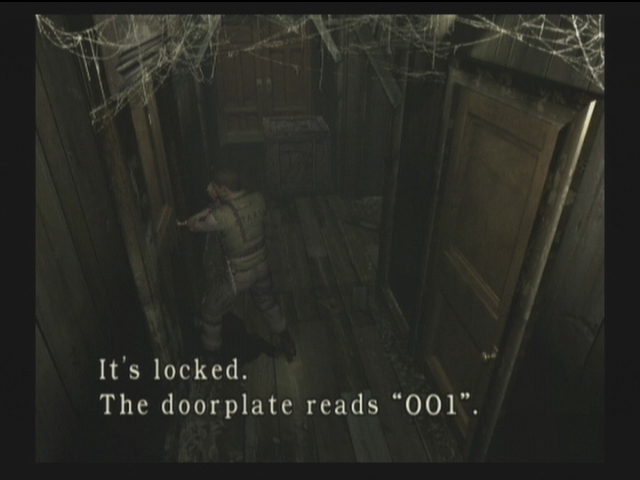 Uh...huh... This isn't going well. Let's try door #3!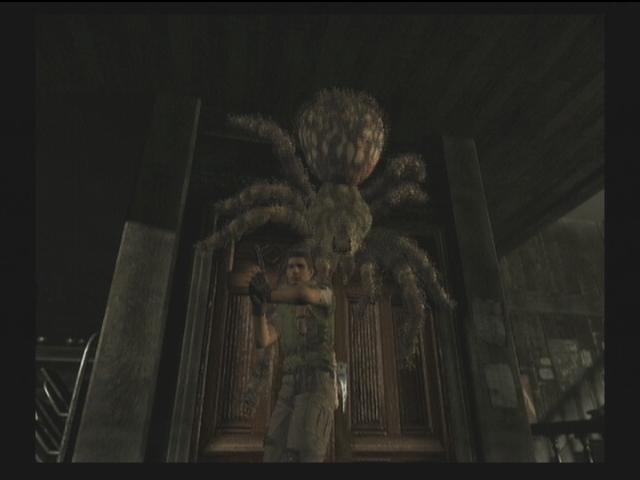 Well, at least this one is opFUCK GIANT SPIDER! GIANT SPIDER WITH
HAIR!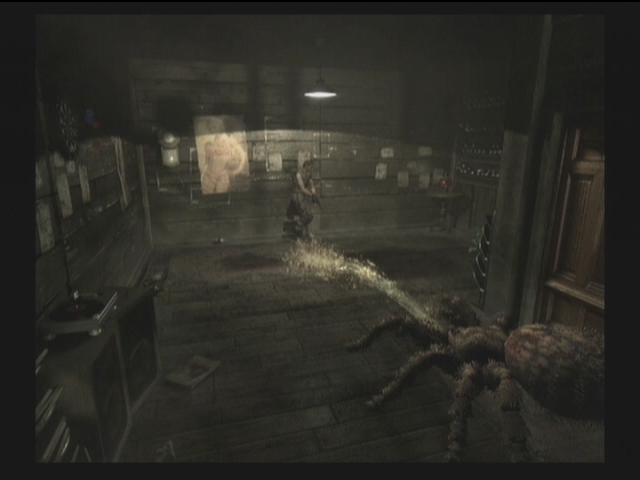 Meet the Webspinners. Giant spiders. Spit poisonous acid. Sometimes bop you with their terrible hair spider legs if you stray too closely. As a series tradition, they'll only be joining us for about three rooms and be largely harmless. This is one of those three, by the way.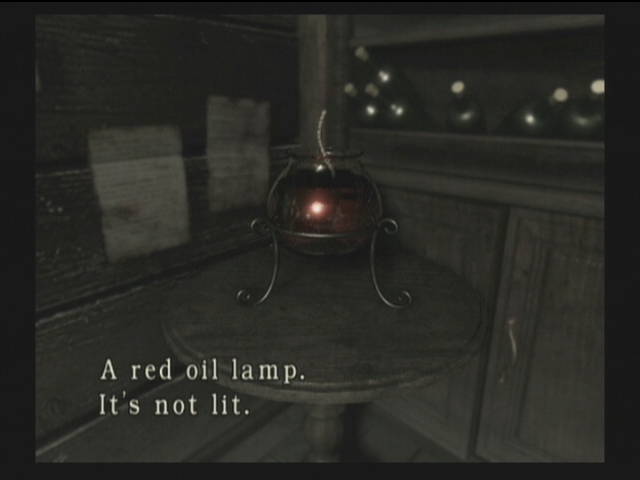 In the corner of the room is this little trinket. Can you feel it in the air? The electric tension? A retarded puzzle is upon us, once again. Now fire, that's something Chris Redfield can do. He can also juggle. But this doesn't come up as much.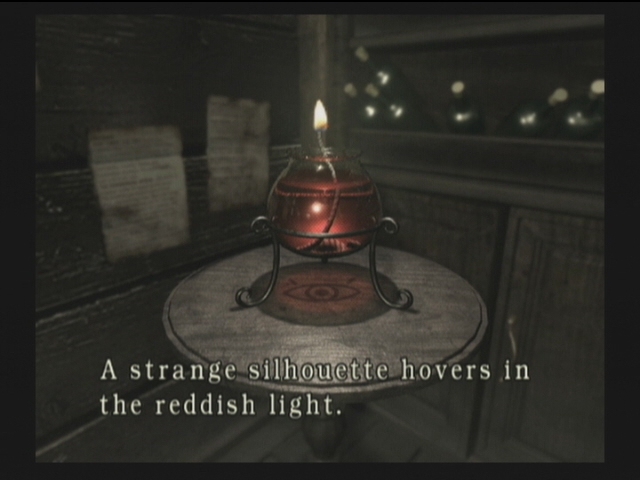 This produces the silhouette of an eye with two lashes. Interesting. Were I not utterly uninterested, at least.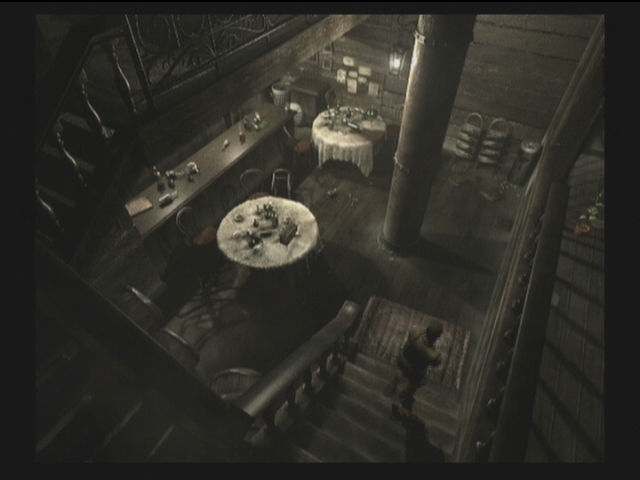 Further in the room, we find yet another bar. Heaven forbid of the researcher lodgings didn't include fully stocked bourbon. They've got a top notch bar in their creepy trap filled mansion, secondary creepy trap filled mansion, and trains. Might as well go the whole nine yards.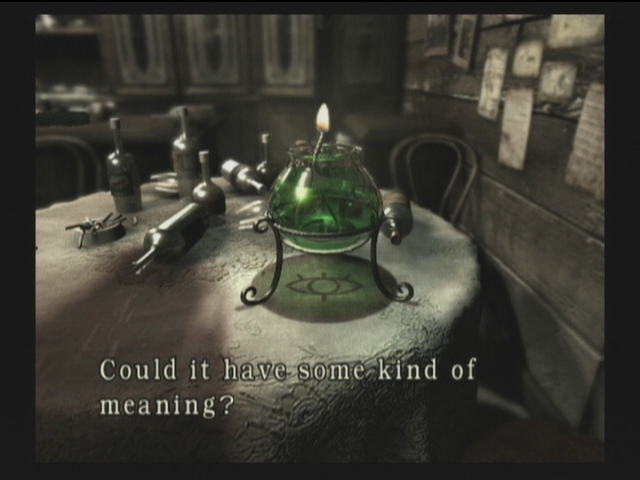 Another one of these lovely oil lamps is found down by the bar. This time a green one displaying an eye with four lashes.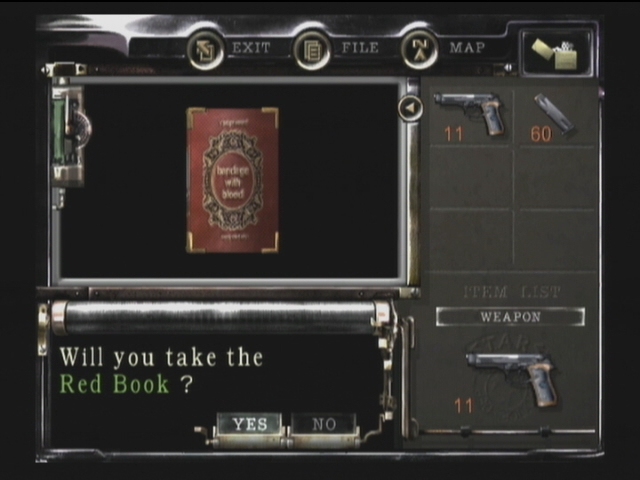 Also, on the bar, is this light bit of reading. "Bandage with Blood". Wasn't this a Goosebumps book? Perhaps inside will reveal more.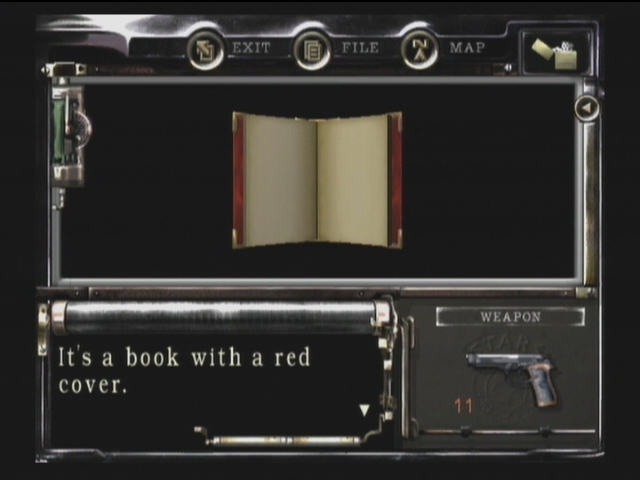 Oh, R.L. Stine, you card. I'm sure this blank book will inevitably come to some arbitrary use in the near future.
Chris shoves the blank book into his already limited inventory and heads upstairs.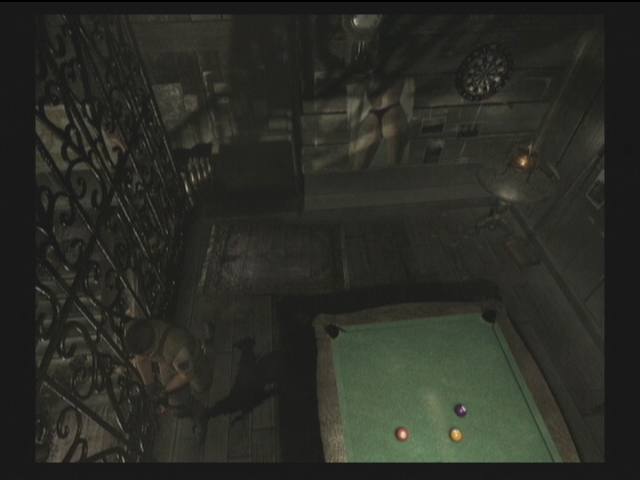 Ahh... fanservice back before heroines started dressing like working girls.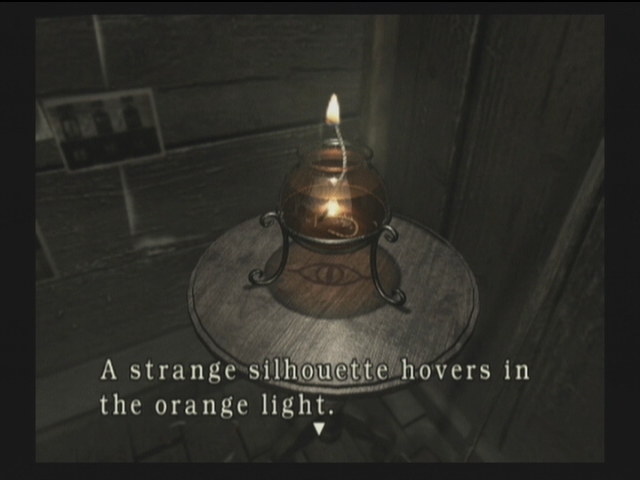 And another lamp, this time with an eye with no lashes. Sounds like my Uncle Ron. No facial hair whatsoever. Looks like a man-seal. Scares the shit out of my kid.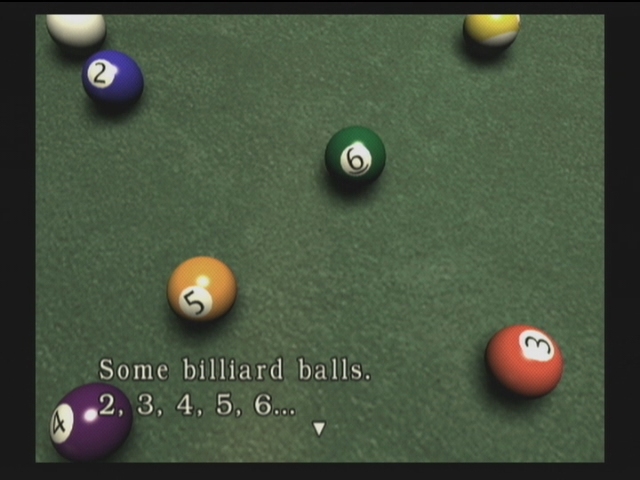 Now, looking at the pool table, we can now deduce that the 3, 6, and 5 digits will be used in whatever as of yet unpresented puzzle. They're having real trouble with the whole finding obstacle > finding solution to obstacle > solving obstacle set-up in this title.
Chris returns to the main hall.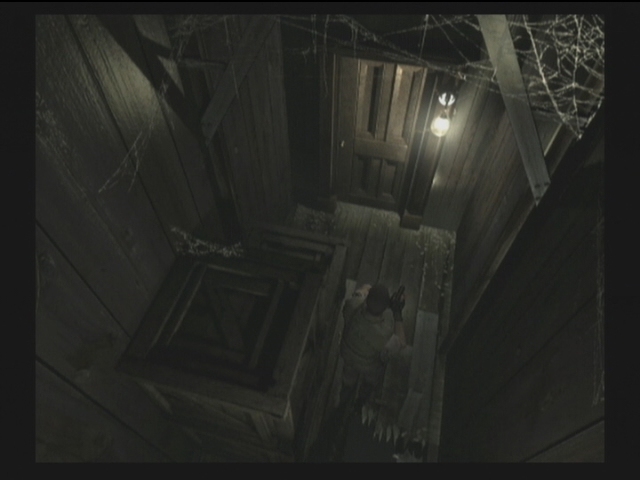 Maybe we'll come across that puzzle at some point. Maybe not this update. Maybe not even the next update. But eventu-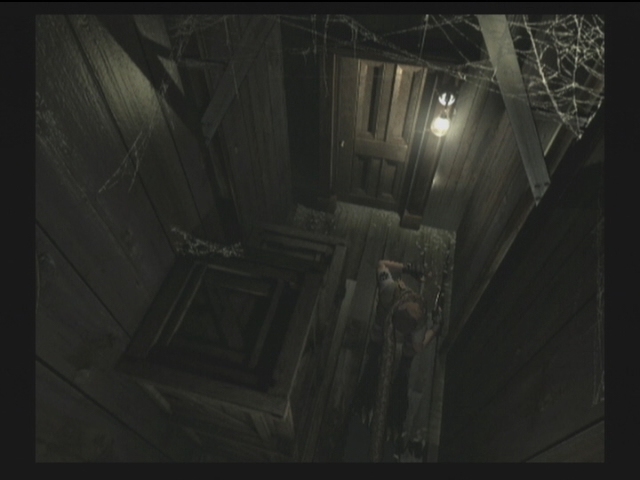 "HUGHENFAST!"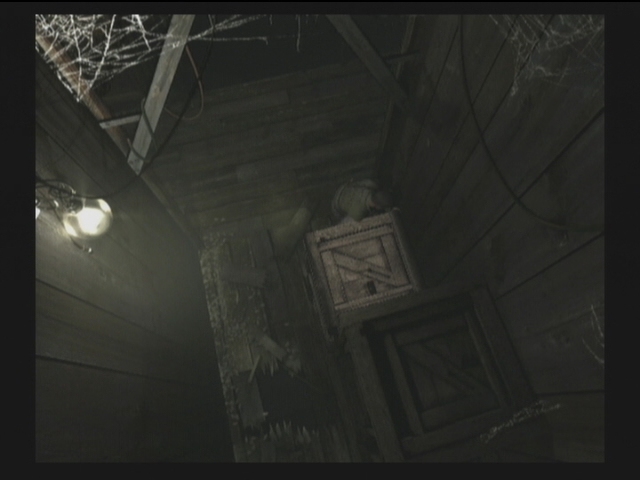 It seems there is a sentient vine with a penance for strangling living beneath the floor. Crates will be employed to circumvent this evil. Crates will soon be employed to circumvent much more mundane evils. Stay tuned.
Moving as fast as we can...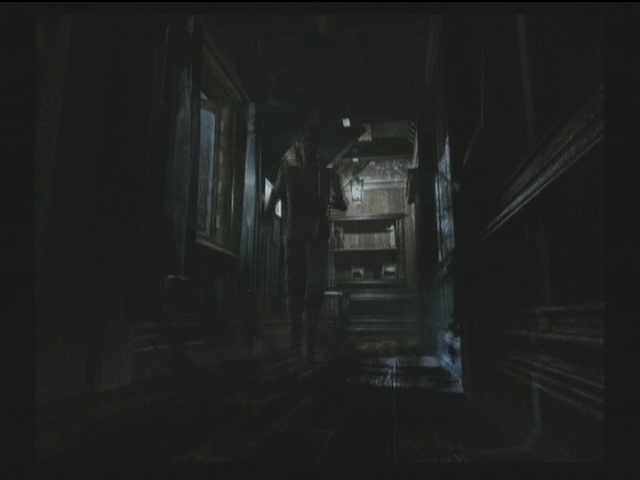 Hey, what do you know? A hallway leading to another hallway. Haven't seen this architecture before. No, sir.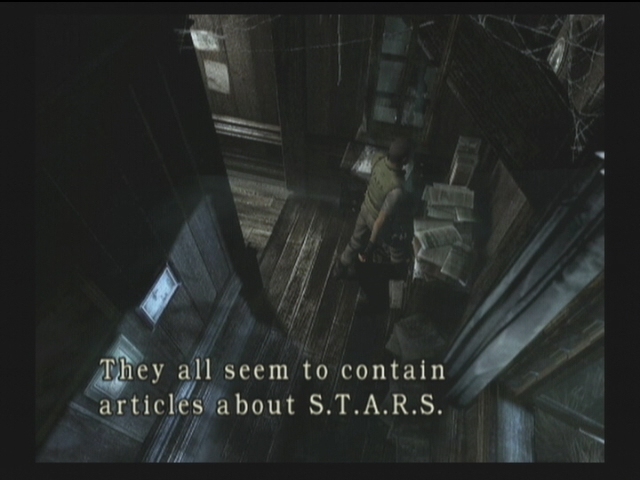 Let's see what we have here.
"S.T.A.R.S. TEAM INVESTIGATES MISSING BICYCLE. SIX DEAD."
'R.P.D.'S FINEST DEFUSE HOSTAGE SITUATION WITH GRENADE LAUNCERS. FIFTEEN DEAD."
'RACCOON CITY SPECIAL FORCES TEAM CRACK DOWN ON FOURTH OF JULY FIREWORK BAN. FOURTEEN DEAD."
"S.T.A.R.S. LAUNCHES NEW PR CAMPAIGN. HIRES MINORITY MEMBERS AND 18 YEAR OLDS. THREE DEAD."
"BRIAN IRONS LAUNCHES BID FOR MAYOR. S.T.A.R.S. SECURITY DETAIL STOP ASSASSINATION ATTEMPT BY 81 YEAR OLD REPUBLICAN TERRORIST. FOUR DEAD."
"BRAVO TEAM GOES MISSING IN ARKLAY MOUNTAINS. ALL PRESUMED TO BE DEAD."
"ALPHA TEAM LAUNCHES SEARCH AND RESCUE MISSION FOR MISSING BRAVO TEAM. NINE DEAD."
Heading past the light reading...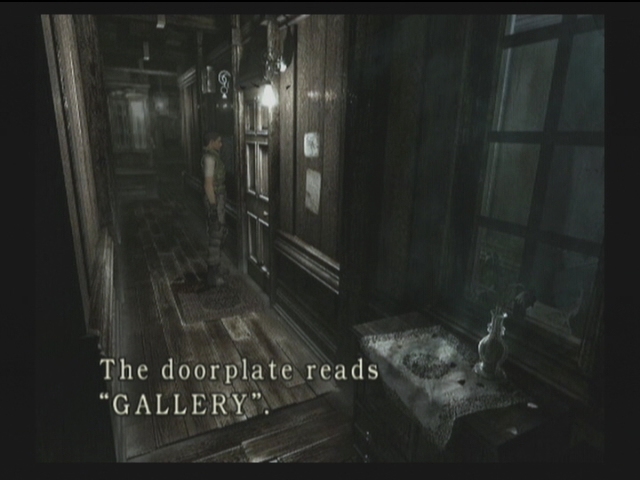 Yet another locked door. I see a trend here.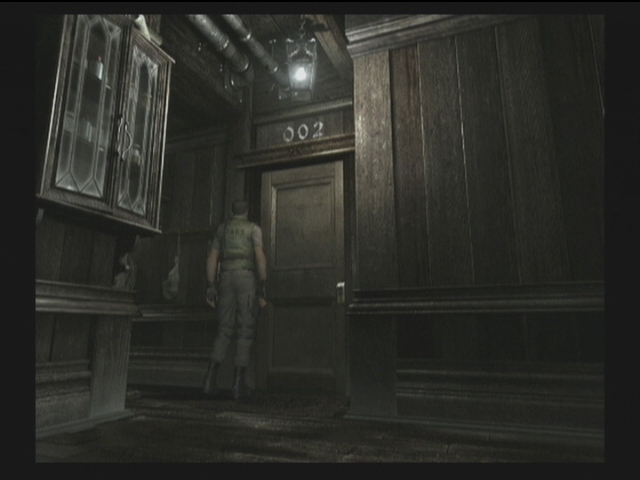 This door is actually open. But first, an alcove is just waiting to be explored and I love me some unnecessary floor space.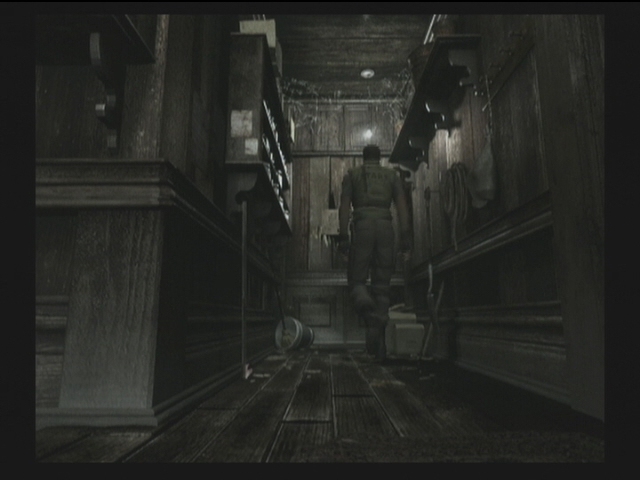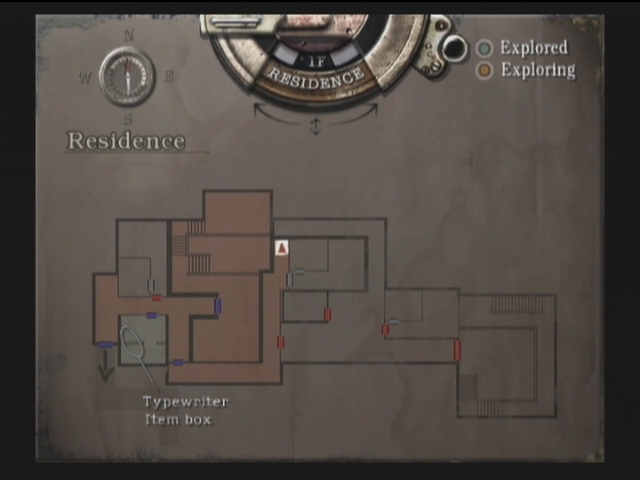 Well, at least this place doesn't have too much ground to cover. Unless there's some secret lower level filled with maddening horrors. And what are the chances of that?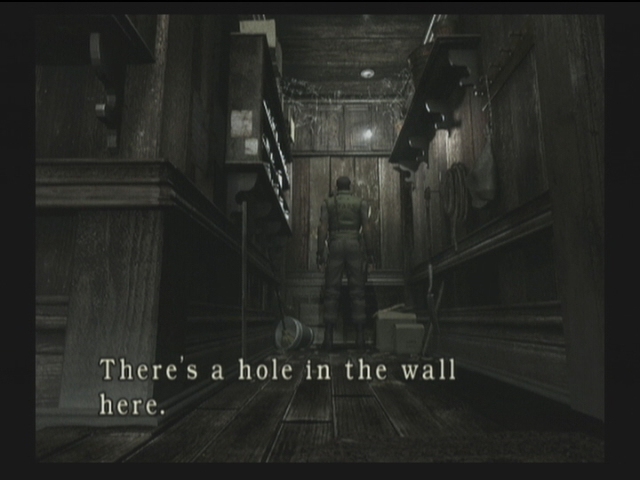 Eh?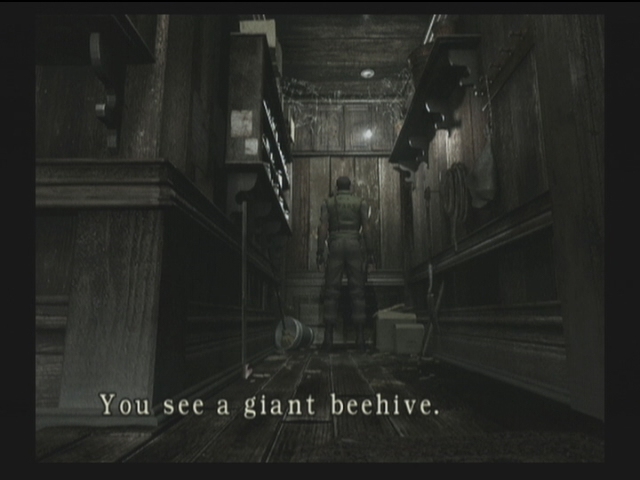 OH GAWD!!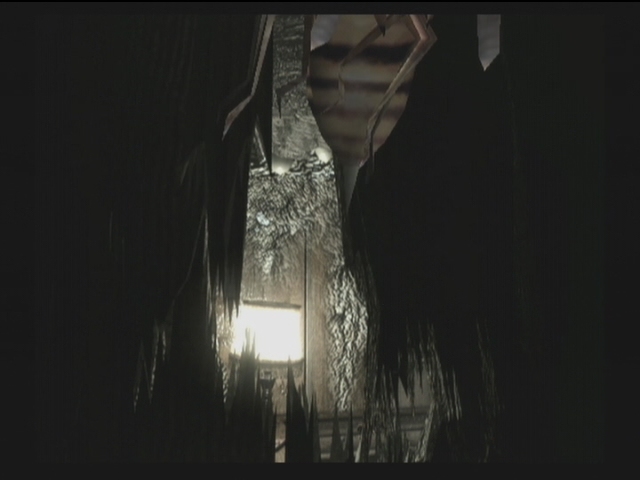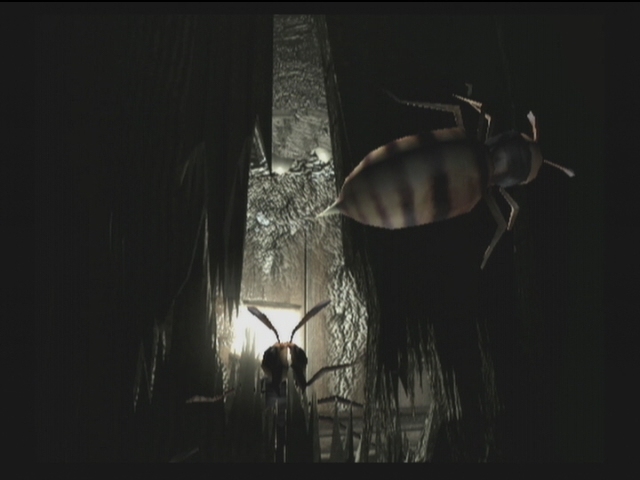 "BEEEEEEEEEEEEEEEEEEEEES!!!"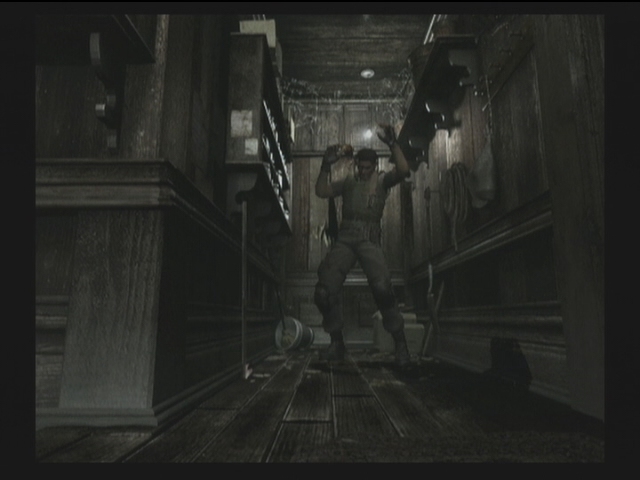 "BEEEEEEEEEEEEEEEEES!! THEY'RE IN MY EYES! IN MY EEEEEEYYYEEEES!!"
Chris flees into the nearby room.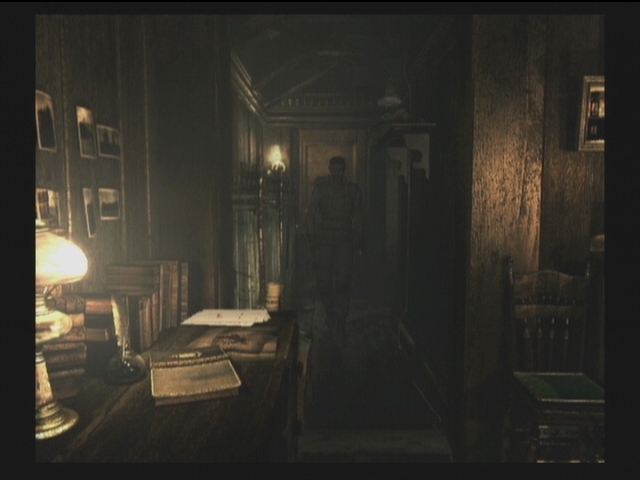 A lovely, beeless study comes into view. Chris takes the time to let his swelling go down and reads a nearby file.
PLANT 42 REPORT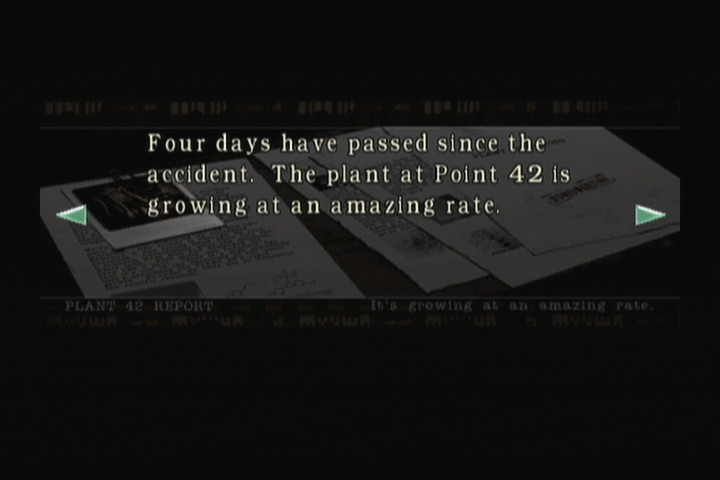 Fun fact: The Umbrella supervisor in charge of naming points in the facility is making $75,000 a year and has a full dental plan.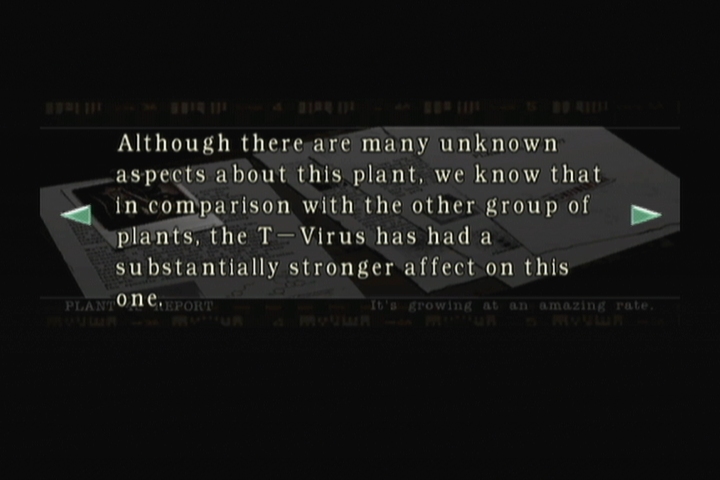 If you haven't been with us up to this point, the T-Virus' effect on plants? Primarily, it makes them really big and really poisonous. Oh yeah, they grow giant vaginas all over. Should probably mention that.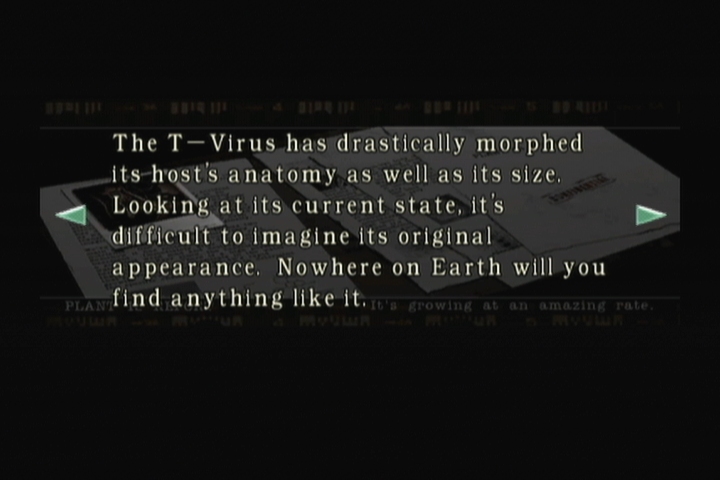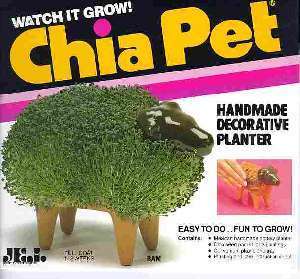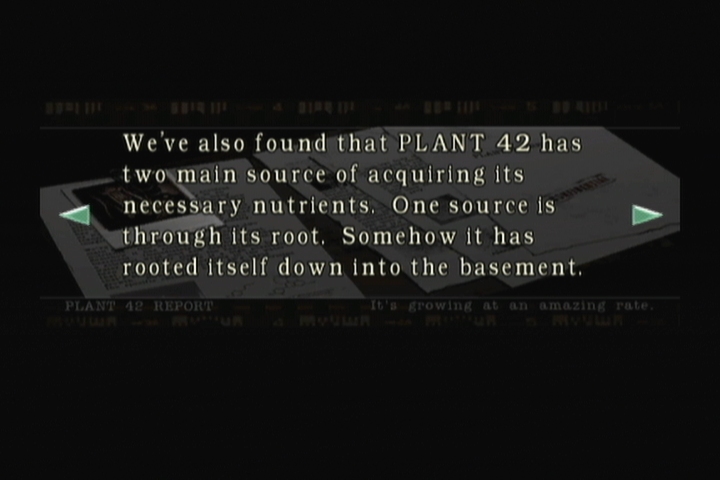 I'm sure this has nothing to do with the complete lack of structural integrity present in all of these facilities. None at all.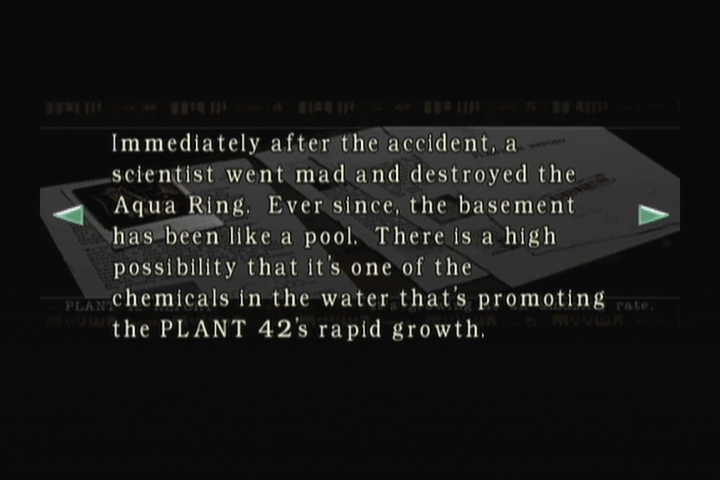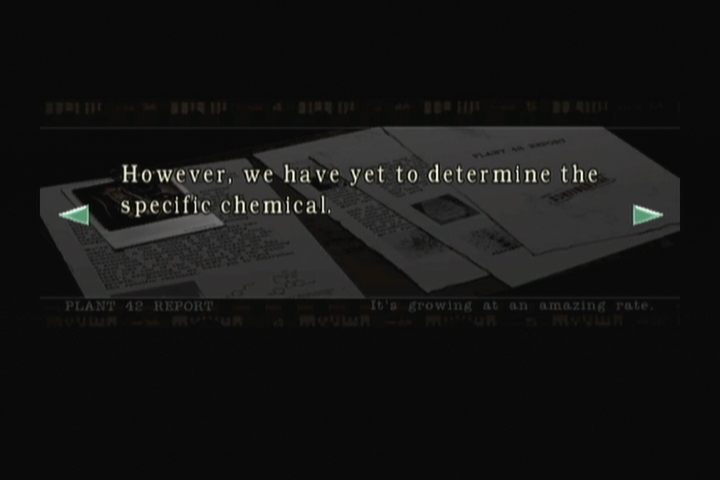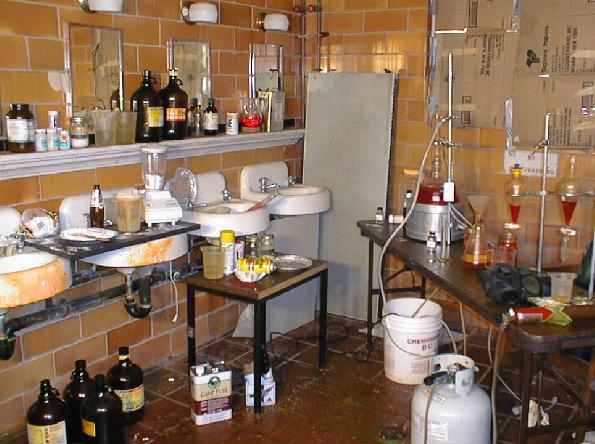 Don't play innocent, Umbrella...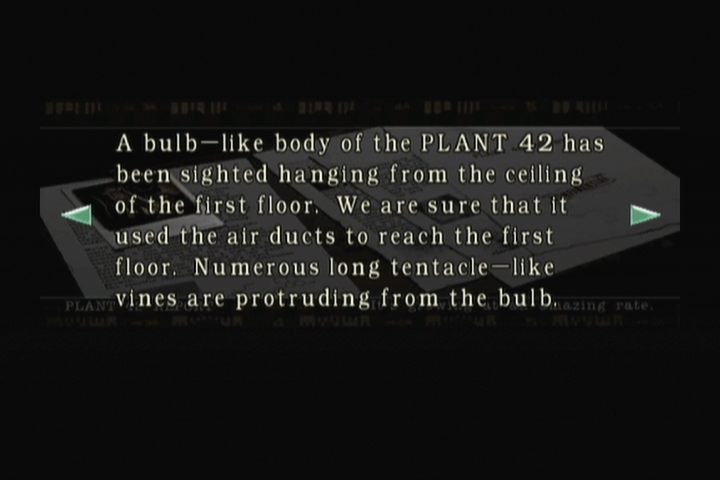 Wait... You'd just said you didn't know how the heck it'd gotten its roots into the basement. But, it wasn't on the first floor of a one story building. So...is Point 42
in the floor
?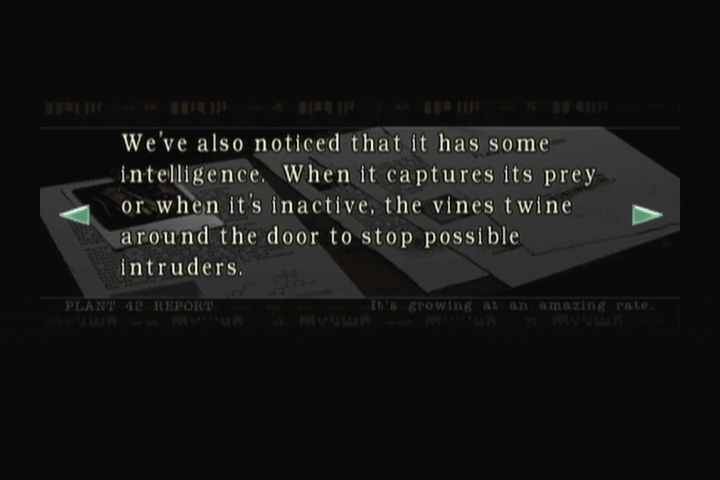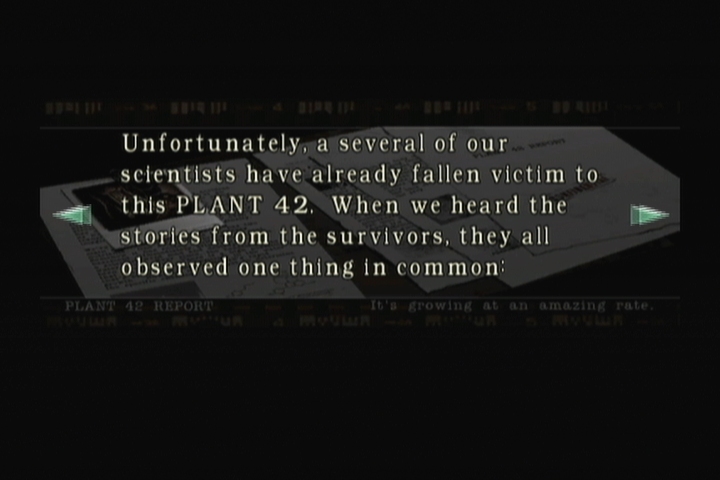 "It was probably a really bad idea to go into that room with the big, man eating plant. Really bad. What the hell were we thinking?"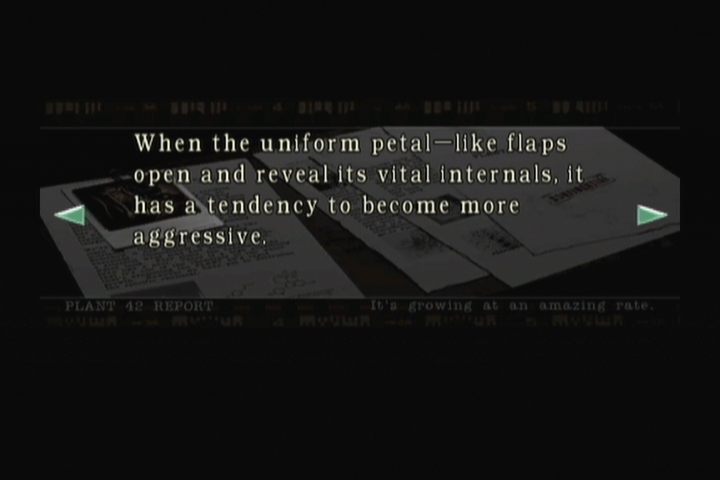 The boss gets more aggressive when it reveals its glowing weak point. Thanks for the pointer.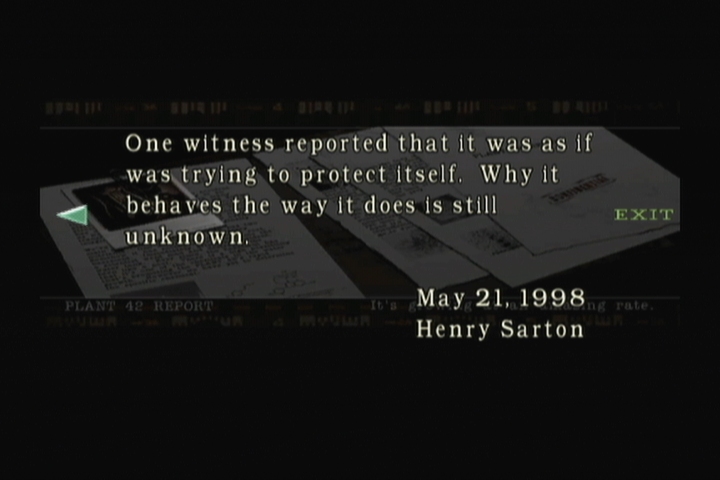 Such is the cruel fate of those doomed to minor boss status.
Placing the file aside, Chris decides...he really needs to pee.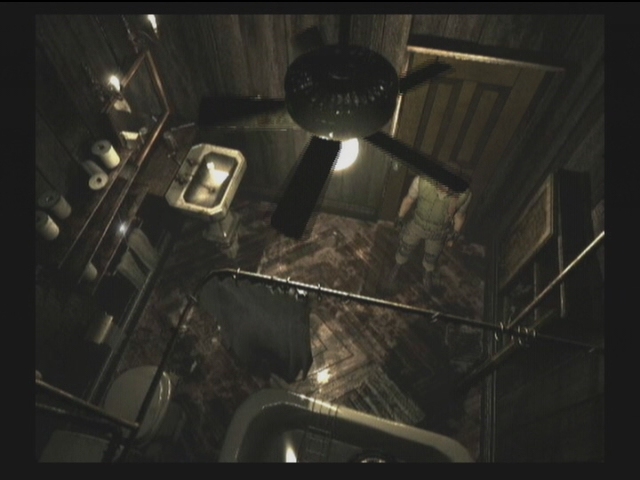 "Gotta go! Gotta go! Gotta go!"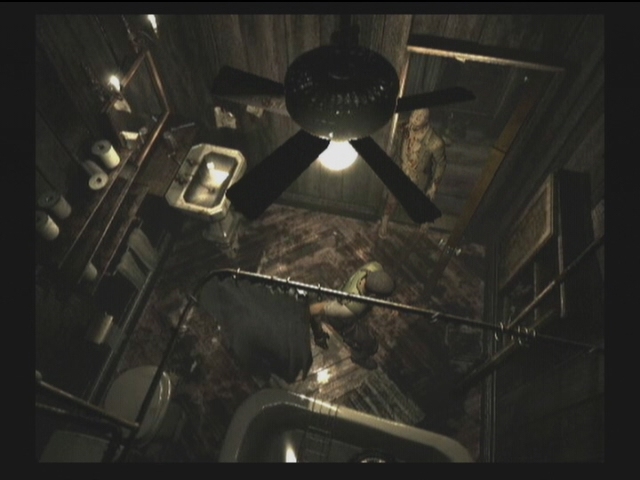 "Gotta go! Gotta go! Gotta go!"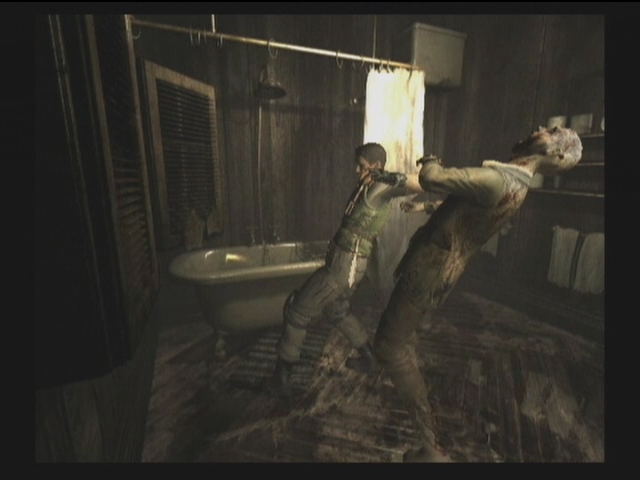 "Wait your fucking
turn!
"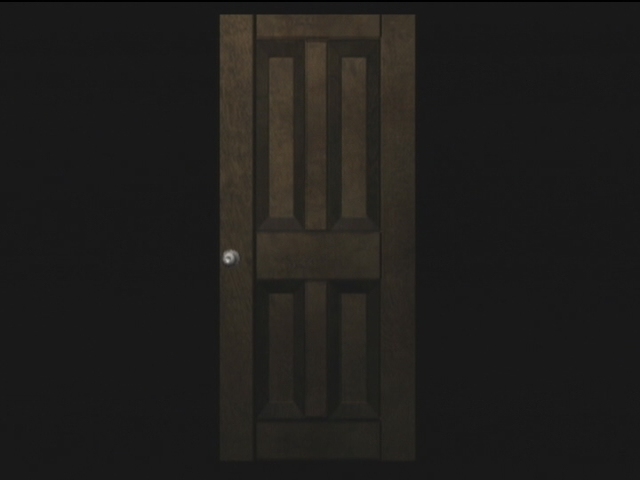 Scene omitted.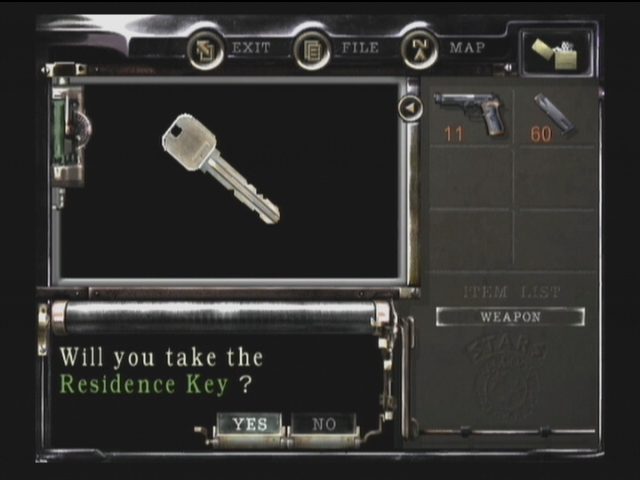 While using the John, Chris notices a key in the nearby bathtub. Scoping it out reveals it opens room 001. Chris washes his hands and sets off to said room. But first, to explore the rest of the area.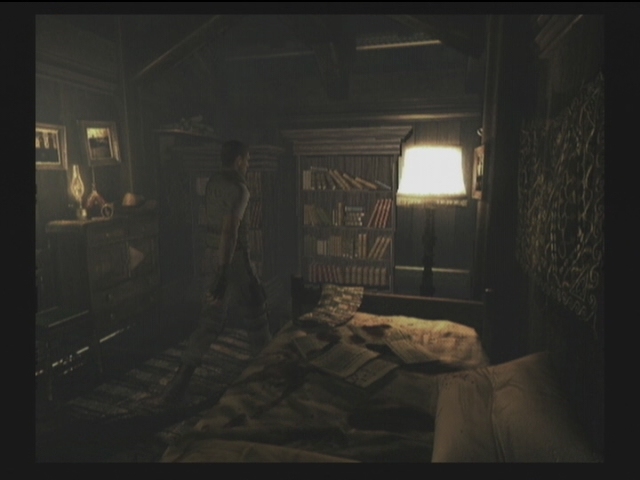 Nobody has two bookcases. Villainy is afoot.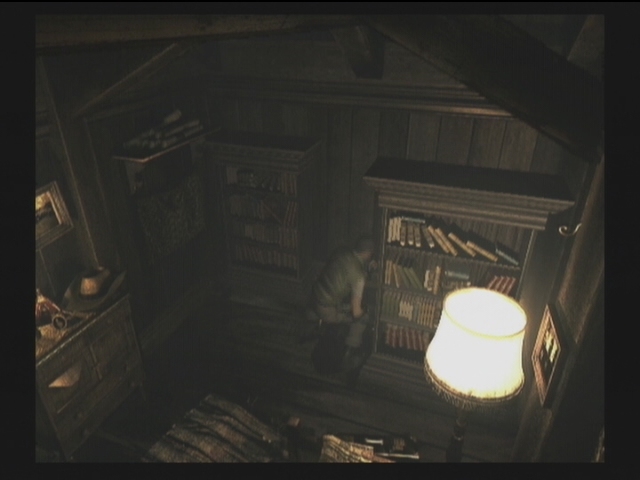 It's either the Bat Cave or a retarded laboratory. In either case, it's going to be annoying or The Batman is going to kick Chris in the dick. Either can wait a few minutes. Now, about that Room 001.
To Room 001!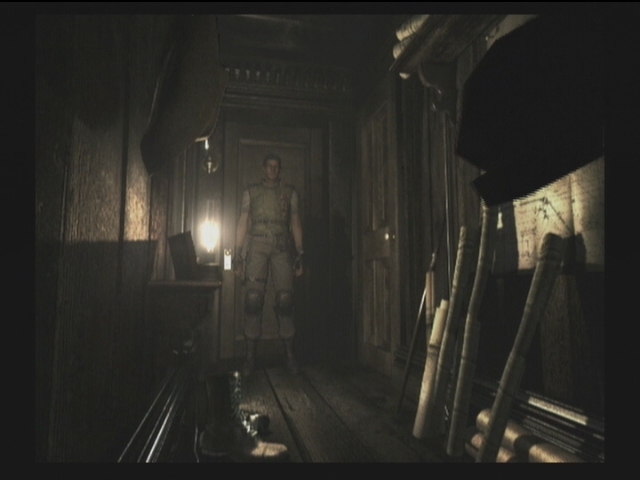 That is one pointy shoe swinging ominously in front of us.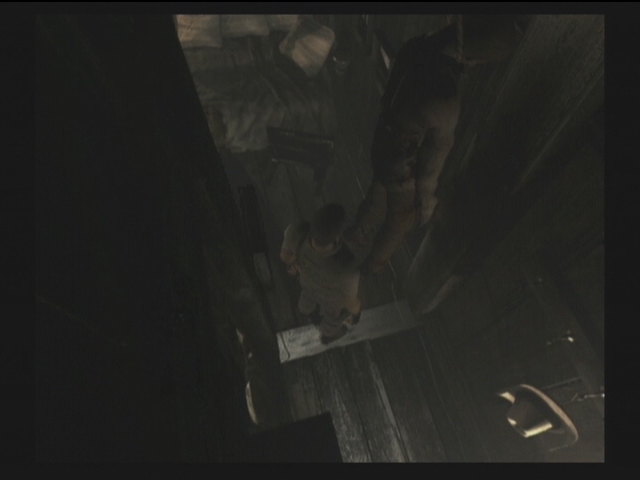 Oh boy, another suicide. I bet there's a novella stashed around here chronicling his last thoughts.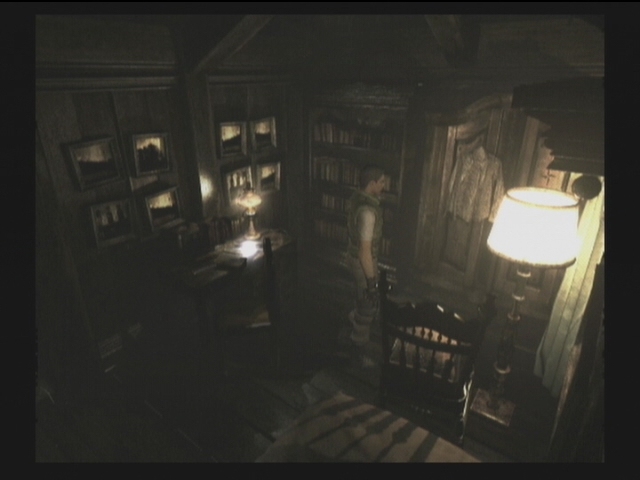 Yup. There we go.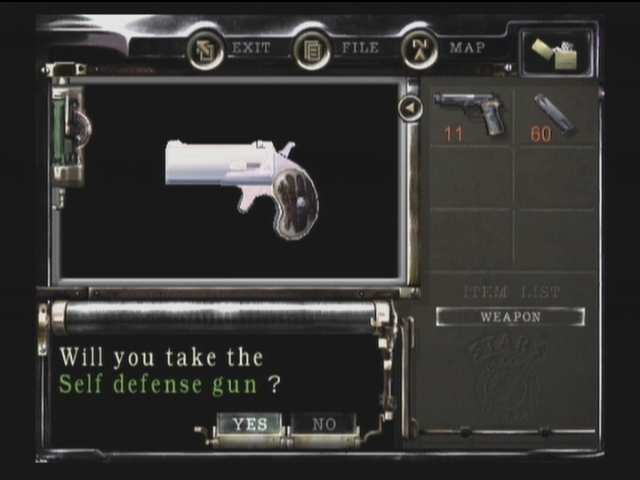 But first, we have this little trinket. The "Self Defense Gun". This weapon has one .22 Magnum bullet and is basically one instant kill on one non-boss enemy. But, an inventory slot for a single, non-reloadable bullet is a tall order for Shallow Pants Redfield. Oh well, let's check that file.
Suicide Note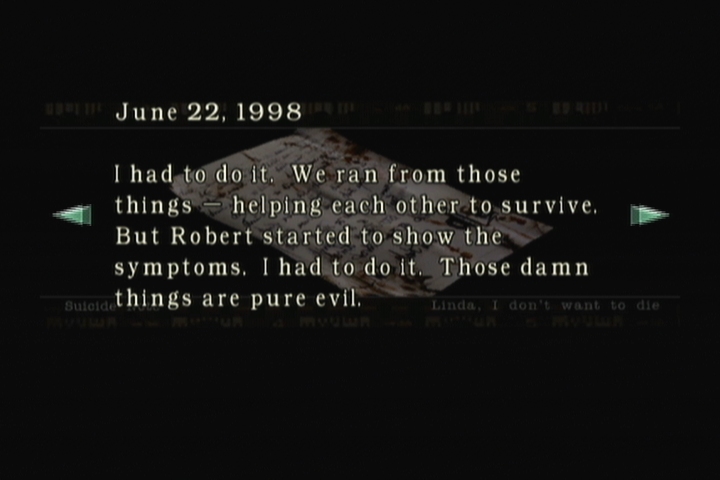 "And I thought we'd be safe from evil here in the residence? Why would evil make itself a resident anywhere? That doesn't even make sense!"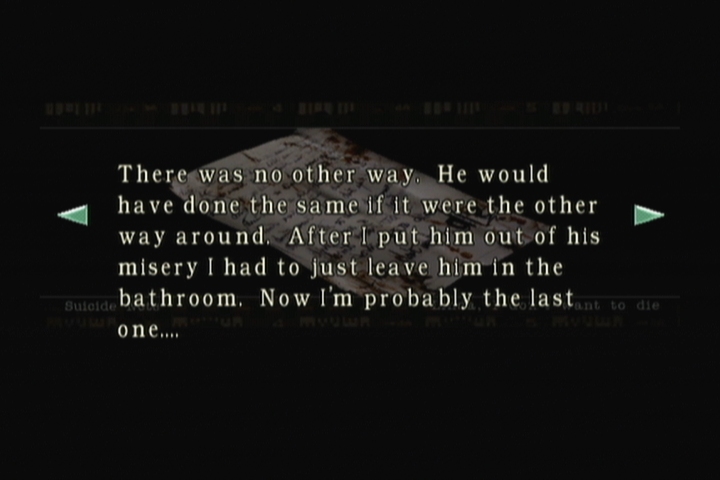 Killing your friend because he's slowly joining the ranks of the undead is one thing. Doing it while he's taking a shit is quite another, far more dickish move.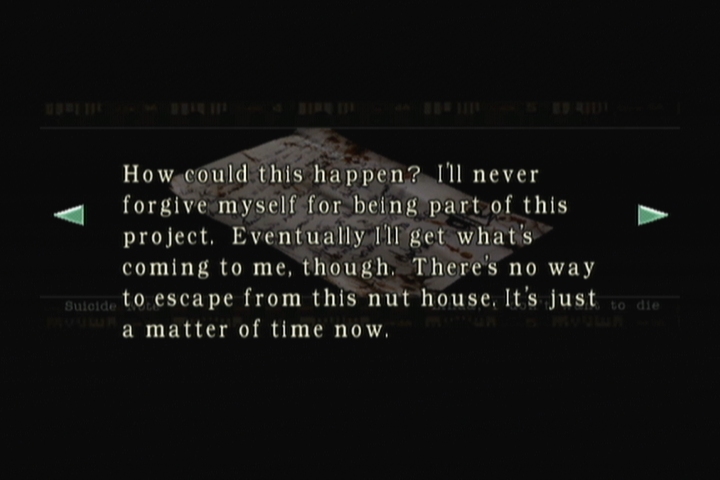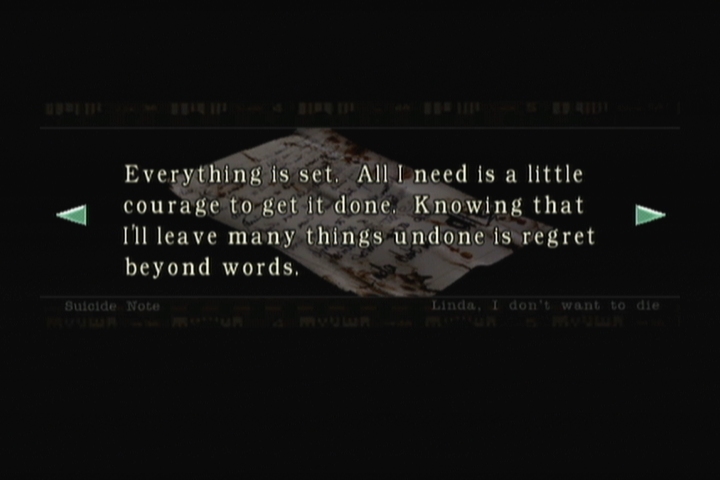 He just couldn't bring himself to finish that crossword Robert was working on while sitting on the can.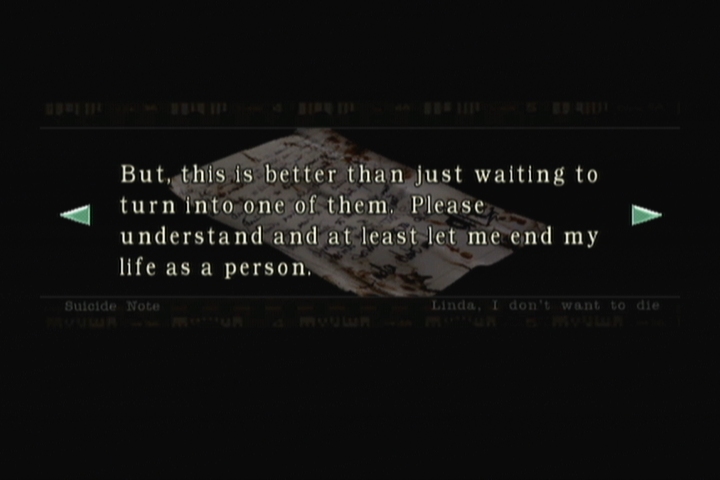 So he decides to hang himself instead of eating the second bullet, thus sealing his fate of turning into a zombie. What community college to Umbrella hire these researchers?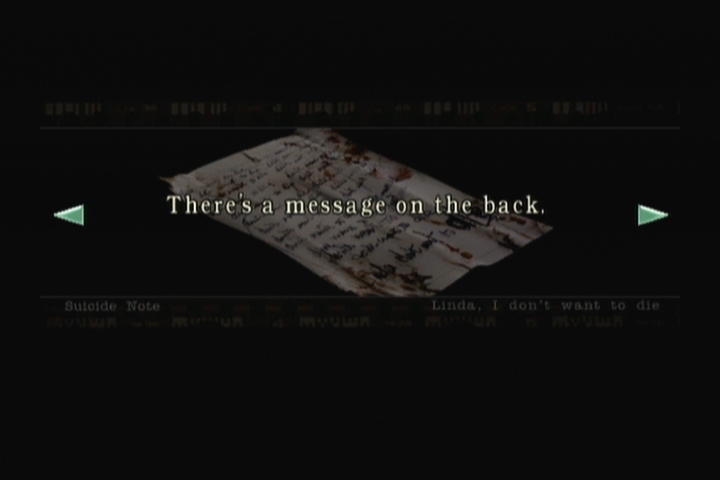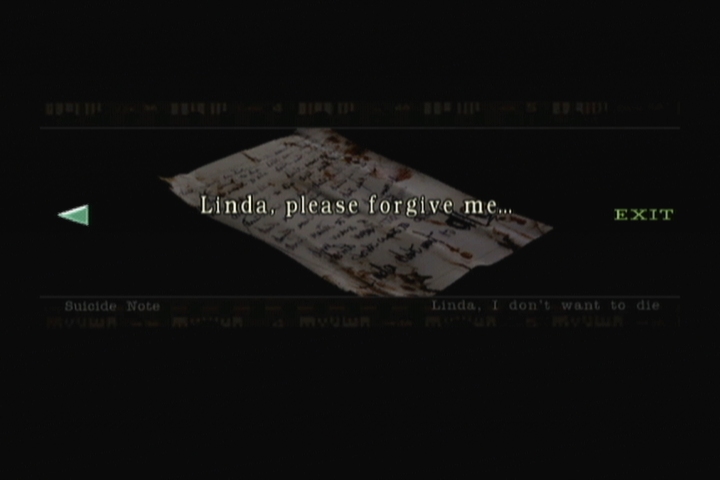 Poor guy will never fulfill his dream of banging Wonder Woman.
Chris tosses aside the memo and checks out the bathroom. Since, why not?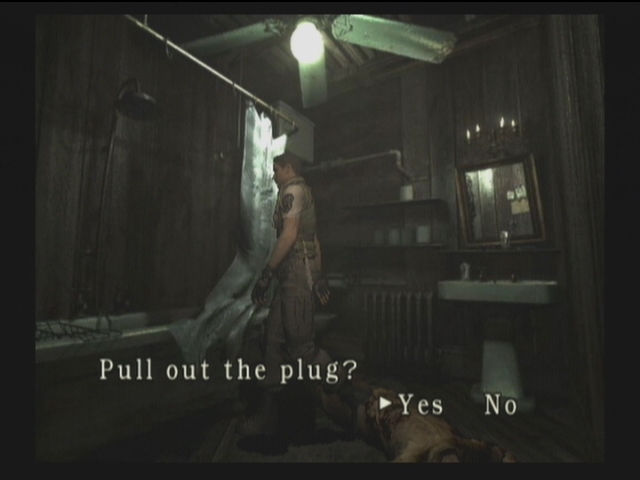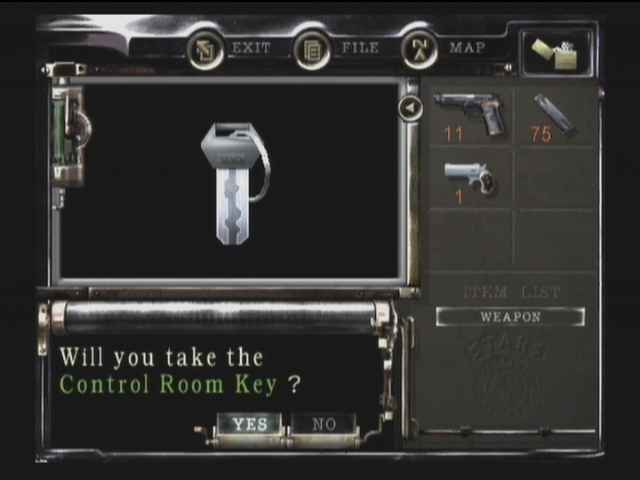 What is with this game and items in bathtubs? And what control room?! Blargh.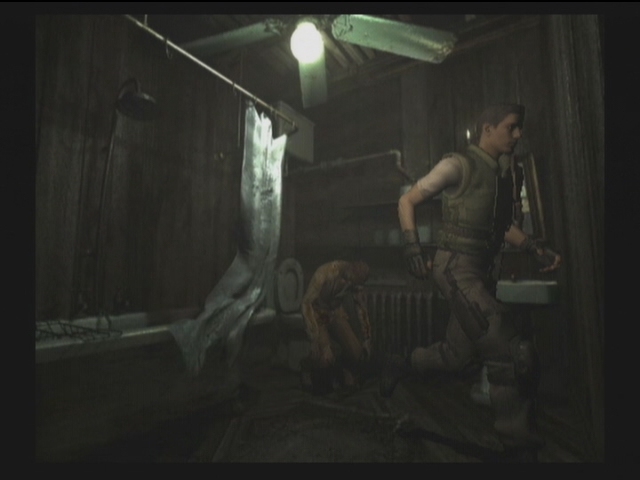 "Hey, bub. A little privacy? I'd like to finish this one of these days."

"Oh uhh...sorry."

"Tch. Some people..."
Chris returns to room 002 and heads down the mysterious ladder.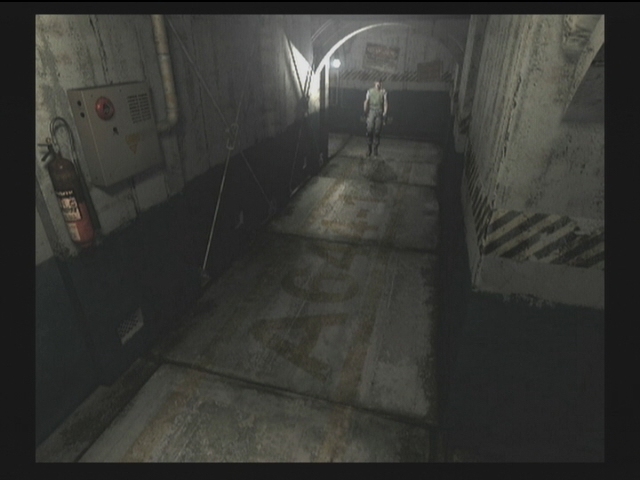 At least it's well lit, if nothing else.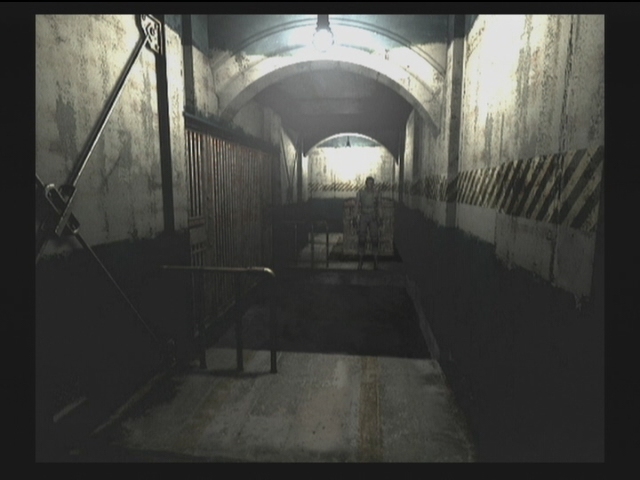 Heading down the unnecessarily long passage, Chris comes across yet another short body of water. He preps himself and begins his passage.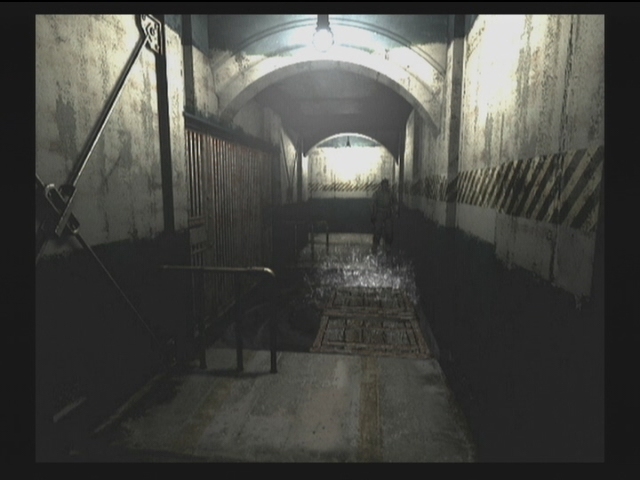 By means of pushing several hundred pound crates into the water, hoping they stay buoyant and in perfect alignment so as to lock in place and support a full grown man.

"I'm not getting wet again."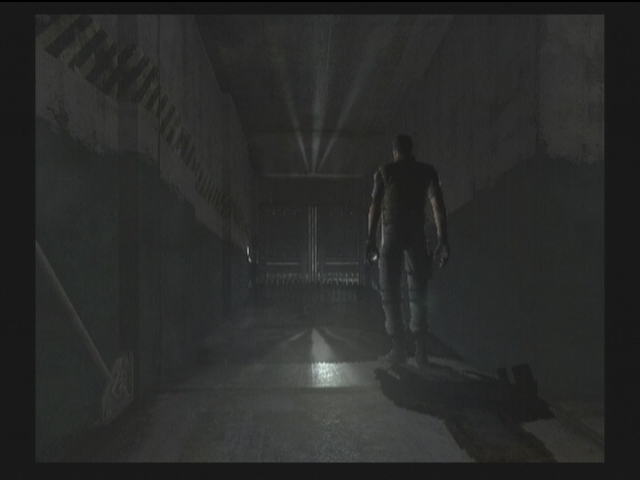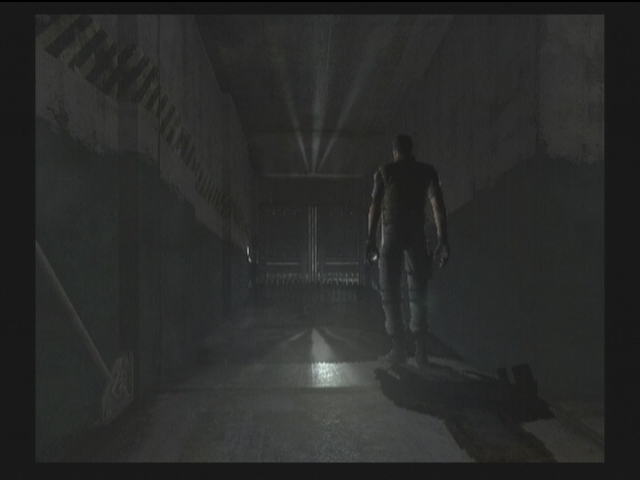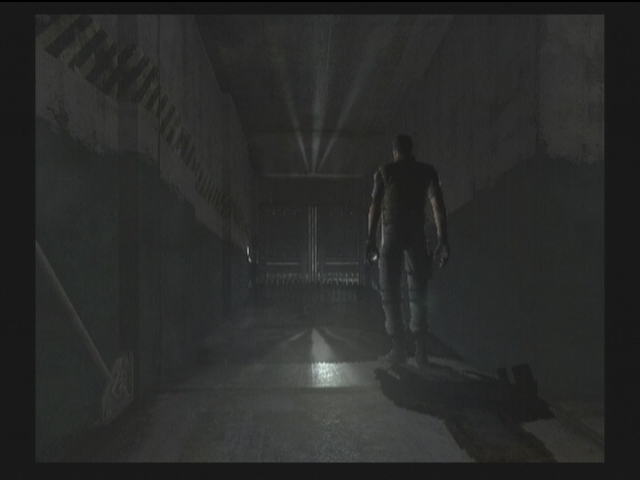 "Son of a bitch!"
Tune in next time for minor character deaths, timed puzzles, and completely out of place zombie animals!