Part 7: Episode VI: You've Got A Friend In Me
Episode VI: You've Got A Friend In Me
When last we left our heroine, she was nearly turned into deli eatery by aide of a spooky man crushing ceiling trap. But enough about that. Whatever happened to Chris...?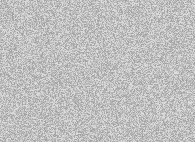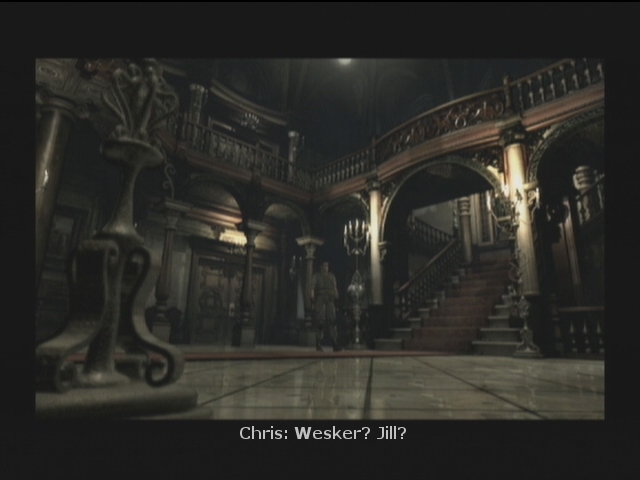 "Why the FUCK did you lock the door when I was like ten feet behind?!"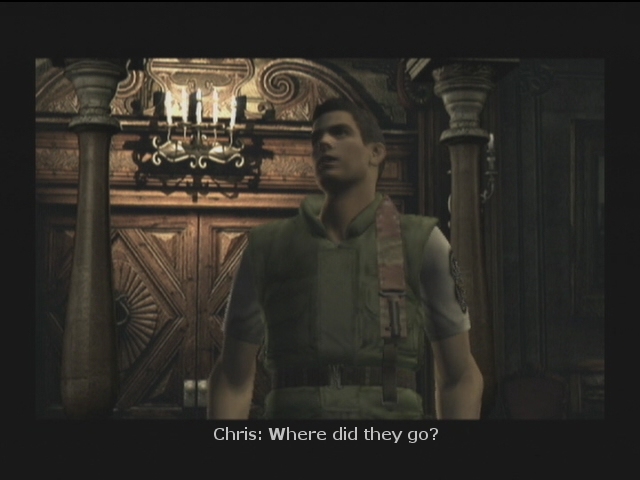 The better question is why the hell does that candle stick behind you have a shadow cast like it had a spotlight on it? Or how can fire cast a shadow of itself in the first place?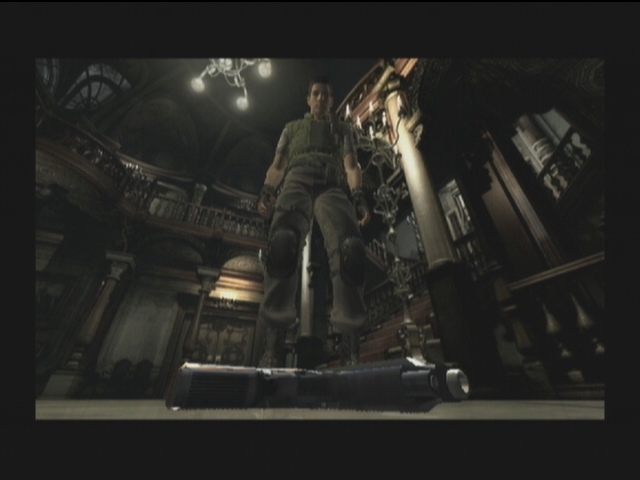 "Guess I could use this..."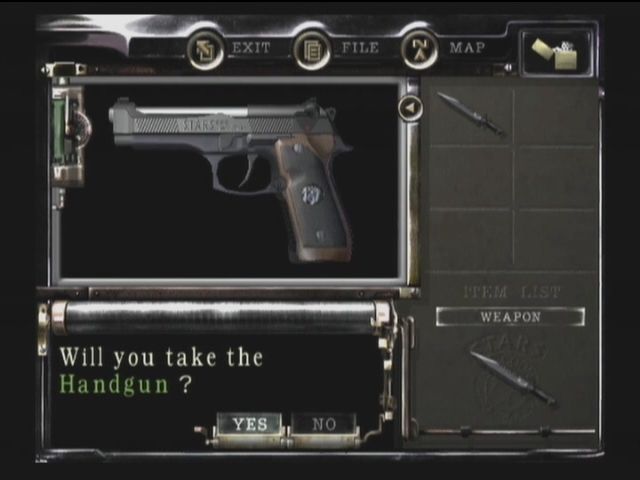 <cough> "Sort of dropped mine with the running away and all. Heh. Whoops."
Chris decides to wander around the mansion for a bit to get a feel of things.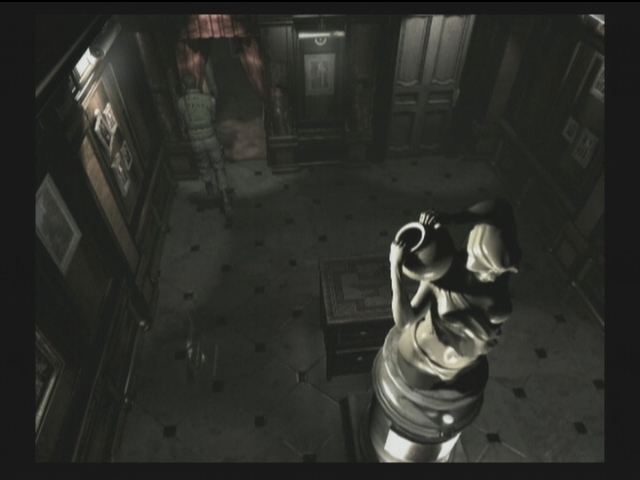 See the lovely works of art adoring the rustic settings.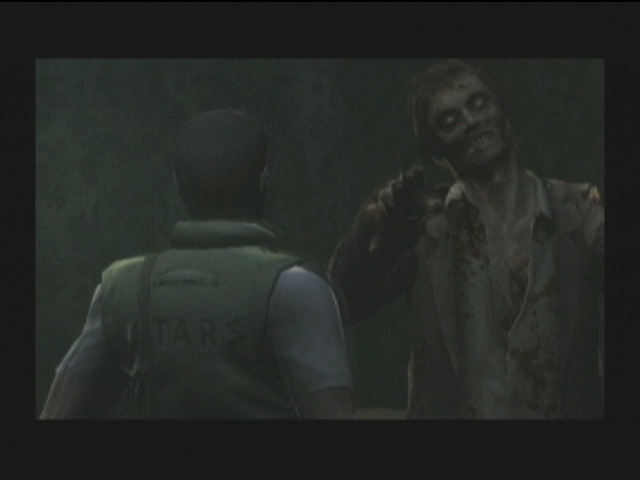 Exchange words with the walking dead horrors.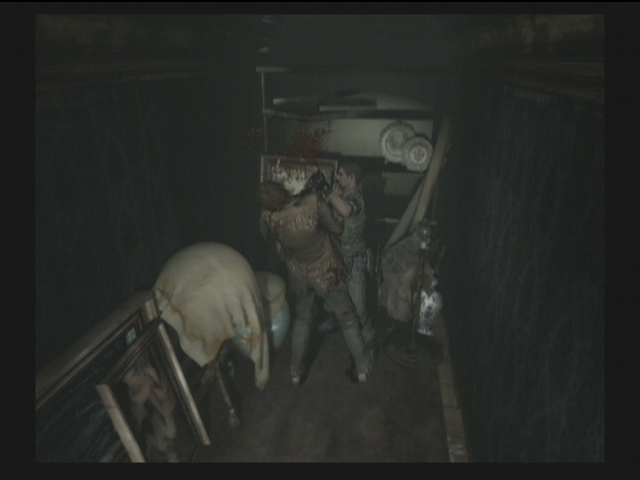 Find new and innovative uses for cutlery.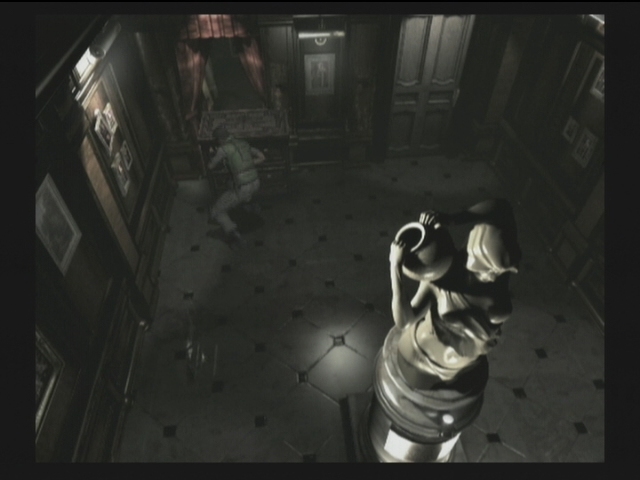 And take amusement at the inability for the undead to climb over two foot cabinets. Though, admittedly, the last point is sort of dickish.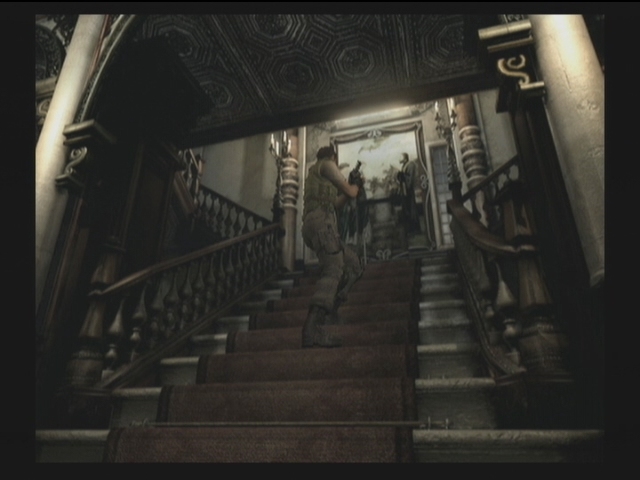 Not wanting to waste any time with fucking zombies afoot, Chris flees upstairs in hopes leaving this mortal coil may possibly have heightened their fear of heights. It wasn't really a great plan, but at least the guy tries.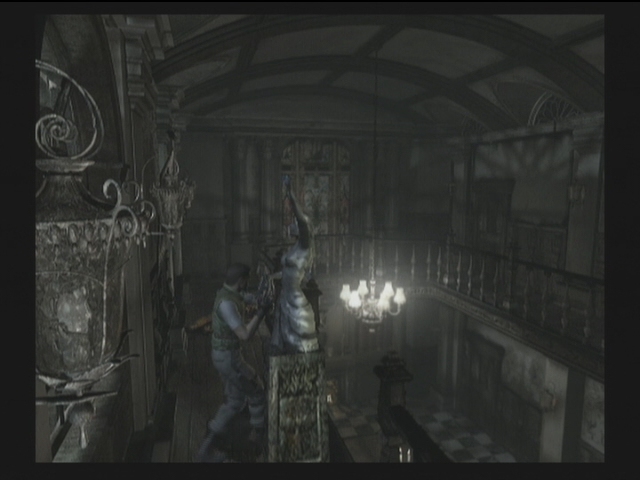 Oh hey, a dining room. Never seen one of those before. Hey, hadn't Jill already pushed down that statue off the ra
il...ing?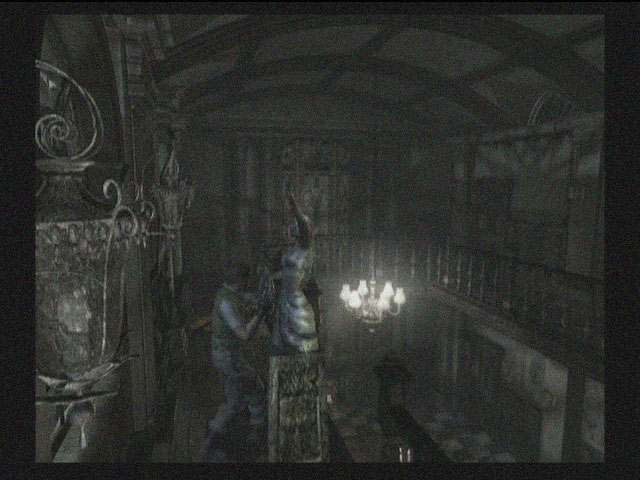 ?...gnili
ar ffo uetats that nwod dehsup ydaerla lliJ t'ndah ,yeH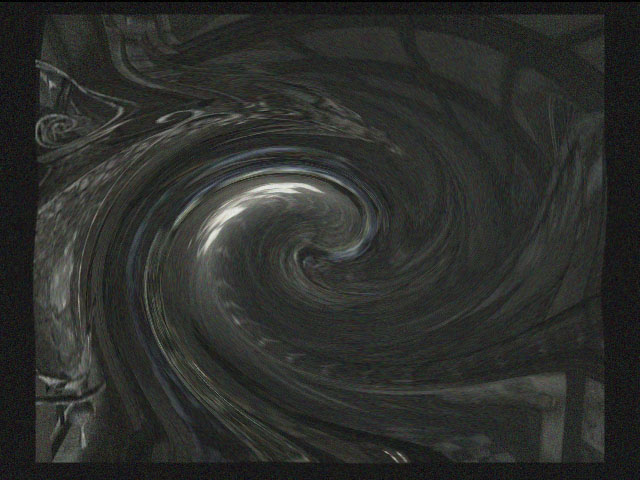 Railing.
Railing?
Railing?!
Railing!
RAILING!

"SSSSSSSSSSSSSSSSOOOOOOOOOOOOOOMMMMMMMMMMMMEEEEEEEE OOOOOOOOOONNNNNNNNNEEEEEEEEEEEE NNNNNNNNNNNNNNNNNew?"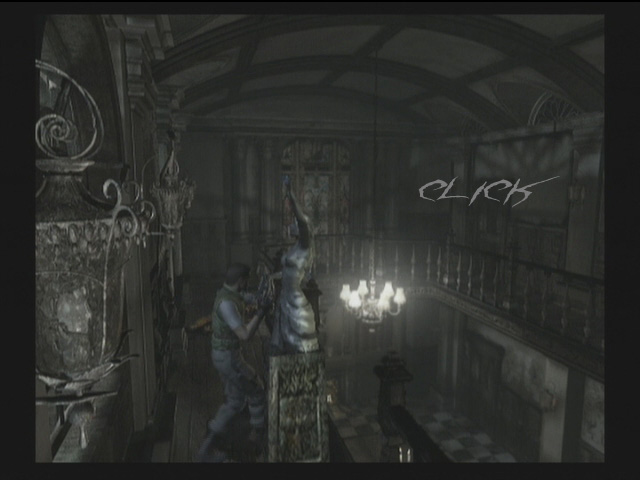 Hey, hadn't Jill already pushed down that statue off the railing? Oh well, might as well check out the rest of the area.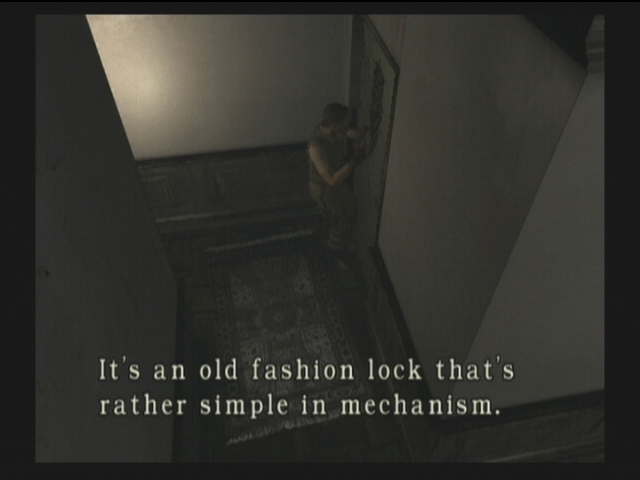 This is what happens when Chris attempts to enter a door Jill can just bypass by a lockpick use. He's told to piss off and find one of the many 'old keys' lying about.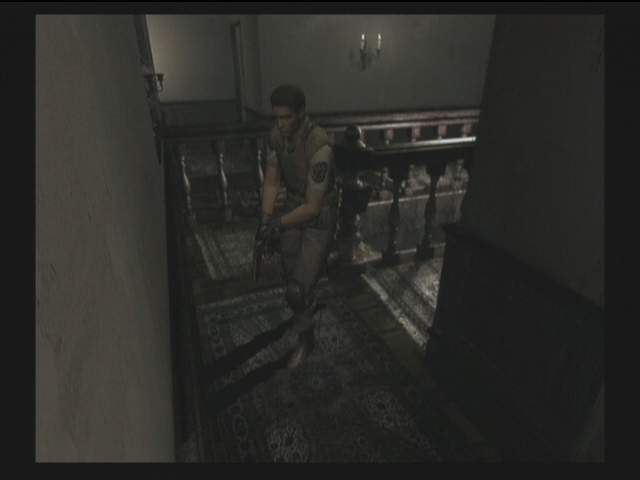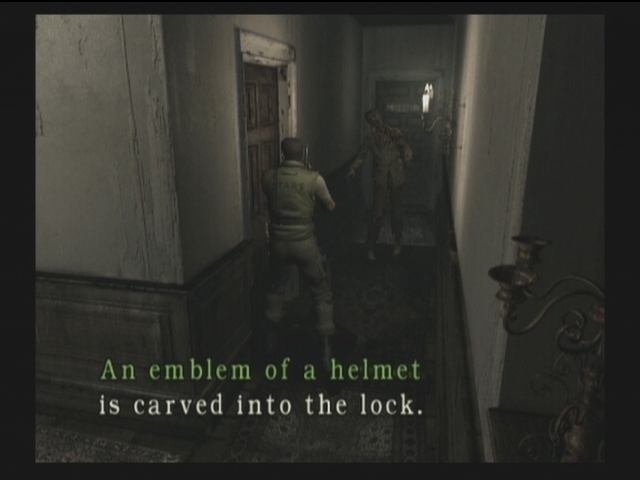 A staircase leading downstairs, a door locked with another obscure key, and a door Chris is able to unlock from this side. Let's try that first.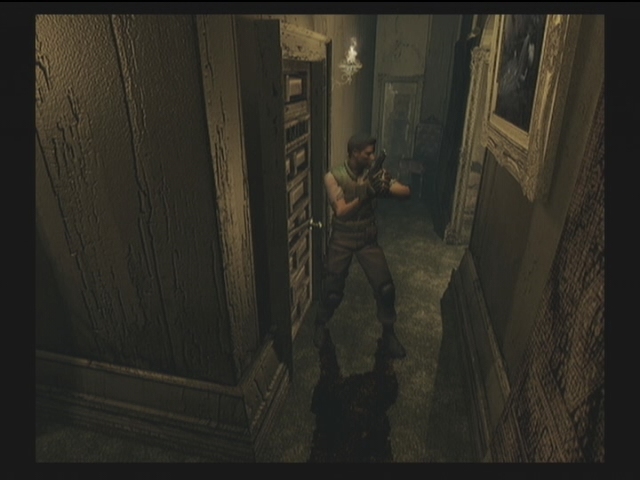 And Officer Redfield finds himself back in the winding hallway connected to the spinning blade key puzzle dealie. Sure, he hasn't explored there, but he's best off checking out the first floor first, I suppose.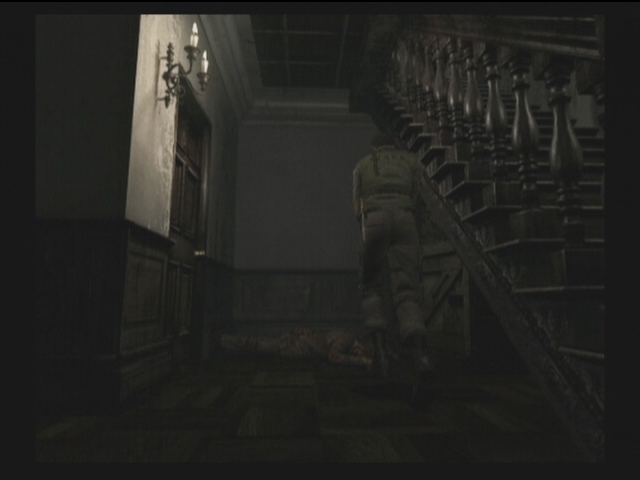 Anyone who played the original game knows who's down in this room. Three clues: useless, sounds like a 12 year old, has her own prequel.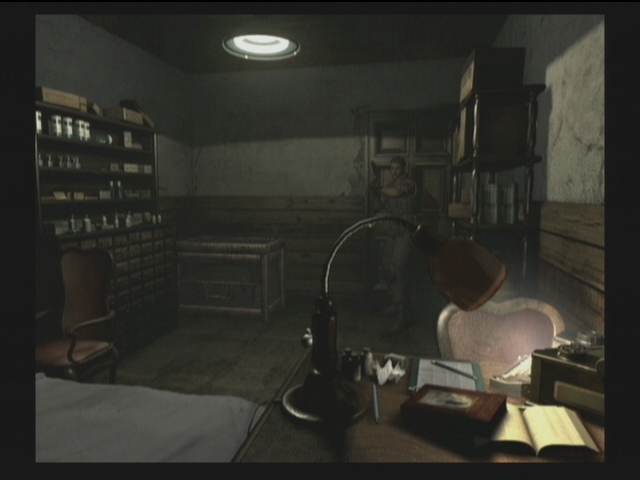 And...wha? Did I fuck up some scripting or did the Remake shake up things? Bah. I clearly remember getting pepper sprayed in the face by Rebecca in this room in the original game. Maybe she's hiding somewhere...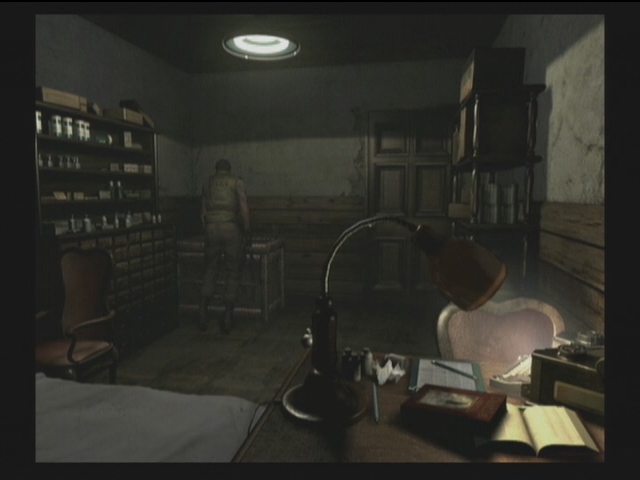 Why would they add an opening animation to the item boxes for only this game. That seems...excessive.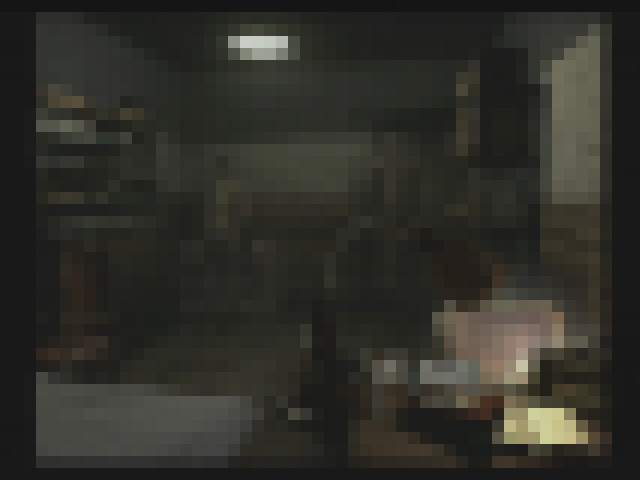 "DOOOOOOOOOOOOOOOOEEEEEEEEEESSSSSSSSSSSSSSS
this
one rEmEmbEr?!"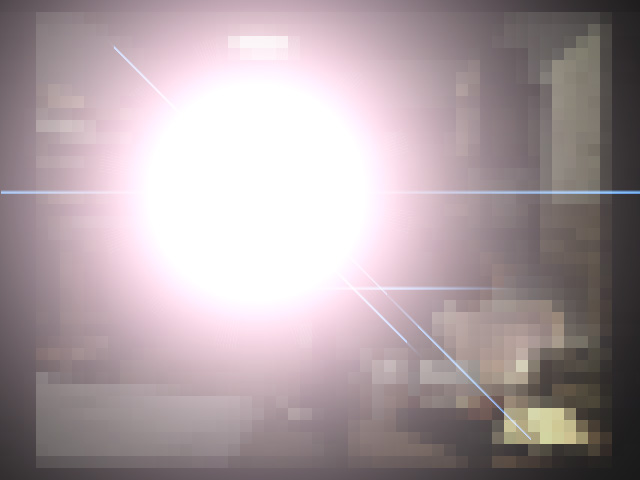 "NOstalgic, isn't it...?"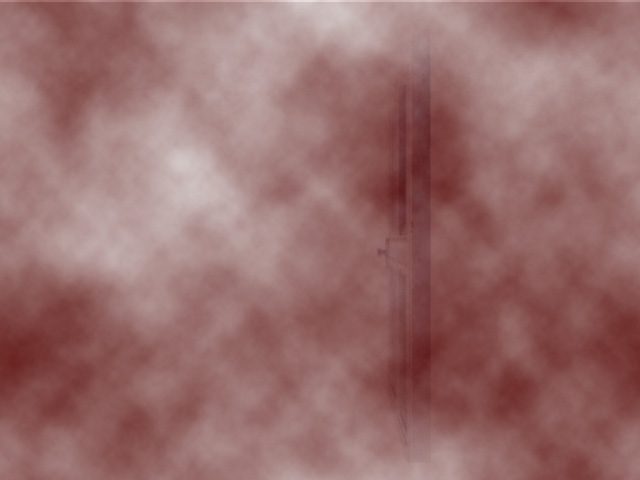 "But I'LL let You skIp Some aheaD in dEeper A bit into our Dear game. for now..."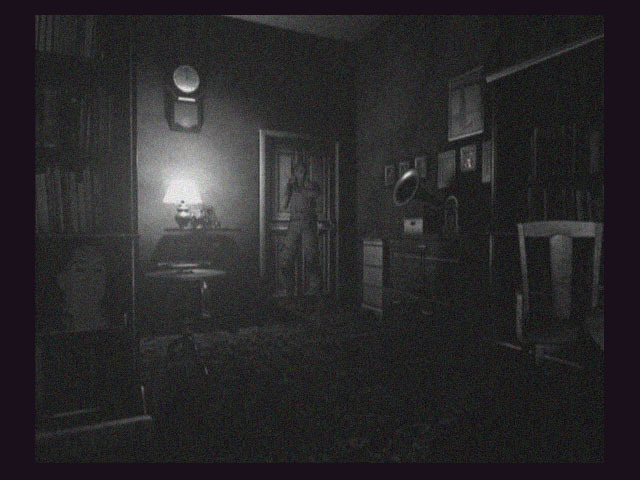 "...'kay. What the fuck?"

"EVeryOne Look aRound. Everyone Here TOok their tiMe."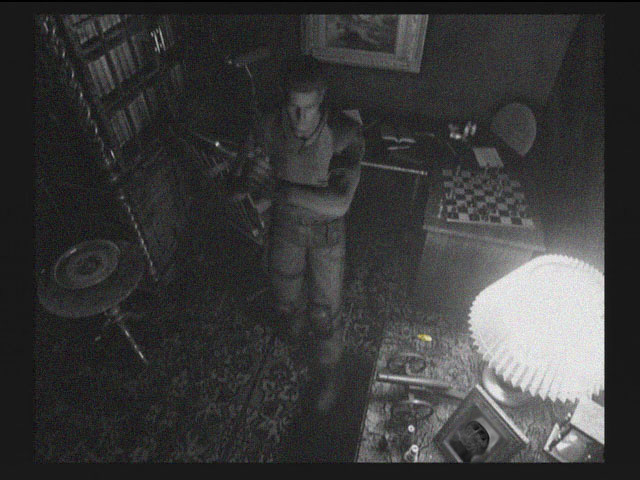 "Alright, fuck this. Fuck you. I'm not moving until I know what the hell is going on."

"we just have some cleaning up to do... have something shiny."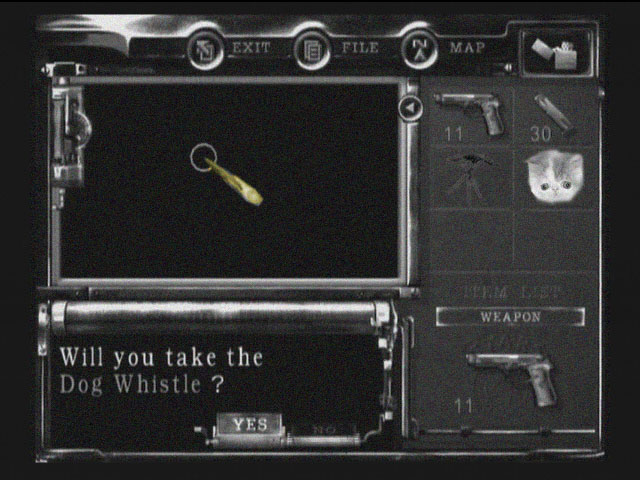 "i remember shiny things. the waste i would have to wrestle with to get my shiny things. enjoy."
"REEEEEEEEEEEEAAAAAAAAAAAAAADDDDDDDDDDDDDDDDDDD!!"
"we'll lEave yOu for Now. Come BACK when you're finished."
A crumpled memo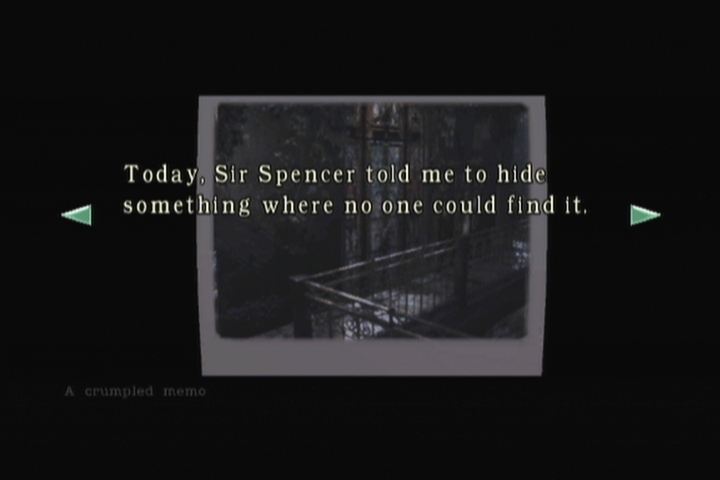 "I washed my hands like five times after we were done and they
still
smell."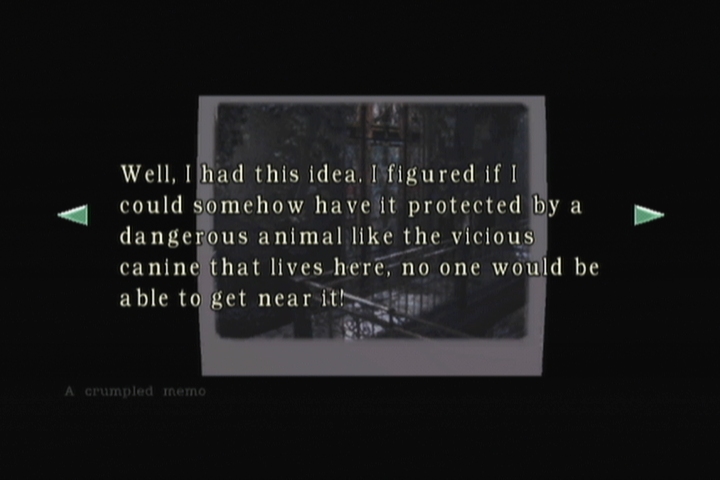 "Hey boss, I hid that key like you asked."

"Good job. Where'd you put it?"

"I taped it to the guard dog."

"I smell a promotion, son."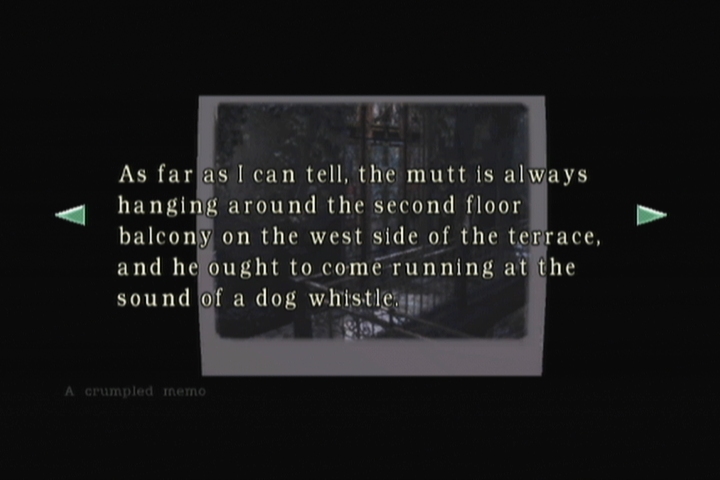 I'm still missing how the gap between 'not getting mauled by vicious attack dog' and sticking this key to it is going to be bridged.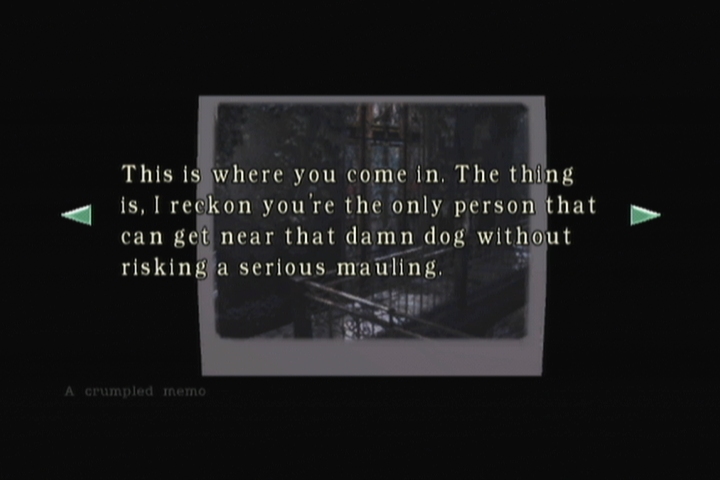 Who? Me? I know just the way to evade dog maulings, but it's going to require a trash bag or two.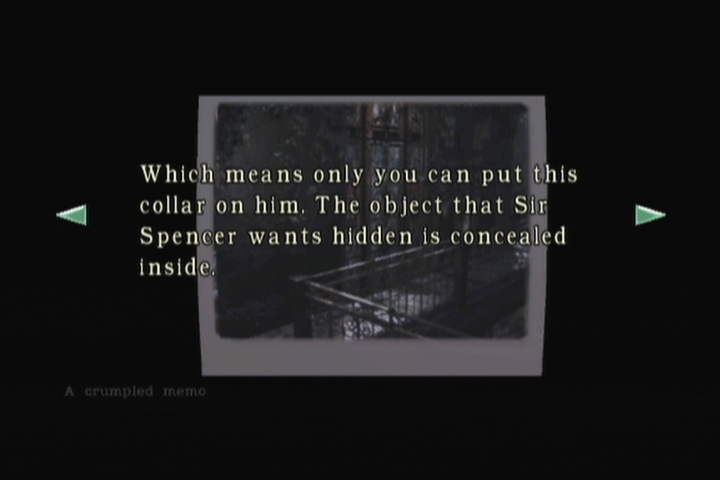 Whatever happened under the door matt or in a plotted plant? In hidden compartments attached to attack dogs? Home security systems in Raccoon City must be expensive.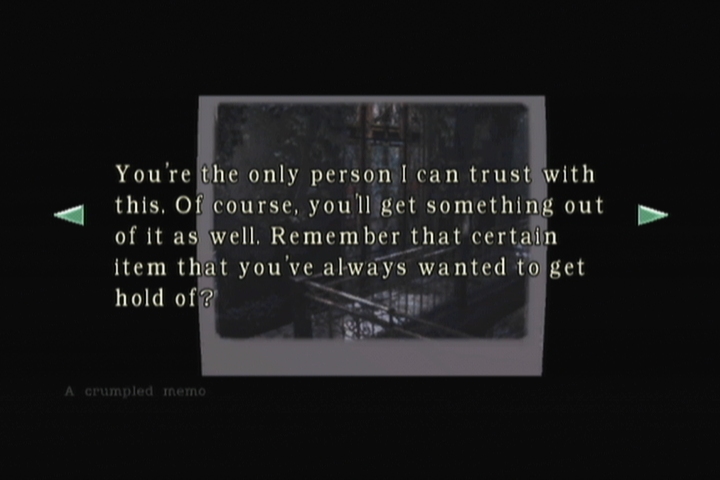 "I don't know what it is with you and porn with people go ass-to-mouth. You never go ass-to-mouth."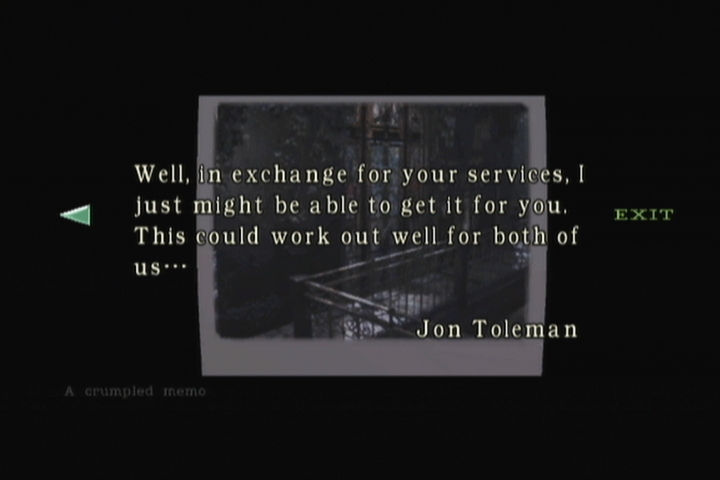 "You risk injury by a ferocious animal and do my job for me and I'll give you an item of insignificant value. Sounds like a fair trade."
Chris slips the memo into his pockets and caRRRRRRRRRRRRRRRRR
"MOOOOOOOORRRRREEEEEE!!!".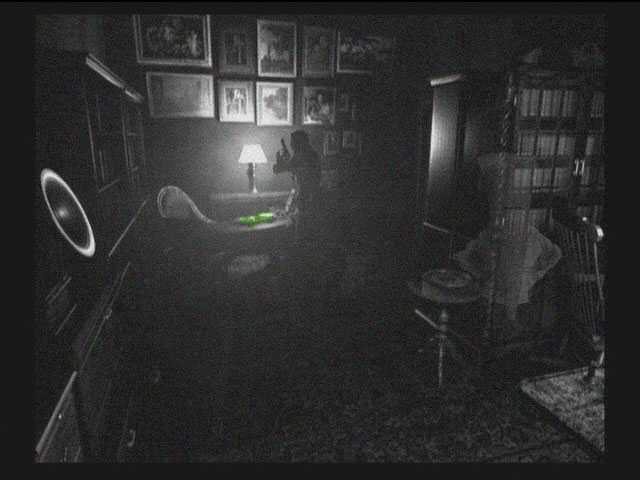 "Look, I know the new Resident Evil game looks pretty racist. Is this what this is all about? Did Sharpton put you up to this? Tch..."
BOTANY -Use of Medical Herbs-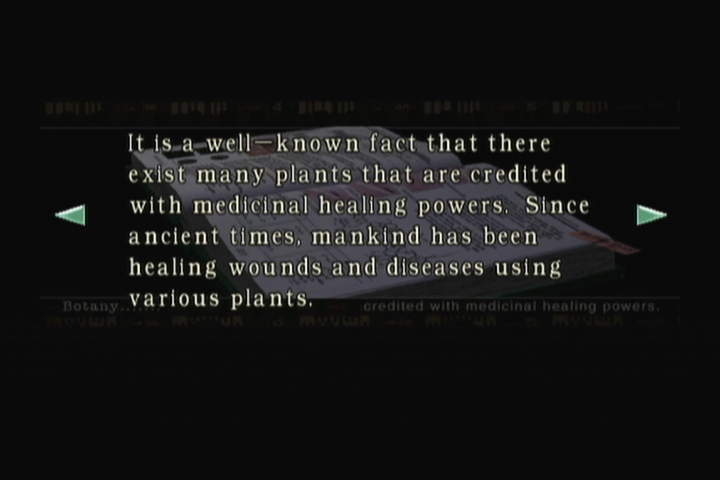 "Also, getting crunked. But, that's another subject."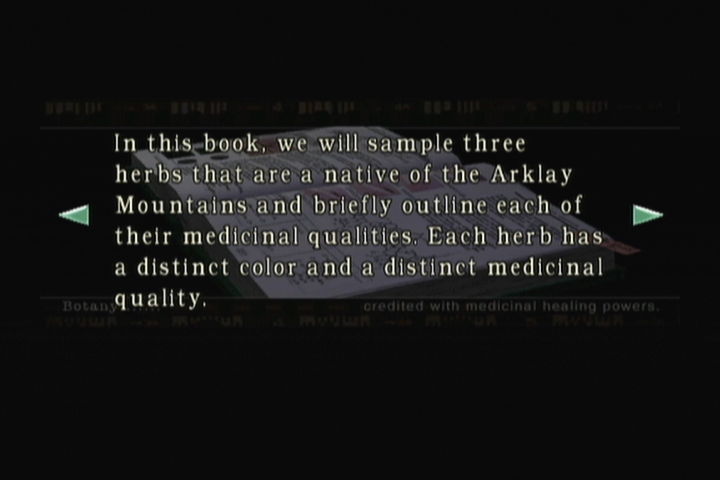 "And by 'native to the Arklay Mountains' we mean there as well as South America, obscure islands in the Pacific, Not-Spain, and the South Pole. Among others."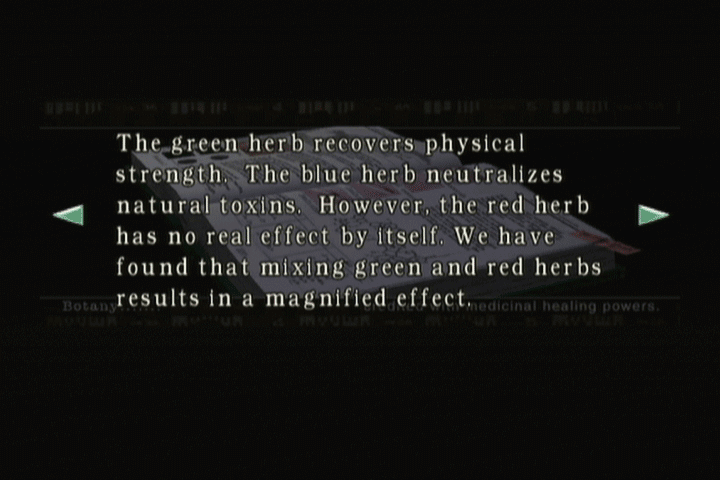 "The ability to get so smashed that you'll be able to just shrug off bullet wounds, having your arm gored, stabbings, burns, shrapnel, acidic splashes. But, not poisoning. You'll need something else for that."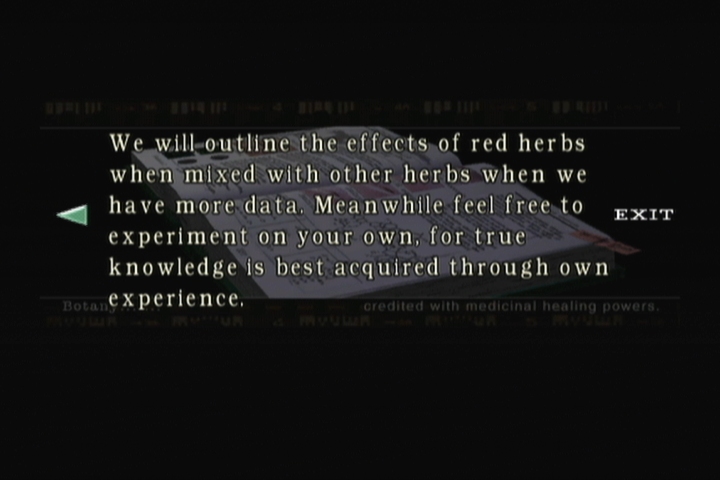 That had to be the beginning of a catalogue for bongs. It just had to.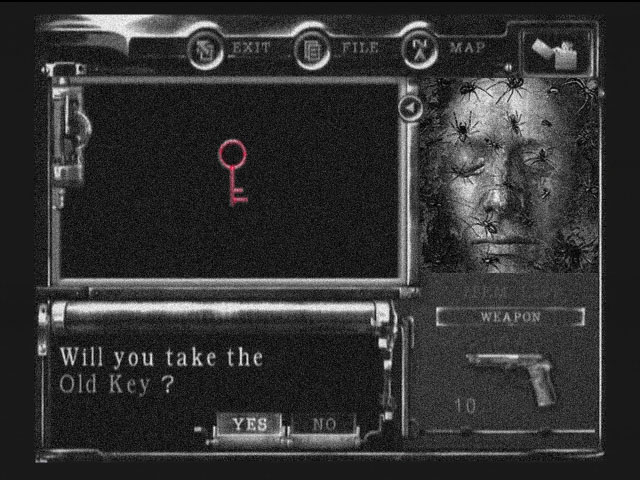 "ONE more gift. Come back soon."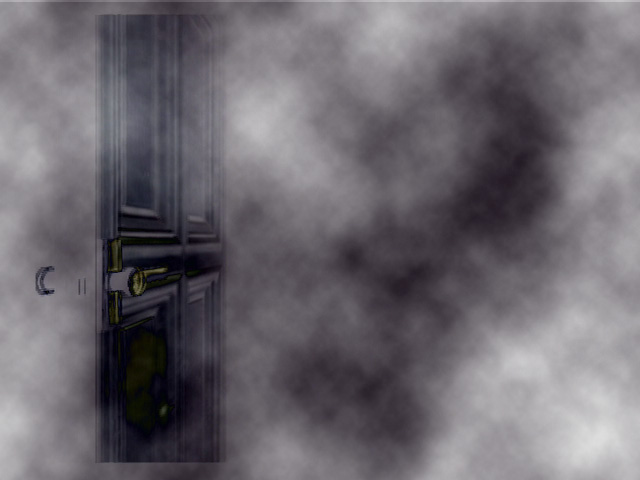 "LEAVE LEAVE LEAVE LEAVE LEAVE LEAVE LEAVE LEAVE LEAVE LEAVE LEAVE LEAVE LEAVE LEAVE LEAVE LEAVE LEAVE LEAVE LEAVE LEAVE LEAVE LEAVE LEAVE LEAVE LEAVE LEAVE LEAVE LEAVE LEAVE LEAVE LEAVE LEAVE LEAVE LEAVE LEAVE LEAVE LEAVE LEAVE LEAVE
bye!
Tune in next time for... Eh? That's it. This is kind of a short update? Damn, explaining how the item boxes worked too too long to cover. Meh. Whatever.