Part 24: Mireno Cemetery, Part 4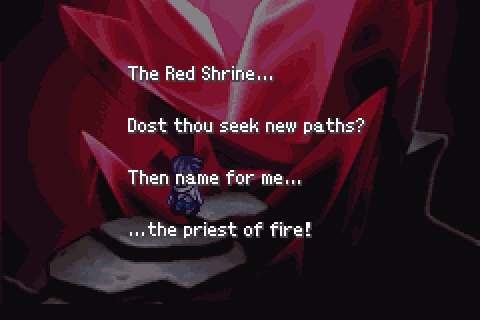 Lokin! The fucking answer is fucking Lokin! What more do you want?!

I really do think we're supposed to give it one of the ankhs, you know.

That's completely asinine! If I asked you what your name was, you wouldn't give me some object that vaguely resembled the letter "C"! You'd just say "Cierra"!

I'm not saying it makes sense, but this isn't getting us anywhere and it's not as if we have any better ideas right now.

Ugh. Fine. But if that's actually how it works, I'm going to be really pissed off.
Moments later...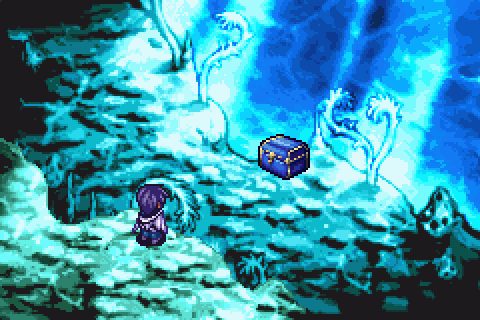 I am really pissed off.

Can't you just be happy that we solved the puzzle?

We didn't "solve a puzzle". Puzzles are problems that can be overcome with the application of logical thought. What happened was, we got told that two plus two equalled five, and we went along with it. We accepted the bullshit, and now we are no better than the bullshitters themselves. It's over. We've sold out. We can no longer call ourselves free-thinking individuals.

Maybe
you
can't. I told you right from the start that we should just smash the damn thing.

You are a true visionary and I'm sorry I ever doubted you.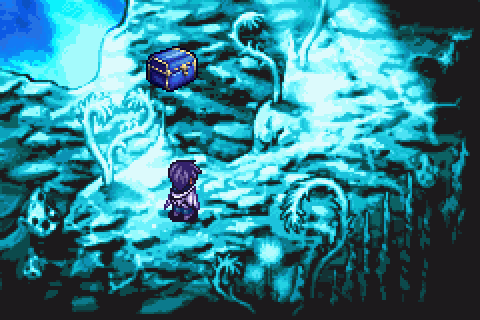 You know what soothes the pain of selling out? Loot.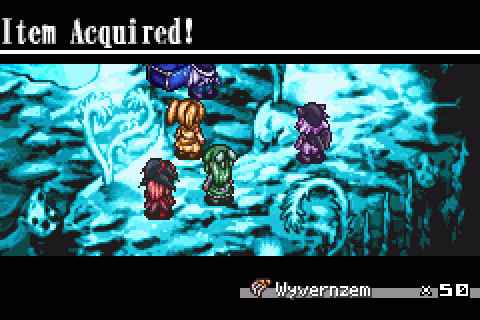 Look! Claws!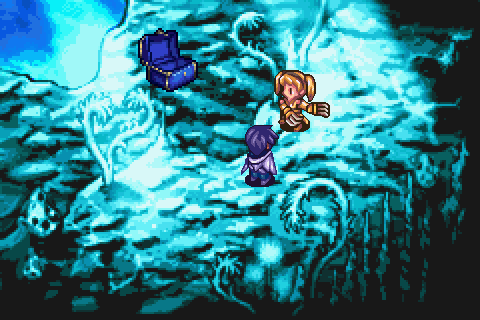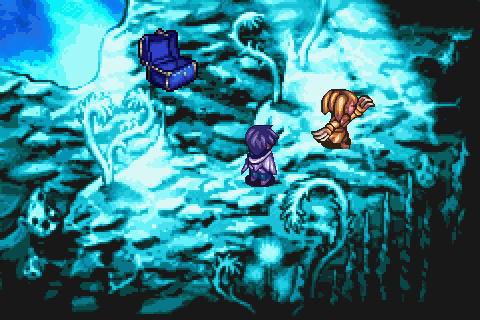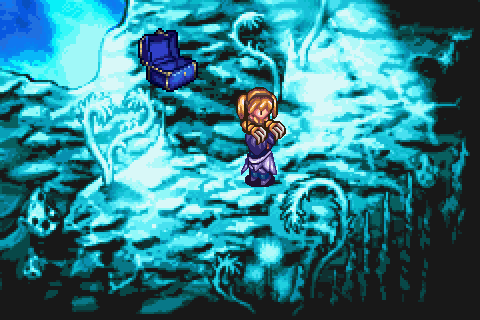 lina you are not very good at cheering people up

CLAWS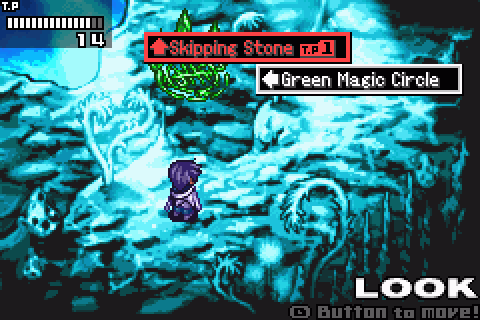 Hey, look. This rock's the perfect shape for skipping.

Is this really the best place to be skipping stones?

No. Counterpoint: I don't particularly care.
This one's for you, Thuryl.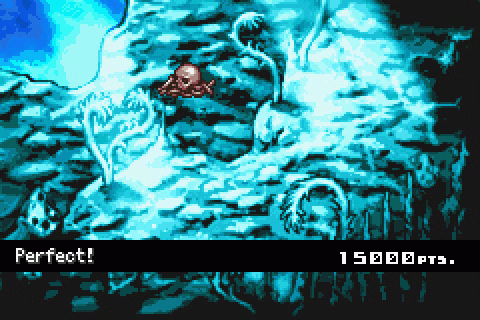 Holy
shit.

That was awesome!

(You know, if you put as much effort into actual heroics as you do into throwing rocks at stuff, I'd probably have a lot more respect for you.)

Some sacrifices must be made, Rose. For my craft. For my
passion
. Because I, Ein, truly do love rocks. Thank you for helping me to realise that.

(This is payback for all the cracks about your wings, isn't it?)
Now. See that magic circle? You'd assume it just leads to another one of those crystal sanctuaries, right?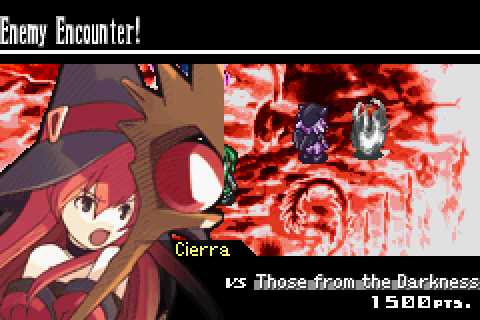 Instead, it leads to a kick in the balls.
In fact, you know what? I've just realised. That's all this dungeon is. Kicks in the balls. For the past three weeks, I've been getting kicked in the balls for your entertainment.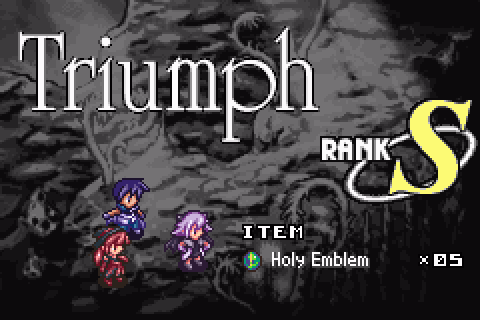 OK, I
guess
we got another emblem out of it, but that doesn't really make it better. Trinkets aren't going to heal my mangled testicles, are they?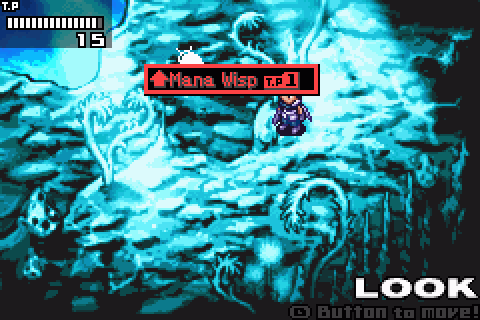 also a mana wisp
you all know what these things do by now i don't care i just want to get the fuck out of this dungeon forever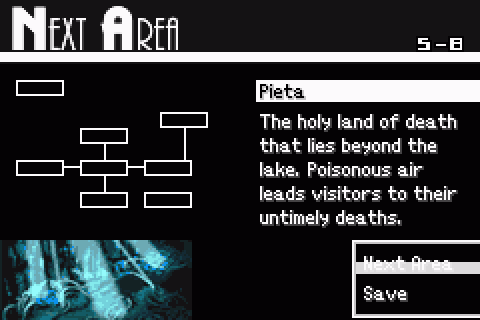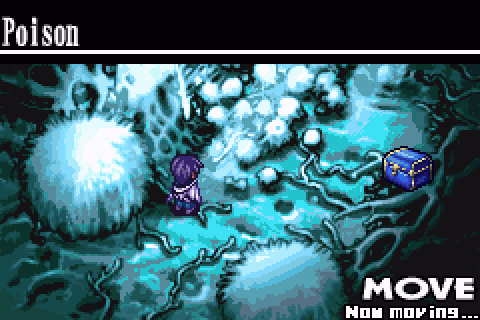 OK, suddenly I feel like my lungs are on fire. Is anyone else getting that?

At last! My metamorphosis into pure flame has begun! Come, everyone, and rejoice with me!

I think it's more to do with the place being filled with Venoma fungi. They're emitting toxic spores.

We have to hurry!

(Some day, Cierra. Some day.)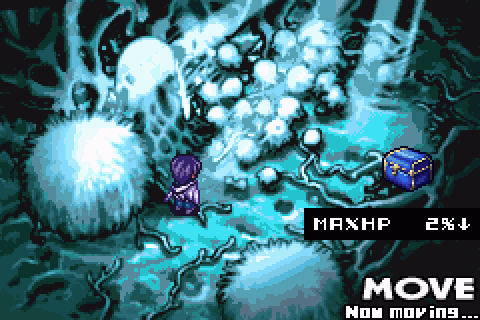 We really do need to hurry, because for every turn you spend in this area, you get two percent knocked off your hit points. Fortunately, there isn't too much to do here.
Also, this is where the Rotten Meat and Mouldy Bread finally come into play. Bringing meat or bread into this area gets them infested with spores, which
immediately
causes them to go bad. Venoma must be some potent stuff.
As I mentioned some time ago, we want these items because Cierra can master them, which will give her a few stat boosts. They're pretty much useless otherwise, so we'll just be dumping them afterwards.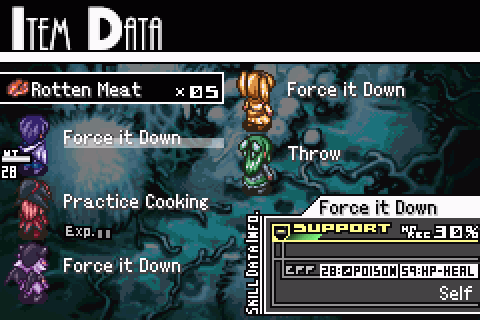 Er...hello, ladies and gentlemen. Today on Cooking with Cierra, we...oh dear lord, the SMELL.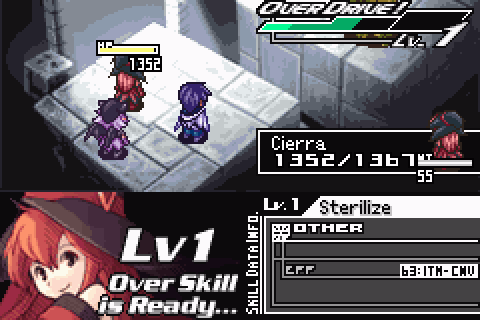 Today we'll be showing you how to prepare meat that's...gone past its prime. I say "prepare". You more or less just roast it until it starts smouldering.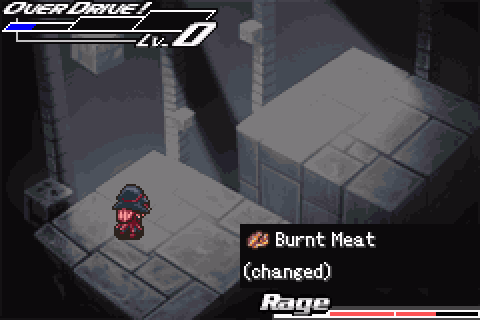 The result will be...edible. I
suppose
. I mean, you probably won't get E. coli, at least.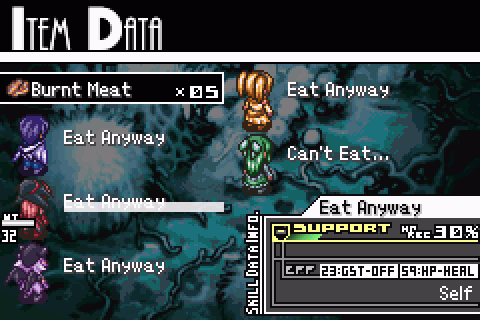 So...would anyone like to taste-




No.

This show is really going down the tubes.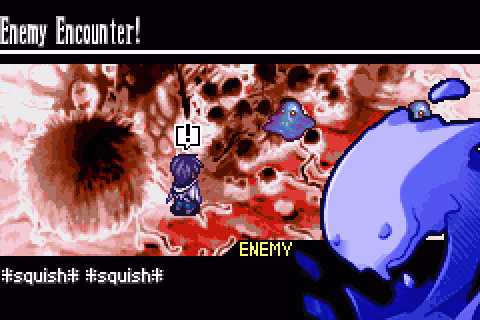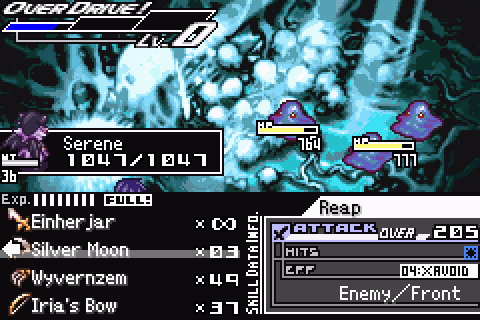 It's interesting that you actually want these things to use their Break Out, since the damage isn't particularly significant, and it's basically the only attack they have that doesn't drain your item charges.
Anyway, ice does them in as always.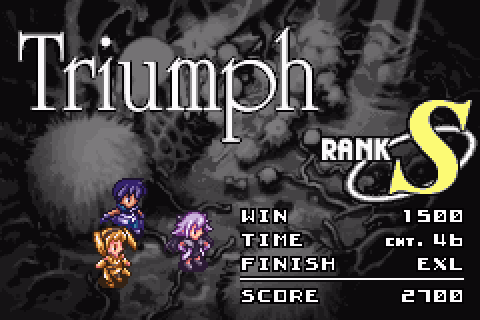 P.S. Say your goodbyes to slimes, because that was the last time we'll ever encounter them.

You know what? We should cut these things down.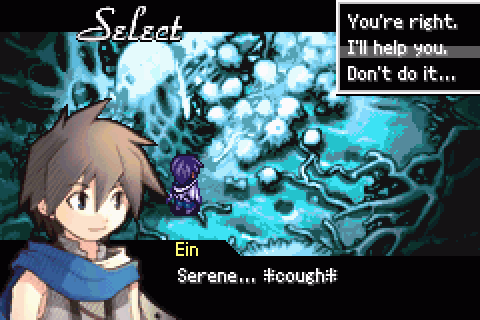 I'll help you.

Damn right you will. Let's go!

No, wait! That won't stop the poison! You'll only release more spores into the air!

Who said anything about the poison? I just feel like cutting something.

Oh. Of course. So the twenty-odd battles we had on the way here just wasn't enough violence for you, then?

Fia. Being the peace-loving hippy that you are, I don't expect you to understand. There's no such thing as "enough violence." You can have violence, more violence, and on a good day you might even get a lot of violence, but never in a million years will there be
enough
violence. It's fundamentally impossible.

...I'm seriously beginning to question how Elendia was able to peacefully co-exist with the Arcs for so long.

Probably 'cause fighting pansies isn't any fun.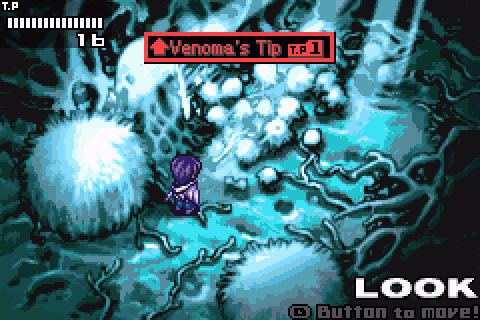 Hey. This one's shaped differently. How about that?

Ein, while I'm glad that you've finally started to appreciate the variety of Riviera's flora,
now's really not the best time.

What is it?

*sigh* It's a Venoma bud. People gather them sometimes to use in medicine. They disintegrate when exposed to fresh air, though.

Oh. Like goons.

Exactly.

So if we want to take it, we need some way of protecting it from the outside air...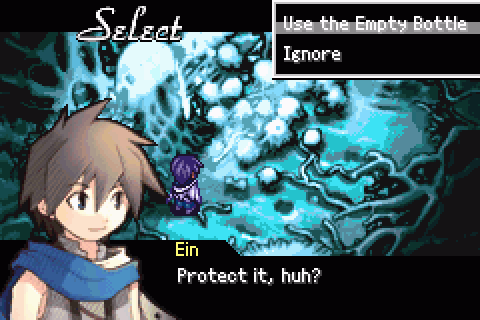 Good thing we went back for this empty bottle, then, isn't it?

...

Isn't it?

...

Isn't-

YES. WHATEVER. I DON'T CARE. JUST HURRY UP BEFORE WE CHOKE TO DEATH.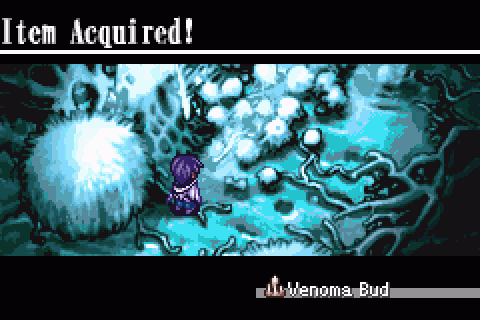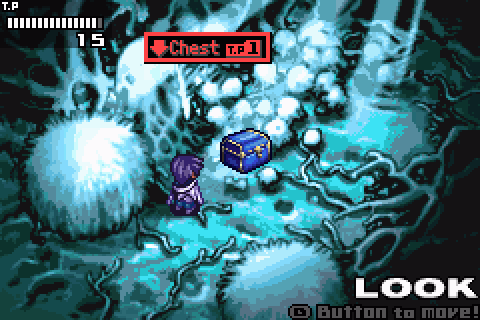 Wait up! There's a chest here!

Forget it! We don't have time for that!

Blasphemy! There's
always
time for looting!

You were the one who said we needed to hurry earlier!

What, are you
afraid
of a little poison? Is that it?

What?! No! I-

Then you won't mind waiting for a minute while I open the chest, will you?

...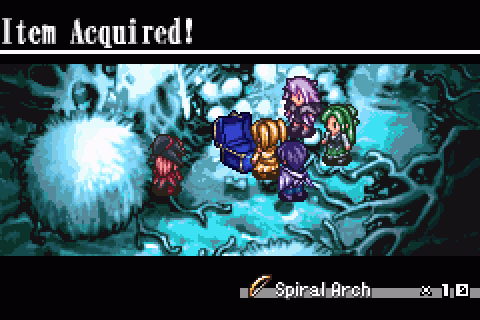 (You win this round, Goldilocks.)
It's boss time, kids.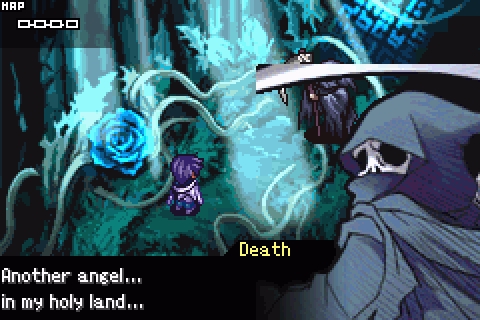 OK, now this guy's
definitely
going to drop something good.

Silence! Know this; I am Death, and I shall have my vengeance!

En garde, everyone! This is our final opponent! Let's give it our all!

Riviera will be safe at last!

I'll do my best!

Whoa whoa whoa. Everyone hold up.

What is it
now
?

Is he, like, actually
Death?
As in, the cessation of life personified? Because if so, killing him will have some serious repercussions.

Who cares?

Ah, whatever. Mortality was a drag anyway.
Viddler-type boss battle
|
Dailymotion-type alternative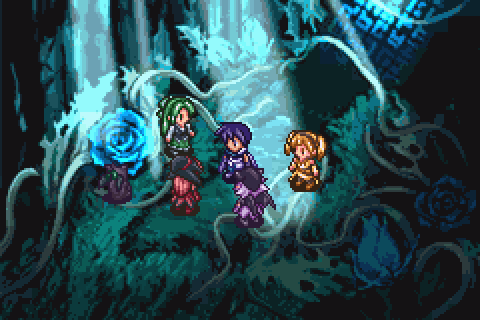 Huh. As far as final bosses go, that guy was pretty feeble.

It's not that he was feeble. It's just that we're too damn good.

That's true.

Who cares if he was feeble? We got rewarded this time!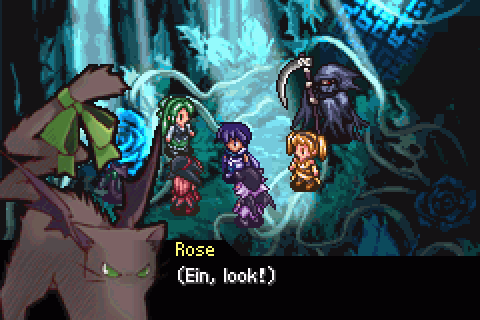 ...uh, hello again. Did you forget something?

I will not die...I shall return and have my revenge! May that thought haunt your sleepless nights!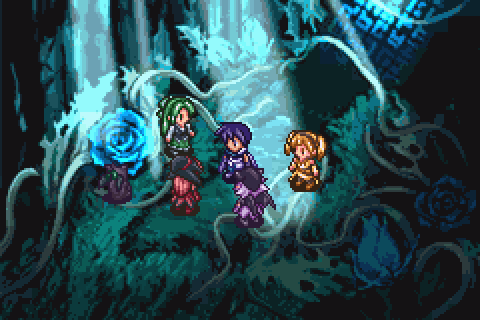 So...do you reckon we need to be concerned about that threat, or is he just a last word freak?

Definitely the second one. I know the posers when I see 'em.

Alright then. Let's get going.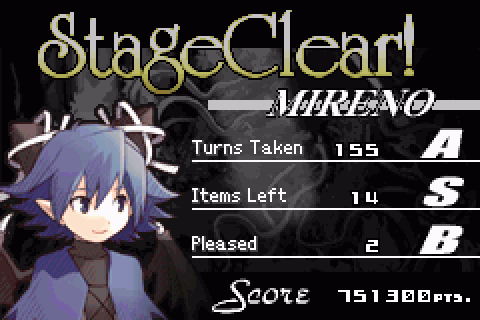 ---NEW ITEMS---
Holy Emblem:
Support item. Raises Dark resistance.
Night Scythe:
One-shot boss weapon. Ice damage.

Glacial Shadow
Effect:
Single attack, power of 441.
Target:
Front row.
Additional:
Absorbs HP. Low accuracy.

Nightmare Chill
Effect:
Single Magic attack, power of 502.
Target:
All enemies.
Additional:
Absorbs HP. May inflict Freeze status.
Spiral Arch:
Bow-type weapon. Physical/Holy damage.
Wyvernzem:
Claw type weapon. Physical damage.
---NEW OVER SKILLS---

---LEVEL 1---
Spiral Shot
Item:
Spiral Arch
Effect:
Single attack, power of 329.
Target:
Nearest enemy.
Additional:
Piercing.

---LEVEL 1---
Dark Resist
Item:
Holy Emblem
Effect:
Raises Dark resistance.
Target:
All allies.
---LEVEL 2---
Slayer Arrow
Item:
Spiral Arch
Effect:
Four-hit Attack combo, power of 162.
Target:
Enemy with lowest HP.
Additional:
Extra damage against air enemies.

---LEVEL 2---
Passion Claw
Item:
Wyvernzem
Effect:
Five-hit Magic combo, power of 126.
Target:
Nearest enemy.
Additional:
Also damages Lina. The lower Lina's HP, the more damage inflicted.
---LEVEL 3---
Divine Wind
Item:
Spiral Arch
Effect:
Seven-hit Aagic combo, power of 166.
Target:
Random enemies.
Additional:
Extra damage against air enemies.

---LEVEL 2---
Fenrir Attack
Item:
Wyvernzem
Effect:
Four-hit Attack combo, power of 143. Ice damage.
Target:
Nearest enemy.
Additional:
Also damages Serene. The lower Serene's HP, the more damage inflicted.

---LEVEL 1---
Holy
Item:
Holy Emblem
Effect:
Inflicts 25% HP damage.
Target:
Front row.
Additional:
May inflict Purify status.
Tri-Shot
Item:
Spiral Arch
Effect:
Three-hit Magic combo, power of 155.
Target:
Random enemies.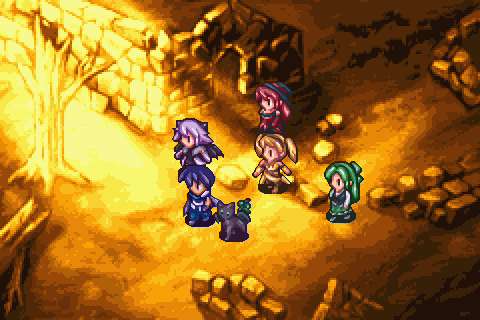 Hey.

Yes?

We just saved the world, you know.

Yes. We did.

Only just sunk in, has it?

Well, it's just that this basically marks the end of our adventures. As the leader of the party, I kind of feel like I have to say someth-

No.

What?

No. You don't need to say anything. We're all thrilled about our success and we don't need you bringing down the atmosphere by...well, by being you.
Please
just keep quiet for a while and let us be happy.

Now now, Fia. There's absolutely no call for such pessimism.

You call it "pessimism." I call it "pattern recognition."

I hope those words are tasty, because you're about to eat them.

la la la i can't hear you la

Thanks, everyone. You're the best companions I could have asked for.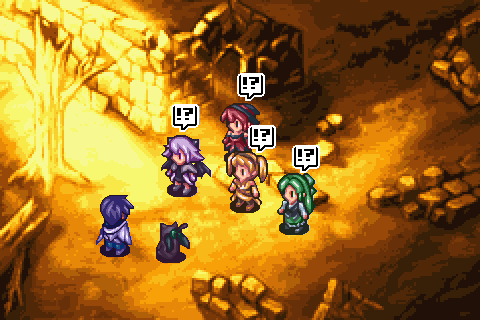 ...Ein just praised us.

Yes.

Sincerely.

Yes.

I think the world may still be ending.

Yes.

I'm getting this warm, fuzzy feeling in my stomach. What's going on? Am I sick?

I think
Ein
is sick.

Really, guys? This is how you're gonna react when I try to give you an honest compliment?

It's just...it's never happened before. We're not really sure how to deal with it.

Well, I mean it. Seriously. You couldn't have done it without me.

Wait...what? I think you mean...

You couldn't have done it without me.




...

Well, that's more like it.

Yeah. Geez. Don't scare us like that.

(Baby steps, Ein.)