Part 20: Blessed Silence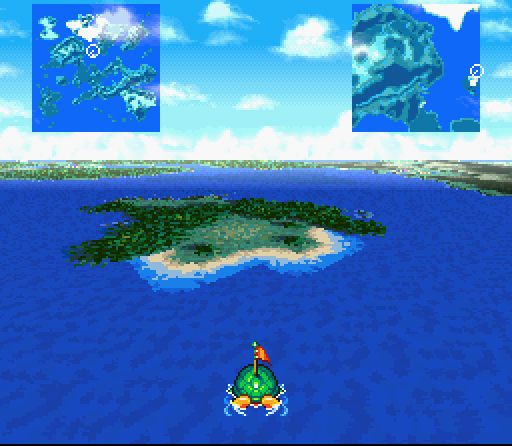 Our next destination is the tiny and not at all imposing Isle of Oblivion. It's so un-imposing that you'd think that the name is just to keep people from landing there.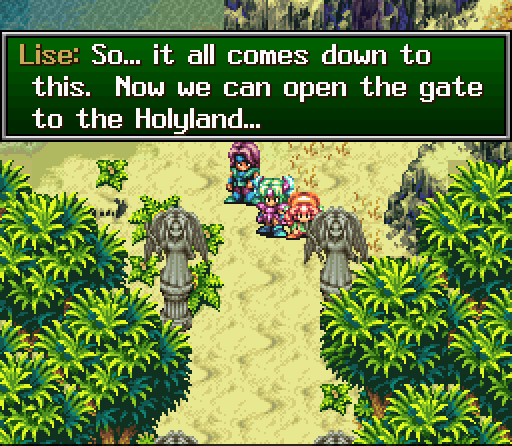 "I'm kind of surprised there aren't more people here. I was expecting a showdown with all the people who said they were going to the Holy Land."



"And I was hoping to find Heath in with them.."



"Maybe our turtle was just faster than their boats?"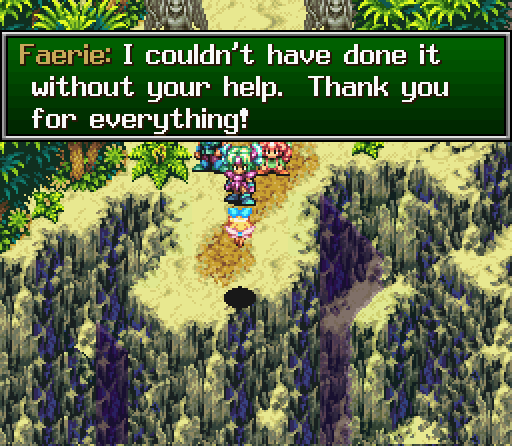 "The power of Mana has been declining… but I think we've arrived just in time."

"Spirits… please help me…"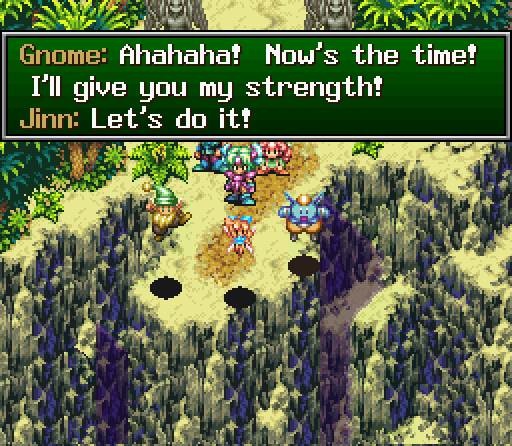 "Here we go!"

"I'm with you, whatever it takes!"

"I summon the powers of darkness!"

"I'll do what I can!"

"We're the last! Come on!"

"I… I don't know… but I'll try…"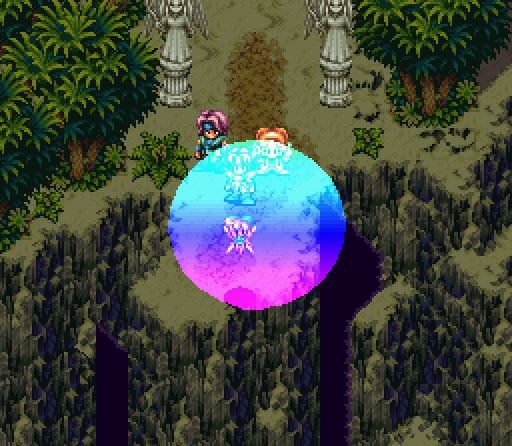 "Huh. I figured it'd be bigger."



"Shhh! Something's happening!"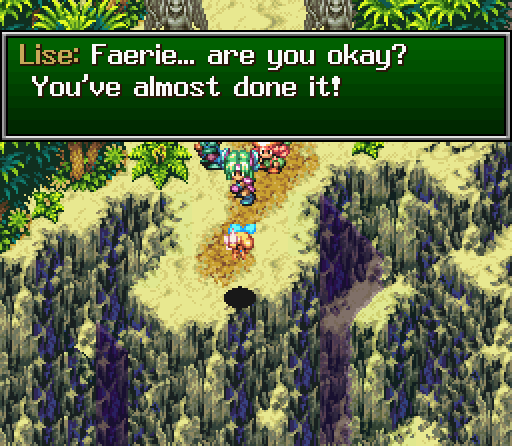 "We've almost done it! Faerie, keep trying!"

"Almost… but don't worry! We're watching over you!"

"Aww…you know, I'd regret it if I actually had to sacrifice you guys. And that's one of the nicest things I've said to humans in centuries."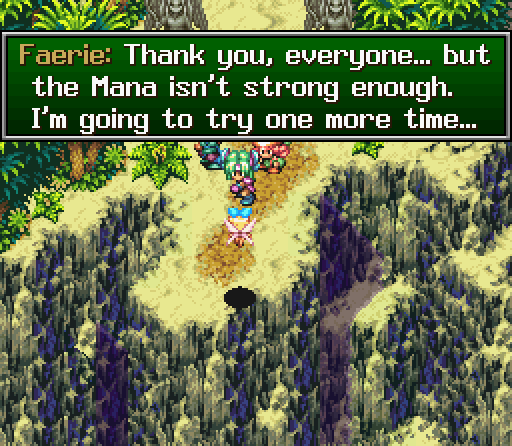 "Goddess, give me your strength!"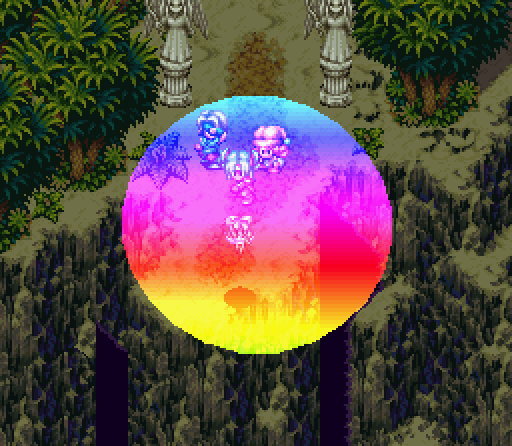 "That's more like it!"



"Great job! I think you did it!"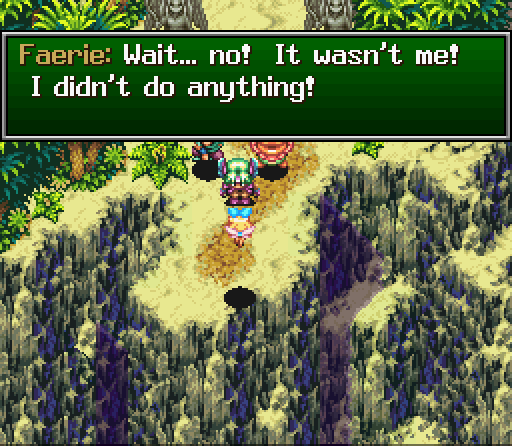 "The gate opened itself… ?"

"Can they do that? Because we could probably have saved ourselves a lot of trouble here."

"This could only mean… the energy from the Mana Stones has been released!"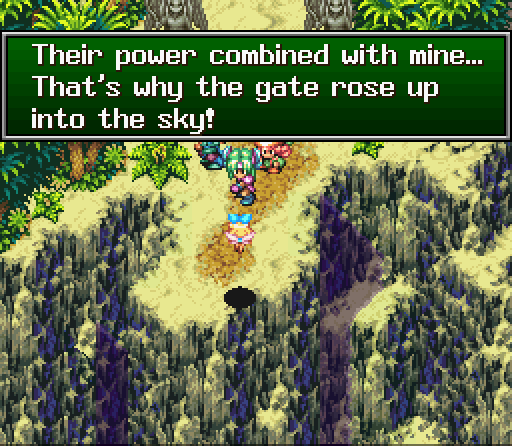 "Oh no… it can't be…"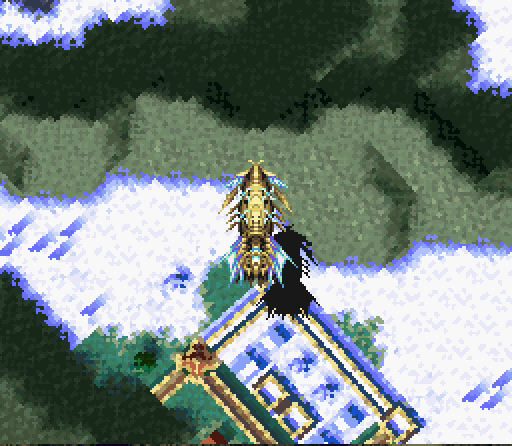 "What the hell are we even looking at?"

"Look out!!"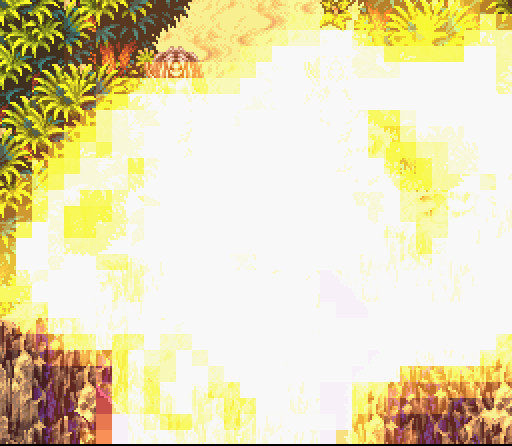 "Hahahaha…"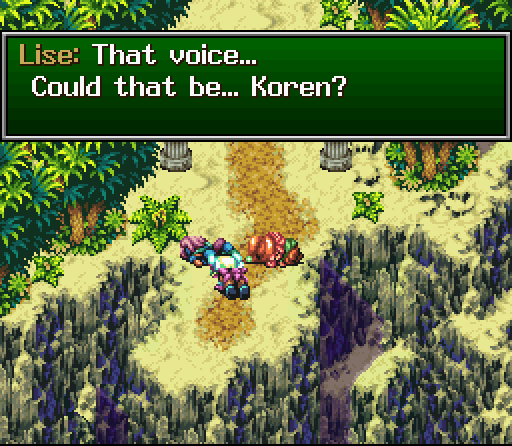 "Thanks to the spirits, we were finally able to release the energy from the Mana Stones!"

"Now, we can fly the Gigantes into the gate! Oh, by the way, here's a present from me!"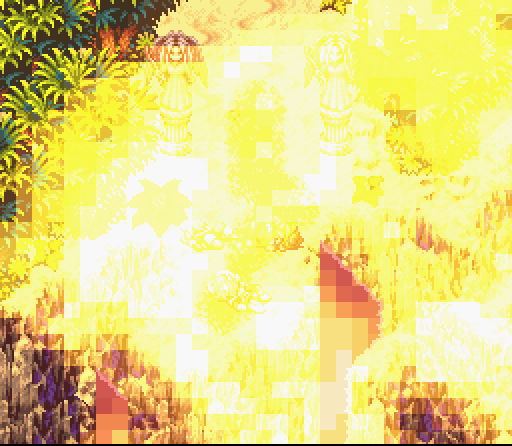 "Hahahaha…"

"I.. seriously hate that guy…"

Meanwhile…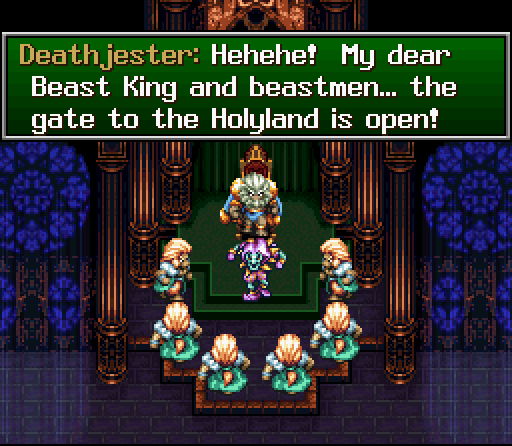 "This is our chance to take the Sword of Mana… and crush the savage humans once and for all!"

"Don't you agree, my lord?"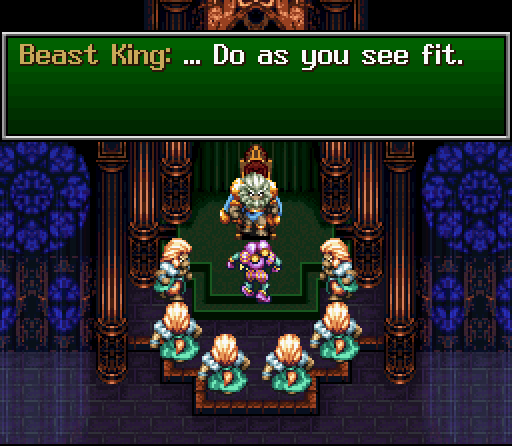 "Good Goddess, what was I thinking when I teamed up with a Jester?"

"That's what I like to hear! Hehehe…"

"My dear beastmen! Let us now disembark! A new era for the Beast Kingdom is nigh at hand!"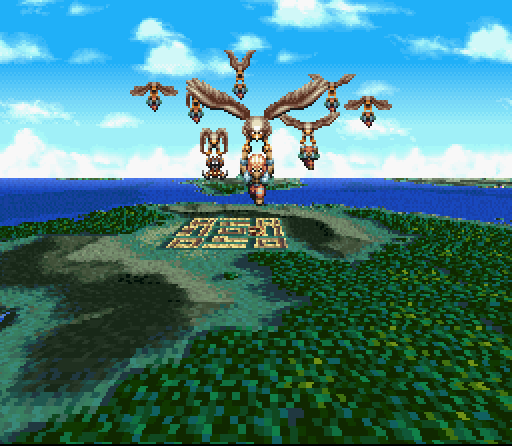 "I mean, he even uses words like nigh in casual conversation… I'm so firing him when we finish this.."

Also meanwhile...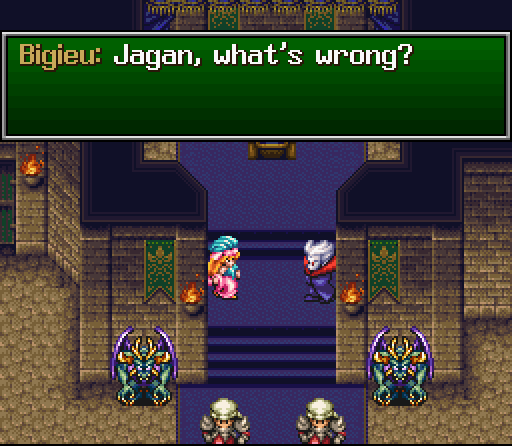 "The gate to the Holyland has opened ahead of schedule! I trust everything is ready…"

"What do you mean? Of course we're ready! How is the Dark Prince doing?"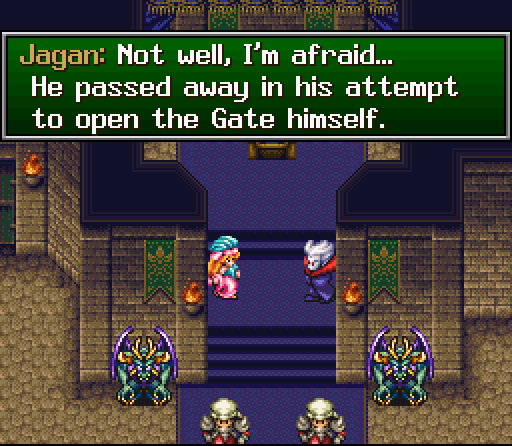 "I see… then everything is according to plan. I've prepared an airship to enter the Gate…"

"If we don't succeed, then we'll never be able to revive the Dark Prince… or the underworld!"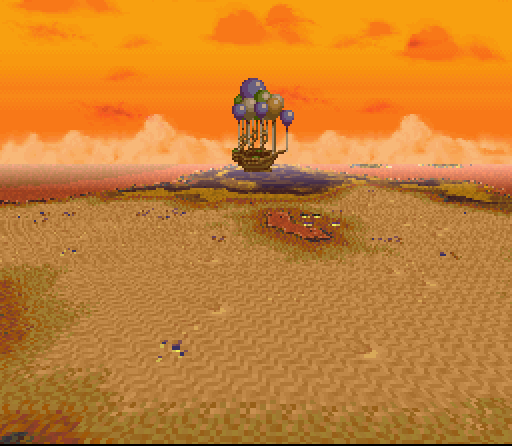 "Out of curiosity, couldn't you think of any other way to get this airship aloft other than a ton of balloons? This looks kind of ridiculous."



"How else would you get an airship up in the air other than giant balloons?"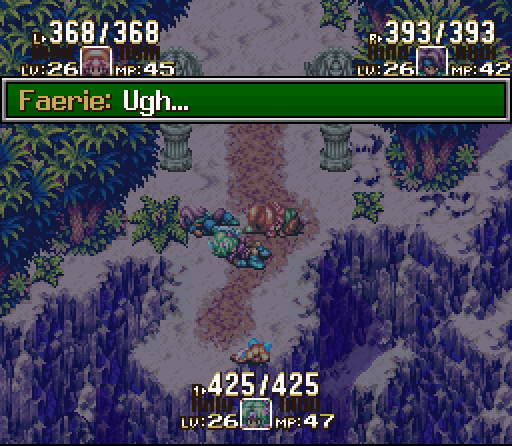 "Is everyone okay?"

"I've been better."



"I think my hat took the brunt of it."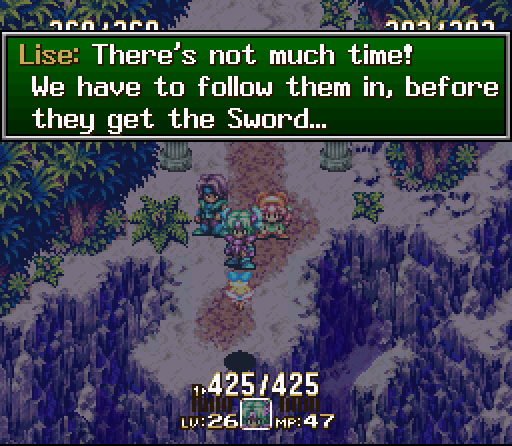 "Well, it's a bit too high for us to jump, and we don't have wings. Ideas? Anyone?"

"Geeze, give me a minute before you start jumping in with the sarcasm."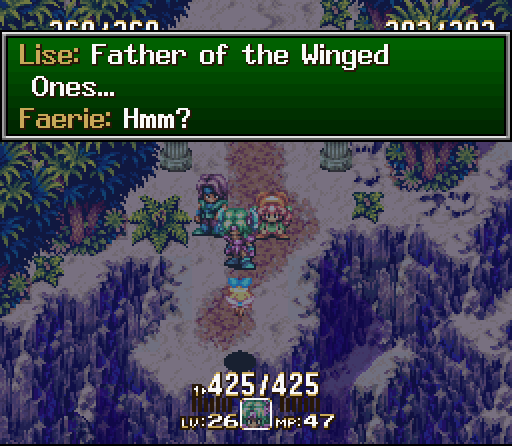 "I'll explain… at the peak of Rolante's highest mountain, lives a creature…"

"…known as the Father of the Winged Ones. Maybe he can help us!"

"That's… actually a pretty good idea. I withdraw my sarcasm."

"It's worth a try! Let's go to Rolante!"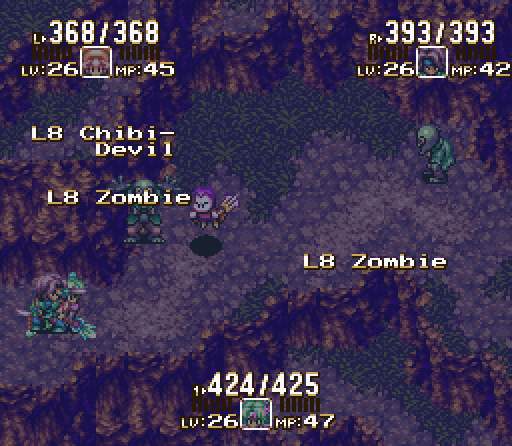 Running back to Rolante, the developers were kind enough not to scale all the monsters on the mountain up to around our level.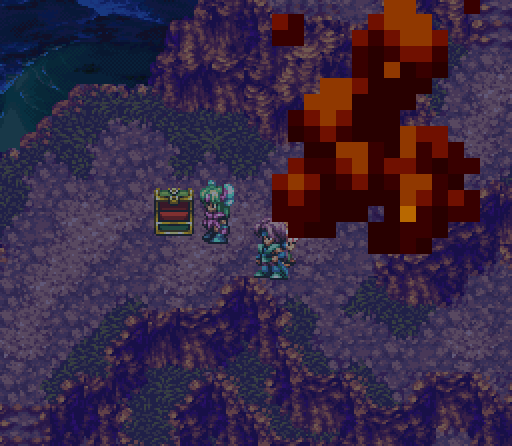 Traps scale with your level, and we're getting into the next tier. This is a bomb trap, which does several hundred damage to everyone in the party. Coming out of a tough fight this could result in a a party wipe.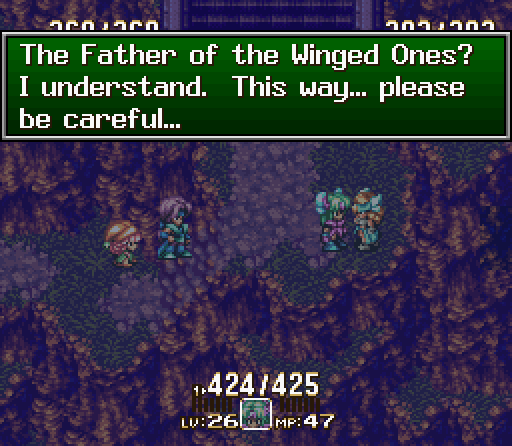 There's a helpful Amazon posted to open up a pathway so we can continue the plot.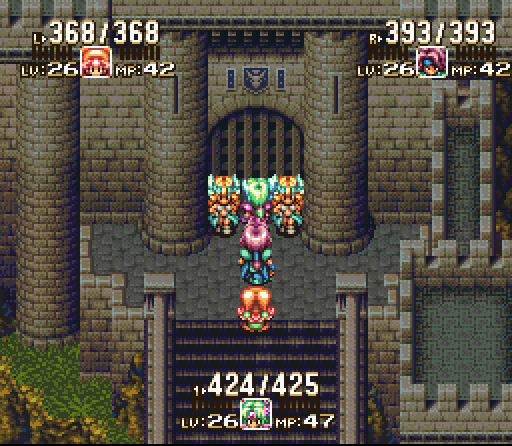 The rest of Rolante is sealed off, even in the daytime. We're being pretty thoroughly railroaded here, but it's a fairly benign job of it.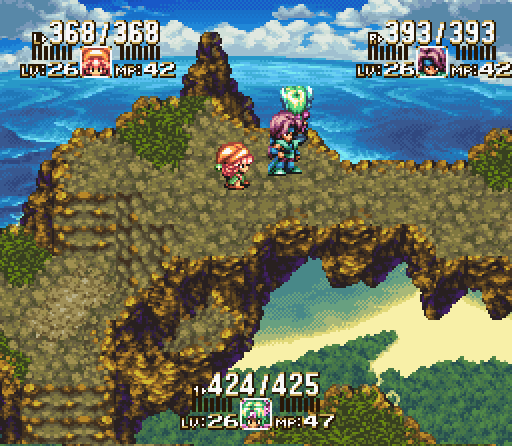 The pathway takes up even higher, if possible, over all kinds of arching and barely supported pathways.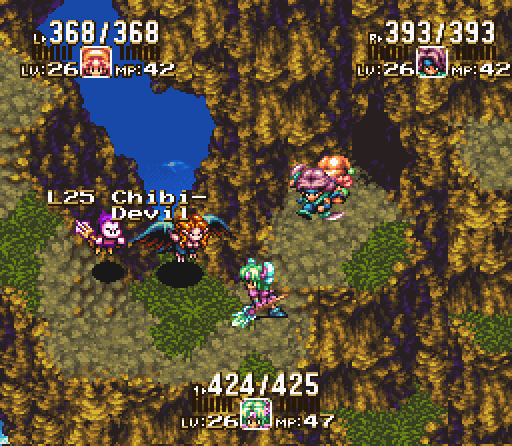 The area has the same enemies as the rest of the mountains, but these are appropriately leveled. The templates are still pretty bad, though, and they tend to be weaker than newly introduced enemies at our level.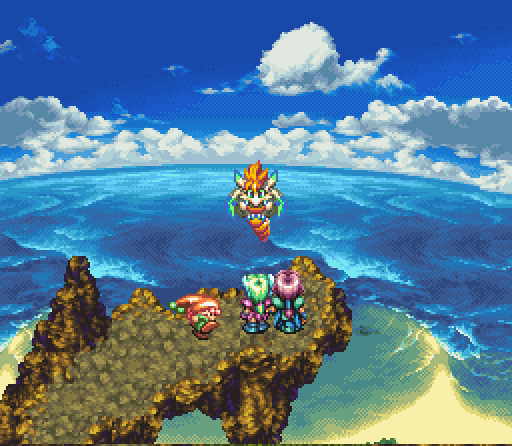 At the very top, there's a familiar face waiting for us.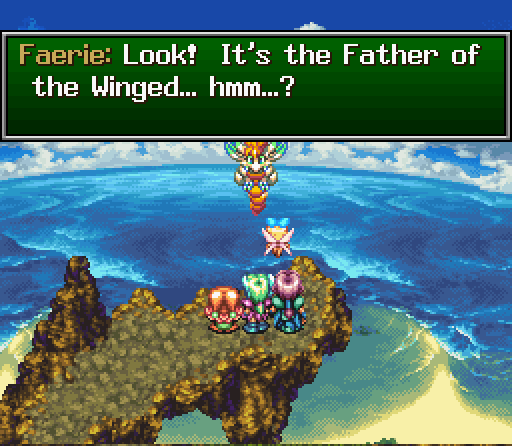 "He's a little small to be called a Father… maybe he's a child…"

"Son, can you fly us to the Mana Holyland?"

"Somehow he doesn't seem that pleased by the request."



"Maybe he's sensitive about his size?"

"Hehe… let me try."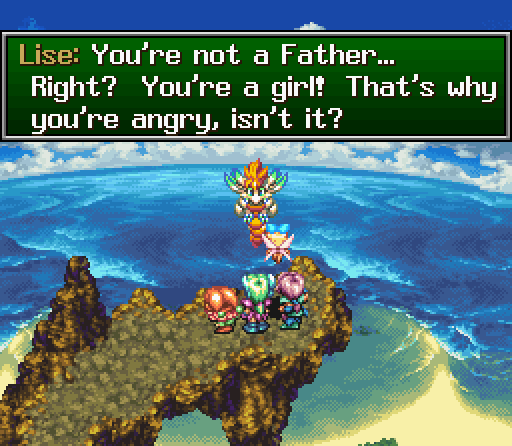 "Well, in that case, you need a cute name. Hmm… How does 'Flammie' sound?"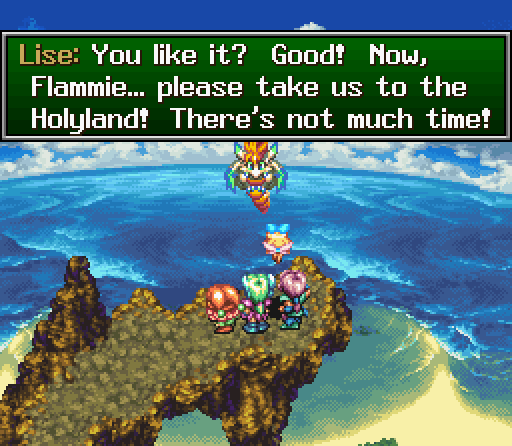 "That's amazing! How did you know she was a girl?"



"Lise's been mistaken for a man a time or two, so she knows how it feels."



"Hawk, I can't help but notice that you're standing between me and the edge of this cliff."



"Point taken."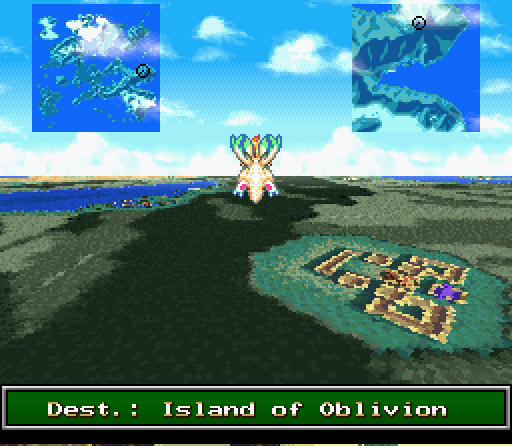 Our initial flight on Flammie isn't at all controlled. We're going forward where the plot demands, and no time for side quests or any other funny business.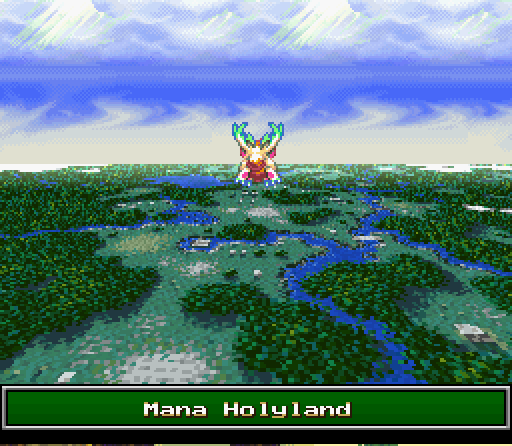 Luckily, Flammie knows exactly where the Mana Tree is.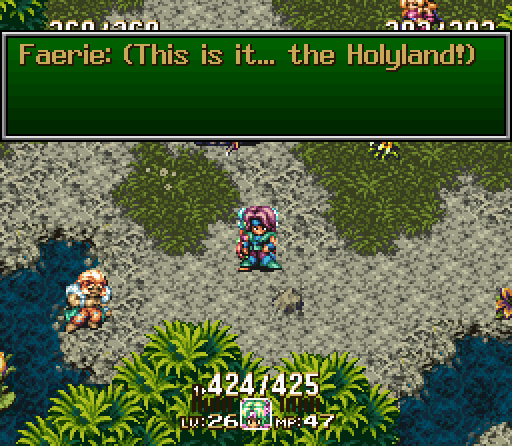 "Look… the people who went ahead of us fought here. How awful…"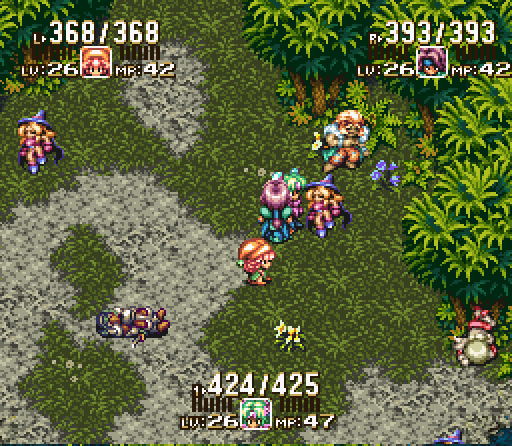 "They're all dead… not a single survivor."



"That means that any survivors must have left already… getting Flammie delayed us a bit."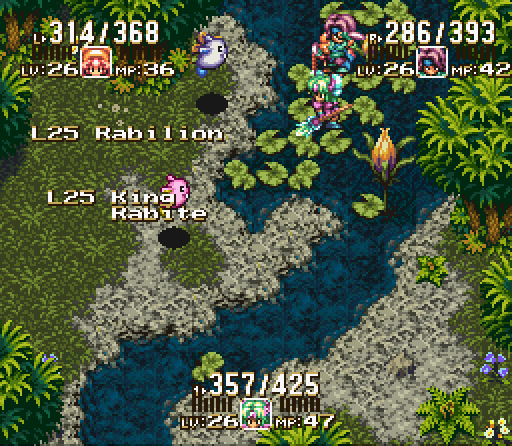 For some bizarre reason the area around the Mana Tree is full of rabites and their derivatives. If they're not nuisances, they're some kind of holy beast.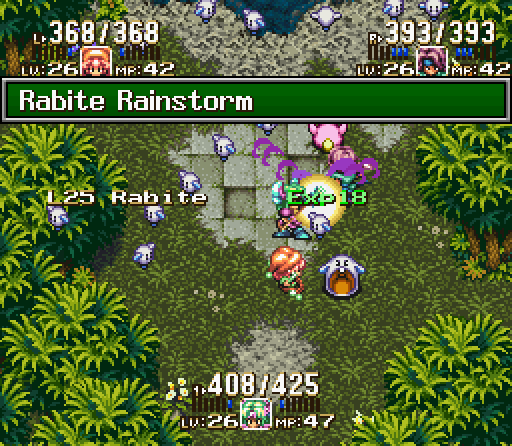 King Rabites can call other rabites, and have a full screen attack shown here. It actually hurts pretty badly, doing well over 100 damage to the entire group.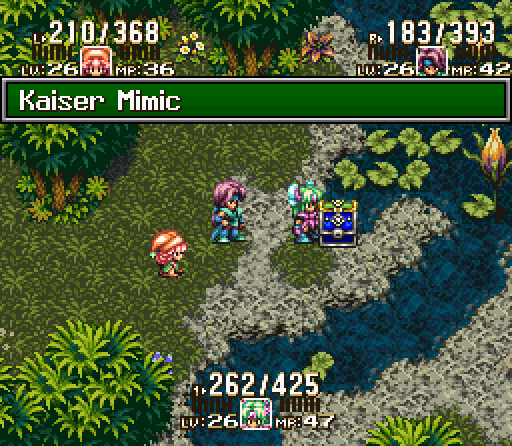 There's also another trap example here. Kaiser Mimics are tough enough to almost qualify as mini-bosses and require buffs and debuffs to make the fight reasonable.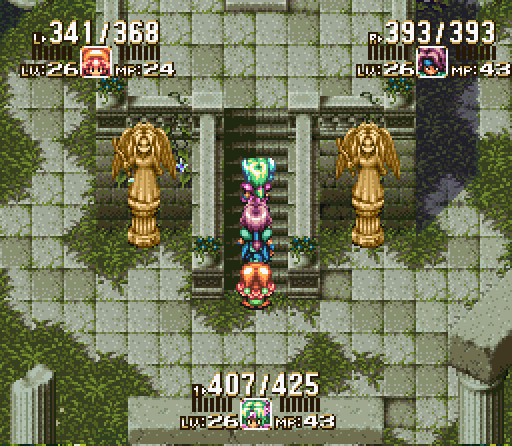 Eventually (after crossing several lily pads) this platform is a sign that we're getting close. Also, both gold statues are active for extra redundancy.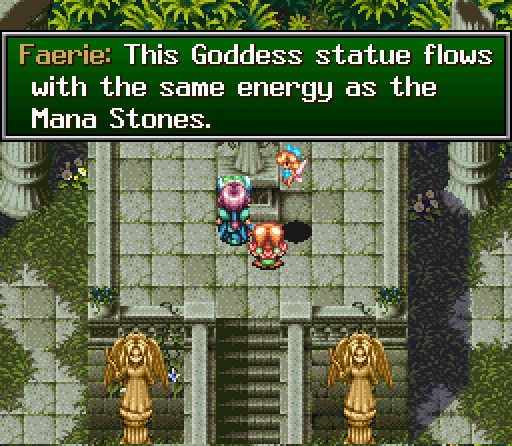 We're a bit early, but this is the location for the second round of class changes.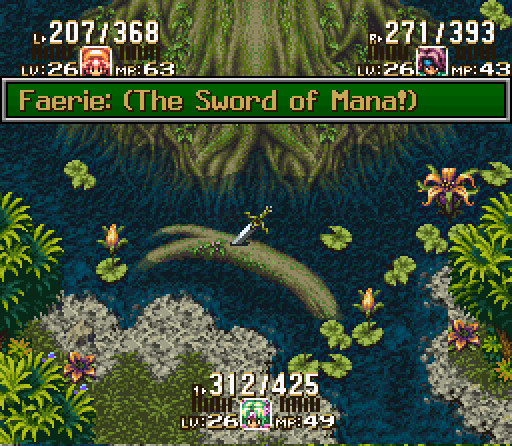 "I… think it's kind of stuck. The tree seems like it's grown around it."

"Wait… slow down, try it again."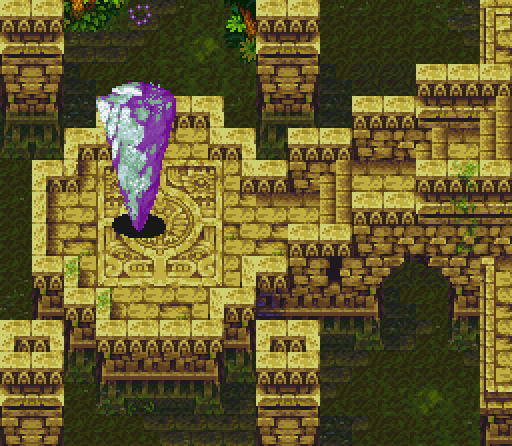 The Mana Stones were shedding their light quietly…(at this point we get a montage of all of them)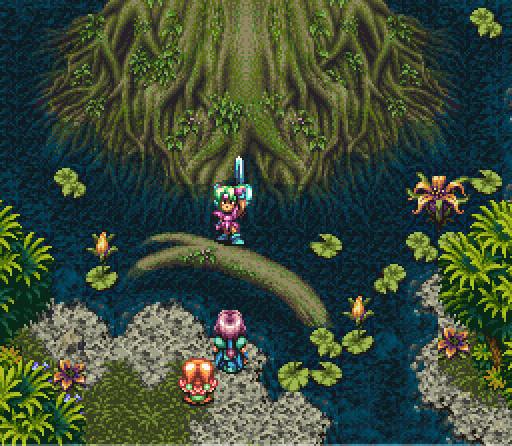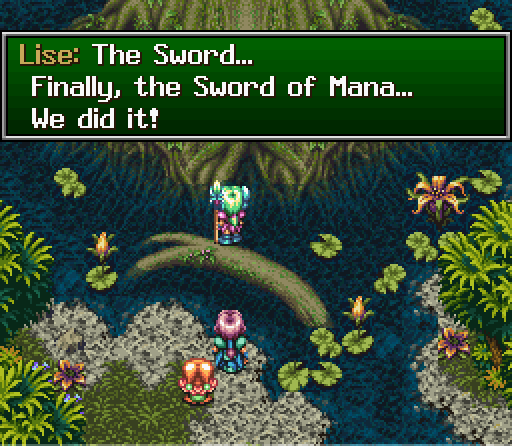 "… Faerie? Faerie! Where did you go? What do I do with this sword?"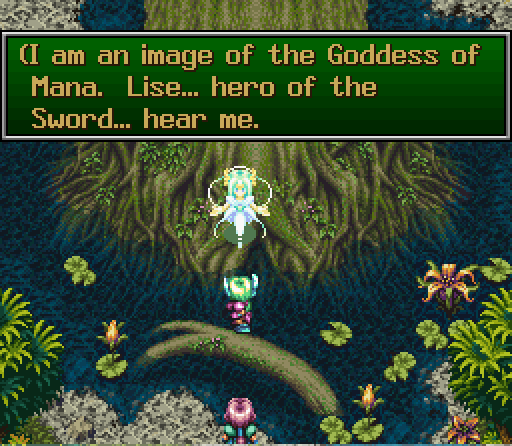 "The faerie has been taken by an evil hand. Please, save her…"

"Wow… you don't really look much like your statues."



"I get that a lot. You lose quality when you get them mass-produced."

"Goddess… please… My brother Eliott… I need to know if he's all right!"

"…The power of Mana is dying… The Tree will wither soon, and I will be gone."

"I can't do anything for you… but I will give you this final gift."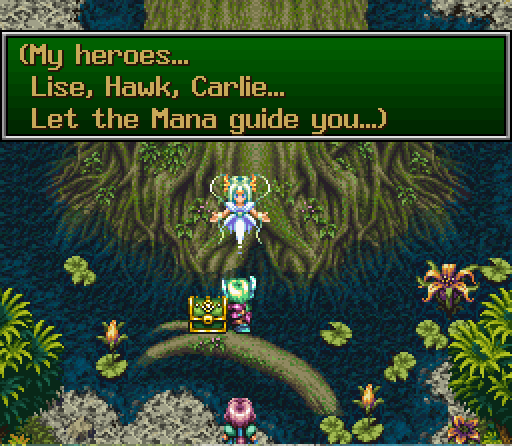 "I suppose a simple answer is too much to ask for."



"Yeah, I didn't even think asking about Heath was worth the effort. She seemed nice, though."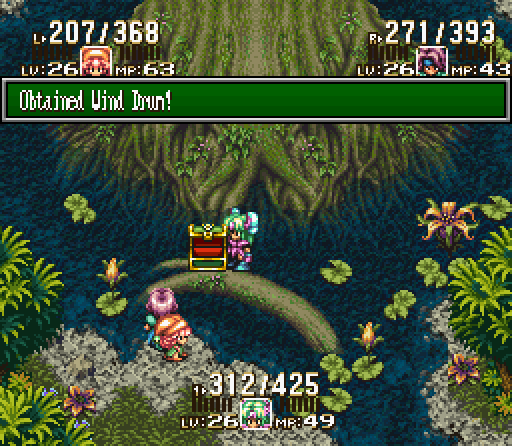 This is probably a pretty familiar item for those of you who've played SoM. Before we can use it, though, we have to make our way back out.