Part 13
Alright guys, we're getting to the good part of the story, and pretty soon, you'll be able to torture me. Radium deleted a few smileys so previous entries will look weird due to my liberal use of smilies.
Last adventure, we picked up Luna, the moon spirit, and Dryad, the little pussy of a Mana spirit who won't stop angsting about his/her/it's personal problems. Hand him a razor blade.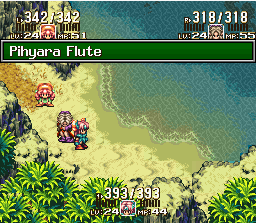 Let's call Max Hardcore.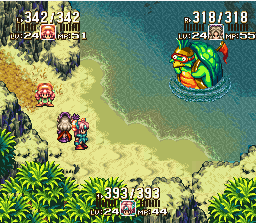 He's back from winning a lawsuit filed by one of his actresses for sexual harassment. Go Max!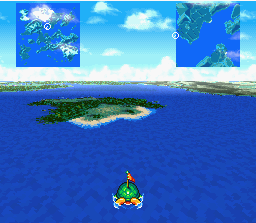 The Island of Oblivion.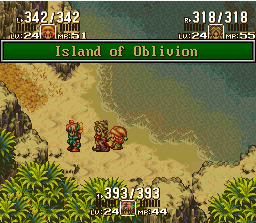 See above post.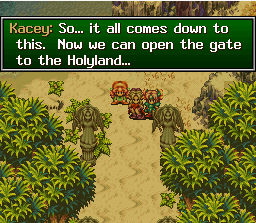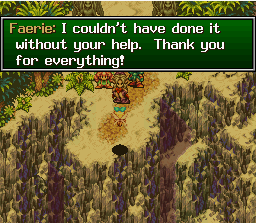 No, thank you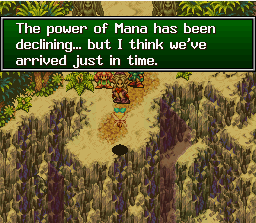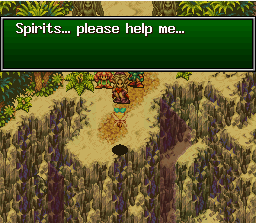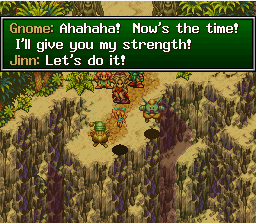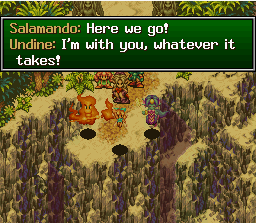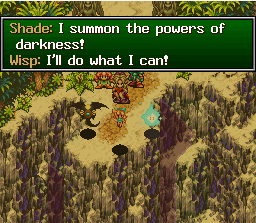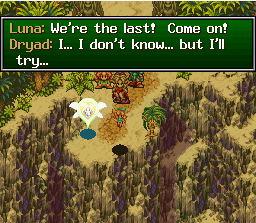 Dryad and his

crap again.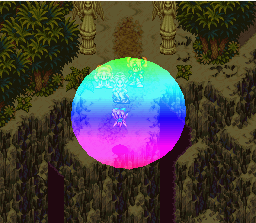 Clearly, Ocarina of Time stole this idea when you try to enter Ganon's castle with the rainbow bridge.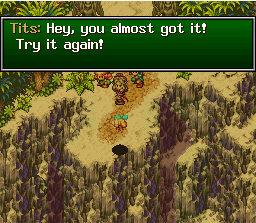 The faerie failed! WHAT A SURPRISE.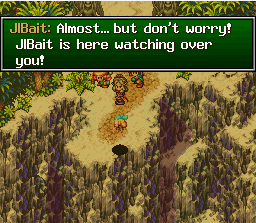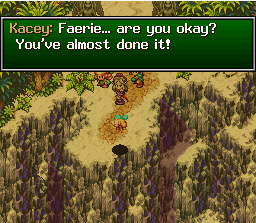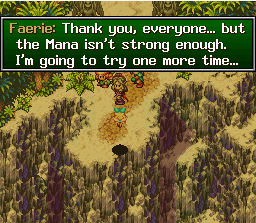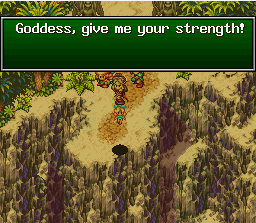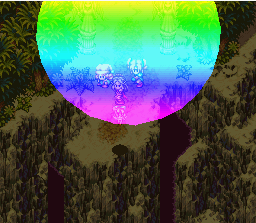 We did it!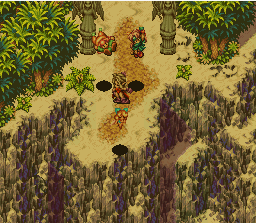 Time for a lil' celebration.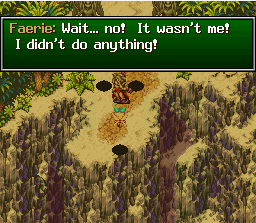 Or not?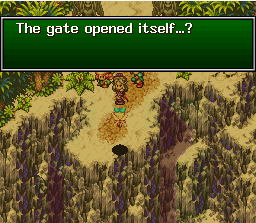 Uh oh.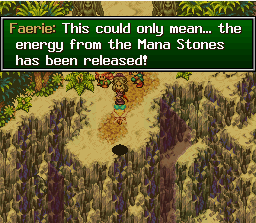 Oh shit.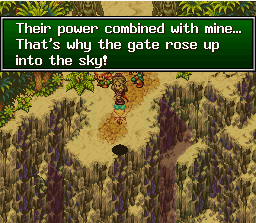 Wait, this is good! Right?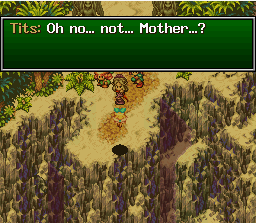 Nonsense!
Time for a shift in the scene.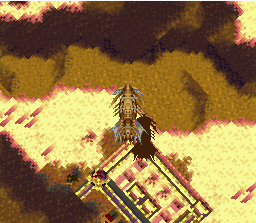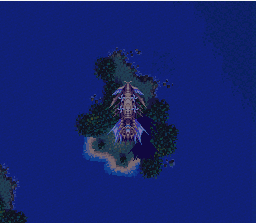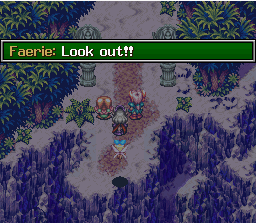 Oh shi...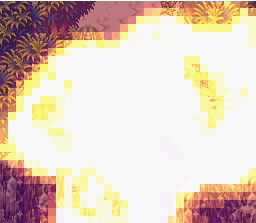 WILSONNNN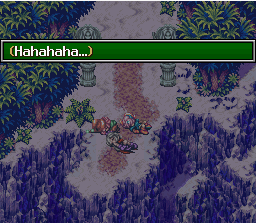 I know that laugh...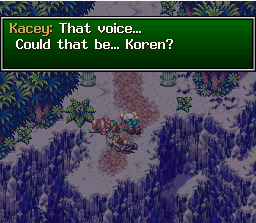 Koren!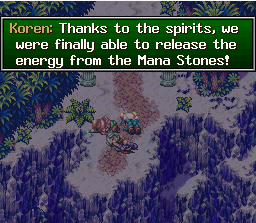 Whelp, there's another fuckup by us v

v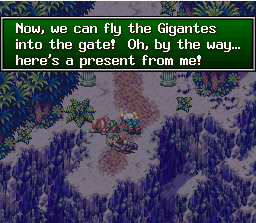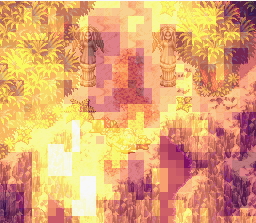 I'd equate this to humping a dead body in Halo.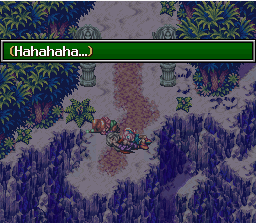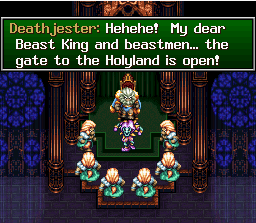 Another change in scene...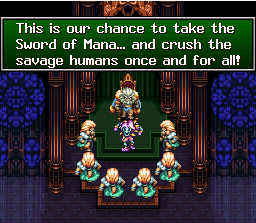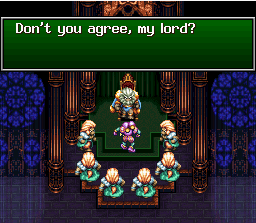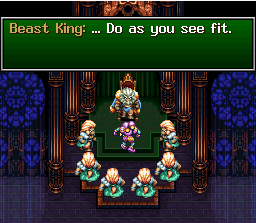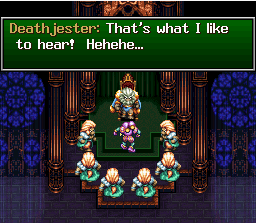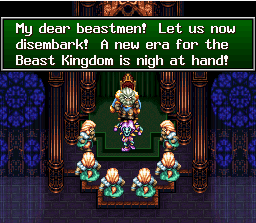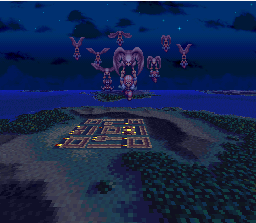 'Dey're FLYIN!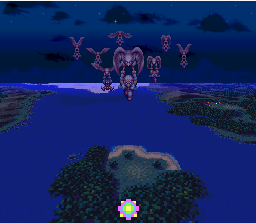 Scene change again...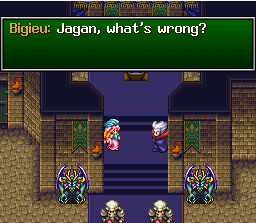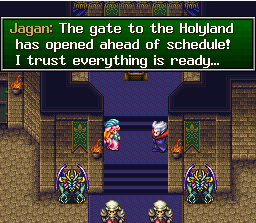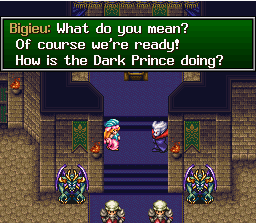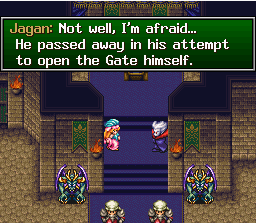 Oops.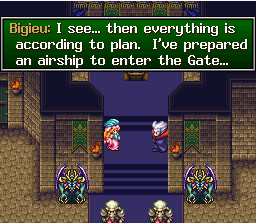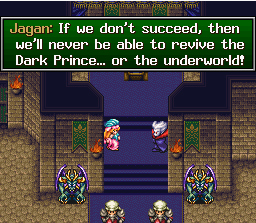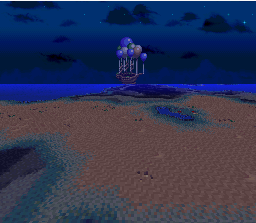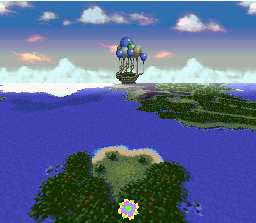 That's a really fucking cool airship. WITH BALLOONS!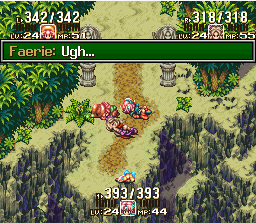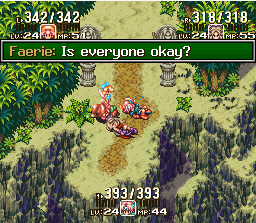 We got hit by 2 bombs. We should be dead.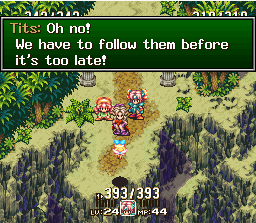 Do we have to?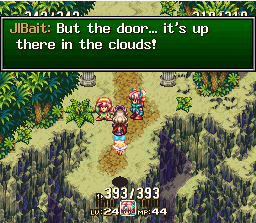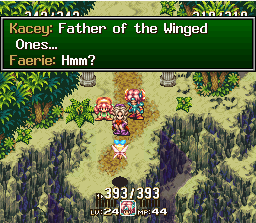 Uh oh, Kacey is going all abstract on us.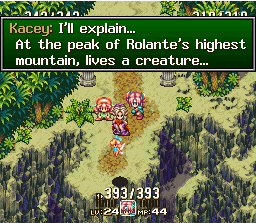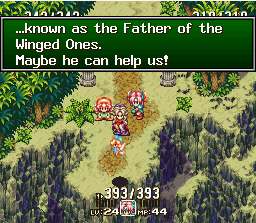 Yay!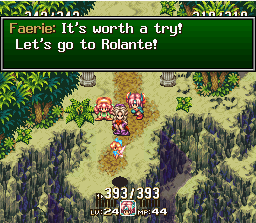 Kay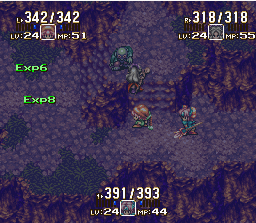 Remember this place?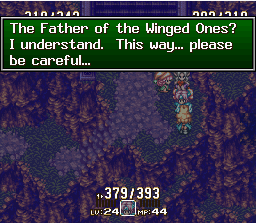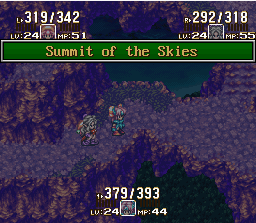 Semi-new place.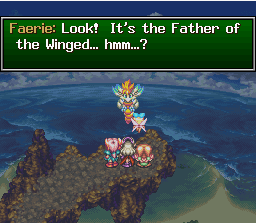 Flammie!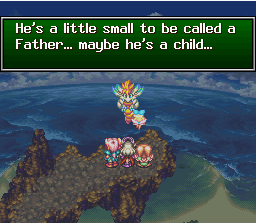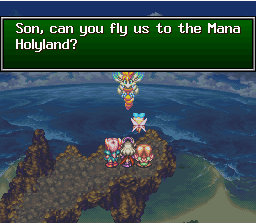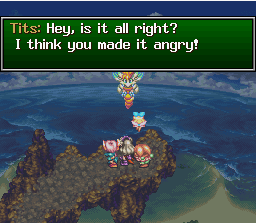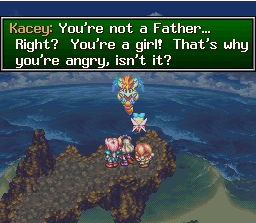 Aww how sweet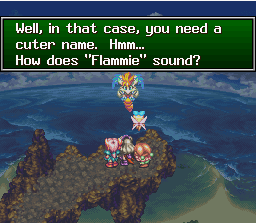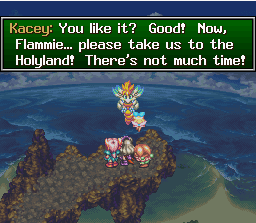 Nonsense. Flammie is a horrible name. From now on, your name will be Lily Thai.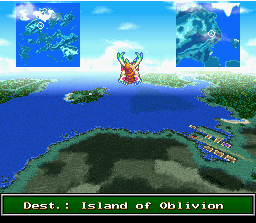 Aww, sweet! We're flyin!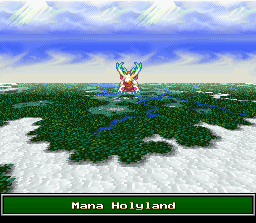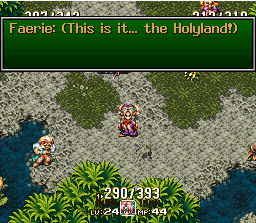 HOLYLAND!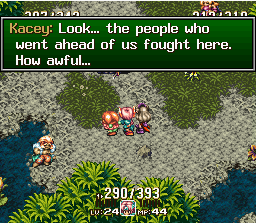 Their problem, not ours.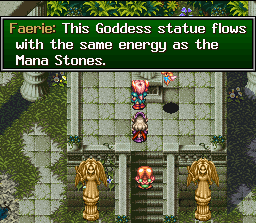 This statue will be important later on. REMEMBER IT!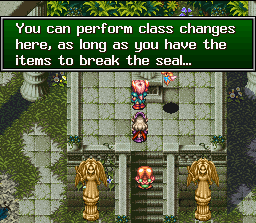 After a little journey we come to...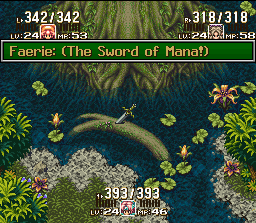 Noice!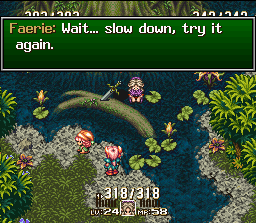 Tits sucks at pulling things.
But first, we need the power of the STONES!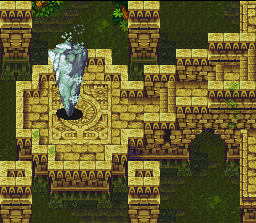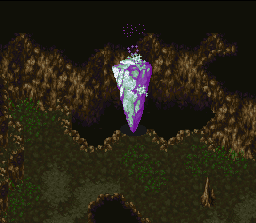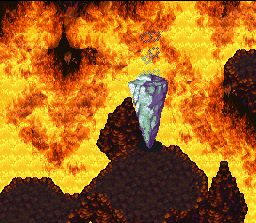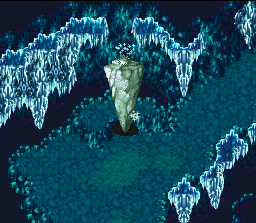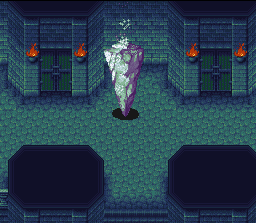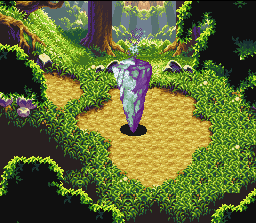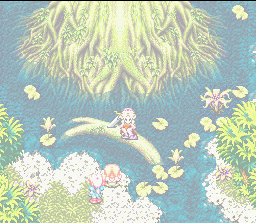 Bright light, can't see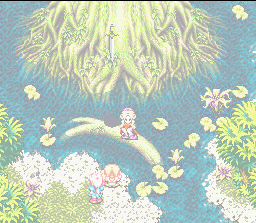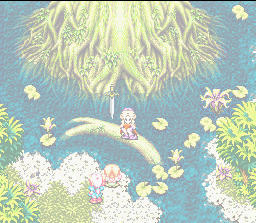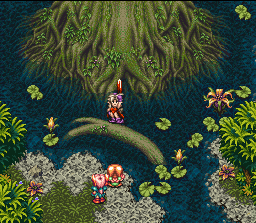 Cool. I got the sword! Now what?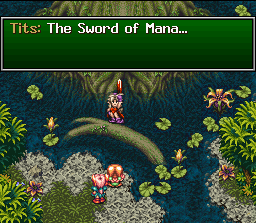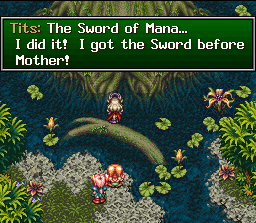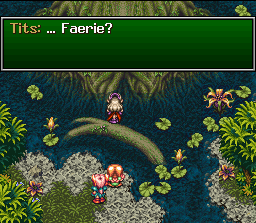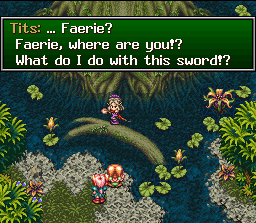 GOD FUCKING DAMMIT. I LOOK AWAY FOR ONE SECOND AND THE FAERIE GETS KIDNAPPED. JESUS CHRIST.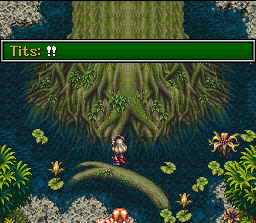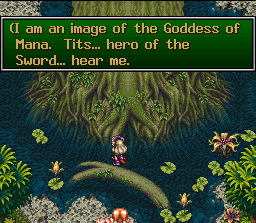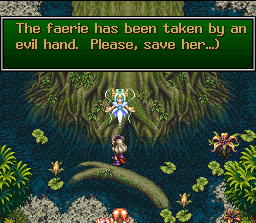 Oh, fuck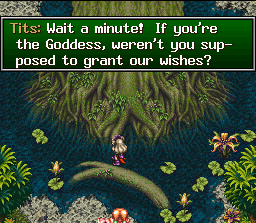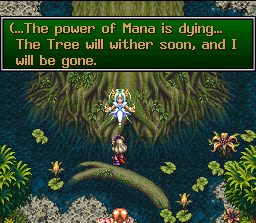 You need to gather the the 7 balls for your wishes to be granted, silly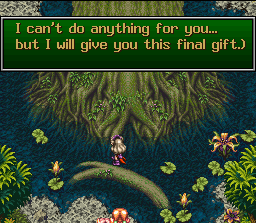 A gift? For me?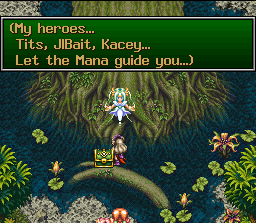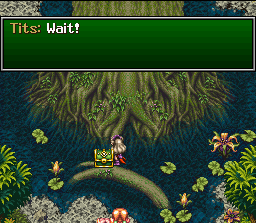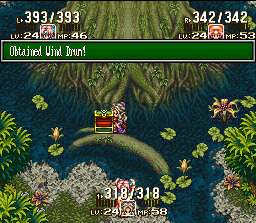 A DRUM? That's it? I want my money back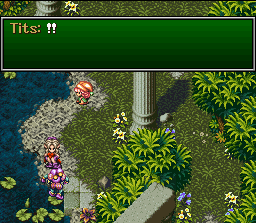 Look who it is!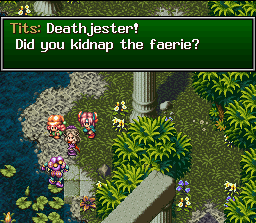 Deathjester!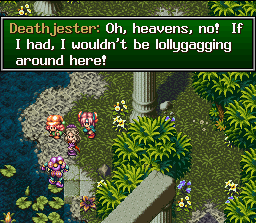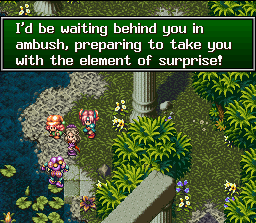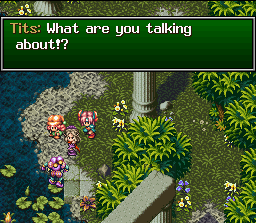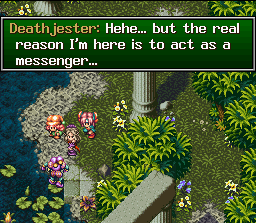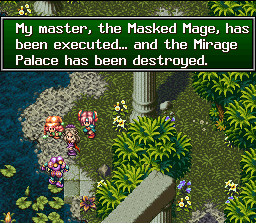 Sucks to be you!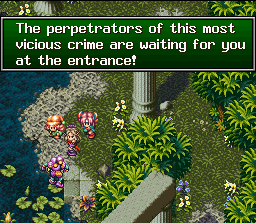 O rly?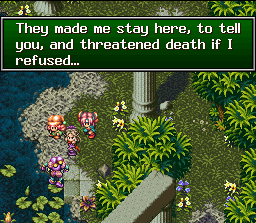 Harsh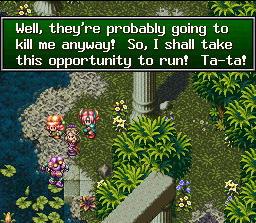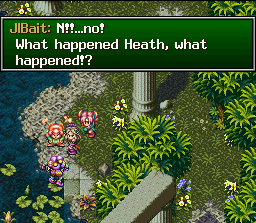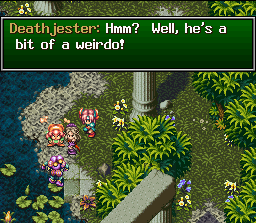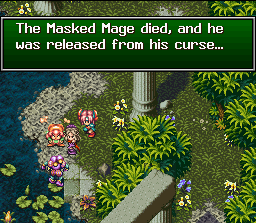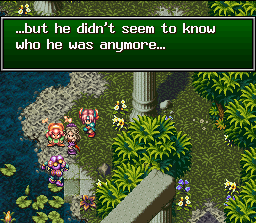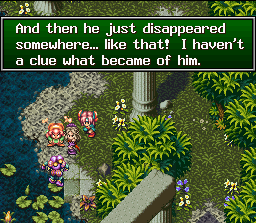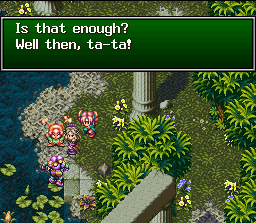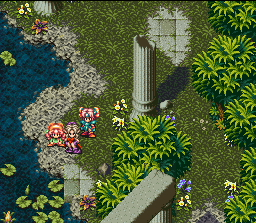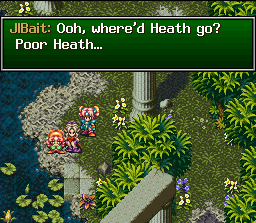 Do you guys feel sorry for Heath?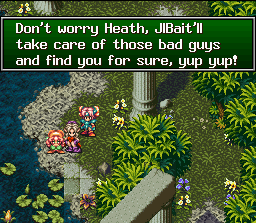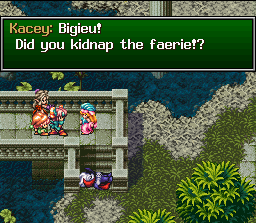 More bigwigs!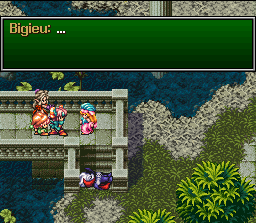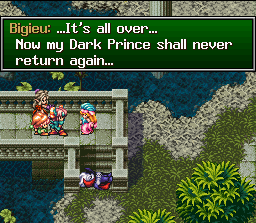 The dark prince was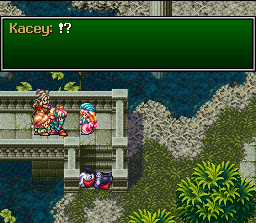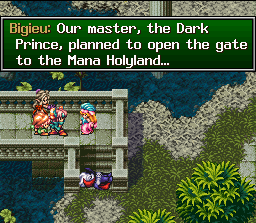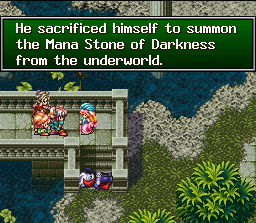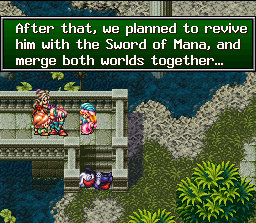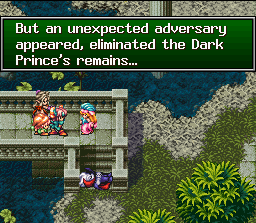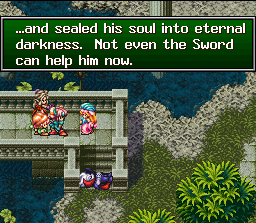 Whoops!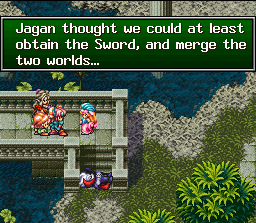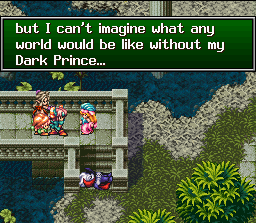 A nice world, perhaps?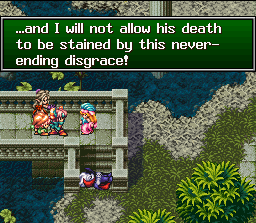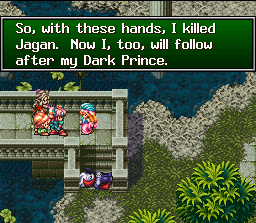 I TOLD U I WAS HARDCORE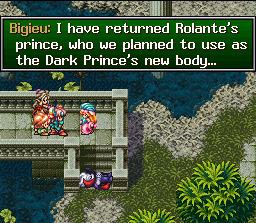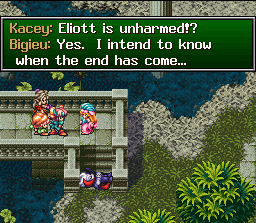 So Elliot is alive. He can make E.T. phone home and not make such a shitty video game.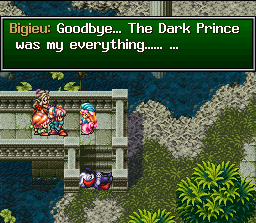 Go write about it on your livejournal then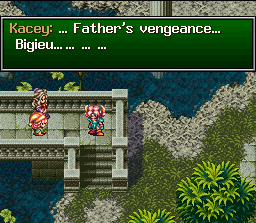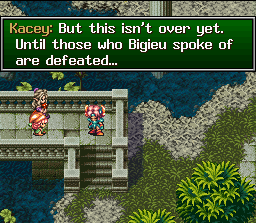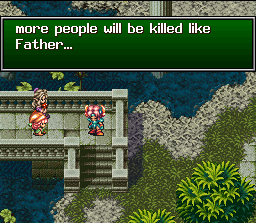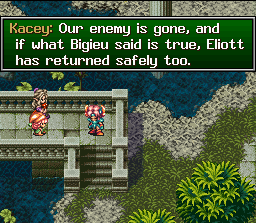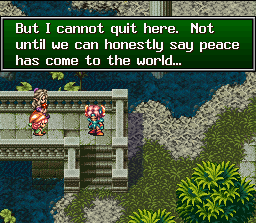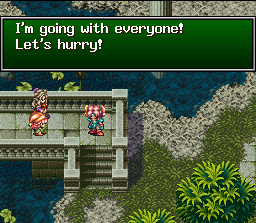 Sweet. Kacey still hasn't decided to leave the hero-saving world for the porn industry JUST yet.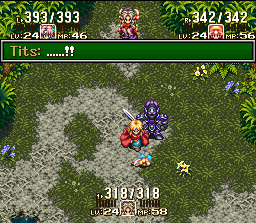 Oh look, it's Koren. BIG surprise.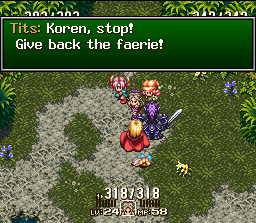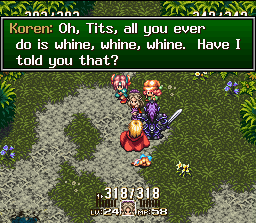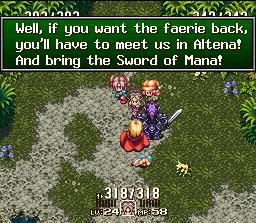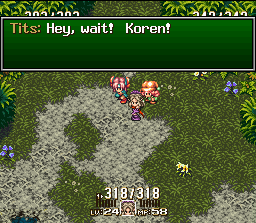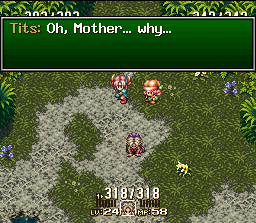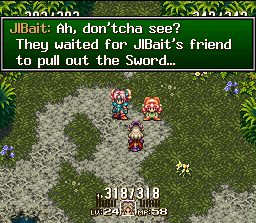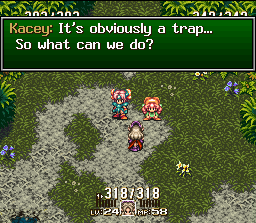 Insert Admiral Ackbar image here!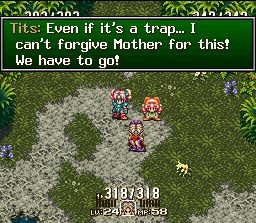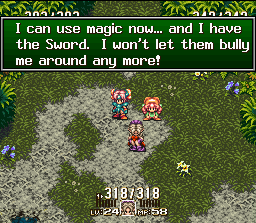 Too bad that's not going to happen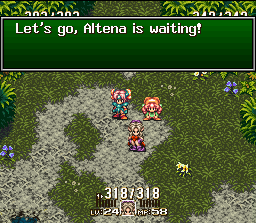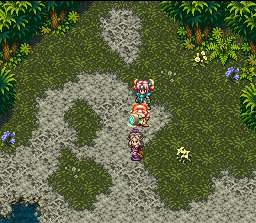 Better call Lily Thai then.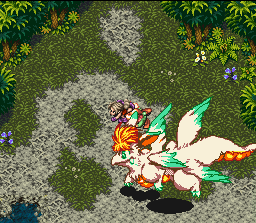 Weee!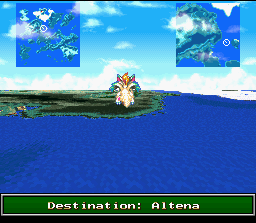 To Altena!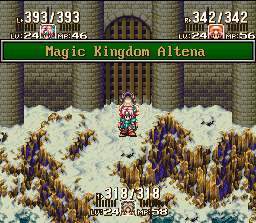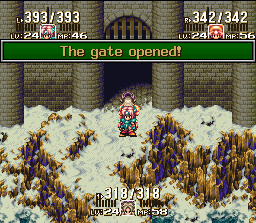 Stamp your hand for re-entry!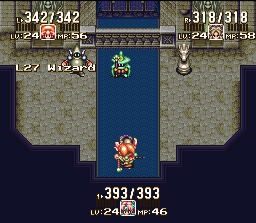 Whoever designed the castle in Altena needs to be shot. It's the most retarded build ever.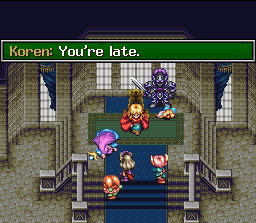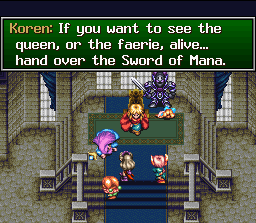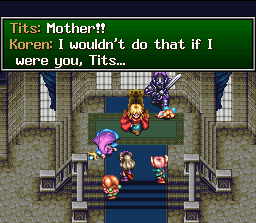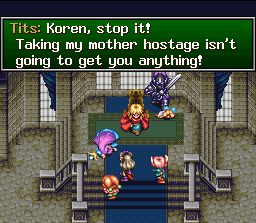 Don't forget, she tried to kill Tits earlier, so Tits may not exactly care if you kill her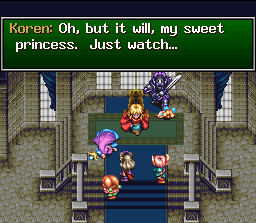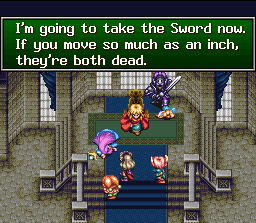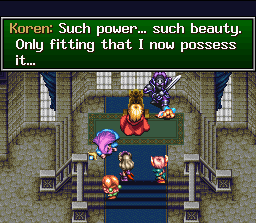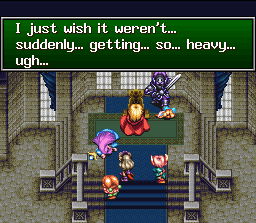 Hah! Figures you couldn't hold the power between your hands.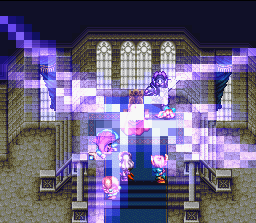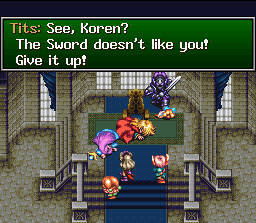 nice try!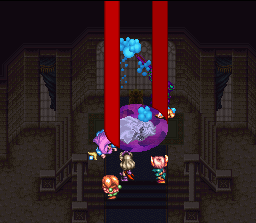 Oh fuck.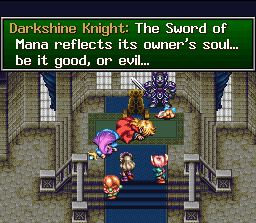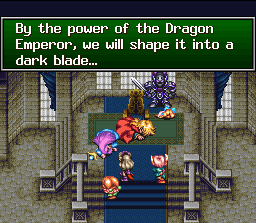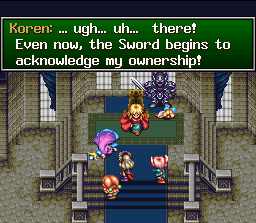 Not again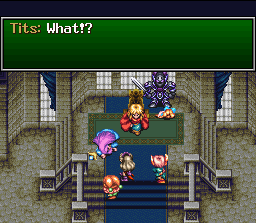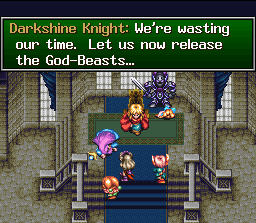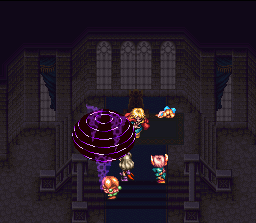 There goes the queen!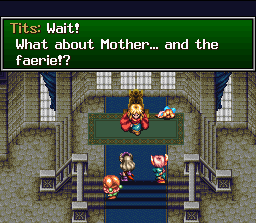 Uh... your mom kind of got sent to another dimension. Maybe she'll meet Goku.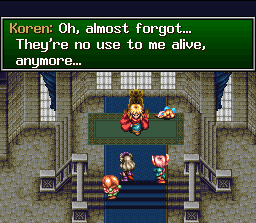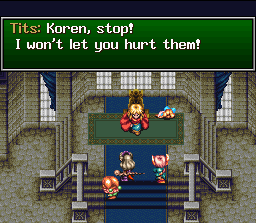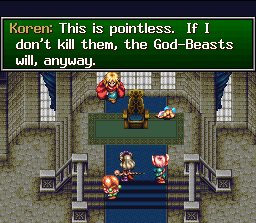 Oh, shit.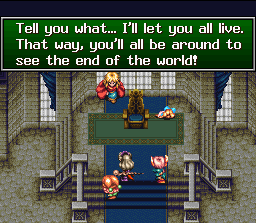 This sucks.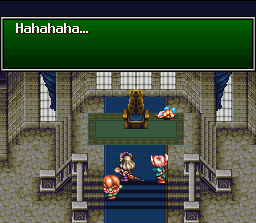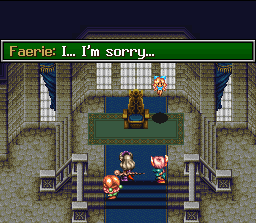 You damn well better be.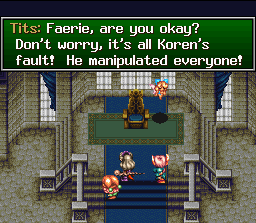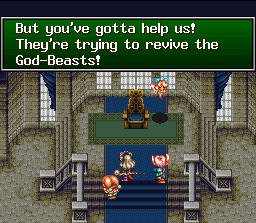 This is not good...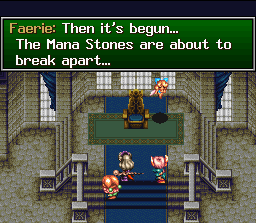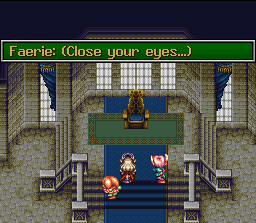 The Mana stones are about to break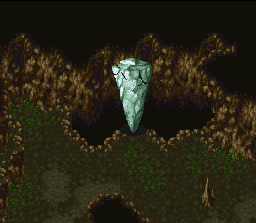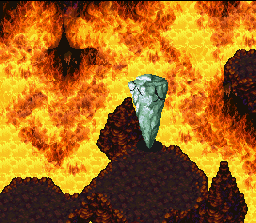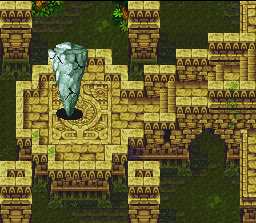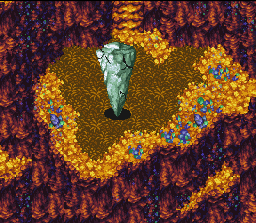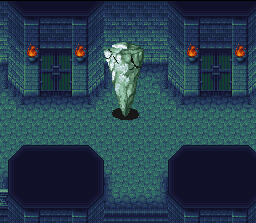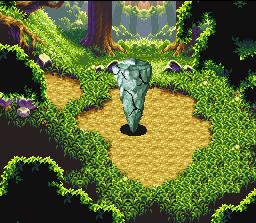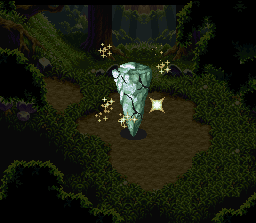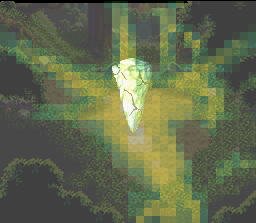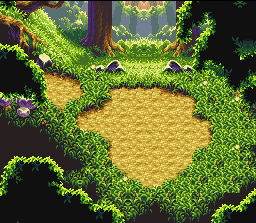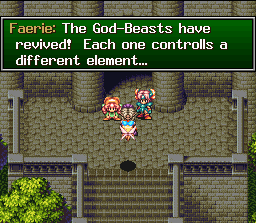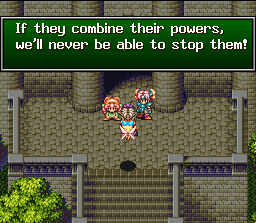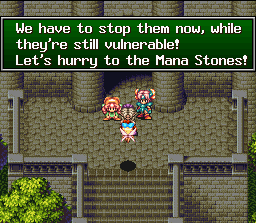 Whelp, the God Beasts are released. The shit has hit the fan.
What do I do? Goons, I haven't given you guys much choice, but... it's time for you to choose who I fight first. I don't care who, you can make me fight the hard ones. WHO DO I FIGHT?

Here's who we got to go through:
The God Beast of Wind, Dangaard
The God Beast of Fire, Xan Bie
The God Beast of Water, Fiegmund
The God Beast of Wood, Mispolm
The God Beast of Moon, Dolan
The God Beast of Earth, Land Umber
The God Beast of Light, Light Gazer
Pick who you want me to take on first. I don't care. I'm not saying who's hard and who isn't, but I know those of you that have played the game are gonna fuck with me

Who shall I fight?