Part 18
Time for the update.

We had just beaten that damn Darkshine Knight. He was a little bitch that liked to use Whirlwind Sword and try and kill me. Nonetheless, we prevailed! Now we enter the heart of the Dragon's Hole. A dungeon very similar to Ganon's Tower in A Link to the Past. You'll see why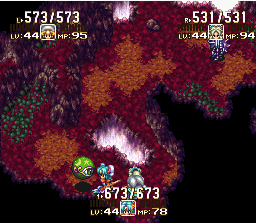 The enemies here like to hit hard. I was pretty liberal with Jail Bait and Heal Light. Not liberal enough to appeal to NAMGLA though.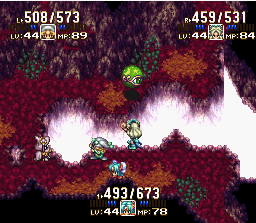 See the little wizard there? Clearly this game takes after Final Fantasy. That's practically a Warlock from Final Fantasy III.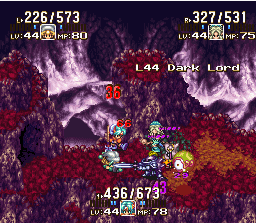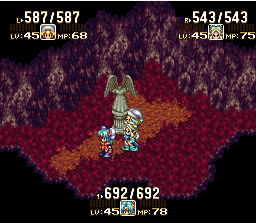 Save point. If you've noticed I've been going the wrong way, you've played this game way too many times.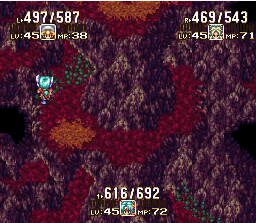 A spiral tower thingy!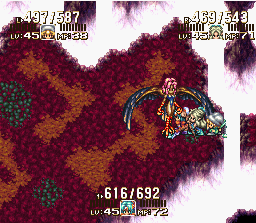 Tzenker? Didn't I fight you early in the game in the Path of the Heavens?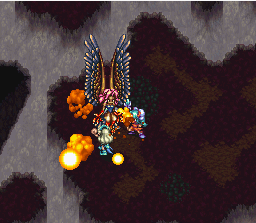 Nonetheless, you're still easy as hell, especially with Earthquake and Diamond Saber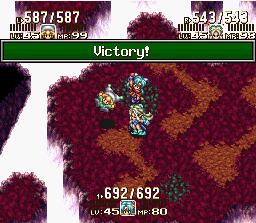 Sweet. Something unlocked?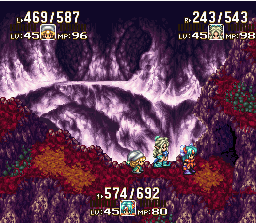 On the road agaiiin.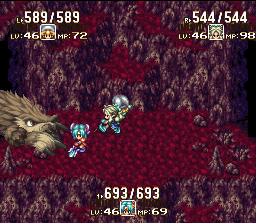 It's the Jewel Eater! Pussy bosses resurrected to fight me again! Thanks for stealing another page from Zelda games!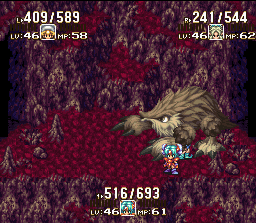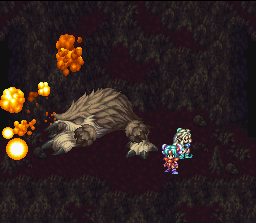 Easy as usual.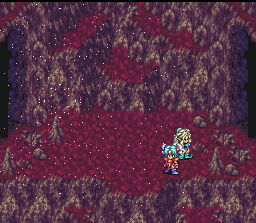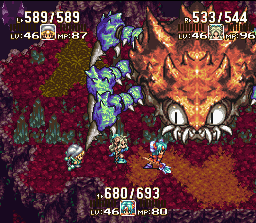 And here's this giant enemy crab...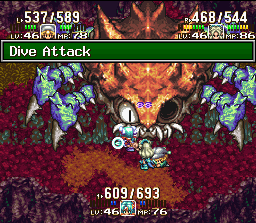 And I attack it's weak point...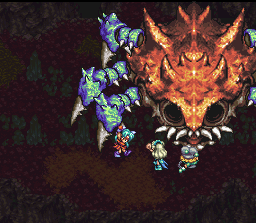 FOR MASSIVE DAMAGE.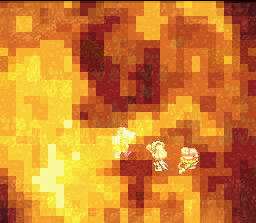 I wonder if crabs in ancient Japanese history blew up too.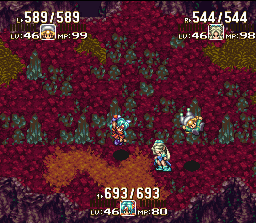 Yep. That was it.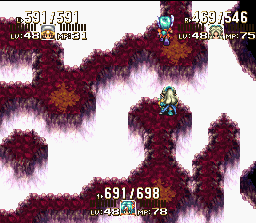 Almost there.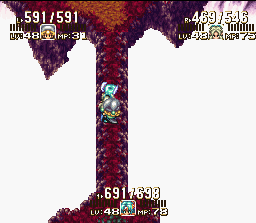 This is a cool Star Wars-esque path.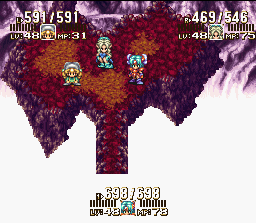 AND IT CLOSED ON ME.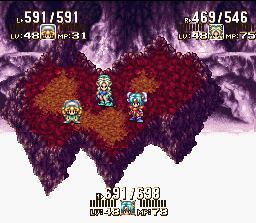 Trapped!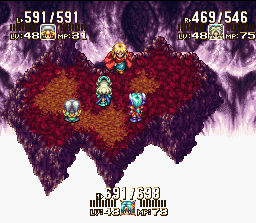 And look who showed up for a little elevator antics!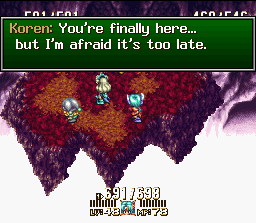 As usual. Isn't every RPG protagonist too late?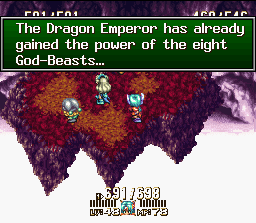 Yeah, we had nothing to do with that. Nothing at all.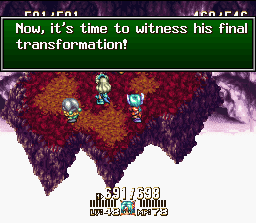 WILL HIS POWER LEVEL BE OVER 9000?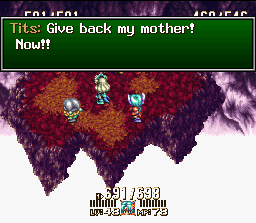 But she'll only try to kill you again.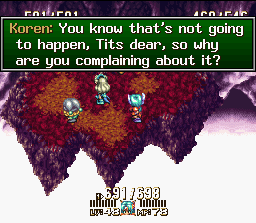 ru serios?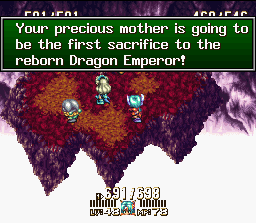 Quite.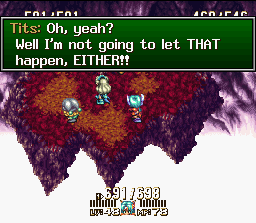 zomg.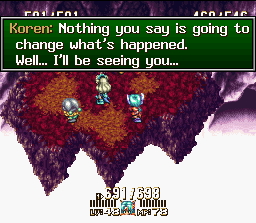 Well, ttyl.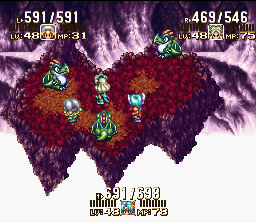 And as a farewell gift, Koren gives us a few happy little enemies as another miniboss fight.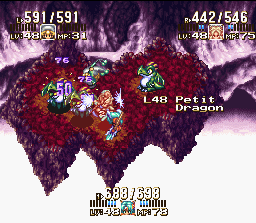 I KILLED 'EM AND THEY REGENERATED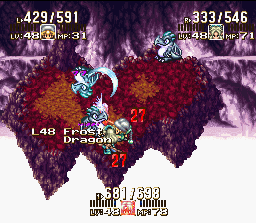 Frosties are easy. Explosion makes nice work of 'em.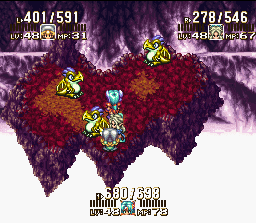 Golds are supposed to be hard.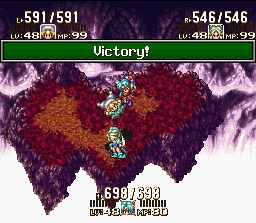 Were you expecting something else?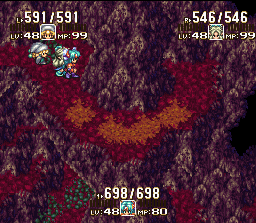 Spiral towers are fun.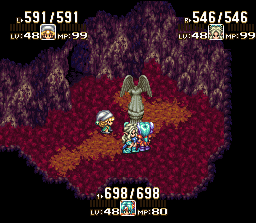 Save points, not so much. Especially when they're missing heads.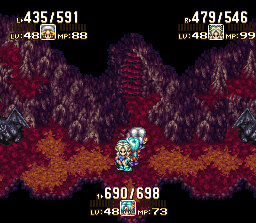 Well THIS LOOKS IMPORTANT.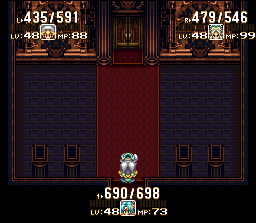 A castle inside a Dragon's Hole?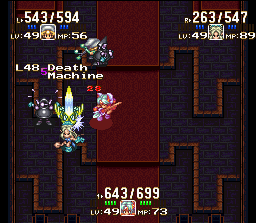 Oh fuck. This room.
This room...
I hated this. Asstons of enemies, they kept regenerating for the longest time.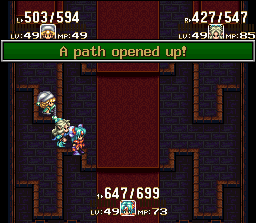 Finally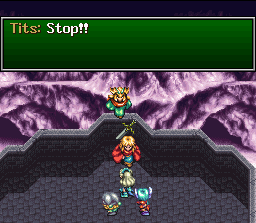 Hay it's Koren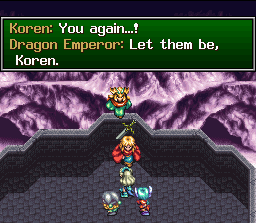 Is it me or is the Dragon Emperor a pussy?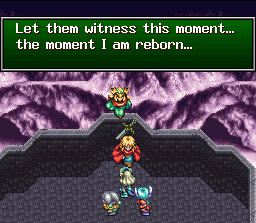 I hope it's like a creationist science fair project and goes horribly wrong.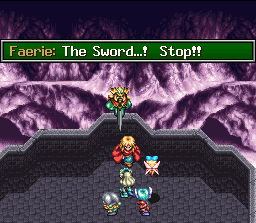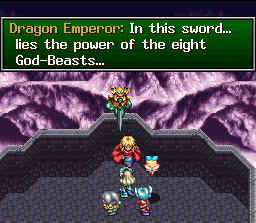 I never quite get this. I killed all of the God Beasts. How can the sword contain their power if they're dead?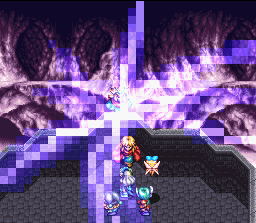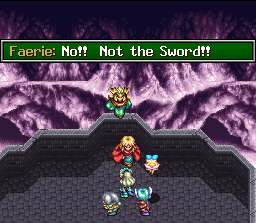 NO, NOT MY NOSEJOB.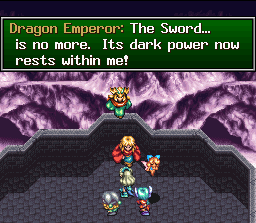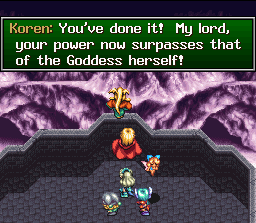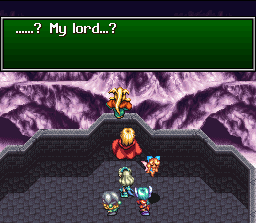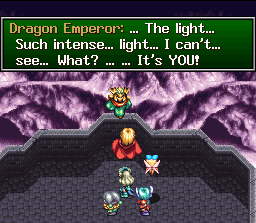 Oh come on, how many of you weren't expecting this?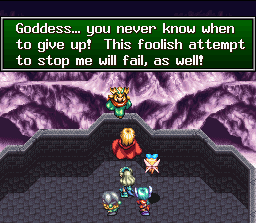 It will?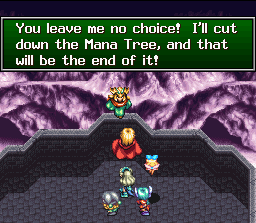 That's going to be impossible. You see, I found someone from Greenpeace to live up there while I sort this mess out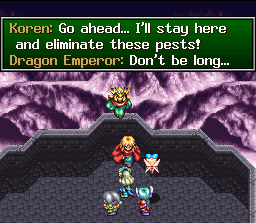 Sweet! I get to fight Koren!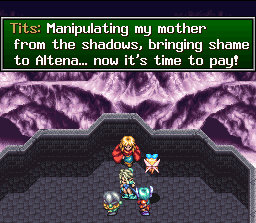 That's the fighting spirit I'm talking about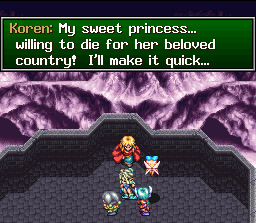 This will be epic.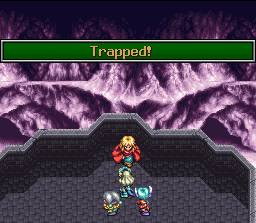 Hightension Wire starts playing here. I'm assuming you've downloaded it, because it really is the most kickass song in the game.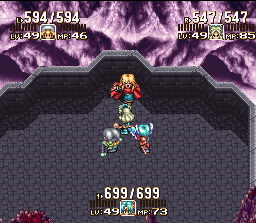 AND HERE WE GO! Koren starts off with some magic.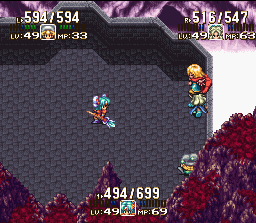 Then shifts to the right! I started beating his ass up until...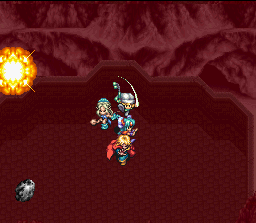 Shit. He's casting Ancient. A very very very strong spell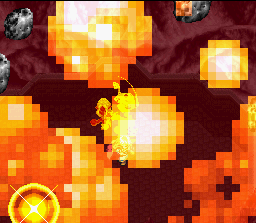 Meteor spells are always the strongest spells in games. Another RPG cliche.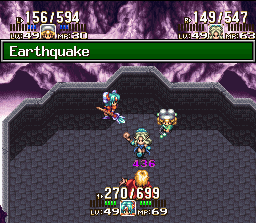 After hitting me with Ancient, he follows up with Earthquake

I survived, however. And it's time to bring out Tits' secret weapon, Double Spell.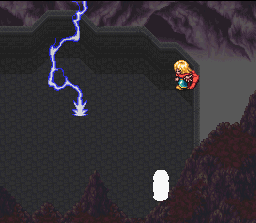 Like any summoning spell, it transfers us off-screen, followed by an awesome lightning attack.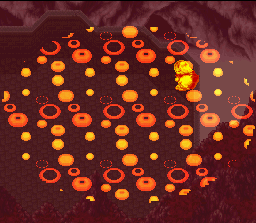 Which is proceeded to be followed by a heatwave.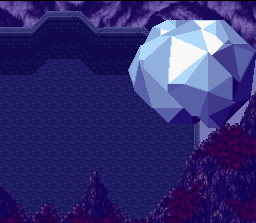 And lots of ice falling.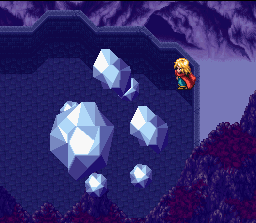 Double spell? That was more like Triple Spell.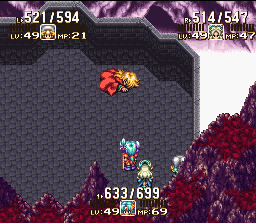 Needless to say, it kicked the little shit's ass.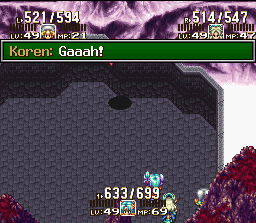 After falling, he does this HUGE leap into the air to be at center stage.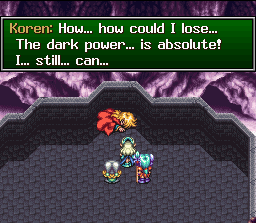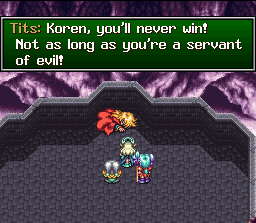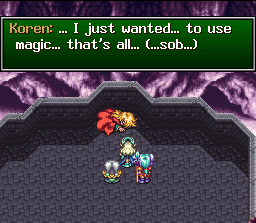 Hay sounds familiar doesn't it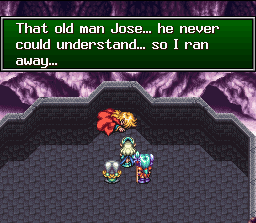 Jose was retarded anyways. Tits learned magic without him.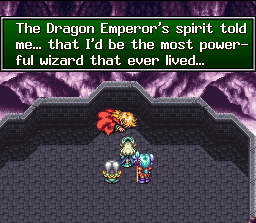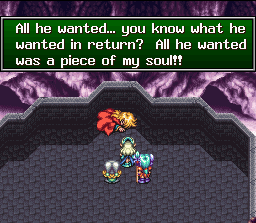 Fair trade? Hah! Reminds me of this Perry Bible Fellowship: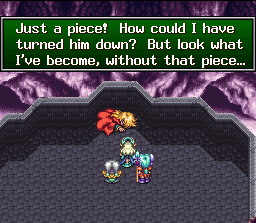 Souls are subjective, are they not?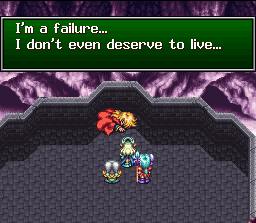 Koren's been listening to too much Linkin Park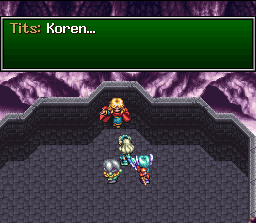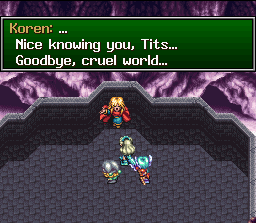 I love the phrase "Goodbye, Cruel World." My grandma has a picture in her bathroom of a child trying to flush himself down the toilet stating that.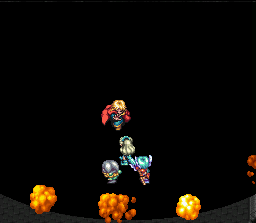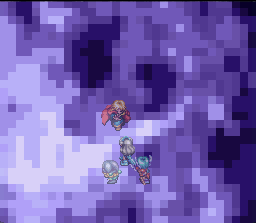 Of course, he can't go without an explosion.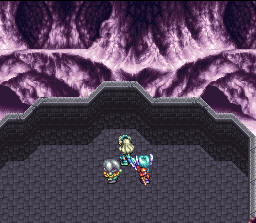 And he put on his disappearing act as well.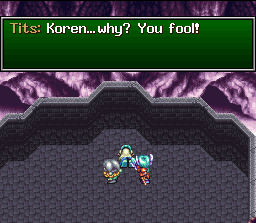 FOOL OF A TOOK!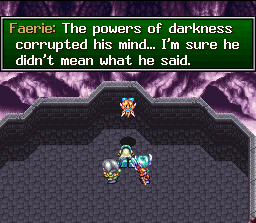 Why the hell is it that heroines always have sympathy for those who just tried to kill them?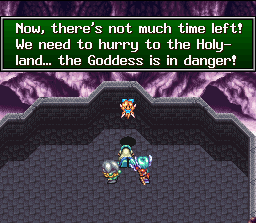 Okie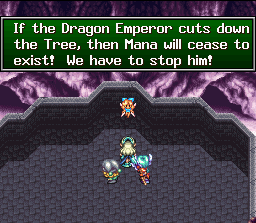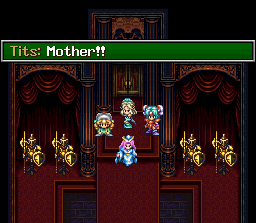 Oh dear.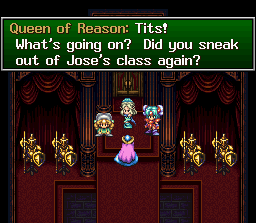 Yup. That was awhile ago.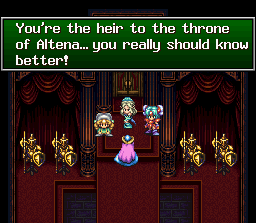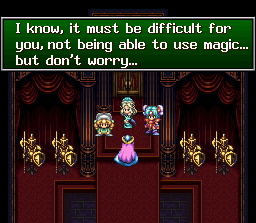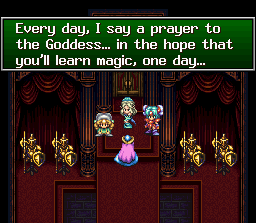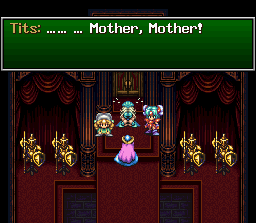 Oh saddness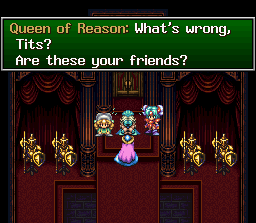 Her sexy friends who will soon be featured in their very own porno! Hold on, lemme just post a thread on GBS asking for funds to my paypal account so I can fund such a hentai to be made. To get my money's worth, I better make sure it includes scat and Lowtax references.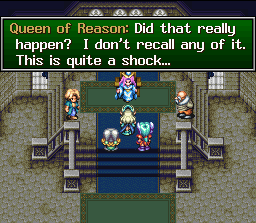 The usual amnesia syndrome. Another RPG cliche.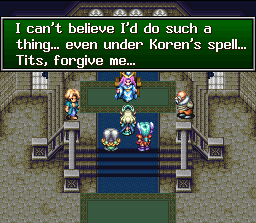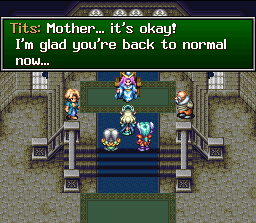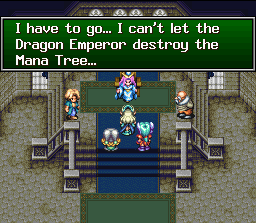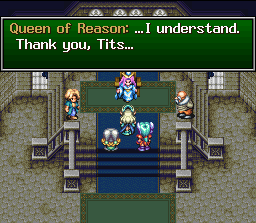 Heh, we didn't even tell you Tits has stronger magic than you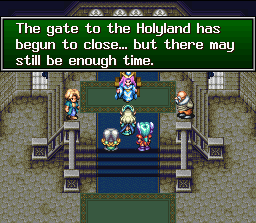 WELL IF YOU HADN'T DELAYED US SO <

>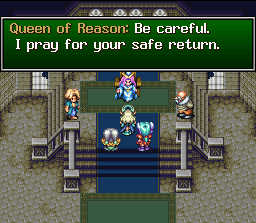 Right.
One dungeon/level left! We're on the verge of finishing this game!
Unless you guys want me to go kill the Black Rabite, or something. Because I can totally do that now

I must be on a record to have the shortest completed Let's Play thread in the history of the gaming forum