Part 39: London, part 1
London, part 1
Just a few things of note before we leave Rouen for London.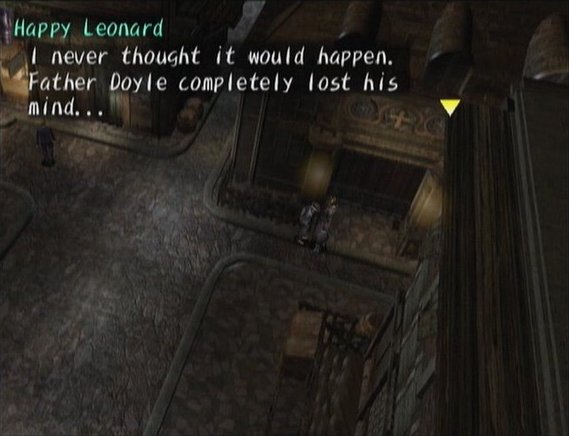 The townspeople aren't frozen anymore.
Happy Leonard: Perhaps his soul will rest more gently...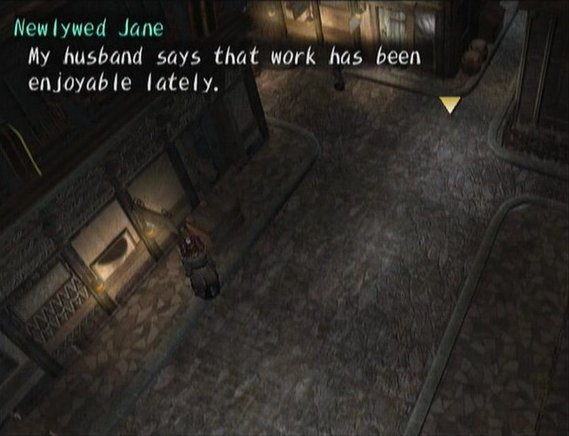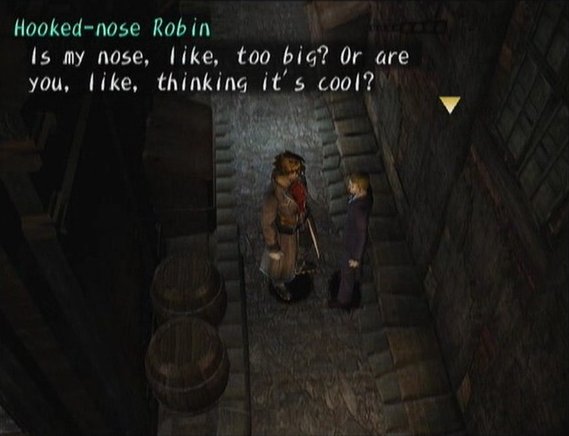 There's also a strange man hanging around the alley.
Hooked-nose Robin: Is it too dark to see? Is that a good thing or a bad thing? Hmm...
Lottery Member No. 06: Hmmmm... You, like, carrying a Lottery Ticket?
I half-expected him to be selling "Rollyx" watches, but he's actually a Lottery Member. Who's in charge of picking out these freaks, anyway?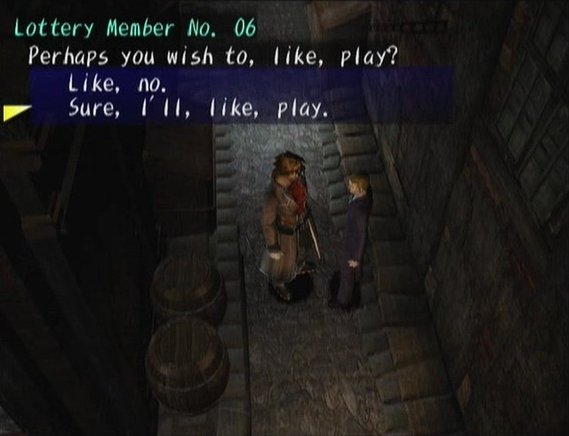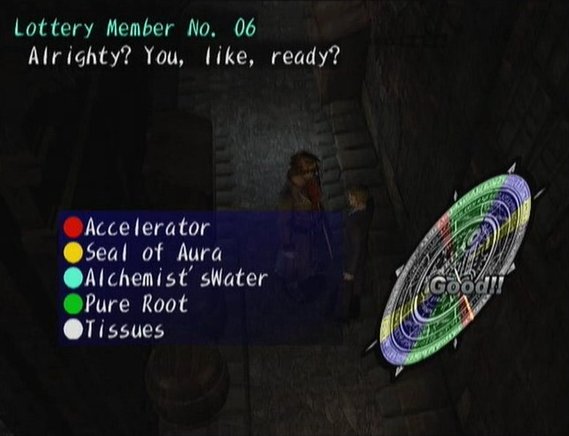 I'm...not going to admit how many reloads I had to do to get the Accelerator, which doubles your steps when equipped with the Pedometer.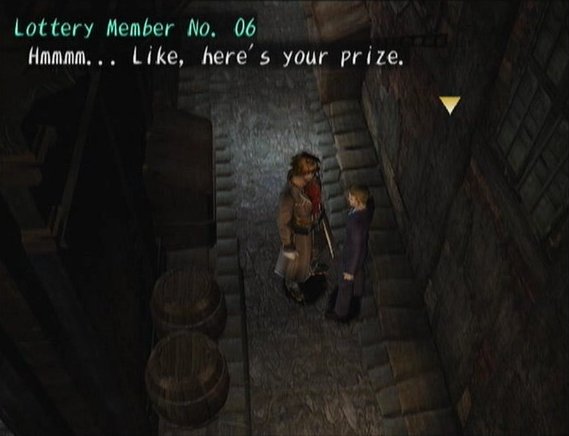 You've received Accelerator.
Lottery Member No. 06: Once in a while, I, like, know what I want to say and stuff.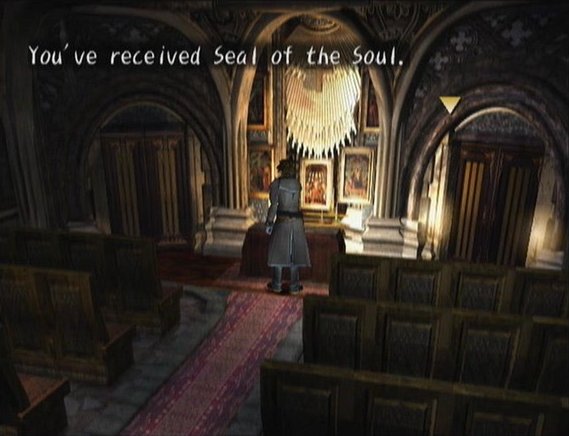 We can also loot the church now.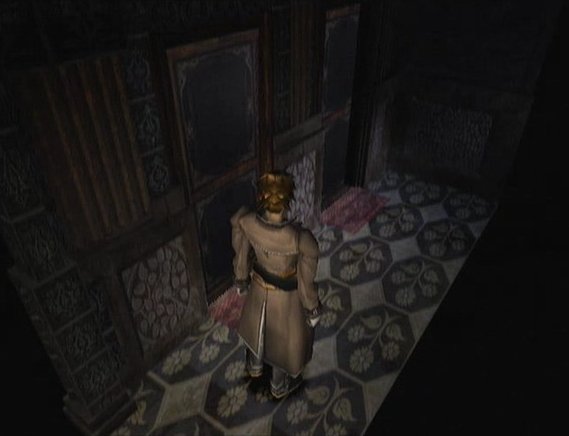 The door on the right leads to the confessional.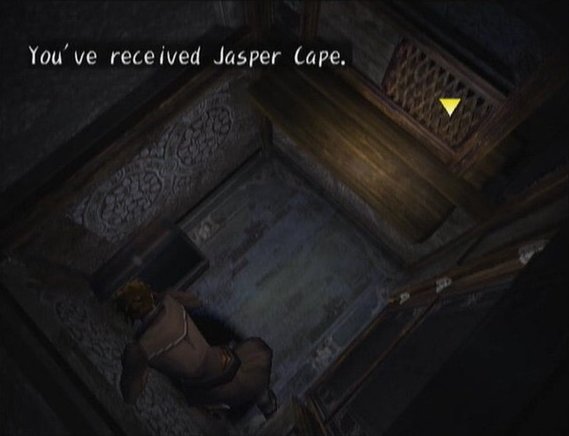 The far booth is empty for now, but the closest one has a chest.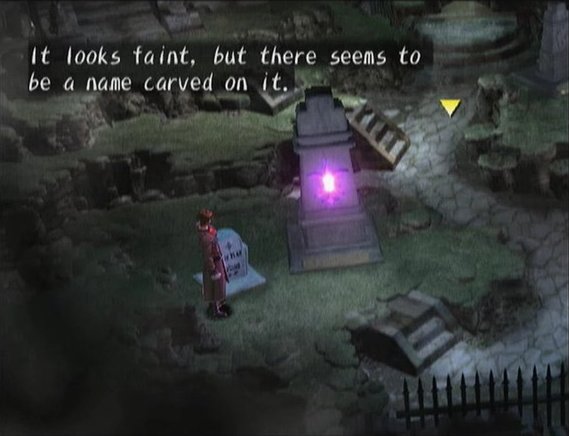 In the Graveyard, the description on the new headstone has changed a little. This worries me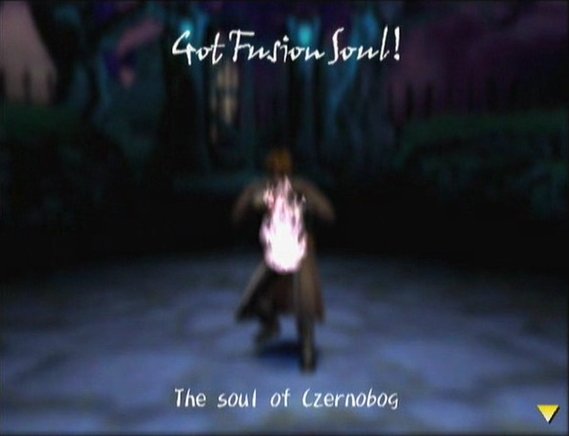 Oh, and the fight with Olga gave me enough souls to max the Dark Fusion.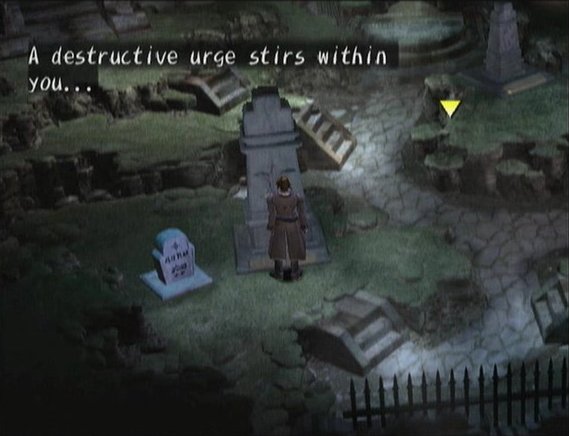 You've received soul of Czernobog!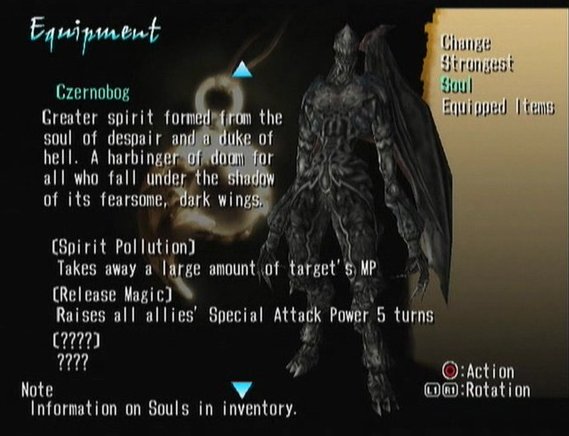 The "????" is
Revelation
. We won't be able to use it unless Yuri loses all his SP and goes Berserk while fused with Czernobog. All the attack skills of the final Fusions are like this.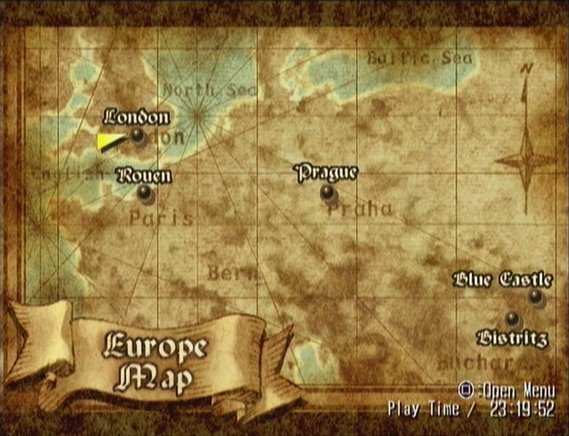 Now, to London.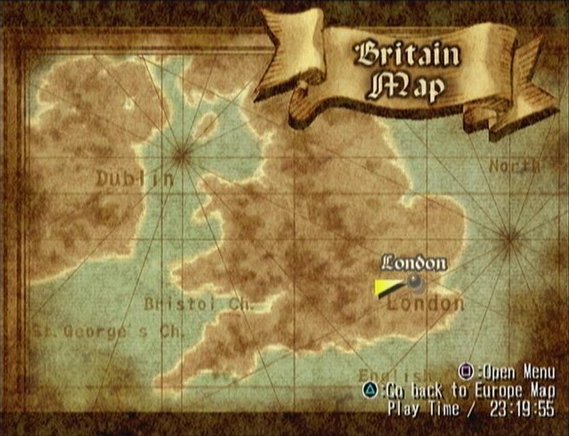 Clicking on London zooms the map to Britain.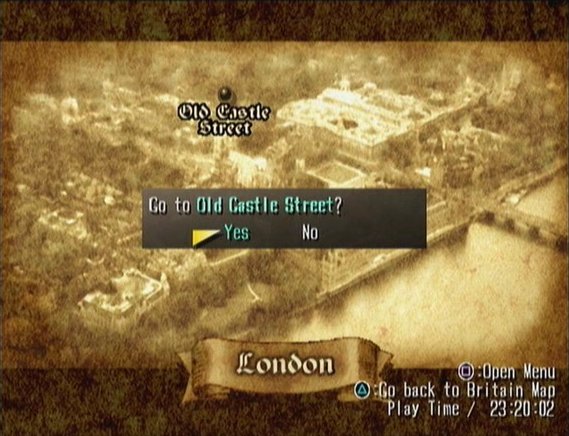 And clicking it again brings up the city map. At the moment, there's only one place we can go: Old Castle Street. Trivia - Old Castle Street, then known as Castle Alley, is the site where a prostitute was found murdered on July 17, 1889. At the time, her death was attributed to Jack the Ripper, though later researchers have put forth the theory that her murderer copied Jack's MO to deflect suspicion.

Well, it is the capital of England. Anyway, doesn't this place look suspicious?

But you think he's really here? This Card guy or whatever.

Cardinal Simon.

Yeah. That's the one.

Enough with the dumb act already!! I know you know who I mean!!
Act?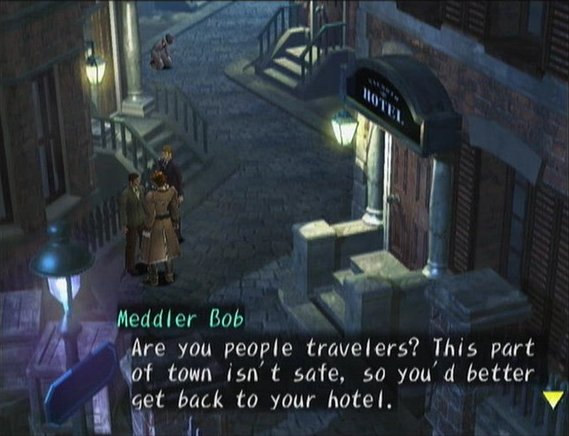 The game won't let me go to the hotel yet.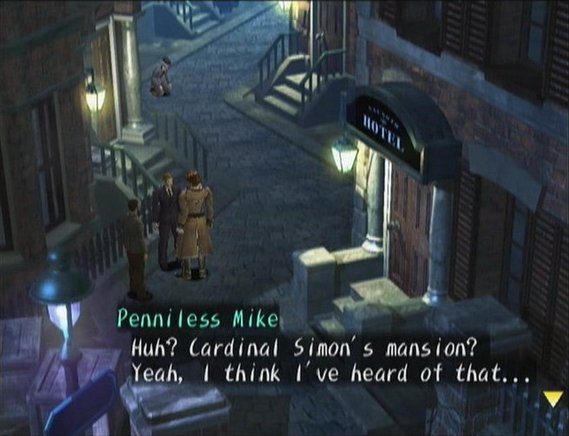 Penniless Mike: Say, do you want a rare card? I've spent so much money collecting them, I'm broke.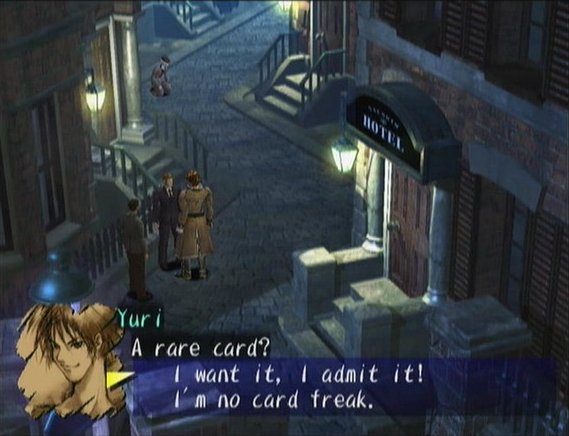 I hope it's a Forest card.
You've received the Sun Card.
It's another of the Merchant Guild cards. That's our fourth one; only one more to go!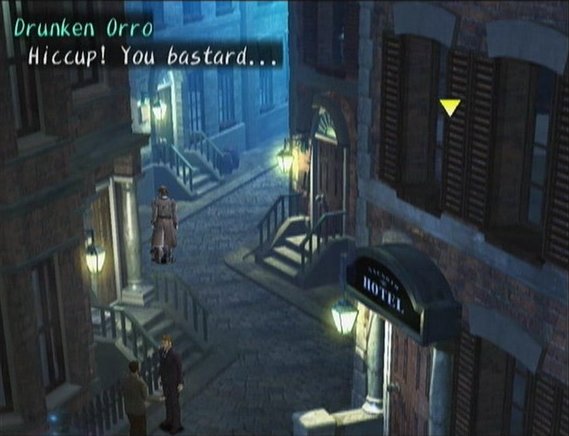 Drunken Orro: The only thing t' soothe the human heart is liquor. Liquor, and... Uh...
I like him already.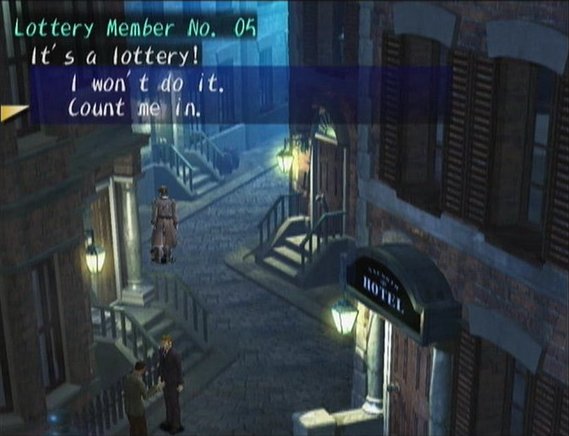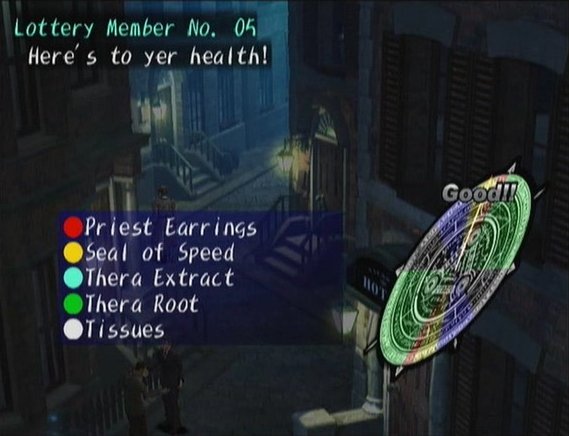 I went for the Seal of Speed this time. I may come back later to get the Priest Earrings if I don't get another pair somewhere else.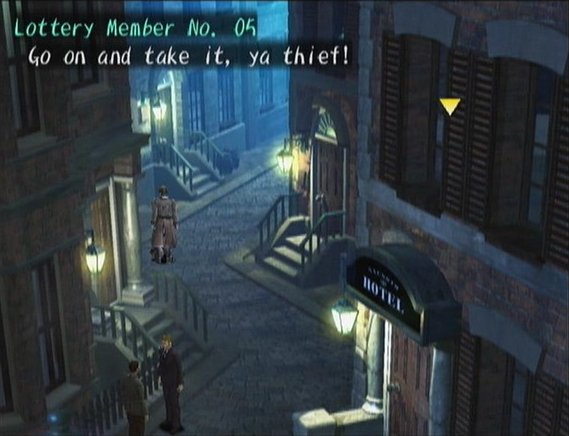 You've received Seal of Speed.
Lottery Member No. 05: I...hic!..did my best. Hic! Y' know? Hey! I'm asking ya a... hic!... question!

Ooookay... I'm gonna leave now. You just keep up with the drunken ranting, though.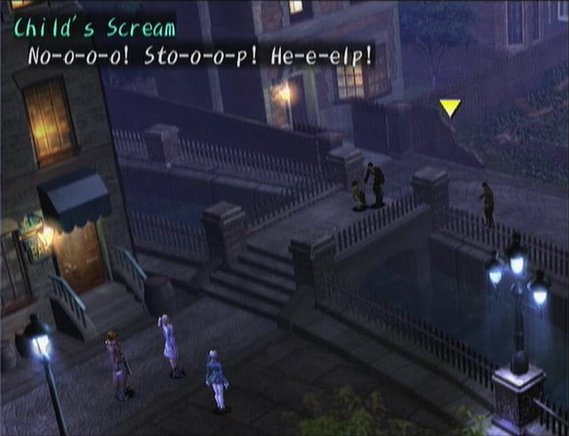 Further down the street, we get treated to a view of pedophilia in action while a resident just stands there. Whitechapel seems like a simply lovely place.
Man in Black: Hey! Quieten down, will ya!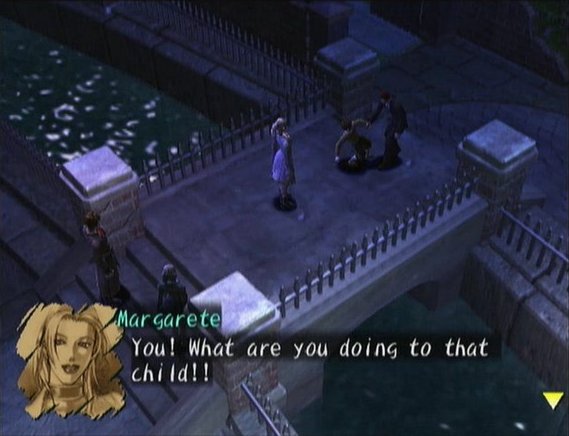 Man in Black: Who the hell are you?! Shut up and mind yer own business. The law in this town says that all orphans go to the orphanage.

Shut up. Mind yer own business, is it? You and me got a problem, punk.
Man in Black: Har!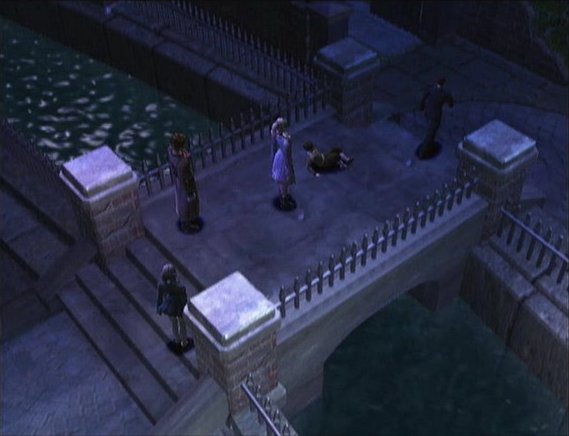 Aw, c'mon back and let me punch you!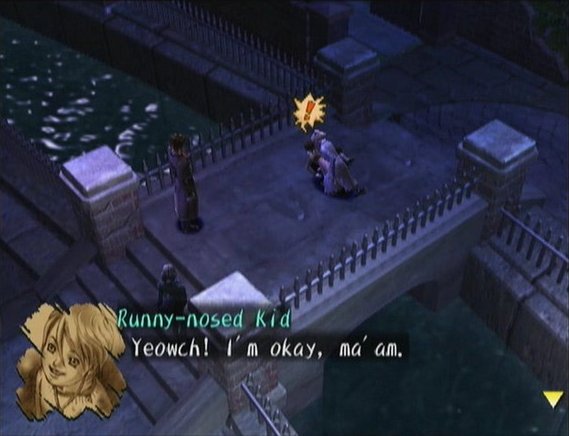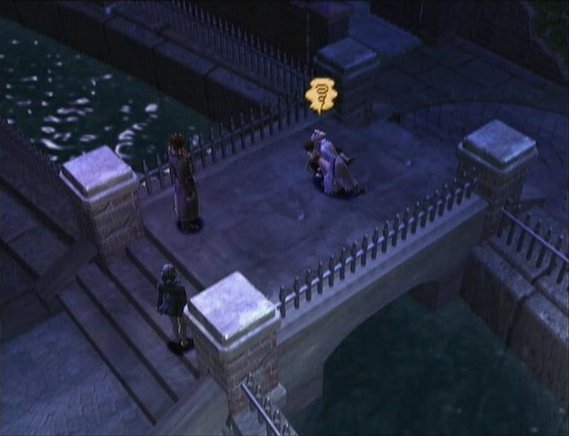 That hurts! Ma'am!

You mean "miss", don't you?

O-Okay, m, miss!!

What a horrible way to treat a child.
I'm not sure if she's talking about the man from earlier, or Margarete.

Say there, where's your home, little boy?

My home?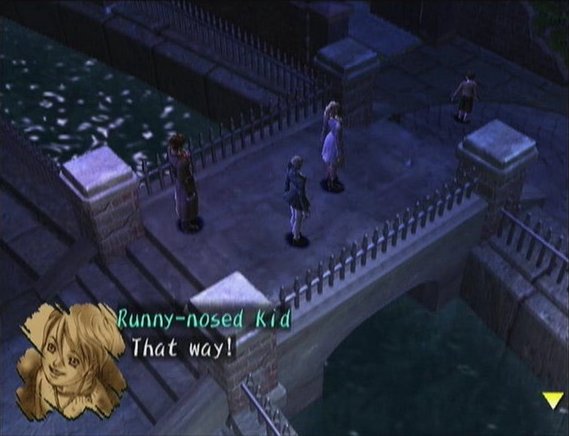 Yeah, that's helpful.

Do you want us to take you there, little boy?

Really? Thank you, miss ma'am.
Ah, hah hah hah.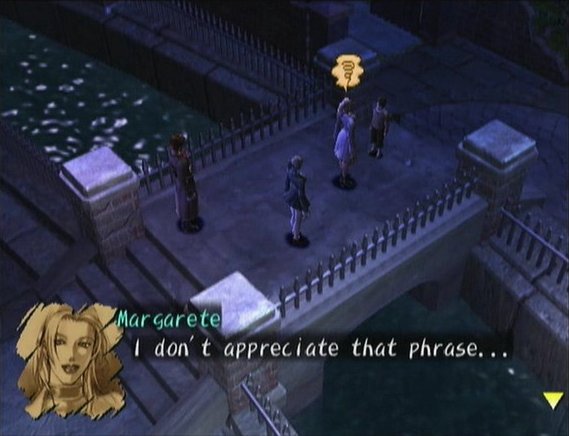 Ha ha! Now that's a brave lad there.

Did you say something?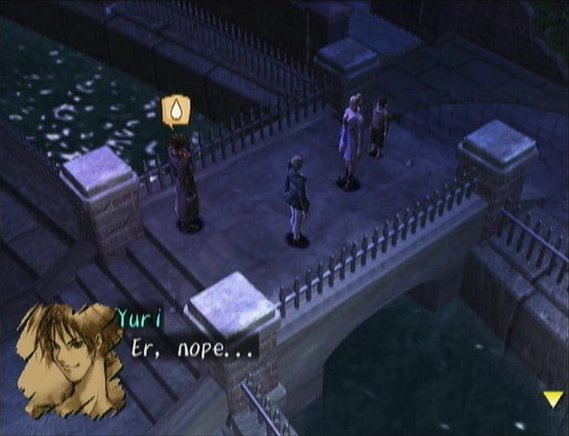 Well, let's go, shall we?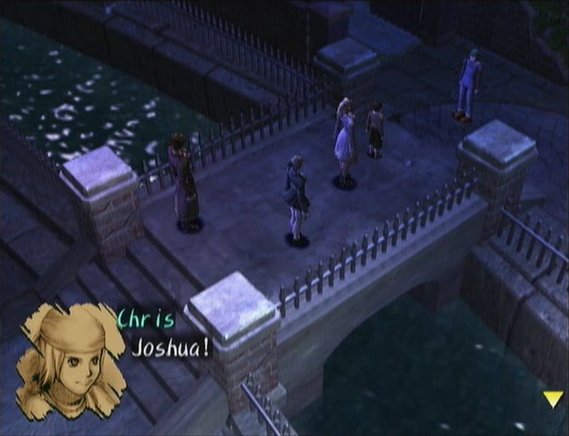 Before we can walk the kid home, another street rat comes running up.

Chris!!

What happened? You're hurt!

I'm okay. But I was almost taken away by this guy in black. These people helped me!

Oh, my! I see. Thank you so much for coming to my brother's rescue. Come on, Joshua. You need to thank them, too!

Thanks for everything sir, miss... and er, miss ma'am.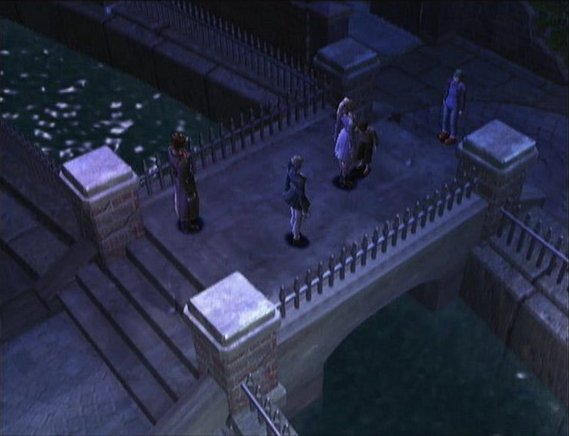 What the hell is the brat doing?

Oh think nothing of it! Well, I'm so glad it all worked out. Anyway...

Next time you call me "miss ma'am"...I will kill you.
Someone sounds a teensy bit insecure about her age.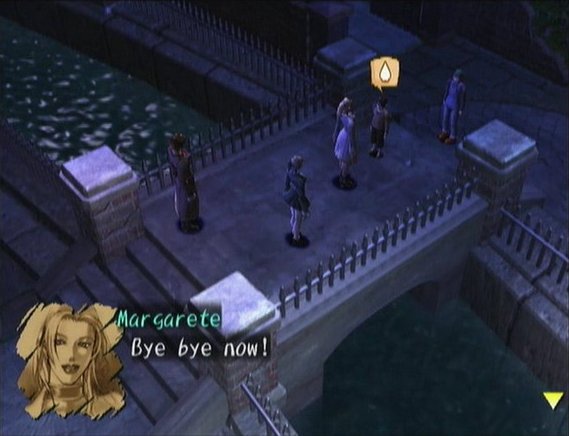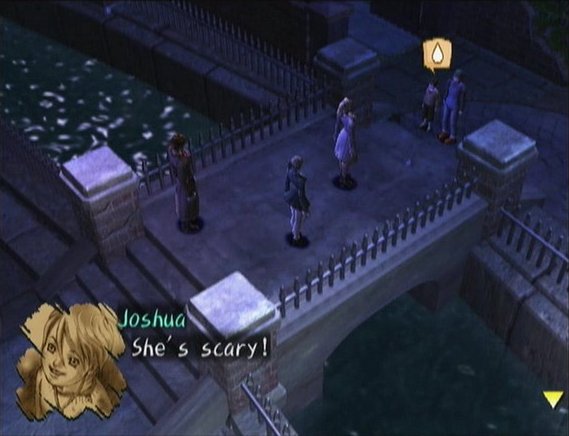 So I wonder if it's just the two of them...

The older sister seems like a nice kid.
Wait, the older kid was a
girl
?

Well they certainly didn't look at all alike. Anyway, let's go.
Suddenly, Margarete stops and starts patting her shirt.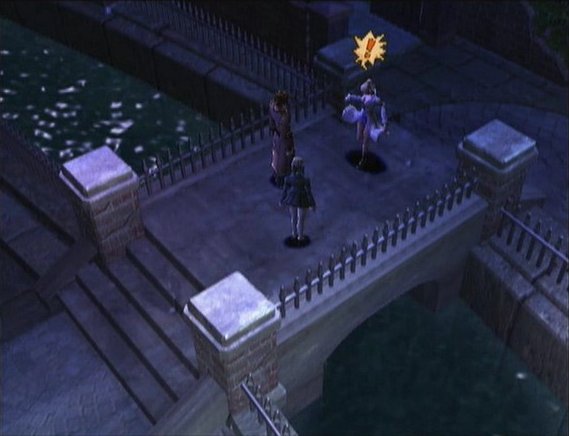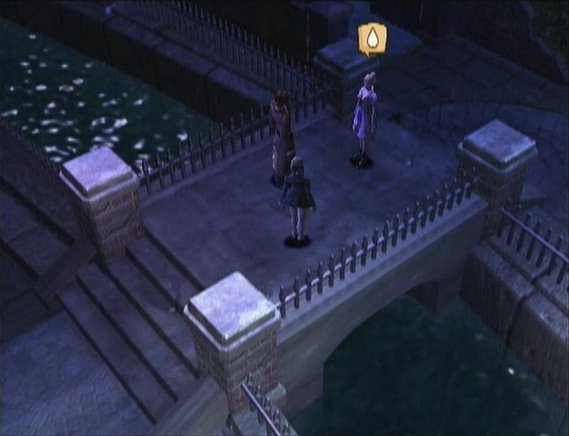 What is it?

My w..wallet?! I was hiding it in my shirt. I've lost it!!

Is it true?!

That little punk!!
Great. Margarete, Miss Spy Genius, just let herself get pick-pocketed by a 7-year-old kid. Oh, and it wasn't her wallet; it was
our
wallet. She just lost all our cash.
Reforming Smoker, Jose: Oh, I bet you guys got scammed, didn't you. By a couple of the London Rats.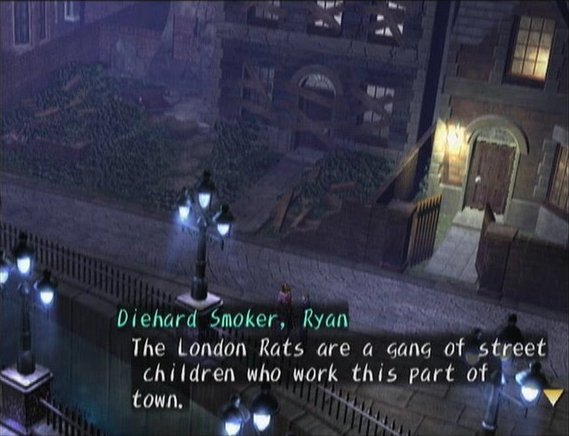 Diehard Smoker, Ryan: They target tourists and bum food from them, or lift their wallets. The bar owner can probably tell you more about them.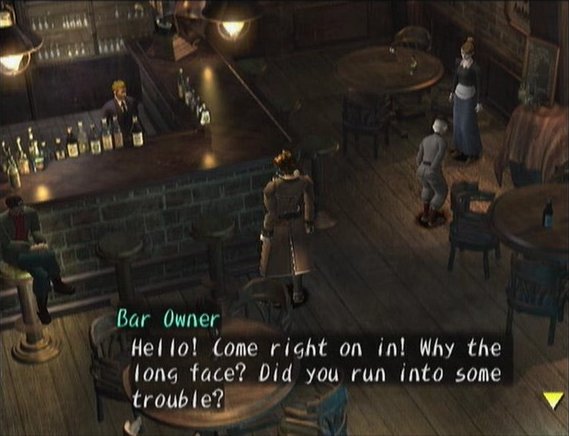 Yeah. I tried to be nice, and the brats stole my wallet.
Bar Owner: Stole your wallet? It must have been the London Rats. I know a little bit about them.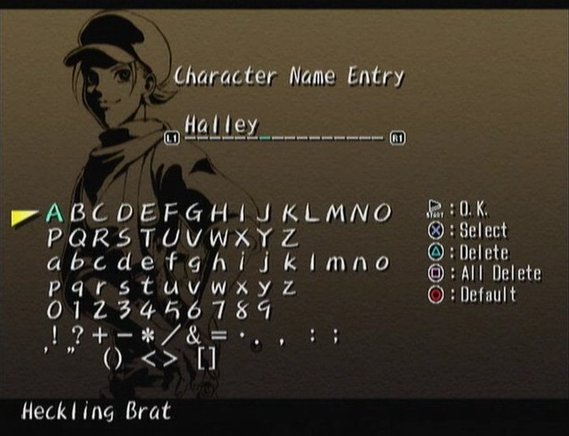 We're suddenly thrown into the character naming screen. I guess she must be our new party member.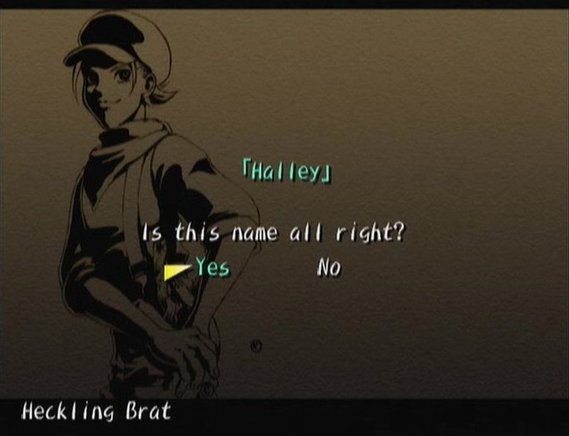 Bar Owner: I see them all the time, so I figure they must live around here somewhere.

Well, I guess I'll go back to the inn. The old man should be here by now. I'd better go meet him.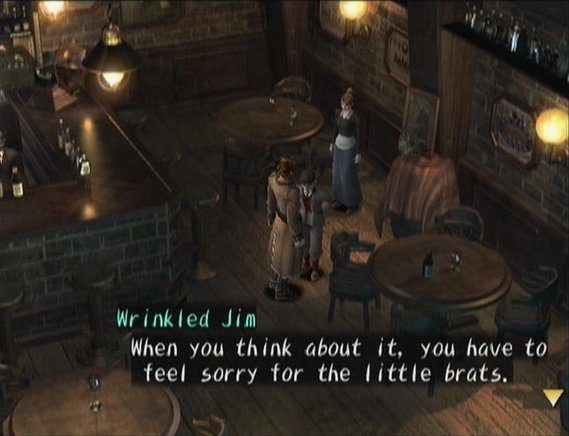 Wrinkled Jim: If their parents had sent them to school and made them study, they wouldn't have turned bad.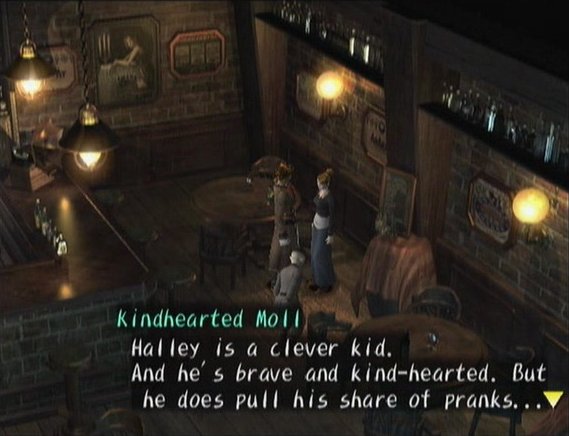 Wait, Halley is a
boy
!? I'm so confused right now...

Kindhearted Moll: Ever since they took his mom away, he's been looking after kids who've gone through the same thing. No one in the whole town can really hate those kids.
The guy sitting over on the stool is the Silent Peddler. He doesn't have anything different for sale here than he did in Rouen.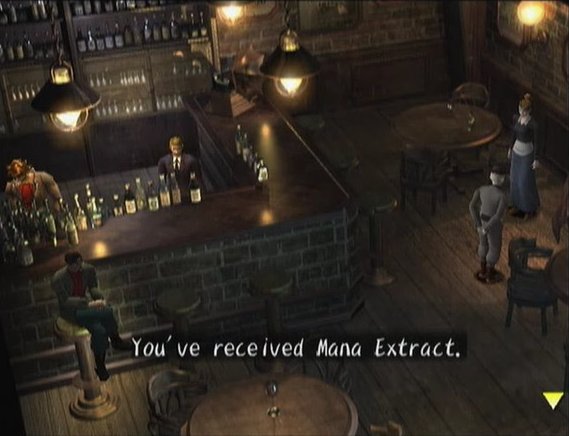 I love how I can just walk right behind the bar and take stuff without anyone saying anything.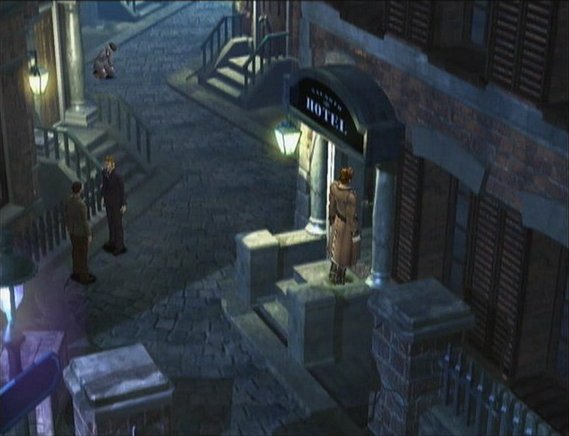 We can finally get in the hotel.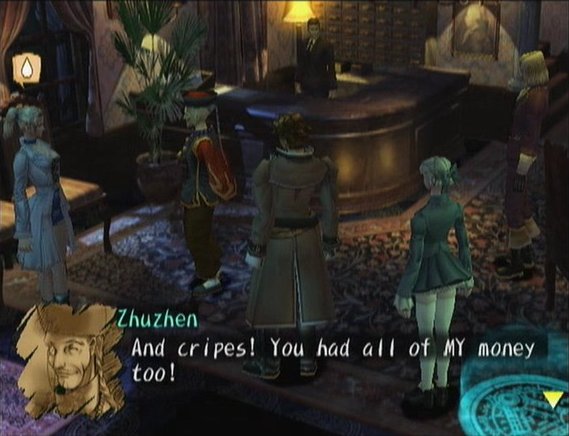 I let you out of my sight for a minute and this is what happens?! You can't do this to me!!

That's why, that's why I'm trying to apologize! Okay?

It's not like we needed the money. I mean, look at us!

That's right. You come from the same kind of stock, don't you?

I don't suppose there's any use crying over spilled milk. But what do you intend to do about it?
That just seems like a really odd phrase for a vampire to be saying.

I'm going to catch that punk and get our money back! And maybe bury him up to his neck in the sand! Do you understand?! If you do, then come on!! Let's find us some London Rats!!

Okay, I got it. I'm with ya.

Um, count me in, too.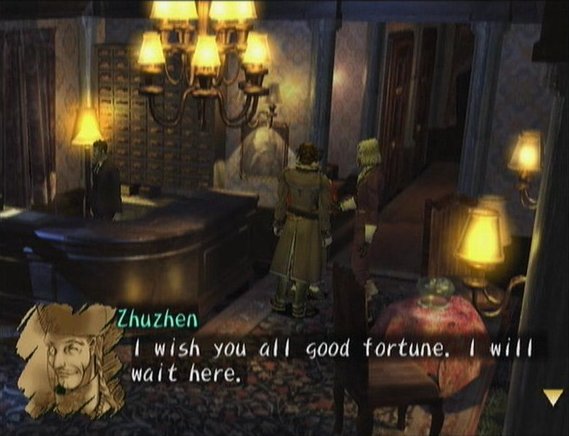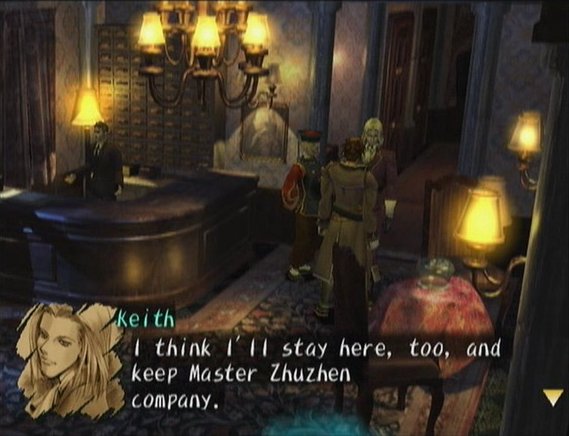 Lazy bastards.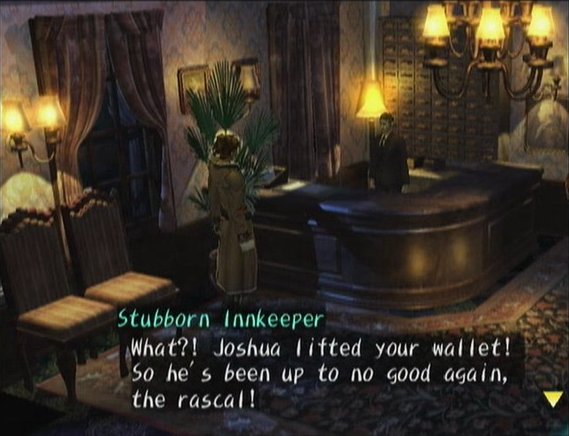 Stubborn Innkeeper: That kid is a real headache. No reading and writing for him, just always making trouble like this. And if I ask him to help with the inn, he makes off with the petty cash and pilfers food and... Sigh.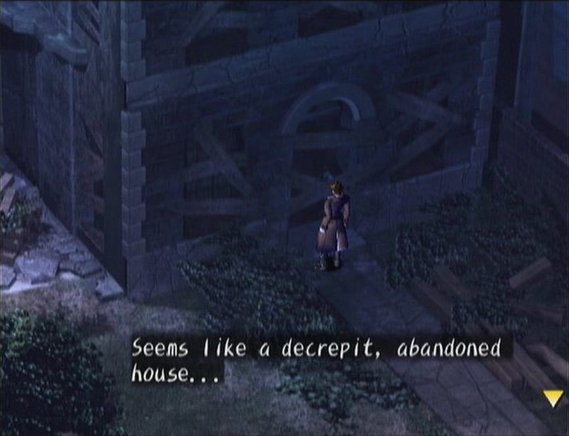 The London Rats are hiding out in the abandoned house past the bridge. Now, to find a way inside...
It looks like this shutter can be moved...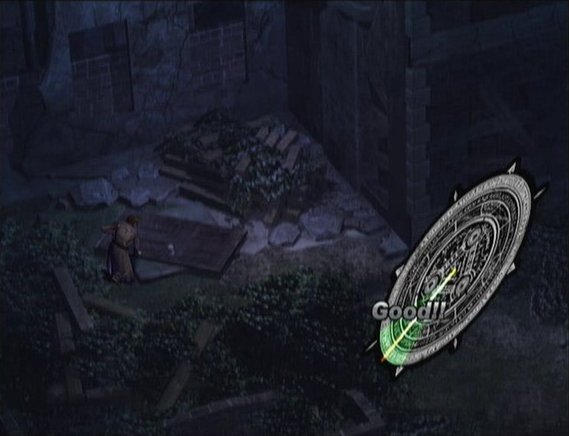 For this one, we have to do a push Ring and try to get the indicator to stop in the green area.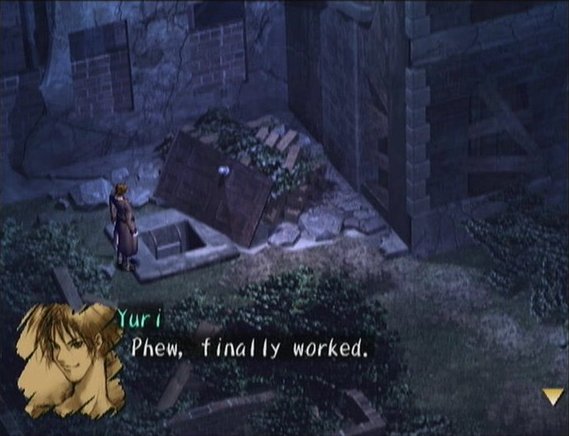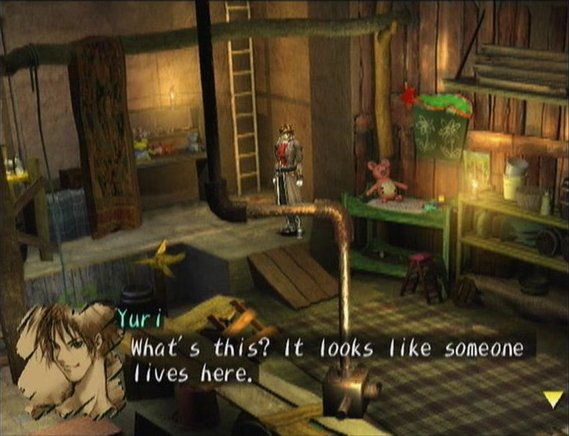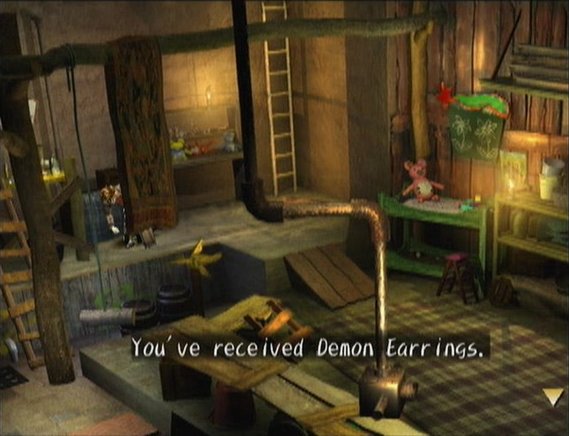 What? Don't look at me like that. They stole from me first!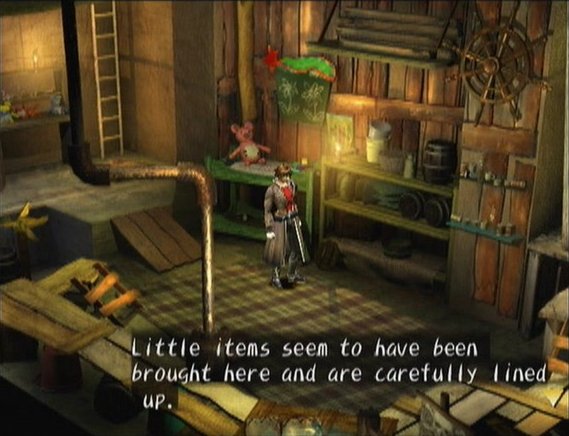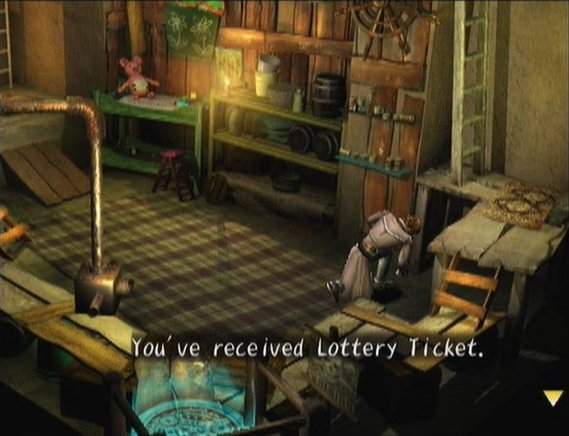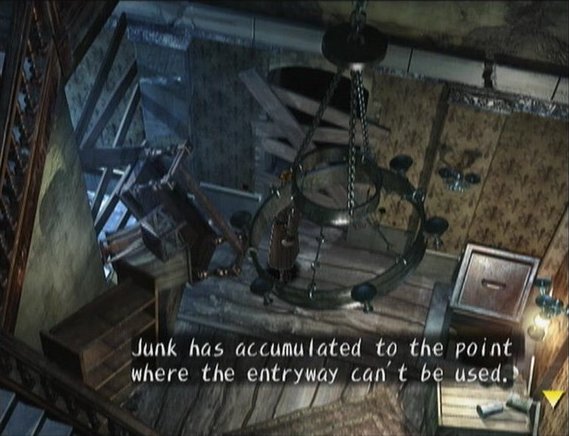 Going up the second ladder brings us back to the main level of the house.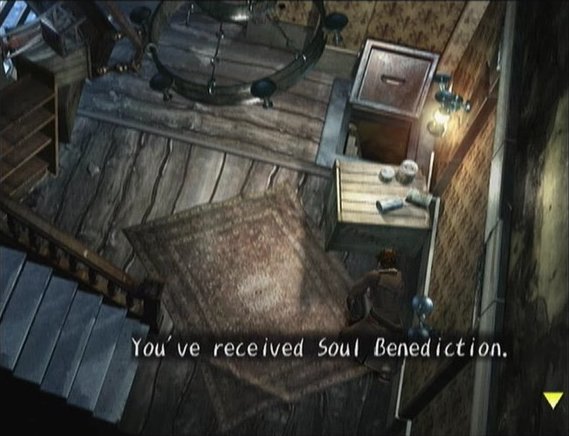 That's all there is on this level; time to check the upstairs.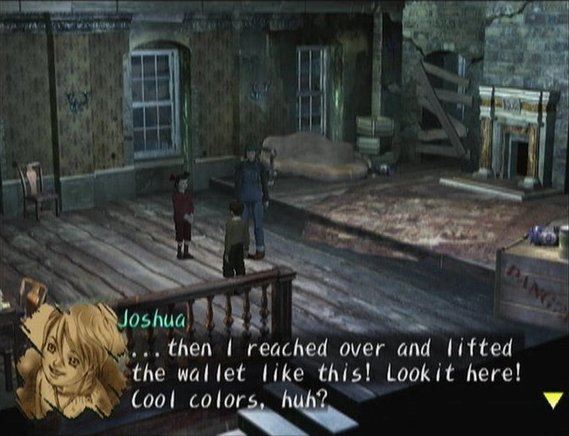 Wow! Joshua, that's awesome!

Yeah! On top of saving my life, they give me all this money! I'm almost thankful!
Damn brat!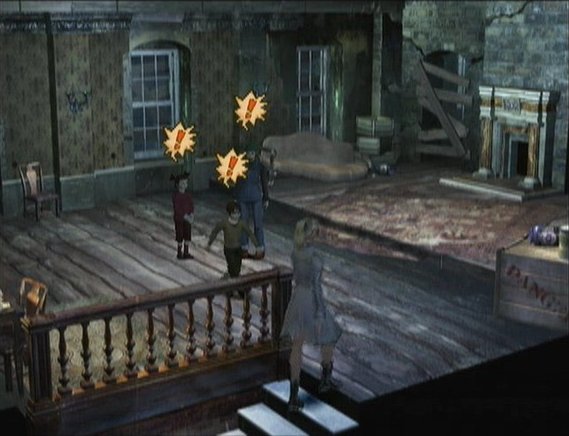 We found you!! But I never thought this place could be the hideout of the London Rats. Well now, do you want to give back what you stole?

I can smell a rat, get it?

I-I'm so sorry. You see, these kids haven't eaten in three days...

That's no excuse for stealing someone else's money, you know!

I really am sorry. Here's the wallet...though we already used some of the money...

Please forgive them...

Sorry.

I'm sorry.
Your wallet is returned. Somehow, it feels lighter than before...
It's only a couple hundred dollars short, thank goodness.

This...is a token of my apology.
You got a Crucifix! It's very expensive-looking. Who could this have belonged to?
Who cares? Crucifixes protect against all Status Effects, including Instant Death.


Thank you. It would have been enough just to return it.
No, it wouldn't.

He he! Sorry we scared you like that. We're not gonna hurt you.

Do you all live here together?

Uh-huh. None of us has any parents to take care of us. In this town, whenever they find a homeless child, they take him to the orphanage.

And don't they take good care of you at the orphanage?

No way! Once they take a kid there, he's never seen or heard from again!

All the kids at the orphanage become monsters!

What's that mean?
Considering everything else we've seen? It probably means exactly what she said.
Boy's Voice: It means there aren't any good people in this world.

Who are you?

I'm Halley, leader of the London Rats. I'm like their big brother. Sorry about Joshua, but you should've kept your guard up!

Hmph! You have some nerve.

I'm glad you're not from the orphanage, though. All the kids taken to the orphanage disappear mysteriously.

So that's why these kids are hiding here?

That's right. All the residents in this area keep their mouths shut, too.

Not an easy place to live in. But you know, it was about the same for me when I was your age.

What are you doing here in this dump, anyway? I'll help you in return for saving one of our little ones.
Do I have a choice?

We're looking for someone. Do you know if there's a mansion around here owned by a person named Cardinal Albert Simon?

Albert Simon...?

Halley, I wonder if Old Carl might know something?

Yeah, sure. He's an odd one, but he knows a lot about this area. I'm sure he'd help you out if I asked.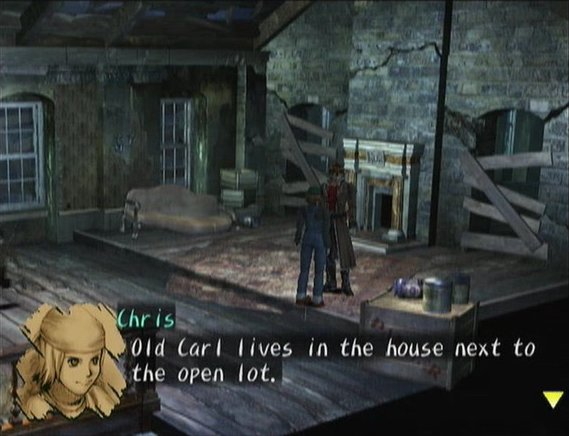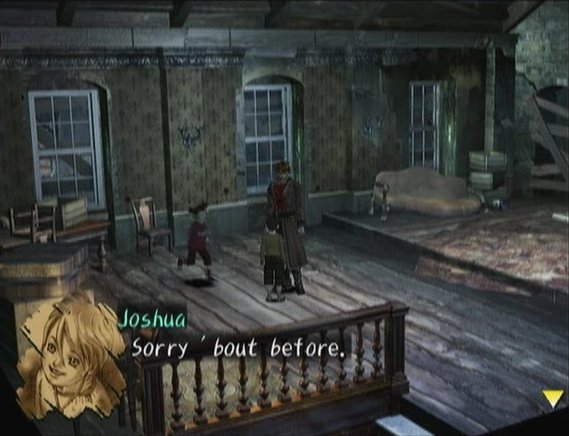 Just keep your hands where I can see them, kid.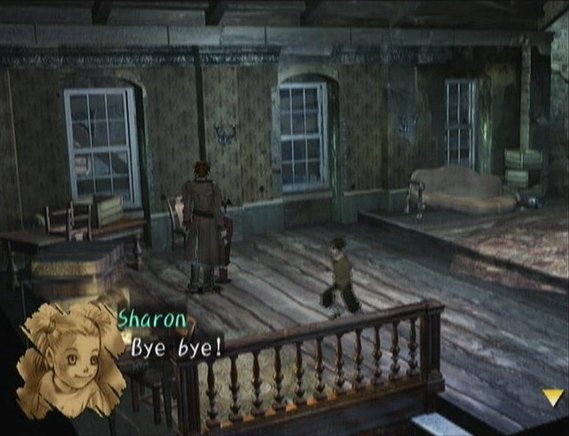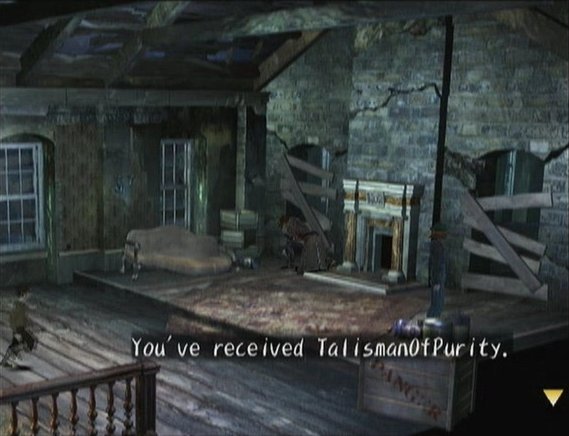 These kids sure have a lot of junk lying around.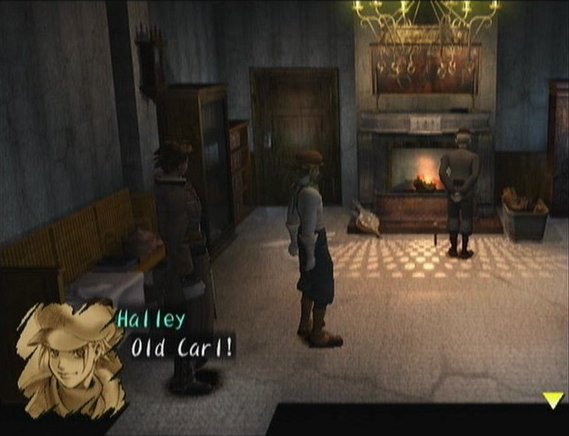 Old Carl is in the house to the right of the kids hideout.
Knowledgable Carl: Oh, it's you, Halley.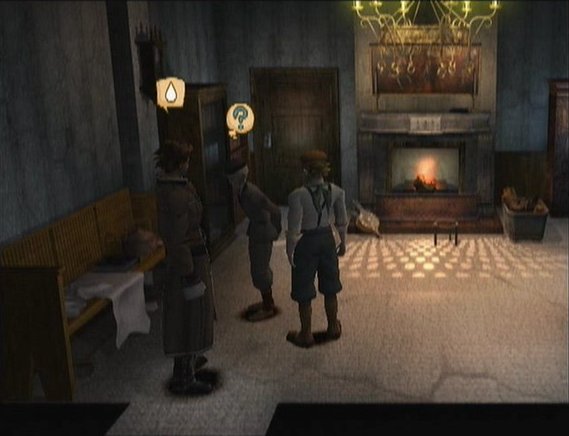 Knowledgable Carl: Who's this stranger?

They saved Joshua from the orphan hunters. Carl! You know Cardinal Simon? They're looking for him.
Knowledgable Carl: Oh, it's you, Halley! What? You want to know about Cardinal Simon...? Hmm...
Suddenly, I'm feeling a lot less confident about asking the senile old man for directions.
Knowledgable Carl: I've got it! That mansion is across the Thames river, in the residential area in the north!

Thanks, Old Carl! Let's go, Yuri!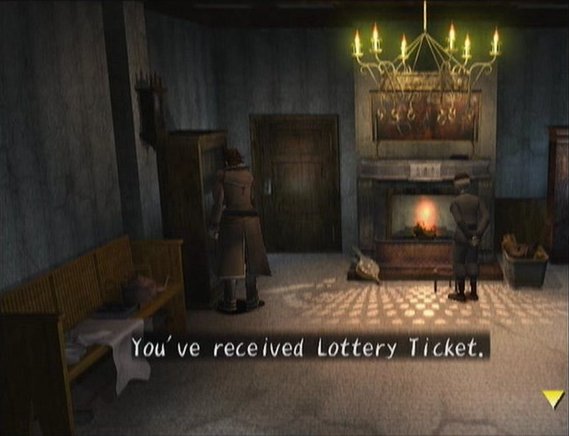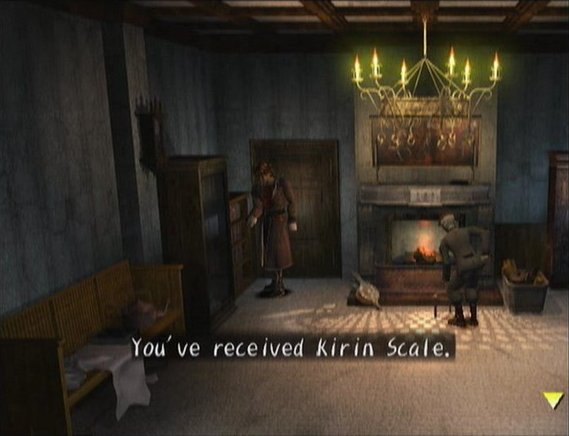 Carl
had
a lot of stuff lying around his house.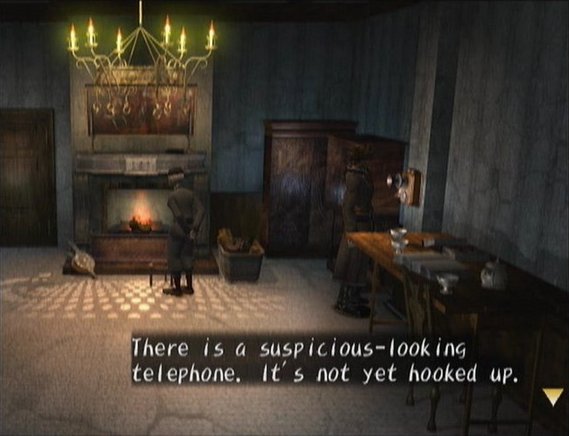 I don't remember what this phone does, if it does anything.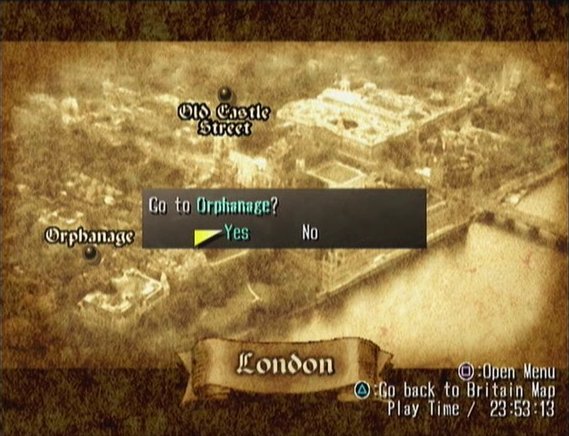 They kind of spoil the next bit by labeling the mansion as "Orphanage" right on the map.

What's wrong with you?

This is it! This is where all the kidnapped orphans end up!

What do you mean? It certainly seems that this is the mansion of Cardinal Simon.

So you mean Cardinal Simon's mansion has become an orphanage? Hmm...So let's just ask the people who live there directly.

I don't want them to find me. I'll wait here.
Chicken.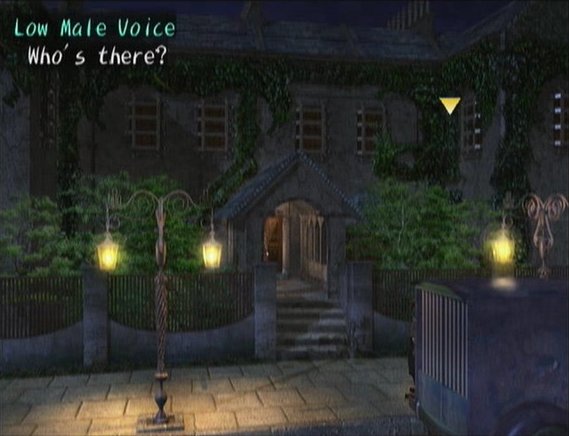 Hello, I need to ask you something.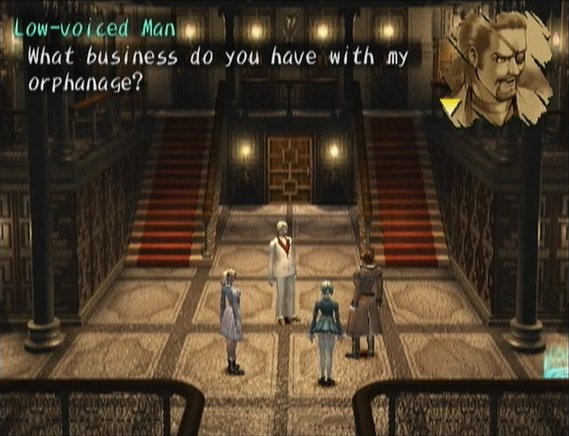 I didn't know they let pirates run orphanages now.

I was told this is the mansion of Cardinal Simon. Is that true?

Cardinal Simon?

A man named Albert Simon. I believe he moved here from Italy...

Oh, yeah, I believe that was the name of the previous owner. I bought this mansion to start an orphanage, but I don't know anything about the previous owner.

But...

...Is that right? I'm Malkovich, a reporter from the USA. I'm doing some research on the subject of "War and Orphans". Excuse me, but may I have your name?

My name is Jack, but...

Well, Jack, this is an orphanage, isn't it? Where are the children?

They're asleep in their rooms. It is awfully late, you know.

But I really would like to gather some data, so perhaps we could just talk with them a little.
Margarete sucks at this. Maybe she can hang around with Yuri and Alice because no one really
wants
her back.

That won't do. I told you they're asleep! And I don't like people from the papers anyhow. Now run along!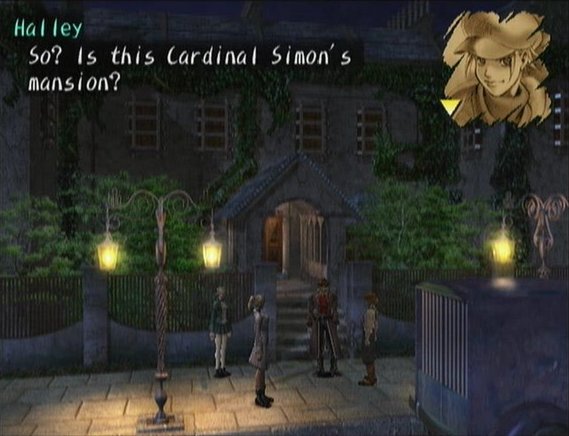 Yes, it appears to be...But the guy we're after disappeared two years ago.

That seems kind of suspicious...

I think they're hiding something...
Aw, you're all just paranoid.

Well for the time being, let's go back to the inn...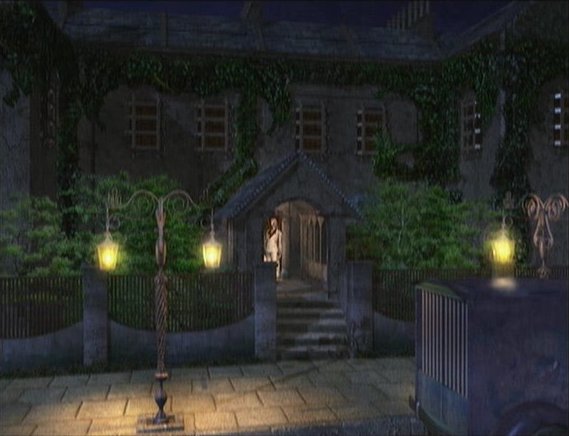 On second thought, that guy is kinda creepy.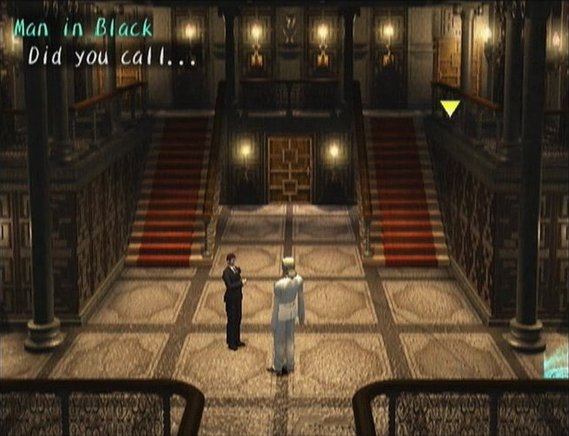 We've got some pests here. They're the ones who kept me from grabbing that kid before. You stay on their tail. And don't let them spot you.
Man in Black: Yes, sir...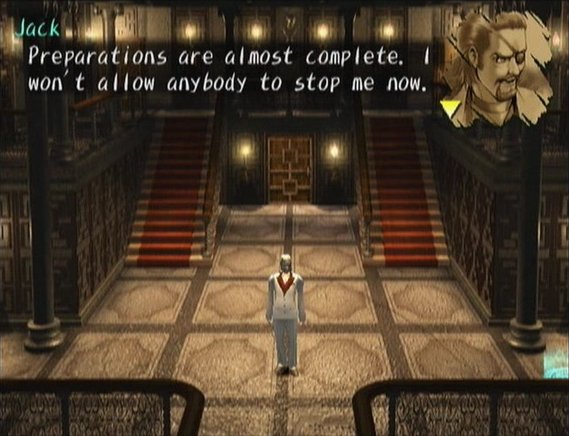 Kinda very creepy.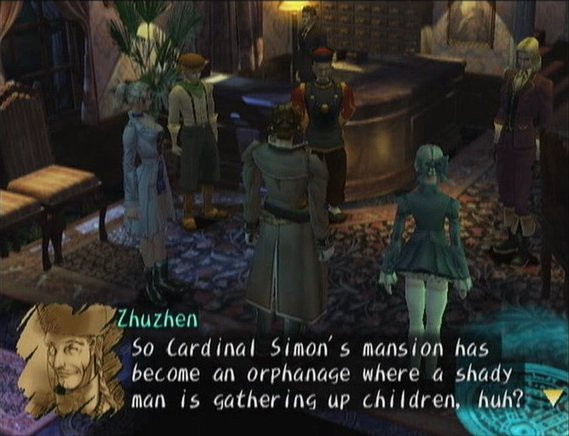 Can't help wondering what happened to the cardinal, but it's disturbing about the missing children, too.

Let's take a look. We still don't understand the connection between Cardinal Simon and this Jack.

That's true...but from what I've seen so far, there's something funny about that orphanage. There's no sign of children anywhere and the whole place seems so gloomy.

All right, let's ask the townspeople about that orphanage.
As good a plan as any.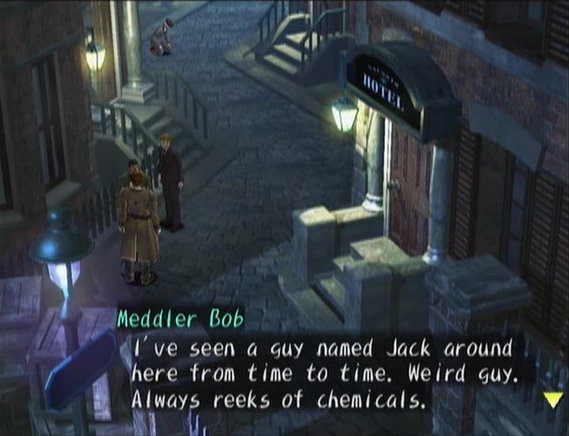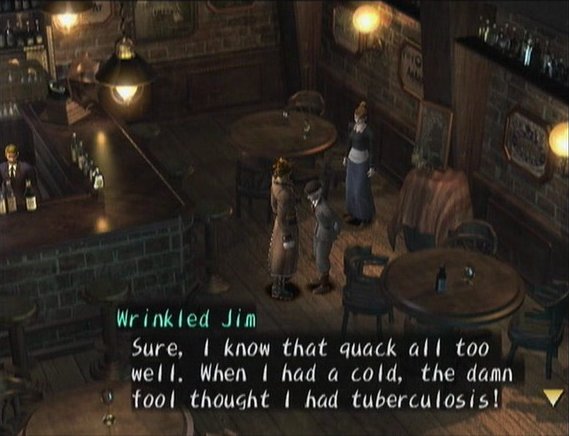 Wrinkled Jim: Guess he started that orphanage, but there's no way I'd put Joshua or Sharon in a place that guy ran.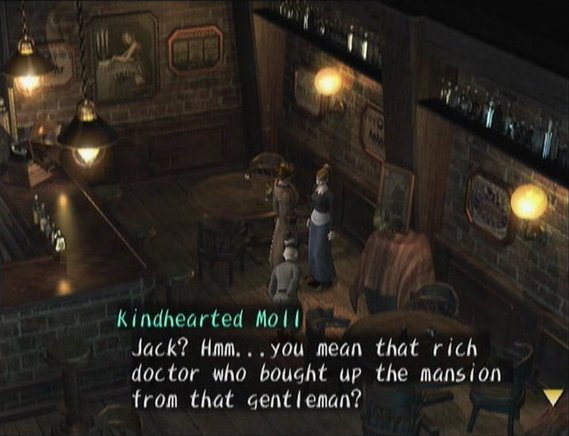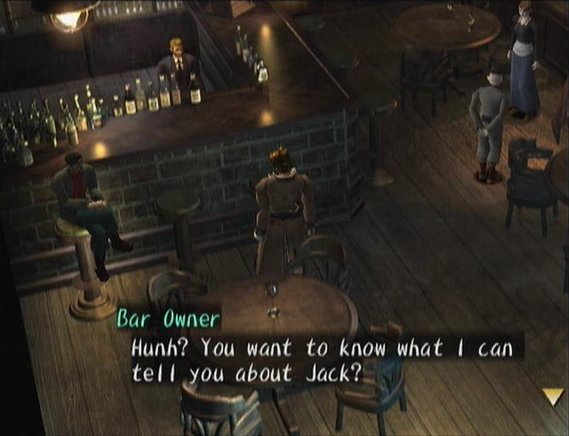 Bar Owner: Well, not a whole lot, but I think I heard he was a doctor before he started up that orphanage.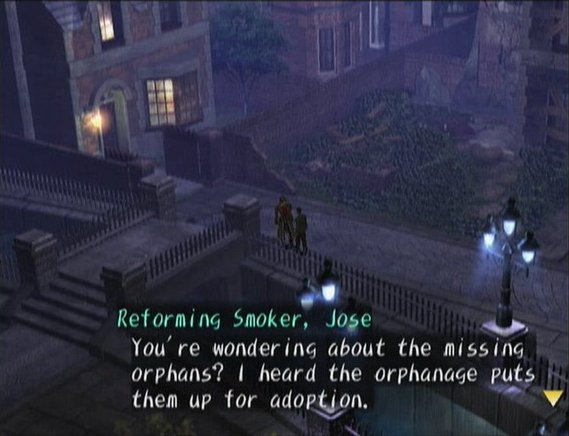 Reforming Smoker, Jose: Why would any of them want to come back to this place after being adopted by good families?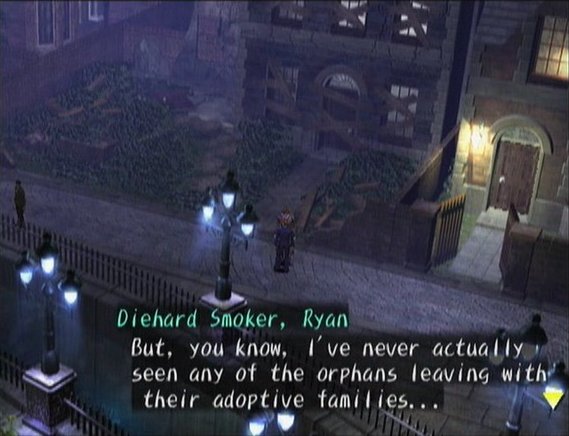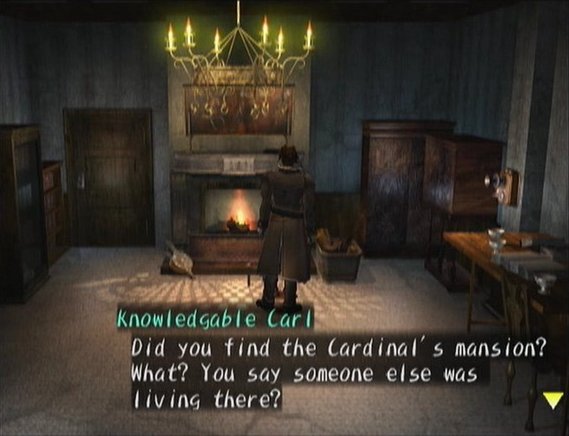 That's everyone in town. Let's see if the kids can tell us anything more.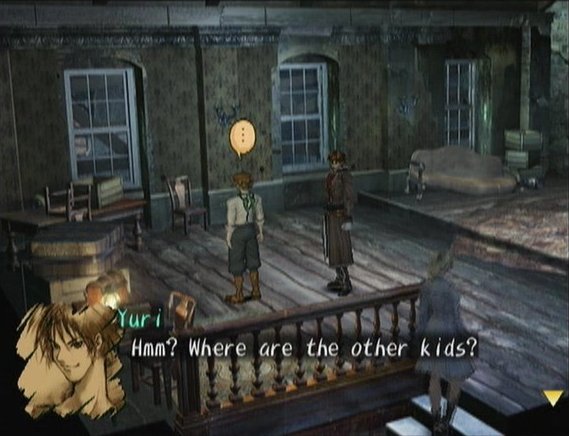 Oh, no...

They're not here...

...They were taken away!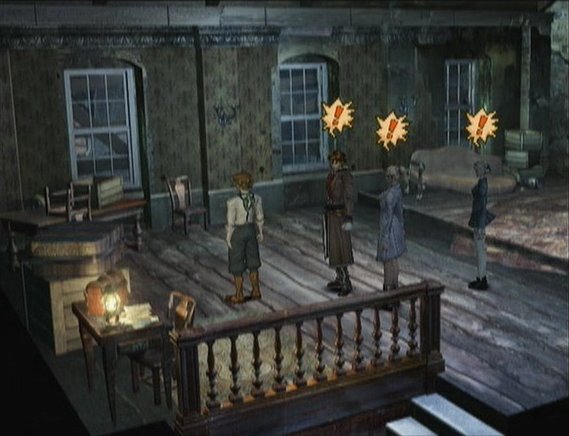 Taken away...what do you mean?!
I never realized before that stupidity was contagious. She needs to spend less time around Yuri.

They found this hideout?!
Halley starts to run for the stairs.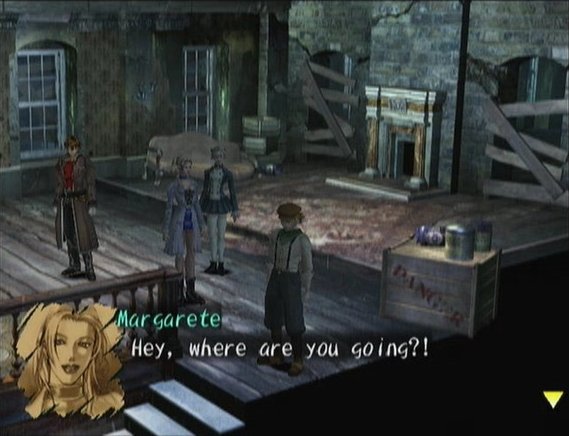 I'm going to rescue them!

No! If you go there all alone, you'll get yourself killed!

What do you want me to do, then?!
She's making Halley angry. We won't like him when he's angry.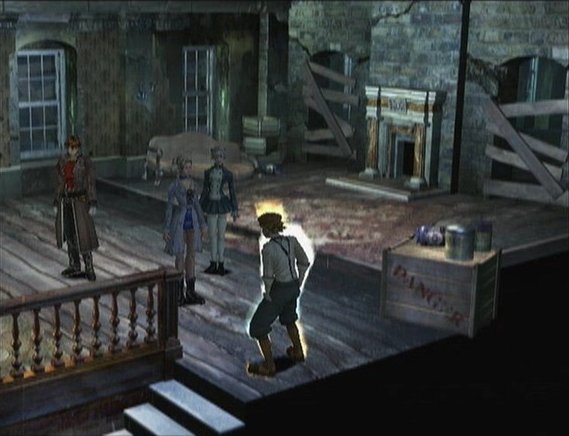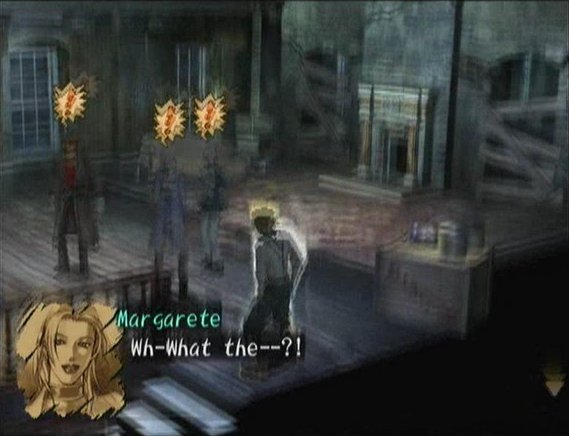 See what I mean?

This power...?!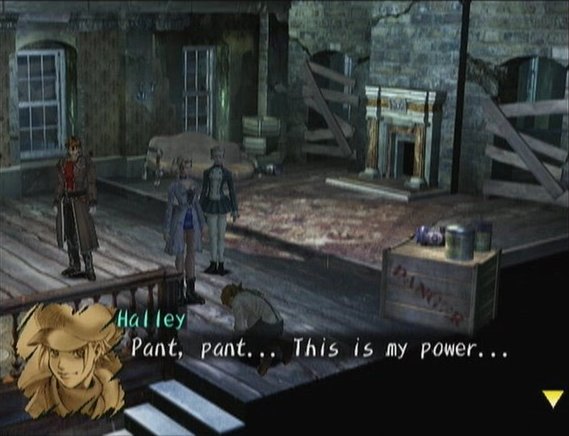 It's why my mom abandoned me...

I'll go with you. We've gotta help those kids.

Yuri...

One of you, go tell the old man what's happened.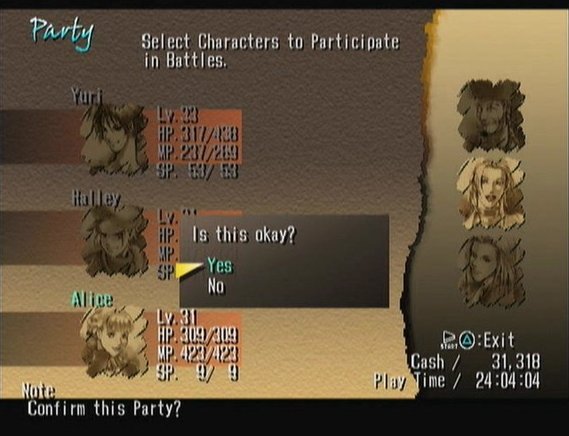 We'll keep Alice with us and send Margarete back.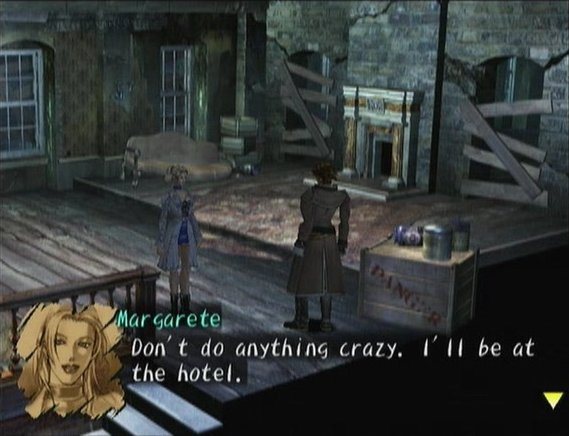 Next time on Shadow Hearts: Oedipus, Oedipus...
London, part 1 on
Viddler
Video 1
Video 2
NPC Scorecard