Part 51: Cave Temple
Cave Temple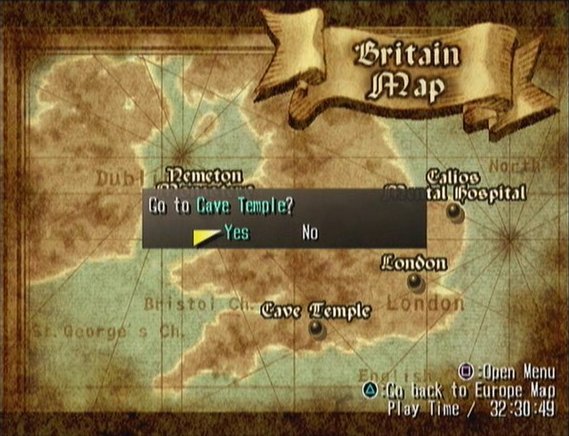 There's three new dungeons, and we're going to explore Cave Temple first. We'll be dragging Margarete and Zhuzhen along, even though they're 7 or 8 levels behind where they should be at this point. This'll be...fun.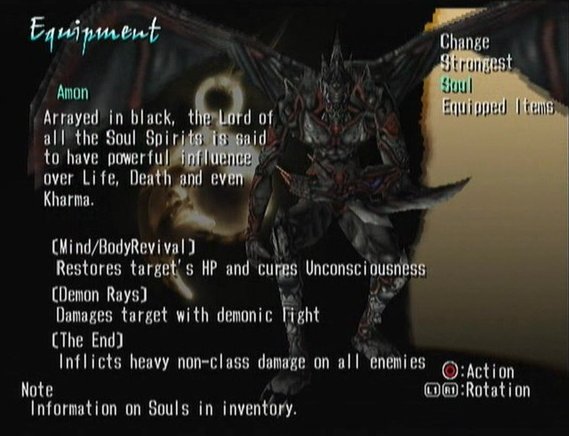 Yuri will be using Amon, who looks quite a bit different from when we fought him. Being stuck in Yuri's soul seems to have given the poor little guy a tummy-ache.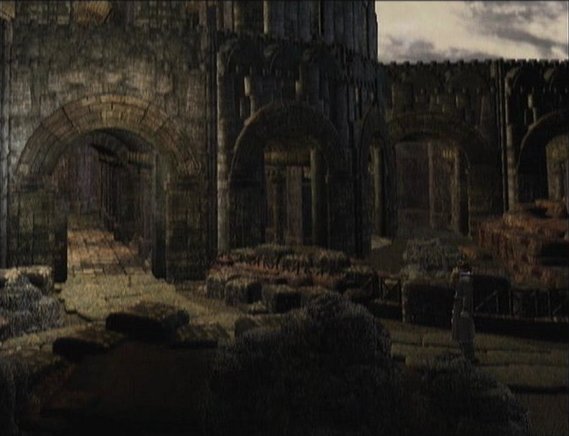 The Cave Temple has an interesting design - on the outside.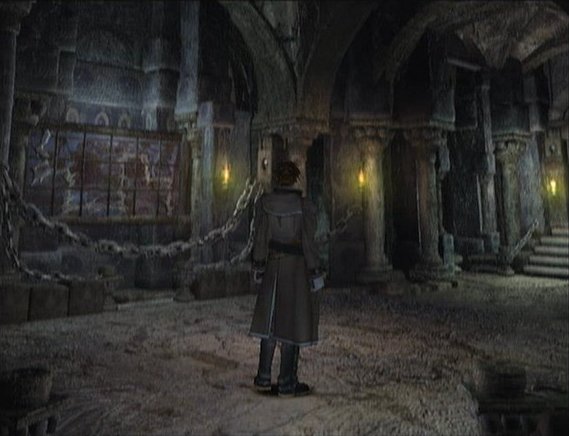 The entryway is rather nice as well.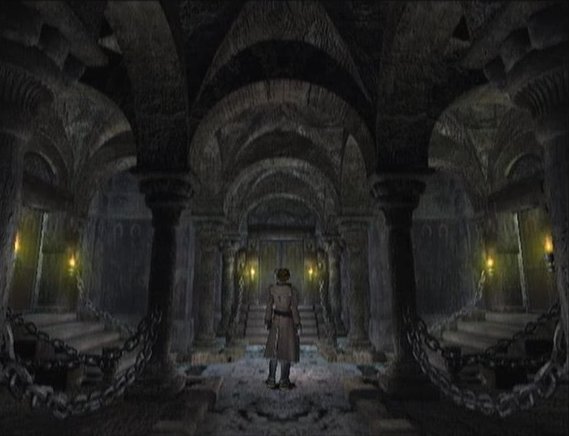 But then the designers got lazy. Every room looks exactly like this. Sometimes the door at the north is missing, and sometimes a chain is stretched along the bottom, preventing you from going south. On top of the same-ness, if you take the wrong doorway, you'll find yourself back at the entrance to the maze. The frequent monster attacks don't make remembering where you are any easier, either.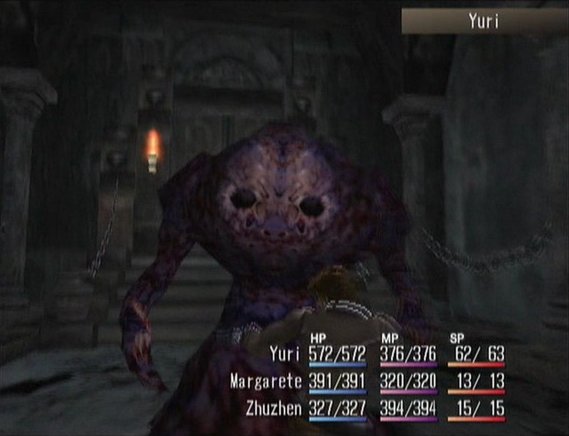 The first monster is Oingo. He's big, mean, strong, and likes to cast
Nightmare
, which has the chance of killing one of your party members. He's normally not too bad, unless you get really lucky and face two instead of one.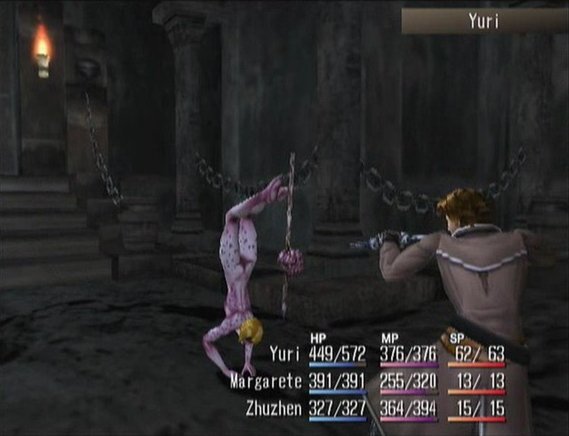 The next monster is called Penalty. She always shows up in groups of three, and she can cast Tight Ring and
Nova
. Fairly easy, but they have a lot of health and can take some pounding before they go down.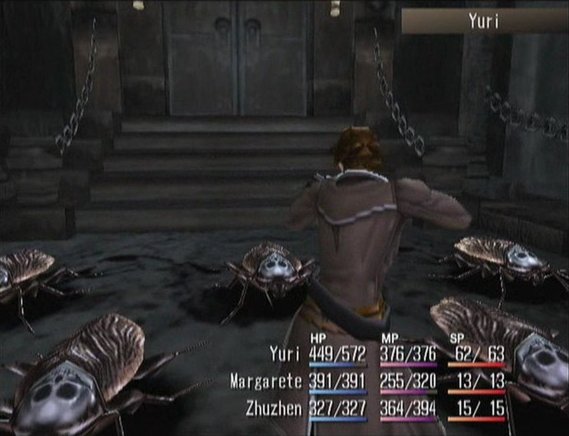 The last enemy here, Buggy, is the one that'll rape your corpse. They show up in groups of five, and you have to take them all out quickly. They have the skill
Deathtouch
, which does a
massive
amount of damage to one character. They also will coordinate their attacks against one party member until he dies, then they focus on the next. Fucking bastards.
Now then. From the screen north of the entryway, the path through is:
NORTH
WEST
SOUTH
SOUTH
WEST
NORTH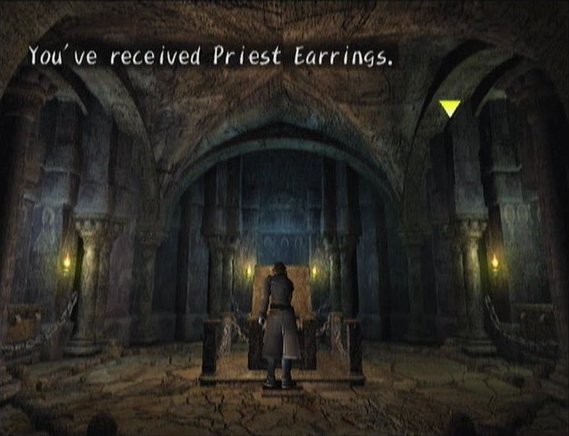 This brings us to a room with a chest. From this room, we go back south to the maze and then go:
WEST
NORTH
WEST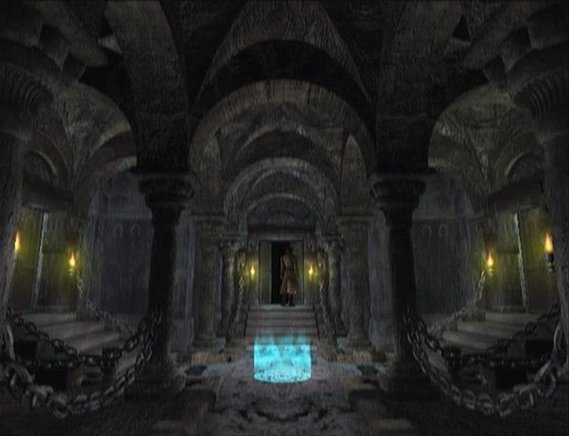 This brings us to a Save Point. Now, we go in the door to the north.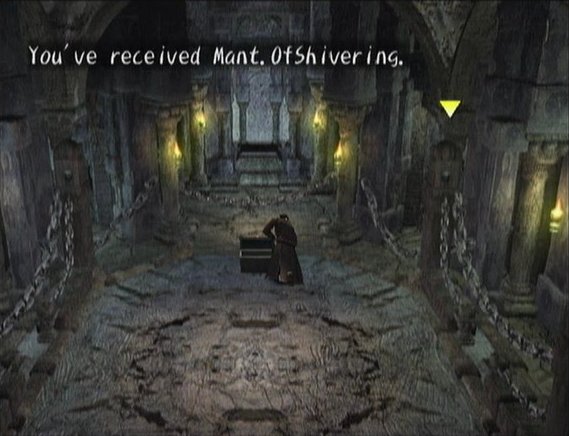 We get Keith's ultimate armor!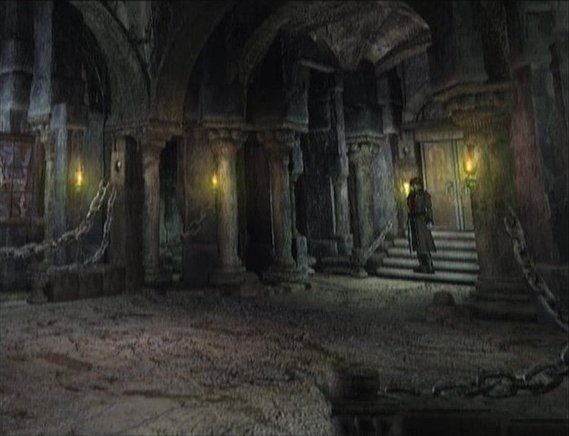 After opening the chest, the party is automatically transported to the entrance. From here, we leave Cave Temple and look at the Émigré Manuscript again.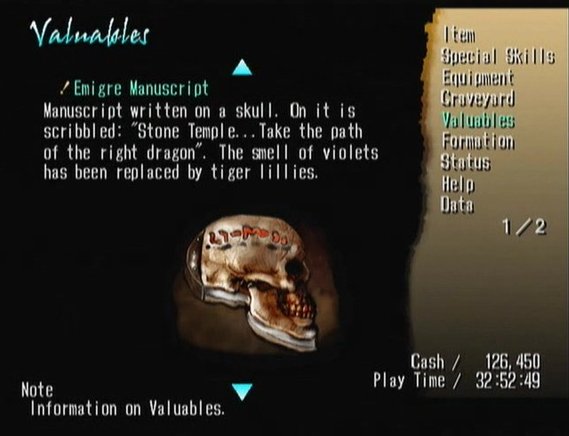 The description has changed. Back to Cave Temple!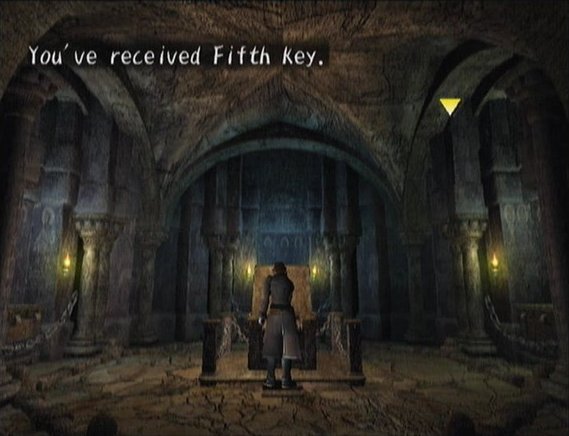 We enter the maze again, then go north. The first time, this led to more passages, but now there's a chest with a Fifth Key. After picking it up, we go back south to the maze and then go:
EAST
NORTH
EAST
SOUTH
SOUTH
EAST
NORTH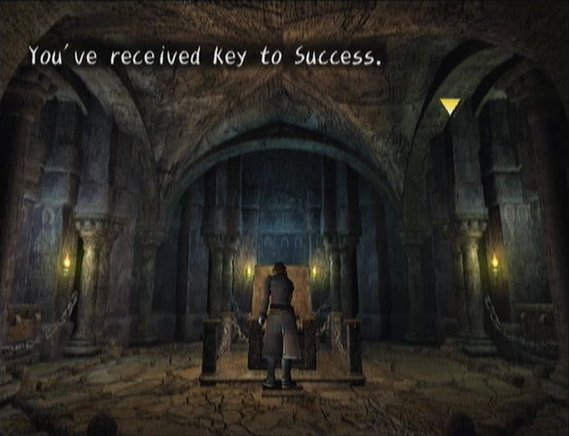 Another chest. From here, it's back south to the maze and then:
EAST
NORTH
EAST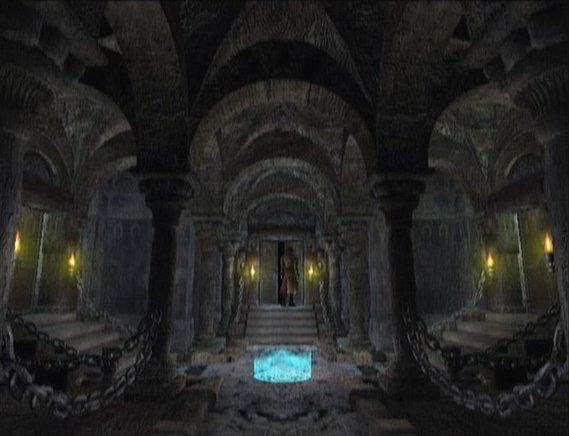 It's another Save Point, and once again, we go north.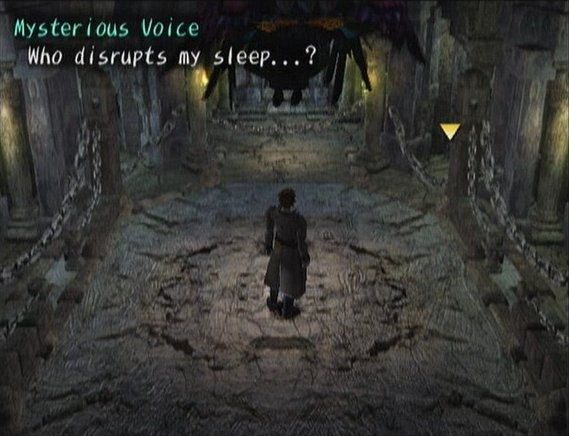 And we are immediately thrown into a boss fight.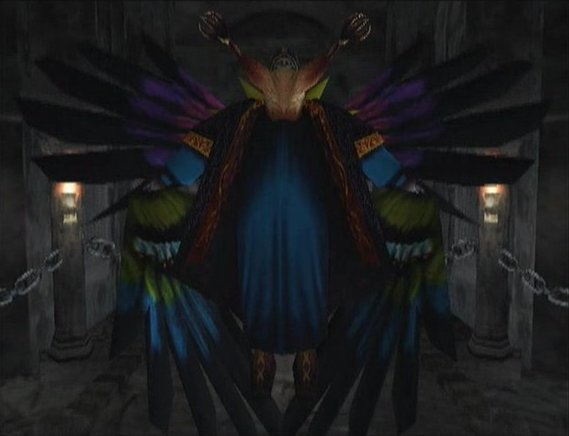 This guy is called Cherubim.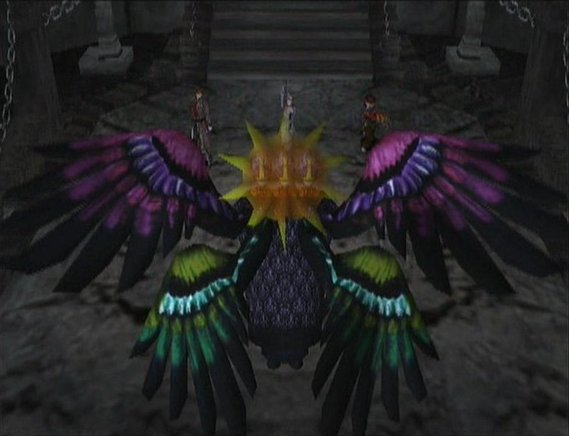 I really, really wish I had Alice. This guy absorbs magic attacks and uses them to heal, like Wugui. Zhuzhen is pretty much useless and ends up eating a lot of my supply of Thera. Margarete isn't much better, mostly because without Alice's group healing spell, Arc, I needed her and Zhuzhen just to heal. With Alice, she wouldn't have been too bad, although Keith would have been better since he does more physical damage.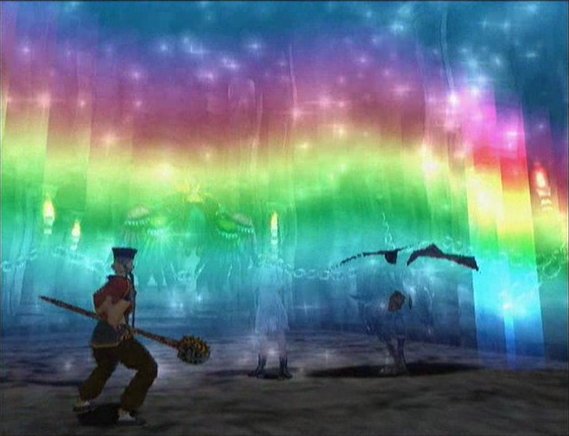 Cherubim started off the fight with a spell called Divine Punishment. It hits the entire party for 200+ damage each, and randomly causes Status Ailments and Ring Ailments. Another favorite spell of his is
!!!
, which reduces the target's HP to 1. Lovely.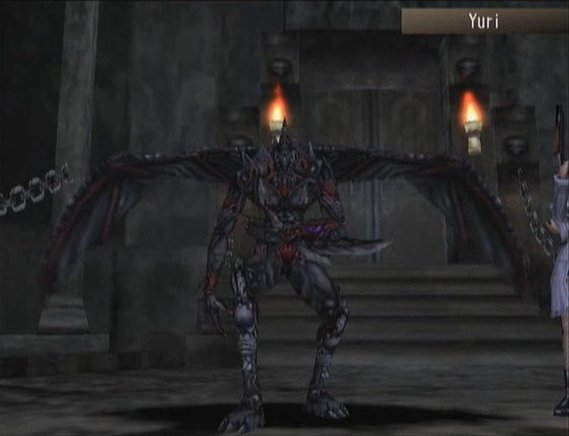 I Fuse Yuri into Amon, but he's hampered a bit by not being able to use Demon Rays or The End. I got a bit of use out of
Mind/Body Revival
, which acts like a Talisman by restoring a chunk of an Unconscious character's HP. I also got some use out of Zhuzhen's
Nourishing Potion
when he wasn't dying like a bitch.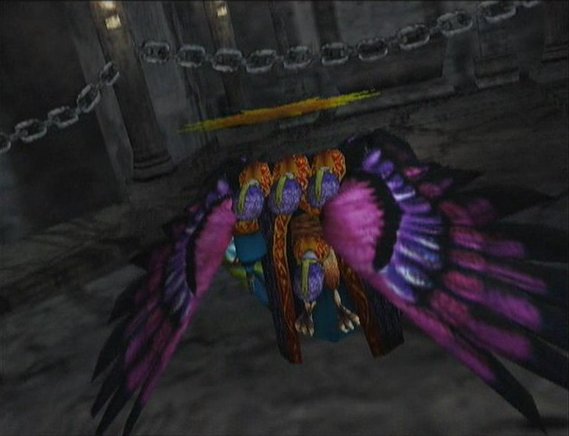 There wasn't much strategy involved. I did use a Fifth Key at the start to speed up the battle a little (Cherubim has over 10,000 HP), but the fight still took about 25 minutes. I sped up the video at the end to double time because it's a pretty boring repetition of attack-heal-heal-heal-attack-heal-heal-heal-revive-heal-attack-heal-heal-pray-heal-heal-attack, etc. I did manage to beat him, though, with a minimum amount of grinding Margarete and Zhuzhen for levels first.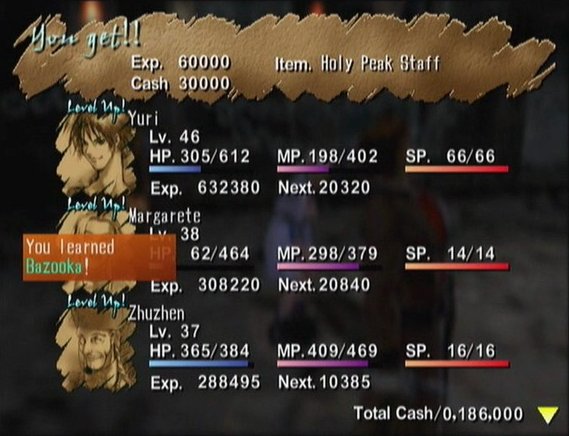 Speaking of levels, Margarete learned
Bazooka
, which
shoots
liquid
nitrogen
at all enemies.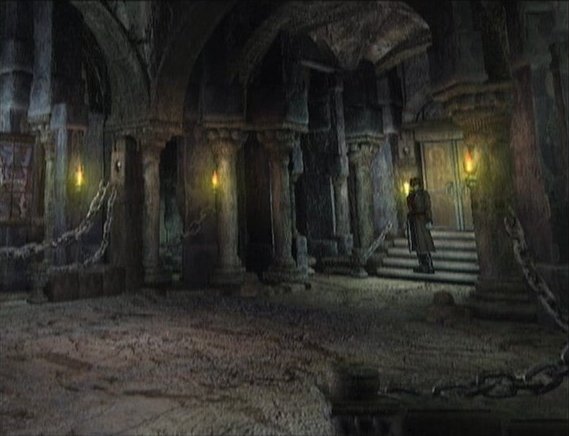 With that over with, we earn Zhuzhen's ultimate weapon and are transported back to the entrance. All the treasure is cleared out, and there's no reason to go back, thank goodness. Now let us never speak of this again.
Next time on Shadow Hearts: Ancient Ruins
Cherubim Fight
on
Viddler
NPC Scorecard