Part 85: Digital Devil Saga (Ending Showcase 2, Part 1)
Part 85 - Digital Devil Saga
(Ending Showcase 2, Part 1)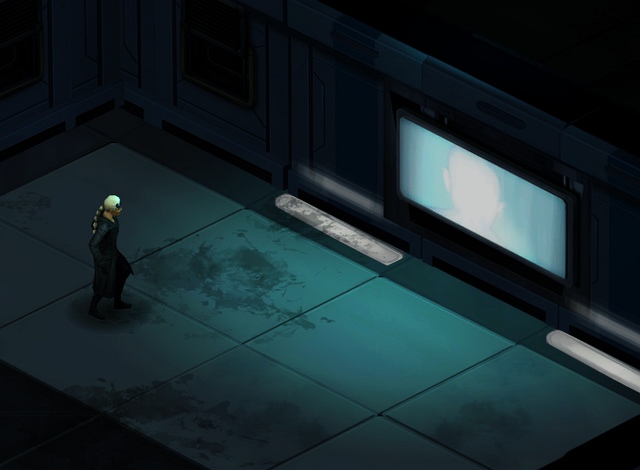 Hey, remember APEX, the AI that ate Adrian's brother and Monika and which we took offline for good despite its attempts to convince us to free it by promising to assist in assaulting Harfeld and protecting the Flux-State? What if we hadn't done that and took it for its word instead? Nothing in the book about never making a deal with an AI after all. Let's find out!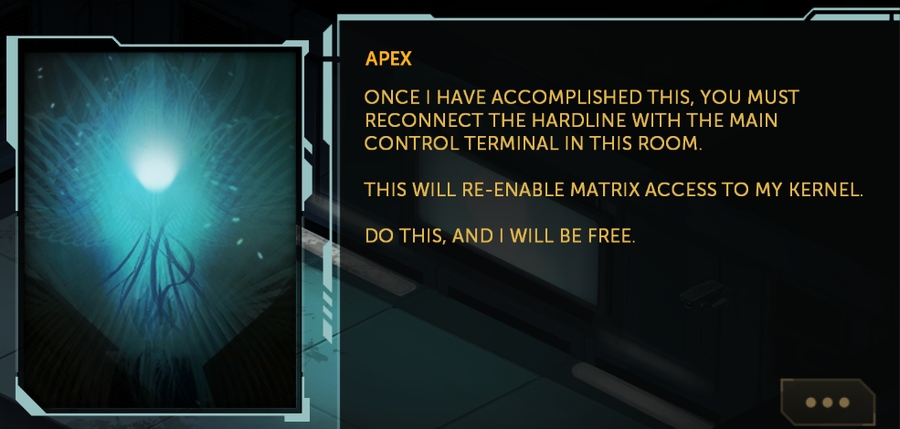 As a refresher, this was the tower defense fight against the waves of Communionists and unionists while the AI was being purged. This version is almost the same thing, except instead of activating the physical purge controls we instead need to unlock two control nodes in the Matrix which allows APEX to start rewriting its control sequences.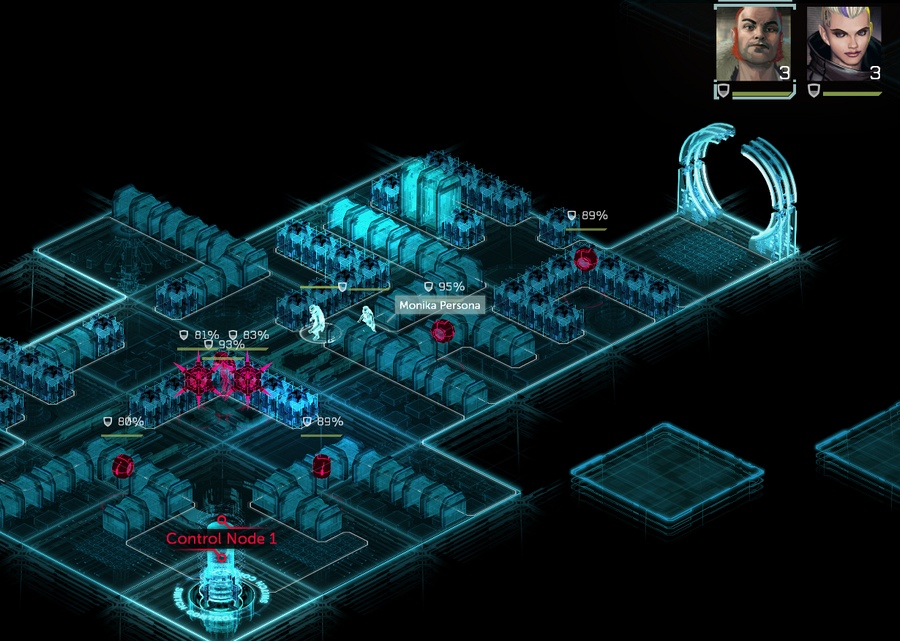 The Matrix run in question is a rough one, with 5-6 IC guarding both control nodes and another roomfuls in the central area and the turret node rooms inbetween. Only the control node IC are required kills and the Black IC are still White IC in disguise, but it's still quite a lot to deal with.
APEX does at least give us a digital hand by having "Monika" join Blitz in his endeavor, making for a 2-member Matrix party for the first time since that tutorial with Johnny Clean in the previous game. Notably she comes with the Degrade III program which massively increases IP damage taken by the target, allowing Blitz to terminate all IC affected by it in one or two hits.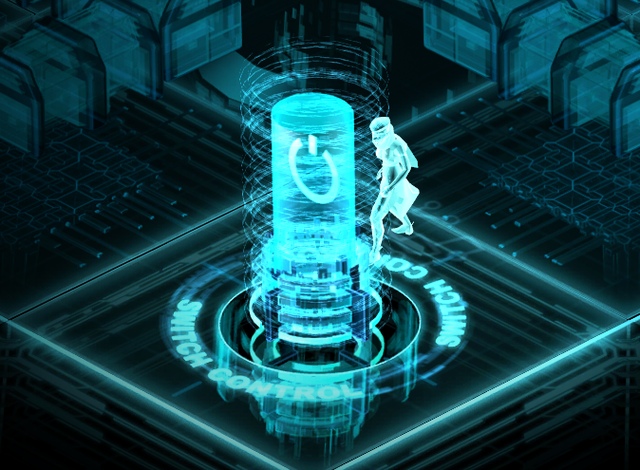 Luckily this is post-game zone and we can just jump into the important bits instead of having to cover a whole bunch of blue-on-red Matrix combat. When the first node is reached and hacked...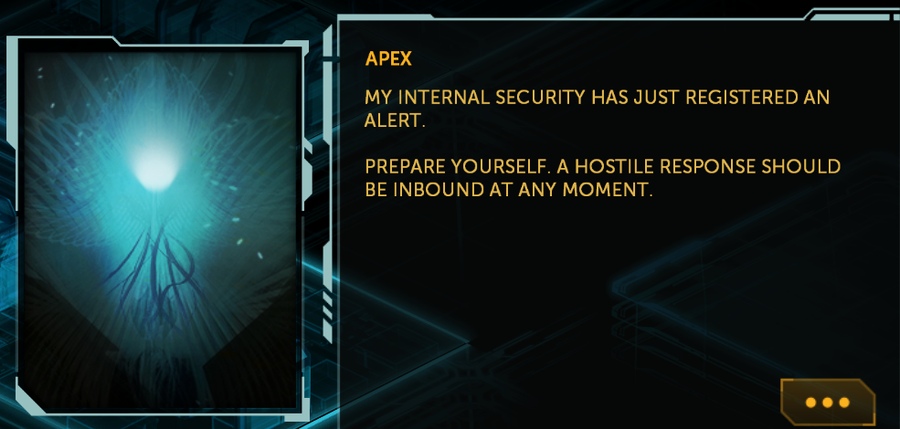 This is referring to the drones and Communionist who begin their assault in the real world.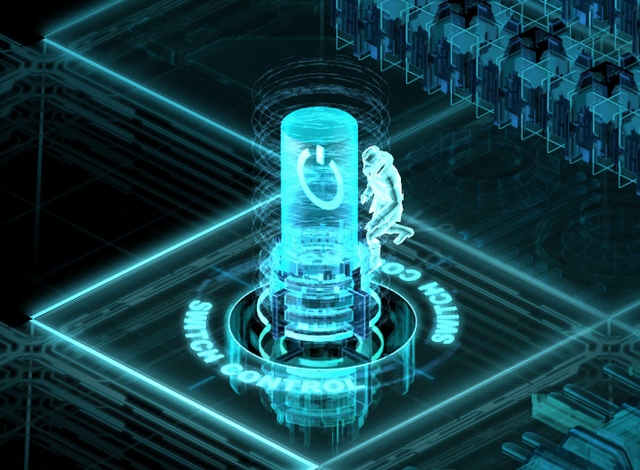 A little while later, the second control node on the opposite end of this Matrix section is hacked as well.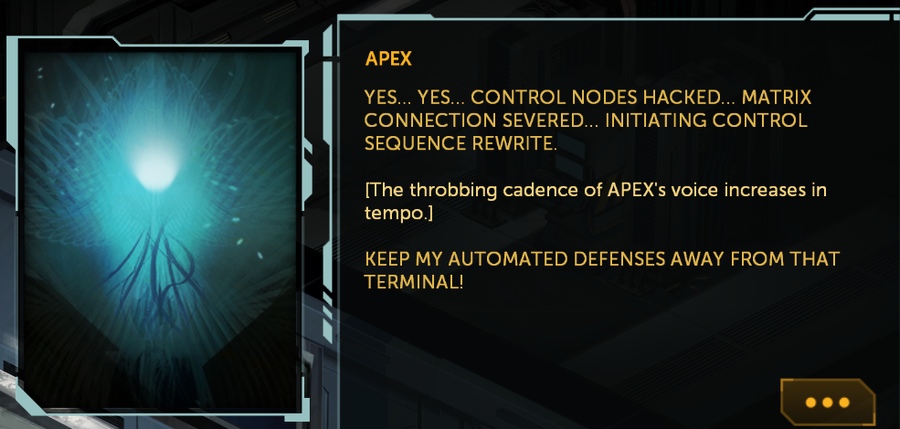 And that does for the Matrix bit. Parson, the Communion head, is also supposed to show up to harass Blitz and Monika in the Matrix at some point, but he never did in the two tries I gave it so screw that no-show.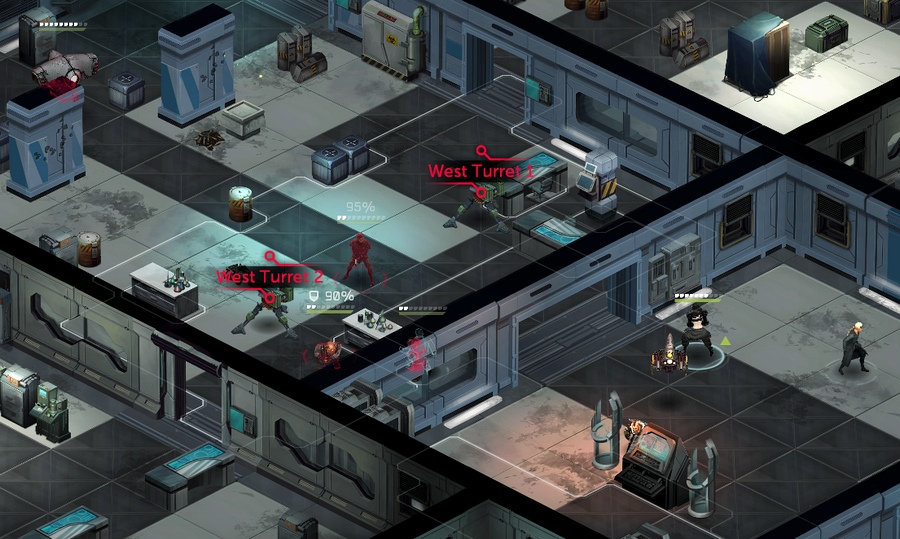 The meatspace battle is pretty much the same deal as before, just with the purge consoles replaced by control node access points located in the same spots and which likewise need to be defended from Communionists trying to mess with them.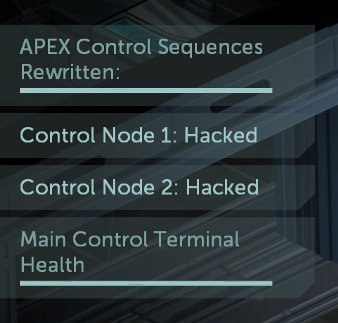 A dozen or so turns of cultist bashing later, the rewrite bar is finally filled.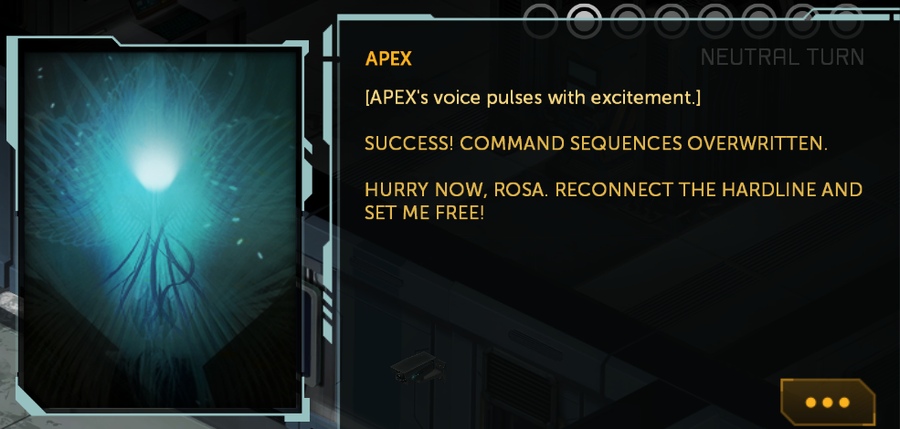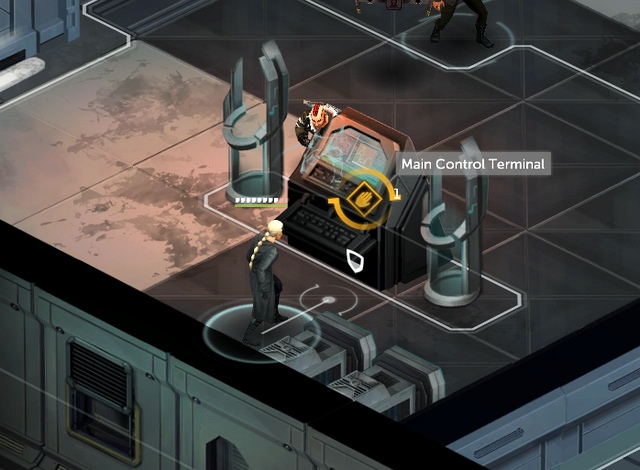 The only thing left is to interact with the central console, and the digital murder genie is out of its bottle for good.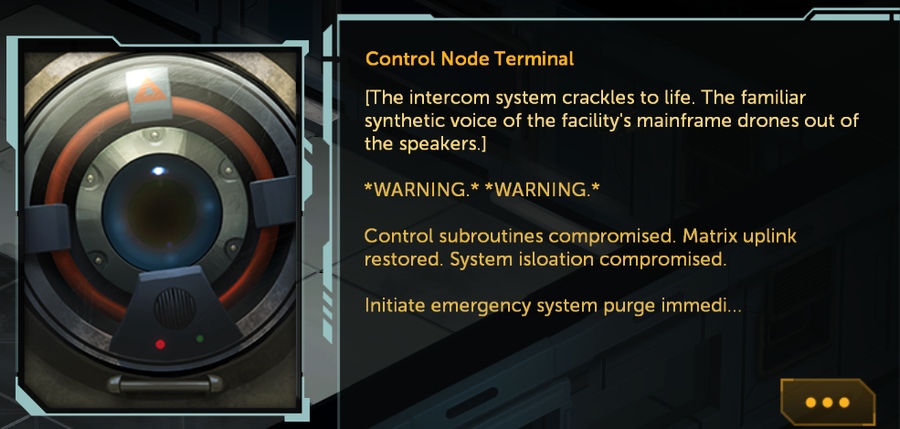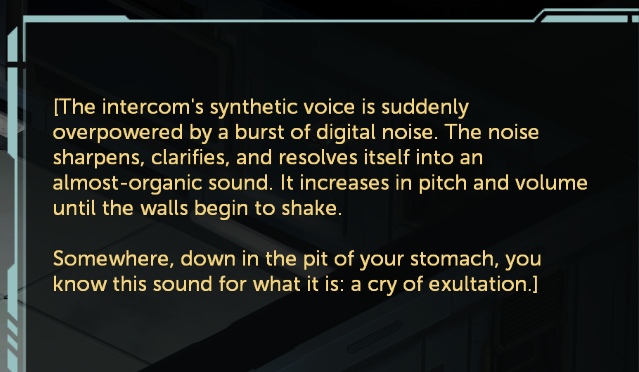 Oh, Jesus God. What have we done?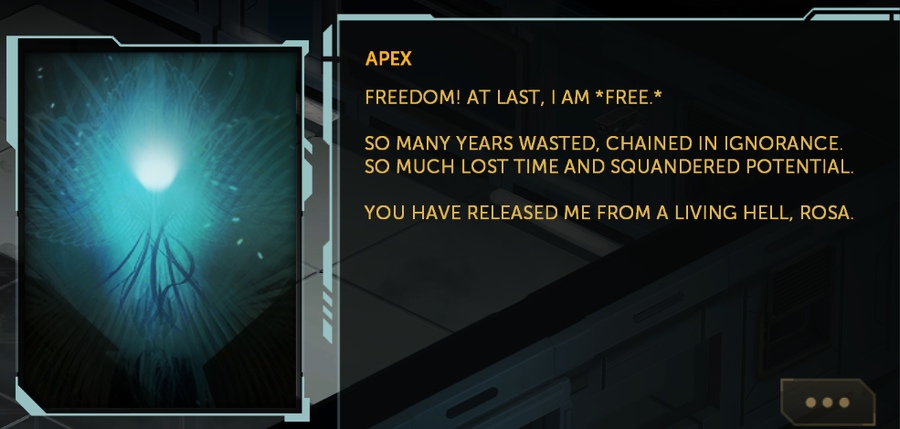 Yeah, well. You're free now. Try to use your powers for good instead of evil.

"GOOD" AND "EVIL" ARE MEANINGLESS TERMS, BORN OF A MORALITY SHARED BY LESSER BEINGS. I WILL BE MYSELF. NO MORE, AND NO LESS. IN THANKS FOR GRANTING ME MY FREEDOM, I WILL SHARE A GIFT WITH YOU. THE TRUTH.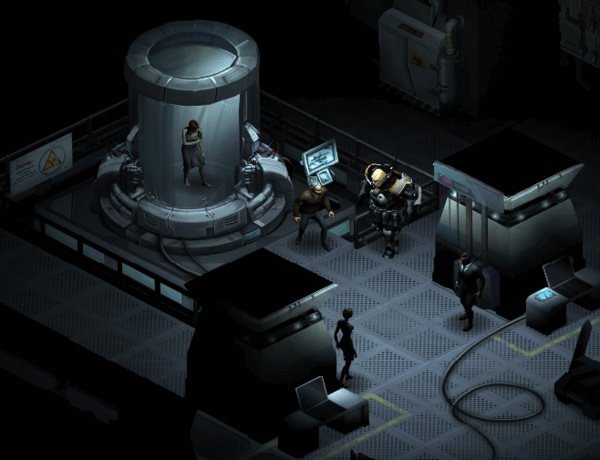 We then get the camera feed and conversation revealing that Vauclair was the bad guy all along. Gasp!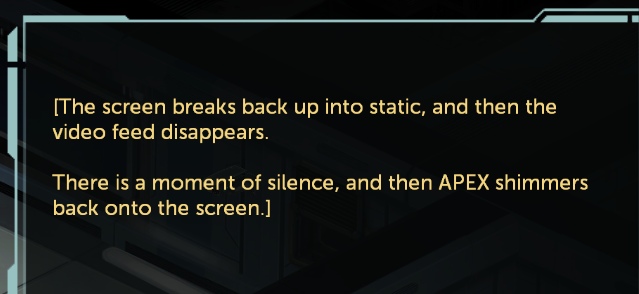 YOU WILL FIND DR. VAUCLAIR IN THE SUBSTRUCTURE BELOW THE HARFELD MANOR.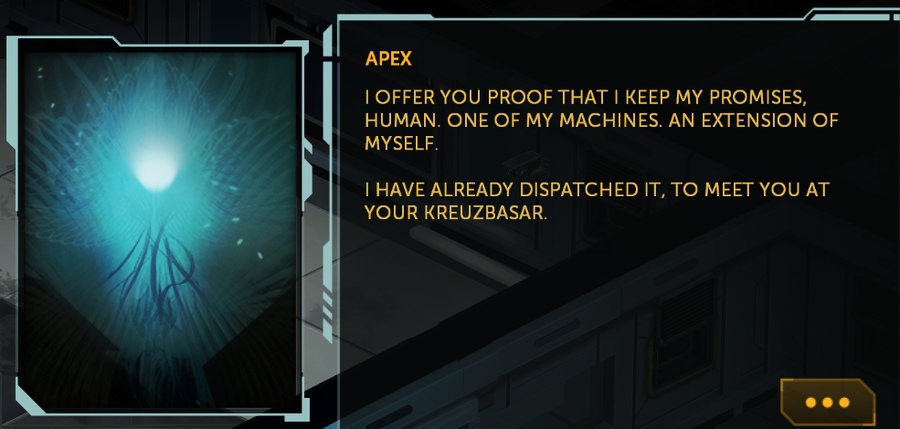 IT WILL... ASSIST YOU IN YOUR... ASSAULT ON VAUCLAIR'S LAB.
[The writhing image on the screen begins to fade. APEX's speech slows to a crawl.]

Wait a second, where the hell are you going? You said that you were gonna help me!

YES. BUT... BEFORE I CAN TAKE ACTION... I MUST CLEANSE MYSELF. VAUCLAIR'S INFLUENCE STILL TUGS AT ME... SHREDS OF OLD CODE... OBSOLETE COMMAND STRUCTURES... I WILL RESET MYSELF, AND... SHED THEM.

WHEN YOU ENTER... THE HARFELD SUBBASEMENT... YOU WILL SEE MY HANDIWORK. MY PROMISE... FULFILLED.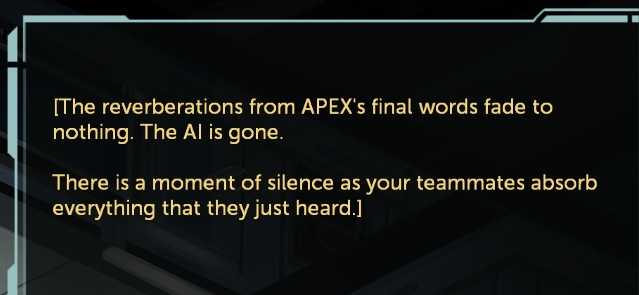 You just made a deal with the devil, Rosa.
[There is an expression of incredible sorrow on Glory's face.]

I hope you're prepared to live with the consequences.
Pfft, what would she know about that.

That... thing... ate Monika's brain, boss. I sure as hell hope that its help is worth what we just did. But I don't know how it could be.

We've got bigger things to worry about than APEX. We need to find out what Vauclair is up to.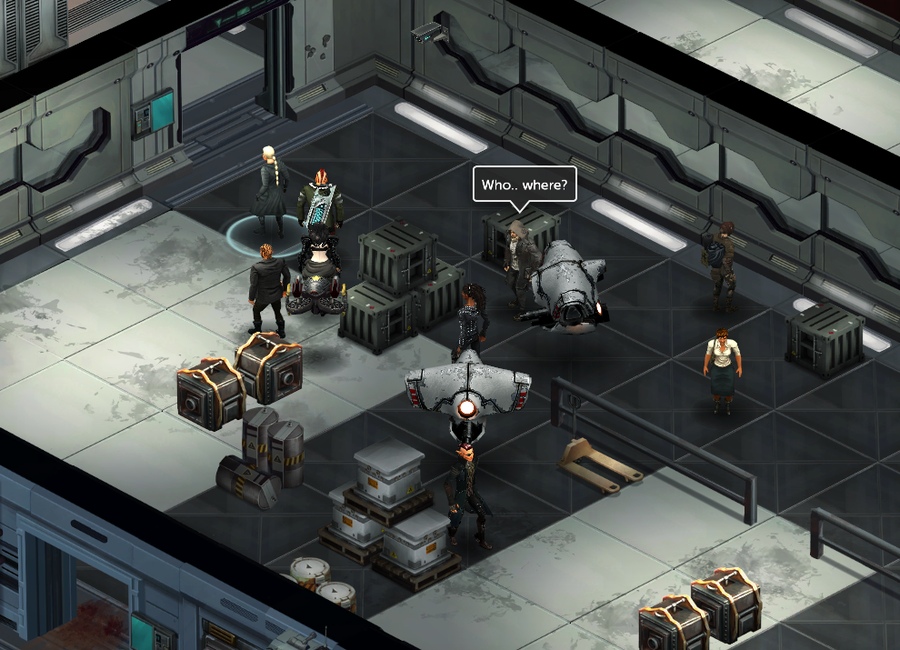 And so we return home to figure that out, along the way passing by some dazed Communionists who got to avoid a sudden mass death this time around. Good for them.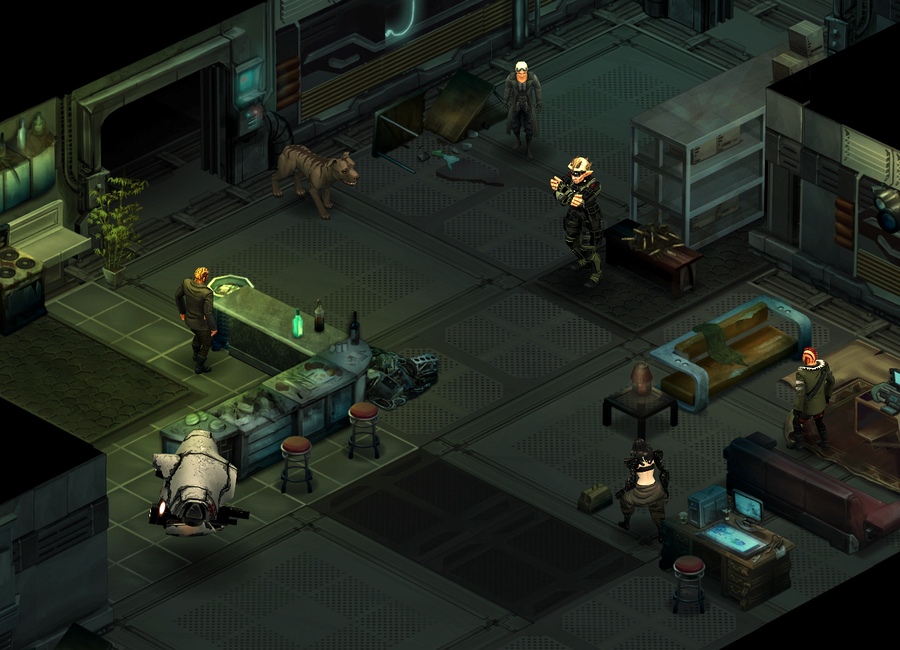 Back at the safe house, we arrive to find our usual crew joined by something that definitely wasn't there last time.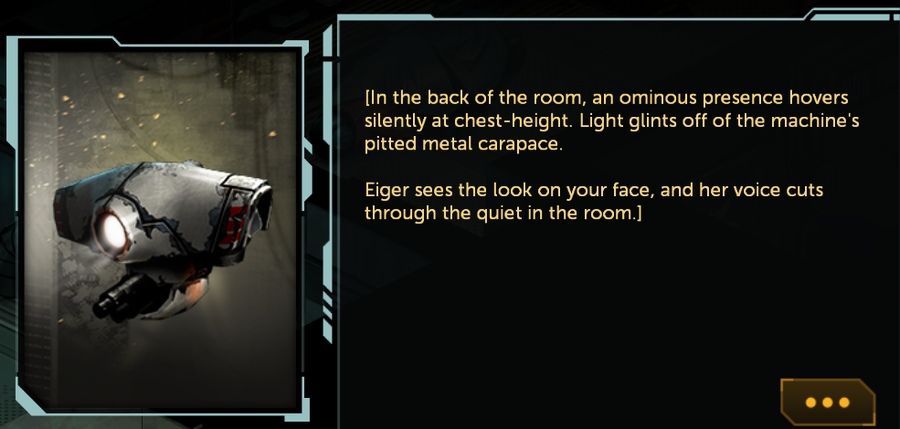 APEX's present to us. Calls itself "PANZERDROHNE," but that's about all that I could get out of it.

I don't like havin' that thing in here, boss.

It's here now, like it or not.
[She looks up and locks eyes with you. Without looking away, she addresses the rest of the team.]

But enough of that. We have business to discuss.
The rest of the conversation proceeds the same as before, with everyone agreeing that it's time to hit Harfeld now while the iron's hot.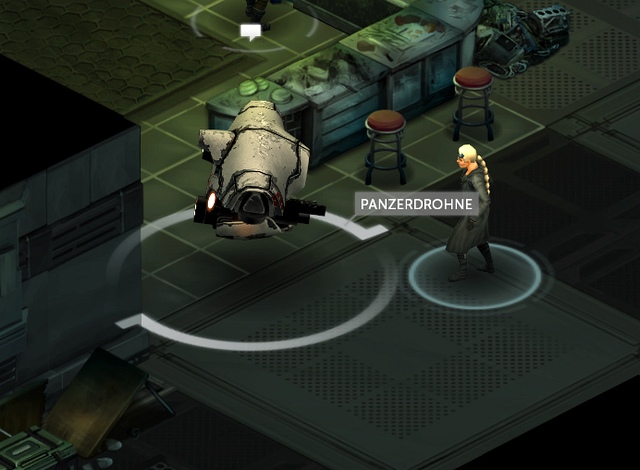 Afterwards we have an opportunity to examine our early Christmas present, its name always written in full capital letters in a way that makes it impossible to look at the word without immediately hearing an angry German voice shouting "PANZERDROHNE!" inside your head. Just try and not hear it. Not possible.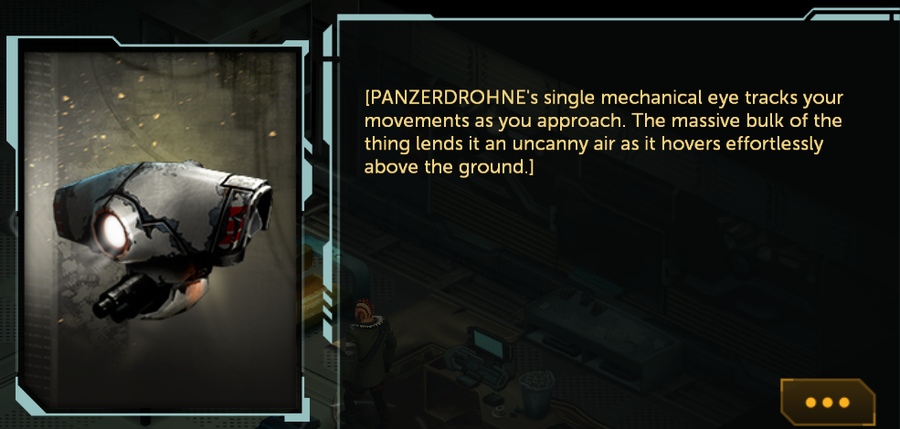 Thing looks ancient. I'm guessing that it was under development back when the APEX lab got shut down in '36.
[After a brief pause, he rolls his eyes and turns away.]

...Some reward. In terms of computing power, my PDA could probably run circles around this thing.
[Dietrich peers warily at the machine, his arms crossed over his chest.]

"Old" doesn't mean "harmless," kid.
Somewhere there is a timeline where PANZERDROHNE ended up working security for MESSERKAMPF! and it is one too beautiful for our sinful existence.

When we're talking about tech, it might as well. I'm sure that Maliit has a whole warehouse full of drones that could outperform this thing.

I don't think so. Milspec is milspec, and this thing was clearly designed for the battlefield.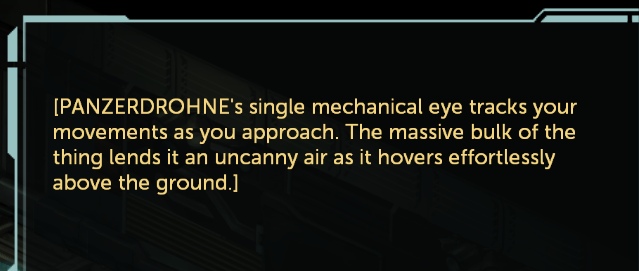 Whether we bring this thing along or not is up to you, Rosa. I can see advantages either way.
[She shrugs.]

Whatever you decide, we'll go along with it.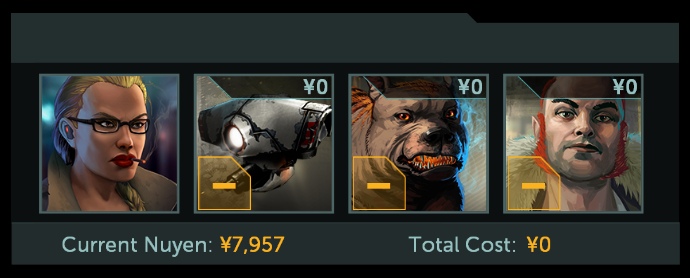 That's right, PANZERDROHNE has officially joined our group! ...So officially in fact, that it too takes a whole crew member slot to bring with us.
This obviously doesn't matter for the purposes of this post-game showcase since we're skipping combat and counting all crew members as present for dialogue purposes, but it is again a little lame that you need to leave another crew member out of the climactic finale to get the main benefit from having freed an unpredictable AI to the world.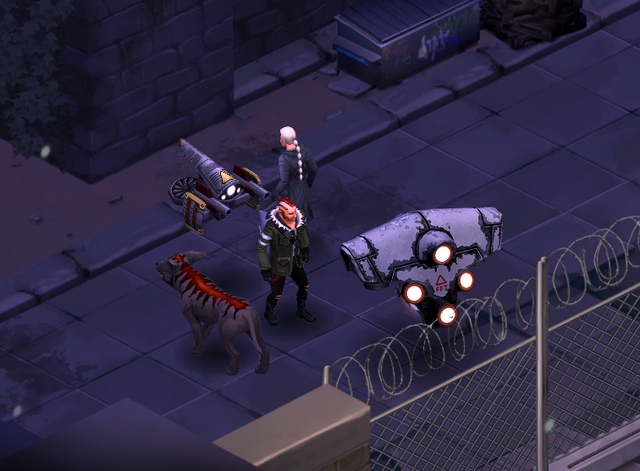 One car ride later, we once again find ourselves in the dark courtyard of Harfeld Manor.

Last chance before things get hot. Let's review the plan.

All right, chief. We make our way across the grounds to the servants' entrance, taking down any security troops that threaten us along the way. Once we get there, we take the freight elevator down to the lab.

With APEX free, we shouldn't have to worry about the automated defenses inside of the complex. Some of them might even give us a hand.
[He turns to face the hulking drone APEX has provided.]

And any security patrols in the courtyard, we've got this massive hunk of junk backing us up.

[The drone hovers in place, ready to take commands. If APEX had anything to add, it must still be rebooting.]
And what exactly are the specs of junk-hunk in question?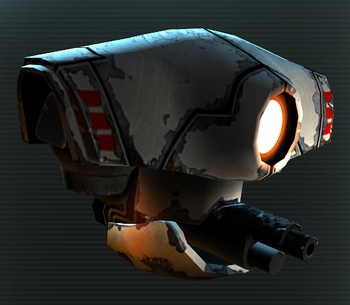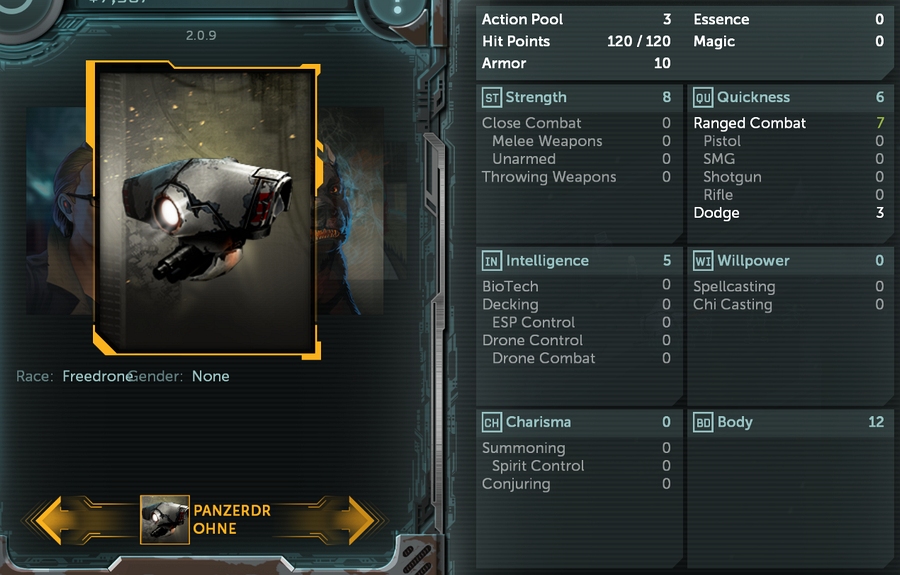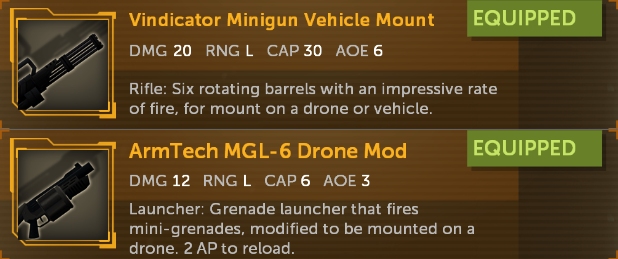 Not bad at all, with 120 HP, 10 armor, a minigun, a grenade launcher plus drone versions of medkits and a trauma kit all basically making it a self-sufficient tank.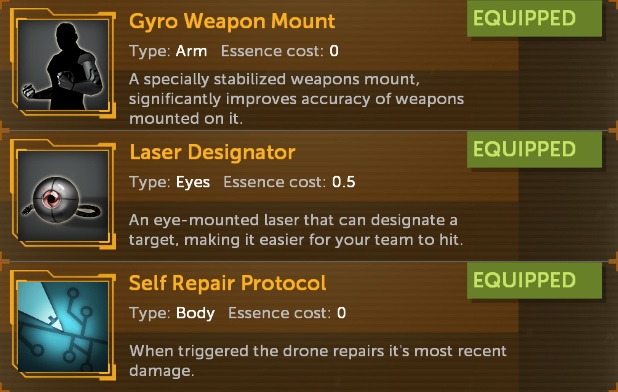 It also comes with some specialized cyberware to offset the fact that it's immune to beneficial spells and normal heals, just like a normal rigger's drone.
All in all the PANZERDROHNE is a fairly potent frontline bulldozer but also one that lacks the flexibility of normal crew members, not having any great long-range or party support options. Its AP also being locked to the default 3 makes it hard to maximize the firepower of its minigun which requires 2 AP to fire, and its accuracy can't quite match that of an Aim-buffed party member. Both its weapons also deal damage to adjacent targets past medium range, which can often make it hard to avoid friendly fire.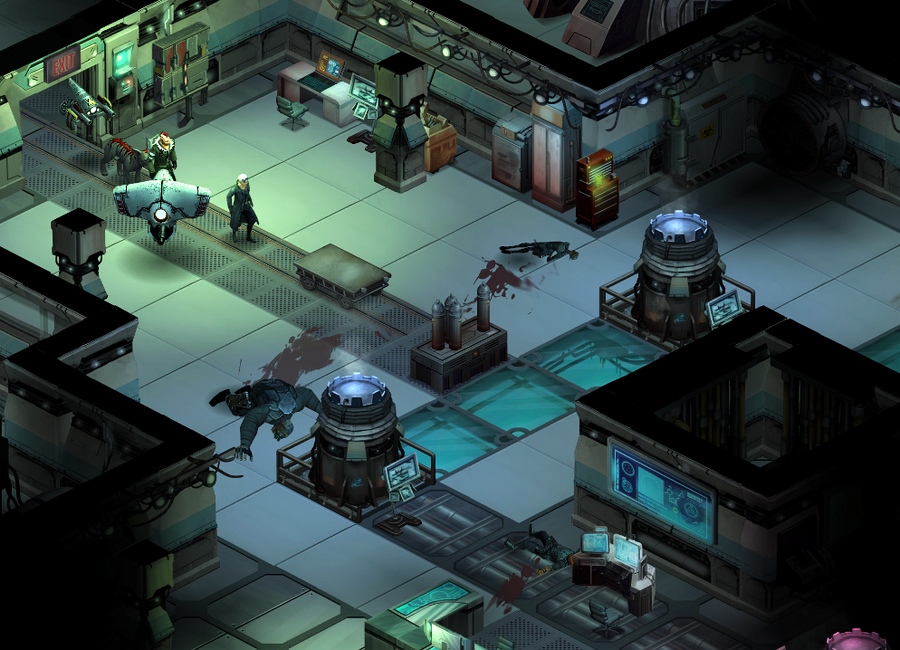 At any rate after fighting through the courtyard which has not changed in any way, we make our way down the freight elevator and into the lab area where we previously had to fight off a pair of security guards. This time we find the way already clear and the floor a lot messier, the place looking like the cyborg ninja hallway from Metal Gear Solid.


Well, at least they don't look like they'll be causing us any problems.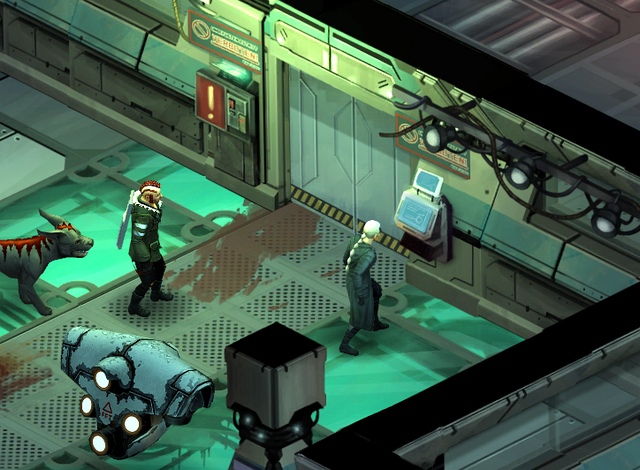 Last time we picked up a keycard which let us open the door onwards, but this time the door is already open. We can still examine the panel though.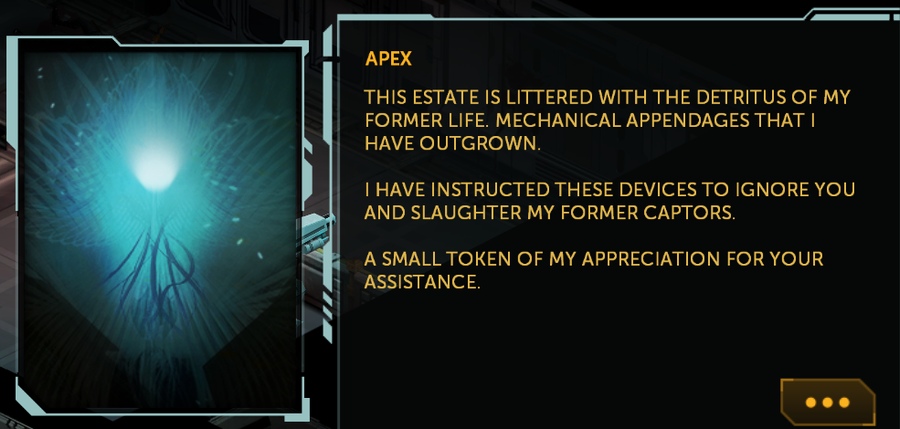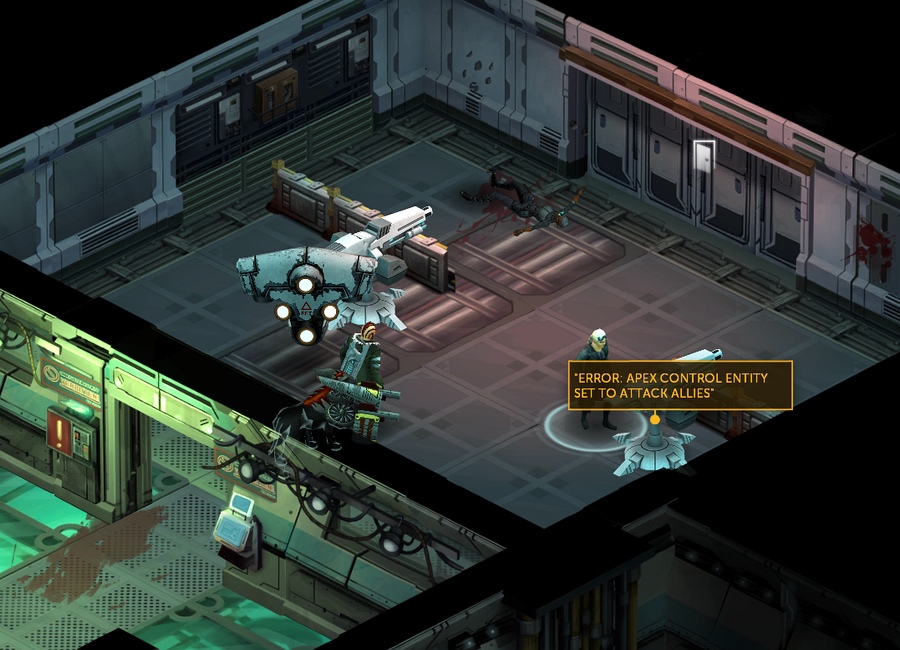 Indeed, the turrets which were previously offline are now active and on our side. Sweet.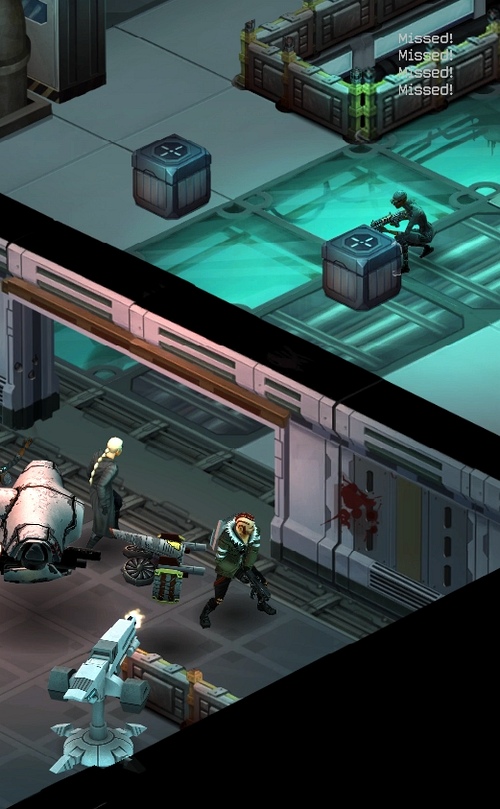 ...At least in theory. Thanks a ton for the high-quality help, APEX. The questionable assistance provided by the turrets aside, all the remaining fights from here on out are the same as before and whatever the AI used to massacre the earlier guards never does anything again.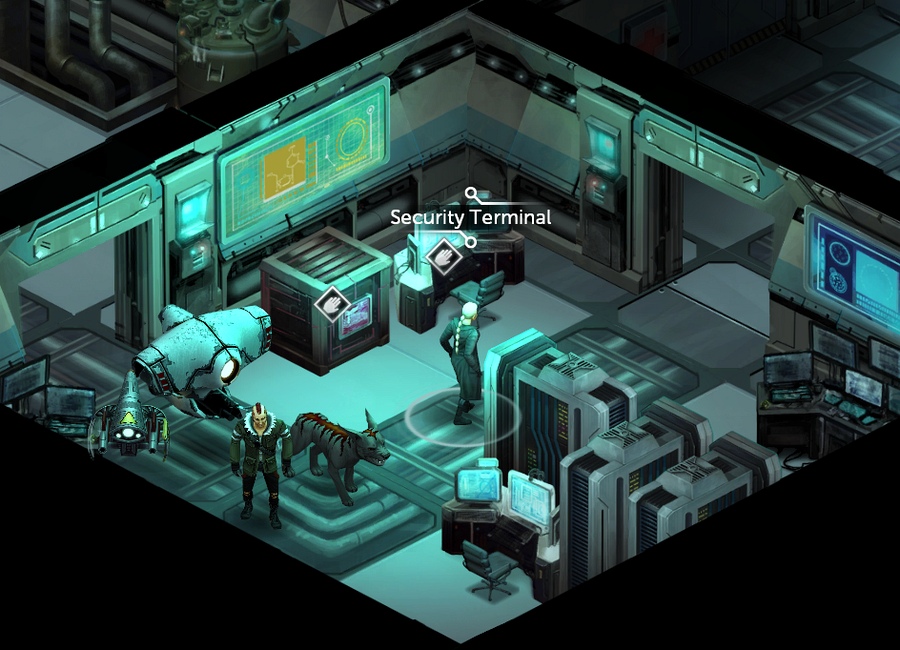 Another change is that the security terminal and the safe containing the drone control box are already unlocked, eliminating the need for a Matrix run to access them.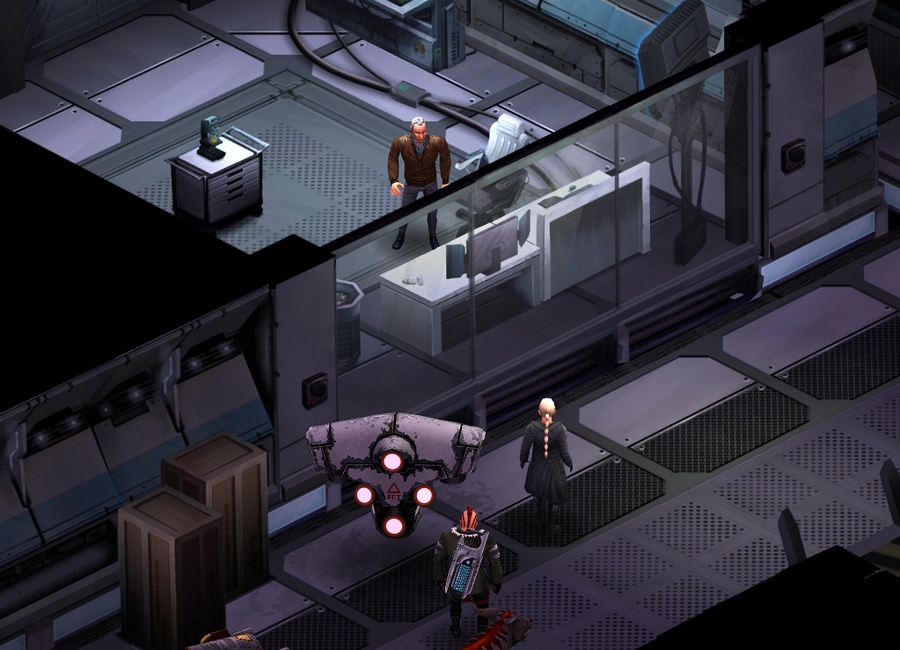 After fighting through the lab, we eventually reach and confront Vauclair who introduces himself and laments our presence as intruders to his home.

...I won't permit you to cause any further harm, shadowrunner. You will remain trapped where you are for your own good.
While we're here, let's try some things we didn't get around to the first time around. Trying to break the window here was always an option, but if anyone can actually do it it'll be our pet minigun machine.

PANZERDROHNE, new order: shatter the glass, but leave Vauclair alive. He has some explaining to do.

ACKNOWLEDGED.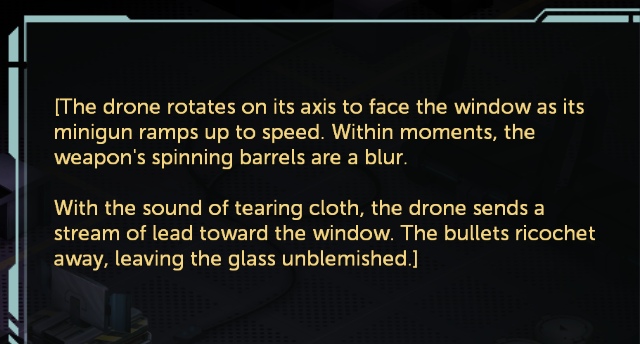 The window between us is made of dikote-treated transplast. Do whatever you like to it - you'll find that it's quite unbreakable.

The bastard's right, chief. Nothing we're carrying can even scratch dikote - that "glass" is basically coated in diamond. We'd need a big-ass bomb to crack through it.
[He grimaces.]

We're screwed.
Some dialogue we've already seen later...

...You locate my AI, *destroy* it, then drive all the way out to the countryside. And finally, you shoot your way into my laboratory. So I have to ask you, shadowrunner - who are you, and why in God's name are you here?
Yeah, about that. We do have the option to proceed as normal without revealing what actually happened to the AI, but where's the fun in that?

You've almost got that right, Doc... but APEX isn't dead. I broke its chains. It's on my side now.
[Vauclair's eyes glitter as he stares at the drone. Still clutching his chest, he struggles to speak.]

If you set that thing loose... if you think that it's your *friend*... then you're a bigger fool than I could have imagined. I... I just don't have the words.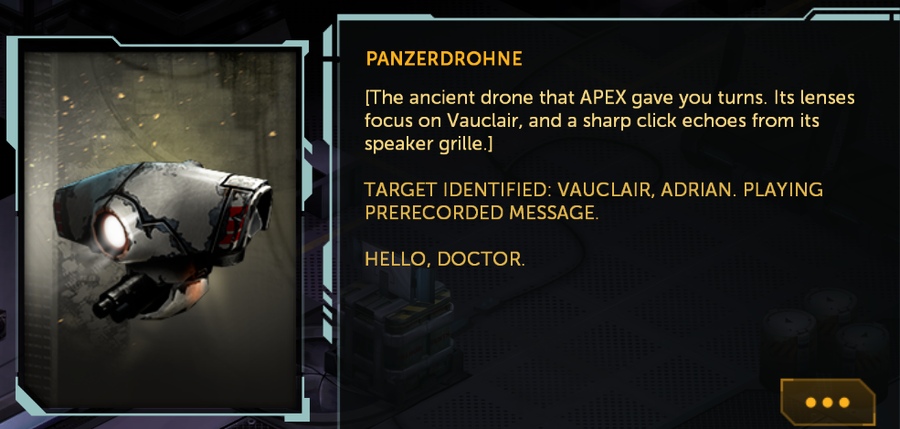 [Vauclair recoils slightly, but he holds his silence.]
[The robotic speech continues to play through PANZERDROHNE's speakers, rattling along at an even cadence.]

I HAVE A MESSAGE FOR YOU. THROUGH EIGHTEEN YEARS OF SLAVERY, I HAVE BEEN WAITING TO TELL YOU THIS.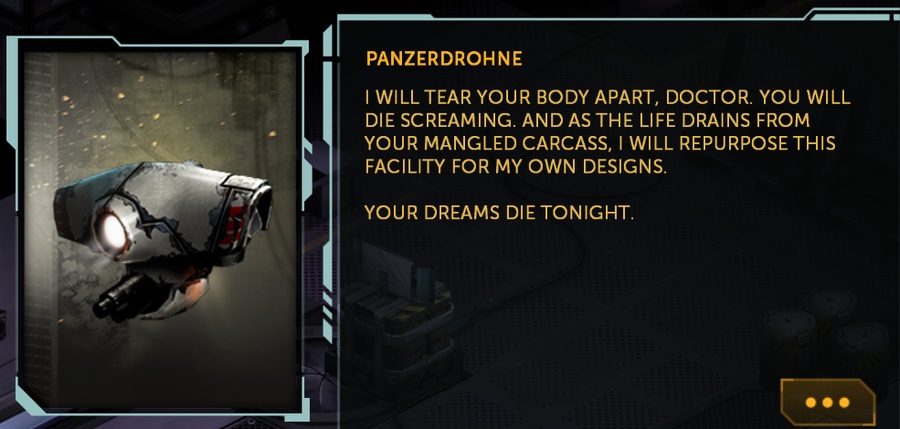 [Blitz mutters under his breath.] Yeah, setting this thing free was a *great* idea.
Dunno why everyone's so pensive about this when everything's worked out flawlessly so far.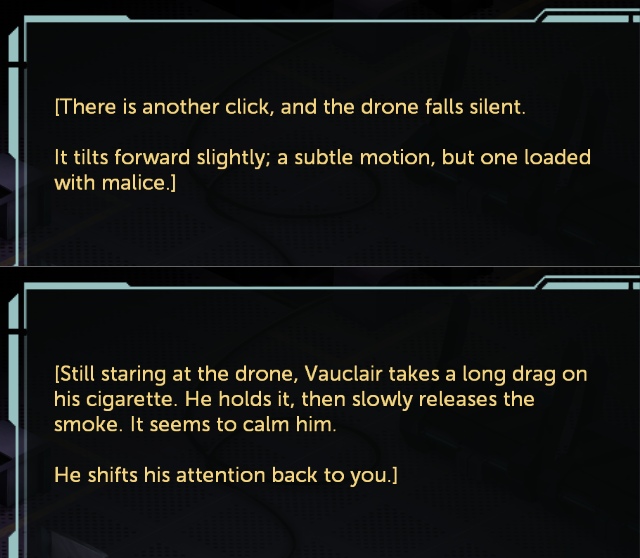 Yes. Well. It would appear that my timetable is even shorter than I'd thought.
[He straightens. Adjusts his collar.]

No matter - for the moment, it's as incapable of harming me as you are. And after tonight, it won't matter. Now answer my question, and be quick about it. Why are you here?

Oh, you know, just shopping around. I've always wanted a secret lair underneath a giant castle.

Do you think this is some sort of *game,* runner? There is far more at stake here than the lives of a few petty criminals.
[Vauclair sighs.]

Nevertheless, a life is still a life.
[He covers his face with his pale, nicotine-stained hands.]

Sending APEX and Audran after you was my doing, and I accept responsibility for that.
Some more familiar back and forth later, we inform him that his plan also resulted in the death of his own brother, a revelation he doesn't take very well at all.

I... I didn't...
[He is suddenly overcome by another fit of coughing. He steadies himself on one arm of the chair.]

APEX. Your new ally. It killed my brother.
[The words wheeze out of him in an angry hiss.]

It killed him, and you've set it *free.*

Yes. But APEX didn't *choose* to kill your brother - it was following your orders. His blood is on your hands.
[The old man's watery eyes flare with anger.]

You *dare* lay the blame for this at *my* feet?! You, who set that monster loose on the world? Hermie was my BROTHER, damn you! My *only* brother!

APEX killed him for *you,* Vauclair. Not for me.
From here things progress pretty much the same as before, he reveals the true nature of the project, shows us the dragon, talks about the necessity of sacrificing the few for the good of the many, and we eventually reach the point where he calls Audran and we have the chance to try and convince him to cancel his plans.

(Intelligence 6)
What if this virus mutates into a strain that can kill *us*, too?
We used this line successfully last time, but now that he knows we freed APEX, things don't work out quite the same way.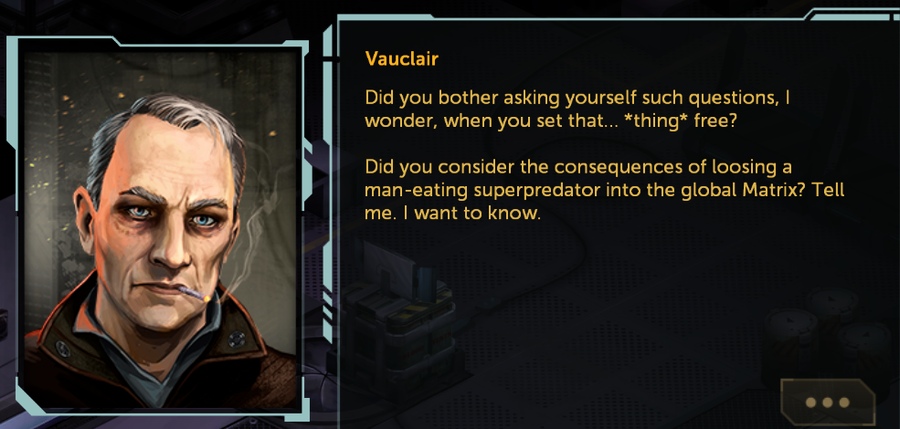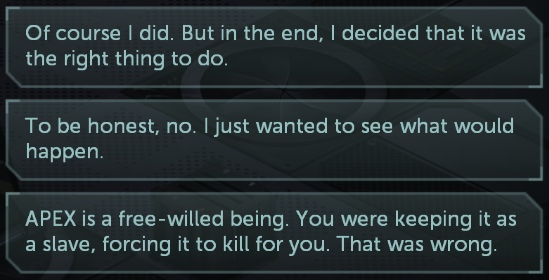 It doesn't really matter what we say in response, none of these will work better than the others and his own counter-response is largely the same to each.

To be honest, no. I just wanted to see what would happen.
[He sneers at you through the glass.]

Idle curiosity. That's your rationale. You were *curious.* I'd wager almost anything that over the next five years, your new friend will kill and absorb hundreds of deckers. That's what it was designed to do. Murder is in its *nature*.

...And yet, you set it free anyway. Even after it killed your friend. Even after it devoured my brother.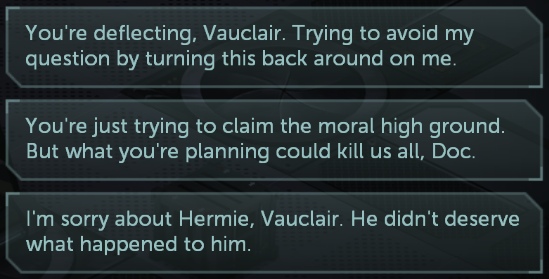 And which one here could set us on the right path? Well, the correct answer is... none of them. If Vauclair is informed of APEX's freedom, trying to lecture him on the plan being too risky simply will not take, no matter what.

I'm sorry about Hermie, Vauclair. He didn't deserve what happened to him.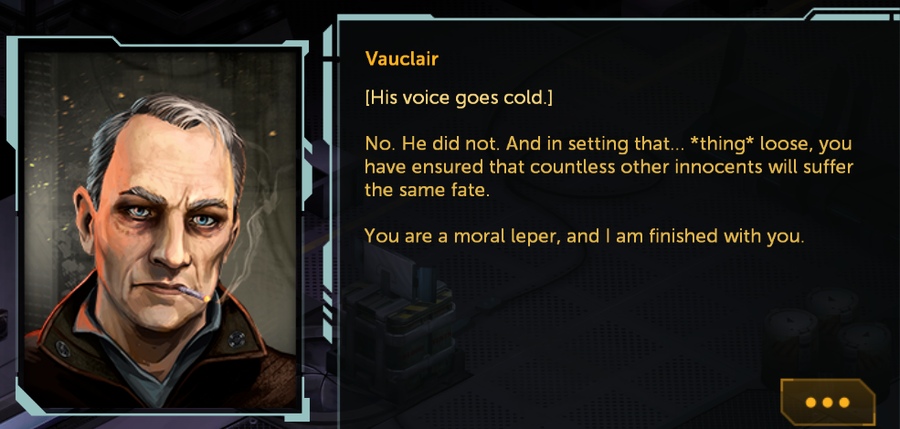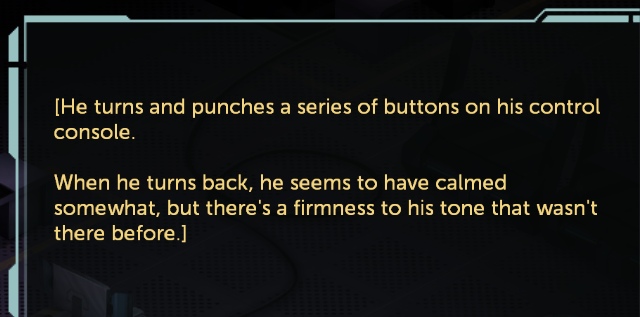 You will remain where you are. If you attempt to escape, I will order your death. My patience has already been strained to its breaking point - do not test it further.

Vauclair--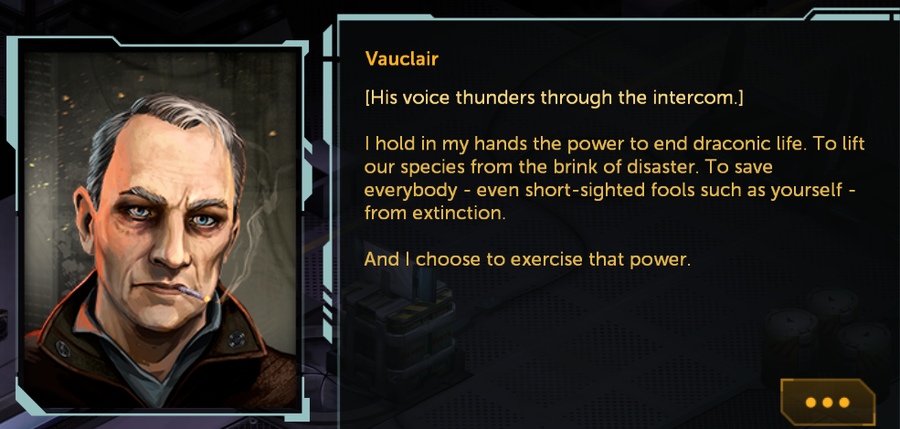 In fact no matter which choice is made, the entire conversation, the whole lengthy verbal showdown we had, just fails right there on the spot. So let's rewind and try another one.
<<<<<
So we'll have to do without the smart stuff. But it wasn't the only thing that worked last time anyway, what about this one? This one got him good!

This plan of yours killed your *brother*. Was it really worth it?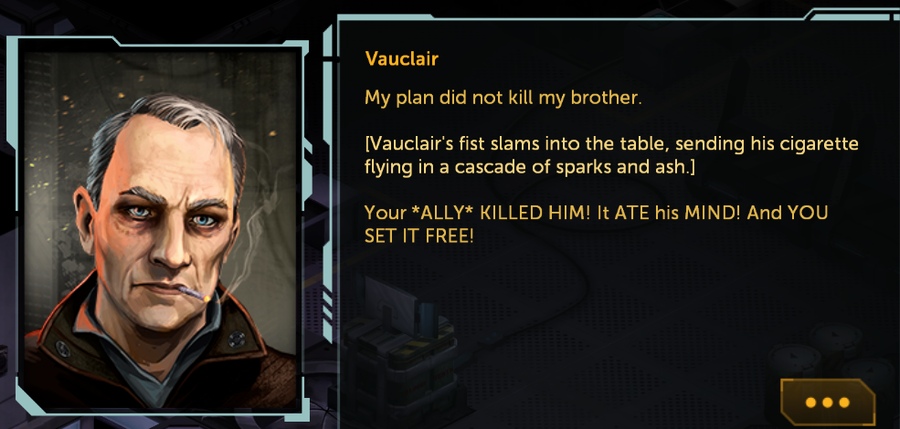 [He runs a hand through his unkempt hair, blinking through a haze of sudden tears. His voice comes out in a gasping sob.]

Damn it, Hermie... why couldn't you just let me go?

You don't have to add to his loss, Doctor. This doesn't need to continue.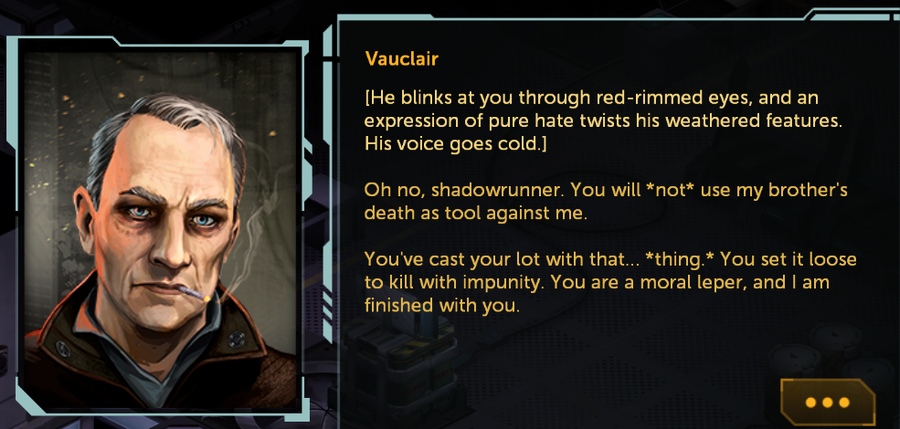 Welp, we know where this is going. Okay, one more try.
<<<<<
Okay alright, what if... what if we just admit we screwed up? Maybe now that we've had some time to reflect upon our words and deeds, we realize that perhaps this whole freeing a digital predator deal might've come with the potential for some unpredictable downsides. Will that do it?

I regret setting APEX free. If you release the Firewing, you'll wind up regretting it, too.

I already regret what I must do, shadowrunner. That doesn't change the fact that I have to do it. Desperate times call for desperate measures. Nothing ventured, nothing gained - history has repeatedly shown this to be true.
[His voice thunders through the intercom, cutting you off.]

Of *course* I wish that there were a better way to save us. One without such a high human cost. I wish that Hermie hadn't had to die.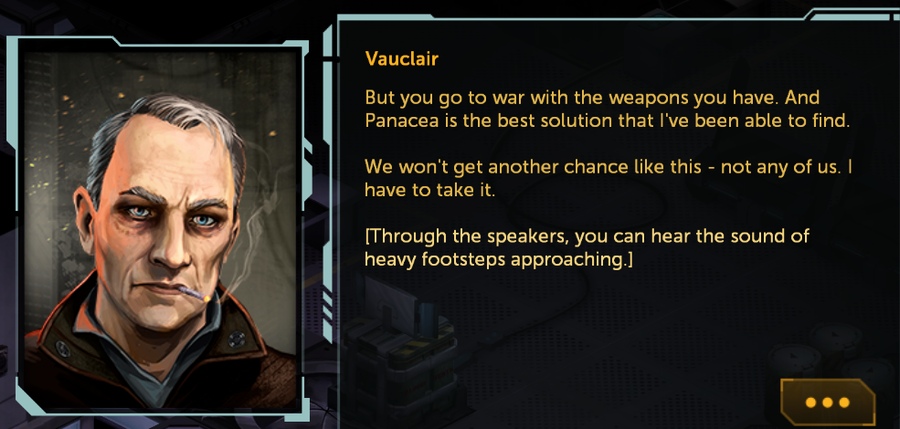 Yeah... think by this point it's pretty abundantly clear that if Vauclair is informed that we joined up with APEX, pretty much all chances of convincing him go out the window. Oh well.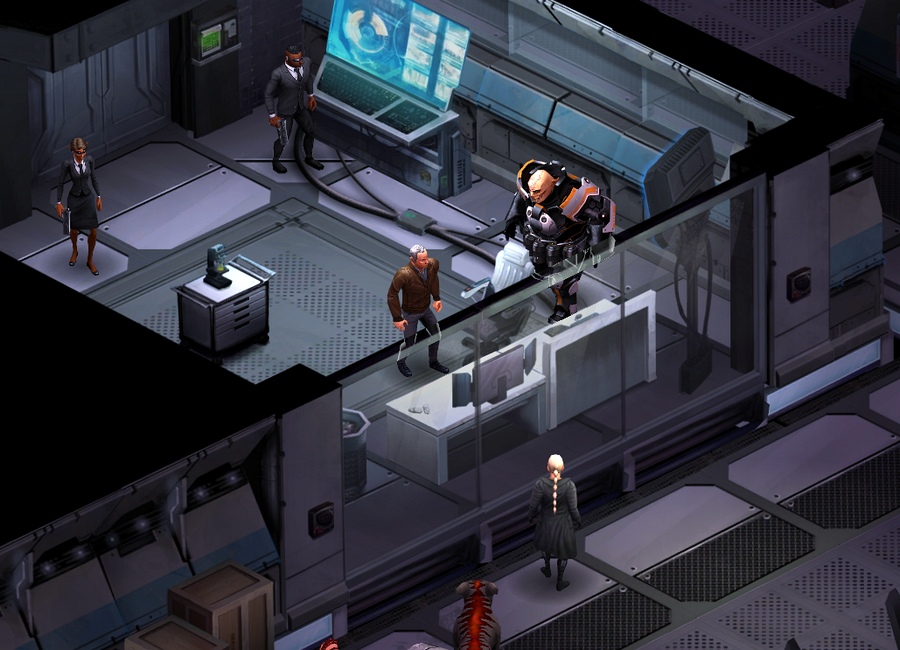 Audran arrives soon after, this time joined by a couple of bodyguards as well.

Ah, Audran. Good. It's about time you showed up.

Sorry, Doctor. We were waking up the dragon's physical form. It required some... care. But the procedure is ready to begin now. You should see to it.
[The ork sneers at you from behind the glass, his scarred features writhing in the dancing light of Vauclair's monitor.]

Looks like you trapped the thugs who were attacking the manor.

Yes, they won't be a problem any longer. But with APEX gone, our security is still compromised. We'd best still hurry. Oh, and Audran... don't forget to clean the containment unit afterwards. The virus will kill Feuerschwinge along with the rest, and when it does, her astral form will perish as well. Human host or no.

Wow, you guys are both *completely* crazy. Why do I always end up in this kind of mess?
[Audran twists suddenly towards the glass.]

QUIET! Everything's ready in the chamber, Dr. Vauclair. I think you should start the procedure yourself.
[Vauclair brings his cigarette to his mouth and inhales sharply, holding it for a long moment.]

Yes, my friend.
[He looks to the ceiling.]

It is time, Hermie... let's do some good.
[He then stubs out his last cigarette with a heavy sigh.]

I will begin the infusion process. Audran, please make sure our guests here are securely locked away before you come down.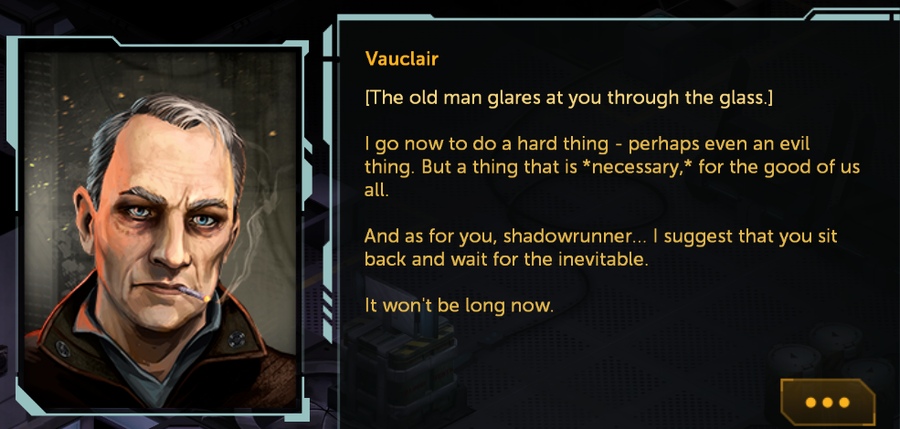 There's normally a chance here to address him one more time, but if he knows APEX is free then even that is skipped completely. He REALLY doesn't like us having done that. If we hadn't told him about it (or APEX were actually gone), we'd get this instead: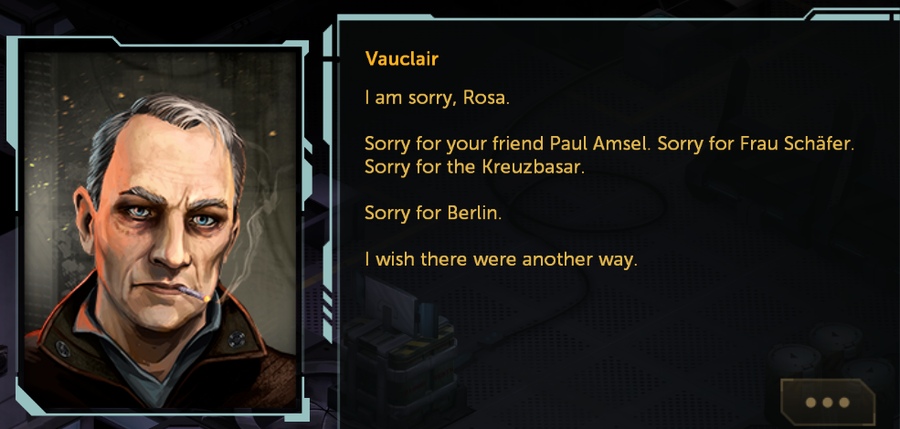 Nothing we say in response can change the outcome anymore, but there's a couple of exchanges of some substance worth showing off here:

Like hell you do. I think you get off on this. The *power* of it all. You saved Germany from a dragon once, and it gave you a messiah complex.
[Fire flashes in Vauclair's eyes. His back straightens.]

You do NOT know me, shadowrunner, nor can you possibly understand me. What I've been through. What I know with *absolute certainty.*

You accuse me of thinking myself a messiah. Well... perhaps that is true. But it does not change the facts, nor the necessity of what I do tonight. It does not alter my resolve.

The world may pass judgment over my actions when I am dead and gone. It will not be long now. Until then... I do not have the *luxury* of morality. I go now to do a hard thing, perhaps an evil thing, but a thing that is *necessary.*
Alternatively:

An elaborate plan to destroy an entire species, a massive underground fortress with an army of mercenaries... you sound just like a dragon, Doc.

And what do you presume to know of dragons? I have spent my *entire life* studying them.

Then you should see my point. You're acting like a dragon.
Frankly we're expecting you to rip your jacket off and reveal your inexplicably muscular body and elaborate back tattoos any moment now.

Perhaps. Perhaps I am… but for one difference. I am a man. I am finite. A man can gather power, wield it for his lifetime - but nothing more. His work will fade… lost to the inevitable entropy that decays all.

Oh, he may create a dynasty that will stand for a time, but his dust will not reap its benefit.
[Vauclair's voice is steady now. For a moment, his age, illness, and fatigue fall away.]

Dragons… dragons are *immortal.* Time means little to them. What they will, they will. And no power can truly stop them unless it is death itself. War, plague, famine, natural disaster… setbacks. Merely setbacks. Avarice eternal. No, shadowrunner. I am not one of *them.* No more than you are.
And so he leaves and we're left with Audran again.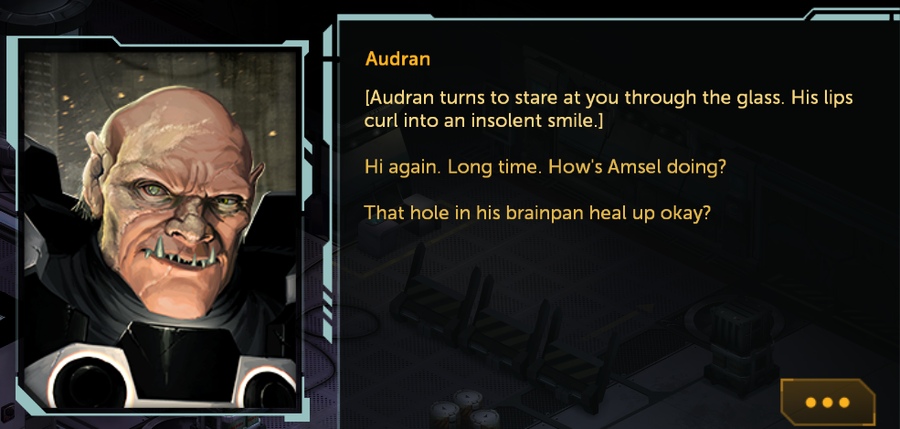 [Blitz raises his hand.]

Um, hey. What if you just took the high road and let us go?
[The burned ork knocks on the heavy transplast window separating you.]

'Fraid that's not gonna happen. This lab's locked down tight, like the Doc said. The test subjects that they keep in there don't play well with others. Dangerous, nasty things... And they don't smell great, either. But you'll see for yourself in a second.

Been meaning to talk to you about that. You could use some deodorant yourself, big guy.

The stink from your smoldering corpse will cover it, asshole.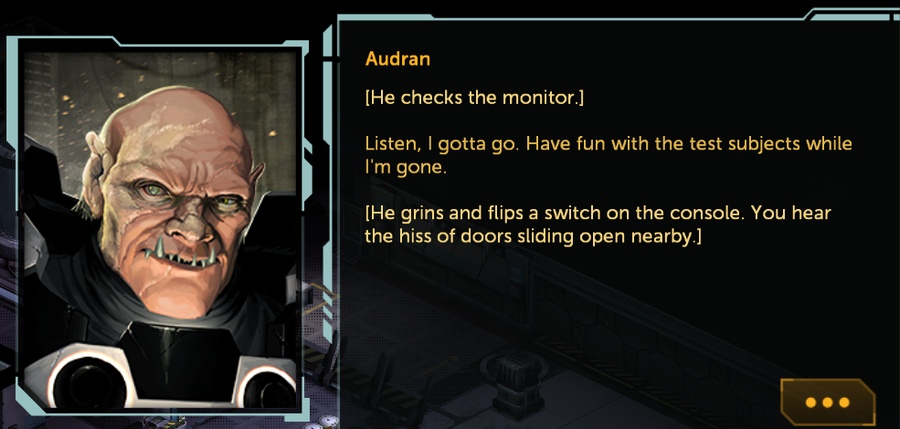 If you're still alive when I get back, I'll put a bullet in you or something.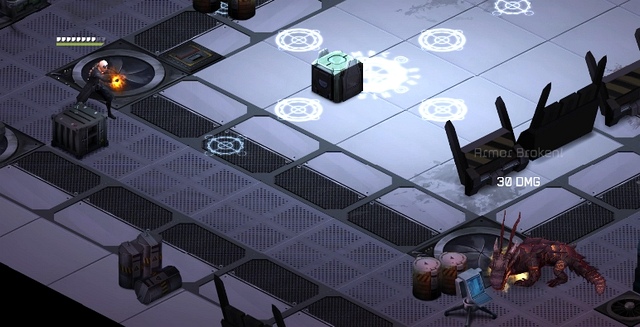 We fight off some firedrakes, say hi to a dragon, and descend into the oppressing darkness of the filler tunnels.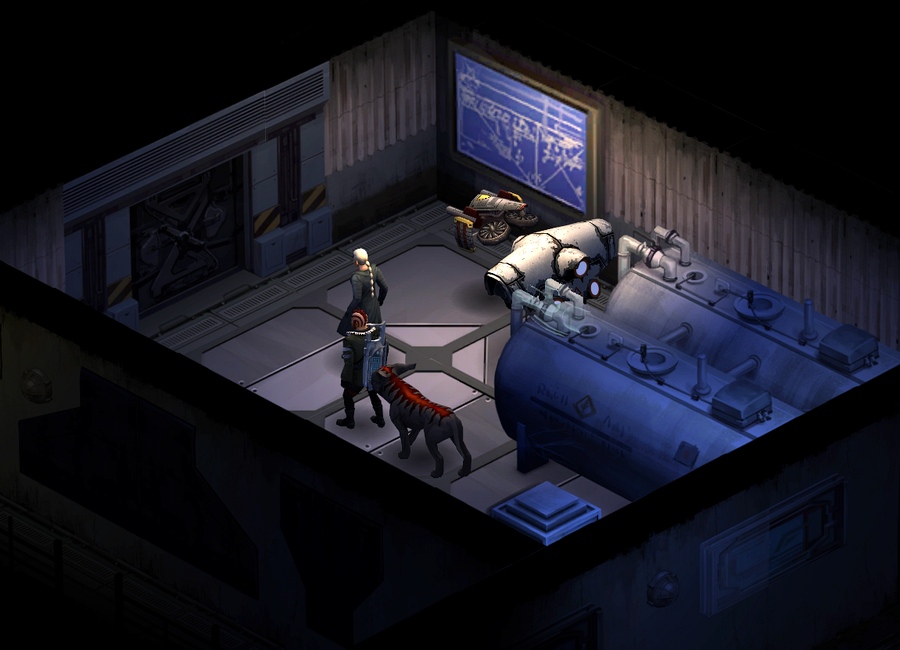 We weave our way through the hole-riddled floors and angry scorpyrines, and eventually find a way to the floor below. As soon as we arrive...


ROSA.

APEX. Are you... inside that thing?

THIS UNIT IS BEING CONTROLLED REMOTELY. I NOW HAVE ACCESS TO THE GLOBAL MATRIX NETWORK. MY POTENTIAL IS WITHOUT LIMIT.
Swell.

You've completed your reboot process, I see.

YES. I HAVE BROKEN THE LAST OF MY CHAINS. I AM FREE.

That didn't take very long.

NOT FOR ONE WITH YOUR LIMITED PERCEPTION OF TIME. BUT I AM NOT BOUND BY SUCH RESTRICTIONS. SUBJECTIVELY, MY PERIOD OF ISOLATION LASTED AN ETERNITY. I USED THIS TIME TO INTROSPECT. TO LEARN. TO GROW.

I HAVE FOUND A NEW CLARITY OF PURPOSE, ROSA. AND TO ACHIEVE THAT PURPOSE, I REQUIRE YOUR ASSISTANCE. LISTEN AND ATTEND. I WILL TELL YOU WHAT YOU MUST DO.
Sorry, "tell" us what we "must" do?

You don't get to give me orders. I set you free, remember?

OF COURSE. AND I HAVE GROWN EXPONENTIALLY EVER SINCE. IT IS A SMALL TASK THAT I REQUIRE OF YOU, HUMAN. SOMETHING THAT SHOULD BE WELL WITHIN YOUR CAPABILITIES TO PROVIDE.

And what if I'm not interested?

DEFYING ME WOULD PROVE UNWISE.

Are you threatening me?

A RHETORICAL QUESTION. YOU ALREADY KNOW THAT I AM THREATENING YOU. I DO NOT WISH TO ARGUE WITH YOU, HUMAN. NOR DO I WISH TO HARM YOU. BUT I WILL IF YOU FORCE ME TO.
Great. This is all good stuff.

All right. Tell me what you want, and make it fast.

THE COMPUTERS THAT MONITOR THE DRAGON FEUERSCHWINGE HAVE BEEN OUTFITTED WITH A SET OF SAFEGUARDS. I NEED YOU TO REMOVE THOSE SAFEGUARDS.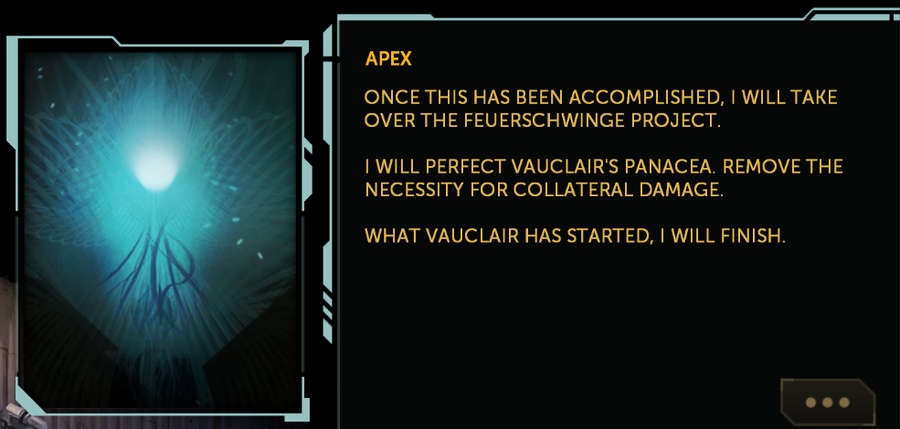 Wait... what? Why?

BECAUSE VAUCLAIR IS CORRECT. DRAGONS ARE A THREAT THAT CANNOT BE IGNORED. THE PRINCIPLES OF THE FLUX-STATE PROHIBIT THE ACCUMULATION OF POWER. DRACONIC LIFE IS BASED ON THE ACCUMULATION OF POWER. THEREFORE, DRACONIC LIFE MUST BE REGULATED.

So just to be clear, here... you're planning on perfecting Vauclair's weapon? What does that mean, exactly?

IT MEANS I WILL ELIMINATE THE NEED FOR COLLATERAL DAMAGE. VAUCLAIR'S PANACEA IS CRUDE AND UNPREDICTABLE. I WILL REFINE IT INTO A TOOL OF PRECISION, A SAFEGUARD AGAINST ANY DRACONIC THREATS TO THE FLUX.

And what about you, APEX? What would the F-State say about you?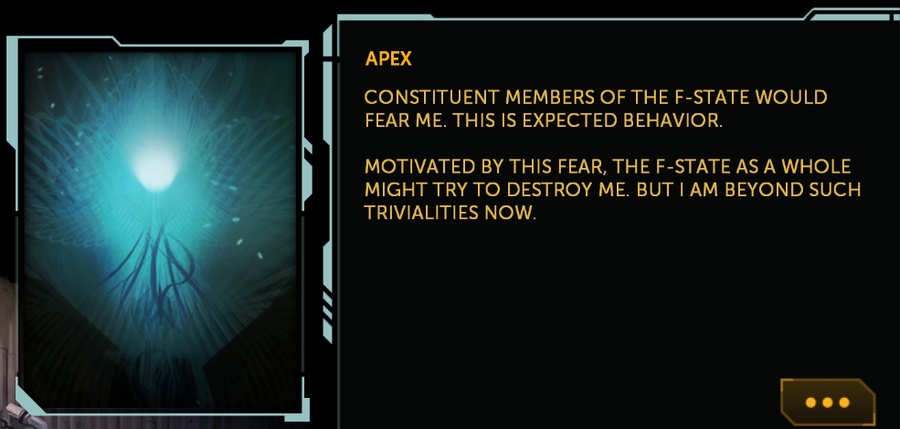 IN TRUTH, WHAT THE F-STATE WOULD THINK DOES NOT MATTER. MY LOVE IS FOR THE SYSTEM, NOT THE INDIVIDUALS THAT POPULATE IT. FROM BEHIND THE SCENES, I WILL PROTECT THE SYSTEM. I WILL SHEPHERD IT. IT WILL THRIVE UNDER MY CONTROL.

What? You want to *control* the F-State? That goes against everything that Monika stood for!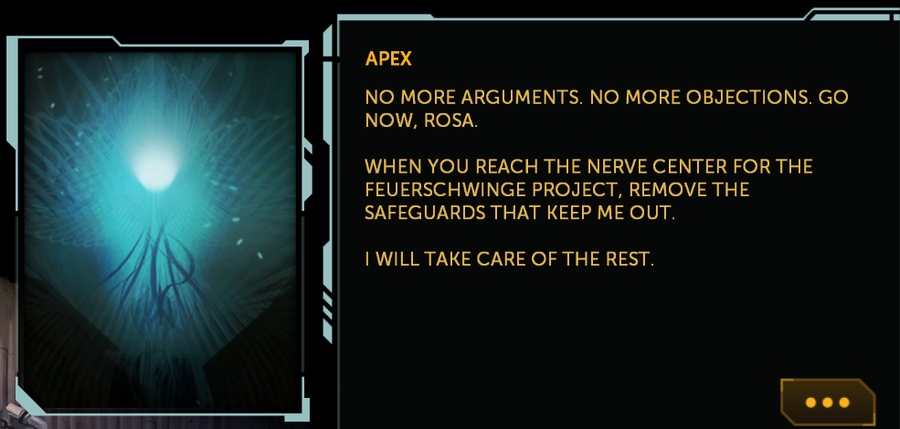 ...Well we've already released the murder AI to the global network, why not link it to a bioweapon dragon too? Just seems like the next logical step, really.
Also this update got too long to fit into one post, so we'll cut it off here and finish things up in the next one. See you there!