Part 18: Dark Tsukudo-Cho finished.
Update 18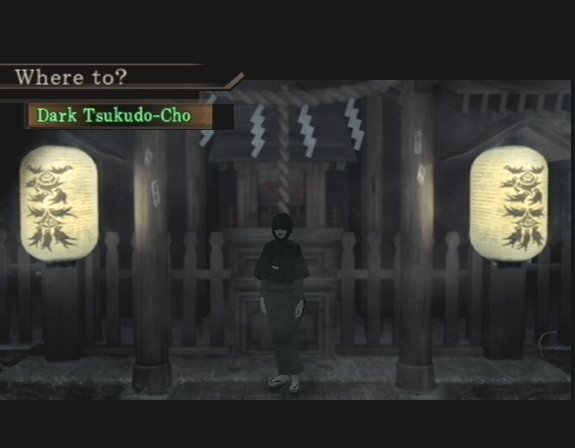 There it goes. Let's go to Dark Tsukudo-Cho.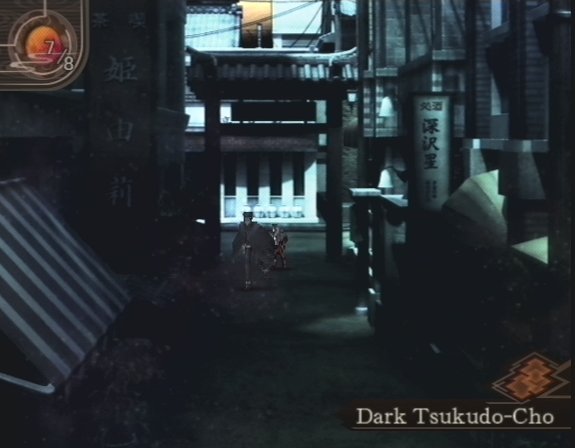 Pretty much the same, only darker, deserted, and with random encounters. Seriously, that is possibly one of the most welcome changes from Raidou 1 to 2. No random encounters in town areas.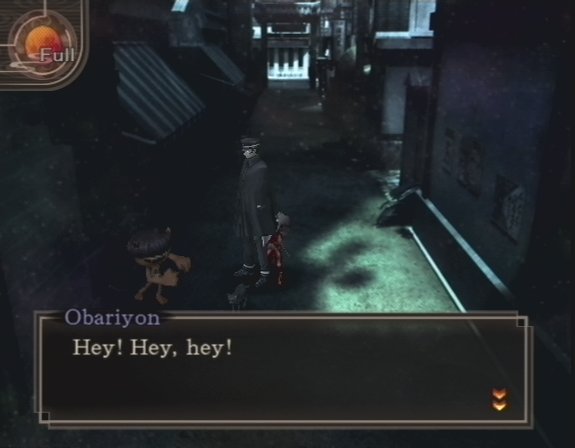 Obariyon
: "Look at that shy face... A typical wallflower, aren't you? Only talking one-on.one... That's no way to party! But it's cool. There are some demons who can help you with that. They're good at breaking the ice.
If you take one of those cool cats when you chat up demons... Even a wallflower like you will become a regular pickup artist!
Pretty great, huh?"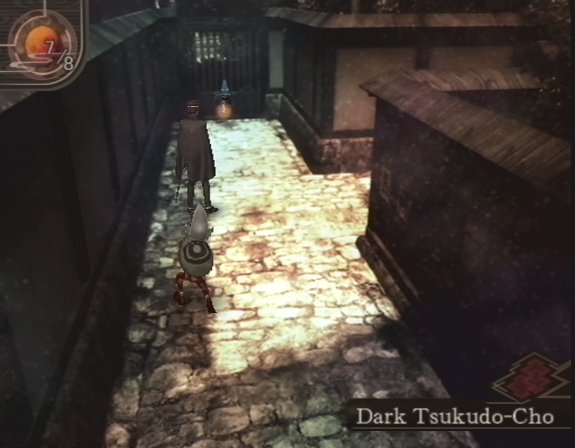 And there is a Pyro Jack. Oh my. We won't be seeing one of those for a while.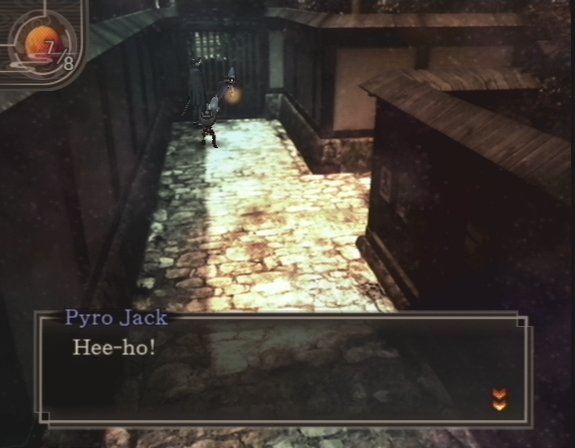 Pyro Jack :
"I'm a fanboy demon. I like to hee-follow around famous demons, ho! I hee-heard there was an incredible demon-ho just ahead, ho! So I hee-ran to go see-ho, but...
It wasn't an incredible demon-ho at all. It was just a hee-dog demon... No fun, ho! Or hee-so I thought. "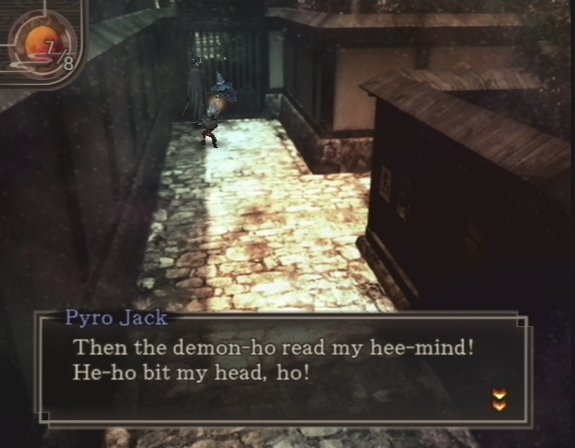 Pyro Jack
: "Mind Hee-ding isn't fair, ho!"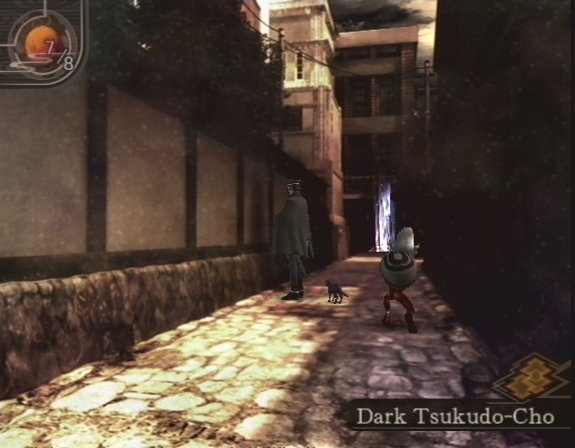 Hm, there must be something important nearby, there is ANOTHER Dragon Cave. Hm.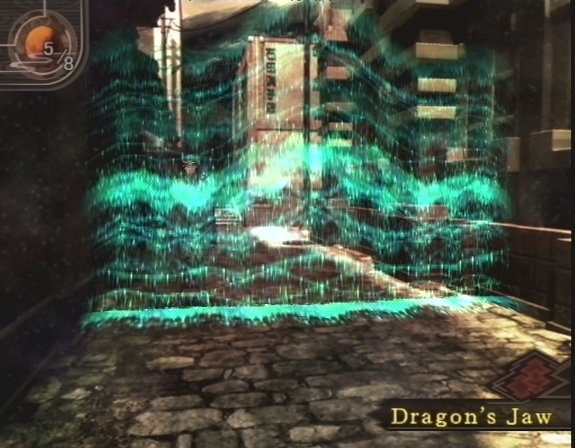 And another annoying Dragon Jaw gate.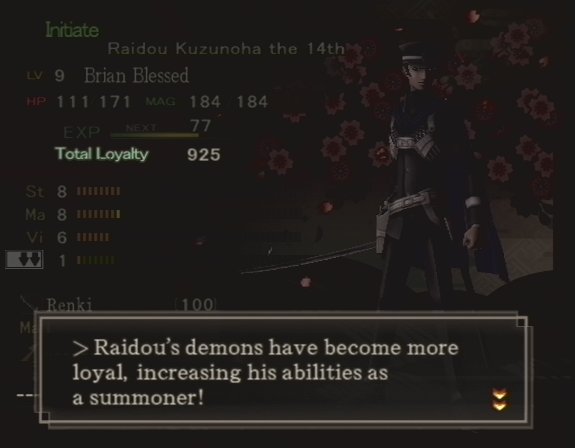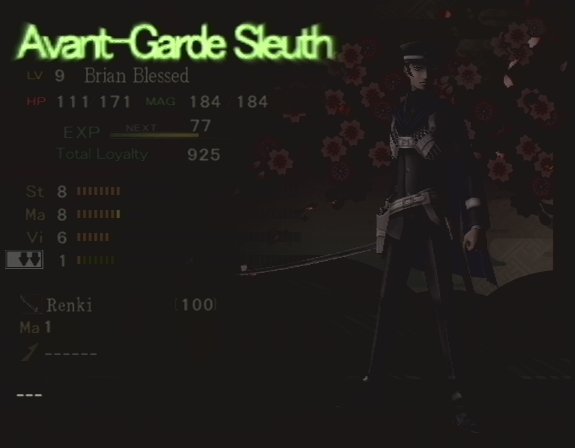 Meanwhile, Raidou gets yet another title. Not even level 10, and cycling through them rapidly.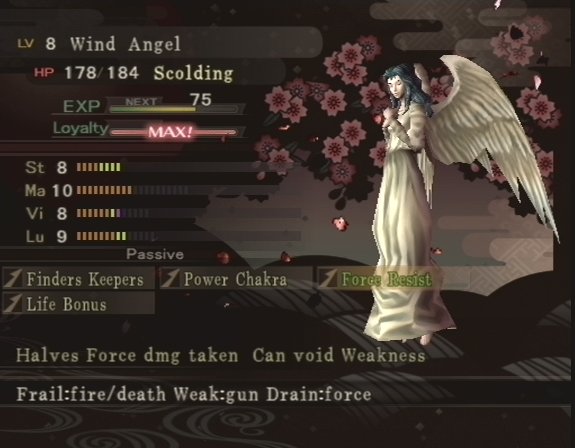 Angel gets a passive that is useless to it.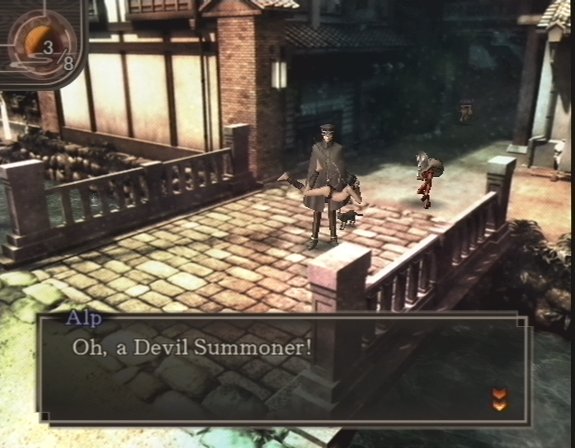 Alp:
"I got a great tip from a veteran summoner. The theory states you should have demons ready to summon at all times. That's the process by which one becomes a true Devil Summoner."
So he's been in the Capital's Dark Realm... Either that, or that Alp was farther away a while ago
NOTHING TO SEE HERE.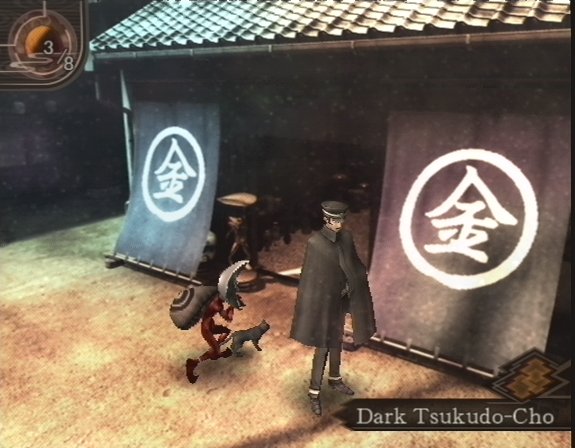 Konnou-Ya is not there, and doesn't have a demonic equivalent.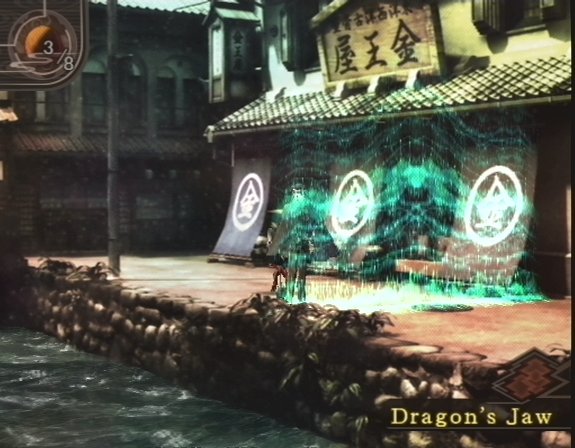 And since the way is blocked through here, no way to se Dark Tsukudo-Cho's equivalent of Narumi's office. Boo.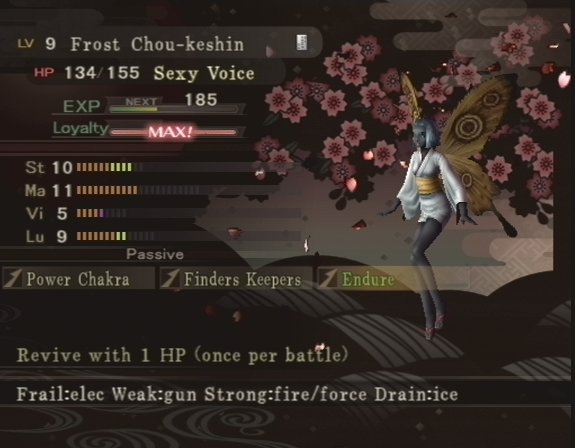 Chou-keshin gets a decent and useful passive skill. It is great.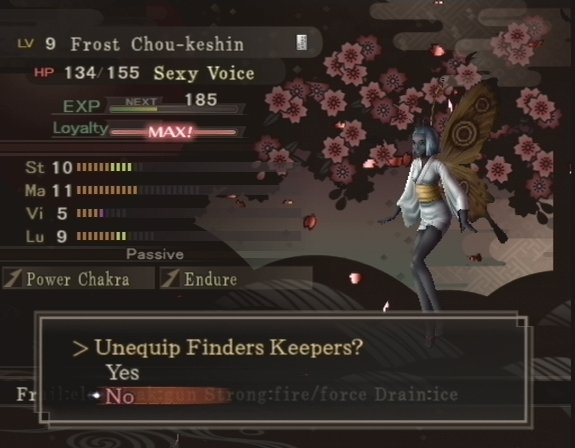 Finders Keepers is already in a bunch of other demons, so not a big loss at all.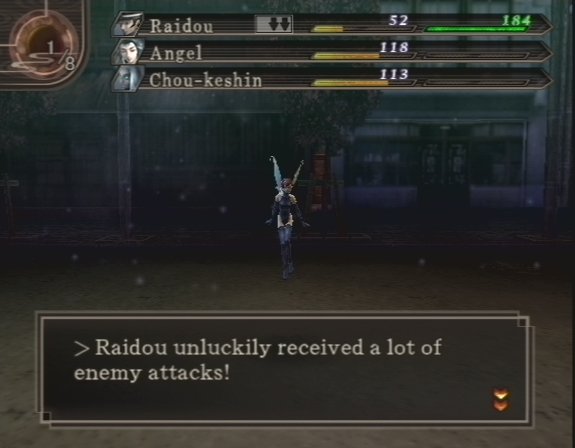 This is an effect of the LOW LOW luck. Raidou was at full health. God damnit.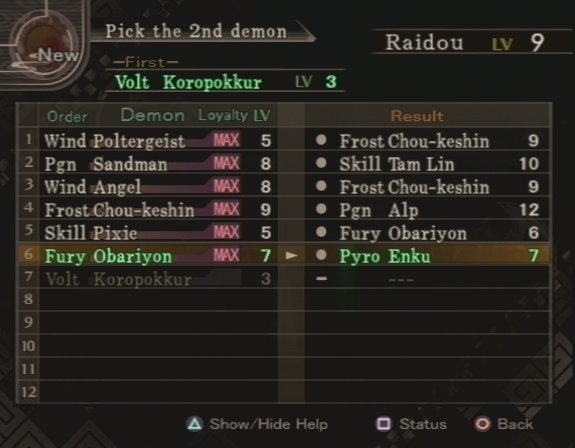 Well, let us take advantage of that Cave.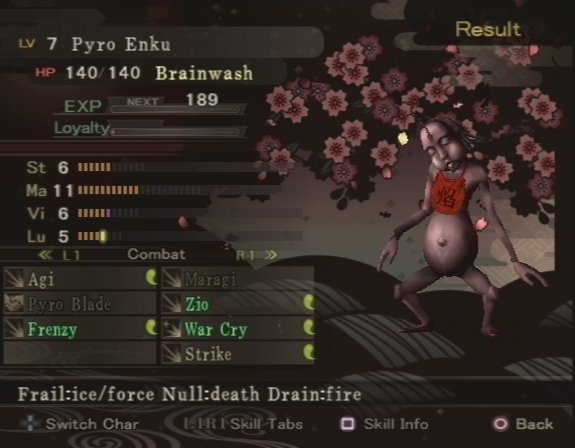 (I AGAIN, forgot to take screenshots of the entries. Maybe for the next update)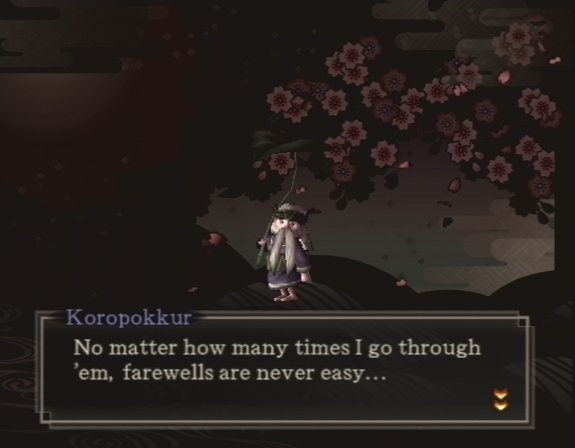 Koropokkur
: "This brings back memories, it does..."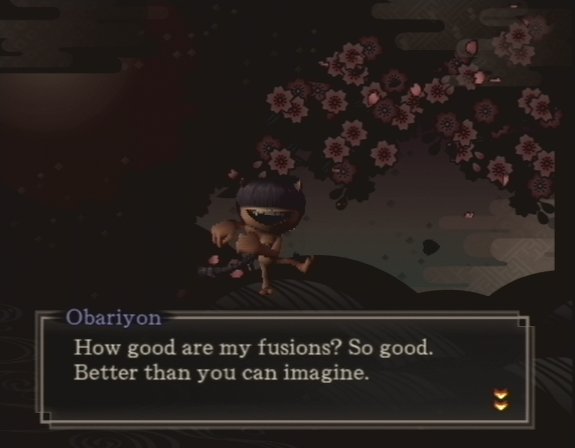 Obariyon:
"That's how good they are, yep."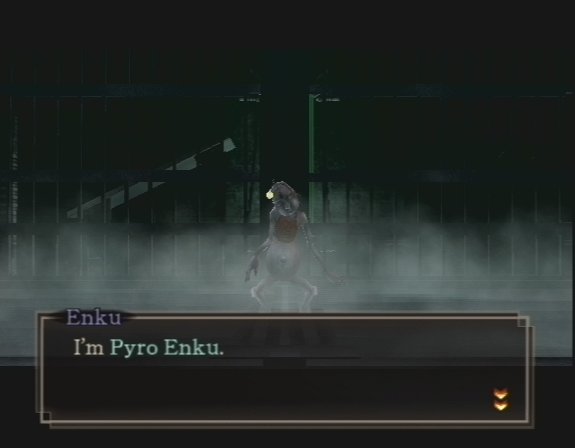 Enku
: "The world's changed since last I saw it... What're these 'flappers' and 'dandies' you people keep talking about?"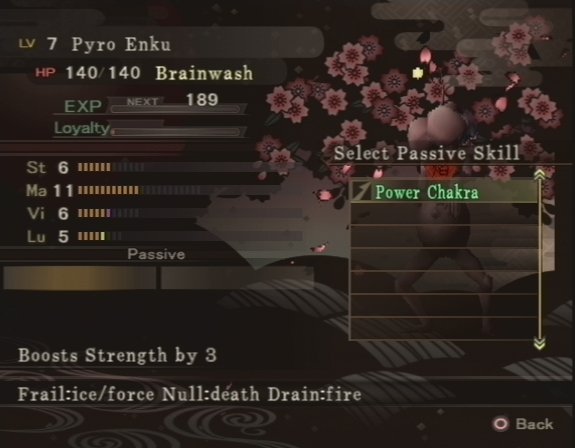 Since that was a random Koropokkur that got recruited, there aren't many (read: More than one) passive skills to choose from. Well, beggars can't be choosers and whatnot so, eh.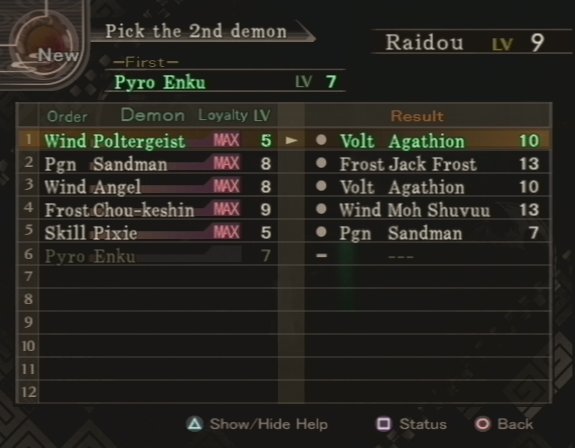 And everything else is off limits at the moment.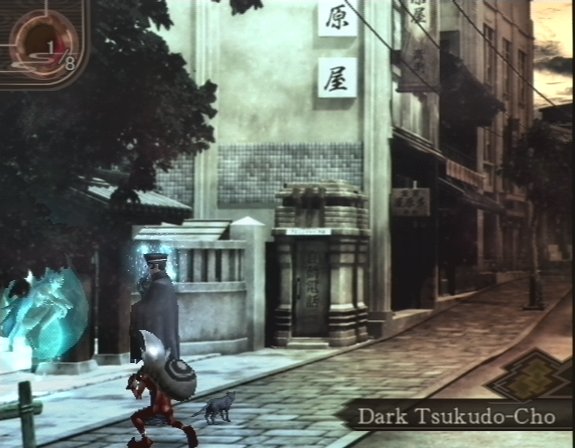 Definitely something important around here, otherwise, why have a Nakisawame?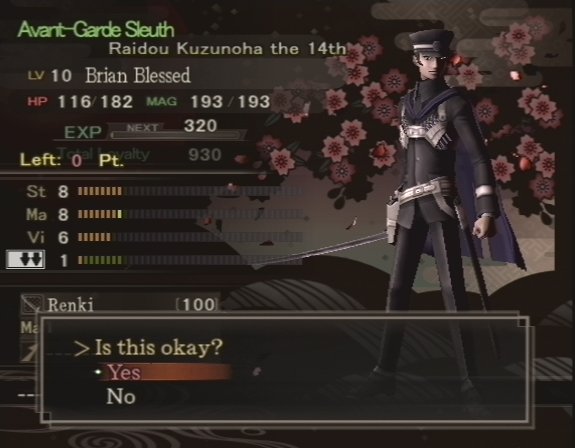 And a level up. Yes. Luck. Yes, it is useless since it is still at 1.
Raidou got cursed BAD.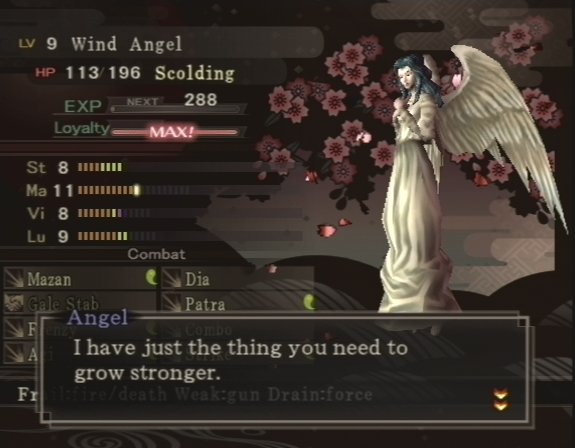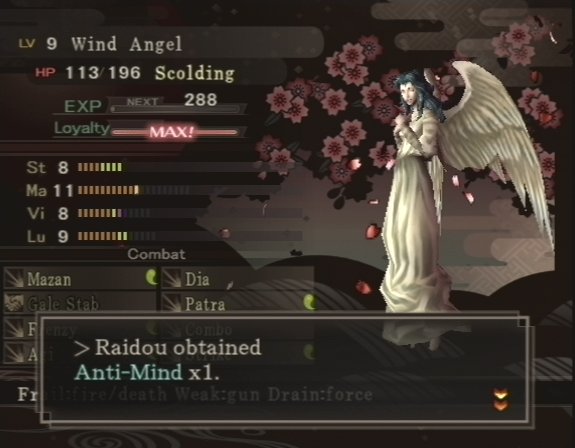 Bah, that is not really useful for Raidou. If there comes a moment where Raidou himself needs it, the item menu is not accesible.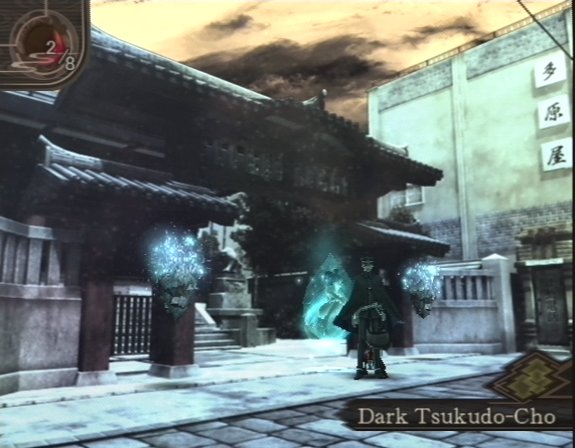 Wouldn't surprise me to see a blond kid with a hat there, but he ain't there. Of course, he is no one important that we have ever seen or should even remember at this point. No sir.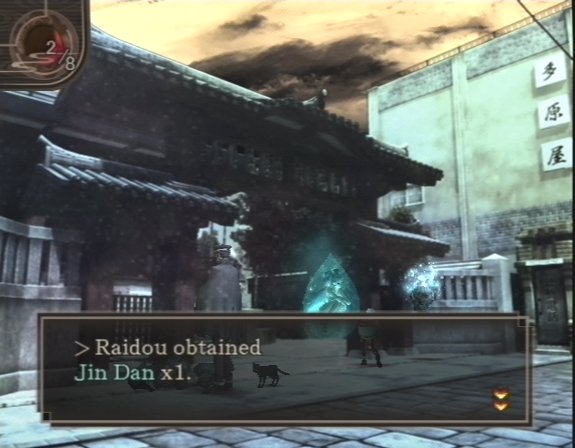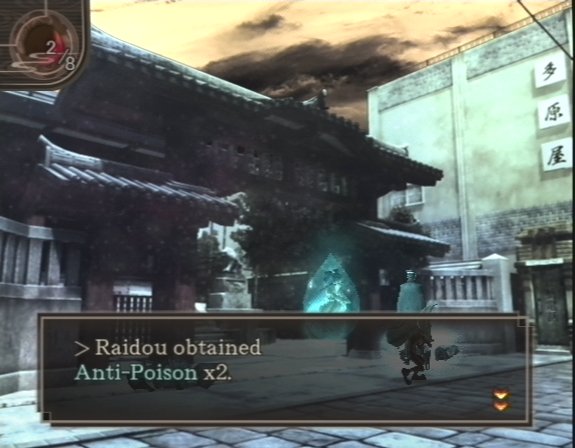 These two will be useful, eventually.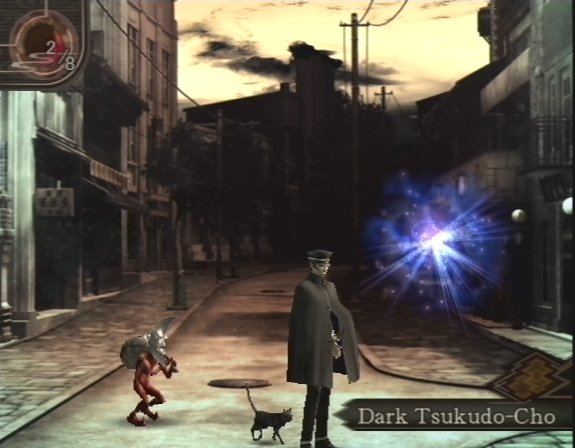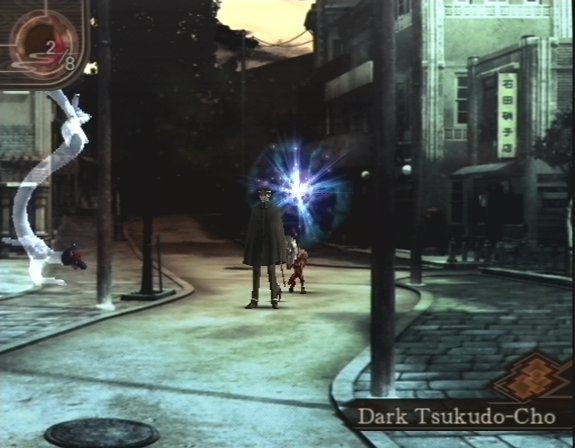 Bah. An Inugami?
We already got one of those... ANd used it as fusion fodder.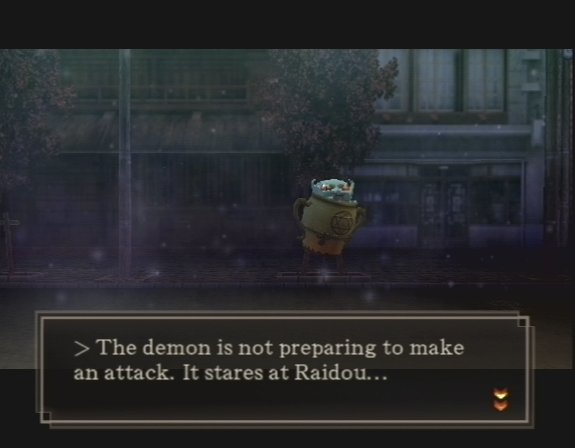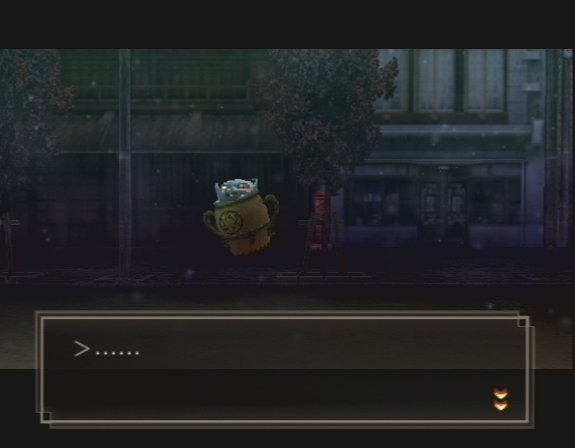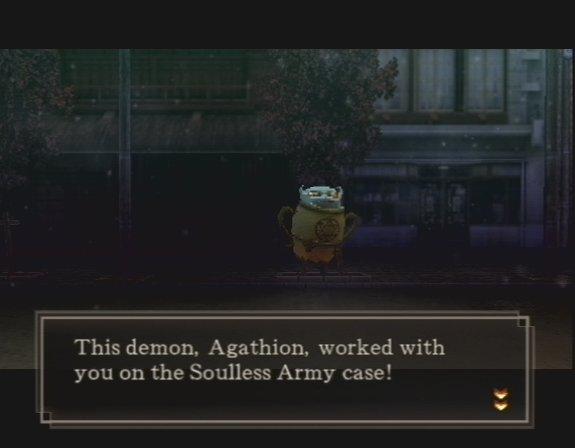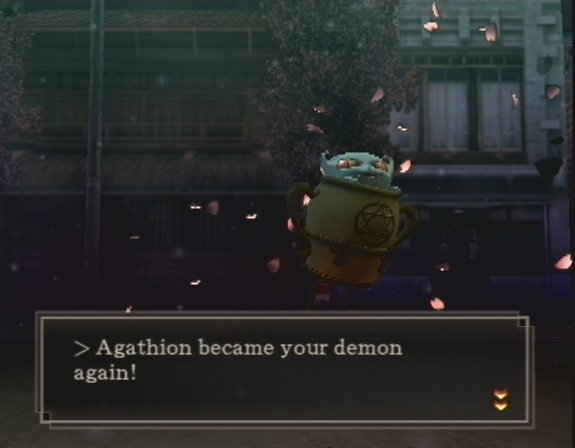 Another bonus acquisition. Always glad to get those.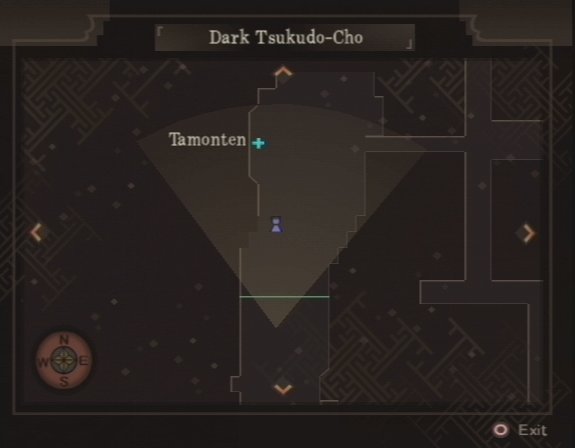 Let's see what that Inugami wants.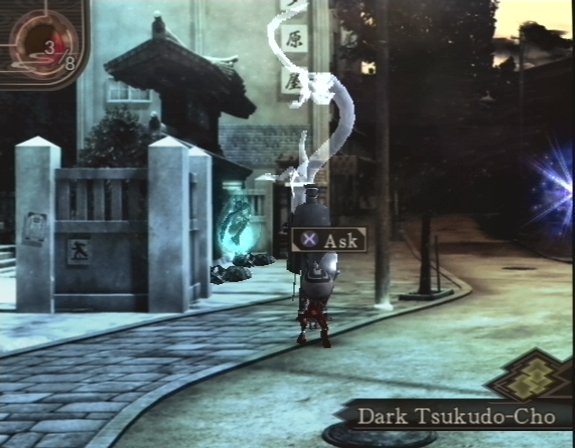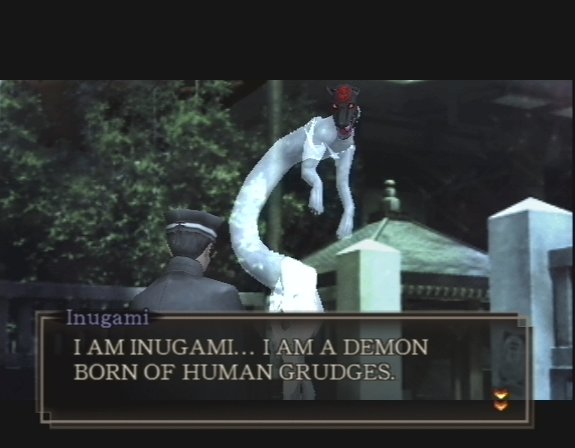 Inugami:
"I AM INUGAMI... I WAS BORN NOT OF MOTHER AND FATHER, BUT OF THE HATRED OF THIS WORLD. UNLUCKY SOULS THAT THE WORLD FORGOT... SOULS THAT DESPISE HAPPINESS. THAT'S WHY I POSSESS EVERY HAPPY PERSON I SEE.
I'LL BRING YOU UNHAPPINESS TOO!"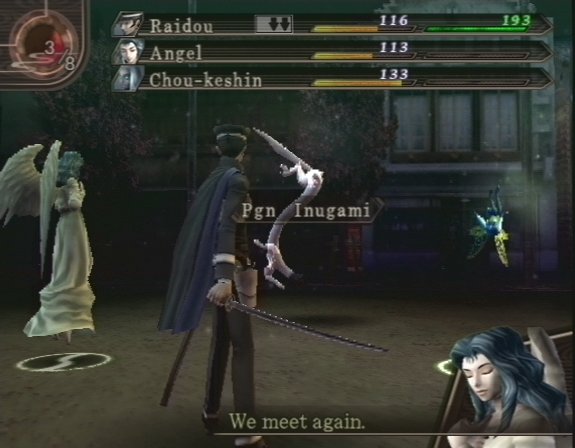 And so this fight starts.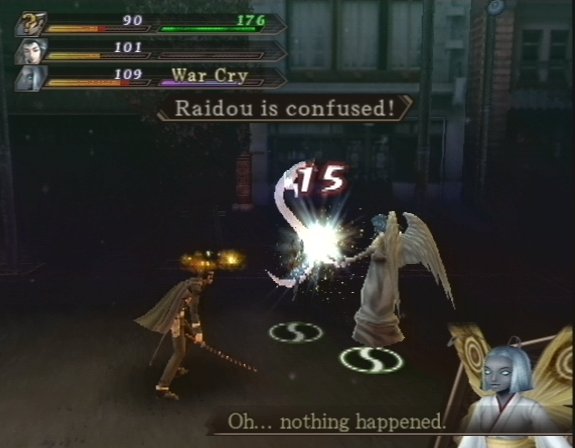 Pulinpa is very annoying. If Raidou is hit by it, the controls are reversed, and the menu cannot be opened. That is annoying. Very.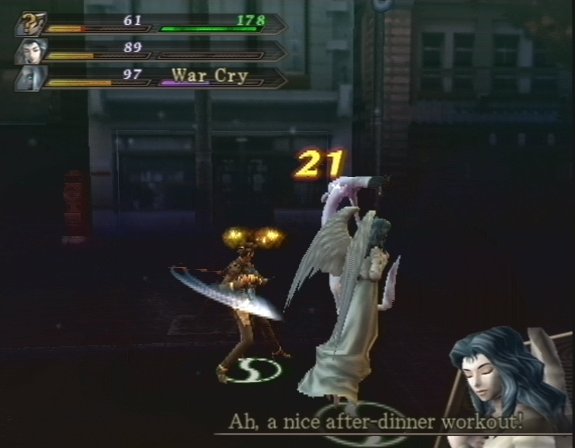 But once adapted, there is no real issue.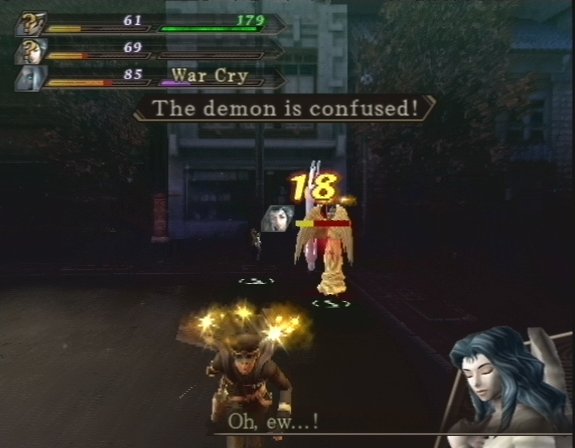 The problem comes when the summoned demons GET THAT AFFLICTION. It is effectively Charm.
Why? because if they are confused they will attack Raidou. It is bad.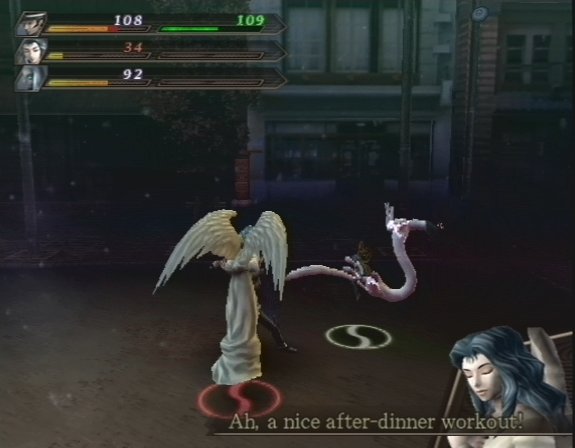 Eventually, the condition goes away on its own.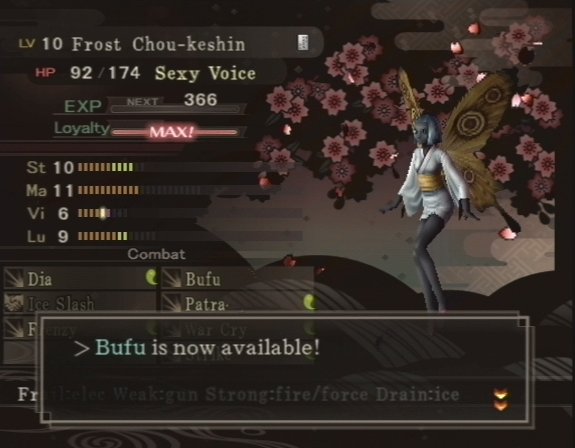 And the inugami is felled.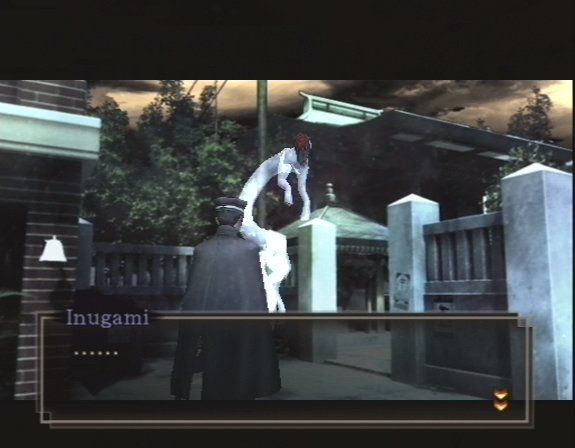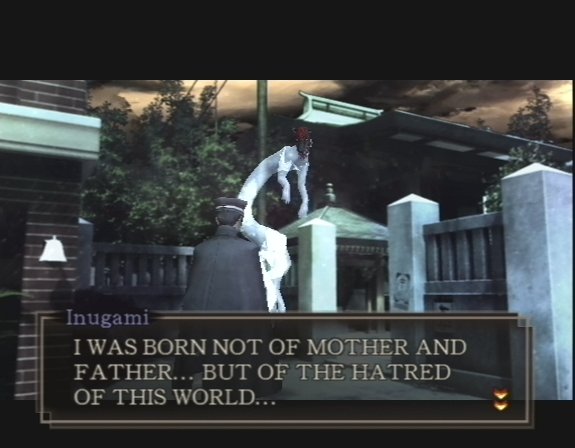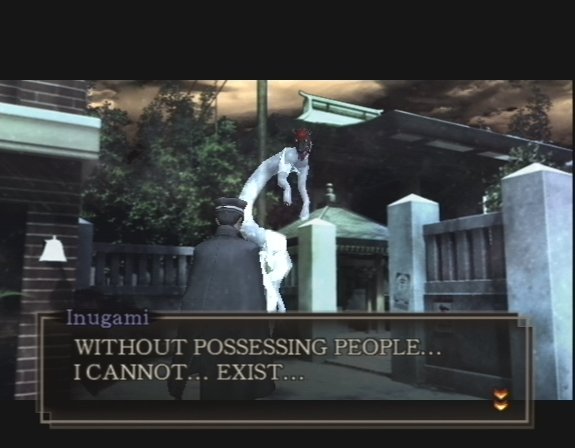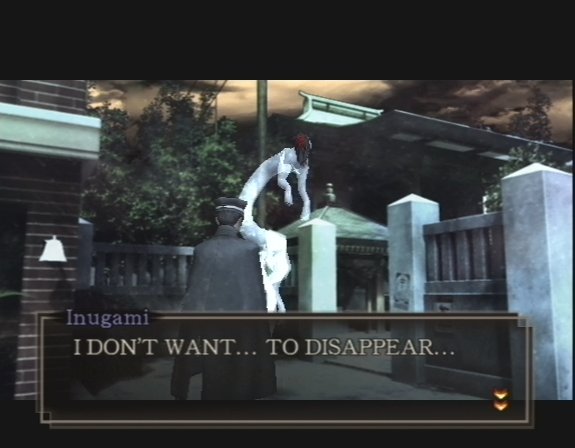 Screenshot missing: Pretty much offering his life to Raidou.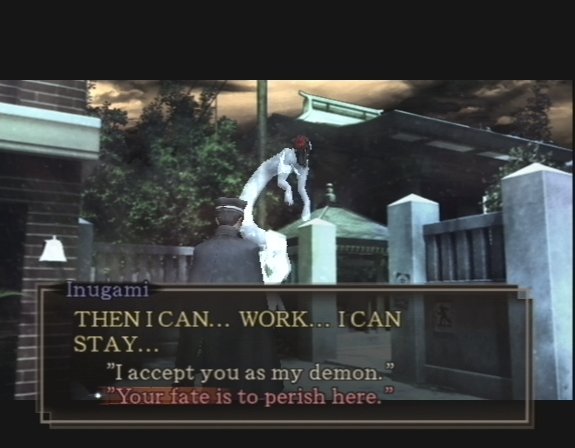 Well, WE already had one. A better one. We don't need this one.
And he attacked first, Raidou only tried to strike a conversation.
Asshole.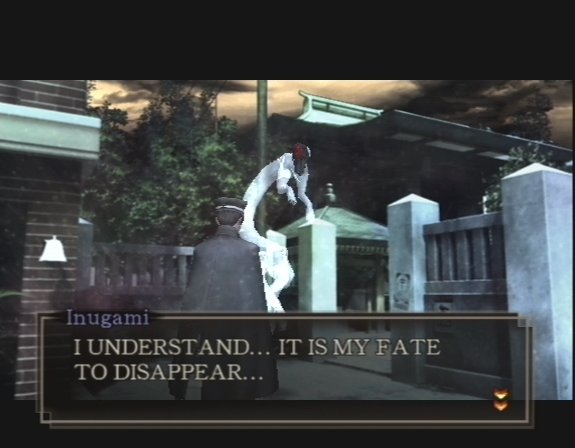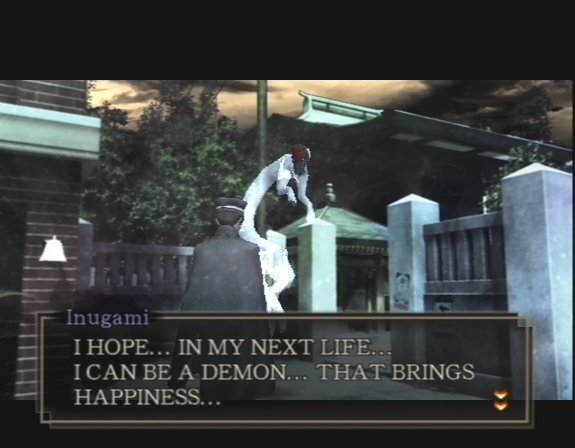 JackFrost?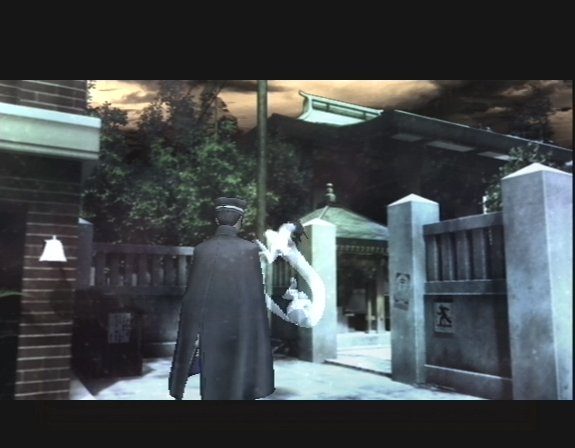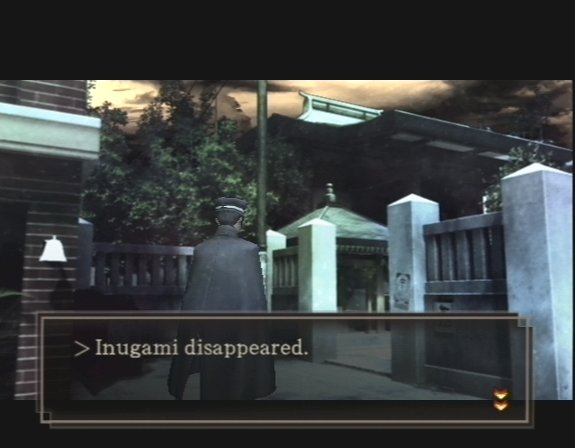 There it goes.
Dark Tsukudo-Cho is peaceful again.
Or... Not?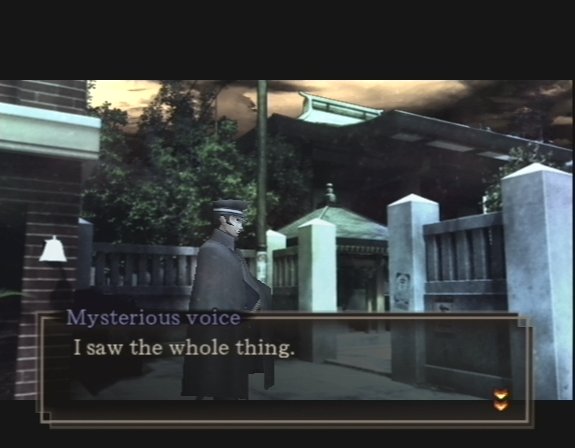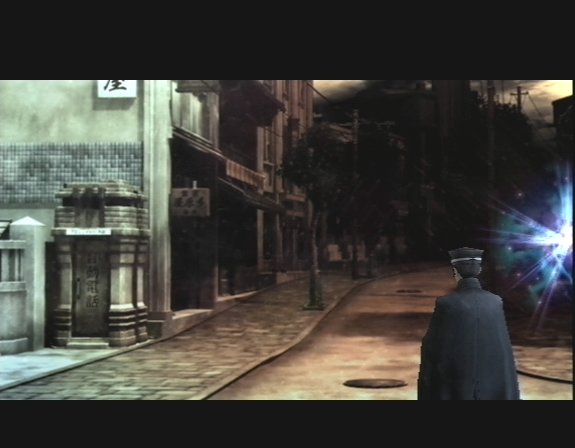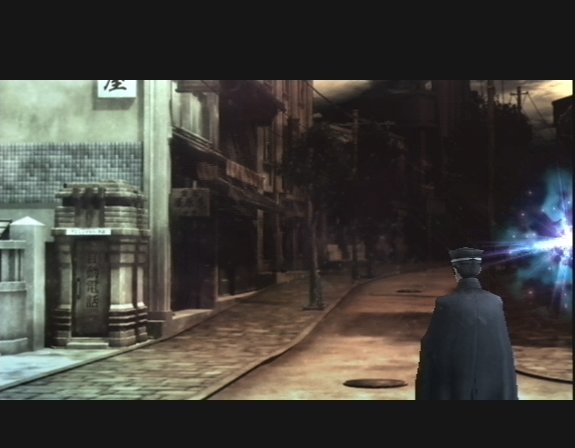 There is a distortion there.
I wonder what that is...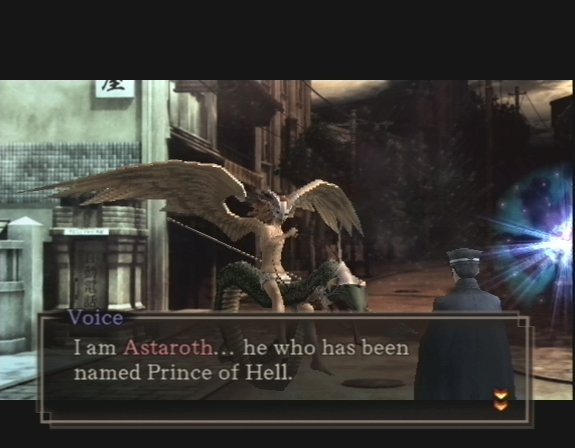 Holy shit.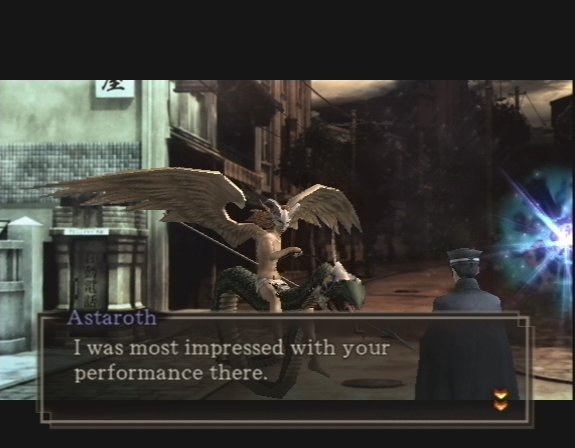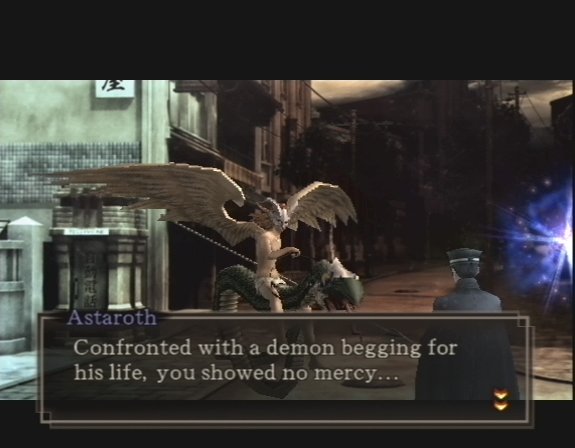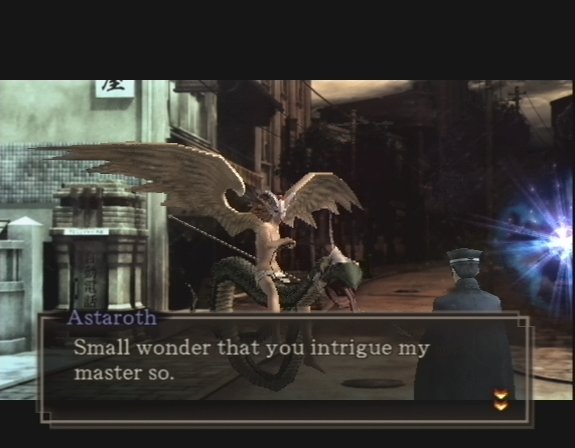 Hm.
Who could his master be?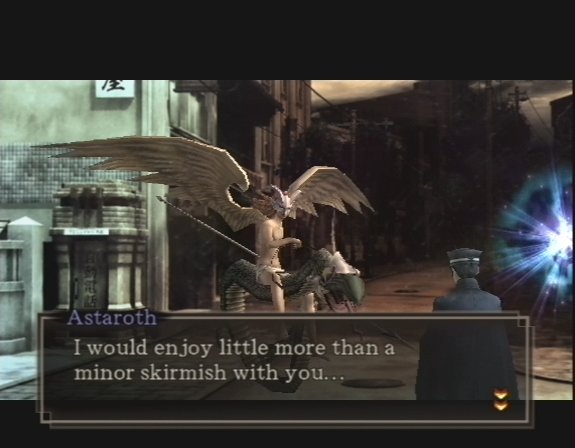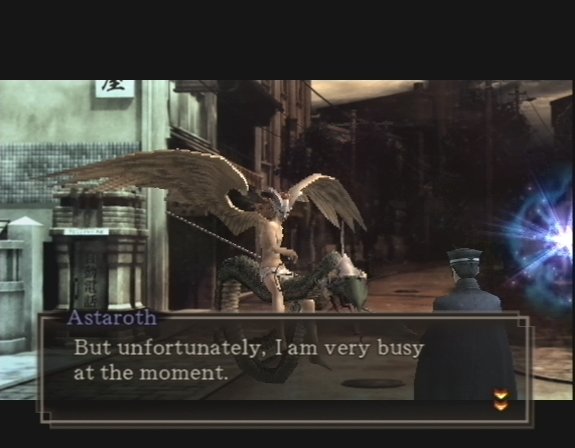 Oh my that IS fortunate for luckless Raidou.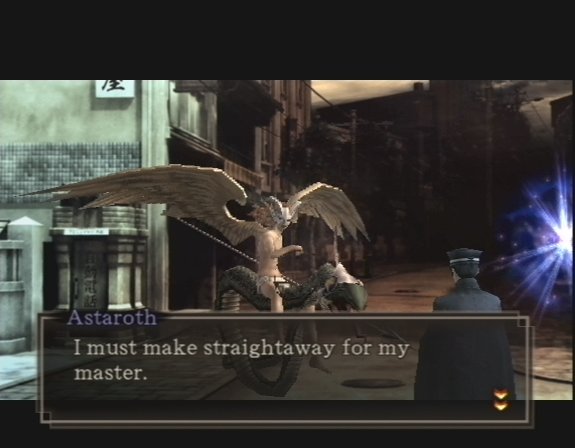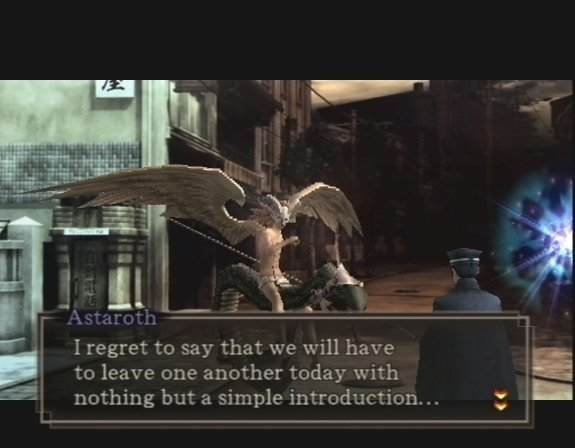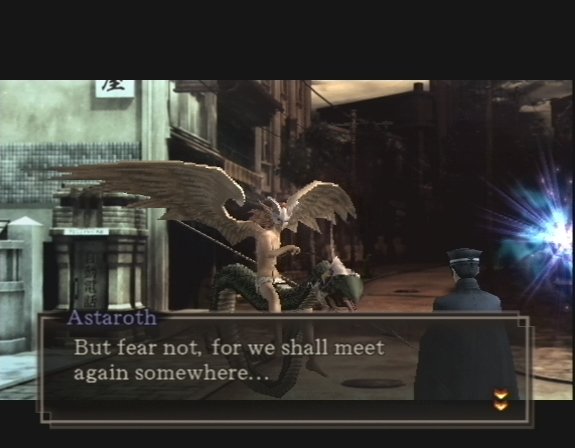 Welp.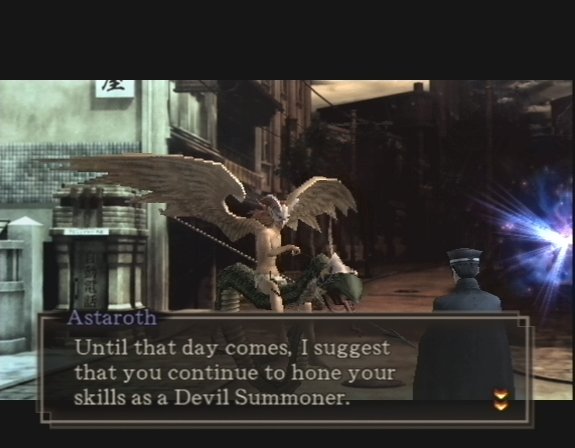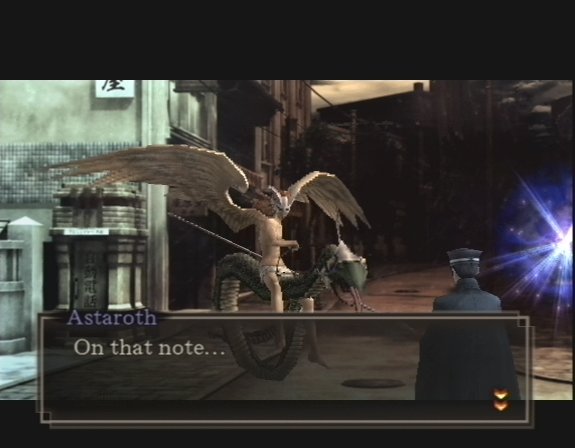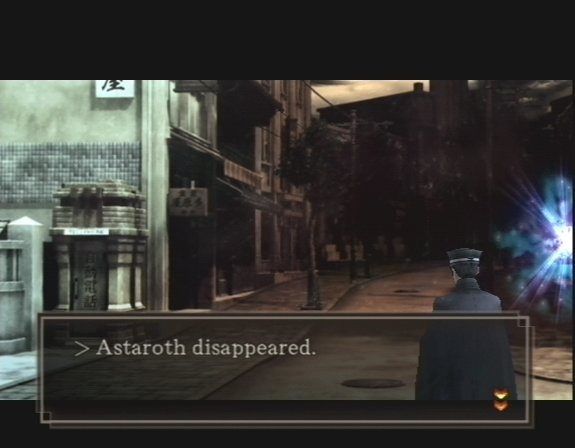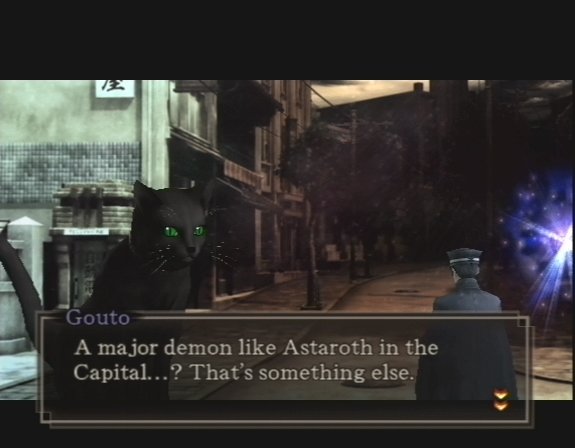 On the other hand, Beelzebub was under the washstand in Shinoda. Bah.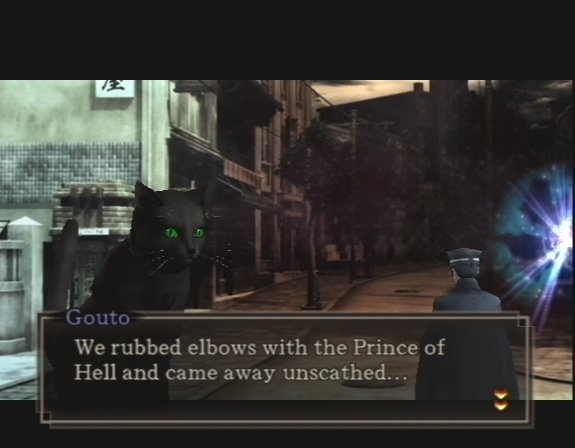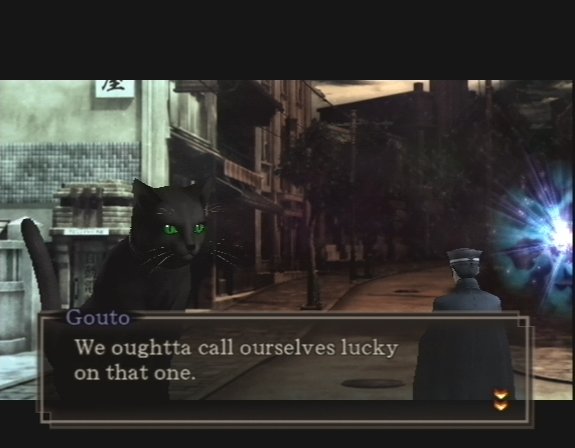 For a 1-luck chump, that wasn't too bad.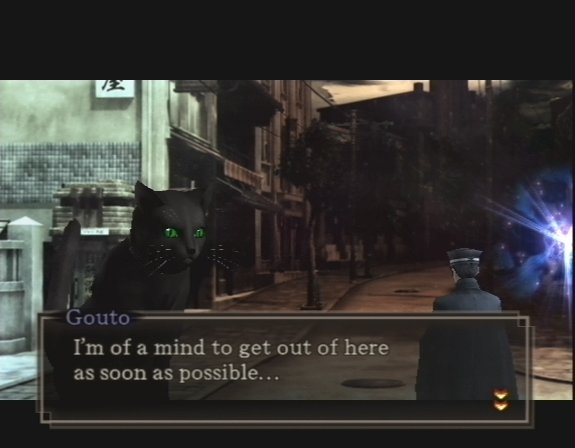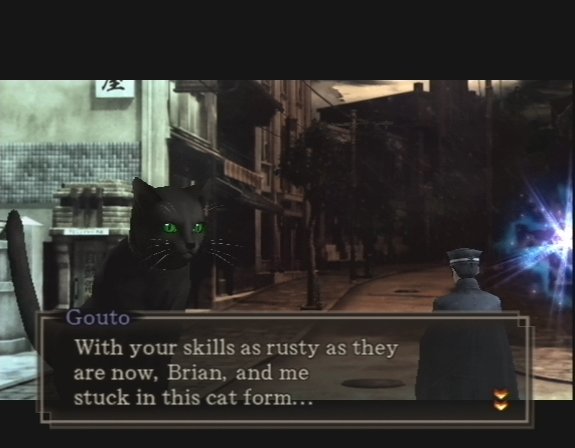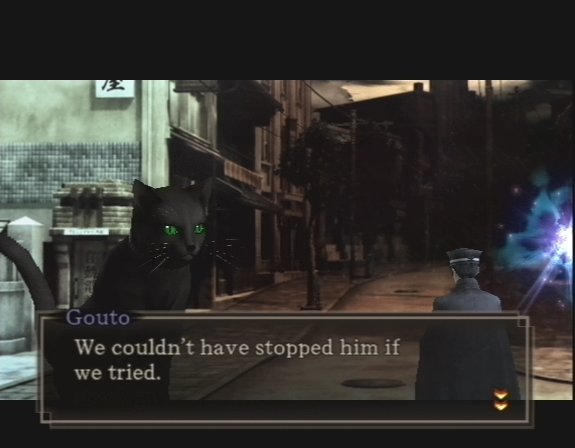 That means that Raidou did not keep practicing after beating the goddamn battleship. Shameful.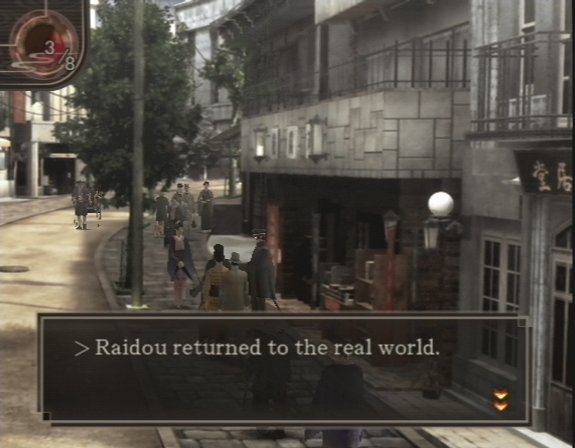 NEXT: GINZA.