Part 32: The National Diet Building
*: As we start, I notice something I've somehow never consciously realized before: the Labyrinth theme adds melody and instrumentation as you go from Kalpa to Kalpa. I put together this video to show how it's changed since we first came here!

Music: Amala Labyrinth comparison

With that done, we head to Ginza. I pick up a few Repulse Bells at Rag's, then register, heal up, and save. We're about ready for the Diet!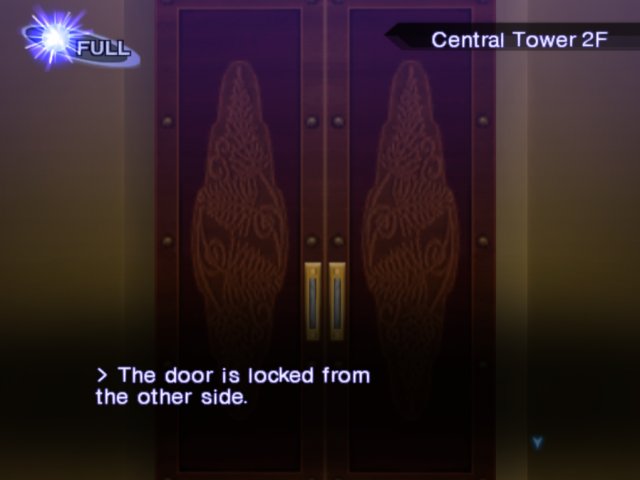 As it turns out, both doors on the upper level next to the Terminal are locked from the other side, which cuts down on our options pretty quickly.

We run into Kaiwan, Cerberus and Loa down here, and encounters with Efreet, Djinn, and Girimehkala await us deeper inside.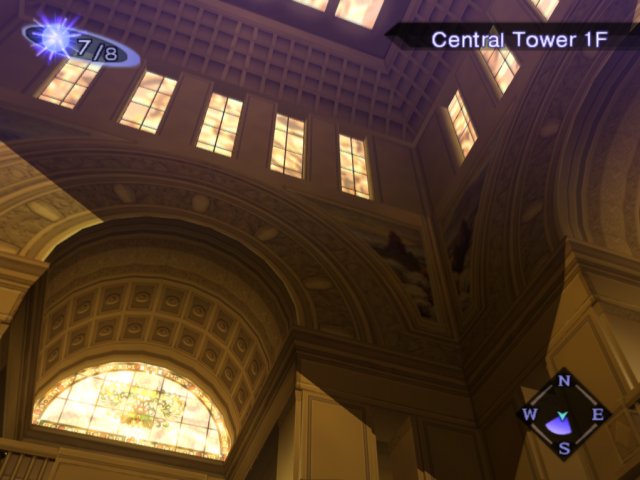 Quite unlike the other man-made places we've visited, the Diet is definitely not washed-out and desaturated. This was a place of power before the Conception, and it still is one now.

...the eastern door on the ground floor is also locked. That's one dilemma solved.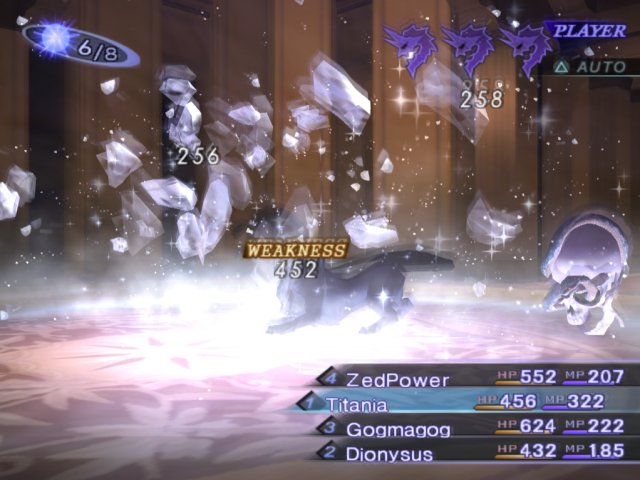 Ice Boost. Aw yeah.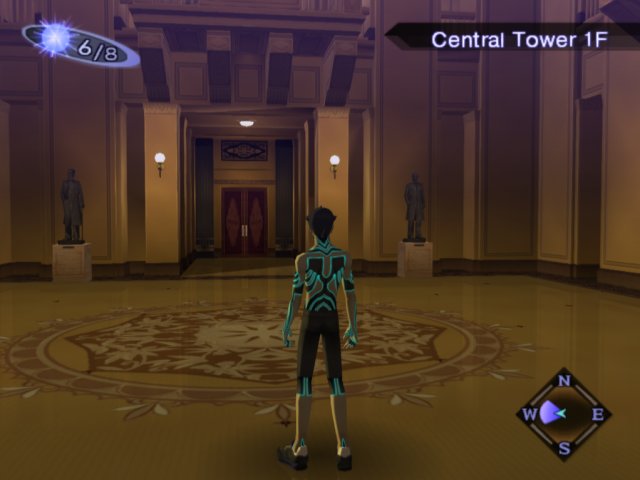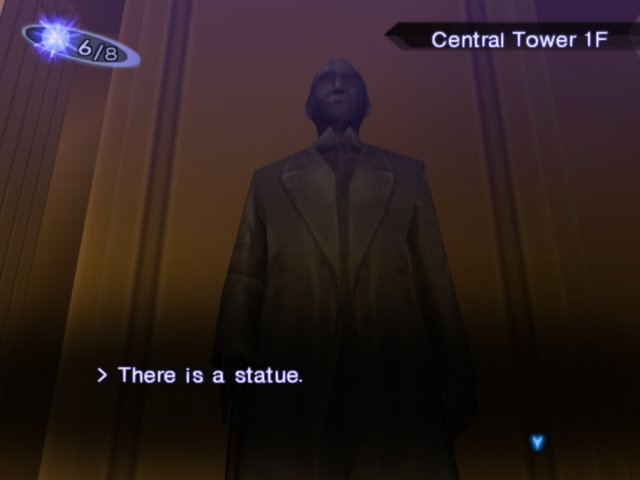 There sure is.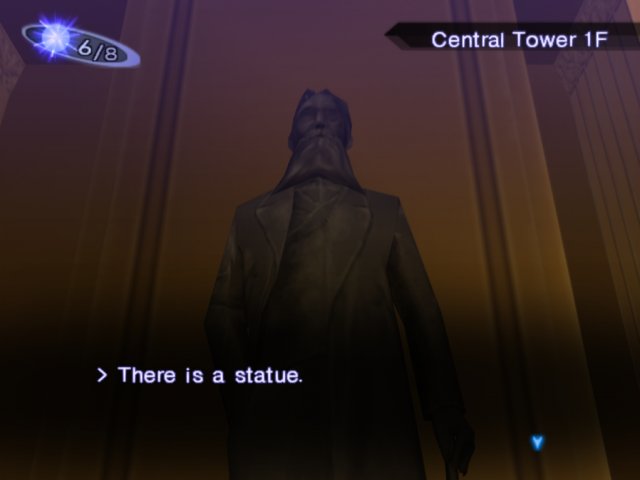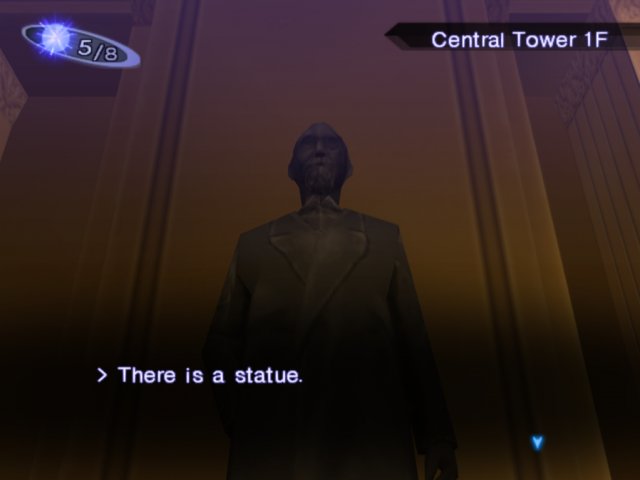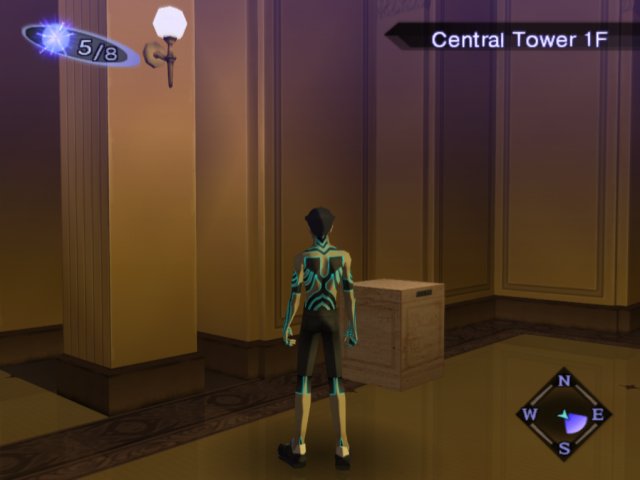 Hmm, one's missing. Well, I can't say I care all that much about dead politicians. Let's get a move on.
Boss battle: Tyrant Surt
quote:
Tyrant Surt
Surt (or Surtr) is another Jötunn, like Skadi, but he's also the guardian of Muspelheim, the realm of the fire demons. When Ragnarök comes, he is prophesied to lead the hordes of Muspelheim in battle against the gods, personally slaying the fertility god Freyr, and later engulfing the entire Earth in flames. He's basically the great fiery warlord of the apocalypse.
*: Well he went down like a punk. Surt's a pretty tough opponent when you're not completely immune to fire, but I suppose you'll have to take my word for it.

On top of having the typical boss immunities and obviously absorbing fire, Surt resists physical damage. He knows Tempest, Hell Thrust, Retaliate, Dekunda, Beast Eye, Hellfire and Ragnarok, the latter of which is the strongest single-target fire spell in the game. He also has the entirely unique quirk of a basic attack that deals fire damage, and this applies to other effects that use his basic attack, such as any counter skills he may have (but not other physical attack skills). Of course in this case this played against him, since it meant he could only ever harm us with Hell Thrust and Tempest, which aren't bad skills per se but are kinda middling by this point of the game, and easily healed through besides.

For a moment I consider returning to Ginza to get our MP back, but, eh, nah.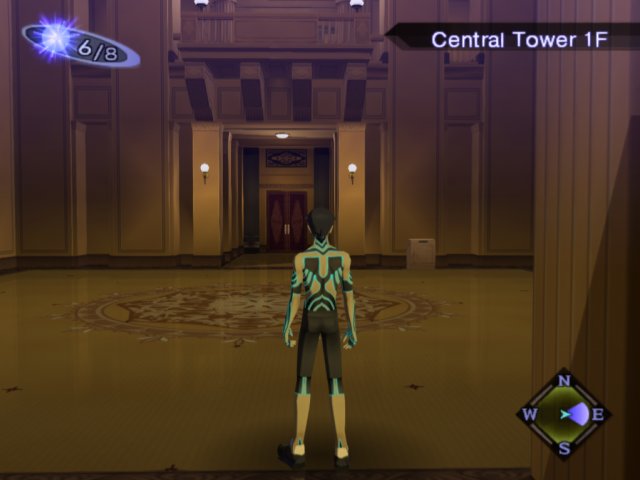 The statue in the northeast is gone, but so is its pedestal.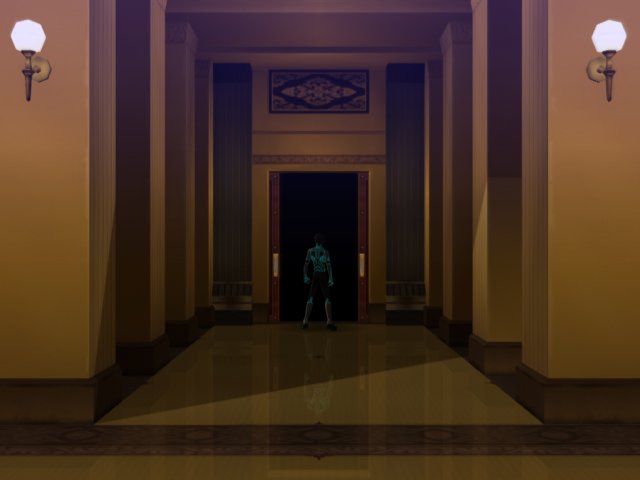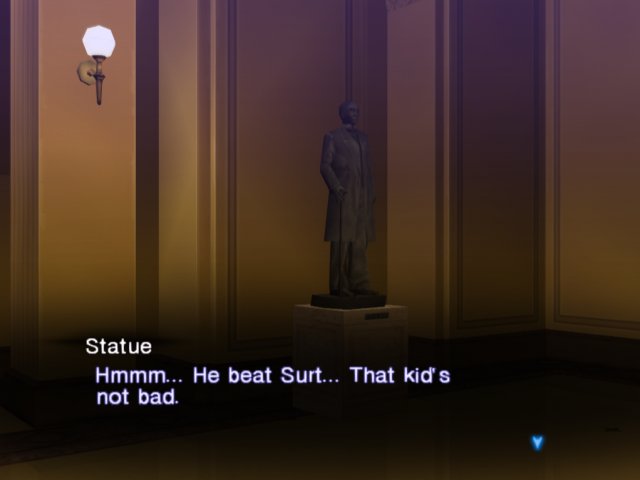 : Looks like this might turn out to be interesting after all... I think I'll play around with him!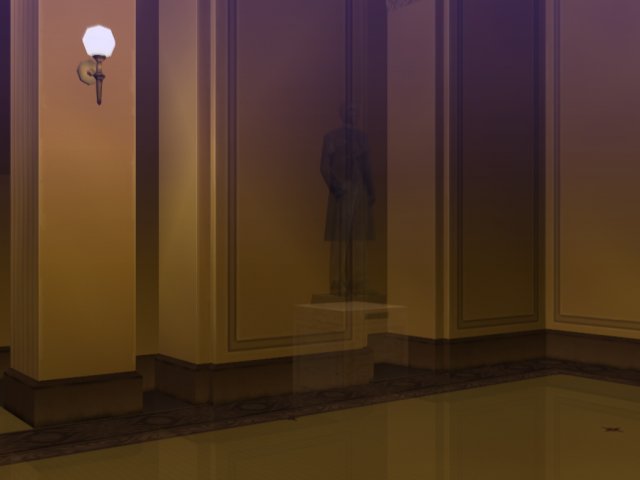 *: The statue disappears. Ominous!
Atmosphere: Inner Diet Building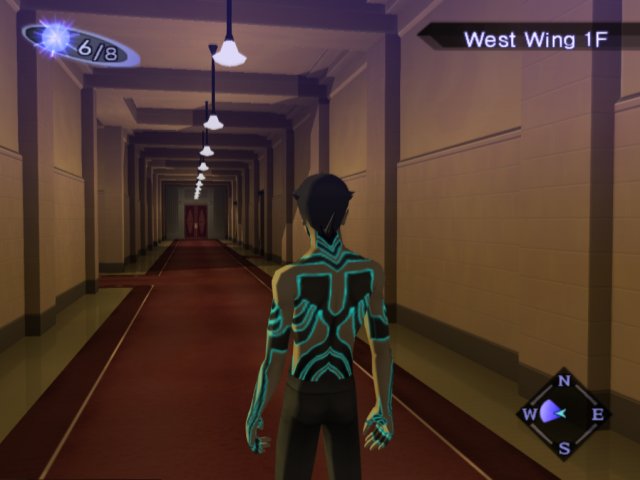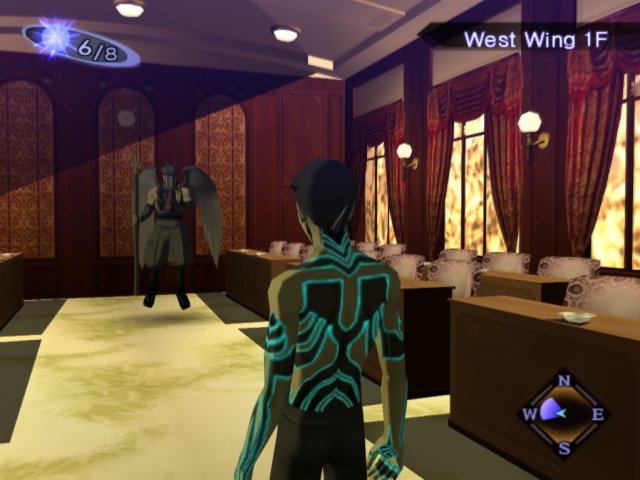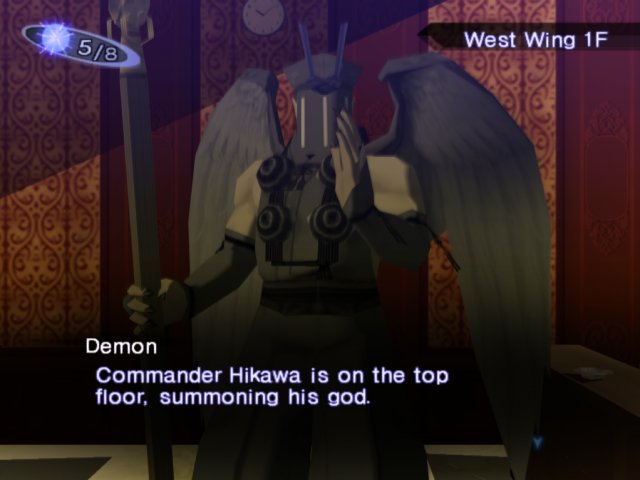 : Finally... Finally, the Reason of Shijima will be conceived!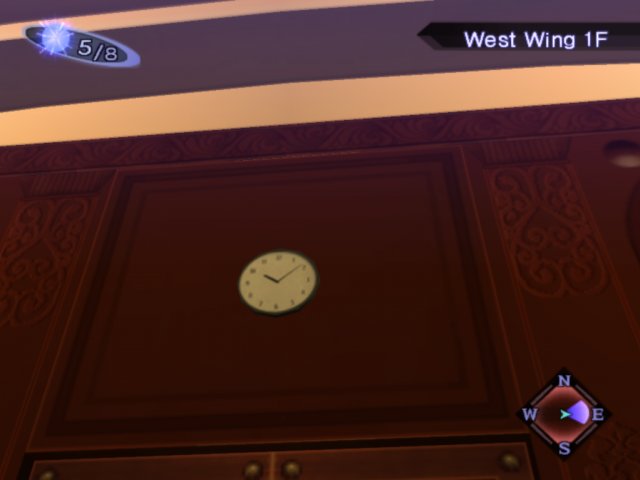 So the world ended at 10:08.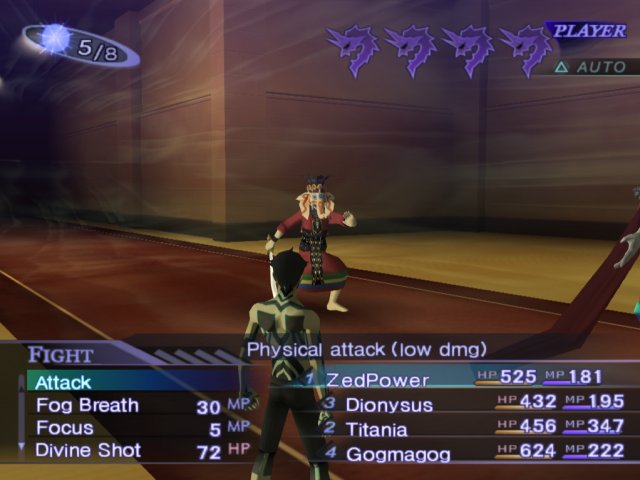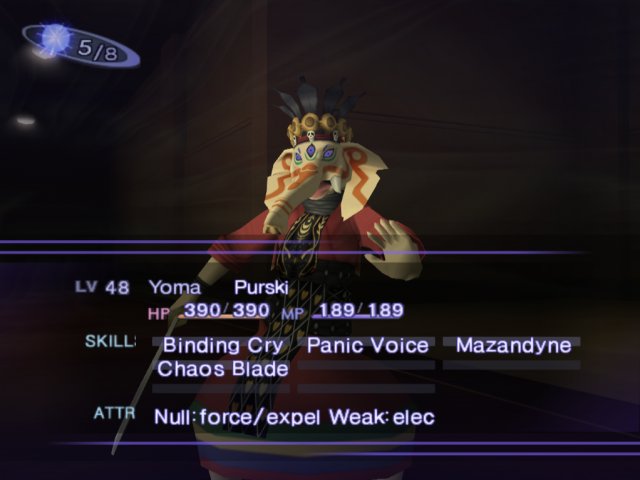 quote:
Lv48 Yoma Purski
Purski is another name for Airavata, the flying white elephant who serves as steed for the Hindu rain god Indra. His task is to plunge his seven trunks deep in the waters of the underworld, and spray it into the clouds, where Indra transforms it into life-giving rain.
*: A similar room at the end of the first south corridor contains a Cube with a Smoke Ball.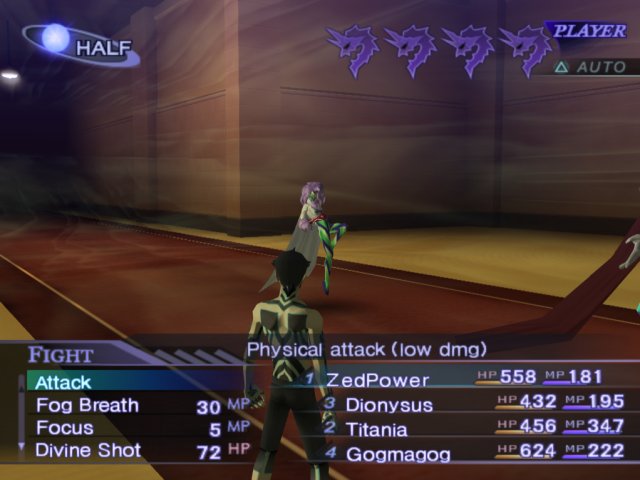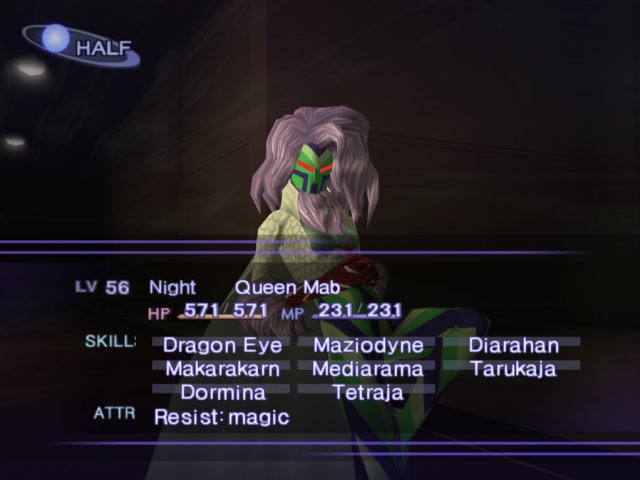 quote:
Lv56 Night Queen Mab
Queen Mab is another fairy character known from Shakespeare's works, Romeo and Juliet this time, though she may be a reference to an older folkloric figure. She's said to be a tiny creature who drives a delicate chariot made out of various insect parts up sleeping people's noses, and gives them dreams of satisfaction, fulfillment and success.

A High Pixie will evolve into Queen Mab if the Demi-fiend's level is high enough, though if you want one, you should probably hire a new Pixie from Yoyogi Park and evolve her twice instead of keeping your original ally as a High Pixie for fifty-odd levels.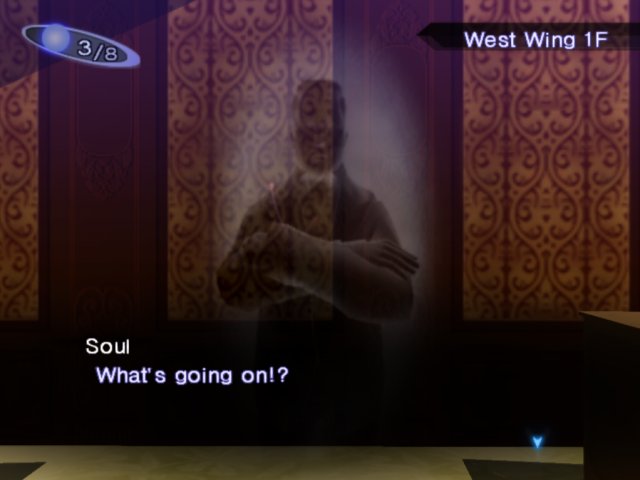 : The Nihilo demons suddenly arrived, and now the halls are all messed up!

: Well, they do have a lot of horses, if you know what I mean.

: ...It's okay to go this way, right? It's not a picture, is it...?

: Huh? What are you talking about? Hello?
*: He says nothing more.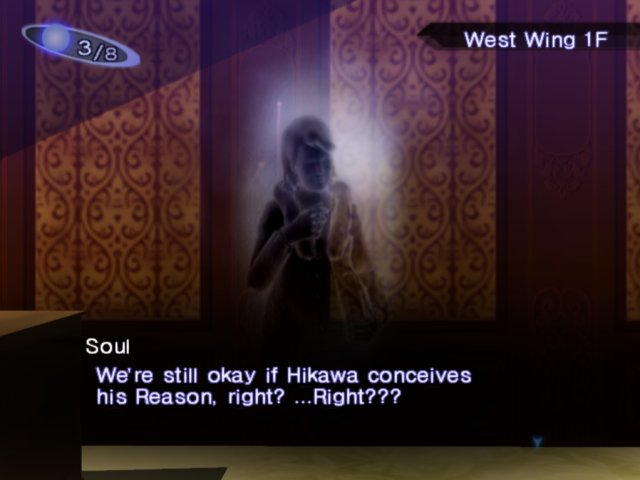 : Not for long, I don't think.

: Oh, what to do...? Yosuga? Maybe Musubi?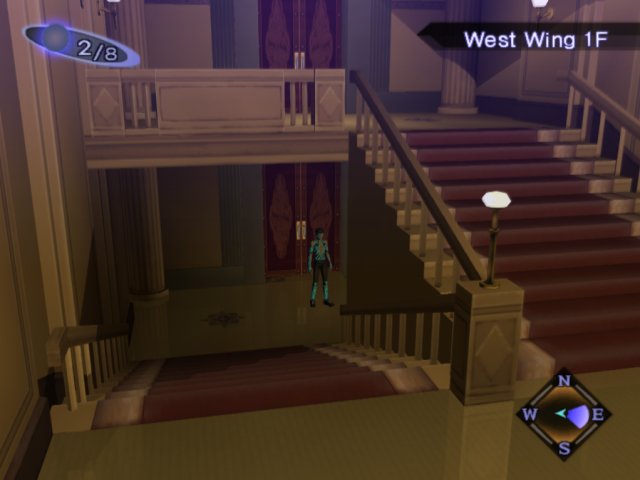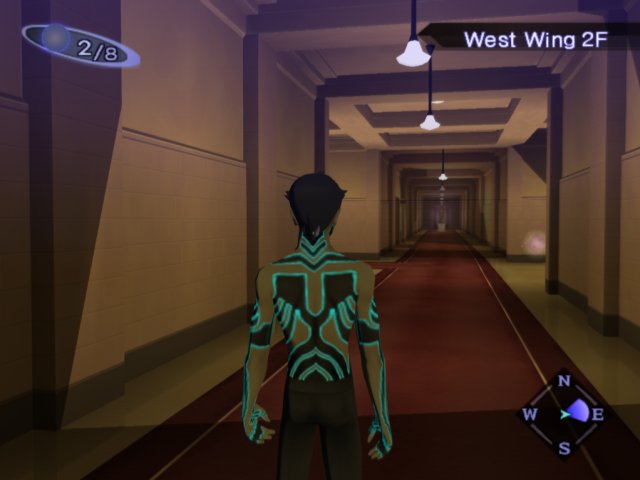 Is that another pedestal at the end of this hallway? What's it doing there?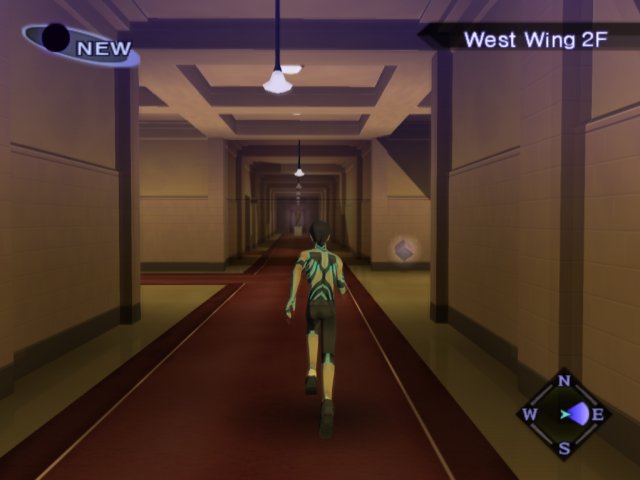 Waaait a minute.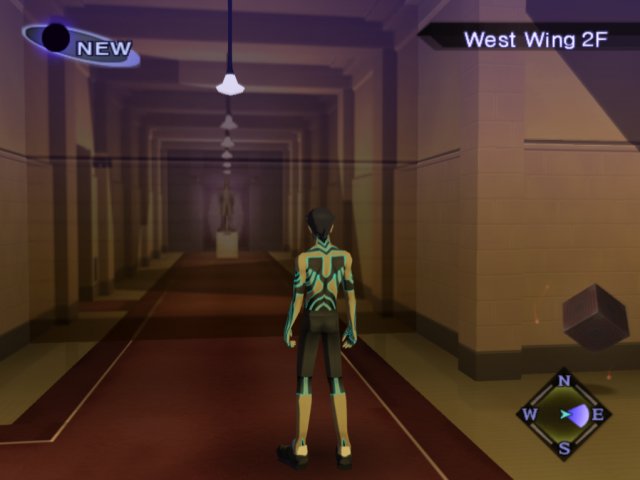 Um.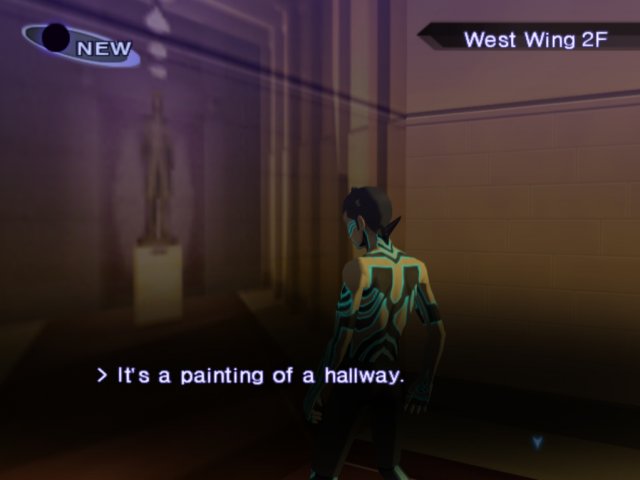 : You have got to be kidding me. Is that your plan, Hikawa?

: That's cute, he thinks you're Wile E. Coyote.

: Who?

: You know, Road Runner, that whole thing. Meep-meep.

I, uh... I don't...

: Ahhhh... Never mind.
*: From a distance, the illusion is actually pretty convincing!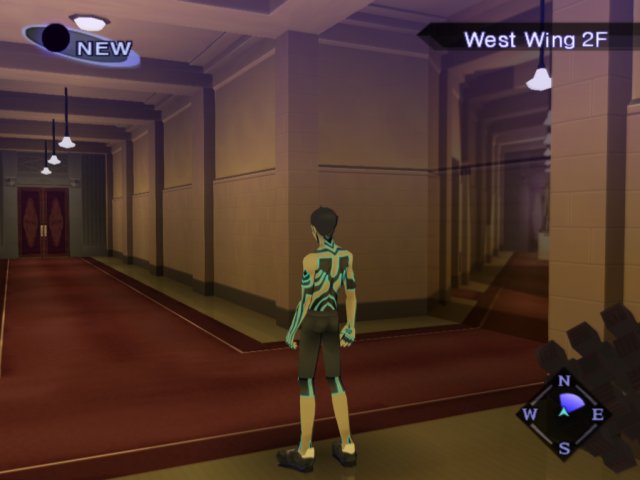 The nearby Cube is empty, but we can head north from here.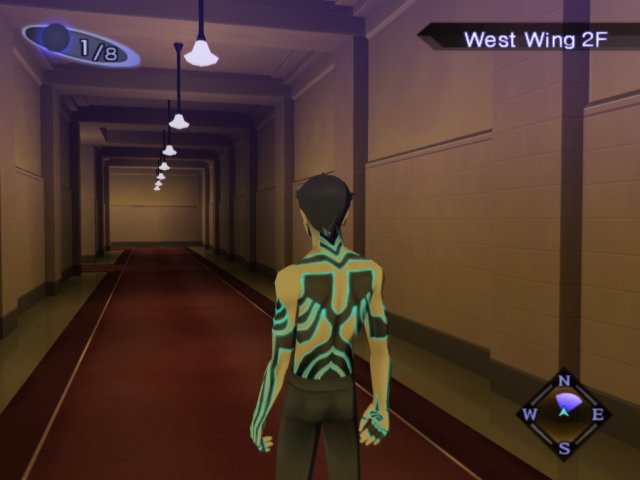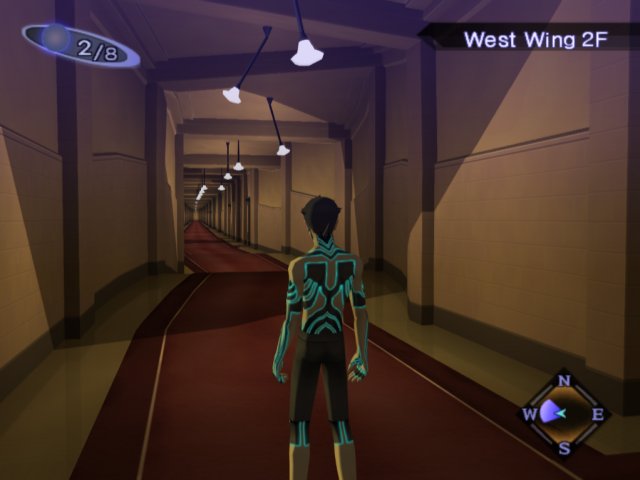 I knew politicians were crooked, but I didn't expect it'd leach into the actual building.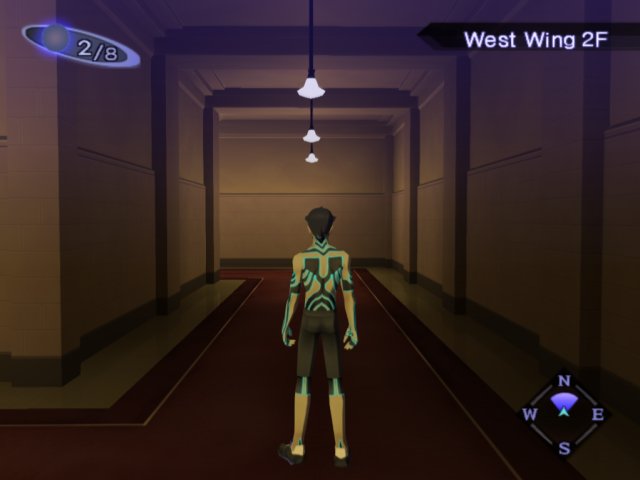 This definitely looks like a safer direction.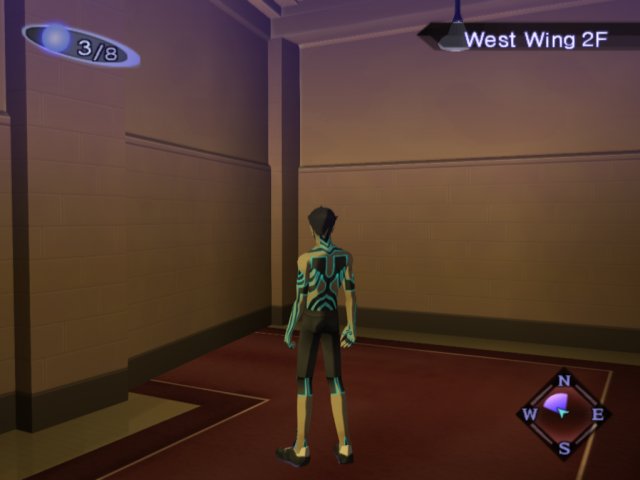 Oh.

: I gotta say, I don't really know much about Japanese architecture. Was this place always like this, or...?

: I want to say no, but, well, government. Whatchagonnado.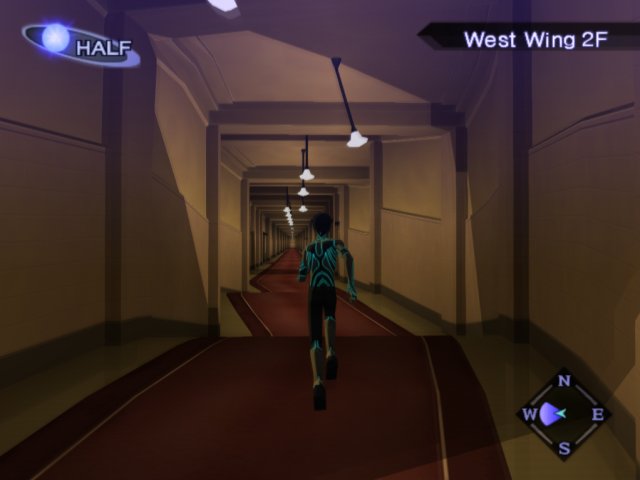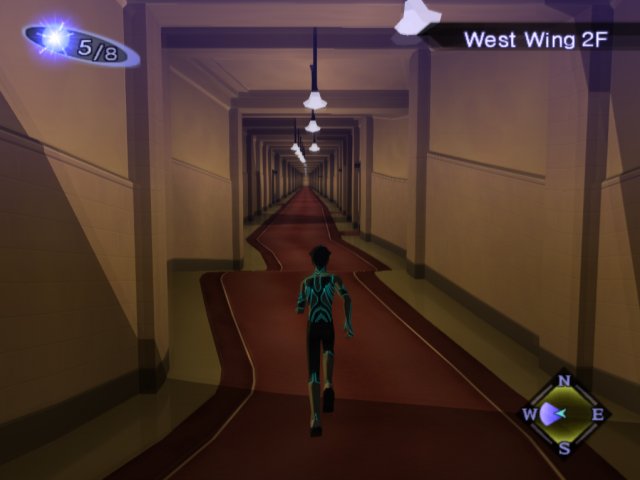 *: It turns out there are no gimmicks there, the floor just angles up and down for a bit. Behind the first door to the north...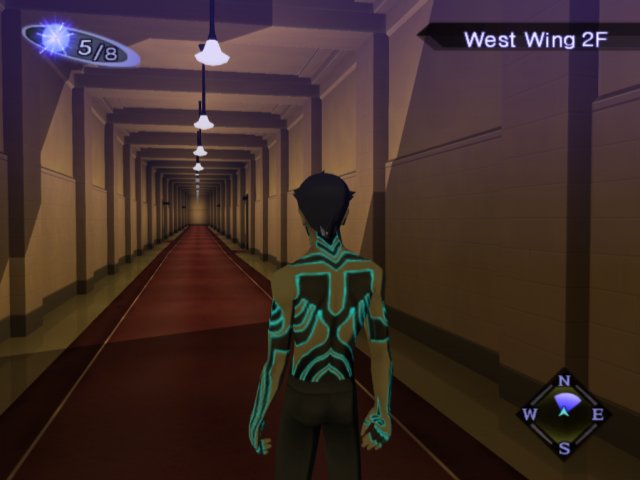 Oh shi, I can't not record this, wow. Lessee... Man I'm glad I keep save states for stuff like this.

Feature: Trick painting

I had no idea how well these tricks would hold up in high res, but this is still mind-blowing.

Turning back...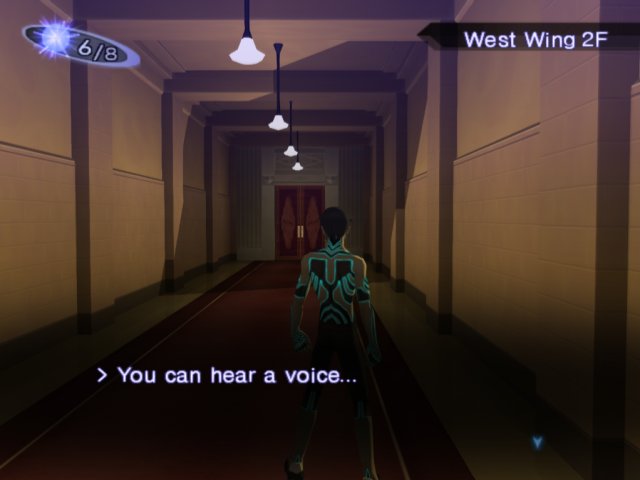 Voice: You fell for my trap!

: Your trap? I thought this was an art installation! Are you sure you're not just trying to be creative?
Voice: Dumbass! Get outta here!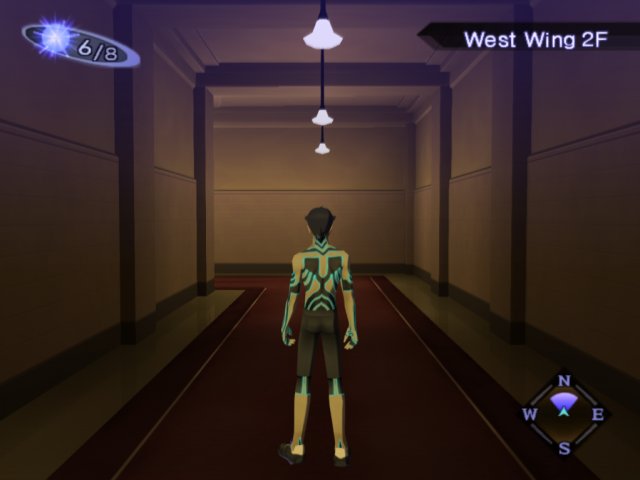 *: We're teleported back to the false corner. If all of this guy's traps look so rad, I won't mind running into more of them.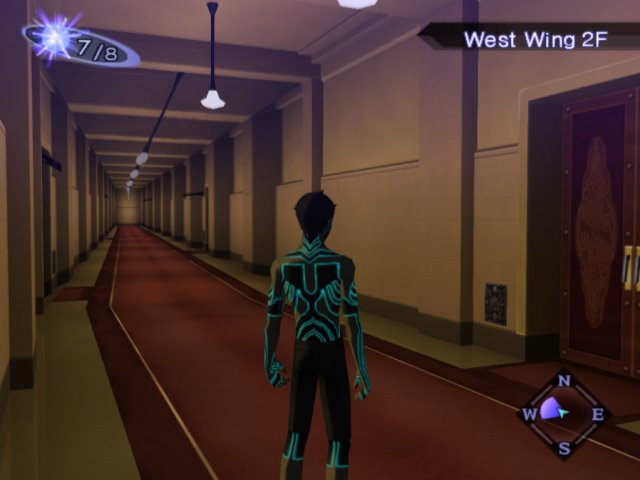 The end of this corridor seems normal from a distance, but if you get close to the second door and look at an angle, it's clear this is another trick painting.
Feature: False corridor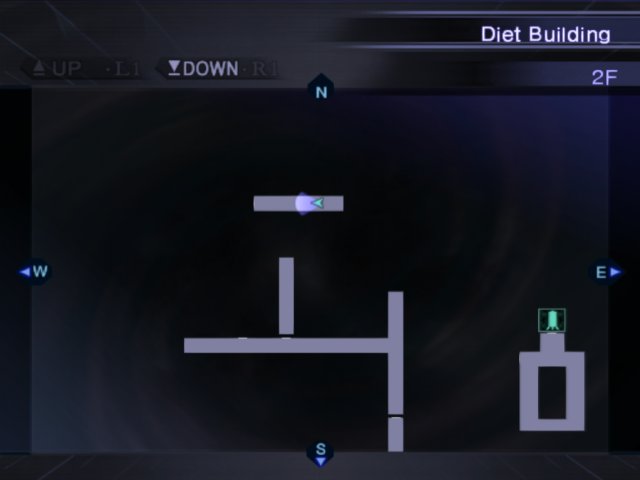 *: We're sent to another hallway this time. I'll want to check out that second door later though.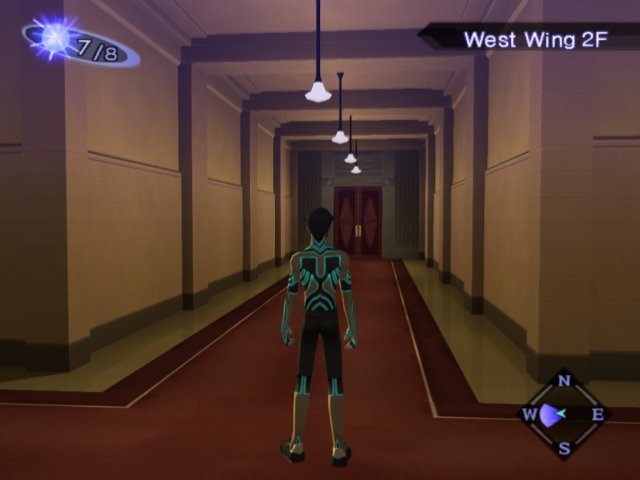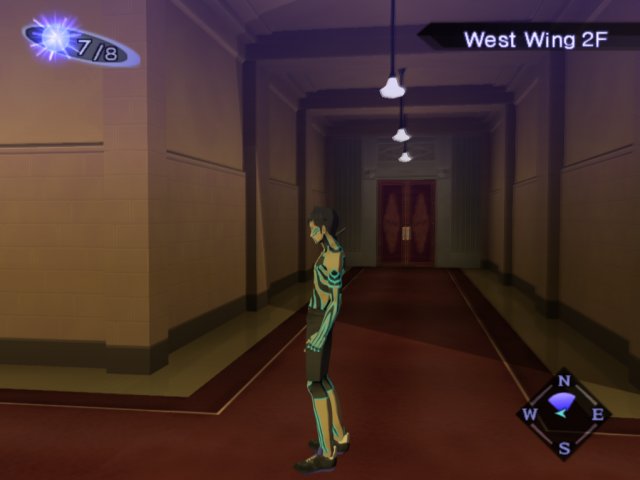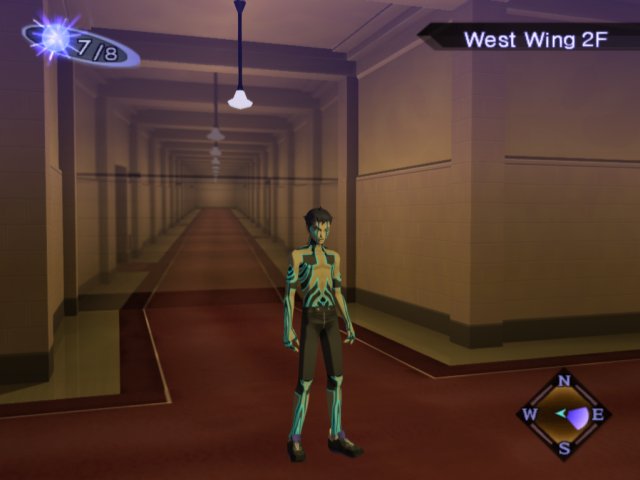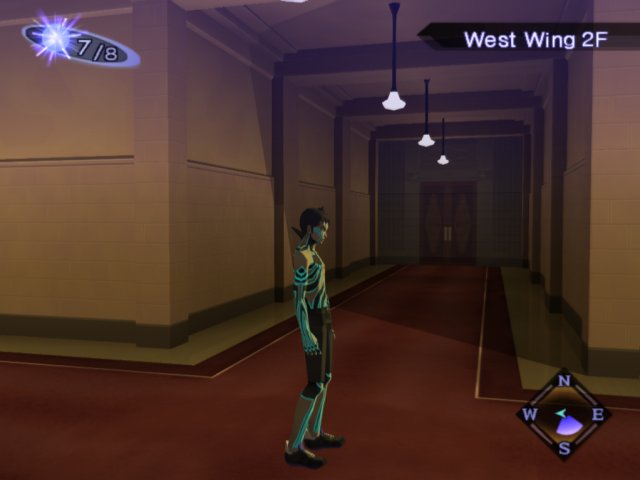 The north and west doors look legit, but the south and east ones are clearly fake. Let's try north.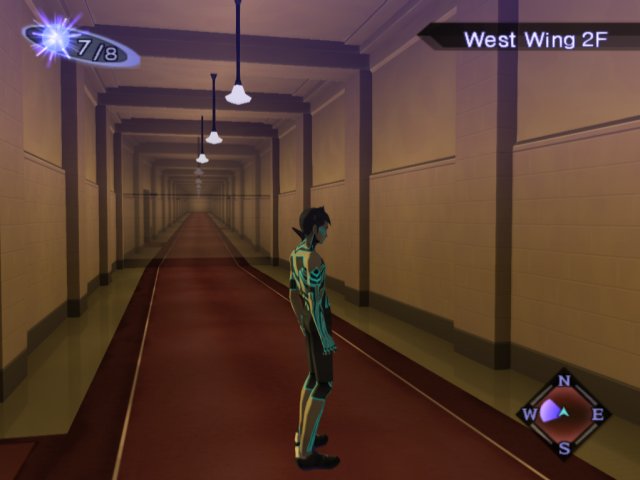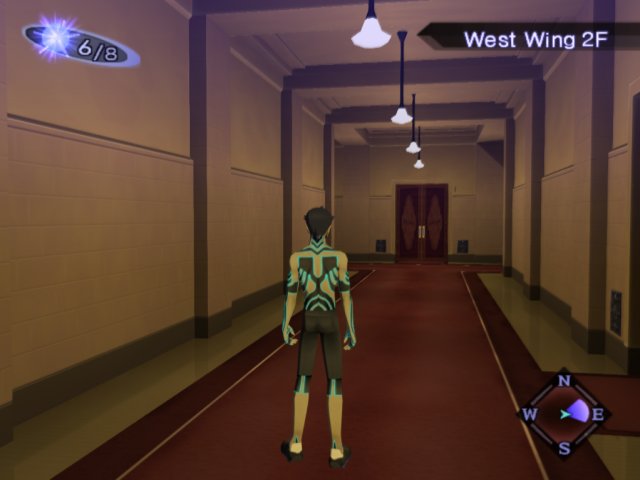 Yeah, no contest, east it is.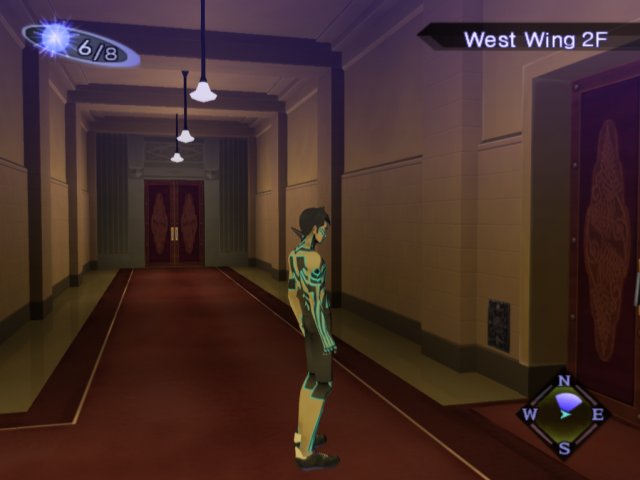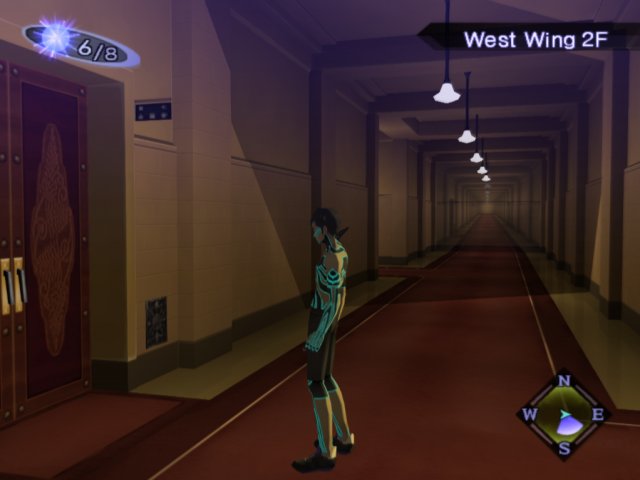 Let's try the door.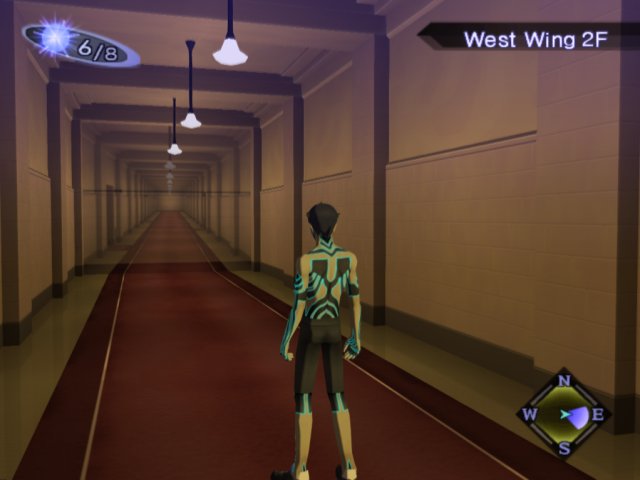 Yeah, no. North it is, then.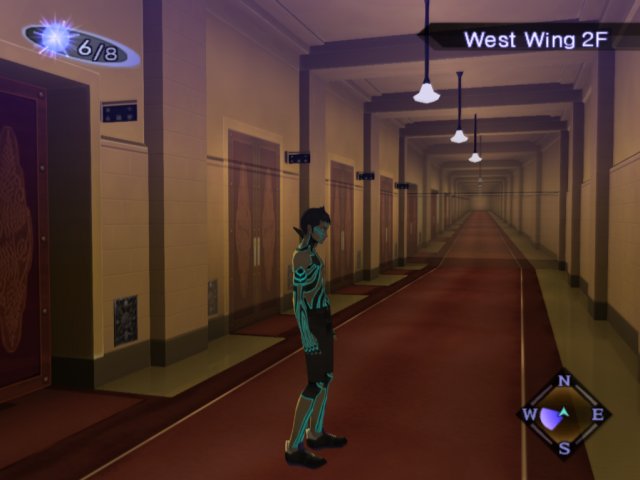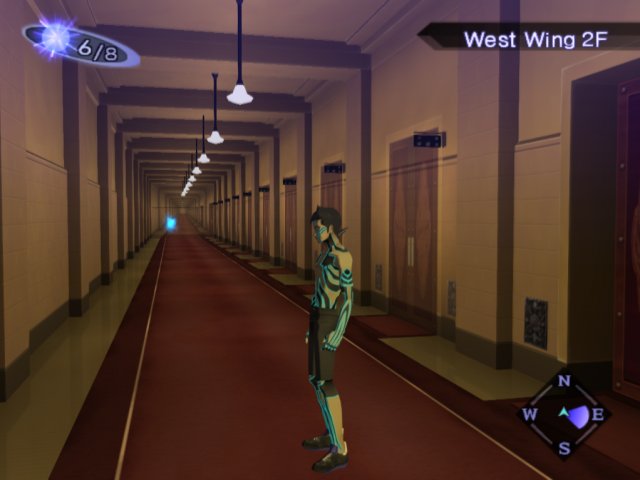 Hmm.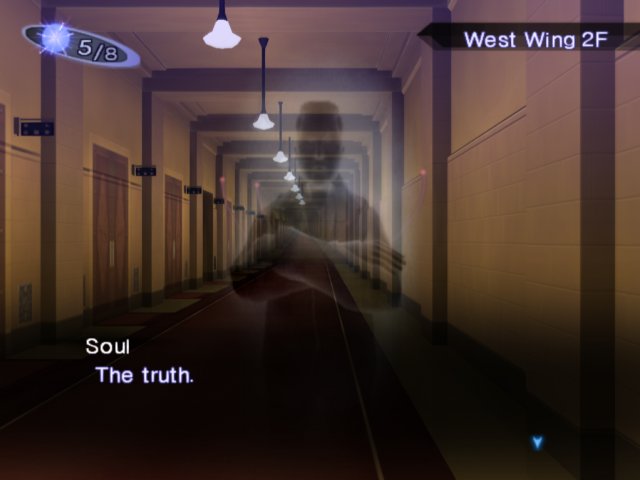 : If you don't have the eyes to tell the truth from the lies, you'll be tricked over and over. Beyond the truth waits the demon in charge of this place. That's why I pick the lies...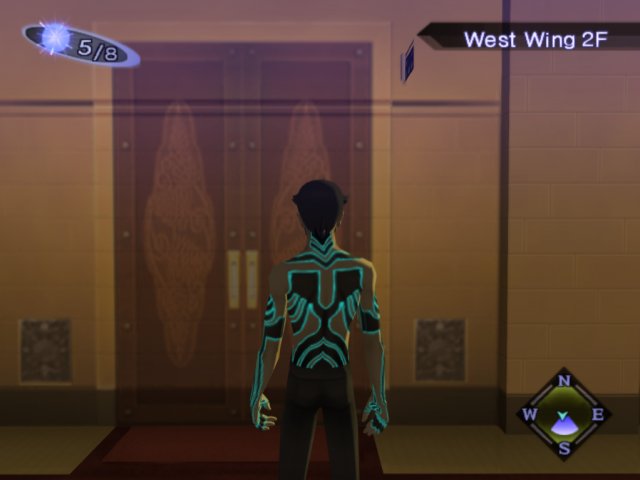 *: All of the doors here look painted on. Except the one we came from, of course. I'd rather exhaust my other options before I take a chance here. We go back south, then east.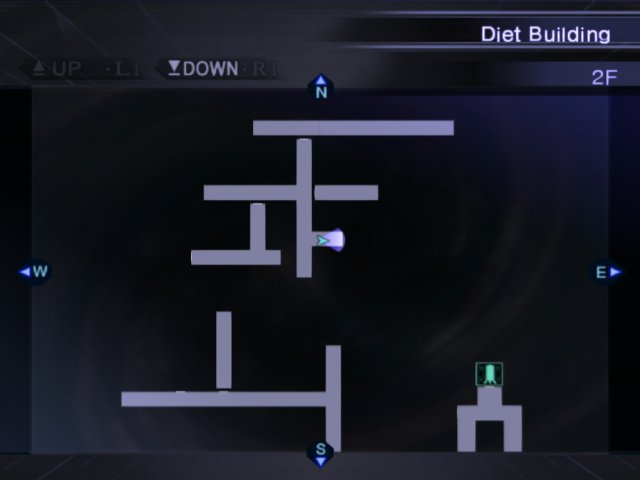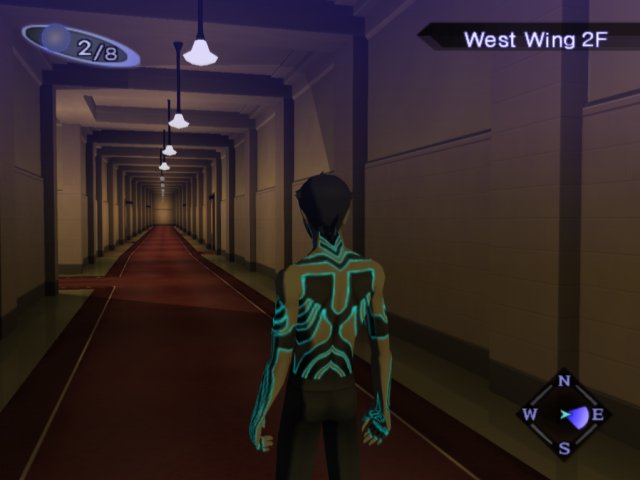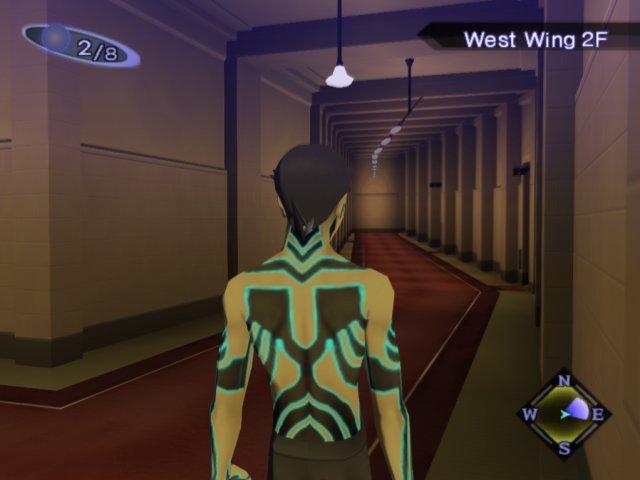 Not falling for that one again!
*: After a fight with two Decarabia, Dionysus levels up and learns Dismal Tune, replacing Persuade. He then gives us Luck Incense!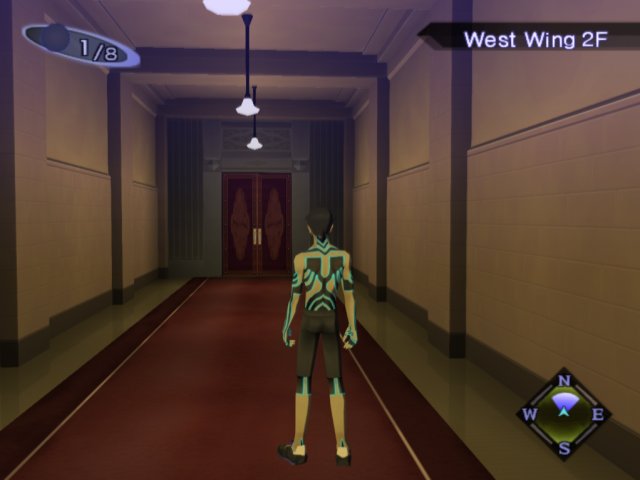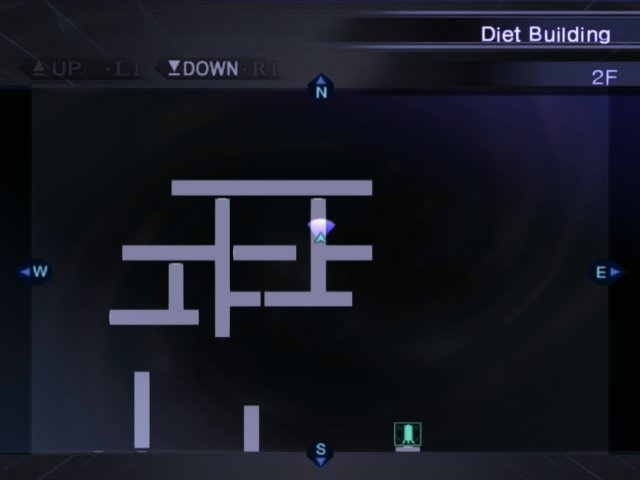 This door is clearly leading to that long hallway, so we go east instead.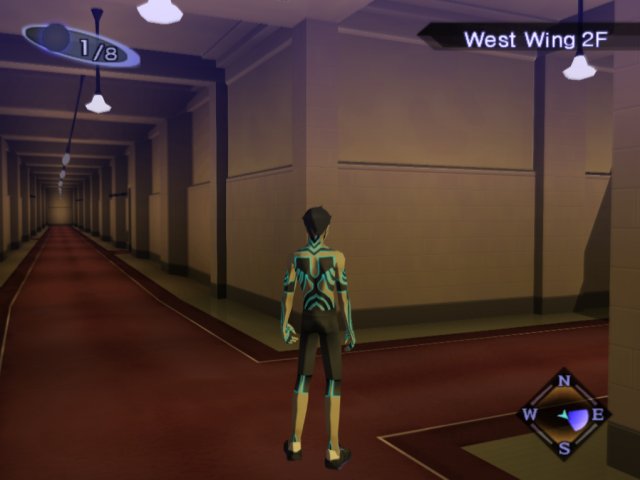 Nope.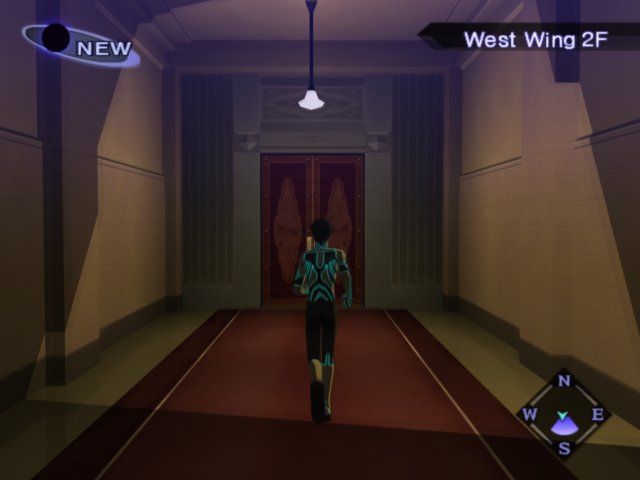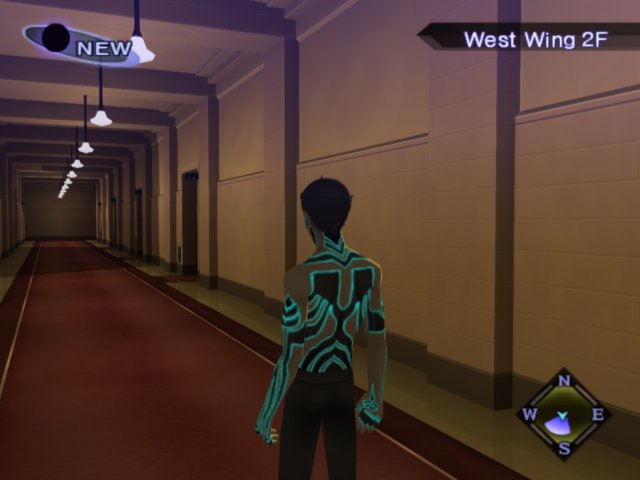 Seems legit...

The first western door reveals a Cube with 3000 Macca, the second nothing, and the third is a Mute trap. Before we reach the end of the hall, Zed levels up and doesn't learn Force Drain from Gundari.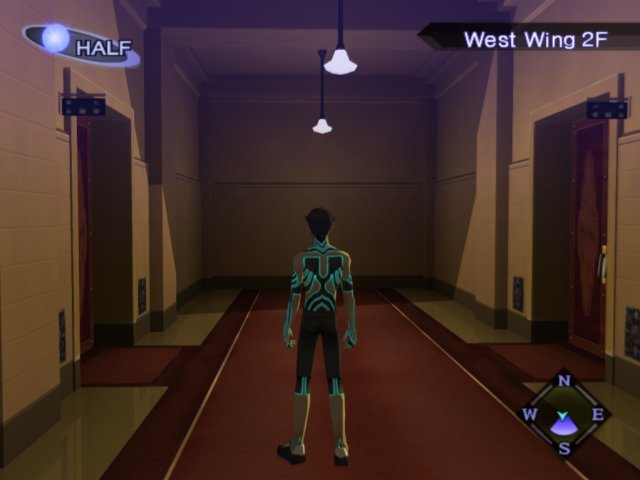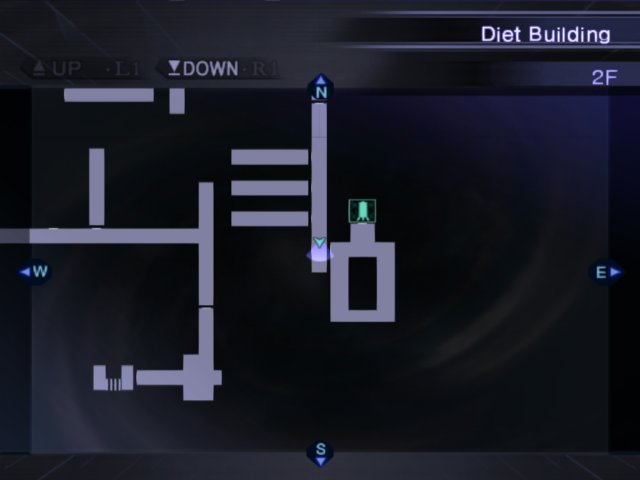 One of those doors clearly takes us back to the Terminal, so there's one option left.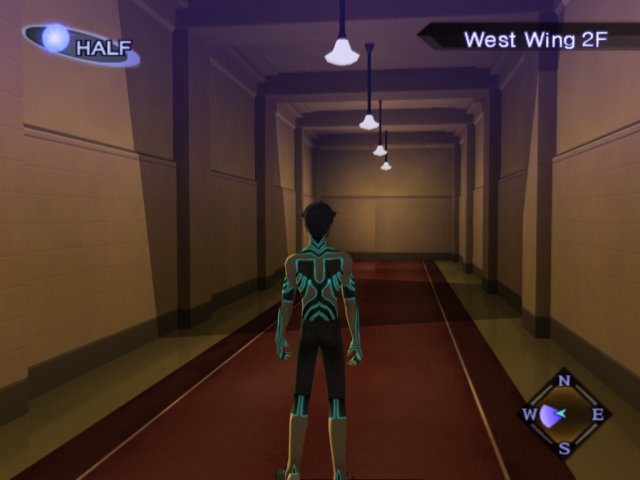 Yeah this is definitely not another dead end.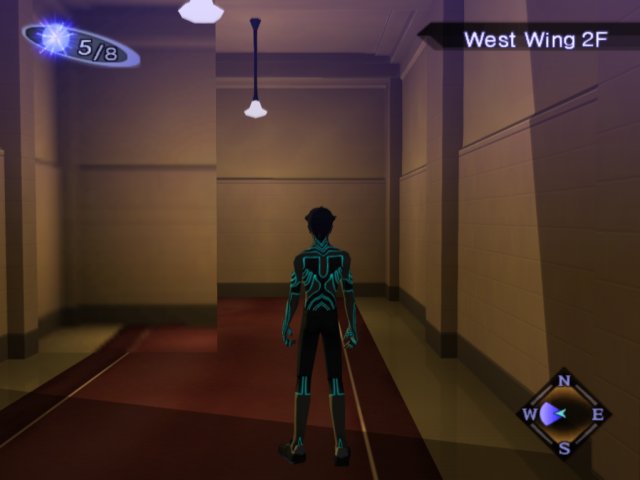 Nice try!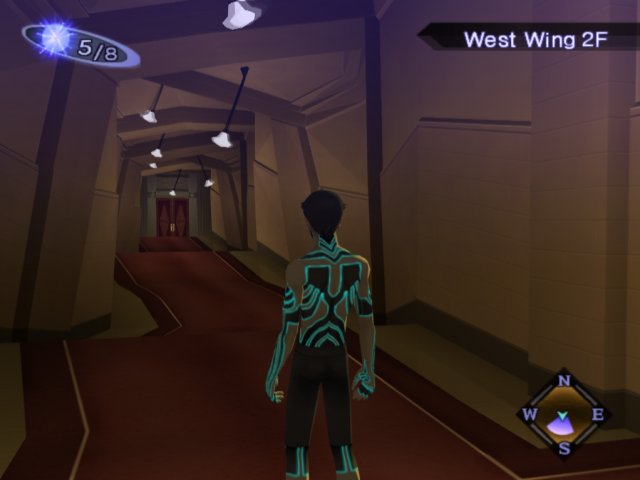 The lights here are swinging back and forth. We gotta be close.
Boss battle: Vile Mada
quote:
Vile Mada
In Hindu legend, Mada is a giant Rakshasa whose name means "intoxicator", created when the twin deities called Aswin needed to defend themselves from Indra attacking them for their pride. Mada could change its size at will and grew so large that it threatened to swallow the entire world, so Indra surrendered and accepted to share with the Aswin the Soma he had given to the other gods.
*: Gah, I brought Long in because I figured I'd use Makakaja to accelerate the rest of the fight, but all he did was gank Dante's experience at the last second. Oh well!

Mada has boss immunities, and absorbs physical damage (yay). He knows Beast Eye, Hades Blast, Agidyne, Dekunda, Debilitate, and can use Gathering to summon Pazuzu. His signature skill is Intoxicate, which has a high chance of inflicting Panic to any demon vulnerable to Mind ailments.

He's irritating to fight with a physical-built Demi-fiend, but unlike most physical-immune boss battles, the Pazuzu he summons give you something worth punching so it's not a bad idea to keep Focus up. Other than that, having your own Dekunda effect is a must (on account of Debilitate), you probably want to bring as many Mind-immune allies as he you can, and, well, bring in your good spellcasters. Fortunately Mada has only like 2500 HP and relies on Pazuzu to heal him, so if you got a good survival strategy going on, you can get away with using demons who have attack magic but aren't necessarily specialized nukers.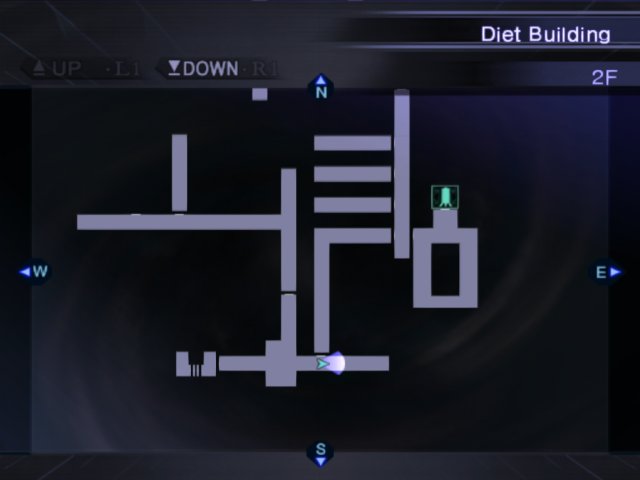 We've been returned to the entrance of the second floor, where we first saw the empty pedestal in the trick picture. The way to proceed is clearly east, but I want to go back and make sure I didn't miss any loot.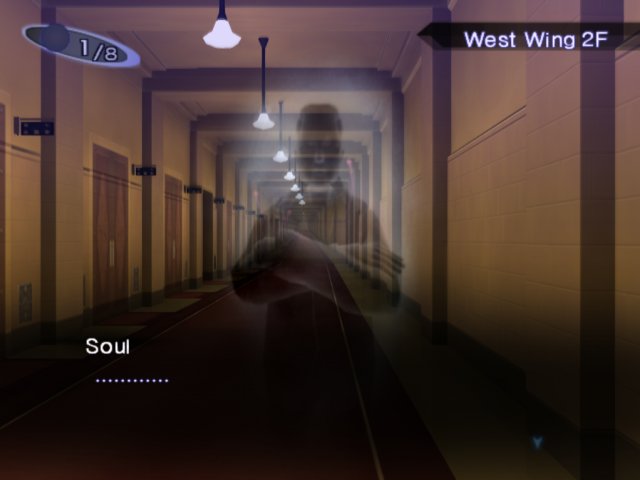 : I guess I'm... saved.
*: And, no, that was pretty much it, apart from a couple dead ends with illusions we've already seen. We do open the shortcut to the Terminal, though, and it doesn't lock behind us. We're not in too bad a shape, but given the opportunity, it would be foolhardy not to get a MP recharge, so we do so.

In Ginza, a Preta buys a Life Stone off us for 40 Macca. Can't forget the little people!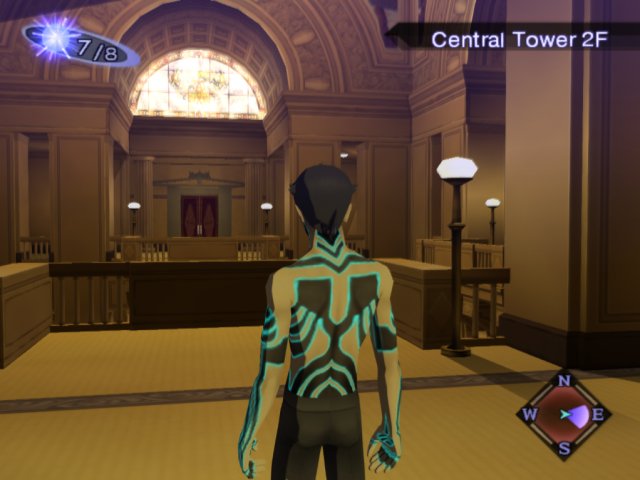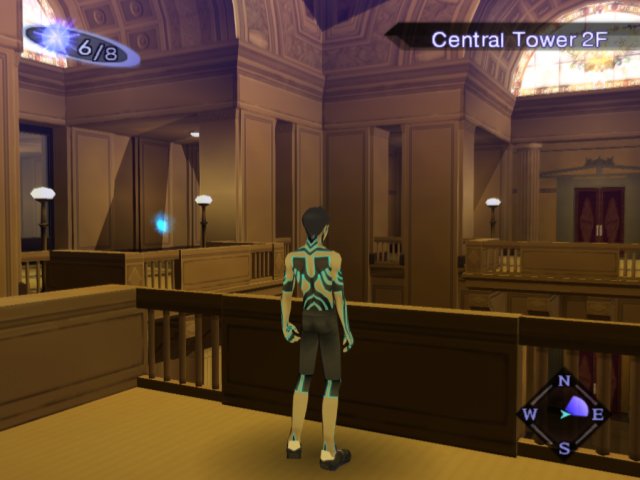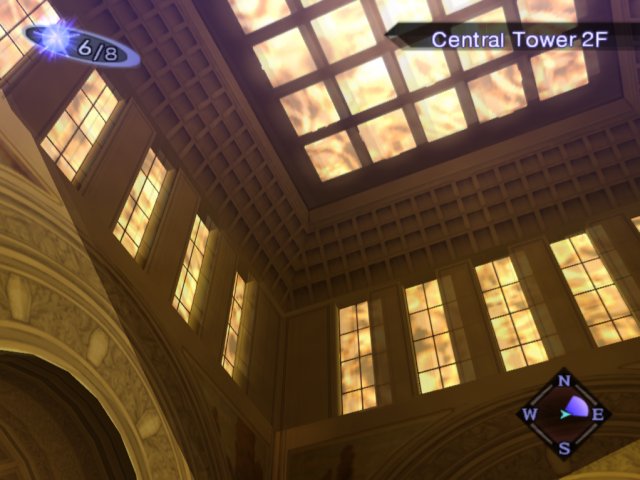 This would be the second floor balcony in the Central Tower.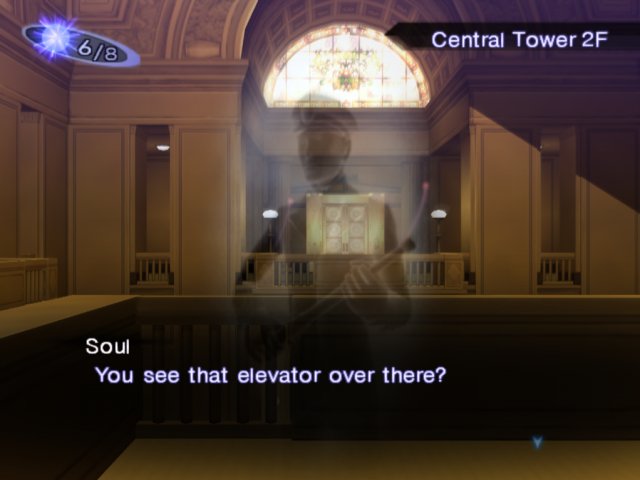 : It's hard to miss!

: Hikawa and another human -- a woman -- took that to the top.

: Aw crap, she got caught. This isn't looking good.

: ...W-What kind of world is Hikawa planning to create?

: It's built on mass murder and kidnapping. What do you think?
*: Titania levels up and learns her final skill, Prayer. It restores the entire party's HP to maximum and cures all ailments. I did say she was going to turn into a spectacular healer! I let it replace Charisma.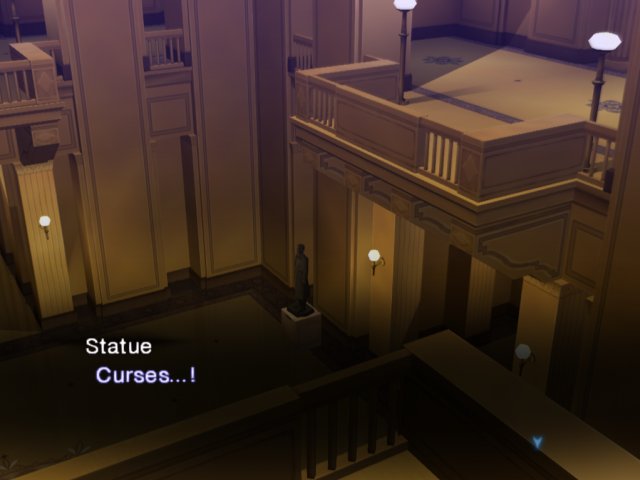 : Not only Surt, but Mada as well... ...Be it so, he shan't travel far! With my magic, he shall forever wander these halls!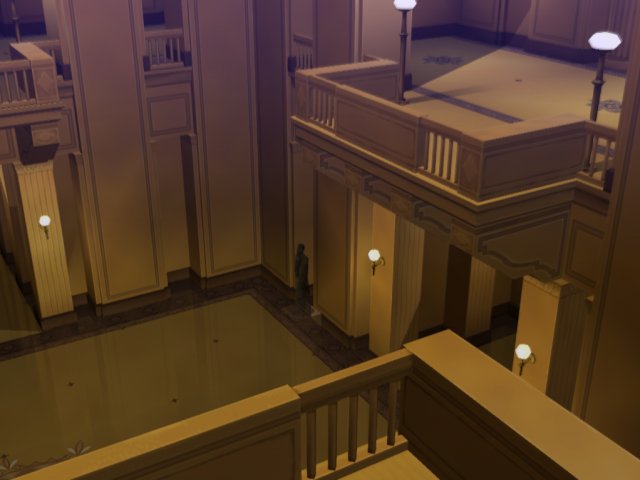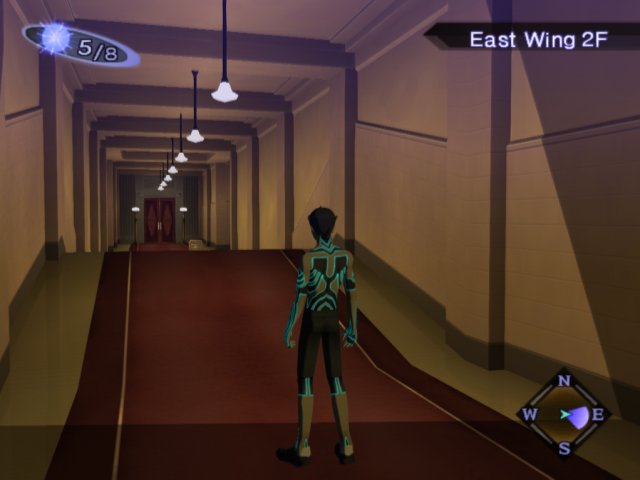 A Chest in plain sight? Don't mind if I do!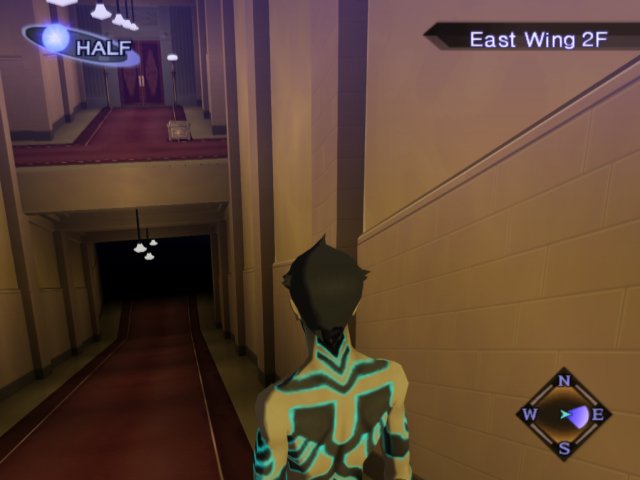 ...oh. Very funny.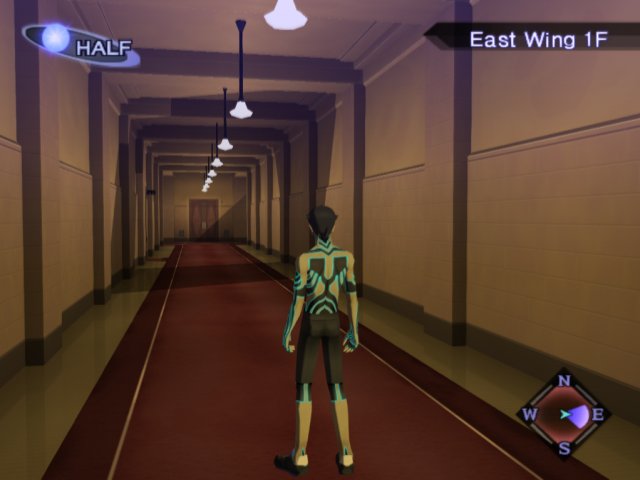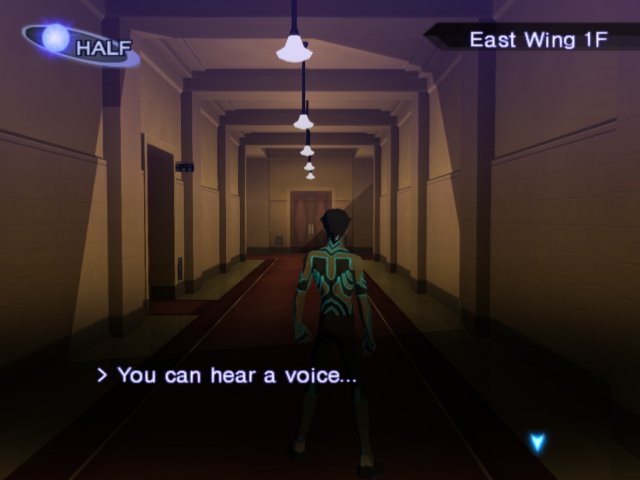 Voice: With my power, thy path hath been closed!
*: We hear a strange sound, but nothing visibly changes. Unless...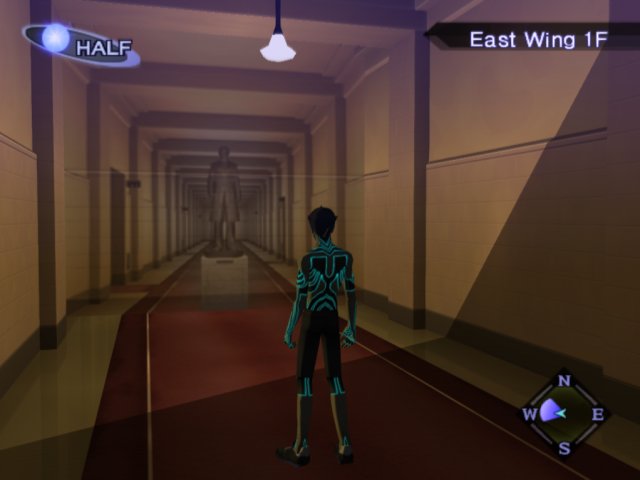 Ah. Yeah, the way back is blocked.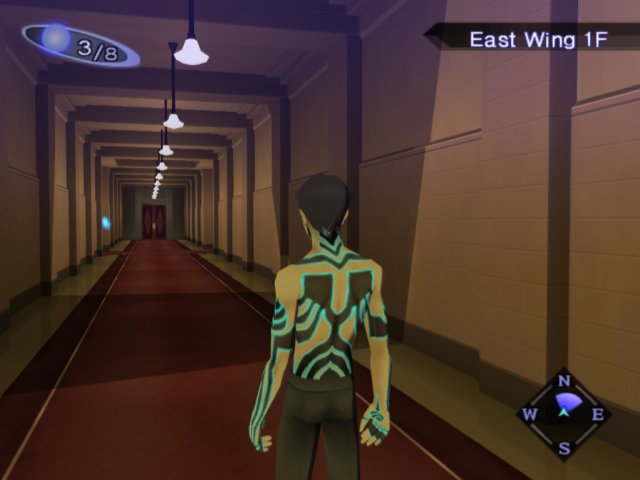 > You can hear a voice.
Voice: With my power, thy path hath been closed!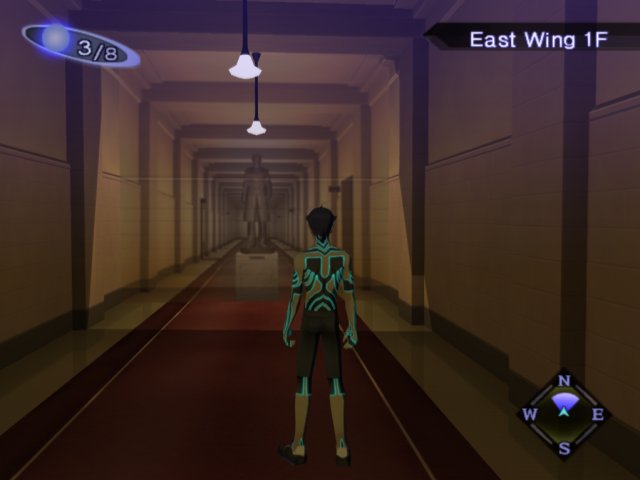 *: Real classy. We turn back and try the obviously painted-on door in the east.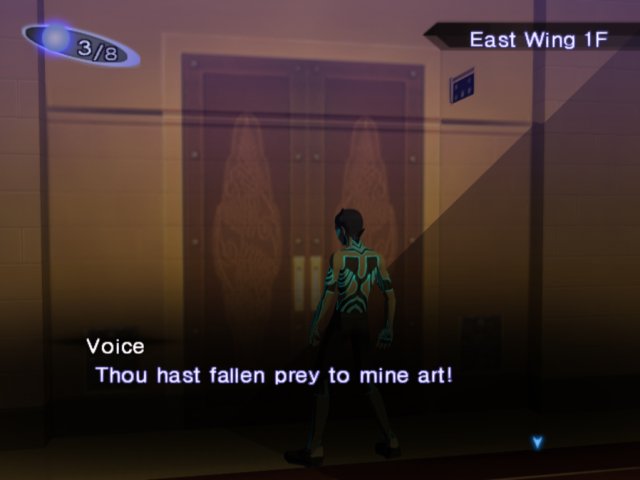 And we're teleported... to the same spot. Well that's odd. It must be the return spot for several traps. We head south next.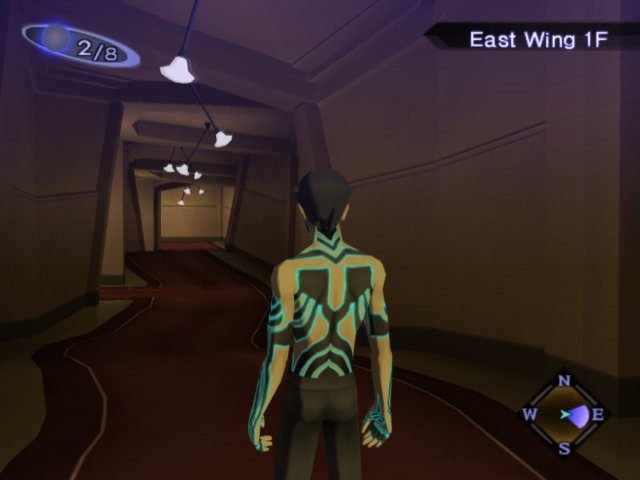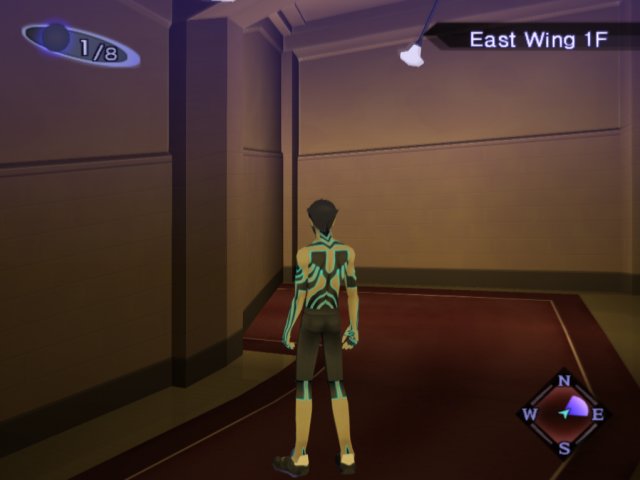 Clearly Mada wasn't responsible for all of the weird crap going on around here.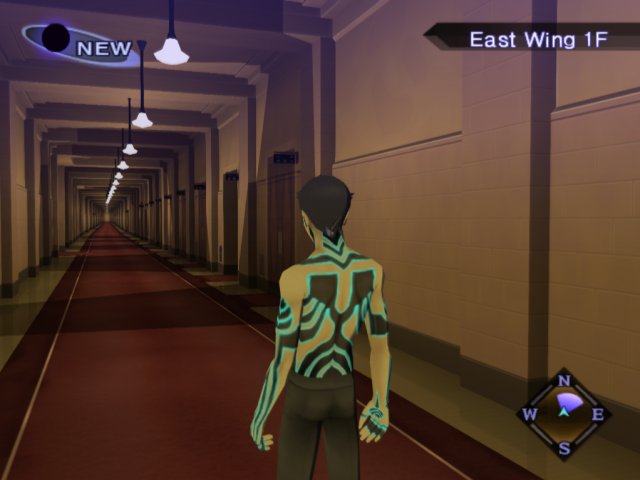 There are some off shadows here, hmm.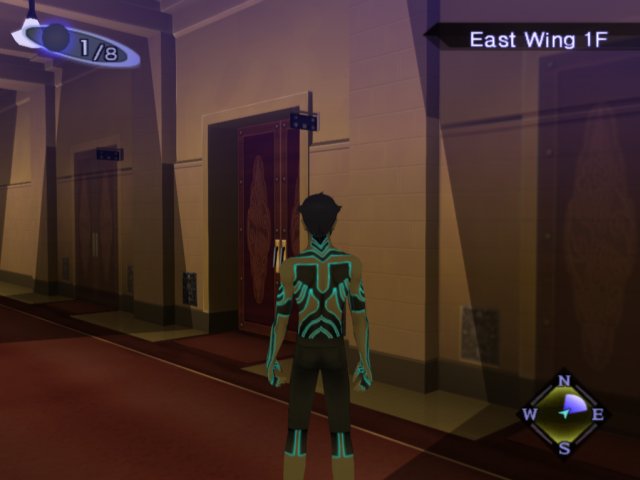 The only doors that aren't clearly fake are the ones untouched by shadow.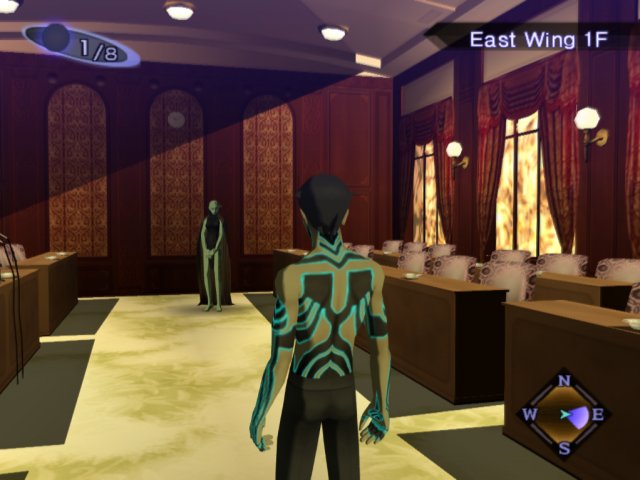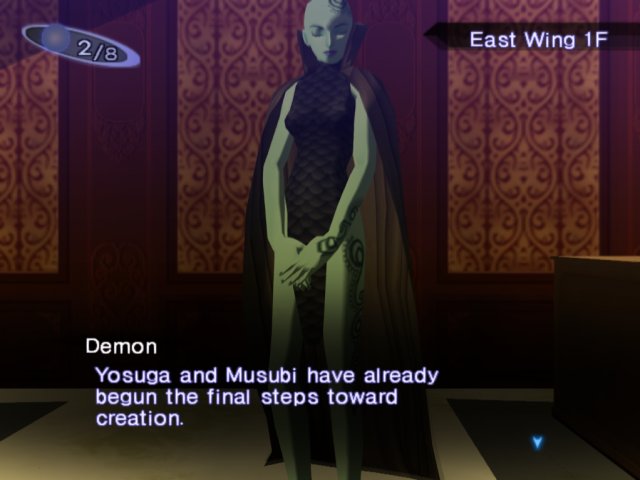 : But, there is nothing to worry about. We will soon receive our Reason of Shijima. The moment in near...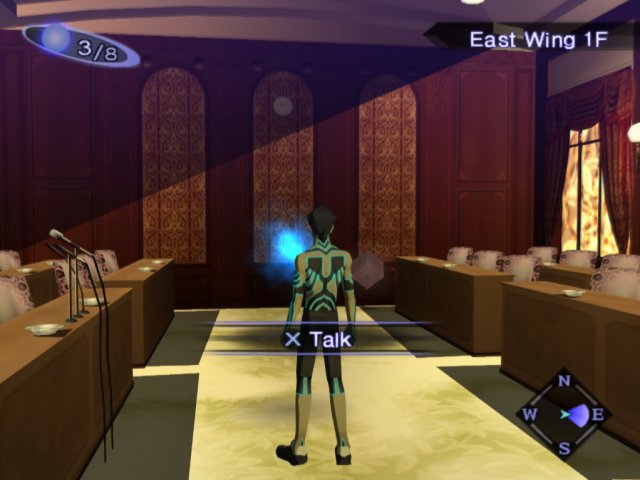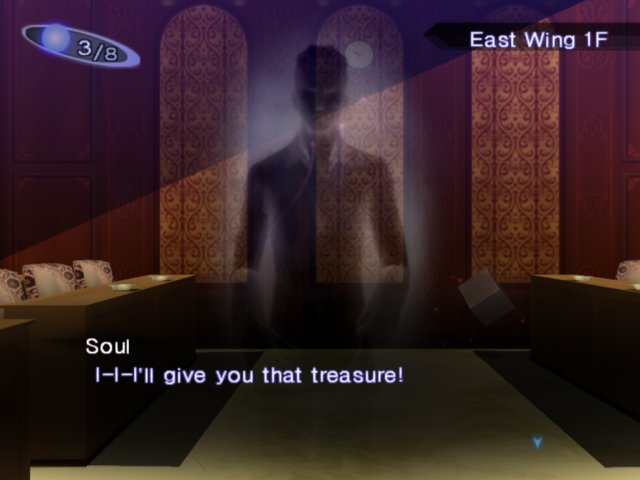 : I wasn't waiting for your permission, but, thanks?

: So, please don't eat me!
*: It's a Megido Rock. Ehh.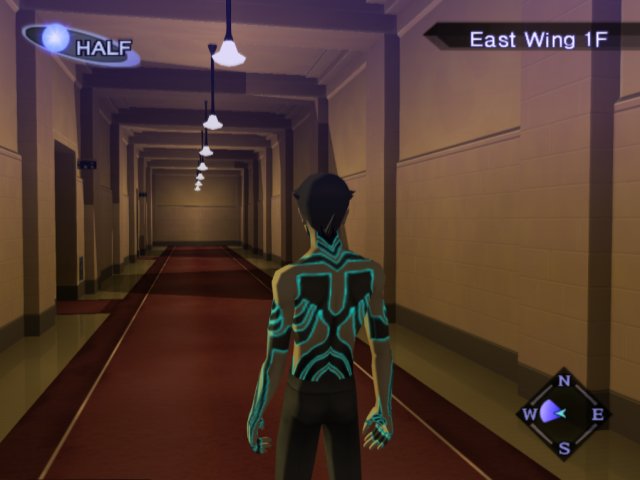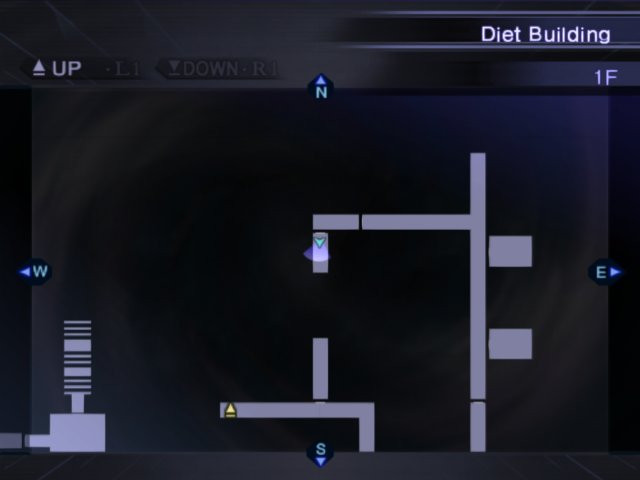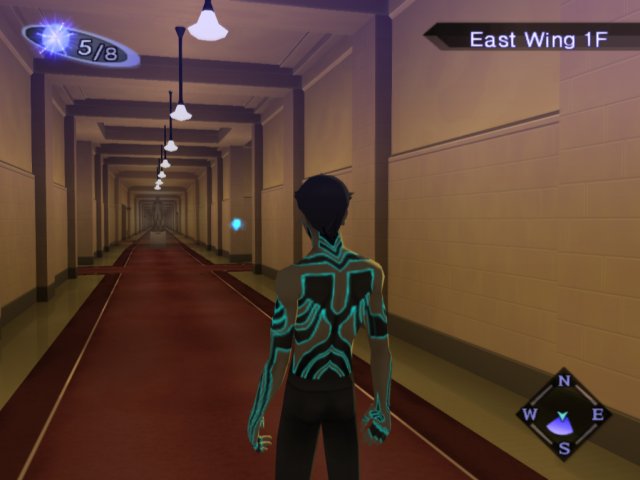 Maybe we can talk to this guy from here.
> You can hear a voice...

: Aw heck.
Voice: With my power, thy path hath been closed!
*: Oh, he just blocked our way back again.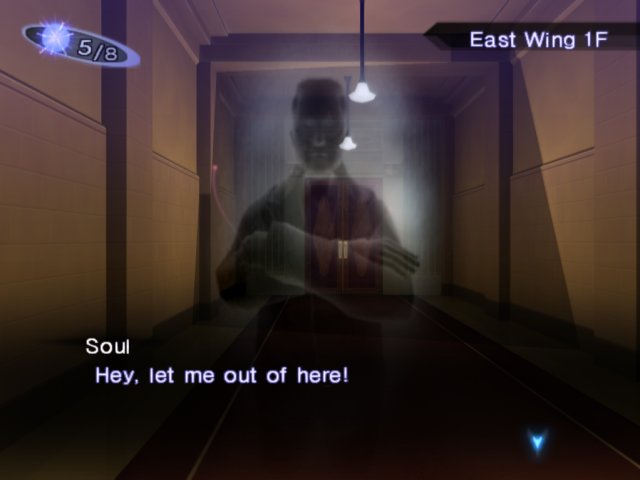 : I'll be free if the demon here is defeated, so someone beat him!

: That sounds like my kind of gig.

: You really ought to charge for that kind of work.

: I was going to kill it anyway, so why bother?

: It's the principle of thing! When amateurs like you run around killing demons for free, it devaluates the labor of professionals.

: Dude, you charged me one Macca.

: He's got you there!

: Ha, fair enough!

: I don't care if only one type of attack works! Just try everything, dammit!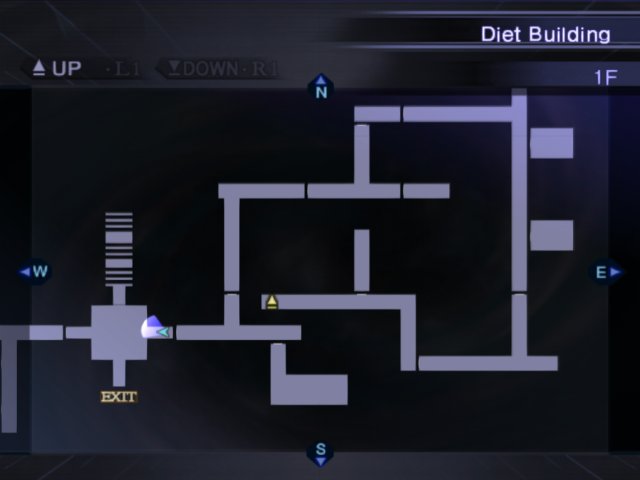 *: Going west, south, then west again from that spirit, we unlock a door leading to the eastern side of the entrance room. Time to head back east!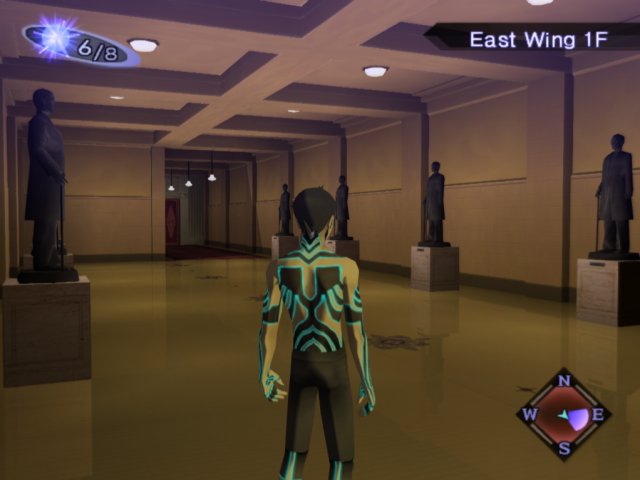 Voice: ...Truth and falsity are but light and darkness. Dost though have the capacity to find my true self? Thou shan't escape from this labyrinth, lest though seest the truth...!

: Yeah, no, screw that.
*: We run past the statues and head for the door at the east end of the hall.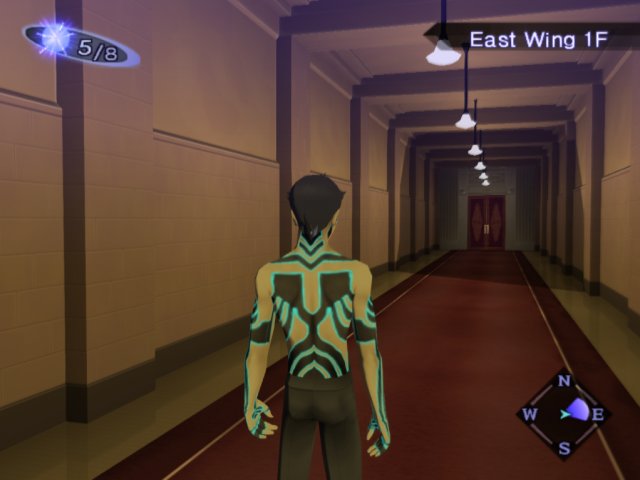 That can't have been this easy.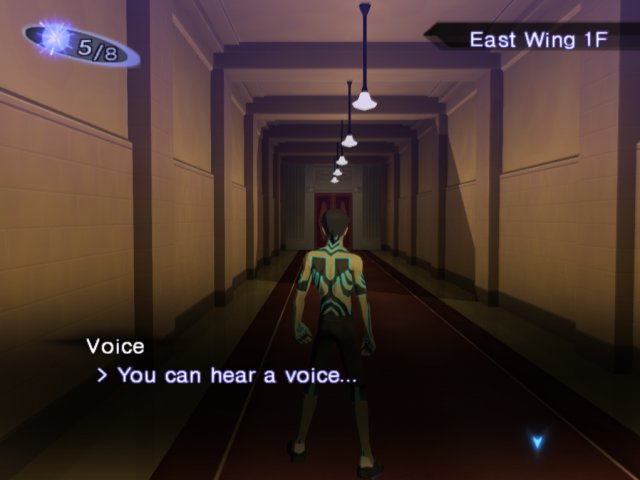 Voice: With my power, thy path hath been closed!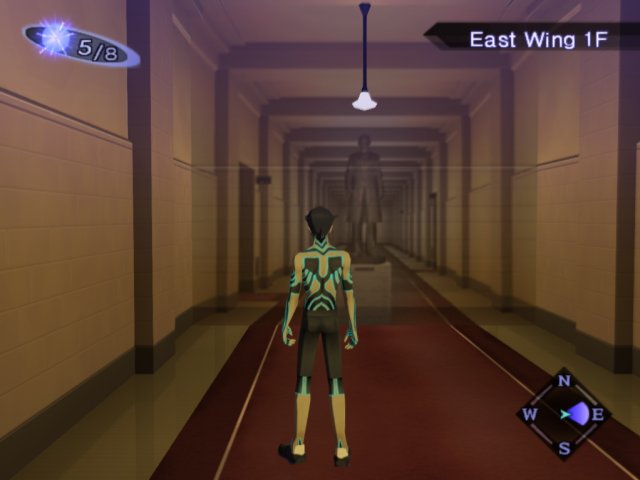 Of course.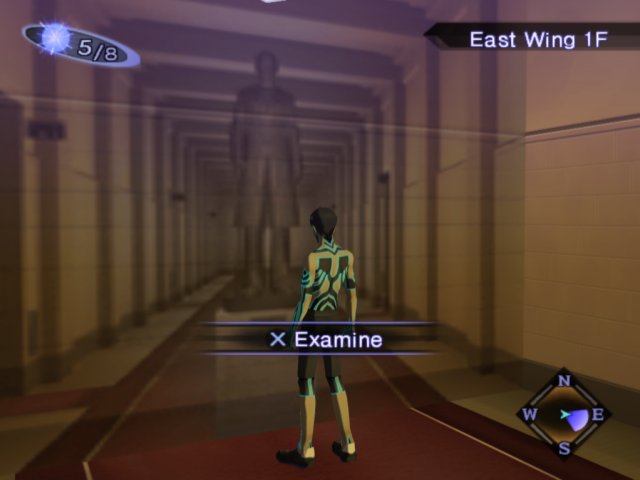 Left hand low at his side, right hand on a cane. Will that help?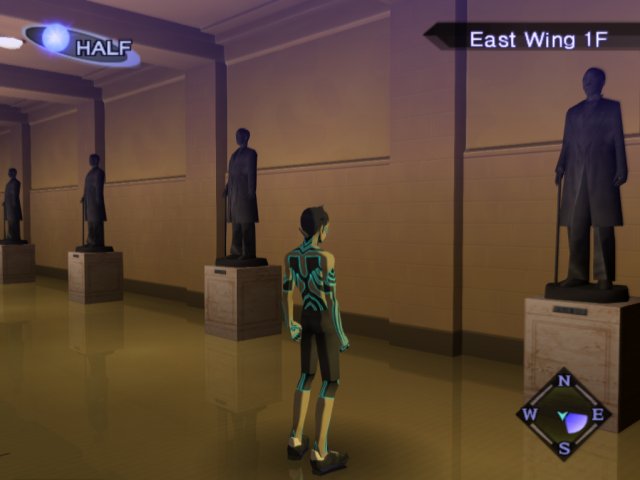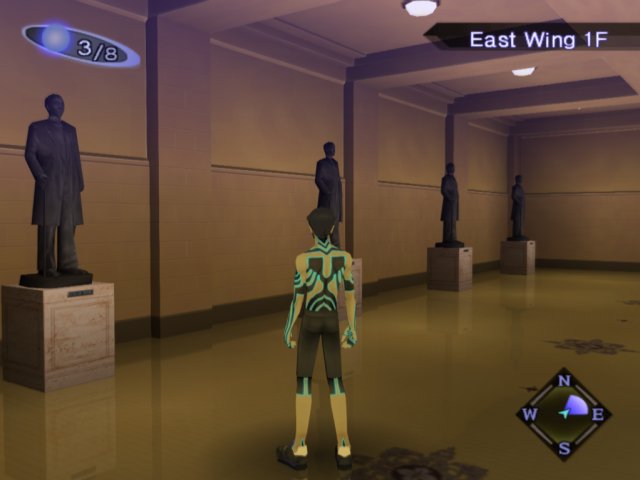 *: All the statues look the same, so it actually doesn't. Hmm...

Ah-ha!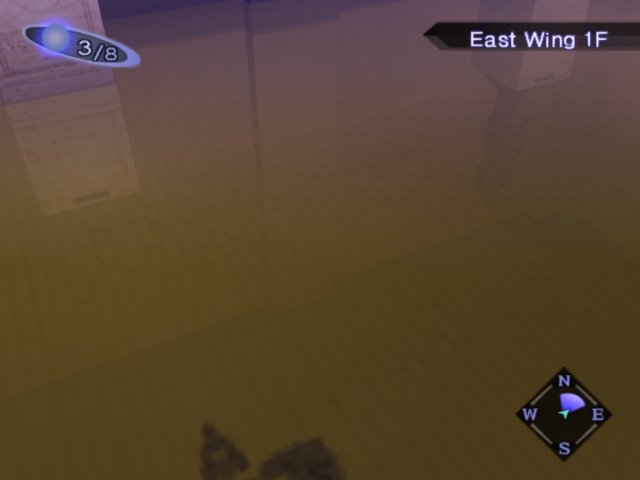 The second one from the right on the north side is missing its reflection in the floor, making it look like that one pedestal without a statue in a corner of the entrance.
Boss battle: Tyrant Mot

: You're pretty tough, kid!

: Ha, you got some moxie yourself!
quote:
Tyrant Mot
Mot is an ancient Semitic god of death, from the same mythology as the original Baal. Him and Baal have a pretty severe enmity going on; Mot threatens to eat him and his relatives a bunch, and apparently they succeed in killing each other a few times, until Mot's dad intervenes and forces him to surrender. It would seem the texts detailing their struggles are contemporary to some parts of the Old Testament, but they haven't been nearly as well-preserved, and many details of the story are lost to human knowledge.
*: This is what the spirit meant by "only one type of attack works". Mot is weak to Electricity, but he reflects Force, absorbs Ice, nullifies Fire, and has the same extreme physical resistance as Black Frost (on top of, you know it, boss immunities). He knows Beast Eye, Makakaja, Megidolaon, Tempest, Dekunda, Mazandyne, Diarama and Avenge (which is the strongest counter skill). We're used to dealing all of these skills individually, but this is the first time we're exposed to chained Beast Eyes into a bunch of Makakaja and Megidolaon. The magic power buff stacks will also boost his Diarama, so, really, the most important thing you can bring to this fight is a Dekaja effect.

The second most important thing you can bring to this fight is an ally who can, you know, actually hurt Mot at all. I didn't necessarily plan it that way, but I'm sure glad I hired Dante, because if it wasn't for Roundtrip, our only Electric damage would have been Mazio Stones, and we'd have had to count on buffing up Futomimi's Megido to do the killing. And considering Futomimi got nuked hard, well, I'm sure you can imagine the hassle.

At any rate, Endure and Never Yield saved the day in extremis, as they are wont to do. There's a point to be made about not needing revival effects if your tactics are sound, but dang, I still appreciate the margin of error.

I wish Divine Shot's last battle had been a better showcase for it, but such is life in the zone. Spiral Viper has higher raw damage, but crits less often. Apparently some people prefer keeping Divine Shot and I'd say that's a defensible point of view, but neither will be the last single-target physical skill we learn so it hardly matters, I might as well show them both off.

And, yeah, Albion! Getting rid of Gogmagog's weakness to fire will do wonders.

Before proceeding further east, we do a sweep of the East Wing's ground floor.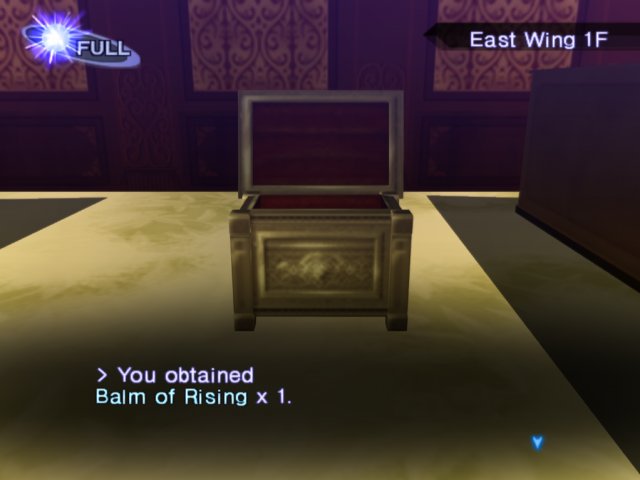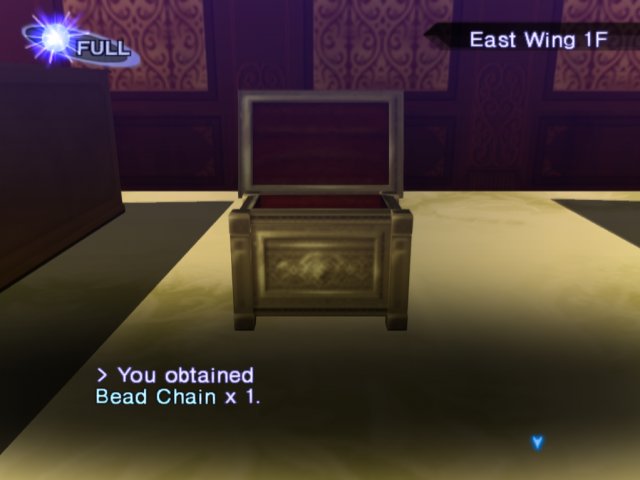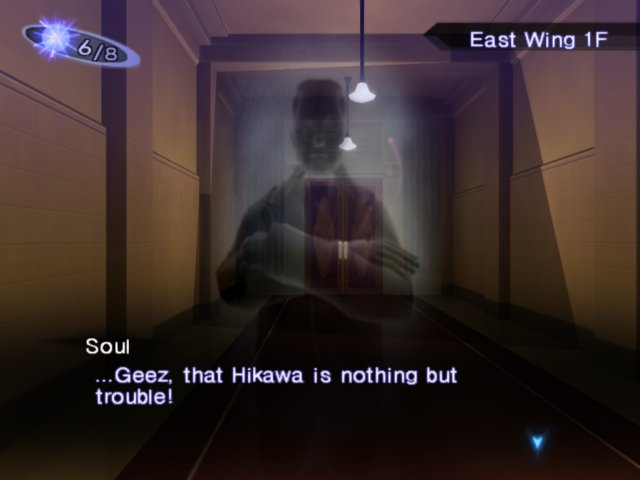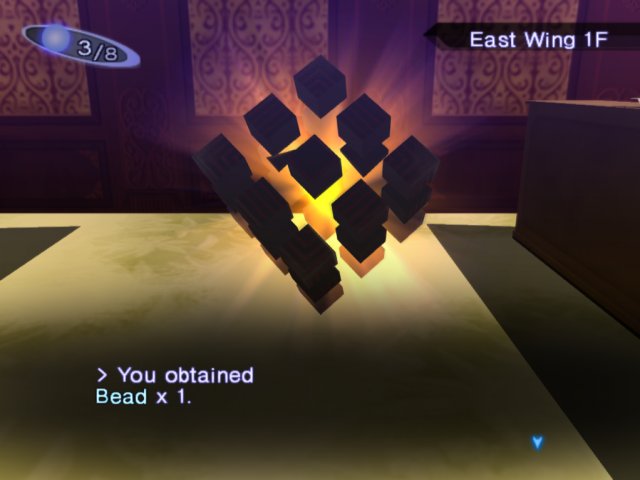 *: Dionysus learns Tempest, replacing Maragion, Parvati learns Mediarama, replacing Sexy Gaze, and while I think of it...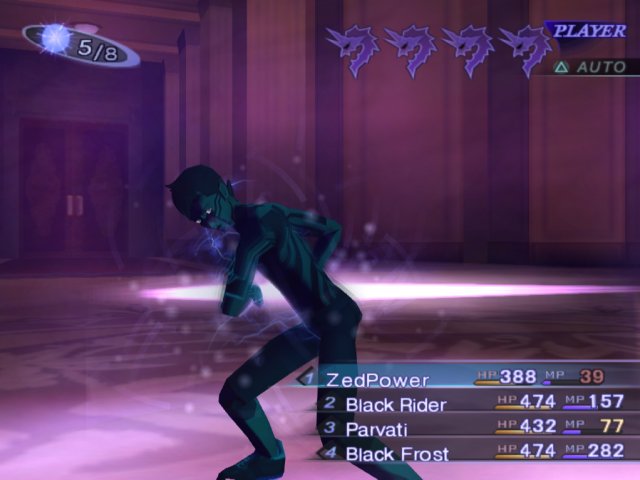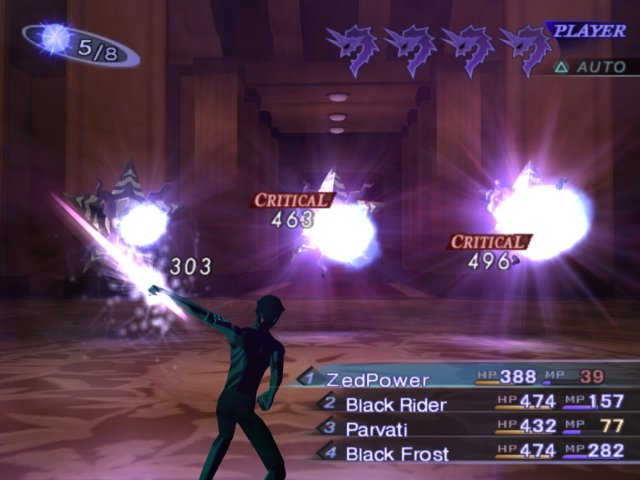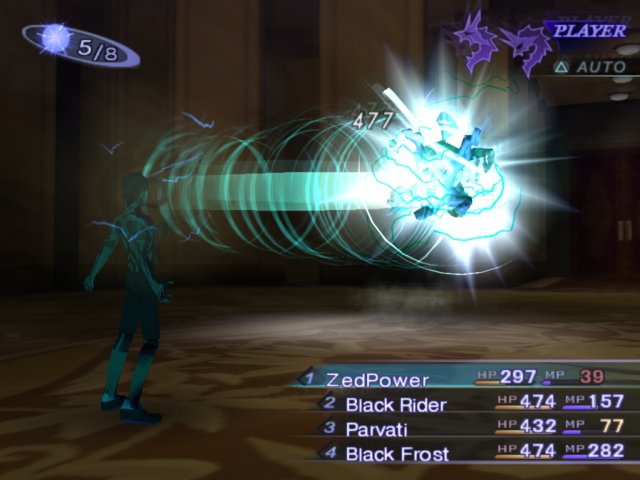 These would be Deadly Fury and Spiral Viper. That's right, we get FACE LASERS.

We make another quick trip to Ginza, and return to the east of the statue hall.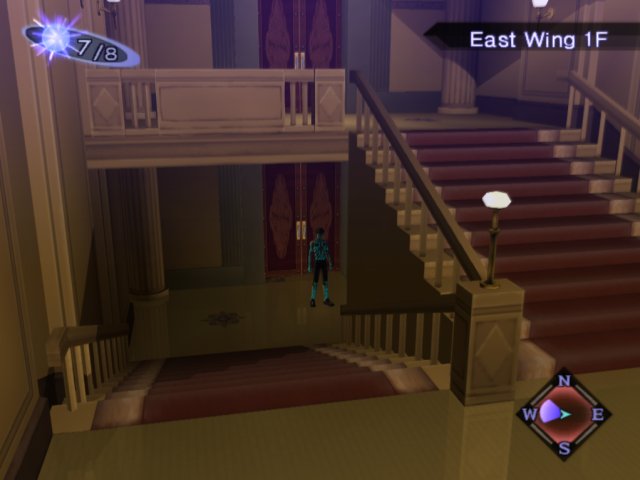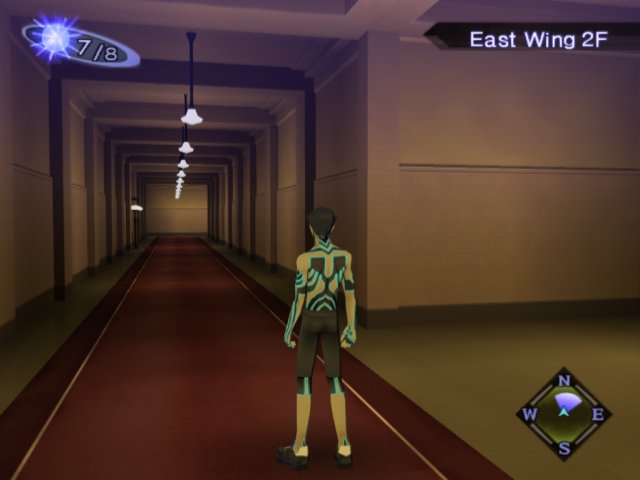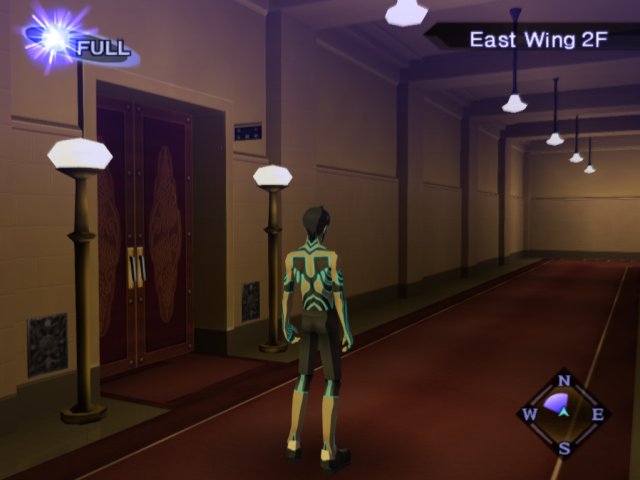 Well this is looking fancy.
*: The end of this hall is another false corner, so we have little choice. And the door gives us a "strong power" warning.
Cutscene + Boss battle: Deity Mithra
quote:
Deity Mithra
Mithra is the Zoroastrian god of covenants and oaths; along with Rashnu, the god of justice, and Sraosha, the god of obedience, he stands in judgement at the Chinvat Bridge, which all souls must cross on their way to the land of the dead.

Strangely enough, a secret cult to Mithra became widespread within the Roman empire, its distinctive hidden, underground temples being fairly common in several areas of Europe (there were probably at least 680 in Rome alone), but also to a lesser extent in Greece, Egypt and Syria. The figure of the nude winged lion-man entwined by a snake is actually from this Roman interpretation of the older deity. Very few details on the origins, theology and rituals of this cult remain to us; if anything, the secrecy involved all but guaranteed true knowledge of the articles of its faith would not survive its last initiate.
*: So, uh, I guess this is what happens when a sucker doesn't resist physical damage. Mithra only has standard boss immunities, so it's your cue to go nuts with your strongest attacks.

Mithra's gimmick is that he tends to spam instant death effects: he knows Dragon Eye, Mudoon, Mamudoon, Hamaon, and Mahamaon. Unless the Demi-fiend has learned either Void Death or Void Expel, he can't be immune to both Death and Expel at the same time, so it's not a bad idea to have a Tetraja-capable ally or to keep a pile of Tetraja Rocks handy. Or to, you know, vaporize him in four turns, that'll work too.

Mithra also knows Debilitate, Holy Wrath and Megidola, so he's not completely neutered by bringing along Fiends or other allies immune to instant death. Do bring Dekunda effects, just to be safe, if you don't have the means to end the fight quickly.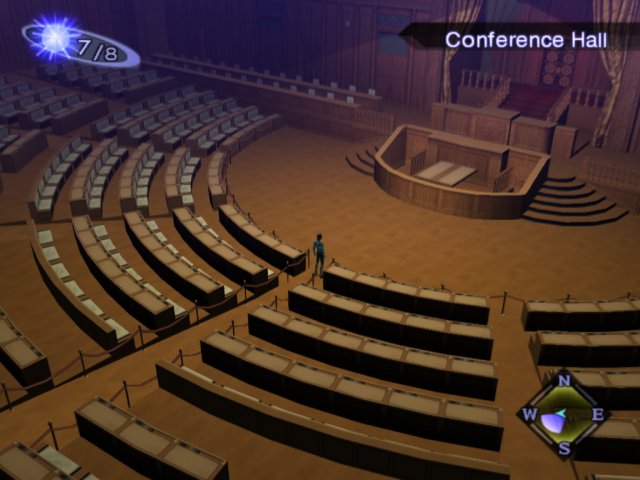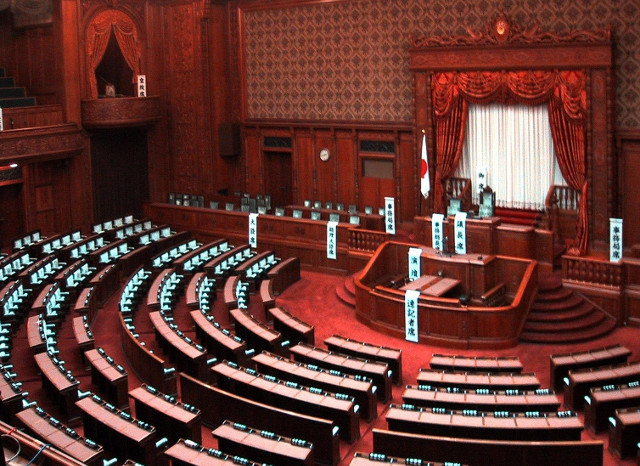 This is the meeting hall of the House of Councillors, the upper house of the National Diet of Japan.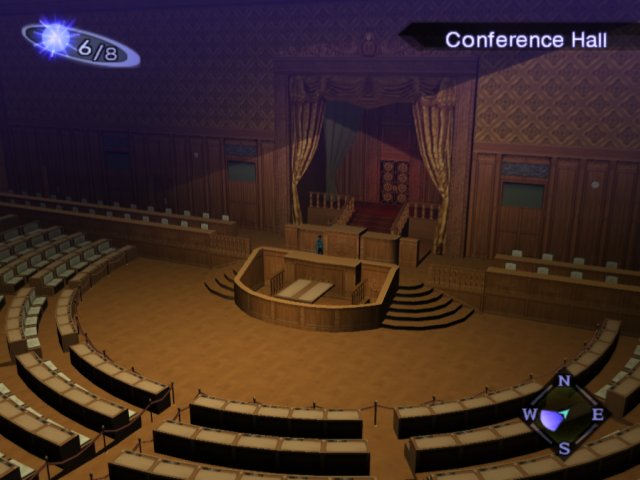 This is my chance to give a speech to what's left of the country, but we're really pressed for time. Oh well!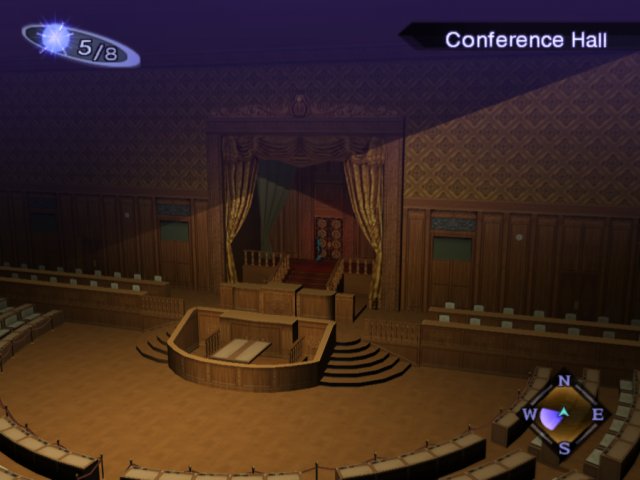 *: A battle on our way out reveals that I was absolutely wrong on something: Black Frost does keep its very high physical resistance!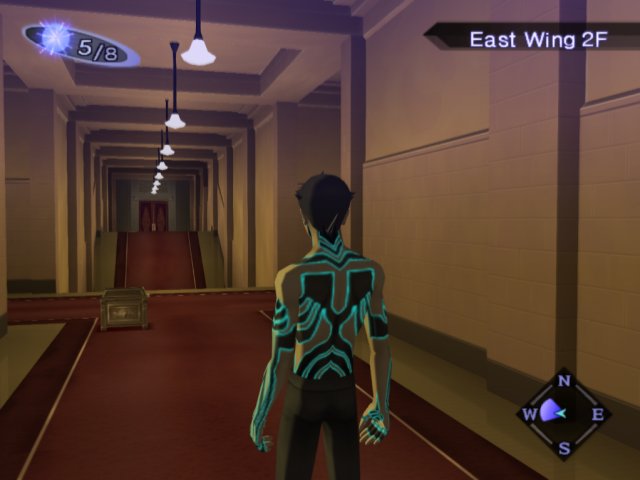 This is the Chest we were taunted with earlier. It contains Magic Incense.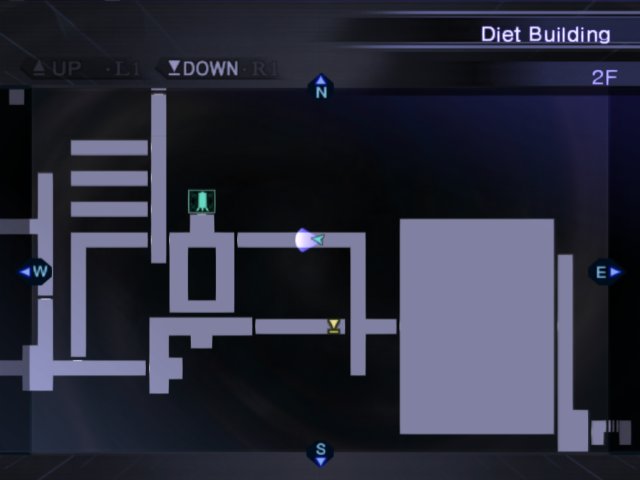 Heading north lets us unlock the door to the Terminal, so we drop a save and head south afterwards.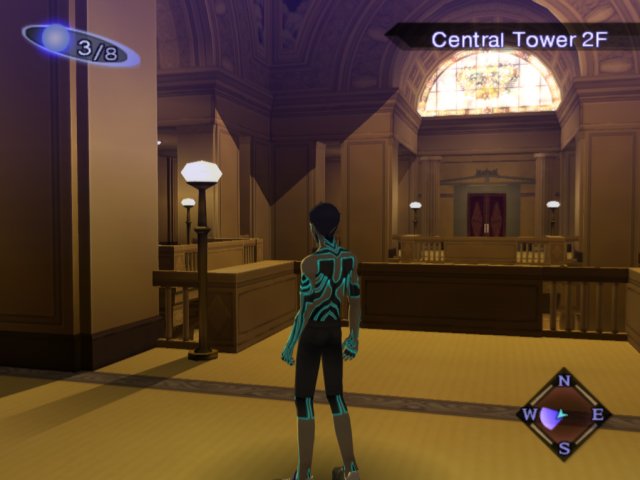 A Cube next to the elevator contains a Soma Droplet, but there are no further distractions.

Cutscenes + Boss battle: Eternal prosperity