Part 50: Horkos Buster
It's time to update. Took me loong enough, I think.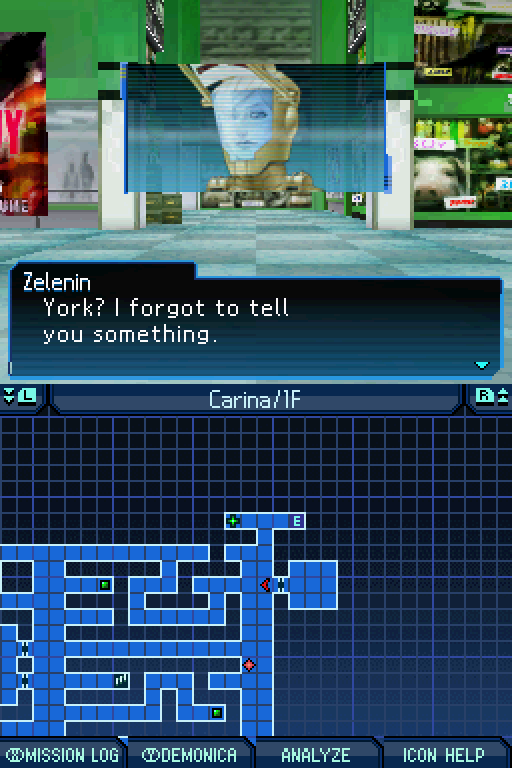 "About the Shibboleth Mastema made... I don't think we can use it as is. But Irving at the lab might be able to make something from it. "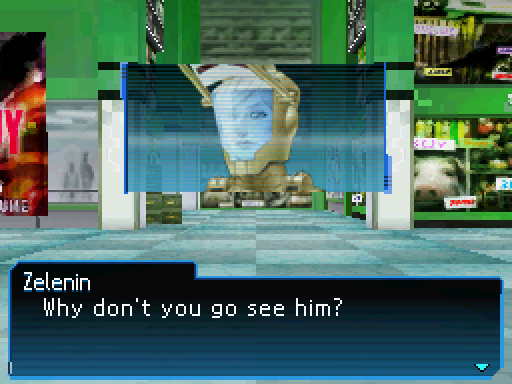 That's the plan! Humans make things go boom! Which is what we want.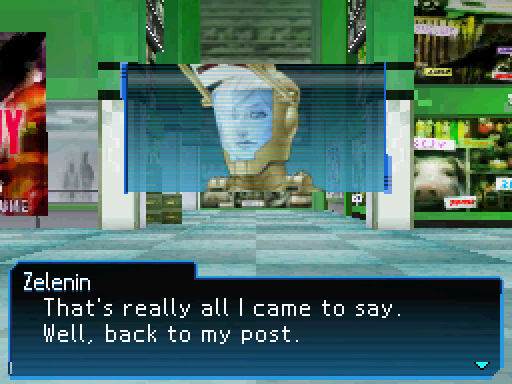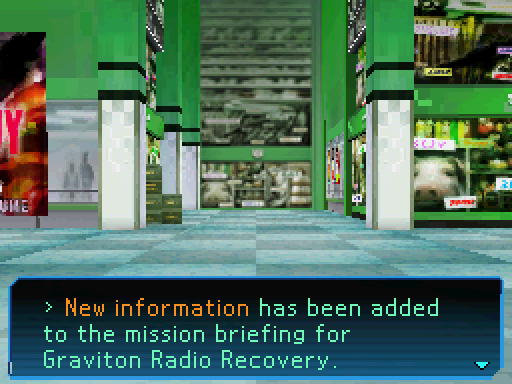 Yeah whatever. Let's just go and see what Irving can do with this shit.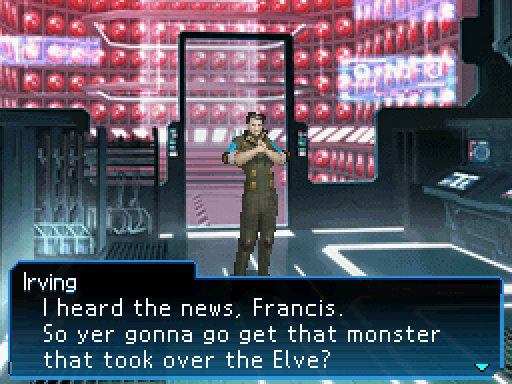 "A demon with a plasma shield... Sounds like one tough varmint! Attackin' a plasma shield with a sword is like tryin' to cut up the sunlight."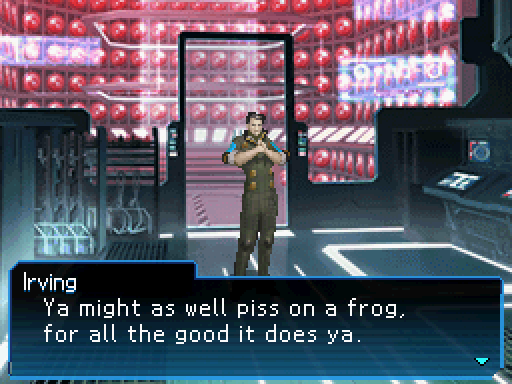 Haha, what?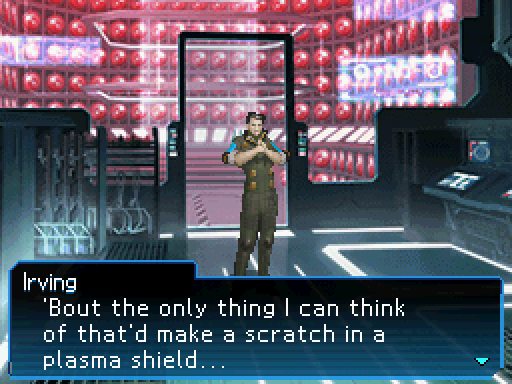 "Well, ya can probably guess what I'm gettin' at. Ya gotta fight plasma with plasma. But anyhoo... Lemme take a crack at that doohickey you got from that angel "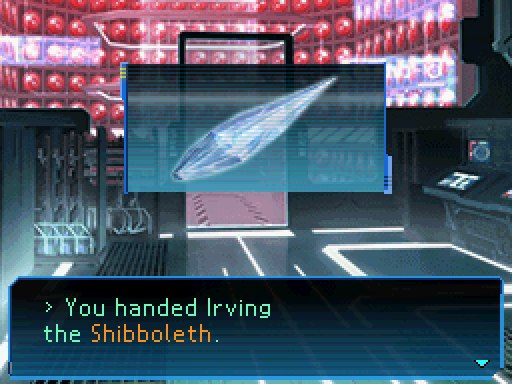 >Irving started working...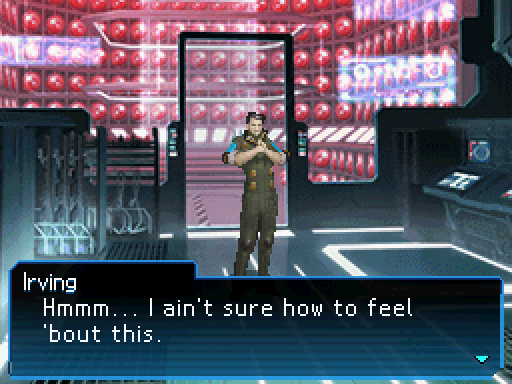 "Don't get me wrong, I think it was a success, but I ain't sure if it's what the angel had in mind... Well, comes a time in every fella's life when he's gotta put up or shut up. Go git 'em!"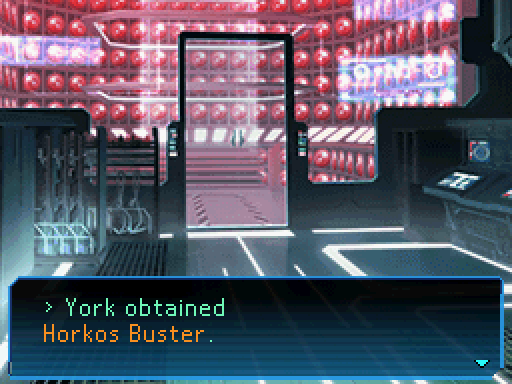 Why am I getting Megaman vibes out of that name? WHY.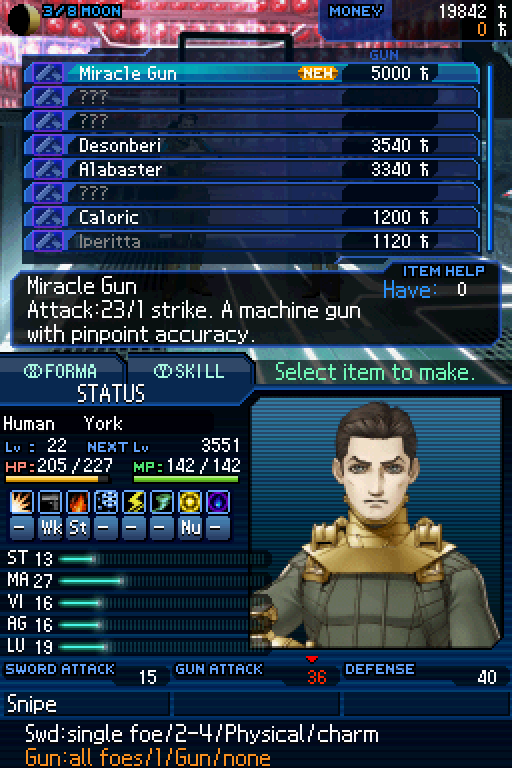 Irving also got a new gun for us! Meh. I think I will retain the current one for now.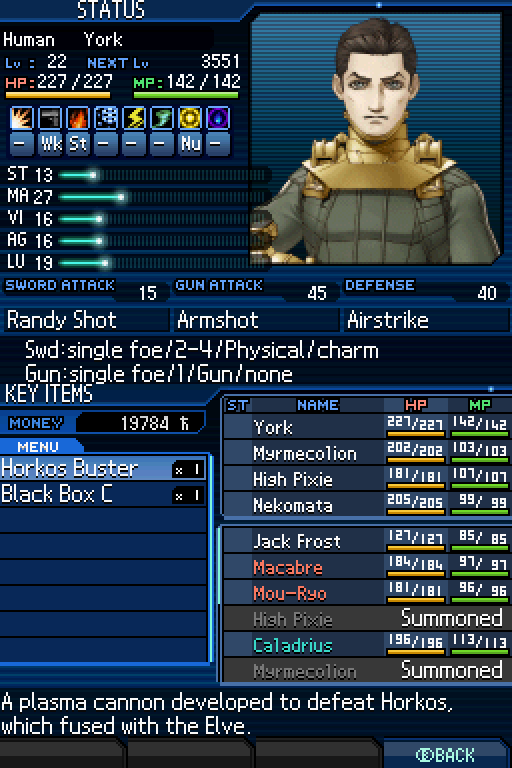 And there it goes. A plasma cannon.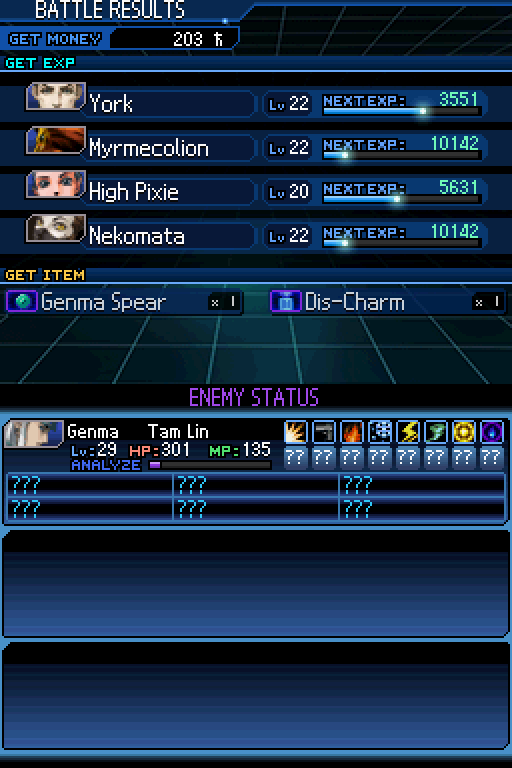 And Tam Lim is a new silly FOE encounter. Not that bad. Not as easy as Kanbari, but definitely not as hard as Matador. Fuck Matador, is what I am saying.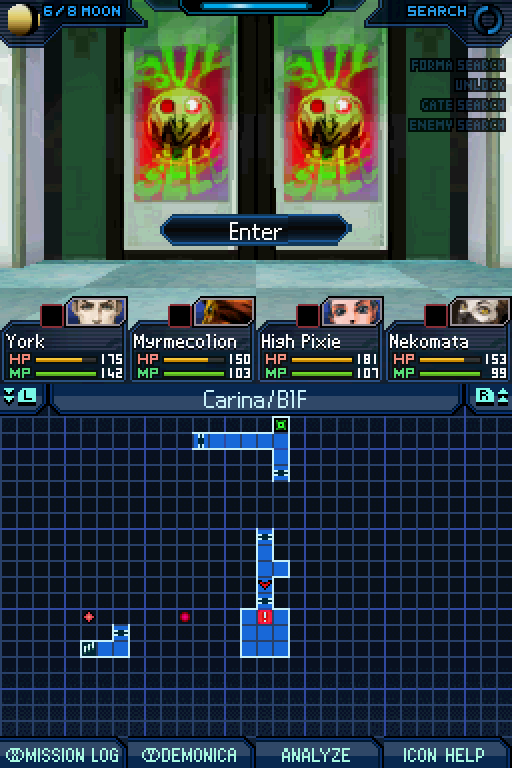 So let's get here and beat the shit out of that ship with a pig on top.
Horkos Buster Go!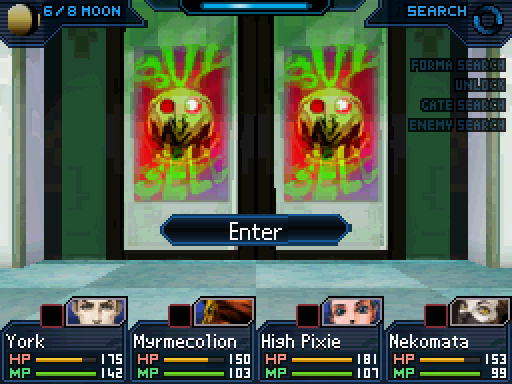 Horkos shall be shot. Asshole!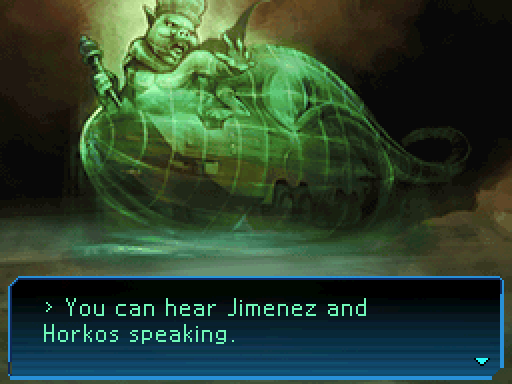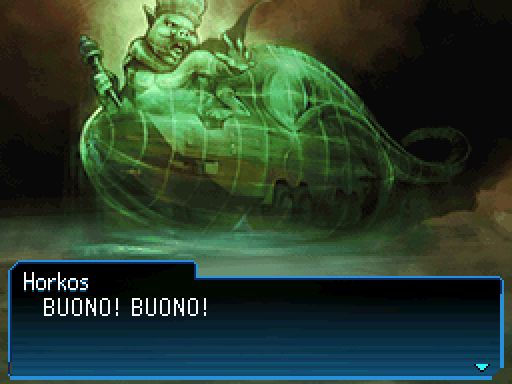 Horkos
: "THIS IRON SHIP WAS GOOD! IT WAS FILLED WITH HUMANS! IF I GET TO EARTH I CAN EAT MORE! I CAN EAT HUMANS UNTIL I'M FULL! I'LL EAT YOU ALL. TO EARTH! TO EARTH! TO EARTH!"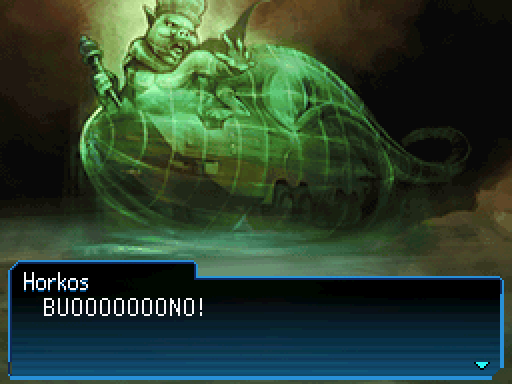 Excellente. As Bueno says.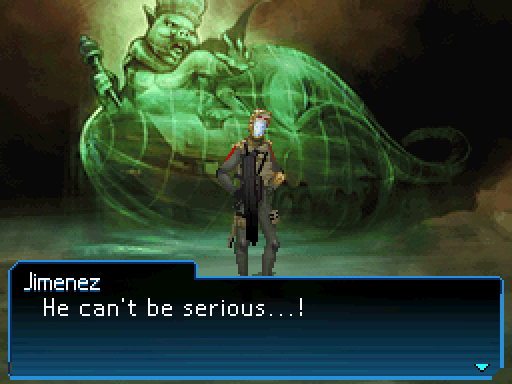 "...! Hey there, Francis. Whatcha got there?"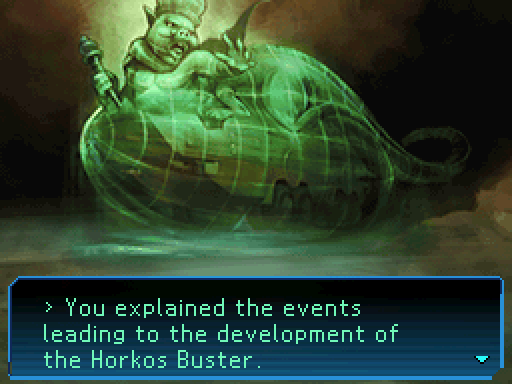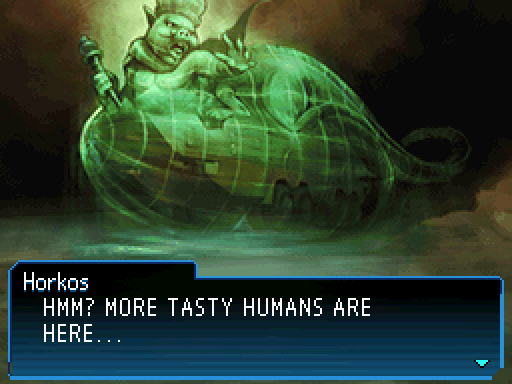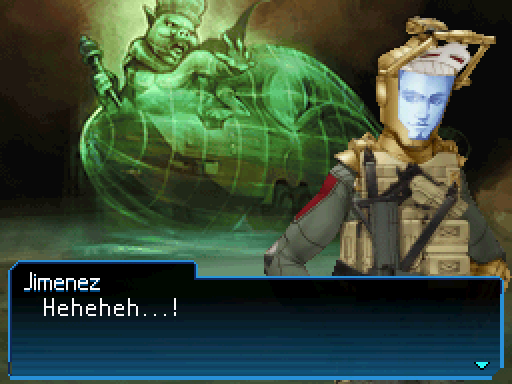 "Hey, fatso! Shut up and take your seat at the dinner table. Our 3-star chef has arrives. He'll feed you plenty of his specialty dish... "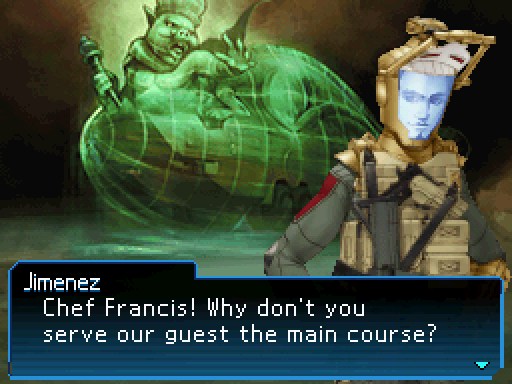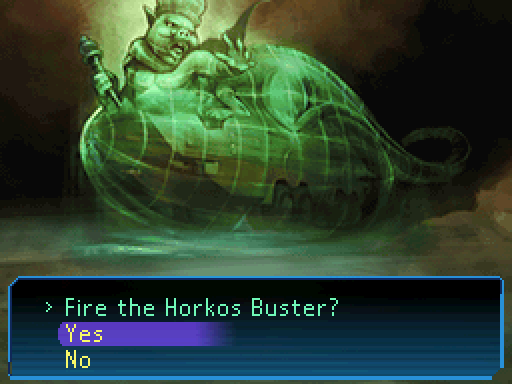 Well, that is what it was made for. So let's justget on with it.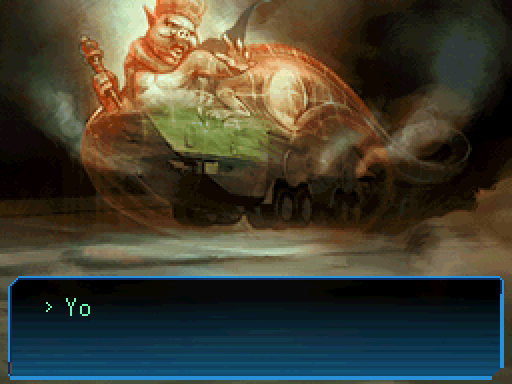 Hell yes! It worked! Or at least it did something.
He is orange now.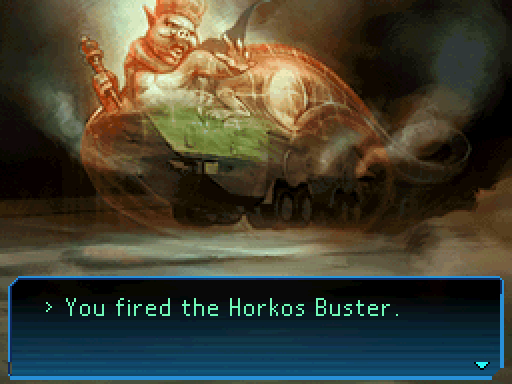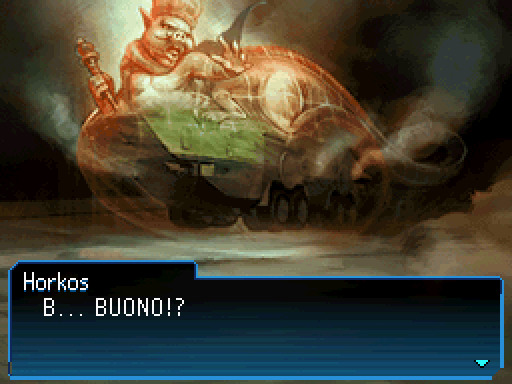 No, not buono.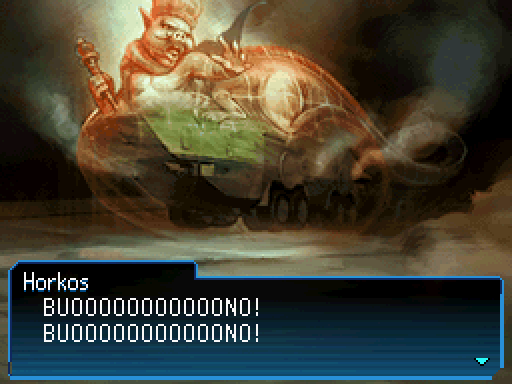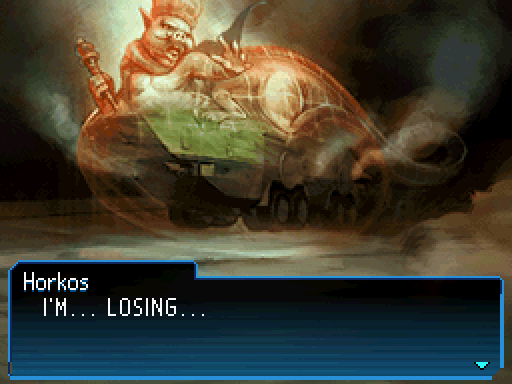 Yes, you are!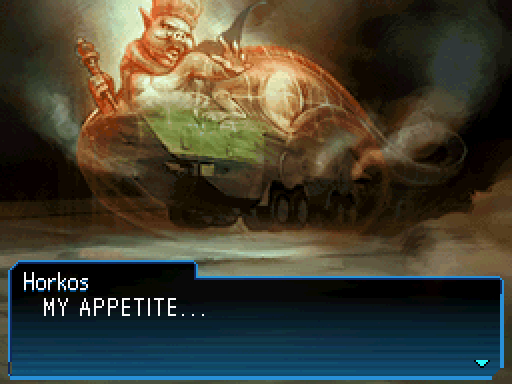 Wait, what? It made him not want to eat?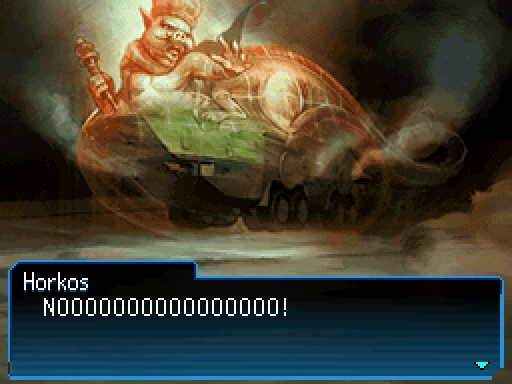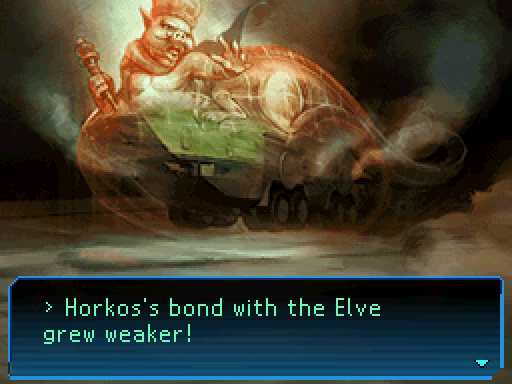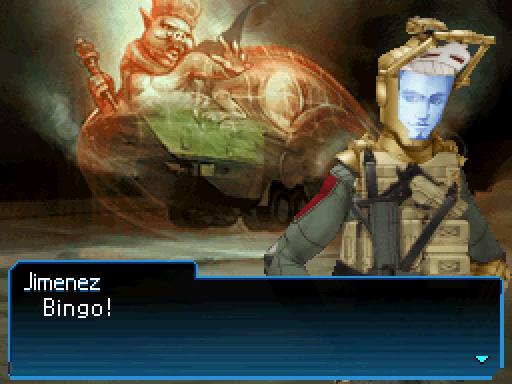 "Eat to your heart's content, fat boy, and fall into a food coma! "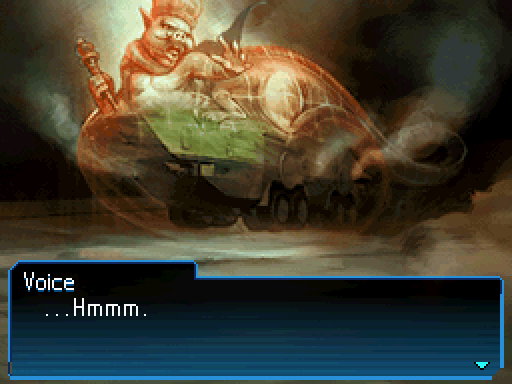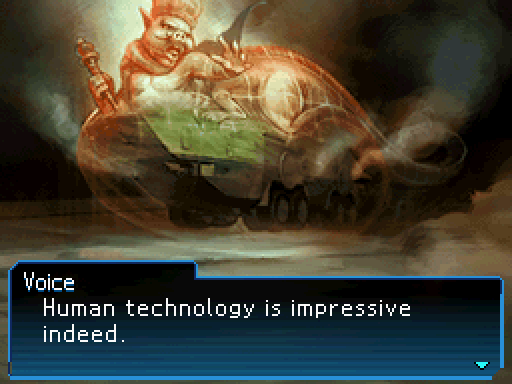 Isn't it? It works! And it can murderize things well!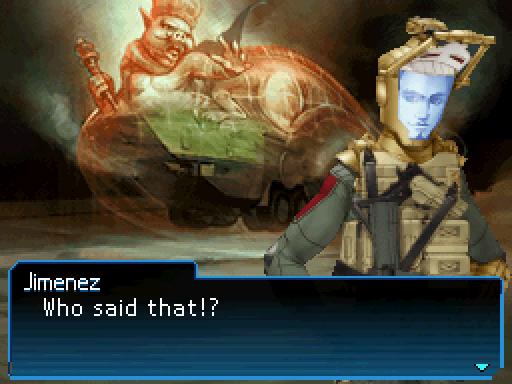 Oh boy.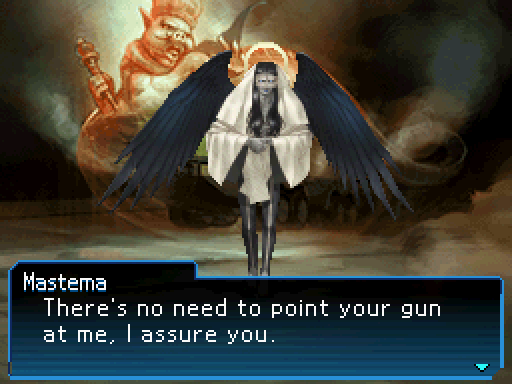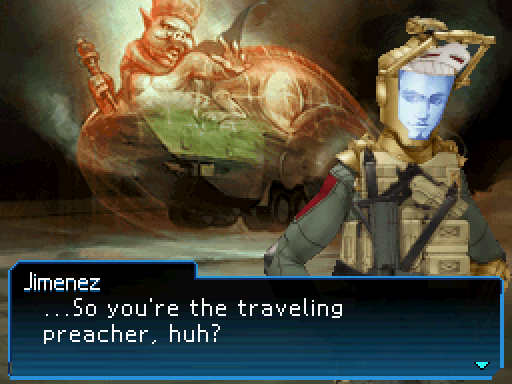 This doesn't seem like the most adequate time.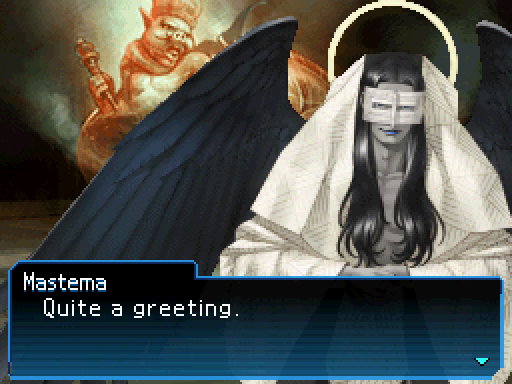 "I don't believe we've met. What is your name?"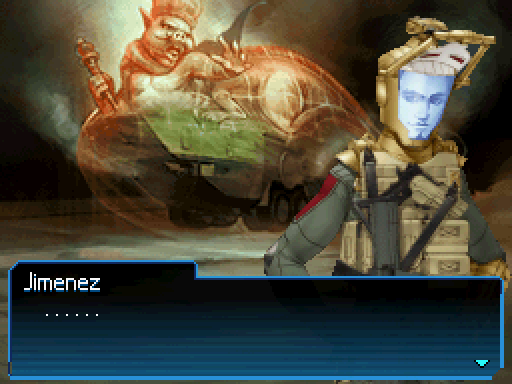 "Yours first."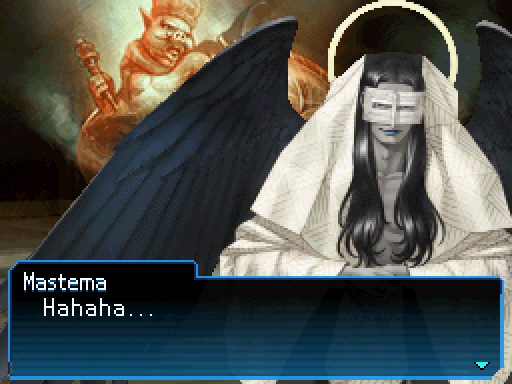 Definitely NOT the best time for this shit.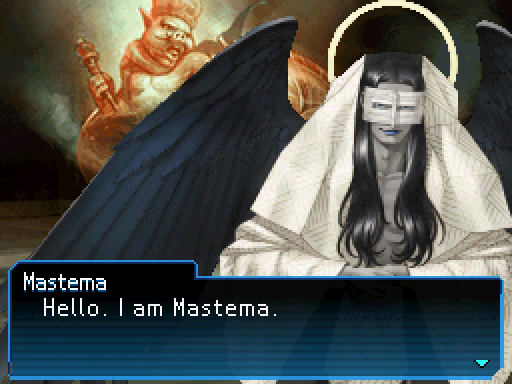 "Does that satisfy you?"

"...I'm Jimenez."

"It's a pleasure to meet you, Jimenez. I think you and I can get along splendidly."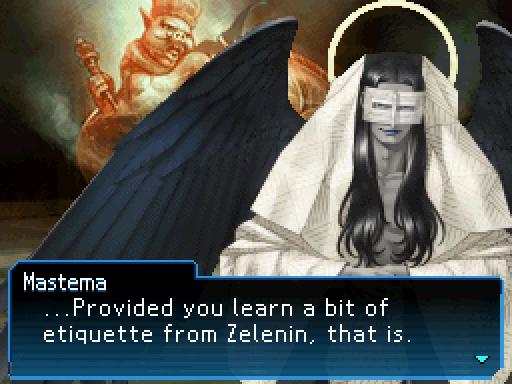 God damn it why the HELL are they introducing each other antagonistically when goddamn Horkos should be GODDAMN SHOT TO DEATH. God. Damn. It.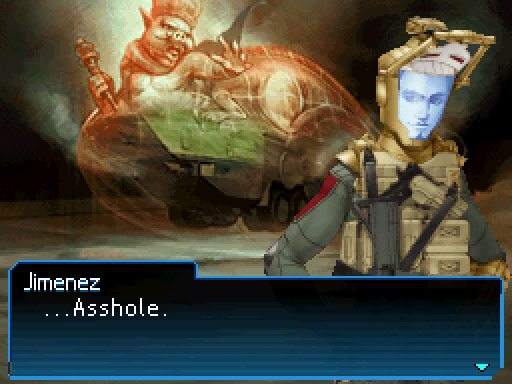 "So, Francis. It seems you have brought Horkos to hell with our Lord's protection. Now shoot Horkos once again to fill this land with the Holy Spirit."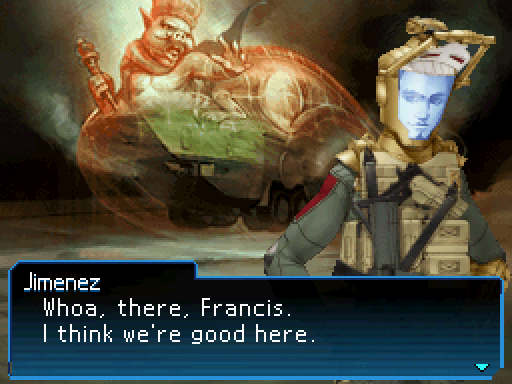 And now Jimenez decides to be MASSIVELY stupid.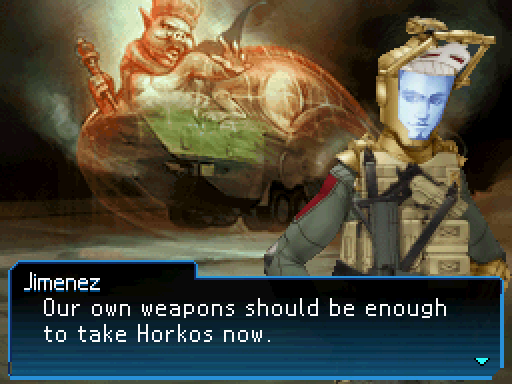 God damn it.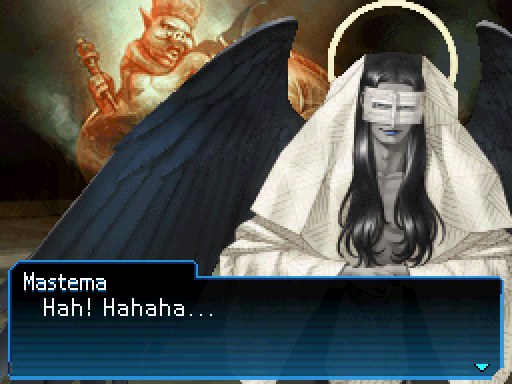 Yeah, no. God damn it.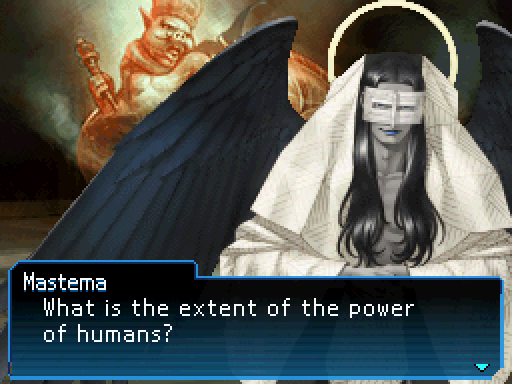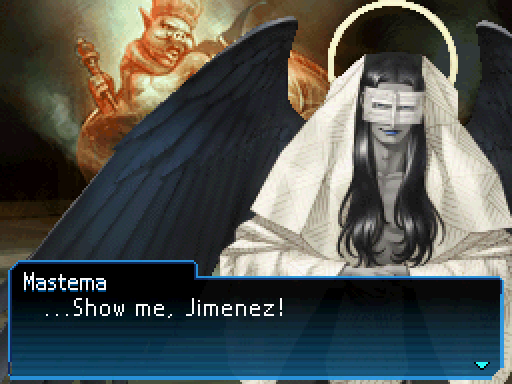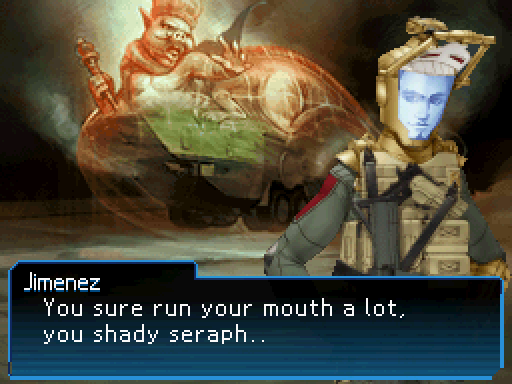 "... Open wide, fat boy!"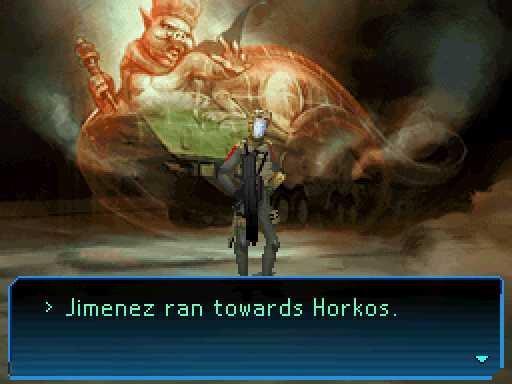 Why did Jimenez decide to be a total idiot suddenly? WHY.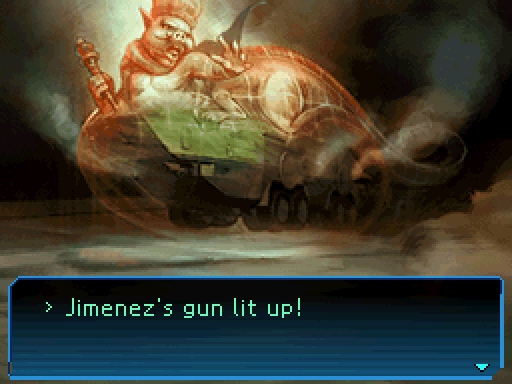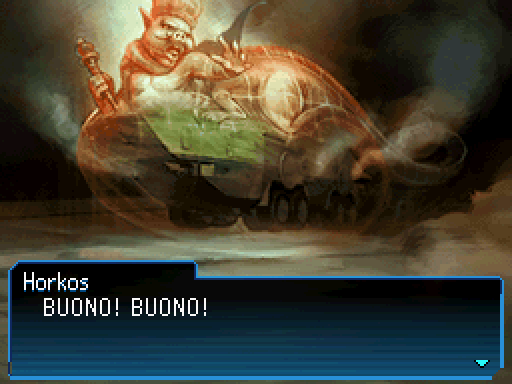 Horkos
: "I WON'T LET HUMANS TAKE THIS USEFUL BODY AWAY!"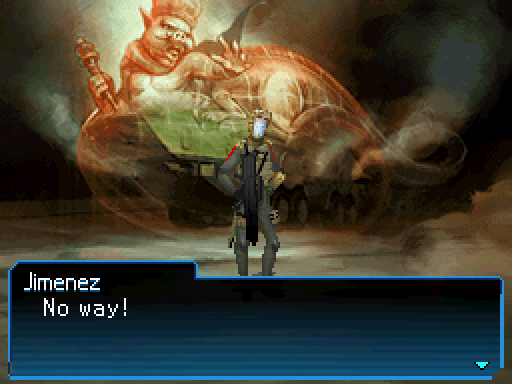 You idiot.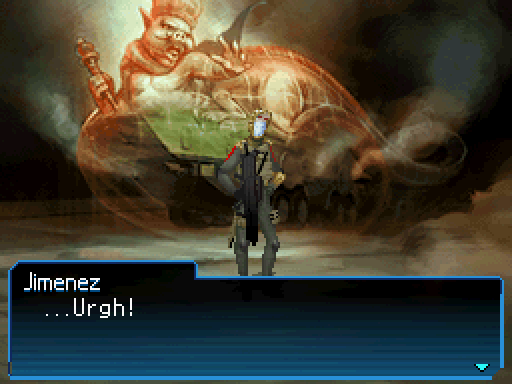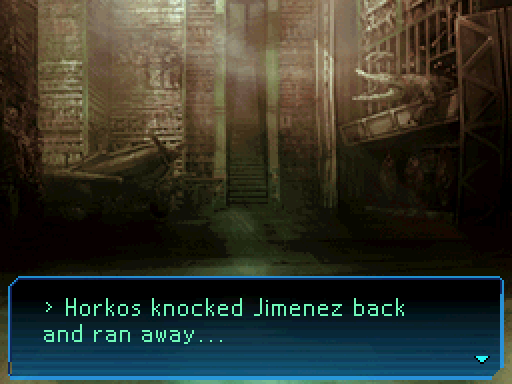 God damn it.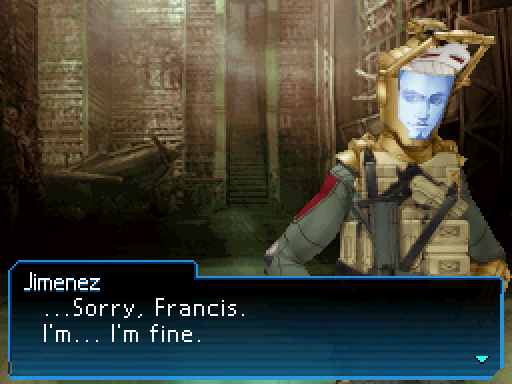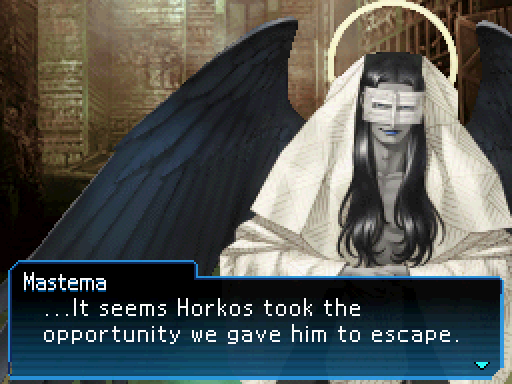 No shit.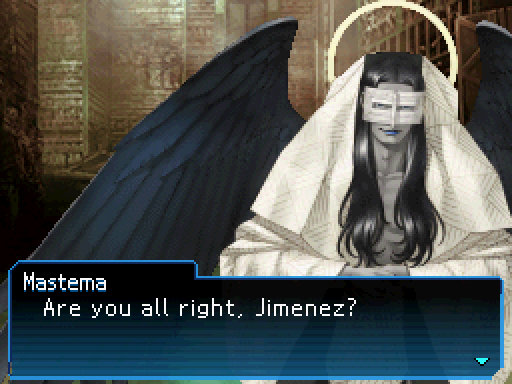 "Here, take my hand."

"I'll get up on my own."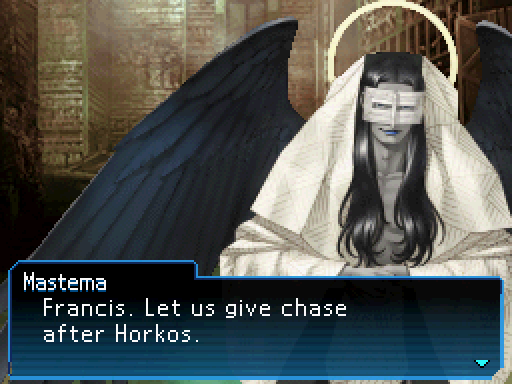 "We have driven it into a corner with the Horkos Buster. So long as humans follow the word of the Lord, nothing is beyond their grasp!"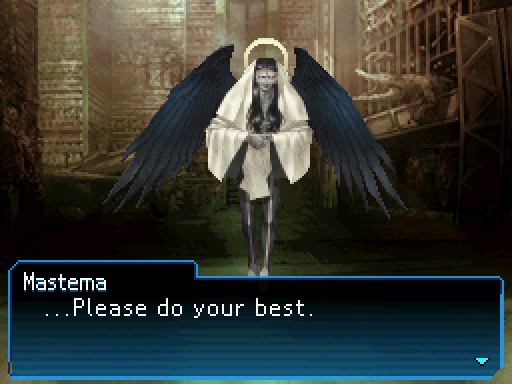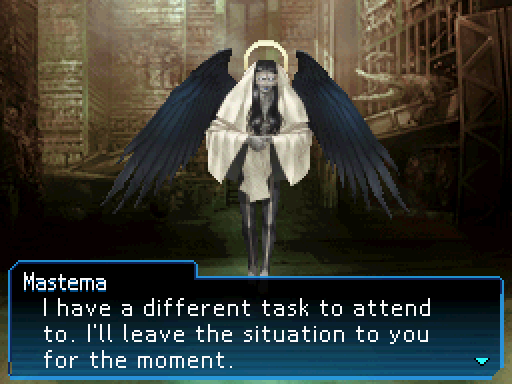 Oh well. At least he did produce the thing that allows booming things to hurt Horkos. That's a good thing.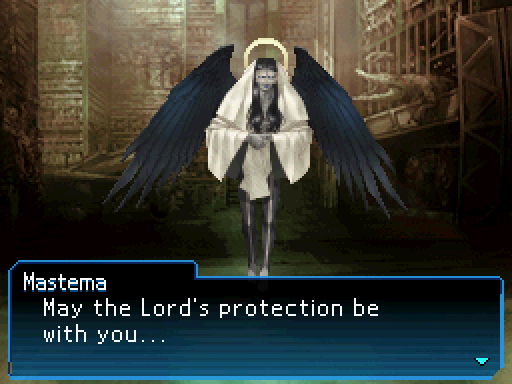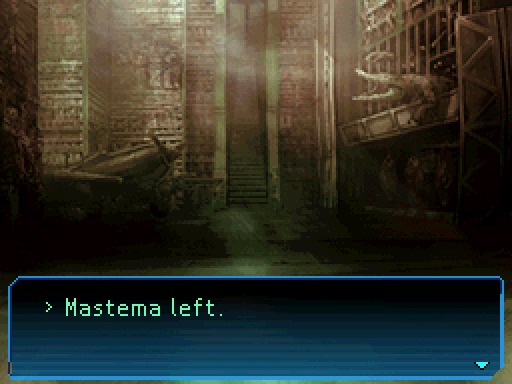 On the other hand, had he not appeared there beore, Horkos would've likely been shot again with the buster, and Jimenez would not have gone into retard mode.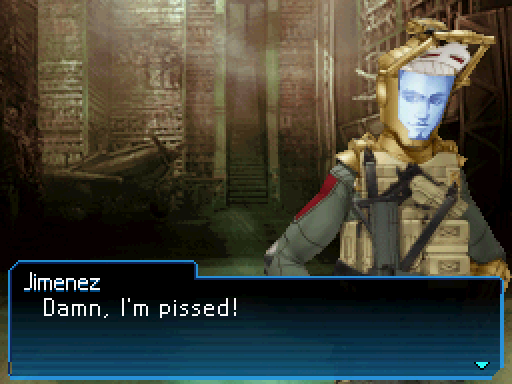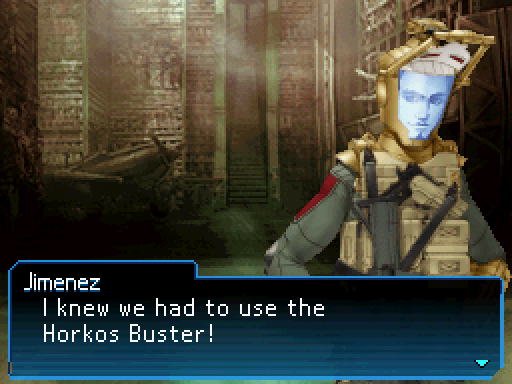 And yet he had to go into retard mode.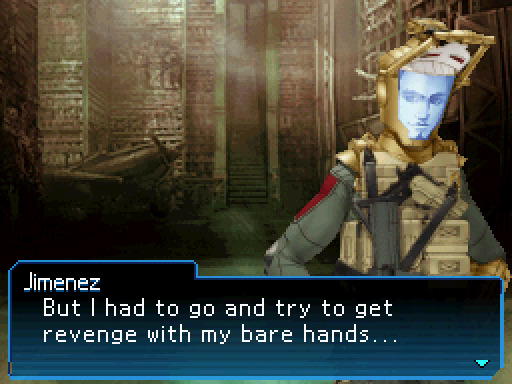 Not your bare fucking hands, you used a fucking gun, you idiot.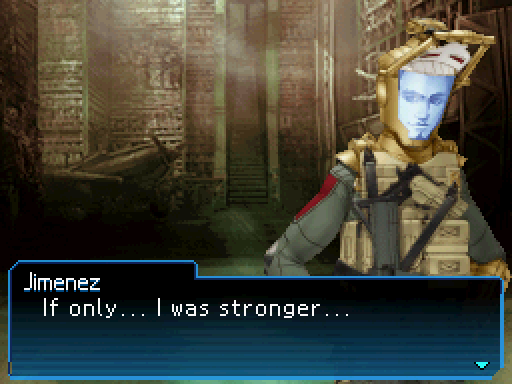 HURF DURF NO PRIZE FOR GUESSING WHAT GODDAMN ALIGNMENT HE FAVORS.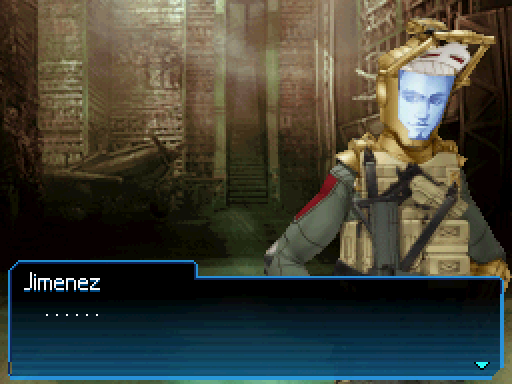 Fuck you, Jimenez.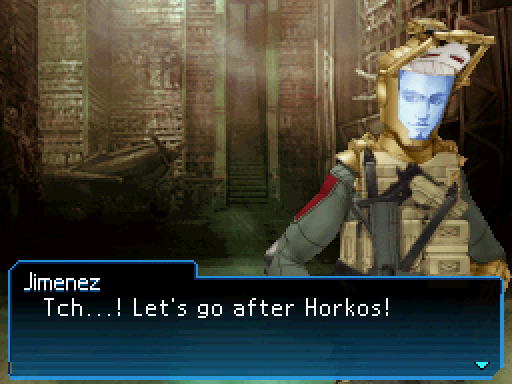 Bah.