Part 53: Separation at last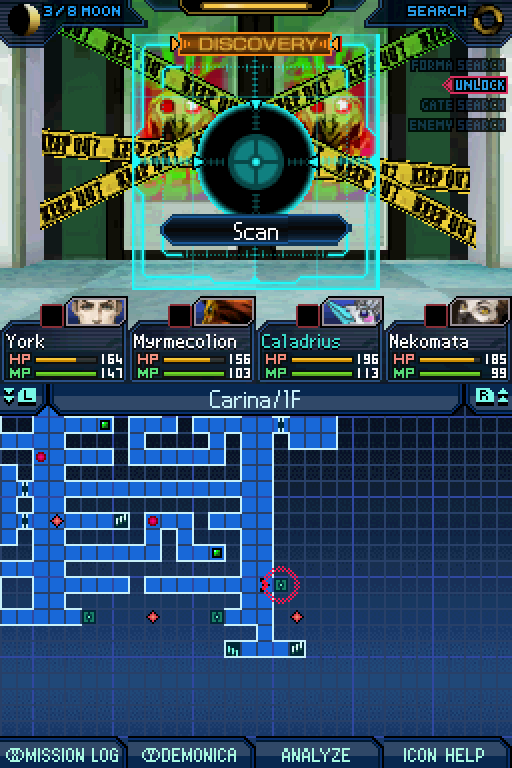 We can now open doors! Can't a knife deal with the tape things? Eh. Doesn't matter. It can be opened now.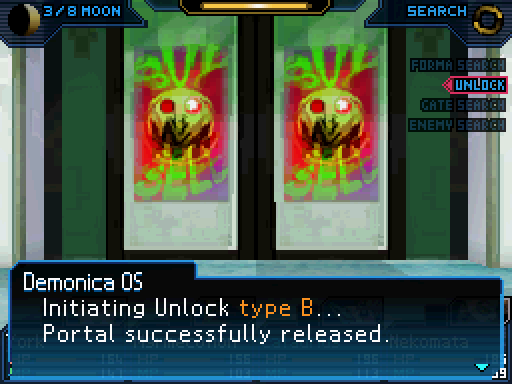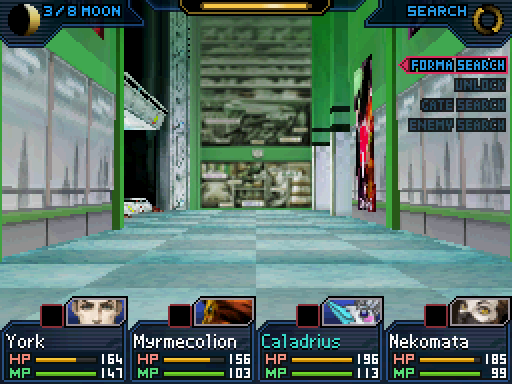 Access!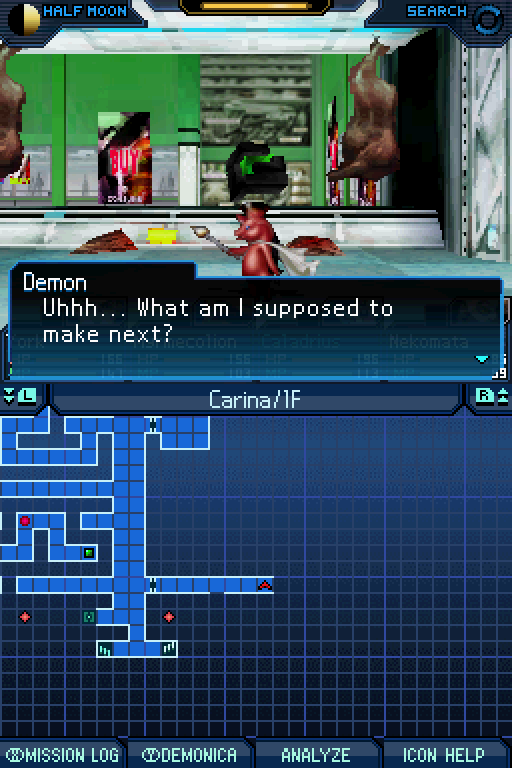 Demon
: "Geez. He's clearing shelves left and right. The manufacturing department can't keep up! 'S what you call conspicuous consumption, am I right?"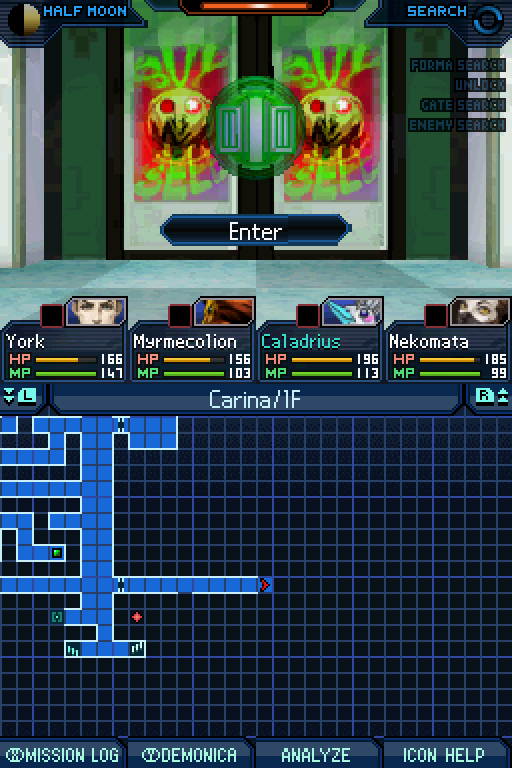 And a Terminal right there. Might be something big nearby!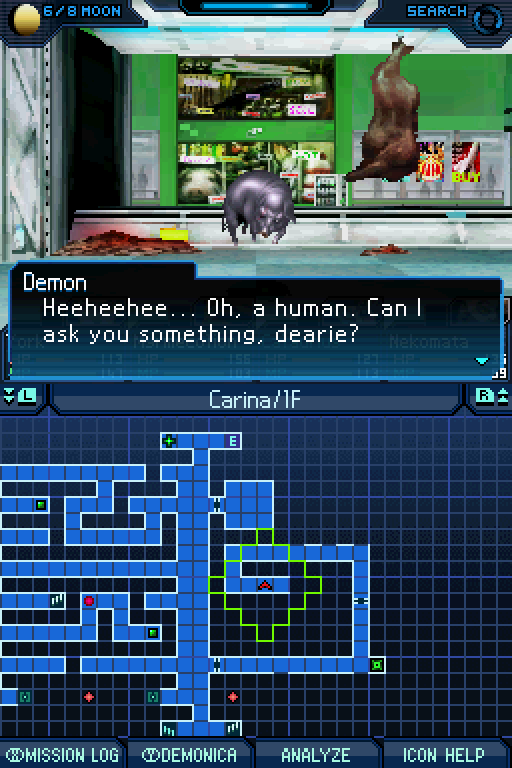 Demon
: "Your world is like this all over, right? Goodness... I think you humans deserve to have us annihilate you. "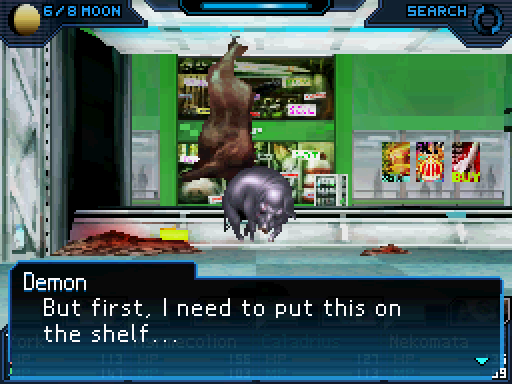 Priorities, people! Also, seems like there is a porcine-ish theme in this area.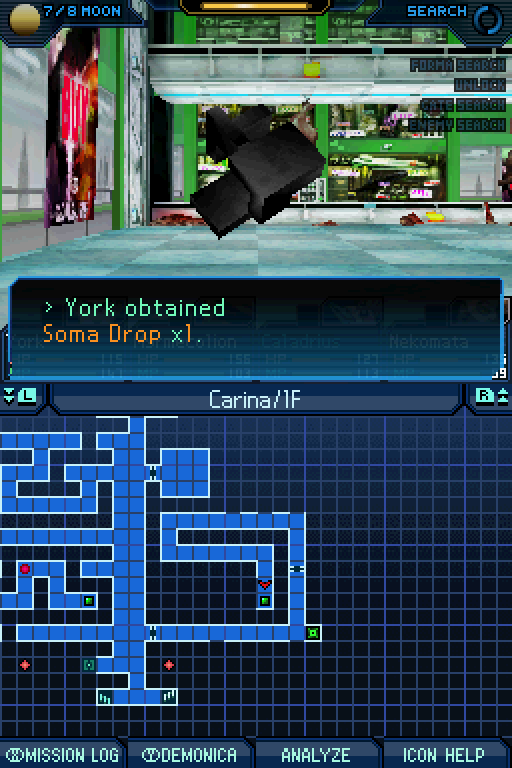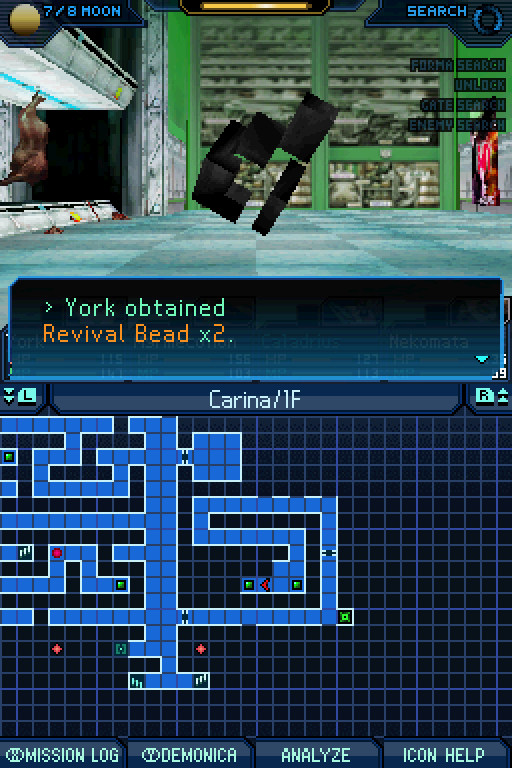 This item is not useless, but they are not such a rare drop.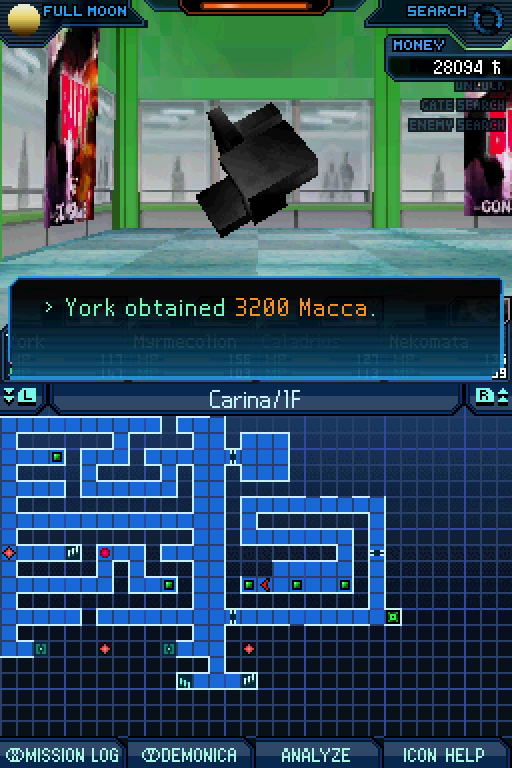 And money is always useful. Always.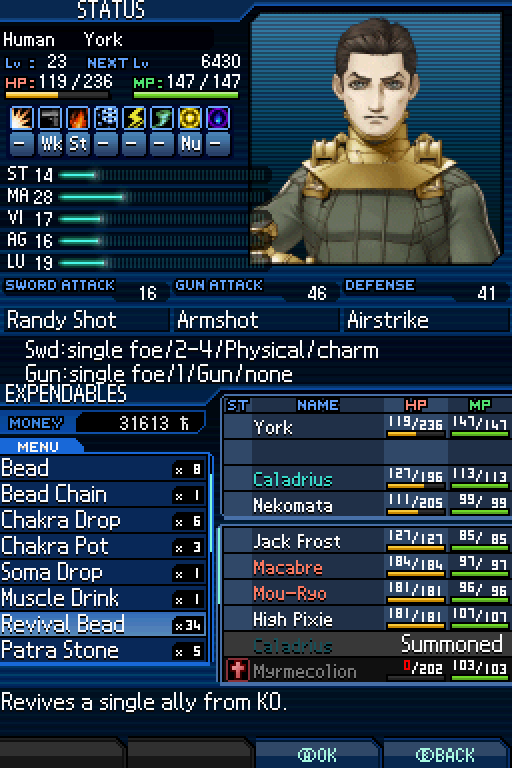 Yeah, a bunch of those.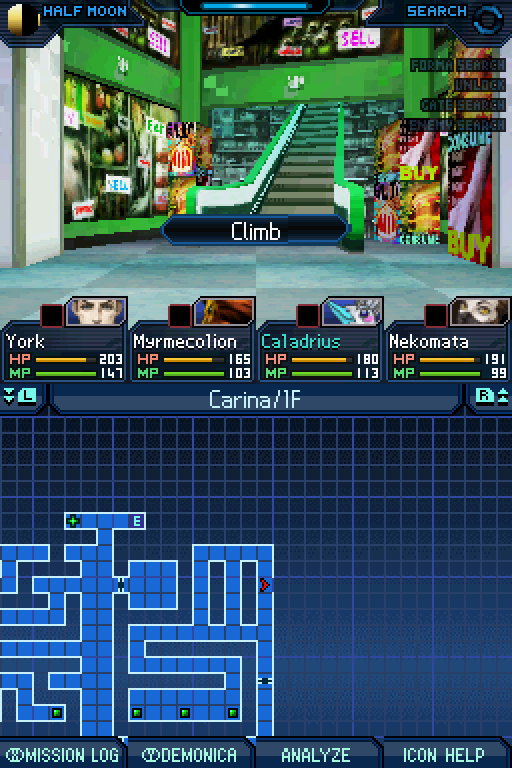 A set of stairs/an escalator going up. Probably something will happen upstairs, since most of this has been explored, I think. Probably all of it, have not checked the achievements. Not yet anyways. Will probably check it out for the next update.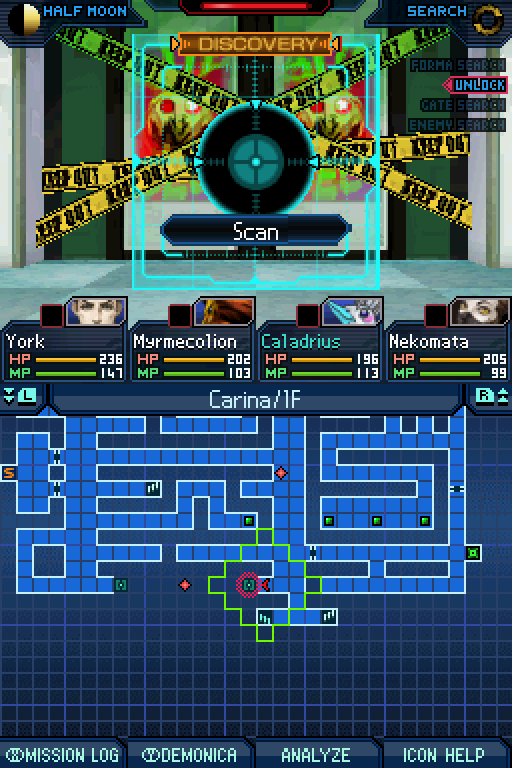 So let's finish up. This is just a shortcut.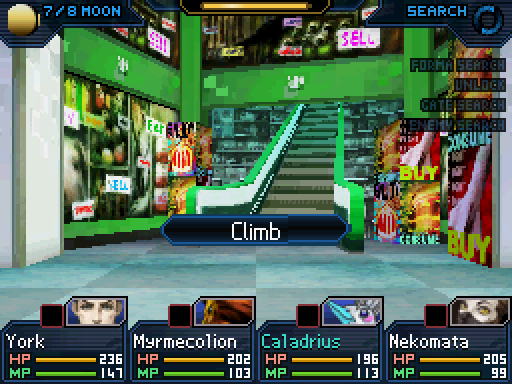 So let's get up here. Nothing more to be done in floor 1.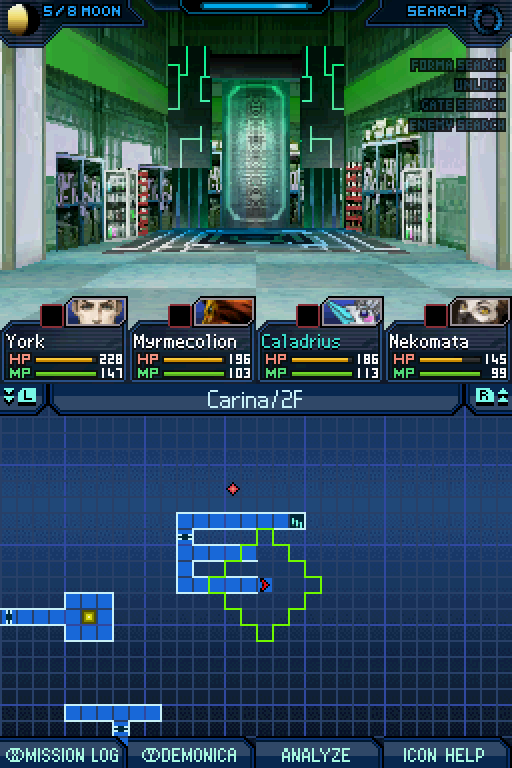 Let's go up.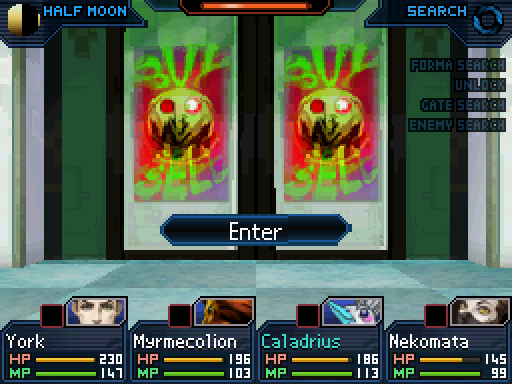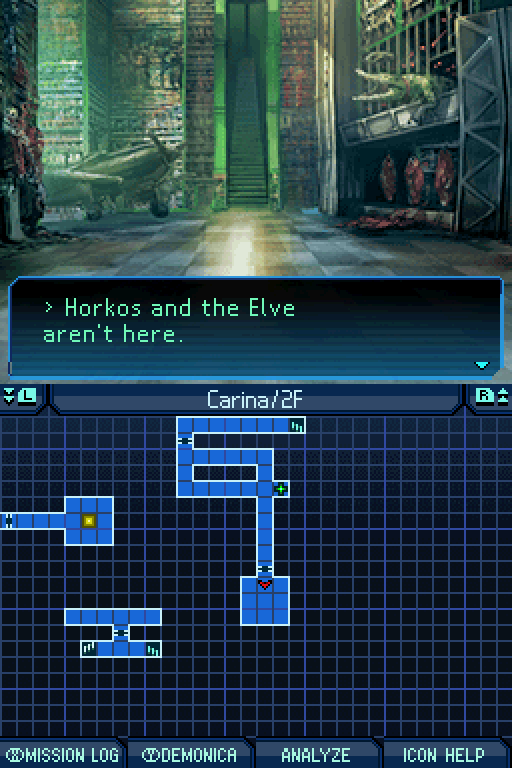 Boo! There is nothing here! What a waste of time.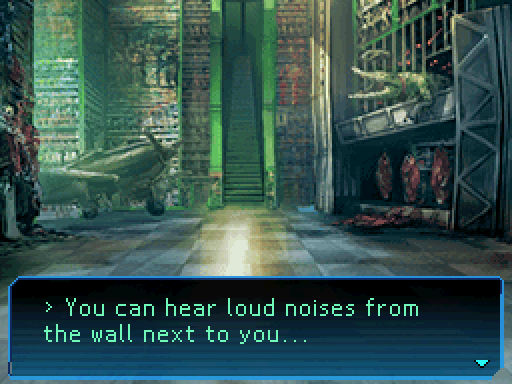 Hm.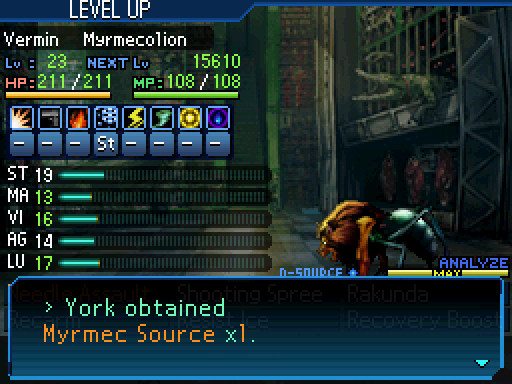 There must be something there. And meanwhile, Myrmecolion is sourced, so he will be fused as soon as possible.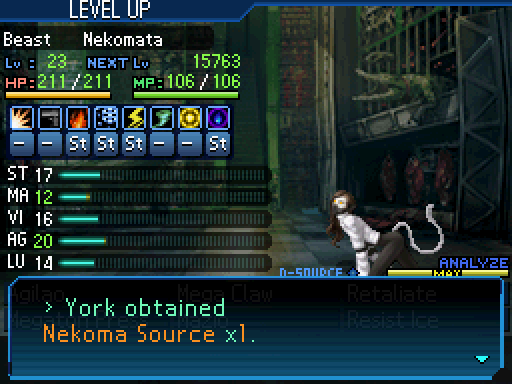 Same with Nekomata.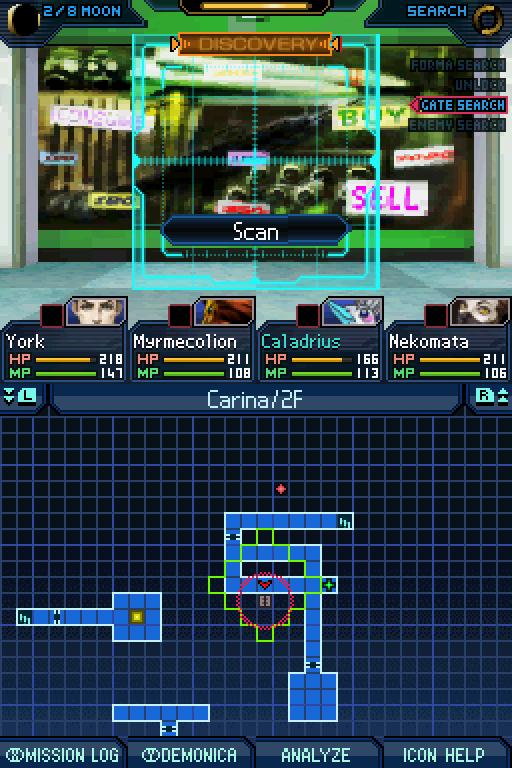 But who knew? There WAS a hidden door here. Why yes, how unexpected.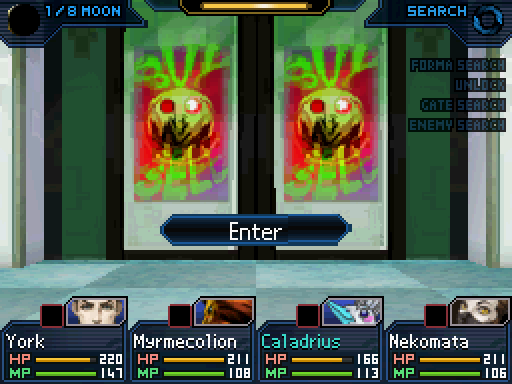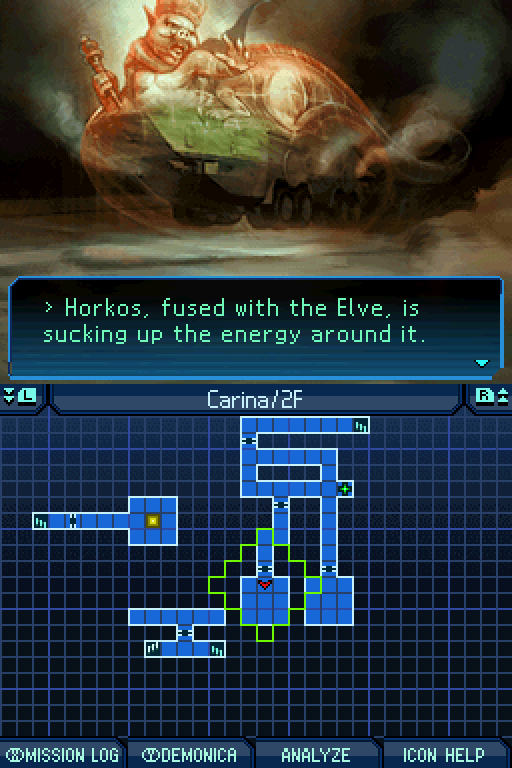 And the fat bastard WAS there.
Goddamn Horkos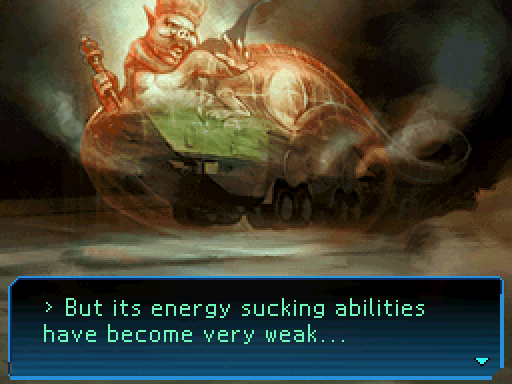 That is good, isn't it?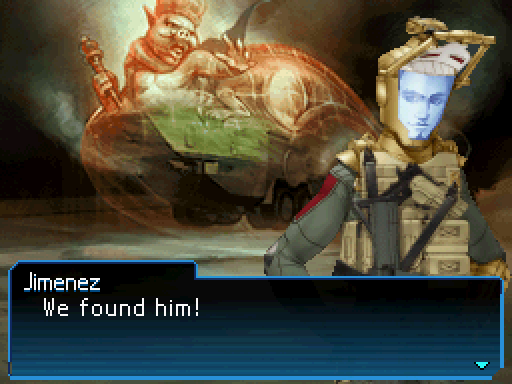 "Man, he's every bit as fast as he is hungry. "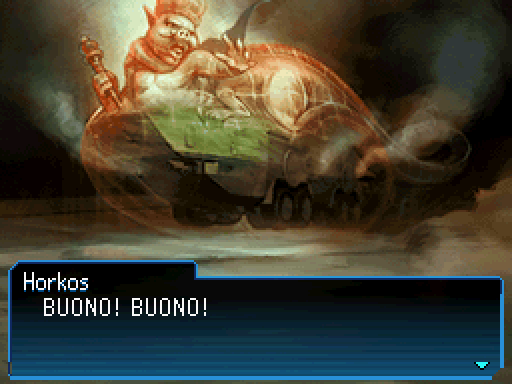 Horkos
: "WHY ARE YOU GETTING IN THE WAY OF MY MEAL!? WHY DO YOU TRY TO HOG ALL THE FOOD!? BUOOOOOOOOOOOOOOBO! JUST FOR THAT... I'LL EAT YOUR FUTURE. I'LL GOBBLE UP THE FUTURE OF THOSE WHO WANT THE PLANET BACK HOW IT WAS!"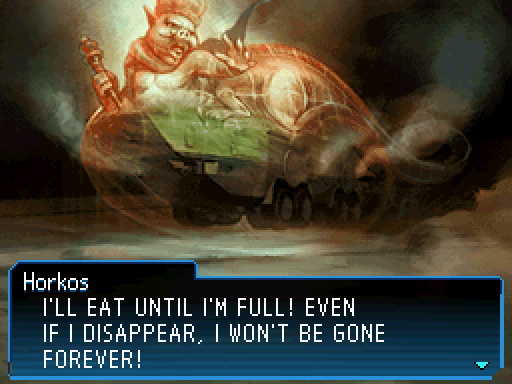 "Huh? Sounds like fat boy's gone a little loco... So whatcha gonna do, Francis?"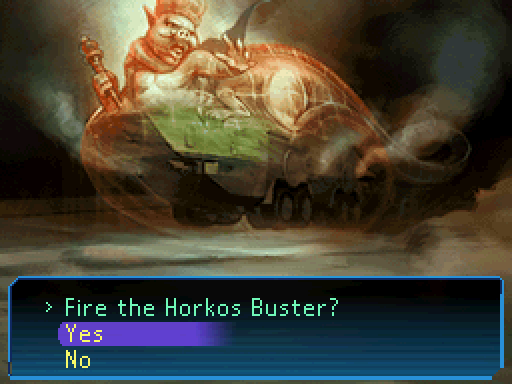 Hell yes.
Oh my, a sprite change? What is this madness?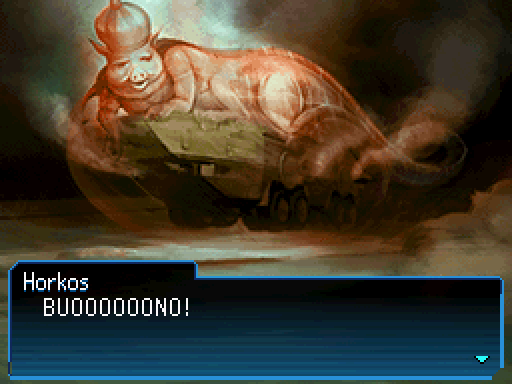 Horkos
: "B... B... BUOOOOOOOOOOOOOOOOONO!"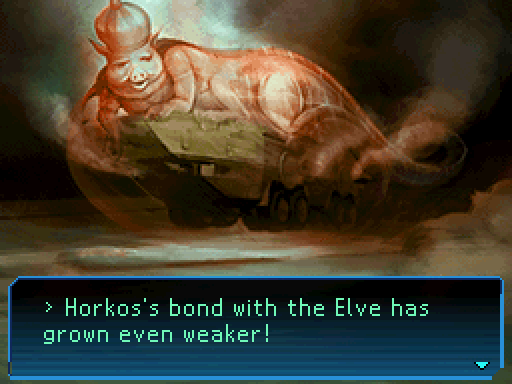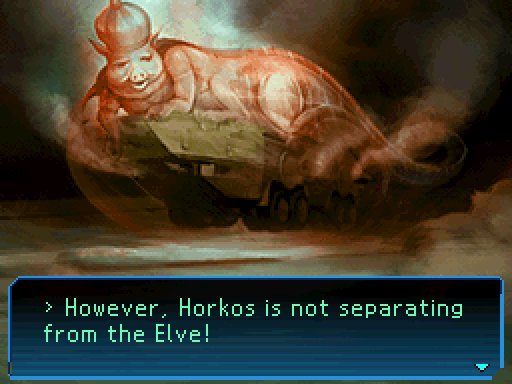 Goddamnit. Fortunately we got more of his medicine right here.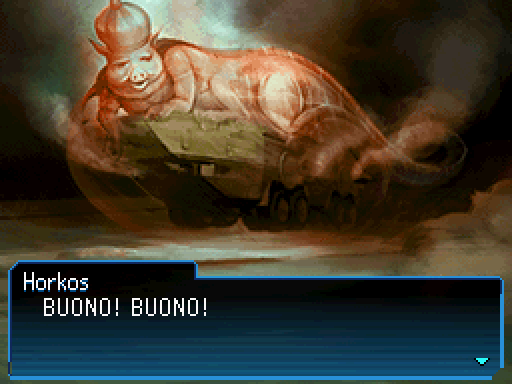 Yeah, asshole pigthing.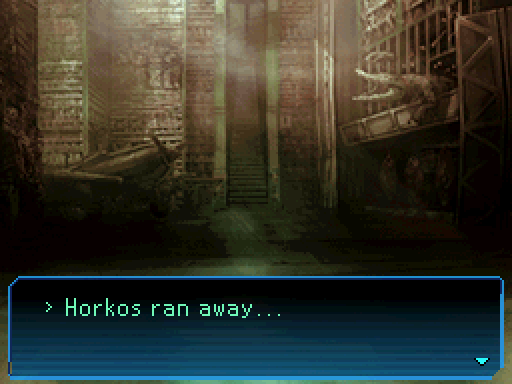 Then again, he could run away as well. Goddamnit.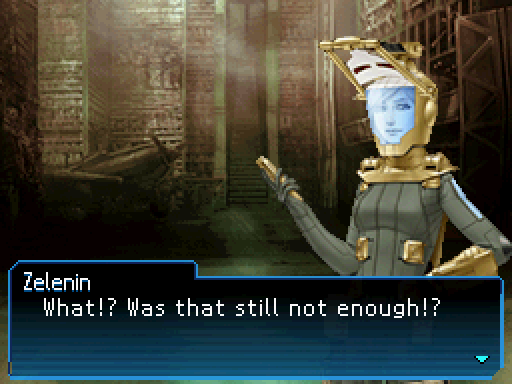 jimenex_av"Divine protection's not what it used to be, huh?"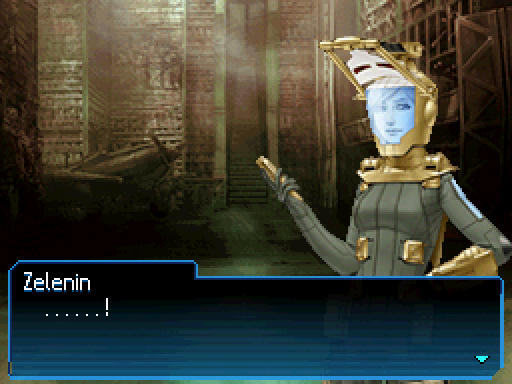 Less bickering more looting, that can wait for later.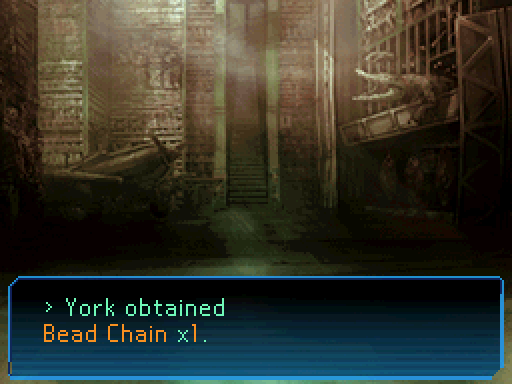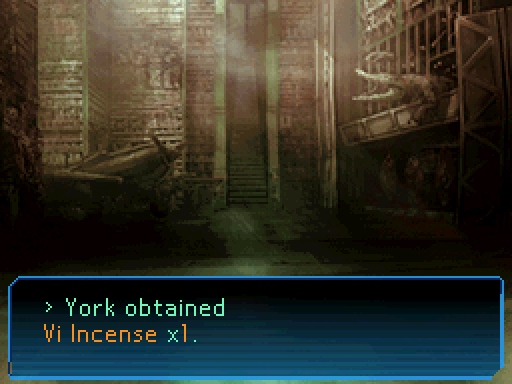 Not all that good, that loot. Oh well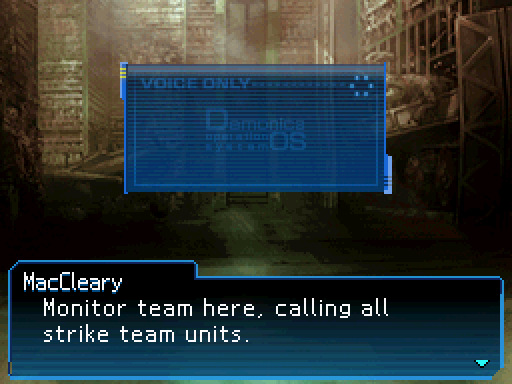 MacCleary
: "Listen up fuys, this is important. We've picked up a signal we beleive to be the Elve's. It's coming from the center of Carina. I'll transmit the coordinates to your Demonicas. Watch yourself, York. You're right on top of it."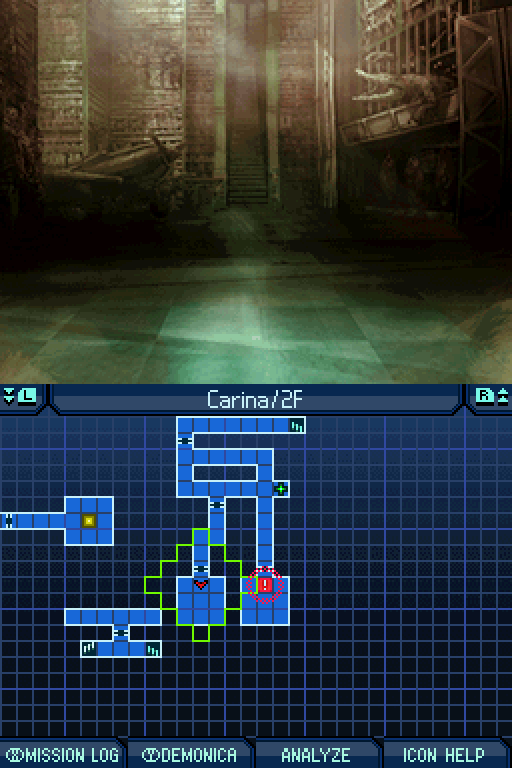 How convenient. It is in the previously empty adjacent room.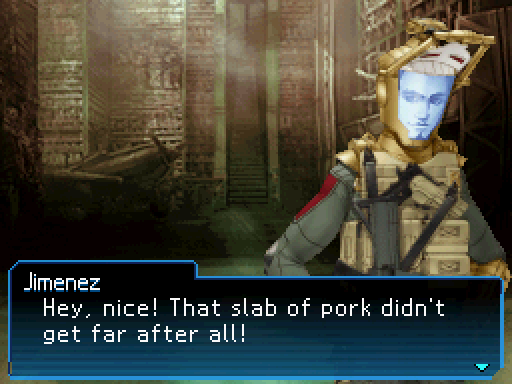 MacCleary
: "Thw signal we picked up comes and goes in waves. We think the Elve might be in very unstable condition."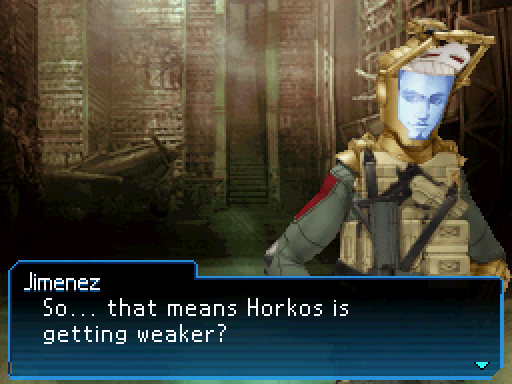 "Then Francis's atacks WEREworking. I'll be damned."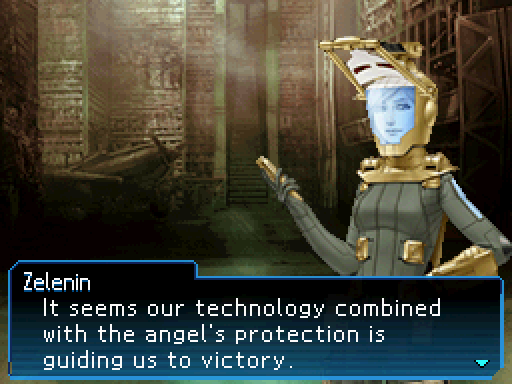 "Perhaps it's time you stopped acting so tough and faced facts, Crewman Jimenez."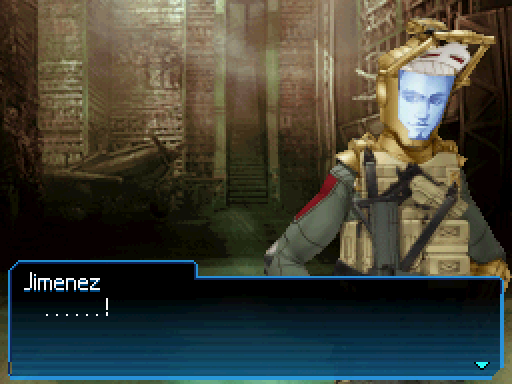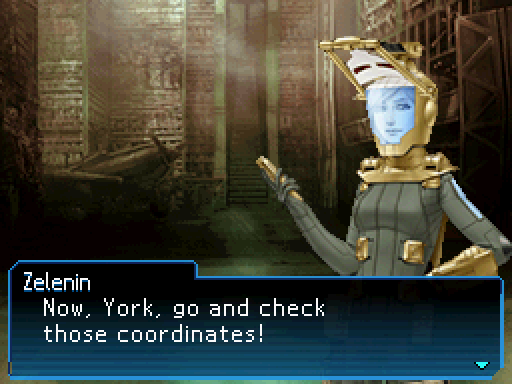 BICKER BICKER etc.
But yeah. Eh.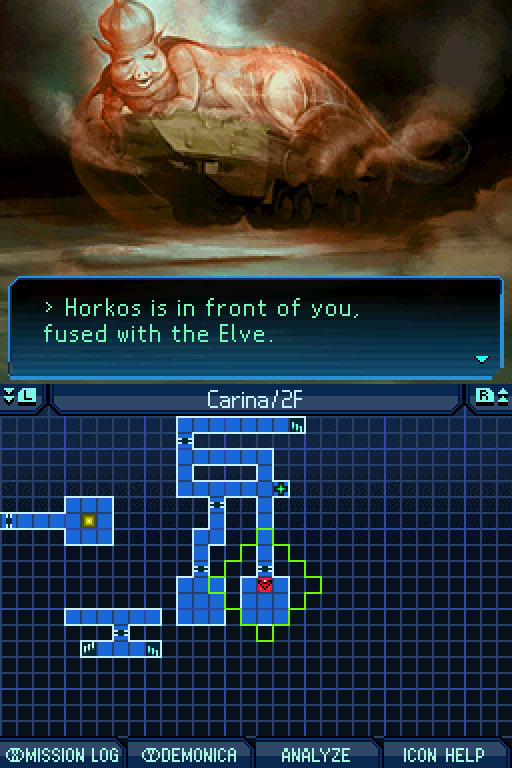 Yeah, you are going down pig thing.
One more time, blaghaghag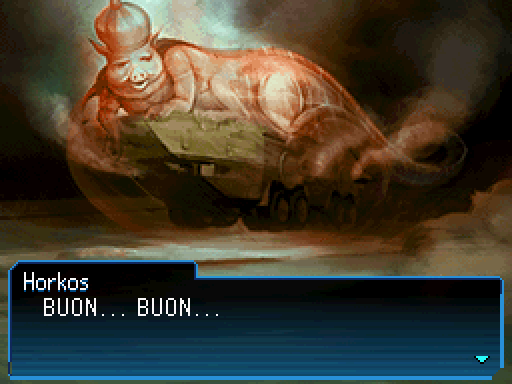 He's not looking so hot is he? Or maybe he is too hot, there is steam coming out of several places.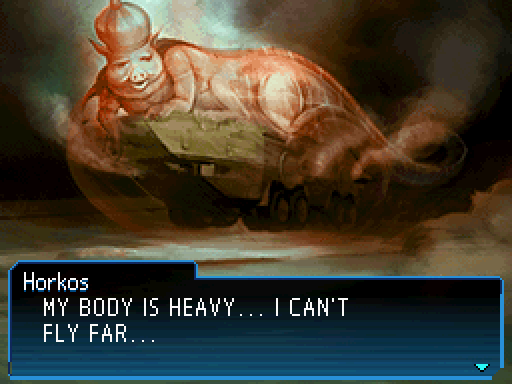 Why yes, and once Horkos gets separated from the Elve he won't be able to fly at all!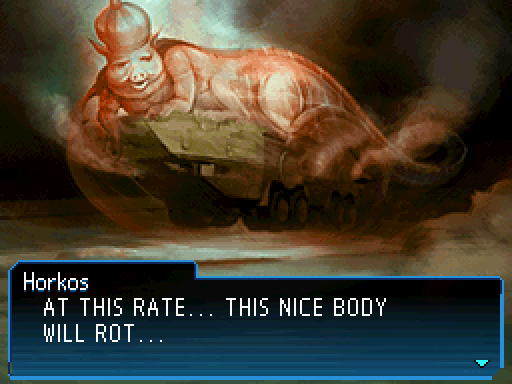 How can it rot? It is made of metal and whatnot. Or maybe he also refers to his regular pig-lizard-whatever thing body is. Eh.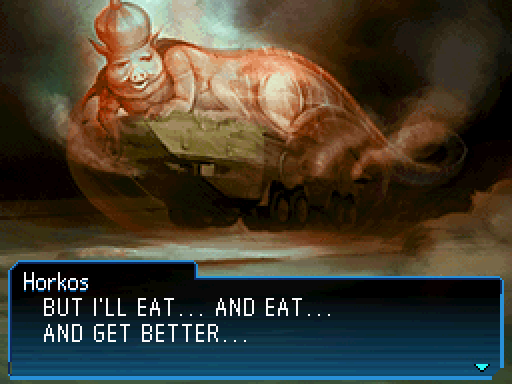 Horkos
: "I WILL DEVOUR... THE DELICACIES... OF THE WORLD... OF THE UNIVERSE... I WILL NOT... LOSE TO THE HUMANS!"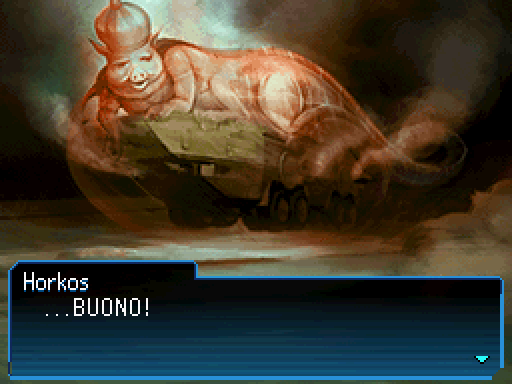 EXCELLENTE.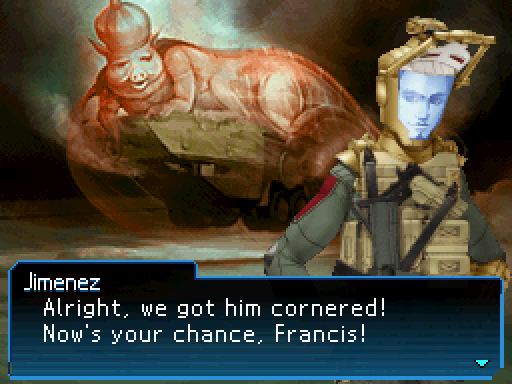 "Give this fatso the coup de grace!"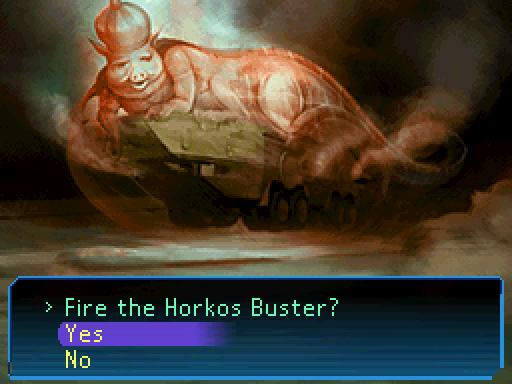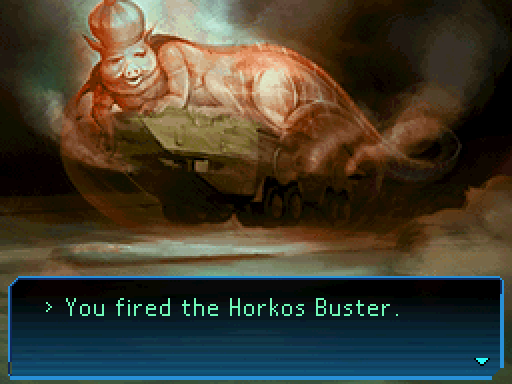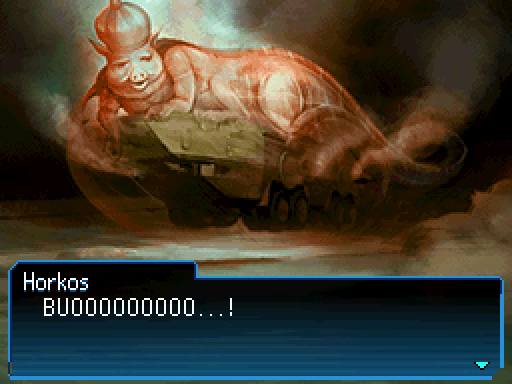 Bwaha.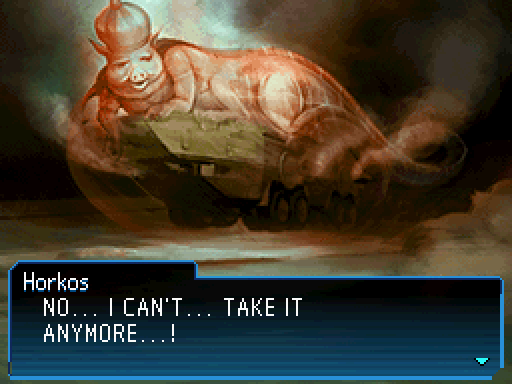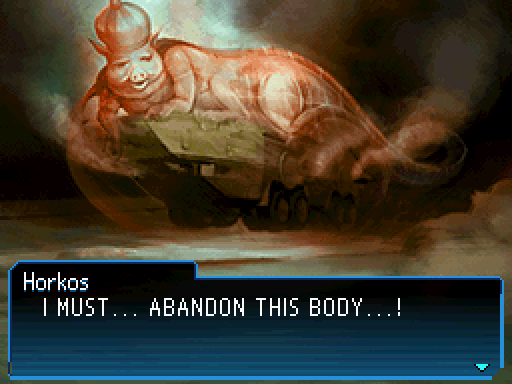 Success!
Yes?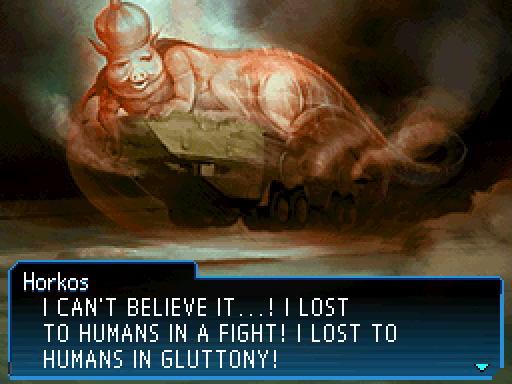 HORKOS
: "CURSE YOU... CURSE YOU, CURSE YOU, CURSE YOU! I WILL HIDE AND RETURN FOR MY REVENGE!"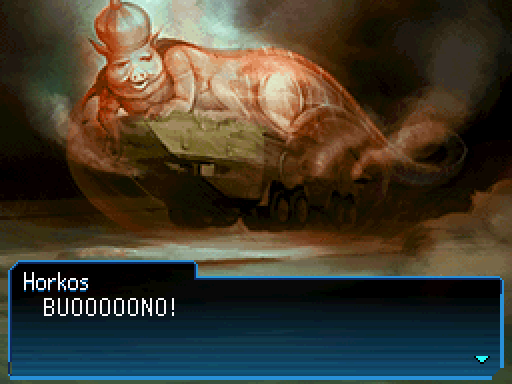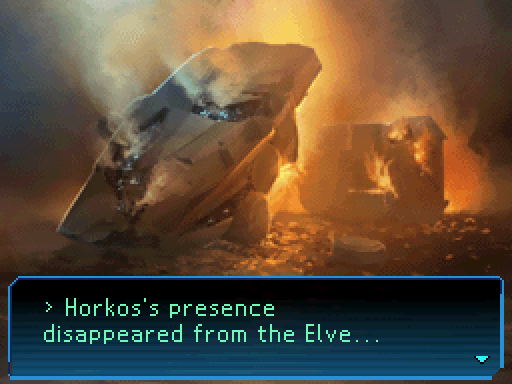 Huh, the Elve is pretty goddamn wrecked. Horkos sure messed it up. Is there even anything of use in it? Blagh. At least the gun worked.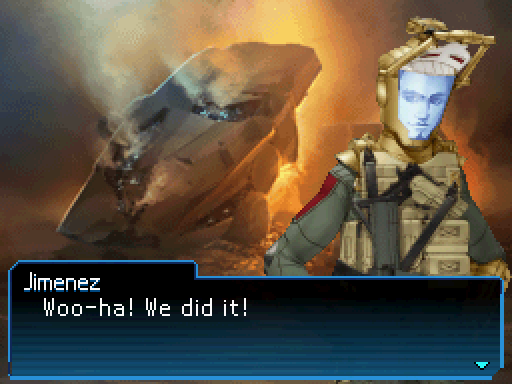 "Serves you right, fatass!"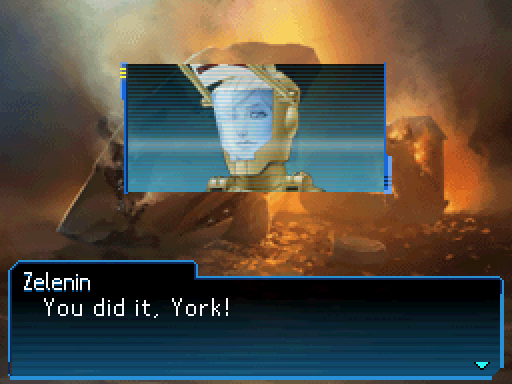 "Er... were you able to get the Rosetta from Horkos? "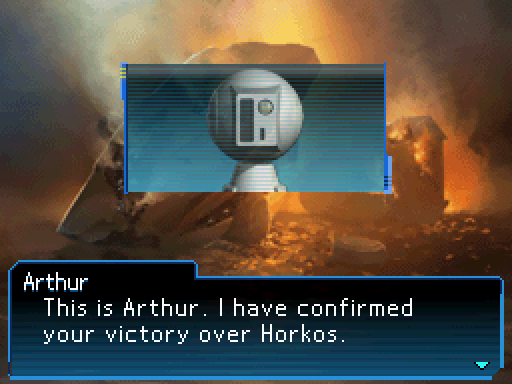 Arthur
: "The Elve's outer hull has been damaged. The inside may require inspection. Proceed to investigate."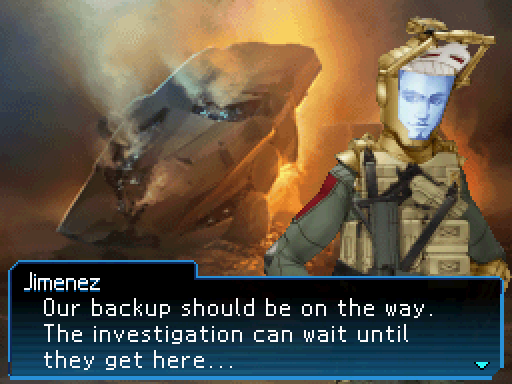 "Man, though... He didn't look like much, but that was one scary pig..."
The hell he didn't. He was GIGANTIC.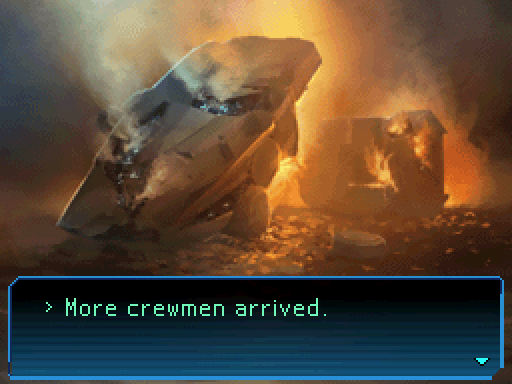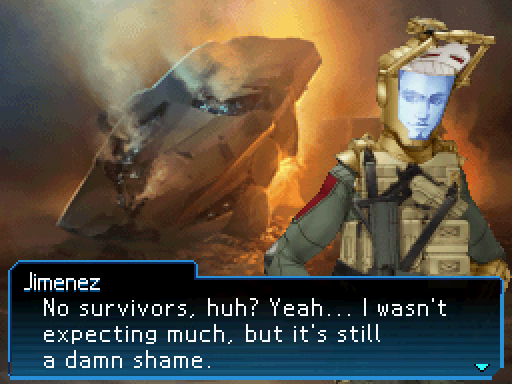 "A lot of those guys were taken out and tortured like Zelenin... The lord of all creation doesn't seem to count for much here."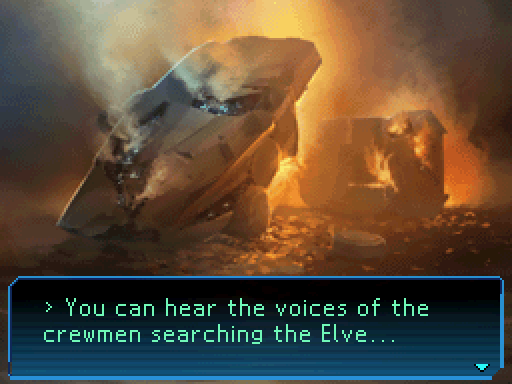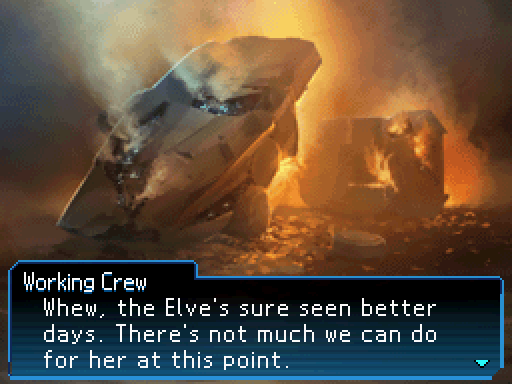 Oh well.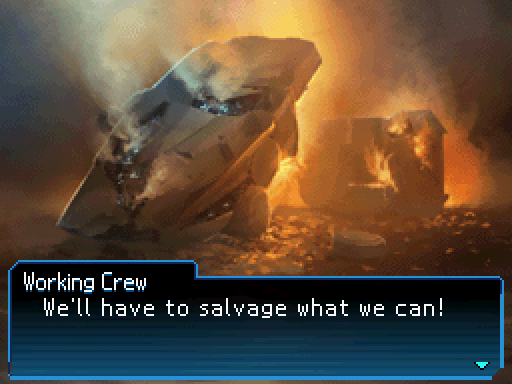 That's the plan, then? Oh well.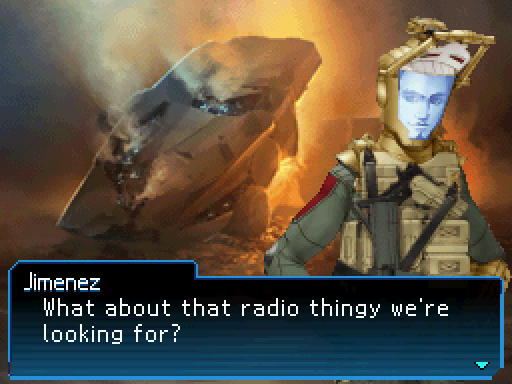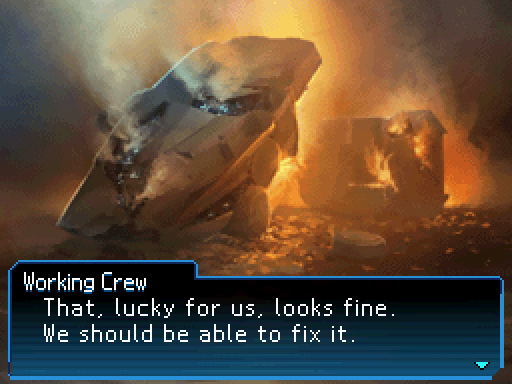 At least it was not a total loss.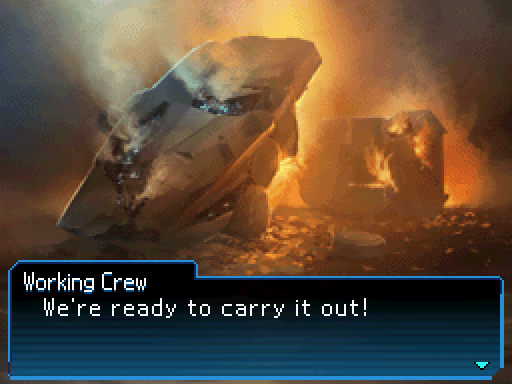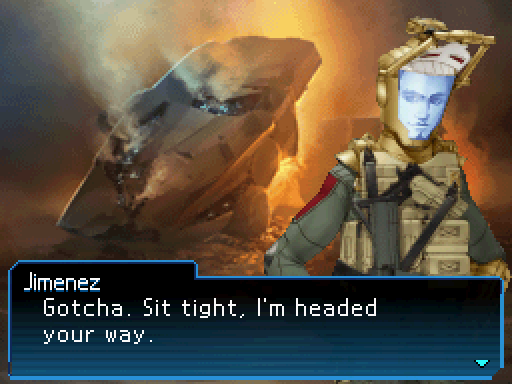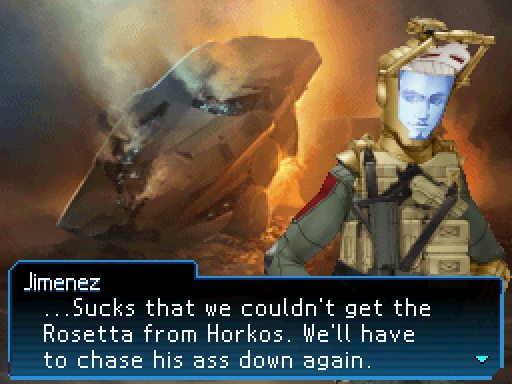 Note: Horkos itself is not dead. But we sure ruined its day.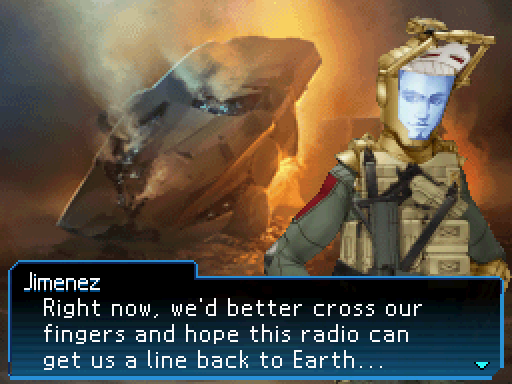 "Alright, you ready for some heavy lifting, Francis?"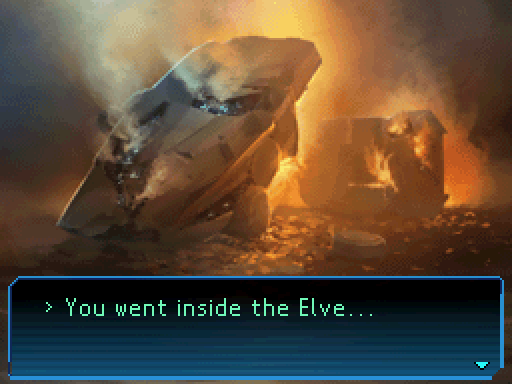 Oh my, palette swapped interiors.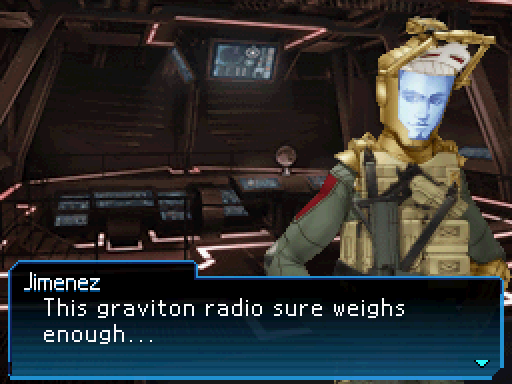 "Think this piece of junk'll get us anywhere? It better, man... Alright, Francis. You take that... Huh? What's that light?"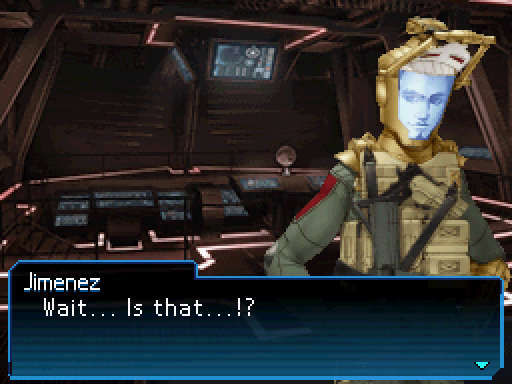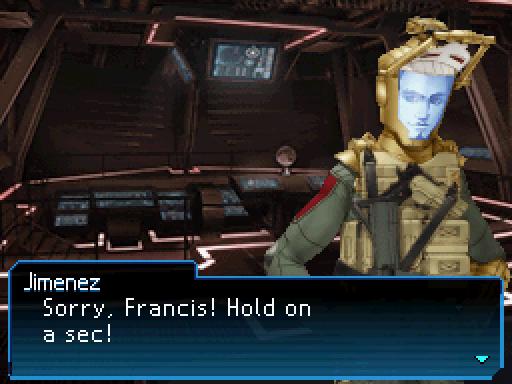 Seems that he found something interesting.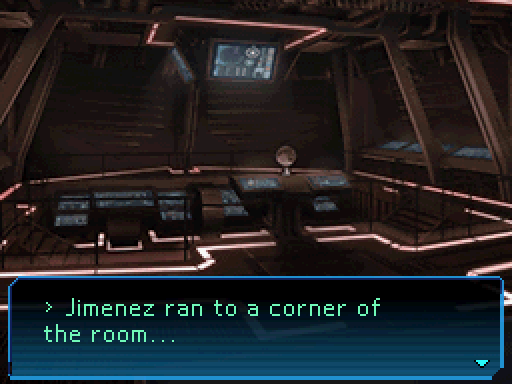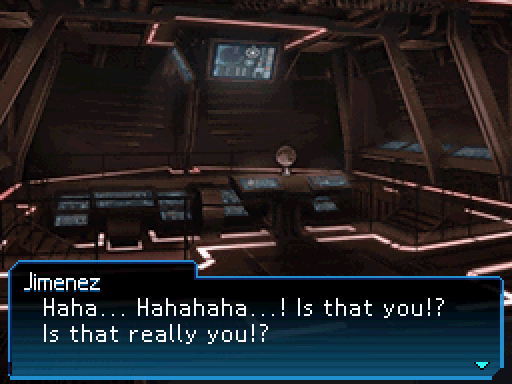 Horkos shat Bugaboo on the insides of the ship? Gross.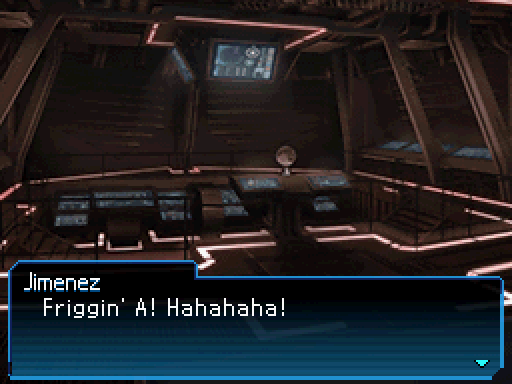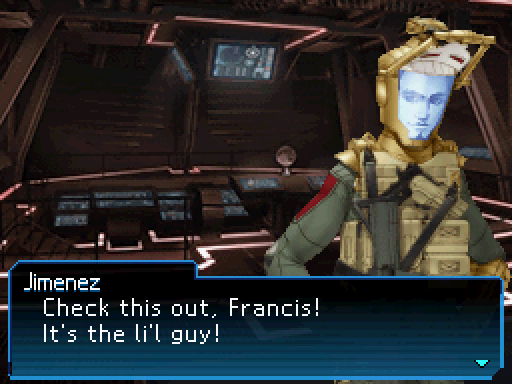 Seems like he did!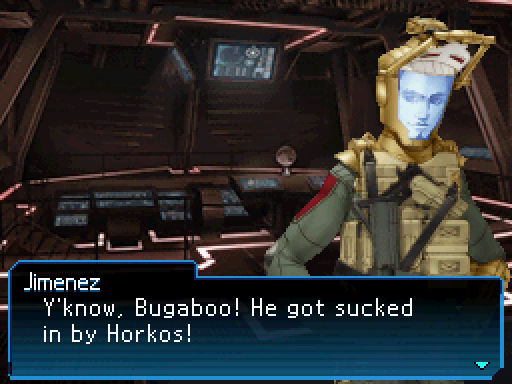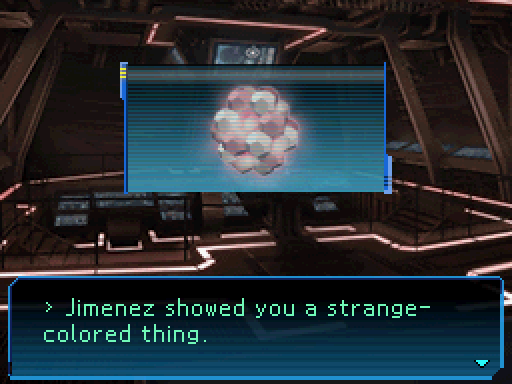 Yeah, pig demon poop, that.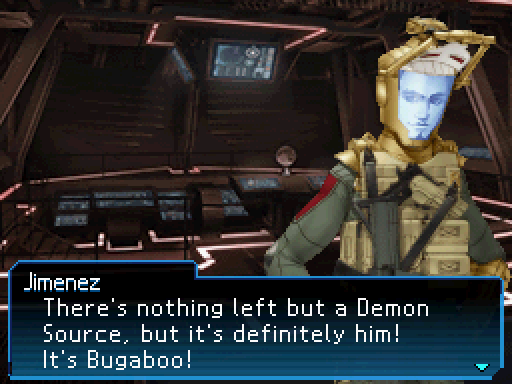 Oh.That looks more like a rare forma than a crystallized source.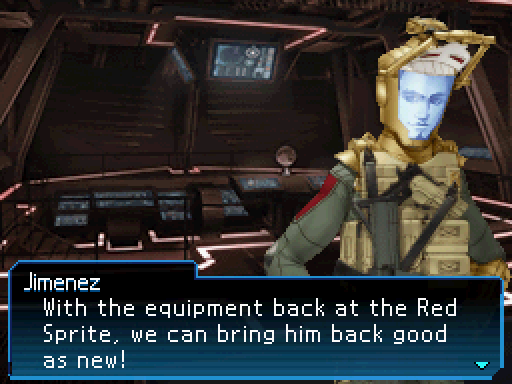 Can't he just like, I dunno, resummon him from a backup from the compendium? Maybe Jimenez never registered Bugaboo.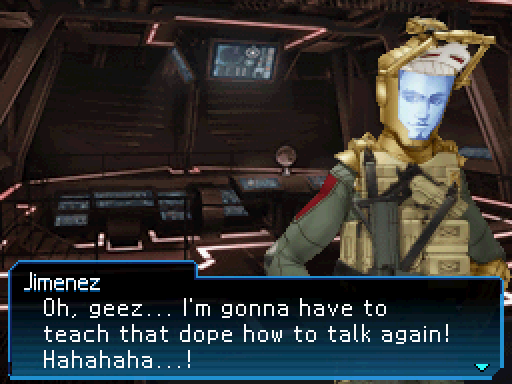 Yeah, he did not keep regular registerings of that thing.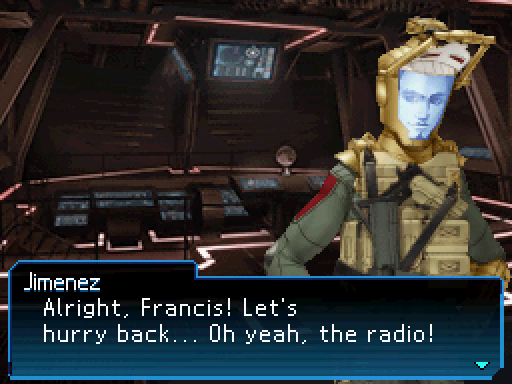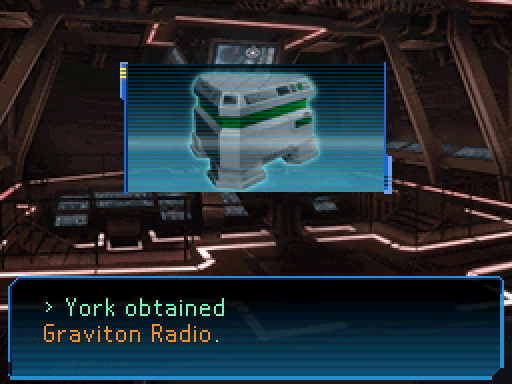 Well, that's a success.