Part 75: Delphinus Parasite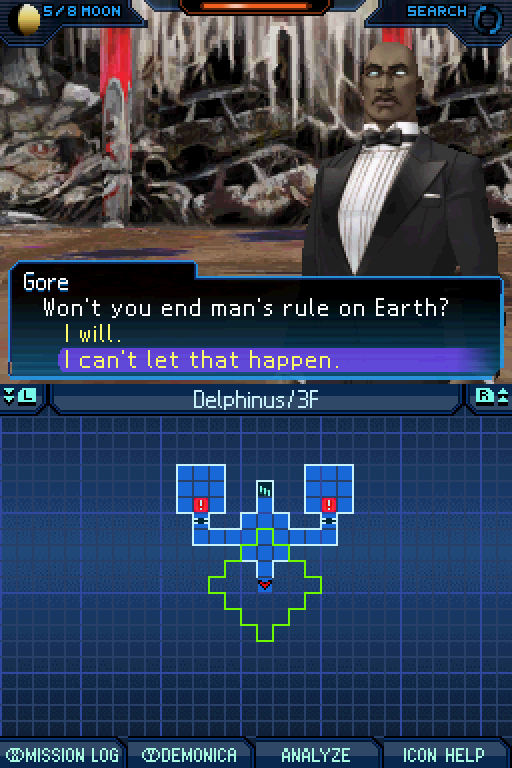 Yeah, no. York will not work against man, not now. No.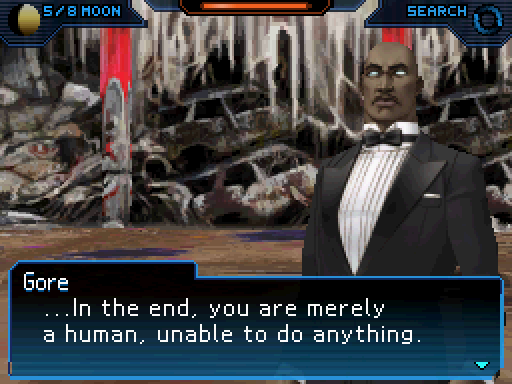 Gore:"But... Though no one wished it, the Earth's will has been awakened from its slumber. Now that it is awake... events will no longer be dictated by human desire."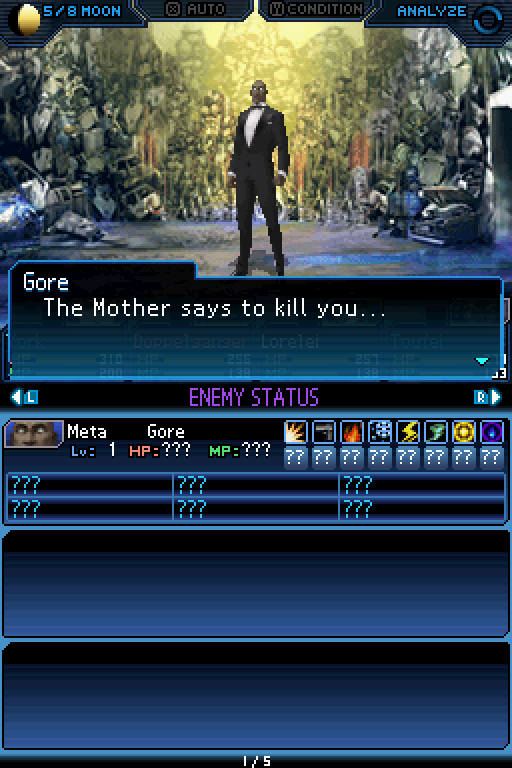 Hey, Gore is level 1! This should be an easy fight then.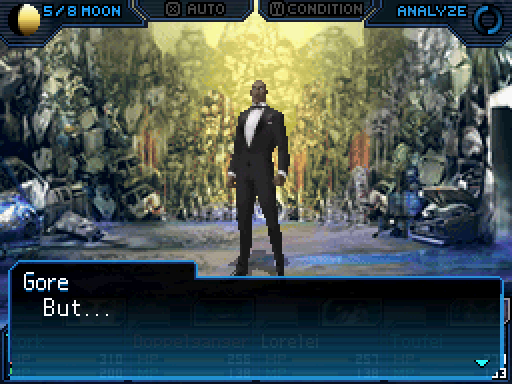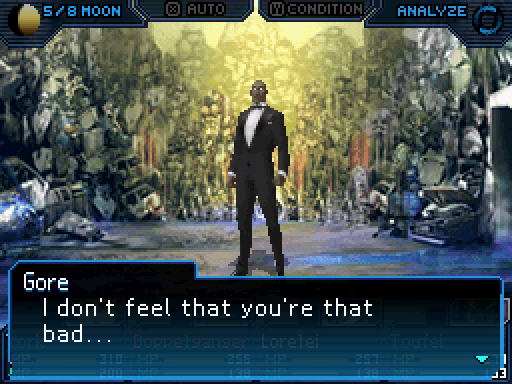 No fight then? No.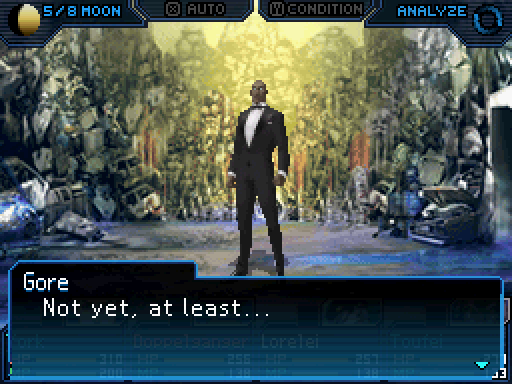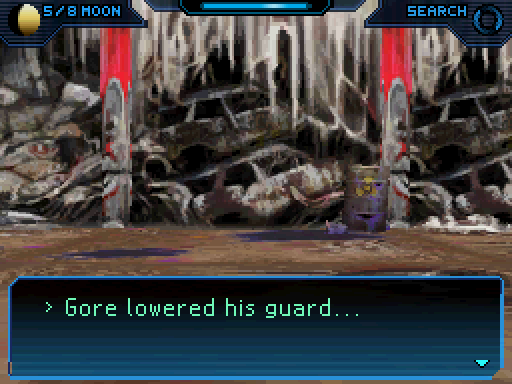 Gore: Then you are left to traverse this land, bearing the burden of mankind's karma. Either you can be ripped to shreds by the demons... Or undone from within by Asura's poison...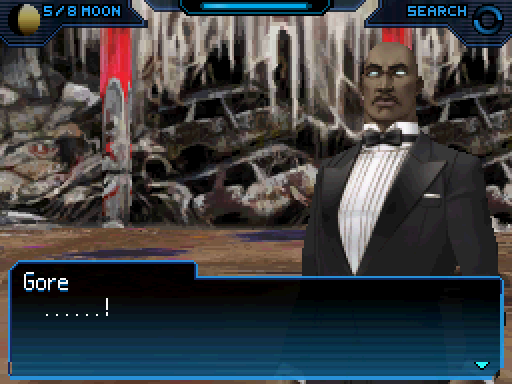 A blue flash happens that I could not capture.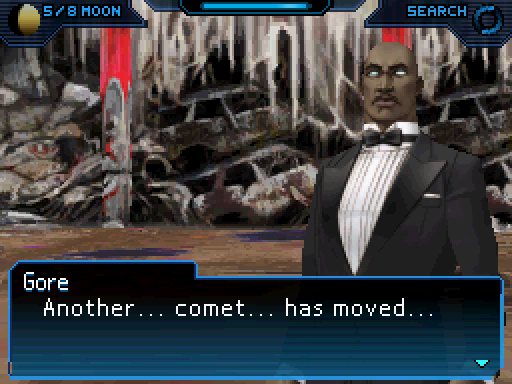 gore: The iron... comet... of calamity...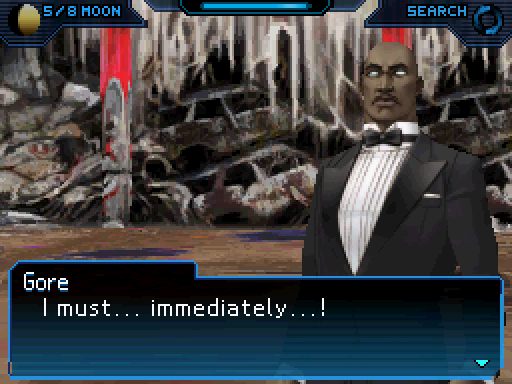 Is his zombieness fading? Is he becoming a plain old corpse in a tux? Hah.
Or just going away, I guess.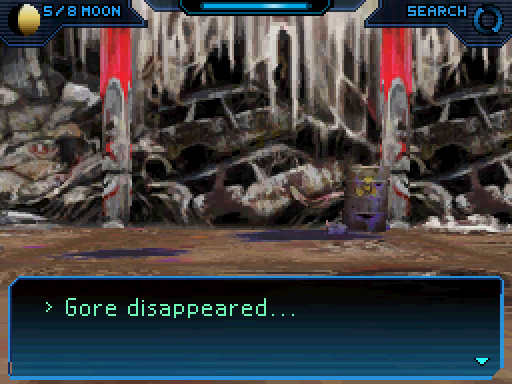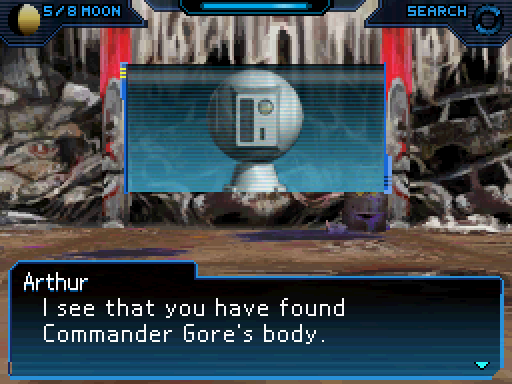 Arthur: "Mission "Inquiry into Commander Gore's Body" is confirmed complete."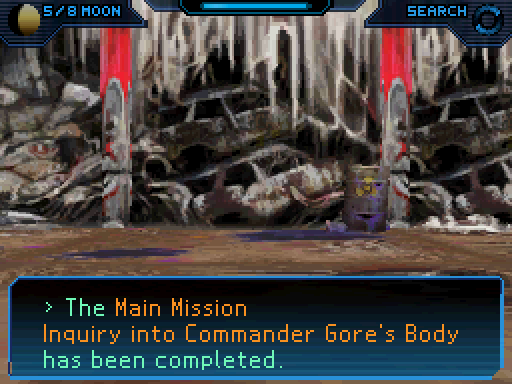 Just like Arthur said.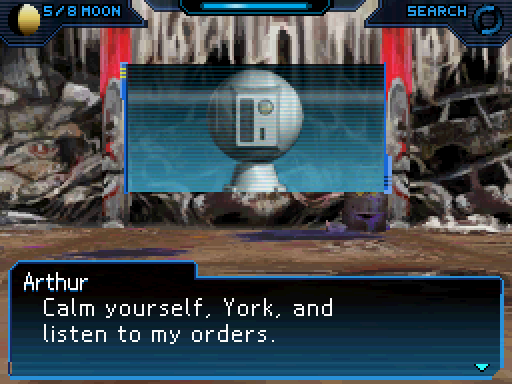 Arthur: "At present, I have no way of determining what happened to Commander Gore. It is unikely that he could survive without a Demonica. "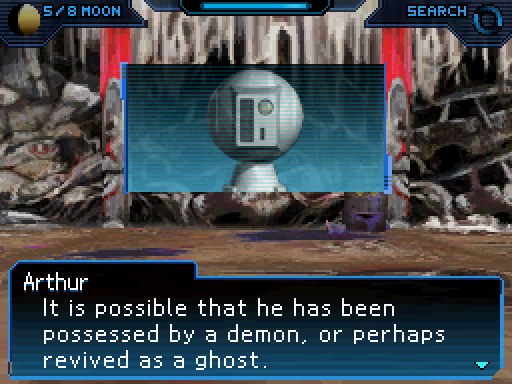 Looks to me like some sort of zombie, rather than a ghost.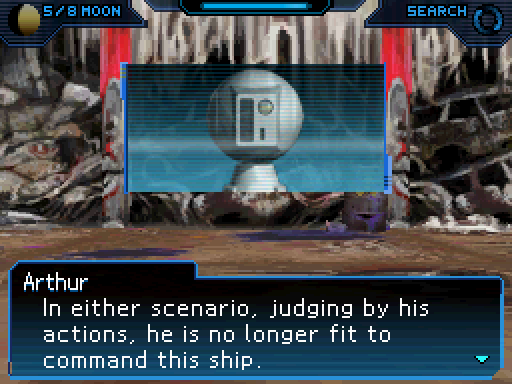 The crew will be sad.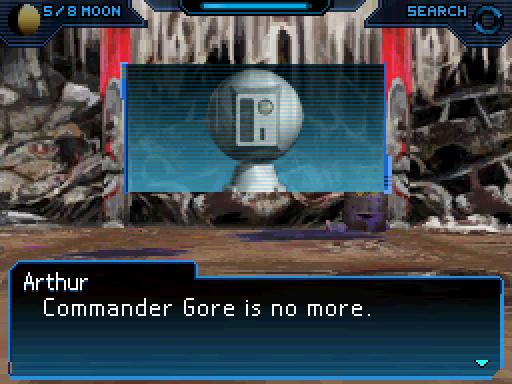 Arthur: We are faced with the fact that Gore's body is being animated by a supernatural power. He is an extraneous factor in your mission. To focus on the Gore anomaly will result in losing critical time in our mission. All hands listening to this transmission,, understand that.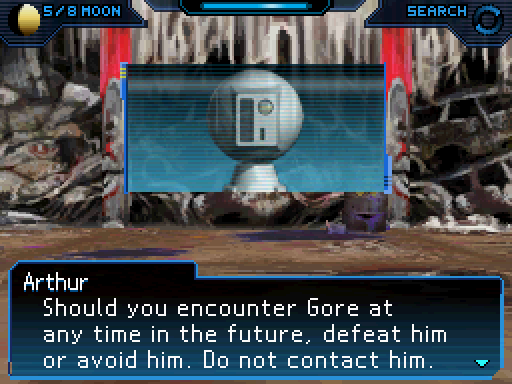 Wouldn't trying to defeat him be contacting him?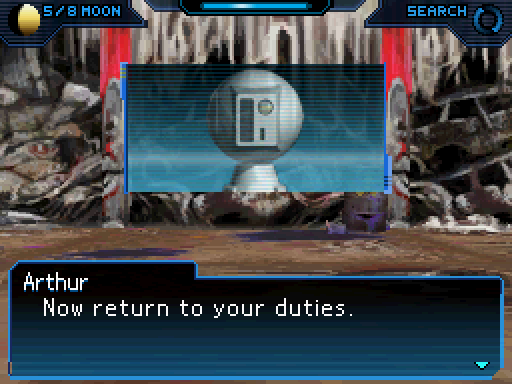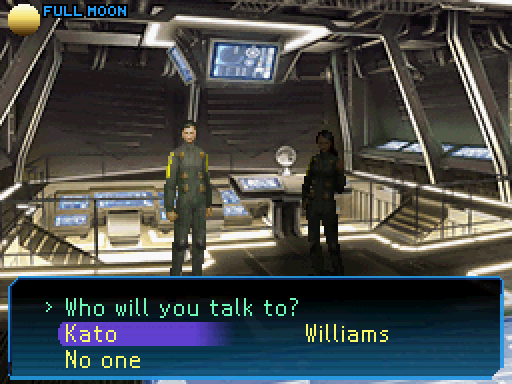 Back to the ship, to see what the hell is happening.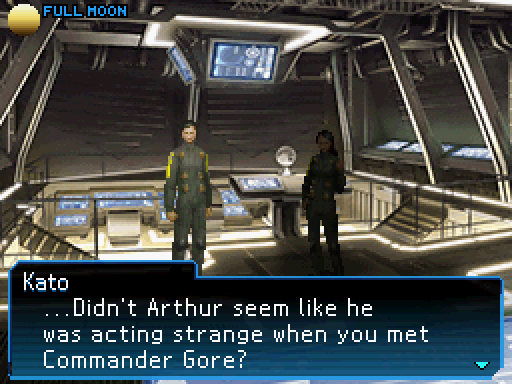 "He was so... talkative. More persuasive than I'm used to. Well... I get what Arthur is trying to say. Dwelling on Commander Gore right now is only going to make us more confused, after all... "Clear your heads and do your duty." That's what he meant."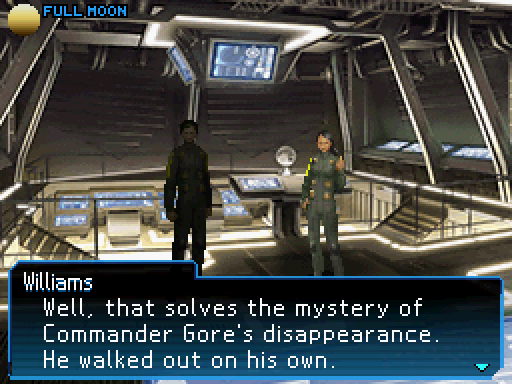 "... But that's beside the point now. What's important is how he doesn't seem to be on our side anhymore. Might be time we rething our stance towards him. Commander Gore as the enemy... A nice piece of irony, huh?"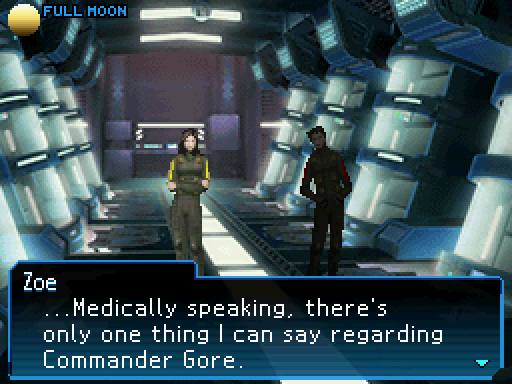 "He's... not human anymore. His death was normal, but this new "life" of his is not... Seeing him move around without a Demonica is proof enough."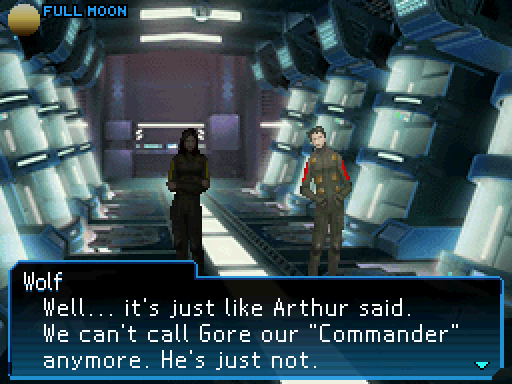 "Tch... Not only did the demons kill him, but now he's come back to life as a monster..."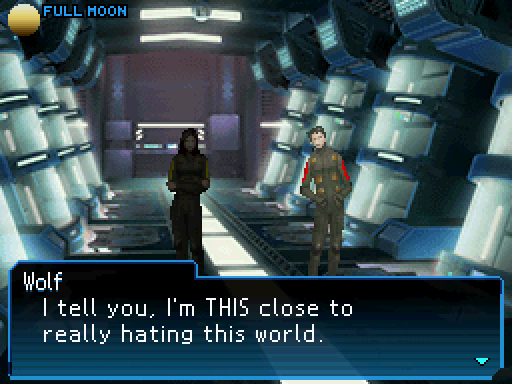 Just this close? Bah.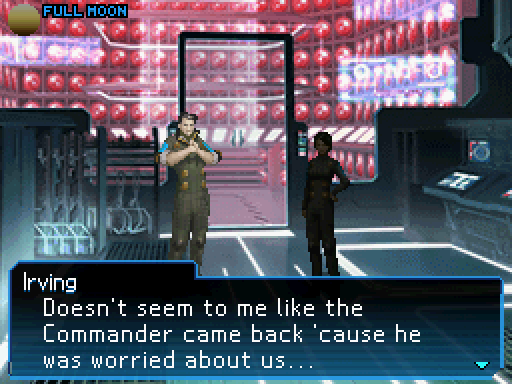 "Or... Well, guess I better call him the "Ex-Commander" in earshot of Arthur. I don't like this situation one bit, though... Leaves a bad taste in my mouth."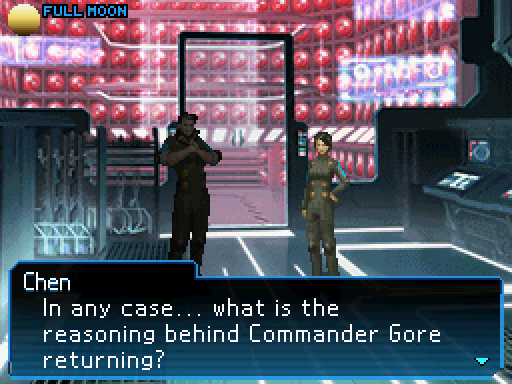 "Other crewmen have died and not come back. What makes the Commander special? Hmm... It's a mystery. Maybe Arthur's right. Maybe it's better if I don't dwell on it."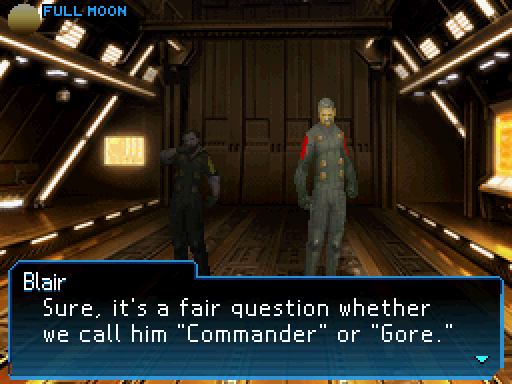 Dent doesn't say anything relevant, and I still don't feel like doing his silly minigame, so eh.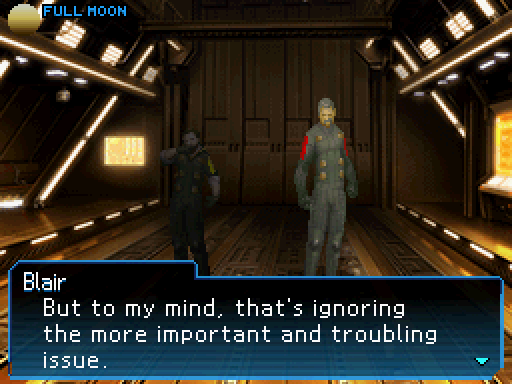 "Did he awaken of his own will? Or was his rest disturbed? I think how we approach him will depeond a lot on which it is."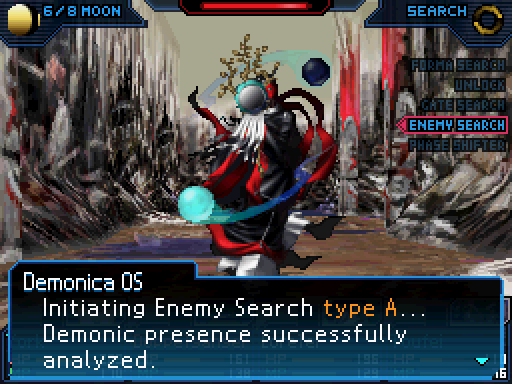 In other things, EVEN WITH A HIGHER RESOLUTION, Futotama's sprite is confussing as shit.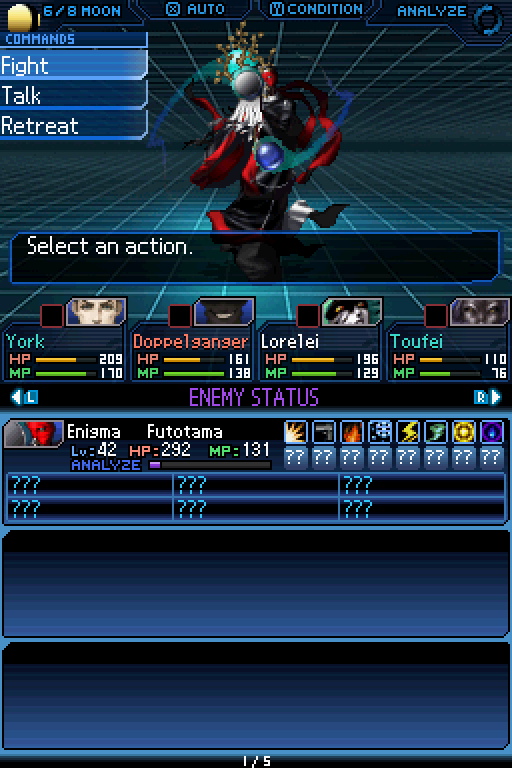 Kind of looks like a dude holding some sort of sphere thing with some things dangling. Kind of.
Yeeeah, I think I am gonna run away from this dude right now.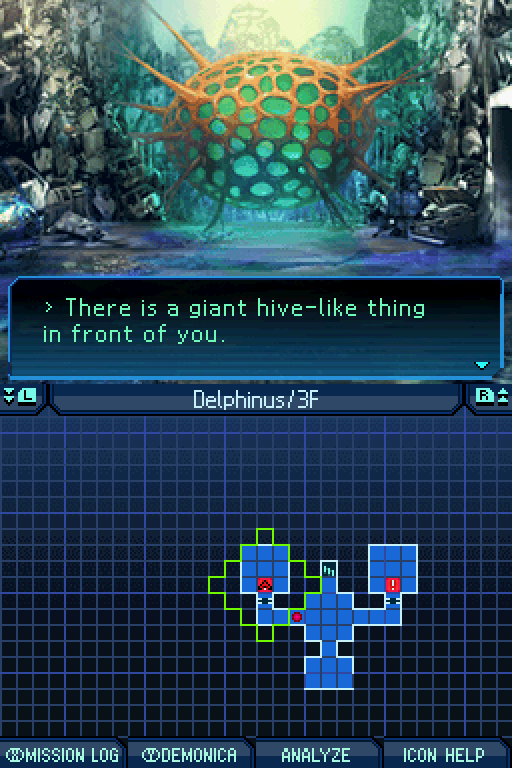 Well, it seems that the hive thing is also in the other rosetta signals.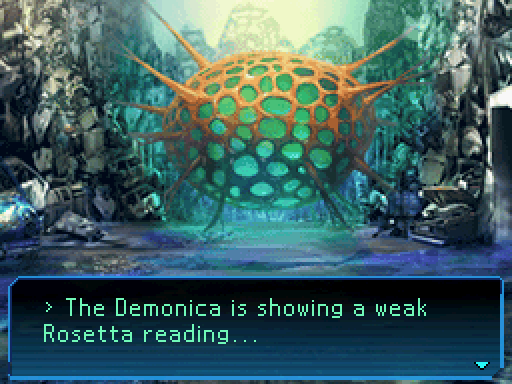 Doubtful since there is at least ANOTHER rosetta signal source.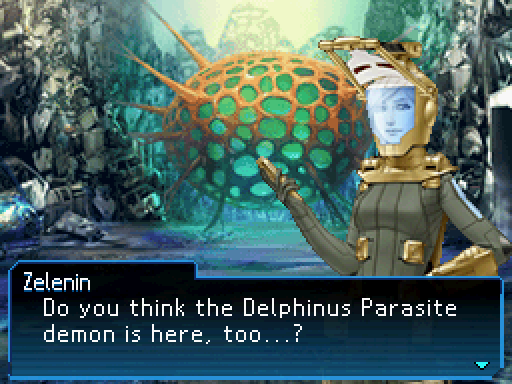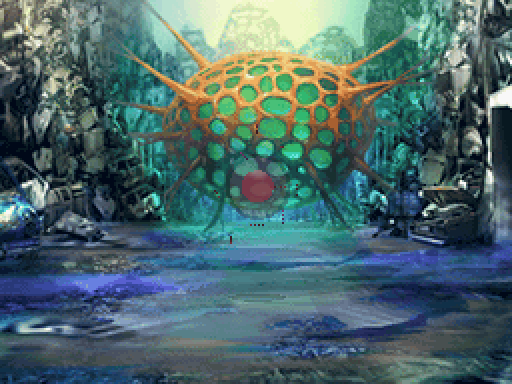 Welp. There it is.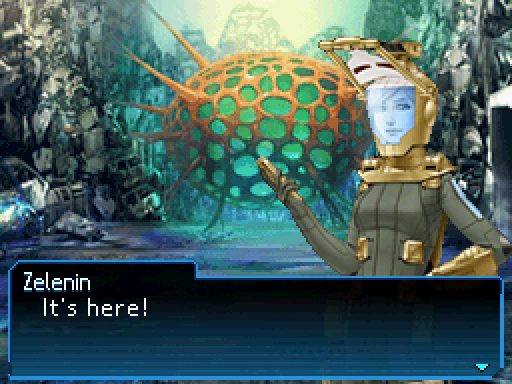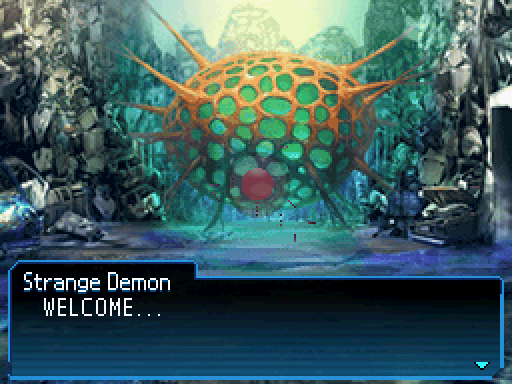 Strange Demon: "Francis OF THE RED SPRITE, WHO LOST COMMANDER GORE. AND ZELENIN, THE ELVE'S FIRST LIEUTENANT WHO FLED FROM MITRA... "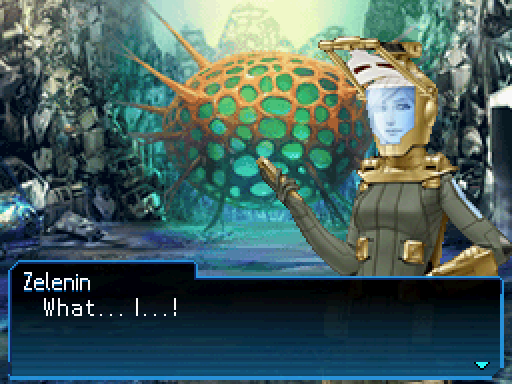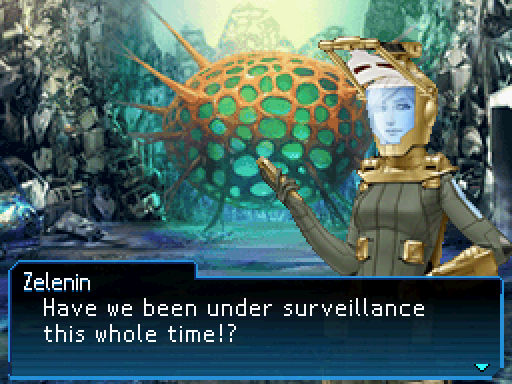 Seems like it.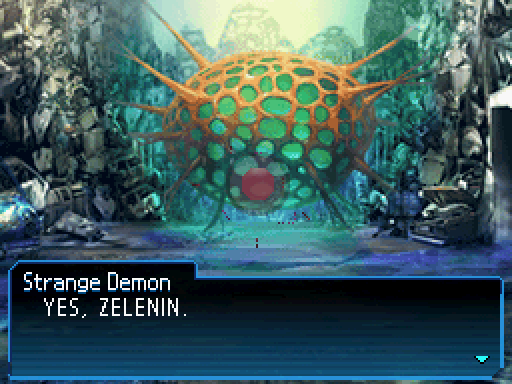 Strange Demon: "I AM WITHIN..."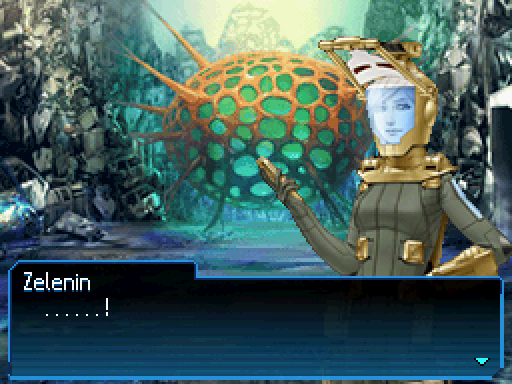 "So you ARE the Delphinus Parasite!"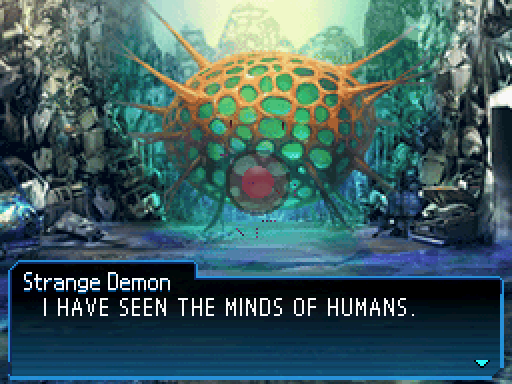 Strange Demon:"THE HUMAN SPIRIT IS A HIDEOUS THING! IT IS A FAR CRY FROM ITS MOST BEAUTIFUL SHAPE! THUS, I CARED FOR THEM!"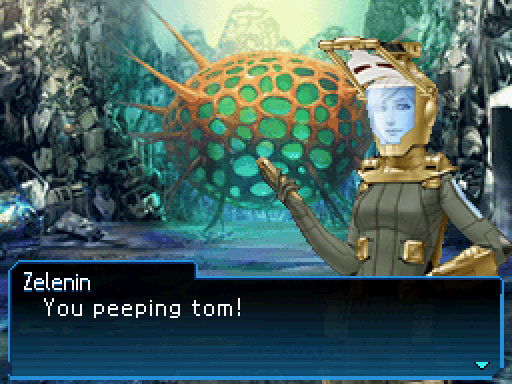 Hahaha what.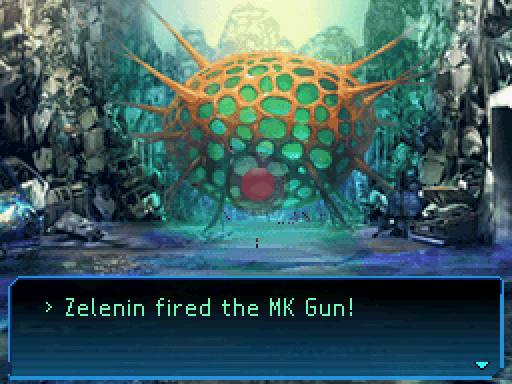 Well, GUN.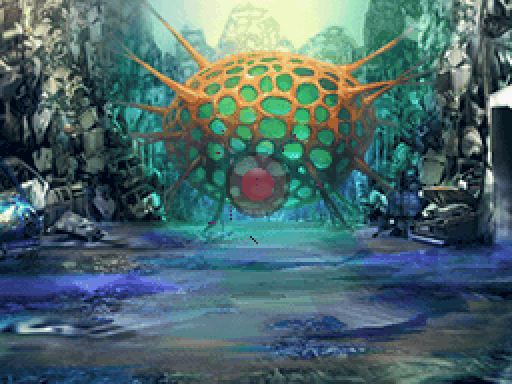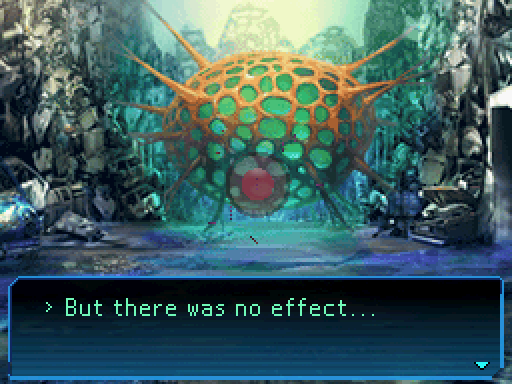 Welllp. No use. Need a bigger gun. Maybe.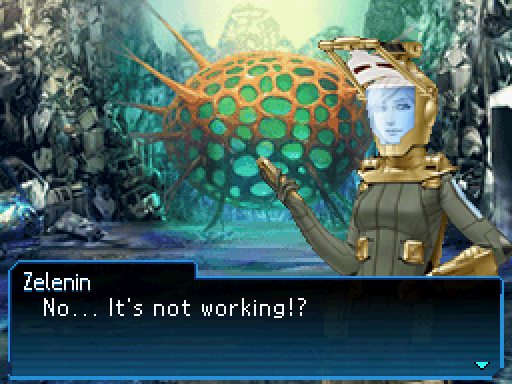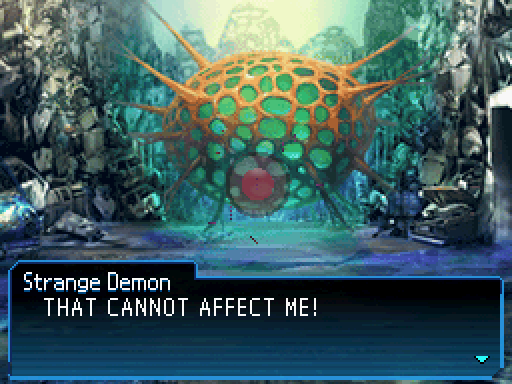 Strange Demon:"NOW... I WILL TWIST YOU INTO A BEAUTIFUL SHAPE!"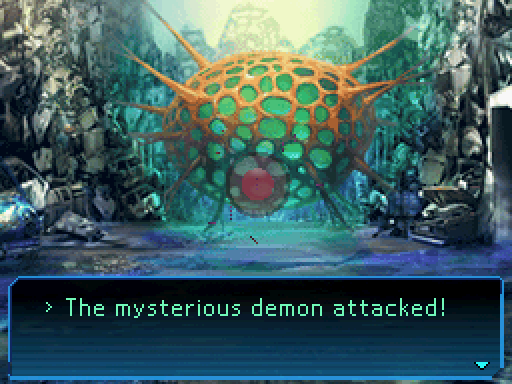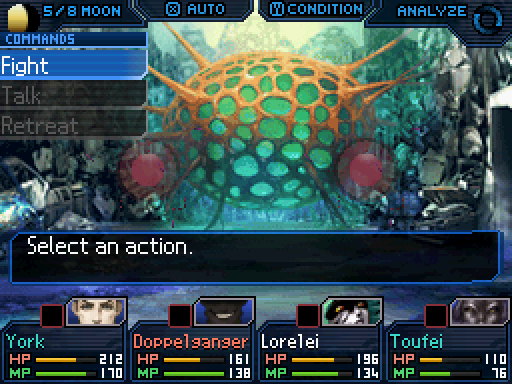 Another time to beat this particular assholes. Nothing new to report.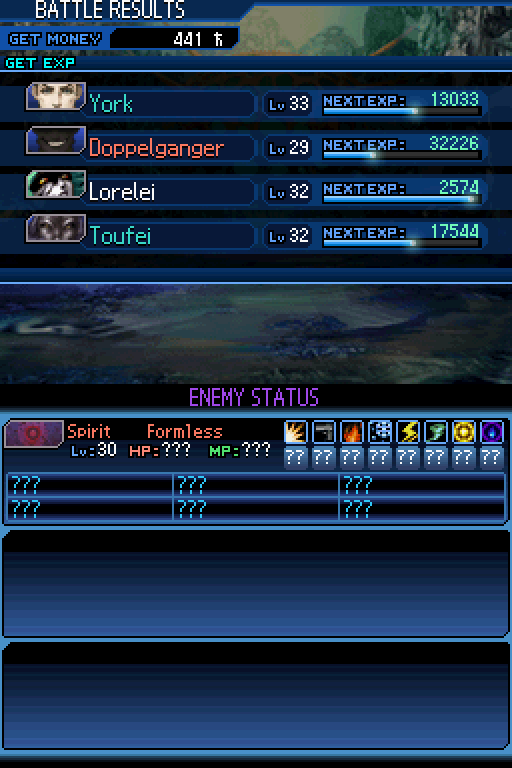 Does not identify them, and they have no drops.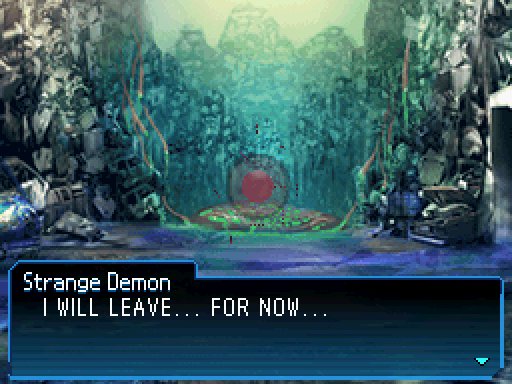 Strange Demon: "WE SHALL MEET AGAIN.. ."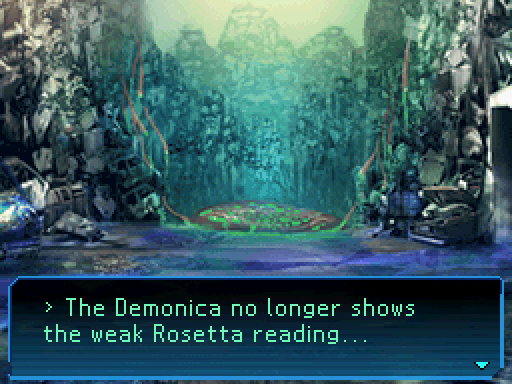 Welll, no rosetta acquired either.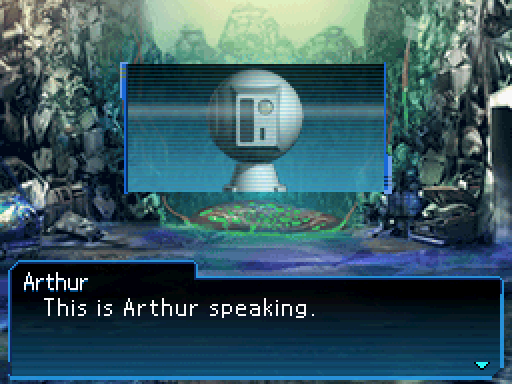 Arthur:"I see that you wereu nable to obtain the Rosetta this time either. However, there are still other active Rosetta readings. Continue your investigation."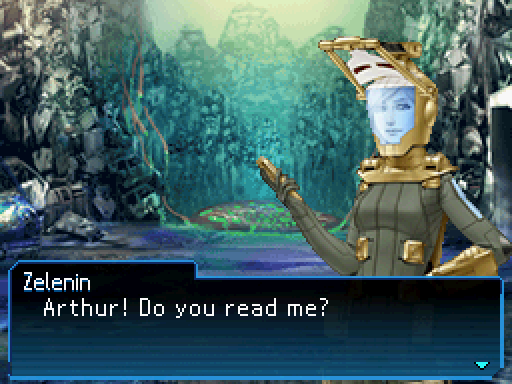 "The weak Rosetta reading WAS the Delphinus Parasite! But the MK Gun didn't work! What's going on!?"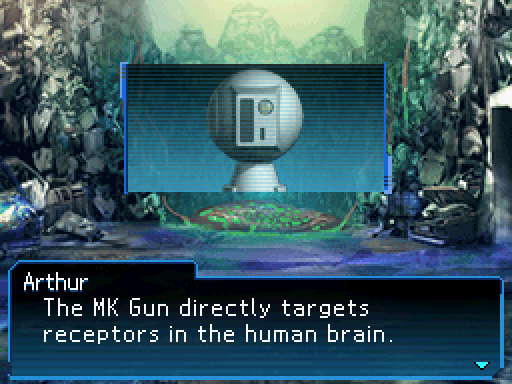 So it is not affecting the parasite, it is rewiring the brain.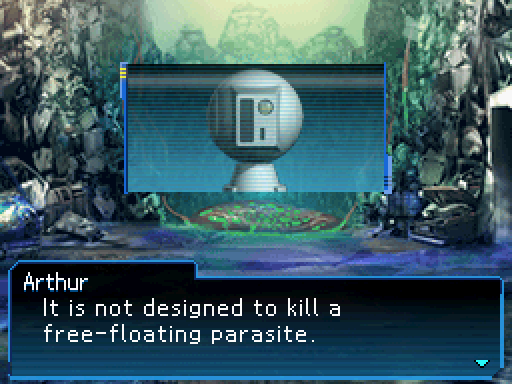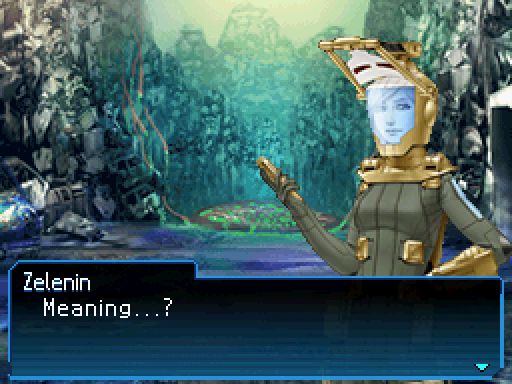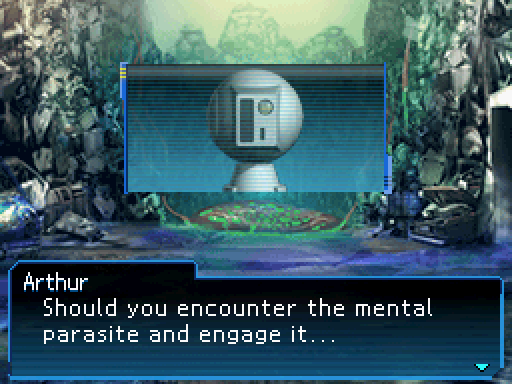 GUNS. And swords.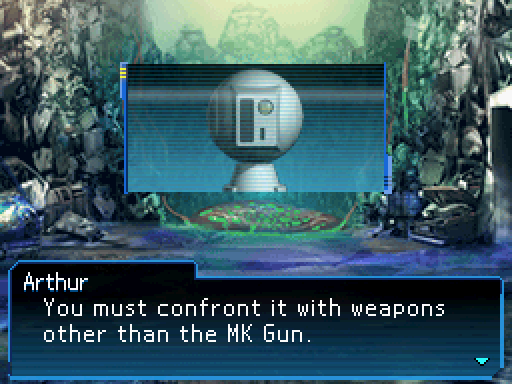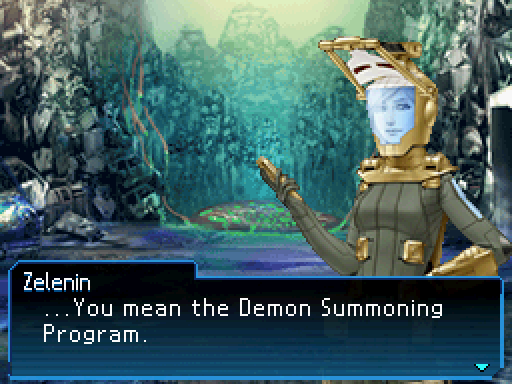 And that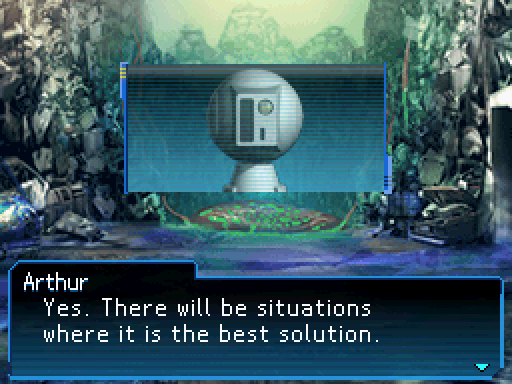 Such as every single encounter in the game so far.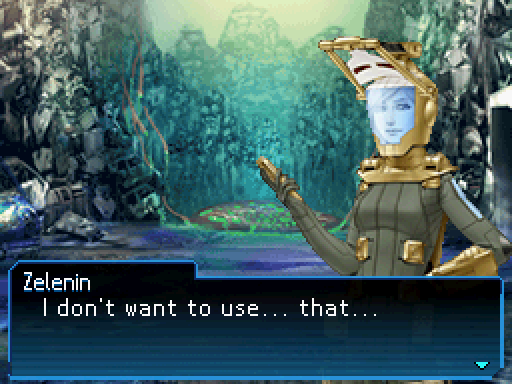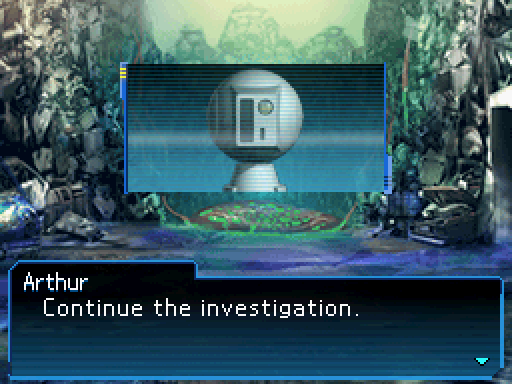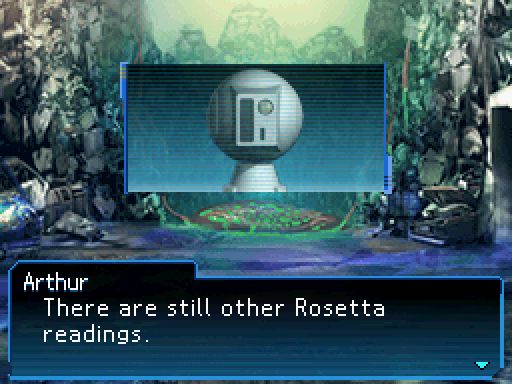 And they must be investigated.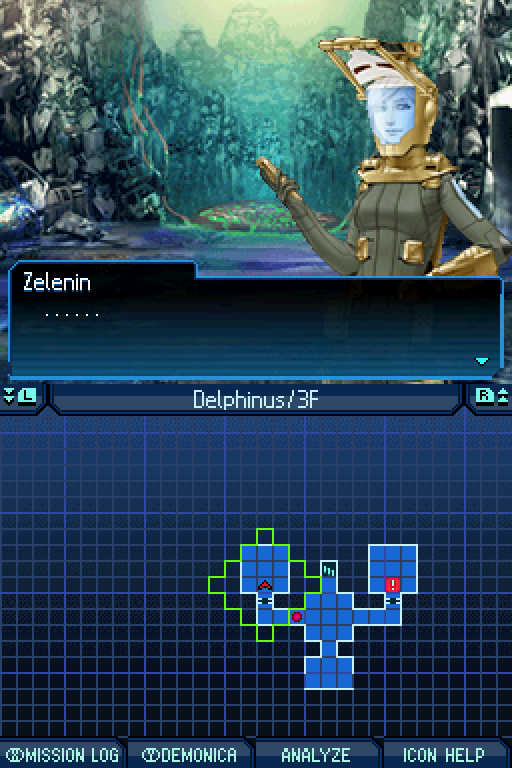 Like this one on this side.