Part 10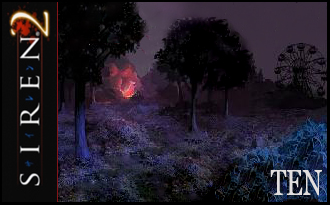 Notes about the "Great Daikiri Blade" Mamoru acquires. The pair of kanji used has two different readings- either "big cut" or "important", though the first one is emphasized in parentheses. However, just in case you didn't pick up on the not-so-subtle hint, the game also prefaces this with another word ("menuki"), also meaning "important".
Also, since Yuri's song contains vital clues to the puzzle in this stage, I translated for meaning as best I could. I'm not musical so the resulting subtitles don't approximate a song by any stretch of the imagination, but they should still convey the message.
Finally, at this point it might be becoming obvious how often the archives and plot use the number 4 and iterations thereof. This is because 4 (pronounced "shi") is an unlucky number in Japan, similar to the number 13 in western countries. The reason for this is "shi" is the same pronunciation as that used for the kanji for "death", and also the one for "cadaver", the latter being used in the word "shibito".
VIDEOS
020 +03:45 Itsuki Mamoru - Primary -
VIDDLER
/
GAMEVEE
(Archives: 50, 51)
021 +05:40 Itsuki Mamoru - Movie ---
VIDDLER
/
GAMEVEE
(Archives: None)
ARCHIVES
050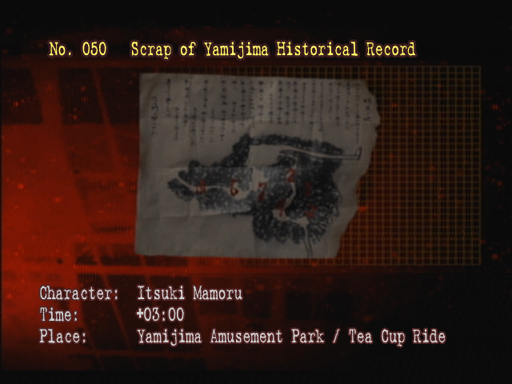 Dance, maiden, dance...
The crown waving over your head...
Watch the flames and dance...

Dance, maiden, dance...
Ring the bells upon your earrings...
Ask the winds and dance...

Dance, maiden, dance...
Ring the bell over your head...
Gaze upon the water and dance...

Dance, maiden, dance...
Cast the brooch from your breast...
Twirl body and head...

Fly, fly messenger bird...
Shake off the jeweled girdle...
Flying in search of earth...

Shake, shake the ark...
The brooch beats to the rythm...
Tremble with anticipation of the bird's arrival...

Dance, maiden, dance...
Dance in your divine garments...
Dance with the ark behind...
051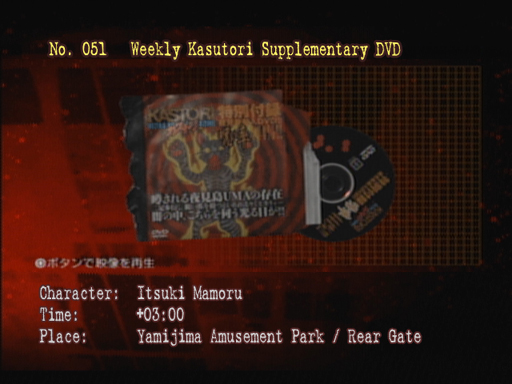 A special supplementary DVD: Infiltrating Yamijima! The existance of UMA on an island rumored to have a 444% chance of a curse! See the legendary Yamibikarya, razor-clawed, bipedal monstrosity, stare from the shadows with its glowing eyes!
Watch
.
(NOTE: If you don't know what a UMA is, as I didn't before playing this game, it stands for "Unidentified Mysterious Animal".)