Part 18: Plato's Cavern
Wow, great catch by Snowmanatee! Alton Plaza = Not LA. That's awesome.
We'll fuck around in Alton Plaza some more later, but for now, let's get to Plato's Cavern. Incidentally, in the original MSX version, the store is named Joy Division - a tribute to one of Kojima's favorite bands. Presumably it was changed in the American version for copyright issues.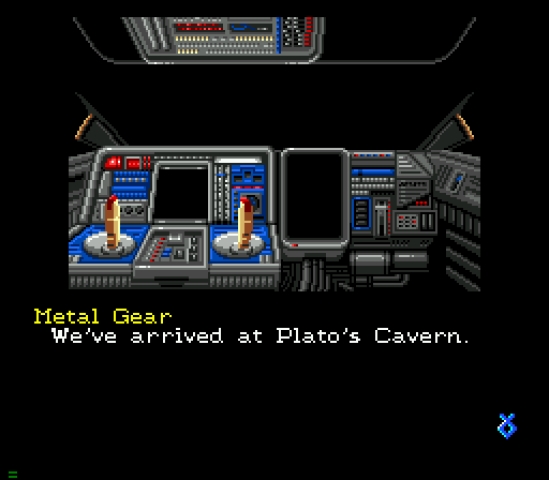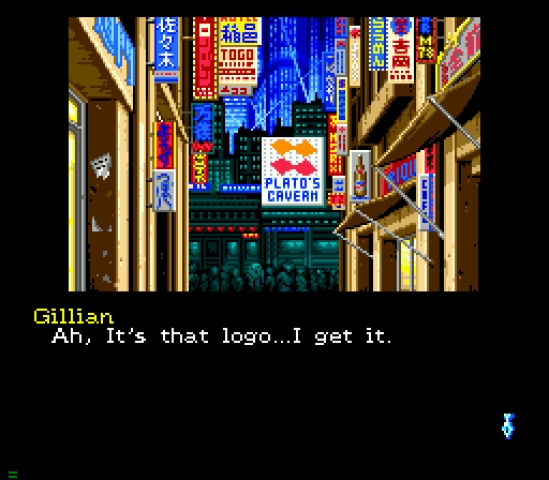 Metal: It's more like a small city than one store. Everything in this area appears to be part of Plato's Cavern.
MOVE > ENTER STORE
Gillian: Metal, let's try that store over there.
Metal: W..wait for me!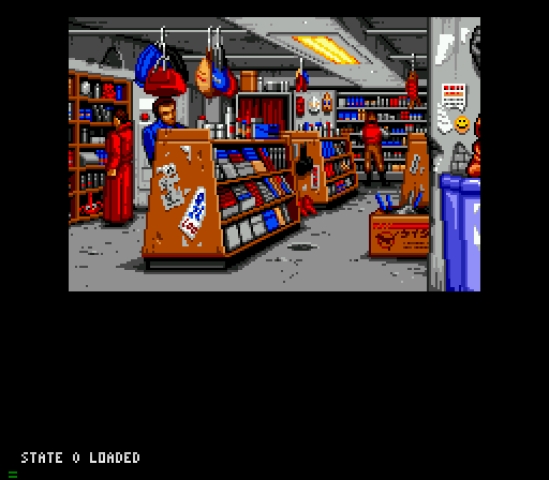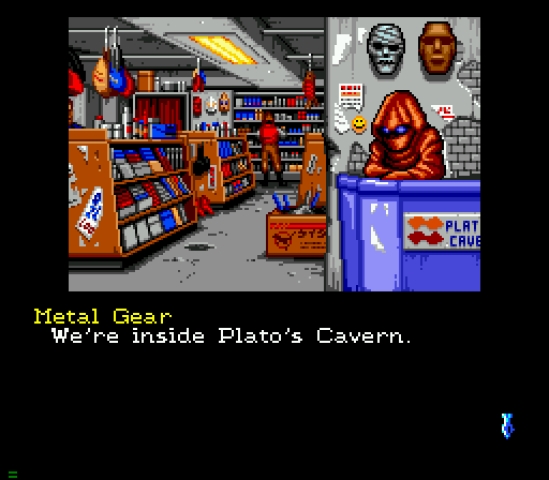 Employee: May I help you?
LOOK > INSIDE STORE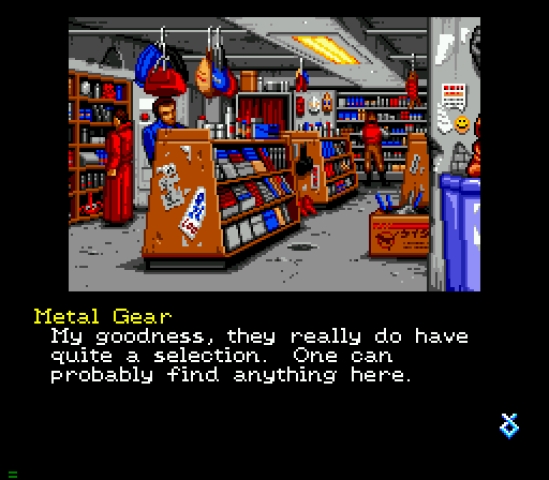 (Plato's Cavern pans left and right as you look at relevant objects.)
LOOK > INSIDE STORE (again)
Metal: It's sort of a "fortress of consumerism". They might have a bigger selection than the legitimate shops.
LOOK > EMPLOYEE
Metal: Given the fact that most customers are keeping their faces concealed, it would appear that they don't want to be seen here.
Gillian: Well, it is a black market. If somebody photographed them or something, they could get in trouble.
LOOK > EMPLOYEE (again)
Metal: He seems very unusual. Be careful, Gillian.
LOOK > NEARBY CUSTOMERS
Metal: Chinese, Hispanic, Mongolian, Ainu, Korean...it's a real melting pot of races here.
LOOK > NEARBY CUSTOMERS (again)
Metal: I hear quite a number of different languages being spoken. Typical Neo Kobe...
LOOK > PRODUCTS
Metal: From cradles to graves, they sell everything here.
They sell graves?!
LOOK > PRODUCTS (again)
Metal: There are piles of electronic appliances and components, and scrap parts.
Gillian: I suppose the Akihabara district in Tokyo used to be like this.
Metal: I have heard that Harry often comes out to pick up scrap parts.
LOOK > WALL
Metal: Oh my! They have those special full-face masks here.
Nice! That's what we need!
LOOK > MASK
Metal: Look! They have masks of Egyptian mummies and those Easter Island faces as well. They seem to be very well made.
Employee: You've got an eye for fine art, my friend. Those are our pride and joy, our special full-face masks. I'm afraid that's all we have left...
Decision time, Junkers! Do we get the mummy mask or the moai mask?
First, though, let's try something I always wanted to do... going back outside...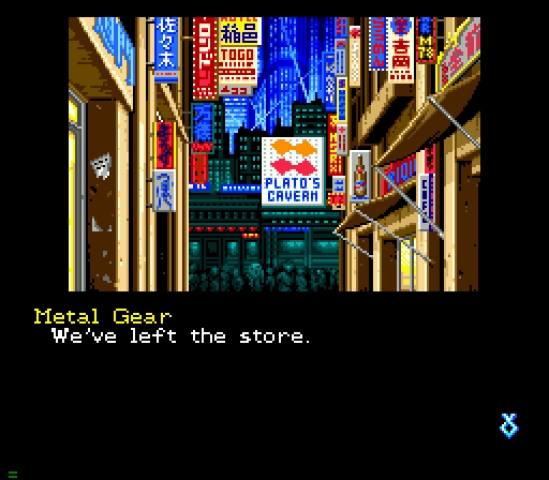 LOOK > AREA
Metal: Look at all these people. It's just like the black markets after the war.
Okay, this next part involves a lot of LOOKing and I won't include all the dialogue, because it's mostly inane.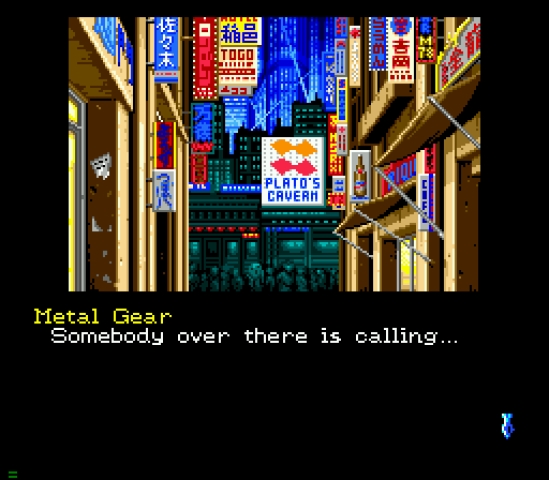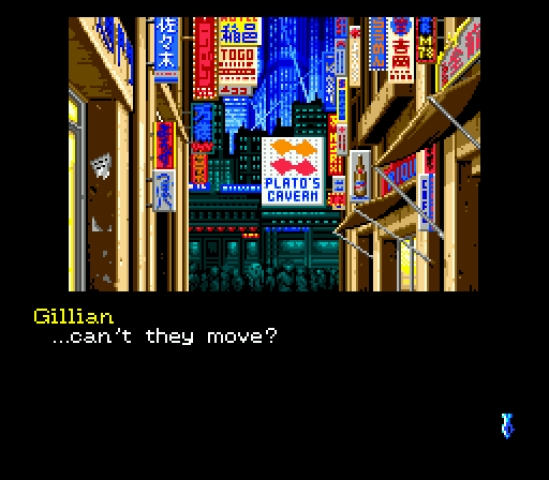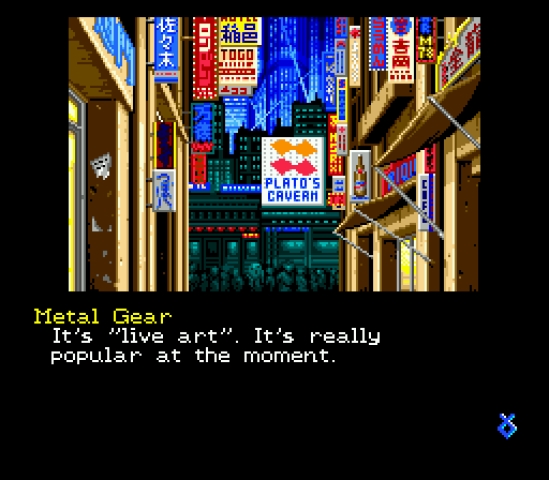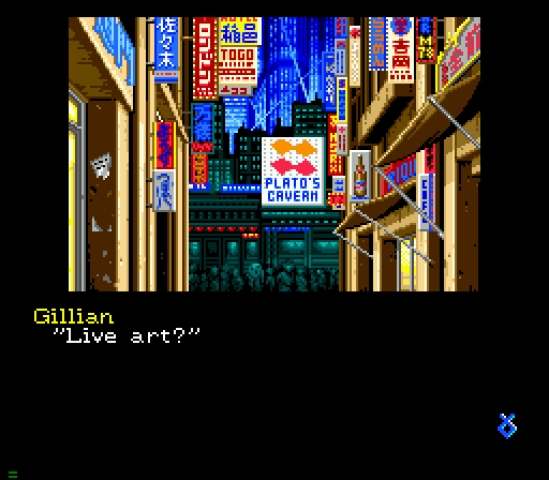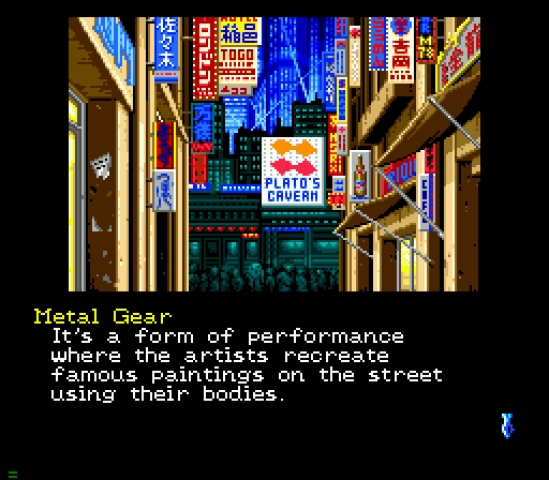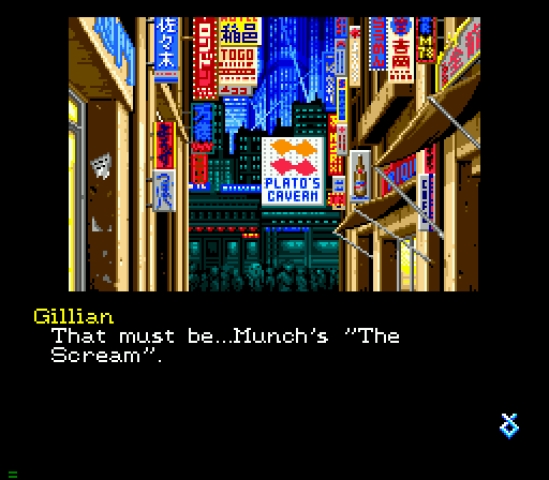 Neat. Anything else to do around here? If we keep INVESTIGATing the area, we'll eventually find a food stand. This lets us:
SMELL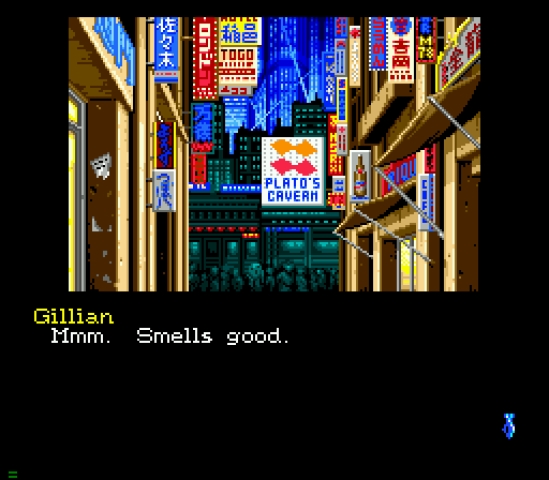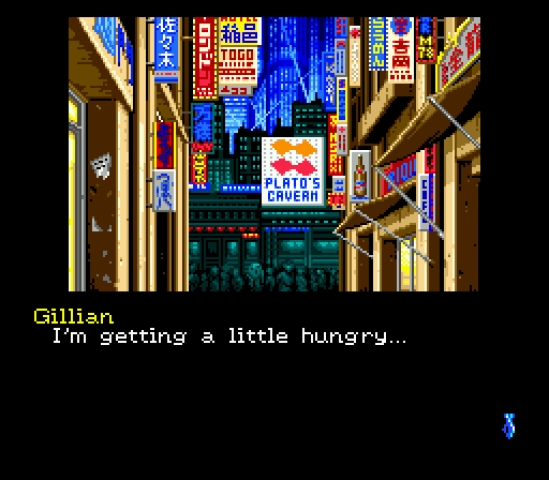 INVESTIGATE > FOOD STAND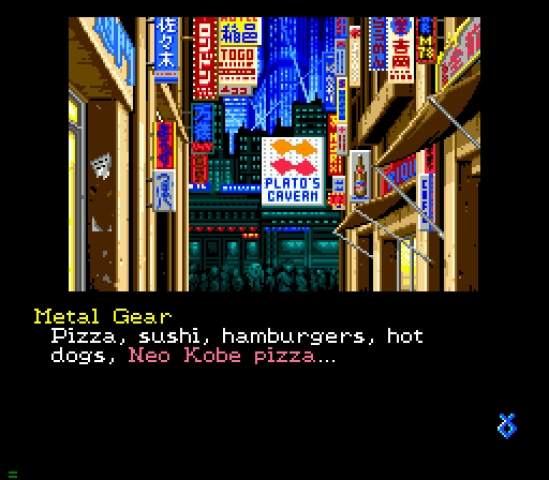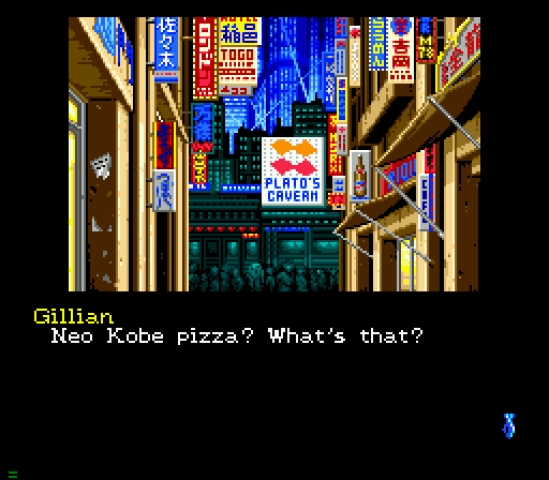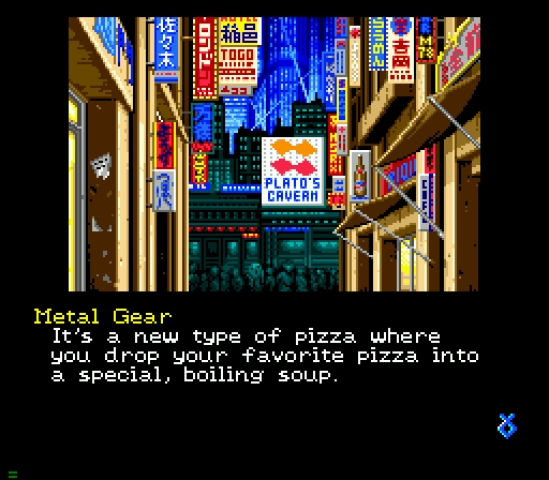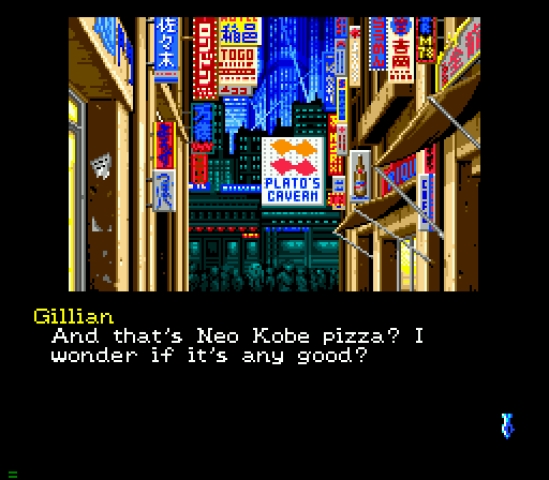 INVESTIGATE > FOOD STAND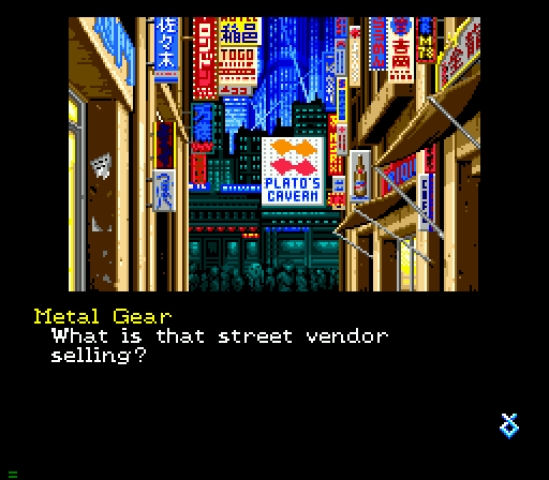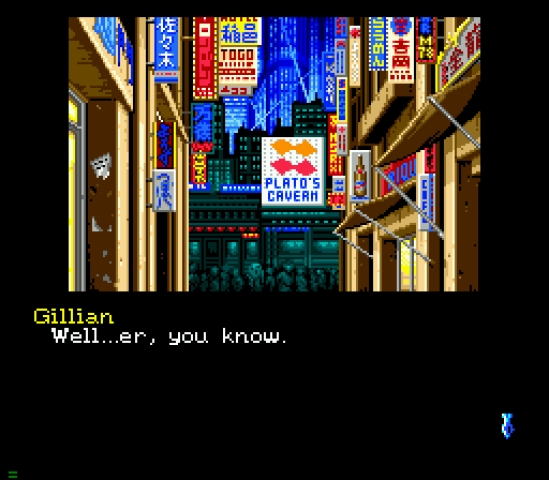 INVESTIGATE > FOOD STAND
Gillian: Well...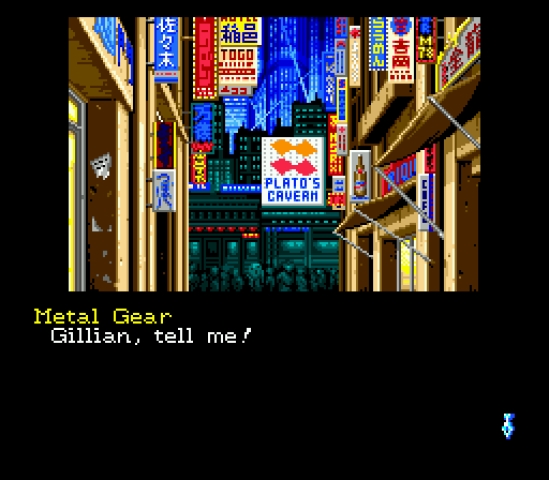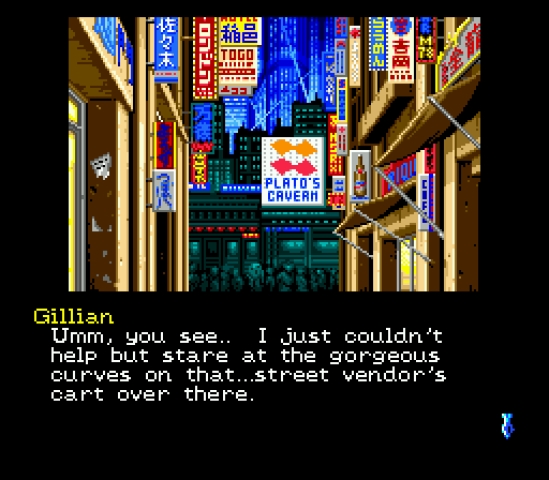 INVESTIGATE > FOOD STAND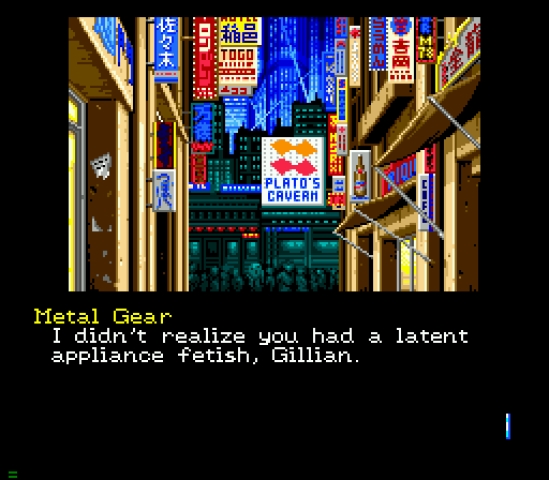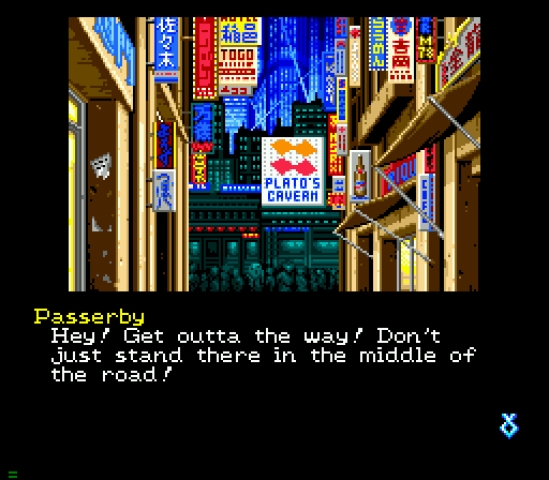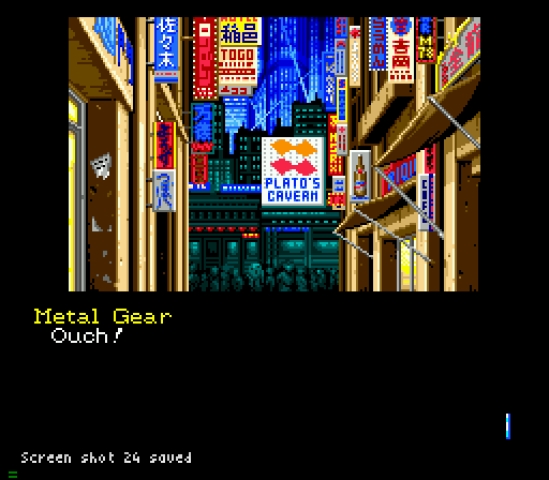 SMELL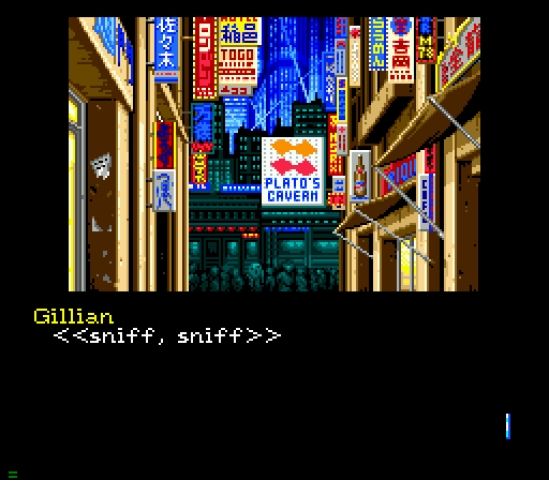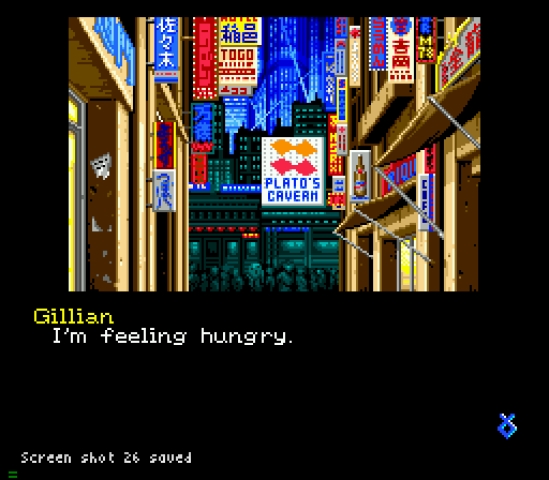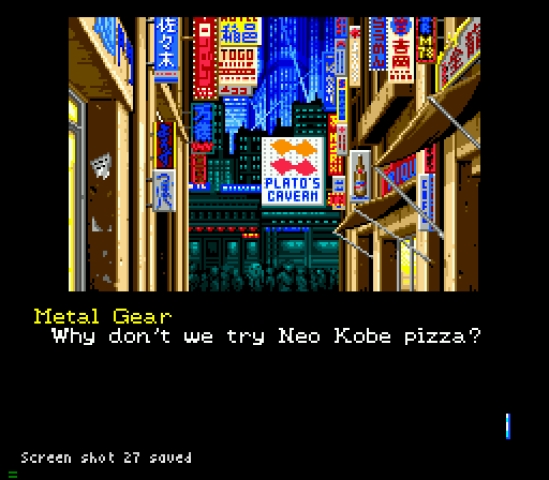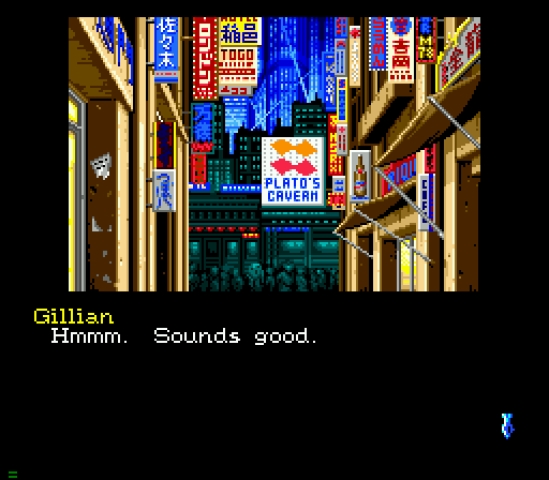 EAT NEO KOBE PIZZA
I can't believe they voice acted this part, but thank God they did!
Anyway, mummy mask or moai mask?
Bonus Post by Gillian Seed

"Well, well.... what do we have here?"
SpazmasterX posted:

My pizzaaaaaa...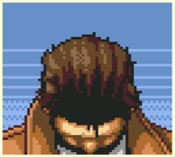 Wait a minute... Metal Gear doesn't even have a mouth, how would he even eat a...
Metalllll Gearrrrrrrr

Anyway, I definitely think that Maoi mask looks better... Last thing I want to be is some decaying walking corpse, let me tell you.
Random Hajile posted:
Who the heck are you!?

You've not been revealed yet in game after all
(Actually, he was mentioned in Gibson's file.)
Bonus Post by Benson Cunningham

Chief of J.U.N.K.E.R. H.Q.
Seed! I don't know what you think you're doing, but if you keep spending your expense money on things like fortune tellers, phone sex, and pizza soup, you and I are going to have a nice little meeting in my office. Remember, I am always watching you.
----
Thanks for coming to the thread, Chief!
By the way,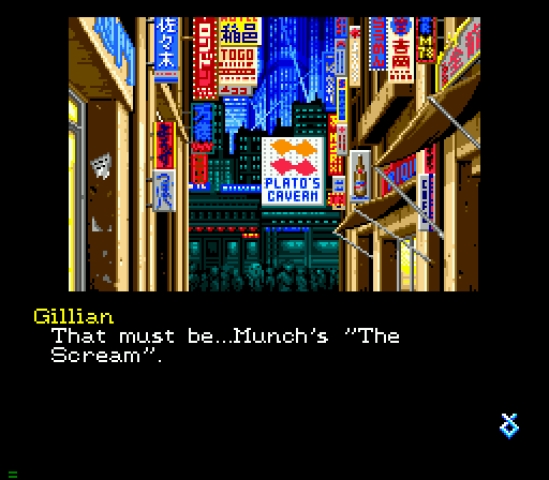 You can see it in the background if you look closely.
Bonus Post by Benson Cunningham

Chief of J.U.N.K.E.R. H.Q.
slowbeef posted:

Thanks for coming to the thread, Chief!

I just want to ensure that the investigation goes smoothly. Seed apparently loves goofing off and wasting time, and on the department expense account, no less. I'm going to have to have Harry program Metal Gear to be a little less lenient regarding this sort of behavior. Remember Seed, you're a J.U.N.K.E.R.! My higher-ups are breathing down my neck for some progress, and I'd better have something to show them by the time the summit comes around!