Part 35
Alright, you impatient fools. Snatcher update time.
Der Metzgeizer solves the puzzle, though I'm sure an idiotic human like him cheated.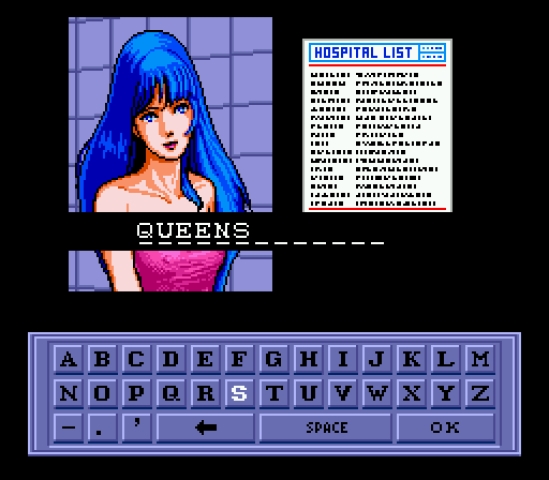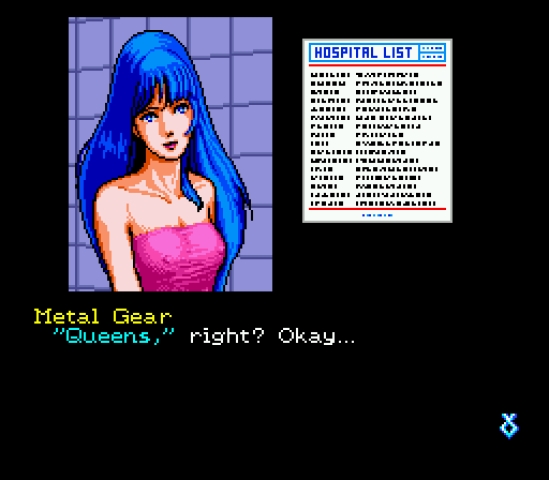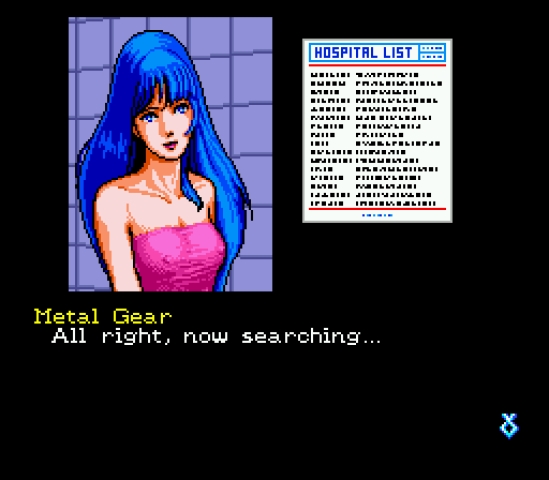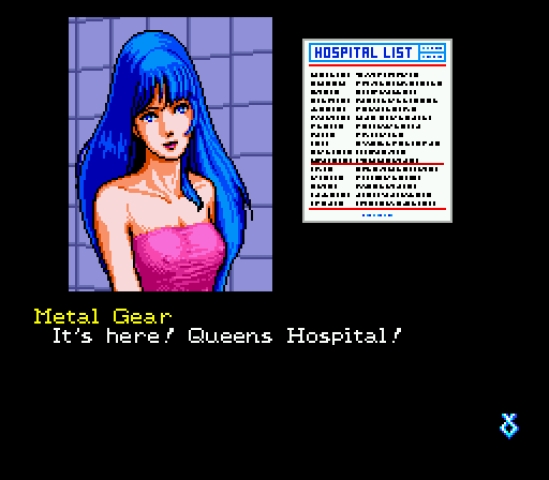 Katrina: Great! You found it Gillian!
Gillian: SO the neon tube was burned out, eh? And there were more letters to the word than shown in the picture... So "Queens" looked like "Oleen"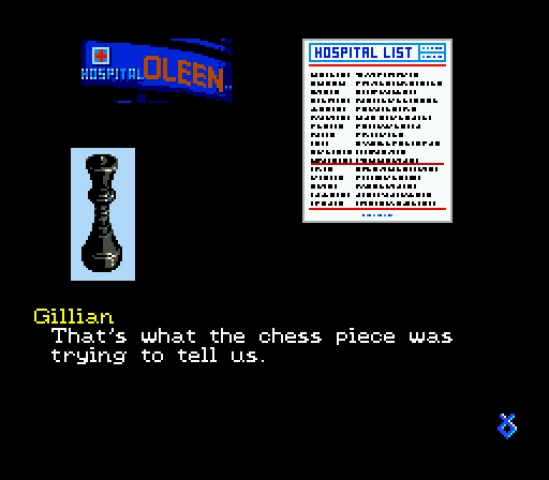 These are the clues you're given if you input wrong answers. Eventually, Metal Gear pretty much just comes out and tells you it's Queens.
INVESTIGATE LIST > HOSPITAL'S ADDRESS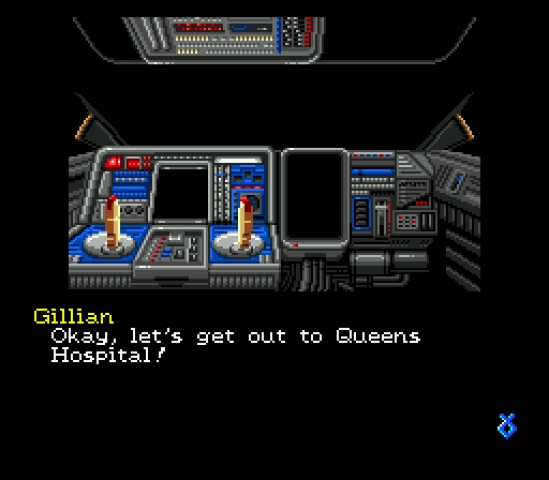 Metal: This is it! All right, now heading for Queens Hospital.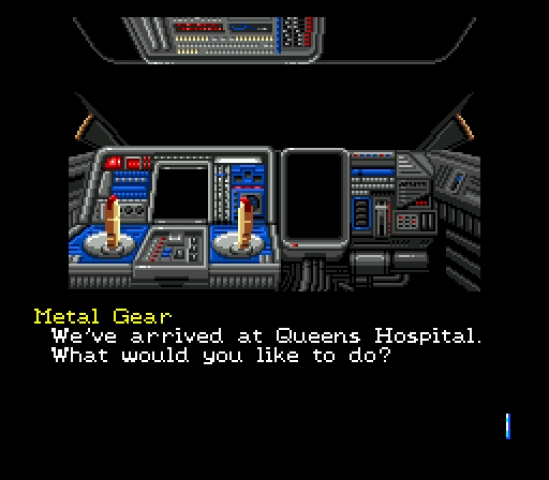 EXIT TURBOCYCLE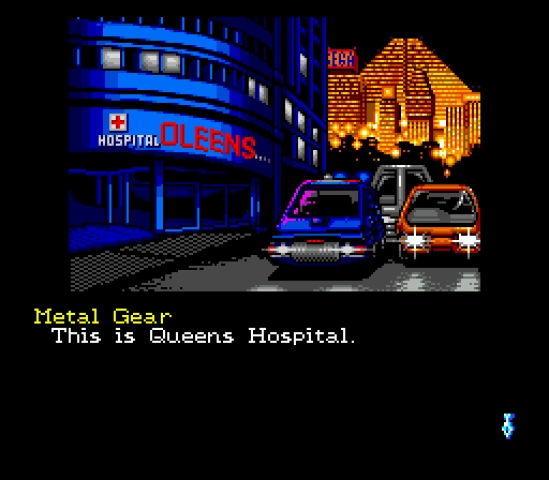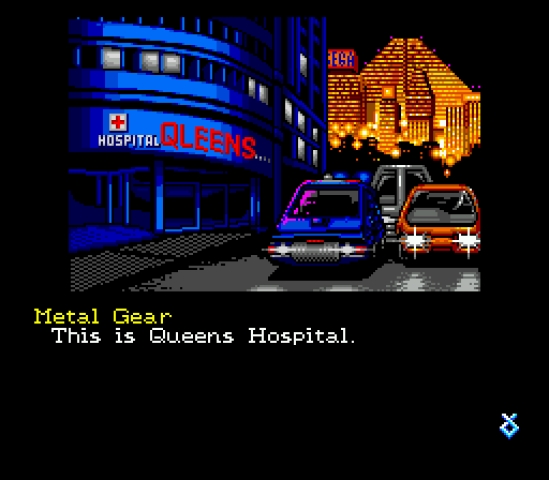 Gillian: That sign! That's the one that was in Little John's memory! No mistake!
LOOK > BUILDING
Metal: The building dates from the 20th century. There is no sign that they are in business.
LOOK > NEON
Metal: The sign looks like it say "Oleen" even from quite close.
LOOK > AREA
Metal: There is a rather wide road passing by the hospital. A number of cars are parked illegally on it.
INVESTIGATE > BUILDING
Metal: It's a round, pillar-shaped building of the kind that were popular at the end of the last century. The only entrance appears to be at the front of the building.
INVESTIGATE > NEON
Metal: Not surprisingly, part of the neon sign is, in fact, burned out.
INVESTIGATE > AREA
Metal: It's facing a street, but things do not seem to be particularly well-deleveloped.
INVESTIGATE > DOOR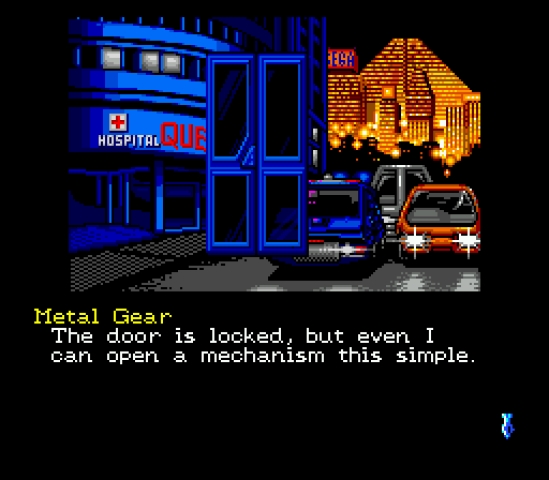 0xAB3D: They are getting too close. Close the thread.
0xBEEF: In due time. Let us toy with Seed more.
Gillian: Don't set off any burglar alarms or anything.
LOOK > DOOR
Metal: It's an old-style electronic-lock door.
MOVE > GO INSIDE
Metal: I'll enter Queens Hospital's security program and disable the lock. ...lock disabled. All right. I'll open the door.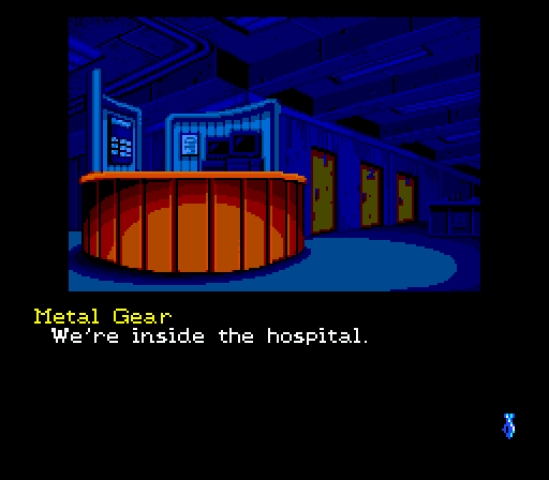 Gillian: Awfully dark...
LOOK > AREA
Metal: There is a reception booth in the center of the lobby, and three doors along the wall behind it.
LOOK > FLOOR
Metal: There is dust everywhere.
LOOK > RECEPTION DESK
Metal: There is nobody in the booth. The monitors are switched off.
LOOK > DOORS > DOOR 1
Metal: That door is closed.
Doors 2 & 3 say the same thing - I know you maggots probably were too dumb to infer that.
0xAB3D: Close the thread. This is an order.
0xBEEF: In time, in time...
INVESTIGATE > RECEPTION DESK
Metal: A solid layer of dust has collected. It hasn't been operated for several months. What's this? There are some kind of switches here.
INVESTIGATE > SWITCHES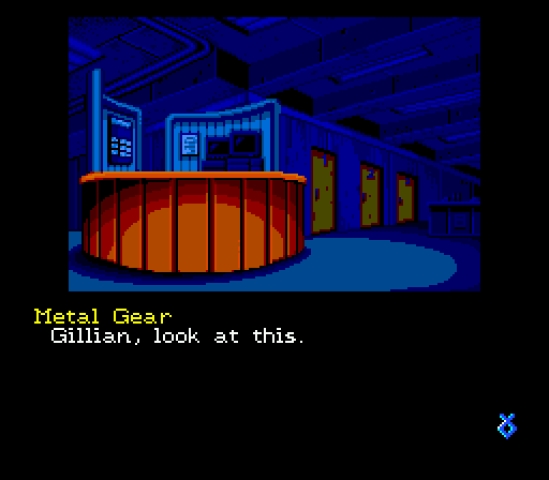 Metal: It says "Door Control: 1 - 2 - 3". Those switches must be for those doors over there. Apparently they are operated from here.
USE SWITCHES > SWITCH 1
Metal: I'll push switch #1. ...Door #1 opened.
Again, because you fools are too stupid, I'll just tell you that the next 2 switches open the next two doors.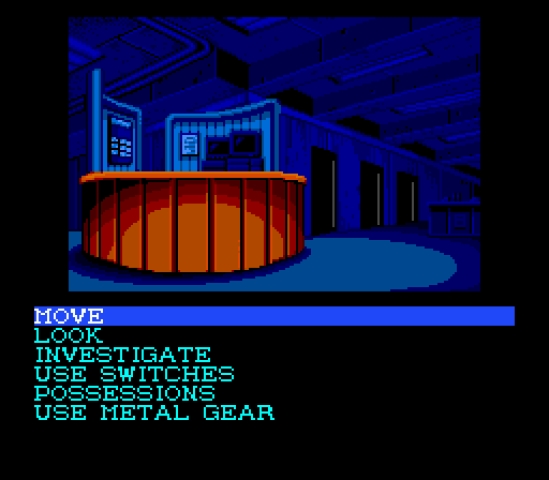 0xAB3D: Close the thread, 0xBEEF. This is your final warning.
[At this point, I do crazy stuff - basically feebwols (a gimmick account from my Darkseed 2 thread) disables Snatcher slowbeef and kills himself to bring the dead version of me back and take over the thread.
Long story short, further updates are not posted by a Snatcher.]