Part 9: Factory Ruins, Part Two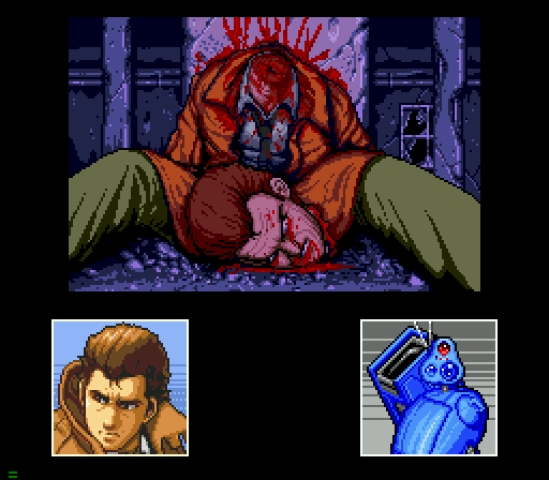 Metal: Ooooooohhhhhhh....
Gillian: Dear God!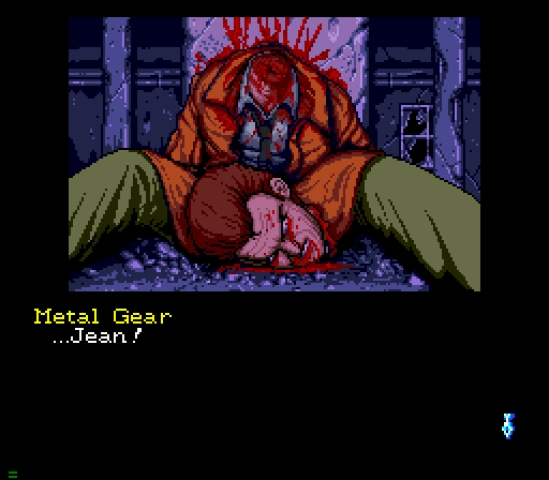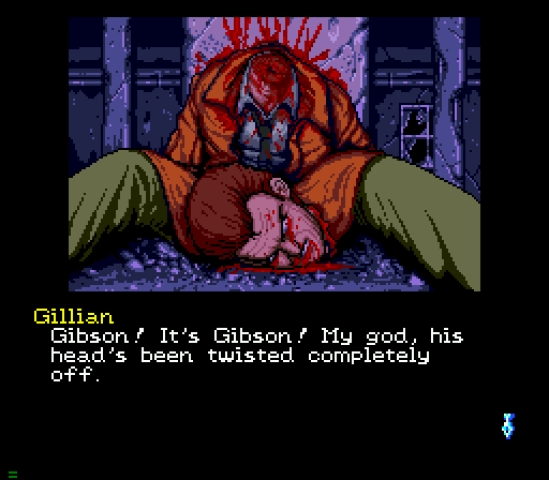 LOOK > CORPSE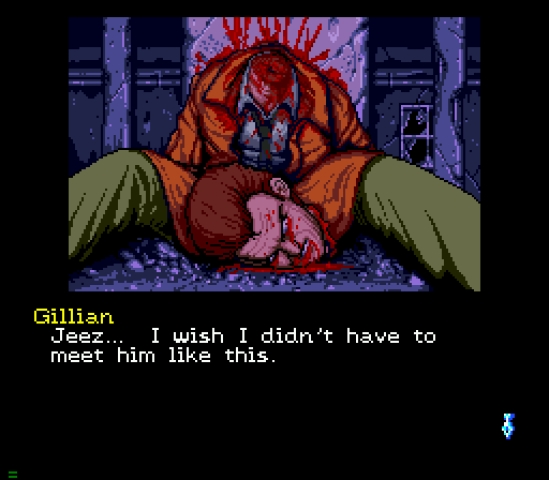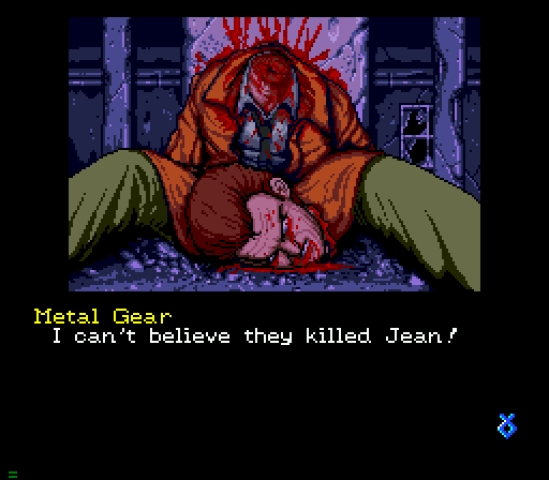 LOOK > GROUND
Metal: He dropped his blaster here.
LOOK > BLASTER
Metal: It's been crushed flat! This would take incredible strength.
INVESTIGATE > GIBSON > CORPSE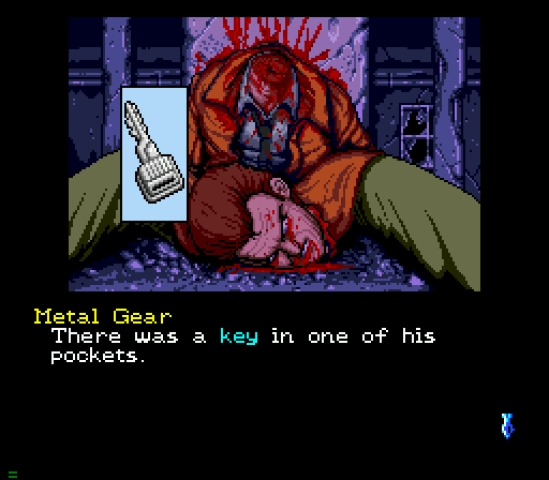 INVESTIGATE > BLASTER
Metal: It's an old-type blaster. It's definitely Jean's.
INVESTIGATE > GIBSON
Metal: He's still warm.
Gillian: That scream we heard was no doubt his. What killed him?
(I can't believe he just asked that.)
Metal: His head has been twisted off. He died instantly. It would have taken incredible strength to do this...
INVESTIGATE > KEY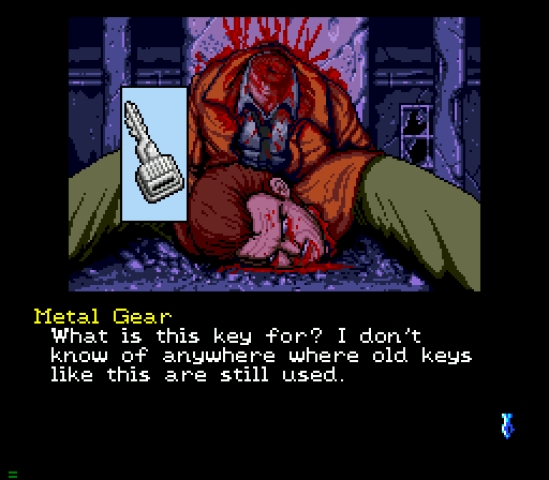 INVESTIGATE > MOTION DETECTOR
Gillian: Hey Metal, aren't you picking anything up?
Metal: No, I'm not getting any reading.
INVESTIGATE > GIBSON > CLOTHING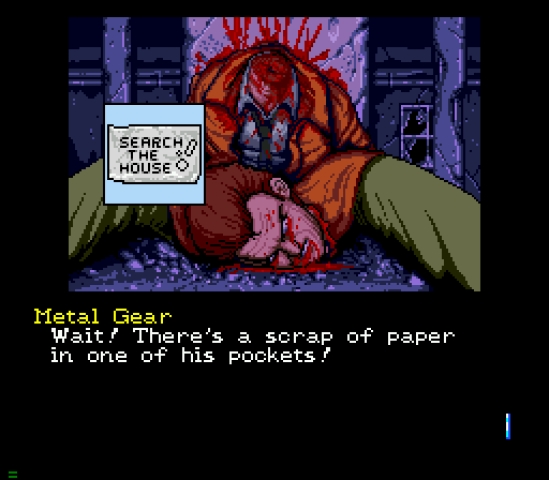 INVESTIGATE > SCRAP OF PAPER
Metal: It's written on ordinary paper.
INVESTIGATE > GIBSON > CLOTHING
Metal: I don't think we'll find any more evidence in his belongings.
LOOK > KEY
Gillian: Metal, hang onto this key as evidence, okay?
Metal: All right, I'll store it.
LOOK > SCRAP OF PAPER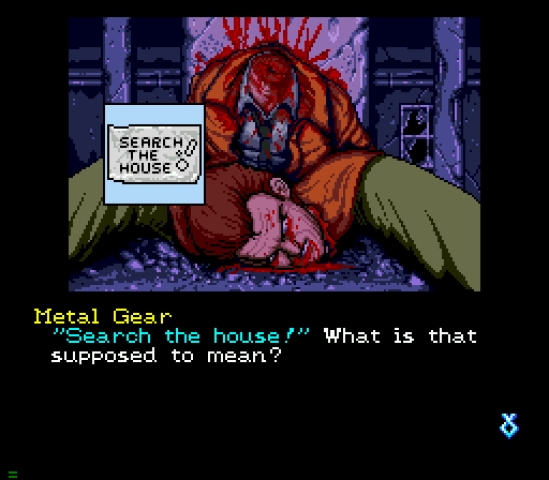 Gillian: Who knows? These could be Jean's last words. Metal, keep this as evidence, will you?
Metal: All right, now storing paper scrap in my internal chamber.
INVESTIGATE > GIBSON > CORPSE
Metal: Look! Jean's holding something in his right hand.
INVESTIGATE > GIBSON > RIGHT HAND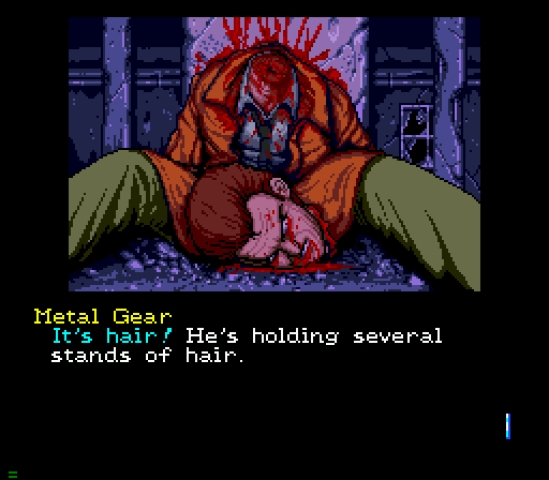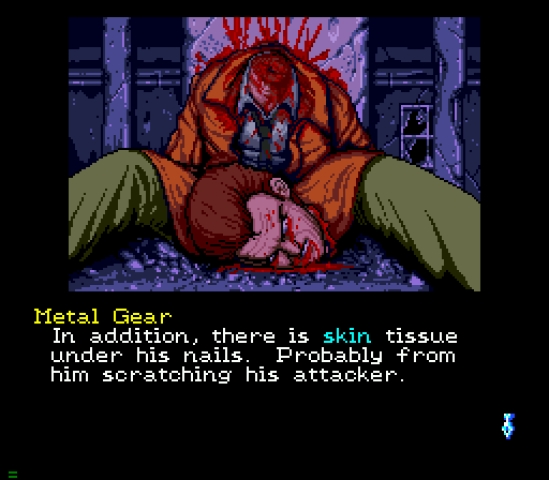 INVESTIGATE > HAIR
INVESTIGATE > SKIN SAMPLE
This is Metal's analysis.
(I gotta go to bed soon, so I'll transcribe later.)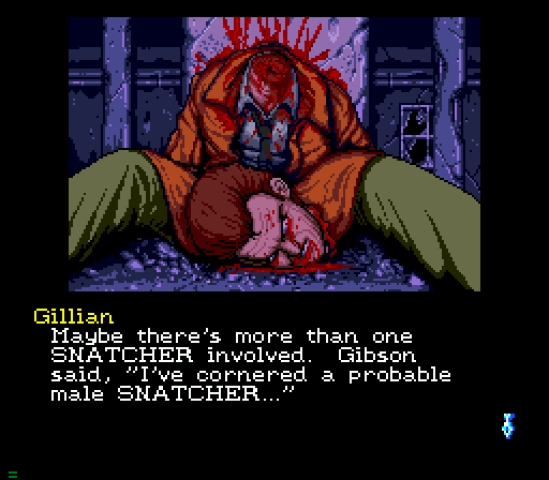 INVESTIGATE > GIBSON > CORPSE
Analysis of organic matter
LISTEN
Metal: It's uncomfortably quiet here.
INVESTIGATE > GIBSON > CORPSE
Metal: We've completely searched the body. I've recorded all the images.
INVESTIGATE > ORGANIC COMPOUNDS
Metal: I've already analyzed that organic matter.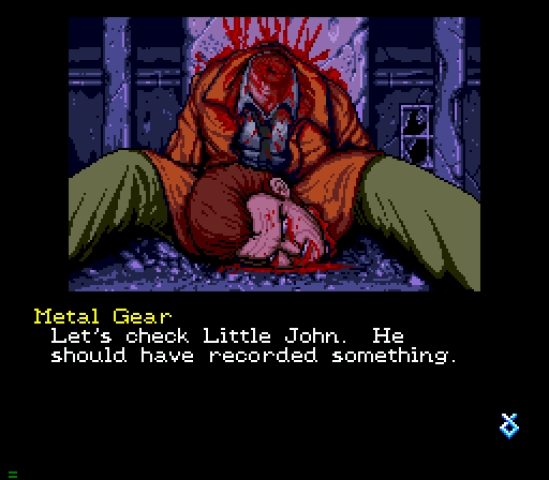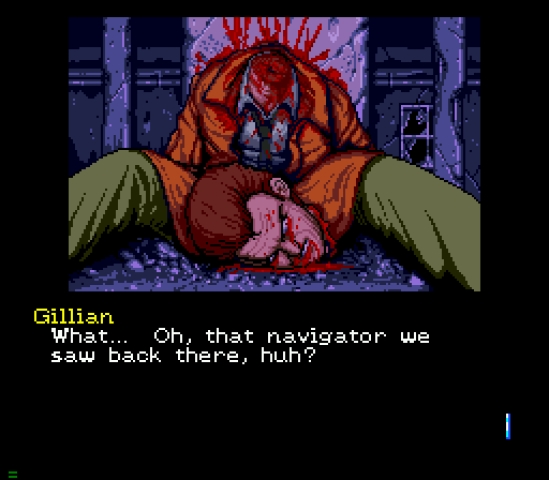 MOVE > RETREAT
MOVE > RETREAT
LOOK > LITTLE JOHN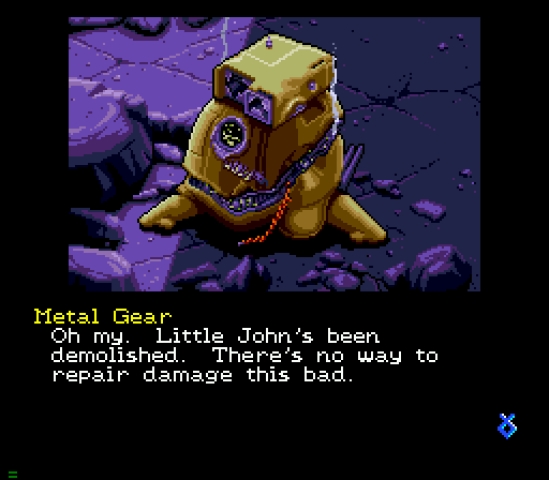 INVESTIGATE > LITTLE JOHN
Metal Gear: This charring indicates that he was hit by fire from a laser cannon. Nearly all of his circuits are burned completely through. His functions have been completely terminated. Nevertheless, his memory may be all or partially intact.
Gillian: Without Gibson, that memory may be our only clue.
INVESTIGATE > MEMORY CHIP
Let's get the memory chip.
Now, what kind of LPer would I be if I didn't leave things on a cliffhanger?
MOVE > ADVANCE
MOVE > ADVANCE
Snatchers?
SNATCHER AND CENSORSHIP
While I wait forever for Google to upload video, I'd like to take this time to talk about the violent, gory scene you just saw.
So, there is only one completely "uncensored" version of Snatcher - the original released for the MSX. Sadly, due to time and resource constraints, it is "unfinished'. Most notably, Act 3 - the end of the game - is missing entirely.
Snatcher's next release was for the PC-Engine, which us non-Japanese types know as the "Turbo Grafx-CD". This one had a limited ending - meaning, a shortened version of the ending. Kojima said he considered this version "unfinished."
Snatcher's third release was for the Sega CD and remains the only official English-language release of the game. It's identical to the PC-Engine version, content-wise - except it has a complete ending. All the violence from the original MSX version is (almost) in here. Specifically, there are 3 scenes which were cut from the MSX version.
But here's the general idea:
1. A quivering corpse.
One of the corpses we see later twitches in the MSX version. It does not do it in the Sega CD version. I've seen the original corpse twitching and trust me - it's like one frame of animation, and not even done very well. It's barely worth mentioning, if not only for completeness.
2. Tits
3. Ass
Yeah, Snatcher for the MSX had nudity. If you have... well, vision... you've noticed the game is anime-style, so let me just say that while I'll show you the screenshots of it... er... even if you're a hentai dude, it's not really worth writing home about.
I did this LP of the Sega CD version because, again, it's the only official English-language release, and excepting the 3 scenes above, it's the most uncensored version. The later Sega Saturn and Sony Playstation versions further censored the violence.
Coming up next:
Gillian and Metal Gear do shit Monk style! (Meaning detective work, not like Shaolin or whatever.)