Introduction
The coming of the twenty first century was an omen, predicting the downfall of a planet. Yet, it was not of Earth of which this prophecy spoke of; t'was Mobius.
In 1999, one blue hedgehog began his own Adventure, taken from his home world where all of his adoring fans had such wonderful memories, and placed in a supposed replica of our own world. In 2001, the Adventure entered it's second phase, and the high speed tales and entertaining puzzles that those who had grown up with the blue speed demon played secondary to tales of more characters, cloning, time travel, fishing, space, aliens, guns, treasure hunting, giant robots and inter-racial relationships and mentally twisting the next generation of Sonic fan.
Yet there was a light amongst this darkness, however dim.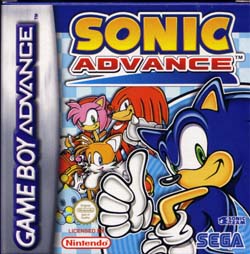 Sonic Advance, just like the original series, is a 2D platforming game released on the Game Boy Advance in early 2002. Though not quite as challenging as the originals, Sonic Advance features it's own new moves, new sprites and the original four characters from pre-Adventure, each with their own advantages and disadvantages.
Four LPers have stepped up to the challenge; to challenge the game, to challenge the evil Doctor Robotnik, and to challenge the tedium of one person doing four playthroughs.
Videos

Miles "Tails" Prower
, played by
Trin Tragula

Knuckles the Echidna, played by pokecapn
(deleted)

Amy Rose
, played by
Volcano Style
EXTRA VIDEOS
Archive Index