Part 3: The City of Malice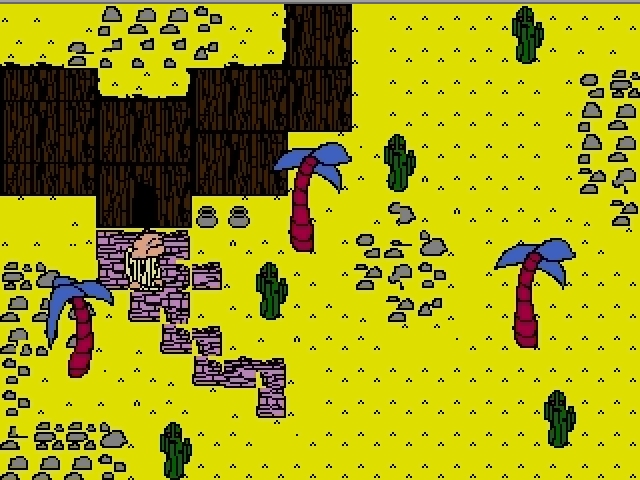 Well, I'm glad to be out of the cave, aren't you Phillip?
I think I see some people to the south, let's head that way.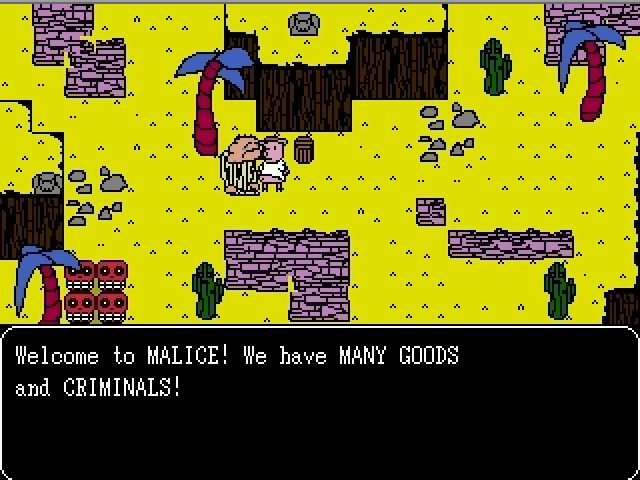 Criminals, huh? Aren't they weak to BIBLES?
Oh, there's Lucy over there. Hey Lucy, do you have any BIBLES?
Yes?
Alright, I'll take two.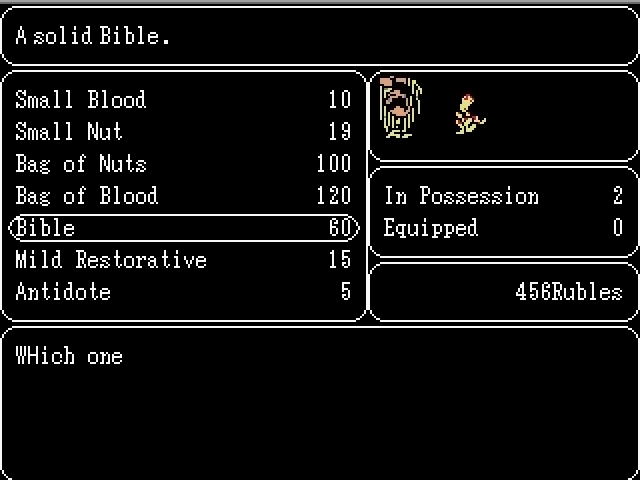 Thank you.
Now let's steal whatever's in that chest behind her.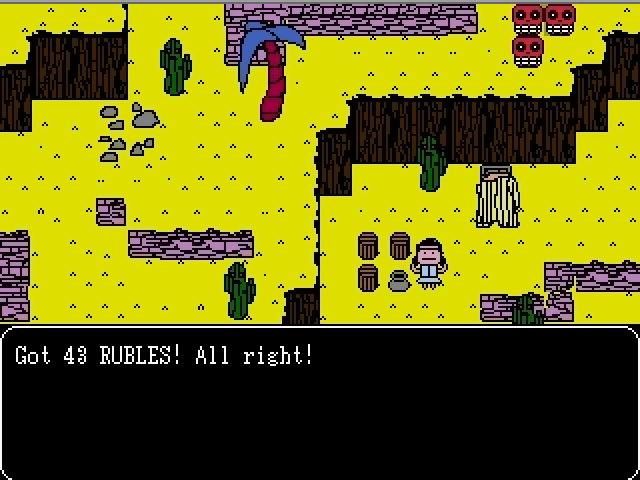 Neat! Let's head North-east.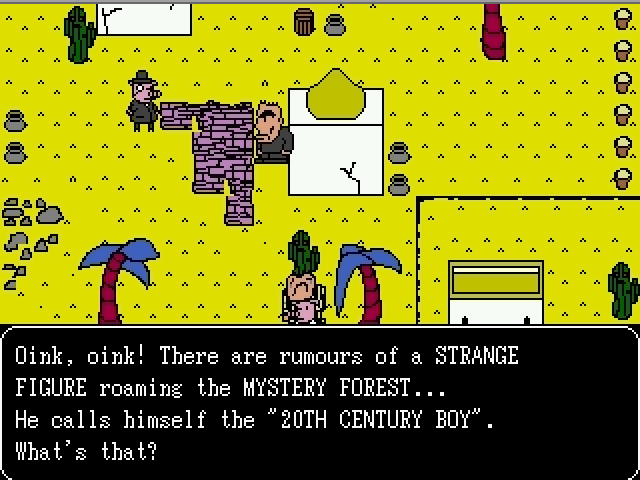 Huh.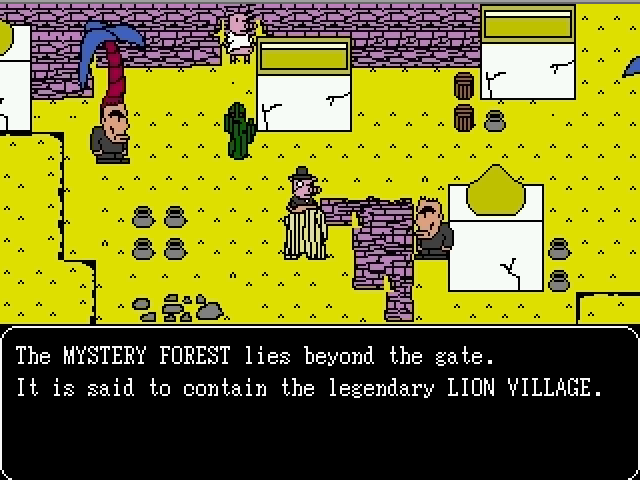 I think I've heard about that. Don't they give lots of money to people with old steaks?
--
Yo, we're heading North.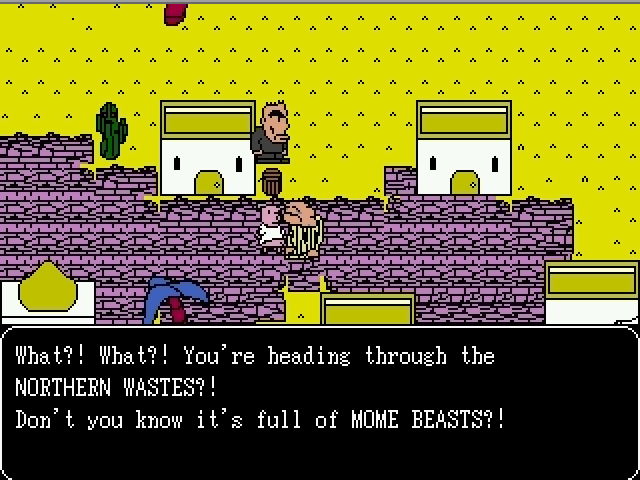 MOME BEASTS? Shit, those things are scary. Still, we have to go.
Anyways, let's head to the house on the right.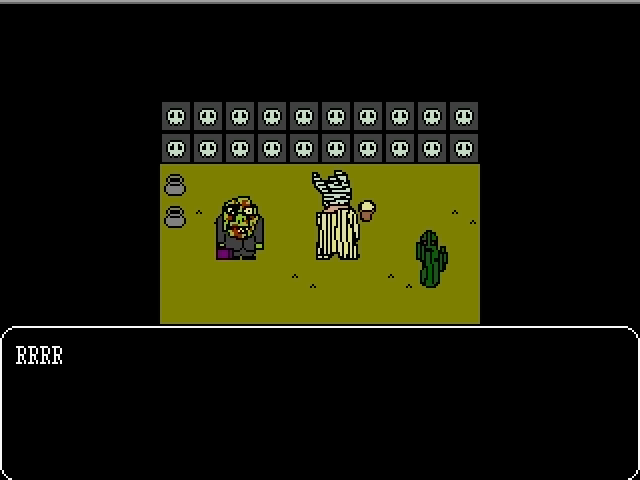 Fascinating!
So, uh, why do you keep a mummy here, Mr. Joe Average?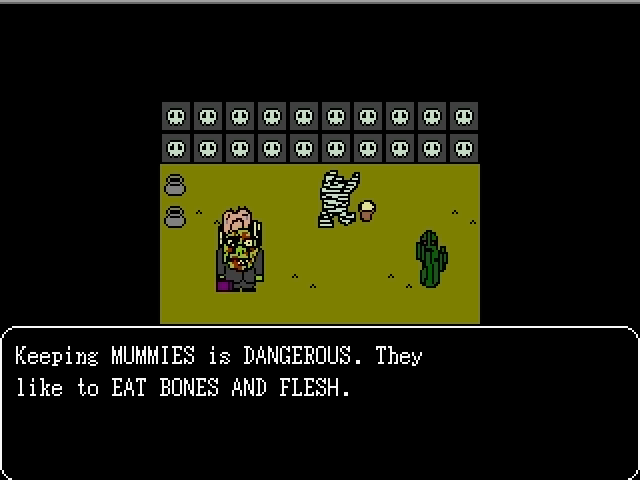 ...That didn't answer my question, but that is probably something we should keep in mind, Phillip.
Now, let's blow this popsicle stand.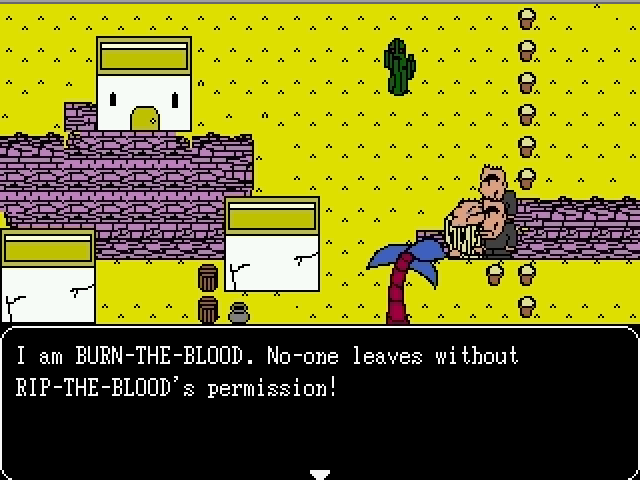 ...Or not. Either one's fine. I wonder what's in the house on the left.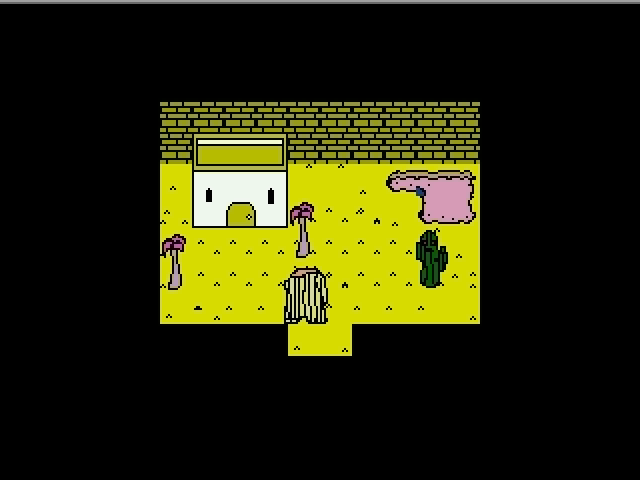 I wonder what's in the house on the left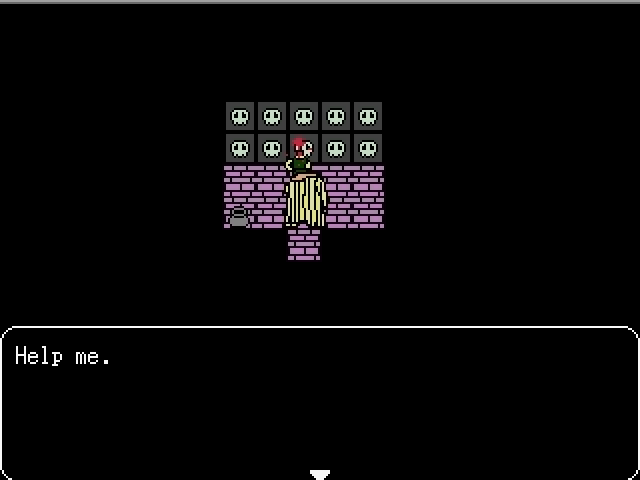 Sorry, no can do. Kinda busy not leaving this town.
Speaking of, let's head west into the town proper, Phillip.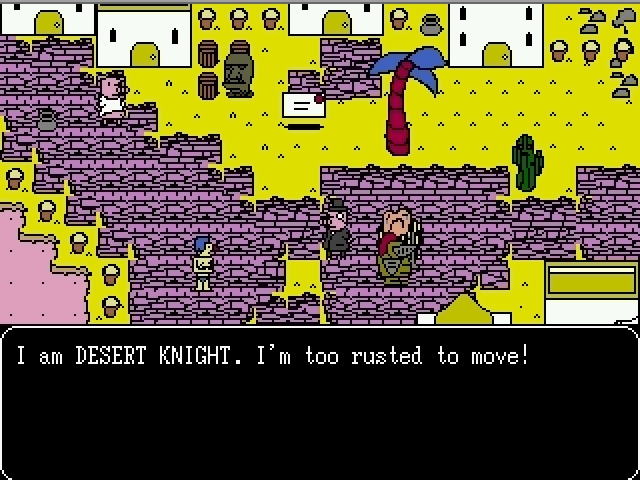 Really?
The
Desert Knight? Man, I've been a fan of yours for years!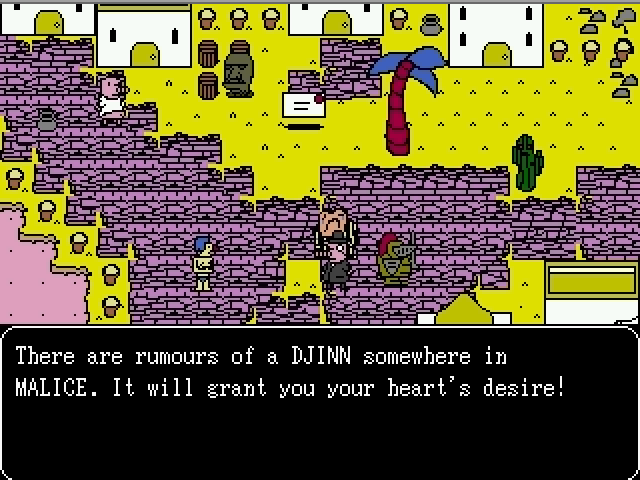 Aren't Djinni generally untrustworthy bastards?
Oh no! DREAD MUMMIES!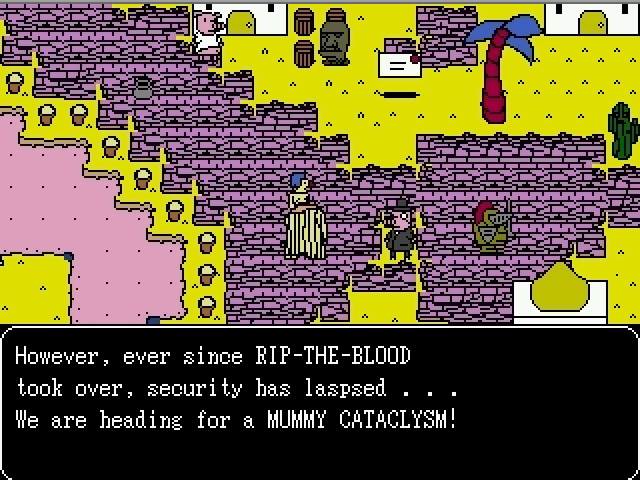 Oh shit! MUMMY CATACLYSM!
Hey, what's with the letter? Let's go read it!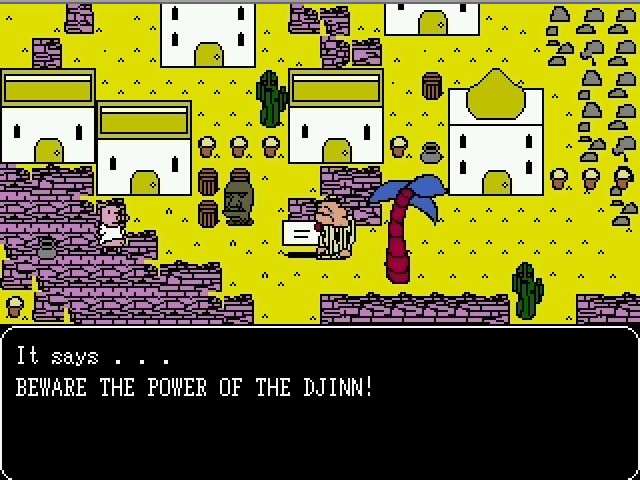 Fucking knew it.
What's in that house to the north of here, Phillip?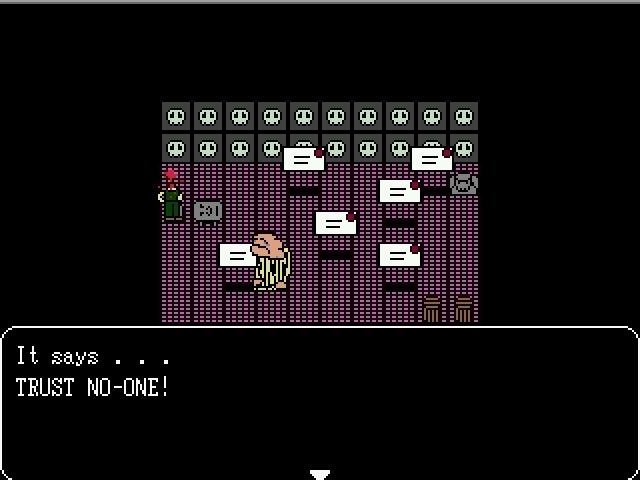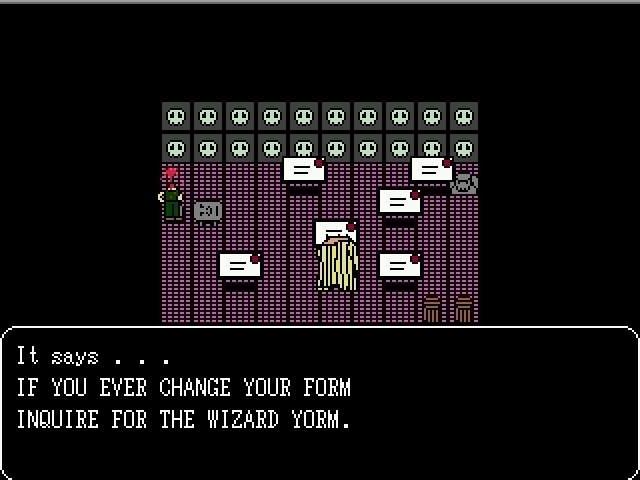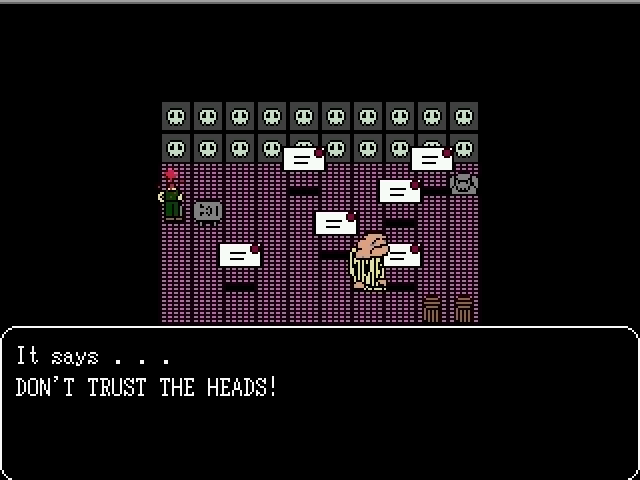 The heads? Like, the one outside?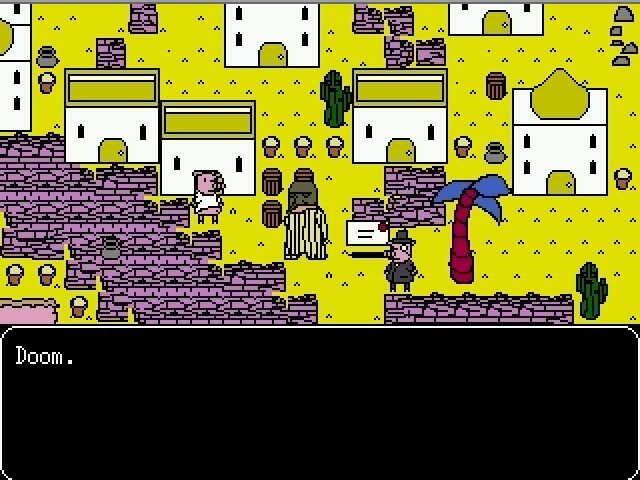 That one?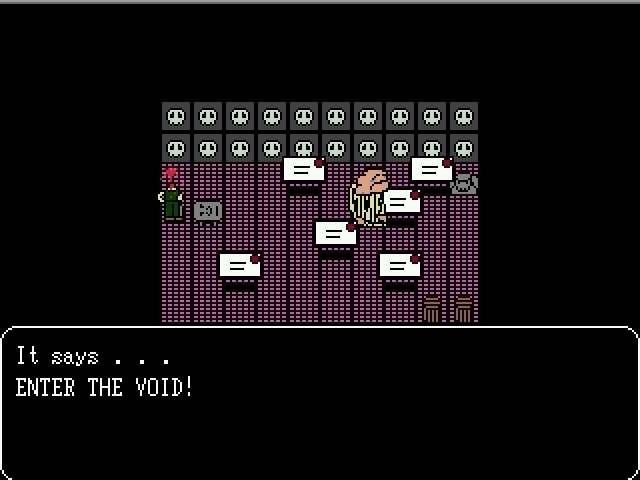 ...What void?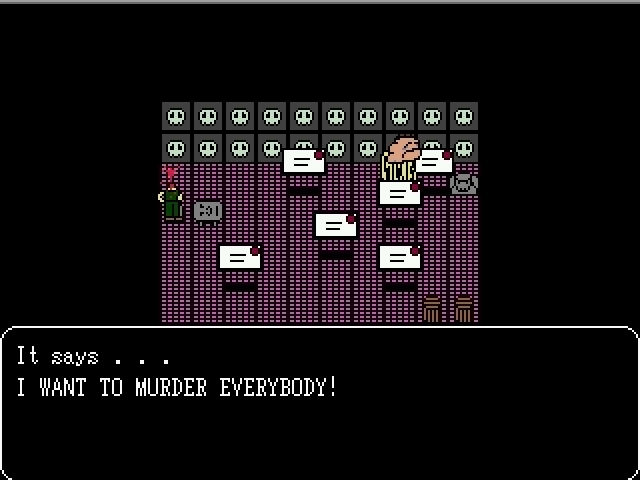 That can't be healthy.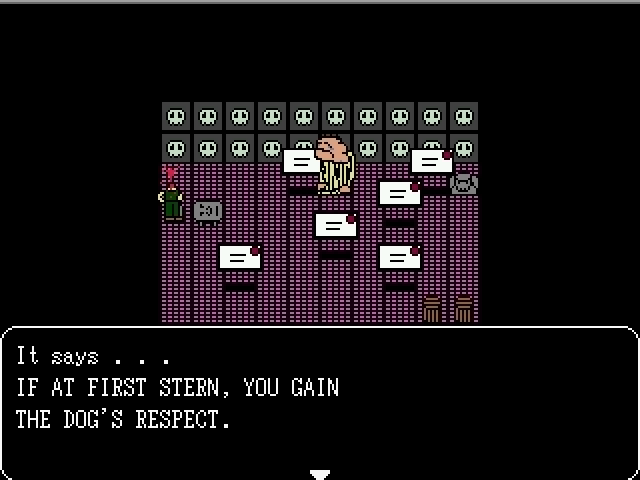 What the fuck?
No seriously, what the fuck.
...Oh yeah, Leg Horse is dead.
I think that we can fix him up next door.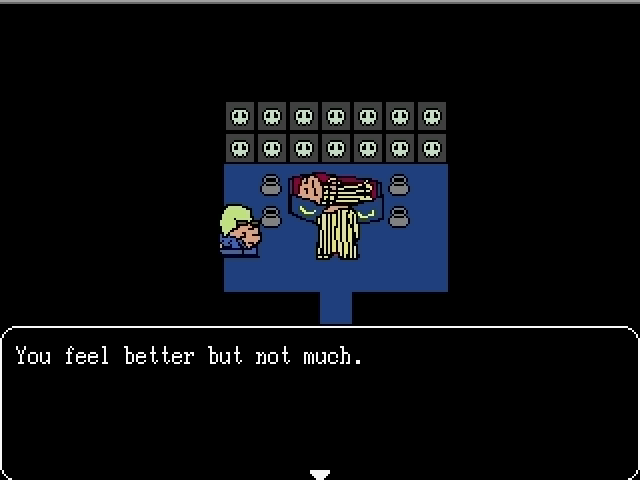 Good thing HE WAS ALREADY DEAD!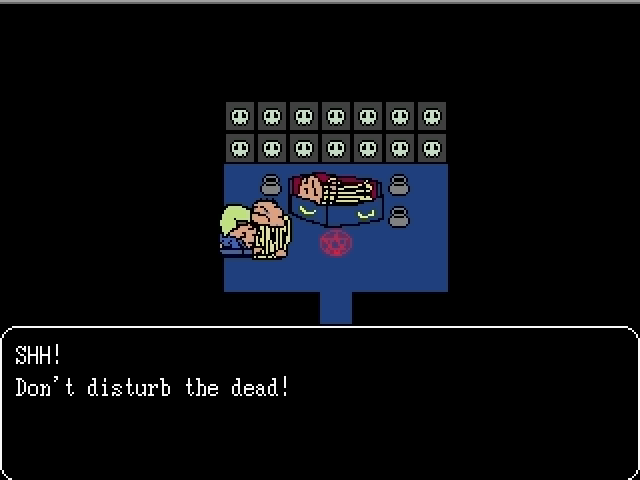 Oh. Sorry.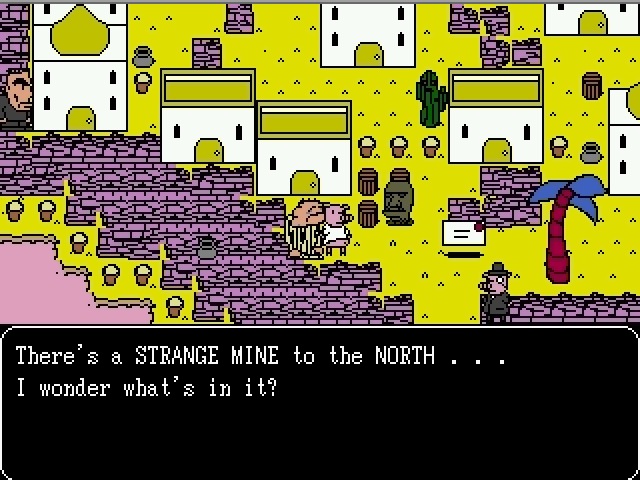 Huh. Hey Phillip, what's in that house northeast of here?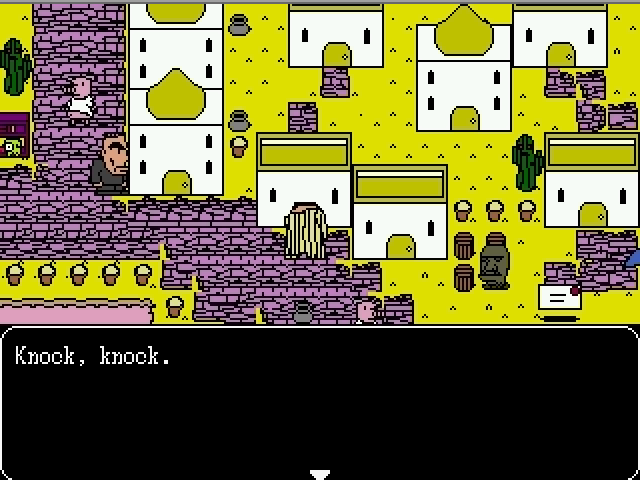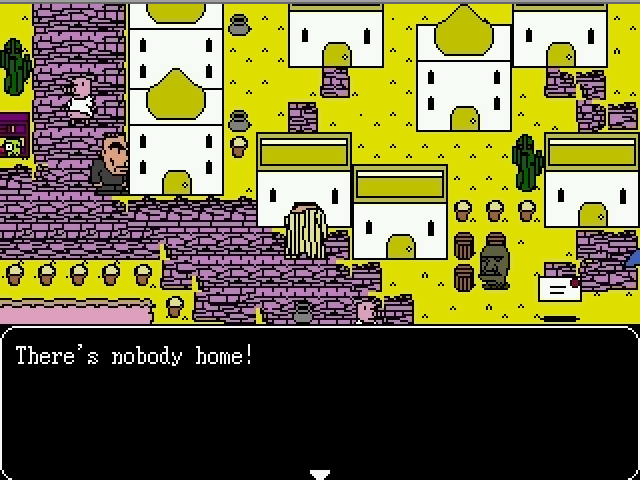 Oh. Sorry to disturb.
I wonder what's in the house next to this one?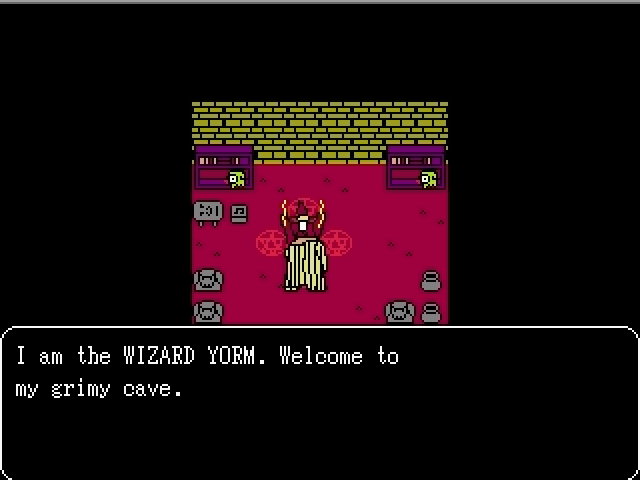 Cool. Do you know where the City of Forms is?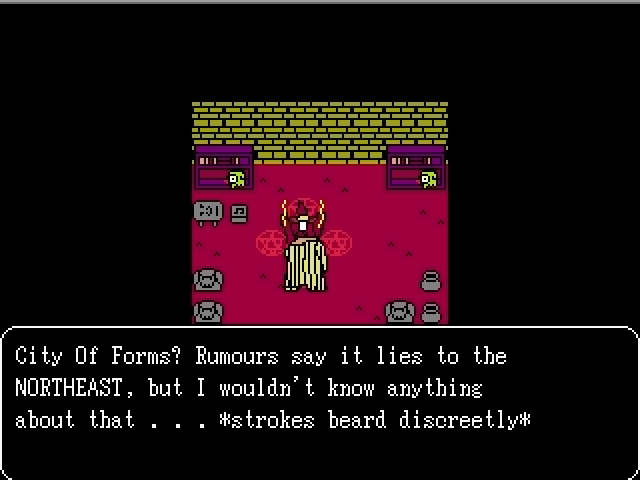 K.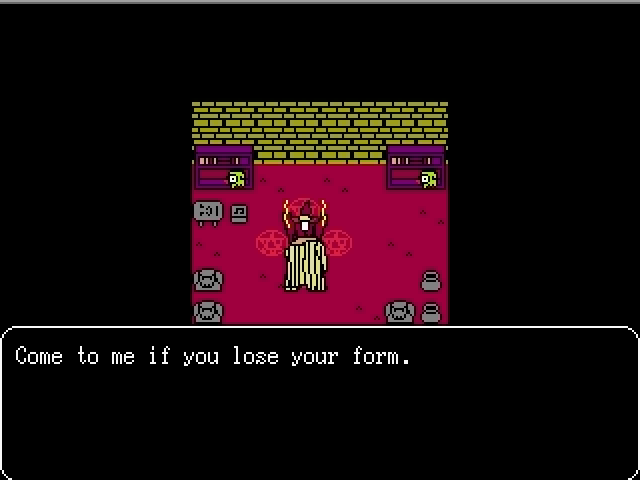 Will do.
Like that'll ever happen.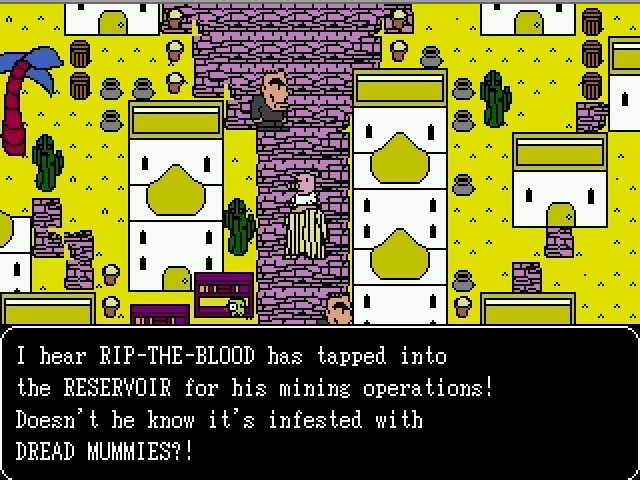 Well, it'll probably come back to bite him in the ass.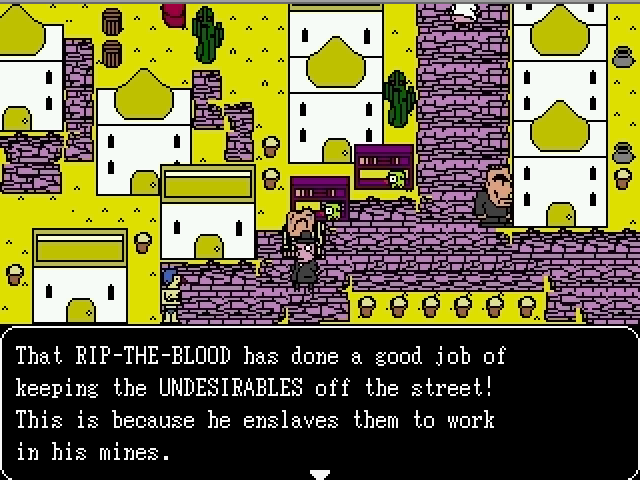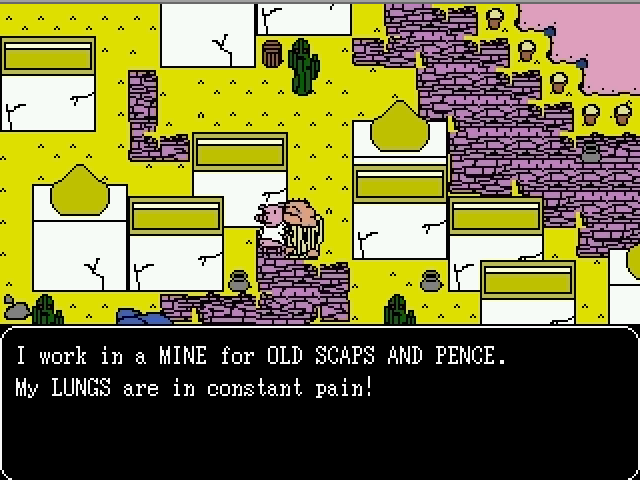 Huh.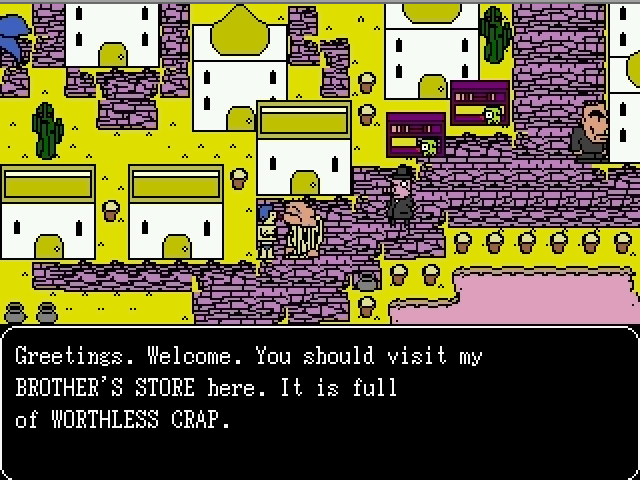 I'd rather not.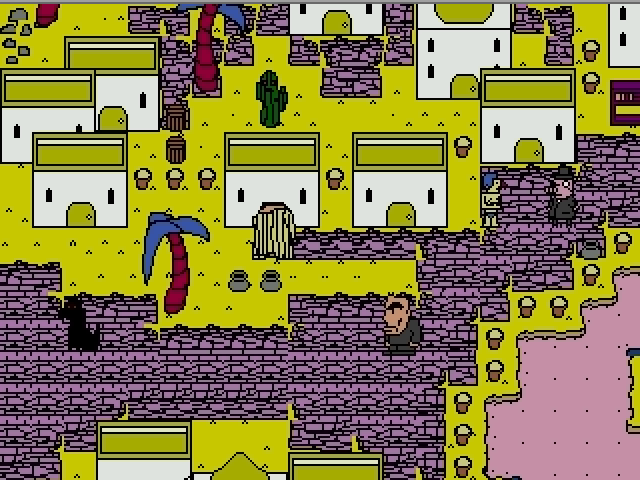 Huh, wonder what's in this house?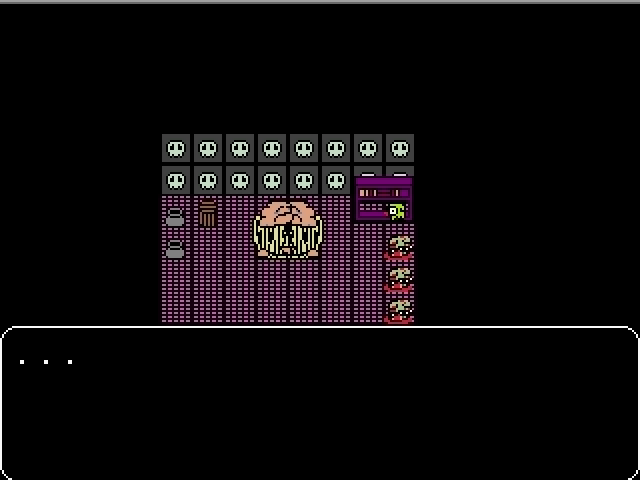 ...
...
...
Shit!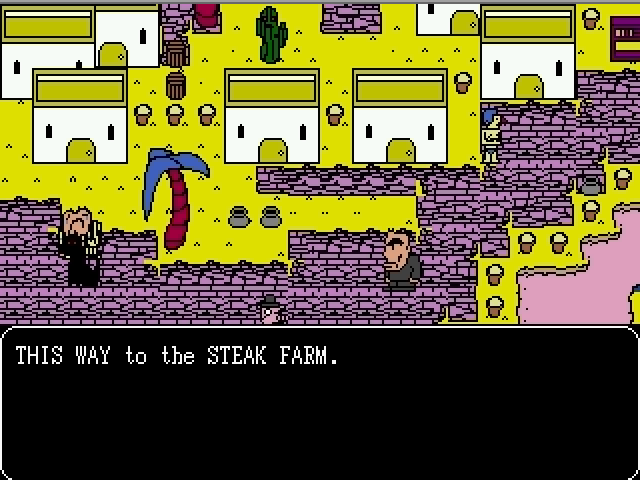 Let's go visit the steak farm!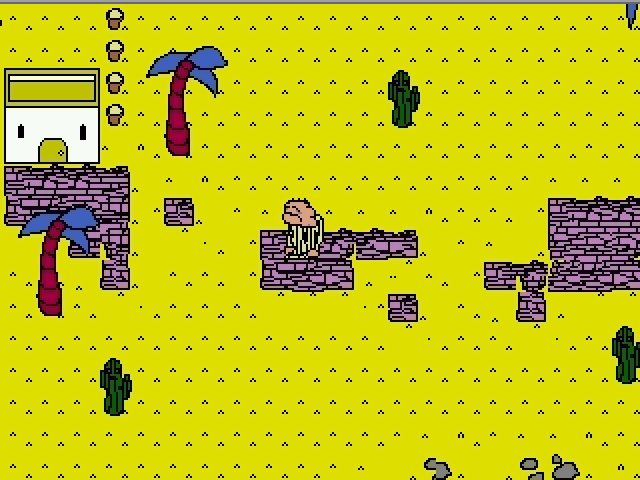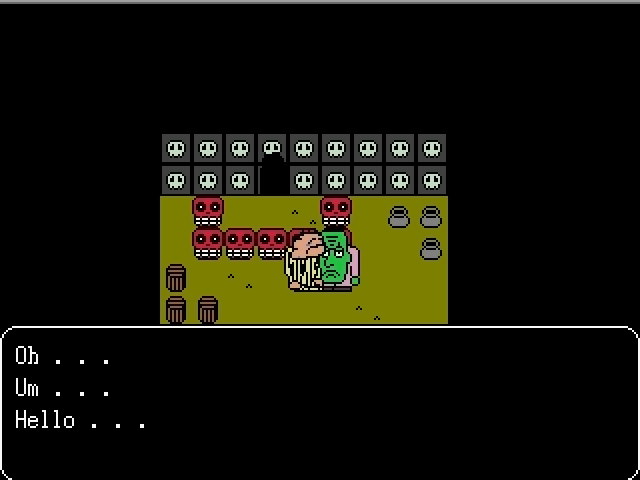 "
There are some STEAKS out back... You can pick one out... If you want...
It's 50 RUBLES to enter the steak paddock... You can choose ONE STEAK... Sorry...
Have a good time... I guess...
"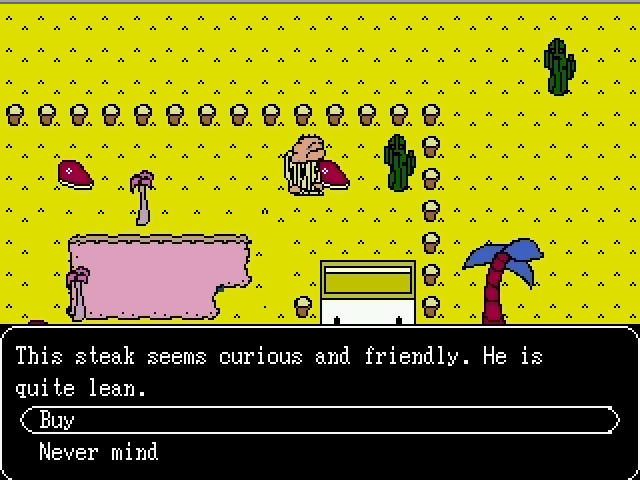 No.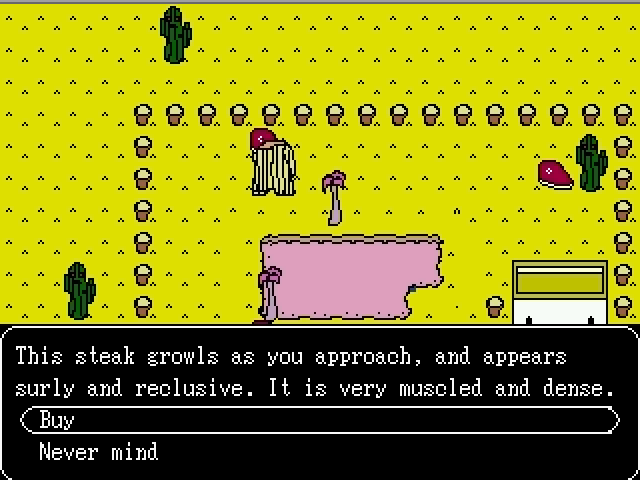 No.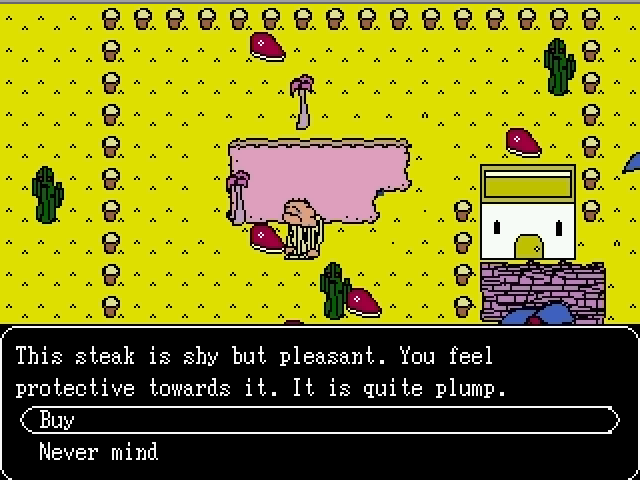 No.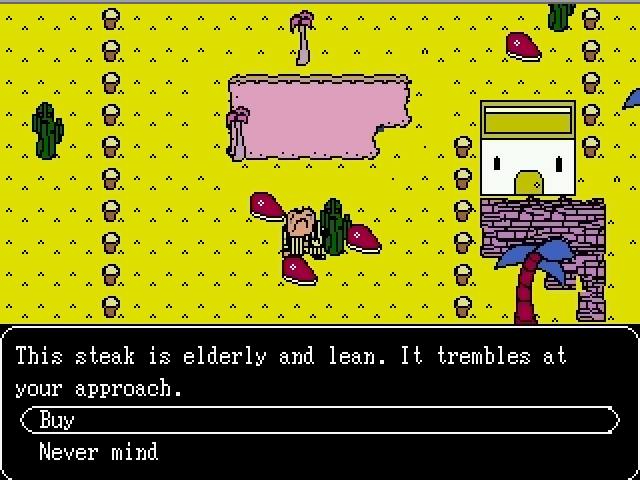 Perfect!
Now, back into town!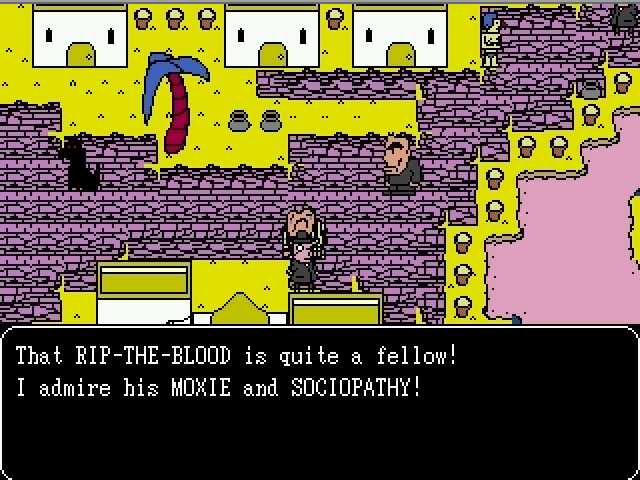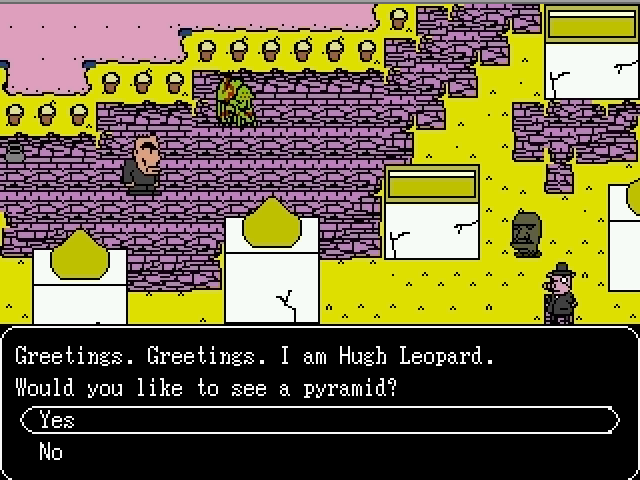 A pyramid? Sure!
(<-- video link)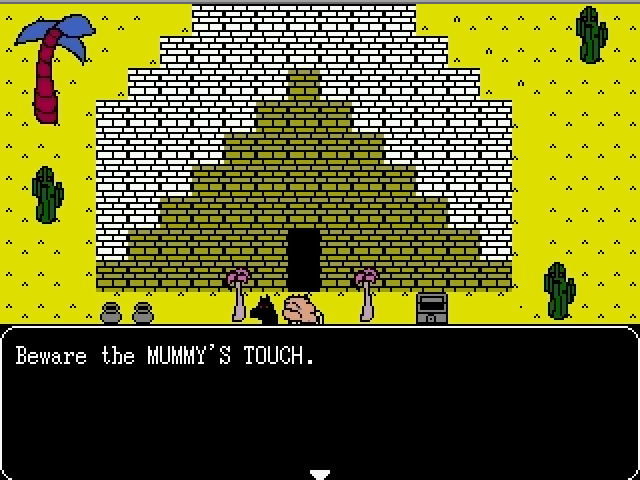 Sound advice!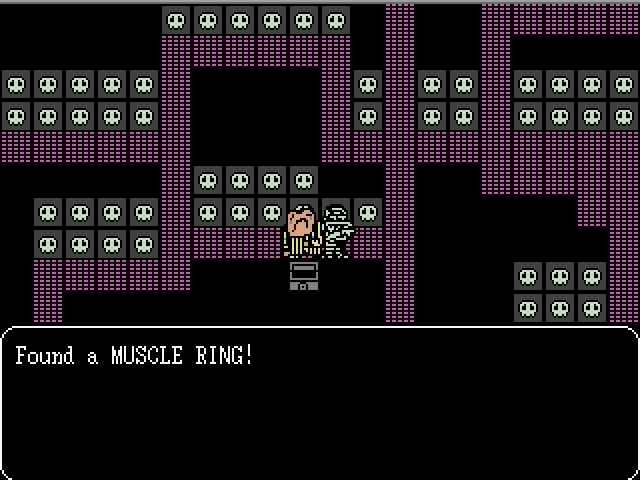 Muscle Rings increase the Strength stat a fair bit.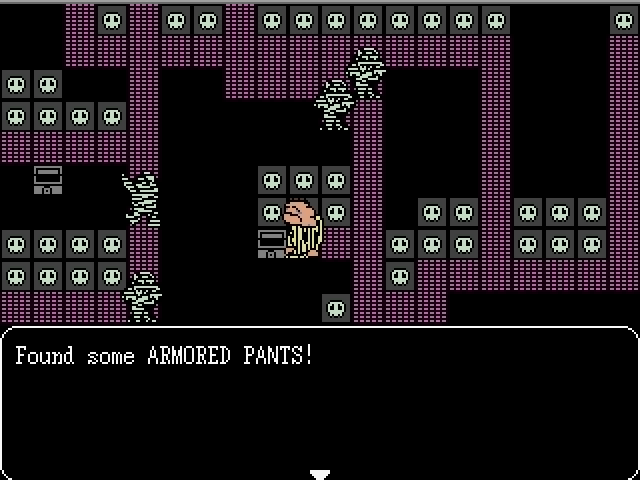 Pretty good armor for Leg Horse.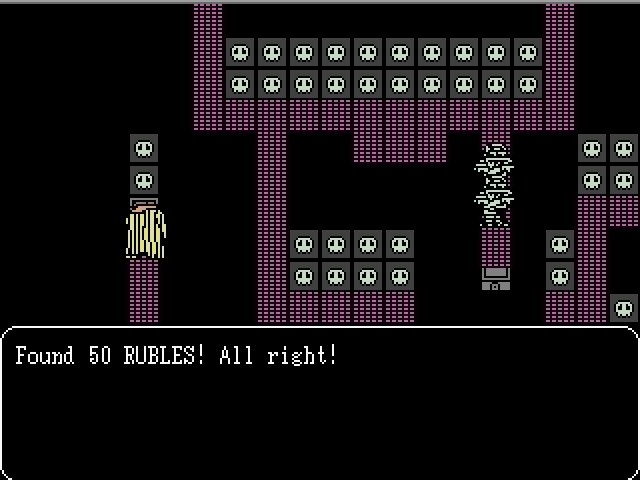 Almost made up what we spent on those BIBLES!




...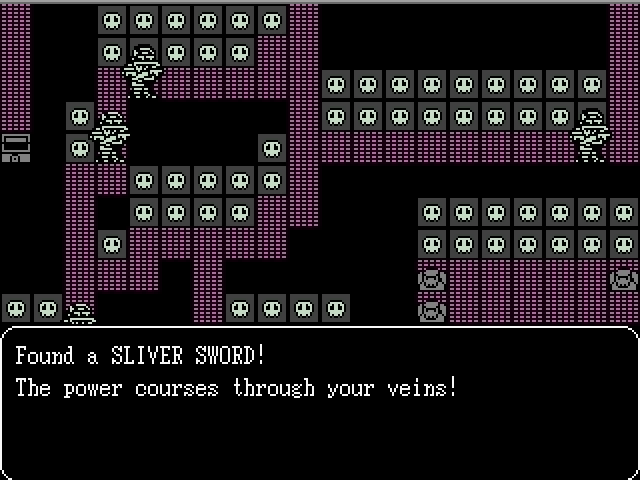 Would you believe me if I said this was a typo? Still, it's Phillip's second-strongest weapon, right after the ZORG CANNON.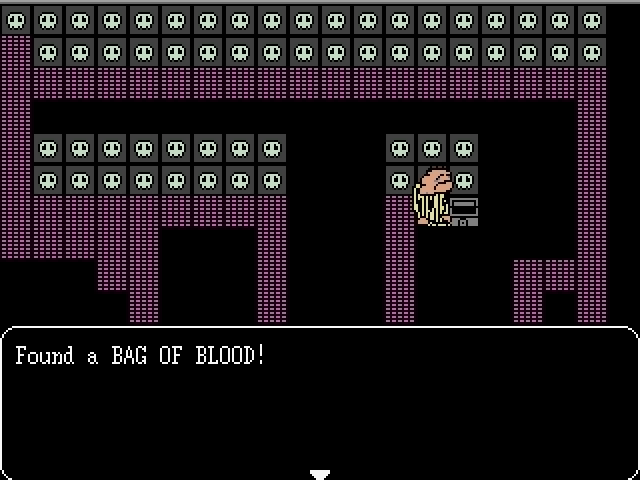 A pretty good restorative item. I believe it restores 100 HP to the whole party.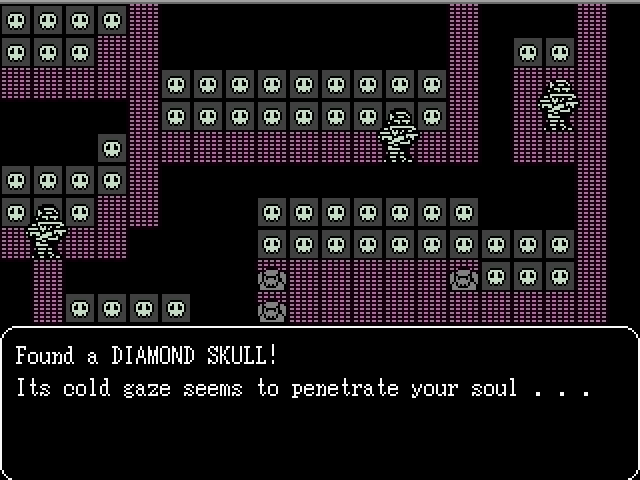 And an Indiana Jones reference. I think[sub]...
Now let's leave!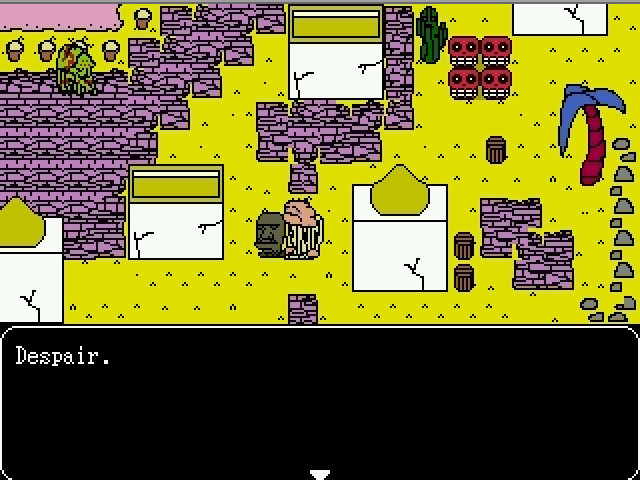 Hope!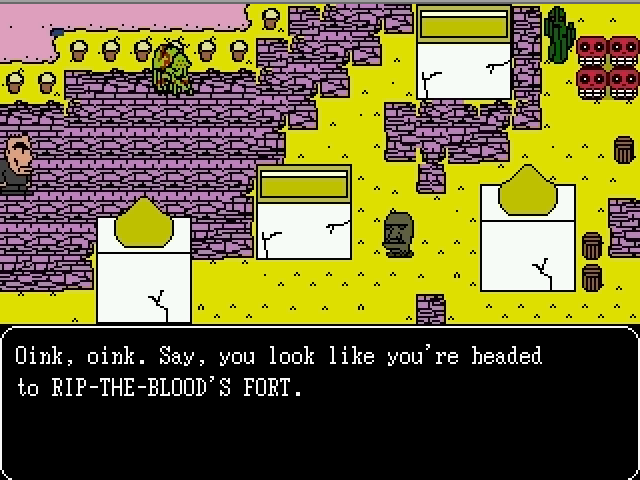 Why yes, we are!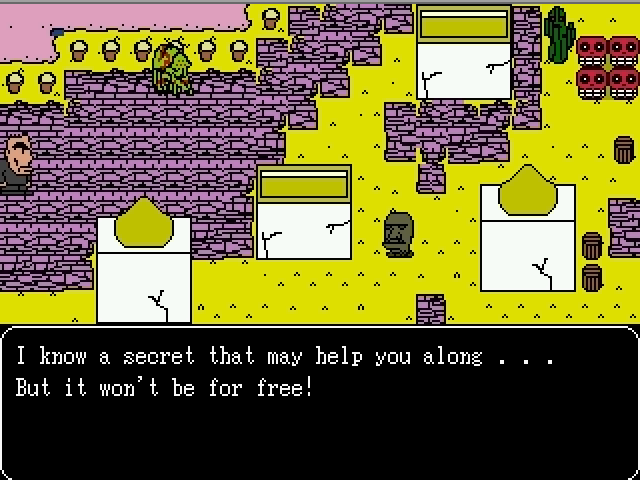 Alright.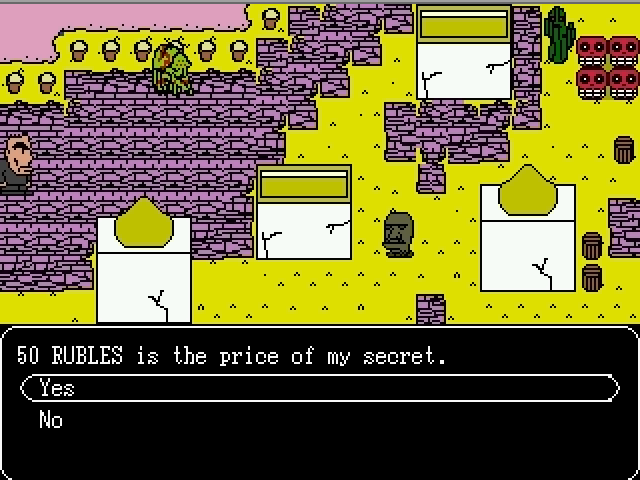 Sure!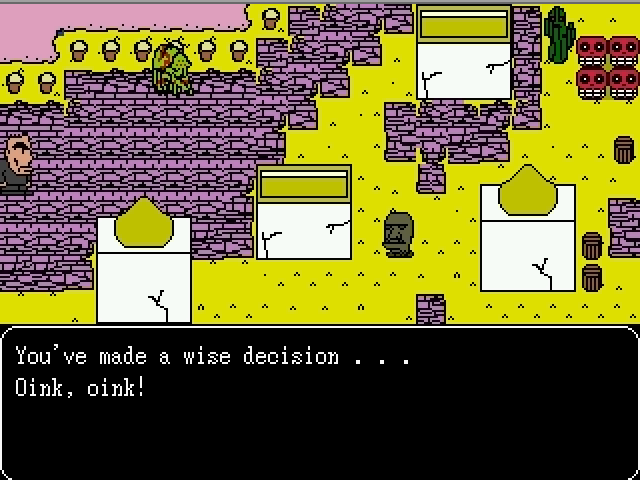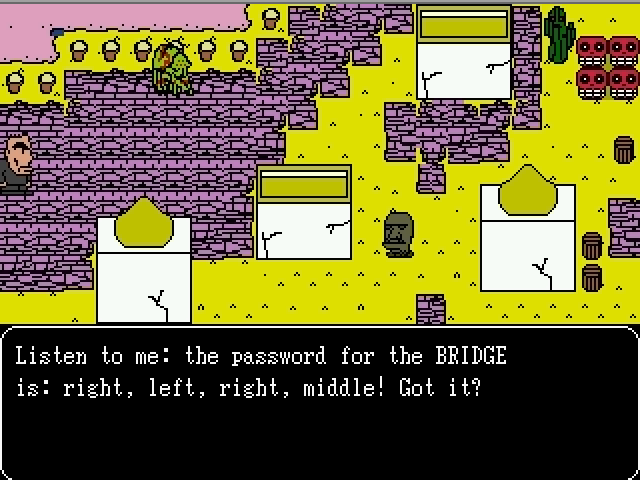 Got it! Left, right, left, middle.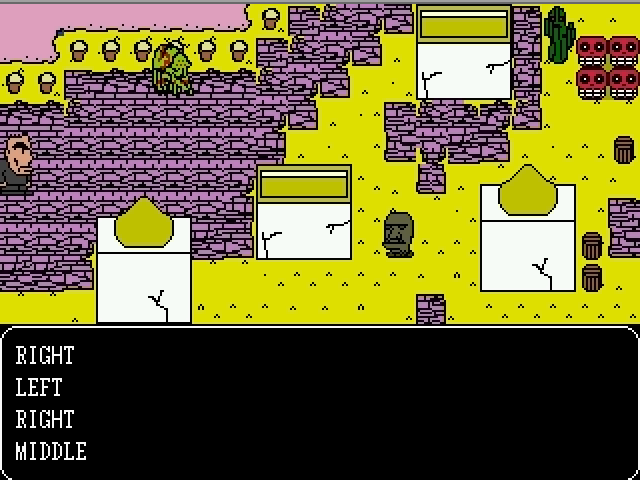 Alright, alright, geez.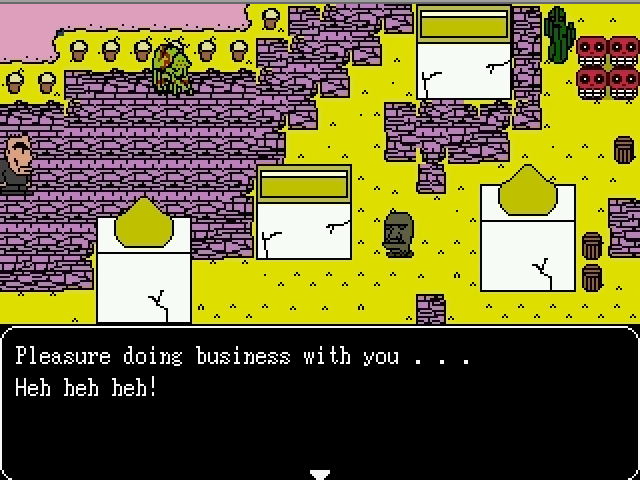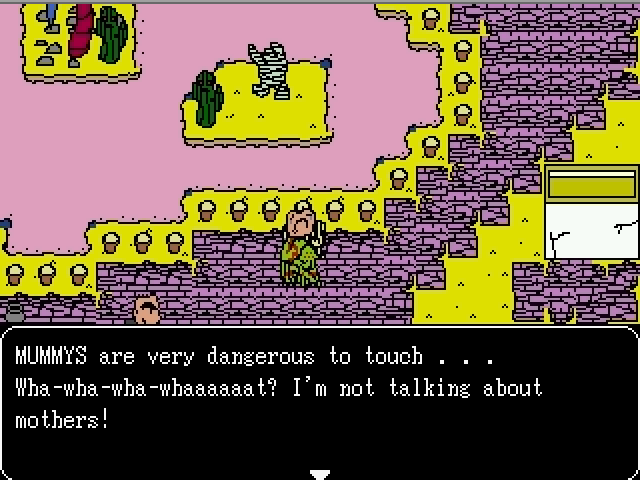 Of course you aren't.
Now, let's leave!
Which way's the exit, again?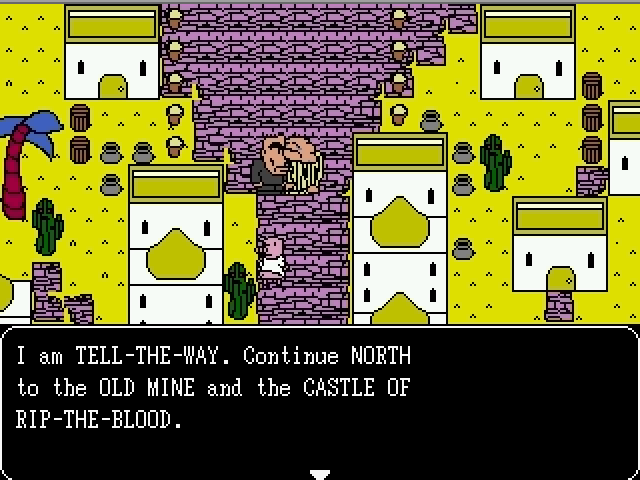 Thank you Tell-the-Way!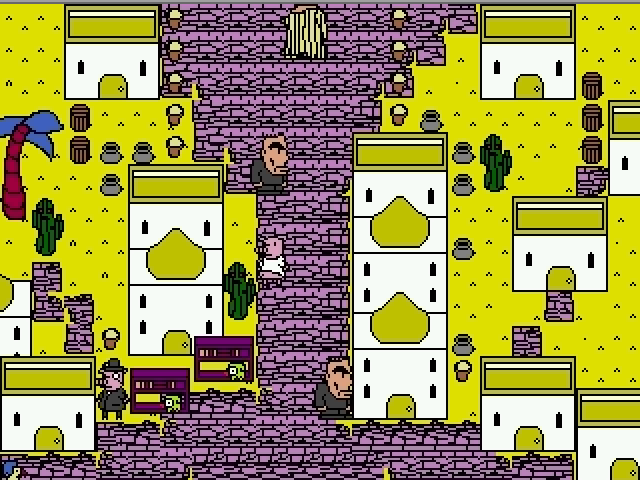 Now, onwards to Rip-the-Blood's fortress!