Part 17: Week 7 Challenges - Catalysts
Week 7 Challenges - Catalysts
Catalysts are something that speed along a chemical reaction (or make it possible at all) but are not consumed in the process. It's similar to leaving garbage in your reactor as we've seen, but this time you need to reuse that garbage, over and over. So some of the puzzle is to figure out what catalysts you need, how to make the first one, and how to regenerate them. There is no puzzle in the regular game or ResearchNet that requires anything like this.
Challenge 14 - Carbon Snakes
Based off of a puzzle by JG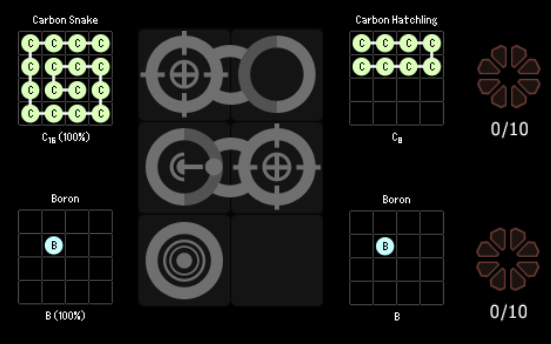 Task: Split a carbon snake in half - without having any bonders.
Goal:
LEAST SYMBOLS
Tiebreaker is least cycles, then fastest time of solution submission.
H4sIABxGV1AA/42RS2vDMBCE/0rZcwy7MjXFviWH9N5j6UF11rGpIhk9CqlxfnslOS15UOhlkD
6NtDNogkGPwRdfRrODegJMklncvk5wMIrboBhq2Ej7bvTDi5Yf3GxOSCesGsSKqKGo2IisJVYY
lSqkRlAiRMmDmaBISiL7RXZmUpZpLcrsz4pJYQWtCdpDTWJ+m1dAf+dbG2t0s47jHvH2Yrxpgr
9vel/vWfq2V4Pep4pPud9lM8rNMLVJSZfT35aXY/En7T8iYgrYS1coafdcLFGh7qRyvIIYa8e2
OJtxcTrWzliovQ28kC44vgJuVIP318yz4tHYTM/P++OYsll2LG3bx1haHm4/3EUsg+/TSNgG+S
kj2A1dN8Rq/hhjzd/O/293TAIAAA==
Challenge 15 - LP Catalyst
Based off of puzzles by zaq1xsw2tktk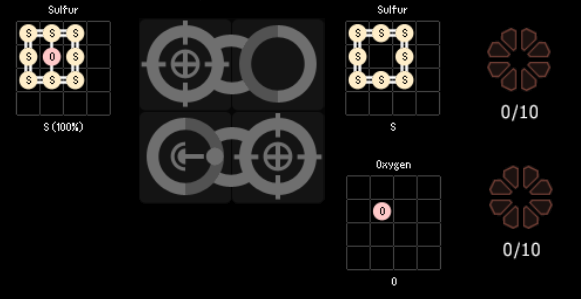 Task: Find a way to extract the oxygen from a sulfer ring without using bonders.
Goal:
LEAST CYCLES
Tiebreaker is least symbols, then fastest time of solution submission.
H4sIADFGV1AA/32PMU/EMAyF/wryfJWcDCfUjAwsSId0I2IIPfdaKZdUiYMoVf87TlsQB4gllr
88+z1P0Pshc/UePCWoJ8DyLEzapwkuwVGTHUENx+zaHM3RoFZ7jQaV2qM2iNJpo0pRRuMC9fqn
RYlo1Dqg1C0q2EETsmeolZ6f53kHIfPvCH/6rk6fvttSXMo/vt8cUezUj/WHt/FM3hyWeNdiUX
c2Vc7GM1VrTKhb6xLt4CX4E8VqE+OqTORTiF+agtqcSAjHvIE0uJ75mjE5GkJc6DbL41DSRUpk
Y9NJLm8vhTw83txZtm5MLNBm7ooj3Gf7agWc+rbt5TQeJdX8AfGtG0TgAQAA