Part 22: Round One Results and Round Two Challenges
Round One Results
Link to video results
Round Two - Single Elimination Tournament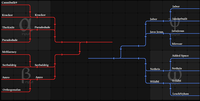 ALPHA FINALS - Pb <-> Au
(16)Krackor vs (9)Pseudodude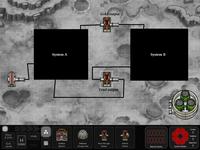 Level: Philosopher's Troll
Task: I was thinking about what would make a good sandbox challenge, and in the week we were all turning Gold into Lead, I got an idea. Create a sandbox system that turns Lead into Gold, then Gold into Lead,
forever
. The input is a terminating stream of lead. Black box "Systems A and B" can be anything you want internally, but the pipes and pass through printers must be topologically the same as in the image.
Goal:
LEAST SYMBOLS
Tiebreakers are: Least reactors, time of submission
H4sIAIxXfFAA/4WPMQ7CMAxFr4K8sBQpZULtjFgYGLohBpe6NFISR0mKWqreg1NxJgwDC0jI23
v+8vcEAV3DdqWd79Pqxo4iFNOcQasHar6xD3wJaO3HxYQhQXFU2d85/YgH8oSv/C9p2dC5N+/b
oKCAPWFTHuoyzzdrpSCDXODWkCWXFlVHCcvHXaxI0VI3jZ5kJcqTNQ8ScGhf4NBpw5F9R2EZF1
VgY0RinzoOonc9XlFAo9tWS4M0QqHmJ7NzsUwtAQAA
BETA FINALS - Things I Won't Work With
(12)Serbaldrig vs (4)Amro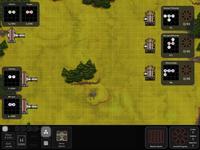 Level: Things I Won't Work With by Spheniscine
Task: Create a bunch of chemicals you hope you'll never run into in real life. Based off the blog series
Things I Won't Work With
from In The Pipeline blog. Quite a fantastic and entertaining read, filled with humor and remains accessible to non-chemists. Seriously, read this blog, it's great, especially the ones on Chlorine Trifloride and FOOF.
Goal:
LEAST SYMBOLS
Tiebreakers are: Least cycles, least reactors, time of submission
H4sIAFZXfFAA/3WQS0/DMBCE/0q0Fy6pZBtBaXJCRZW4tAeQOCAOJnYai8SO/EAtVfjtrB1eKe
XiKGPvNzN7AMu1MN1M6T742ZvR0kFxABKPpOHv4wE608oqtBIKWDatsUrLctm+E1ZSSueUlAw/
hEAOlQnaQ3E55JOpzW6/lbrcjCNXLE5cTQeehiGHWu2kOJEGVm0YbVcjYpFMFwlB8X6tvDXRYj
3ez8/jfcyEVBP833onOmX3VtXJSMR+aHU+FqQlSY6UoeO372d0SoaUYYK8USZVzm5+iLH9GD9h
cA8ITnsoGVkQeoRk/6W8fhvzrWM+klpivjmjsTf76v0bhjQvreVKQ8Fy6PhuZiWvvLG4j4scGu
5mznOLj6CoeevkqHHnZPfc7ieiUO6kzsUr15UUUHgbPjUdqlbyKdSFXtpno8WRmZXVHl//iH7f
x969NSJUXhmNnTTvonbfKL112W32YPSZx9O+ZA/KN/iCB98YhMBd30itXIUrQ1moula4SY+hyf
ABiYTff/kCAAA=
PSI FINALS - Hydrocarbon Stitch
(3)Jabor vs (6)JavaJesus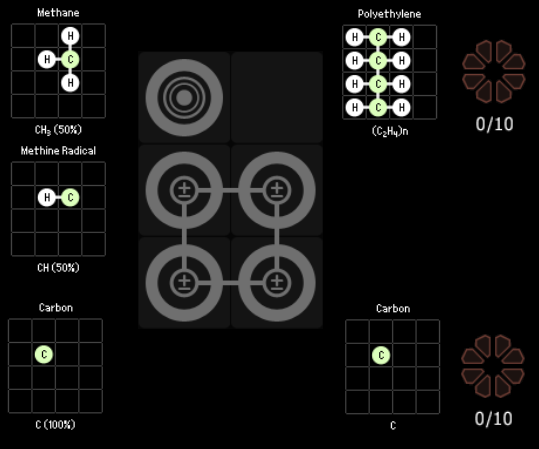 Level: Hydrocarbon Stitch by DeMatt
Task: Create polyethylene from various carbon radicals.
Goal:
LEAST CYCLES
Tiebreakers are: Least reactors, least symbols, time of submission
H4sIAGBXfFAA/42QQU+EMBCF/4qZkyaQTGHDAY542MsmRo/GQ4VBmnRbUoYDbnZ/u1NQg25M7K
Fp38ybfq8nMG6YOH33jkYoT4BxWzS5Pp/g6C01kyUo4UDca0dVvb9gXilZWGWqQFVlmUI5o0IF
CTR+cgxlcU6u7MbRzaNuTaOtjNnMwK3v5ZyA+puj1uHVu6oW+w+jysQpVj/xdaSN/8HbWVhmSx
Lmtr5gJoF2d65SWChVIS5QGCOpvJCzyqIur8VqHquYLfuKny/h1y8QYUuEX0n+g48RvtdjanV4
o3SNAWWn7UgJiKelkH4279bOkdzoA5QcJlqVbhopfJuWnsEa5l8ik6XBh63M8xDxAo2kQ9MLmN
PHqOznNvhmob55YsNLTU/cx5fhng6aWZTWdJ2RjDxDiecPuI9uwFkCAAA=
OMEGA FINALS - Ban Dihydrogen Monoxide!
(10)Nethris vs (2)WildM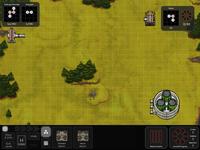 Level: Ban Dihydrogen Monoxide! by cearn
Task: Create deadly
Dihydrogen Monoxide
from perfectly safe Hydrogen Peroxide and Hydrogen gas.
Goal:
LEAST CYCLES
Tiebreakers are: Least reactors, least symbols, time of submission
H4sIAONXfFAA/22QzU7DMBCEX6XsOZG8EUJVckMceqngjjhs7Q21lNiRf1BCFZ6dTaGoLT3Ykk
c7M9/6AIGc8X1p3ZBT+ekdR6gPoJbrqMnz9QC971jnjqGGzWSCf2e3euHgR2u42Xyp6llOg7hG
bCpcK9VUChU2WKFSUID22SWoH+biZtYxQuyIYsQry9s8F9Dakc0Vpcg+p//cZwVPdn/C3Xp3hn
ukxFPlJSWqpTFxCGQd1FUBPY1lYNLJB6m5L2BPsYyJggxBnULmH4li5H7XTVC31MVf0dh4Uyfz
QU6zOQ9wWXdM4WIu5oHDzjvDl3pgPcn0H0CahmXlIXiTdbLeyUaO+kV7JLe68RV3MkE57b1kgJ
bexWJs21r5viS0av4GhxQ5jyECAAA=