Part 24: Round Three Results and Final Challenges
Round Three Results
Link to video results
Final Round - Single Elimination Tournament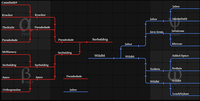 Deadline is Nov 12, 11 pm PST
unless someone asks for an extension which they might.
LOSER'S BRACKET FINAL
α Champion - 9th ranked overall -
Pseudodude
vs
ψ Champion - 3rd ranked overall -
Jabor
Winner receives forum upgrade of your choice. Loser receives custom avatar of my choice.
Back when I made the call for challenges, I received one from Alkydere. He never said what his scores were for this challenge, and I took one look at it and knew why - the challenge was impossible, Alkydere never solved it. But as soon as I declared it impossible I thought "well I suppose I could do that, and maybe I could do this..." and a few hours later I had it solved. This challenge requires mastery of almost all of the fundamentals you have learned so far just to get it to work.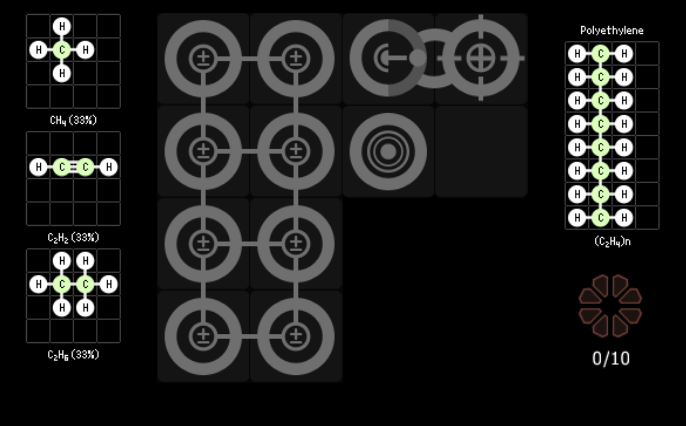 Level: Organic Fusion Chemistry by Alkydere
Task: Create Polyethylene from Methane, Ethane and Acetylene.
Goal:
LEAST CYCLES
Tiebreaker is least symbols, then fastest time of solution submission.
H4sIADK7klAA/32RQWvDMAyF/0rxaYMEbCdNR3IqZWOXsd3HDl6mNGGuHWznkJX0t89SUmgpG4
GH/SE/PSlH1pl+COmPNeBZeWQchVi8vh/ZwWqoBw2sZC8QWmWg2j2feF5xIQSvBI9fJUQhokrB
eSUj5ixhtR1MYGU+JVcm2xrCqAFtTlxGJ3l2EkWGr4t4zv73eFxyzAbF31GISCKSyI3xxzQlzA
7hdgcX/d6sHuPsc+y7pW1+byqxpmY5NcixgZBE5hAcla8xHM9JM1JJSqE5R8Wgy+aWoHJNbhk5
Z3QuyHOD+0HjqBt6W1D95mowwXGuVvlUK7eHdJ6QlcENkLBPa77ApUvtw1zowXjrziVImsHDFf
C97kJA1ijtFxhAQ2/dJQ5jj2tz4EG5uo2xjDogeXV7Zbp69TT4zprVroVD54MbY4UaQovt2VZ/
j9ZE8tU1TRf/QBhZyadf0s2HiakCAAA=
GRAND FINAL
β Champion - Red Champion - 12th ranked overall -
Serbaldrig
vs
ω Champion - Blue Champion - 2nd ranked overall -
WildM
Grand final is a best of three challenge. Winner receives any game on steam, loser receives cheaper game on steam.
Challenge One:
Back in June I was reading the
The Uneducated Pseudo-Science Mega-Thread
when I came across this post, and inspiration:
That reminds me of my organic chemistry professor who was annoyed at people who claimed that microwaving food in plastic would produce deadly dioxin. In other words they thought that this:



would turn into this:



just by heating in a microwave. It would take a pretty specific and complicated synthesis to form dioxin from polyethylene or any other generic plastic. I'm also not sure where the chlorine is supposed to come from. Transmutation, probably. Friggin microwaves!

Specific and complicated synthesis, you say?
Transmutation of elements into Chlorine, you say?
Friggin microwaves, you say!?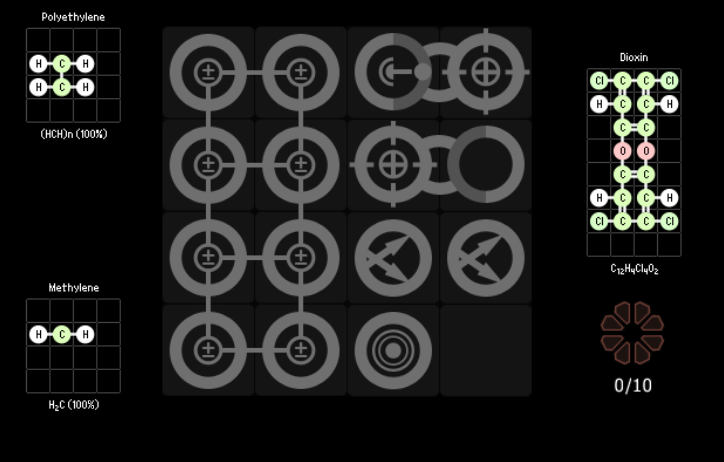 Level: Deadly Microwaves
Task: Create
2,3,7,8-Tetrachlorodibenzo-p-dioxin
from Polyethylene via microwaves somehow.
Goal:
LEAST CYCLES
Tiebreaker is least symbols, then fastest time of solution submission.
H4sIAG69klAA/52QwU7DMAyGXwXl3EpOtpapOW4SXCYeAHEInUcrZUmVJoMybc+O44K0wY2L6/
z6+9m/T6J3Q4rlp3c4iuYkIBfW6Pl8EgdvsU0WRSO2GLvJokP9eAG11iClBC1lLaVW1IIGxYqq
qSpFiihE65OLopHq/HIuhPwPHmb8LxjRfIp/l79Cbnr/0Tu9voAkJGGXa0vliR4aQN4TeUEf2l
xCLZVWXGkkyJxCUS6Ve8UZ54UWnFQuVtmzZA/3asl/VTWxVcWcmlfnSmCeVvM0qJhU3YaCHKkz
Y2lNeMNyDieaGBIW4tW7HYby27uajSO60YcfS1b2acQbYRxsH+OtFtHi4MOVGqch3yvgiCa0HS
3lzIEviGZnp7tt3wb/bo505kKYFLs8VTwkczQk7Pr9vqeTx0k0cP4C33T46lMCAAA=
Challenge Two:
Level: Deadly Microwaves
Task: Create
2,3,7,8-Tetrachlorodibenzo-p-dioxin
from Polyethylene via microwaves somehow.
Goal:
LEAST SYMBOLS
Tiebreaker is least cycles, then fastest time of solution submission.
I am very aware your least cycle and least symbol solutions for these may be exactly the same.
Challenge Three:
I had this planned out as a backup in case Deadly Microwaves was literally impossible to beat. I can proudly say it is possible, but I still don't want to ignore this challenge. Way back when I had the weekly Catalyst challenges, I mentioned that the level
LP Catalyst
was based off of puzzles by zaq1xsw2tktk.
Here
is his original level, Catalyst I. It's almost exactly the same as LP Catalyst; your catalyst is Nitrogen, fuse the catalyst into a side Nitrogen to make Silicon, fuse the central Silicon into the edge Silicon to make Nickel, then split everything to get Silicon and your catalyst out. However do note I said the original level was Catalyst
ONE
, implying the existence of: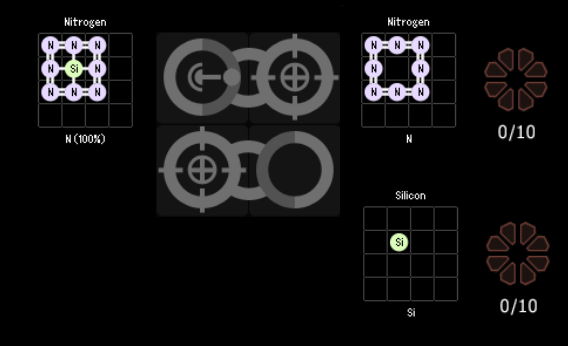 Level: Catalyst II by zaq1xsw2tktk
Task: Output a ring of Nitrogen and Silicon atoms using catalysts.
Goal:
LEAST CYCLES
Tiebreaker is least symbols, then fastest time of solution submission.
H4sIAB/AklAA/32PTWvDMAyG/8rQuQHJDALxcadeeulx7OClSmPq2qkts7Ul/33OB2PdYBeBH1
7peX0H64cs1S14TtDcAacxs/J8vcM5OG6zY2hgZyWGI3u904i1UprKJK2wRqUVzVPViJpUrVDj
MqmmkiR6JoINtCF7gYbU+DaOGwhZ/tr/U+KsWU4vmkW56ucqUy384cIiol+H99bZNni9t3M3fM
yXhd6kypl45GrpCE1nXOINvAd/4FitYVySiX0K8TszoS4nLkRiXkEanBV5ZMKOhxBnuu7KdZgK
Rk5sYtuXXt6cJ/JixLhrkqfttkCTpZ+McDMX+kwfSk5yKvxgu86WT8q1lBu/AEVRvn7fAQAA
Catalyst II is very special because there is no level I have had to spend more time on before placing a single symbol just to figure
how
it's possible. Catalyst II actually took me more time to beat than Deadly Microwaves (playing it off and on), but I consider it easier because once you figure out how to beat it, you know exactly what needs to be done, cramming it all into the reactor is the problem. It just took me an hour to do the math and find out how to beat it before actually playing it, so that's where the real challenge is.
Good luck!