Part 17
Dnyarri Talking Pet Scientific Analysis
A very short update, with what is one of the more underused races in the game, despite being mentioned many times over.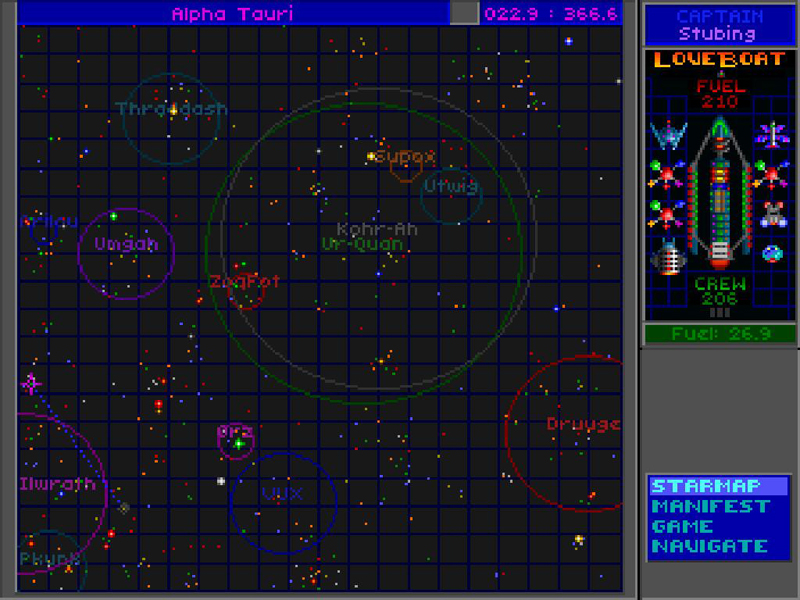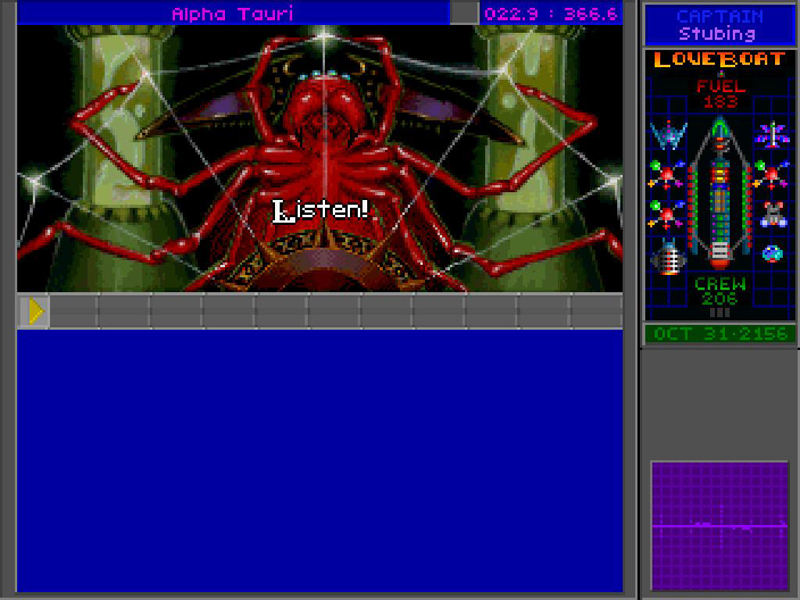 We head to Alpha Tauri and chat with the Ilwrath...through one of the two Casters we got, either the Umgah or Burvix.
Tricking the Ilwrath
Ilwrath: Listen! It Is The Hideous And Inspiring Voices Of Our Gods, Dogar And Kazon! Oh Great Gods Of Evil And Darkness, What Can Your Humble And Devious Servants Do For You?

Captain: WE REQUIRE THAT YOU DO THINGS A BIT DIFFERENTLY.

I: Your Will Is Our Inspiration. What Shall We Do?

C: FROM THIS DAY FORWARD, SAY WARSHIP INSTEAD OF WORSHIP!

I: As You Wish, Glorious, Unmerciful Destructors! In All Future Warship We Will Honor You In This Way!

C: FROM THIS DAY FORWARD, SAY DWE INSTEAD OF WE!

I: Yes, Great Dogar! Yes, Mighty Kazon! Dwe Certainly Will, Dwe Certainly Will!

C: FROM THIS DAY FORWARD, SAY YUUBUU INSTEAD OF YOU!

I: It Shall Be So, Great Ones. Yuubuu Are Mighty! Yuubuu Are The Most Hideous And Deceitful! We Ilwrath Are Too Fortunate To Have Yuubuu To Worship!

C: YOU ARE NO LONGER THE ILWRATH. YOU ARE NOW THE DILL-RATS!

I: We, The Dill-Rats, Bow And Scrape Off Our Appendages In Your Honor, Mighty Dogar And Kazon!

C: WORSHIP US!

I: From The Chambers Of Pain We Hear Your Words, Cruel And Evil Lords Of Darkness. And As Your Voice Crackles Out Of The Speaker Boxes It Sends Thrills Across Our Carapaces. Our Hairy Quills All Stand Erect And We Pant And Wheeze With Holy Fervor!

Oh Might Gods! You Are The Definition Of All That Is Evil And Hideous In This Universe! You Are The Inspiration For All Cruelty, Deception And Pain. For This We Thank You!

C: HEED THESE WORDS OUR EVIL CHILDREN - LEAVE THIS PLACE - SEEK NEW PREY!

I: Oh Mighty Dogar! Oh Mighty Kazon! Your Devoted Servants Hear Your Words And Obey Your Divine And Cruel Insights. The Pkunk Are Unfit For OUR Sacramental Tortures! We Relish The Prospect Of Killing Worthy Prey! We Will Leave Immediately So That We Can Begin Our Glorious, Evil Devotions, But Who Shall We Prey Upon Next? Who Shall Suffer Our Inspired Torment?

Hmm. Didn't Those Loathsome Umgah Once Mention A Race Near Their Region Of Space? Hmm...YES! I Have It! The THRADDASH! We Will Go NOW, And Kill All Of Them!

C: WE RETURN NOW TO THE FETID DARKNESS. OBEY OUR COMMANDS!

I: Farewell Dogar And Kazon. We Are Awed By Your Malevolent Presence, And Swear Unto You To Commit Even More Vile And Treacherous Deeds Tomorrow Than We Did Today!
And...that's pretty much it for the Ilwrath. Kinda disappointing, I know.