Part 20
Before we begin on the final leg, we return to Betelgeuse to check up on our Syreen allies.
Syreen: Success, Captain! The Mycons' fleet is in shambles! JUSTICE IS OURS! We have revenged ourselves against the heinous Mycons! They fell for our trap so completely! When they approached Organon I, we were hiding behinds its moon. As they approached, their ships broke combat formation in preparation for their hideous implanting ceremony. We waited until they were fully dispersed around the planet, then we attacked!

The standard Mycon tactic would have been to speed out of orbit using a gravity whip maneuver, but the Podships refused to abandon their slow-moving Deep Children spore pods. They remained in the gravity well, and we SLICED THEM TO RIBBONS! They must have lost a dozen ships to their own stupidity, running into their own Plasmoids! The rest? Well, we took care of most of them...in our own special way.

And Captain, now that we have taken our revenge on the Mycon, we give you our starship officers and Penetrator designs so that you can add your ships to your fleet.
Then basically you can opt to have another sex scene that is identical to the last one.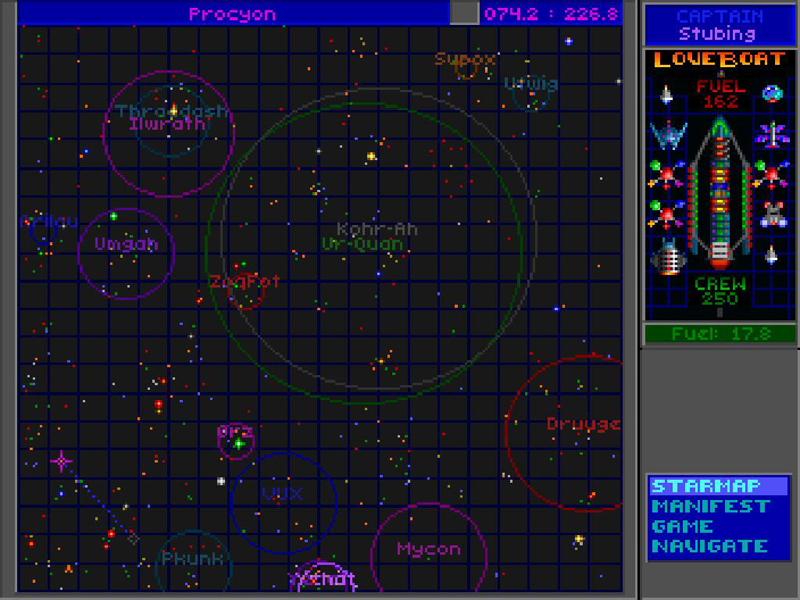 Our penultimate destination, Procyon. It's been a long journey, folks, but it's almost over. Note the smaller size of the Mycons, the two Yehats, the Ilwrath preying on the Thraddash, and basically an entire galaxy in motion because of our actions. It's quite an epic feeling.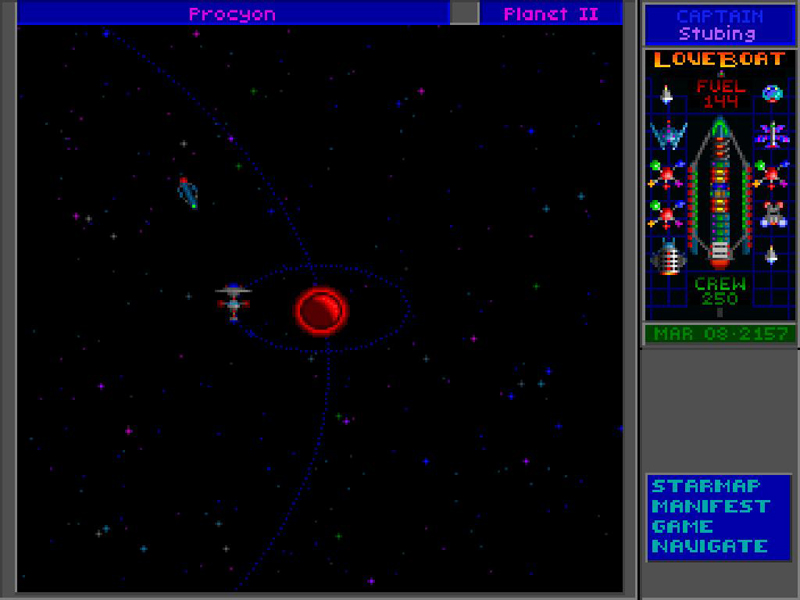 A slave shield and a Starbase, so naturally we hit the Starbase, expecting another conversation tree. Instead, you get a report message, as if you had touched a planetary object with the lander.
Shielded Chmmr
We have explored the interior of the starbase and found it abandoned. Computer records show that the Ur-Quan put the starbase in orbit around this world after defeating the Chenjesu and Mmrnmhrm. From what we can determine, the Chenjesu and the Mmrnmhrm who were assigned to this base set up mindless robots to run around the station, and then somehow returned to the surface of their planet, penetrating the slave shield.

Further analysis of the starbase's databanks show that the Chenjesu and Mmrnmhrm were exploring synthesis schemes to create a hybrid race, half Mmrnmhrm and half Chenjesu.

The robots who run this starbase are armed and will not permit us to scavenge materials, so we are returning to the ship.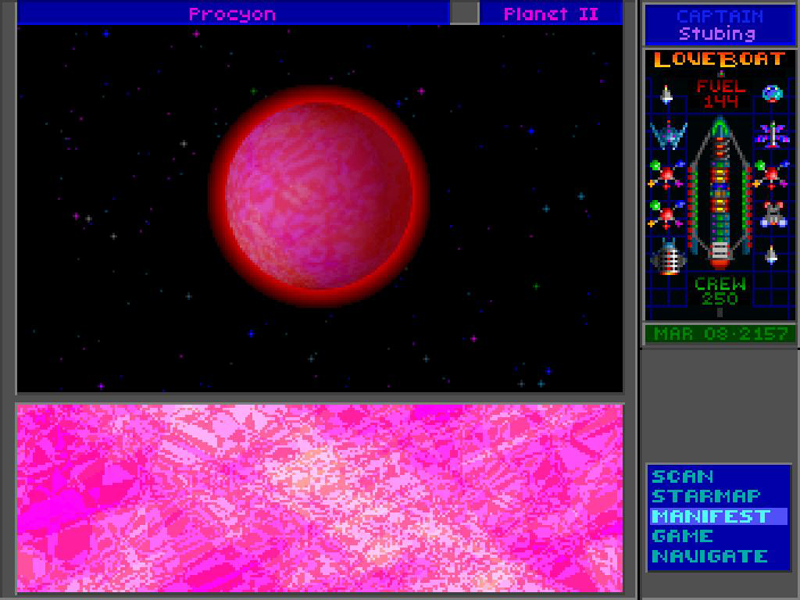 Investigating the planet yields an interesting sight, although there's no indication that there's life on the planet, aside from what you just read at the starbase. So we use one of our 'Casters and initiate a chat.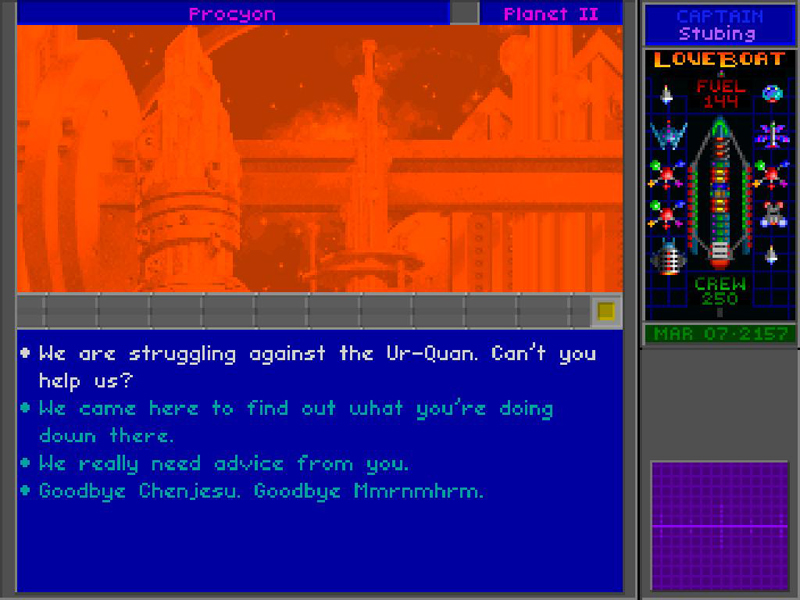 Chmmr: we are the chenjesu...we are the mmrnmhrm. we do not understand how you have penetrated the slave shield or why, but in doing so you have interrupted the process. explain this intrusion.

Captain: We are struggling against the Ur-Quan. Can't you help us?

Ch: we cannot be of any assistance now. we are in the middle of the process. i will explain. after we chenjesu and mmrnmrhm were defeated by the ur-quan, we chose to be encased in a single slave shield on this world. as soon as the ur-quan departed, we began the process. we initiated a synthesis of our two species, our two cultures: one crystalline, the other purely mechanical.

this process, fueled only by the radiant energy of our sun, will eventually produce a new hybrid race, and when the process is complete, we will crack the ur-quan slave shield and emerge from our chrysalis liked a winged insect unleashed from its cocoon. then we will be ready and capable to deal with the ur-quan, their battle thralls, and their dreaded sa-matra.

C: But why can't you help us now!?

Ch: the complete synthetic hybridization of the chenjesu and the mmrnmhrm species will require approximately thirty-five of your earth years. this extended duration is necessary because our synthesis mechanisms are dependent exclusively on the light of our sun for energy.

C: What if we could find some way to get you more energy? Would that speed things up?

Ch: what you describe is theoretically possible, but it would pose a great danger to us. the process must be executed as planned, or it may fail catastrophically. we would be destroyed.

C: We came here to find out what you're doing down there.

Ch: though your ship's design is unfamiliar to us, we now understand that you are of human origin and so we will share with you our reasons for accepting the status of ur-quan slave. in 2135, our great alliance burned within the crucible of sentience. though our fleets of armed starships held back the hierarchy's grotesque armada for many years, in the end, the ur-quan unleashed a power upon us that was so overwhelming, we knew we would be annihilated if we did not submit.

this unstoppable power, this ultimate weapon was a huge starship, an unstoppable battle platform built by the precursors in the ancient past. your vessel shares some similarities in design to the ur-quan's battle platform, which they call the "sa-matra," meaning "great trophy." the sa-matra was many times larger than your ship, and bore weapons and defensive systems that made it invulnerable to all of our technologies.

it remains a mystery to us why the ur-quan fought us for so long without using the sa-matra, but when they finally brought the ship into combat, the sa-matra incinerated our finest broodhome vessels from ten times our own ships' weapon range. we had no choices beyond submission or devastation

before the ur quan arrived to accept our surrender, we sent one last message to your people, a message suggesting that your species do as we chenjesu and mmrnmrhm planned to do. we would accept the ur-quan's demands and become slaves until such a time as we found a way to destroy or neutralize the sa-matra.

C: We really need advice from you.

Ch: our wisdom is available. detail your need.

C: How do you think we can defeat the Ur-Quan?

Ch: you must find some way to destroy the sa-matra. to do this you will need a powerful weapon capable of destroying an entire planet. but that is not all. you will also require some way to distract the ur-quan to give you the opportunity to use the weapon.

C: I seem to have acquired a Dnyarri. What do you make of it?

Ch: we know the dnyarri only from legend, where they are described as the embodiment of evil and cruelty. if ever there was a devil, captain, it was the dnyarri. however, if in fact the creature you possess is one of the ancient breed, its mental power may be useful to help confuse the ur-quan.

C: I got this huge bomb-thing from a race called the Utwig. Is it really a weapon?

Ch: the device you speak of is a huge matter-antimatter bomb. if you had activated it, the weapon would have annihilated your ship and everything within five hundred kilometers. the destructive power of this weapon makes it suitable for the most important task you will ever undertake, the neutralization of the sa-matra, the ur-quan's nearly invincible battle platform.

C: I er...borrowed a device from the Mycon. Do you know what it is?

Ch: we do not recognize this device, but it appears to be a precursor tool which can radiate a great amount of energy.

C: Goodbye Chenjesu. Goodbye Mmrnmhrm.

Ch: goodbye once and future ally, human. when the process is complete and we emerge from our chrysalis, i shall tell your grandchildren of our conversation this day.
So we go back to orbit and use the lovely Sun Device to speed up their merging process.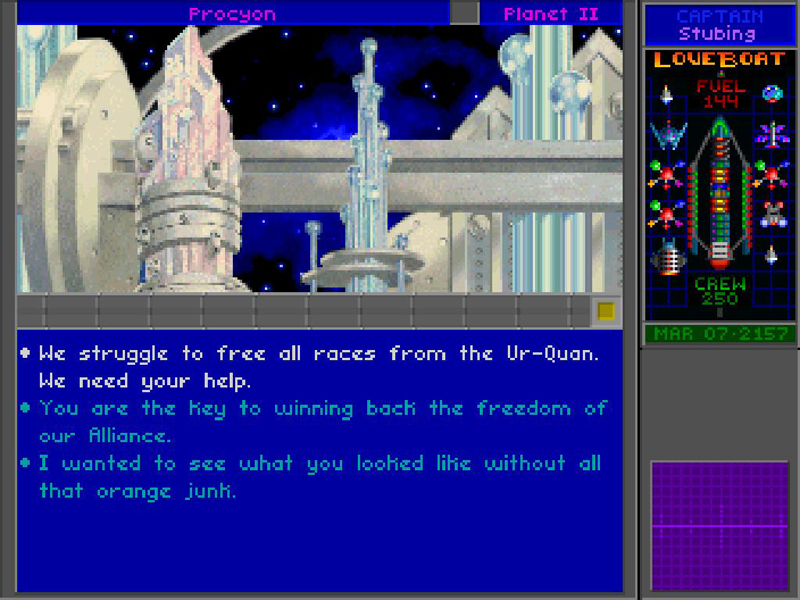 Chmmr
Chmmr: WE ARE FREE! YOU HAVE FLOODED OUR SYNTHESIS MECHANISMS WITH A WEALTH OF RADIANT ENERGY. WHAT WAS SUPPOSED TO TAKE DECADES HAS BEEN ACCOMPLISHED IN SECONDS. THE PROCESS IS INCOMPLETE, YET WE HAVE EMERGED. WE ARE THE CHMMR. WHY HAVE YOU INTERRUPTED THE PROCESS?!!!

Captain: We struggle to free all races from the Ur-Quan. We need your help.

Ch: YOUR NEED MUST BE GREAT FOR YOU TO HAVE RISKED SO MUCH, JUST TO BRING US FROM BENEATH THE SHIELD. WE ARE NOT READY, BUT THIS IS NOW IN THE PAST. WHAT IS DONE IS DONE.

YOU ARE INTENT ON STOPPING THE UR-QUAN. VERY WELL, WE ARE PREPARED TO ASSIST YOU IN WHATEVER WAY WE CAN. WE MUST FIRST TELL YOU THAT EVEN BEFORE WE WERE PLACED UNDER THE SLAVE SHIELD, WE REALIZED THAT THE ONLY WAY TO TRULY DEFEAT THE UR-QUAN WAS TO FIRST DESTROY THEIR PRECURSOR BATTLE PLATFORM, THE SA-MATRA.

THIS VESSEL WAS RESPONSIBLE FOR THE VICTORY OF THE HIERARCHY OVER THE ALLIANCE. WHEN IT WAS BROUGHT TO BEAR AGAINST OUR WORLDS, WE COULD NOT RESIST IT. THIS MUST BE YOUR EVENTUAL GOAL.

WE KNOW WHAT IS NECESSARY TO ACHIEVE THIS END, BUT FIRST WE MUST KNOW WHAT YOU HAVE ALREADY LEARNED, SO WE WILL SCAN THE DATABANKS AND LOGS ABOARD YOUR SHIP.

THERE. THE PROCESS IS COMPLETE. NOW WE CAN DISCUSS WHATYOU MUST DO. YOU NEED TO LOCATE THE UR-QUAN'S SA-MATRA VESSEL. IF YOU CANNOT FIND IT YOURSELF, ASK THOSE OTHERS WHO ARE NEAR THE UR-QUAN. PERHAPS THEY WILL KNOW.

WE HAVE DETECTED THE PRESENCE OF A DNYARRI ABOARD YOUR SHIP. THOUGH THE BEING IS DARKLY EVIL, AND INCREDIBLY DANGEROUS, THE TAALO DEVICE YOU POSSESS HAS EFFECTIVELY NULLIFIED THE CREATURE'S POWER OVER YOU. HOWEVER, IT WILL DO A MOST EXCELLENT JOB DISTRACTING THE UR-QUAN LONG ENOUGH FOR YOU TO APPROACH THE SA-MATRA AND DESTROY IT.

YOU POSSESS AN ANTI-MATTER BOMB. THIS IS GOOD. BUT HAD YOU ACTIVATED IT, THE DEVICE WOULD HAVE ANNIHILATED YOUR SHIP AND EVERYTHING ELSE WITHIN FIVE HUNDRED KILOMETERS. EVEN SO, WE WILL HAVE TO IMPROVE THIS DEVICE, MAGNIFY ITS POWER WITH OUR CRYSTAL TECHNOLOGY. THE DESTRUCTIVE POTENTIAL OF THIS WEAPON WILL THEN MAKE IT SUITABLE FOR THE MOST IMPORTANT TASK YOU WILL EVER UNDERTAKE: THE NEUTRALIZATION OF THE SA-MATRA, THE UR-QUAN'S NEARLY INVINCIBLE BATTLE PLATFORM.

YOU ARE FULLY PREPARED FOR THE UNDERTAKING. THERE IS EVERY CHANCE THAT YOU WILL BE ABLE TO DESTROY THE SA-MATRA AND STOP BOTH THE UR-QUAN AND THE KOHR-AH.

C: So what happens now?

Ch: WE WILL NOW FIT THE PRECURSOR WEAPON AND OUR OWN CRYSTAL AMPLIFICATION SYSTEM TO YOUR VESSEL. BY ROUTING A PORTION OF YOUR FLAGSHIP'S FUSION POWER THROUGH THE WEAPON'S IGNITION CHAMBER, ITS DESTRUCTIVE FORCE WILL BE MULTIPLIED BY A LARGE FRACTION.

C: We'll fire this weapon at the Sa-Matra, right? It's not going to hurt my ship, is it?

Ch: YOUR VESSEL WILL BE TOTALLY ANNIHILATED.

C: Whoa. Gee, that's bad. I don't suppose there's anything we can do to change that, is there?

Ch: NO.

C: Can you provide us with any other assistance?

Ch: BECAUSE YOUR FLAGSHIP WILL BE SUBSTANTIALLY WEAKENED BY OUR MODIFICATIONS, YOU MAY REQUIRE ADDITIONAL COMBAT VEHICLES FOR PROTECTION, SO THAT YOU CAN APPROACH CLOSE ENOUGH TO THE SA-MATRA TO DETONATE THE WEAPON. WE WILL PROVIDE YOU WITH THE DESIGNS FOR OUR NEW AVATAR-CLASS FIGHTING SHIPS. IN COMPETENT HANDS, THESE SHIPS ARE A MATCH FOR BOTH THE UR-QUAN AND KOHR-AH VESSELS.

C: Very well. Proceed with the modifications.

Ch: THE COMPLETION DATE FOR YOUR VESSEL'S MODIFICATION IS ROUGHLY TWO WEEKS HENCE. SO THAT YOU AND YOUR HUMAN COMPANIONS MAY MAKE ANY NECESSARY PREPARATIONS AT YOUR STARBASE, WE WILL NOT TRANSPORT YOU AND YOUR CREW TO EARTH IMMEDIATELY. GOOD LUCK, CAPTAIN.
So basically, the bomb takes up a whopping 10 out of 16 module slots. However, we do have infinite resources, and more importantly, the Chmmr Avatar, arguably the most offensive ship in the game. Its primary is a standard laser beam attack, but what really ramps up the attack is that it has 3 zapsats orbiting around it, passively acting as a point defense system that's on all the time. It adds up. Its secondary is a magnet type effect, drawing enemy ships closer to you, which works great on the slower type ships.