Part 81: Holiday Update: Let's Read: Planet X - Part 6
STAR TREK The Next Generation / X-MEN: PLANET X - part 6
Last Time: Aliens invaded and abducted… two people. They should've been using the big white blocks for cover.
Chapter 17
We then join Sovar… the other one, the one on the Enterprise as he searches for his friend
with benefits
Lt. Robinson to talk to her about the emergency on NotEarth. She's on the holodeck and, while he doesn't want to intrude, he's too impatient to wait for her so in he goes. She's recreated the setting from the song we were tortured with last time.
He tells her something 'almost unimaginable' has happened on his homeworld, and then the author tells us how Sovar proceeds to tell Robinson (without actual dialogue) what's happened on his homeworld. Robinson says she doesn't blame the transformed for wanting to escape, but Sovar says he's worried about the normal non-stormtroopers who live in the area being hurt. He then says that the Enterprise is going to help the NotHumans of NotEarth restore order, and that Commander Riker told him all of this.
Then Shadowcat pops through the wall and fries part of the holodeck. At least the author remembered her phasing power destroys electrical devices this time. She apologizes, but Lt. Sovar blows up at her anyway, so Shadowcat leaves (to go tell Storm what she overheard).
We then cut to Picard, who's reading up on the shuttlecraft maintenance logs. Why? Because NotEarth has an atmosphere full of radiation that blocks transporters and subspace radio. Seriously, they're really going with the 'we can't beam down, so we need to use shuttles' gimmick to artificially add tension to the book. AKA, they're using a device that even Gene Roddenberry decided was overused back in TOS and phased out except on extraordinarily rare occasions.
The X-Men then barge into his office, and offer to help on NotEarth. Storm admits that Shadowcat spied on Sovar by accident. A very convenient accident. They want to help the transformed because they feel a 'kinship' to them.
Planet X posted:
"Fortunately for us," Shadowcat added, "we had Professor Xavier. He gave us a direction."

Storm nodded. "But it is unlikely that there is a Charles Xavier on Xhaldia. The transformed will be scared, confused… and, unless I am very mistaken, hated and feared for what they have become."

'down' is certainly a direction.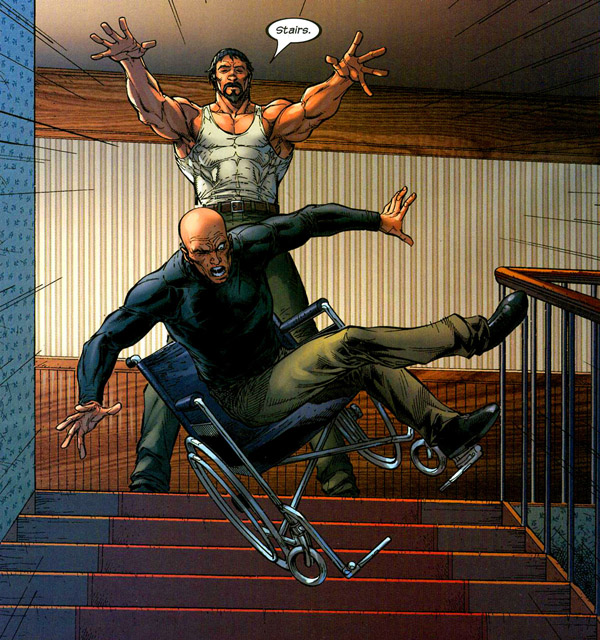 They also suggest they're more used to dealing with problems like this, which Riker agrees with. Picard relents… a little, and pisses Wolverine off because he won't give the X-Men free reign to fuck everything up (it's what Xavier would've wanted!). Instead, they have to follow his orders and he will use or
not
use them as he sees fit. Storm agrees to his terms.
Will Picard use the X-Men in the coming days? … Yes. That's the premise of the whole book. Weakest cliffhanger ever.
Chapter 18
The Enterprise has arrived at NotEarth, but are surprised to find a vessel already there. Riker, in an uncharacteristic bout of actually having something to say (stupid as his lines may be) suggests the NotHumans may have asked someone else for help. Picard replies that he's an idiot, because the only other 'power' in the area are the Breen. Don't worry, though, Riker hasn't used up his quantity of stupid yet, he'll get more lines in a bit.
Planet X posted:
Picard scrutinized the vessel. It was wide and relatively flat, with long, boxlike nacelles above and below it on either side, and its topsides were rife with a variety of impressive-looking weapon clusters.

It was possible the ship's crew wasn't especially warlike. But in the captain's experience, vessels didn't bristle with weaponry unless their occupants were eager to use it.

Picard comments that he's never seen this design before. Riker concurs, and Data can't find a match. Woo-hoo, first contact situation, guys!
Lt. Sovar comments that he can't reach Chancellor Palpatine, because all four of NotEarth's communication satellites are down. They really shouldn't have gone with the lowest bidder. Picard wonders why the aliens chose
now
to attack (why do you think?), then orders yellow alert because approaching this ship with shields down would be pretty stupid.
Picard then leaves the bridge to tell the X-Men what's going oh, hey, artificial cliffhangers count! Chapter's over.
Chapter 19
Picard has called the X-Men to a random conference room. We haven't been to deck seven yet, so it's on deck seven. He tells them an unknown vessel is here and he's not sure who's in it, so he's taking the 'wait and see' approach and not doing anything hostile. Honestly, he should be checking for red borders-if the border is red, it's hostile and he can shoot it.
Colossus then gets his third line of the book, and asks what the X-Men can do to help. Picard says they can't help just yet, but he'll call if that changes. Storm asks to come visit the bridge so she can see what's going on, and since Picard has a totally-not-a-crush on her, he decides that's reasonable. Colossus then asks (he's got more lines than I remembered! :o ) how Dr. Crusher and Geordi's experiments are going. Picard says they haven't found anything conclusive yet, but that it doesn't mean they've failed utterly.
He then walks out on them without saying goodbye.
We then cut to Ruugh Isadjo, High Implementor of the Draa'kon vessel
Connharakt
. I was originally going to call him Bossk, because he's just that hilariously inept, but upon reading the description of the Draa'kon, I've decided to call him King Cold, High Idiot of the
Connecticut
. King Cold is pissed because the Enterprise has shown up, and he has no idea what to make of it.
Planet X posted:
Isadjo turned his dark, massive head to gaze at Mynaagh, his second-in-command. "Who is this?" he demanded. "Why are they here?"

Mynaagh's gill-flaps fluttered, knowing her wisdom was being tested. "Their arrival at this juncture reeks too much to be a coincidence. We must assume they have come to defend Xhaldia against us."

King Cold points out that NotEarth's satellites were blown up before they could call for help (because the NotHumans are retarded). Mynaagh has no idea why the Enterprise is here, so King Cold kicks a puppy then orders her to kill herself, which she lumbers off to go do (author's words, not mine. She must've been a total hambeast). He then promotes another officer (who has a name, but we're going to call him Frieza) to replace her. King Cold then resolves to destroy the Enterprise. I wonder if he'll succeed.
Picard calls Red Alert before he enters weapons range. He must've moused over the Draa'kon vessel after all. But we're not with him, we're actually with Troi here, who's trying to feel whether the Draa'kon are hostile or just retarded. Then Storm walks onto the bridge and distracts everyone, and Troi gets embarrassed because she
almost
read an extremely personal emotion from Picard.
She resolves not to tell anyone about it, because it's hilarious and would ruin the captain's rep.
At 300,000 km, they scan the
Connecticut
. It's got 400 people onboard (uh-oh, escort…) of an unknown species, disruptor-based weapons, and have 60% of their ship's power permanently channeled to weapons. They're slower, but Picard resets his power levels from balanced, and has all power redirected to shields and weapons, just in case.
Data then scans the planet (radiation blocks transporters and communication, but not
sensors
. Why not use the frequency of your sensors to send messages then?) and discovers the Draa'kon have already landed in Verdeen (the planetary capital, incidentally) and everyone jumps to the conclusion that they must be after the transformed.

Right about this time, Troi gets an empathic reading from the Draa'kon. She taps into her Shatnerian reserves to tell Picard what the aliens feel about breakfast.
Planet X posted:
Troi groaned. "I… sense the aliens. They are… brutal… belligerent. All they care about is power."

[…]

But Troi wasn't finished. "They have… nothing but contempt for the people on the planet… for Xhaldians [Hey, what a coincidence, I have nothing but contempt for Xhaldians too!]. They consider them… consider all other species… unworthy of their concern."

[…]

"They are conquerors," she whispered. "But they have not come here to conquer. There is something else… something they covet…"

Derp.
Troi then collapses into uselessness, and Storm gushes over how powerful Troi is, since the Enterprise is still 20,000 kilometers away and Professor X only has a range of a square mile or two. After Troi's timely warning, Picard stops the ship at 500 kilometers, and tells Lt. Sovar to hail the Draa'kon, because they still might not be hostile and we get the first (and only) description we'll ever get of the Draa'kon.
Planet X posted:
In the next instant, a dark and formidable-looking visage confronted them. The alien's head was round and massive with bulblike structures protruding from its forehead, and it lacked anything even vaguely resembling a neck. Its skin was leathery, its yellow eyes long and slitted like a lizard's.

It… it couldn't be…
FRIEZA
!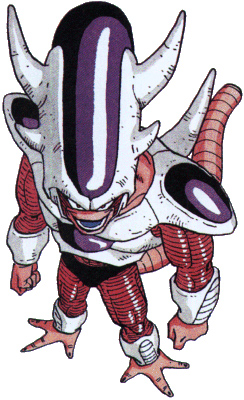 Planet X posted:
[Troi] knew Picard had to attempt to achieve a peaceful solution.

"I am Captain Jean-Luc Picard," he said, "commanding the U.S.S. Enterprise. I've come in response to-"

"I am Isadjo," the alien growled, showing a maw full of short, sharp teeth, "High Implementor of the Draa'kon vessel Connharakt. You will go back where you came from, or we will most certainly destroy you.

Well, I can't say they're lacking in confidence, King Cold must have a really high power level. Cliffhanger ending!
Next Time: War were declared.