Part 11: Let's Not Talk About Manifest Destiny
Last time on Stygian, we talked to a detective who decided that one time wasting fetch quest just wasn't enough and that we needed to go do his detective job for him.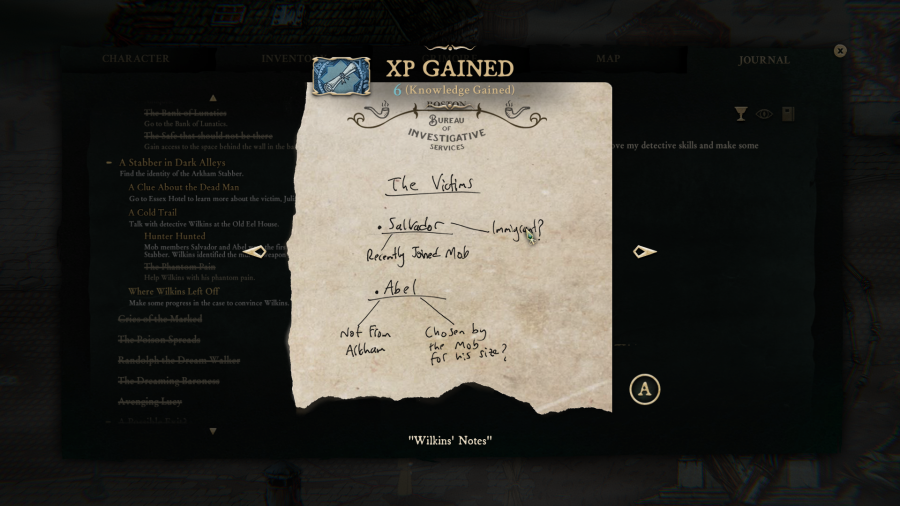 Wilkins helpfully left us this note to work with, but what you're supposed to do is wander the Essex hotel looking for clues.
Notice the "immigrant" line by Salvador? This is a hint as to what we're about to experience. (It's the Terrible Old Man).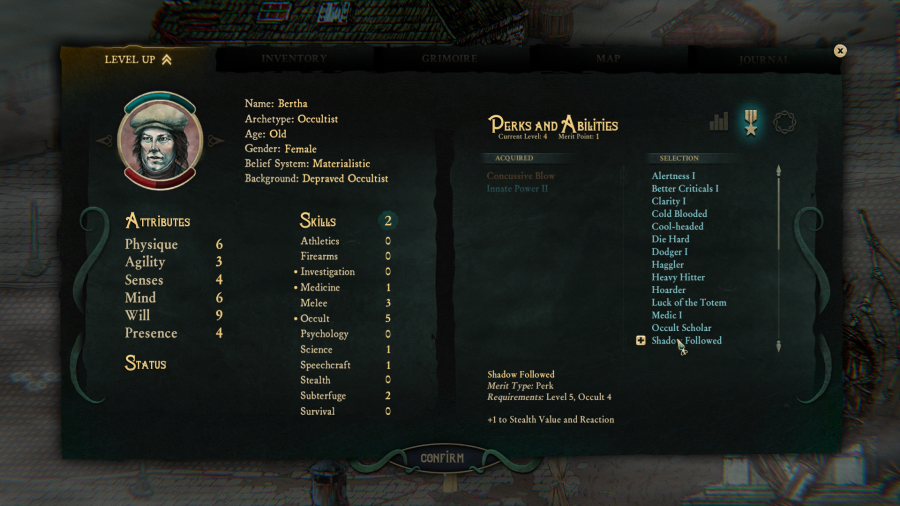 We level up. Bertha gets this initiative+stealth boost that doesn't let us avoid encounters at all, and the Outsider and Nameless Soldier become better at casting and fighting respectively. The Outsider gets "Hollow Touch II" which upgrades his claws, and the Nameless Soldier gets damage resistance.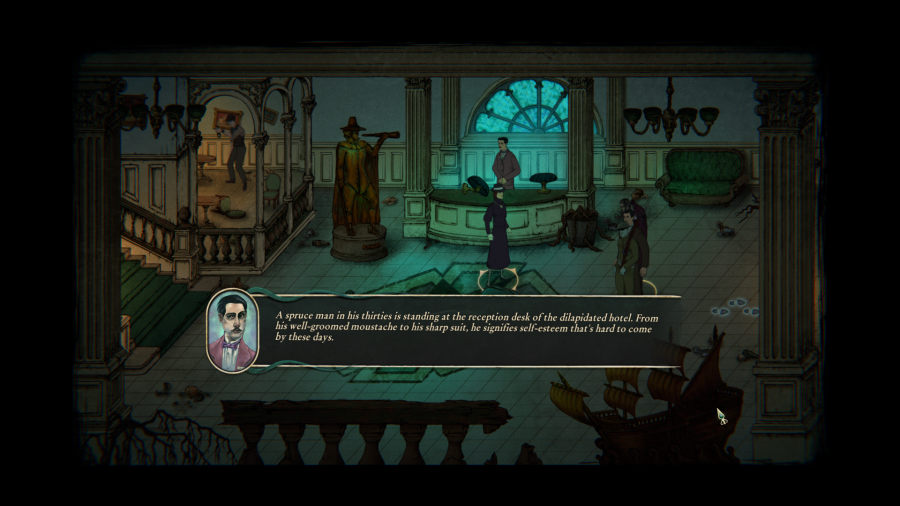 Ah, yes, that classic wall of text to describe a portrait.

: Bonjour, madame. Under more normal circumstances, I'd be delighted to welcome you to the Essex Hotel, one of New England's preeminent establishments. (The man pauses to clear his throat)

: Leaving aside the fact that there is no New England anymore.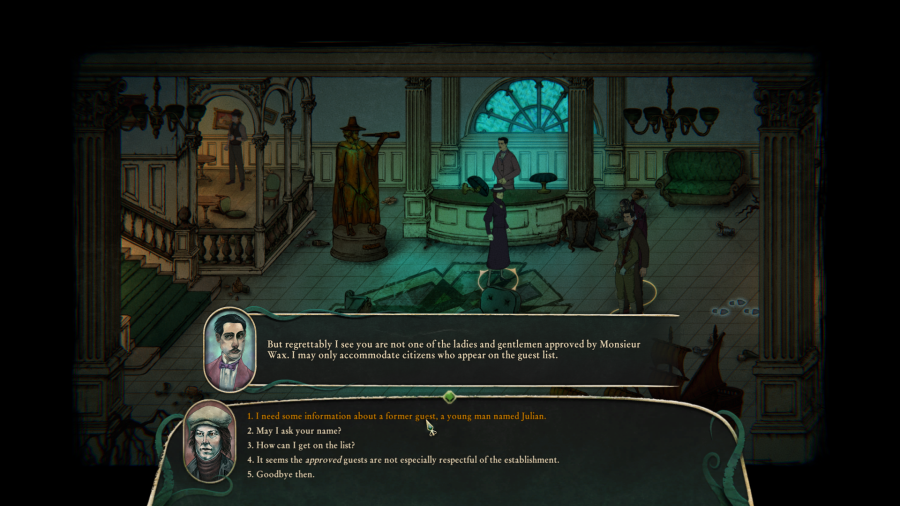 : I need some information about a former guest, a young man named Julian.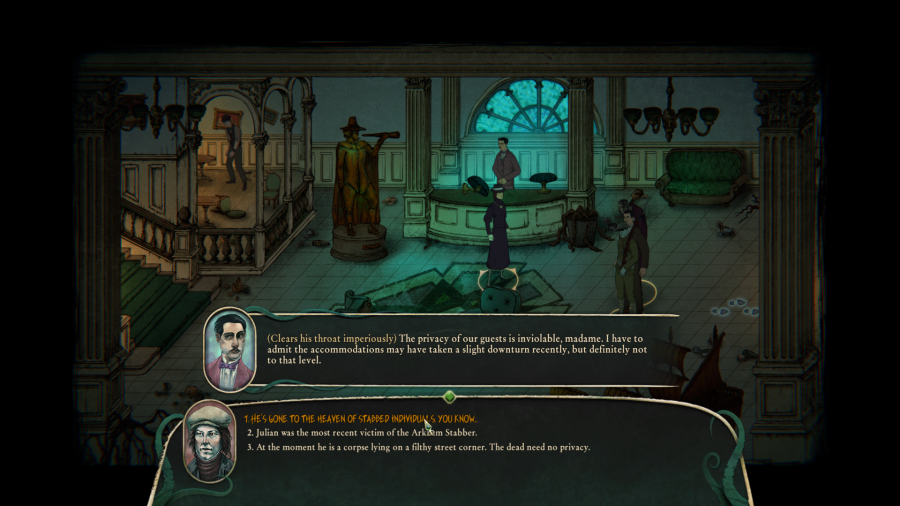 : HE'S GONE TO THE HEAVEN OF STABBED INDIVIDUALS YOU KNOW.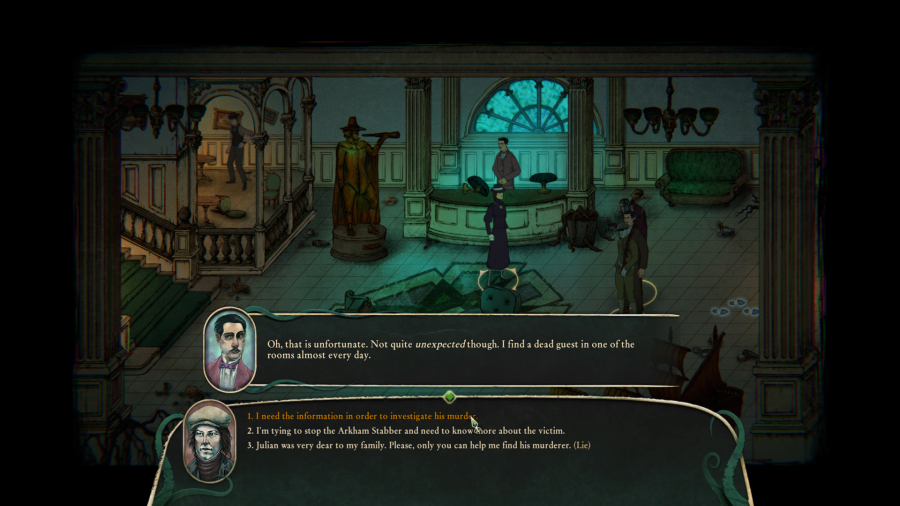 So as I recall, most of Lovecraft's characters boarded with old ladies and whatnot. Arkham was never really a setting outside the university, so having a luxury hotel for the rich and famous seems really out of place.
I suspect this is because the developers decided to throw it in so they could tell Mafia stories for whatever fucking reason.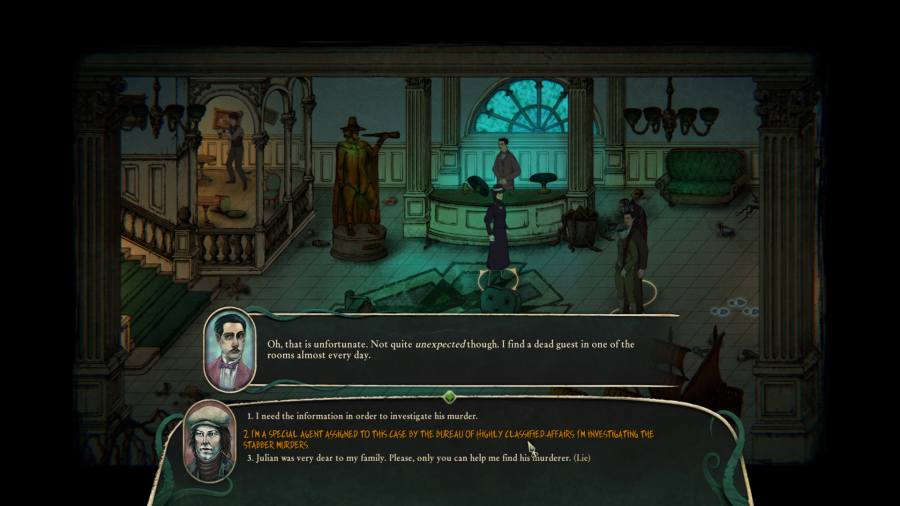 HA HA BERTHA CRAY CRAY LAUGH

: I'M A SPECIAL AGENT ASSIGNED TO THIS CASE BY THE BUREAU OF HIGHLY CLASSIFIED AFFAIRS I'M INVESTIGATING THE STABBER MURDERS.

: (Etienne self-importantly straightens his bow tie before continuing). If that is the case, I think I can make an exception. (He opens the hotel register and begins leafing through its pages).

: Julian, no surname given. Checked in with three others. (He plays with his moustache as if trying to tease the information from it). Hmm, I remember those man coming to the hotel. It was right before the Black Day.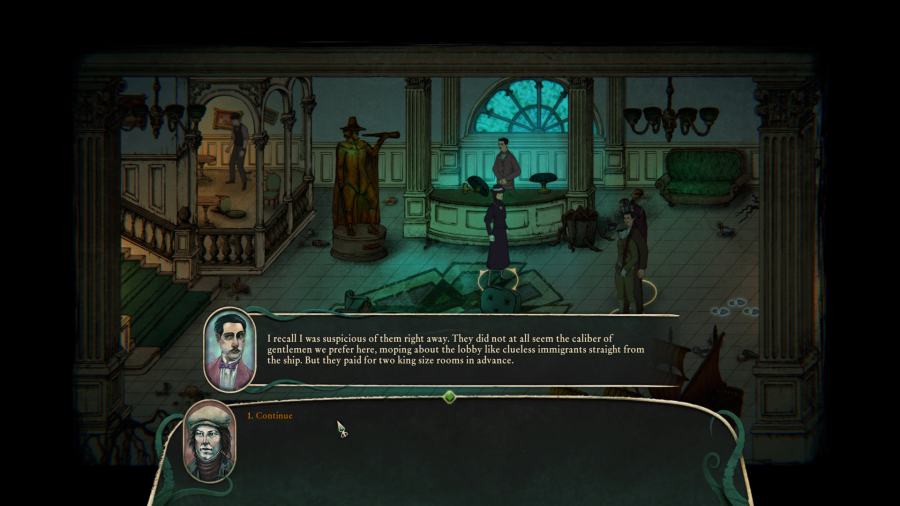 Pay attention to that clueless immigrants line. We're going to have a lot to say at the end of the quest.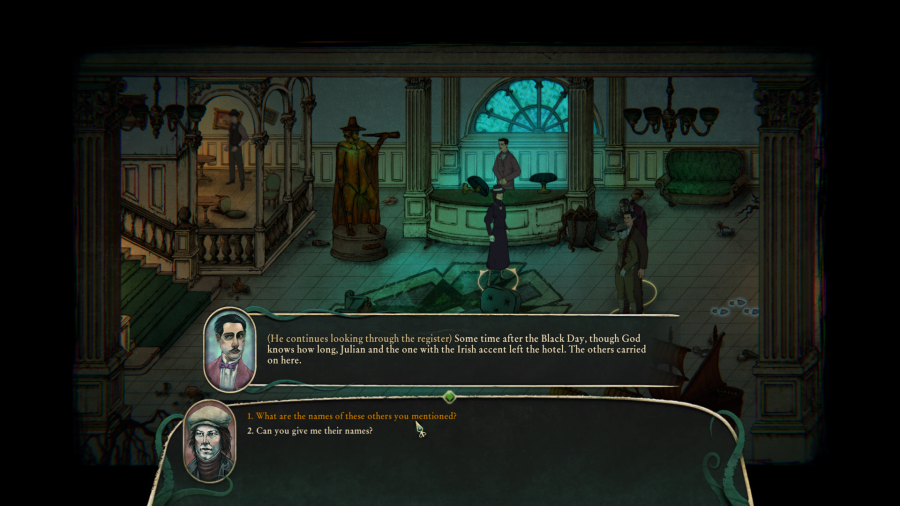 : What are the names of those others you mentioned?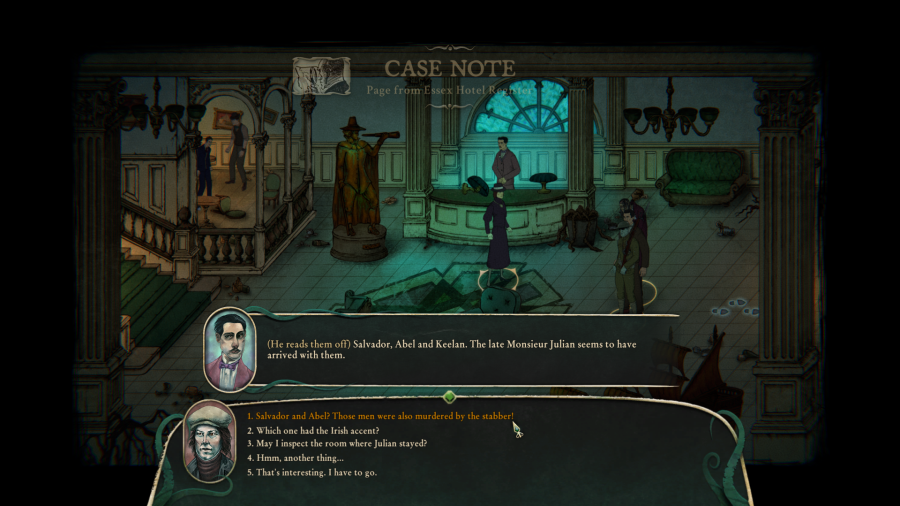 : Salvador and Abel? Those men were also murdered by the stabber!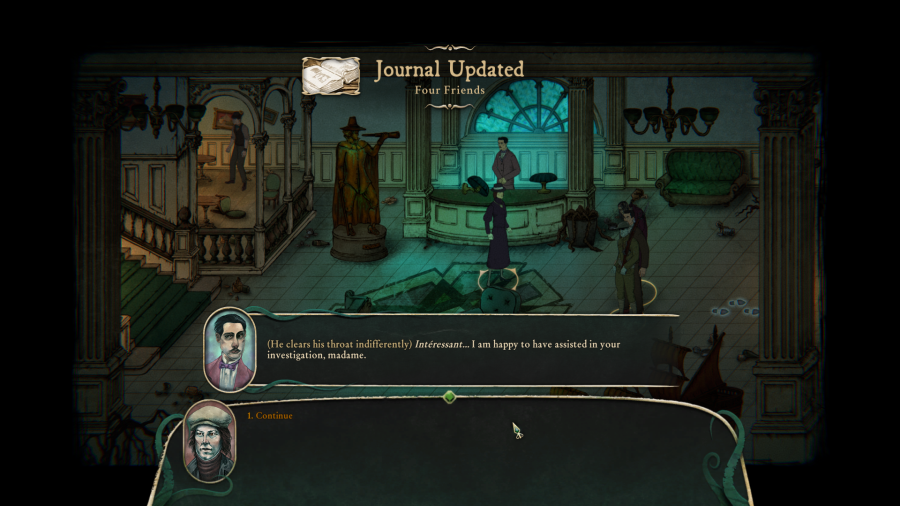 The snobby French hotel guy is yet another stereotype.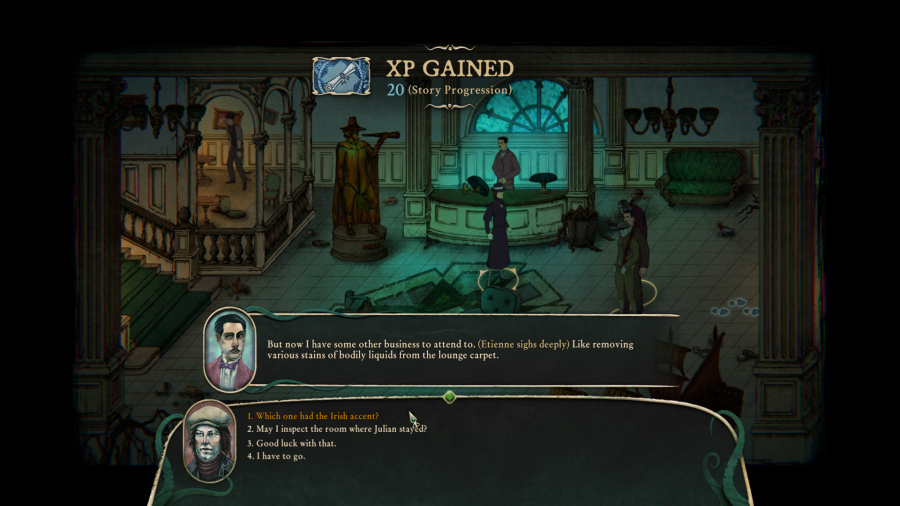 : Which one had the Irish accent?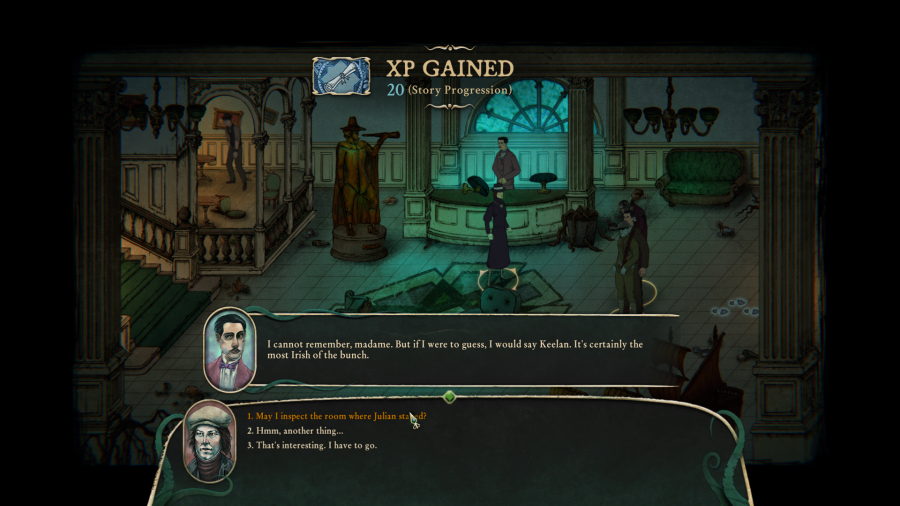 : May I inspect the room where Julian stayed?

: (Etienne straightens his bow tie while looking away) I would not recommend it, madame. Carrion Jack is currently residing in room 503, and I don't think he's planning on checking out any time soon.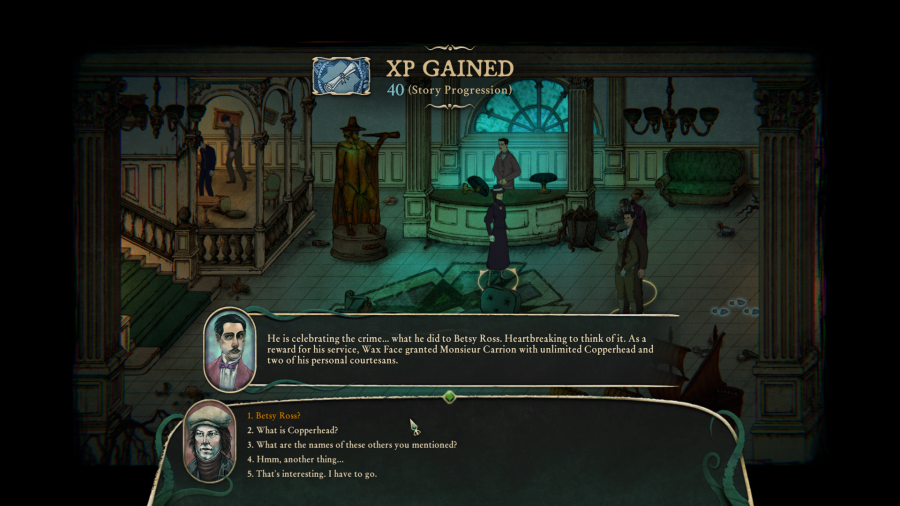 : What is Copperhead?
Saving Betsy Ross because that's gonna be stupid.

: It's a special whiskey the Mob produces. They put a live Copperhead snake inside a full bottle and the serpent bleeds its poison into the liquor while drowning. (Clears his throat)
Tense change!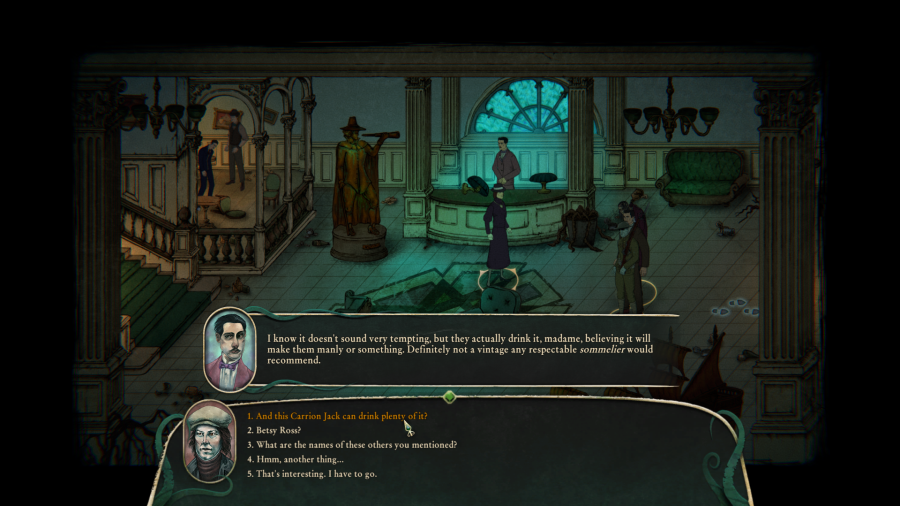 Google says this is a thing in Asia, where you drown a snake in whiskey and ferment it.

: And this Carrion Jack can drink plenty of it?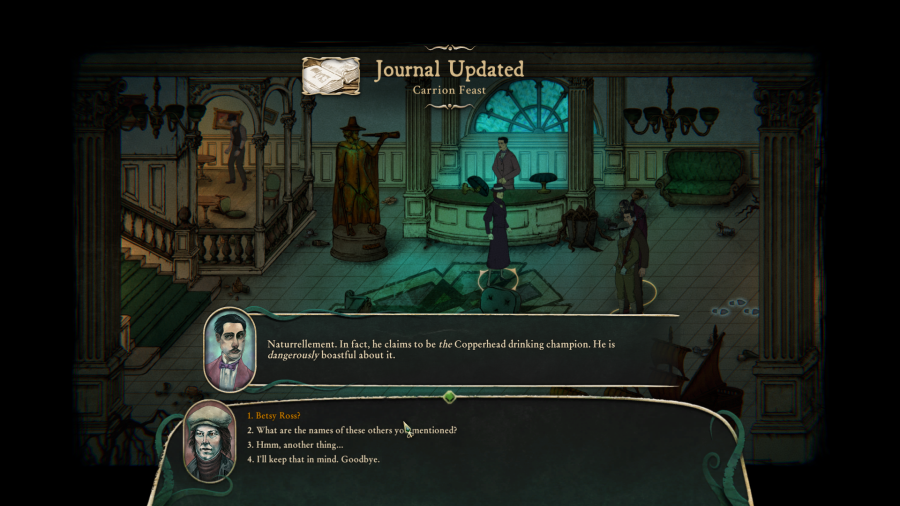 : Betsy Ross?
I am going to post this in all its dumb glory.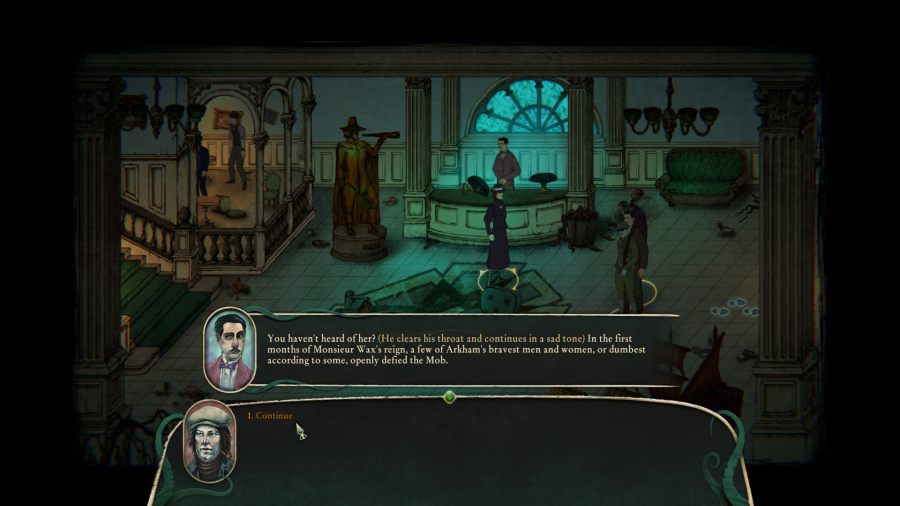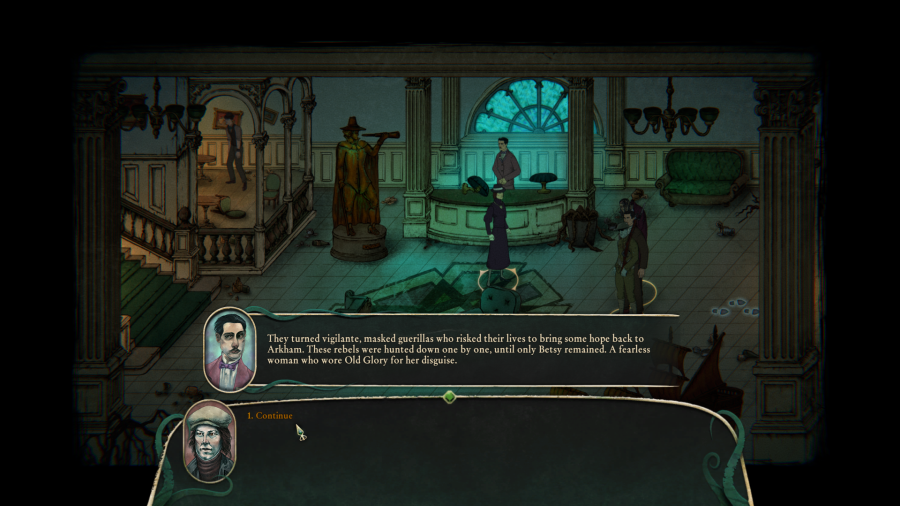 Yea. Superheroes. They put
superheroes
in a cosmic horror game.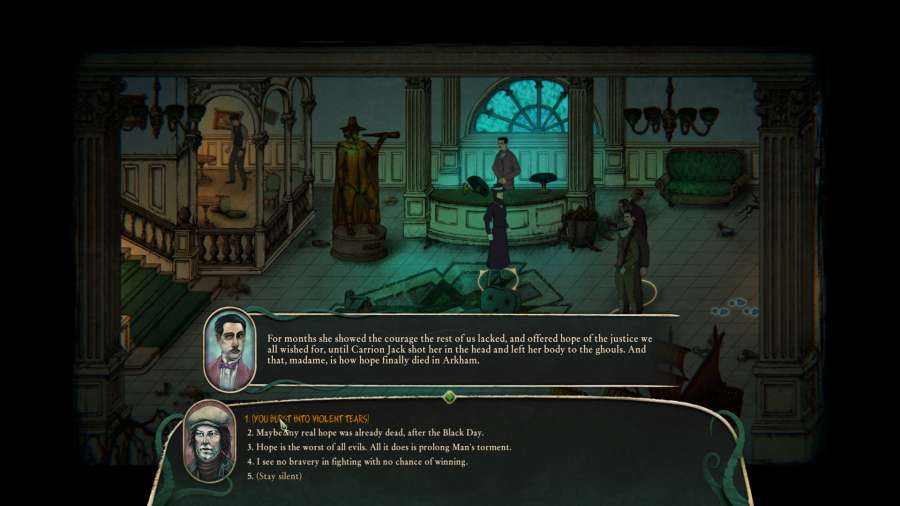 : YOU BURST INTO VIOLENT TEARS!
I'm trying not to dismiss it by posting "this is idiotic" but having superhero escapism in our game about the uncaring universe is pretty dumb. I get they're trying to be very dark about how the superheroes were killed by the mob because this is, like, super grimdark and stuff, but that still brings the expectations of masked heroic crimefighters, and instead of running into Mythos beings and being crushed by the universe they...just got shot by this pathetic band of mobsters. It's just incredibly dissonant.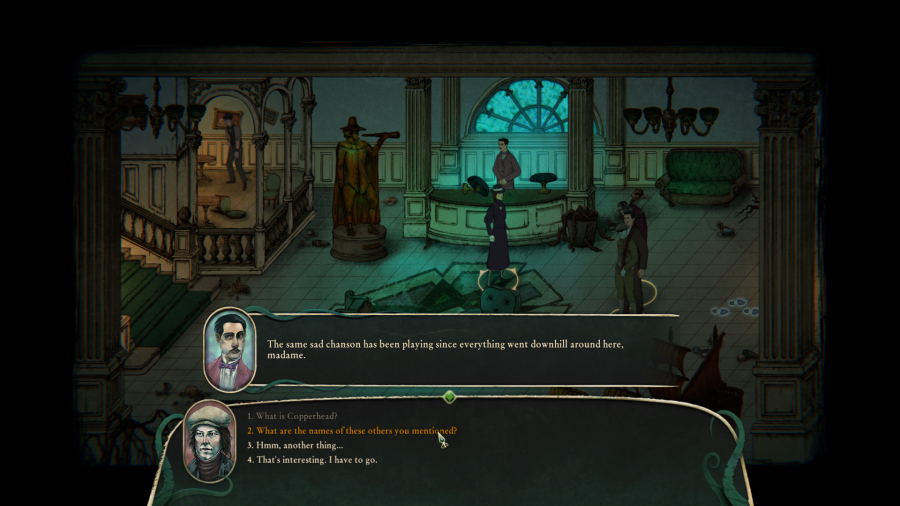 Navigating through the dialogue menus reveals a bit more to say.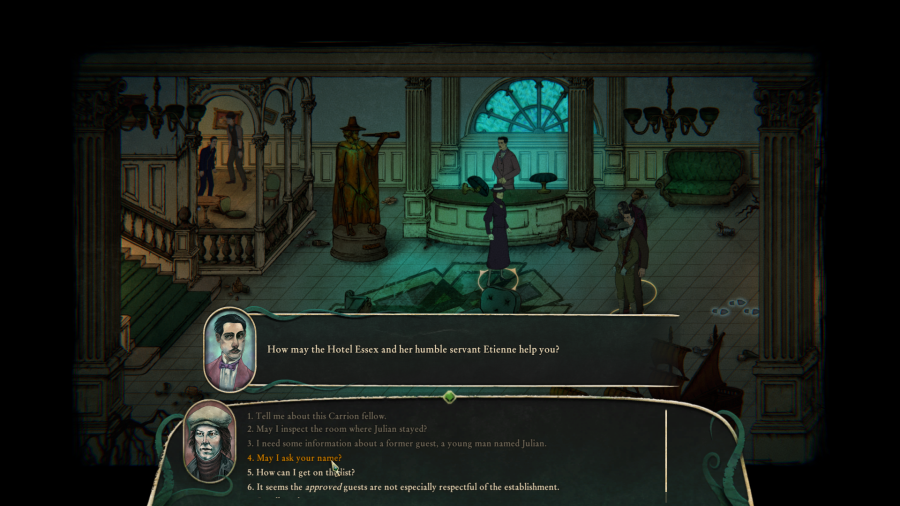 : May I ask your name?

: (He straightens his bow tie) I am Etienne Lafayette, the
concierge
of Hotel Essex. I have proudly performed this duty for more than fifteen years. (A note of heartbreak seeps into his voice as he says this).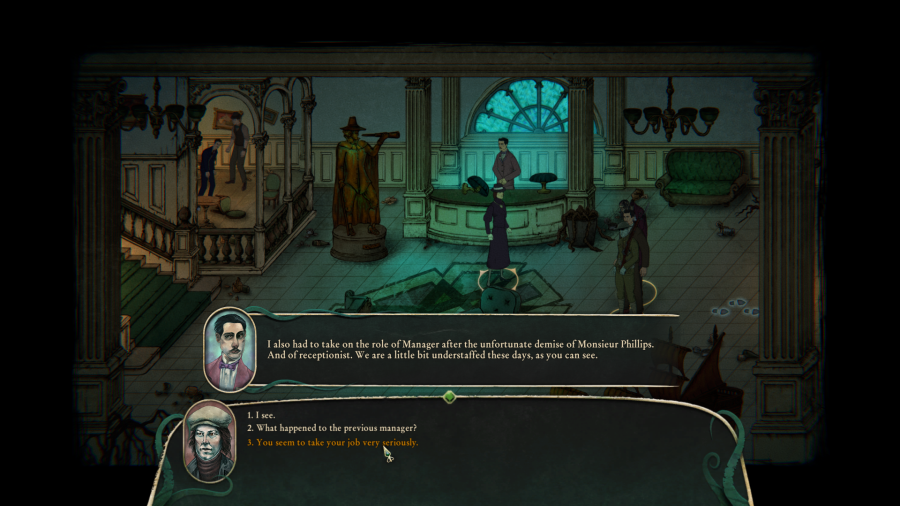 : What happened to the previous manager?

: Let's just say he chose the
shortest
route out of Arkham, madame. (Clears his throat again and continues calmly) Rat poison. Along with Madame Philips and the little ones. I do not recommend it.
Why is the dialog never allowed to stand on its own in these overwritten trash games?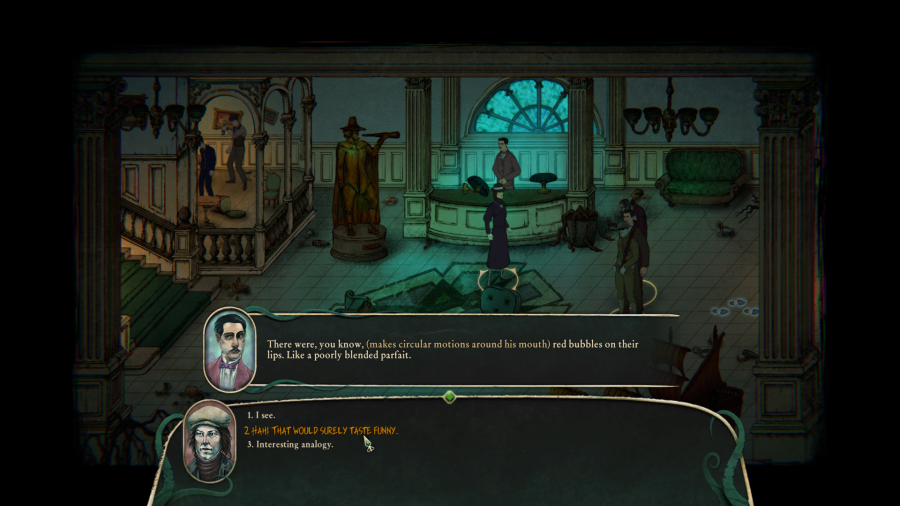 : HAH! THAT WOULD SURELY TASTE FUNNY!
How will Etienne react to us making fun of the death of his beloved employer and family?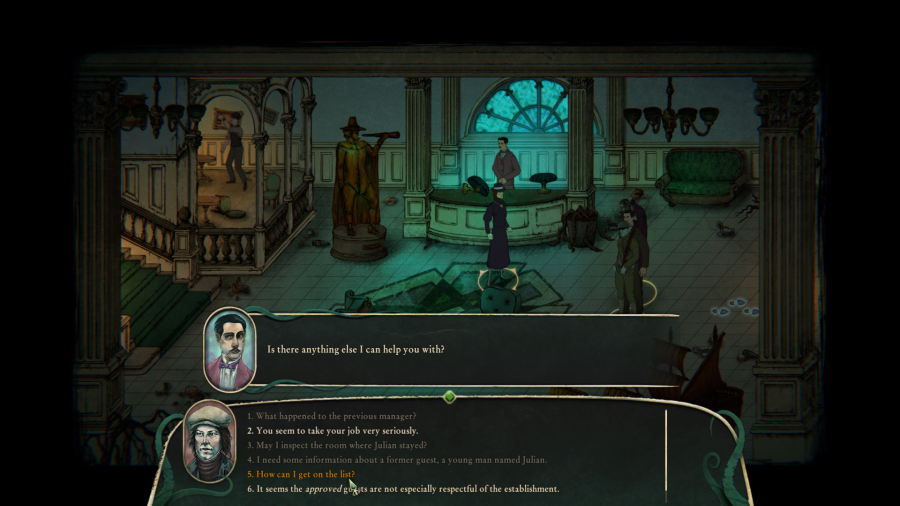 I'm gonna abridge the rest of this: the mafia are bad guests and Etienne is mad.
TheGreatEvilKing summary posted:

: Hello madame, what can I do for you?

: Did you know a Julian? Can you tell me which room he stayed in?

: Ma'am I can't violate my guest's privacy.

: HE'S DEAD LOL WHOOOOOOOP

: A lot of my guests die.

: I'M FROM THE BUREAU OF CRAZY INVESTIGATING HIS MURRRRRDURRRRRR

: The Bureau of Crazy? That sounds official. Hmmm...Julian...yeah, he checked in with 3 other guys, Salvador, Abel, and Keelan. Right before the Black Day. I was suspicious of them because they were FILTHY IMMIGRANTS unlike me, a man with a French name and French mannerisms obviously born in the United States! Anyway, Julian and Keelan left the hotel.

: Salvador and Abel? Those two were murdered by the stabber!

: Yea that's cool but I gotta clean up "bodily fluids" from the lounge.

: Which one had the Irish accent?

: Idk, Keelan sounds Irish?

: Can I inspect the room where Julian stayed?

: Nah, you see, Carrion Jack, a powerful and evil mob enforcer, killed Betsy Ross, so he gets to fuck two of Wax Face's hookers and have unlimited copperhead whiskey.

: Copperhead?

: It's whiskey with a snake in it and the snake's poison makes it tasty and the Mob all loves it.

: Wait, Betsy Ross? Like, the flag lady?

: Yes. See, when Wax Face tried to take over, there was an entire league of superheroes that arose to stop them. They were all killed but one, a lady named Betsy Ross who wore a flag costume. Carrion Jack killed her and now we are without hope.

: No..more superheroes? In a Lovecraft game? WAAAAAAAAAAH! Who are you, anyway?

: My name is Etienne Lafayette, and I'm the concierge for this hotel. I'm also the manager after what happened to the old one - he and his whole family committed suicide. They looked like a parfait!

: LOL WHOOP TASTY MADNESS!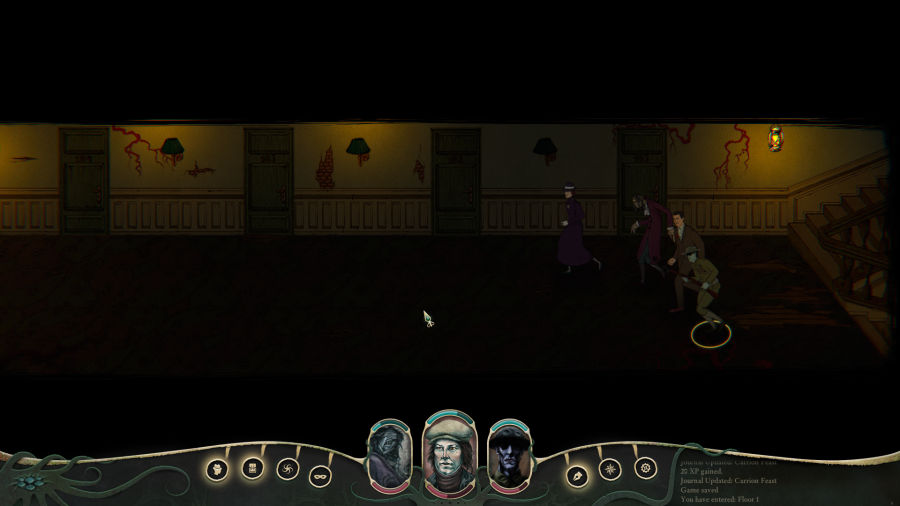 The Mafia goons are also compelled by the Bureau of Crazy to disappear, letting us run up and loot the entire hotel. Incidentally, the prostitutes from the earlier scene are still giggling, and that sound clip will recur throughout the entire hotel.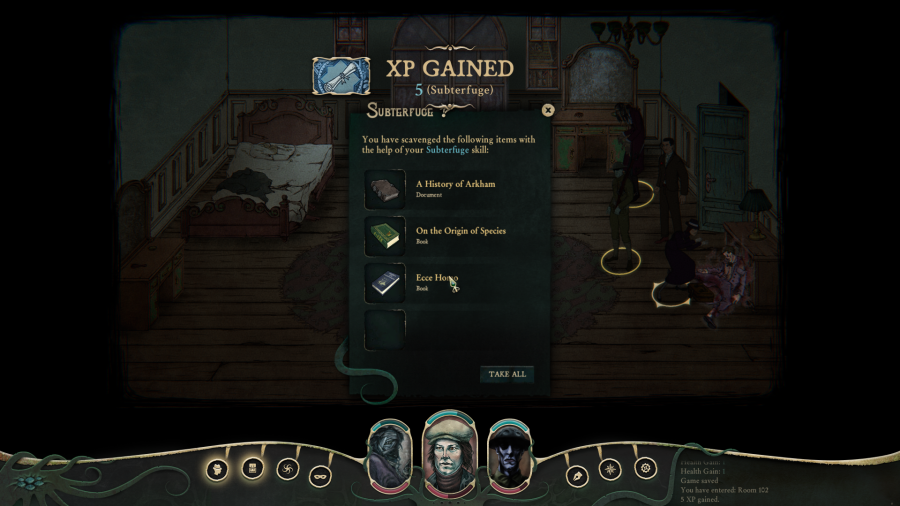 We loot this now we have subterfuge and it's entirely not worth it. For the record, the two latter books act as the porn mag for rationalism and nihilism respectively.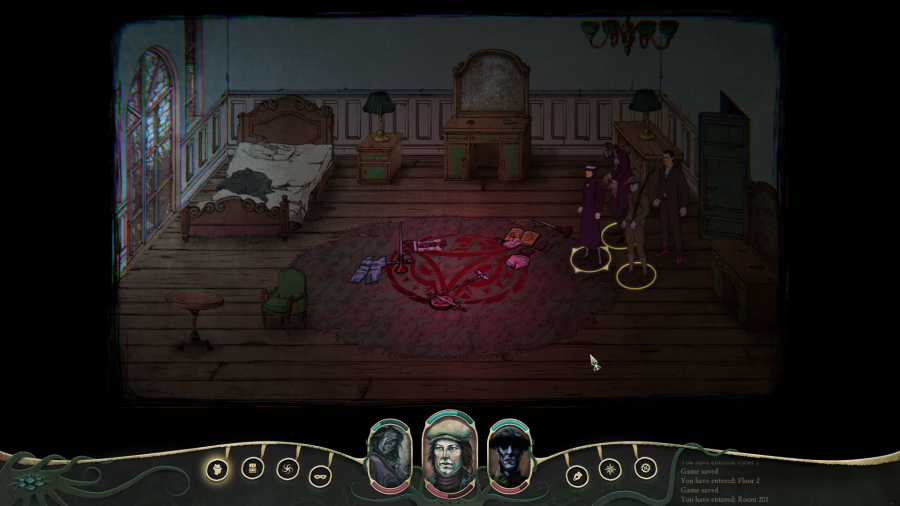 I've been waiting for a long time to get into this room, because...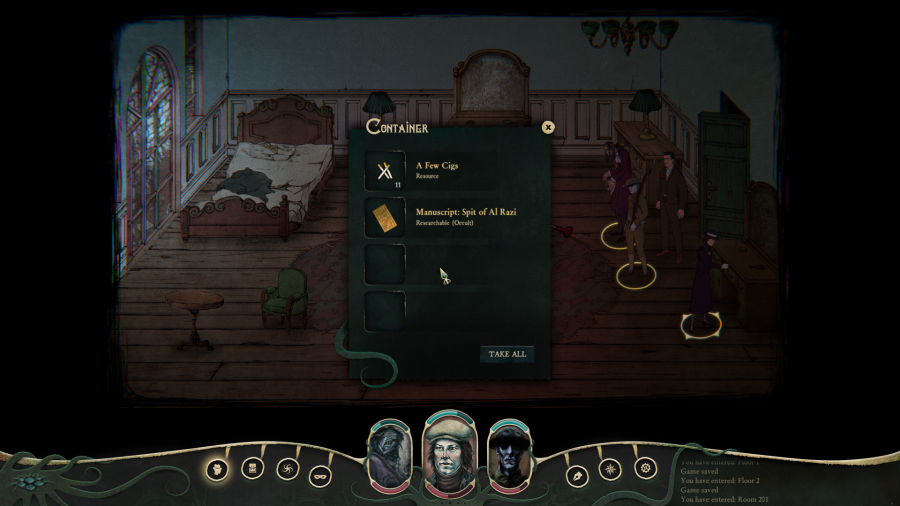 It's a free Spit of Al-Razi! You know, the attack spell the Outsider started with and we didn't for some reason. You can't get here until you've talked with Etienne about the stabber.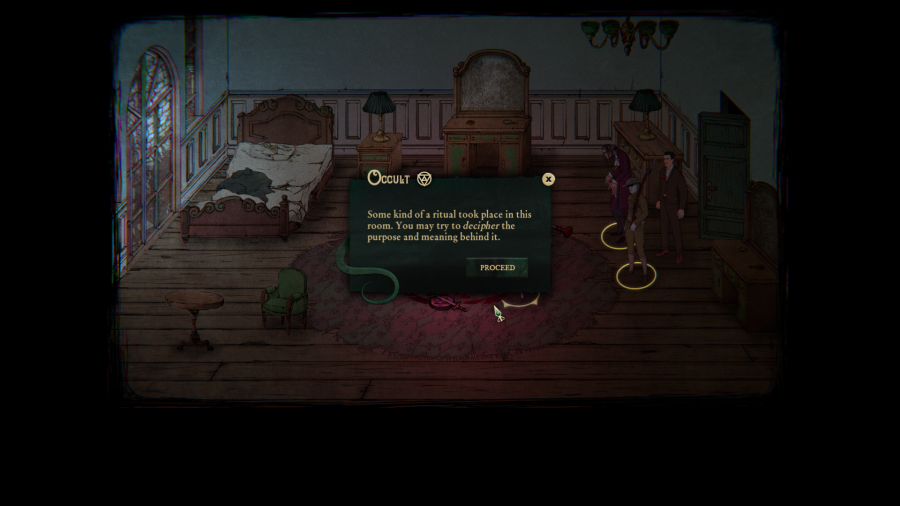 Ooh, these are usually good!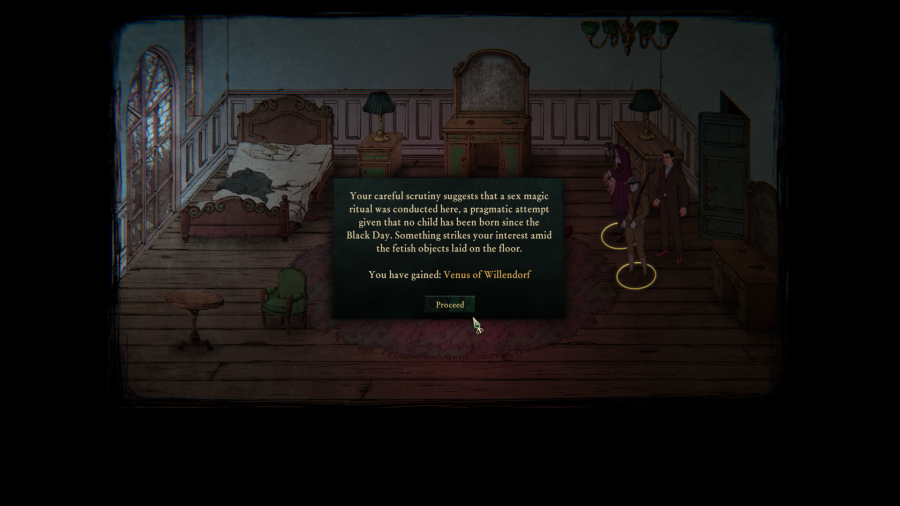 Stygian, why? Why do you insist on inserting your
Beavis and Butthead
approach to sexuality everywhere? Now, you might be asking what "Venus of Willendorf" does. It's a massive increase to Bertha's maximum health, but it inflicts a debuff called "Cycle of the Moon" which, uh...
The Game's Description posted:

Cycle of the Moon enhances your intuition while making you more emotionally sensitive. (More sanity loss from horrors but greater Critical Success Chance).

So, yes, the fertility idol gives us a menstruation-themed buff that gives us women's intuition but makes us care about feelings and shit. I'm not even going to touch this one.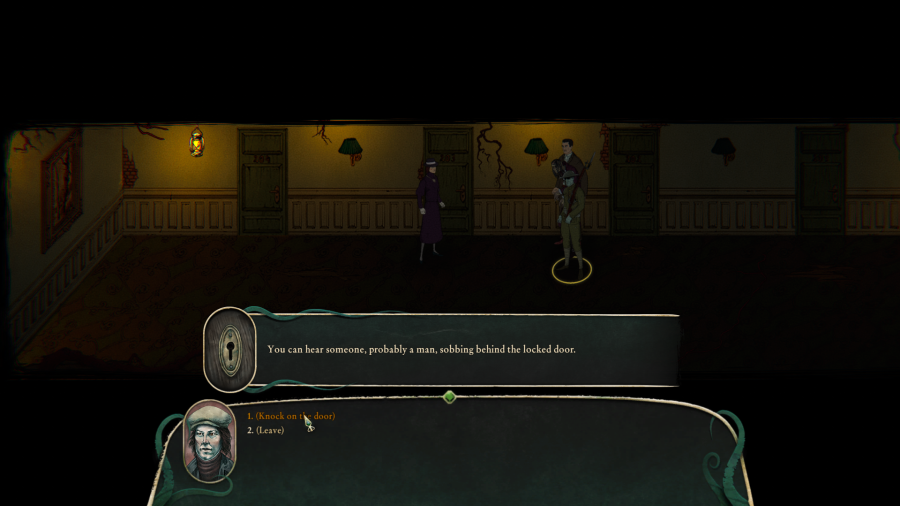 We'll be back here, just rest assured this man has a needlessly tragic backstory.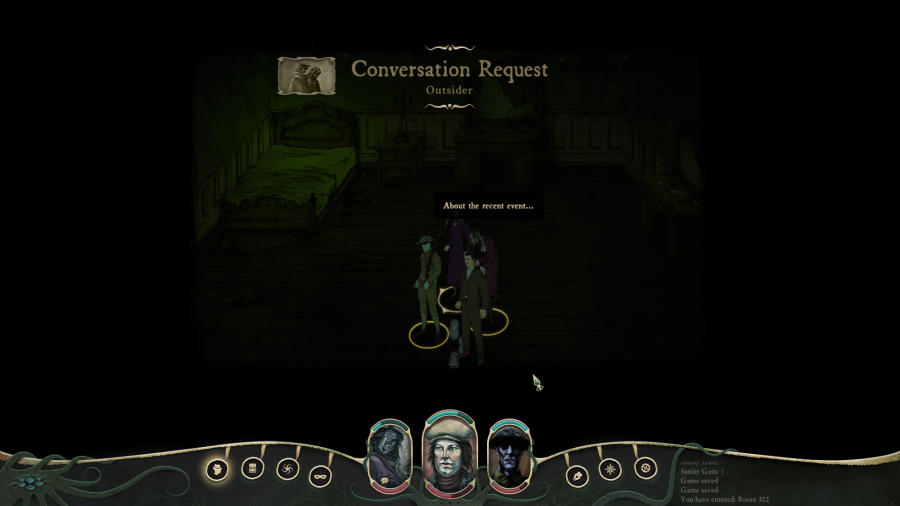 This room is haunted. The Outsider's conversation request is to tell us that, as a student of the occult, he knows this room is haunted.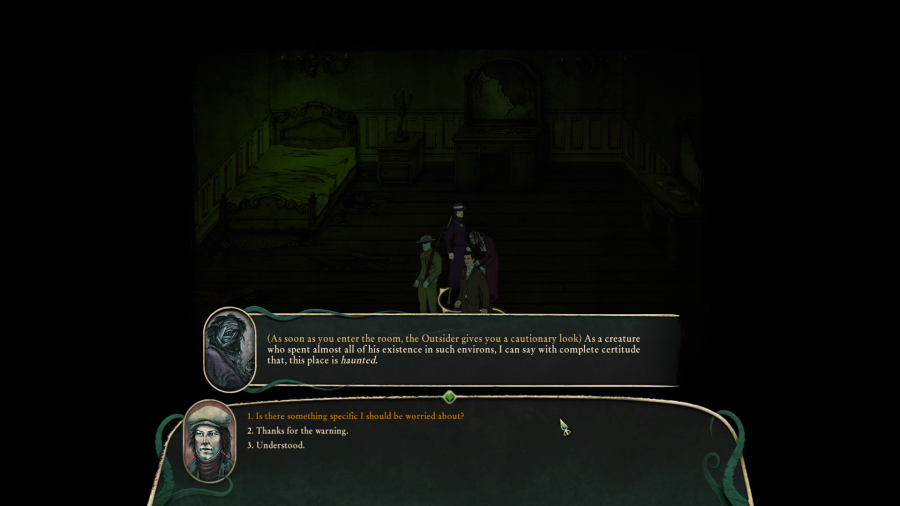 Really, he just tells us to beware its wrath. I'm going to cut the rest of the hotel misadventures short because we have some bullshit to get through.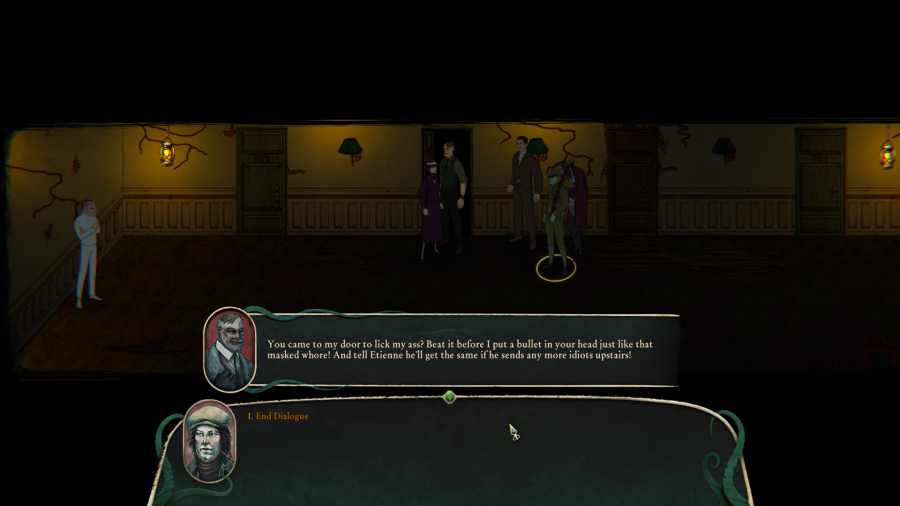 Carrion Jack isn't happy to see us. We try to butter him up but it fails. I think if you have Copperhead (you can buy it from Marino) you can poison him or something? Whatever, we have a better idea.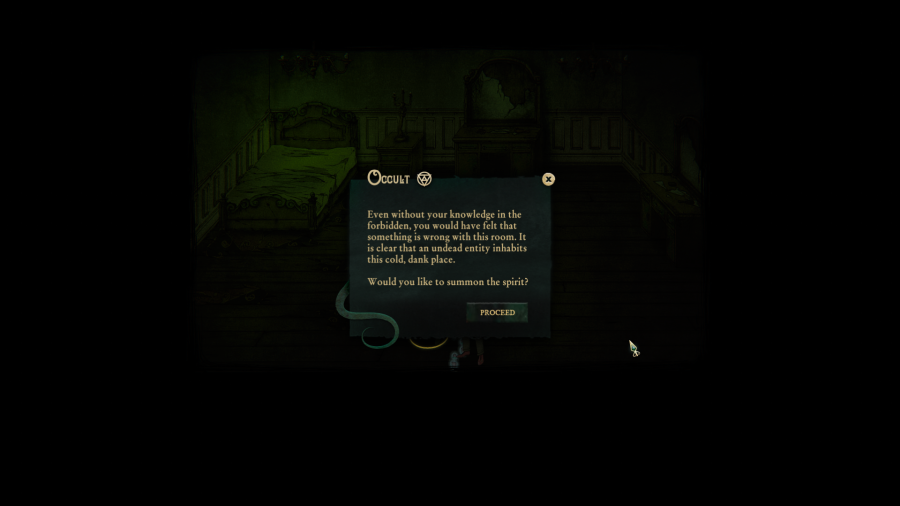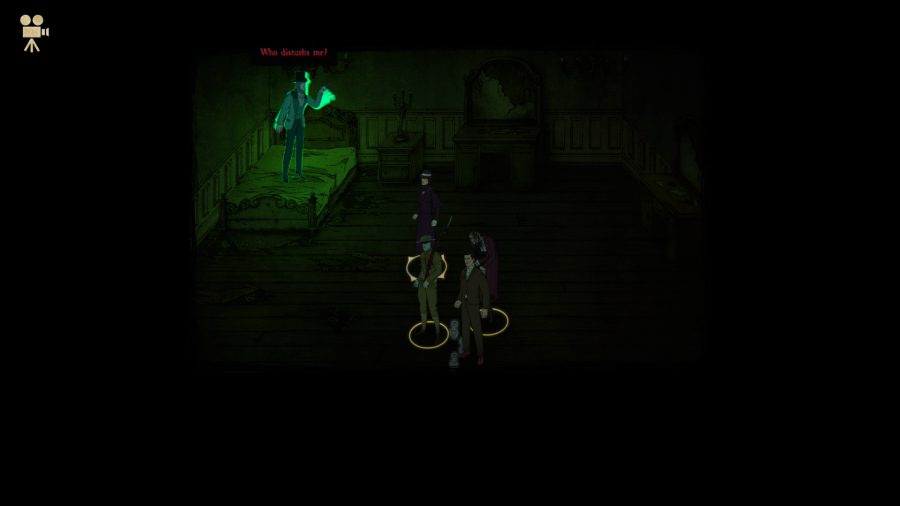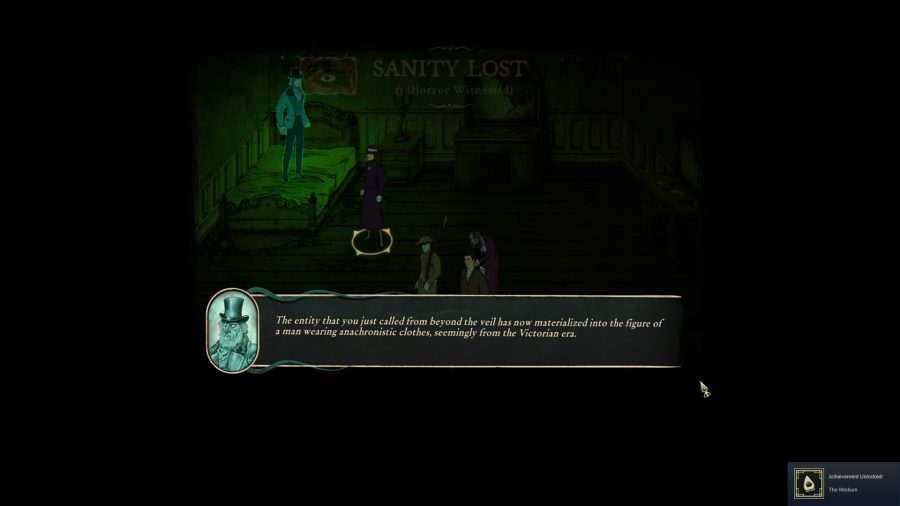 We get an achievement for this.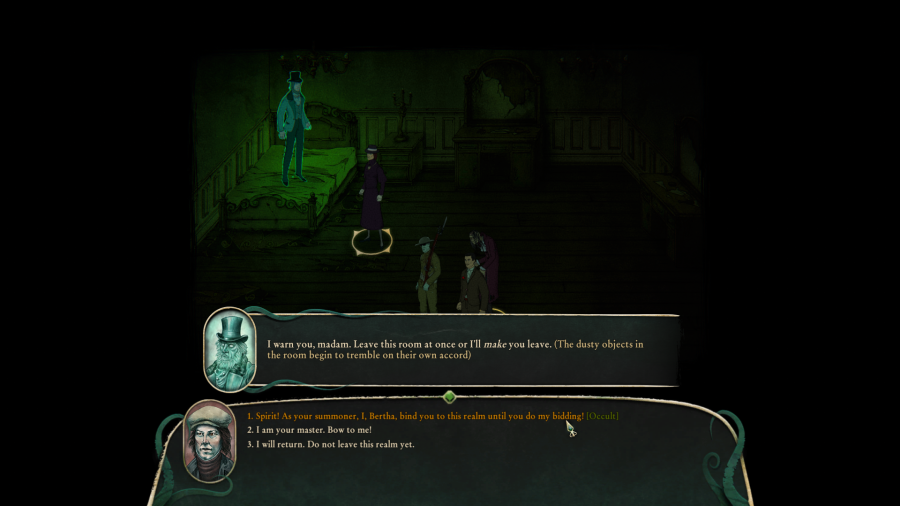 He's a Victorian era ghost and with our occult skills we can bind him and send him to scare Jack out of room 503.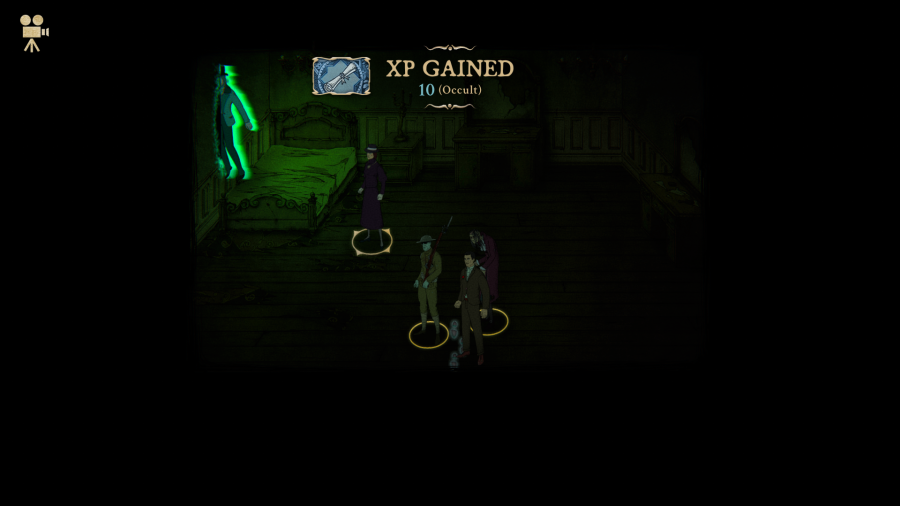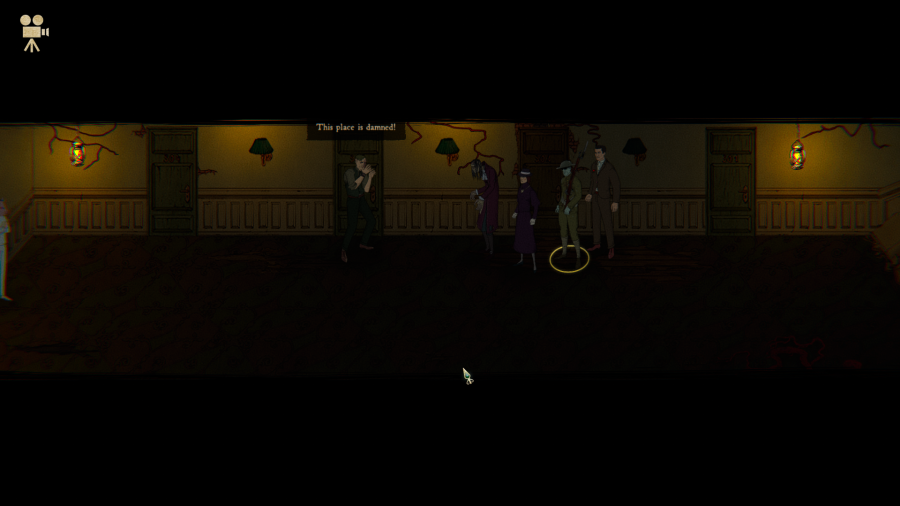 This lets us go into Jack's room and loot the place. Score!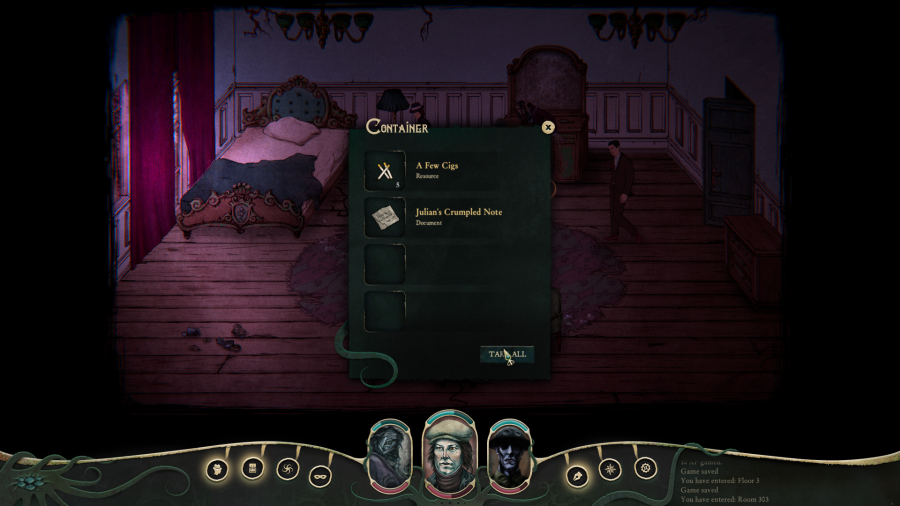 Incidentally, if we'd gotten into a fight here a bazillion mafia guys would spawn in and the two prostitutes would be sitting on the bed.
Really this sequence serves to highlight that neither I nor seemingly the devs understand this whole mafia subplot. Lovecraft never really deals with large ensemble casts, nor do his villains do much more than meddle with the occult to either raise one of the dark gods or ruin individual's lives. It's telling that the Cthulhu cult in "Call of Cthulhu" has no actual identified leaders and one named character (a man named Castro who is interrogated by the police) so it's really unclear where the hell the Mafia fits in. Every time we encounter the Mafia the game tries to play up what a threat they are to us, but we are literally playing as:
-a sorcerer who can raise the dead, call forth demons to do her bidding, turn people to stone, and drive men mad with her dark magics
-the outsider, a sorcerer who can do all of the above but better and also has vicious claws
-an undead fearless soldier who goes berserk in combat and has military grade weaponry.
It's nuts! All the mob has are generic idiots and only half of them even have guns. Spoiler: The game makes the mob scary in the stupidest way.
Anyway, now we have to go to the post office to do enough detective work to satisfy Wilkins.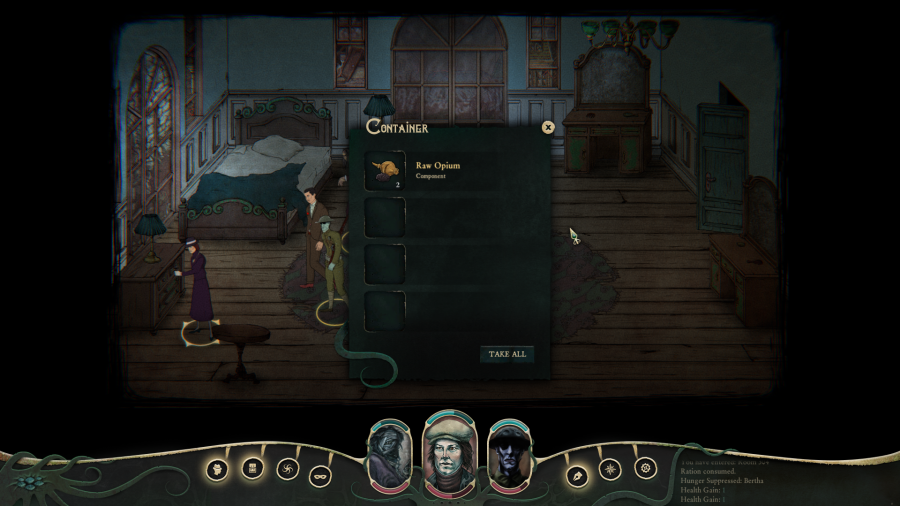 In the meantime we can steal Etienne's opium and sell it to Richter down the line. Ka-ching!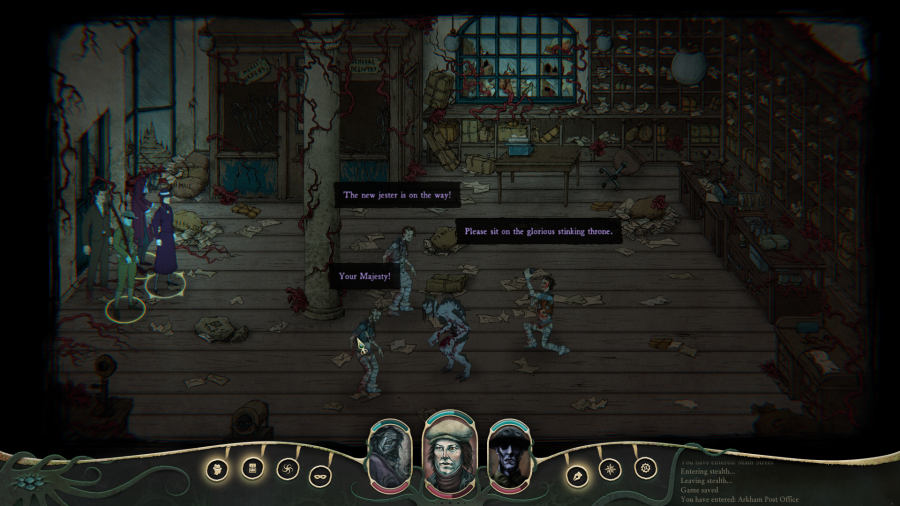 Despite our new stealth perk that is vaguely implied to be use using shadow magic, these assholes all detect us immediately and force another tedious fight I excise from the LP for being a waste of time - much like most of Stygian's gameplay!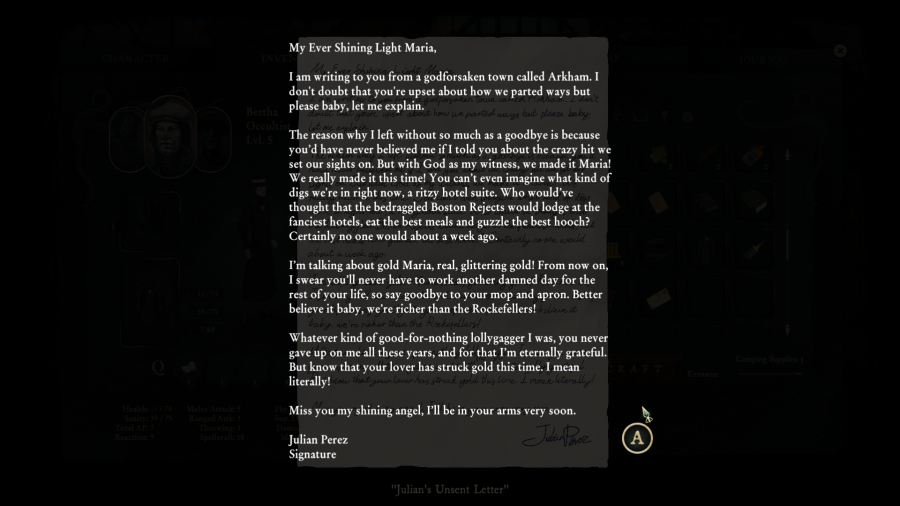 We get this letter, and for the Lovecraft obsessed aficionados we can confirm that this is, in fact, the Terrible Old Man. Trust me, I will have more to say as the game unfolds and we get through the TOM quest.
Bertha's mystical sex wizard powers tell her Wilkins is down to spill the beans, so let's go talk to him.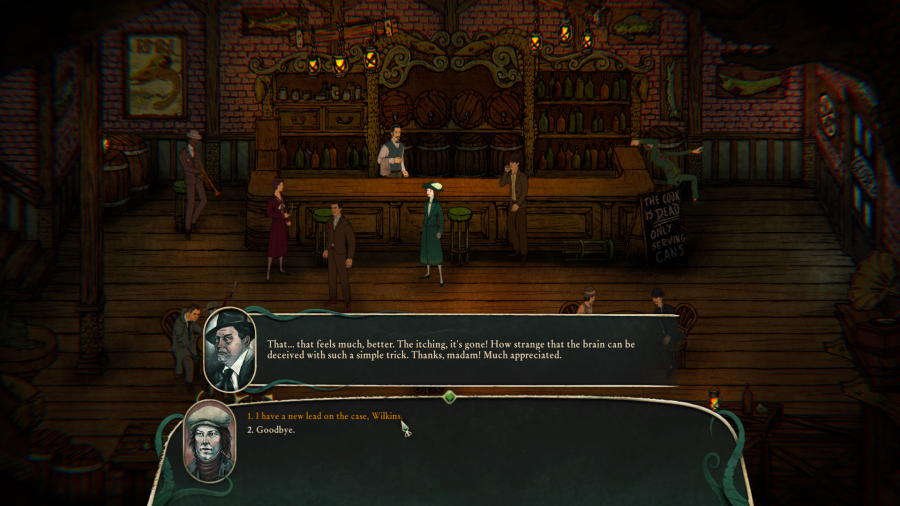 : I have a new lead on the case, Wilkins.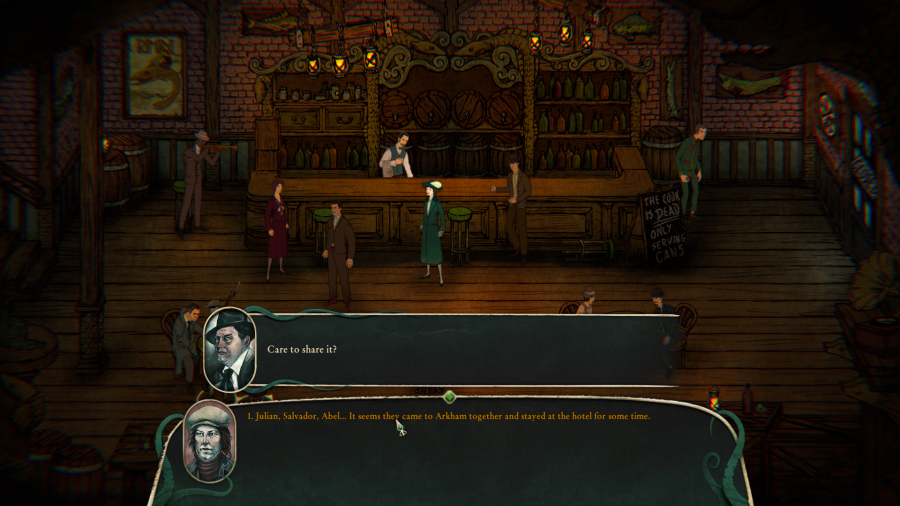 : Julian, Salvador, Abel... It seems they came to Arkham together and stayed at the hotel for some time.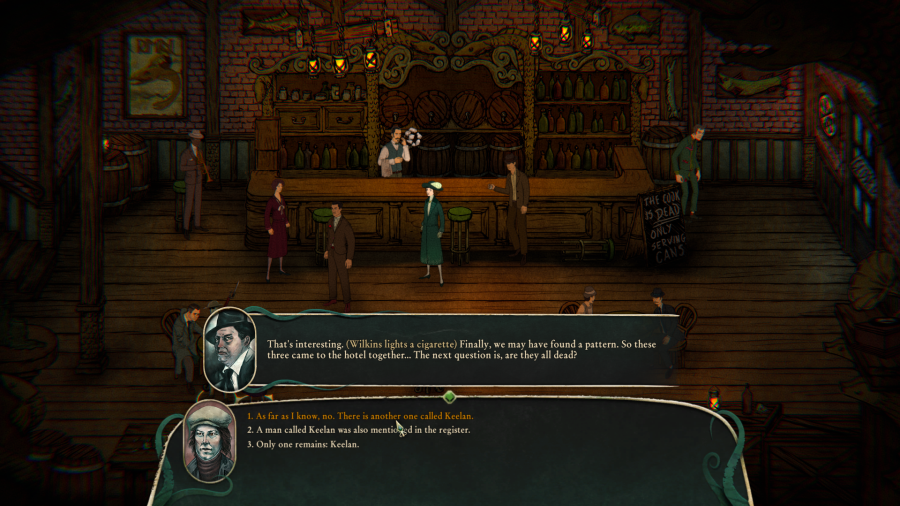 : Only one remains, Keelan.
We will meet Keelan. it will be stupid.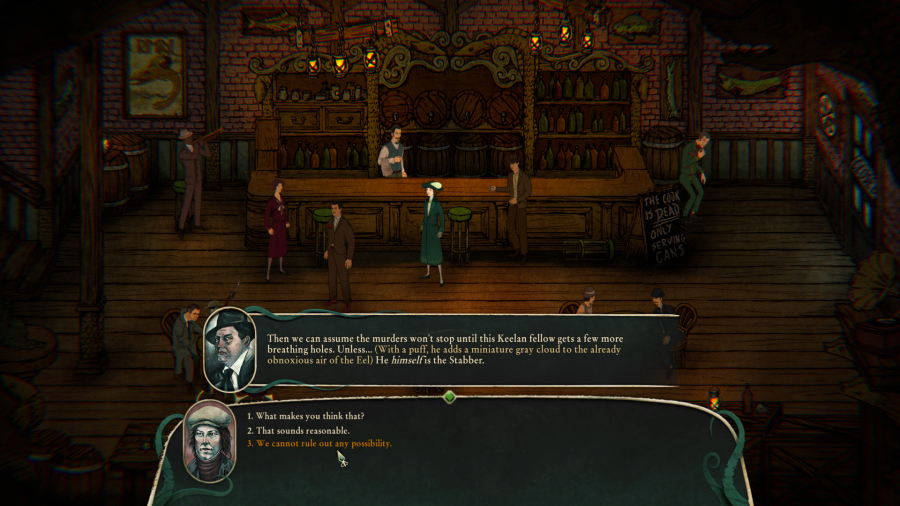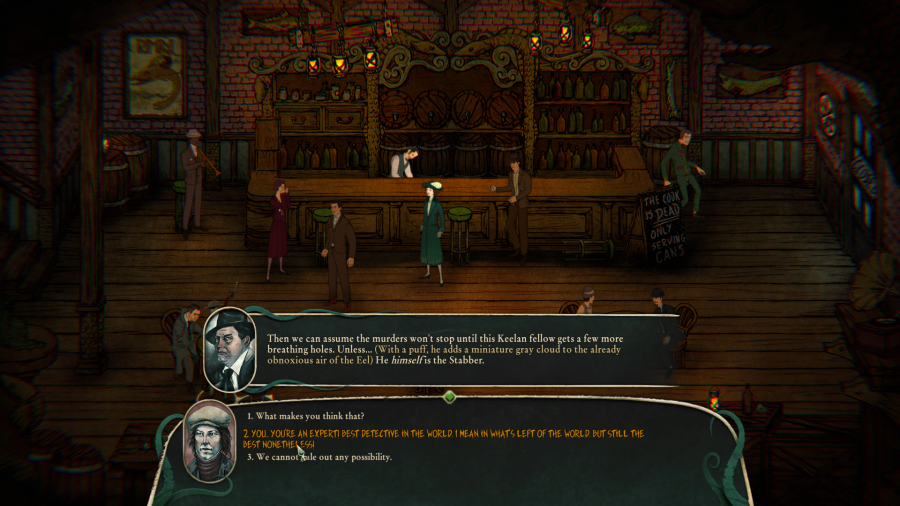 : YOU. YOU'RE AN EXPERT! BEST DETECTIVE IN THE WORLD! I MEAN IN WHAT'S LEFT OF THE WORLD BUT STILL THE BEST NONETHELESS!

: Think about it: riffraff arriving from out of town, probably into some shady business, and when the deed is done they turn on each other like rabid dogs. I've seen it happen before.
Wilkins is a turboracist, by the way.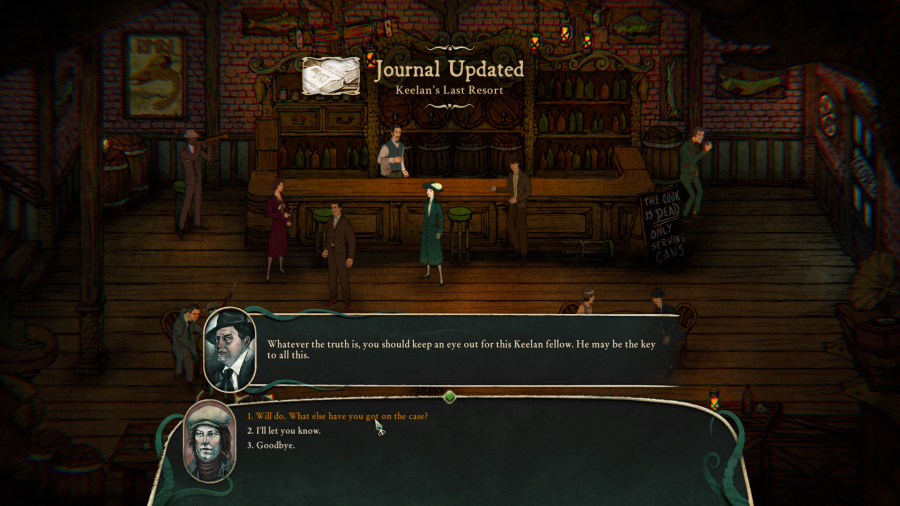 : Will do. What else have you got on the case?

: You know, I have to admit that you're not too bad at this. When you started asking questions, I wasn't expecting much and that's why I kept my trap shut on my real leads.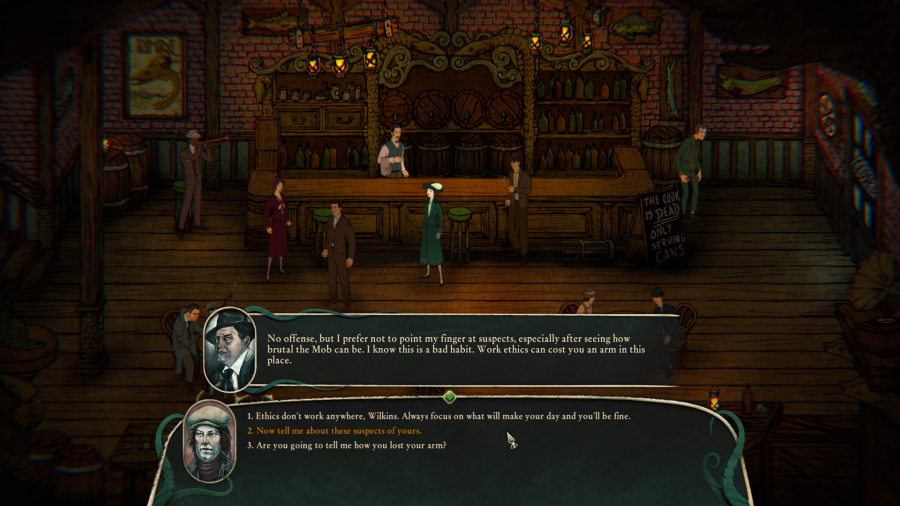 : Now tell me about these suspects of yours.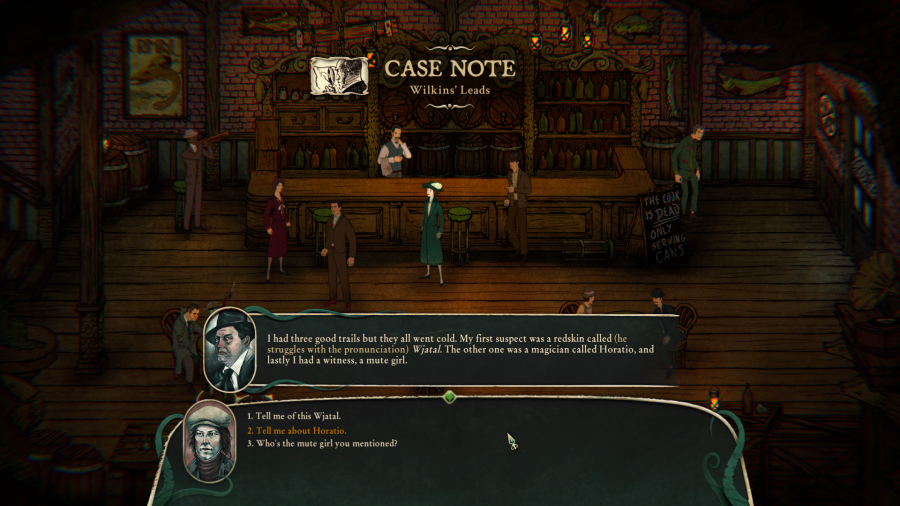 : Tell me of this Wjatal.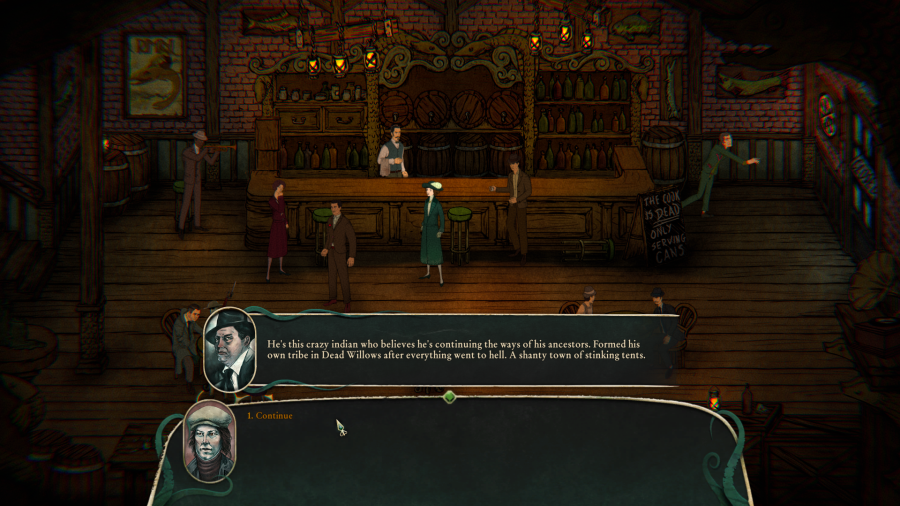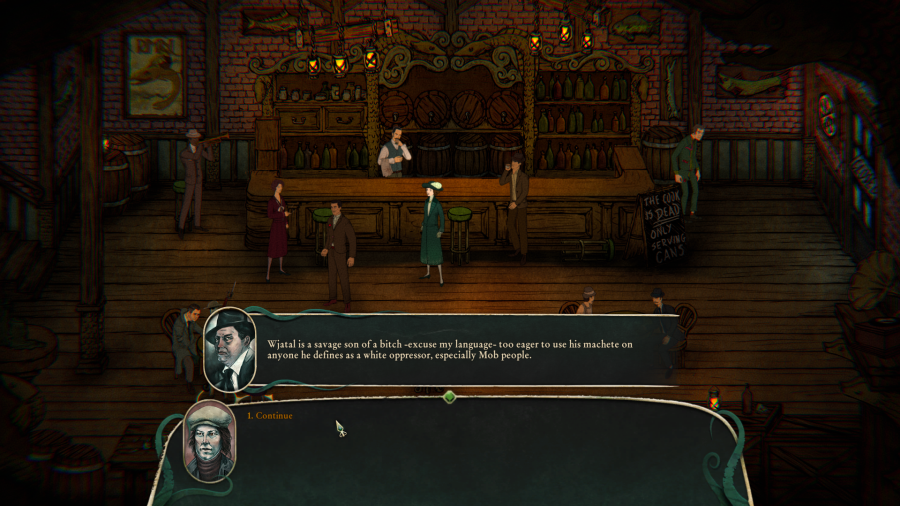 So I am not too familiar with the language of the 1920's Native American rights movements, but this reads more like Twitter than the period.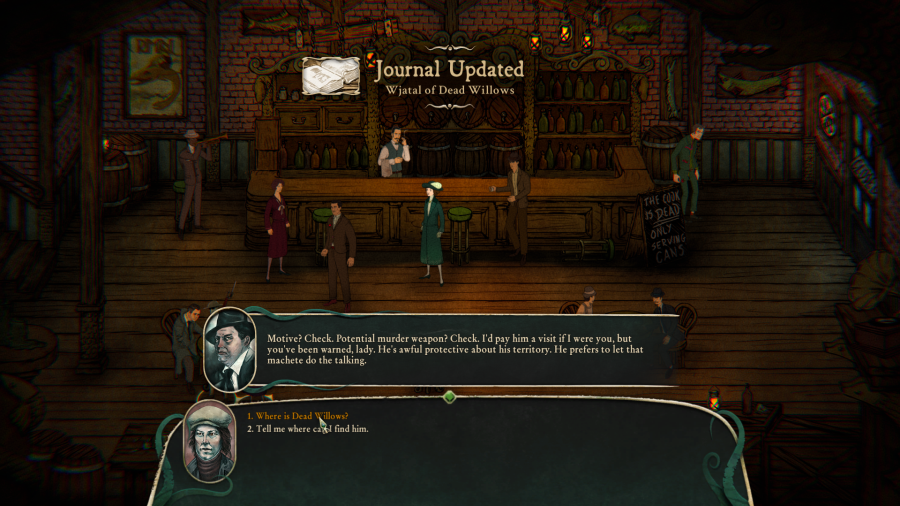 : Where is Dead Willows?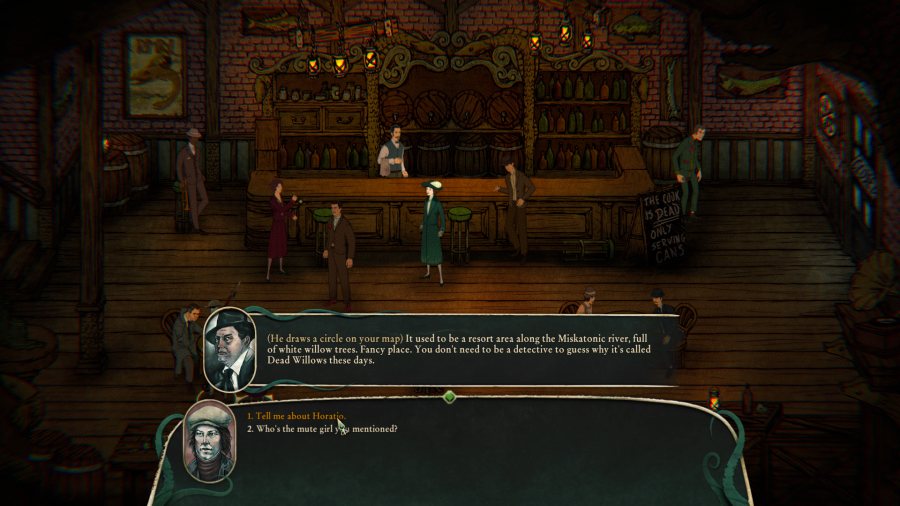 : Tell me about Horatio.

: Horation the Magnificent, they used to call him. I saw nothing magnificent about the man though. A total wreck. He was pretty vocal about his hate for Wax Face. Suicidal, right?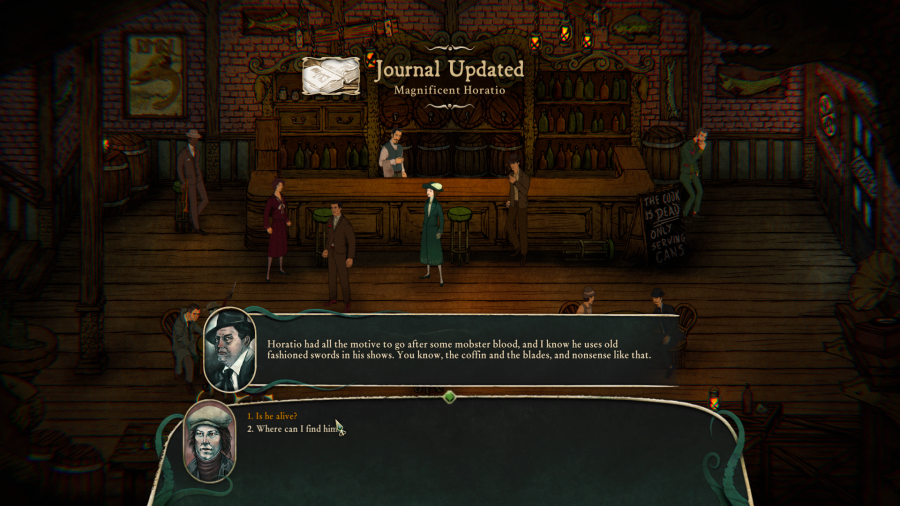 : Where can I find him?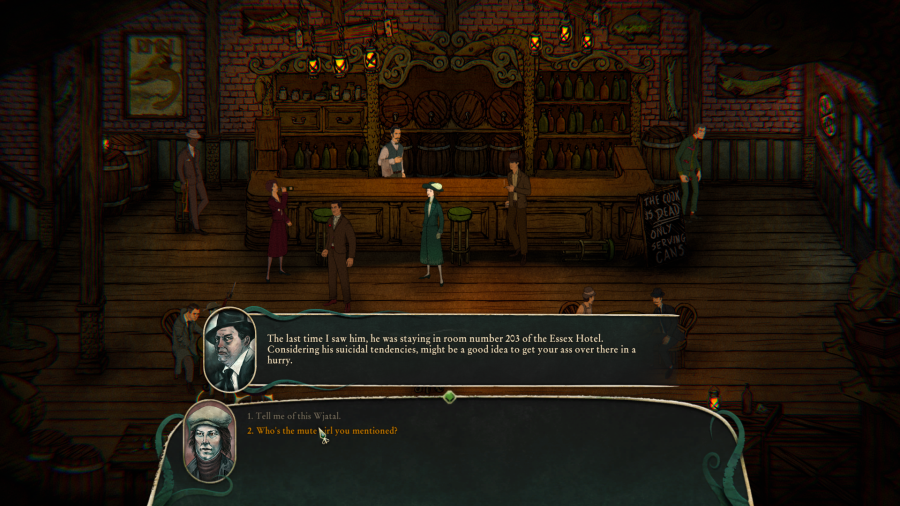 : Who's the mute girl you mentioned?

:
Donna the Mute
is what they other tunnel kids call her. She wasn't always mute, so I heard. They say she became like that after witnessing the murder of Abel. The eyes on that little girl...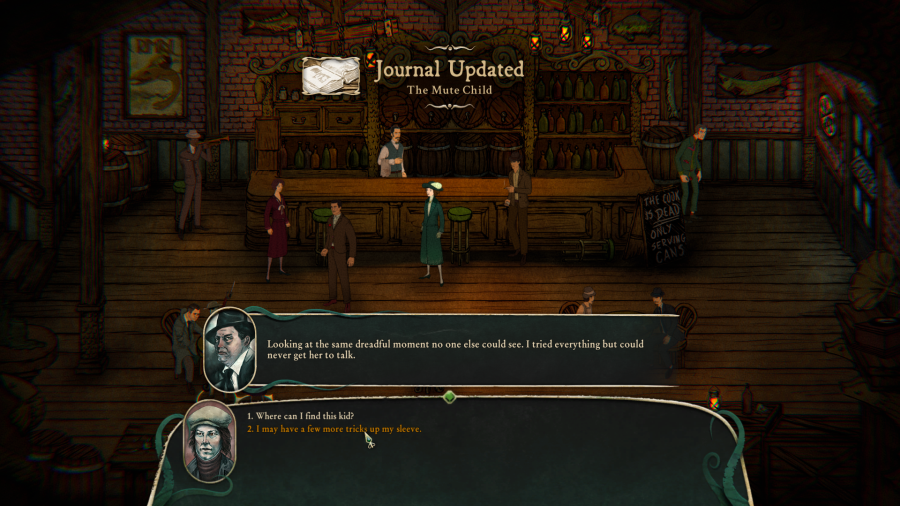 You need psychology but I screwed up and didn't take it. Mesmerist sucks anyway.

: I may have a few more tricks up my sleeve.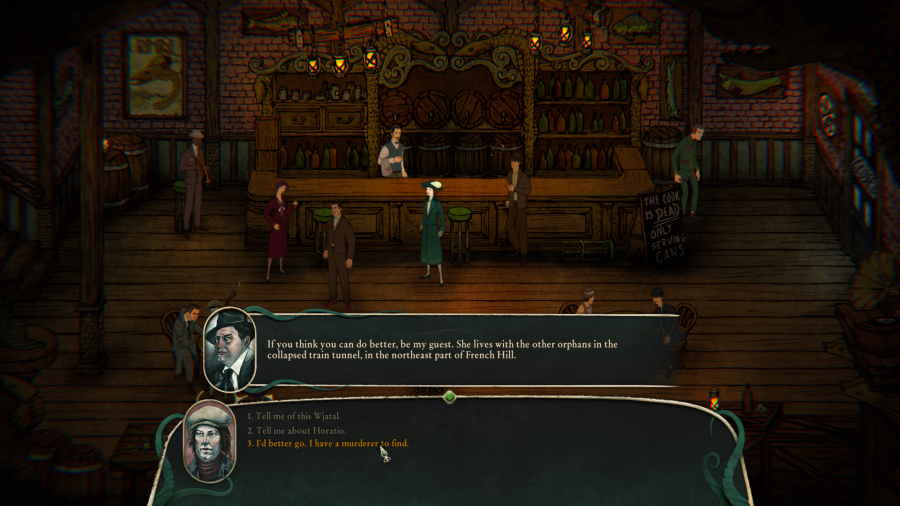 : I'd better go. I have a murderer to find.

: And you still have two arms, lady. You owe old Wilkins a drink, don't forget that. Good hunting.
TheGreatEvilKing summarizes this crap posted:

: Hey, I found more information, like you asked. There were four of them in the hotel across the street and the stabber has killed 3 out of 4.

: Interesting...is anyone left?

: Yea, a guy named Keelan.

: Haha, immigrants, am I right? I bet they all killed each other after doing crime. Do all immigrants do this? Just asking questions. Otherwise, someone else might want to kill them.

: YOU ARE A GOOD DETECTIVE! THE BEST! REALLY, REALLY GOOD. YUUUUUGE!

: Wow, you're really good at detecting for walking down 50 feet and checking out two of the last standing buildings in this town. I have three leads I will now reveal: an Indian named Wjatal, a magician named Horatio, and a mute kid who saw one of the murders.

: Wjatal?

: Yea he's a crazy Indian dude who murders white oppressors with a machete and set up a wacky tent city of Native Americans. He's gonna attack you on sight, good luck.

: Horatio?

: He is a Very Sad magician who hangs out at the Essex hotel, but he uses swords so that makes him a suspect.

: What about the mute kid?

: She saw the murder but has severe PTSD so if you don't have psychology don't at me.

: I'm off to find a murderer.

: Hey, I worked hard making you do fetch quests! Good luck, and you owe me a drink!

Anyway, we take a nap at Marino's and get ready for our exciting new adventure!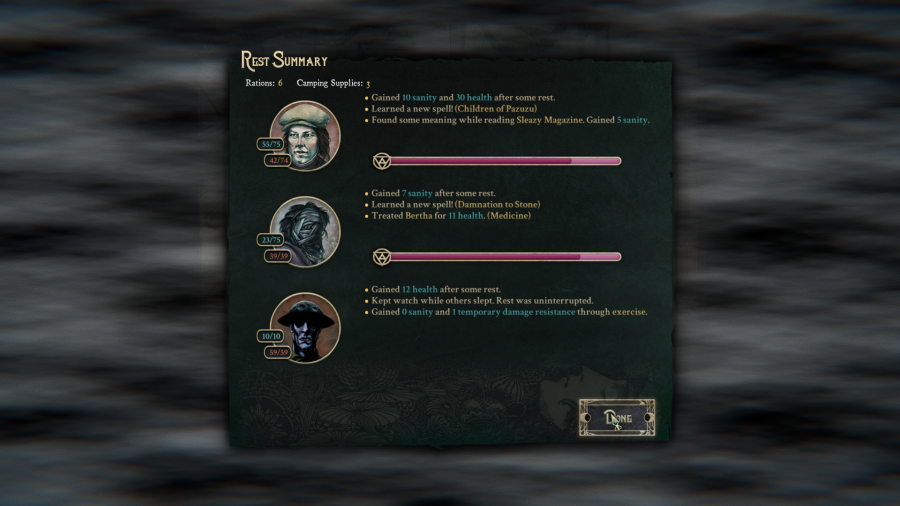 Children of Pazuzu is a really hardcore spell that is our main damage spell going forward and thus we don't really care about spit of Al-Razi. You used to be able to upgrade Spit to a 10 hex AoE deathblast with the ghoul meat, but these idiots can't code and so that functionality is lost forever.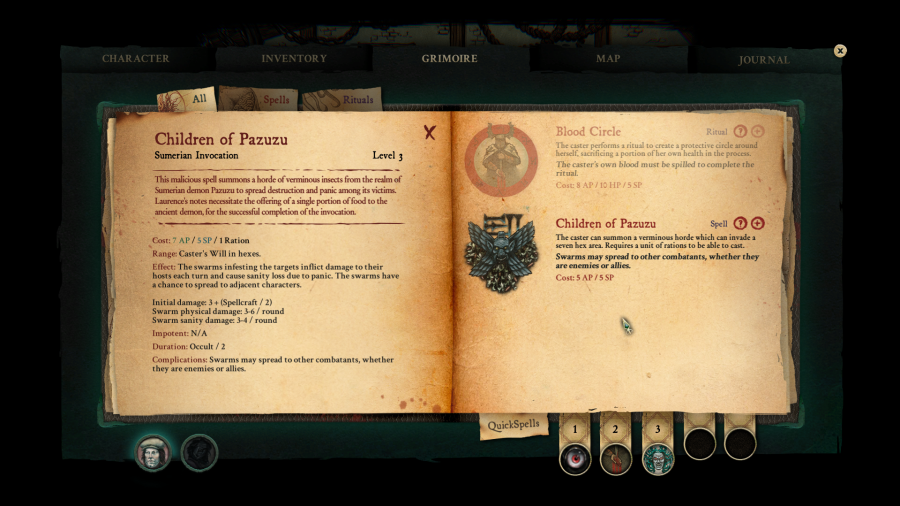 As a side note, if you don't assign the spell to a quick slot it cannot be cast in combat or the overworld.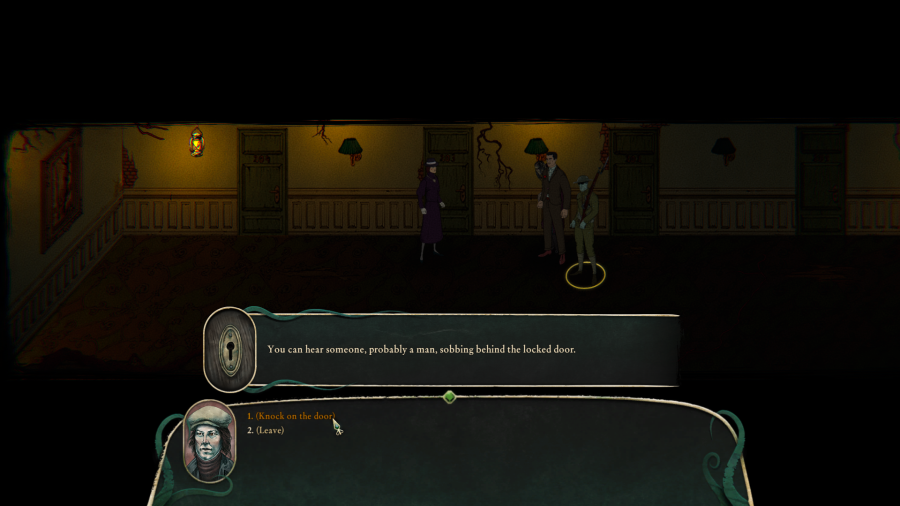 Horatio is the sad man behind the locked door.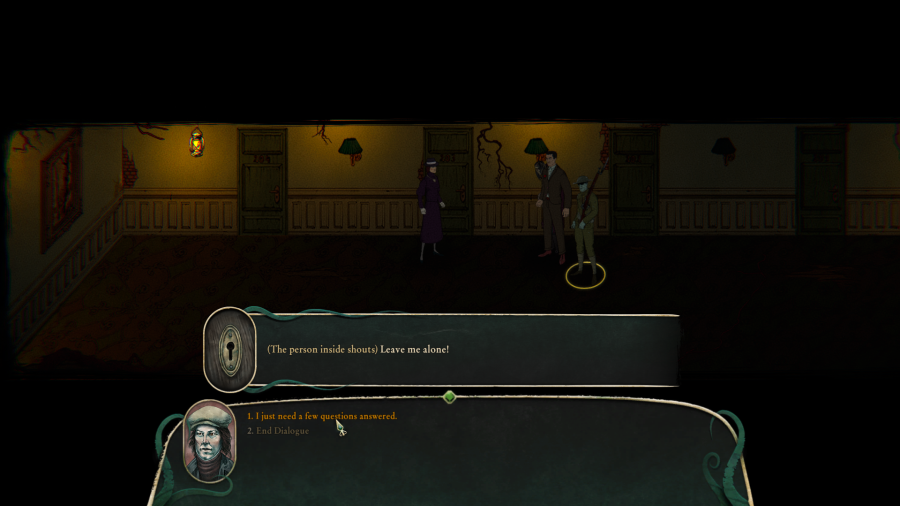 : I just need a few questions answered.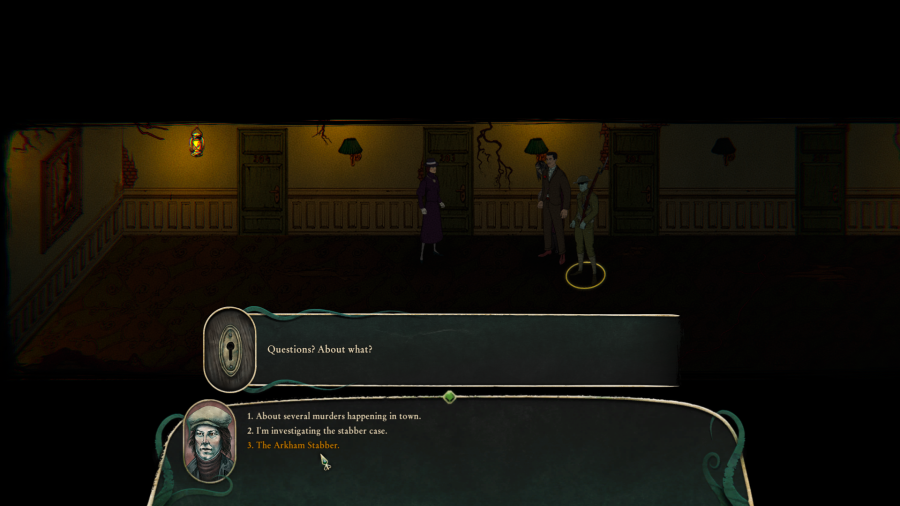 : The Arkham Stabber.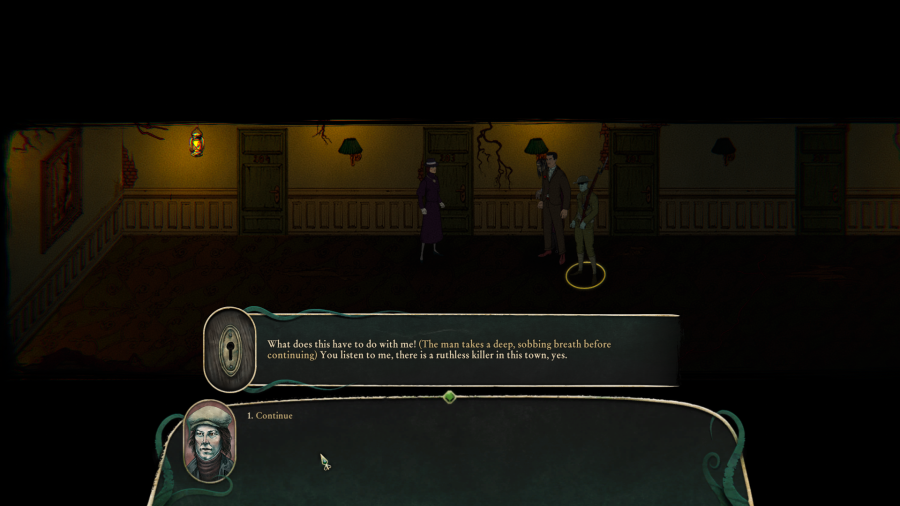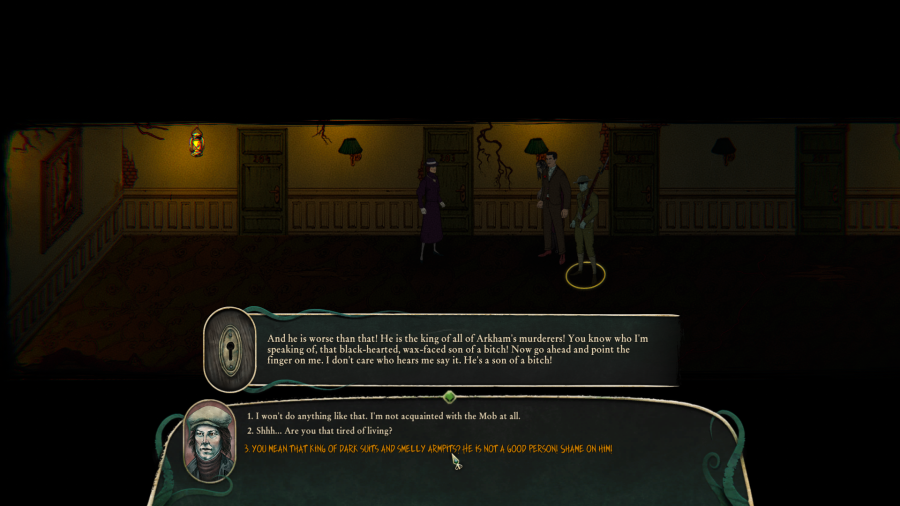 : YOU MEAN THAT KIND OF DARK SUITS AND SMELLY ARMPITS? HE IS NOT A GOOD PERSON! SHAME ON HIM!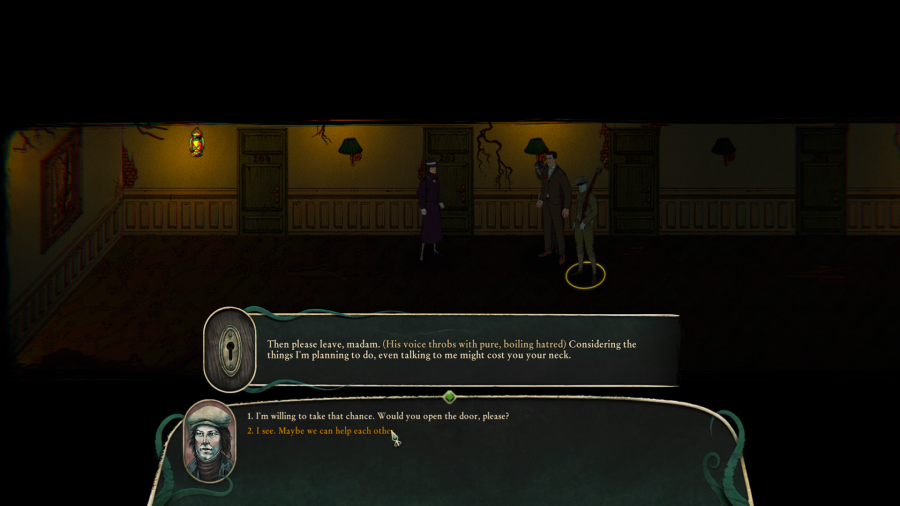 : I see. Maybe we can help each other.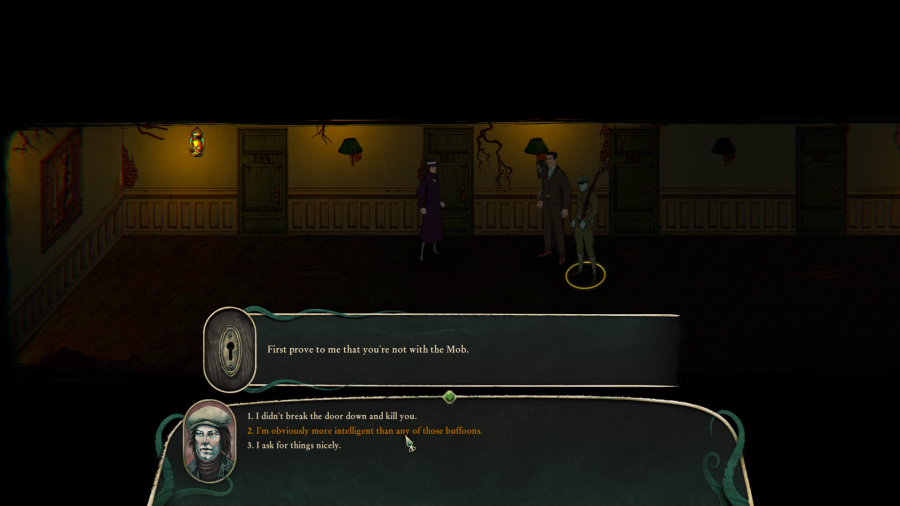 : I'm obviously more intelligent than any of those buffoons.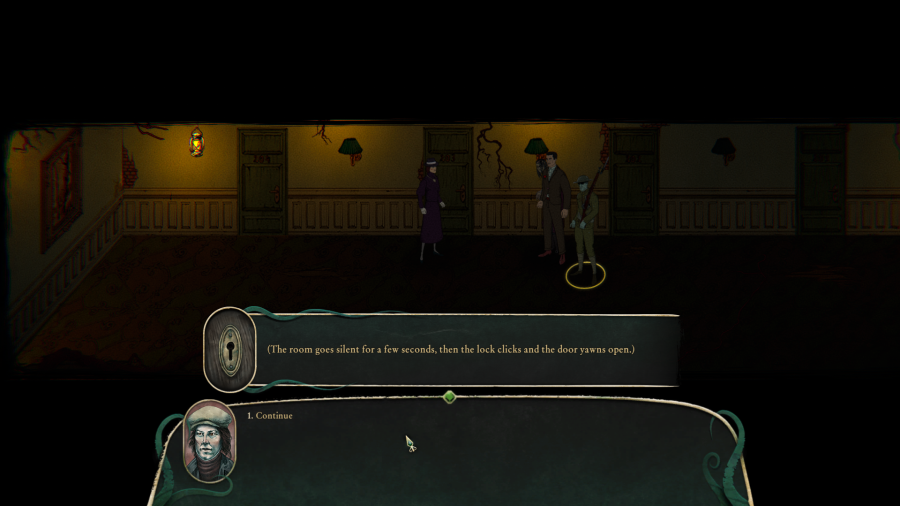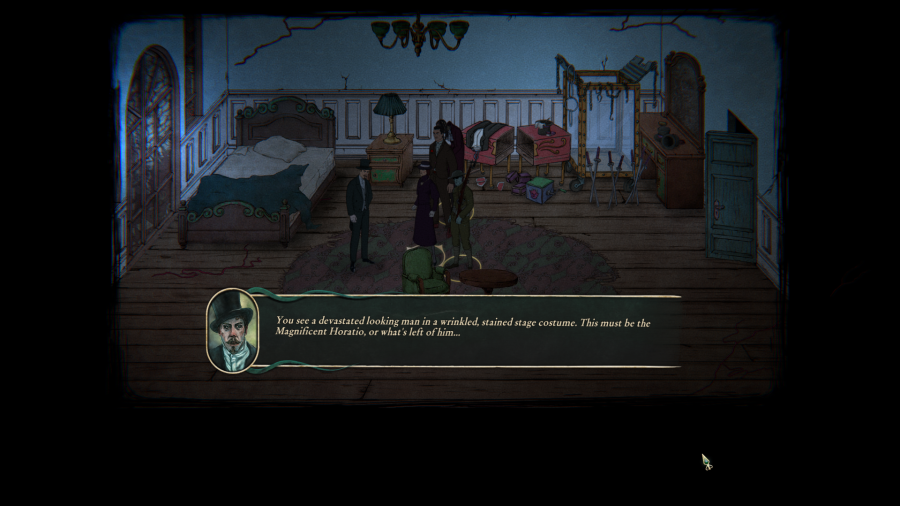 Horatio has a very sad and very unoriginal backstory.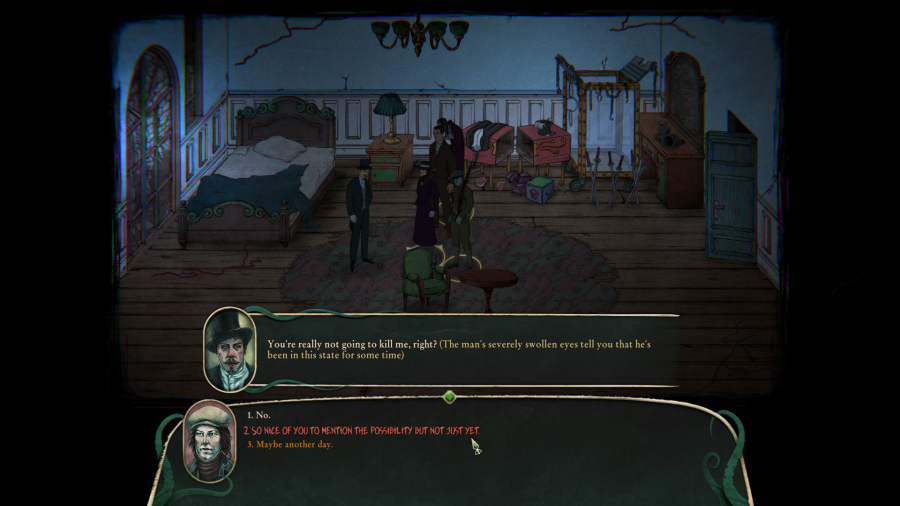 : SO NICE OF YOU TO MENTION THE POSSIBILITY BUT NOT YET
And suddenly, Bertha's mental illness goes from "memetic Tourette's" to "psychotic".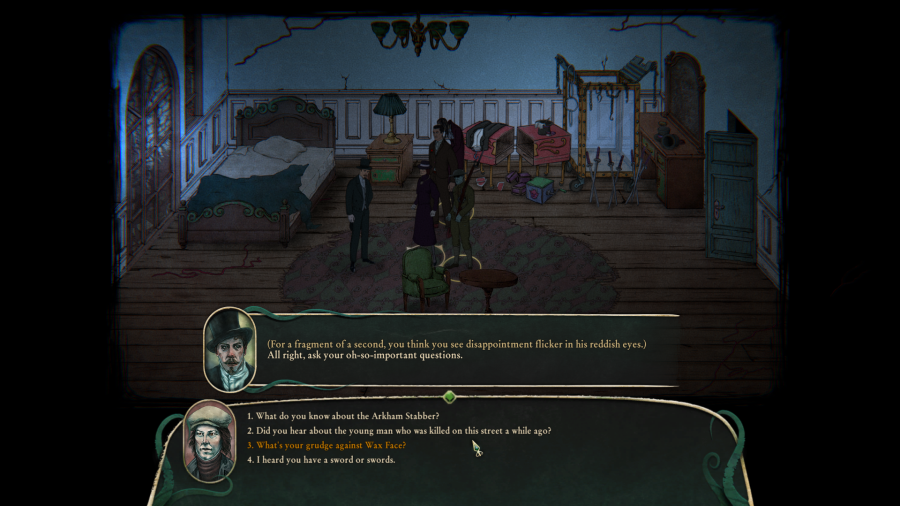 : What do you know about the Arkham Stabber?

: I've heard that some folks were being stabbed. I've barely left this gloomy chamber for a long time... weeks. Or is it moths? Even the time is damned in this place!


: (He wipes his eyes with the sleeve of his tuxedo and continues) Dusk was always the most melancholic time of day for me. (He laughs bitterly) Now I am trapped forever in the moment of eternal dusk.
Ugh fuck off with your melodramatic bullshit.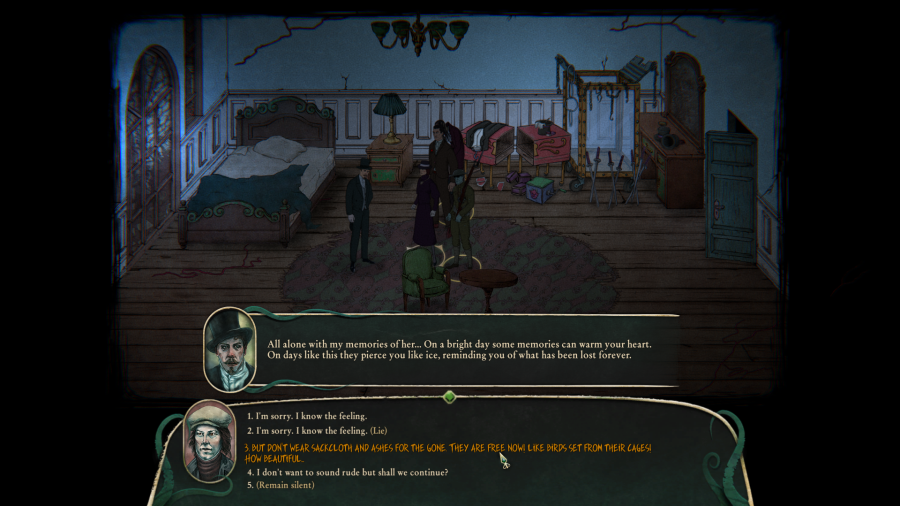 : BUT DON'T WEAR SACKCLOTH AND ASHES FOR THE GONE. THEY ARE FREE NOW! LIKE BIRDS SET FROM THEIR CASES! HOW BEAUTIFUL...
I too want to be set free of this game.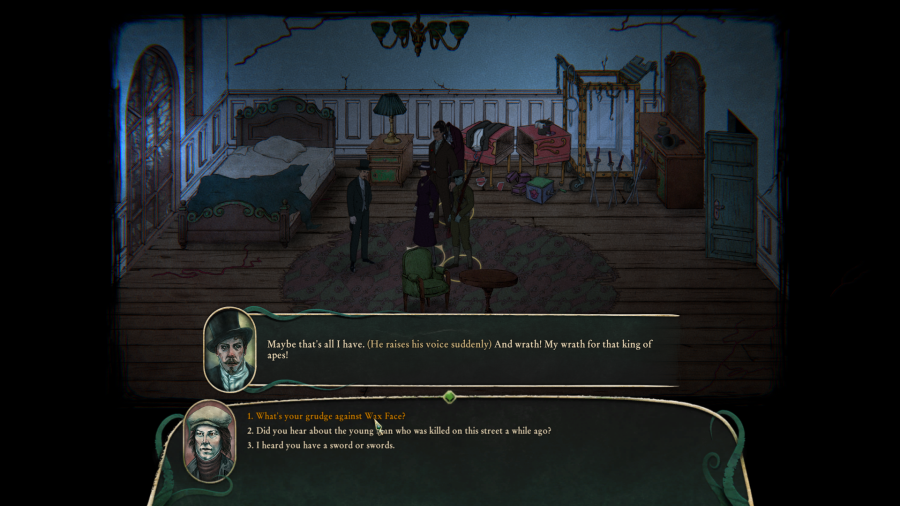 : What's your grudge against Wax Face?

: (His eyes focus on the memory of his sworn enemy and he answers slowly, making every word count) He took what is dearest from me and I plan to do exactly the same.
First, he's obviously not making every word could with "exactly" and second, the dialogue can speak for itself. Then again, the game introduces every NPC with "shit their portrait could portray", so...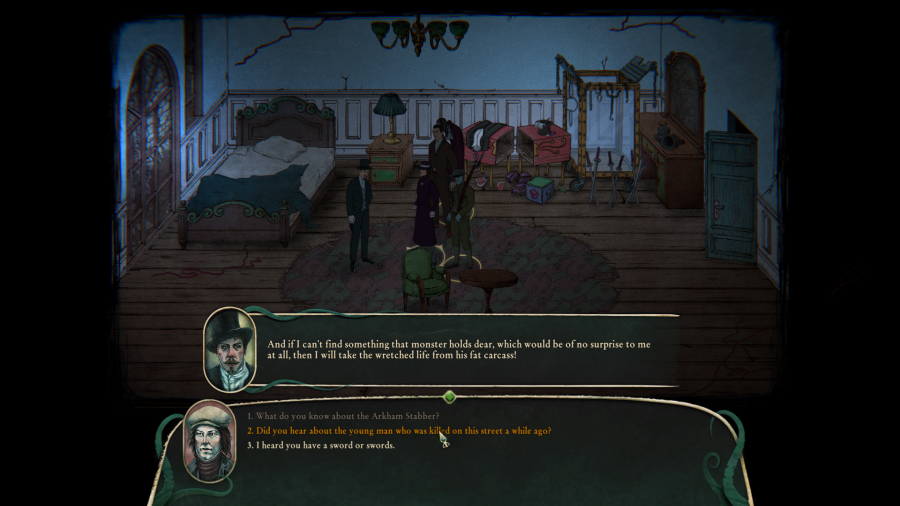 : Did you hear about the young man who was killed on this street a while ago?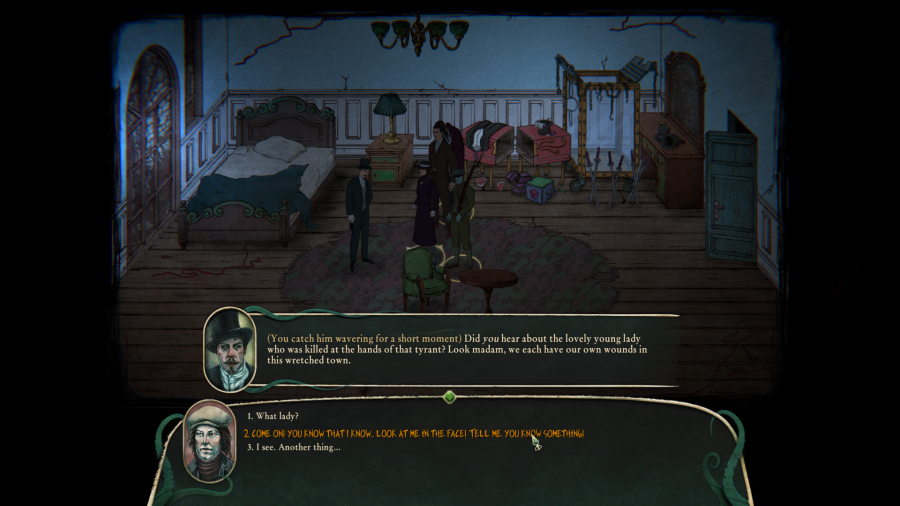 Yes Horatio, Wax Face stuffed your girlfriend in the refrigerator, it's very tragic.

: COME ON YOU KNOW THAT I KNOW LOOK AT ME IN THE FACE! TELL ME YOU KNOW SOMETHING!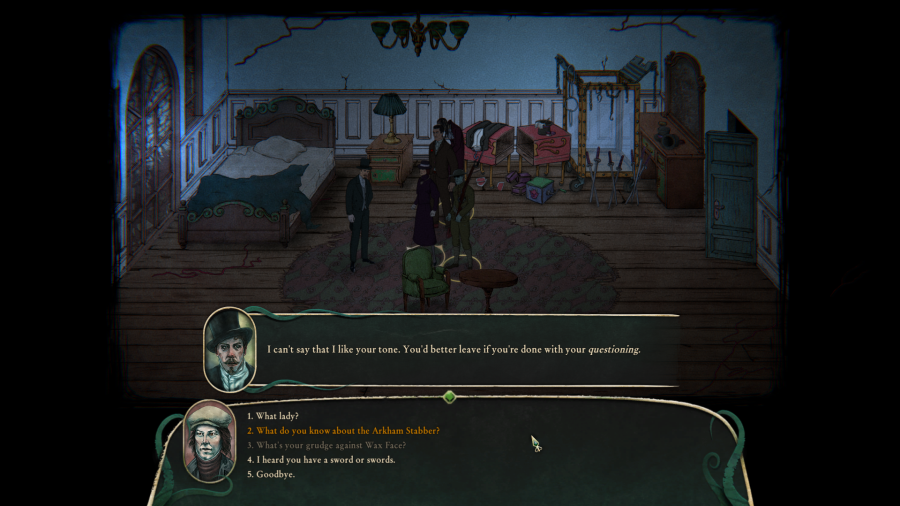 : What lady?

: (His tired eyes being to water as if about to continue their routine of constant weeping) She was my assistant... Not just my assistant. Violet was everything I had.

: What happened to her?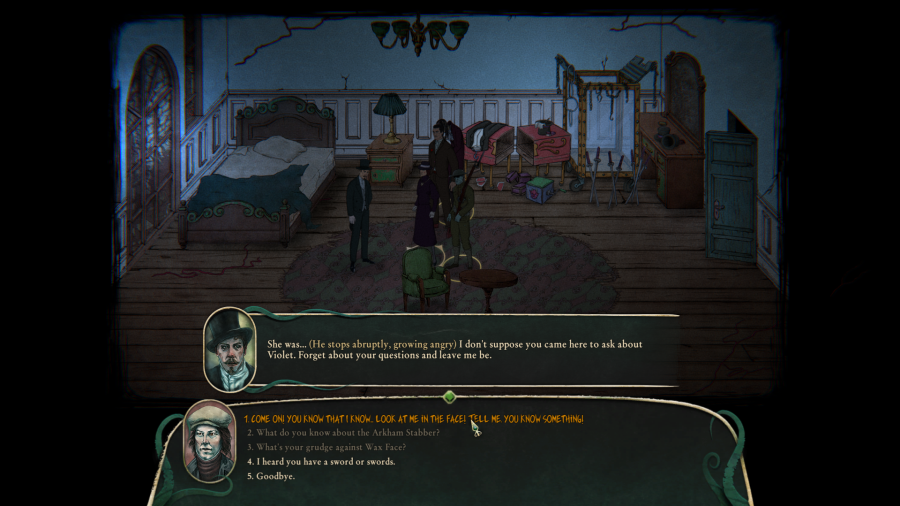 : I heard you have a sword or swords.

: So what? Do you think my stage swords are like the meat cleavers the Mob uses to behead people? I'm a magician for God's sake! (He casts his eyes down) I mean, I used to be one. One of the best.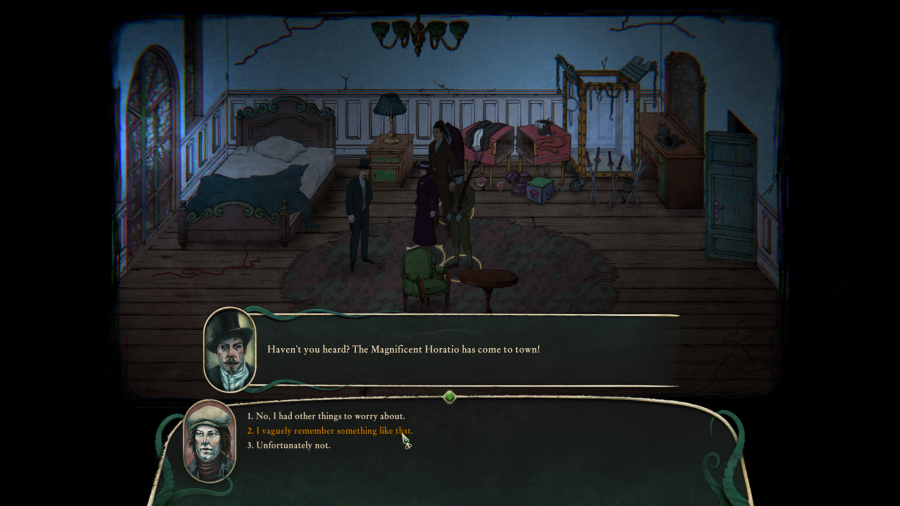 : I vaguely remember something like that.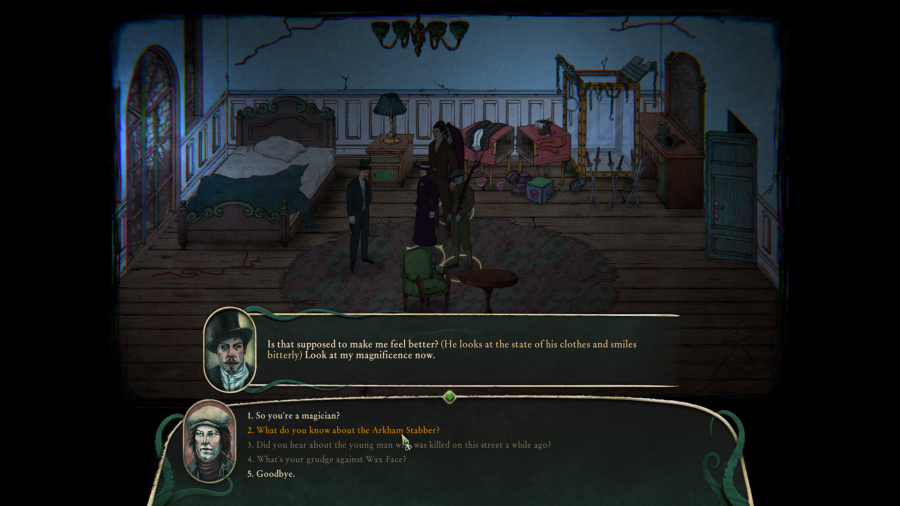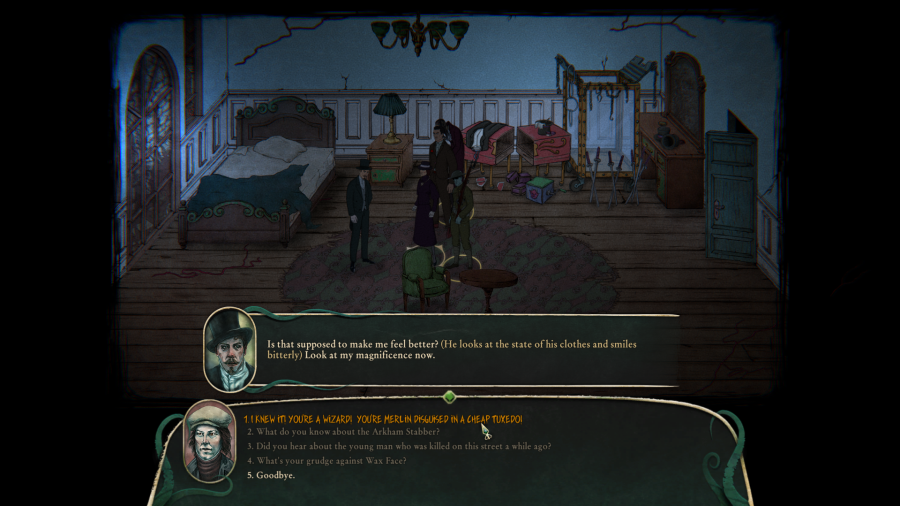 : I KNEW IT! YOU'RE A WIZARD! YOU'RE MERLIN DISGUISED IN A CHEAP TUXEDO!

: Hey, this is not cheap! And I'm no hedge wizard like those mad Sheiks of the Cult. I don't have any control over poor folks' minds or anything like that.
Did - did Horatio just respond to the insanity dialog? That's one miracle. If he performs another we better write to Pope Francis.

: But if you learn the art of manipulating the audience's expectations, combined with special optical effects, you can put on a real spectacle. Something that people will remember for their entire lives.

: (For the first time, you catch a glimpse of life in this pained man) A pure moment of sharing the same space with the impossible, the unexplainable, that's magic!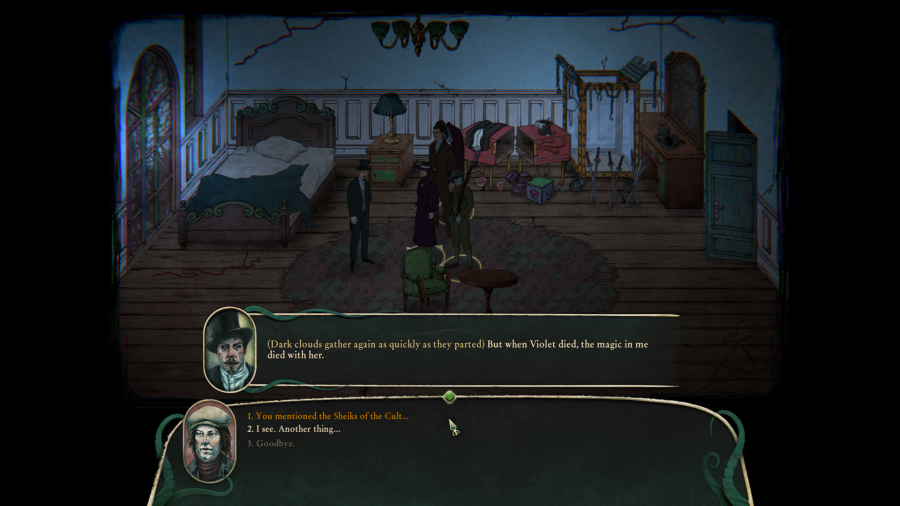 : You mentioned the Sheiks of the Cult.
I am fairly positive the Shieks are because Abdul Alhazred, a made up alter ego of HP Lovecraft as a kid, wrote the Necronomicon which surprisingly has yet to make an appearance.

: Look, I use the principles of nature in my craft. I'm not a scientist but I'm well read: optics, physics, engineering. Every spectacle is grounded in delicate calculation.

: But those mad priests are a different breed. They're almost like... (He struggles to find the right words) They suck the
faith
out of their worshippers and turn it into a disease.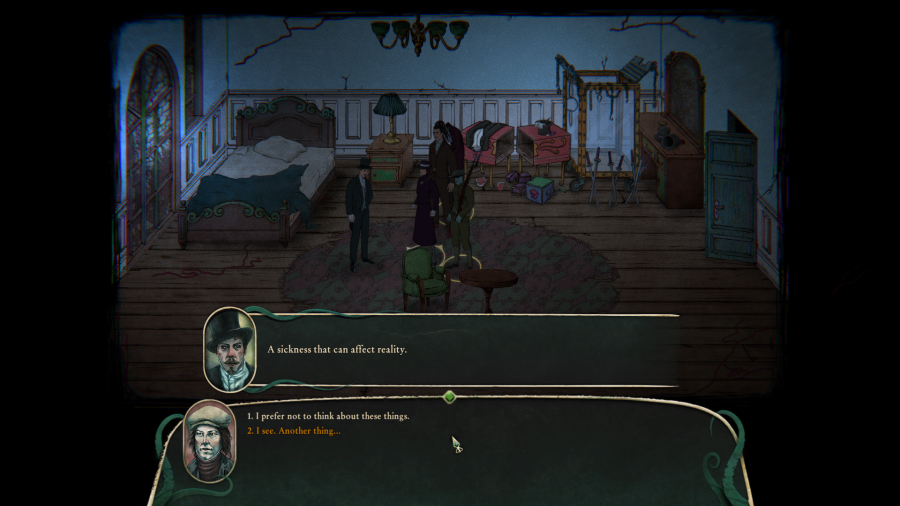 We are stuck in this dialogue tree - to proceed, we need to inspect the window.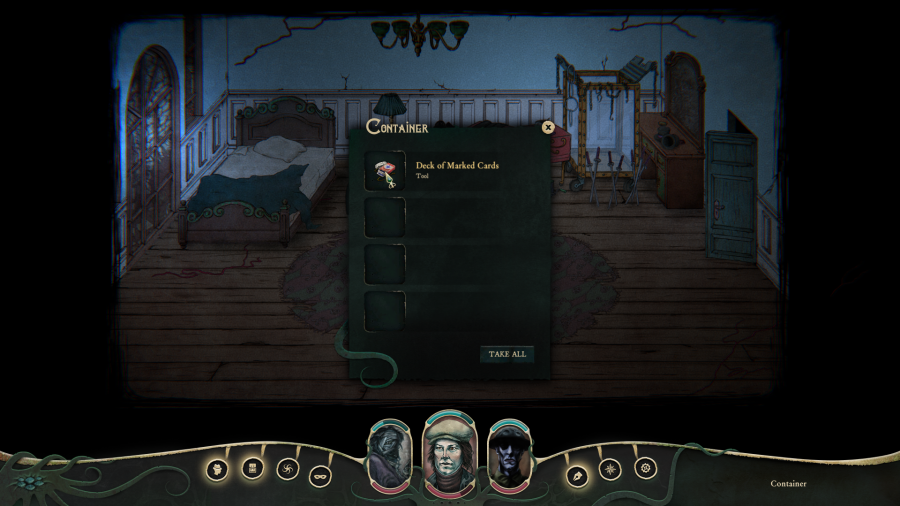 Also, we can steal these, which let us get more Cigs from gambling. No, you can't steal a sword and use it for melee, what are you, an idiot?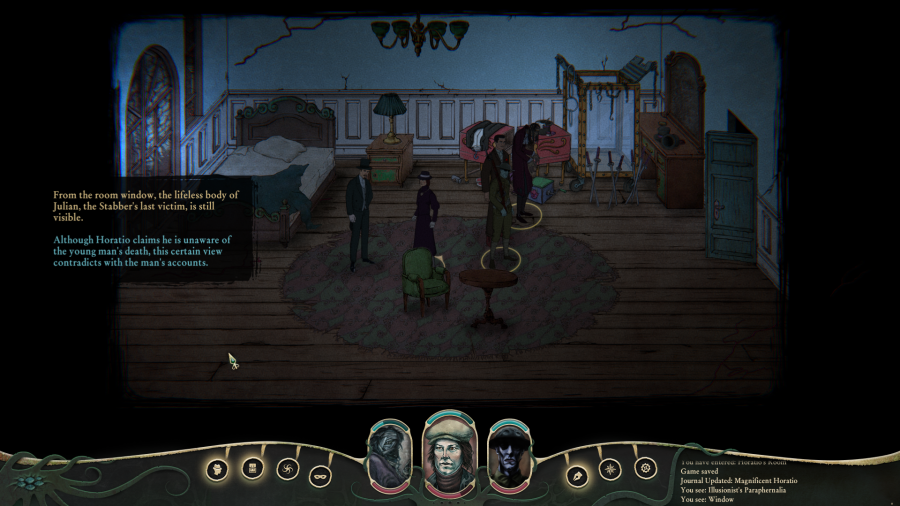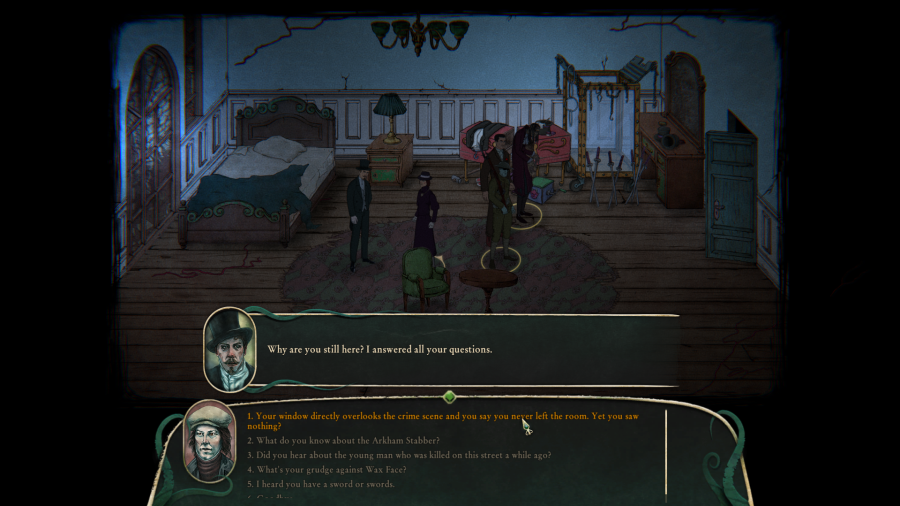 : Your window directly overlooks the crime scene and you say you never left the room. Yet you saw nothing?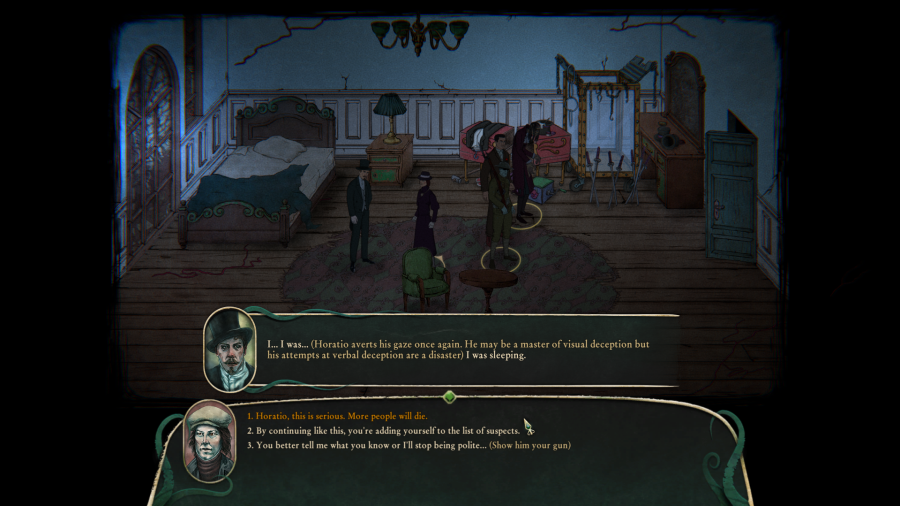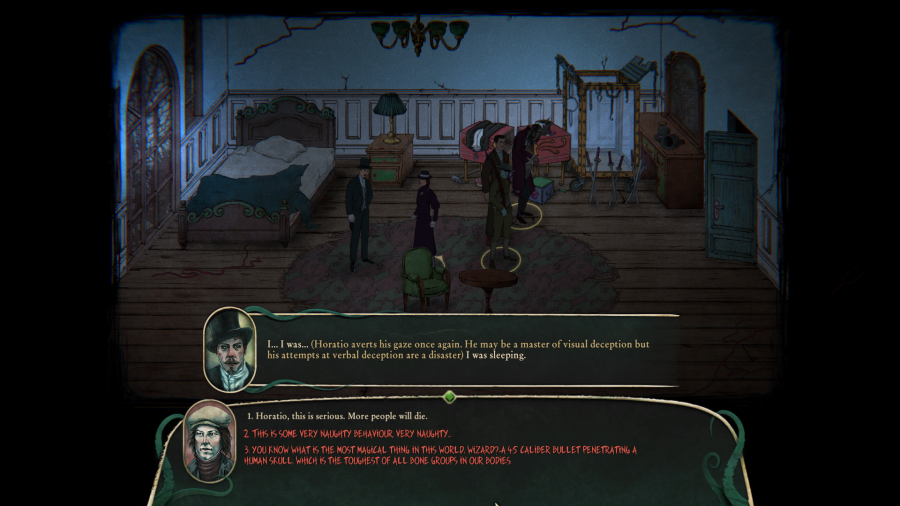 : THIS IS SOME VERY NAUGHTY BEHAVIOR. VERY NAUGHTY.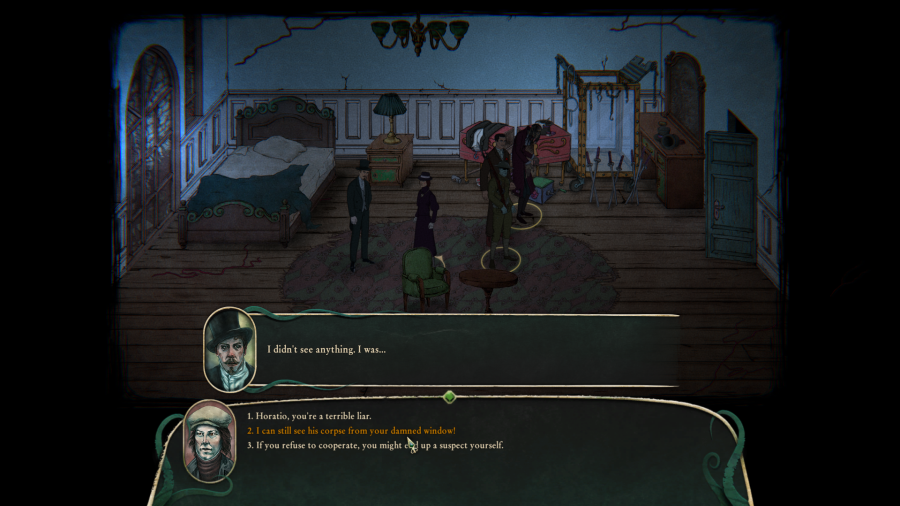 : I can still see his corpse from your damned window!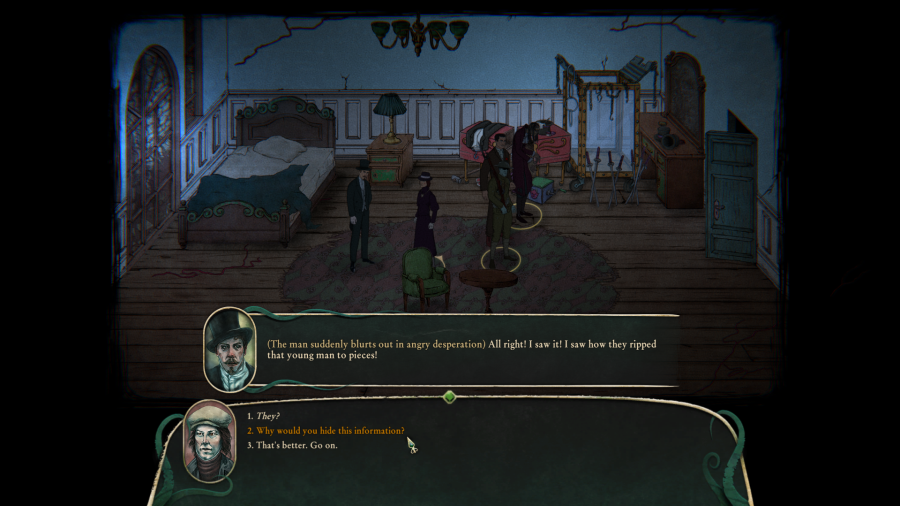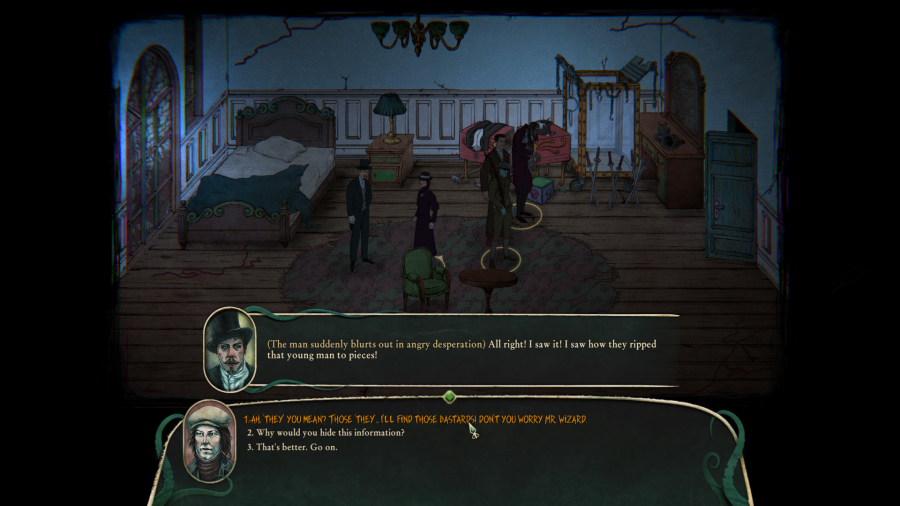 : AH, 'THEY' YOU MEAN? THOSE 'THEY'. I'LL FIND THOSE BASTARDS! DON'T YOU WORRY MR WIZARD

: A swarm of shadows with black stingers that feed on the flesh of men! (Along with fear there is a touch of admiration in the man's eyes)
Horatio's description here is completely fucking wrong

: Why would you hide this information?

: (The pained man shouts at you in tears) Because they were strong and merciless! And they knew how to kill. They're as ruthless as that monster, Wax Face!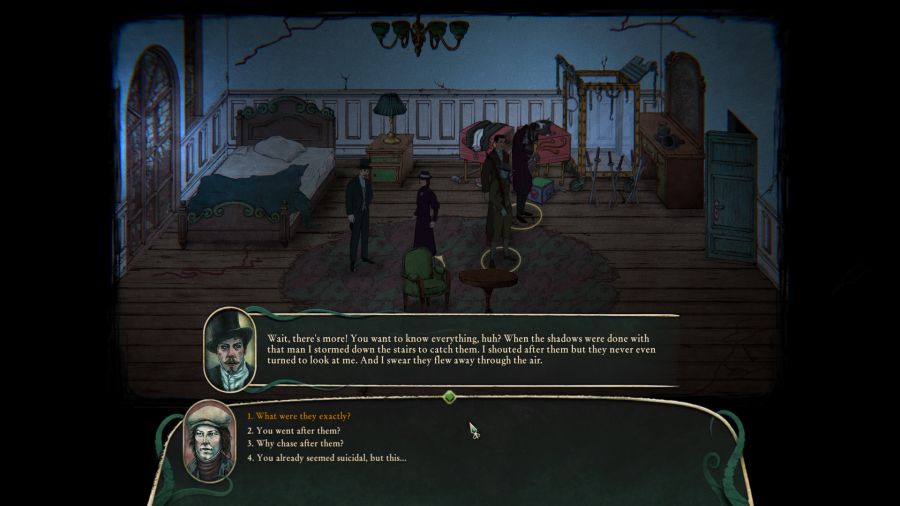 : What were they exactly?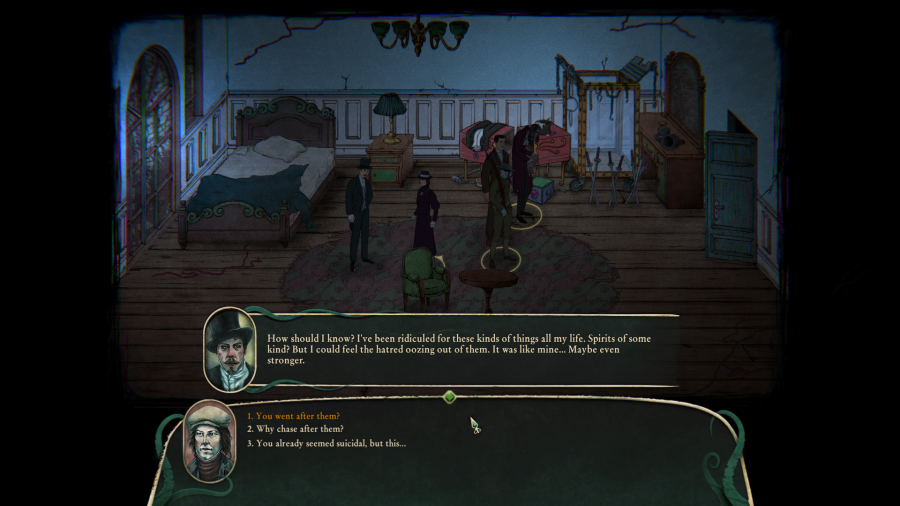 You literally just told us you didn't know shit about magic. Are we gonna ask about this? (No). I go back to my previous theory: the shadows also killed all of Cultic Games' editors.

: You already seemed suicidal, but this...

: Only because I wanted them to kill Wax Face. I would give anything to make him suffer like I did. (He is clearly on the verge of a nervous breakdown) My life, my soul, anything!

: Did you see where the shadows went?

: I might have. (He looks at you with a fresh expression) I just might. You asked me for the truth and I told it. You took a chance on my retribution so some kind of repayment is only fair.
Buddy, you're an emo nerd and Bertha can turn people to stone. How do you think your "retribution" would have ended?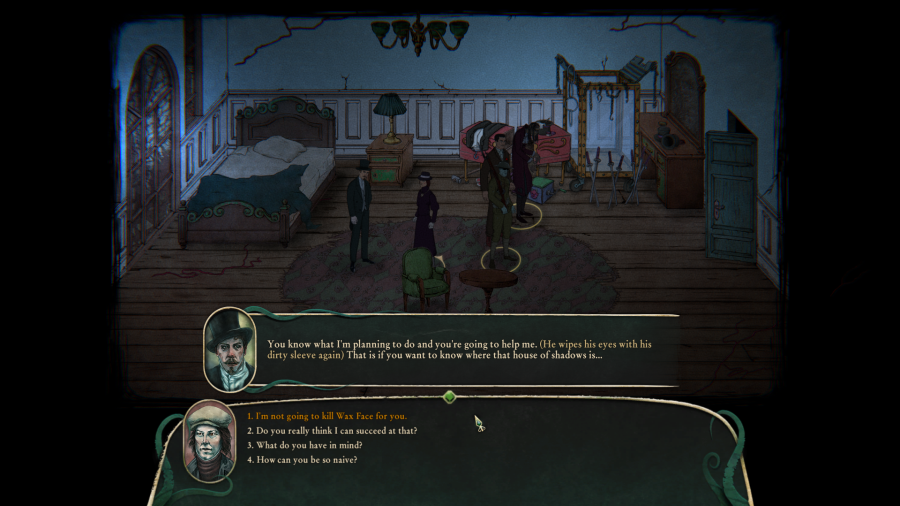 The funny thing is that with the amount of supernatural firepower we have we could absolutely go kill Wax Face. Heck, maybe we could go ask that ghost on the 5th floor to help us out. Of course, this is about enduring and not winning so rest assured, we are not allowed to do anything nearly as interesting as assaulting a Mafia crime fortress.

: Do you really think I can succeed at that?
Yes.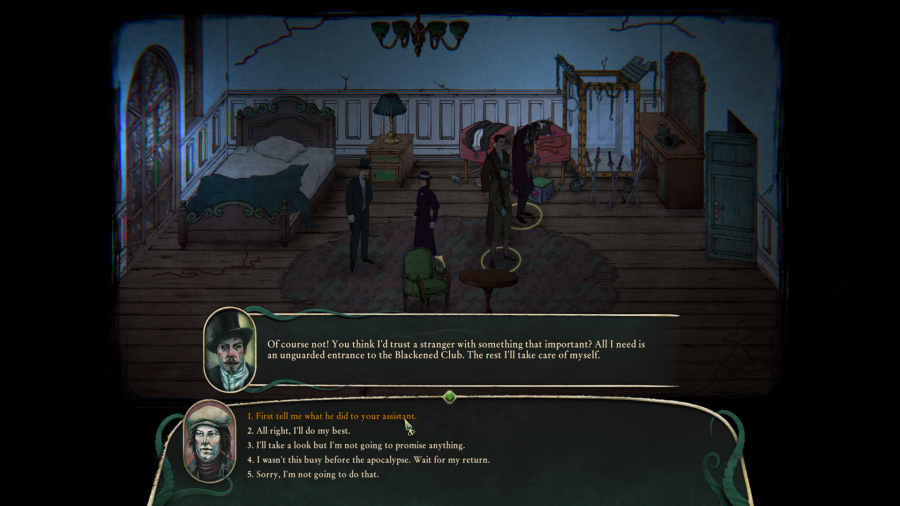 : First tell me what he did to your assistant.

: You're the persistent type, aren't you? I used to be the same before all these... (He recollects the tormenting events of his recent past) Violet. She never wanted that show. Not one bit.
Ugggh

: A private show for the Unseen Imperatore himself. Who would want that? But I told her it would be good for us. He was the only authority in this chaos, after all. I thought if he liked the show he would protect us.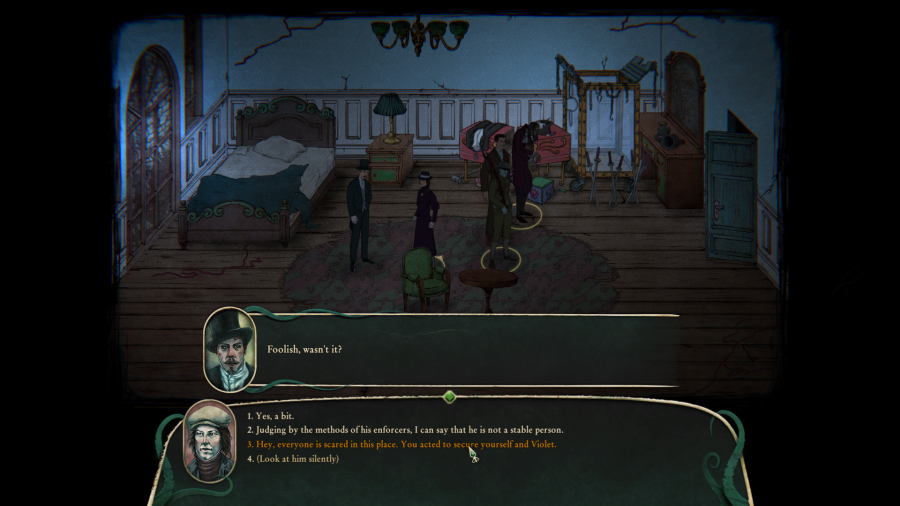 : Hey, everyone is scared in this place. You acted to secure yourself and Violet.

: No. I acted like a moron. I persuaded her. So we found ourselves there in the end. Straight into the casino lounge. Spent hours preparing the stage. I wanted that show to be perfect. I wanted to make an impression.

: When we were finally ready, and nervous as hell, he came. Surrounded by his made men, who were like flies buzzing around rotten meat. We weren't allowed to look at him directly, but I could see his huge silhouette out of the corner of my eye.

: We started the performance and the first few tricks went well. I couldn't see the man's face and the made men seemed uninterested, but I can tell when there's a spark in the eyes of the audience.

: Then the time came for the blade box act. You've heard of the trick, right? The lady gets inside a prop coffin and the magician stabs it through with swords.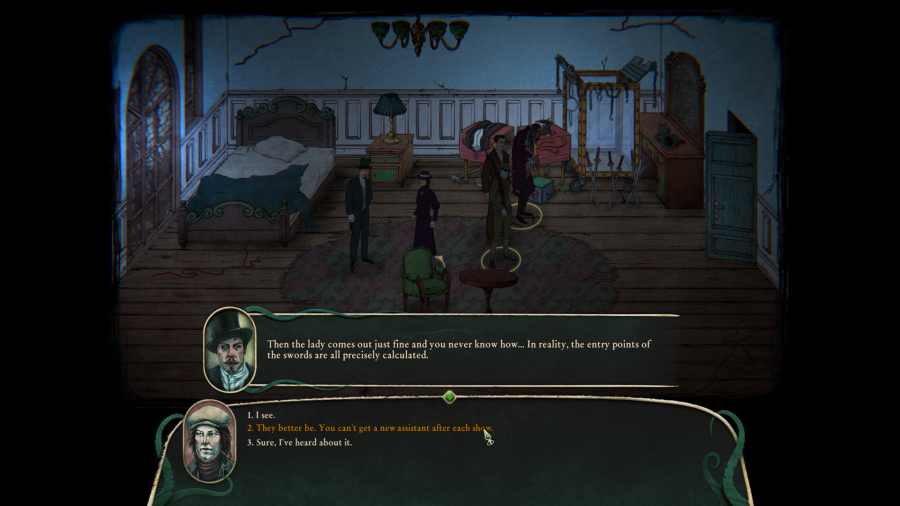 : They better be. You can't get a new assistant after each show.

: (He's growing more and more agitated with every passing second) We were in the middle of the act and Violet was inside the box. When I was about to insert the third sword, I noted something moving from the corner of my eye.

: Wax Face had actually stood up and was moving toward me. I could hear his heavy footsteps even turning my head. I was trembling when he finally asked me if he could give it a try.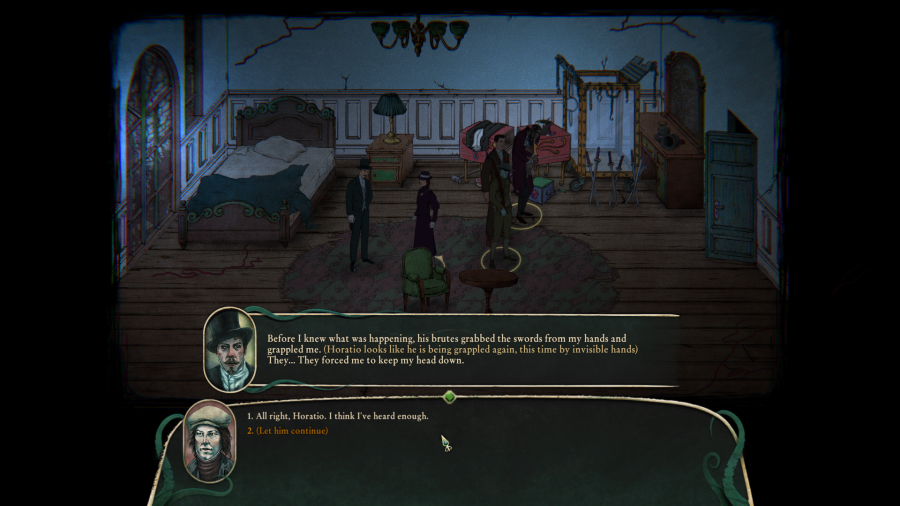 : (Let him continue)
You all suffer with me.

: He... he started stabbing the box... (He speaks as if he's suffocating) Shattering the wood savagely. Then I heard Violet scream! Blood was seeping out of the box... (Full of agony, he shouts) That box became her real coffin!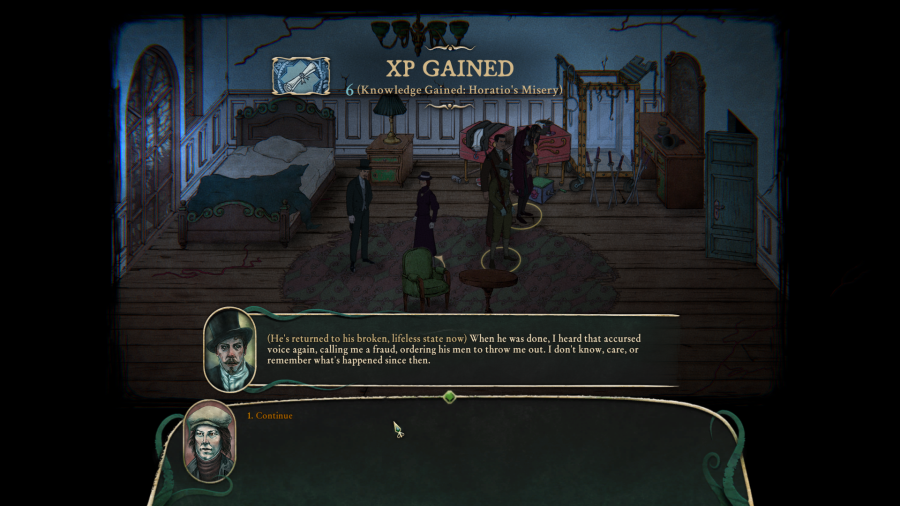 I think we are to believe that Wax Face thought Horatio was a real sorcerer and got pissed that he's not. You might think that as a real sorcerer with actual powers we could join the Mob and be rewarded. You would be wrong.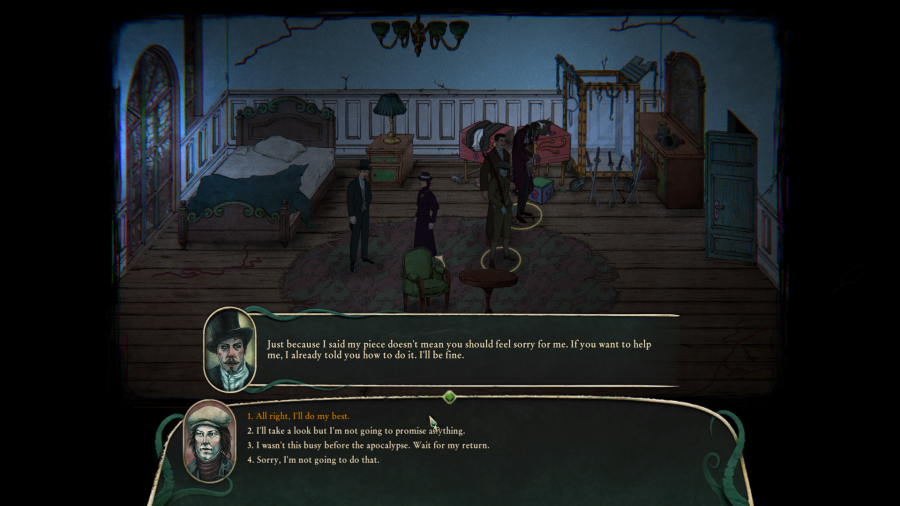 : All right, I'll do my best.

: Good. The monster's lair is called the Blackened Club. It stands in French Hill. Just find a way in and return to me. (He seems lost again in his crimson plans of vengeance).
Uuuugh.
TheGreatEvilKing heavily abridges this shit posted:

: Waaaaaah!

: Can I come in? Asking about the Arkham Stabber.

: No one cares about that! You know who sucks? Wax Face! Ask about the lovely young woman he murdered! Waaa!

: Do you know anything about the murders?

: NO BUT DEAD WOMAN!!!

: Who was this lady?

: My assistant, Violet...she was really hot and I loved her, but Wax Face killed her! BAWWWWW!

: ARE U A WIZARD WOOOOP????

: Nah, I just do stage magic, but like, I was really good at it!

: Ok, asshole, I can see out your window and the corpse is literally out there. You saw nothing?

: Uh, you got me! The guy was stabbed by an army of shadows, and I chased them because I thought "maybe an army of evil shadows will kill Wax Face if I ask nicely". Don't look at me like that, Violet was the brains of this operation! But, uh, I have an idea! I'll tell you where the shadows went if you find a way into Wax Face's crime fortress!

: What makes you think I can get in without the game crashing?

: Uh...magic!

: So what happened to Violet?

: Well, I decided to do a show for Wax Face so he'd protect us. Violet thought it was a bad idea but I convinced her otherwise. Anyway, we got to the blade box trick, you know, where VIolet gets in the box and I stab it with swords. Wax Face decided to stab the box. He said...he said... "Women belong in refrigerators!" Then he killed Violet! It was very sad! He was pissed and said I wasn't a real wizard, but I'm dressed like a stage magician doing card tricks! Now I will destroy him!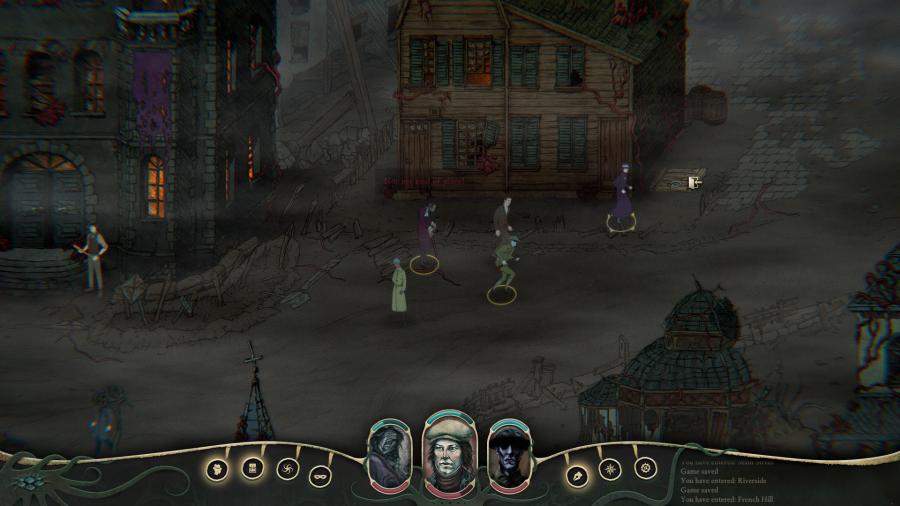 The way you break into the evil crime fortress on the left is through this underground tunnel.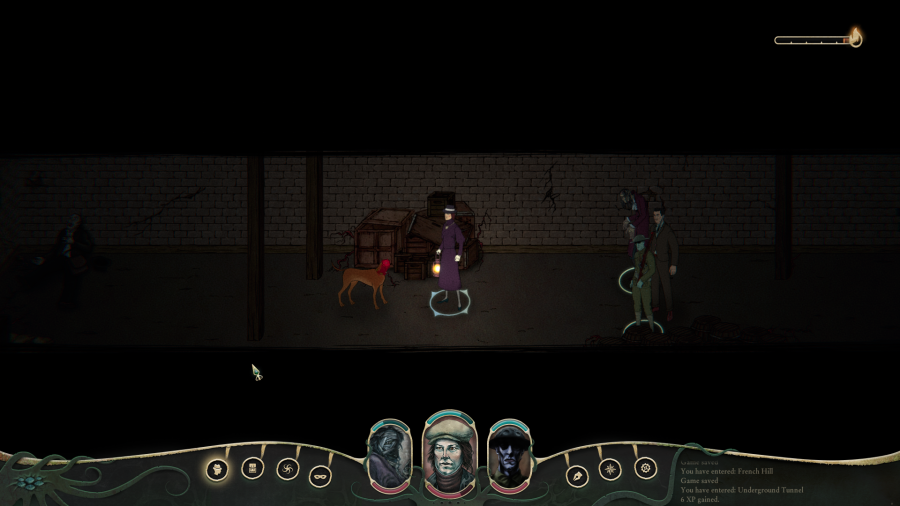 There is a spooky headless dog.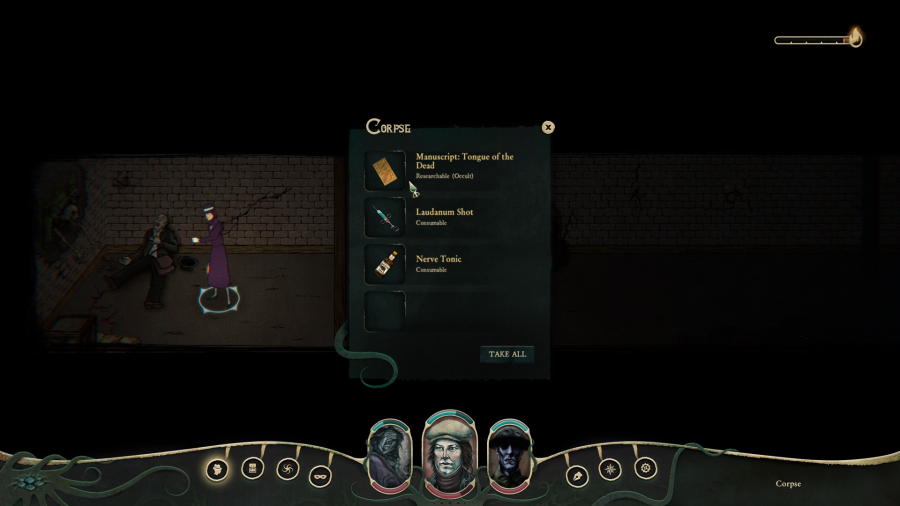 There we go, a free copy of Tongue of the Dead. Also we can smash that crack in the wall and report to Horatio, but if you fuck it up you literally have to fight infinity Mafia men, in that the game keeps spawning waves. You can't do anything interesting, stop trying.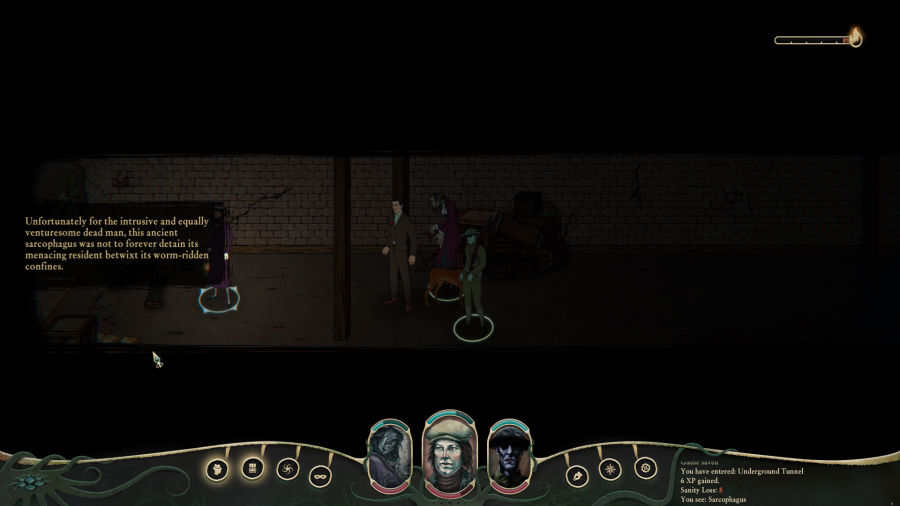 Word vomit for stuff we can see? Whoa!
Anyway we're going to leave Horatio's extortionist emo ass in the lurch and go do this quest a much more idiotic way.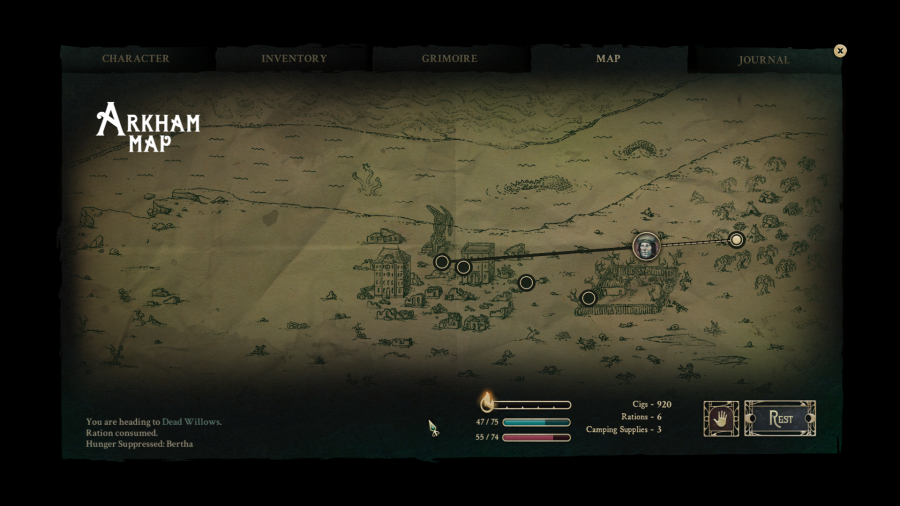 I cut out a SPOOOKY random encounter at a cemetery as we don't have the tools to interact with it meaningfully. I'll show it off later.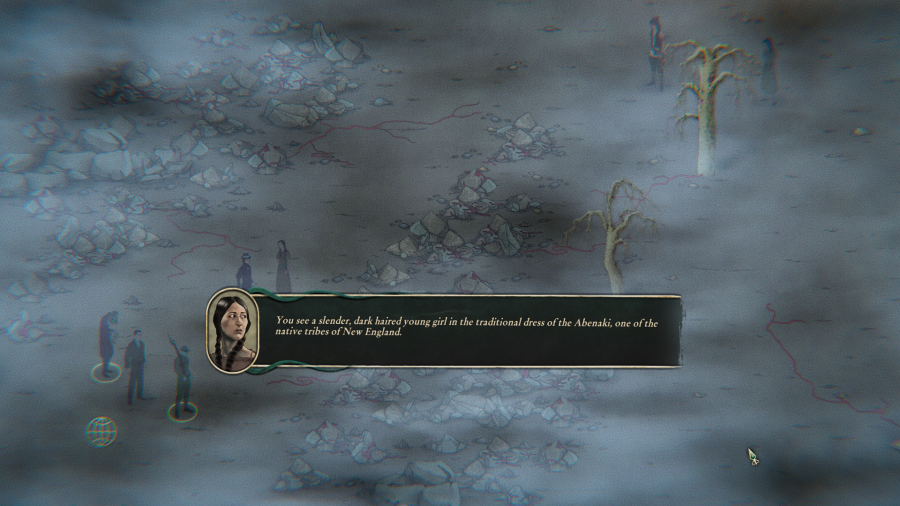 The game is about to address Manifest Destiny for some reason. Lovecraft didn't like Native Americans. This game thinks it needs to address his racism instead of just writing about monsters. Hoo boy!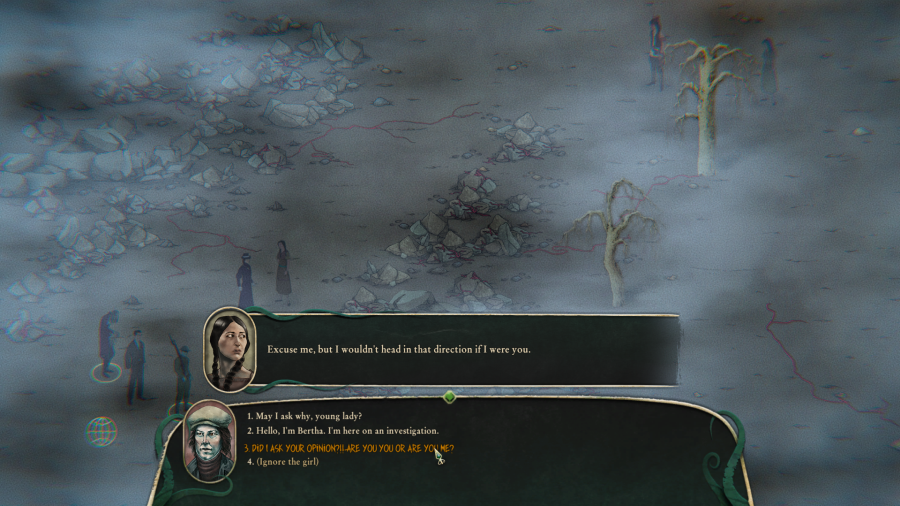 : DID I ASK YOUR OPINION?!! ARE YOU YOU OR ARE YOU ME?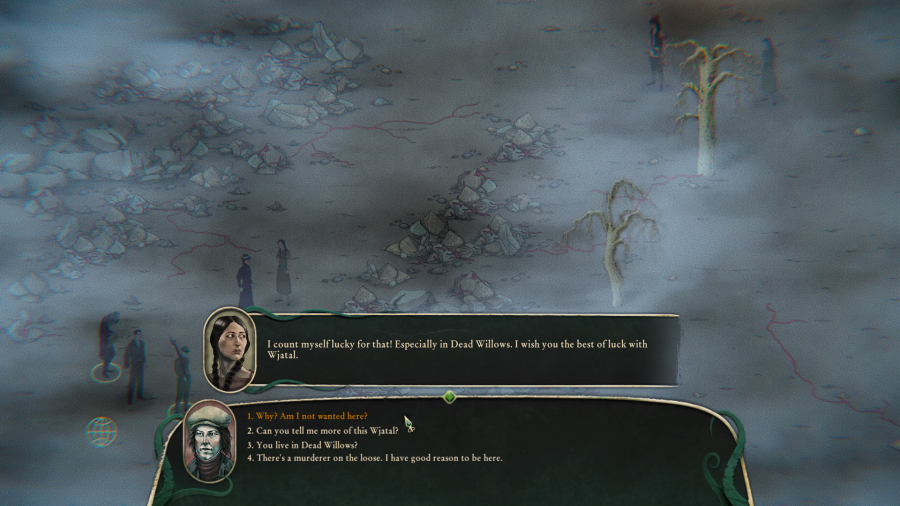 : Why? Am I not wanted here?

: We call your kind the
graveyard people
, pale woman, the ones who chose to live in the city that became your tomb. You're living in a huge graveyard, you see.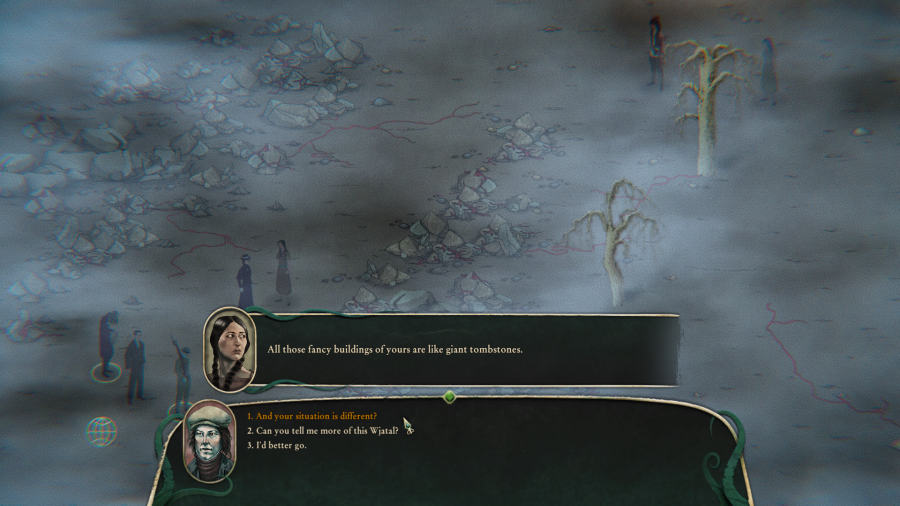 The Indians' hobo tent city is so much cooler, you see.

: And your situation is different?

: We had the courage to leave that tomb you call a city and start a new life out here. We've returned to the old ways, the ways of our ancestors. We have broken the shackles of your world.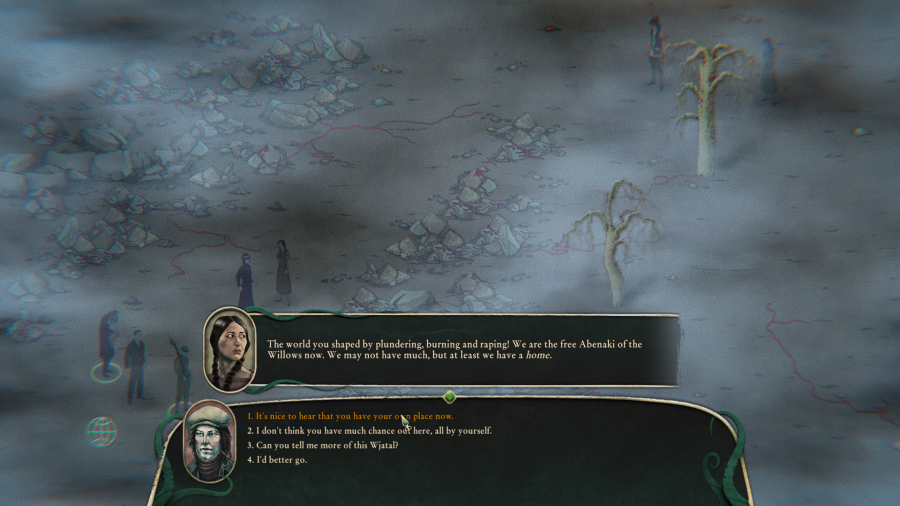 The last time you idiots talked about race we got Coaly Willie. Watch this.

: It's nice to hear that you have your own place, now.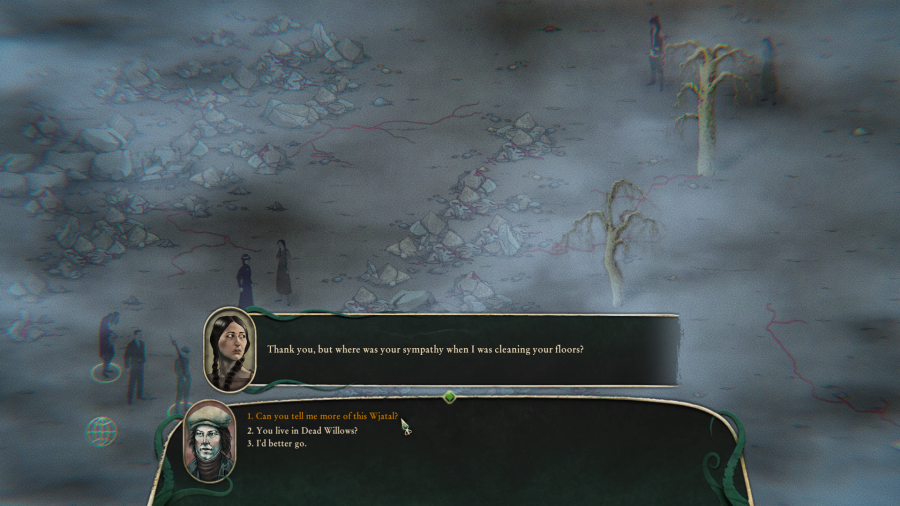 : Can you tell me more of this Wjatal?

: Wjatal is First Chief of the Willows tribe. He became the voice of our ancestors, and showed us we are not condemned to follow your ways. He guided us to this place and taught us the ways of the wild.

: Wjatal washed away the stains of our past and let us see who we really are. The only thing I knew before was scrubbing your filthy floors. Oh, and also shutting my mouth when white men insulted me, if that counts.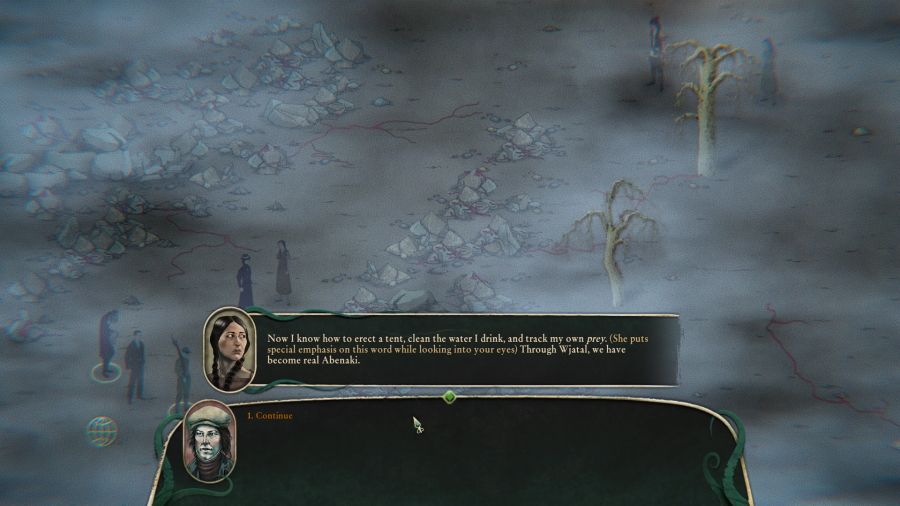 Am I supposed to take away that Stygian's take on Abenaki culture is that they are good guerilla fighters who murder white people real good?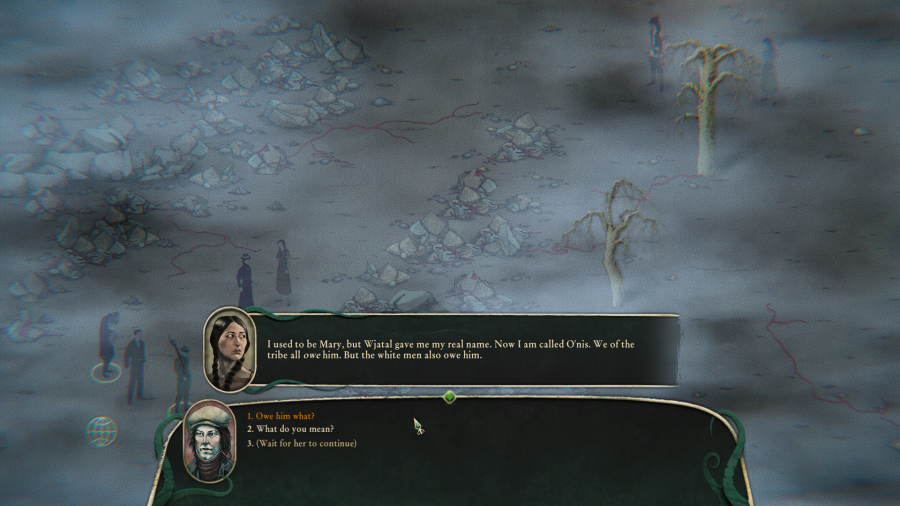 : Owe him what?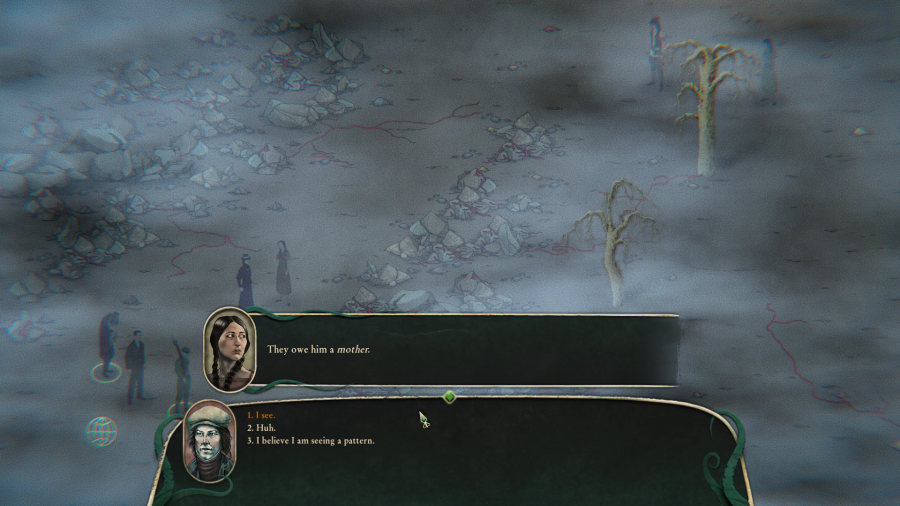 "The white men invented a refrigerator, and they put her in it!"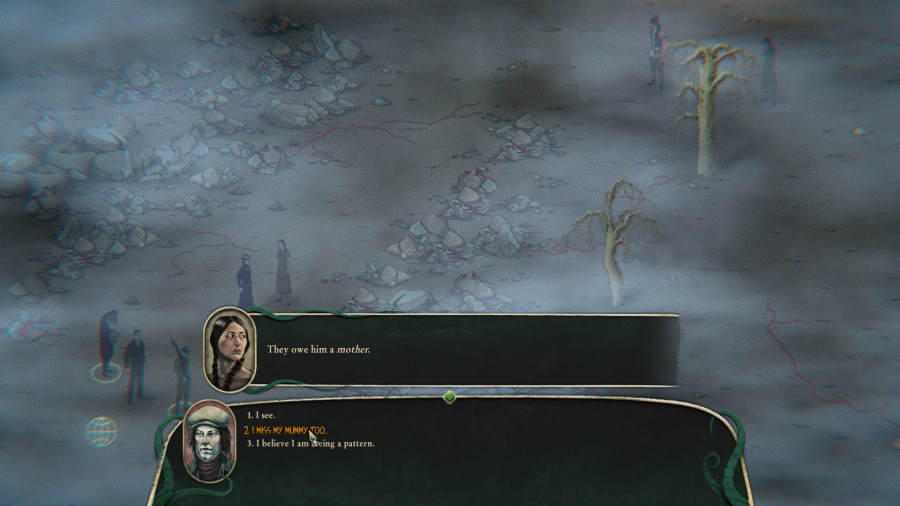 : I MISS MY MOMMY, TOO.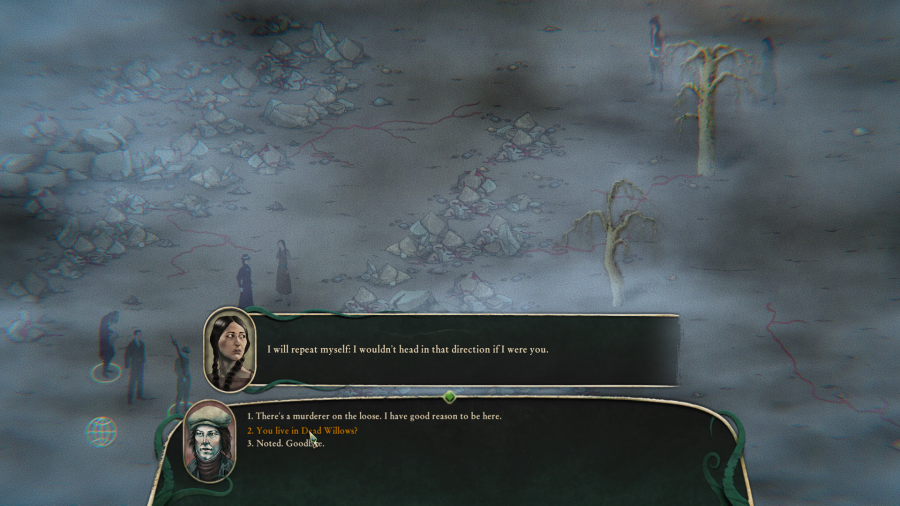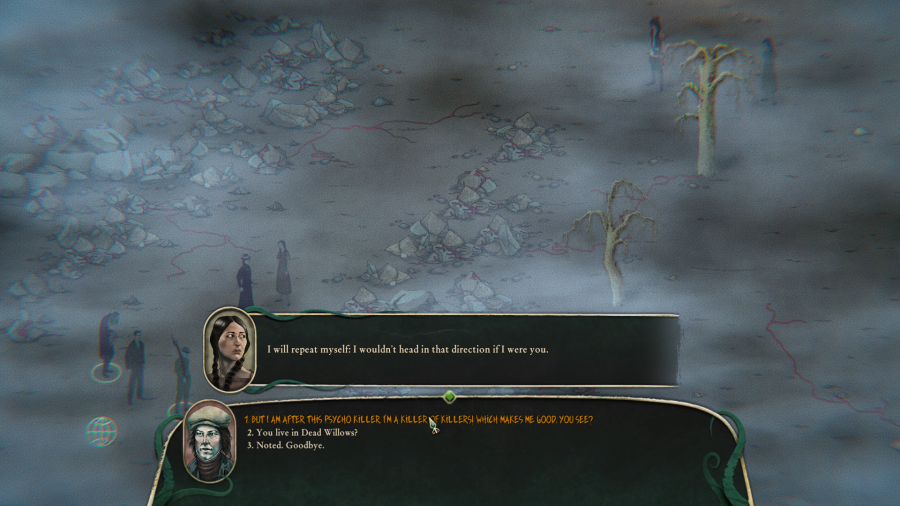 : BUT I AM AFTER THIS PSYCHO KILLER I'M A KILLER OF KILLERS! WHICH MAKES ME GOOD YOU SEE?
This entire dialogue tree just makes me cringe.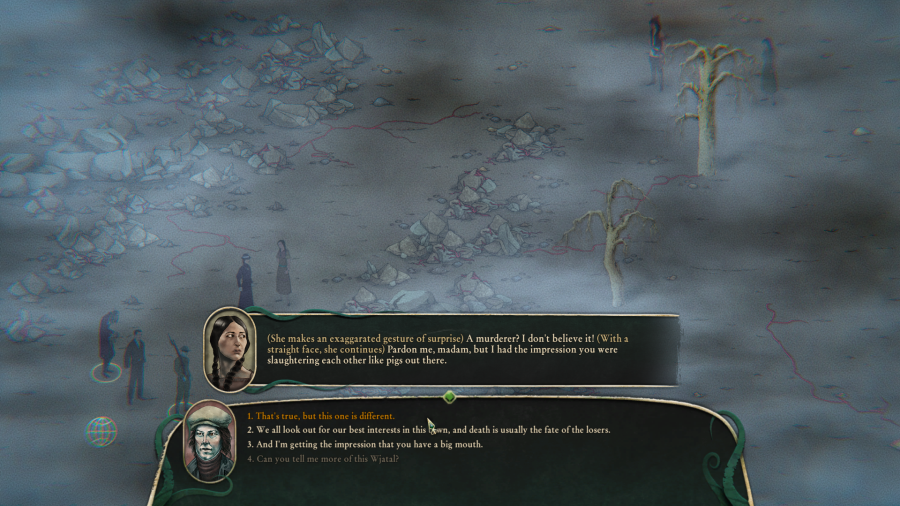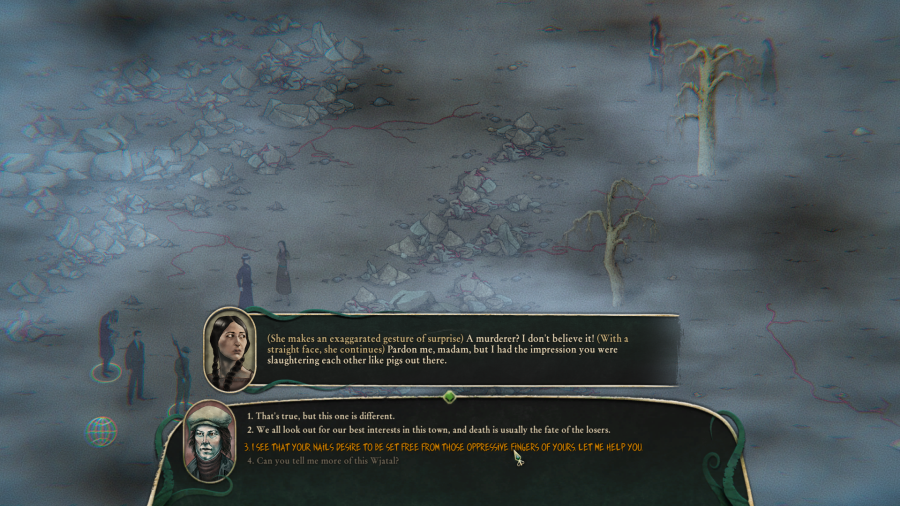 : That's true, but this one is different.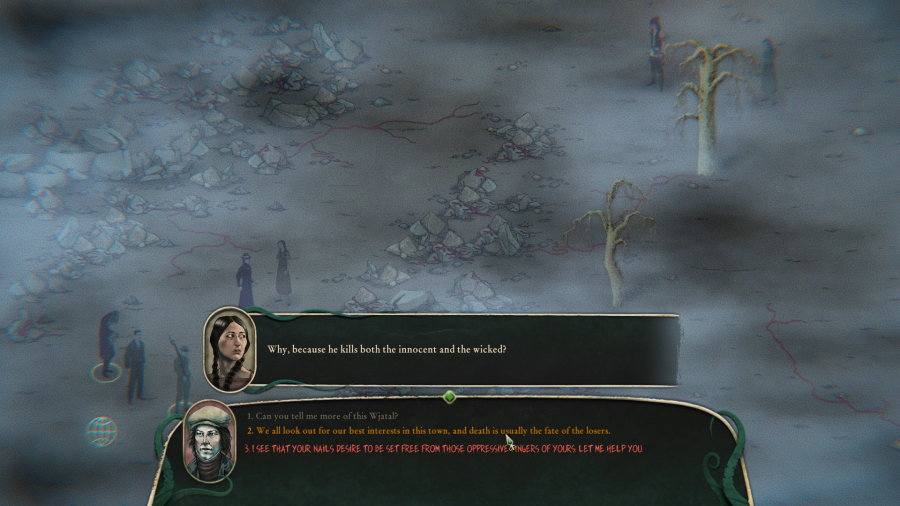 : We all look out for our best interests in this town, and death is usually the fate of the losers.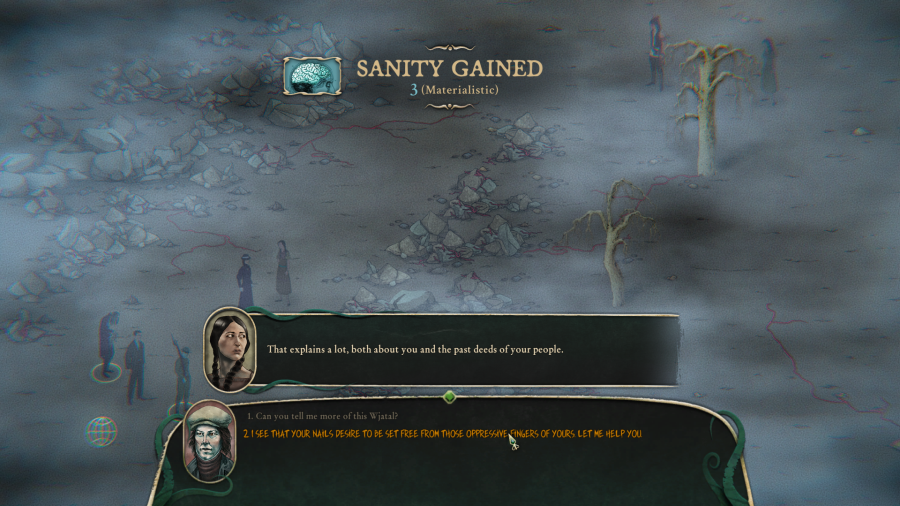 : I SEE THAT YOUR NAILS DESIRE TO BE SET FREE FROM THOSE OPPRESSIVE FINGERS OF YOURS LET ME HELP YOU!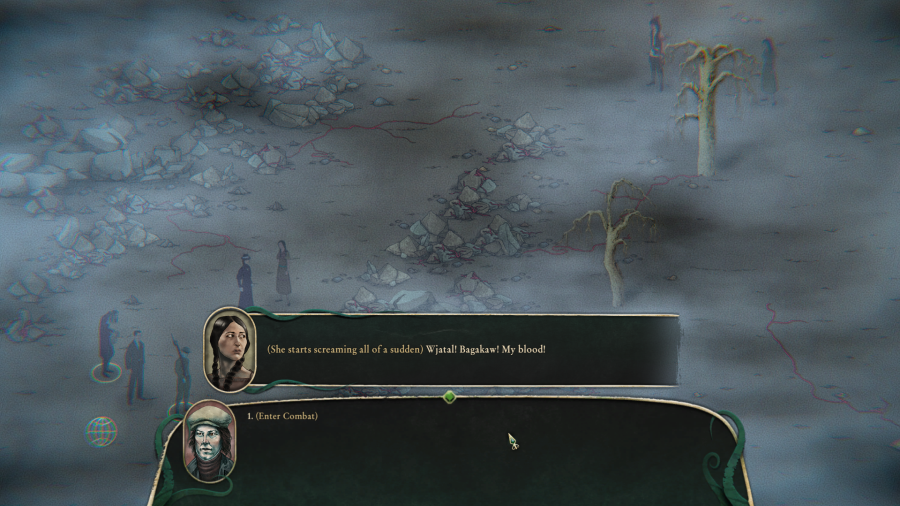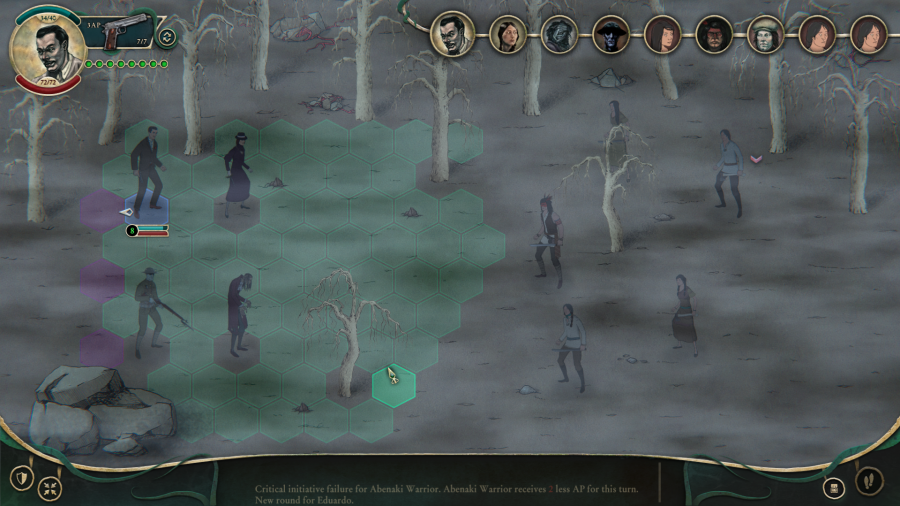 This is not a hard fight. The Native Americans have melee weapons and take sanity damage if you start casting spells, and thus you too can be a white genocider in...a Cthulhu game. Or we can reload, because the peaceful path is
even stupider
. Incidentally, Wjatal has a custom machete that's one of the game's better weapons so if you're doing a melee run you can decide whether or not to be Andrew Jackson.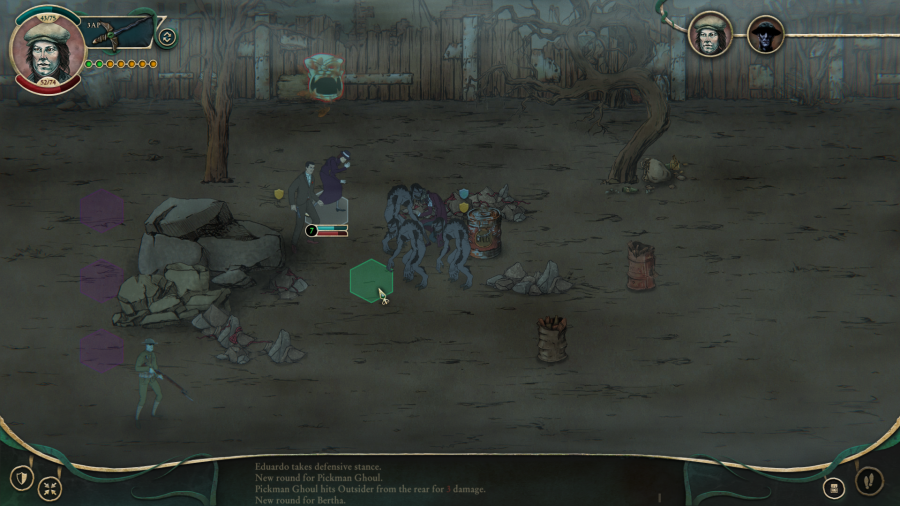 Upon reloading, we get into a pointless random encounter, so here's Children of Pazuzu. Now, if we're nice to O'nis but wander up toward the camp...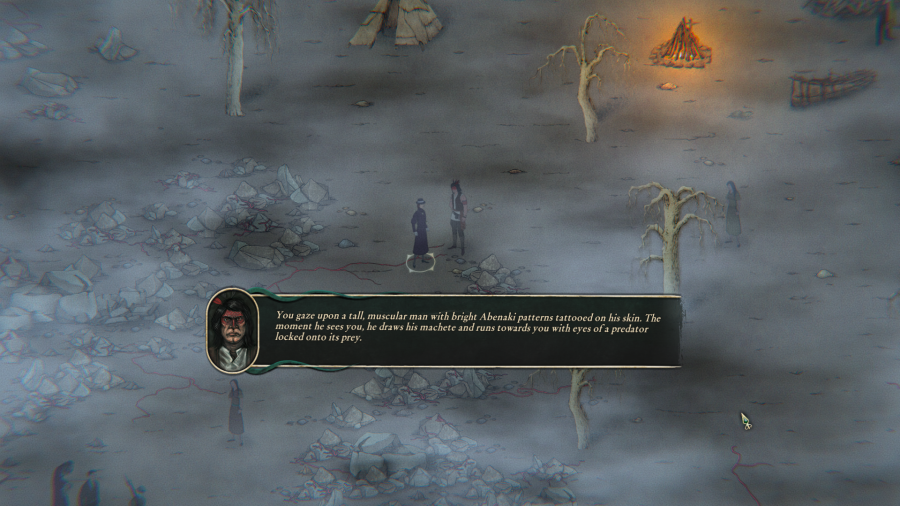 You know, game, I can respect you trying to explain that the conquest of the Abenaki was wrong, but you're really undercutting it by portraying all the Abenaki as animalistic hunters of men.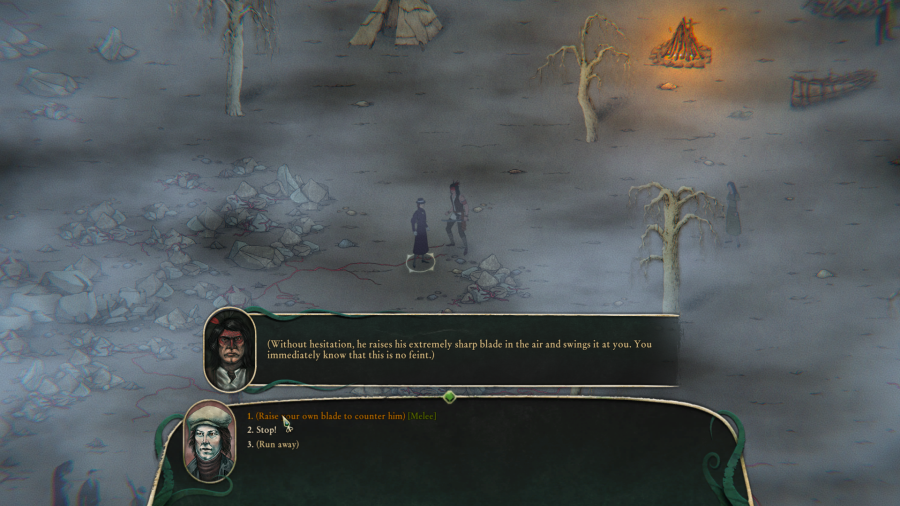 : (Raise your own blade to counter him) Melee
If you don't have melee he stabs the shit out of you and you have to do the colonialism fight. Because we do...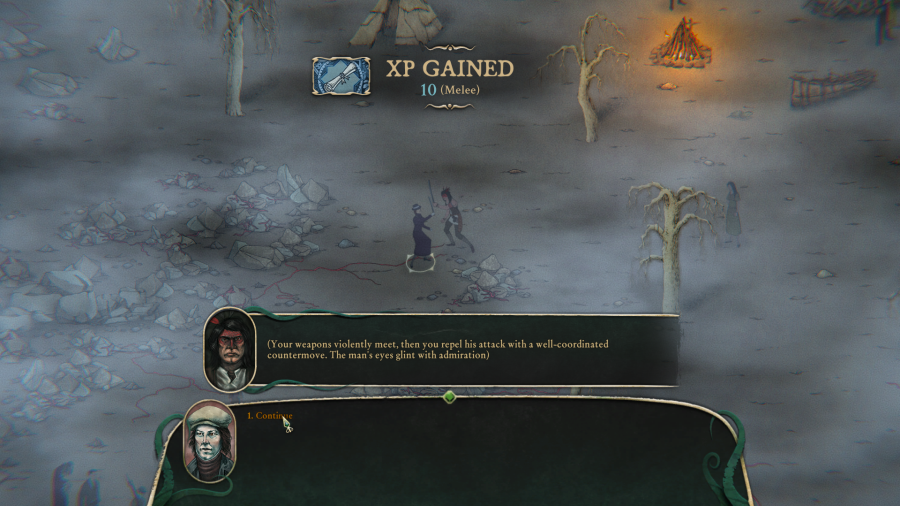 We can use our combination of a life spent having sex to do magic and our powerful Old Lady strength to counter a hardened warrior in his prime while we get an anime blade lock animation. Really.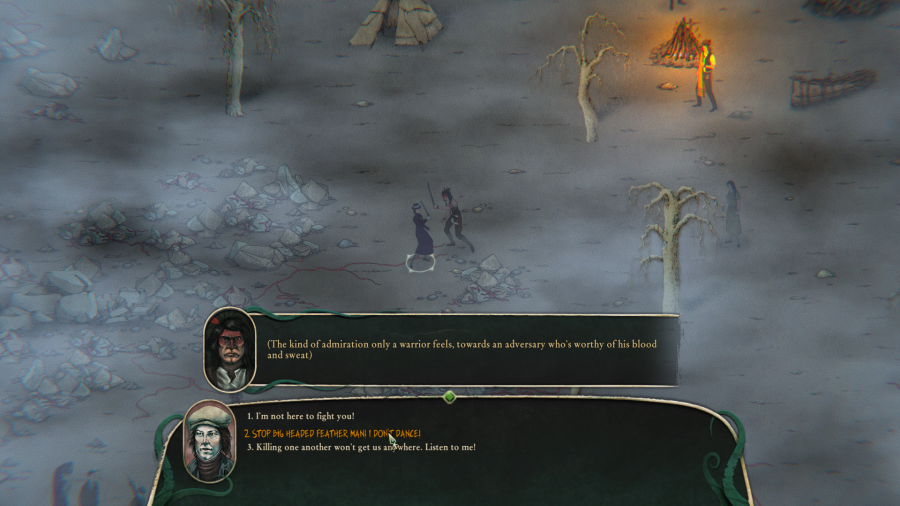 : STOP BIG HEADED FEATHER MAN! I DON'T DANCE!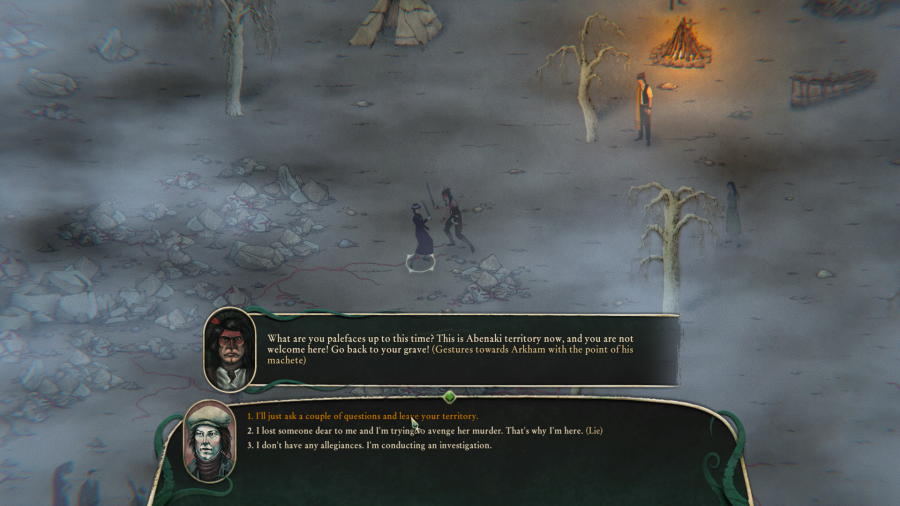 : I'll just ask a couple of questions and leave your territory.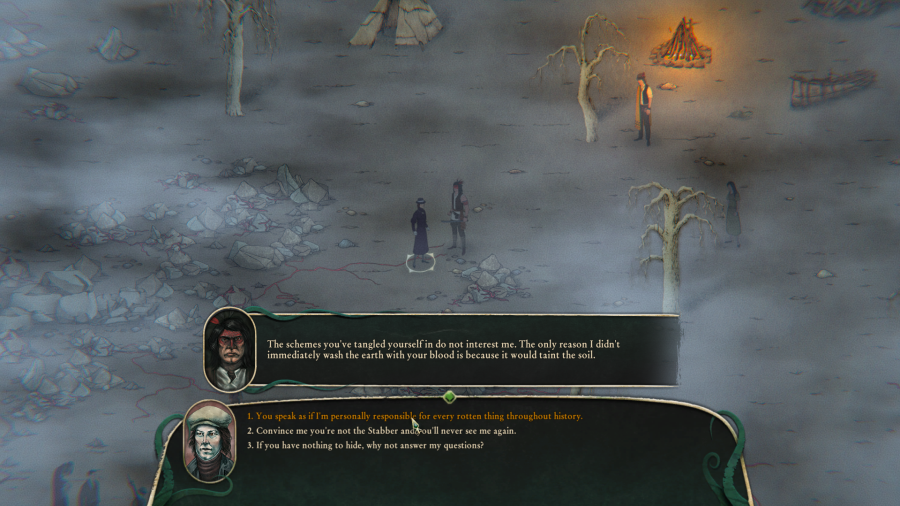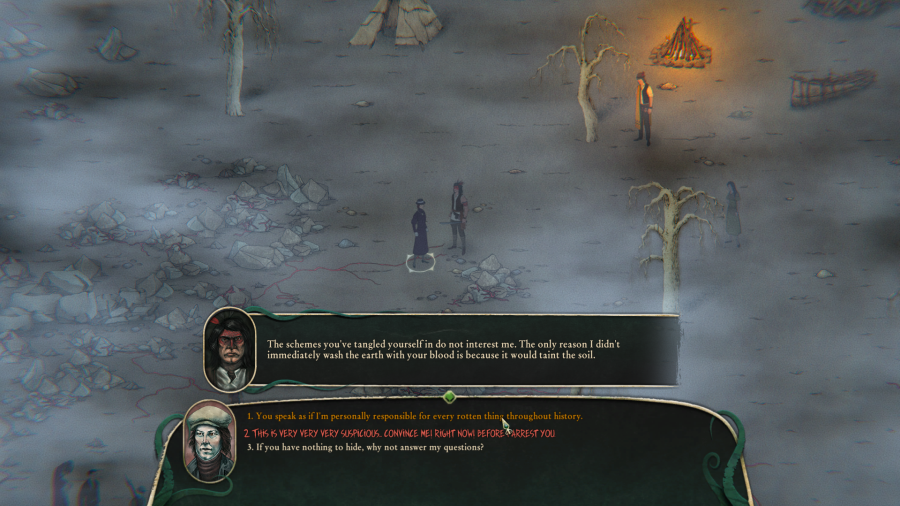 : You speak as if I'm personally responsible for every rotten thing throughout history.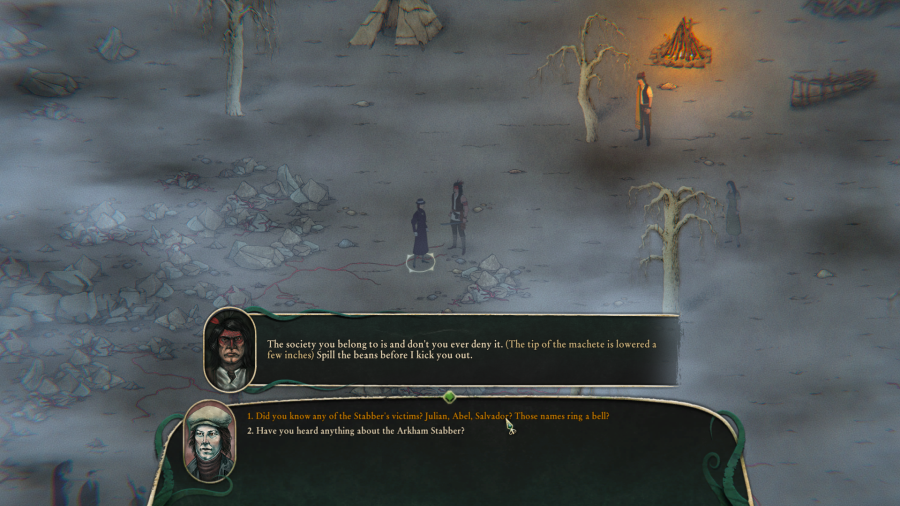 : Did you know any of the Stabber's victims? Julian, Abel, Salvador? Those names ring a bell?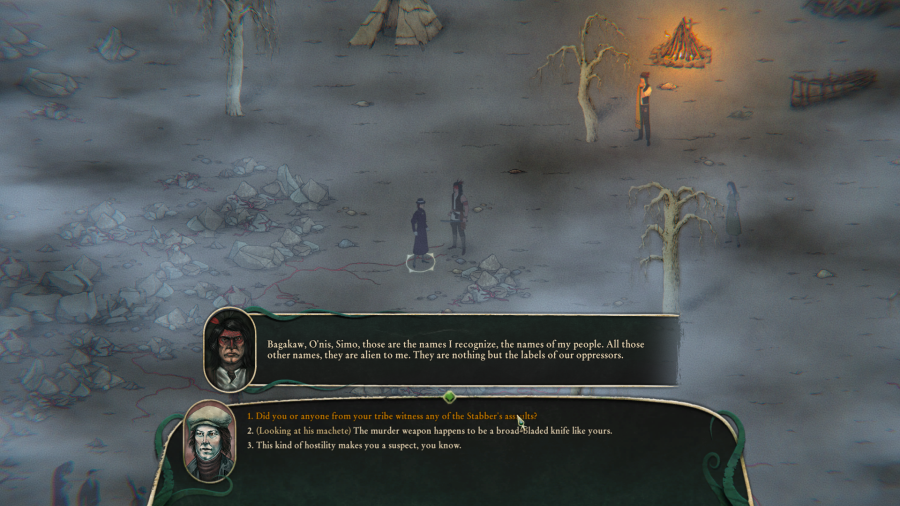 : Did you or anyone from your tribe witness any of the Stabber's assaults?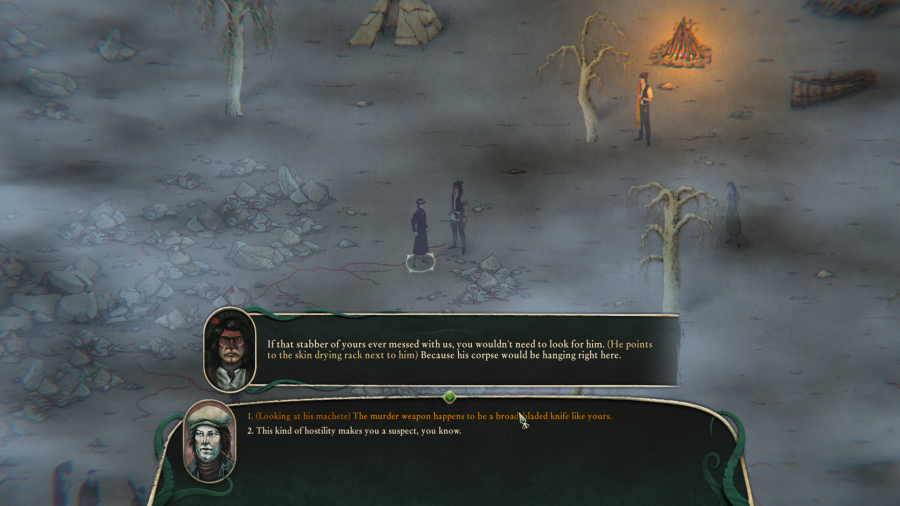 : (Looking at his machete) The murder weapon happens to be a broad-bladed knife like yours.

: (His crimson face pain now strikingly matches the daringness[sic] that burns in his eyes) You have gone too far, paleface! If I had killed any of your people recently, I wouldn't be hiding it!

: I would be proud to admit it! I have before, more than once. And I'm proud of my kills because each of them liberated one of my people.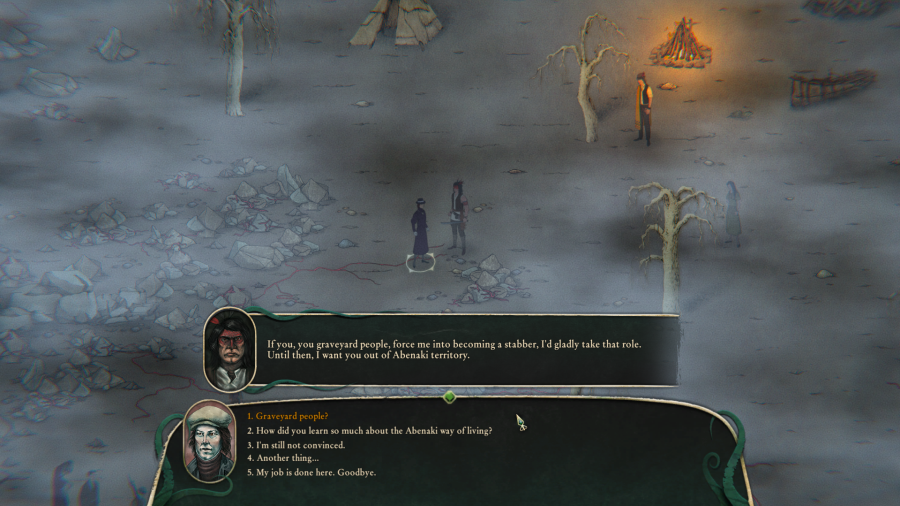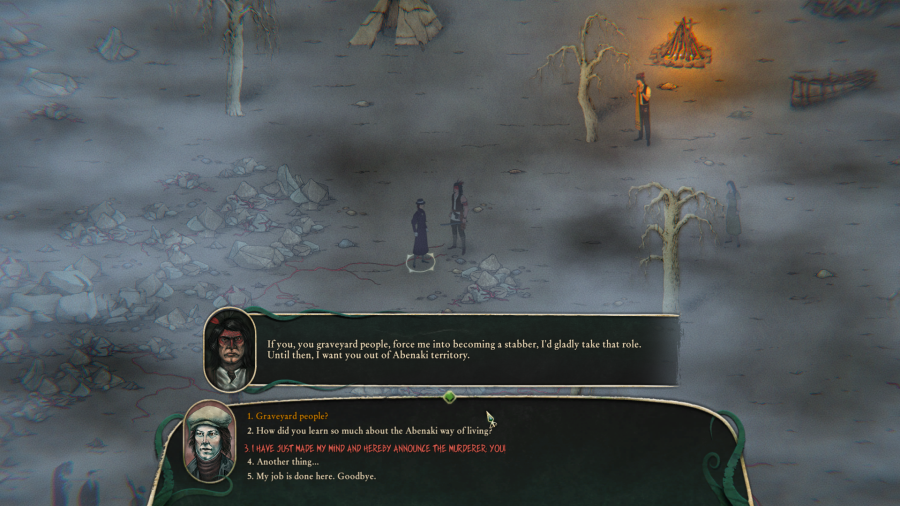 : Graveyard people?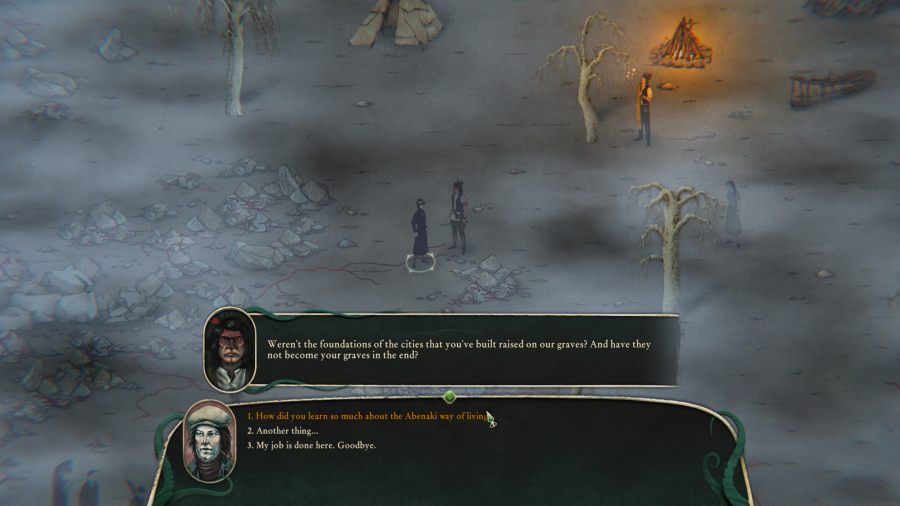 : How did you learn so much about the Abenaki way of living?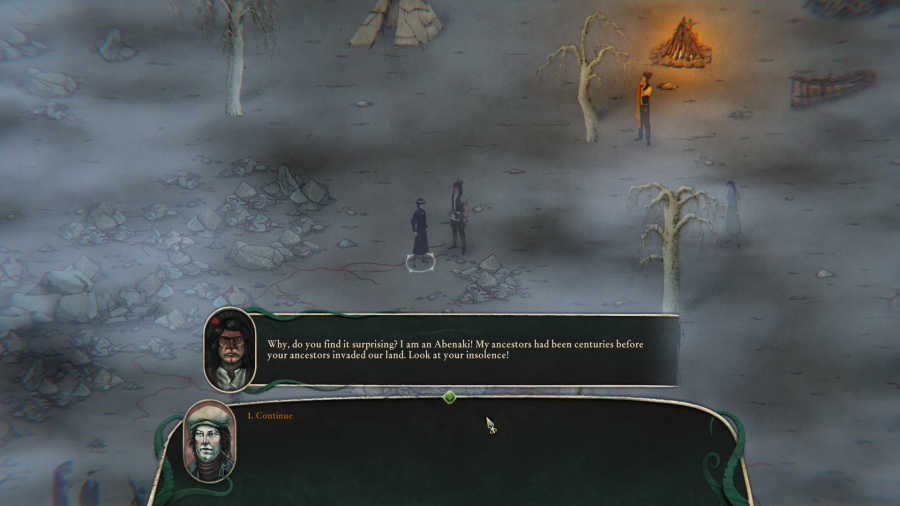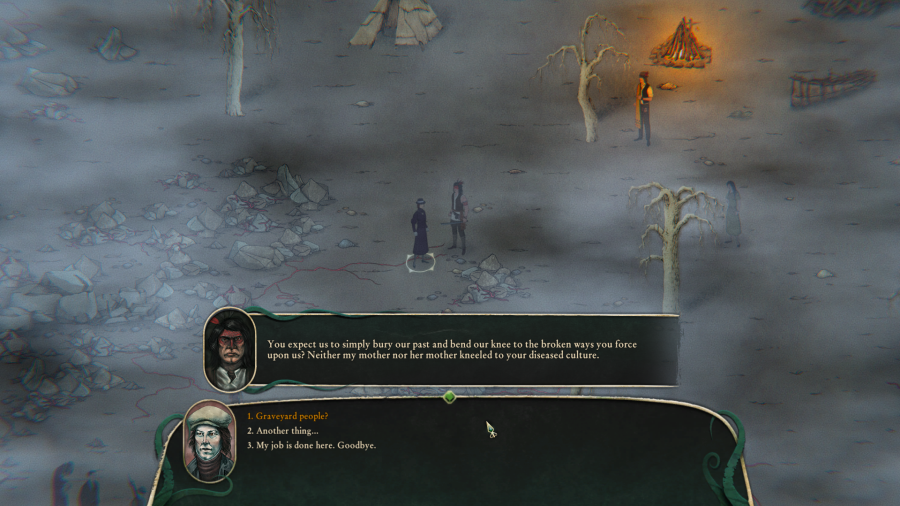 : Another thing...

: I gave you more time than you deserve, white woman. The truce is over. I won't be responsible for my actions from this momen-
: Wjatal, I think I know what she is searching for. Let me speak with the woman. I doubt she knows what she is really pursuing.

: Bagakaw, my blood, why can't we let this stranger pursue whatever ill end she desires to uncover? (There is a hint of disappointment in his voice)

: I hope we won't interfere with their petty struggles again in the future... I sincerely hope, shaman. (There is also anger in his tone now) We have our own blood to care for, especially you and me.

: (Wjatal looks at you one last time) After Bagakaw has spoken, you leave and never come back. My breath will be on your neck... (Wjatal walks away)
Remember how we explicitly reloaded to not get into a fight?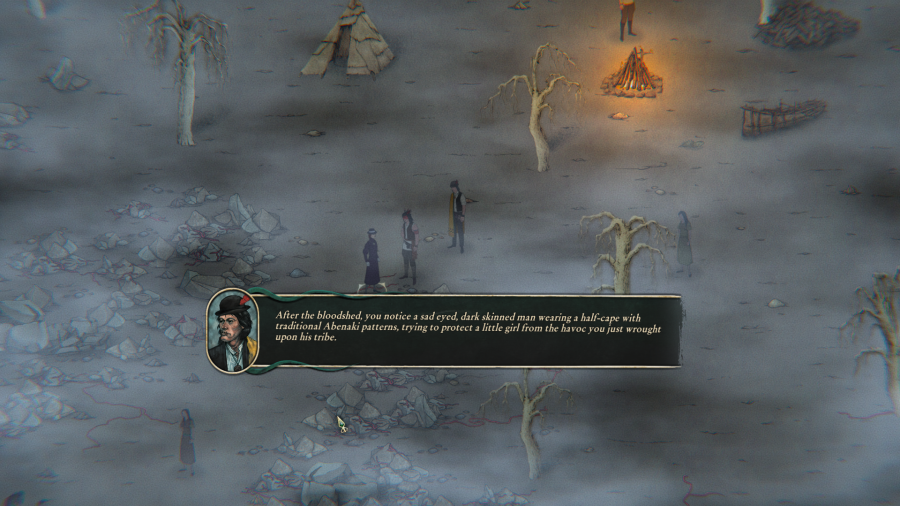 The game doesn't!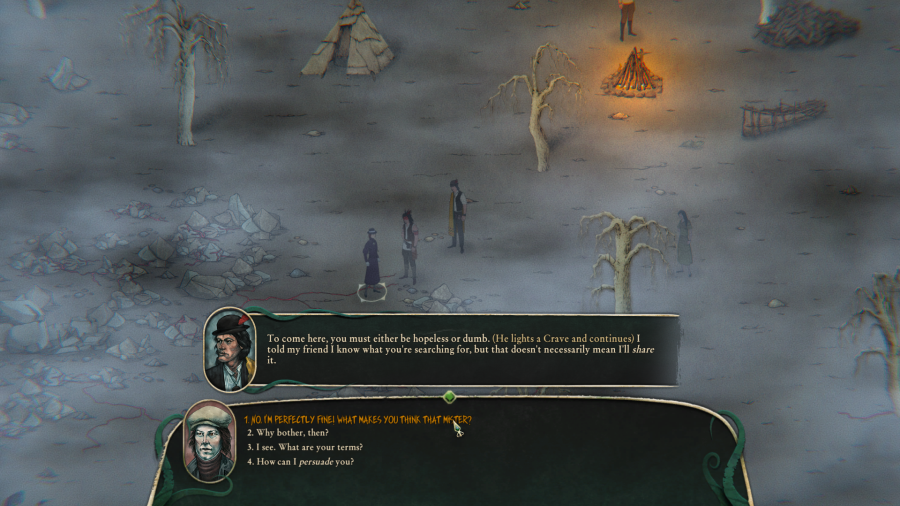 : NO I'M PERFECTLY FINE! WHAT MAKES YOU THINK THAT MISTER?
: (The man takes a long drag on his cigarette and smiles thinly) It is wise to admit one's own shortcomings, which means you may not be a fool after all.
What the hell is the point of this mechanic if people are going to react to the literal opposite of what we just said?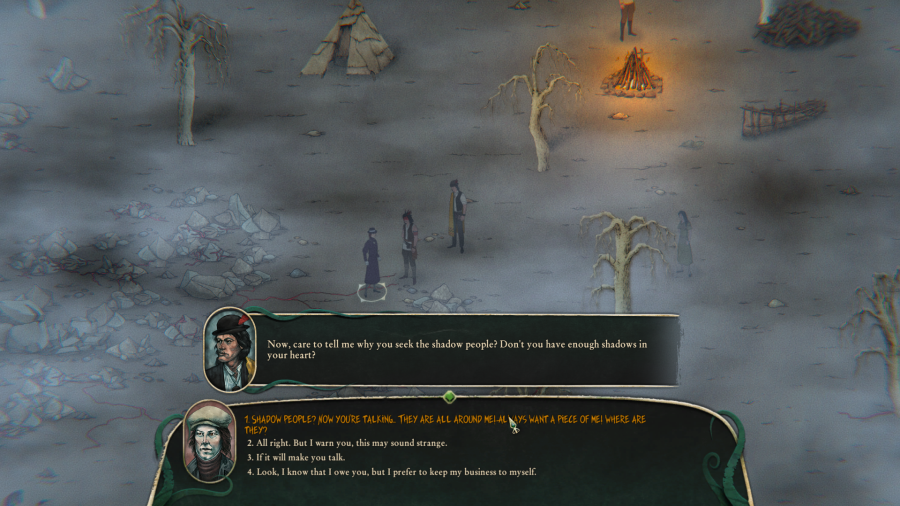 : SHADOW PEOPLE? NOW YOU'RE TALKING! THEY ARE ALL AROUND ME! ALWAYS WANT A PIECE OF ME! WHERE ARE THEY?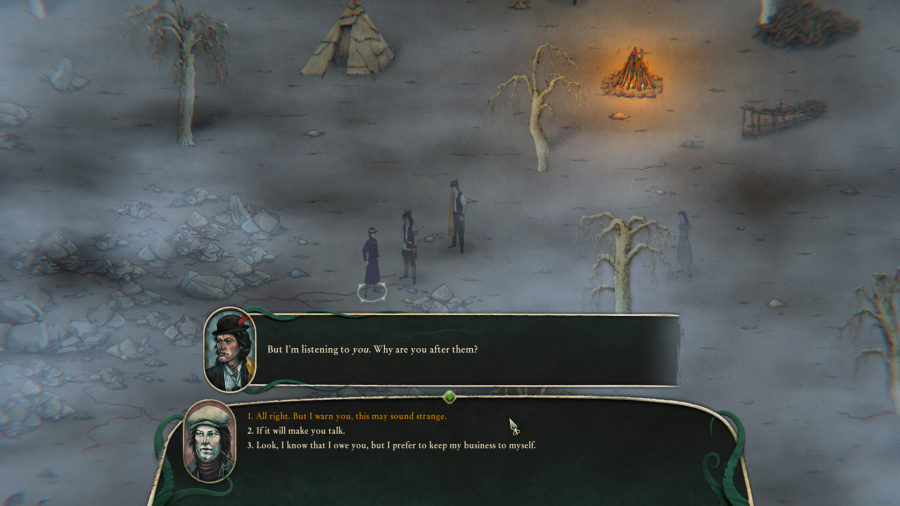 Huh?

: All right, but I warn you, this may sound strange.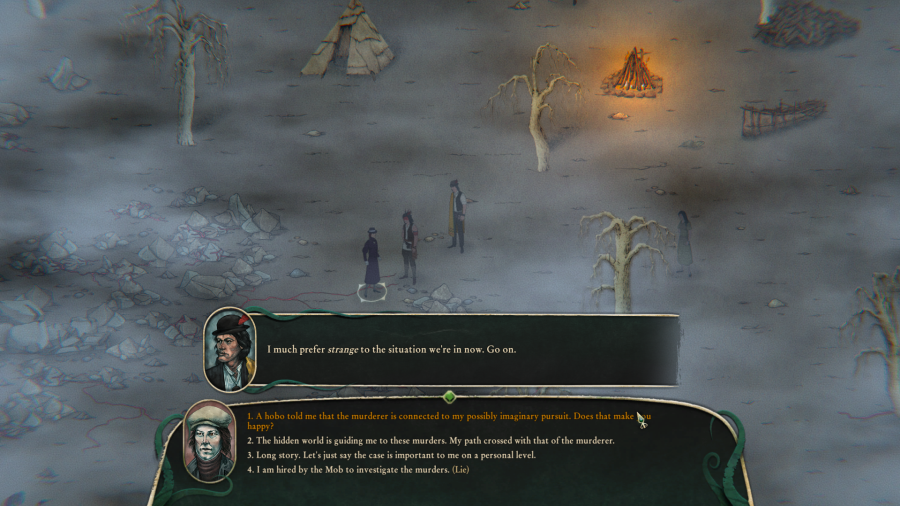 : A hobo told me that the murderer is connected to my possibly imaginary person. Does that make you happy?
: (He looks at you with a mixture of amusement and pity) Then you are indeed both hopeless and a fool, a hopeless fool in fact.
: But you seem to be honest at least. (He takes another puff of his cig before beginning his tale) I have seen certain things since I was a boy.
: Things I have had no choice but to see. This gift didn't do me any good - in fact, it gave me a lot of headache[sic] - but at the end of the day everyone has burdens to bear.
: Even if that burden is being able to chitchat with the spirits.

: You're a medium then?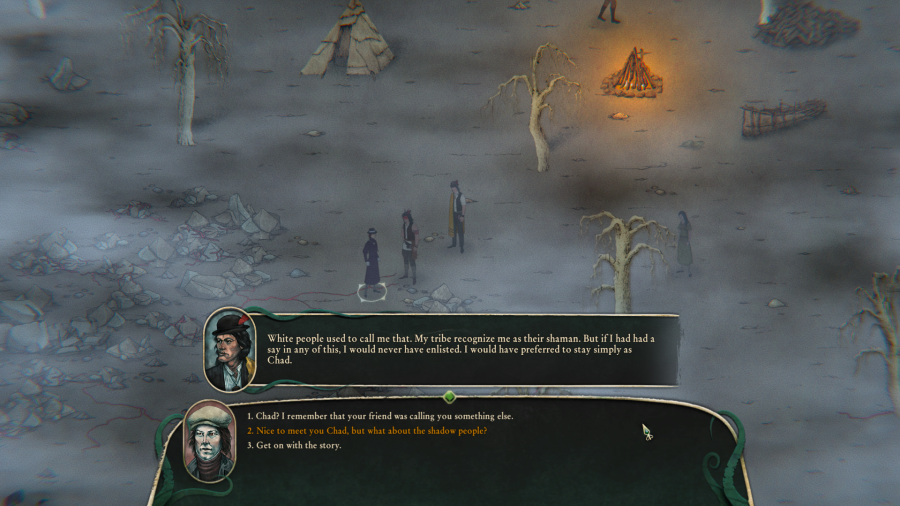 : Chad? I remember that your friend was calling you something else.
As a sex wizard, Bertha loves Chads!
: Ah, yes, Bagakaw. That's my Abenaki name. We all have our tribal names now. Wjatal shares a lot about our people's history and I respect the effort. He is a good man, and a brave one.
: He is the one (gesturing at the settlement of simple tents) who pulled all this together. But when one has been Chad one's whole life, he cannot become Bagakaw with a snap of the fingers.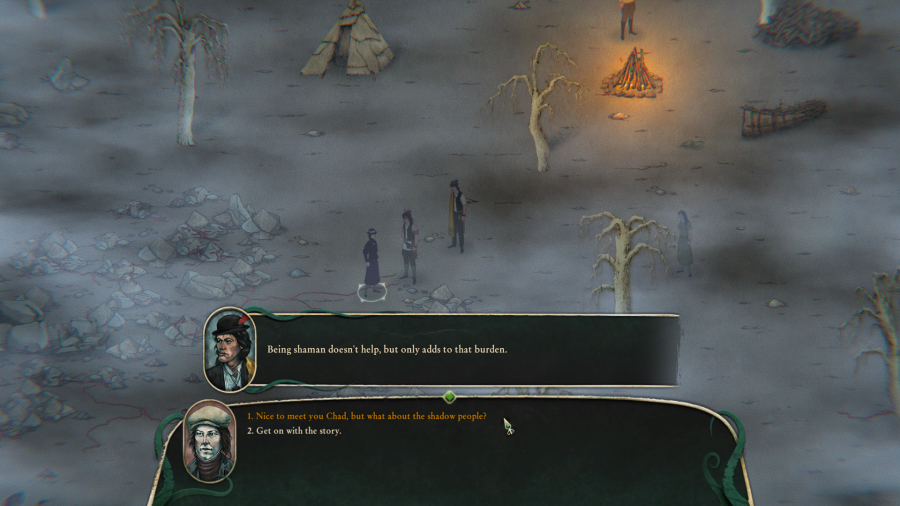 : Nice to meet you Chad, but what about the shadow people?
: (The young shaman gazes into the distance) Some time ago, I was collecting roots in the West Willows when I felt a cold breeze spring up...
: It wasn't natural, it came from somewhere
beyond
. I feel these breezes when the shadow people are near. The spirits of the dead bound to the most blackened of emotions... so much so that they've become shadows of themselves.
: So I started running in the direction of the spirit wind, for I'd seen shadow people kill and do even worse.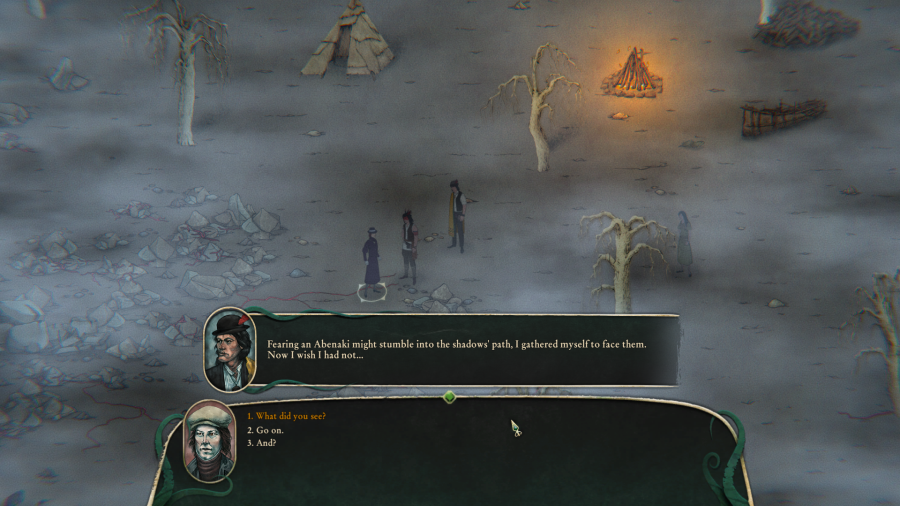 : What did you see?
: (He is none too happy recalling those moments) There were a dozen of them. Never seen so many together before, blacker than the darkest night, boiling with hatred and rage.
Ugh, these stage directions are terrible.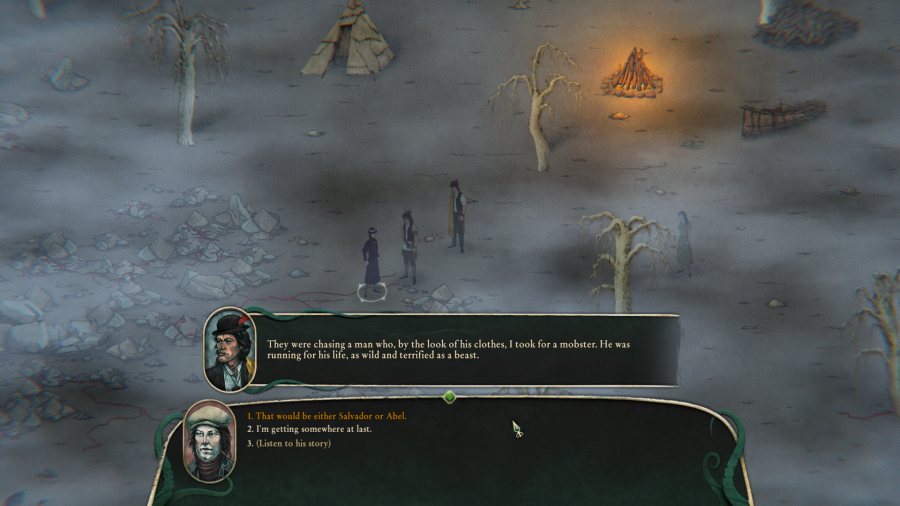 : (Listen to his story)
: Whoever he was, he didn't even have time to scream. They stabbed him one after another with blades of pure hatred, as if every one of them owed the man a bloody throat.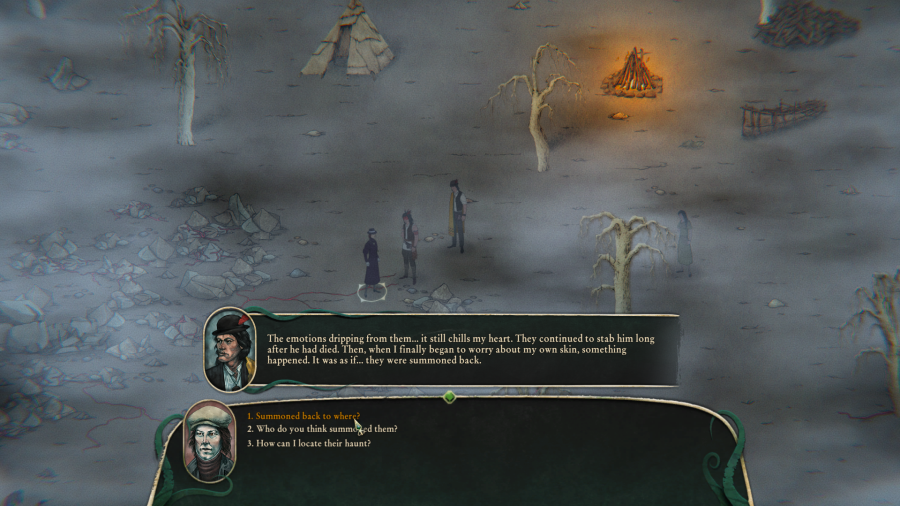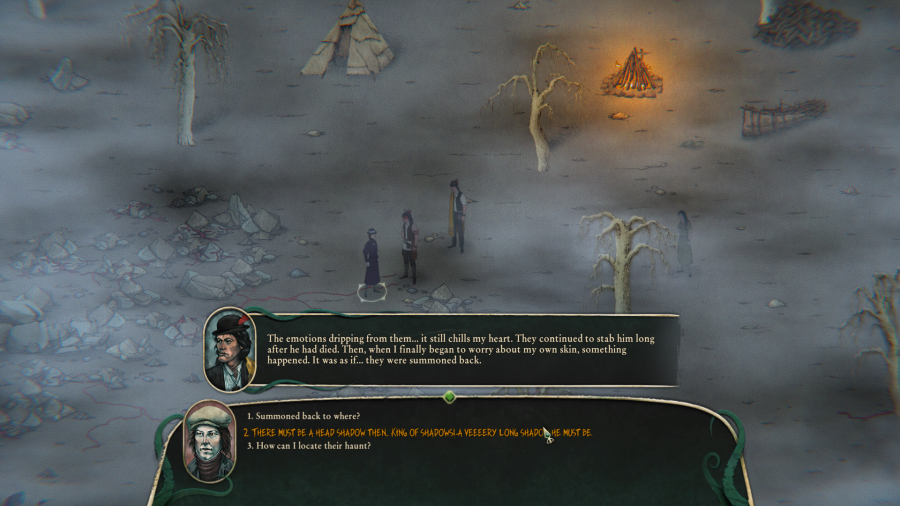 : THERE MUST BE A HEAD SHADOW, THEN KING OF SHADOWS A VEEEERY LONG SHADOW HE MUST BE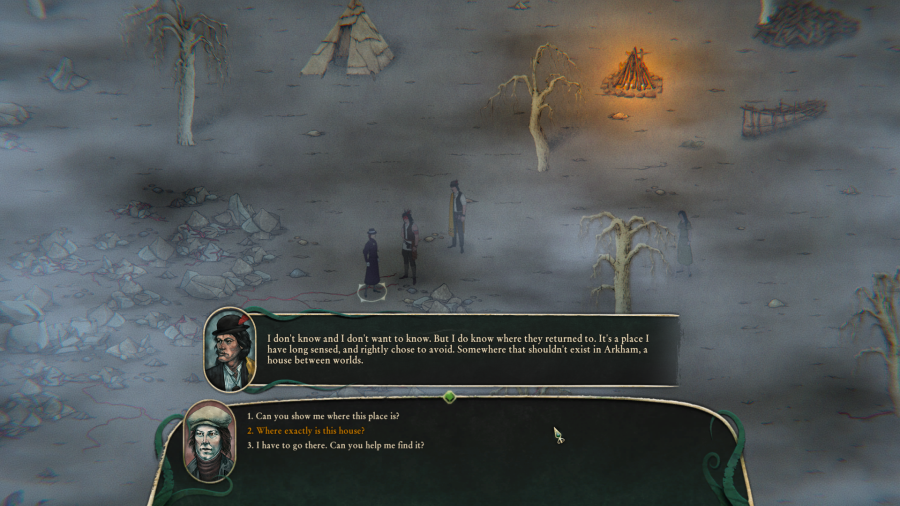 : Can you show me where this place is?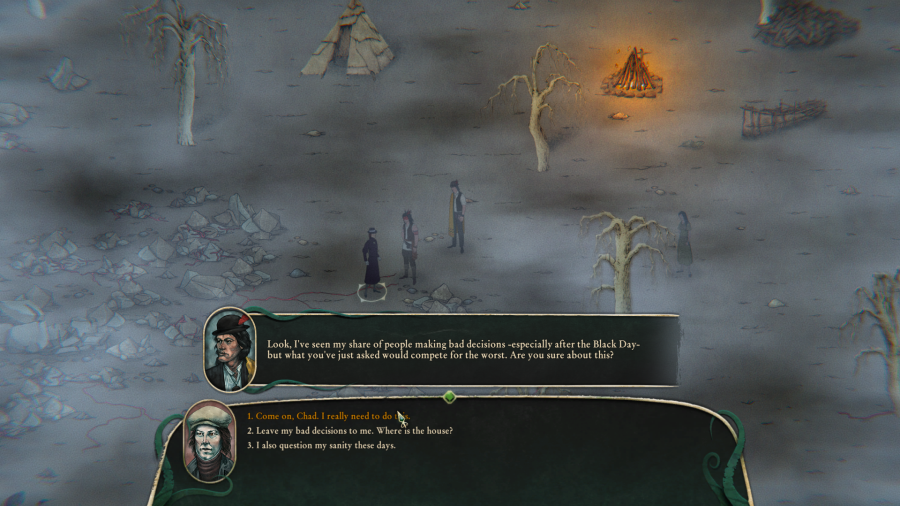 : Come on, Chad. I really need to do this.
: (The man shrugs his cloaked shoulders) Who am I? Your dad or something? It's your stupid decision in the end... (He marks a certain location on your map)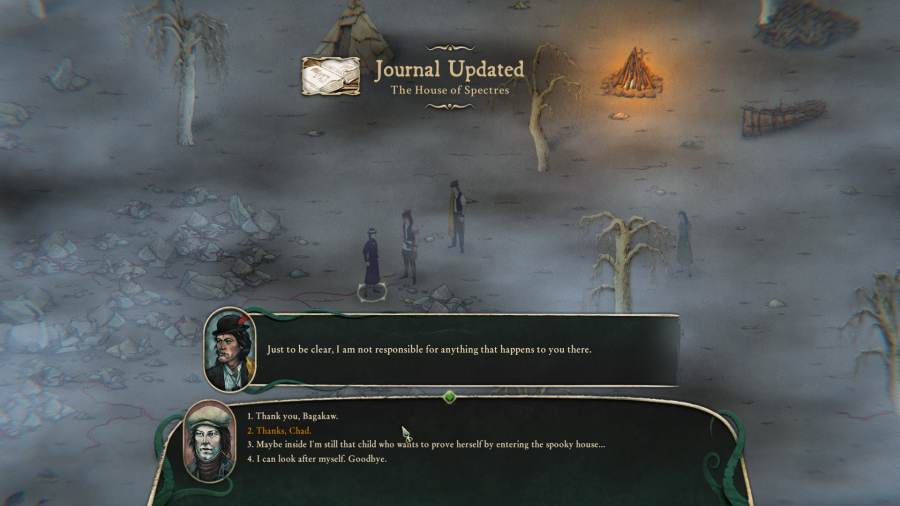 : Thanks, Chad.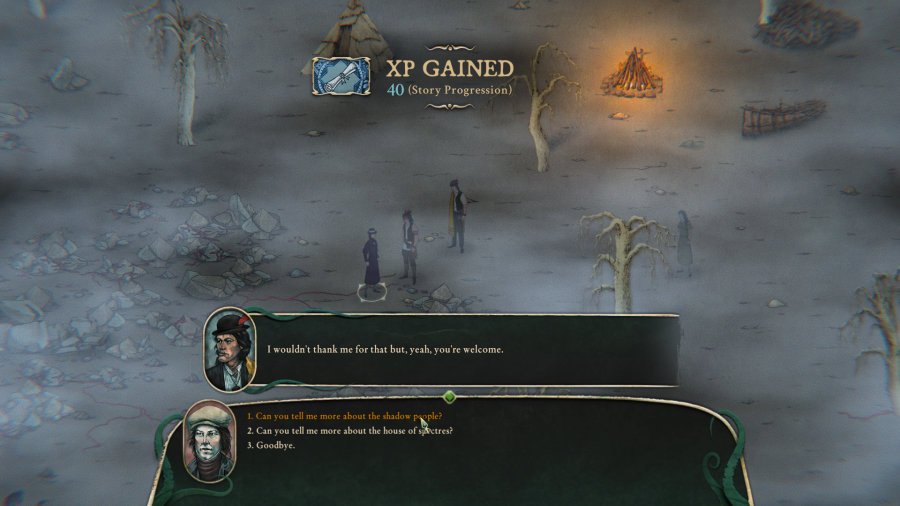 : Can you tell me more about the shadow people?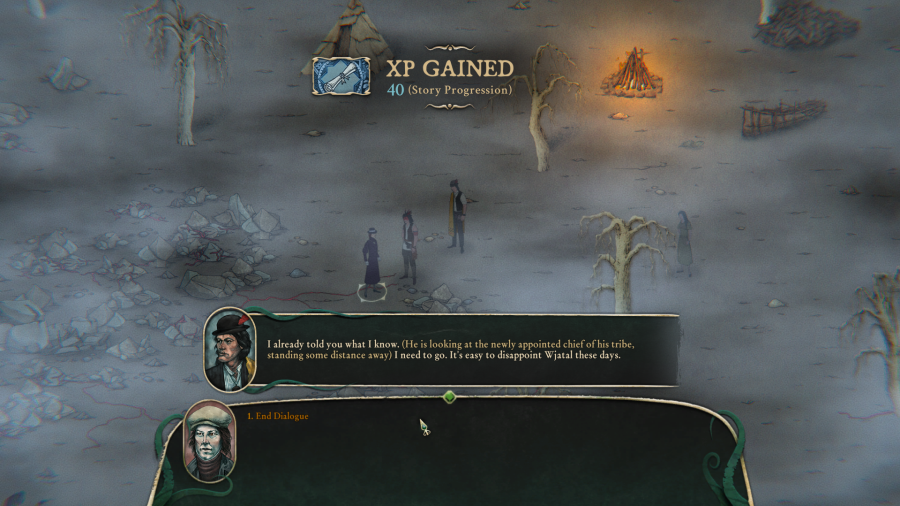 TheGreatEvilKing summarizes this shit posted:

: Hey, you should fuck off.

: But why?

: Wjatal doesn't want you here whitey.

: WHOOP IM KILLING BAD GUYS THAT MAKES ME A GOOD GUY

: Wow, really? Aren't you all killing each other in that shitty graveyard town?

: Wjatal?

: He is the chief out here, and he lead us out here to this decrepit tent town in the wilderness, which is an improvement over living with all you shitty white people. I had a shitty slave name, but now I'm named O'nis and I can do wilderness stuff! Anyway, the white men owe Wjatal a new mommy!

: I MISS MY MOTHER TOO THIS MAKES ME CRAAAAZY

: We're out here away from you shitty rapey murdery white people!

: FUCKED UP TORTURE TIME WOOOOP!

: Oh yeah, asshole? Time for STYGIAN COMBAT!

: Shit, reload! Ok, time to talk to Wjatal!

: Die, whitey!

: BY THE POWER OF ANIME I USE HANZO STEEEEEL!

: Oh shit, that ruled! What a powerful wee- er, warrior! Now, we must have a truce.

: Hey, I'm investigating a murderer, then I'll go away. You see anything?

: Fuck off, paleface.

: Did you do it?

: I'm offended! How dare you accuse me of murdering white people! I murder white people all the time! I would never hide killing white people!

: Hey, let me talk to her, I think I know what she's looking for.

: But I wanna kill whitey!

TheGreatEvilKing: This is really how we want to characterize the Indians, huh.

: Fine. See if I care, Bagataw.

: Well, why should I tell you anything?

: NOTHING IS WRONG WITH ME I'M NOT CRAZY WOOOOOP!

: Huh I'm gonna pretend you admitted your faults. I'm listening, tell me.

: It's gonna sound weird.

: I'm a shaman, I've heard it all. Hit me.

: I have to find the Arkham Stabber because a magical hobo told me to.

: That is pretty dumb, but I know what you're talking about. Ever since I was a kid I could see dead people. White people called me a medium. They also called me Chad. I was known as "Chad the medium". However, then I fell in with Wjatal, a good and brave person trying to restore our people, and since then I have been "Bagataw the shaman". Anyway, you're looking for the shadow people. I felt a dark wind, so I ran towards it in case they were murdering one of us. I saw a mobster and the shadows really hated him, so they stabbed him to death in a gruesome way. I saw where they went, but, uh, you'd have to be a real idiot to follow them.

: Please, I have to do this for...why am I doing this, again?

: Here you go.

: Thanks Chad!

: Don't thank me you're probably gonna die.

Next, on Stygian
: The developers try to convince us that the Lovecraft story which was a sick fucked up revenge fantasy of murdering immigrants is actually a valuable part of their cosmic horror...whatever the hell this is!