Part 53: Sacrifice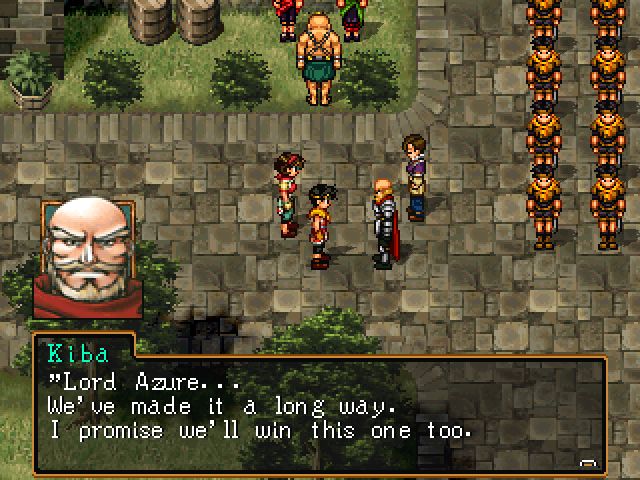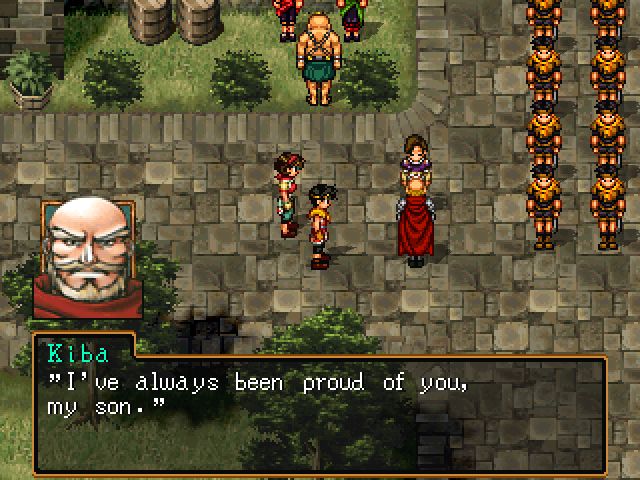 D'awww.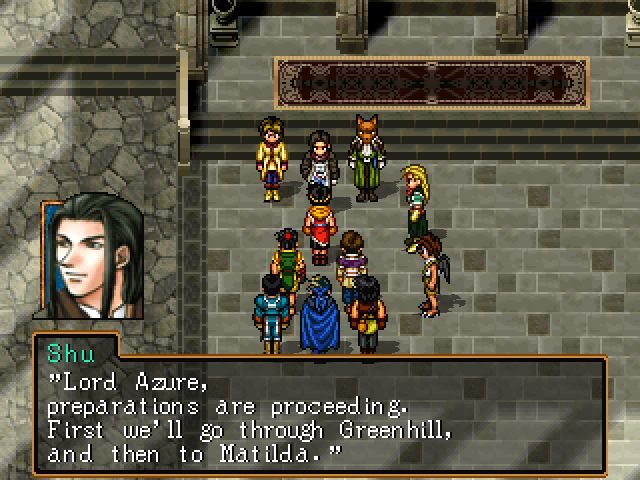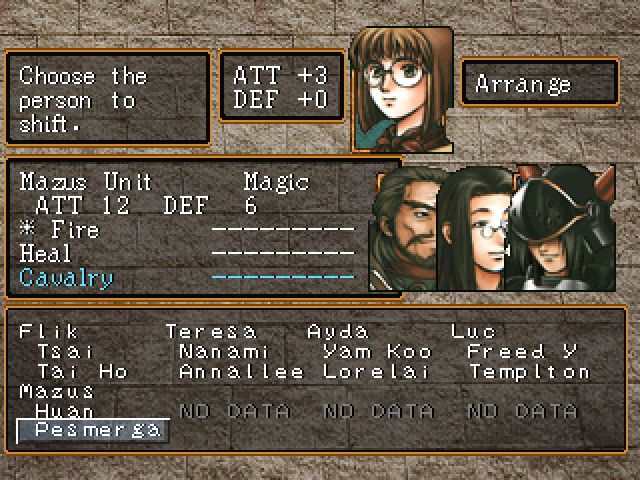 I should mention that Pesmerga is a new lieutenant, and one of the best in the game. +3 ATK and Cavalry added.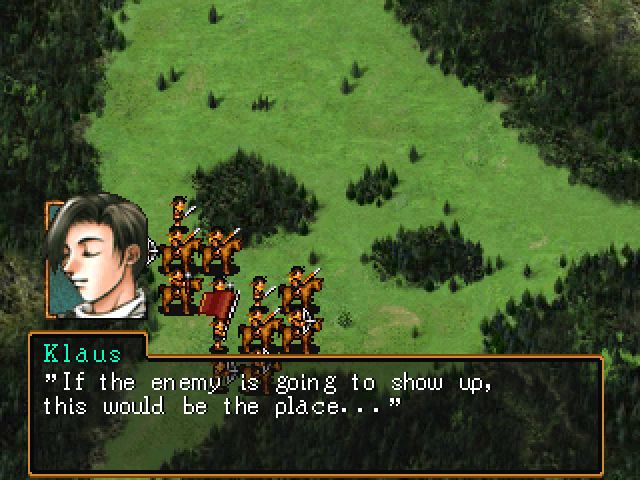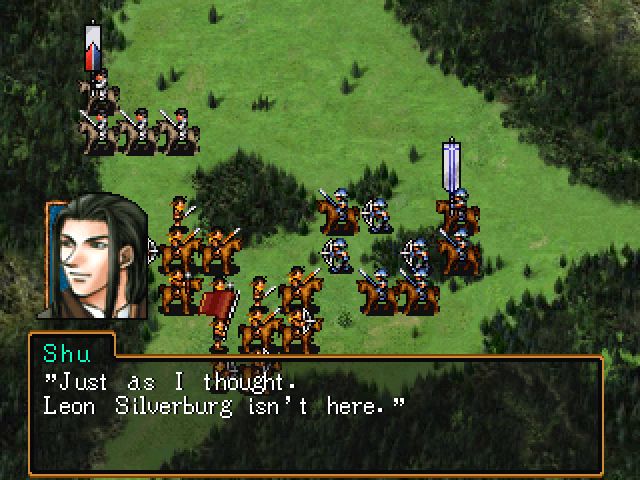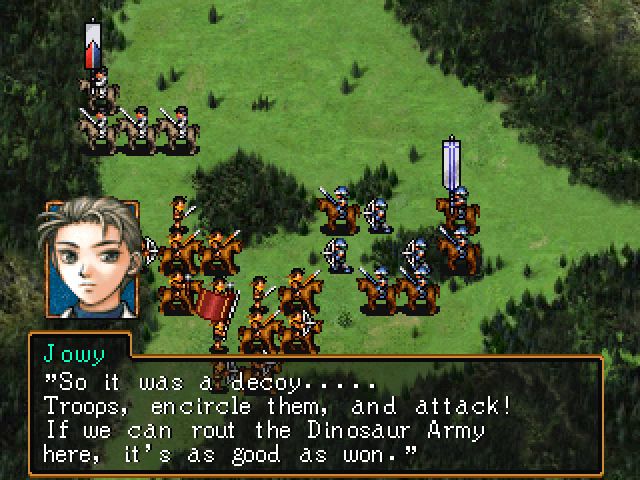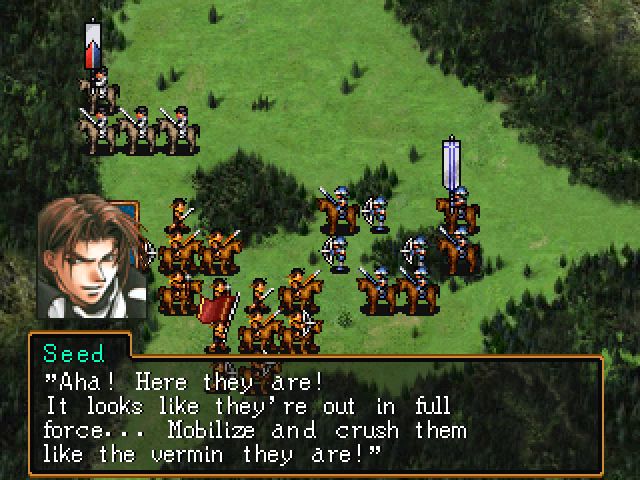 Simply put, there are a ton of enemies on the field.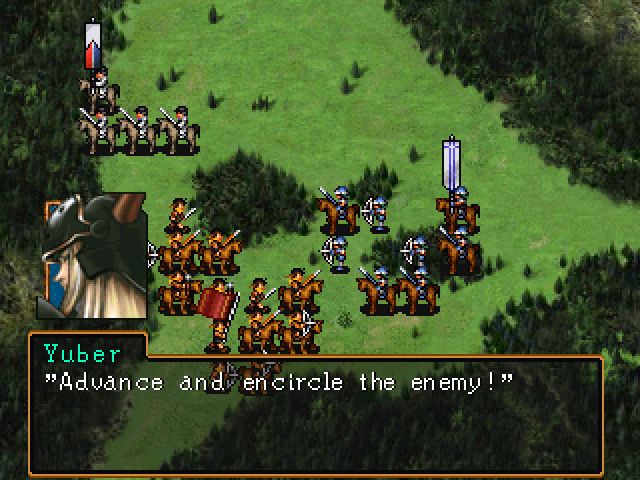 And yes, Yuber is still around to be a dick.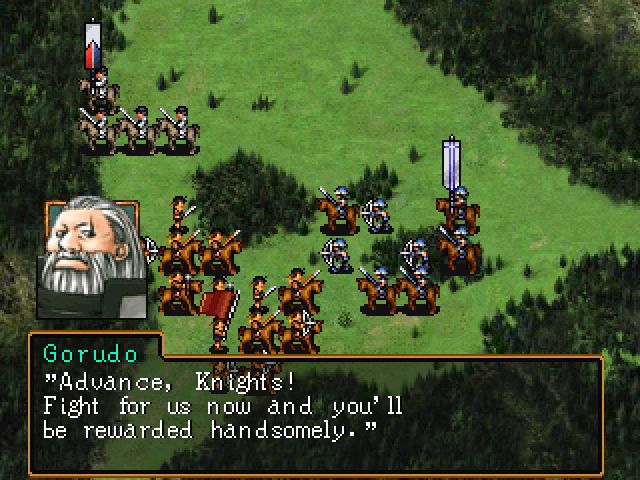 However, Gorudo and his knights have also stepped in. However, we just need to last three turns.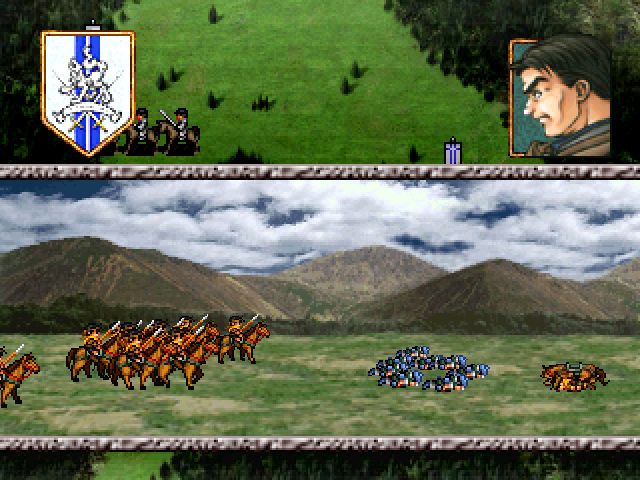 First we take care of the small fry.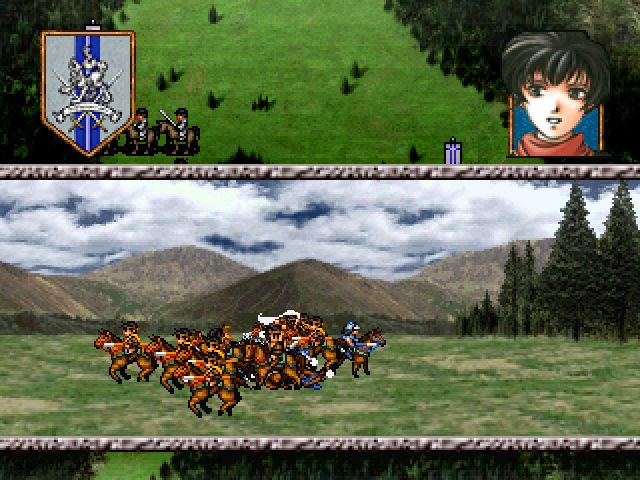 Thank god for Shu's critical.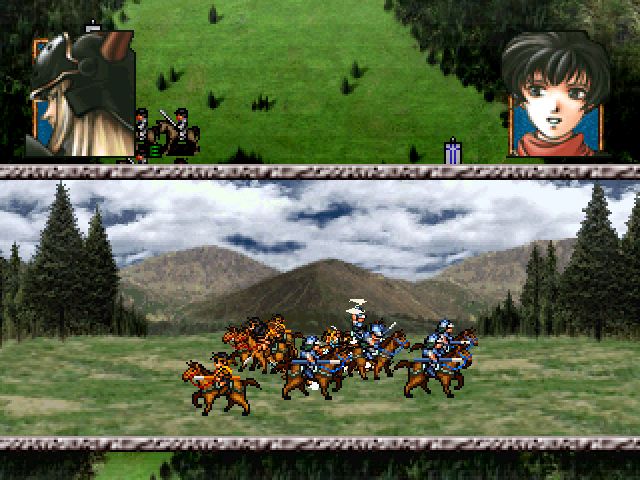 Kasumi doesn't fare so well against Yuber, though.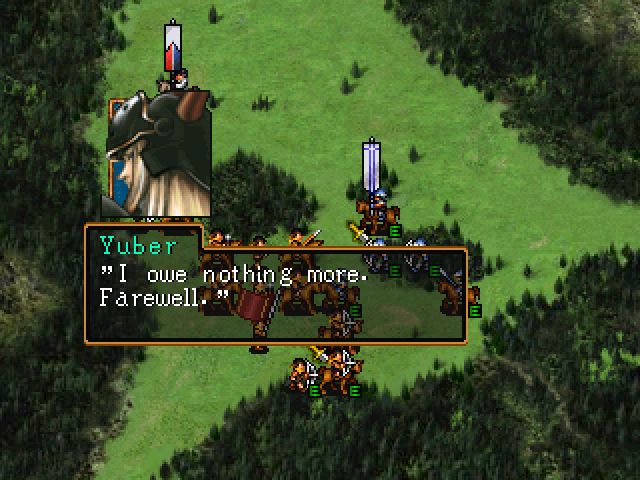 But like every other tough unit, Yuber's taken out by Spears and Magic.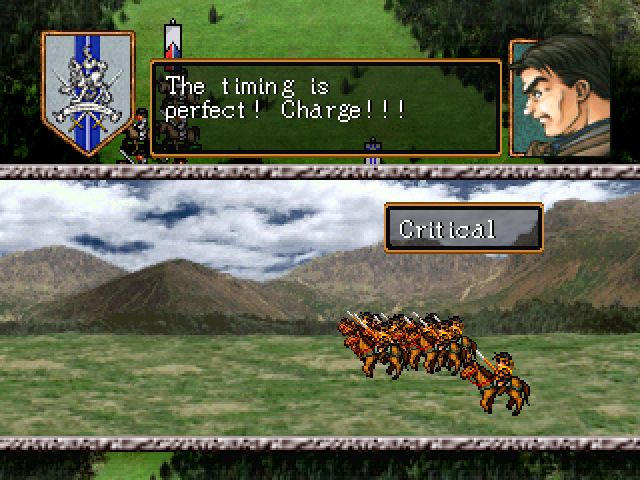 Georg is running train on Highland.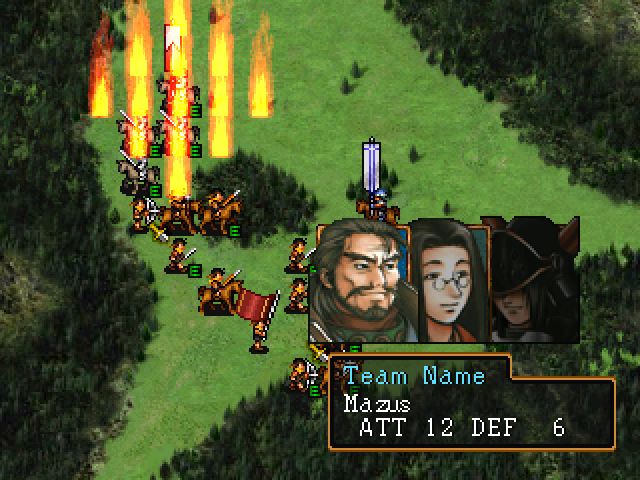 Ahhh fire magic, you are the bane of grouped-up enemy units.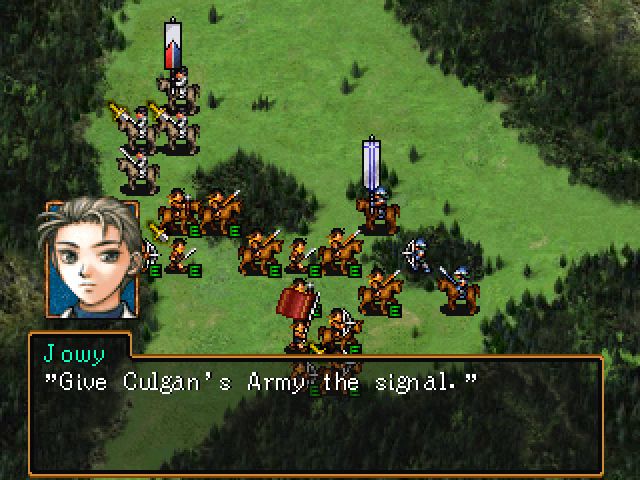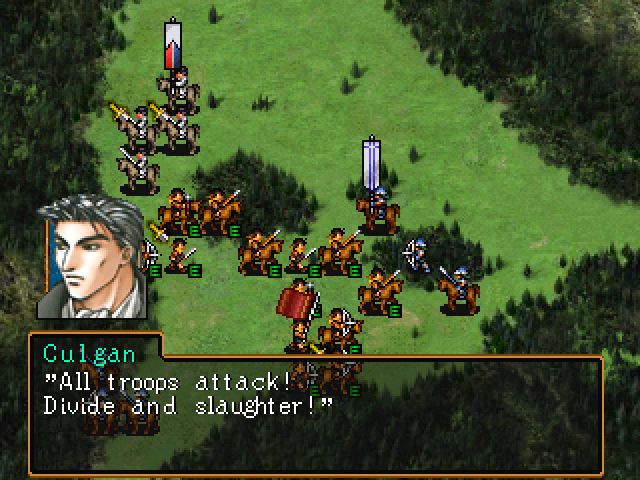 Culgan's troops appear behind us to try and catch our flank.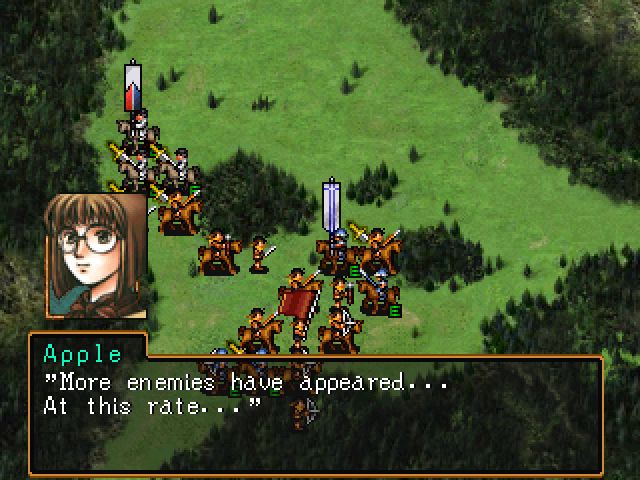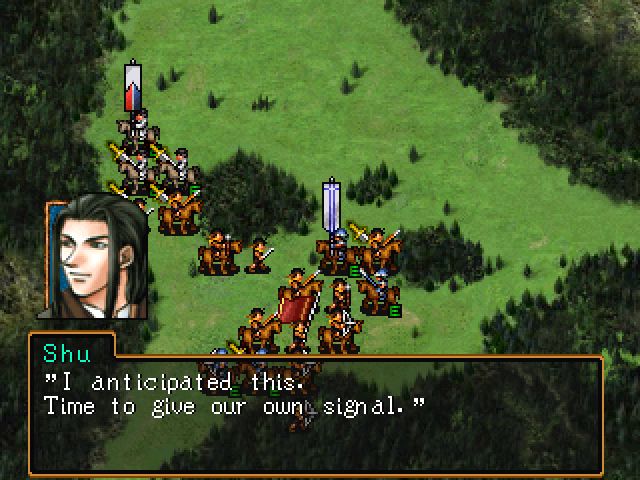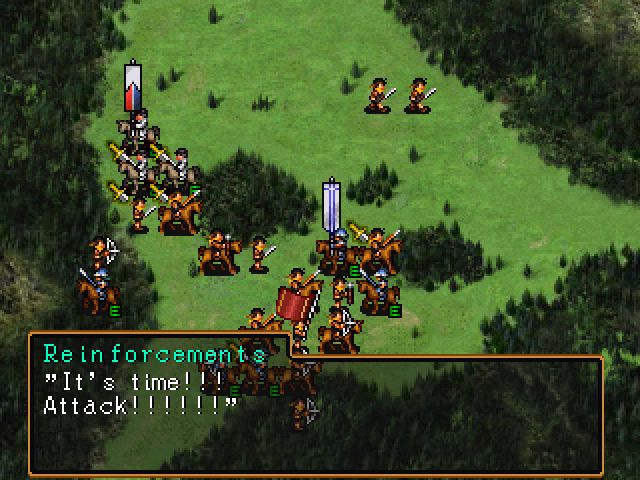 A small force of our own appears at Jowy's flank in the third turn.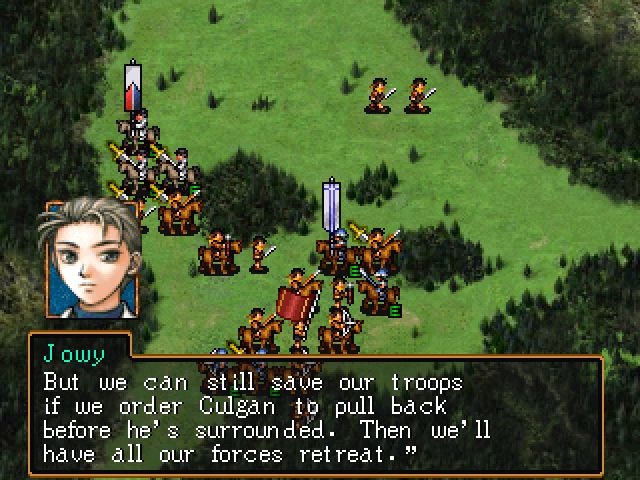 We barely make out a victory.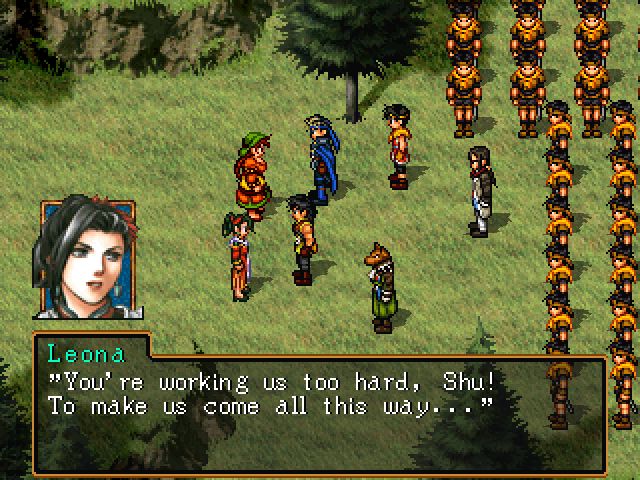 Barbara and Leona were our reinforcements, along with Alex and Hilda. Just a simple decoy.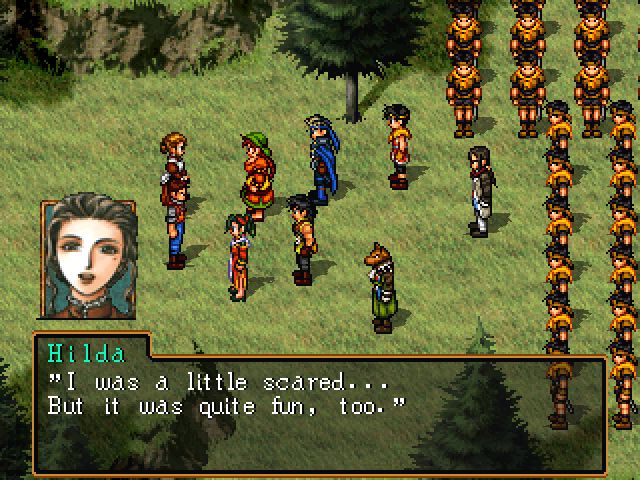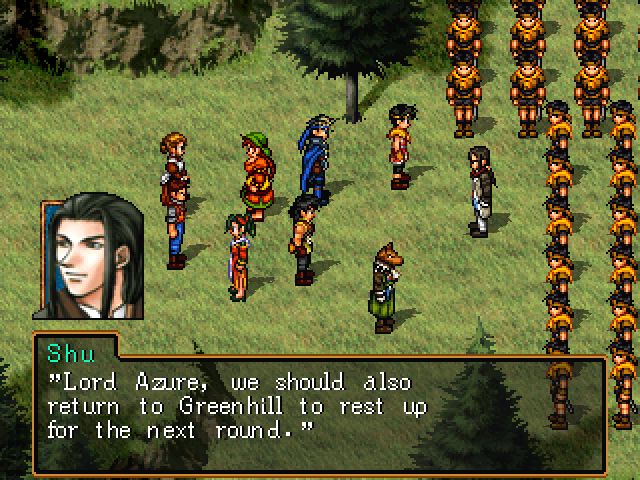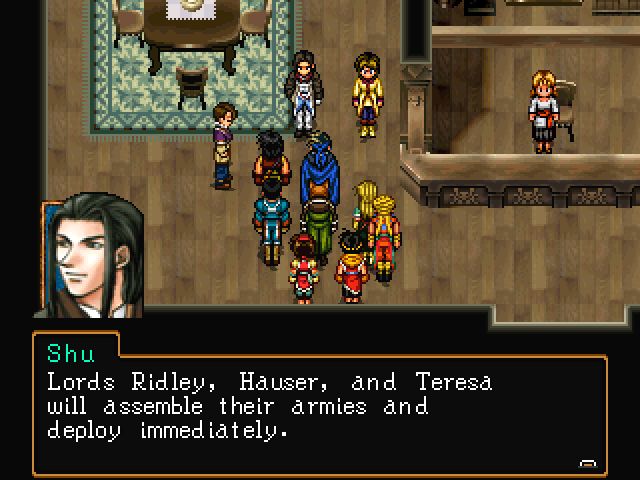 In the meantime, we sneak into Rockaxe Castle.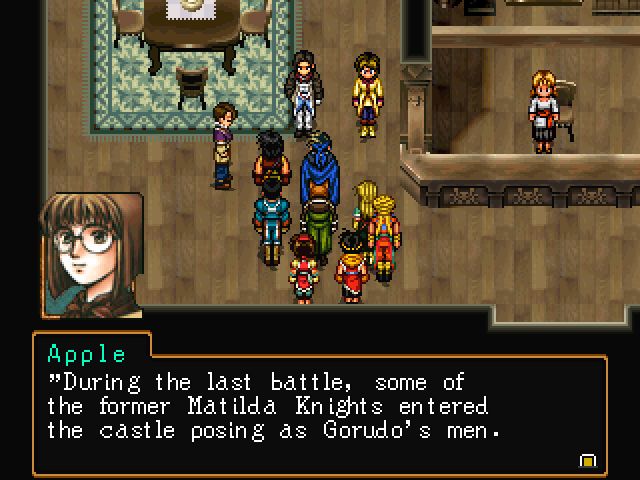 They'll open the gates upon our arrival.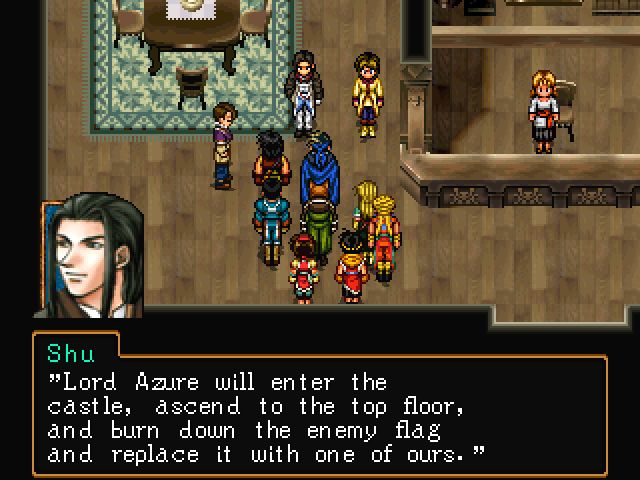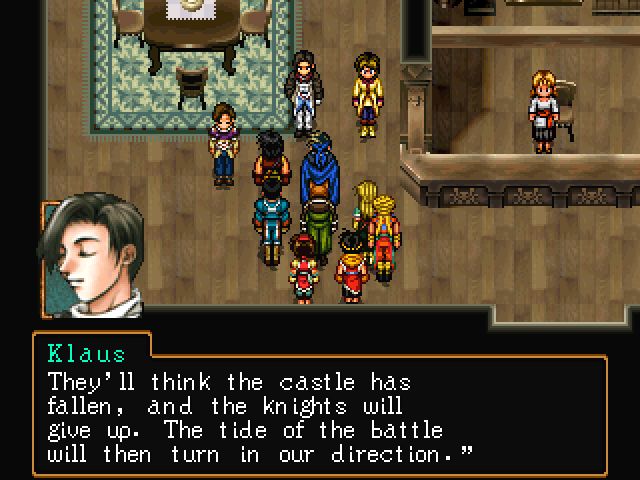 The idea is that since Highland has extended beyond its capacity, that the recently-acquired Matilda will fall as soon as its flag is burned, and its Knights will turn against Highland. If we screw this up, the army will be fucked.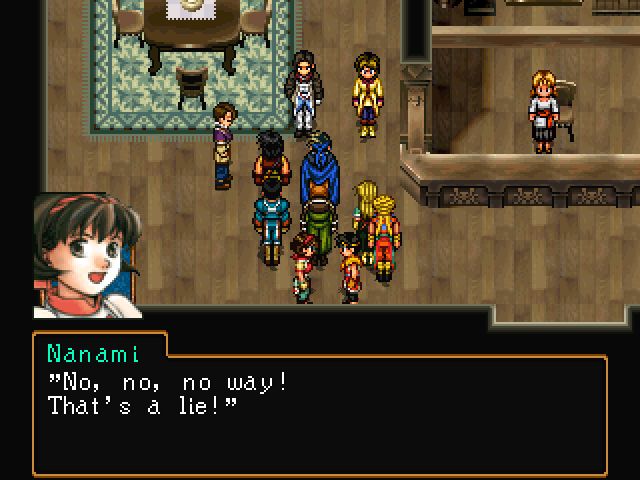 Nanami once again shoves her way into our entourage.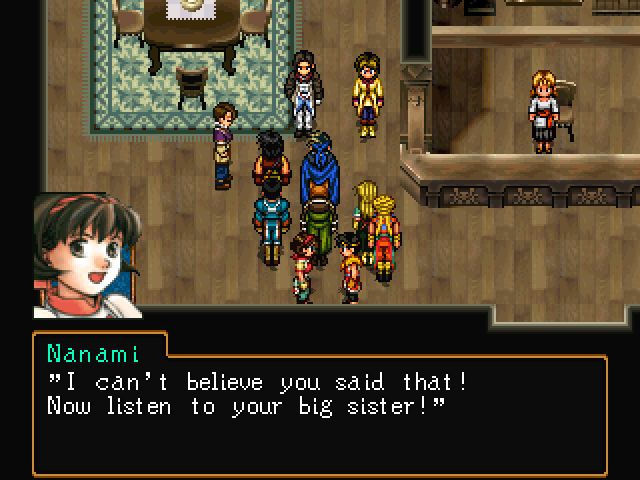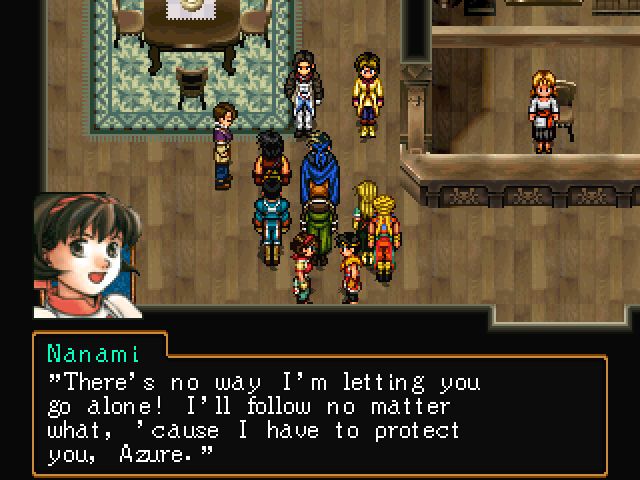 Guh.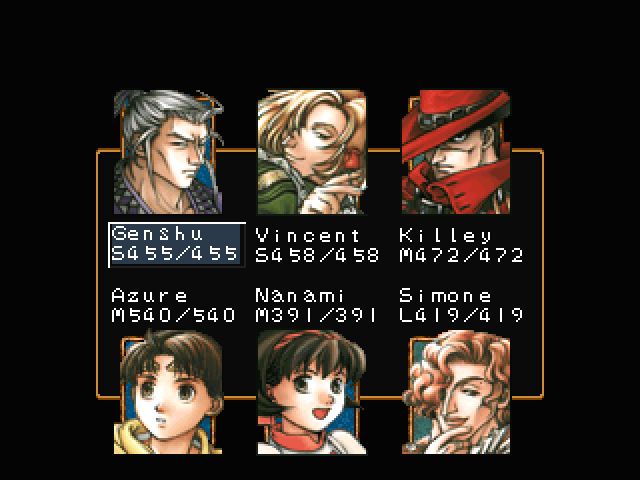 This party will do just fine.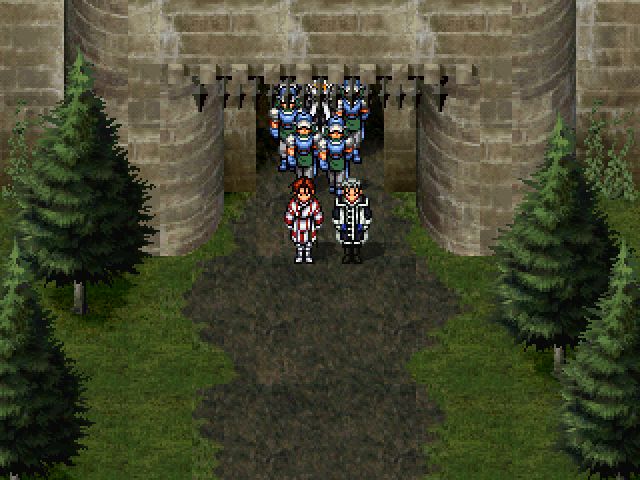 Culgan and Seed both leave the castle at a convenient time.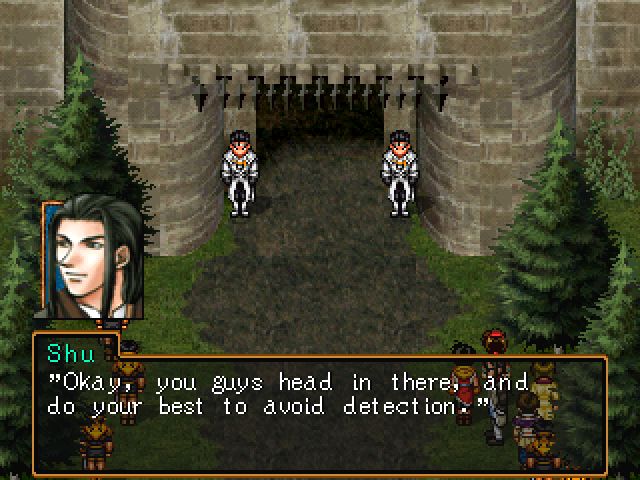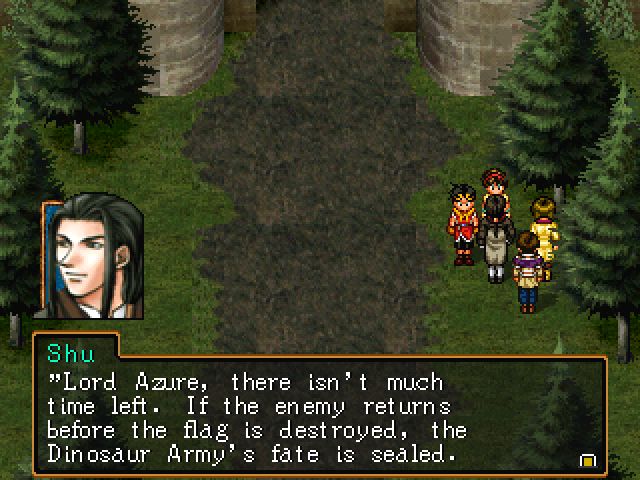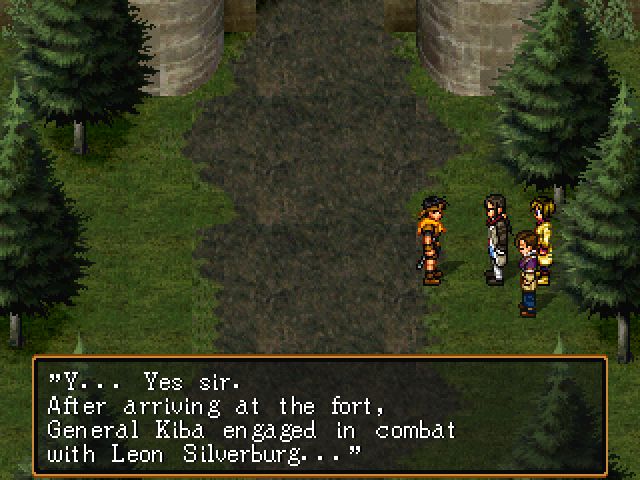 We learn that Kiba was mortally wounded upon our assault on Rockaxe.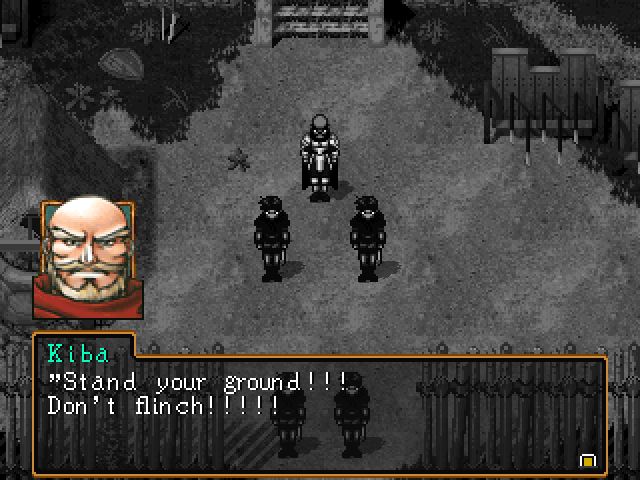 But it wasn't just him, Leon Silverberg was wounded as well.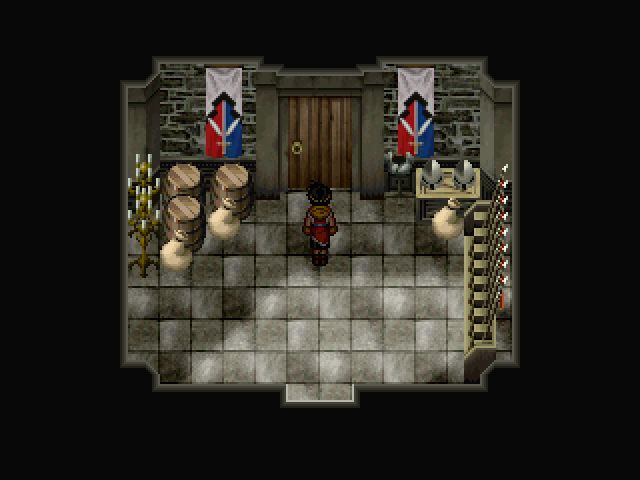 Rockaxe is the second to last dungeon in the game.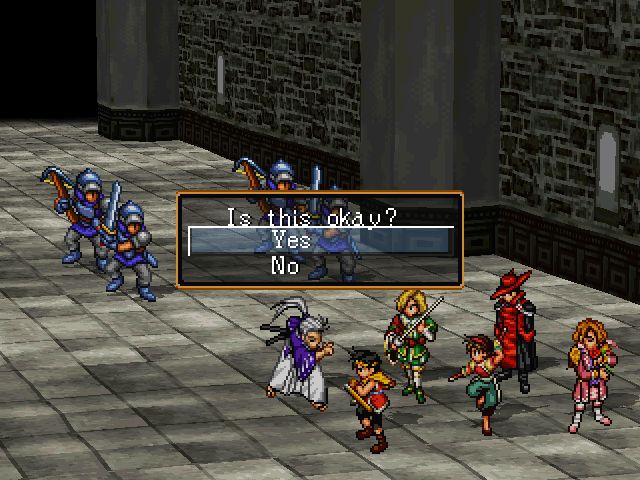 Genshu looks so awesome in battle.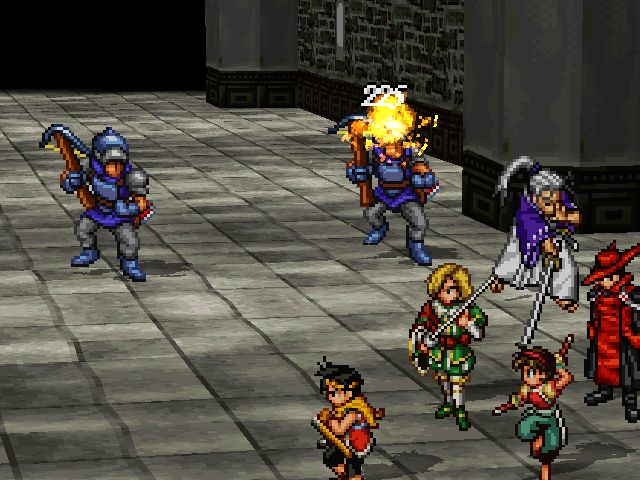 He glides to the enemy and then swipes quickly. These enemies can drop the last enemy recipe, #36.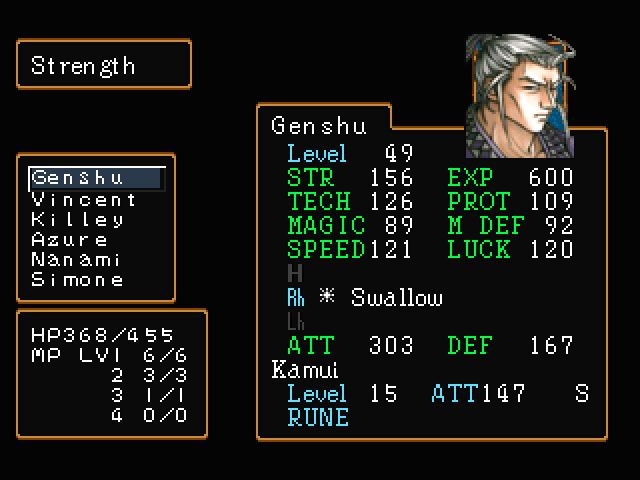 Genshu is like a stronger version of Shin but without the awesome Rune. His Swallow Rune inflicts 1x damage, but can cause instant death. It also always unbalances him. However, he never gets another slot so there's no way around that unbalance.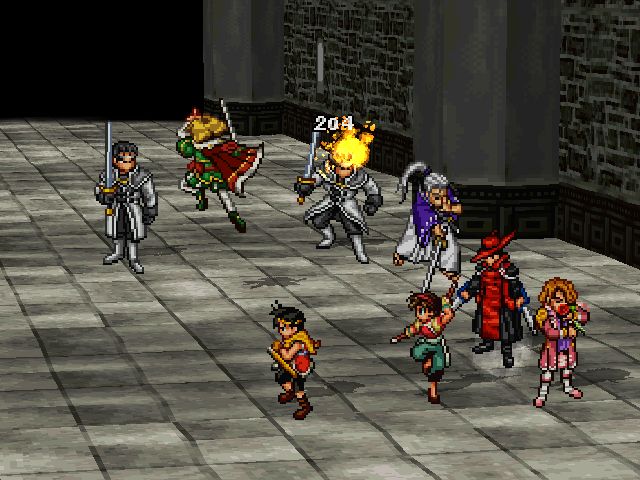 These Matilda Knights can drop Master Robes. Also this place has a ridiculous encounter rate.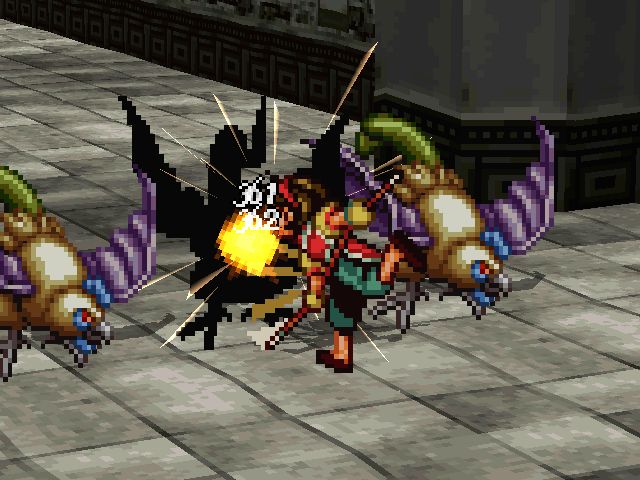 While the Cockatrices can drop Thunder Runes.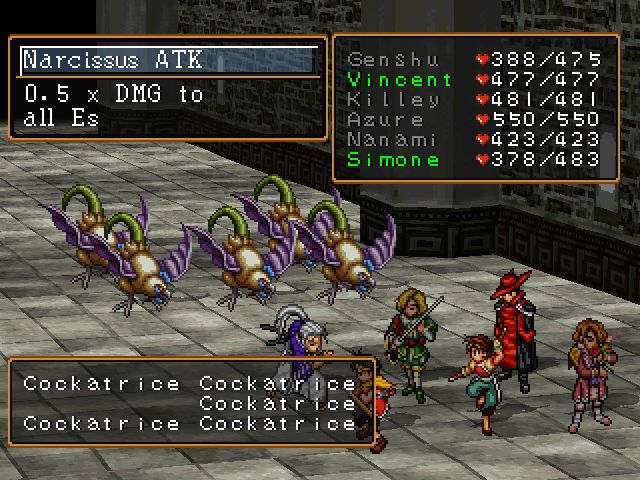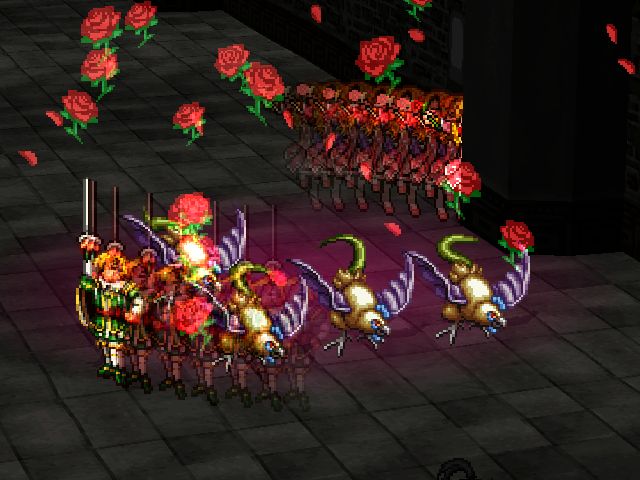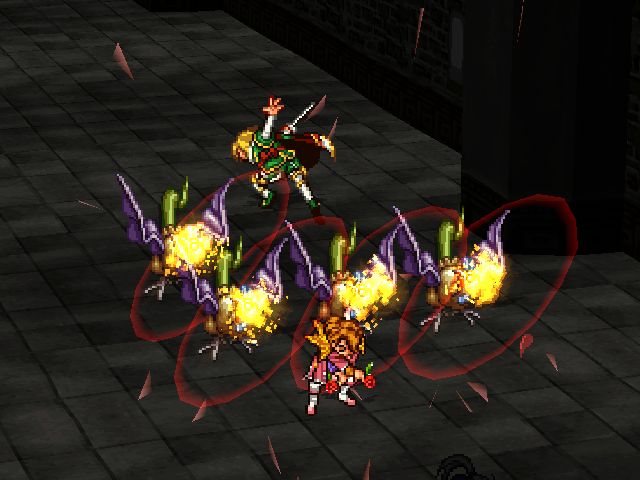 Their Narcissus Attack is like a less-awesome Buddy Attack, with roses and Simone glitching through the wall.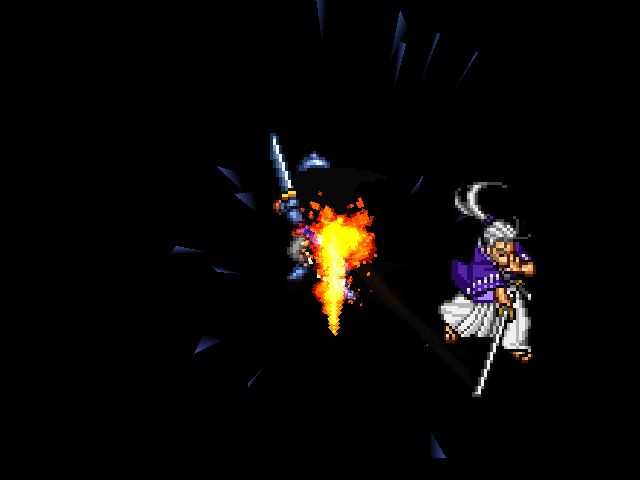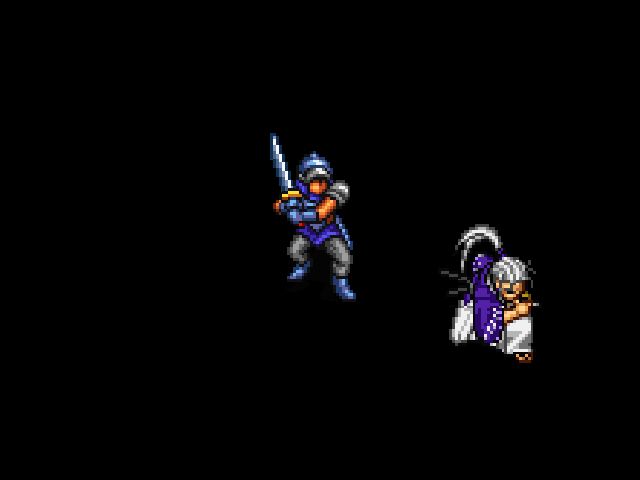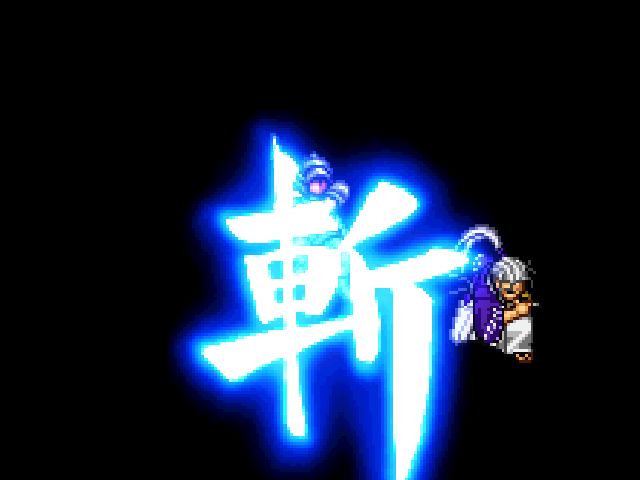 It looks cool, I just wish it did more damage.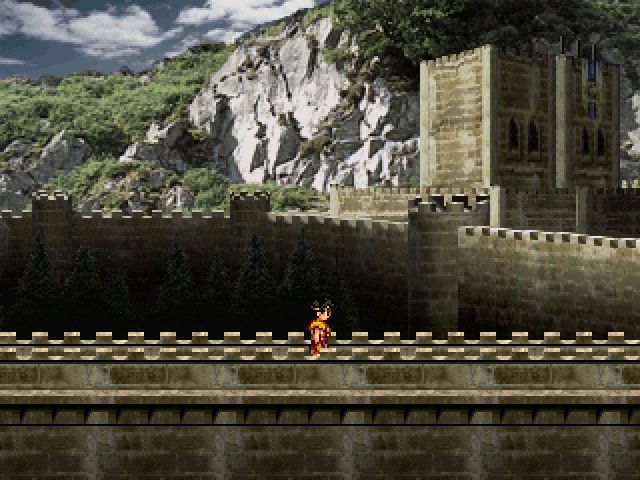 Another pretty cool shot.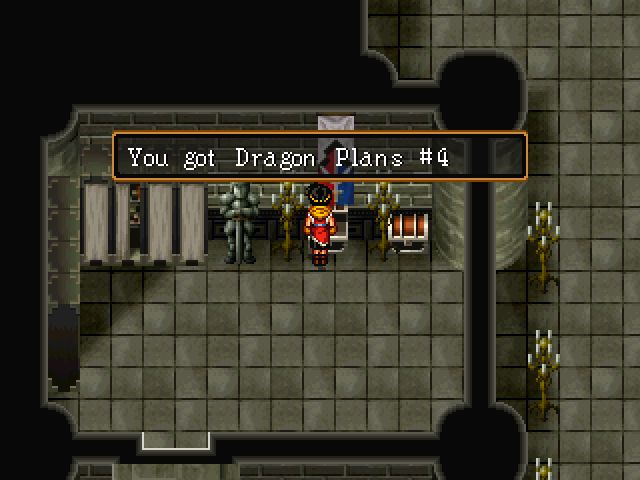 Both the Unicorn and Dragon Plans #4 are here.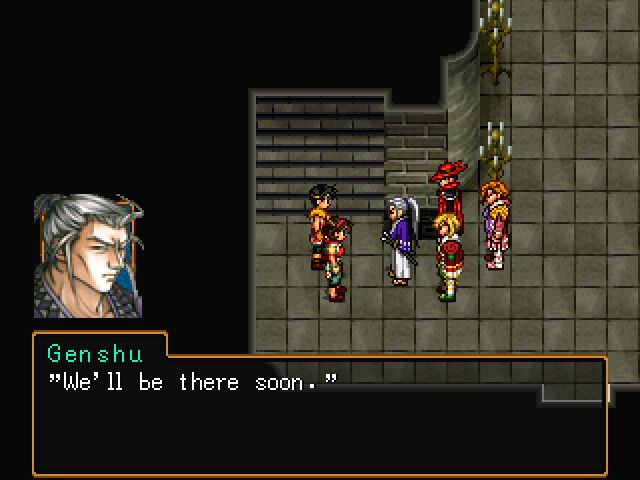 Watch the Video! (you should probably watch this)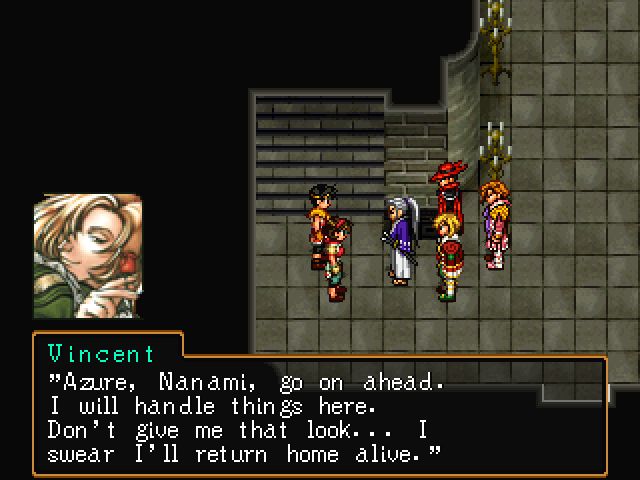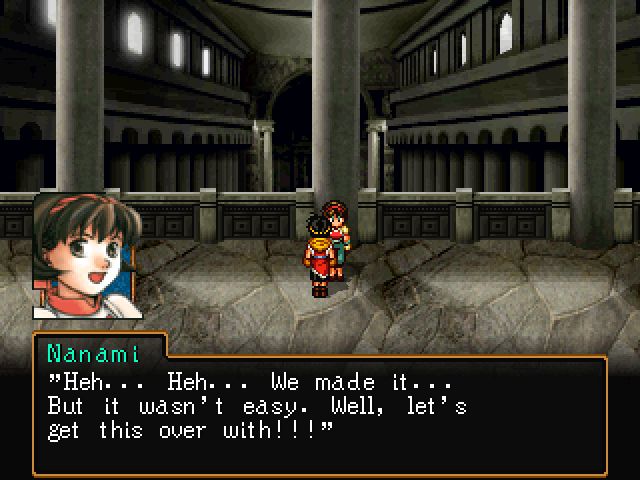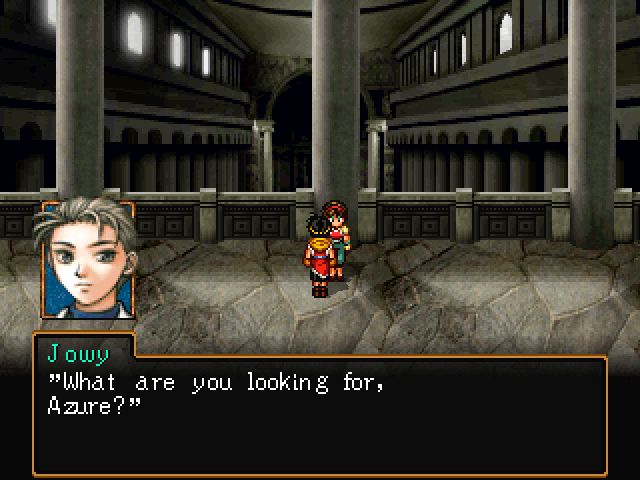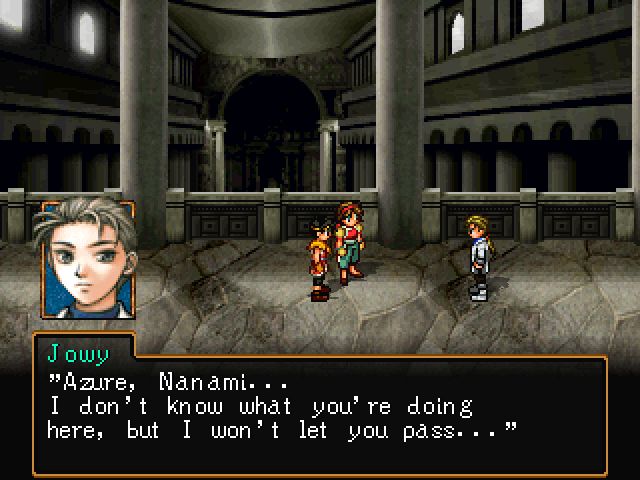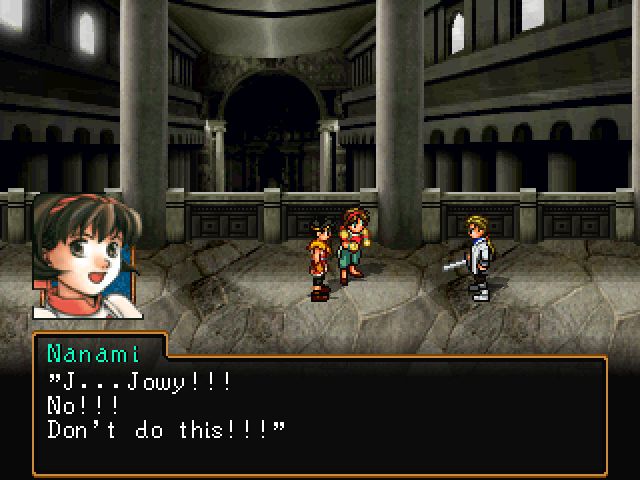 >>> It seems we must fight...

: Azure!! What are you saying!! Stop it!! You don't mean that!! Why, why must you and Jowy fight?!



: Because it's fate... that's got to be the answer. Azure, there are many people counting on you... to the Dinosaur Army, you represent hope itself. But I too... I have people who need me, believe in me.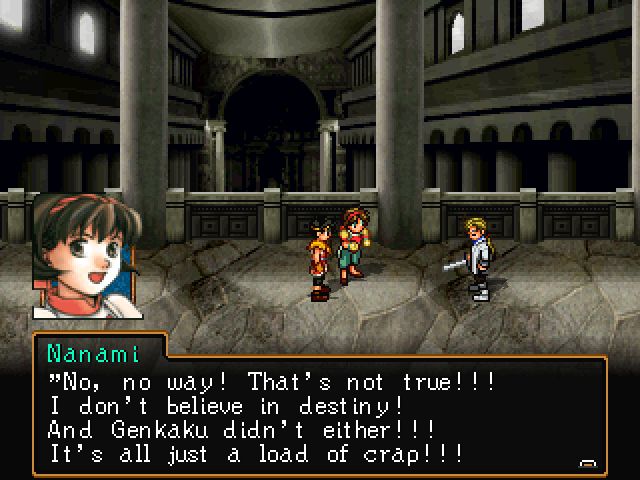 While I like this scene, Nanami ruins it with her insistence on saying 'no' to absolutely everything that's going on. No matter how much the world tells her that this is what reality entails, she's too stubborn as fuck to realize it. It teeters, then plunges over, into an abyss of absurdity. There's only so many times you can deny the truth before it becomes fact.

: If that's... if that's the reason the Dinosaur Army might fight Highland...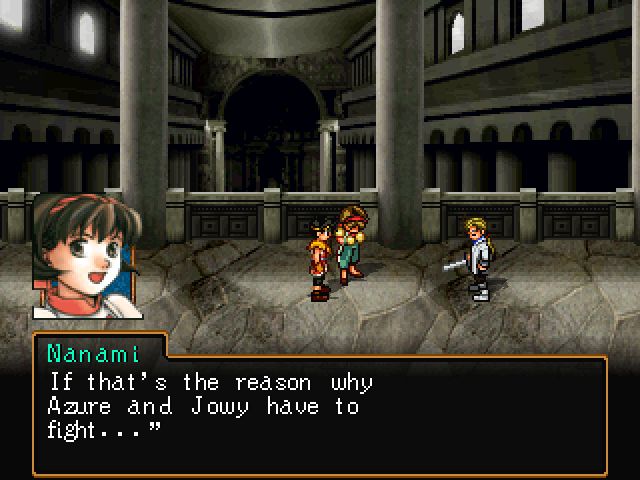 : This land... our home... it's not big enough for both Highland and the City-State. That fact is what led to all this fighting, all this sadness. I began to realize that the day of the State meeting in Jowston. I saw the State, established so its members could co-exist in peace, was itself a maelstrom of discord, jealousy, and antagonism. I will establish one mighty nation in this land, one with nothing to do with Highland or the State. A single, powerful nation, born of force and wielding force... that's the one and only way of freeing this land from war.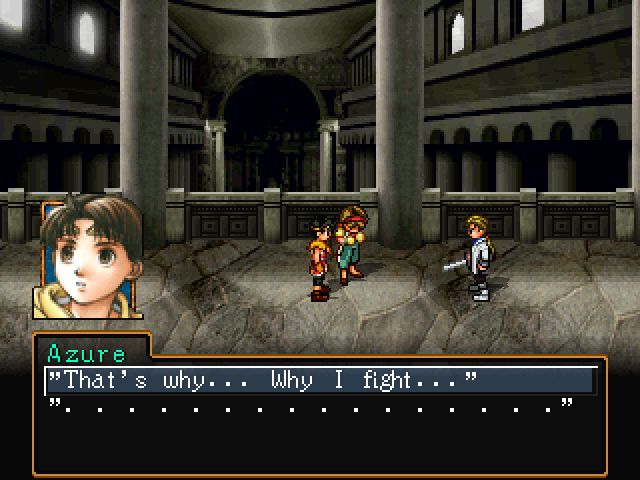 : The time for talk is over. Now we have to settle this...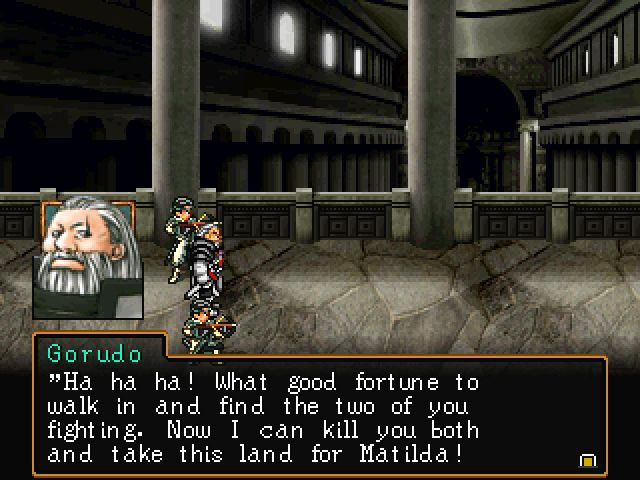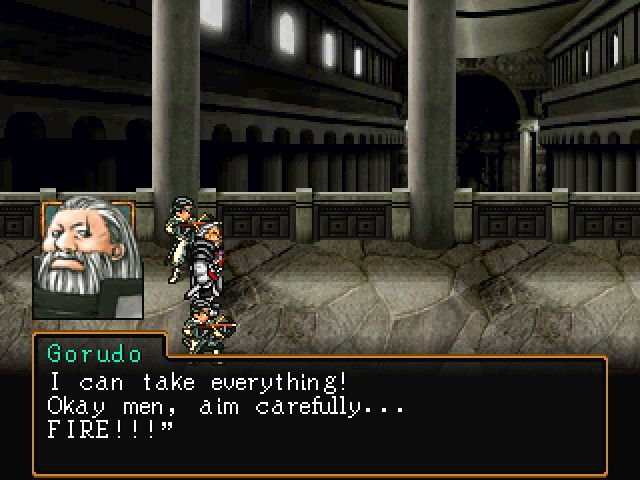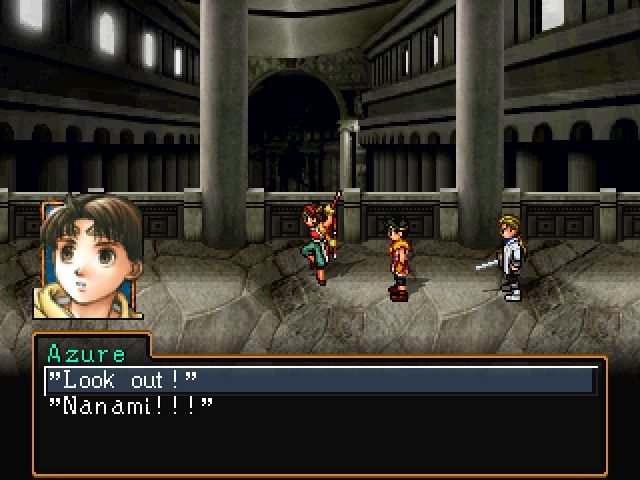 You get a half-second to make a decision. If you do nothing, you can't get the best ending. It doesn't matter which one you pick, so long as you pick one. The difference between choosing an option and not is that Azure comes to the ready with his tonfas if you pick an option.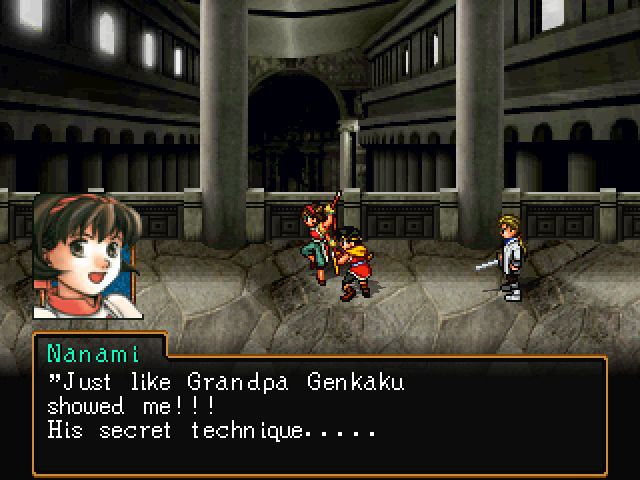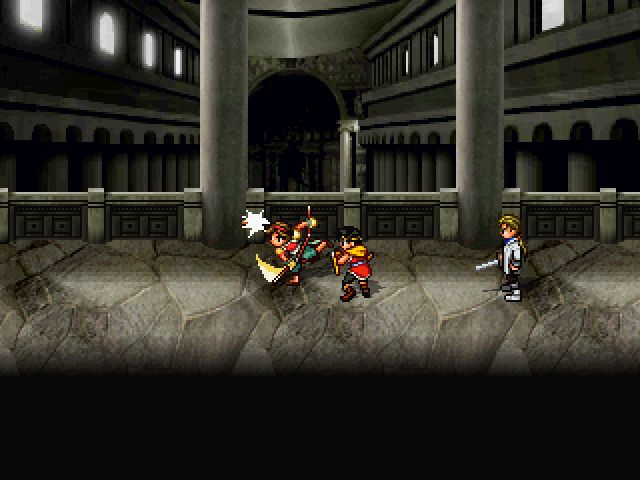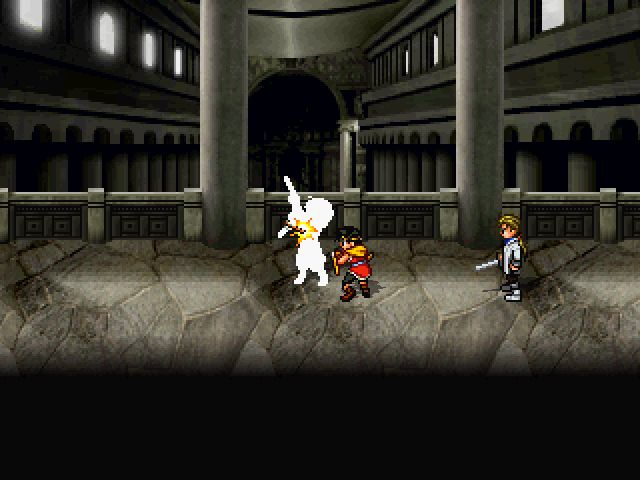 She tries to knock the arrows out of the air, but one hits her anyway.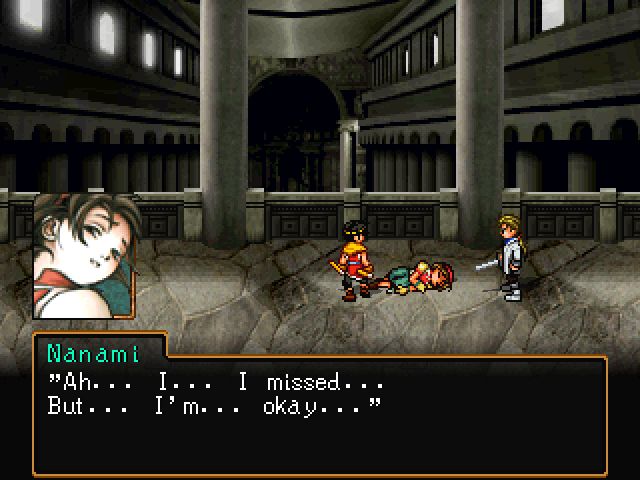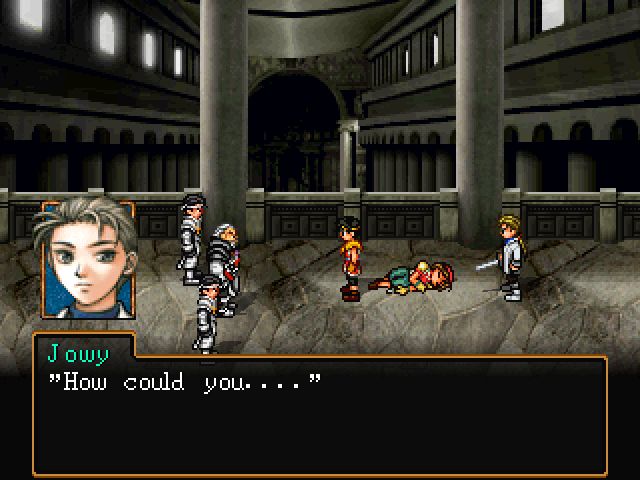 Suikoden 2 Tunes – Iron Fist of Anger ~ Battle Against Gorudo
(I have no idea where they were going with this track)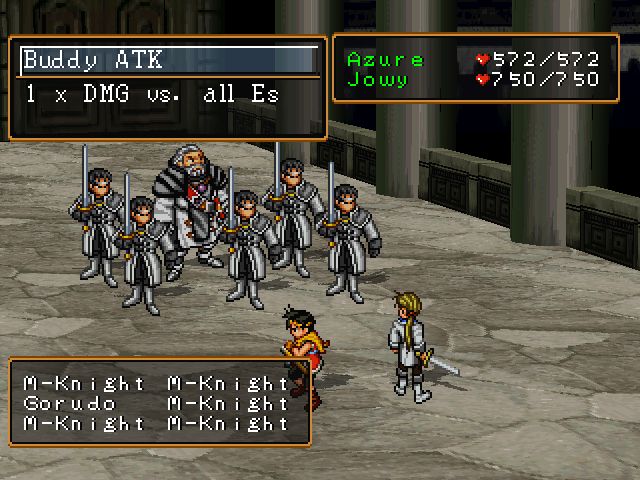 It's time for an epic boss fight with Gorudo. Jowy rejoins us, and thanks to emulator issues, he also joins at level 99. This means he'll have three charges of his last spell, and also be ludicrously powerful. First, the redone Buddy Unite. Jowy has gotten rid of his quarterstaff and now uses a generic sword.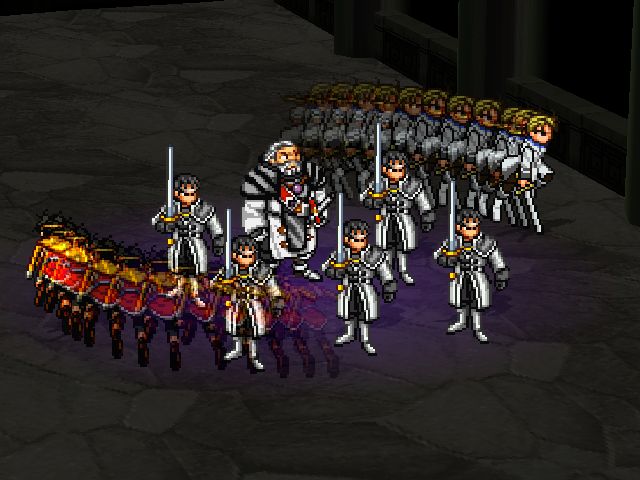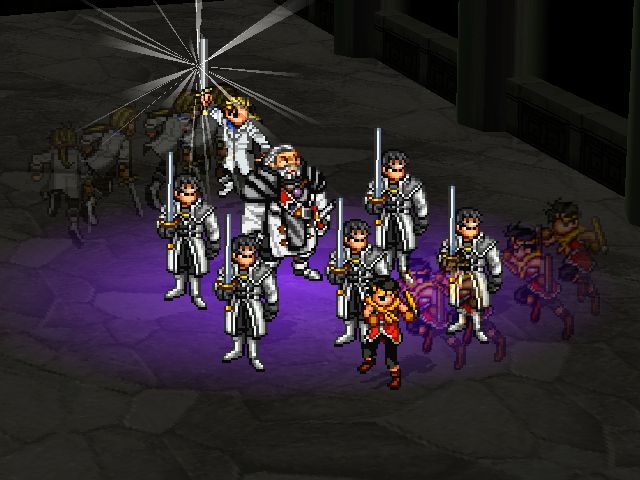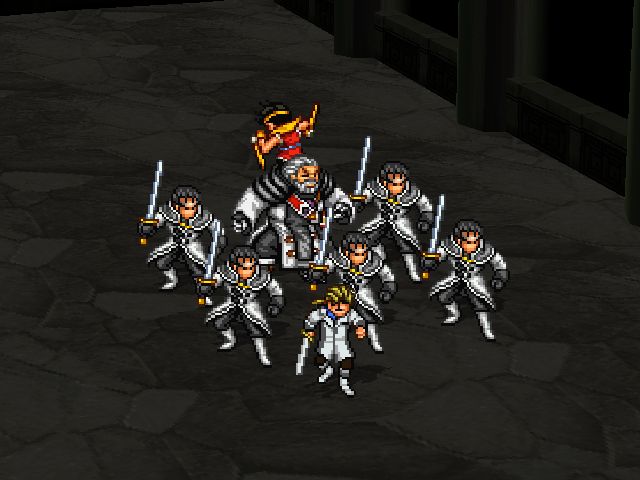 It does the same damage as before, but now Jowy's sword twinkles. Gorudo mostly uses Earth spells, and he's not a tough boss.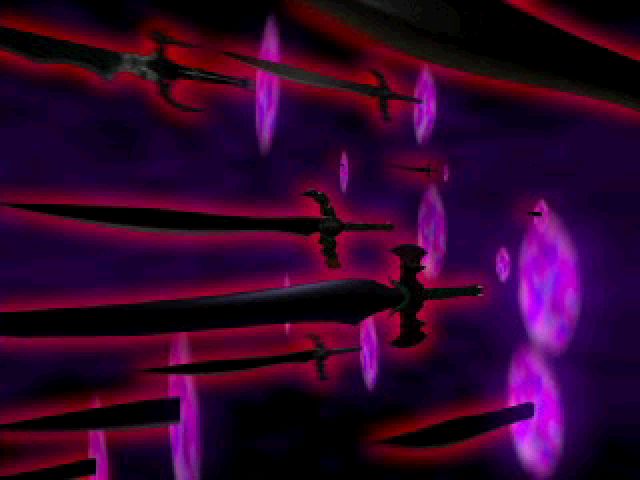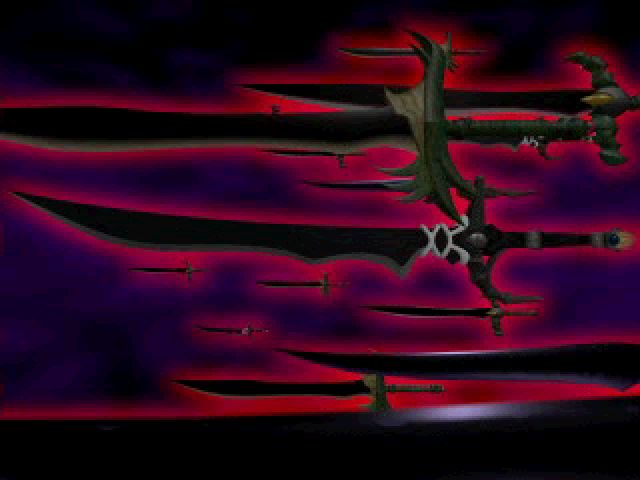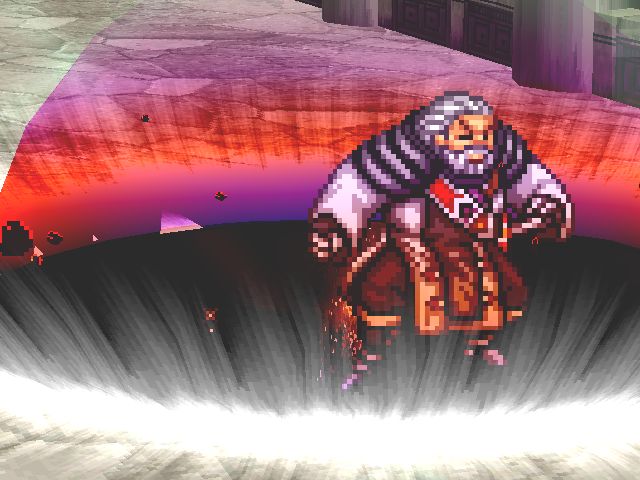 This is Hungry Friend, and it deals a fuckton of damage to Gorudo.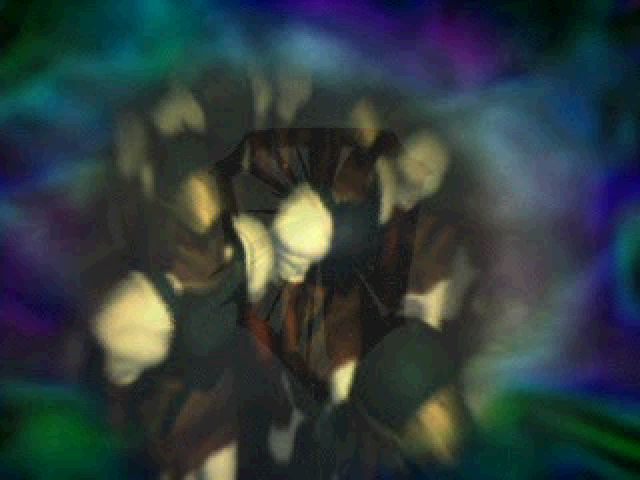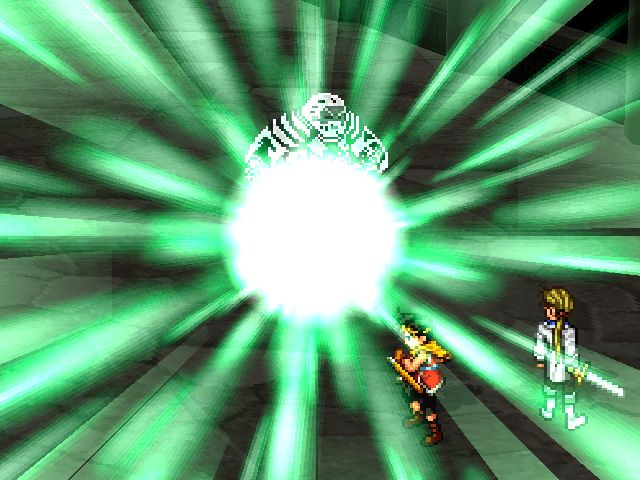 We follow up with Forgiver Sign.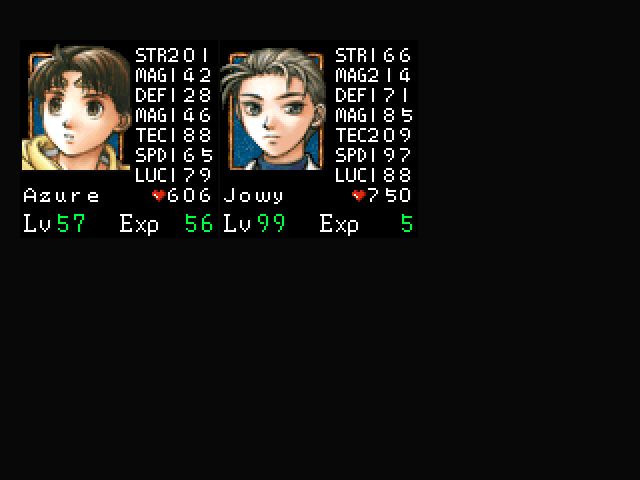 Man those stats are ludicrous.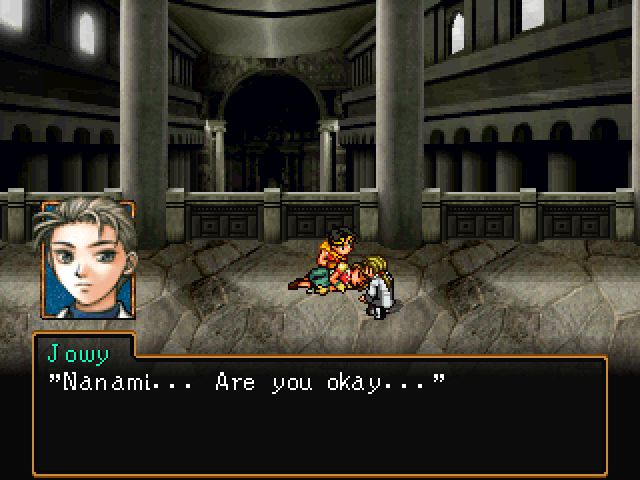 Watch the Video! (you should watch this too)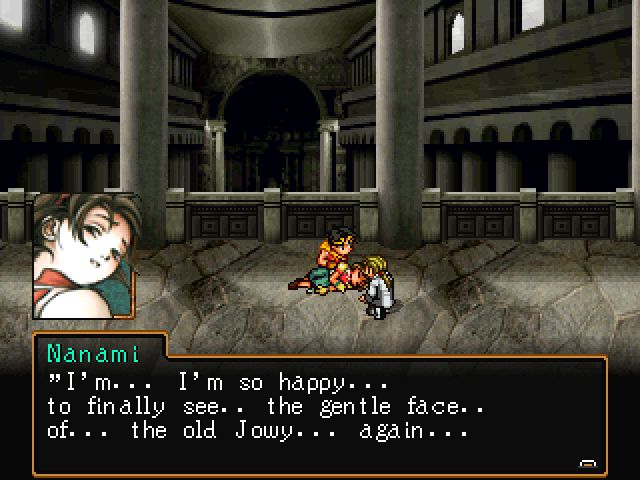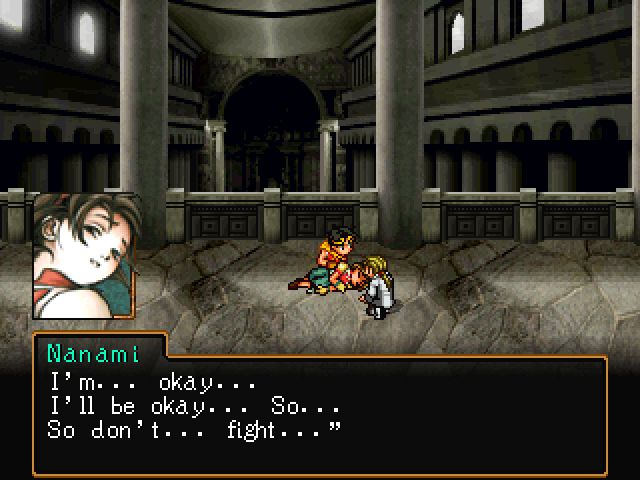 : Nanami... I'm sorry... Azure, take care of Nanami...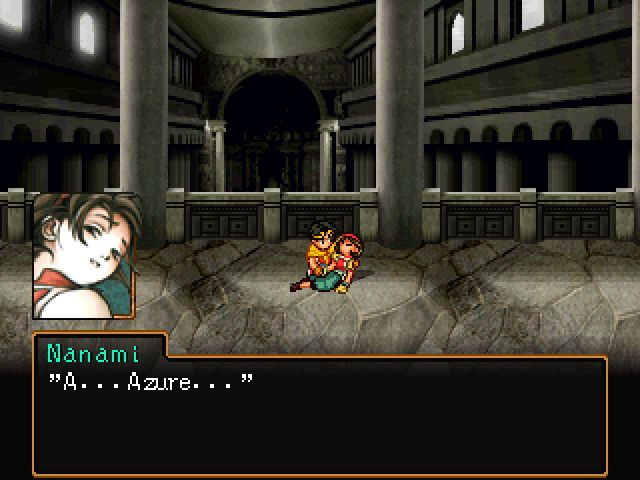 : I'll be okay...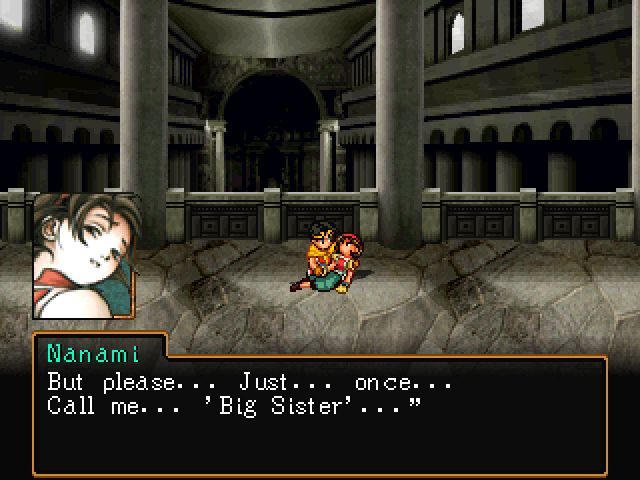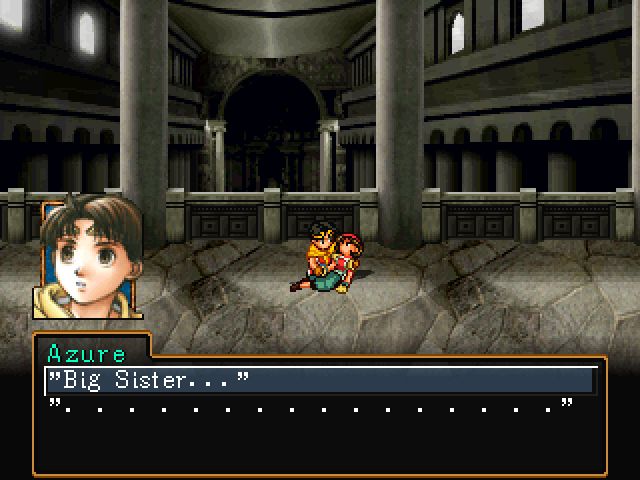 : Th.. thank you, I feel better. Hey... Azure... you.. and me... and Genkaku... we're not.. related... but... we really... were a family... weren't we... I'm glad... I got to be... Genkaku's child... and I'm glad... I got to be... your big sister... and I'm glad... I was... Jowy's friend... and I'm glad... we... were all... together...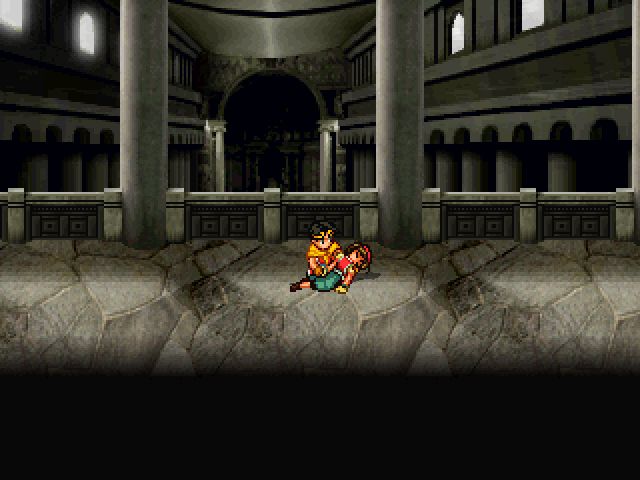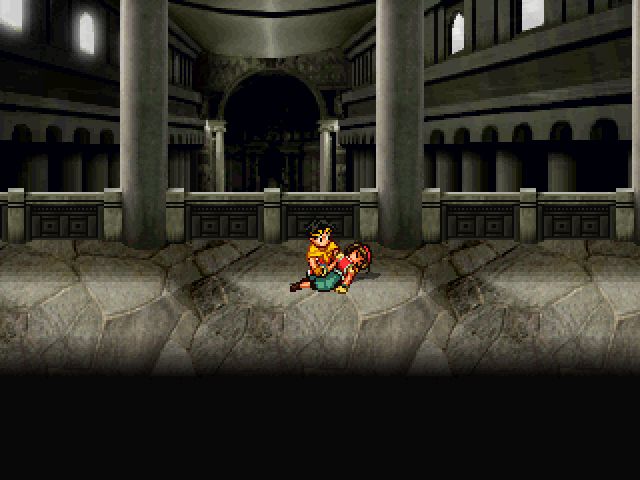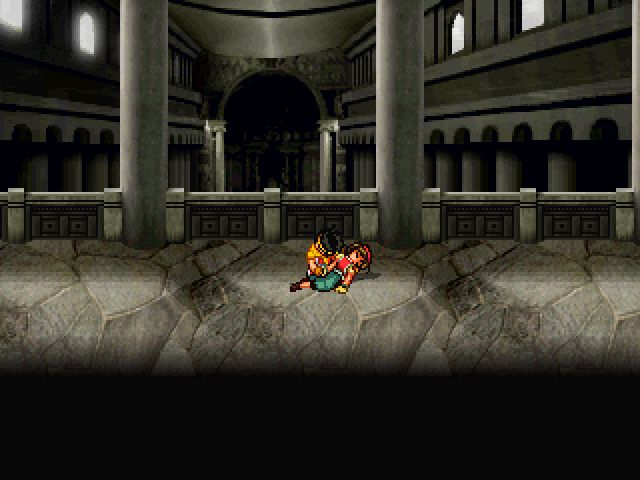 : Lord Azure... what happened...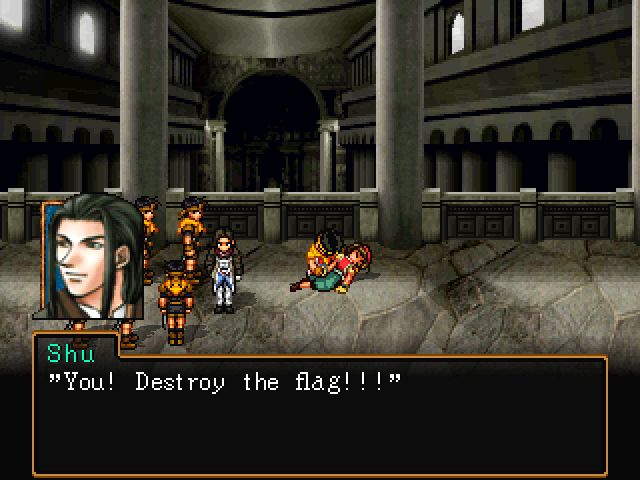 Shu then calls for a doctor...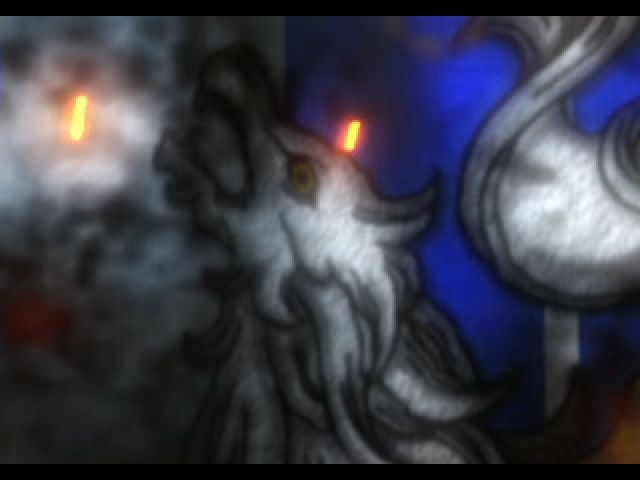 While the Matilda flag burns.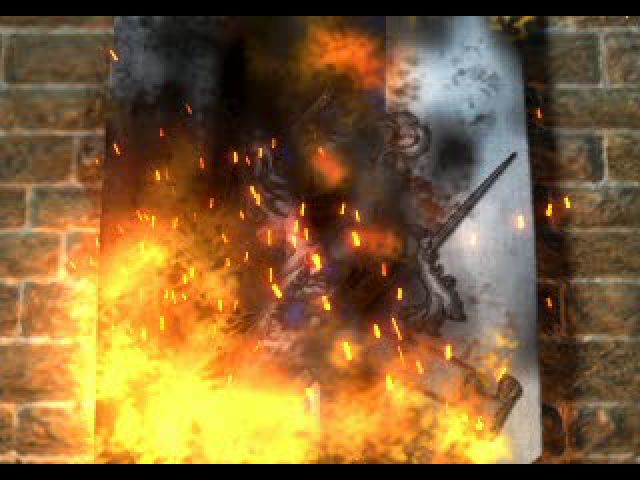 This is for being a complete fucker, Gorudo.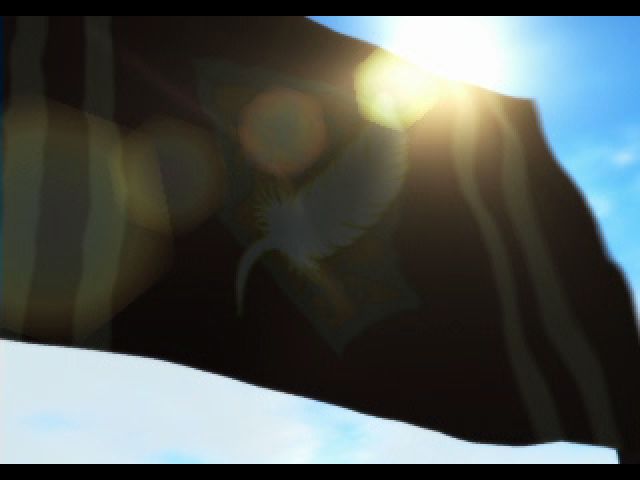 Long live the State!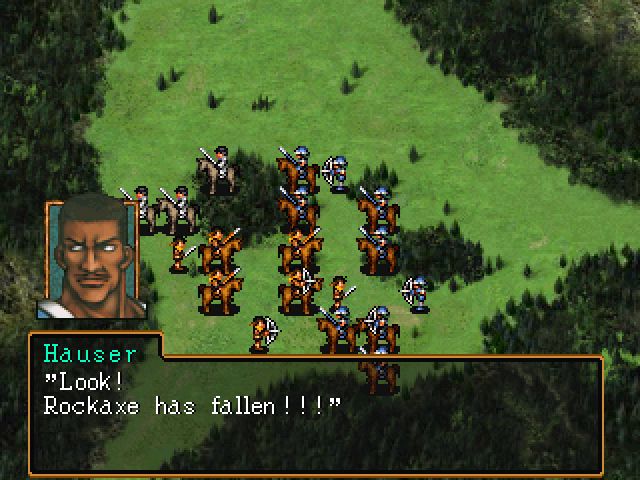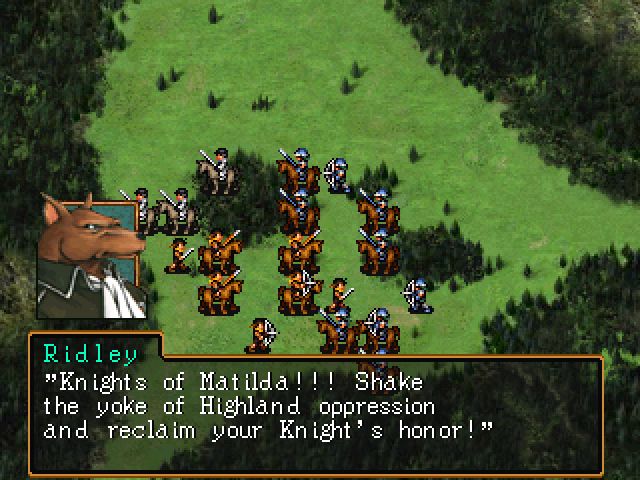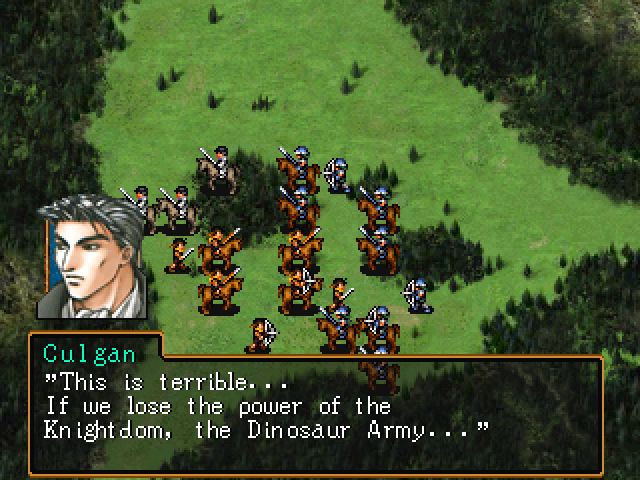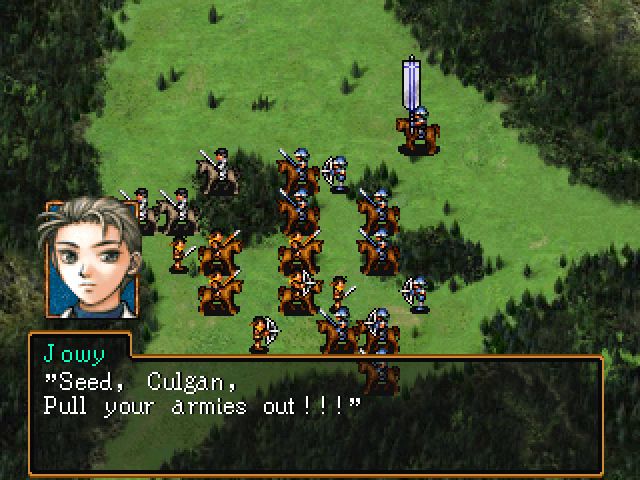 Jowy makes the call for full retreat to buy Azure time to get Nanami medical attention.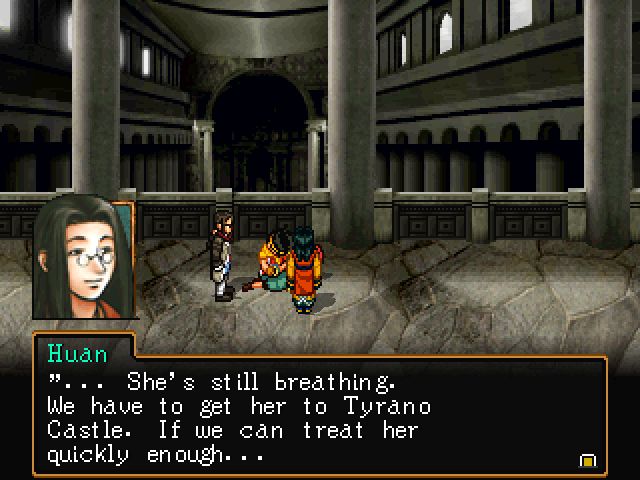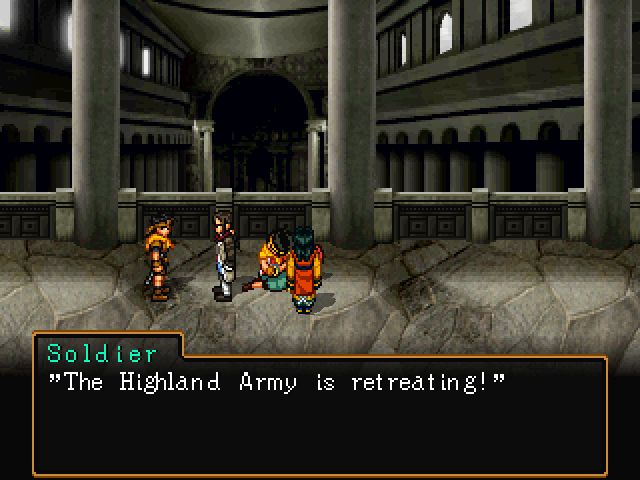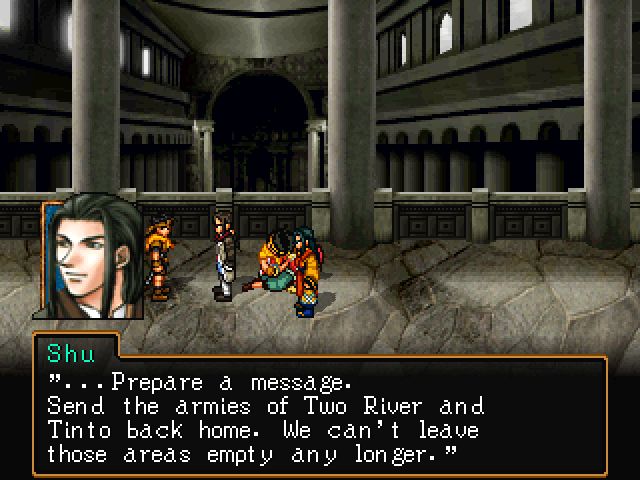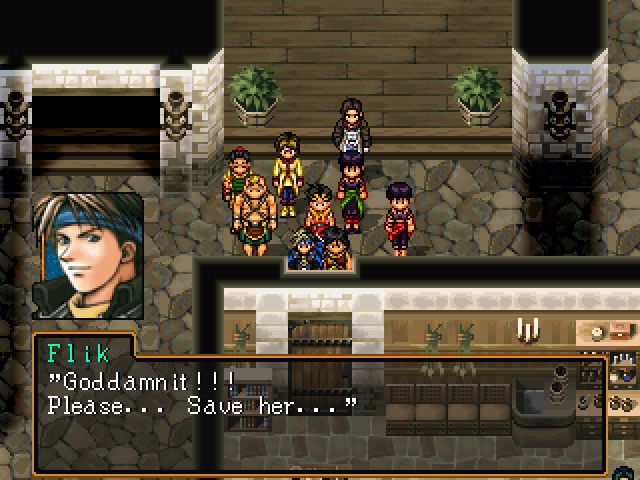 : It'll be okay... she's not going to die...



: Eilie!!



: I'm sorry, Azure... I didn't mean...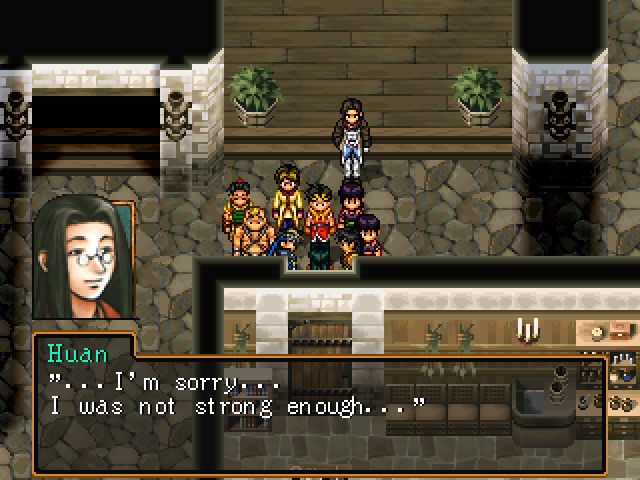 Flik freaks out, but then Huan asks Shu into his room.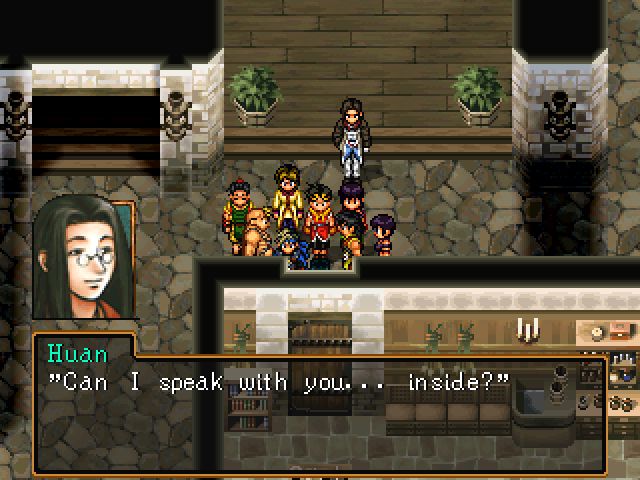 Well, I guess Nanami's dead.
yaaaaaaaaaaay~