Part 37: Get ready to BURN!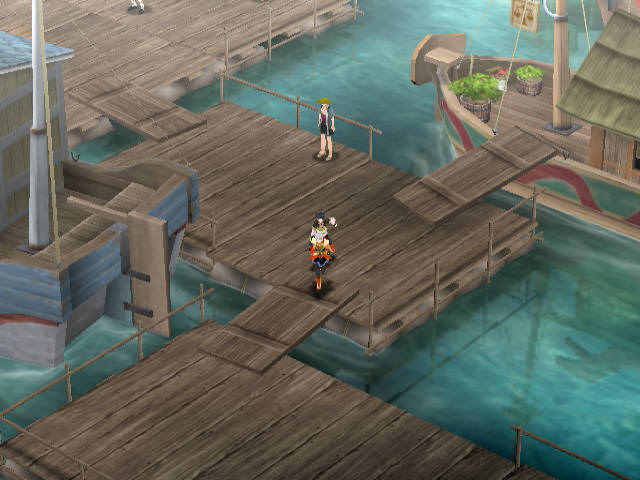 This update is going to be a bit of a transport stretch. There are things here that we need to see in order to progress, but it's pretty low on action.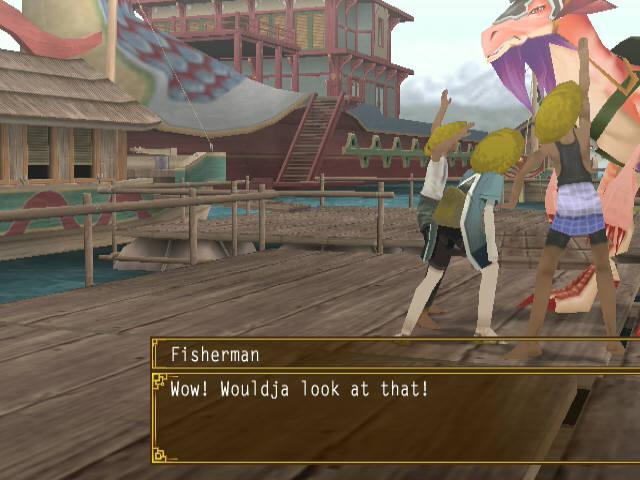 We do get some dragon horses, though!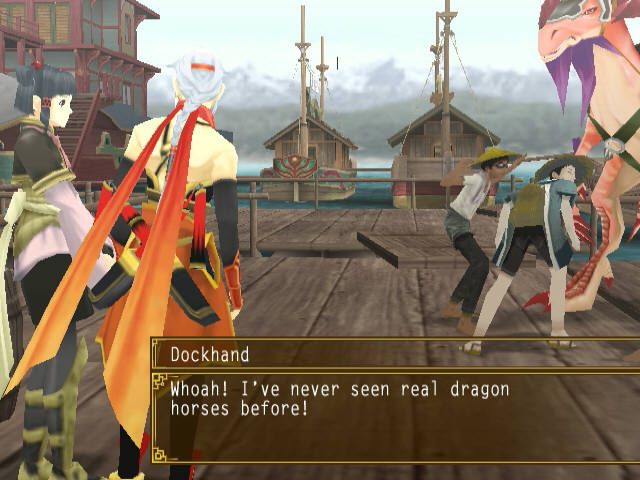 Merchant:
Prince! C'mon over and take a look!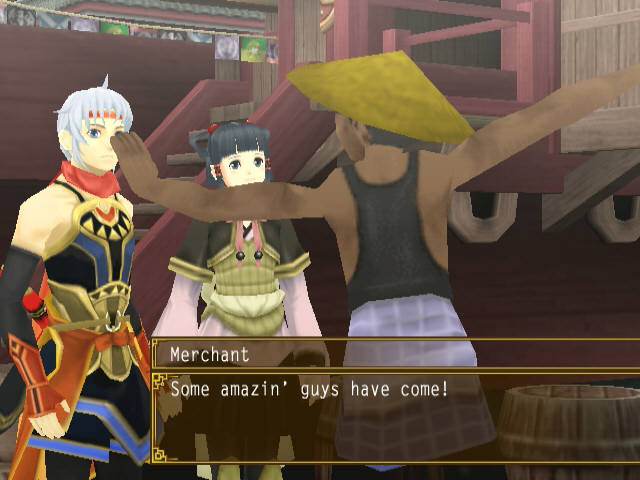 These guys sure are excited!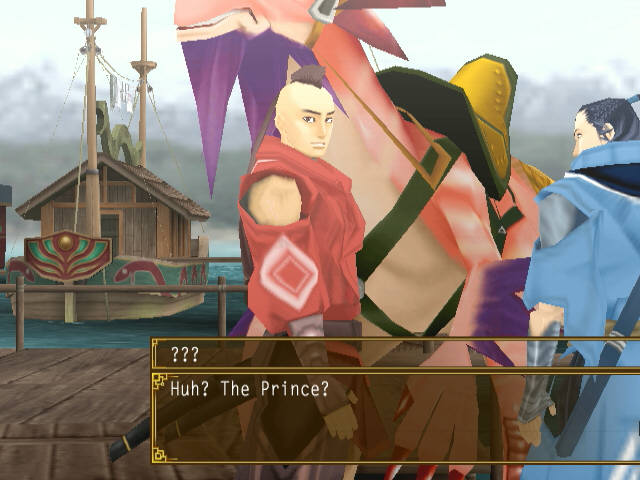 I don't think they see many playable characters here.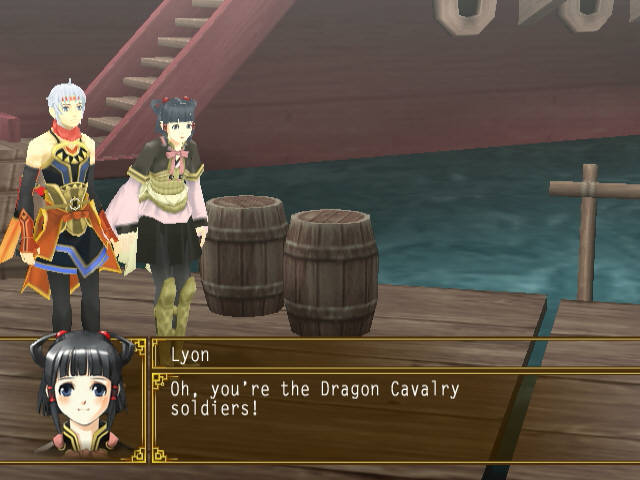 Lyon doesn't have that excuse, but on the other hand she's been wanting to meet some dragon horses since Stormfist.

Aha, the Prince!

What a fortunate meeting.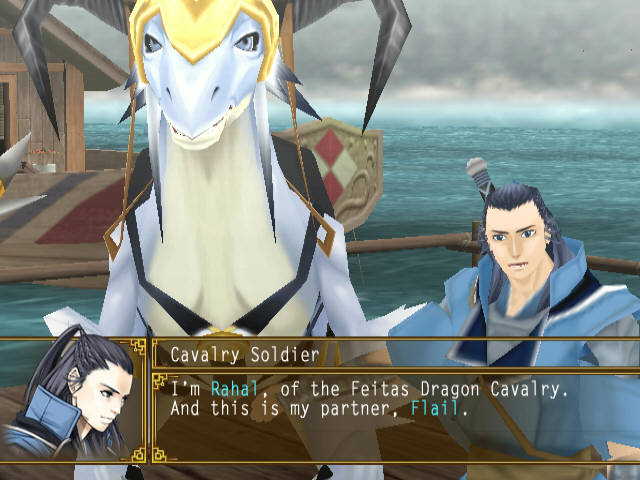 Wow, you're all colour coordinated and stuff.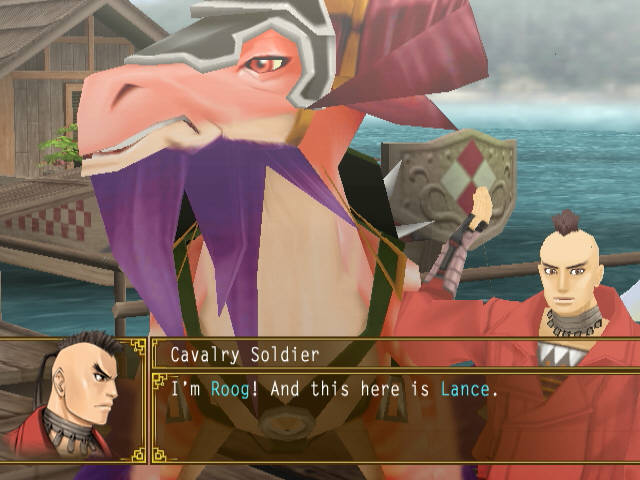 Something about dragon horses' faces reminds me a bit of a camel. Why can't they ever give us camel cavalry? It would be so awesome.

We heard the Armes Army was meddling in the battle in northern Rainwall, so we came to investigate. Could you tell us what you know about it?
Frey does so, off screen.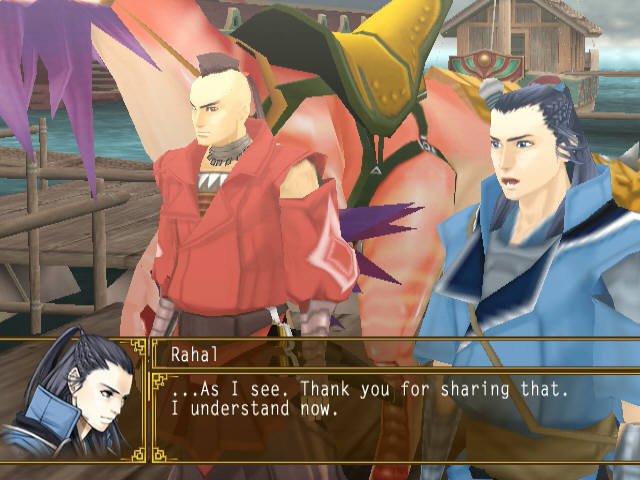 So, he's been in secret communication with Armes, huh?! Unforgivable, what was he thinking? C'mon, Lance! Let's go!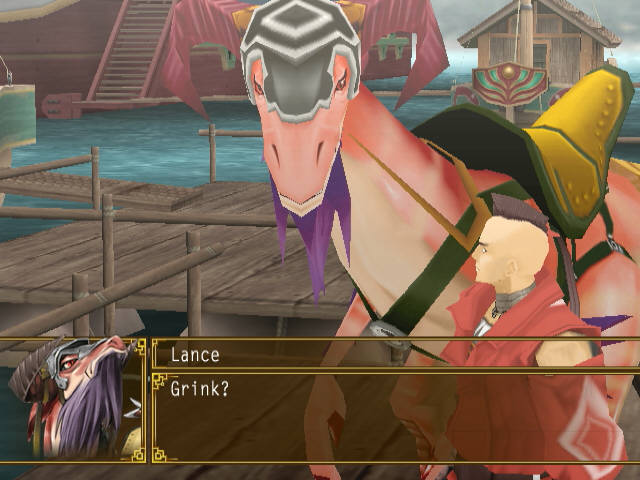 Where are you going in such haste?

To Rainwall, to give Lord Barows a big ol' thump on the head, that's where!

But that would be foolish at a time like this. Besides, Lord Barows is getting up there in years. He might keel over if you hit him, you know.
Damn it Rahal, stop ruining everything!

Don't worry, I'll go easy on him!

Look, just forget about it. You'll disgrace the Dragon Cavalry's name.

Hmph! All right. Fine.
Noooo.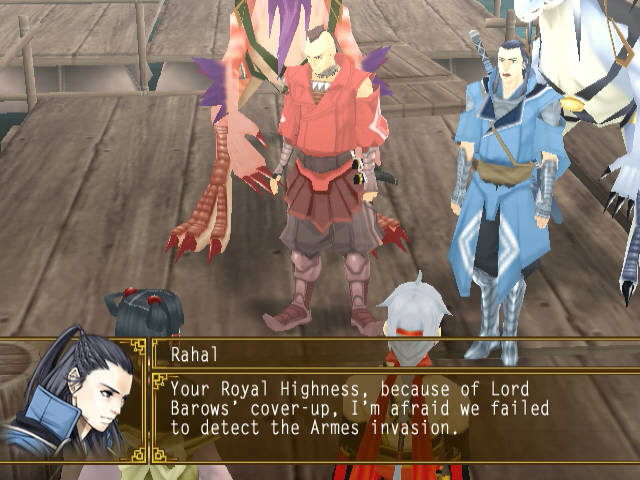 We apologize for not fulfilling our duty. So that nothing like this ever happens again, we promise to dedicate ourselves to intel-gathering and surveillance. And once again, thank you for sharing your story with us.


Come on, Roog! We're leaving.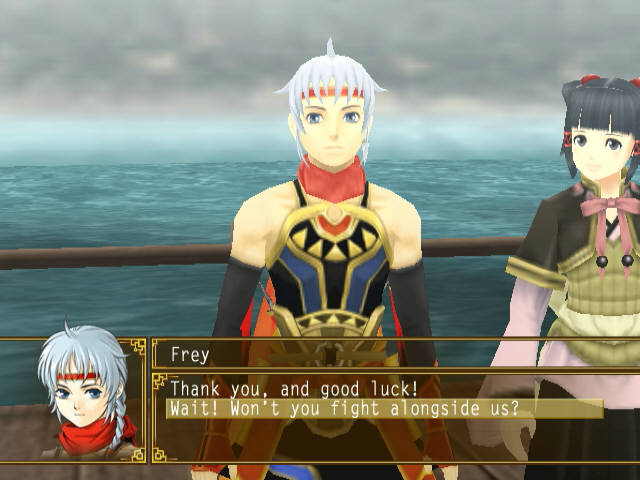 As usual, this won't matter in the long run, but they'll like us better if we ask them to join us. There are a couple of characters who won't join you unless you ask them to, however, so rule one for playing Suikoden V:
always
ask
everyone
to join you.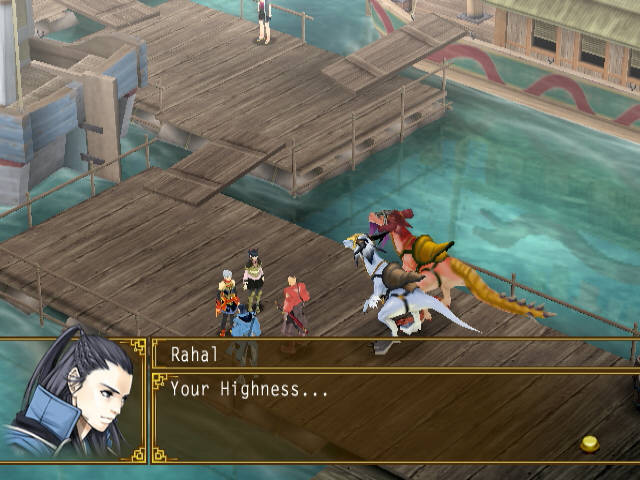 Man, I really wish we could! I'd like to give Lord Godwin a big ol' thump on the head even more than Lord Barows!

The Feitas Dragon Cavalry exists to protect the lands and rivers of Falena. We can only be used for self-defense. Therefore, we're forbidden to get involved in internal conflicts. I hope you understand, Your Highness.
*nod nod*

Now, if you'll excuse us...

Good luck, Prince! See ya down the line!
You better be prepared to join my party when we do, because I'm all about thumping lords on the head.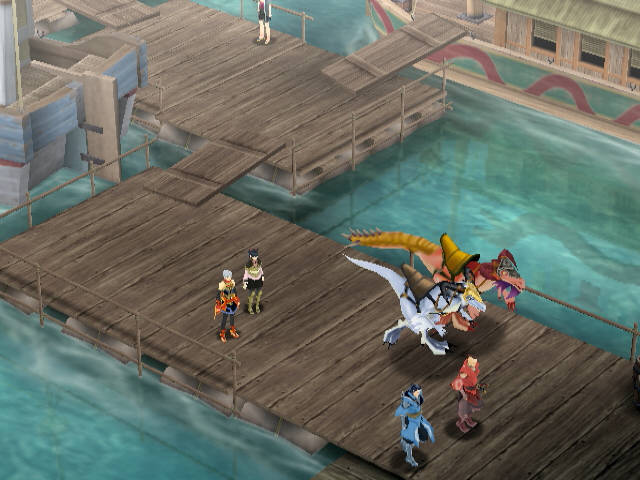 This scene actually plays out the first time you try to leave Raftfleet after getting your new outfit. We just haven't had a reason to do so before now.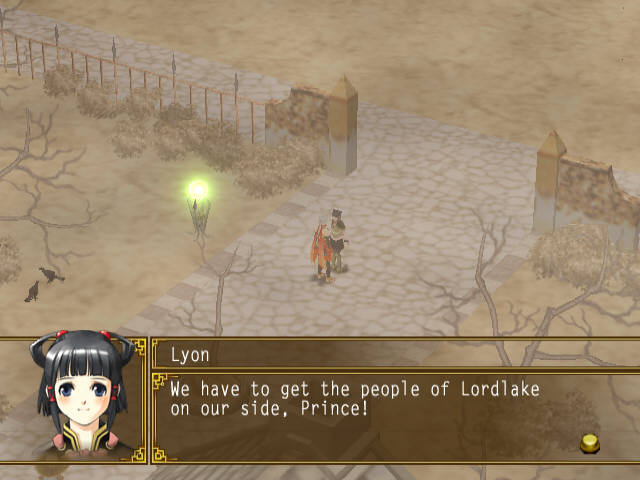 We'll follow them, this time, and head straight to Lordlake. Raftfleet is anchored right where we landed on our previous trips, so it's not very far.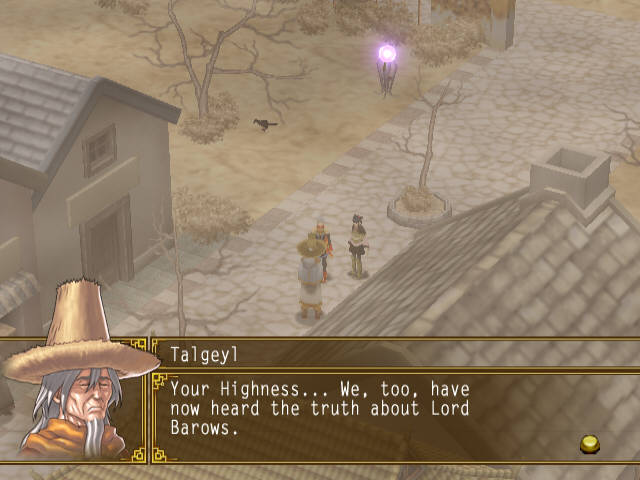 And the truth is so awful, I can't even feel angry. Why did Lord Rovere have to die? Why did we have to suffer? Was it all meaningless...?

I... don't know what to say.

So, what brings you here today, Your Highness? Did you come to tell us that everything was Barows' fault, and that we should genuflect before you in gratitude?
...do we really need these guys?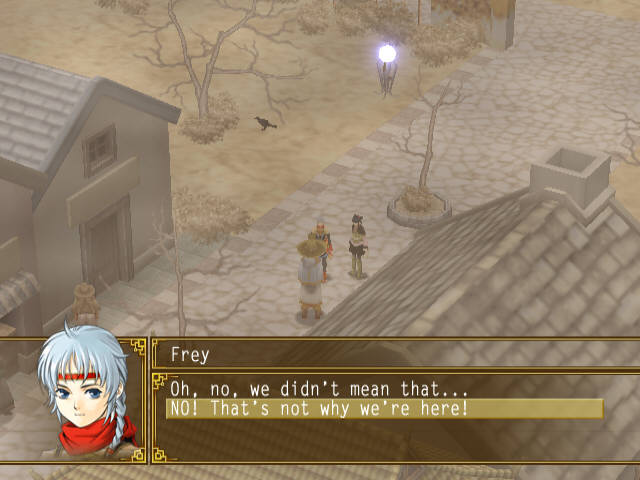 Blah blah affection points bleh.

We just wanted to see... if there was anything we could do to help. That's all.

I apologize if I seem bitter. But there are those in town who are far more bitter than I, Your Highness. We've suffered so very much.


...And I think I need to put a face on that suffering for you, Your Highness. Let's go to Dr. Silva's clinic.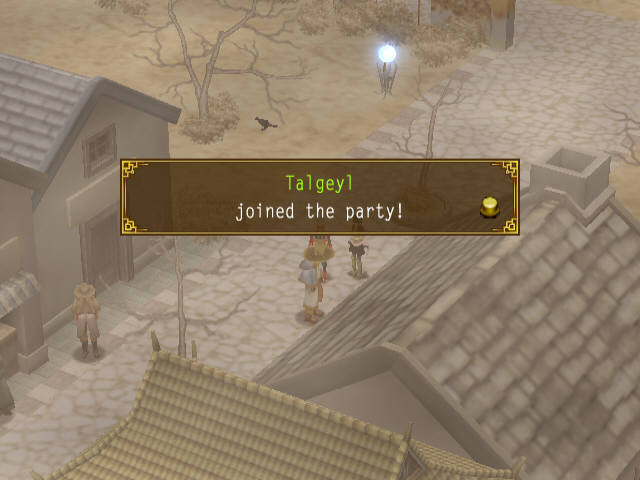 I guess we can do that if you promise to keep her from throwing Frey in the river.
Because that would hurt when there's no water in it.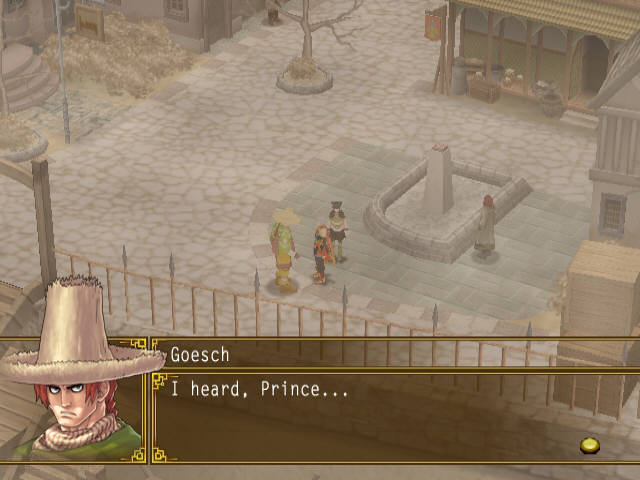 All along, we were just pawns in some stupid feud between the nobles...


...Damn.


...DAMN!


...DAMN IT ALL!!!

Backing away slowly now.
Townswoman:
There's no sense in pointing fingers. It won't help the town return to normal. And it won't bring my son back, either.
...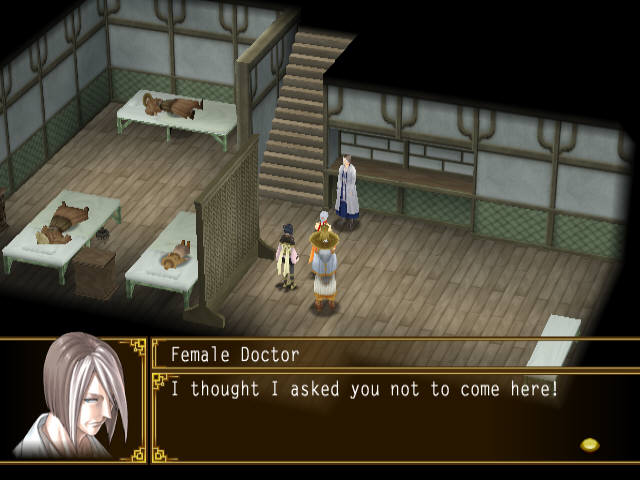 And that's about the greeting I expected.

No, Dr. Silva, I'm the one who brought them here. His Highness needs to see the realities of this town...

Talgeyl...


If it's a personal request... I guess I can allow it. Fortunately, you're dressed differently than the last time you came. The patients won't recognize you.


...Not that some of them can see very well at all to begin with. But just be quiet, please.
Frey nods.

Yes, Doctor.

I'll show you the infirmary.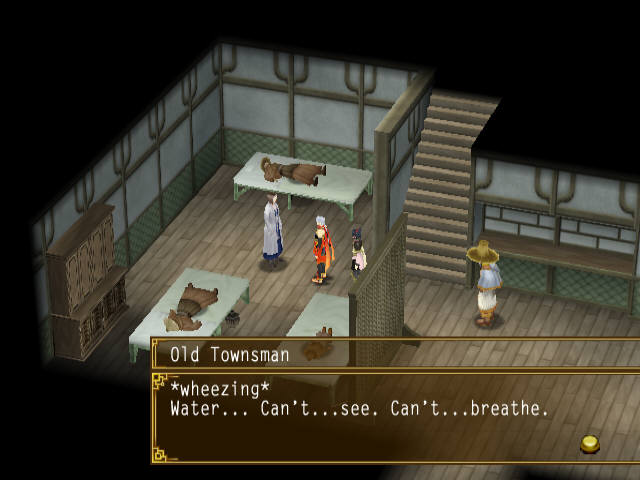 Child:
*moaning*


Moo..... mmmmmy...

Some have severe stomach infections from drinking contaminated water. Some have sunstroke. And all are malnourished. And we're never at a shortage of patients. But without a clean supply of water, there's nothing I can do. I can only try to ease their suffering in some small way. It's not easy being a doctor in this town...

Um...

Do you think we could move these people to Raftfleet? There's plenty of water there.

I suppose we could... but it'd only be a temporary solution. Even if they got better in Raftfleet, they'd just end up right back where they started when they came back here.

So... why couldn't they just... move to Raftfleet?

All who wanted to move did so long ago. The only ones left in Lordlake are those who feel they belong here, who love this town with every fiber of their being. If you told them to go somewhere else just because there was water there, they'd refuse to go.
This came up a bit earlier in the thread, but here's confirmation. Most of the
sane
people already went off somewhere that doesn't suck. There's just the most stubborn, least clever ones left here now.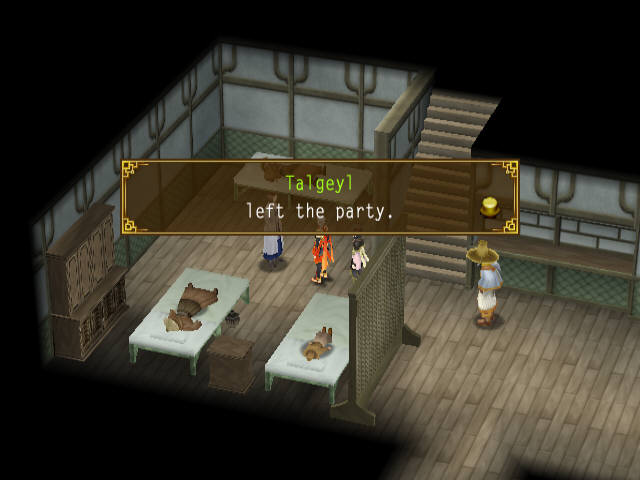 ...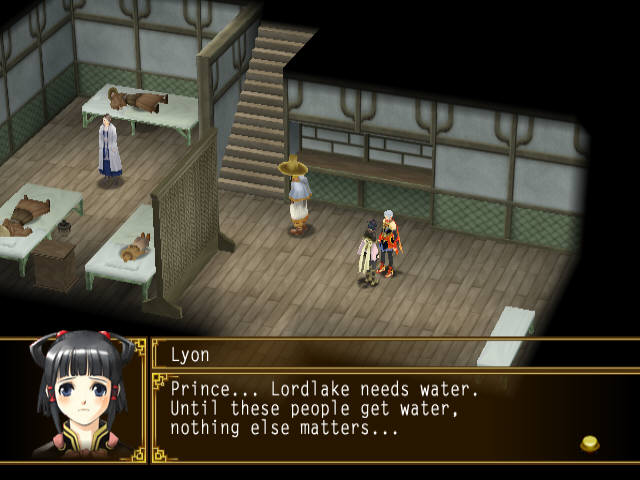 So it looks like we need to blow up that fortress anyway. I could have told you that from the beginning. Some strategist we have.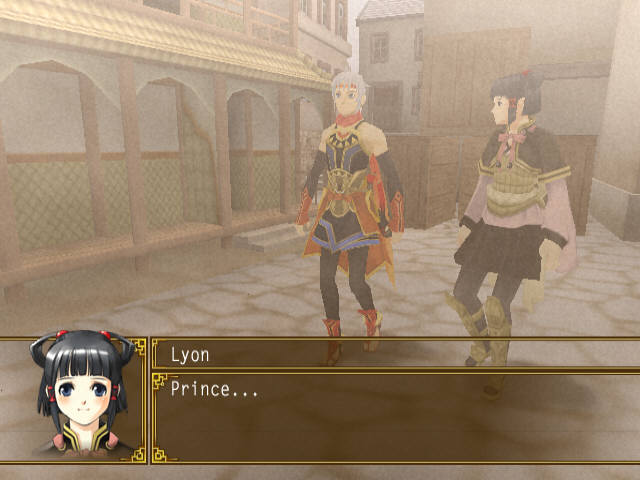 There's another unpleasant encounter waiting outside
.

It looks like the only way to save this town is to somehow get the water to return...
???:
Hey! Hey, you guys!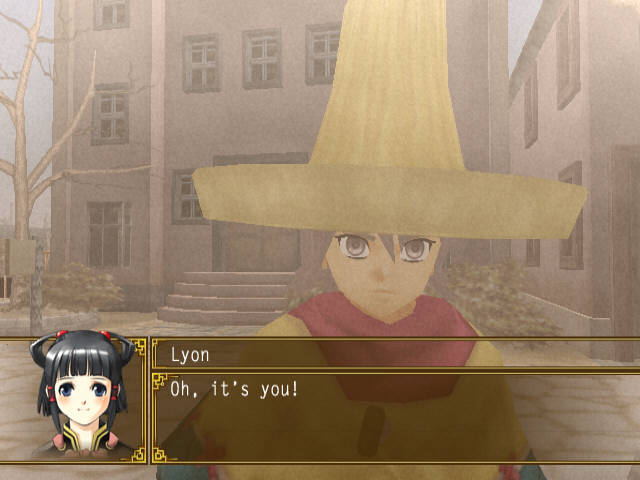 Hey, did you just say something about helping this town? Don't make me laugh! We would never even THINK of accepting help from YOU guys!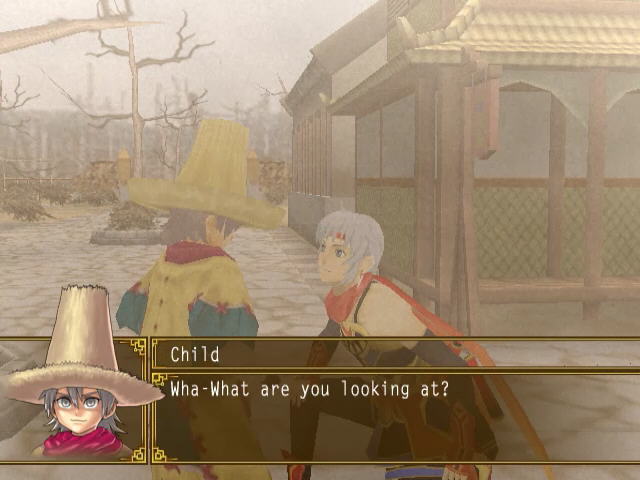 Whether you want help from us or not, the fact is...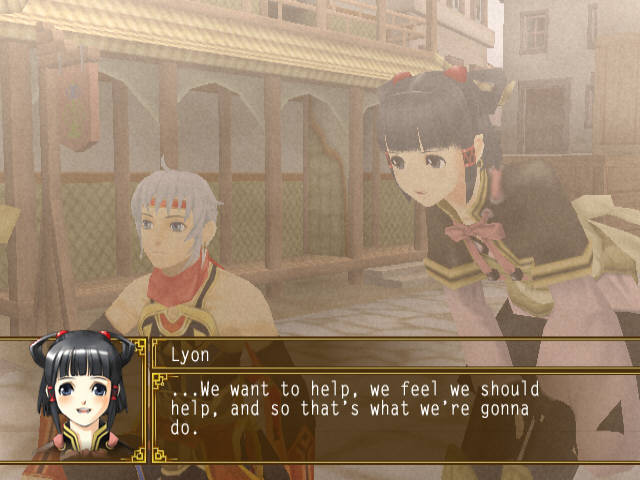 I don't understand.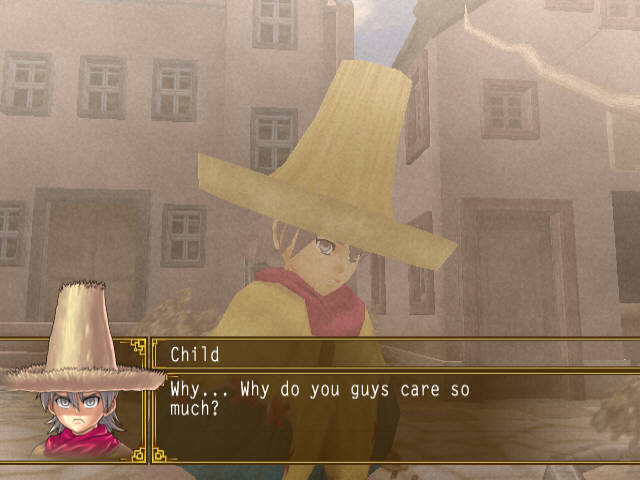 'cause we do.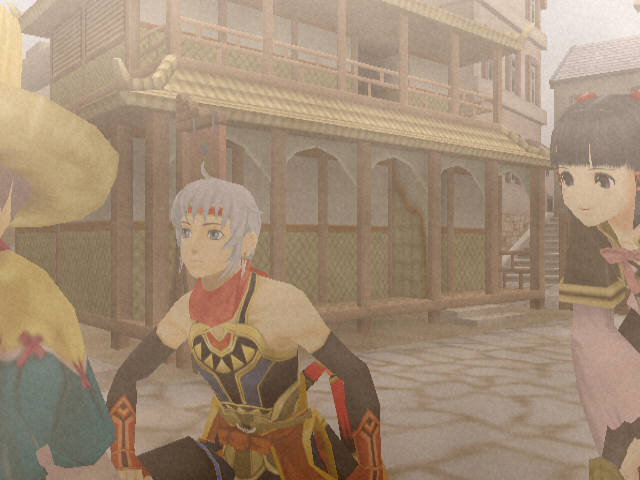 Now stop being an obnoxious little brat and help us dig up the biggest cache of explosive materials we can get our hands on.

Whatever. If you really wanna help that bad, go ahead. But there's just one thing! I'm gonna keep an eye on you, make sure you do it right! I can't have you guys messing up everything, can I?

Um... Are you saying you want to come with us?

Of COURSE that's what I'm saying! How am I supposed to keep an eye on you if I don't come with you?!
Binoculars?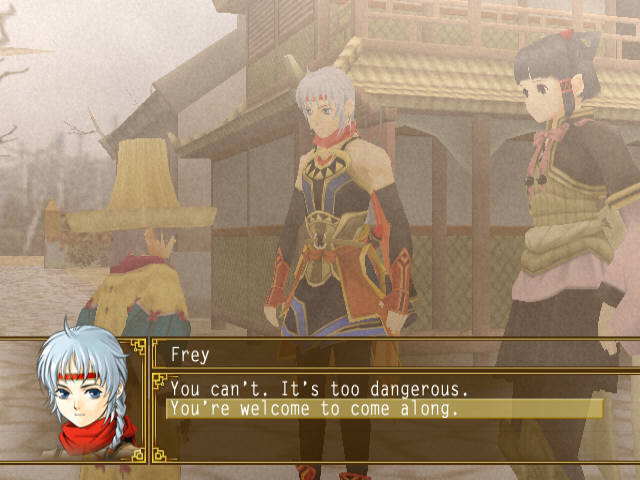 Oh, fuck it.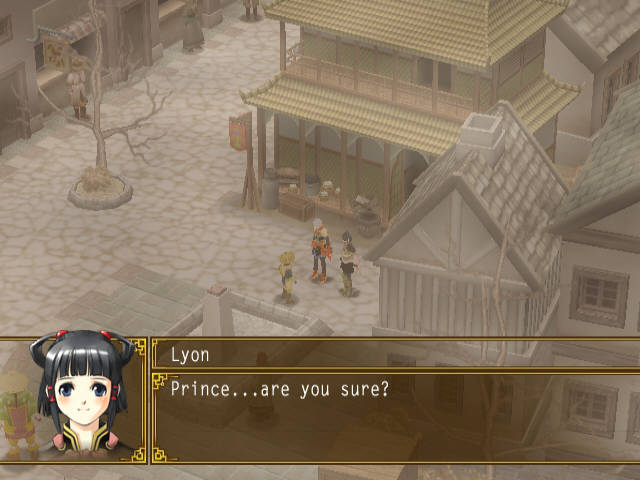 You know as well as I do that he'd just sneak after us anyway if we said no, and then he'd get eaten by a Peckles and then everyone would blame me for that, too. You want that to happen?

All right, then, uh--

Toma! The name's Toma!

...Toma. Nice to meet you, Toma.

Hmph! Nothing nice about meeting YOU guys!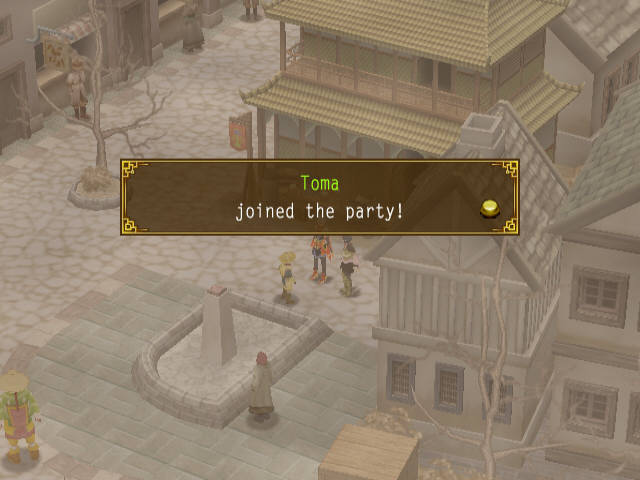 I can't imagine this will complicate matters in the least.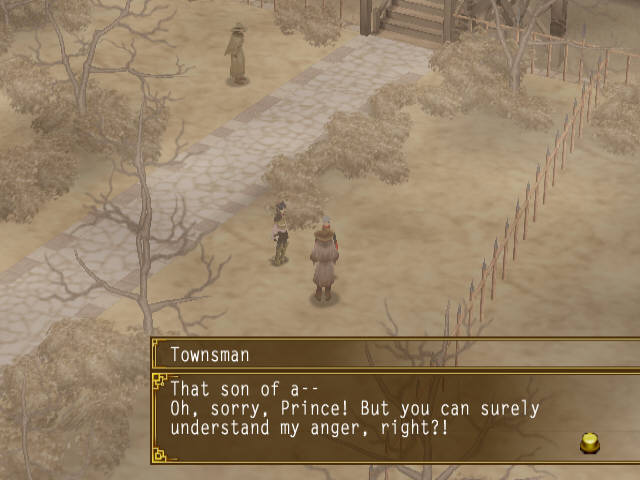 Some of the Lordlake people have new lines, but nothing beyond, basically, this.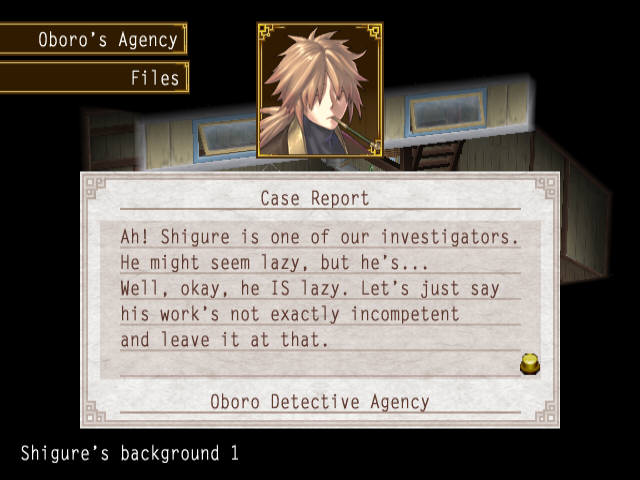 Oboro has probably had a better day than I did.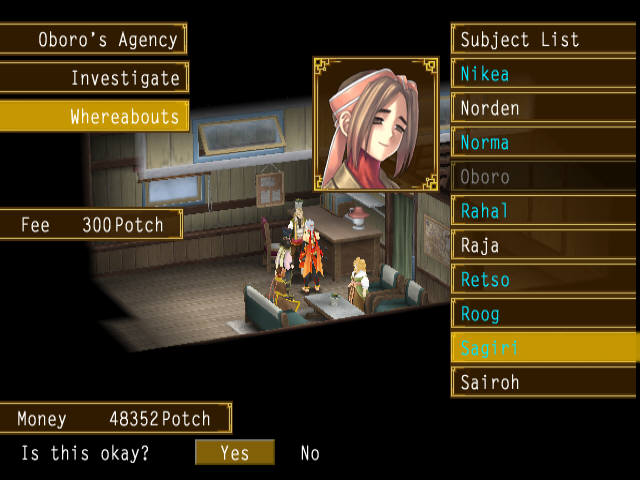 And it's about to get better.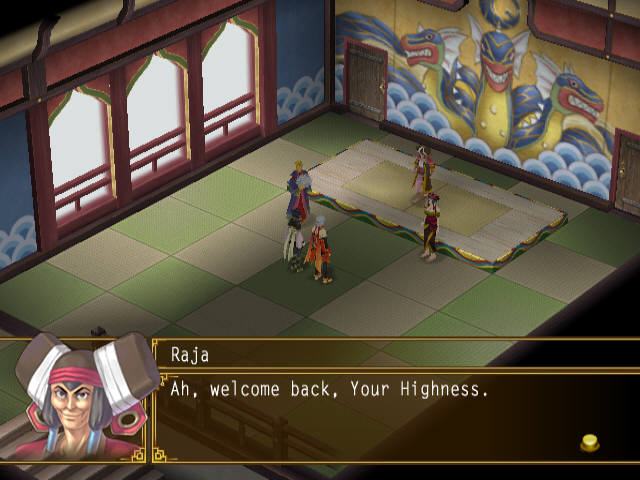 Then, we're returning to base.

How was Lordlake?
Same as always, were you expecting something else?

...Well, we won't gain Lordlake's trust unless we give them their water back first.

Hmm... Just as I thought.

And the only way to do that is to... do something about Hatred Fortress.
I can't get over that name.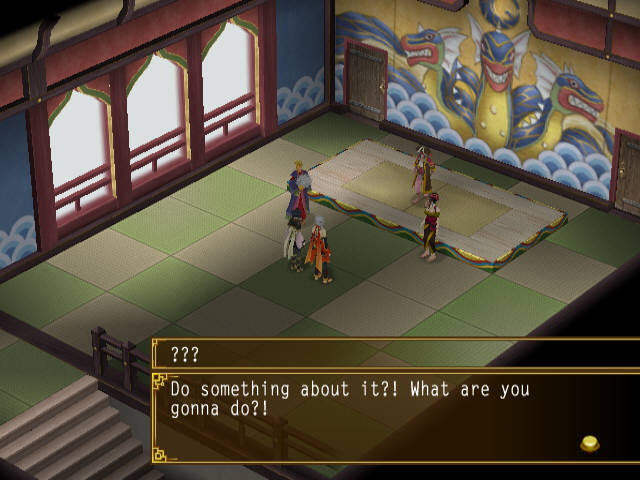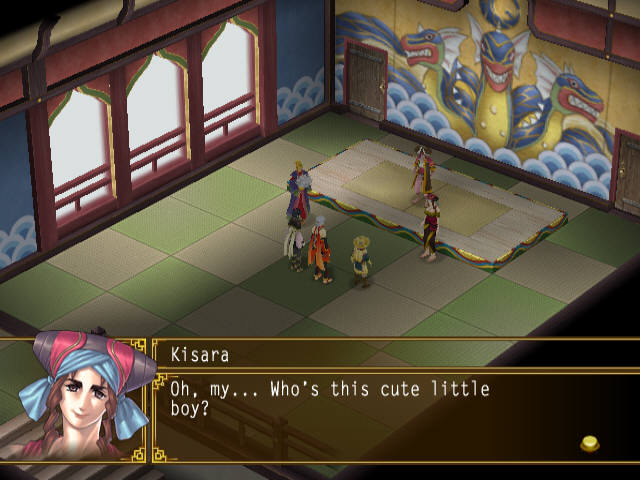 He's from Lordlake. His name is--

Toma! I came to make sure you guys are gonna help Lordlake!

I see. Well, glad to have you aboard.

Nice to meet you, Toma.

Nice to--


Wait, forget that! It ain't nice at all! Now answer the question! What are you guys gonna do about that stupid fortress???!!!

Well, let's see...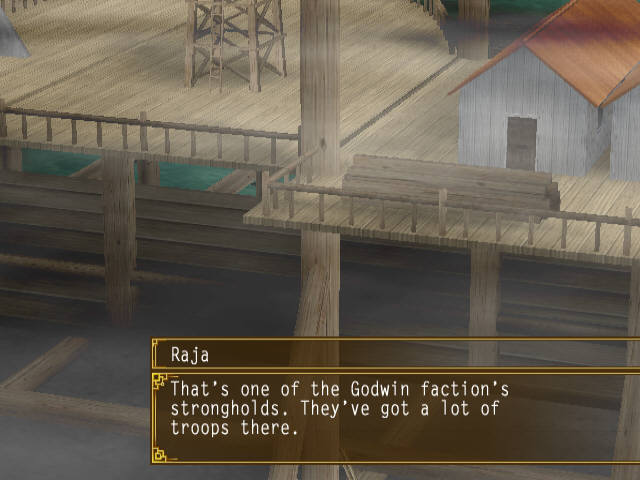 So far, all our battles have been defensive, so we've been all right, but attacking a fortress is different.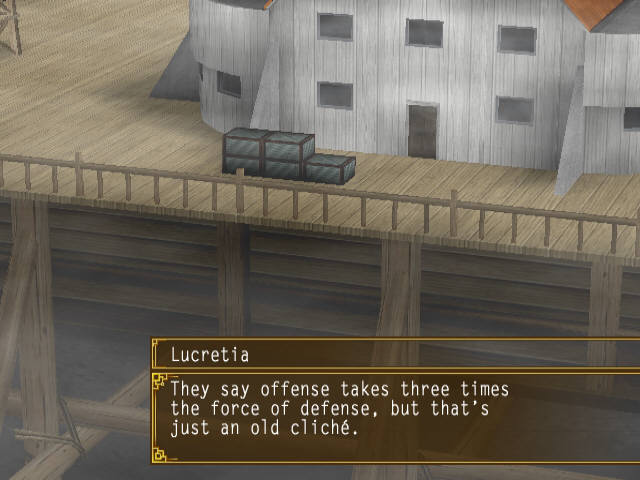 Yet, I must admit that it would be pretty hard to take down Hatred with the numbers we have now.
No it wouldn't!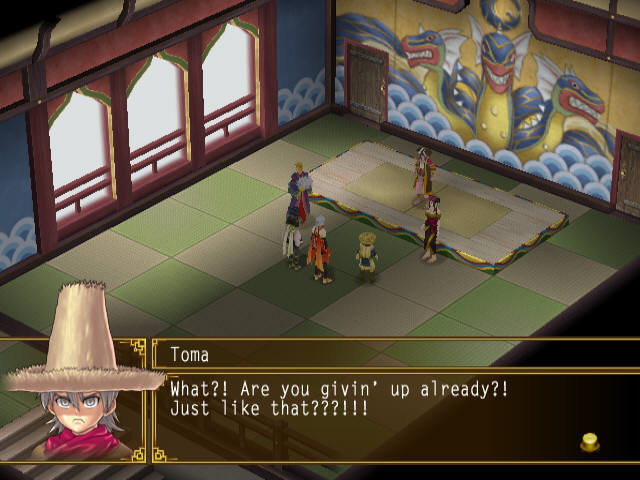 Let me the fuck at it! I'll have this wrapped up before dinner!

Prince, let's ask Beaver Lodge for help.

...The beavers?


...But those are the guys that built that stupid fortress!!!

Actually, it's more like they were threatened by Godwin's soldiers and forced to build it...

Since they're the ones who built it, they might be able to expose its weakness.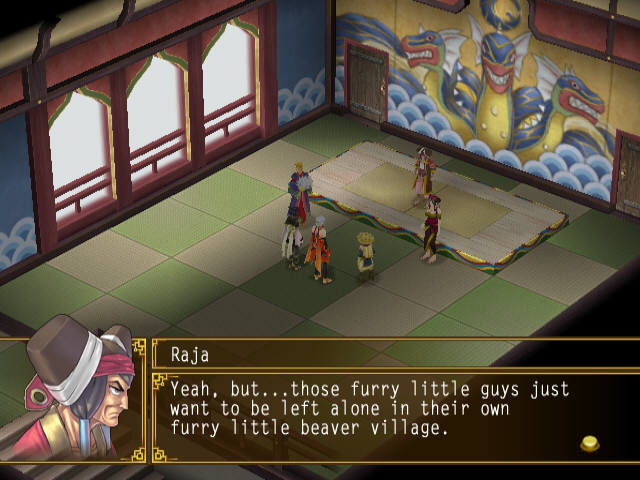 They don't like fighting to begin with. It'd be a shame to drag them into another mess...

Hmp! Too bad for them! They worked for the Godwins and they say they don't like fightin'? Gimme a break! I'll grab 'em by their furry little necks and FORCE some answers out of 'em!

Toma...

Then you'd be no better than the Godwins. We're asking for their help, so we have to do is peacefully.

The heck with that! I don't care about them!

Oh, my...


Good luck dealing with the beavers, Prince.


...And him.
I'm going to need it.
And alcohol.
Alcohol first.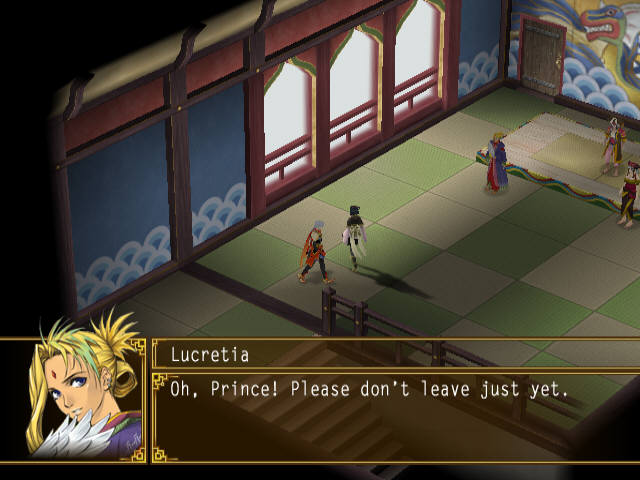 ...now what?

I just thought of... something else that might work. I'll need a couple of people to help out, though. Could I borrow Cius and Lelei?
Borrow? You can keep them!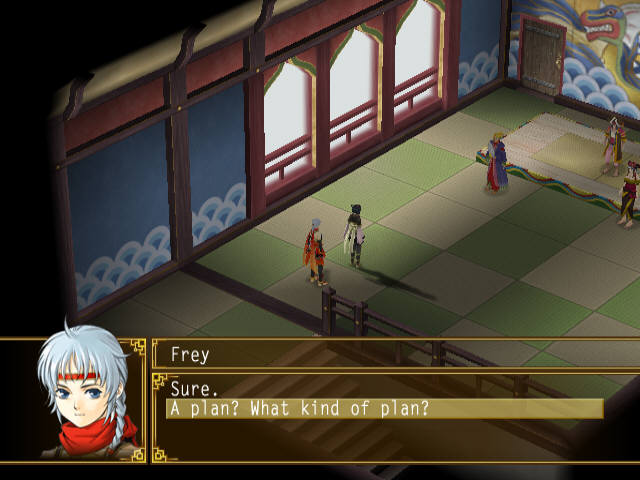 Hands up anyone who thinks she'll tell us?
...anyone?

Maybe I should tell you when more of the details are worked out. It's more of a pipe dream at this point. I don't want to embarrass myself...
You all win a big fat nothing.

Ail right, I'll work on my side of things. Good luck with the beavers, Your Highness.
Fuck you too.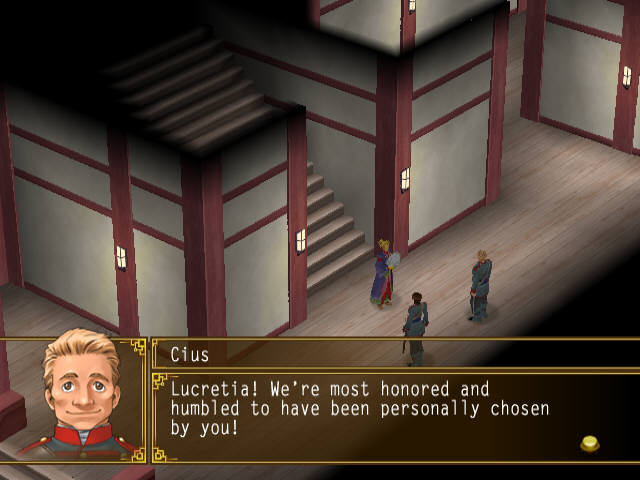 Well, it's time to get going. Would you two mind being my escorts?

You know I'd escort you anywhere, my Lady!


...But if this is dangerous, you can just tell us what to do, and Cius and I can get the job done ourselves.

That's very nice of you to offer, Lelei...


But we're going to be meeting with someone... stubborn. Someone who won't listen to anyone but me.

Understood, ma'am.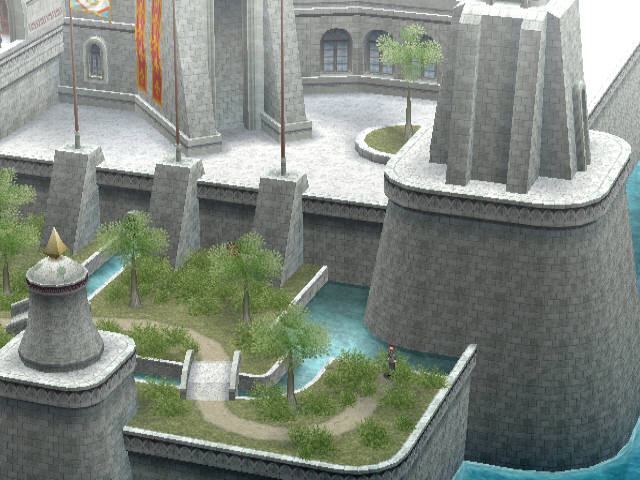 Meanwhile...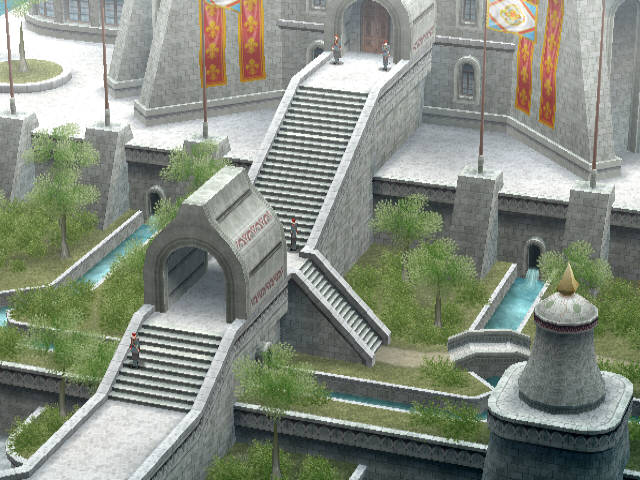 ...someone is panning a camera
very very slowly
across the palace in Sol-Falena.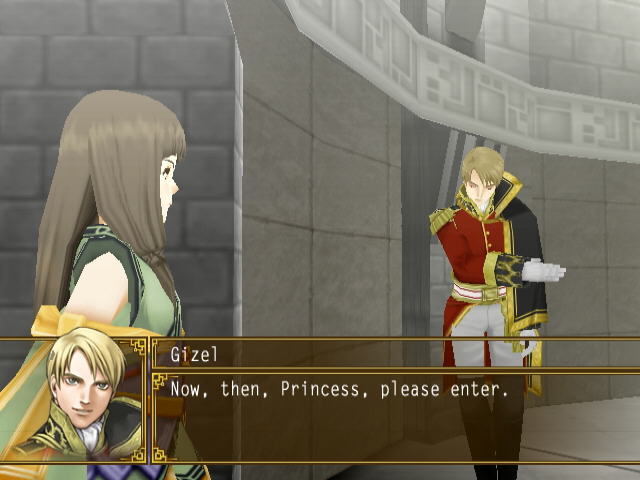 And Gizel is picking on Lym as usual
.

Be quiet! This is MY castle, remember?! I don't need a guide!
Lym isn't having any of his bullshit.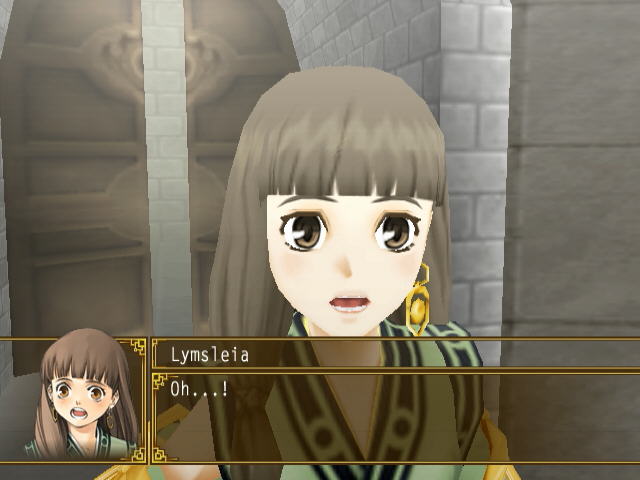 What? What?!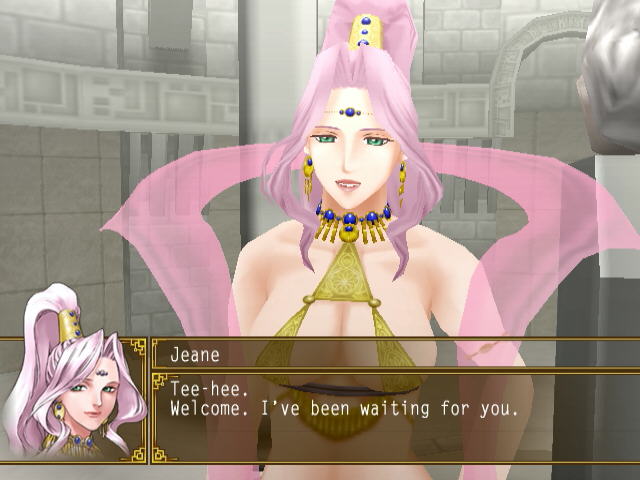 A wild HUSSY appeared!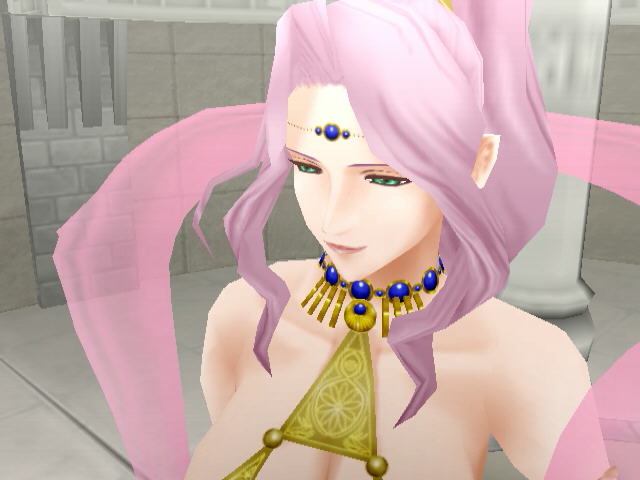 ...I don't think I trust that expression.

Didn't I... see you before at the Rune shop? So... Are you friends with these guys?

No. They just asked me to do some work for them.

"Work"?

That's right. The time has come for you to bear the Sun Rune, Princess.

What?!

What are you planning to use me for now?!

Nothing. I swear it.

You know what I'd do if I had the Sun Rune, don't you?!

You guys killed Mother and Father! I'd use the Sun Rune to zap you all to ashes! You really want to be zapped?!

It's a risk I'm willing to take.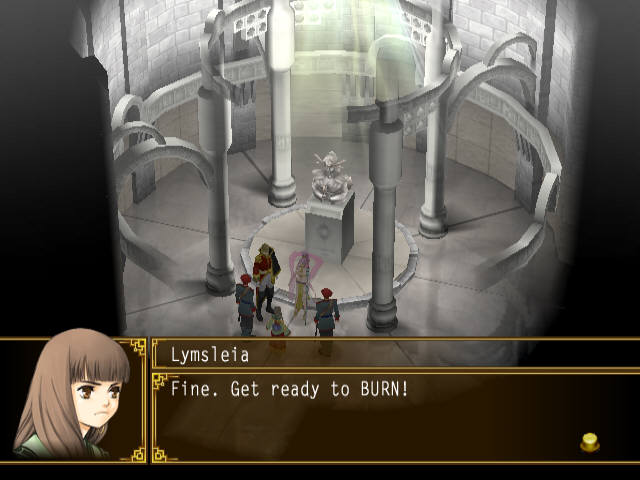 Rune mistress! Get it on me! As quick as you can!

You don't have to get all stiff like that. Just... relax.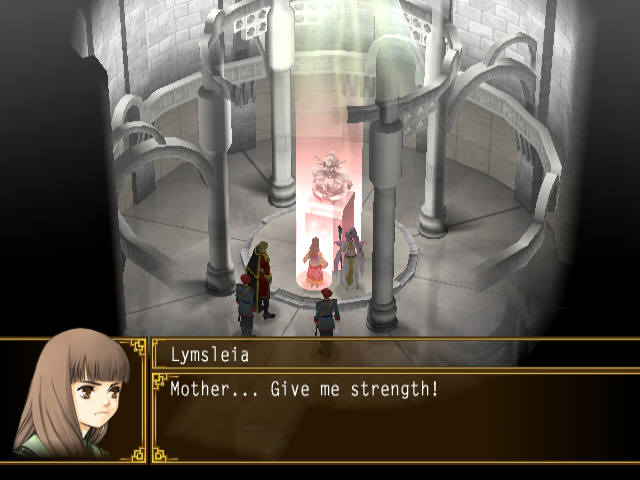 However...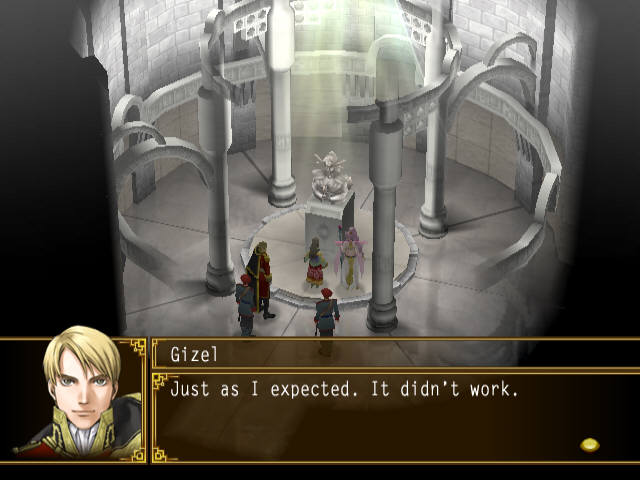 That's right.

W-Wait! Why didn't it work?!

It appears that certain... qualifications are required in order to bear this Rune.

Are you saying... I don't have these "qualifications"? What's wrong with me?! Is it because I'm not Queen?!

We're still looking into that question.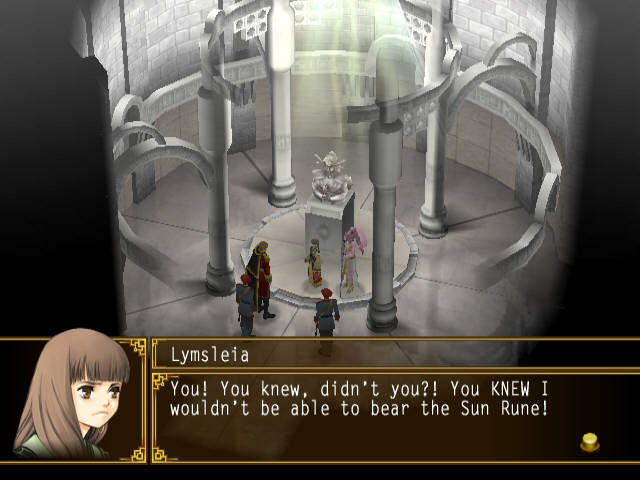 You KNEW, and you just let me make a fool of myself! This was all a sick game to you!

Does it look like I have that much free time on my hands?

I didn't exactly "know." That's why I wanted to check to make sure. And if you had somehow been able to bear the Rune... I was fully prepared to be burned to a crisp.

Sure you were!


I've had it! I'm going back to my room!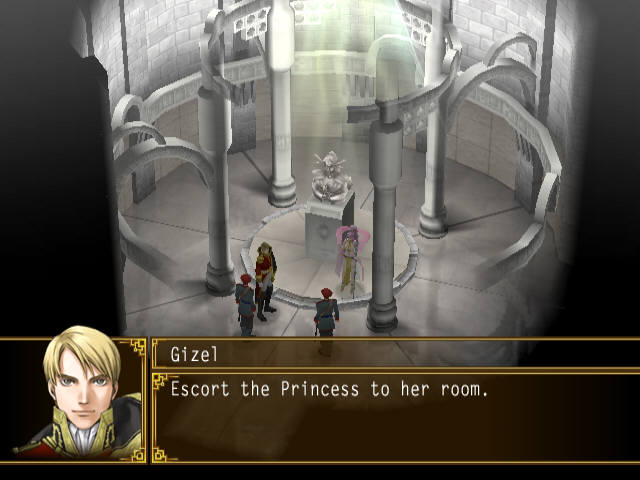 Guard Escort:
Yes, sir!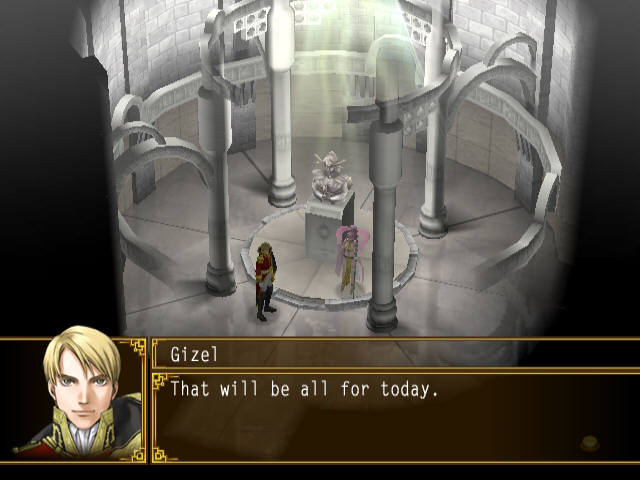 There's one more job I'll need you to do for me. I'll let you know when you're needed again.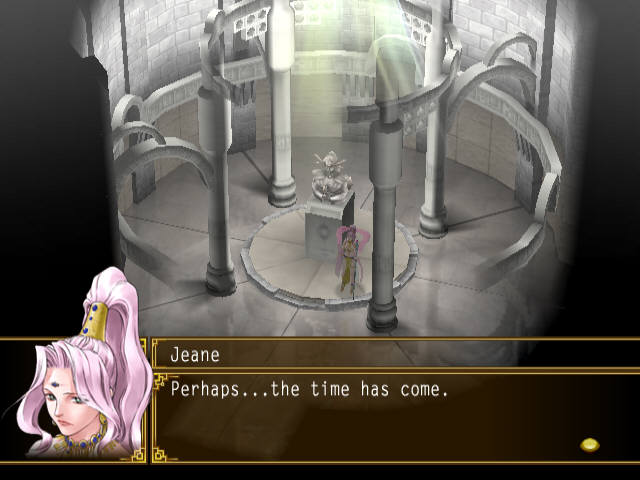 That doesn't sound ominous at all!
...next up... beavers.