Part 9: Update Nine: Over the River and through the Woods
Last time on Super Mario RPG, we saw Geno mysteriously grow full-size and leave the Inn, heading off toward the forest. Then we played music with tadpoles. Now, we're off to chase after Geno. Let's get this show on the road.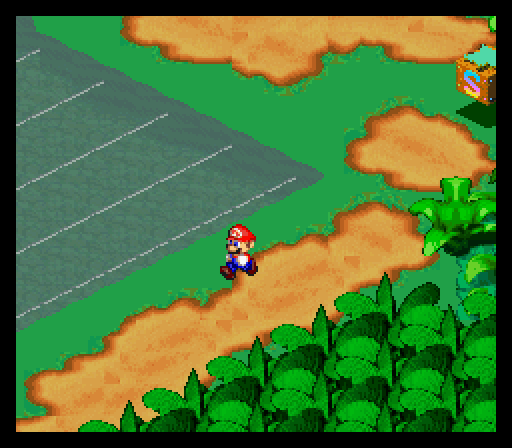 Toadofsky has given us our Alto Card, which opens an additional option in the Juice Bar.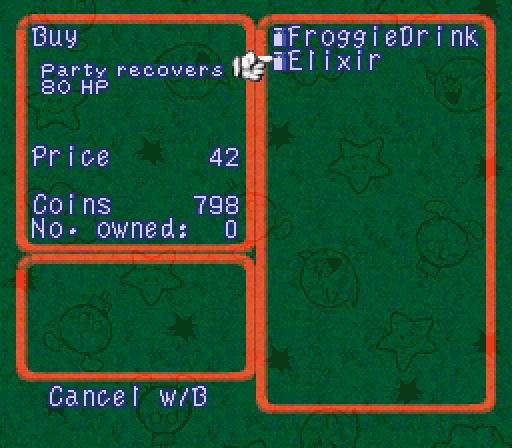 Elixirs, contrary to what Square typically has them do, instead restore 80 HP to the entire party when used. 42 Coins may seem like quite a bit when the max is 999, but it's astonishing how quickly Coins come back even though it seems that you only gain a pittance from battles.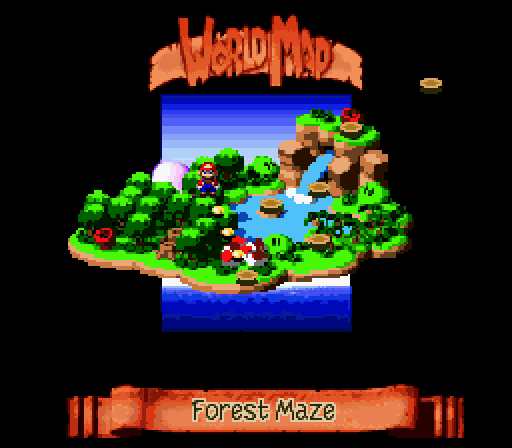 Our destination for the day and where we'll spend this update and the next.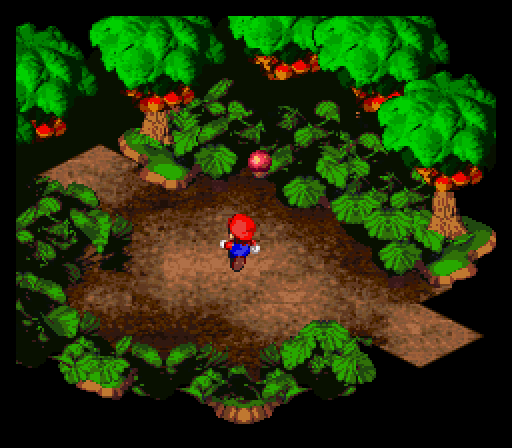 See that Mushroom over there? You can actually pick those up, as they really are just regular Mushrooms. There's a ton of them in here, so health is never going to be an issue in here.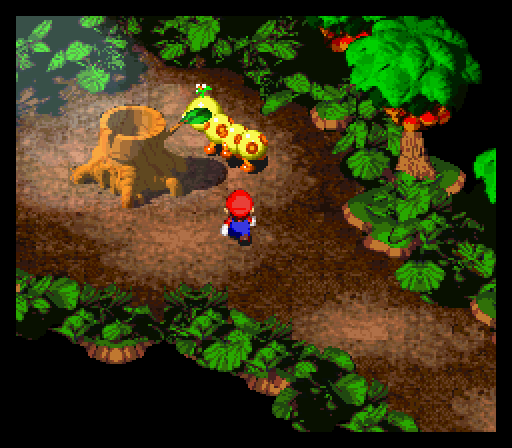 Oh, a Wiggler!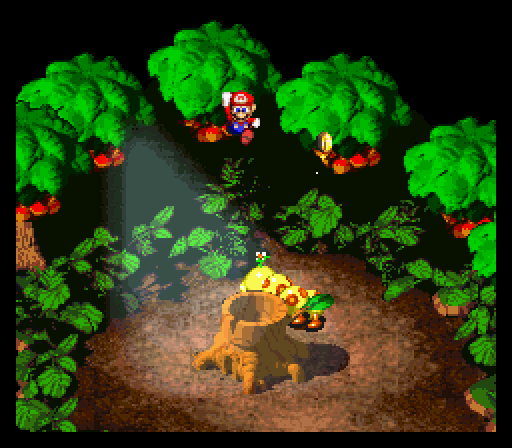 You can bounce off of them and rodeo ride on the Wigglers; each jump you get them with, they drop a Coin. They also begin moving much faster after the first bounce, but hop around enough and eventually they'll spit out Frog Coins.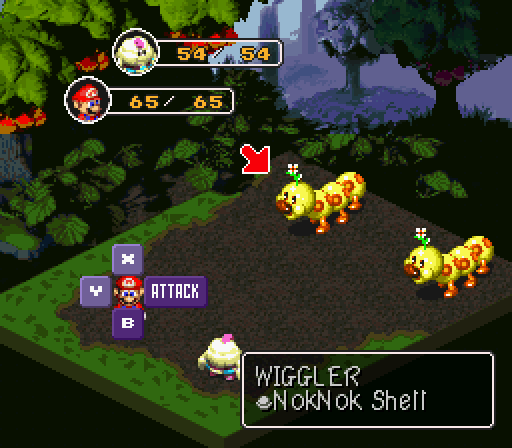 Possessing 120 HP, Wigglers are fairly durable creatures. They have a few different attacks, including Sand Storm, which inflicts Fear. Now, Fear is an awful thing. It cuts a character's Attack and Defense by 50%, and if all characters get hit with it, a fight is going to take twice as long and be doubly dangerous. It also makes the inflicted character do their best Michael J. Fox impersonation; thankfully, Fear isn't all that common, really.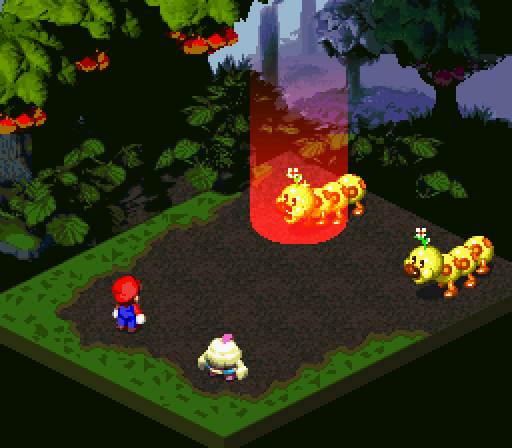 After physically attacking them once, Wigglers automatically counter with Vigor Up, which raises their attack. It's unfortunate that they never live long enough to actually put it to any sort of use, though.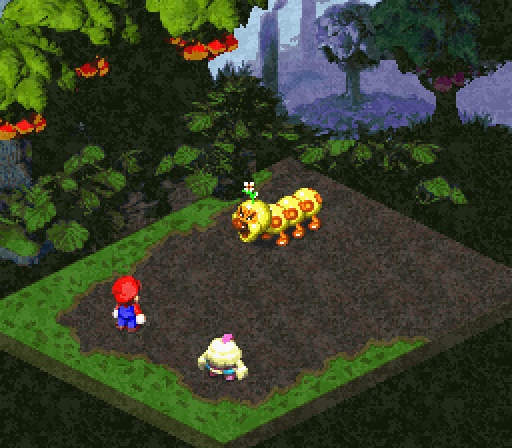 Sand Storm's actual animation is just a sandy colored mist covering the screen. It's just as boring as it sounds. However, I do believe it looks more like the Wiggler is trying to drop a deuce here as opposed to attacking me.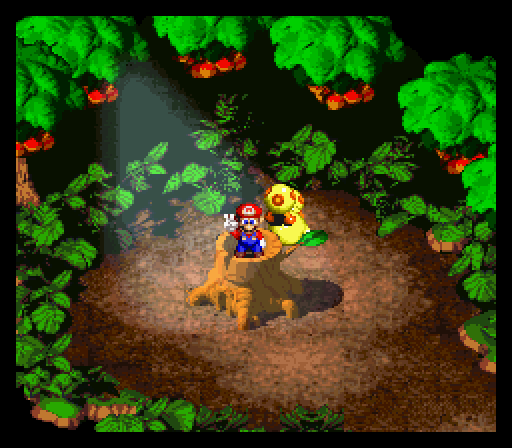 This stump functions as a Warp Pipe, and Wigglers will continuously crawl out of it. Considering the experience and Coinage they drop isn't too bad, it's honestly not an awful place to grind, plus you can try to earn some Frog Coins while you're at it.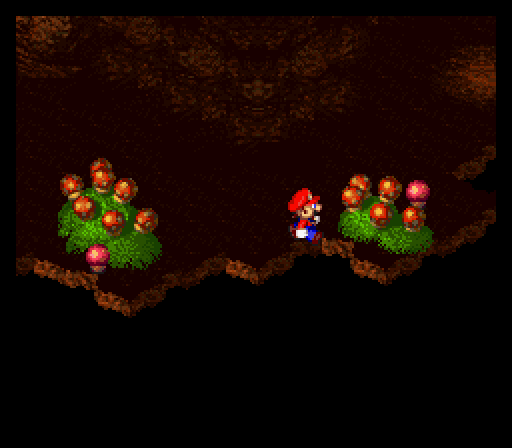 After heading down and bouncing off a trampoline, heading to the right, we find two more Mushrooms. I've got about all I need, though, and then some.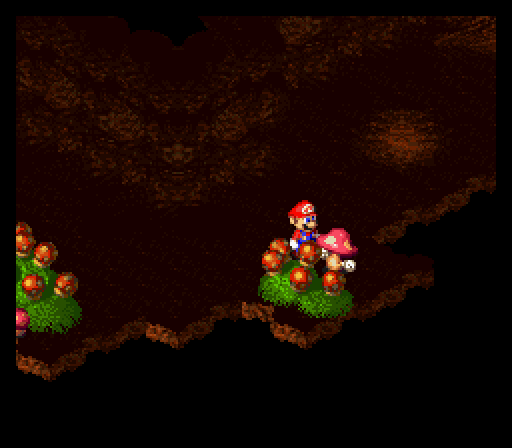 Son of a bitch. A lot of Mushrooms from here on out will turn into Amantias, which are more of a pain in the ass than an actual threat. 52 HP, and the ability to (surprise, surprise) Mushroomize allies in combat. Another status effect that's more annoying than deadly.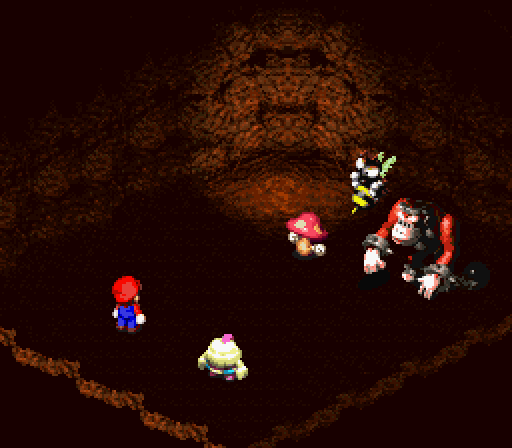 And he even brought friends. The Buzzer there is faster than our characters and will always act first in battle, until we find a way to improve our speed. They're also about as durable as a wet paper bag, though, so they're not big threats.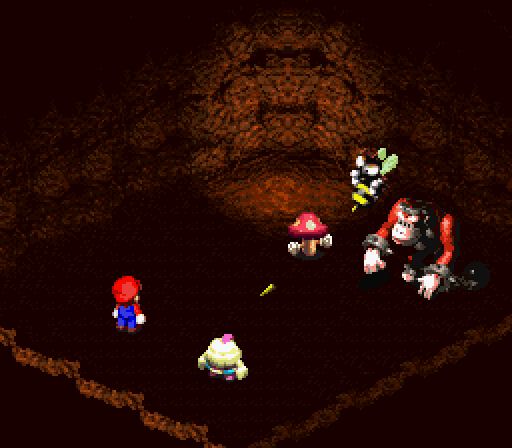 That small golden thing on the screen there is actually their stinger, and main form of attack. It can inflict poison, which is also a fairly "meh" status effect. Weak to Thunder and Jump, both our heroes can also drop them with regular physical attacks. Hell, you could probably poke 'em with a pillow and kill 'em.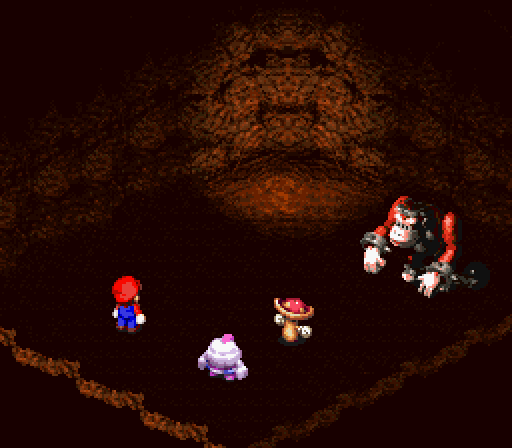 The Amantia attacks by...Smiling at you? I don't know what the hell it's doing here, but it is ludicrously ineffective. I don't think Mallow even took damage here. The biggest threat here is Mighty Joe Young back there.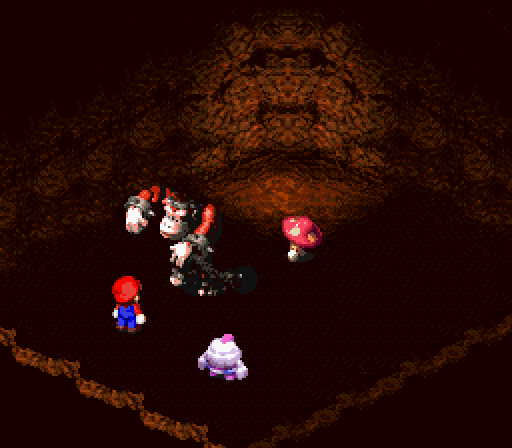 Guerrillas look intimidating, but they really aren't. Sure, they possess 135 HP, but a solid round of attacks still make them eat dirt. Aside from smashing your skull in, they can also whip fuck-off rocks at party members.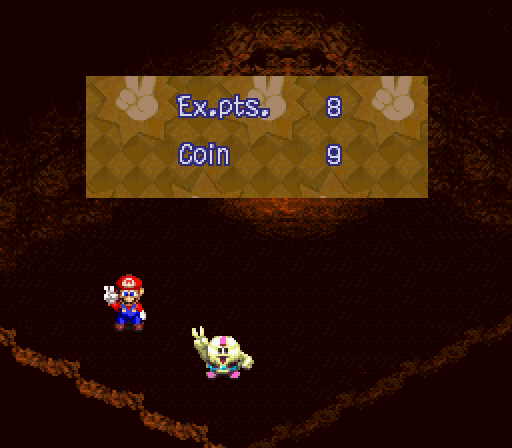 Even so, I perceive no threat here.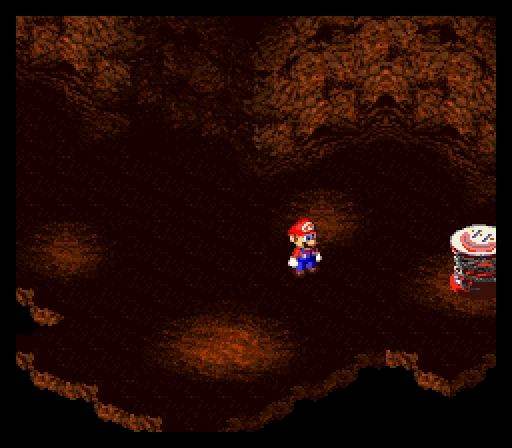 This small underground area is rather short, though, only being probably twenty feet across. Also, my picture folder somehow scrambled all of these around, so I'm having trouble sorting all of this shit out. If I fuck up somewhere, just let me know and I'll try to fix it.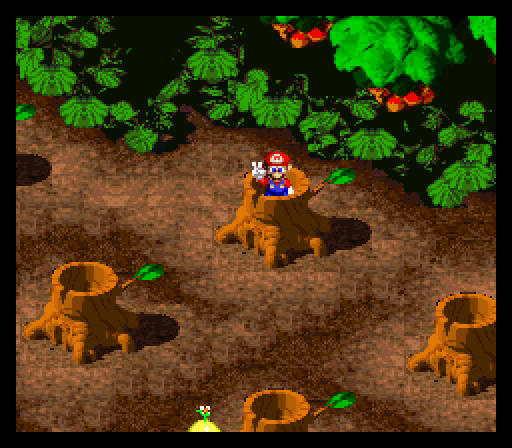 After heading up through the trampoline, we come to this area. There are seven of these Warp Pipe stumps around, either empty or with some enemies. A few contain hidden chests, but I was going to show off their locations later, probably in a bonus update. There's two around here, one with a Flower and the other containing a Frog Coin.
I won't bore you with shots of their interiors, as they all look like the last cave we came through. Just imagine seeing me do that six times, but at the different stumps.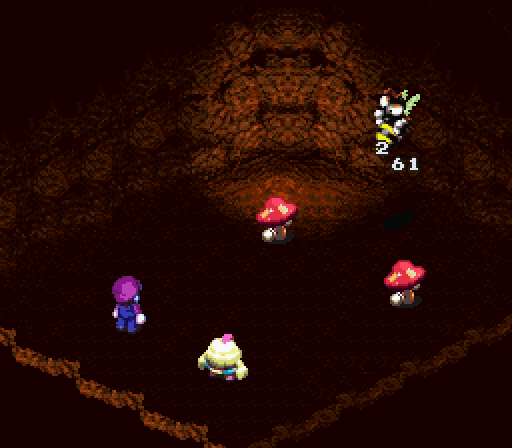 Though, did I mention Buzzers are weak to Jump? I actually hit one even harder later on, for nearly 400 damage.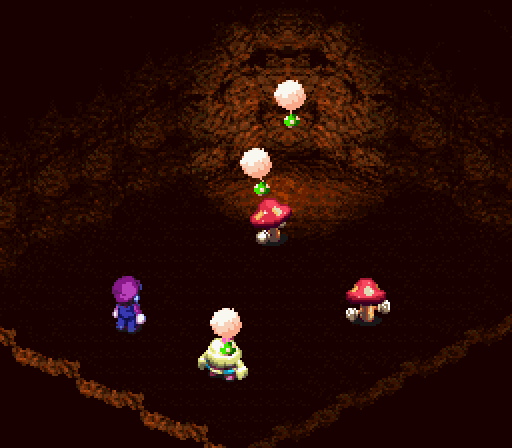 This is Sporocyst in action, by the way. Mario is immune to its effects, but the enemy seemed to realize that and never tried to 'shroom him.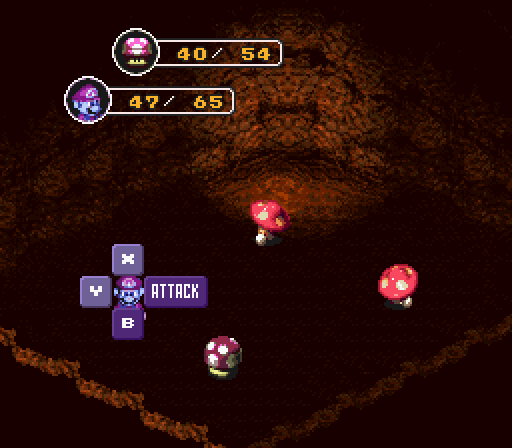 Each character turns a different color when Mushroomized. Mallow gets this ugly-ass purple color. Oddly, for reasons I can't even begin to fathom, characters actually regenerate a small amount of HP while in Mushroom status. This and Scarecrow are the only two status effects that our party can't inflict, but we'll get to that when we get to it. Mario turns red, as I'm sure you are all surprised to find out.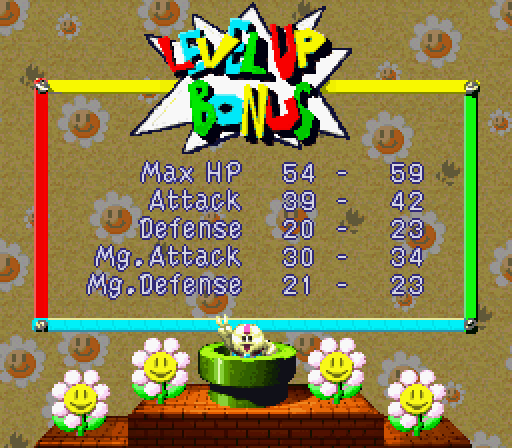 Mallow gained himself a level here, and netted himself an extra +2 to Magic Attack.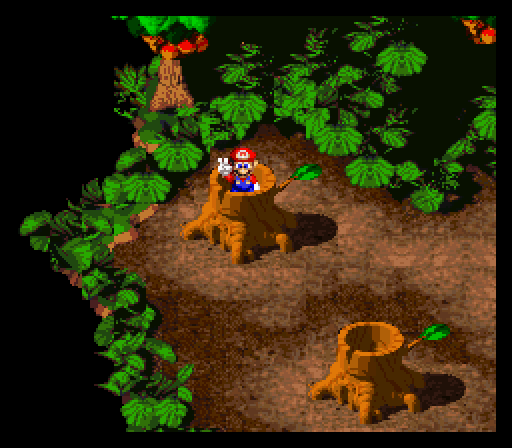 This stump is set slightly apart from the others, so you know it's a special one.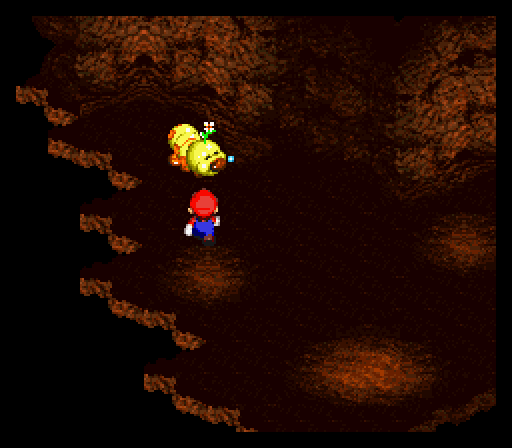 Because it's got the cutest, most

Wiggler sweeping down there. D'aww.
Let's piss it off.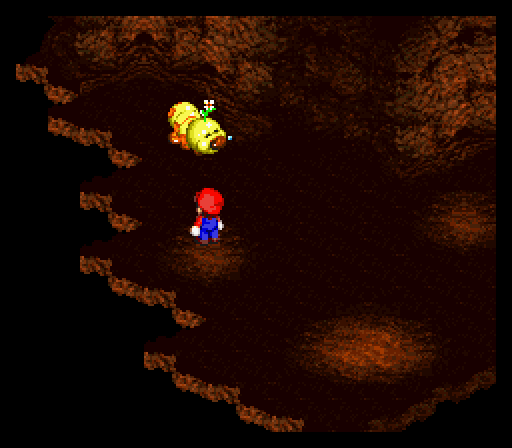 Well, it wasn't jamming a thumb in it's butthole, but it'll do. As it opens the path to the next area! Ahh, pissing off wildlife; when is it not effective?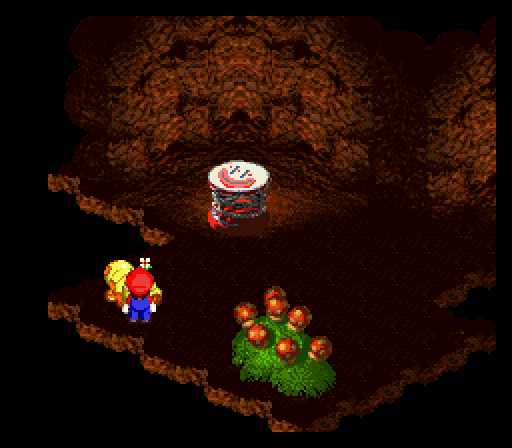 As I'm sure you already guessed, there was another stump pipe down the new path. Heading down it, we find the sleeping Wiggler again. He's already back to napping, and we can't bother him anymore.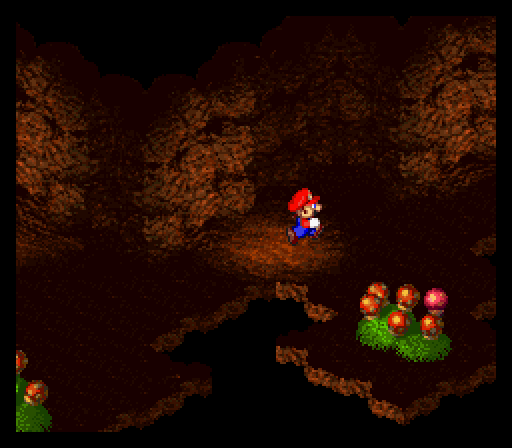 That's a regular Mushroom, if I remember correctly. If it wasn't, I'm sure it wished it had been.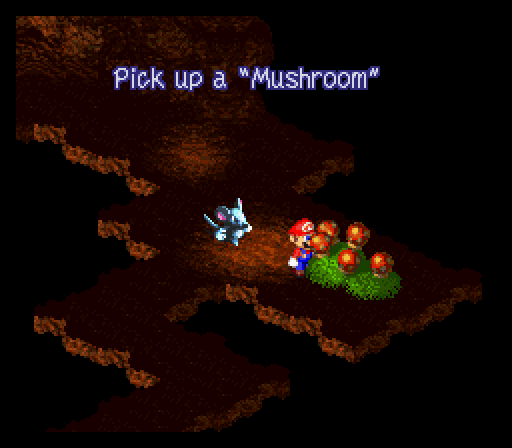 Heading 'round the bend, I snag a Mushroom, as I believe I may need it later
I don't
. Those rats back there are the same from the Kero Sewers, but can show up in up to groups of five. That's not only a five experience fight, but it also nets me 30 Coins. Sure, it's easy to recoup any Coinage losses, but getting a chunk that big (999 Coins is the max, remember) is just kind of cool to me.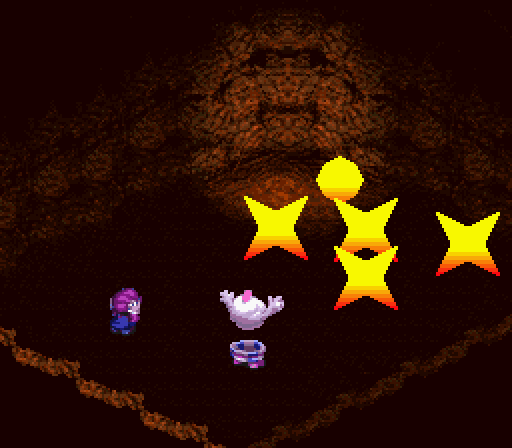 They still outspeed us, but that's really negligible when they can't really deal any damage and their most dangerous attack is to poison you. I never tire of seeing five enemies explode into nothingness.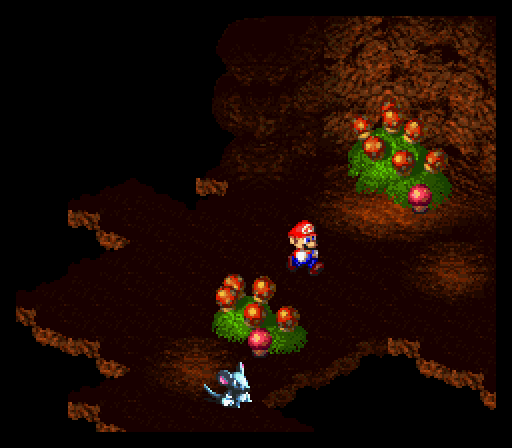 Anywho, proceeding into the next room, there's a lot of rats and a lot of Amantias hiding around here.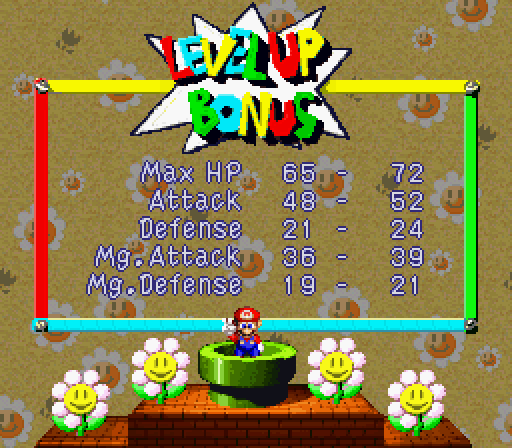 Mario benefits the most from this, I feel. He also snags +2 Attack

.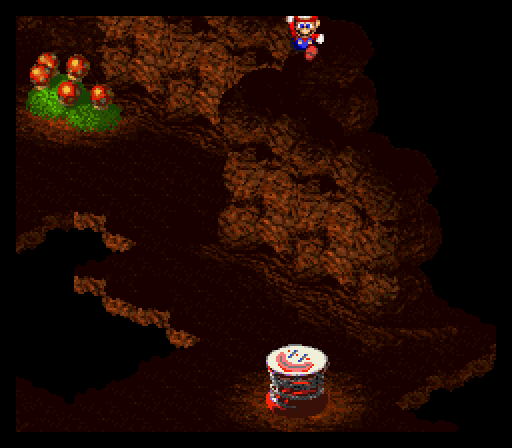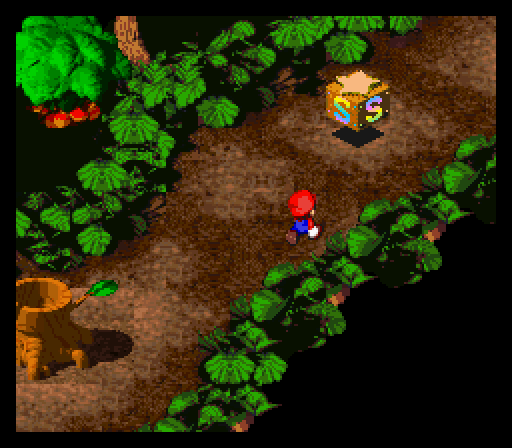 In the next area, I see a convenient stopping area. The next update is going to have a few

floating around it, so that'll make up for this update's relative shortness.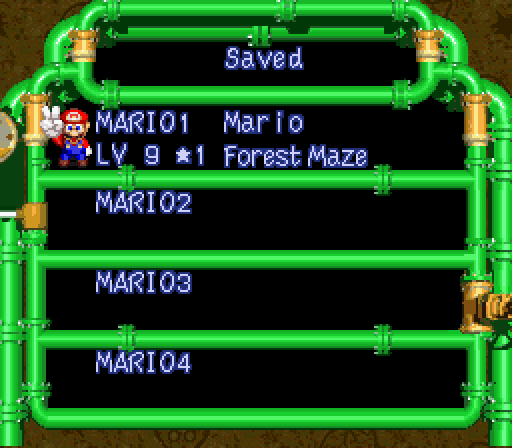 So, next time, folks, we'll get another new character, fight a boss, and find out exactly why these Star Pieces are so damned important. Until then!