Part 171: Post-Intermission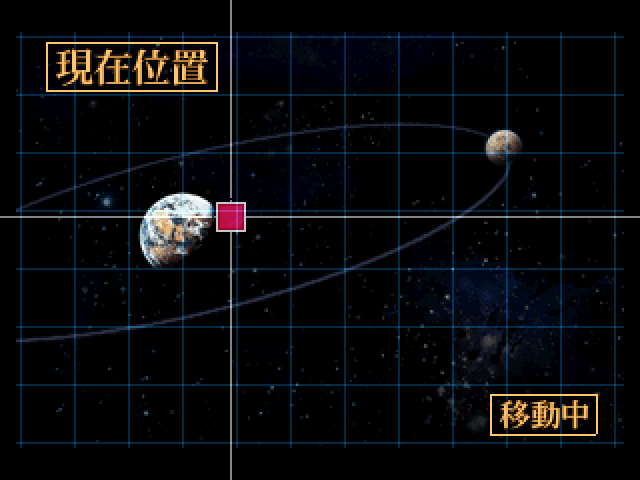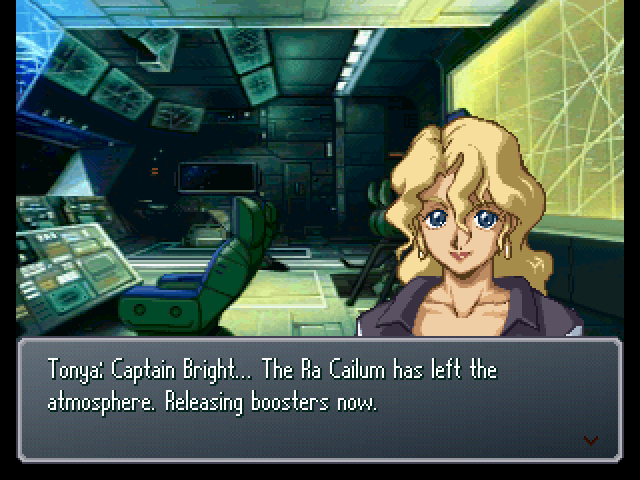 : We're getting friendly unit readings, dead ahead. It's the advance pursuit we sent.

: All right, recover them immediately.

: Roger that.
[Scene change]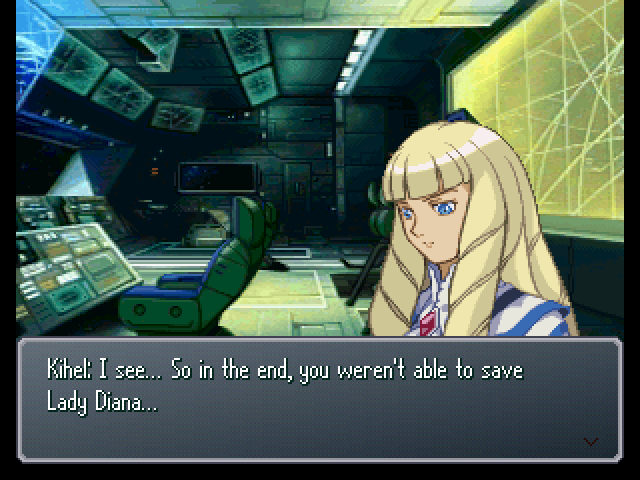 : I'm sorry, Miss Kihel...

: No... It's not your fault.

: Even so... What on Earth is that Turn X unit that Heero's group made contact with...?

: Lieutenant Harry, do you know anything?

: I have heard it's a mobile suit excavated from a lunar Mountain Cycle...

: ! You mean the moon has Mountain Cycles, too?

: Yes. During the Diana Counter's Operation Homecoming... Ghingnham's army was independently excavating mobile suits.

: (.........)

: Lunar Mountain Cycles would have a lot more than Earth ones, right?

: Why do you say that?

: The moon back in our time had facilities likeAnaheim Electronics... It's possible that the whole place has been fossilized.

: I follow you...

: And the Moon Cradle and microwave transmitter still exist. It's entirely possible.

: (......... Then, by going to the moon, we could gain even greater power...)

: But still, man, that Turn X... It looked like a mobile suit, but there was something... not quite right, I guess.

: It looked like it was acting in a way that would let it gauge our machines' capabilities.

: Do you think it's a Newtype mobile suit?

: I don't think so, but from the recent battle data I've gotten, the Turn X... It could have a brainwave feedback system like the YF-21. I would guess that it has something similar to a Psycommu system.

: (.........)

: Either way, that guy was dangerous.

: That goes double for the guy piloting it, Gym Ghingnham.

: Yeah. Something about them is weird... Even given where we are.

: You can say that again. And what's the deal with E-minor? I bet they don't mean a guitar chord.

: The man called Ghingnham claimed the Turn X, GX, and Turn-A shared some sort of connection.

: The Turn-A... You mean the White Doll?

And the GX...?

: (.........)

: Kihel, anything you might know from your time spent as Lady Diana's double?

: No...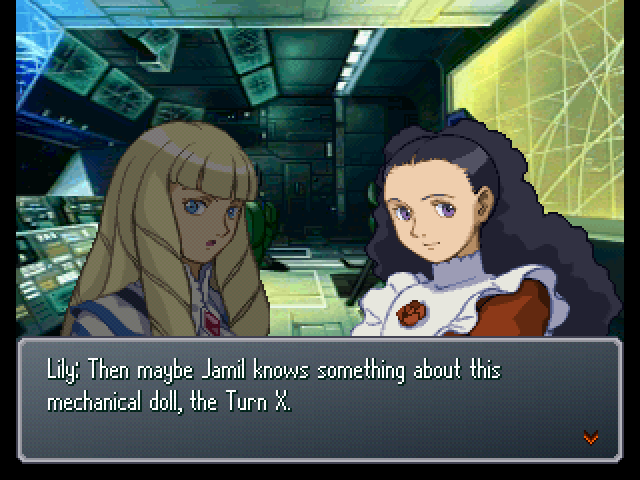 Sir Jamil...?

: Yes. He did once pilot the GX, did he not? That, and... he still seems to be hiding secrets from us.

: (.........)

: ...You have a point. It seems the time has come to ask him to spill the beans.
[SCENE CHANGE]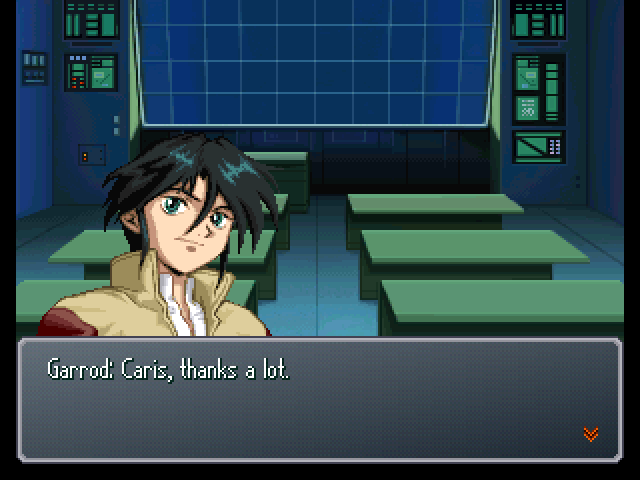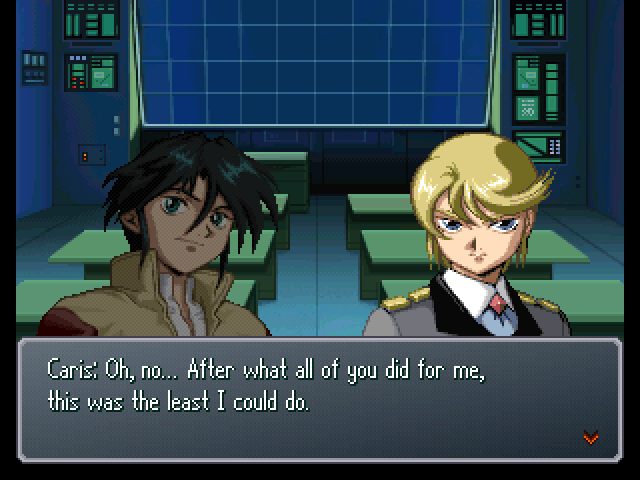 : And helping all of you means helping many more people...

: You look like you've been through a lot since then...

: Yes...

: But we're glad to see you looking well. It was looking pretty bad back at Fort Severn.

: ...I imposed heavily upon all of you back then.

: It's nothing to worry about. As long as you're okay, that's all that matters.

: But... I'm...

: C'mon, now, turn that frown upside-down. No acting gloomy.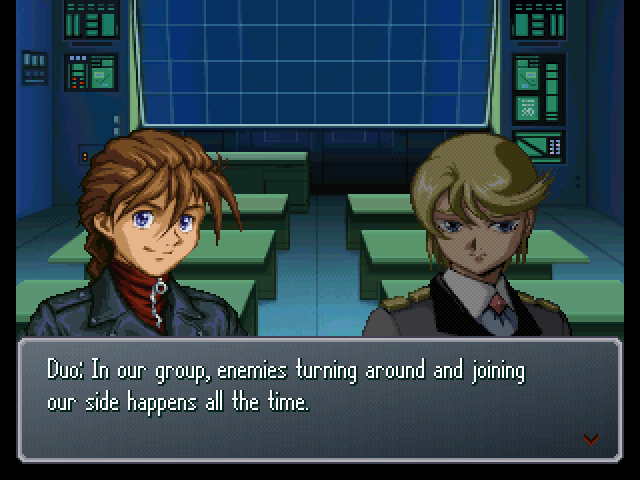 : Yeah...

: No kidding.

: Hey, you guys have no room to talk...

: Are you kidding? Back in the Balmar War, all three of you guys were enemies!

: Hey, I guess we were, now that you mention it.

: By the way, Caris... Is your health going to be okay?

: Yes, thanks to medical treatment... I was able to pull through without losing my power.

: (.........)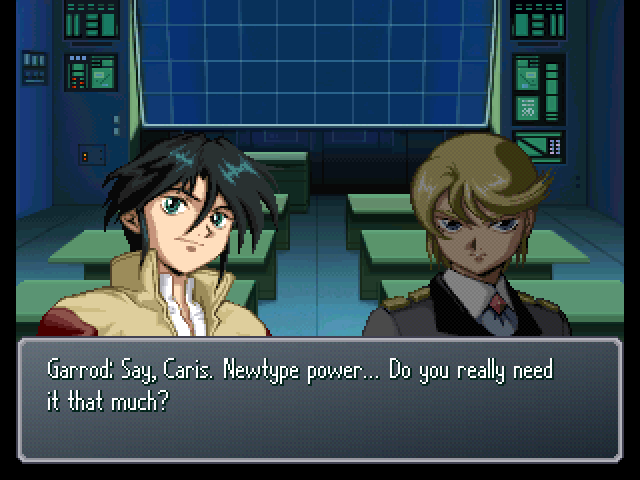 : (.........)

: Newtype power... I never see it do anything but bring misery to people.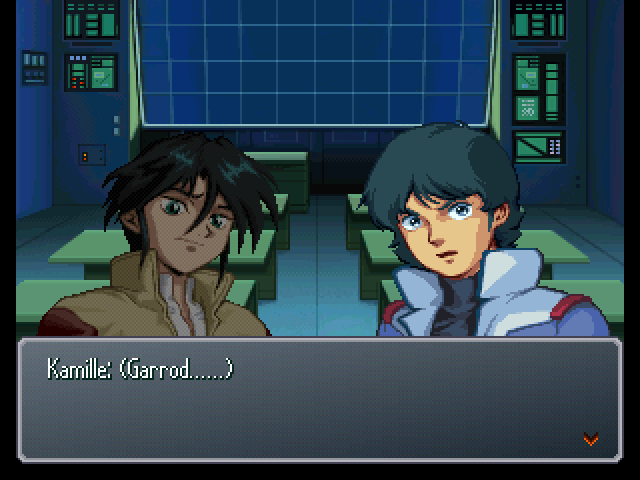 : Even Tifa, if she didn't have that power, she might've been able to live a peaceful life...

: (.........)

: Someone said Newtypes were the next step for humanity... I don't believe that. All they've been so far is tools of warfare. If they didn't exist at all, we'd be......

: (.........)

: Ah, no, that's not it... I'm not talking about you, Caris...

: ...I understand what it is that you're saying. Maybe it's true that Newtype power only brings misery to people...

: (.........)

: But, Garrod... I learned something when I met you.

: Learned something...?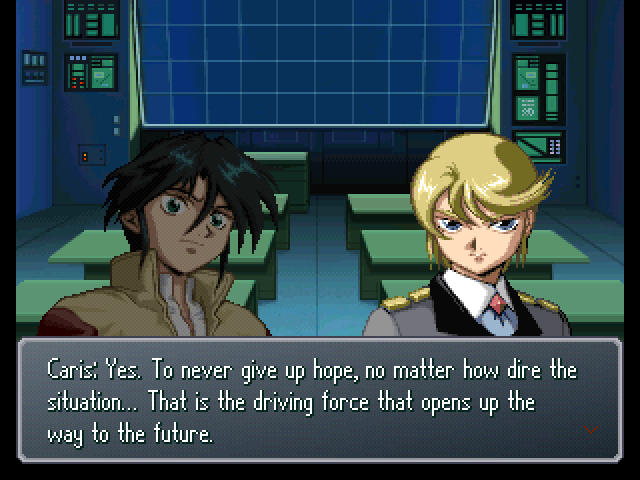 : Caris......